Get ready to pack your pride and your bags, darling, because we're headed to the dazzling and fabulous capital city of the Philippines, Gay Manila! This tropical paradise is ready to show you a gay old time, with its pulsing nightlife, edgy galleries, beautiful beaches and enough sass to make RuPaul jealous.
So grab your partner (or potential partner), put on your most fabulous sunnies, and get ready to explore the gay side of Manila, where despite the country being mostly Roman Catholic being a fabulous homosexual is not just accepted, but celebrated with open arms and open bar tabs.
Metro Manila is located in the heart of one of the three islands in the Philippines, Luzon and it spreads through the eastern shore of Manila Bay at the mouth of the Pasig River. Manila was once called Maynilad, it was then abbreviated to Maynila and finally to its current form.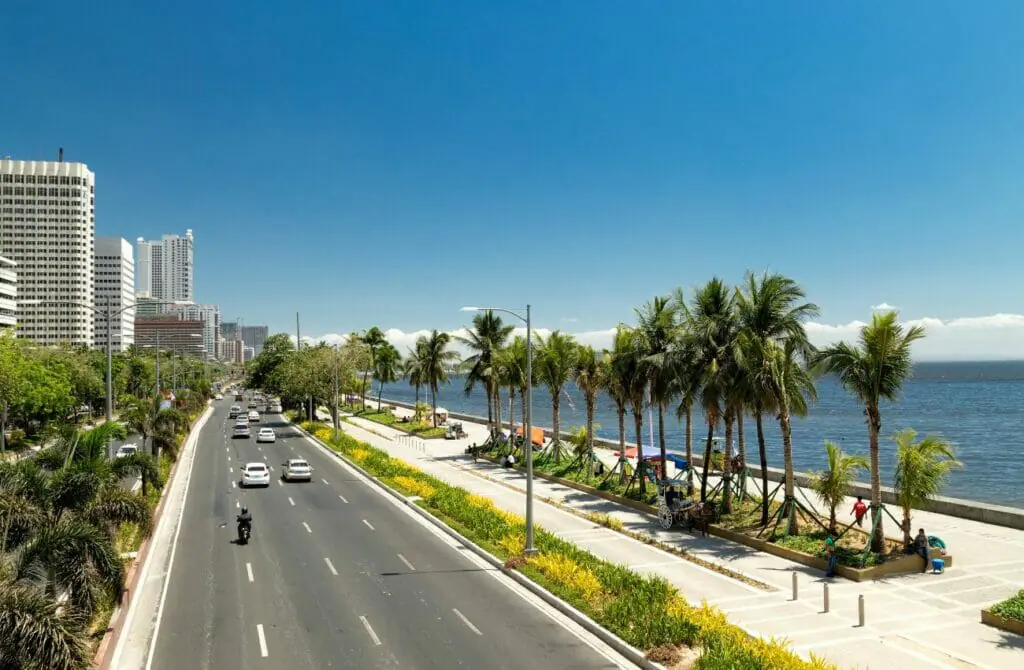 The name is derived from the Nilad plant, a flowering shrub adapted to marshy conditions that once grew abundantly along the banks of the river. People here are generally friendly and very hospitable towards queer people, and the Philippines, and Manila in particular, have made great strides in embracing the LGBTQ+ community in recent years.
While homosexuality is still a sin as taught by the Roman Catholic Church, the reality is that the LGBTQ+ community of Manila is widely accepted and tolerated by locals. In fact, Manila has become a favored destination for queer travelers in Asia seeking a vibrant and inclusive city that celebrates diversity and is rated up there with Bangkok and Taipei.
In fact, LGBTQ+ celebrities and personalities here have a significant number of supporters, and like in the West, many trends are heavily influenced by LGBTQ+ culture. In fact, the Philippines is 'so gay' that beauty pageant are the national sport and Miss Universe viewing is the equivalent of the Super Bowl in the USA. There is now even a RuPaul's Drag Race Philipines and many other LGBTQ+ shows which shows how accepting the mainstream is here now of LGBT+ people.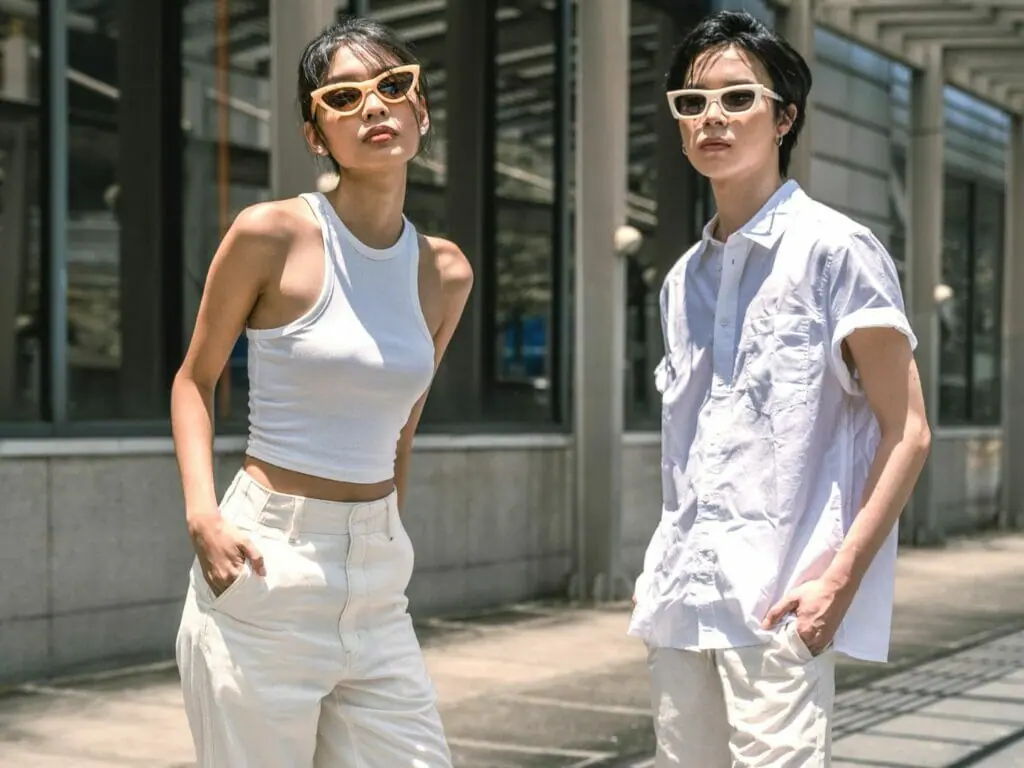 When traveling to Manila as an LGBTQ+ individual, you can expect a warm welcome from the locals. Despite some conservative attitudes towards homosexuality, the majority of Filipinos are sociable and open-minded, and many are enthusiastic to learn about and embrace different cultures and lifestyles. In Manila's thriving gay scene, you'll find a range of LGBTQ+-friendly bars, clubs, and cafes, where you can mingle with locals and fellow travelers.
In saying all this, however, the Philippines is still a very religious country, and so we strongly advise against PDA (Public Display of Affection), especially in more rural areas. Whether you're looking to party the night away or simply enjoy a peaceful drink with new friends, you'll find a welcoming climate in Manila's queer community. So don't be afraid to let your rainbow flag fly and embrace the fun and freedom that the city has to offer!
However, the gay community in the Philippines has more to offer to you than this. Manila got you covered with the best Gay clubs, fine restaurants, amazing museums, and more. So what are you waiting for? Let's explore and have fun with Gay Manila.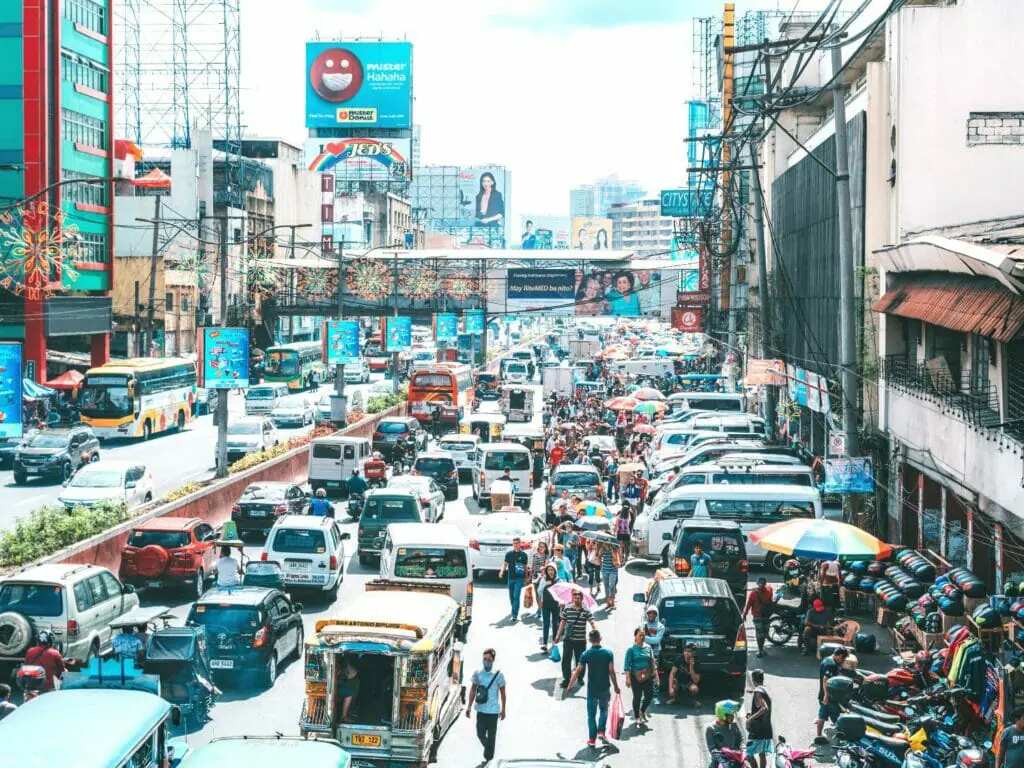 Attractions in Gay Manila, Philippines
Manila is not only the biggest and busiest city in the Philippines but among the most-populous and fastest-growing cities in Southeast Asia. But don't let the traffic stop you from exploring Manila's finest attractions.
When walking around the city, dress in proper and comfortable walking attire, such as light clothing and comfortable shoes. Since Manila is part of a tropical country, feel free to show off some skin, and wear your tank tops and shorts. And always pack a hat, sunscreen and raincoat/ umbrella and you never know what they day will bring here. It is every Filipino's go-to outfit, especially during the summer.
We would advise caution against trusting local people too much and to be wary of potential scammers and violent crimes like robbery since such crimes are relatively common here.
There are a lot of tourist attractions that are within walking distance, though it will depend on where you're staying. You can rent a car if you're interested in strolling away from the city, or simply just driving around and getting used to the environment.
You can see different kinds of stuff in Gay Manila, from historical buildings, fine arts, and under-the-sea exploration, to exquisite local cuisine! Here is the list of Manila's finest sights.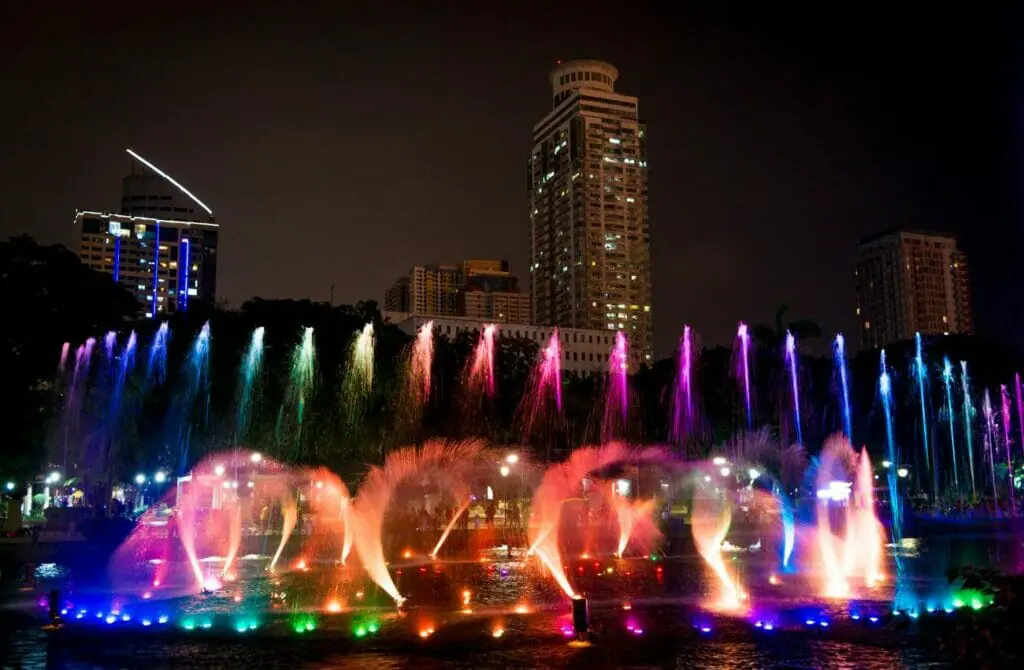 Rockwell Center
Although Rockwell Center is not really a tourist destination, it does have the best nighttime lighting. This lighting from the Rockwell Center Building draws attention from those nearby because it is so nice to see a building in Makati at night with such lighting.
The Rockwell Center's nightlight denotes the beginning of the holiday season. So, the best time to visit here to see these lights is in the final weeks of November to December.
Rizal Park
Rizal Park will surely be one of your first stops in Manila. This quiet and maintained outdoor garden in the middle of the city is also known as Luneta Park. There are statues and monuments commemorating Manila's past displayed around the park.
Take a walk in the park to see the native flora and fauna. Also keep a look out for the Narra tree, the Philippines' national tree, and the small lake with the artistically constructed archipelago in the middle.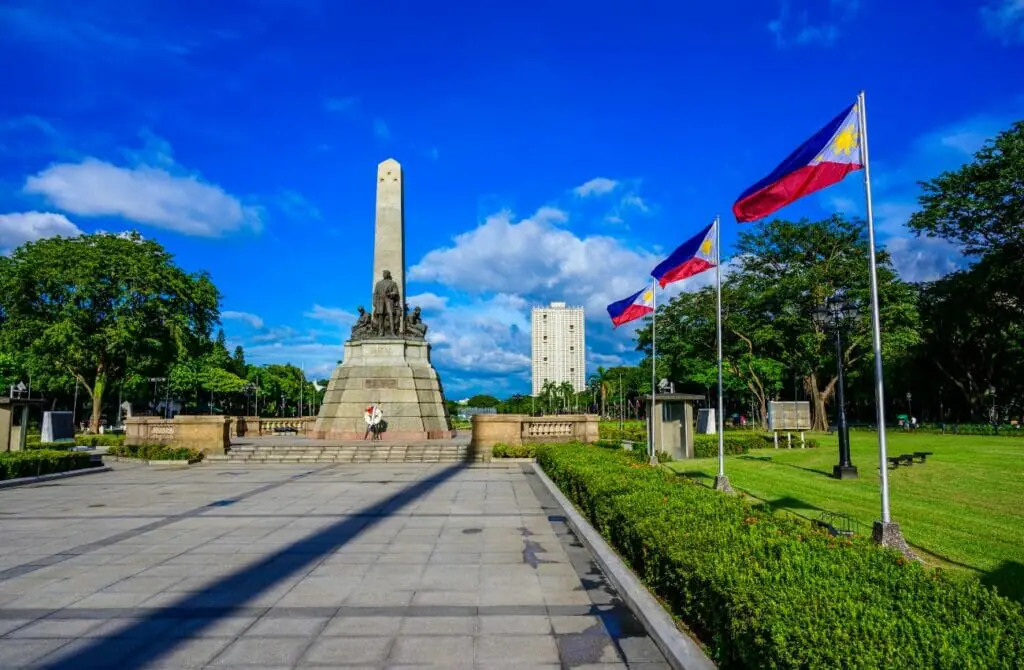 Ninoy Aquino Park and Wild Life
If you want to take your partner on a peaceful, close-to-nature date, then the Ninoy Aquino Parks and Wildlife Center is the one you're looking for. The exotic animals from the Philippines can be found here, along with romantic getaways like their lagoon. It is the place in the middle of the city where you can unwind and feel connected to nature.
The Philippines now boasts its first top-tier marine theme park. If you want to spend the day learning with your significant other, friends, family, or even yourself, then Manila Ocean Park is the right place. Inside, are a variety of interactive activities and educational facilities.
In a 200-degree curved glass walkway tunnel, it contains 14,000 marine animals. On their website, you can purchase tickets and pay with a credit card to eat at various restaurants, and they also accept cashless payments, so bring your cards.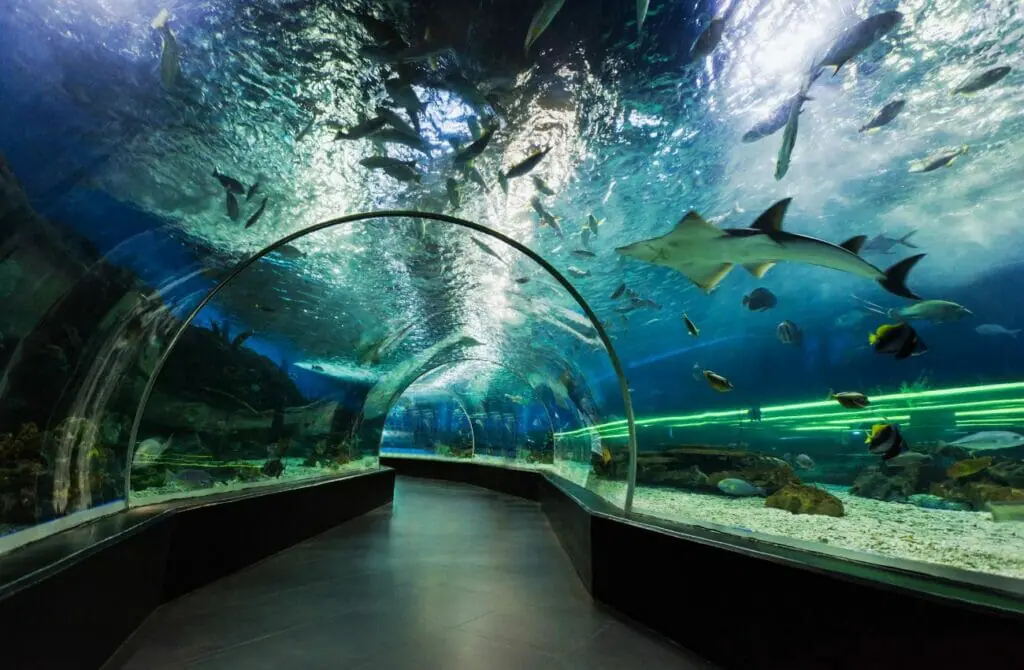 If you enjoy educational destinations in Manila, like Manila Ocean Park, I suggest you visit The Mind Museum. There are 250 interactive activities available, including exhibits, theatre, planetarium shows, experiments, and more! Remember that it is only accessible from Wednesday through Sunday from 9:00 a.m. to 6:00 p.m.
There are many museums in Manila, but this one is unique. The Dessert Museum is one of the attractions you should see while in Manila if you enjoy sweets. There are various interactive activities with candy and sweets themes available at the Dessert Museum.
Some of it is an edible cotton candy forest! Giant claw machines, gumballs, an endless supply of photo opportunities, 5–6 desserts to sample, and the option to purchase their souvenirs! That's a sweet trip, isn't it?
Built during the prehispanic period, This historic walled city was known for its Spanish architecture, various antiques, and arts and crafts. If you are looking for an intimate and quiet place on your dates. You should consider this place on your next dating spot. Experience the culture and go back in time with this place.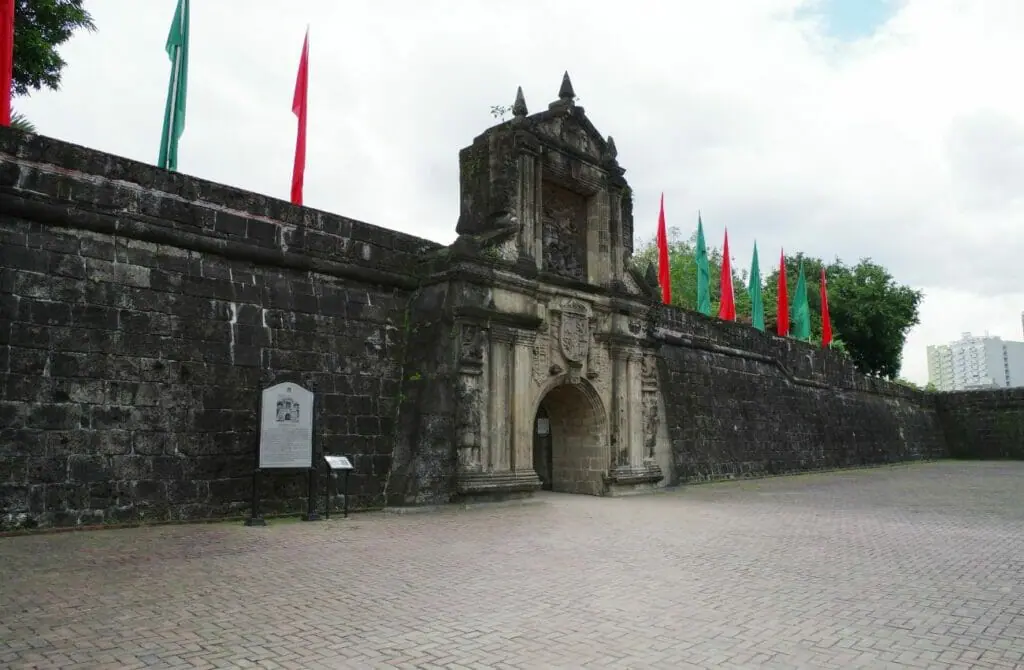 Bonifacio Global City
This place is widely known as BGC, Global City, or The Fort, it is a lifestyle and financial district in the metro. The city has all the places you need, from malls, museums, restaurants, and even for a night out. Once stated as one of the cleanest cities in the Philippines. You can stroll here and meet up with your Gay Filipino friends.
China Town is named the Oldest Chinese community in the world. It is famous for very cheap restaurants, bazaars, and cheap and alternative finds shops. Suppose you are planning to visit some of the historical places in the Philippines.
In that case, this is a must-visit! You can buy souvenirs here. One of our favorites is going for a food crawl at some restaurants on Ong Pin street. Fried siopao and shanghai are definitely worth your money.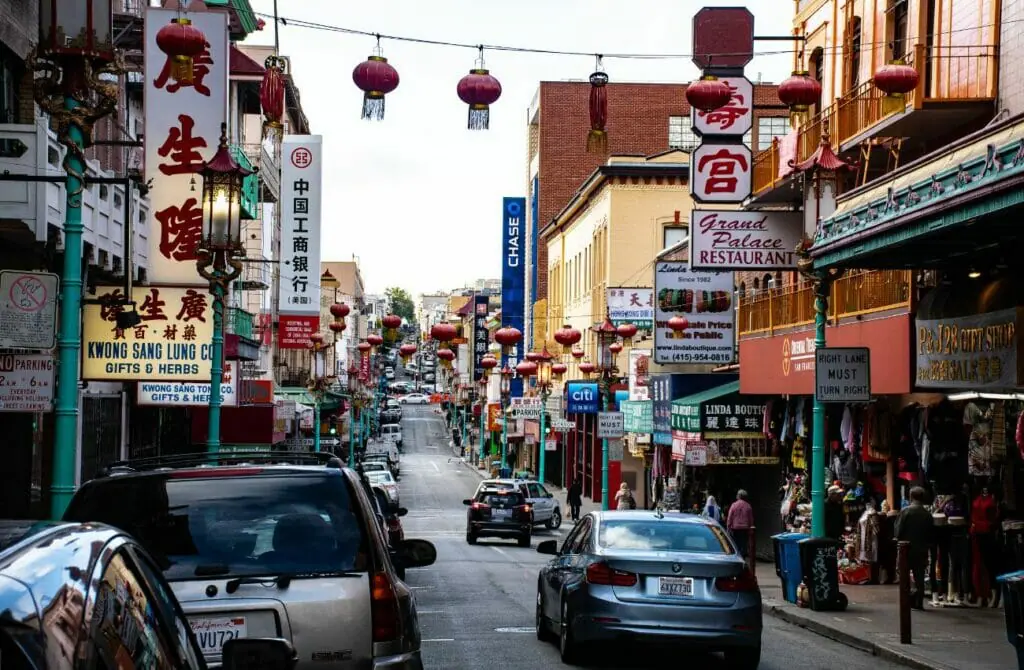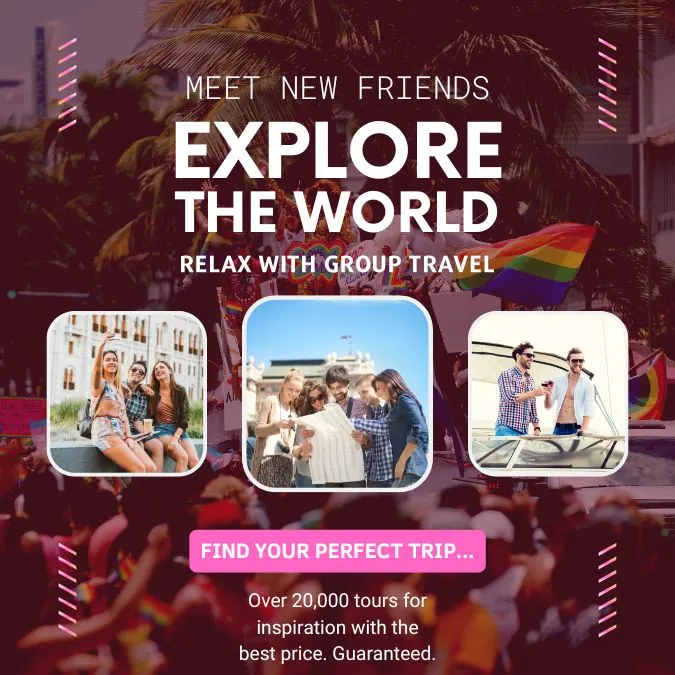 If you have an opportunity it is highly recommended that any LGBTQ+ individual make a point to attend Manila Pride, a yearly celebration of diversity, equality, and love. The event is typically held in June and takes place in the heart of the city, showcasing the vibrant and inclusive spirit of the Philippines' capital.
Manila Pride first started in 1994 and has since grown into one of the largest LGBTQ+ events in Asia, attracting thousands of participants and spectators from all over the world. The parade features colorful floats, lively music, and energetic dancers, creating an atmosphere that is both joyful and empowering. In addition to the parade, there are also a range of other events and activities taking place throughout the city, including concerts, parties, and community gatherings.
Attending Manila Pride is a must for any LGBTQ+ traveler, as it provides a unique opportunity to connect with locals and other travelers, and to experience the rich and vibrant culture of Manila. So mark your calendars, pack your rainbow gear, and get ready to join the fun, because Manila Pride is an event that you won't want to miss!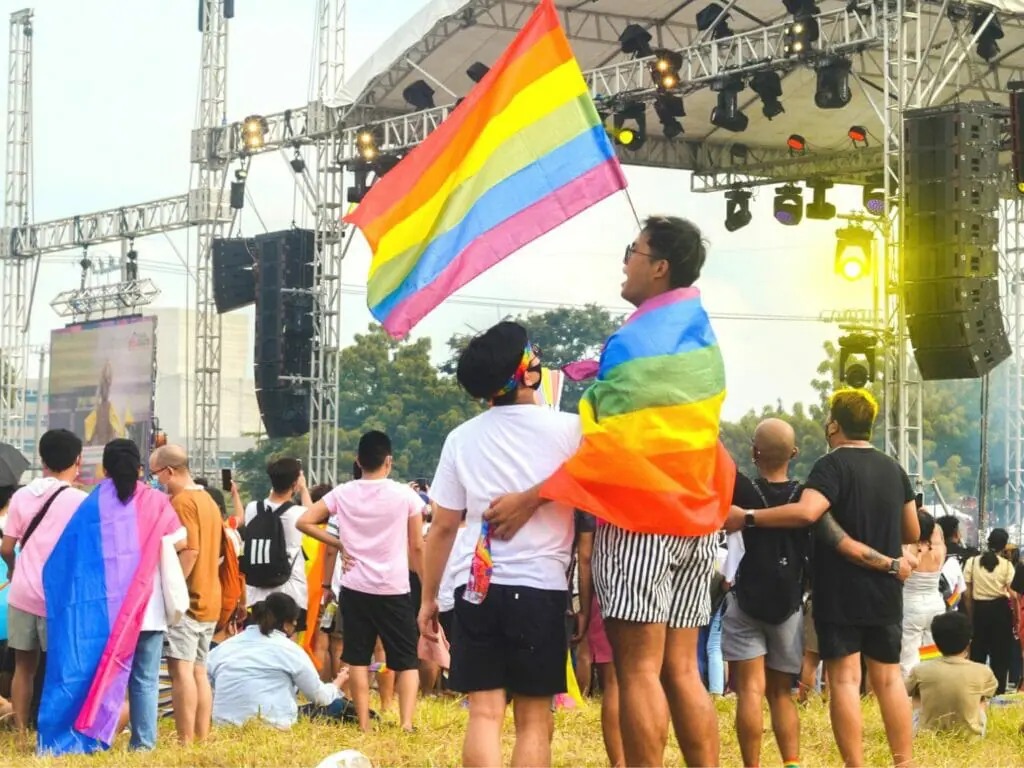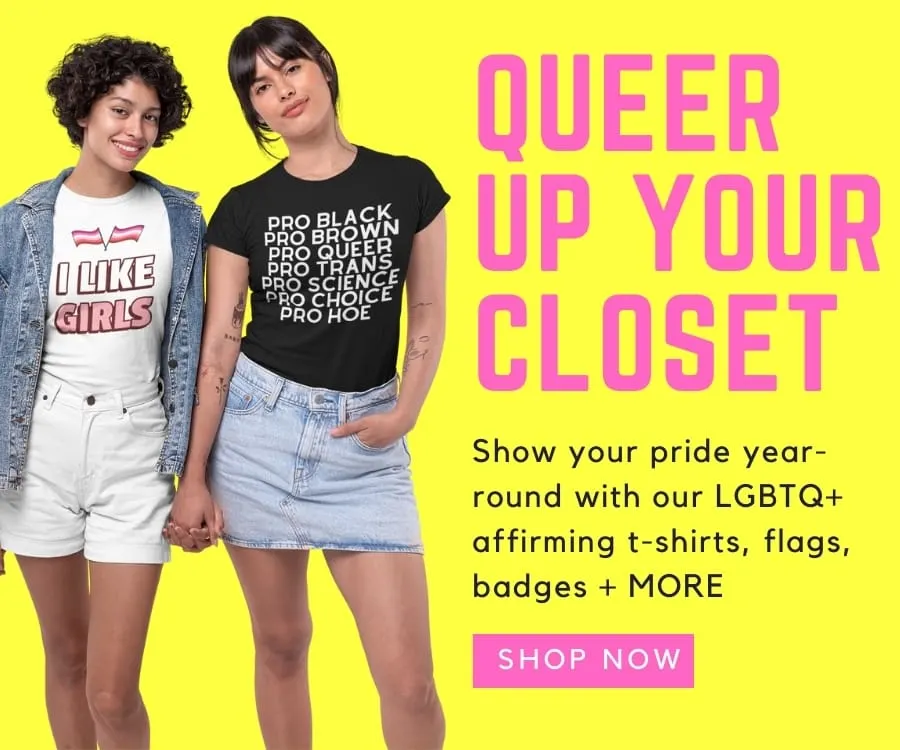 Gay-Friendly And Gay Hotels In Manila
When looking for LGBTQ+-friendly hotels, or gay hotels in Manila, we have got you covered! Manila can offer you many fabulous fay-friendly hotels while also giving you a luxurious stay. These accommodations are easily accessible, provide maximum security, are near shopping options, are inexpensive, and provide you with the best and most open service.
Needless to say, there are also hundreds more hotel and hostel options in Manila if none of these suit your desired budget, facilities or area – but these are the best hotels according to other gay travelers and us. Whatever your needs are, Manila has you covered.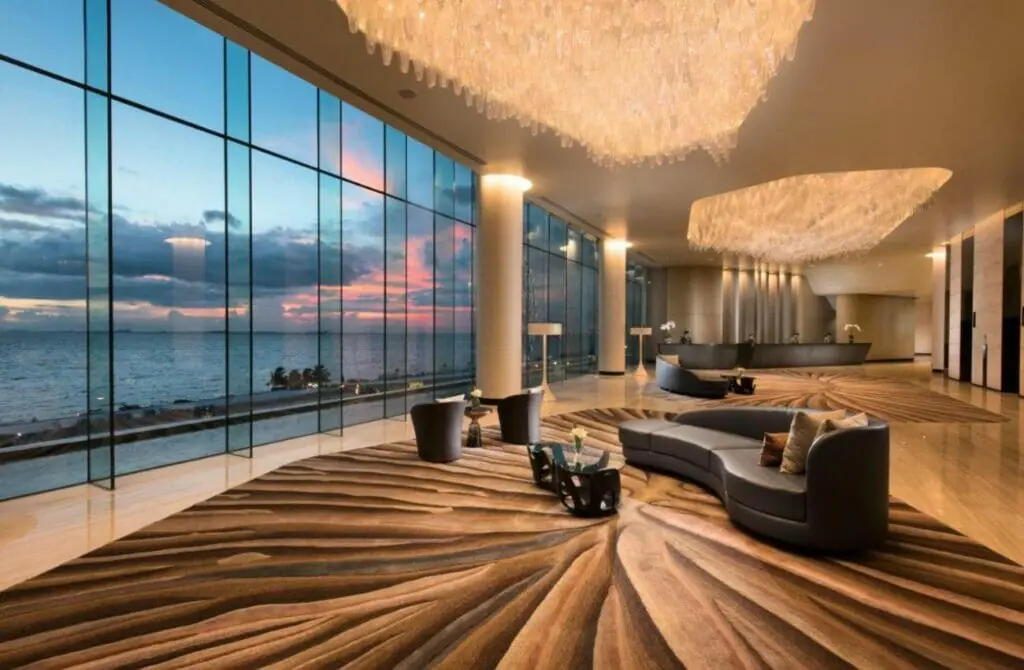 For aesthetically pleasing rooms, you can stay at Conrad Hotel. The hotel has a nice view of the sea where you can relax and enjoy the sound of the sea. The hotel is basked with soft lighting that complements the white and beige motif. Some rooms have a seating area lounge for you to enjoy the view from your room.
All rooms are air-conditioned with flat-screen TVs for comfort. For your convenience, bathrobes, slippers, and complimentary toiletries are available. The hotel also provides car rentals so you don't have to look for car rentals in the city. Conrad Manila is 300 m from SM Mall of Asia, and SM Mall of Asia Arena is also 300 m away. 2.5 miles from Conrad Manila is Manila International Airport, which is the closest airport.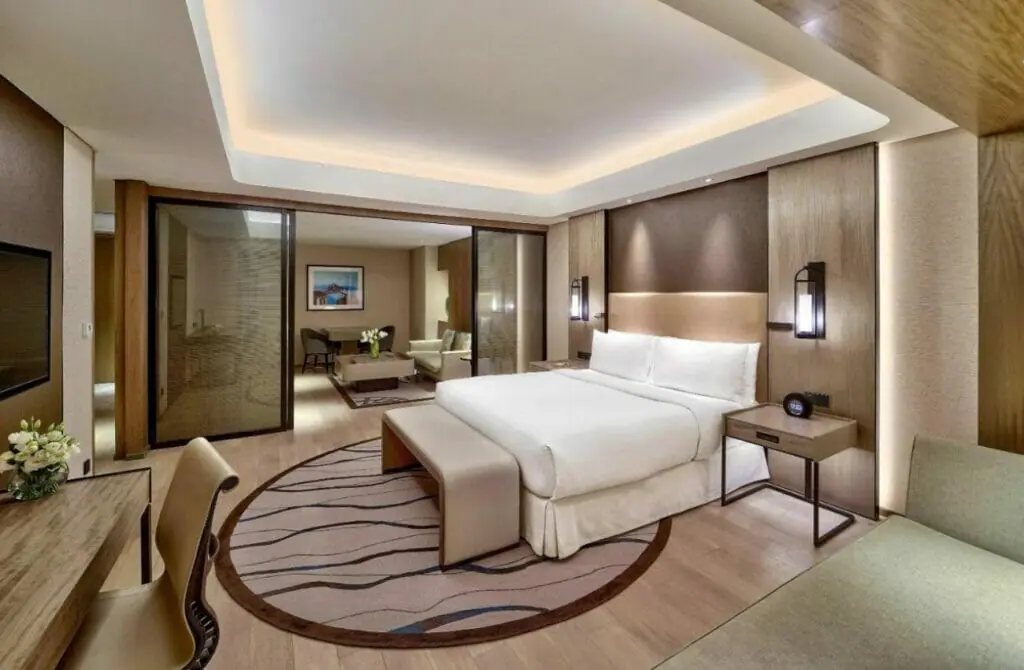 Red Planet Hotel is an open-for-all hotel and one of the most popular hotels around Manila! It was also formerly known as "Ermita". It has the lowest rate which is good for budgeted travel. It is located in the center of the city, so it won't be hard to explore the city.
The Red Planet hotel is fully furnished with a modern look. The hotel is surrounded by big malls and sights. The hotel also has a mini bar where you can order drinks and cocktails to enjoy the night!
A modern, gay-friendly, Hilton Hotel. This hotel is chosen a lot by travelers. Not only they are neat or gay-friendly, but the hotel can give u comfort in staying in luxury. The design of every room and hall is embedded with neo-modernist art. The suites are equipped with a living area and a bathroom with a stand-alone bathtub, while all guest rooms have WiFi access and a 50-inch flat-screen TV.
Breakfast options at the Hilton Manila include a buffet and à la carte. You can enjoy your mid-day lounge or post-dinner cocktails in various settings and ambiances at the Freestyle Pool Bar, Madison Lounge & Bar.
Staff at the reception are available to assist at any time of day and are bilingual in English and Japanese. Parking is also free of charge, and car rental services are also obtainable. When you're in this hotel, there is so much space to explore.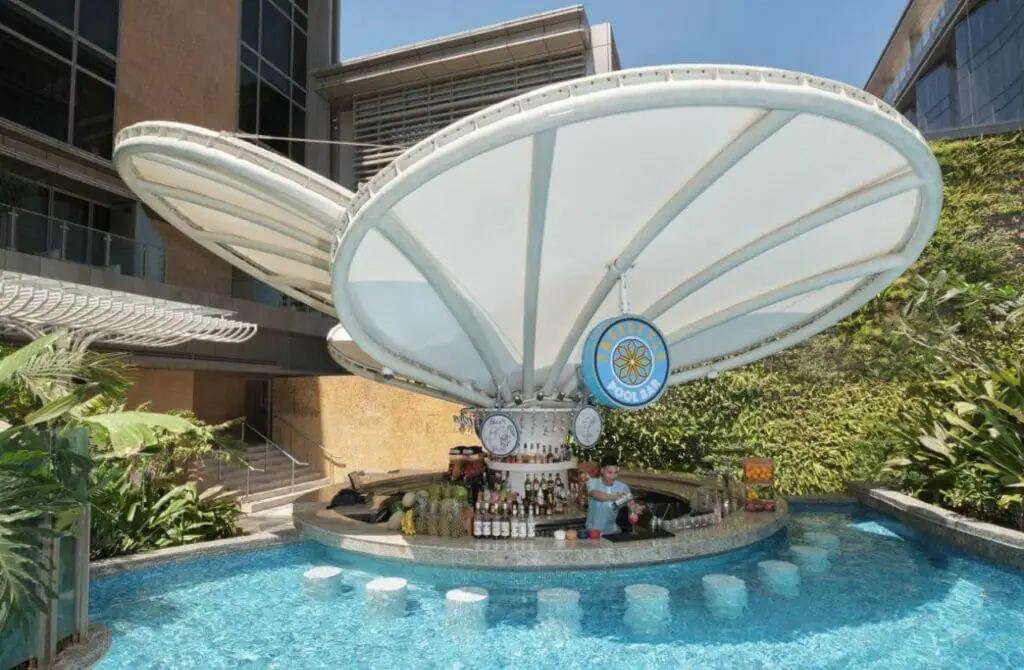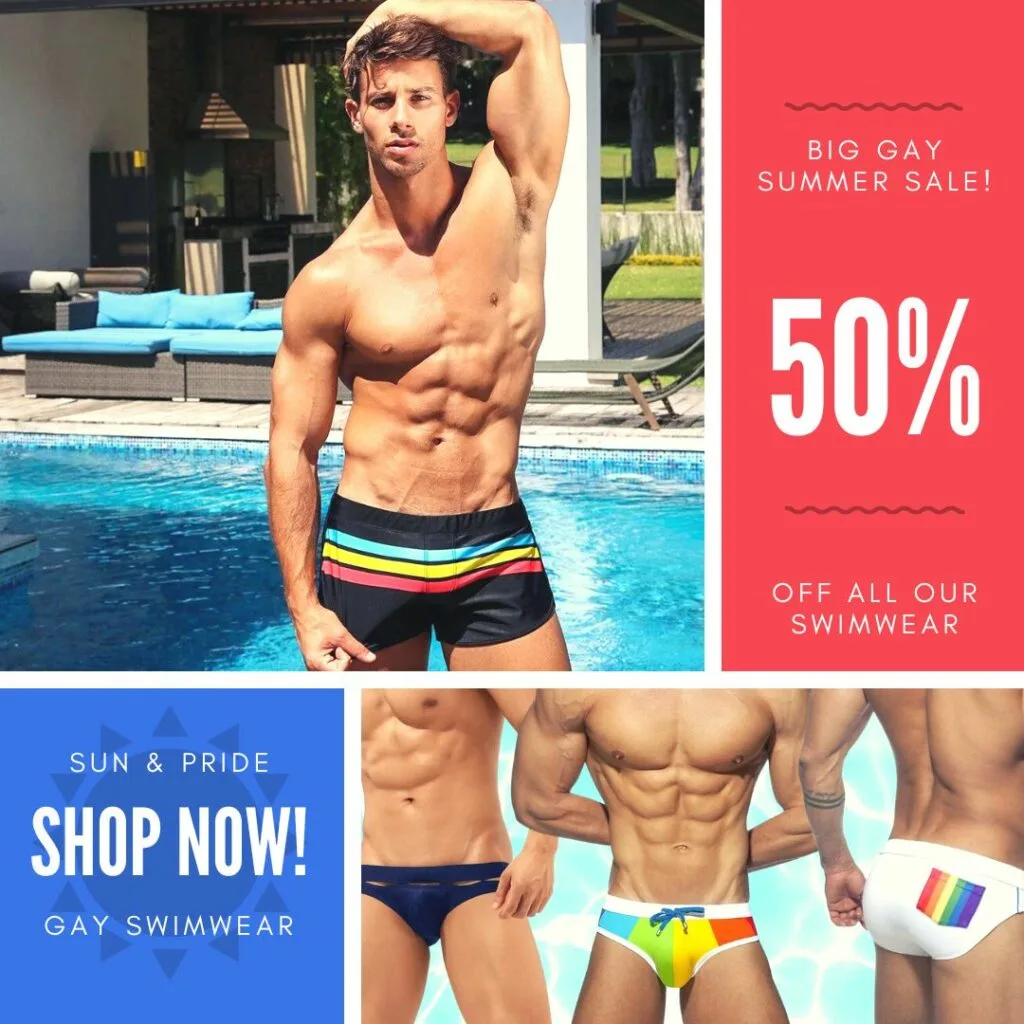 Diamond Hotel Philippines ☆☆☆☆☆
This luxurious hotel is furnished with Calligaris, Bo Concept and Las Palmas, with the rooms colored with neutral palettes and modern designs for a neat and pleasing look. The hotel offers a great number of amenities that can help you through your stay with a convection stove and a selection of cooking tools and utensils if you feel like cooking your own meal.
Now, that's an authentic first-class. What makes Diamond Hotel a go-to hotel for gay people, is the walking distance to the gay-popular venues and bars.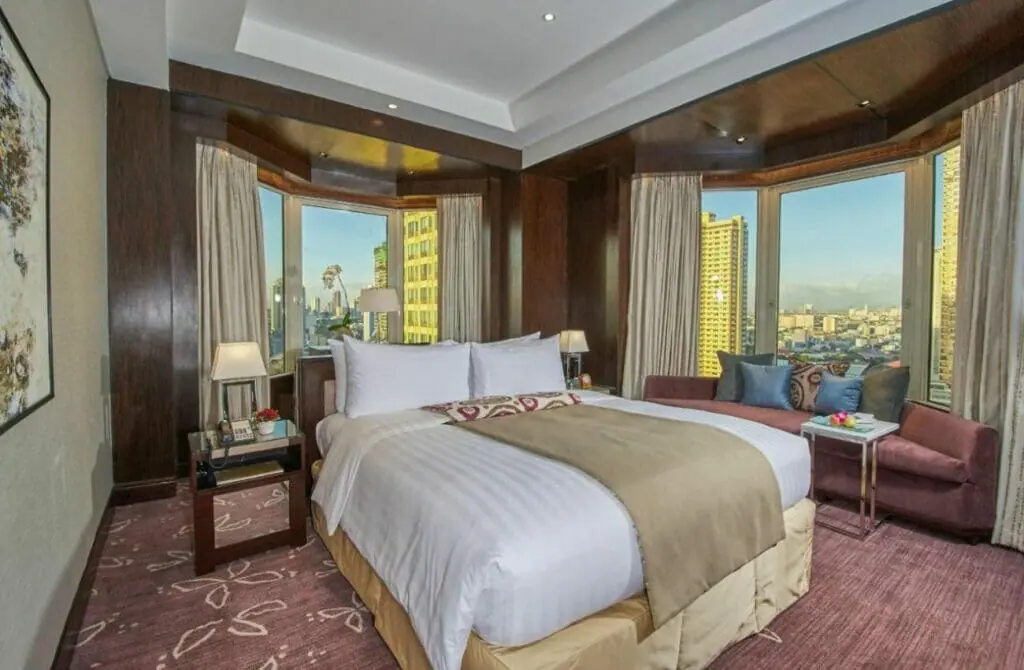 Once you've stayed at this premier hostel in Manila, you will fall in love with the Philippines. We believe, at least. What makes it Manila's top hostel overall? We guess a few things. The bunks are the first thing to mention; they are truly unique and spacious. It is very aristocratic and private. Additionally, they cater to millennials who want to have a good time.
This hostel in Manila that comes highly recommended is a great place to hang out. Imagine going to the Grab 'n' Go Bar to get a coffee and some food at their bar and meet new people. Perhaps meeting someone that you can share interests with.
There are many hotels to choose from, some of the top hotels and hostels in Manila are affordable and, most importantly, gay-friendly. The atmosphere is soothing, in addition to the fantastic service.
You can also find a variety of shopping centers, entertainment venues, coffee shops, and other establishments that suit your preferences just around these Hotels. These hotels are a minute's walk or one ride from the Ninoy Aquino International Airport.
According to some guests, these hotels have excellent accommodations with a very hospitable staff that are accessible by taxi or uber. The ambiance is also pleasing if you want nothing but to relax from work or travel. Some guests say their breakfast is superb as it serves different international cuisines and pastries.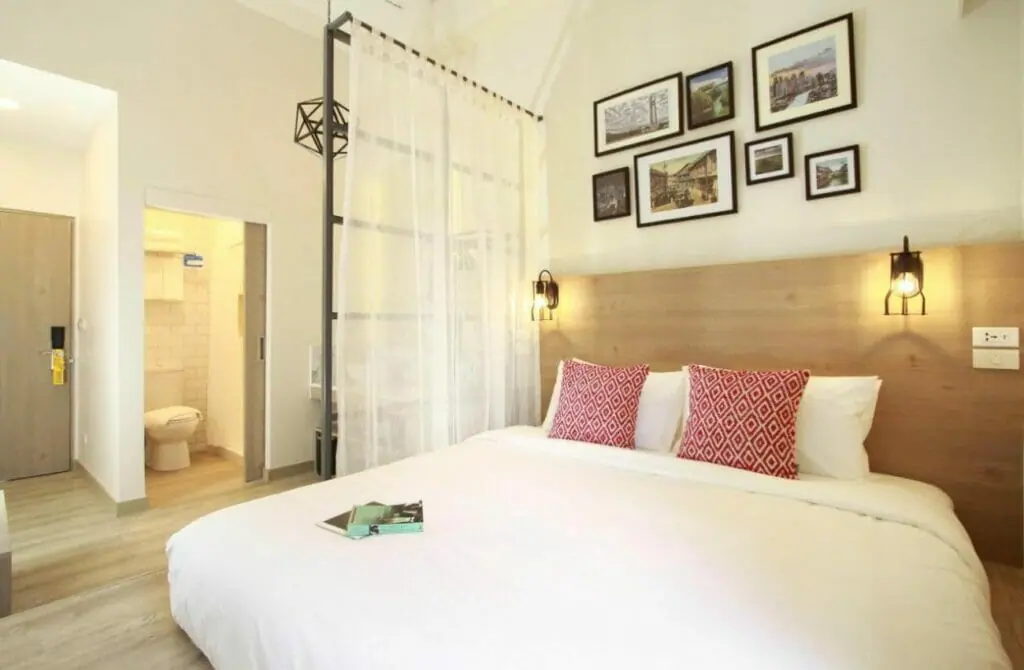 Gay Nightlife In Manila
Exploring the gay and gay-friendly nightlife in a new city can be one of the most exciting and rewarding experiences while traveling – and Gay Manila is no exception. Not only will you have the opportunity to meet new people and make friends, but you'll also get a taste of the local culture and learn more about the city's LGBTQ+ community.
Going out and experiencing the queer and queer-friendly nightlife in a new city can also be a great way to break out of your comfort zone and try new things. Whether it's dancing the night away at a gay club or mingling with locals at a gay-friendly bar, you'll have the chance to make memories and create lasting connections.
So, don't be afraid to step out of your comfort zone and explore the gay and gay-friendly nightlife in Manila. You'll be glad you did!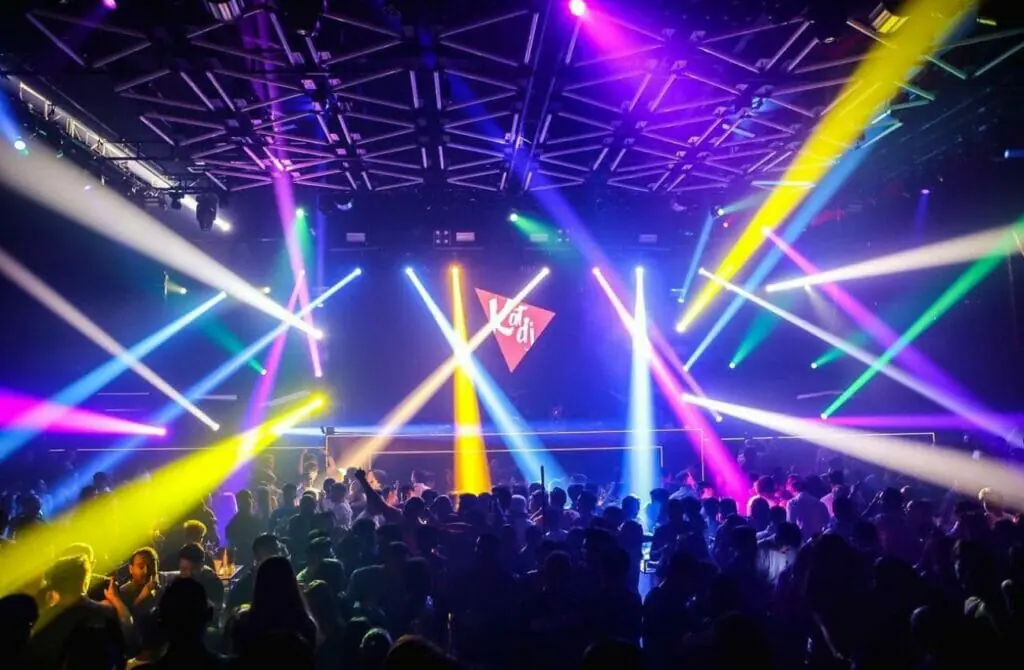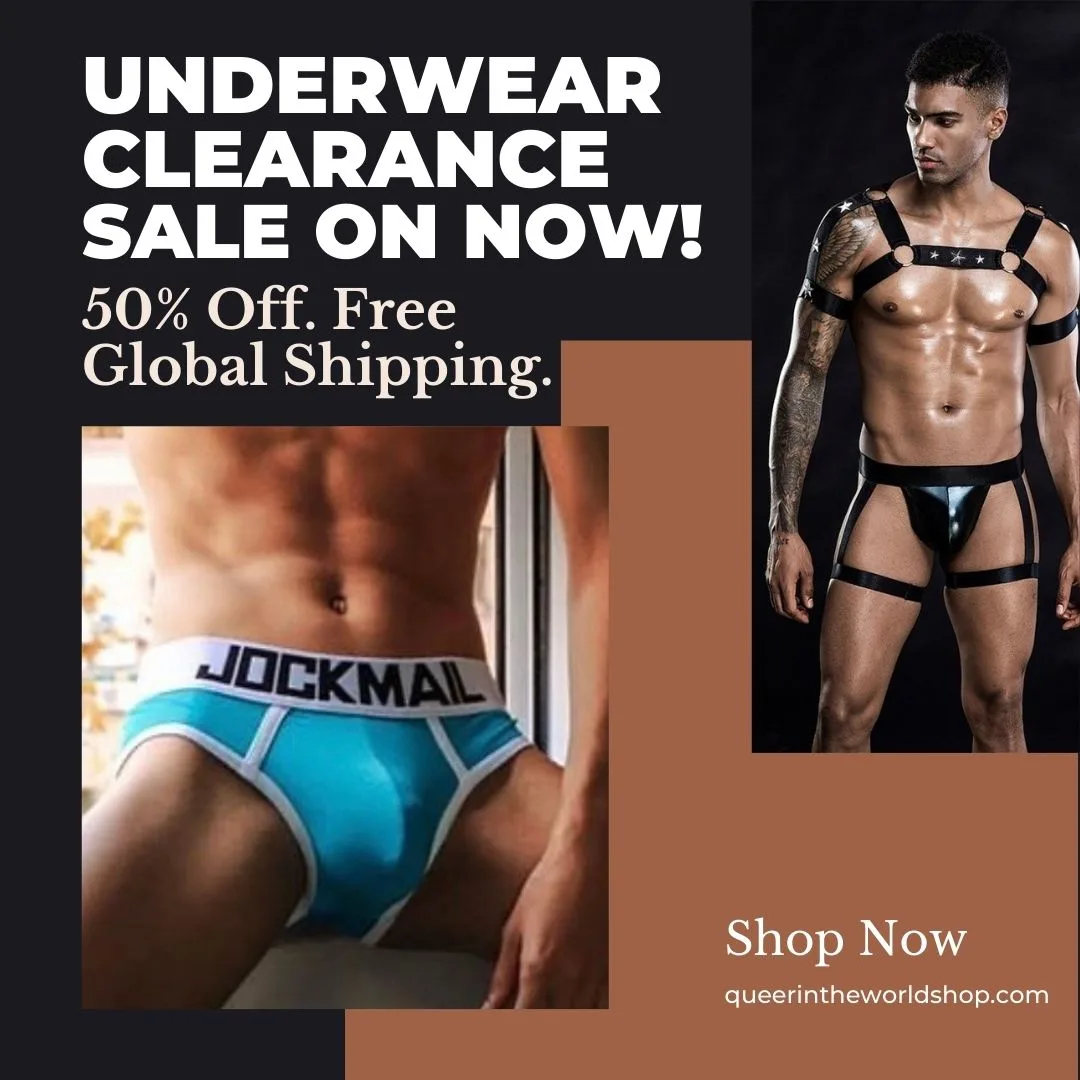 Gay Bars and Clubs in Manila
Catch 272
Catch 272 is an LGBT-managed bar. This bar has a bohemian and artsy vibe. It's perfect for social gatherings. Hang out in this bar if you're into open mic poetry reading, social debates, fundraising activities, and great live music performances by local bands every Friday and Saturday night. This bar is open by 7pm every weekday and weekend.
XYLO is a club full of Gay people, especially on the weekend. I have been to XYLO before, and based on my experience, XYLO got the best music, a well-organized party, an incredible ambiance, and an amiable staff and bartender. They serve different kinds of cocktails and internationally known beer. So if you have a friend with you, bring them over to XYLO.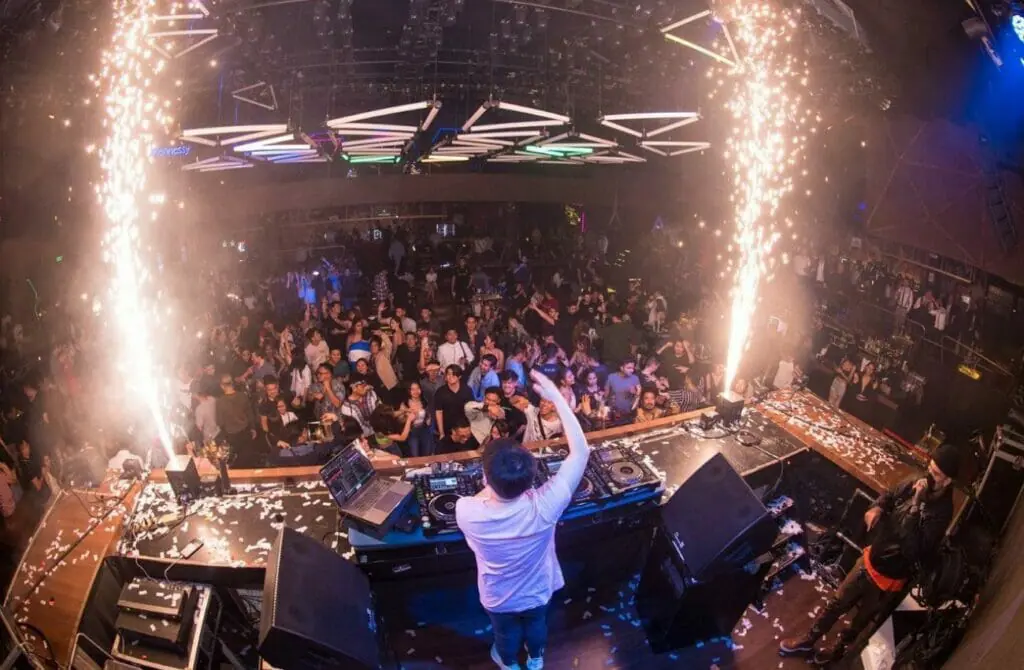 The Adonis Gay bar is famous around the Philippines. They do adult entertainment, they are covered with different kinds of men, petite, athletic bodies, or mix, you name it! They also offer you drinks and cocktails to set you up in the mood. Drag shows are also available here. When you come here, get ready for a sexy night.
The Apollo is a sizable male entertainment venue in Manila that hosts cabaret, exotic dance, and musical events. Everything from street dancing to acrobatics will be represented in some way. You will have a fantastic gay night out in Manila because the performers are of the highest caliber.
Get ready to blow your mind (and maybe something else) with Asia's sexiest drag queens and flaunting muscular marys. You can sing in their KTV booth while also getting entertained by spicy hot men.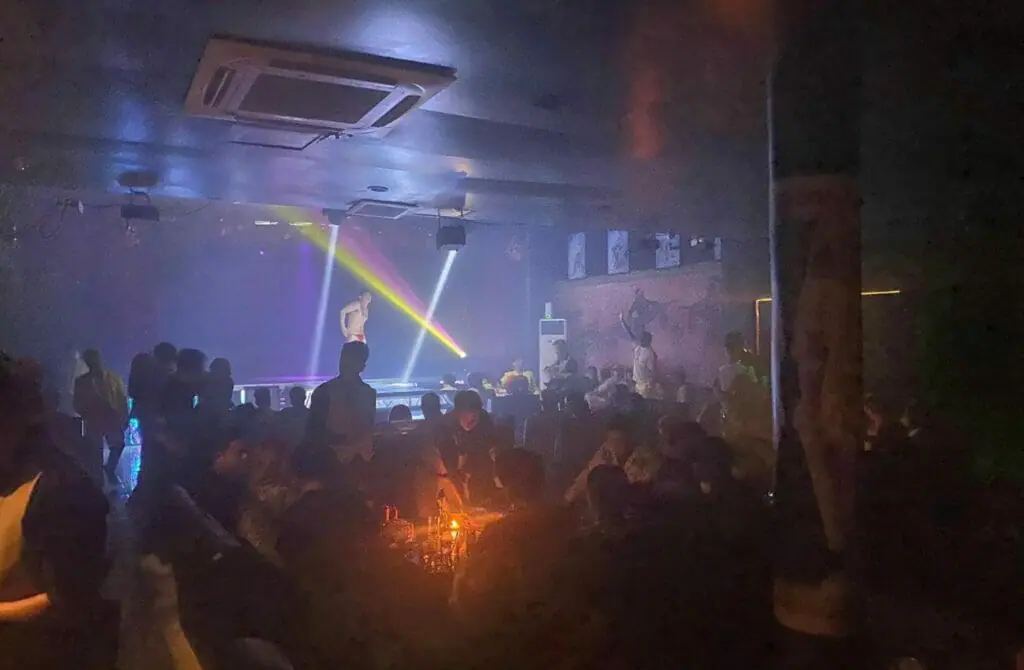 Are you in for fun and unstoppable laughter? Visit Nectar Nightclub and meet some amazing drag gay queens! They held events every holiday, especially during Christmas. Enjoy their colorful cocktails and wild ambiance, while also getting entertained by their nightly shows. The Nightclub is open on Wednesday, Friday, and Saturday every 10 o'clock till 5 in the morning.
O bar is a gay bar in Pasig, Manila, the city's most popular weekend Gay Dance Club. Opened in Malate in 2005, O bar created famous Drag queens such as the Divine Divas, which includes stars from the show Drag Race Philippines- Brigiding, Viñas DeLuxe, and Precious Paula Nicole, the home of Asia's Finest Dancing-Drag Queens.
O bar gives you a colorful place where you see wigs, exquisite makeup, and a fabulous wardrobe! Originally from America, the phenomenon of the drag race in the US was brought to this place. If you want to see different astounding performances and see them sing live, visit them at O bar manila!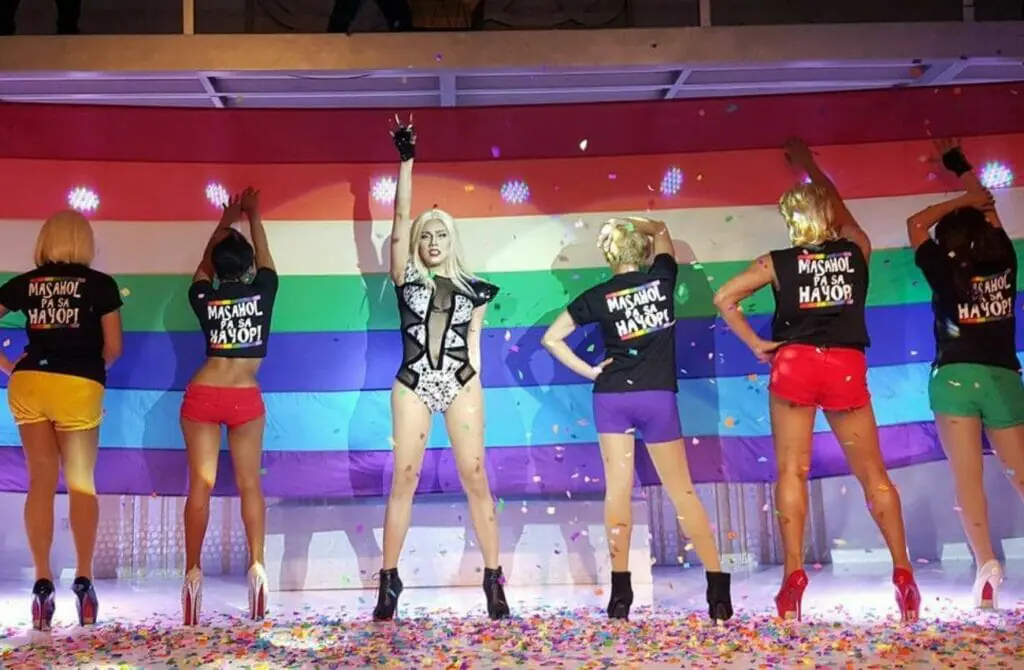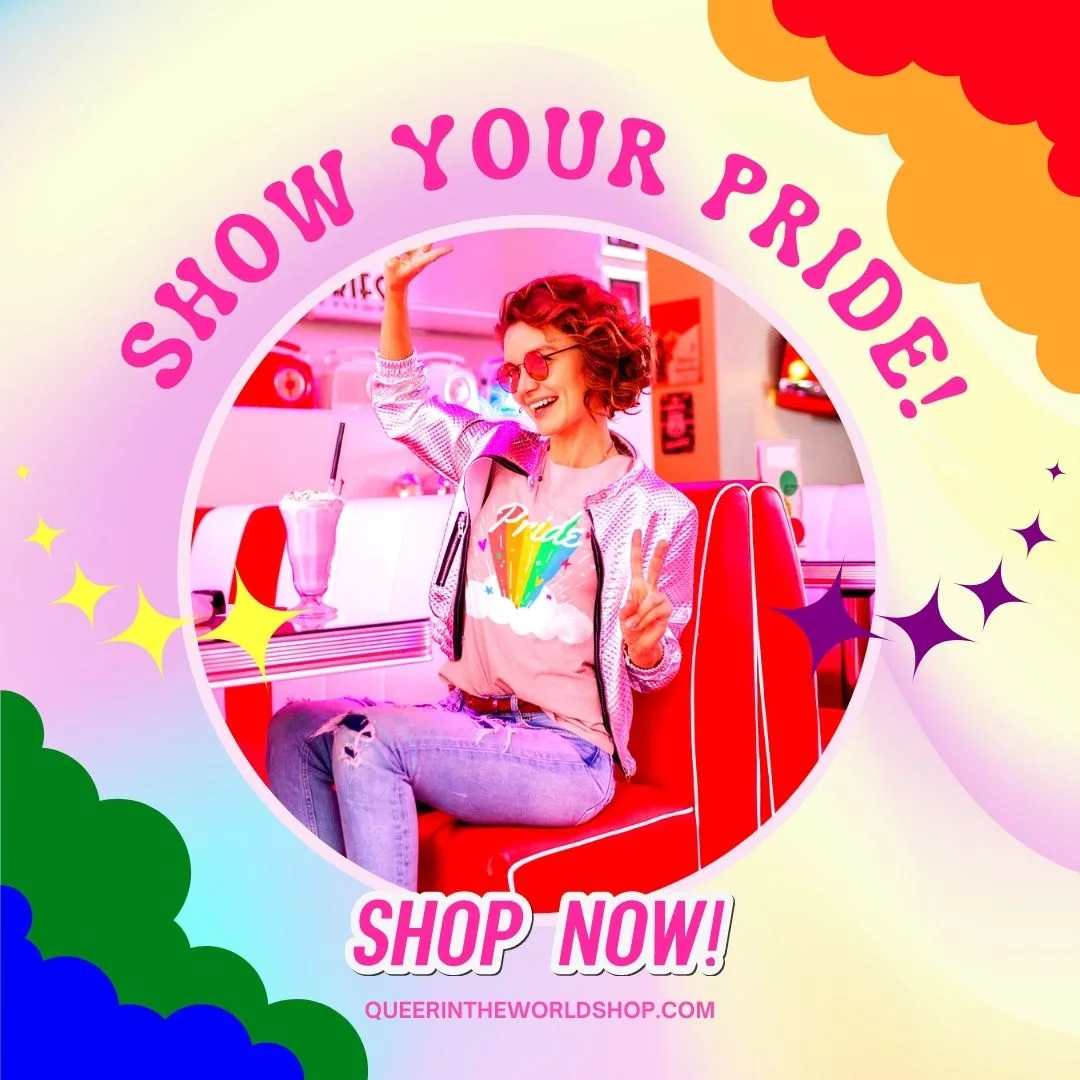 If you love EDB music and blinding neon lights, this place must be a haven for you. The crowd has a mix of generations from teens, millennials, and some people from their 30s and early 40s. This place is a gay-friendly place since a lot of gay personalities are known for visiting this place. Do you want to light up your Night? Come and try to visit HQ.
The Island BGC is probably one of the good places for teens and youngsters in the metro. The place includes a mini pool for the islandic vibes. The staff, from servers to bouncers, gave great service throughout the Night. They even assisted gays who wore big platform heels. I must say their tagline suits Night! "Life is better on the Island!".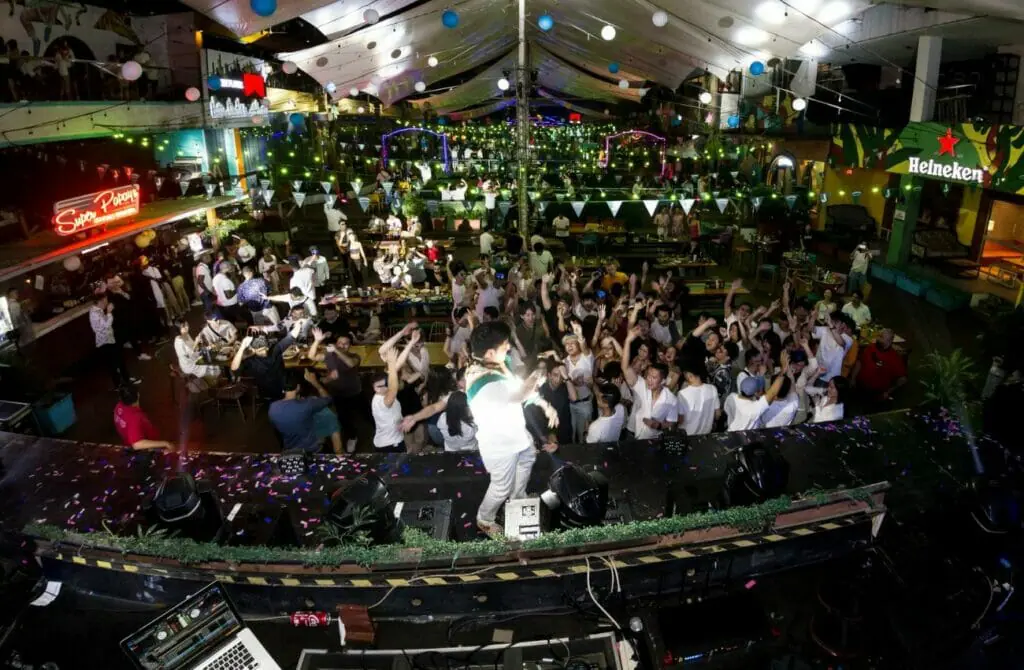 Another Chic Club that you must visit! Reviewed as one of the friendliest bartenders, it has a romantic atmosphere, chic decor, and great food! Kondwi is also known as an Oyster Bar, famous for Asian Tapas, Cocktails, and Wines. This is the place to hang out and chill at the same time! * A must try- Mushroom Chicharon!
Early Night is LGBT-friendly, it is known for its wild vibe, perfect for showing intimacy with your partner. Match the scorching heat with scorching beats from the DJs. Get two liquor bottles for only Php 2,000 (36 US dollars) for their weekday promo!
The area was spacious, with a high ceiling and very warm lights. The interiors are superb! Make sure to reserve your tables because it is always crowded here. Even though it was jam-packed with partygoers, the staff could still accommodate and perform excellent service throughout the Night.
The Itaewon vibe in the metro? This rooftop bar with an unobstructed 360-degree view of Manila City feels like you are living in a K-Drama. Roof manila is excited to offer you breathtaking scenery while vibing with the DJ's upbeat music. Just remember to bring your valid id and Vaccination card for your safety!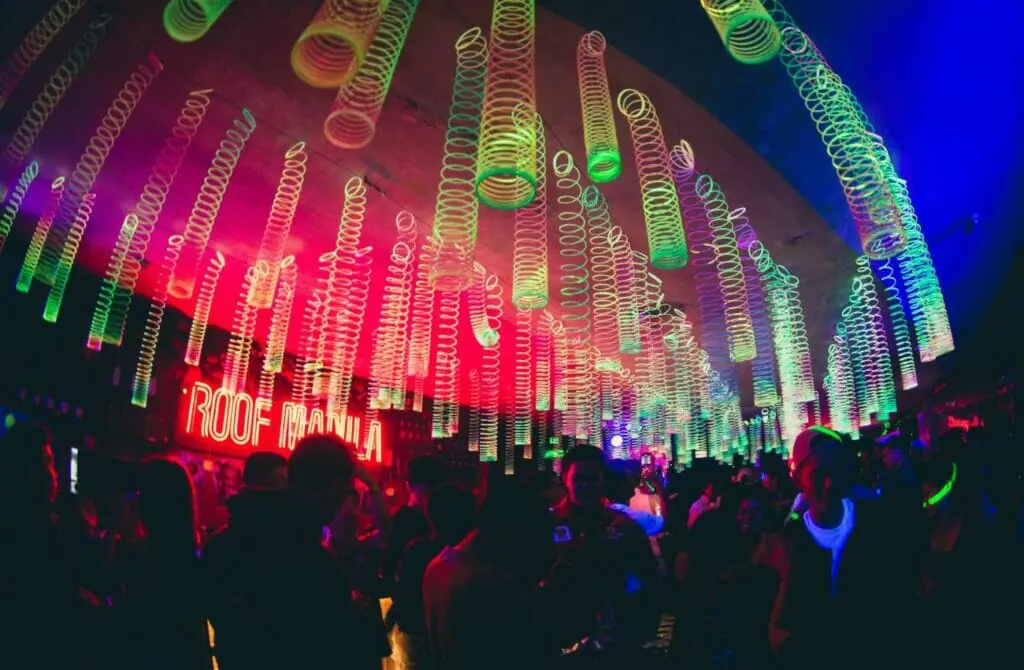 Gay Saunas in Manila
When traveling to a new city, it can be exciting to head out for more than just a stiff drink. One aspect of the Gay Manila scene that many queer men enjoy is visiting gay saunas and cruising clubs. Most Filipinos can speak conversational English, so it won't be hard to speak to them – though the conversation isn't exactly what you head here for…
Sure, the sauna culture in Manila is not as hedonistic as in Amsterdam, Barcelona or Berlin, but these venues still offer a chance to meet new people, socialize, and engage in sexual activity – without resorting to gay hook-up apps. However, it's important to keep in mind that these venues can vary greatly in terms of atmosphere, clientele, and rules, so it's a good idea to prepare yourself before visiting. If you are apprehensive, we advise studying our guide to visiting a gay bathhouse for the first time, which should help set your mind at ease, and always practicing safe sex.
Additionally, it's important to be aware of and respect local laws and customs regarding gay venues and sexual activity. With a little bit of planning and an open mind, visiting gay saunas and cruising clubs can be a fun and exciting part of your gay Manila travel itinerary.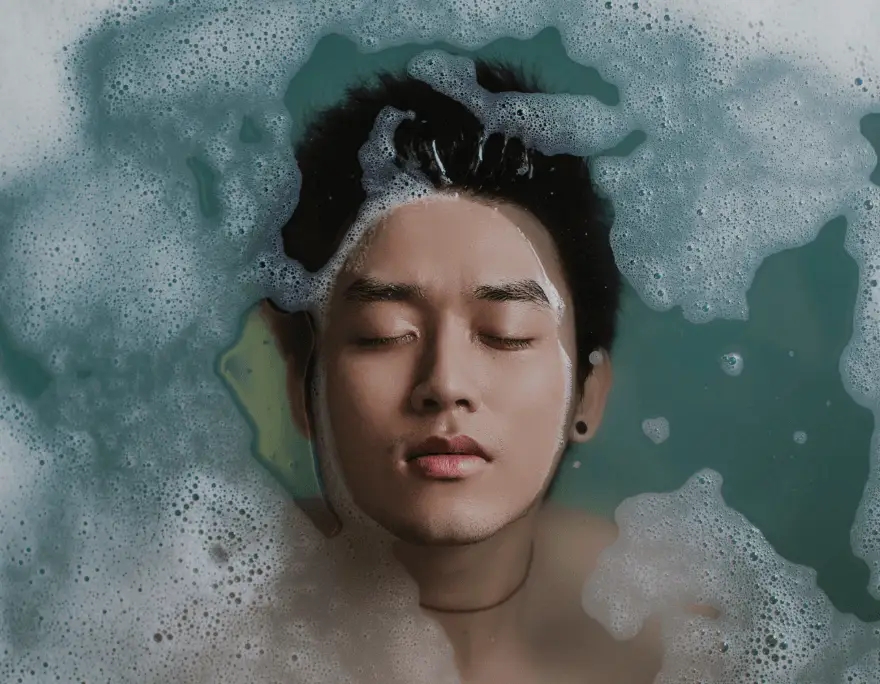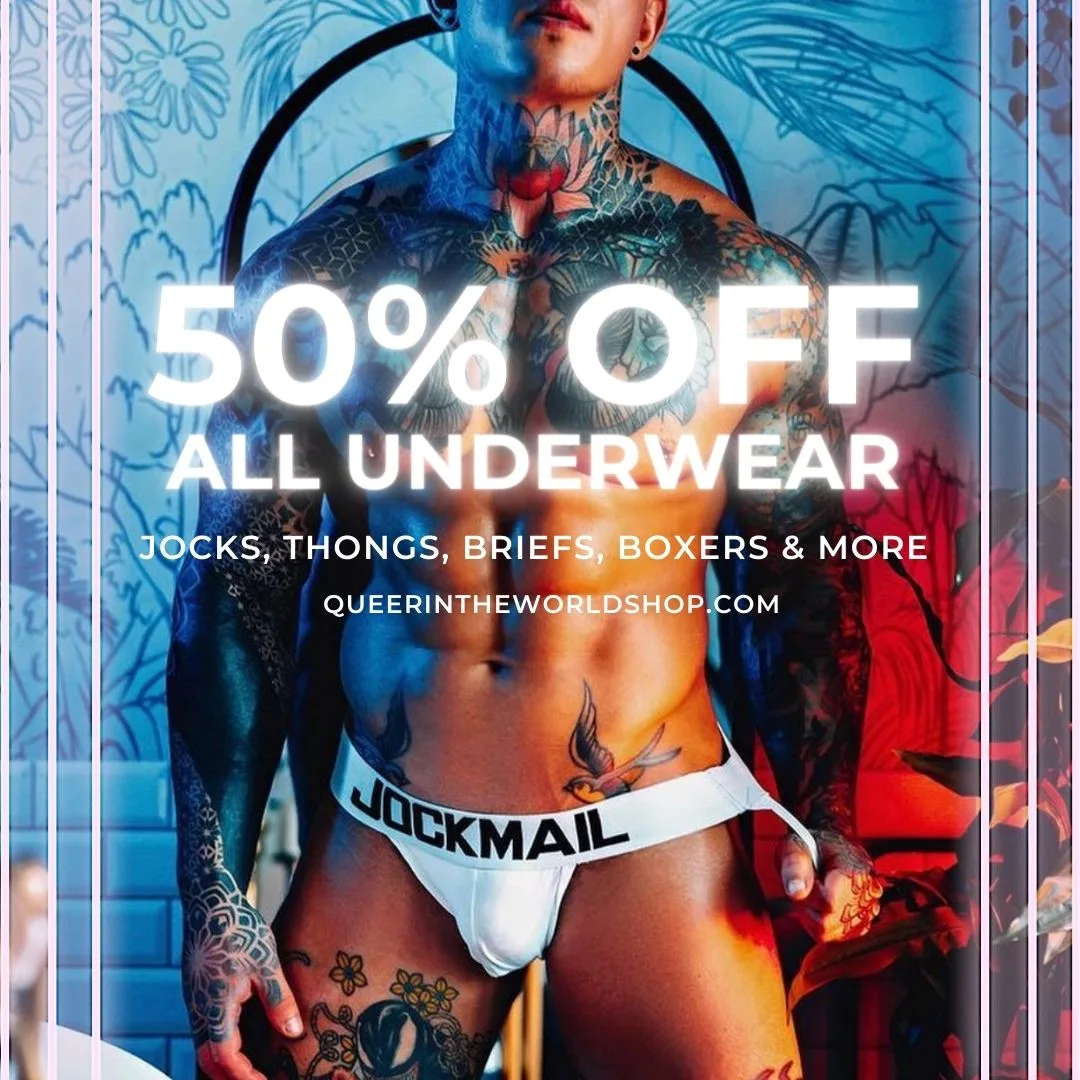 Club Bath Philippines is the oldest Gay Sauna. Since 1977, the gay sauna Club Bath has provided services to the LGBT community in Manila. This relatively tiny, three-story venue has a gym, TV lounge, snack bar, little steam room, private cabins, and dark room, among other amenities.
Since this is a "members only" club, be prepared to pay a membership fee when you first enter.
This is the place to keep your trip in Manila a little more kinky and spicy. Pleasure Place is located at Makati Avenue, Jupiter, Makati, 1209 Metro Manila. They sell a variety of gay sex toys and other fun items that will help your night busy.
If you're looking for an all-inclusive gay entertainment option, then Fahrenheit Café is the right one for you. Fahrenheit Cafe is the first gay membership bathhouse to open in Manila. Operating 7 days a week non-stop and they even have a sauna (jacuzzi, steam room, showers, private cabins).
They also have karaoke, a bar and dance floor, and shows. The place is busy on the weekends. Since this is a private club, be prepared to pay a membership fee when you first enter. Enjoy a steaming hot night with Fahrenheit Cafe!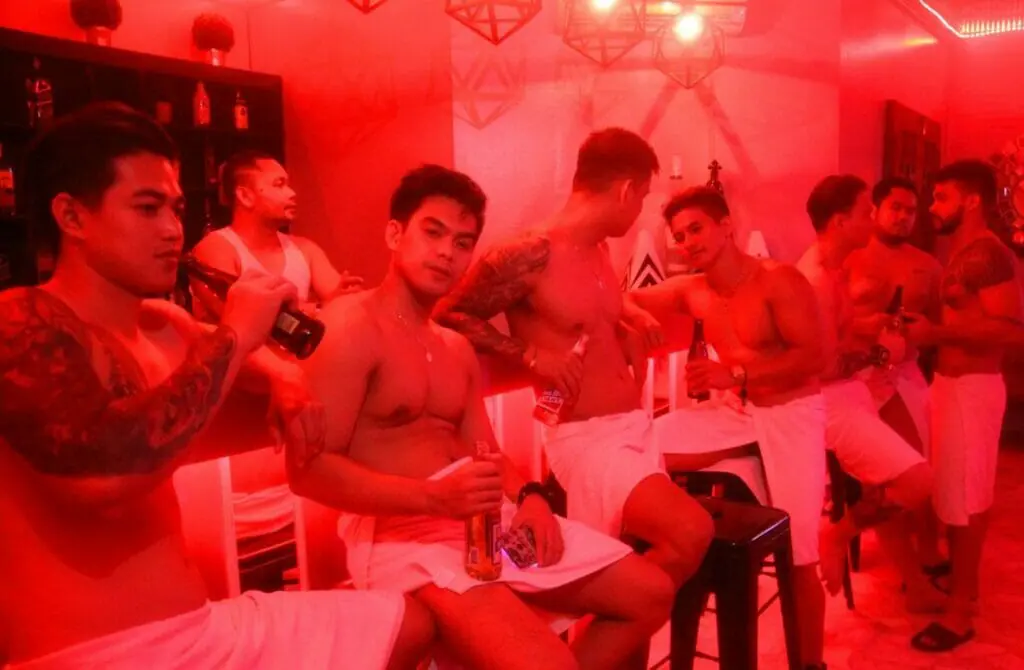 Gay Map Of Manila
Finding it hard to envisage where everything is in Manila? Hopefully, this queer-centric map helps where we have marked all the bars, clubs, parties, hotels, saunas, massages and more will help you stay in the spot best suited to you!