Welcome to the captivating island of Curaçao, a tropical paradise that beckons gay travelers with its vibrant culture, stunning landscapes, and warm sunny embrace. As you step on this colorful gem in the heart of the Caribbean, prepare to embark on a gay travel adventure like no other.
Discover the enchanting streets of Willemstad, where pastel-hued colonial architecture meets lively markets and historical landmarks. Immerse yourself in the pulsating beats of local rhythms, join the pride festivals, and witness captivating drag shows that light up the night.
Indulge your taste buds with a culinary journey through the island's diverse foodie havens, savoring fresh seafood delicacies, tantalizing stews, and the renowned blue Curaçao liqueur crafted from the island's delicious oranges.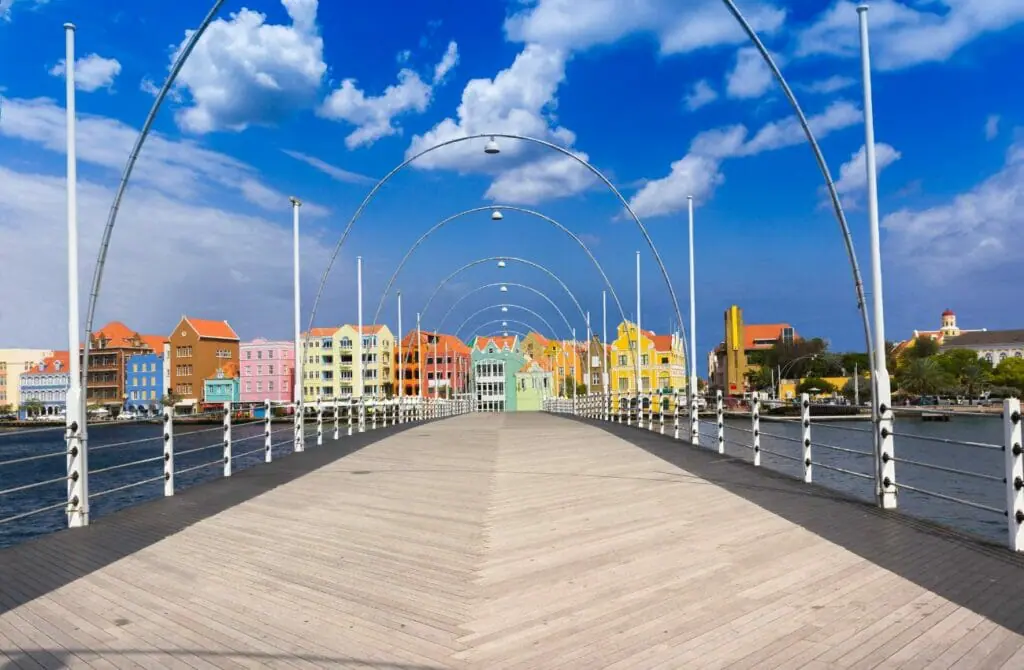 Treat yourself to the welcoming spirit of Curaçao, a place where diversity lives and love knows no boundaries. From trendy beachside lounges to chic cocktail bars, the island offers stylish settings to showcase your fashion-forward ensembles. You might even find a few fabulous dives that call your name.
Beyond its natural beauty and lively atmosphere, Curaçao boasts a rich history and an energetic cultural scene. Explore its museums, galleries, and art studios to discover the artistic soul that permeates every corner of the island.
So pack your swimsuits, dancing shoes, and an eye for adventure because you got yourself a ticket to Curacao! Get ready for an unforgettable travel experience on a gay-friendly island paradise where every moment is filled with warmth, excitement, and a touch of the unexpected!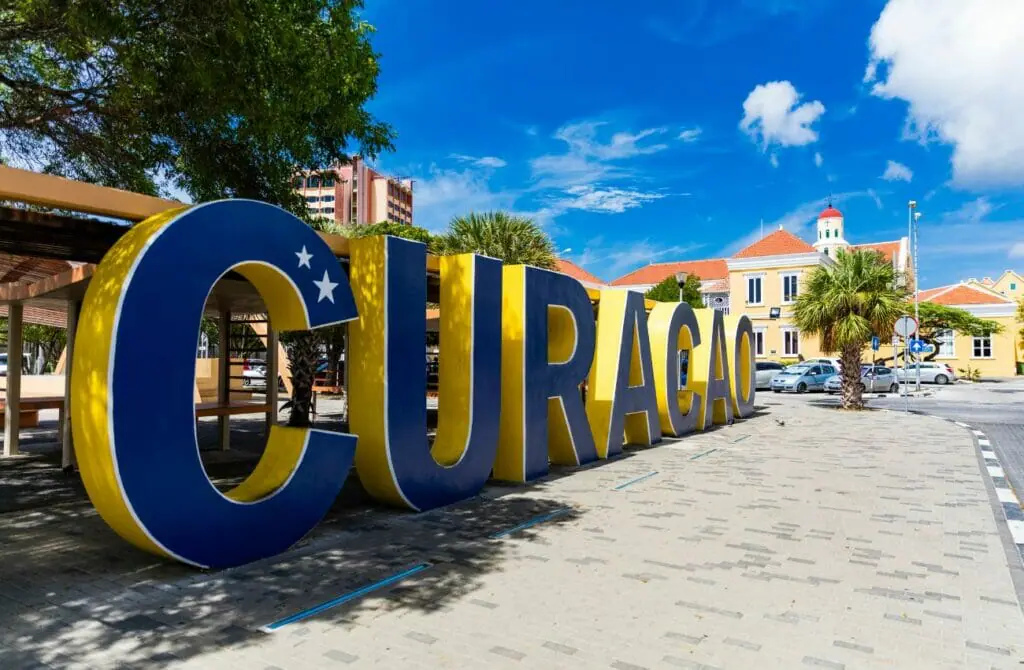 Gay Things To Do In Curacao, Netherlands
As a new visitor to Gay Curacao, there are plenty of things to see and do, regardless of your sexual orientation. One of the best ways to experience any new city is to visit some of its most iconic landmarks and attractions, including historical monuments, museums, and art galleries.
We also love gazing at architecture up close, exploring parks and gardens, sampling the local cuisine, visiting local markets, and attending cultural events such as festivals, concerts and shows.
Even as the out-and-proud queer we are, we still love to explore the city and its culture in the same way as everyone else. Doing so allows us to learn more about the city and its people and gain a deeper understanding of the local culture. As such, these are our favorite must-see attractions in Curacao.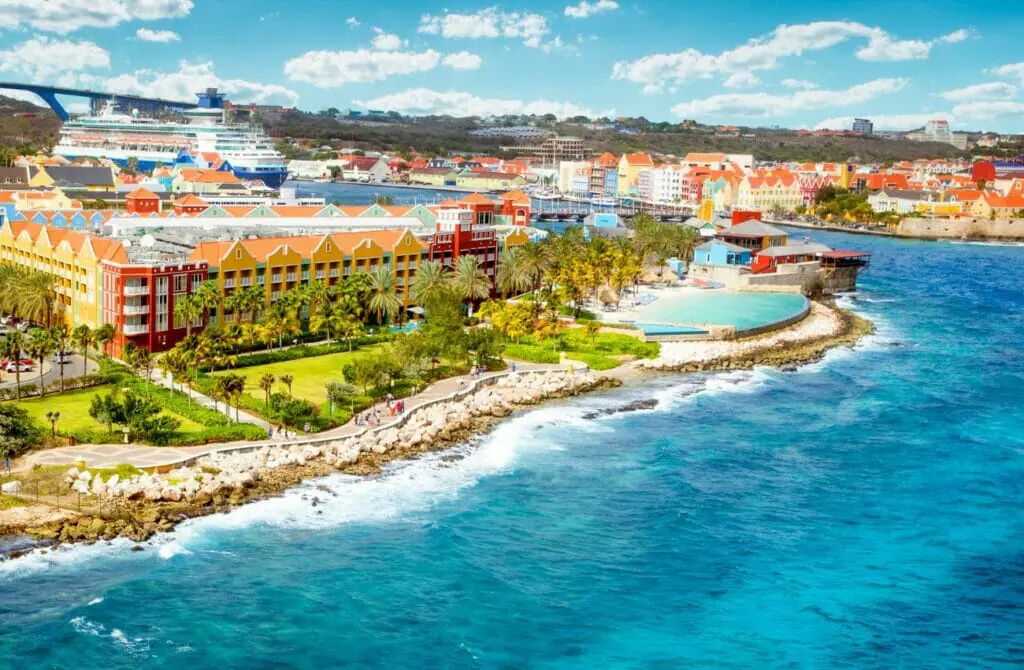 Underwater Walking Tour in Curacao
OK, this is just too cool to pass up! Embark on a one-of-a-kind adventure in Curacao as you drench yourself in the breathtaking world beneath the waves. Delve into the realm of corals and colorful fish on an extraordinary underwater walking tour.
As you descend, marvel at the beautiful marine life swirling around you. At the same time, you engage in the thrilling experience of feeding the fish. With a maximum group size of just six, you'll enjoy an intimate and personalized journey guided by an expert who prioritizes your safety and enjoyment.
Slip on the provided water shoes and don a specialized helmet to commence your extraordinary underwater stroll. Whether you're a seasoned swimmer or not, this excursion is accessible to all. After approximately one hour of awe-inspiring exploration, your day remains open for further discoveries.
Arrange convenient hotel pickup for a nominal fee and prepare for an unforgettable encounter with Curacao's aquatic wonders.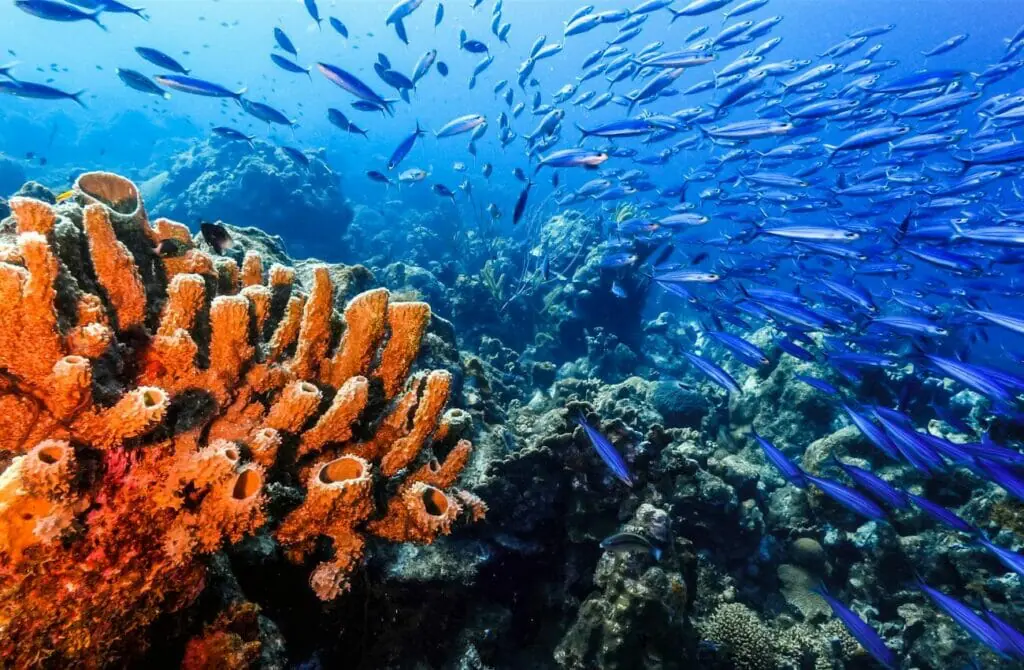 Blauwbaai
Nestled along the sun-kissed western coast of Curacao, just outside the charming enclave of Sint-Michiel, lies Blauwbaai, a gorgeous gem among the island's pristine beaches. Celebrated for its enchanting blend of powder-soft sands, crystalline waters, and captivating vistas, this coastal paradise unveils a mesmerizing underwater realm of kaleidoscopic coral reefs and beautiful marine life.
Sheltered by graceful palm fronds, the bay is open to swimmers, snorkelers, and scuba enthusiasts to surround themselves in its beauty. Snack bars and inviting restaurants offer tantalizing flavors, while the nearby fairways of an immaculate golf course and a super fab sculpture garden add an air of refined indulgence to this coastal haven, ensuring a stunning retreat for all.
Step into the captivating world of Punda, where the historic Penha Building, adorned with intricate facades dating back to 1708, stands as a testament to the rich heritage of Curacao. Strolling through the palm-dotted expanse of Wilhelminapark, the ambiance of the pedestrian-only streets will captivate you.
This picturesque enclave is a haven for shopaholics, offering an array of boutiques, cafés, and terraces conveniently clustered together.
Lose yourself in the charm of Punda's quaint alleyways, indulge in the island's finest shopping experience, or take a moment to unwind at one of the charming cafés or terraces, savoring a delectable breakfast, lunch, or dinner accompanied by refreshing cocktails. And be sure not to miss the legendary Punda Vibes, a weekly celebration of pulsating energy and energetic culture that ignites the streets every Thursday night.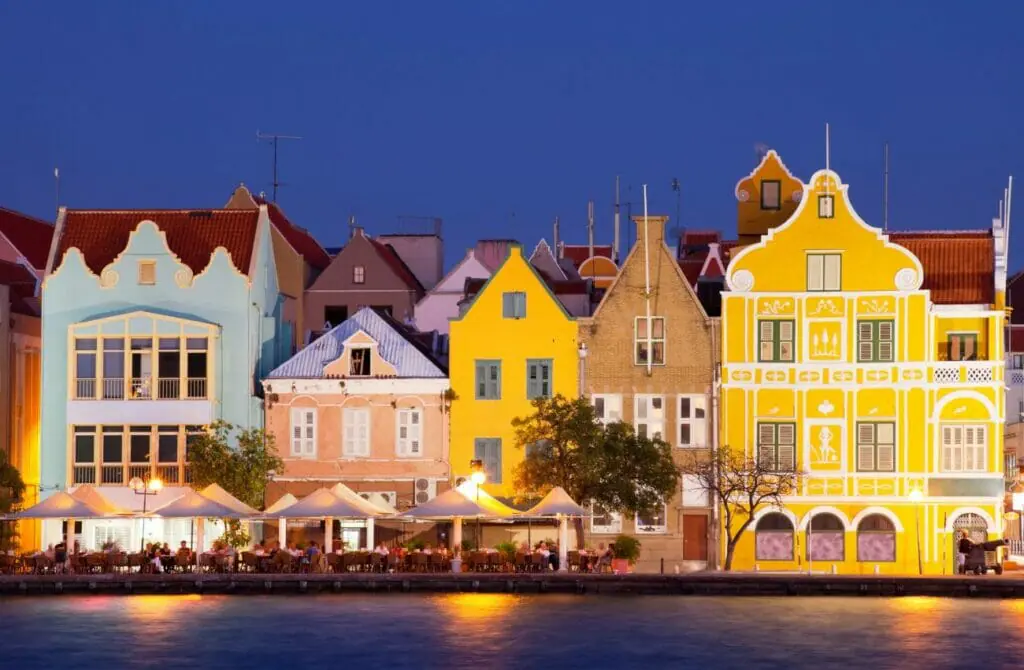 Ah, the majestic Hato Caves, an immense underground marvel that unravels the captivating tapestry of the Caribbean's history. Just north of Willemstad, a stone's throw from the international airport, these atmospheric caves are full of awe-inspiring stalactites and stalagmites.
During guided tours, you'll uncover the secrets of this ancient realm, once inhabited by the Arawak and Caiquetio Indians, whose legacy you will witness through intricate petroglyphs and cave paintings.
For centuries, these labyrinthine caves provided refuge for enslaved individuals seeking liberation. Today, intrepid travelers venture into this labyrinth of colossal chambers, marveling at the mesmerizing rock formations meticulously shaped over countless millennia. Illuminated by many enchanting lights, the caves exude an otherworldly allure that captivates the senses.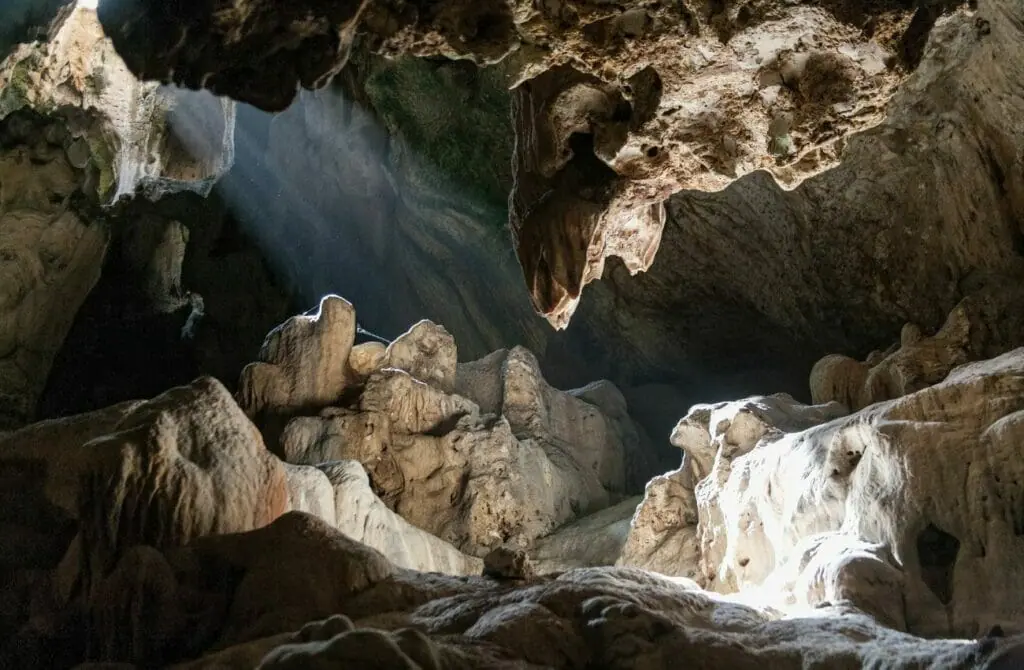 Riffort Village
Located at the mouth of St. Anna Bay, Riffort Village is a bustling hub that offers a perfect blend of shopping, dining, and entertainment. This waterfront mall attracts visitors from nearby cruise ship terminals thanks to its tempting array of shops and restaurants. The historic 1828 Rif Fort, once a vital part of Willemstad's defenses, has been transformed into a chic shopping center.
The fort's thick coral walls now house upscale eateries, unique boutiques, trendy bars, and exuberant nightlife venues. Take advantage of the opportunity to soak in breathtaking views of the city, sea, and Otrobanda district from the fort's commanding vantage point. Riffort Village promises an unforgettable experience with its fusion of history and contemporary allure.
Kenepa Beach is two smaller beaches tucked between Lagun and Sabana Westpunt at the northern tip of Curacao. The two are individually known as Grote Knip and Kleine Knip. Majestic cliffs separate these visually stunning beaches and offer their unique stretches of sand.
Grote Knip features a large snack bar, shade pergolas, and a scenic salt marsh backdrop. At the same time, Kleine Knip entices snorkelers with its exceptional underwater beauty. For breathtaking panoramas of both beaches, venture to the summit of the headland, and if you're feeling adventurous, join the brave souls who dive from the cliffs into the sparkling Caribbean waters. Witnessing the spectacular sunsets here is a treasured experience.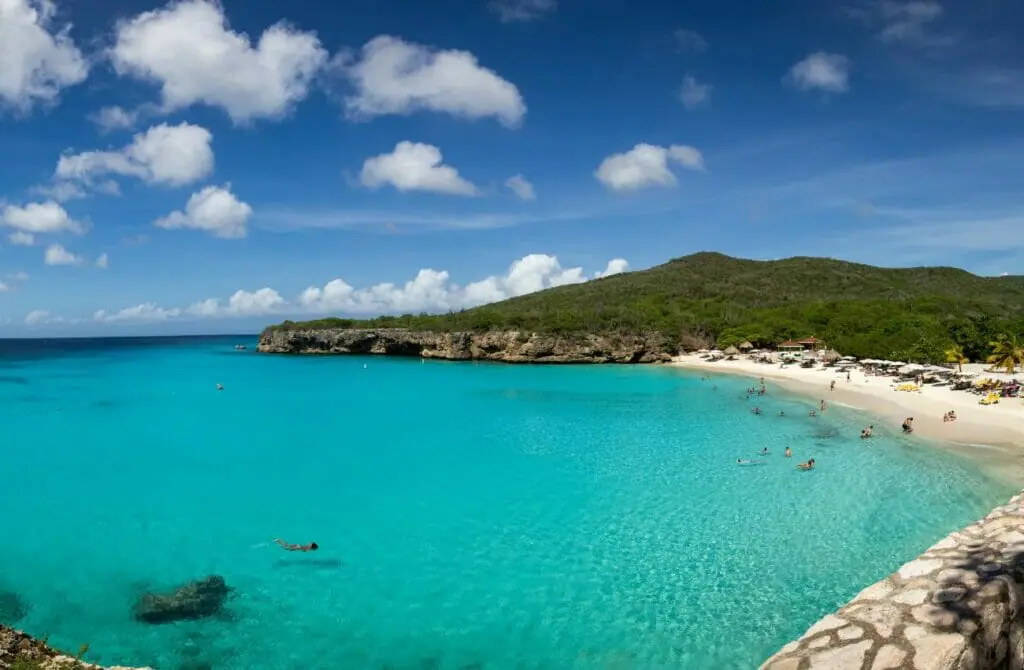 A fantastic Caribbean paradise! Marvel as a magical spectacle unfolds within the embrace of this sprawling national park. The divi-divi trees sway gently while mischievous bats flit amidst their branches, casting fleeting shadows in the fading light. Against this enchanting backdrop, the majestic silhouette of Christoffel Mountain commands attention, resembling a tropical Matterhorn of grandeur.
Spanning an astounding 4,500 acres, this natural wonderland is a feast for the senses, captivating all who venture within its borders. Adventurers eagerly navigate the rugged hiking trails, embarking on a transformative journey to conquer the massive stone pinnacle.
Nature enthusiasts revel in the park's abundant treasures, seeking glimpses of elusive cottontails and rare deer. Embrace the fabulous allure of this natural sanctuary, where each step reveals the wonders within its unforgettable tapestry of natural beauty.
In the heart of Willemstad, the capital's standout attraction is the picturesque Handelskade. This iconic collection of colorful colonial buildings has become synonymous with the beauty of Curacao. With their brilliant hues of yellows, blues, oranges, and pinks, these seventeenth-century structures line the shores of St Anna Bay. Located in the Punda district, this lively waterfront area offers a plethora of cafes, restaurants, shops, and art galleries.
Relax at one of the waterfront cafes and watch the Queen Emma Pontoon Bridge while soaking in the pleasant atmosphere and admiring the remarkable architecture. The central location also provides easy access to the city's major museums and tourist attractions.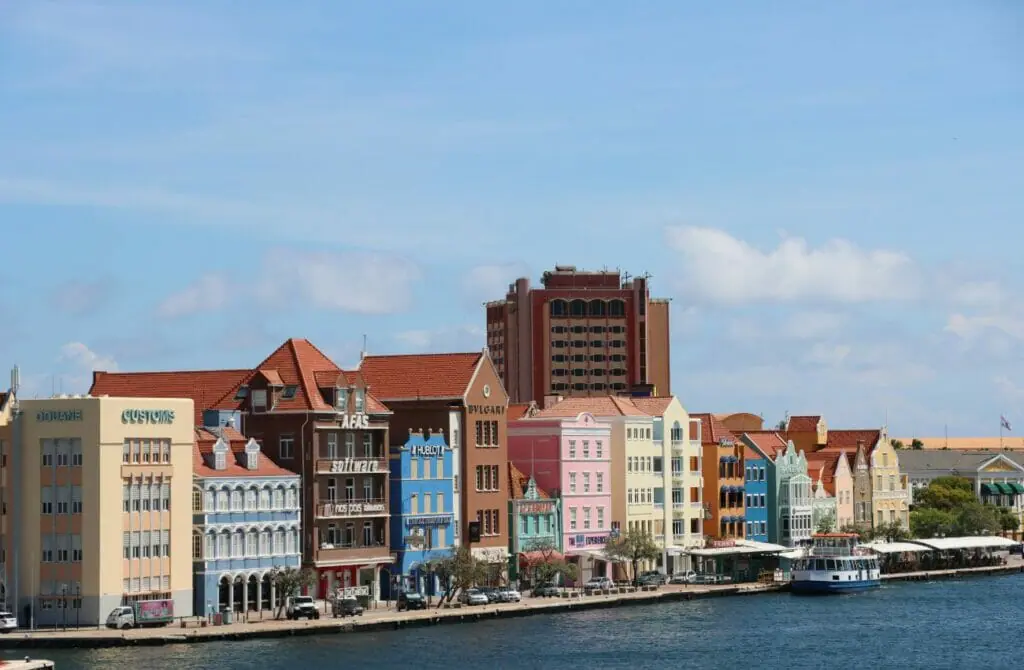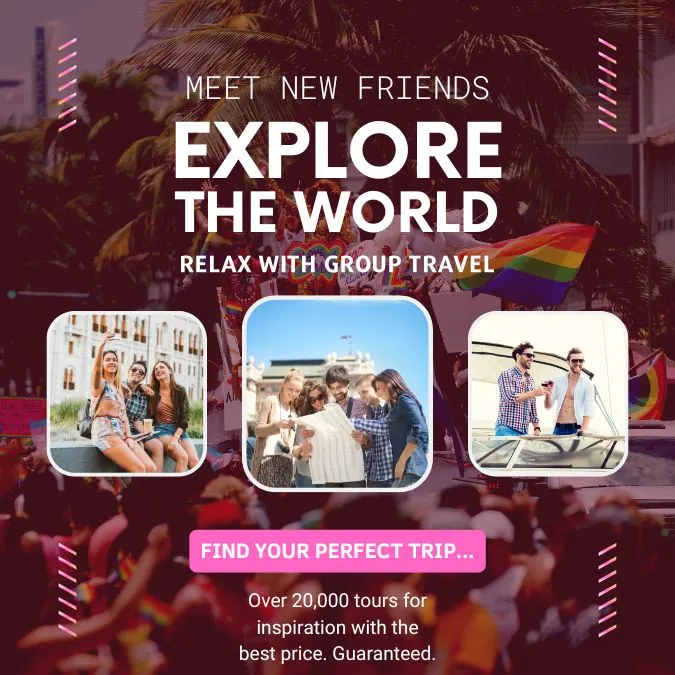 Gay-Friendly and Gay Hotels in Curacao, Netherlands
Being gay-friendly accommodation means that the establishment is welcoming and inclusive to guests who identify as LGBTQ+. This can include, but is not limited to, having policies and practices that demonstrate a commitment to creating a safe and inclusive environment for LGBTQ+ guests, such as non-discrimination policies and providing support and resources for LGBTQ+ travelers.
Some gay-friendly accommodations may also provide amenities specifically catering to the LGBTQ+ community, such as rainbow flags or literature about local LGBTQ+ events or resources. Furthermore, gay-friendly accommodations may be located in an area known for being LGBTQ+ friendly.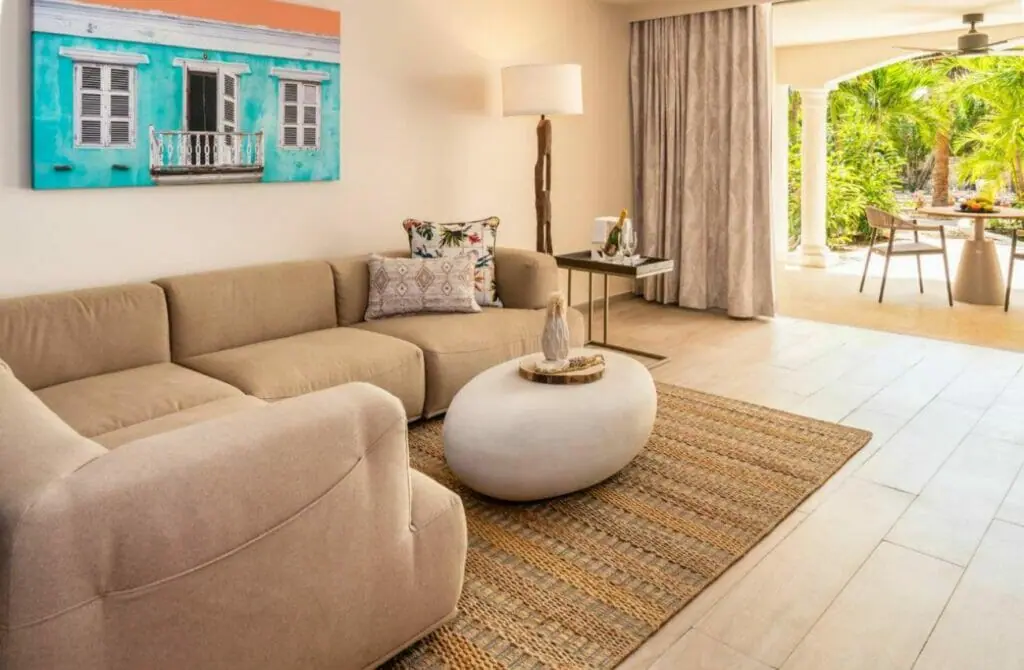 While Curacao does not have any specifically gay hotels or resorts, these are the most fabulous and pro-actively gay-friendly hotels in Curacao. Needless to say, there are also hundreds more hotel and hostel options in Curacao if none of these suit your desired budget, facilities or area – but these are the best hotels according to other gay travelers and us.
Whatever your needs are, Curacao has you covered.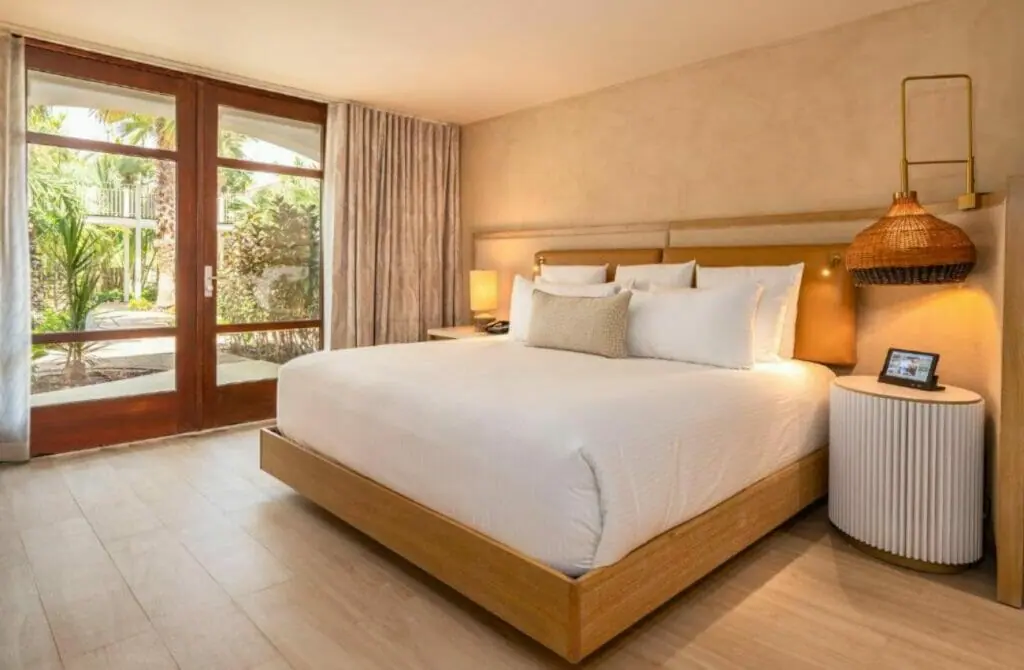 Zoetry Curaçao Resort & Spa ☆☆☆☆☆
With its intimate and serene ambiance, impeccable room service, and attentive housekeeping, Zoetry Curaçao Resort & Spa – All Inclusive offers a truly luxurious experience. The bars boast skillful bartenders and a wide selection of drinks, complemented by sleek and modern decor. The resort exudes cleanliness, style, and an air of elegance, making guests feel truly pampered.
Conveniently located near the Curaçao Museum and Blue Bay Golf Course, guests can enjoy a complimentary full breakfast and amenities such as a poolside bar, white sand beach, rejuvenating spa treatments, and delightful dining options at the two onsite restaurants.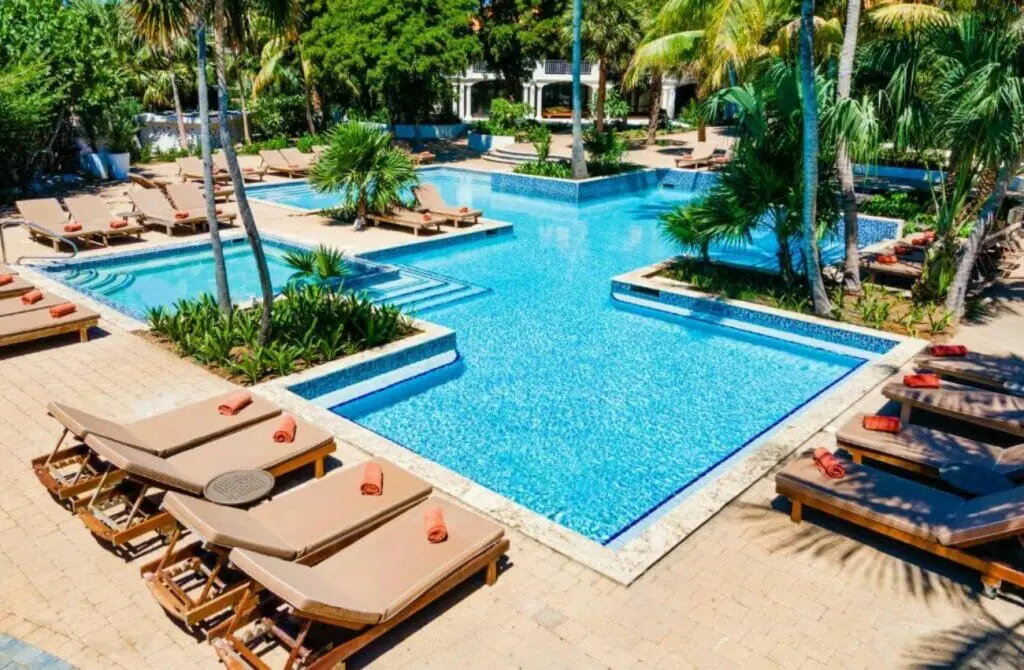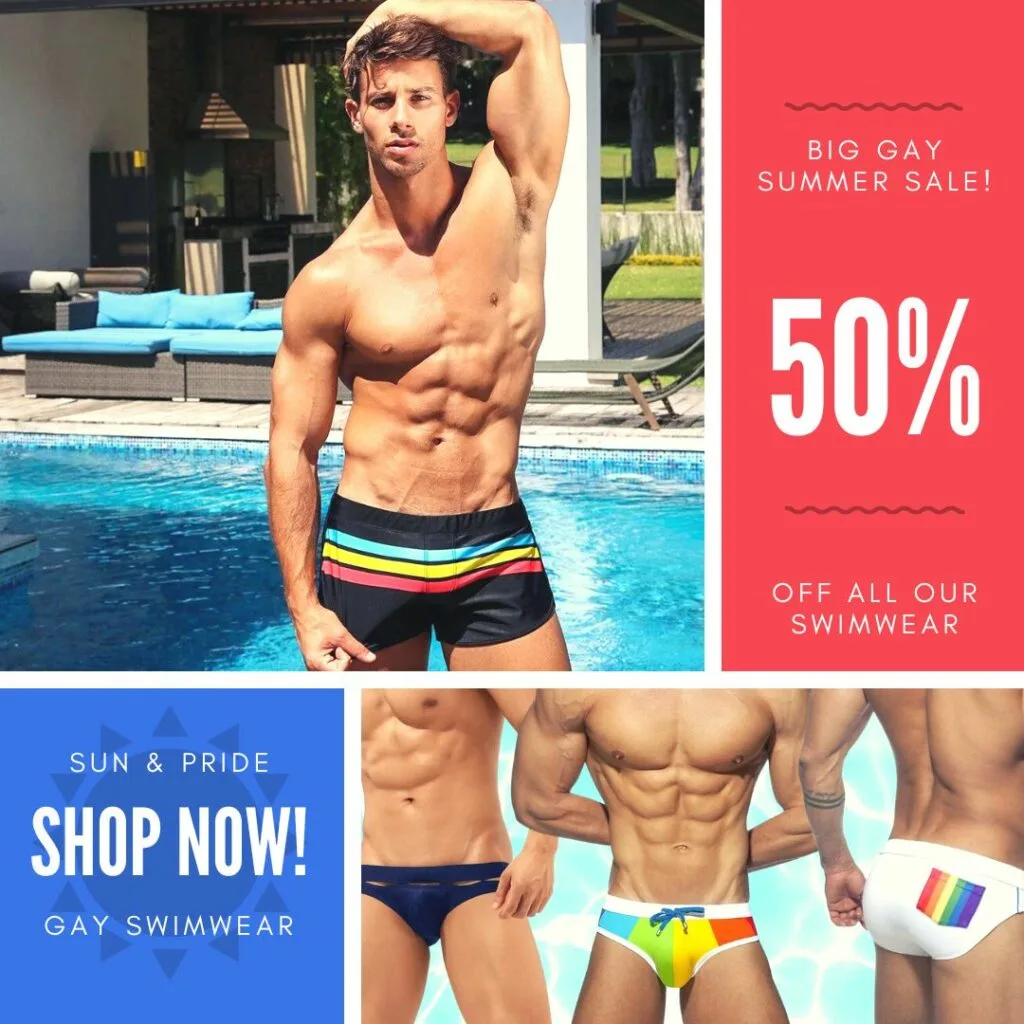 Renaissance Wind Creek Curacao Resort ☆☆☆☆
Exuding bold colors reminiscent of European charm, Renaissance Wind Creek Curacao Resort offers a delightful and accommodating experience. The friendly staff ensures a clean environment, and their on-site restaurant serves delicious cuisine. The atmosphere is truly unique, creating a memorable stay.
The resort, located near Renaissance Shopping Mall and Rif Fort, hosts a casino, beach bar, and poolside bar. Guests can revel in the private beach, beachfront dining, and beach massages. Indulge in spa services and savor international cuisine with garden views at the three onsite restaurants.
Experience the charm of a historic property with a dedicated and caring staff at Avila Beach Hotel. This excellent and uncrowded retreat offers fantastic beaches and modern cleanliness. The spacious and elegant accommodations are both convenient and comfortable. Ideally located near Mikve Israel-Emanuel Synagogue and Handelskade, the hotel boasts a beach bar, poolside bar, and terrace.
Guests can enjoy the private beach, beachfront dining, and relaxing sun loungers. Indulge in rejuvenating spa treatments at Cloud Nine Spa and savor regional cuisine and brunch at the three onsite restaurants. Stay active with yoga and aerobics classes or explore snorkeling opportunities.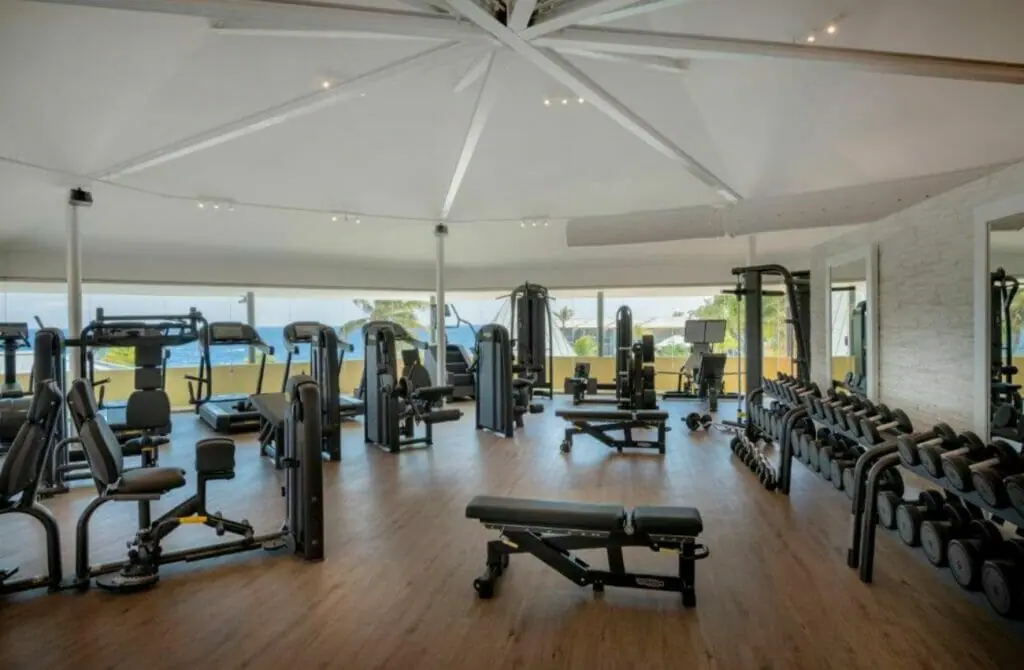 Surround yourself with the captivating ambiance of Quint's Travelers Inn, a beautifully designed hotel featuring spacious rooms and a refreshing pool. The attentive and friendly staff provide a welcoming experience, while the clean, comfortable rooms offer a cozy retreat.
Indulge in the serene atmosphere of the hotel's lovely terrace and lush garden. Enjoy the convenience of dry cleaning and laundry services. Experience the spaciousness and cleanliness of the rooms, providing a perfect sanctuary during your stay.
In the heart of Pietermaai District, a colorful and spirited area just outside Willemstad, Bed & Bike Curaçao offers a unique accommodation experience for modern budget travelers. Guests can choose from private or shared rooms and enjoy the convenience of renting a city bike to explore downtown Willemstad and nearby beaches and shopping areas.
The property features communal kitchen areas, dining spaces, and an outdoor terrace. A restaurant/lounge on the first floor serves delicious lunch and dinner until late evening. Free Wi-Fi is available throughout the property, and all rooms are non-smoking, with cozy beds, high-quality linens, and fluffy pillows, ensuring the utmost comfort for guests.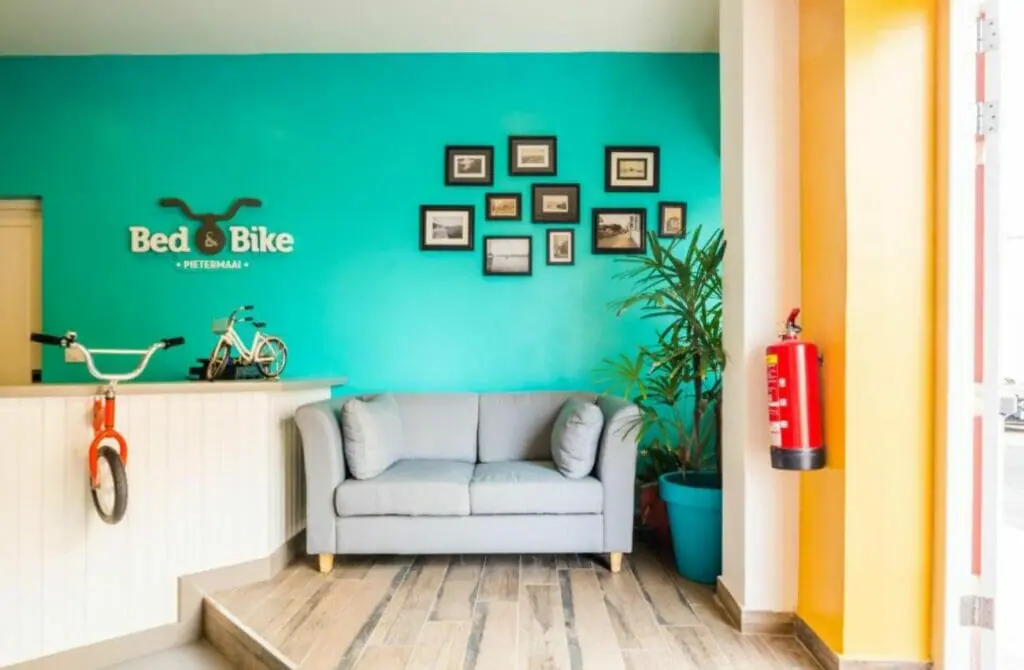 Gay Nightlife in Curacao, Netherlands
Exploring the gay and gay-friendly nightlife in a new city can be one of the most exciting and rewarding experiences while traveling – and Gay Curacao is no exception. Not only will you have the opportunity to meet new people and make friends, but you'll also get a taste of the local culture and learn more about the city's LGBTQ+ community.
Going out and experiencing the queer and queer-friendly nightlife in a new city can also be a great way to break out of your comfort zone and try new things. Whether dancing the night away at a gay club or mingling with locals at a gay-friendly bar, you'll have the chance to make memories and create lasting connections.
So, don't be afraid to step out of your comfort zone and explore the gay and gay-friendly nightlife in Curacao. You'll be glad you did!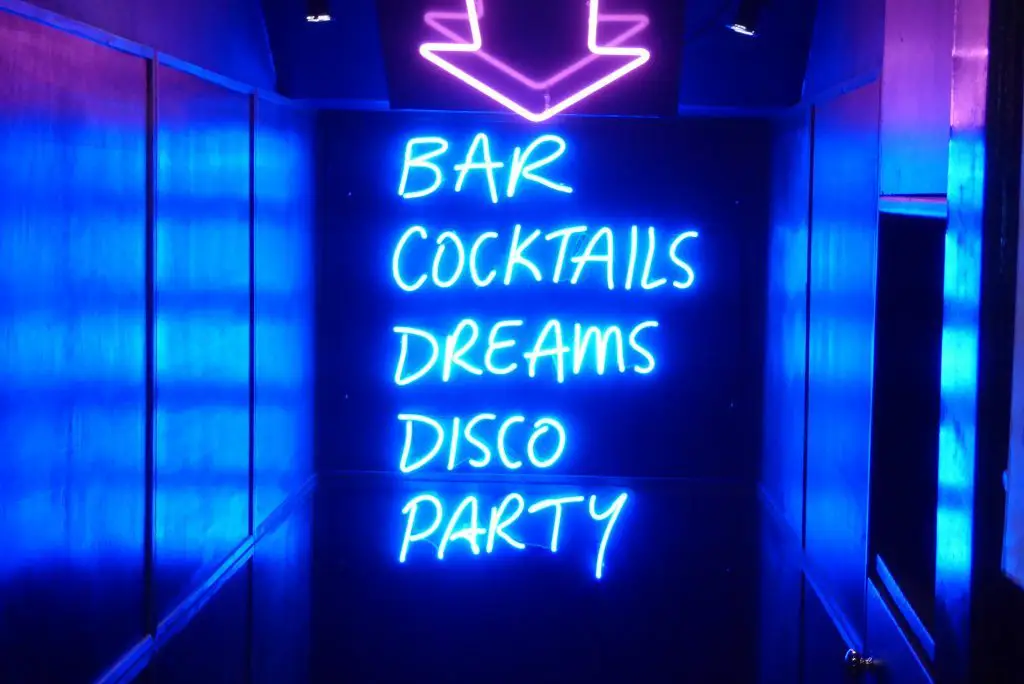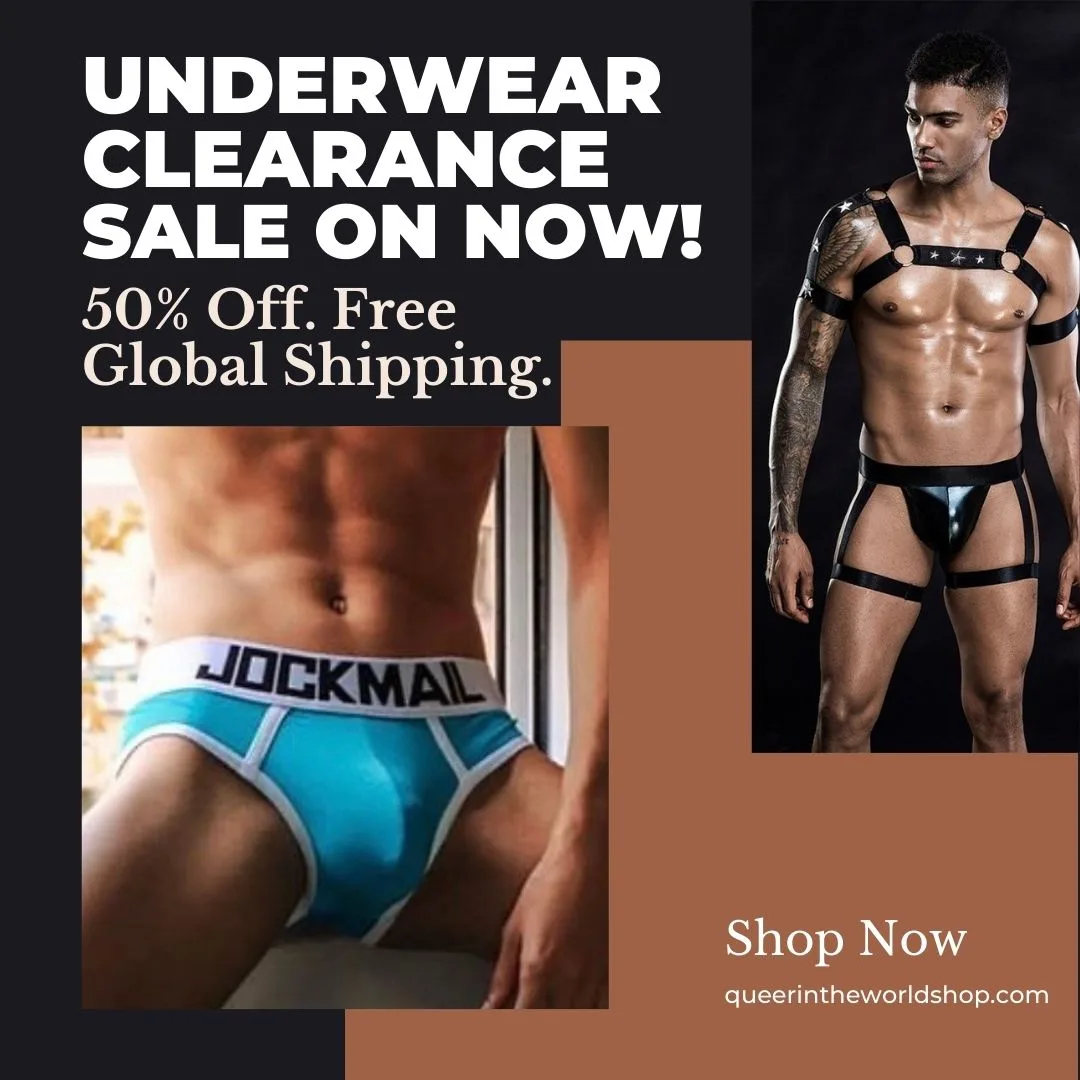 Gay Bars, Clubs & Parties In Curacao
Dive into the fabulous world of Wet & Wild Beach Club, the hottest gay-oriented bar and club near Seaquarium Beach. Get ready for a wild ride with their legendary weekly events! Start your weekend with the sizzling Friday Happy Hour, with mouthwatering free BBQ snacks. But hold onto your feather boas because Sunday's Happy Hour Beach Party with DJ Boogie is where the real magic happens!
Join the crowd by the Seaquarium for an epic bash open to everyone. It's the ultimate excuse to extend your weekend and let loose in style!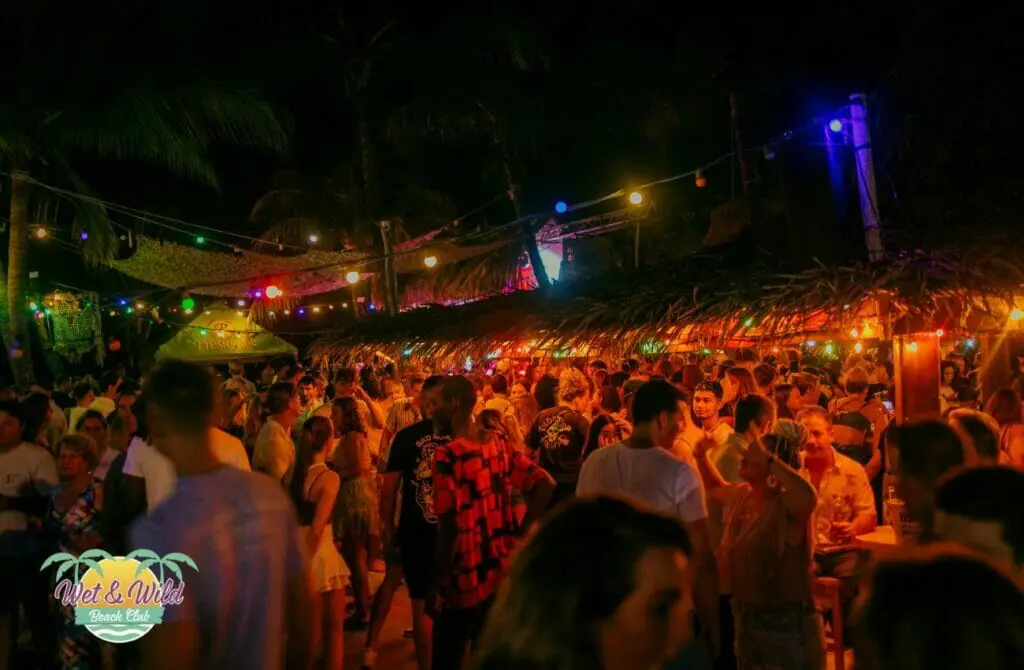 Mambo Beach is a famously refreshing oasis on Mambo Boulevard at Seaquarium Beach! Get ready for a splashin' good time with a lively gay crowd. This beach club has a fully stocked bar and an outdoor dance floor hotter than the Caribbean sun.
Join the sizzling Saturday party, where the beats keep pumping until the break of dawn. Take a disco nap because the fun doesn't start until ten or eleven. Come on down and unleash your inner party animal!
Welcome to Cabana Beach, the super gay-friendly hotspot near Seaquarium Beach! Get ready for an unforgettable beach experience and electrifying nights in Curaçao. They serve the sassiest parties every Wednesday and Friday, but the fun never stops at Cabana Beach. With something exciting happening every day, this is the place to be!
Indulge in three types of sun beds or upgrade to VIP for ultimate relaxation by the beach. Located near Seaquarium Beach, Cabana Beach is your ticket to a sensational and endlessly entertaining night out in Curaçao!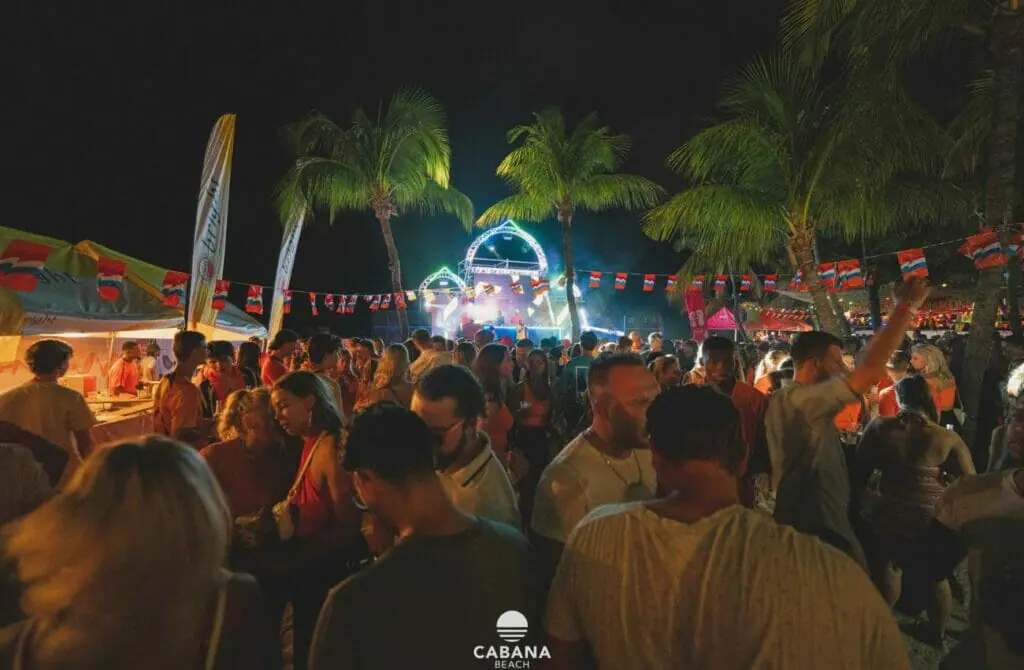 Prepare for an extravaganza of friendly faces and swift service at this local treasure trove. Nestled within the Renaissance Rif Fort Mall, it's the perfect spot to relax and unwind with your pals. Customers rave about the top-notch service that will make you feel like a VIP.
As the night unfolds, get ready to dance to live music, sip on delectable cocktails, and embrace the carefree atmosphere. And the mouthwatering pizza! It's an absolute hit that keeps the crowd grooving with delight!
Calling all adventurers and drink enthusiasts! Step into the enchanting world of Landhuis Chobolobo, where a tour of the Genuine Curaçao Liqueur distillery awaits. Unveil the secrets of this iconic liqueur through a captivating guided journey. Discover its fascinating history and production process. But the real magic happens when you savor a tantalizing sample of their exquisite liqueurs.
Indulge your taste buds, and as if that's not enough, at their lively cocktail bar, you'll get to craft your very own cocktail masterpiece based on your favorite liqueur. Cheers to a journey of flavor and discovery!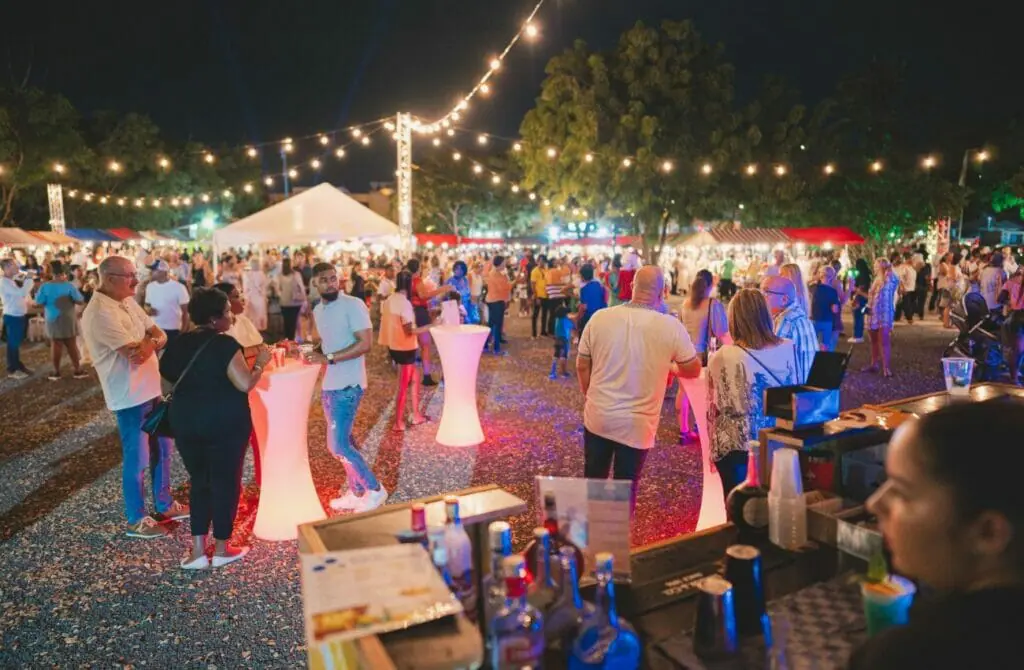 Nestled within the Avila Beach Hotel, discover a hidden gem that floats above the waves—a charming restaurant and bar. This cozy treehouse-like haven is a buzzing hotspot every night, except Mondays when it takes a break. Prepare to be serenaded by live jazz on Thursdays and Saturdays without paying a cover charge.
Indulge in one of Curacao's most romantic vistas, where the ambiance whispers sweet nothings. It's not a wild party scene but a tranquil sanctuary to unwind and savor the view with a delightful cocktail in hand.
Get ready to indulge in the most divine tropical cocktails and libations known to humankind. Noir Cocktail Bar's drink selection is like a colorful oasis of deliciousness. And hey, they've got your back with scrumptious food options too. Whether you're day-drinking or need a post-party feast, they've got you covered.
Step onto the terrace, sip your cocktail and soak in the breathtaking views of downtown Willemstad and the iconic Queen Emma Bridge. It's pure cocktail paradise!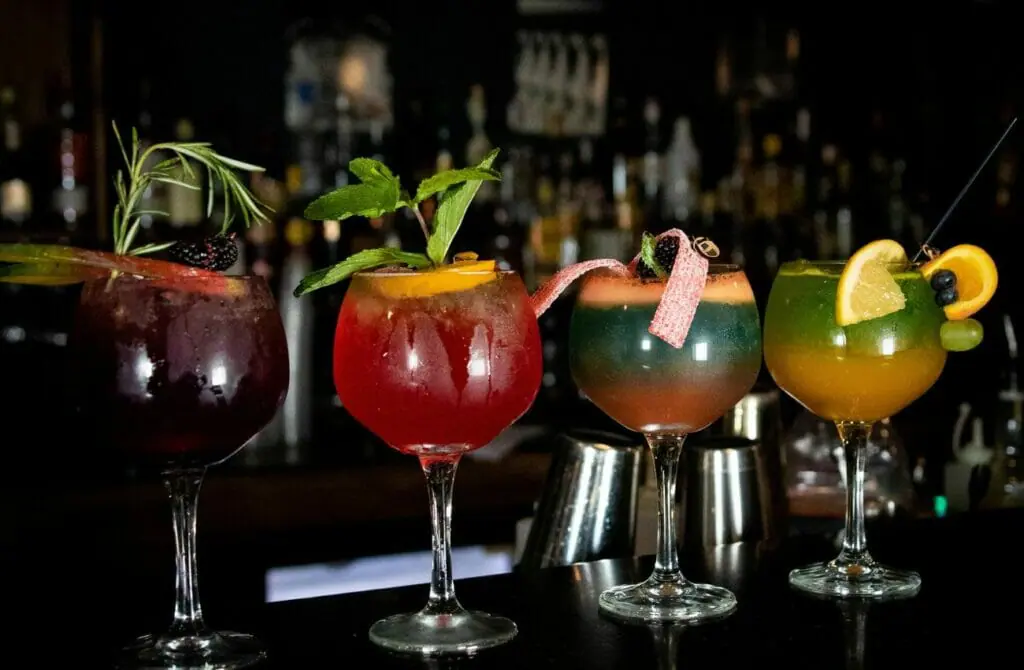 Gay Parties in Curacao
While Wet & Wild Beach Club and Cabana Beach host weekly parties, either accepting gay patrons or catering specifically to them, the biggest gay party in Curacao is by far the Pride Festival! The Curaçao Pride Organization, Gay Pro, emerged in 2013 to illuminate the path toward equality. This dynamic festival spans over a week, brimming with captivating activities.
Immerse yourself in enlightening educational panels and captivating art exhibits. Enjoy movie screenings, the ubiquitous parade, and a pride walk happy hour at the Renaissance Mall & Rif Fort. Brace yourself for dazzling drag shows and days upon days of parties on land and sea! The colors of Curacao truly come to life during the pride festival!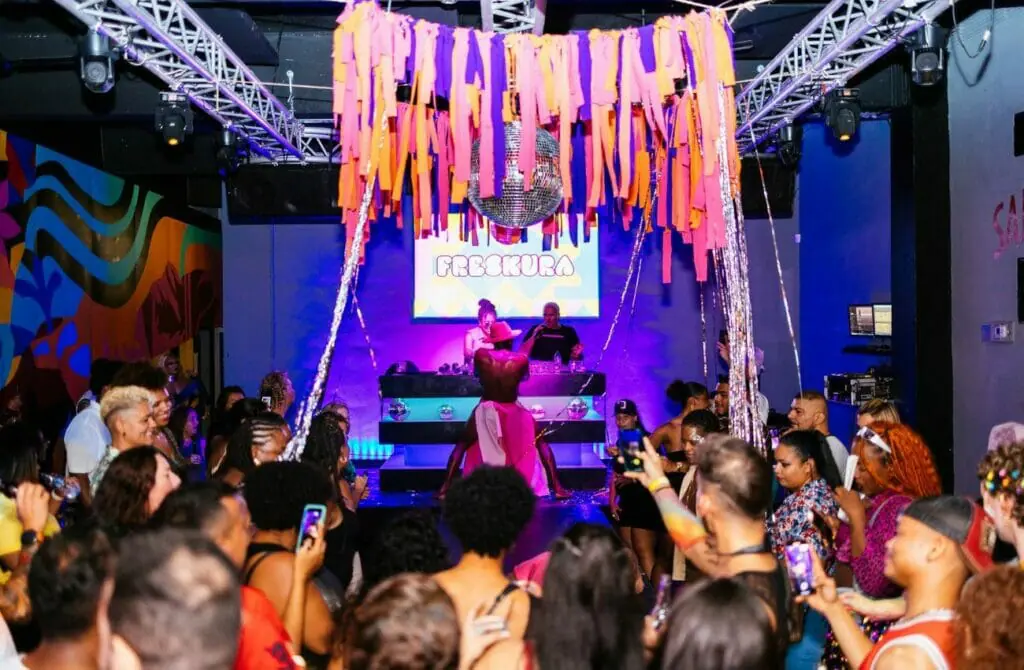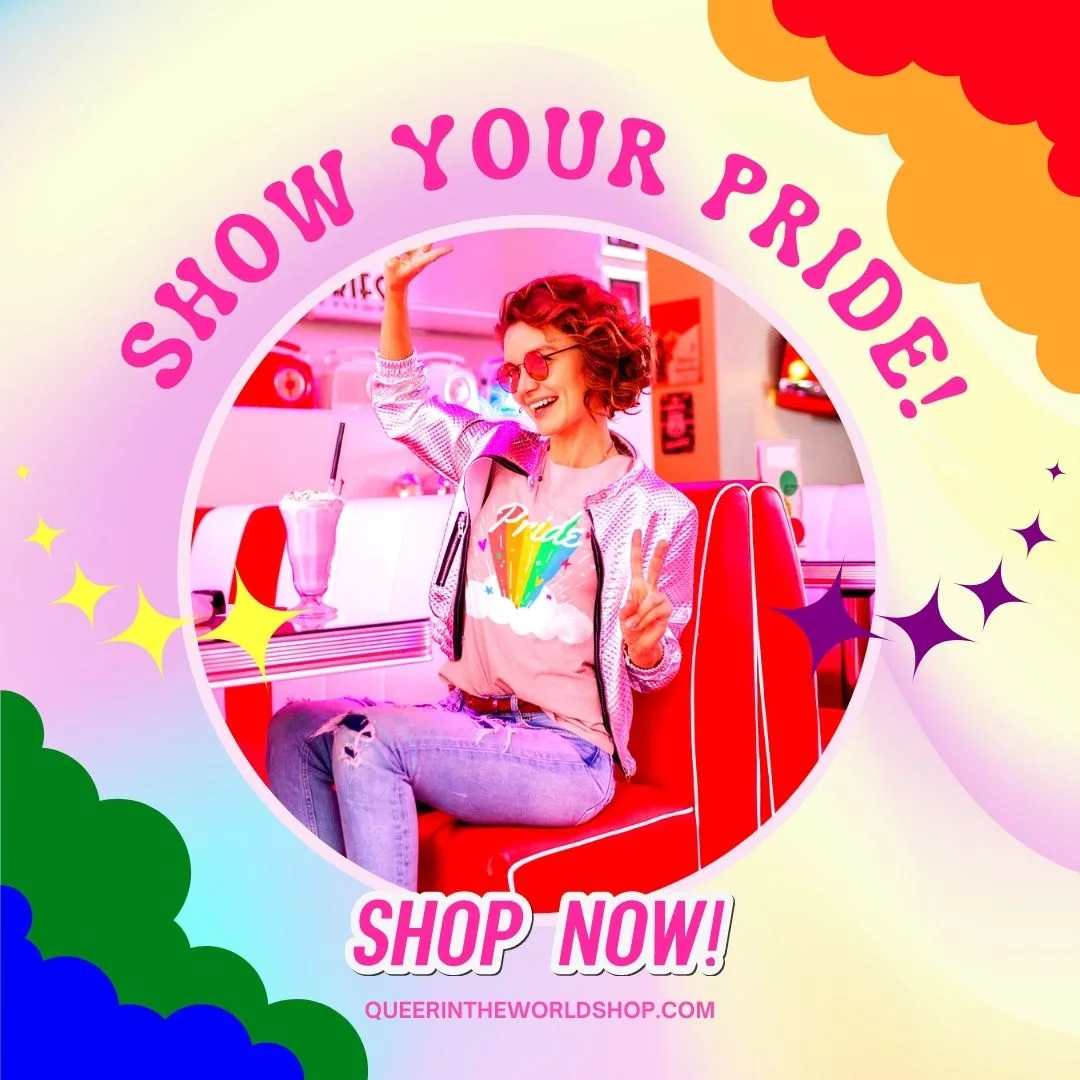 Gay Saunas & Cruising Clubs in Mobile, USA
When traveling to a new city, it can be exciting to head out for more than just a stiff drink. One aspect of the Gay Mobile scene that many queer men enjoy is visiting gay saunas and cruising clubs.
Sure, the sauna culture in Mobile is not as hedonistic as in Amsterdam, Barcelona or Berlin, but these venues still offer a chance to meet new people, socialize, and engage in sexual activity – without resorting to gay hookup apps.
However, it's important to remember that these venues can vary greatly in terms of atmosphere, clientele, and rules, so it's a good idea to prepare yourself before visiting. If you are apprehensive, we advise studying our guide to visiting a gay bathhouse for the first time, which should help set your mind at ease and always practice safe sex.
Additionally, it's important to be aware of and respect local laws and customs regarding gay venues and sexual activity. With a little bit of planning and an open mind, visiting gay saunas and cruising clubs can be a fun and exciting part of your gay Mobile travel itinerary.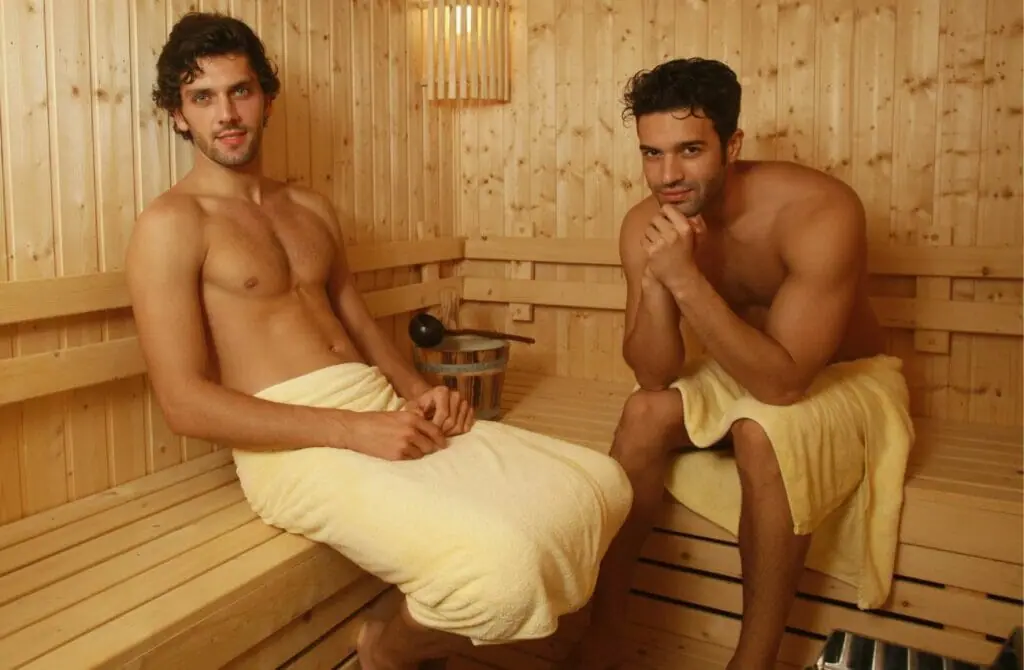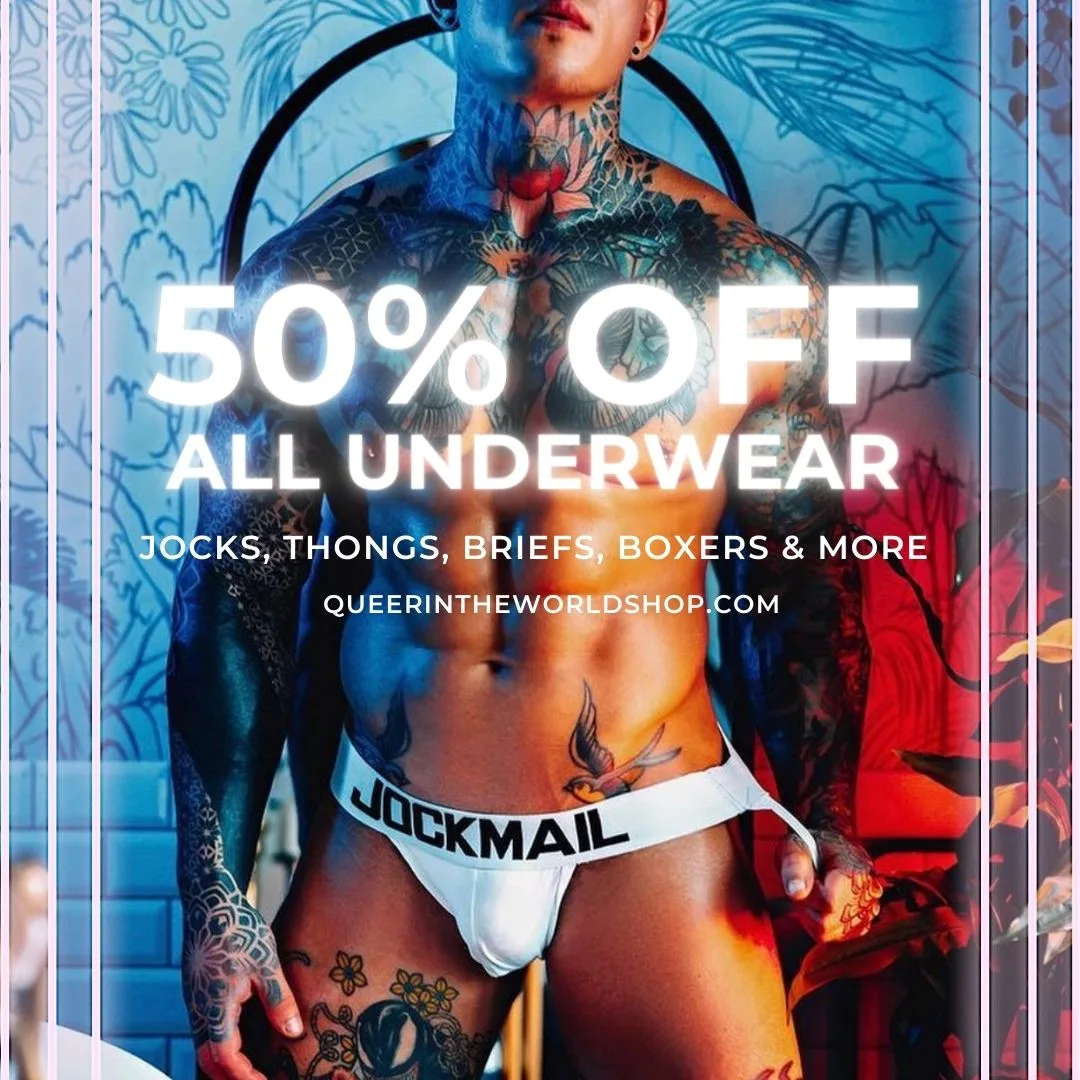 Gay Map Of Curacao
Finding it hard to envisage where everything is in Curacao? Hopefully, this queer-centric map helps where we have marked all the bars, clubs, parties, hotels, saunas, massages, and more will help you stay in the spot best suited to you!