Mexico is one of those dream destinations, with a myriad of features and attractions to draw in visitors by the millions each and every year: beaches, tropical forests, ancient Mayan/Aztec ruins, old-world charm in its Spanish Colonial architecture, a rich abundance of natural beauty and wildlife, and of course a cultural heritage unsurpassed by any other in the world. It is easy to see why so many hold dreams of a Mexican getaway.
It is no different for gay travelers, except that many of us are also drawn here by the energetic gay resorts of Mexico. And thankfully, there is little to fear with gay travel in Mexico…if you do you research and prepare properly.
The majority of places in Mexico – particularly the urban centers as well as the popular resort towns – have a relaxed, progressive, accepting attitude toward LGBT folks. Sure, there are still those more conservative-minded places that are not friendly toward everyone, but those places can be (and should be) easily avoided if one goes into their trip with some due diligence and forethought.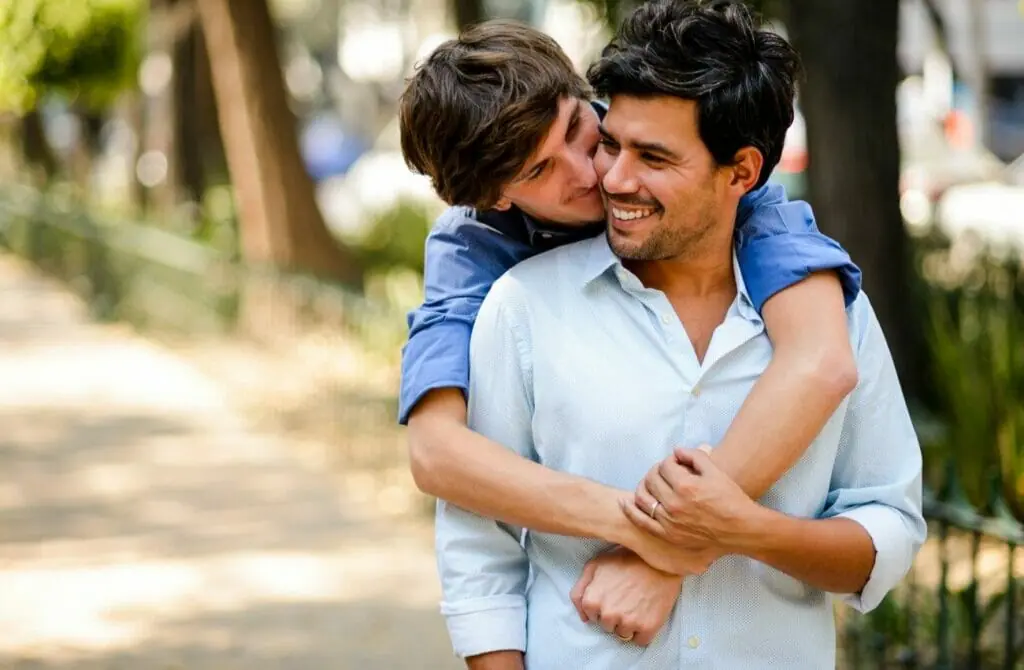 This is why we are here- to provide you with the info you need to make your Gay Mexican getaway everything you dream it could be and more, and point you in the right direction in your quest for the best LGBT friendly hotels and gay resorts in Mexico to stay in while you experience everything this splendid country has to offer the gay tourist.
As a prime beach destination with so many of the world's great resort towns: Cabo San Lucas, Cancun, Acapulco, Zihuatanejo, and the Queen of Queer Puerto Vallarta, no one should be surprised to find that Mexico has some of the most sensational gay nightlife anywhere in the western hemisphere. And it's all there waiting for you to come and join in the fun.
So what are you waiting for? Pack your bags and catch that next plane to Mexico, and why you're enjoying your flight take the time to check out these best gay resorts in Mexican. Or, more ideally, book one now!
Gay Resorts In Mexico
Our first gay resort in Mexico resort is the Almar Luxury LGBT Beach Front Experience, which is ideally located in the heart of the old town, in Zona Romantico. It bills itself as "The Only Gay Luxury Beachfront Hotel in Puerto Vallarta!"
As the resort's name promises, you'll be right on the city's gay beach, the charmingly named Playa del Muertos (Beach of the Dead) overlooking the Bay of Banderas. The property boasts 79 luxury suites catering to gay clientele. Room amenities are as follows: free Wi-Fi, air conditioning, coffee maker, minibar; and in some of the rooms there is a kitchen with a refrigerator and microwave. 24-hour front desk service is available, as is concierge, currency exchange, laundry service, wake-up calls, and turndown service.
There will be plenty to do right at hand when guests stay at the straight-friendly Almar Luxury Gay Hotel. Snorkeling, scuba diving, water sports, and all the other adventurous activities Puerto Vallarta has to offer are within easy reach. The Almar also hosts gay weddings put together by a professional wedding coordinator that feature live music, flowers, wedding-themed decor, gourmet banquet, wedding cake, beverages, and professional video and photography.
Nor will visitors want for eating options. Gourmet dinners and cocktails are on offer at the resort's own Top Sky Bar, which as you may have guessed affords a panoramic view of the city skyline to go along with the fine dining. When you're out on the gay beach itself check out the Mantamar Beach Club Bar & Sushi. And Jorje's Hideaway Shrimp Shack is less than a ten minutes' walk away.
The Almar Gay Luxury Resort can't come more highly recommended for gay tourists looking for gay-focused accommodations.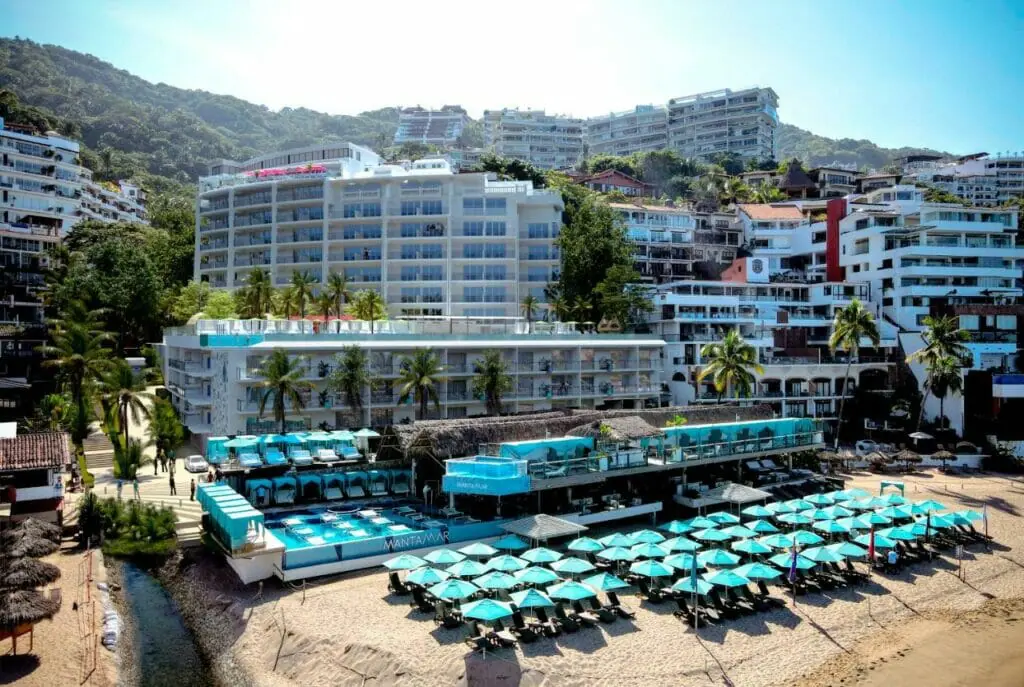 We continue on our list of Mexico's best gay resorts with this cozy little two-bedroom bed and breakfast in sunny Zihuatanejo.
The owners and operators of this establishment, who are gay themselves, go out of their way to make LGBT guests feel welcome, safe, and comfortable that they will be treated with the utmost respect and sensitivity. They can also point you to the local establishments and locations that are most welcoming as well, which is an invaluable plus that you may not get at other hotels. Another nice benefit of Casa Arcoiris Zihuatanejo is that this is a pet-friendly B&B, which is nice to know if you don't want to leave your furry loved one at home.
The owners live on the property and have three dogs of their own: Layla, Kayla, and Orion. And you will be glad to know that the property is also an eco-conscious one, and that every reasonable measure is taken to leave as small a footprint of the local environment as possible the property is solar powered, for instance.
The rooms are spacious and tastefully decorated. They feature air conditioning, free wireless internet, a lockbox, and a minifridge. Bottled water is included, and breakfast comes complimentary with rooms. Housekeeping and even turn-down service are included. Room service can be had as well. There is a rooftop infinity pool that guests can enjoy while taking in the beautiful scenery of hills and the ocean.
There is so much to do in the Zihuantanejo area that it's no wonder why it is such a popular destination. Biking, hiking, snorkeling, surfing, bird watching, kayaking, diving, and whale watching are some of the activities within easy reach, and that's not even all that Zihuatanejo has to offer.
There are also Mayan/Aztec ruins and other cultural sites in the area, and there are colorful fisherman's markets right on the many nearby beaches such as Playa Principal and Playa La Ropa. Zihuatanejo has so much to offer guests will want to come back again and again to experience it all.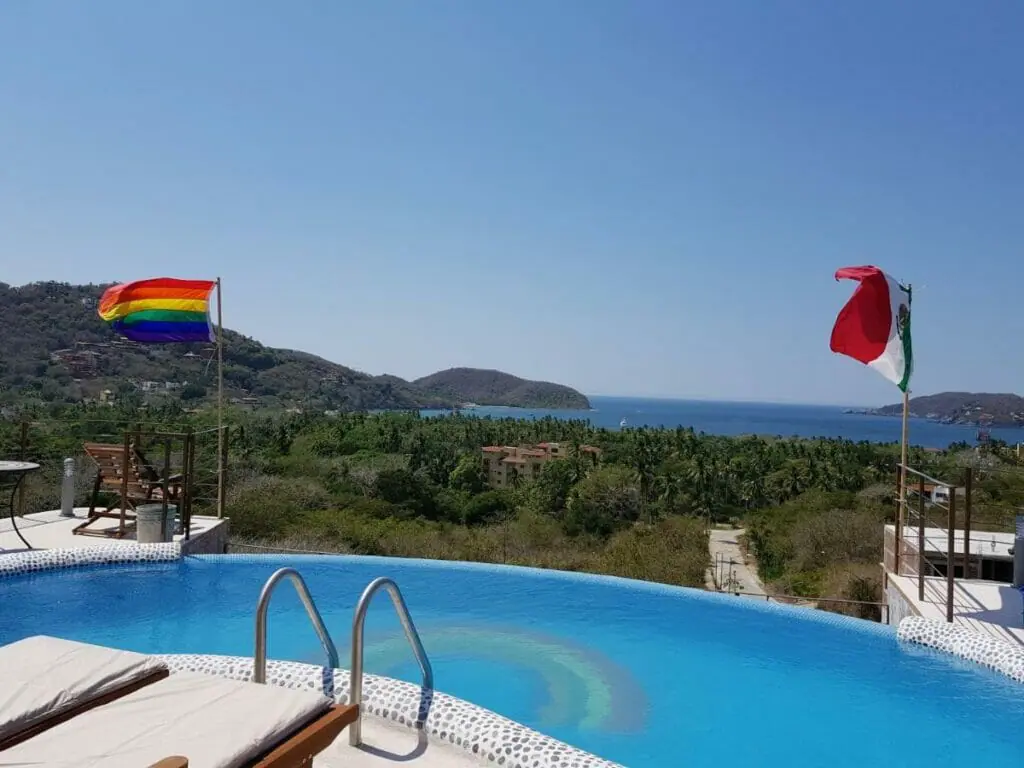 Gay-owned Casa Cupula Boutique LGBT Hotel is only a fifteen-minute walk from the Puerto Vallarta gay beach of Playa del Muertos, so while it is not exactly on the beach, it is within easy striking distance. This "Hip hotel catering to gay men" has a restaurant, bar, gym, outdoor pool, hot tub, and spa.
Room accommodations at Casa Cupula come in a variety including suites and deluxe & vista rooms. All rooms have free Wi-Fi access, flat-screen TVs, minifridges, and coffee makers. Suites feature kitchens, terraces (some shared, some private), and whirlpool tubs. Some feature views of the Bay of Banderas. Room service is available in all rooms, and in-room massage sessions can be arranged.
You have to visit Hot Mamma's Whiskey kitchen for the name alone when you are in the Romantico Zone, while La Palapa Restaurant serves up excellent Mexican food. Blondies' Loft + Sushi Bar is a hip gay bar with frozen cocktails and a virtual must for gay tourists to Puerto Vallarta.
A downtown food tour is on offer by Vallarta Food Tours, and kayaking, ziplining, and ATV adventure tours are some of the other adventurous excursions guests have access to. Casa Cupula offers just about everything discerning gay tourists could want in a hotel, and with a friendly atmosphere, guests are bound to appreciate.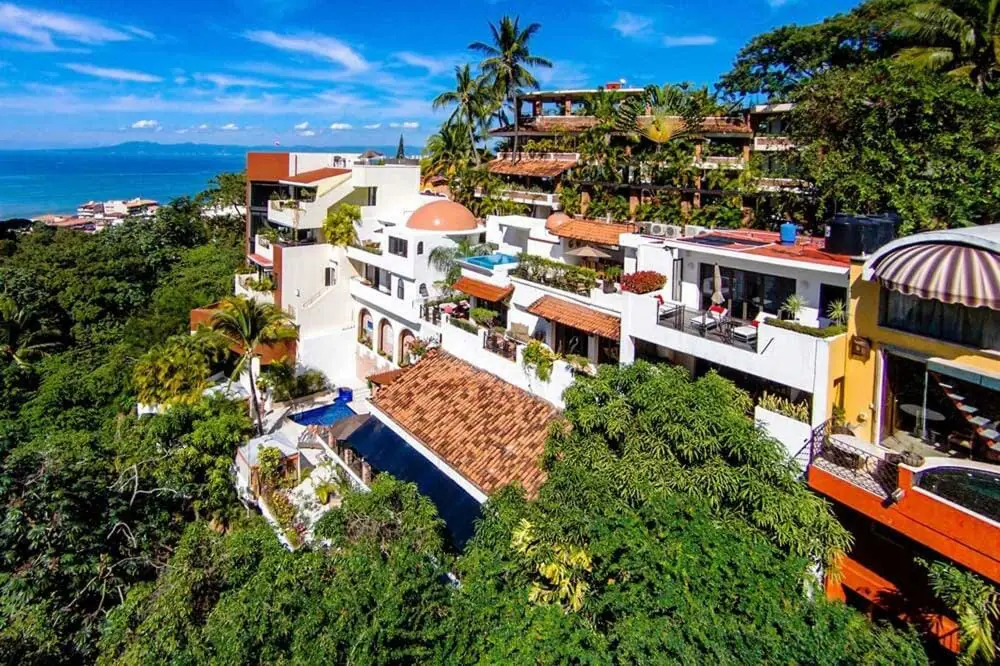 The 8-room Piñata PV Gay Hotel in Puerto Vallarta is one of the most fun gay resorts in Mexico, offering a gay men-only experience for travelers who prefer it. Among the property, amenities are a bar, open-air gym, clothing-optional pool and hot tub. Evening social events provide guests the chance to meet and socialize with each other, though of course, it isn't mandatory.
Rooms come in three styles: the main level Poolside King Rooms, rather unsurprisingly, overlook the pool; Adventurer Queen Rooms are on the sun terrace level, and the one-of-a-kind Loft King Room is a guest-favorite, perhaps because of the large two-person shower it features, among other special amenities such as a private balcony.
The hotel is a fifteen-minute walk from the gay beach and the happening Malecon Boardwalk, and all the lively gay establishments of the Romantic Zone are just a few blocks away. The Palm Cabaret and Bar is one such establishment, and Los Amigos Cantina Style Gay Bar offers a great time to be had by gay visitors to Puerto Vallarta. Fredy's Tuscan offers a great breakfast restaurant if you are out and about early (as does The Pancake House nearby). Pancho's Takos and Blue Shrimp Puerto Vallarta offer more gastronomic wonders for Mexican and seafood, respectively.
Cleverly named Seas the Day offers luxury boat charters on the bay if you are looking for an excursion out on the water. Gay tourists looking for a cozy, intimate, gay-exclusive experience in Puerto Vallarta can't really do better than Pinata PV.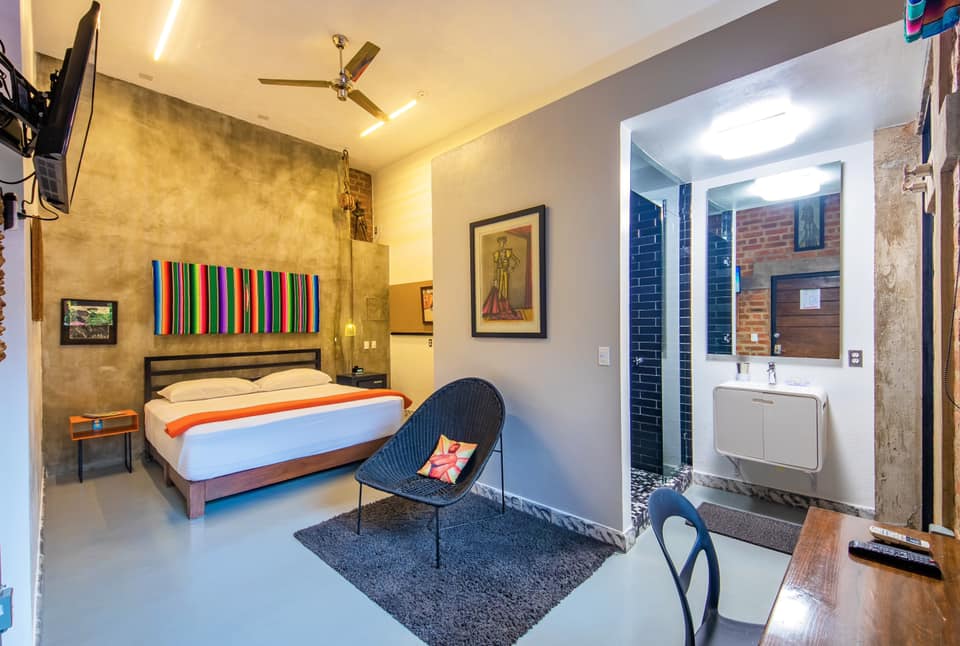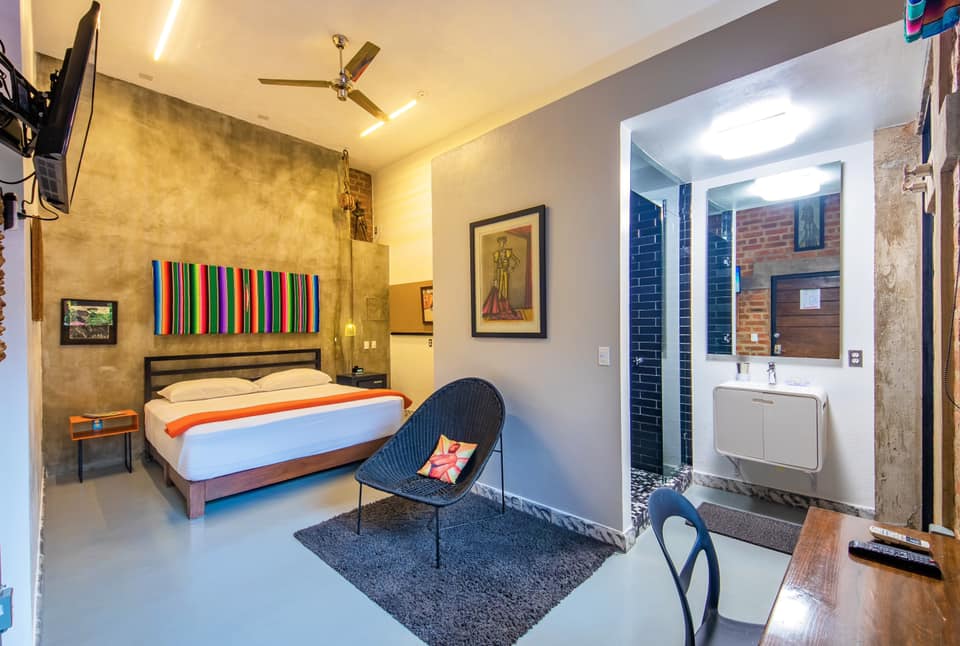 Casa Condesa Gay Hotel is a gay guesthouse in Acapulco for gentlemen only that has been in operation since 1994. The guesthouse features 8 unique rooms, each with a different decorative/aesthetic theme. These include China, Egypt, and Arabia Rooms. Other rooms are the Puerto Rico, Cuba, Africa, Mexico, and Canada Rooms.
All rooms are equally beautiful and afford guests privacy. They include air conditioning, wifi wireless internet, plasma tv with cable, safe, and continental breakfast comes included. Bar and snack service available. Airport shuttle service can be arranged at an added cost. The guesthouse enjoys a relaxed, welcoming atmosphere, and nudity is permitted as long as good kitchen sense is employed, and the establishment is a pet-friendly one. To be sure, gay travelers to Acapulco will be hard-pressed to find a friendlier, more accommodating choice for lodging.
The guesthouse is 3 minutes from the La Condesa gay beach. Snorkeling, diving, and paddleboarding opportunities are available for those looking for some fun and adventure out in the waters of Acapulco Bay. Shore Excursions offers XTASEA ziplining excursions, which also feature horseback riding, a baby turtle release, and a crocodile farm tour, as do many boat ride tours available. Acapulco Cliff Divers at Night is another intriguing excursion for the very brave gay tourists among us.
A fun gay resort situated in the heart of the action in Puerto Vallarta's Romantic Zone. The five-star Hotel Hotel Mercurio features 28 rooms and a pool with a poolside bar, and a restaurant. Gourmet breakfast is included with your stay.
Guest rooms come with air conditioning as well as a ceiling fan, a minifridge, free wireless internet, and cable TV, and also include private bathrooms. King and Queen rooms feature a king-sized or queen-sized bed respectively and sleep one or two guests; double rooms sleep up to four.
The Agave Room and Playa Olas Atlas beach are very nearby, and the Galleria Dante is well worth a visit. Visitors to Hotel Mercurio in the mood to dine out can check out the Si Senor Beach restaurant, which offers seafood. Andale's bar & grill is another worthy choice. The El Dorado restaurant offers up Mexican fare right next to the gay beach. CoCo's Kitchen presents one more dining choice in the very near vicinity of the hotel.
The Hotel Mercurio is a fine luxury lodging option for gay tourists to Puerto Vallarta who want the best.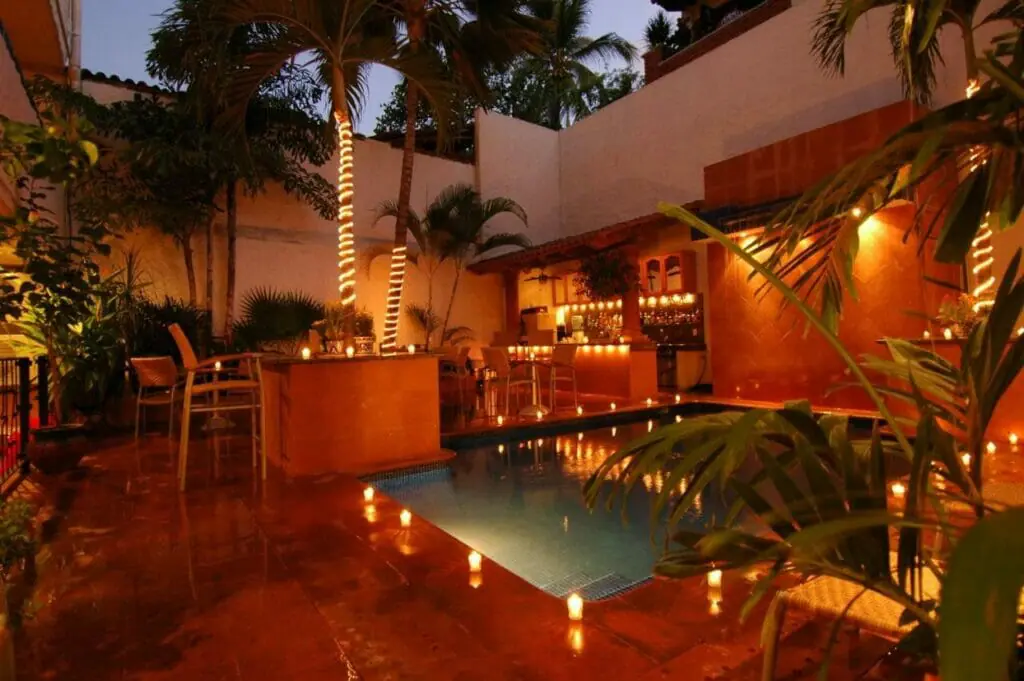 The Pilitas Rainbow – LGBTQ Hotel & Suites is yet another gay resort in Mexico found in PV's Zona Romantico. Conchas Chinas Beach and Los Muertos gay beach are both close to the hotel within easy range. Rooms include a/c, free Wi-Fi, and a private bathroom (with a bathtub, no shower), and towels and hair dryers are furnished. Rooms range from standard to penthouse suites; the latter sleeps four and offers views of the mountains lying to the east of Puerto Vallarta. Junior and "friendly" suites are also available.
As with so many other gay hotels sharing a nice central location in the heart of the downtown gayborhood of Romantic Zone, Pilitas Rainbow is perfectly situated for walkers to take advantage of everything the area has to offer: all the gay bars, clubs and discos are easily accessible during your stay. Nearby restaurants include Tacos Revolucion, Cuates Cuetes for traditional Mexican, and Archie's Wok for something oriental.
The Vallarta Zoo is worth visiting if that's your thing, and whale-watching opportunities can be had in the Bay of Banderas as well, and charter boat tours are available.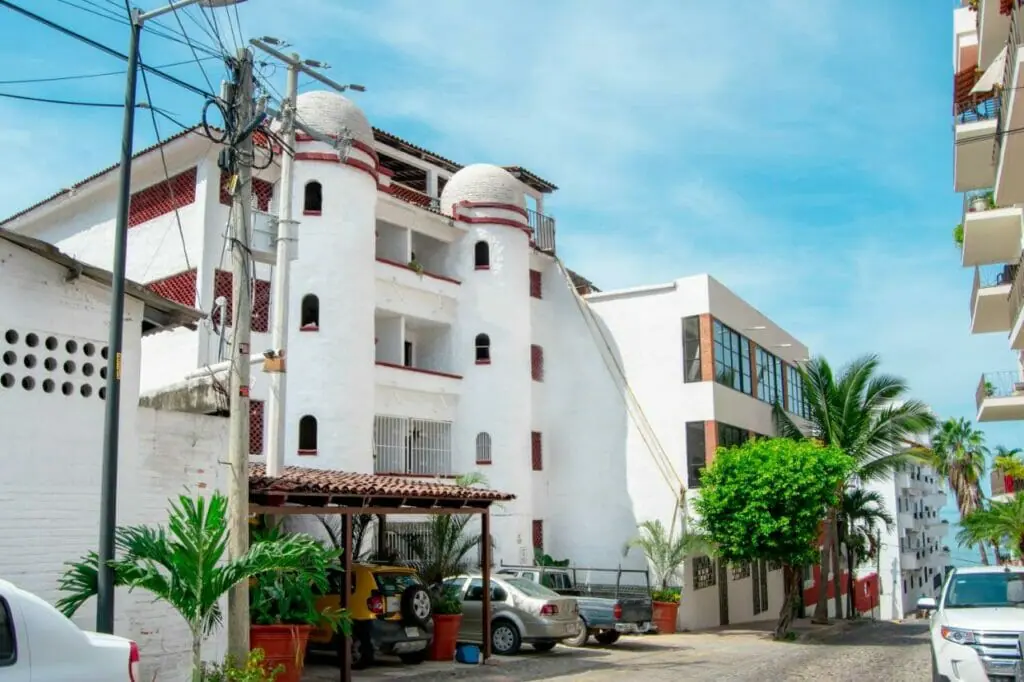 Zipolite is a tiny and low-key resort on the Pacific side of Southern Mexico. Its beach, the virtually pristine Playa Zipolite, is Mexico's first and thus far only legal public nude beach. This makes it a unique draw for some and it is quite possibly Mexico's best-kept travel secret. Unsurprisingly it is where many of Mexico's best nudist resorts are.
Zipolite is, quite sensibly, a nudist haven and even holds a nudist festival every year in the month of February. Since the sixties, Zipolite has been a magnet for backpackers and alternative types, as it retains something of the hippie culture that flourished there in decades past. It is a gay-friendly area as well.
The hetero-friendly Casa Nudista a nudism-required, adults-only, no pets concept establishment that offers a unique lodging experience. The hotel offers 9 rooms in four styles: double room, superior double room, superior double room with two double beds (sleeps four), and a six-bed mixed dormitory-style room. Each room has a minibar, shower, patio, and a safe. There is also a common space. Continental breakfast (coffee or tea, fruit, croissant) is included with rooms. There is a swimming pool and fitness center on the property and free access to Wi-Fi.
If you find yourself in Zipolite the La Providencia eclectic restaurant shouldn't be missed. Nor should Chiwi's Beach House Bar & Grill. Boat tours are available, and Zipolite is known for its excellent surfing. For a unique, gay-oriented experience in Zipolite, Casa Nudista is the best on offer.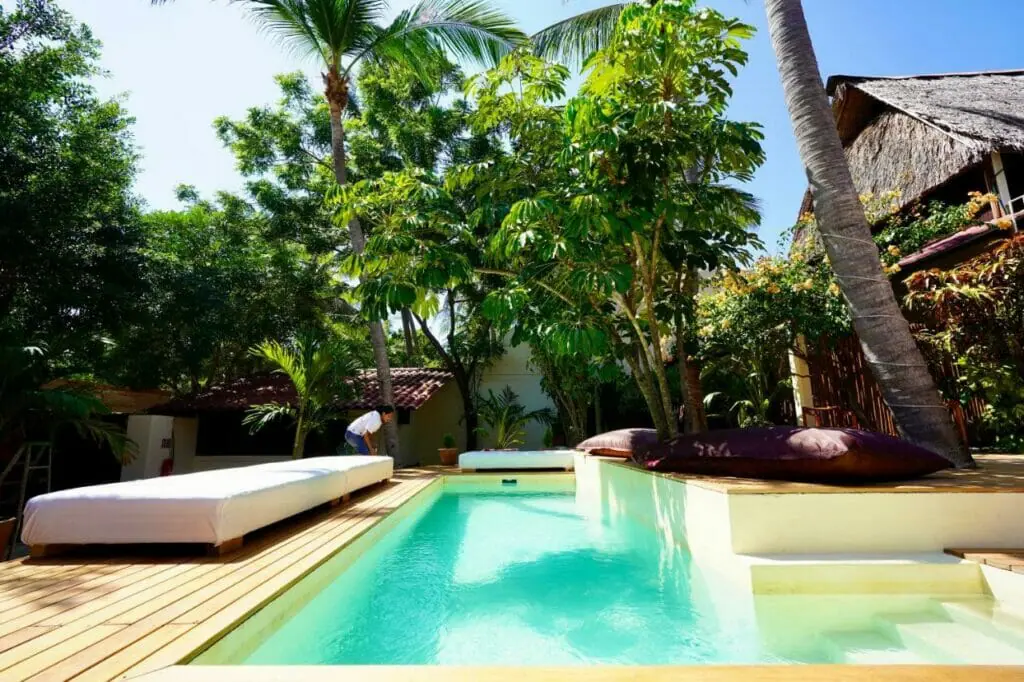 Villa David Bed & Breakfast is Mexico's longest-run gay B&B. Like most gay resorts in Puerto Vallarta, it is located in the midst of the south side's Romantic Zone – the gay hub of one of the world's greatest gay-friendly resort towns, so you know gay tourists won't have it any better than this in Mexico or really, anywhere else in Latin America. Here are the room amenities: a/c, flat-screen tv, free wireless internet, safe, beach towels, and ensuite bathrooms. In-room massages can be arranged.
This charming gay owned, men-only establishment is, as previously mentioned, close to everything. While you are enjoying your stay here be sure to check out the Panorama Restaurant and Bar or the El Colibri Cocktail Bar, both are highly recommended. Planeta Vegetariano offers vegetarian fare, as you might have guessed from the restaurant's name. El Campanario is a local Mexican restaurant that is close at hand.
Faro de Matamoros is a local historical landmark worth seeing when you are in this neighborhood, and the Studio Gallery J.A.R. has a worthwhile collection for art lovers.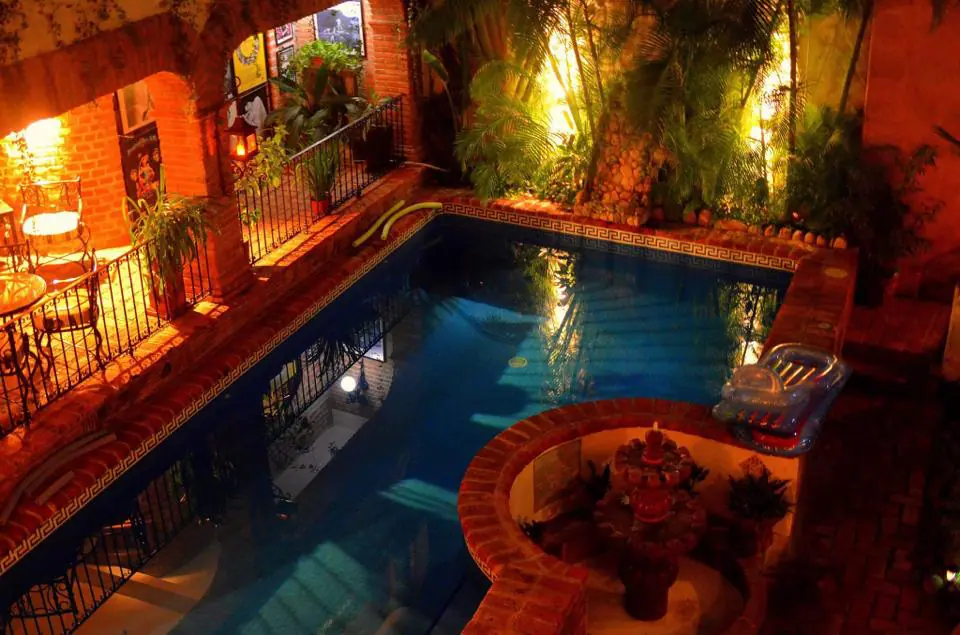 For those on a budget and who can't afford the full resort price tag, might we suggest Jet's Gay Youth Hostel, the first gay hostel in Puerto Vallarta and Mexico. It is a gay establishment geared toward younger gay men 18-35 and provides a dormitory-like experience. The hostel is air-conditioned and has free Wi-Fi internet access. Front desk service is available, as is housekeeping. Bunks feature comfortable memory foam beds and privacy curtains. Lockers are available to secure your belongings while you stay here, as are showers.
The hostel enjoys a good location central to pretty much everything of interest to gay tourists. All the gay clubs and beaches are within walking distance. Lucy's CuCu Cabana is a unique little shop selling Mexican folk art, and the perfect place to pick up a more authentic souvenir than what you are going to find at a tackier shop. Owners Lucy and Gil scour the entire country every year to find one-of-a-kind pieces for the shop. The Iguana Restaurant and Tequila Bar can't go unmentioned as well. Veggitalia offers Italian cuisine, as does La Capella, and Casa Tradicional Cosina Mexicana offers traditional Mexican food.
The particular section of the Zona Romantico gayborhood in which Jet's is situated features street art displaying the distinct Mexican folk art style made famous by artists like Frida Kahlo and Diego Rivera, with many buildings adorned with wall art. The Lady Death Mural and the Blowfish Mural are of particular interest. If that isn't quite your thing, then the gay bars and clubs are on hand, along with the Playa del Muerto and the Malecon boardwalk.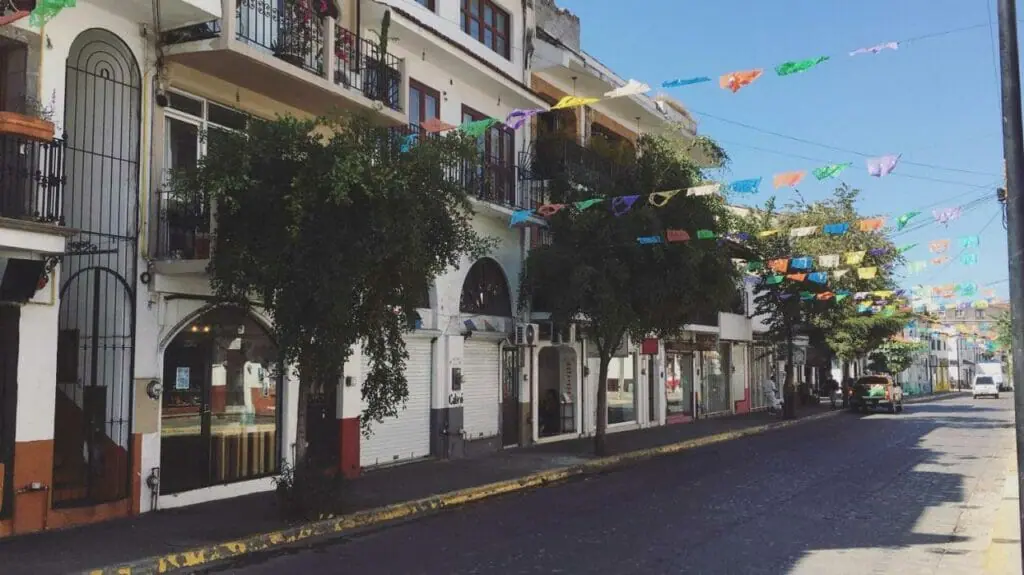 Gay Friendly Resorts In Mexico
A truly luxury naked experience, Heven in Zipolite is a completely chilled-out clothing-optional resort where you are welcome whether you want to go au naturale or not. Nearby Zipolite beach is also one of the best-known nudist beaches in Mexico. You'll love the spacious apartments with taverna-style décor and tiled stairs. All of them have stunning views of the ocean and fully-equipped kitchens.
As a gay-owned property, you can imagine this is a totally gay-friendly resort; although as we mentioned, everyone will be made to feel at home here. Take the scenic walk to the beach or get naked in the swimming pool. With only 8 apartments on the hillside, it feels intimate and relaxed.
The huge Sun Palace is a couples-only resort that boasts 252 guestrooms, 5 restaurants, and 3 bars. 6 accommodation varieties are available, and all of them offer fine luxury lodging that can't be topped. The resort also offers wedding services, including south Asian-style weddings. This was the first couples-only resort in Cancun, so you know that management knows how to take care of lovestruck couples looking for an unforgettable experience in the Yucatan, LGBT couples included.
Rooms in this very modern, recently-renovated resort include a/c, flat-screen tv, minibar, safe, laptop safe, refrigerator, and private balcony. Services are housekeeping, room service, dry cleaning/laundry service, concierge, door person, around-the-clock security, and wake-up calls. Rooms are allergy-free and there are also other amenities like free Wi-Fi, a fitness center, spa, gift shop, and salon, among others.
Of course, everything that world-famous Cancun, the undisputed crown jewel of the Riviera Maya, has to offer is a stone's throw away. And what it has to offer the gay tourist is a lot. Chichen Itza, arguably the most iconic Aztec/Mayan ruin, is an easy day trip, and those at Tulum are also close by. The Yucatan is also known for its cenotes, or underground caverns, which are well worth exploring for the adventurously inclined. And it would be remiss of us to not mention the phenomenal nightlife for which the name Cancun is synonymous.
The gay nightlife is no different, with plenty of gay bars, clubs, and beaches to explore. To be sure, folks on the Mayan riviera know how to have a good time. And for welcoming luxury accommodations, gay couples will find no better than sun palace.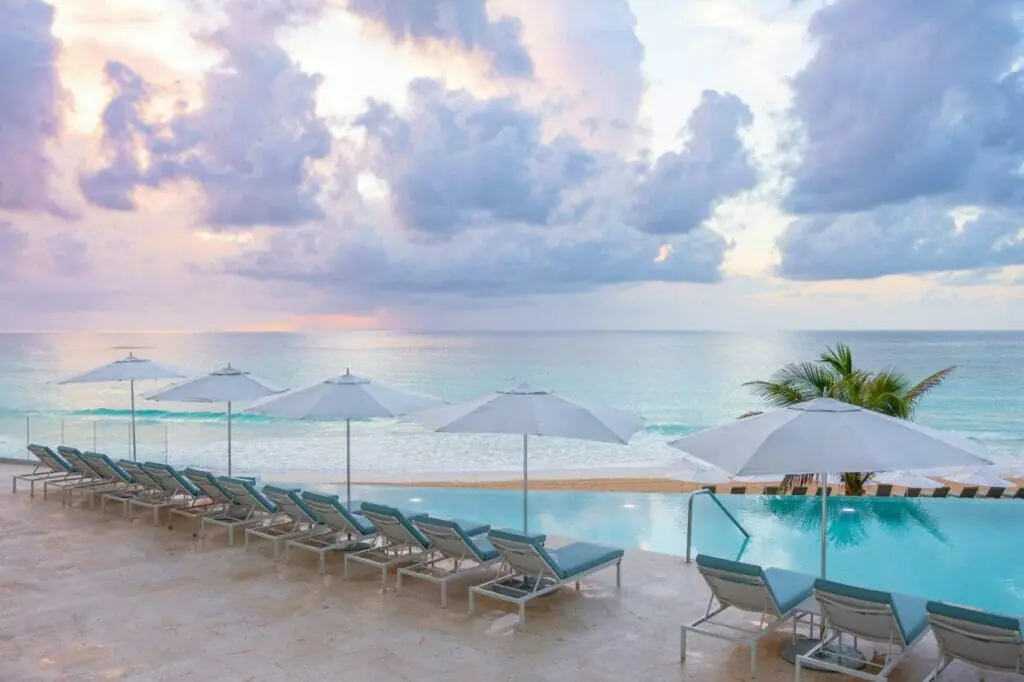 This couples-only resort is geared toward making your stay one that you and your partner will not soon forget by taking the romance to stratospheric heights, just as the name implies. The highlights of its deluxe all-inclusive package are "spicy pool parties, sensual signature theme nights, romantic accommodations, and clothing-optional areas." And of course, the property is inclusive and welcoming to all, so LGBT tourists can feel right at home here.
The resort's 114 rooms are divided between those with Deluxe Garden View; Superior Garden View; Deluxe Ocean View; Jacuzzi Room Garden View; Oceanfront Passion Suites; and last but not least Desire Suites. All rooms styles offer the best in both luxury and comfort, and you can rest assured that all the standard amenities are available throughout like a/c, LCD TV, in-room safe, private bathroom with shower, coffee maker, hairdryer, minibar stocked with bottled water, soft drinks and beer, and either a balcony or terrace. High-speed internet is available throughout the resort.
There is no shortage of drinking and dining establishments in the immediate vicinity, including the resort's own establishments, which include The Bluewater Grill. Spaghettino serves up Italian, and The Burger Underground and John Gray's Kitchen are other excellent dining choices.
Things to do in the outer area during your stay at the Desire Riviera, if you can manage to pull yourself away from the property itself, are snorkeling opportunities provided by Snorkeling Adventure, the Ferris Wheel Cancun, the leaning lighthouse of Faro Inclinado, or swimming with dolphins with tours at the Dolphinaris Cancun dolphin center. You can also visit the Croco Cun Zoo which is a short drive away.
For couples who share dreams of an unforgettable romantic getaway in one of the most attractive beach towns Mexico has to offer, they can't pick any better than Desire Riviera Maya Resort.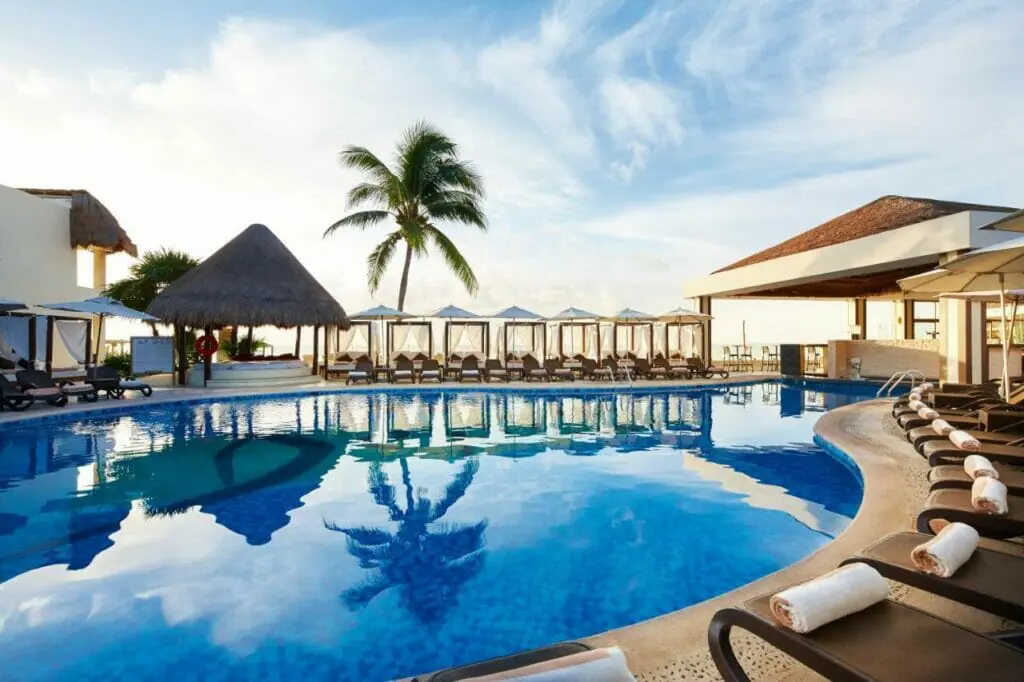 This is another all-inclusive resort strictly for adults, this one clothing optional. It is located in Tulum (of the famous Mayan ruins of that name) near the beach town of Playa del Carmen, another famous name travelers may be familiar with. This is another gay-friendly place where LGBT travelers will be welcomed by the friendly, laid-back atmosphere. Hidden Beach Au Naturel sits opposite from Xpu-Ha Beach, and of course, Playa del Carmen is a stone's throw up the coast.
There are four suite types to be had here: the Oceanfront Junior Suite; the One Bedroom Presidential Beachfront Villa; Oceanfront Swim Up Junior Suite; and the Oceanfront Dome Suite. All are spacious and offer unbeatable comfort. All are equipped with air conditioning, a safe, minibar, and a flat-screen TV. Housekeeping, concierge, and room service available. Each has a private balcony and access to a private beach.
Property amenities include high-speed wireless internet, free breakfast, valet parking. There is an outdoor pool, sauna, swim-up bar, a restaurant, a gym with fitness classes, a nightclub with evening entertainment such as a live DJ and karaoke, and a salon on the premises along with shops. The spa offers an array of services including but not limited to full body massage, facial treatments, and couples' messages.
It should be reiterated here that this LGBT inclusive resort is a clothing optional one; nude dining is even permitted. Just something to keep in mind if you are considering a stay here, as this type of resort experience may not be for everyone.
There is enough to do in Tulum to keep you coming back again and again, without experiencing it all. A short drive away is Wasabi Loco Sportfishing Adventures and Dolphin Discovery Riviera Maya. Guests staying at Hidden Beach Au Naturel would be remiss not to visit Playa del Carmen with it being so close by and of course the aforementioned ruins of Tulum. Archeology tours are easily arranged, and snorkeling, atv adventure tours, ziplining, nature and wildlife tours, tours of the spectacular cenotes (caverns) for which the region is famed can all be had.
And Hidden Beach Au Naturel Resort by Karisma offers a special, gay-friendly place from which to explore it all, with an atmosphere that is about as relaxed as it can get.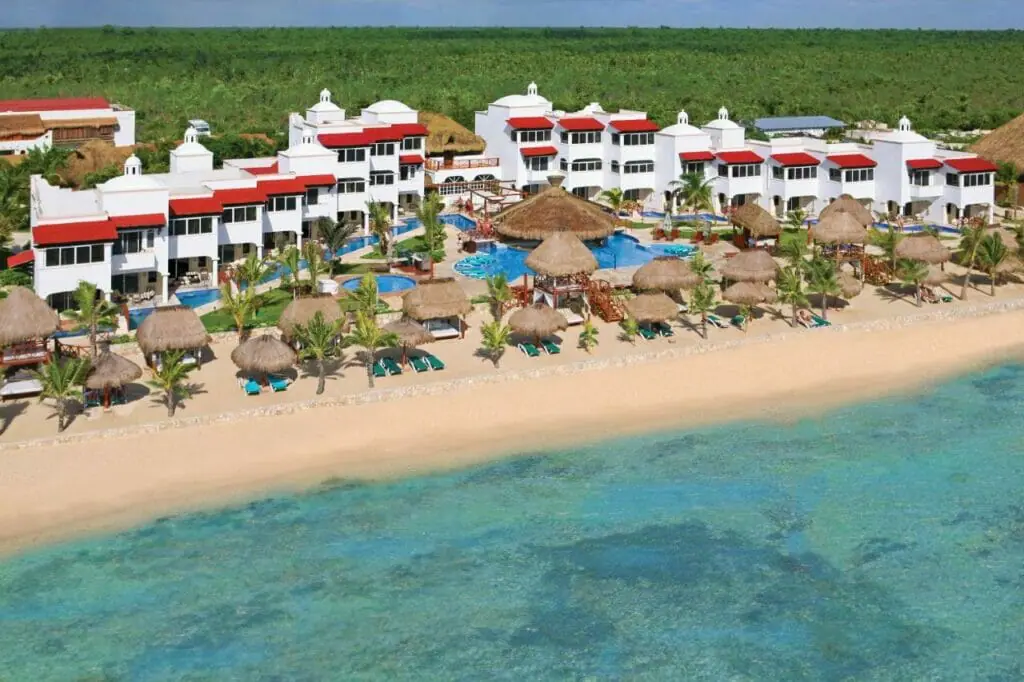 The beautiful white sand beaches of Playa Mujeres will be at your feet when you choose to stay at the luxurious Secrets Playa Mujeres Golf and Spa Resort. A 10-minute drive from downtown Cancun, this adults-only resort sits adjacent to an 18-hole golf course, hence the reference in the resort's name. The property also has a fitness center, restaurants and bars, a tennis court, and a spa.
Secrets Playa Mujeres Golf and Spa Resort also boast a pair of lagoon-style pools as well as four hot tubs. Rooms come with all the standard amenities (Wi-Fi, flat-screens, iPod docks, minibars, and tea and coffeemakers), and guests here will surely not want for comfort and the best in luxury services, as this is a five-star resort that offers only the best to selective visitors, gay visitors included. Built-in 2014, this relatively new resort is an inclusive one where everyone is welcome.
The Mayan ruins of El Meco are only a few km away, as are Dolphin Discovery Playa Mujeres and Playa Tortugas beach. Sightseeing opportunities abound, with all the beaches, ruins, cenotes, and awesome jungle and wildlife tours to be experienced in the immediate area. Neither will visitors here be deprived of excellent gastronomic delights, for there are many, many bars, cafes and coffee houses, and restaurants to serve your every dining whim.
Tuk Tuk Thai and Beyond serves Japanese and (unsurprisingly) Thai. Flamingos Seafood Kitchen is the place to go if you want some of the best seafood around, and Chic Cabaret & Restaurant Costa Mujeres offers some exciting entertainment to go with the fine dining on offer. With so much to see, do, taste, and experience here, gay tourists who want only the best lodging accommodations can look no further than Secrets Playa Mujeres.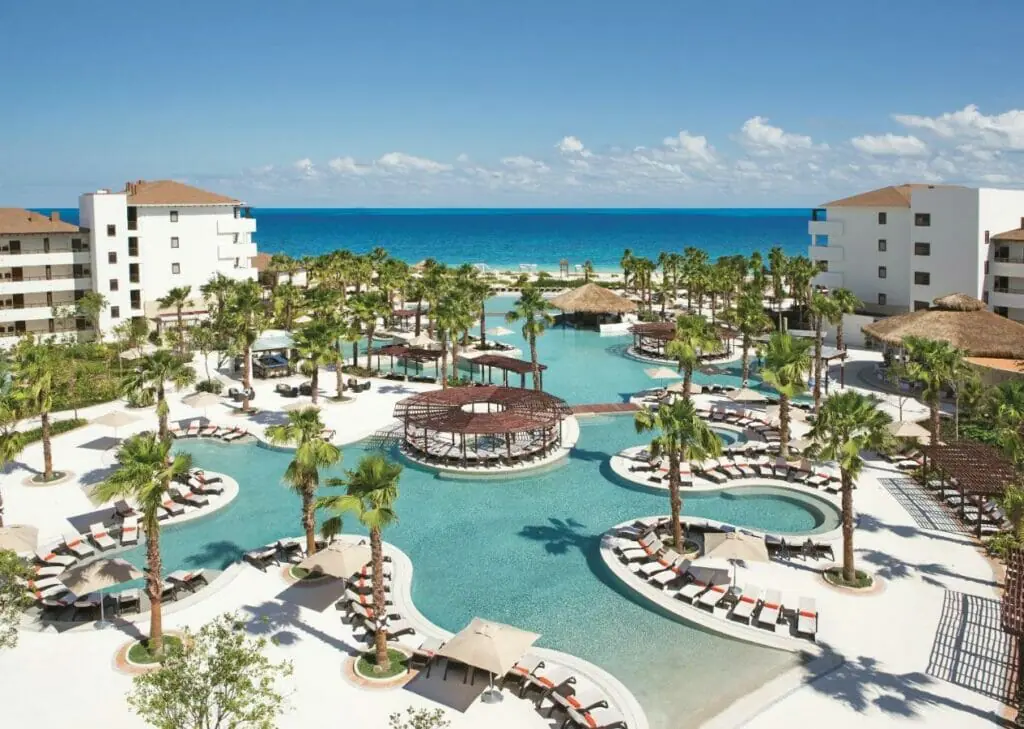 The Alebrije Boutique gay hotel is situated within the heart of downtown Guadalajara, only 1 km from Revolution Park, in a beautifully restored 19th-century house. This is an adults-only resort, and no pets are allowed. It is conveniently located in the midst of all the action of the city's gay hub, with over 25 gay clubs and discos within walking distance, so guests at the Alebrije will certainly have no excuse to be bored or lonely! The hotel features 7 rooms for 1-2, and 2 suites that sleep up to 4 guests. The first floor of the hotel has a patio with a fountain.
There is plenty for hotel guests to do without going afar, as Guadalajara is quite a large and bustling city. The Acuario Michin Guadalajara is recommended for lovers of wildlife, particularly the aquatic variety; the city also has a zoo. The Bosque Los Colomos is a large park within the city that allows visitors to get away from it for a while. It features a plethora of walking paths for those so inclined to take a stress-busting stroll through a lush environment. Tequila tours are many, and the city has a great many Spanish Colonial building that is worth seeing.
The Alebrije offers a welcoming gay focused lodging in the middle of Guadalajara's gay community. Gay visitors to this city really won't find more friendly and accommodating lodgings than this.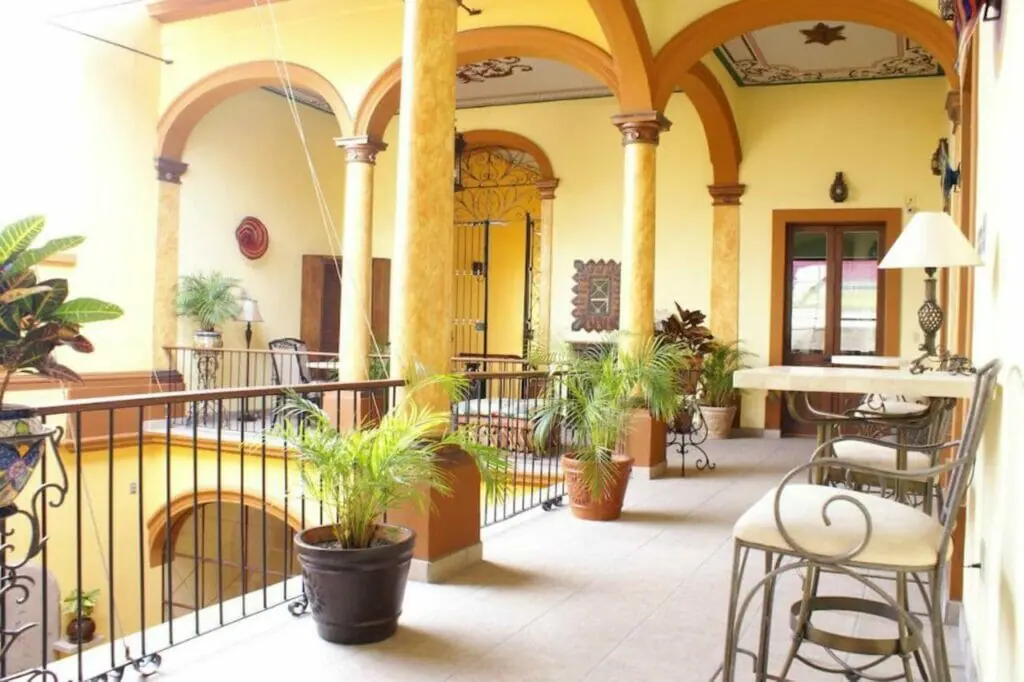 The Zadun, a Ritz-Carlton Reserve, is located in glamorous Cabo San Lucas, the haunt of many a fabulous celebrity like the Kardashians. But you don't have to be famous to enjoy the luxury that beautiful and sunny Cabo San Lucas, situated at the southern tip of the Baja Peninsula, has to offer. Cabo is a very popular wedding destination for straight and LGBT weddings alike. And everyone gay and straight alike are welcome at the Zadun Reserve. It bills itself as a luxury oasis by the sea, and that is quite an apt description.
The resort has a pool, gym, bar, and restaurant. Rooms, suites, and one villa are available. The latter sleeps up to six adults with a king bed and two queen-sized beds and features two full bathrooms with oversized soaking tubs, separate rainforest showers, double vanity, and outdoor shower.
Gay couples ready to exchange vows couldn't find a better venue to do so anywhere in Mexico than right here at Zadun. The resort offers expert wedding services including professional planning, catering, professional photography, hair, and makeup artists, and floral and light designers. Indeed, the hotel can take care of every wedding need to make the occasion that perfect event you have always dreamed of, with beachside and garden weddings.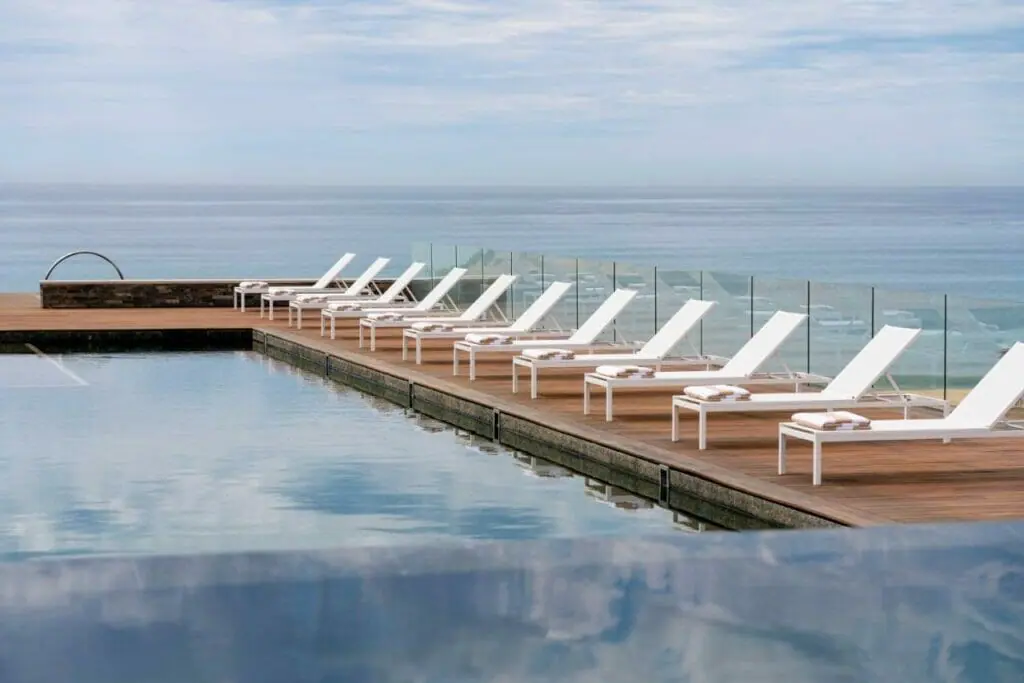 From the sexy side of naturalism to the side where partakers just want to remove their clothes to get closer to nature. Azulik located in Tulum, a small town on the Caribbean coast of the peninsula famous for its Mayan ruins, is a rustic and authentic resort. The views are beautiful and you can enjoy them in total relaxation from sun loungers and hammocks on the stripped-down, wooden terraces.
Rooms are candlelit and baths are open to the elements, making for a romantic getaway for couples, although it's also a great place to go on your own if you need to escape the rat race for a while. We love that Wi-Fi is limited, stopping the regular intrusion of your beeping phone. There are only ten villas, which makes it a peaceful naked holiday.
Let us close out the list with another fine gay-friendly hotel on the Mayan Riviera in Akumal, close to Cancun. The Unico 20° 87° resort offers 3 different pools and a wellness center, with a beauty bar that has a variety of lotions, soaps, and other products for guests who want to treat themselves to a little extra self-care. Spa services include massage with volcanic stones and detoxifying, anti-aging, and rejuvenating treatments that will have you feeling as fresh and vital as the day you were born.
Well-furnished rooms include free wifi, free breakfast, and private butlers. Some rooms have pools, and all feature decks and hot tubs. Many of them afford excellent views of the beach and ocean. As this is a five-star resort you can be assured that only the best service and accommodation are to be enjoyed at this gay-friendly hotel, and gay tourists will have no issue with the hospitality on offer here. Everyone is welcome.
The Portofino Restaurant offers great food and service, as does Turtle Bay Cafe and Bakery. Ribs and more specializes in ribs and chicken.
The Akumal Monkey Sanctuary should be visited while you are here, and the Tulum ruins, Turtles in Akumal, and Cenote tour by Ocean Tours are more than worth your while for an eclectic adventure experience. The Half-Day Sea Turtle and Cenote Snorkeling Tour from Cancun & Riviera Maya, also courtesy of Ocean Tours, is another great adventure opportunity that shouldn't be missed.