Gay Playa del Carmen is a prominent Mexican tourist attraction on the Yucatán Peninsula's Riviera Maya length of the Caribbean shoreline. This jewel on the Caribbean coast is one of Mexico's most magnificent, energetic, colorful, and active locales.
Compared to other beach towns where sunbathing is the only thing to do, Playa del Carmen packs a big punch for entertainment and activities – and even better is reputed for its openness to gay and lesbian visitors.
Playa del Carmen is growing increasingly popular among gay men as an elegant alternative to Puerto Vallarta's high-intensity gay scene or the masses of visitors in Cancun. Although it is only reachable by boat from Cozumel for one hour, the settlement was formerly considered a stop along the trip back to Cancun. Consequently, it has evolved into a viable destination in its own right, with enough to see and do.
Because of its one-of-a-kind nature, Playa exudes an ambiance that cannot be reproduced anywhere else. The town has a diversified population; every nation, trend, taste, and culture has been included in its basis since its inception. Most beaches allow topless swimming, and English is not the only language spoken on the beach.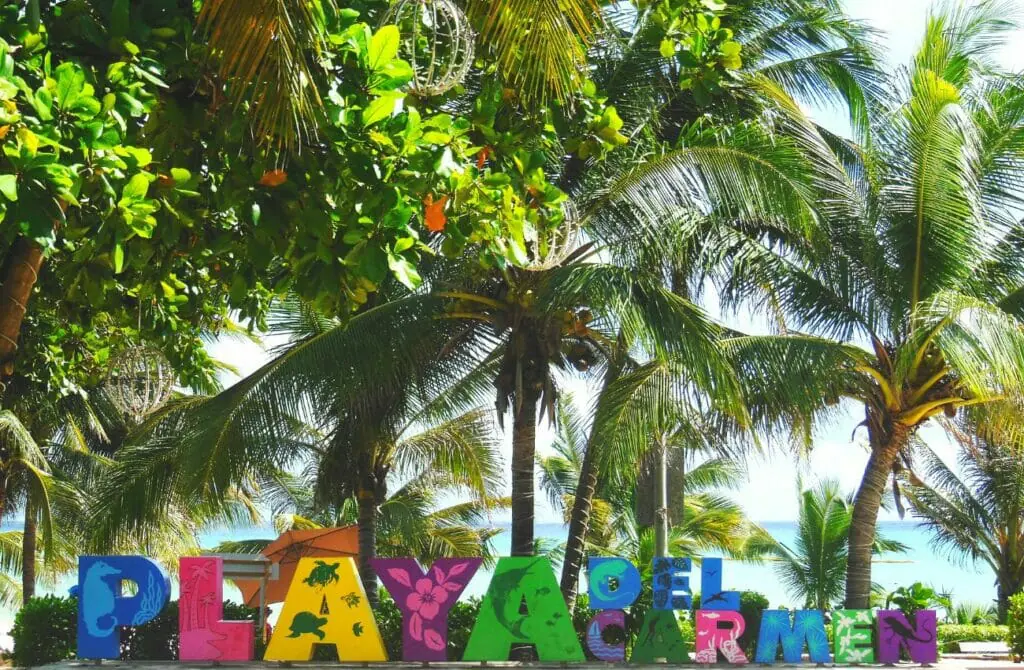 Quinta Avenida is Playa de Carmen's main roadway. It is a lively, mostly pedestrian zone that fills up with people every evening as they visit the many eateries that line the road. November through March are the busiest for tourists in the city. Choose a date later in the spring, such as April or May, to avoid some crowds since this is also when many people from other countries plan their holidays.
The city is known for its beautiful beaches, clear blue waters, and lively nightlife. The gay scene in Playa de Carmen is located in the center of the city and is centered around several gay-friendly bars, clubs, and restaurants. The most popular gay venue is the Coco Mayan Club, which is a popular spot for dancing, live music, and drinks. The beach clubs, like Mamitas Beach Club, are also popular with the LGBTQ+ crowd.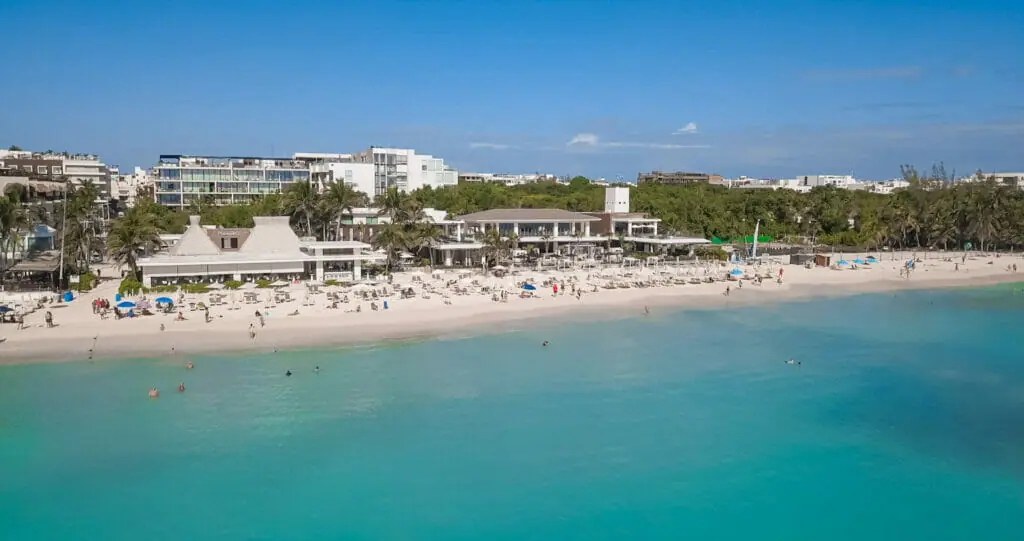 In addition to the bars and clubs, Playa de Carmen has a number of gay-friendly hotels and resorts, many of which have clothing-optional or gay-exclusive areas. These hotels and resorts cater specifically to the LGBTQ+ community and offer a safe and welcoming environment for guests to relax and socialize. The gay-friendly atmosphere in Playa de Carmen, combined with its beautiful beaches and warm weather, make it a popular destination for LGBTQ+ travelers from all over the world.
In Gay Playa del Carmen, there are also various vibrant festivals and events, with many being LGBTQ-related. Playa del Carmen has a pride celebration every year in June. This celebration features pride parties, parades, and other activities that attract people worldwide. Playa del Carmen and other Riviera Maya areas are home to various hotels and resorts.
The annual Arena Festival, held in February, is the LGBTQ community's flagship event. A four-day electro and house music festival is oriented specifically at gay males visiting Playa del Carmen. Playa del Carmen, Mexico, is noted for its accepting environment for lesbian, gay, bisexual, transgender, and queer persons.
Furthermore, the LGBT community in the region is inextricably linked to everything else there is to see and do in the area.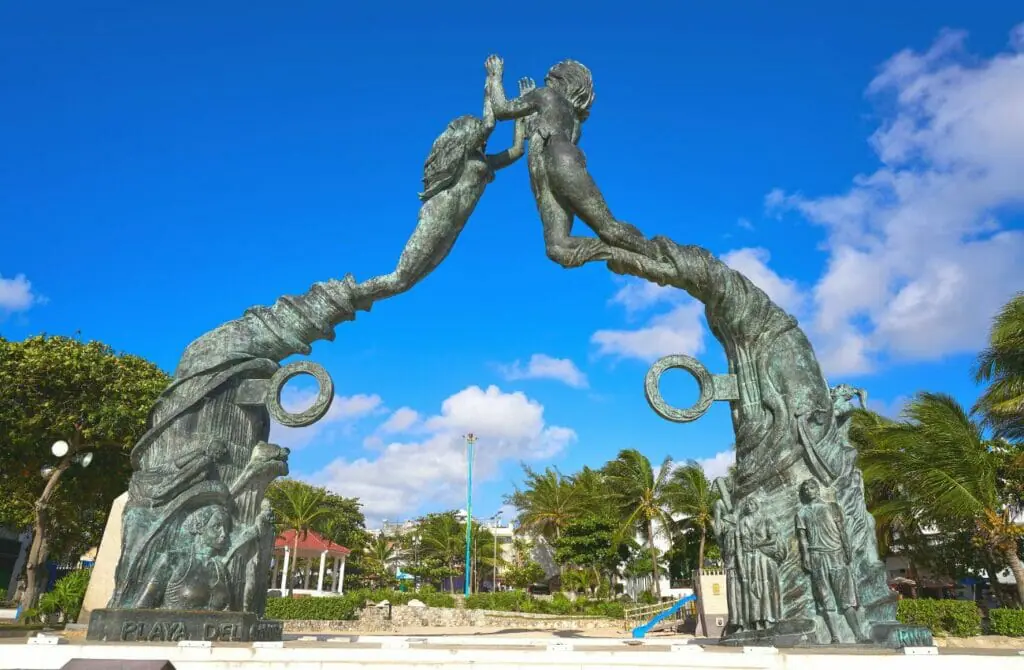 Attractions in Playa Del Carmen
As we have already established, Gay Playa Del Carmen is a stunning tropical destination that boasts an array of natural beauty, rich history and a vibrant gay-friendly community. Situated along the Yucatán, this popular diving destination is known for its breathtaking reefs and relaxed Caribbean atmosphere, making it a popular destination for both tourists and Mexican locals. The city is a true gem, with its stunning white sand beaches, crystal-clear ocean, and awe-inspiring Mayan ruins.
While Playa Del Carmen is often associated with romanticism, it is not just for newlyweds. It is a perfect destination for families and friends as well, with its abundance of fun activities and adventures
For those visiting Gay Playa Del Carmen, there are plenty of opportunities to experience the city's unique culture and LGBTQ+ community. Whether it's taking a tour of its iconic landmarks, sampling the delicious local cuisine, exploring the parks and gardens, attending a cultural event, or visiting gay-friendly bars and clubs, you're sure to have a memorable experience.
As queer travelers, we love to break out of our comfort zone and immerse ourselves in the local culture. By exploring the gay and gay-friendly nightlife in Playa Del Carmen, you will have the opportunity to make new friends, dance the night away, and gain a deeper understanding of the city's vibrant LGBTQ+ community.
So, don't be afraid to embrace the gay and gay-friendly culture in Playa Del Carmen – you won't regret it!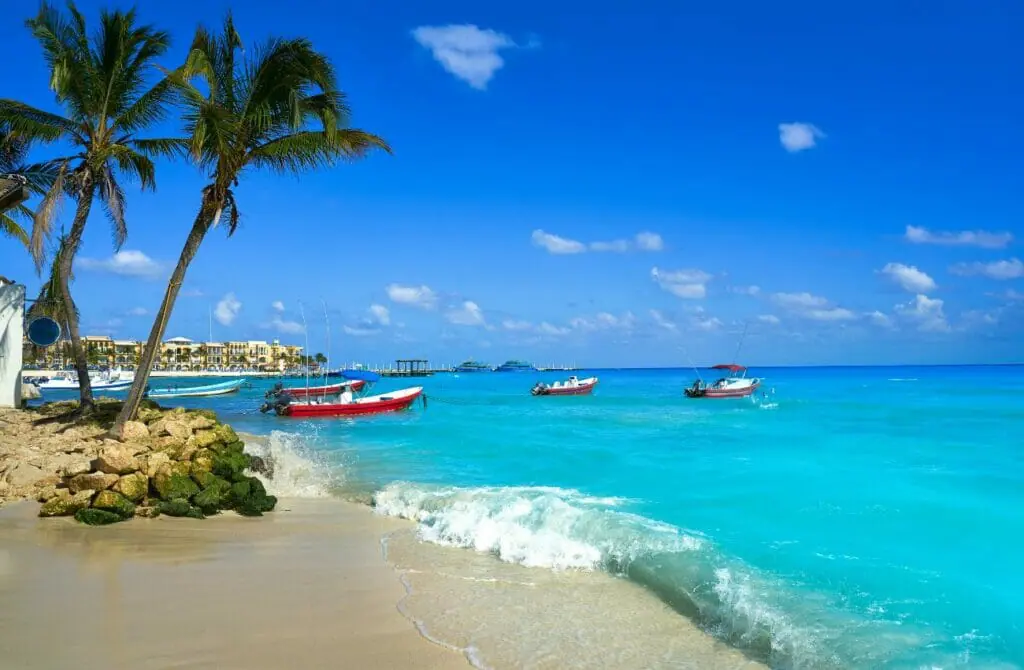 Rio Secreto is a fascinating cenote to explore. This area, which has become a popular day trip destination from Playa del Carmen, may have the longest semi-sunken cave system in the Yucatan.
You do not need a diving certification to spelunk into Rio Secreto, and there are 12 kilometers of underground rivers to explore. Because tourists are guided through the caves in small groups on a three-hour tour, they offer the sense that they are yours entirely.
This Cenote tour will take you deep into the system, where you will be swimming in complete darkness, wading through gorgeous tunnels, and swimming under low-hanging ceilings. It is undoubtedly one of the most entertaining activities available in Playa del Carmen. Get Your Guide is a website that enables you to schedule tours in advance.
The Xel Há theme park is one of the Yucatan adventure parks close to the south of Playa del Carmen. It is an excellent snorkeling area that is suited for the whole family.
The all-inclusive park allows you to spend the day having fun in the sun. In addition to snorkeling in its beautiful waters, tourists may attempt cliff jumping, study cenotes, and participate in sports like zip lines and high ropes courses dangling over the ocean.
Playa del Carmen is home to various amusement parks, the most well-known of which is Xcaret, which includes forty different activities and attractions. This family-friendly amusement park has a coral reef where you can witness sea turtles and a manatee lagoon where you can see the "cows of the ocean."
There is a Mayan settlement, and you may enjoy an evening performance at Xcaret. It's a gigantic dinner theater in the round where you can enjoy traditional Mexican food while seeing the history of Mexico and the Mayan civilizations unfold in front of your eyes.
At first glance, the sight of mature men participating in a Mayan ball game going back to 1400 BC may seem scary. The presentation will take you from the period of the ancient Mayan civilization to the modern day. Book this full-day ticket with the night show to experience all that Xcaret offers. The night entertainment is just one of several things offered at Xcaret.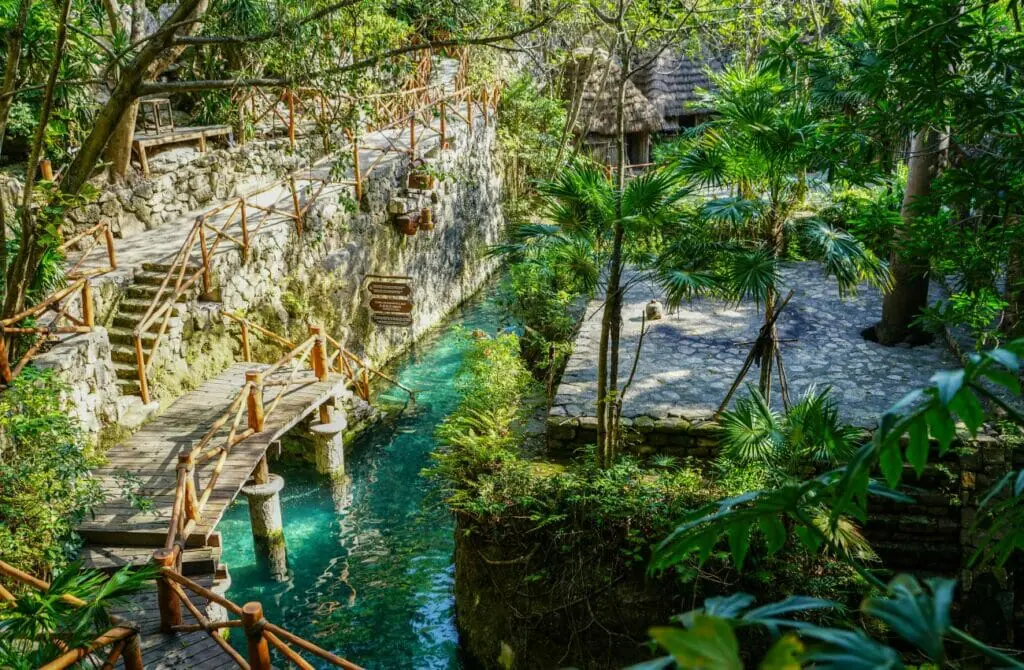 The Museo Frida Kahlo
If you want a cultural experience in Playa del Carmen, go to the Museo Frida Kahlo. The museum honors one of Mexico's most renowned painters.
Although the principal museum is in Mexico City, a museum devoted to her work has been constructed in Playa del Carmen. Most tourists do not go beyond the Yucatan Peninsula or the Caribbean Coast. The museum may be located near the junction of 8th Street and 5th Avenue at its present site.
If going on a guided tour of the cenotes isn't your thing, but zip lining is, you can do both whiles in Playa del Carmen! Aside from entertainment parks like Xcaret, it would be best also to visit the Xplor adventure park. This is a full-day admittance ticket to one of Playa del Carmen's most well-known amusement parks, which includes food and beverages.
Here you'll find 14 of the most spectacular zip lines in Latin America. Underground caves feature rock formations like stalagmites and stalactites and outside activities like rafting and swimming in rivers. As part of the package, drinks and a lunch buffet are supplied for free.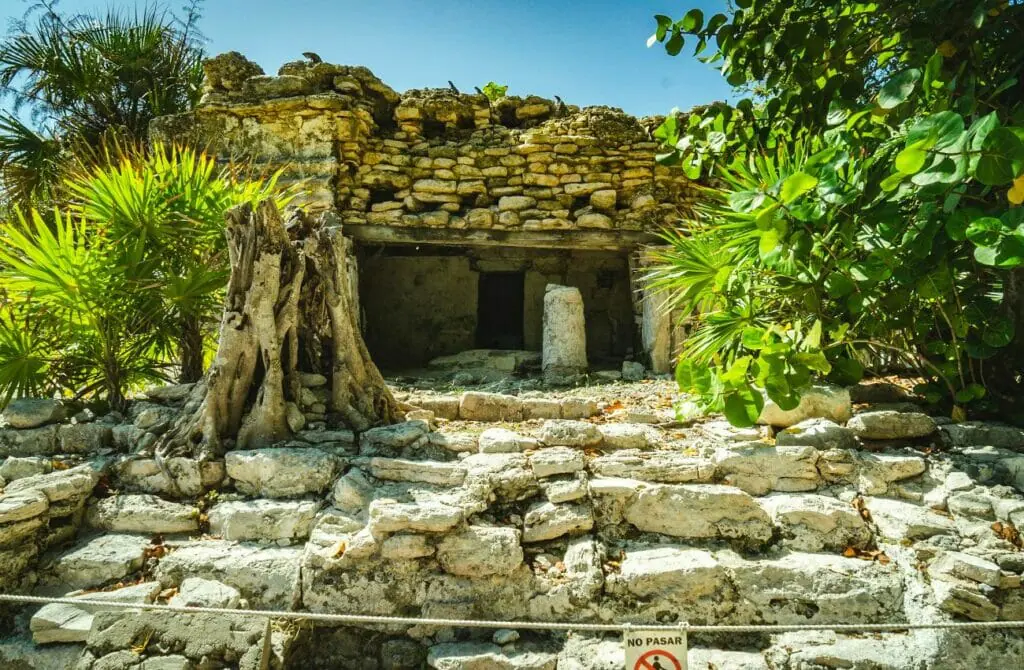 Coco Bongo will almost certainly come up as a suggestion in your search for things to do in the evening in Playa del Carmen. Coco Bongo is an extravaganza with Las Vegas-style entertainment.
Cancun and the Mayan Riviera have long depended on it as a staple, and you can reach there in five minutes from 5th Avenue in Playa del Carmen. It is the finest place to go at night in Playa since it features live music, continual beer service, and entertainment.
La Quinta Avenida (5th Avenue)
Because it is the city's heart, you will find yourself traveling the pedestrian-only La Quinta Avenida for shopping, dining, and nightlife in Playa del Carmen. Mexico's 5th Avenue is a busy cobblestone promenade roughly 5 miles long, replete with street performers, shops, and bars.
One of our favorite things to do when out enjoying the evening is to locate a patio, pull up a chair, and listen to live music. You could visit La Quinta Avenida any time of day or night, and it would be open. There are also art galleries in the region where you may buy souvenirs produced by local craftsmen to remember your trip.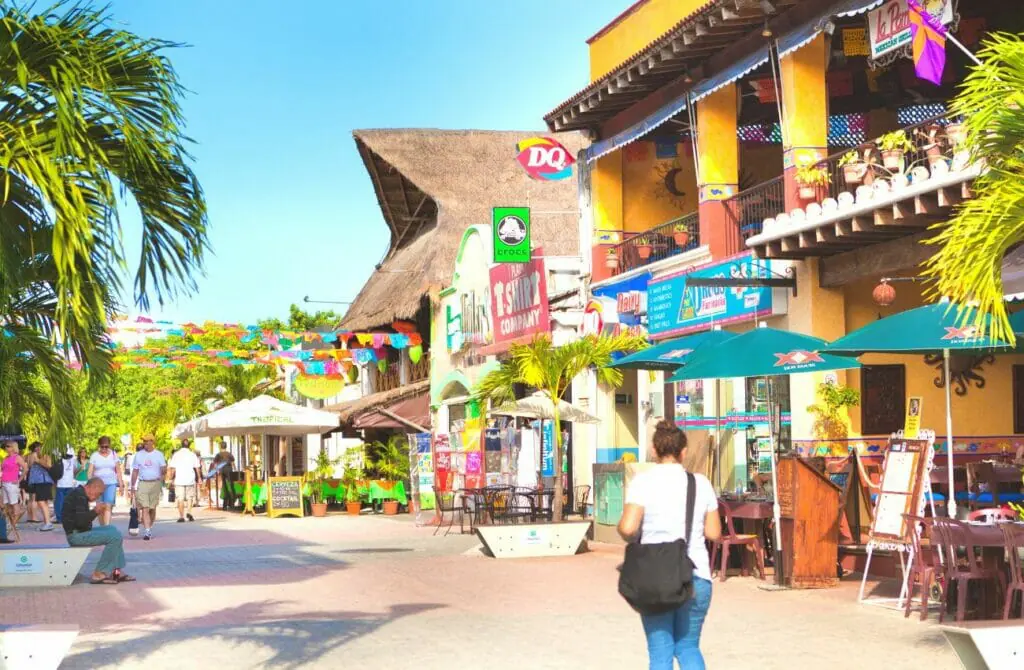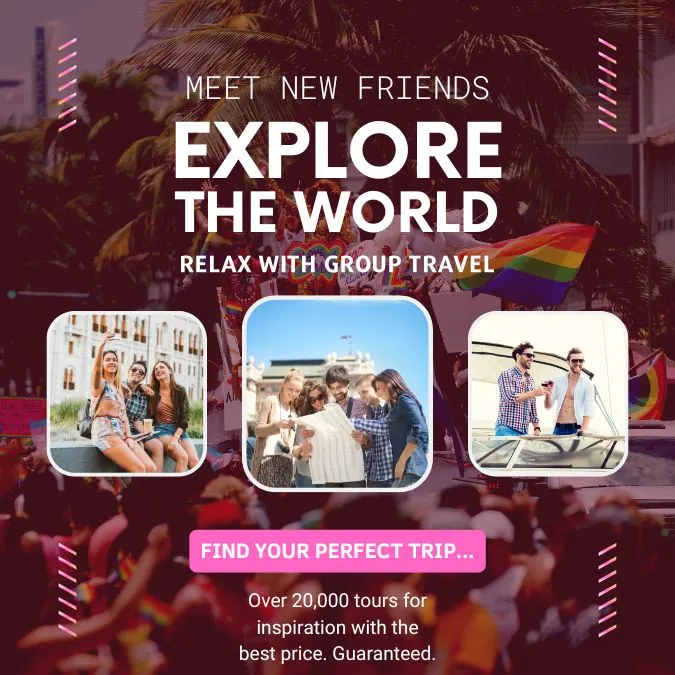 Playa Pride In Playa del Carmen
As queer travellers, we have the good fortunate of being able to experience many pride festivals all over the world, and Playa Pride in Playa del Carmen stands out as a truly unforgettable experience that we should all try and visit. This colorful celebration of the LGBTQ+ community has been taking place annually since its inception in 2013, and has since grown to become one of the most highly anticipated events in the region. Taking place in the heart of this tropical paradise, Playa Pride is the perfect opportunity to connect with other members of the LGBTQ+ community and revel in the spirit of love, acceptance, and unity.
Each year, thousands of LGBTQ+ travelers and locals alike flock to Playa del Carmen to participate in the festivities. The week-long event is jam-packed with a vibrant schedule of activities, including parties, parades, concerts, and other exciting events. Whether you're looking to dance the night away or simply soak up the atmosphere, Playa Pride offers something for everyone. In addition, the festival takes place in one of the most beautiful and culturally rich destinations in the world, providing an opportunity to explore the city, its beaches, and its rich history.
So if you're looking for a fun, vibrant, and inclusive celebration of LGBTQ+ pride, look no further than Playa Pride in Playa del Carmen. Mark your calendars in June for this must-attend event and get ready to experience the true meaning of pride in one of the world's most beautiful destinations!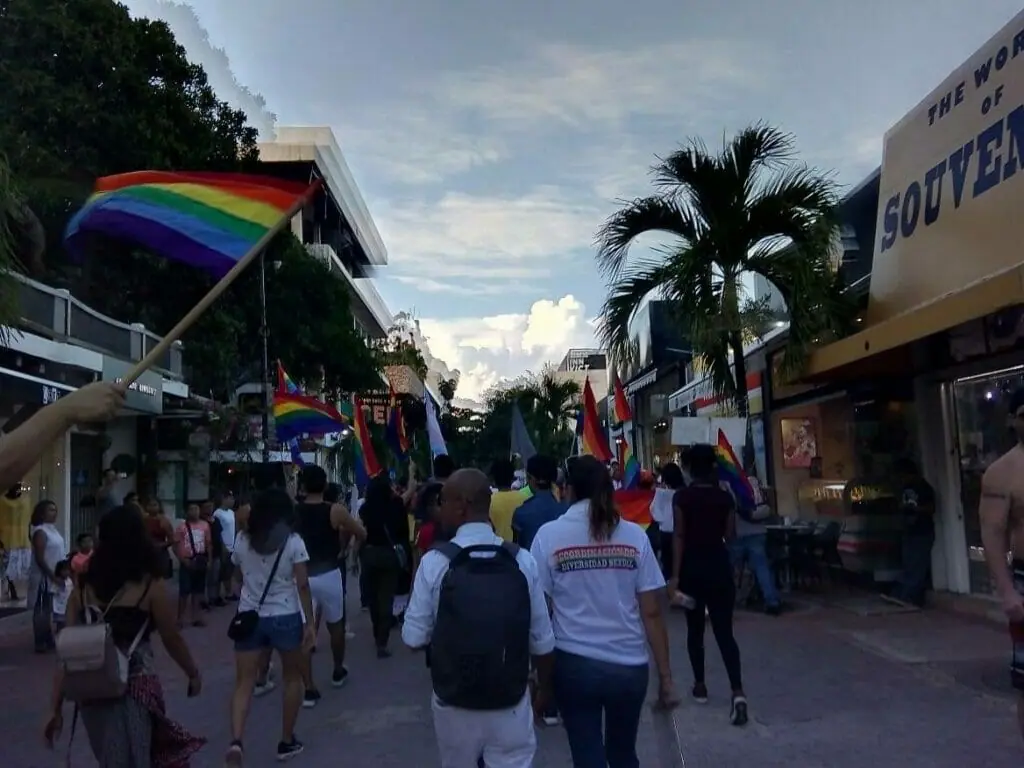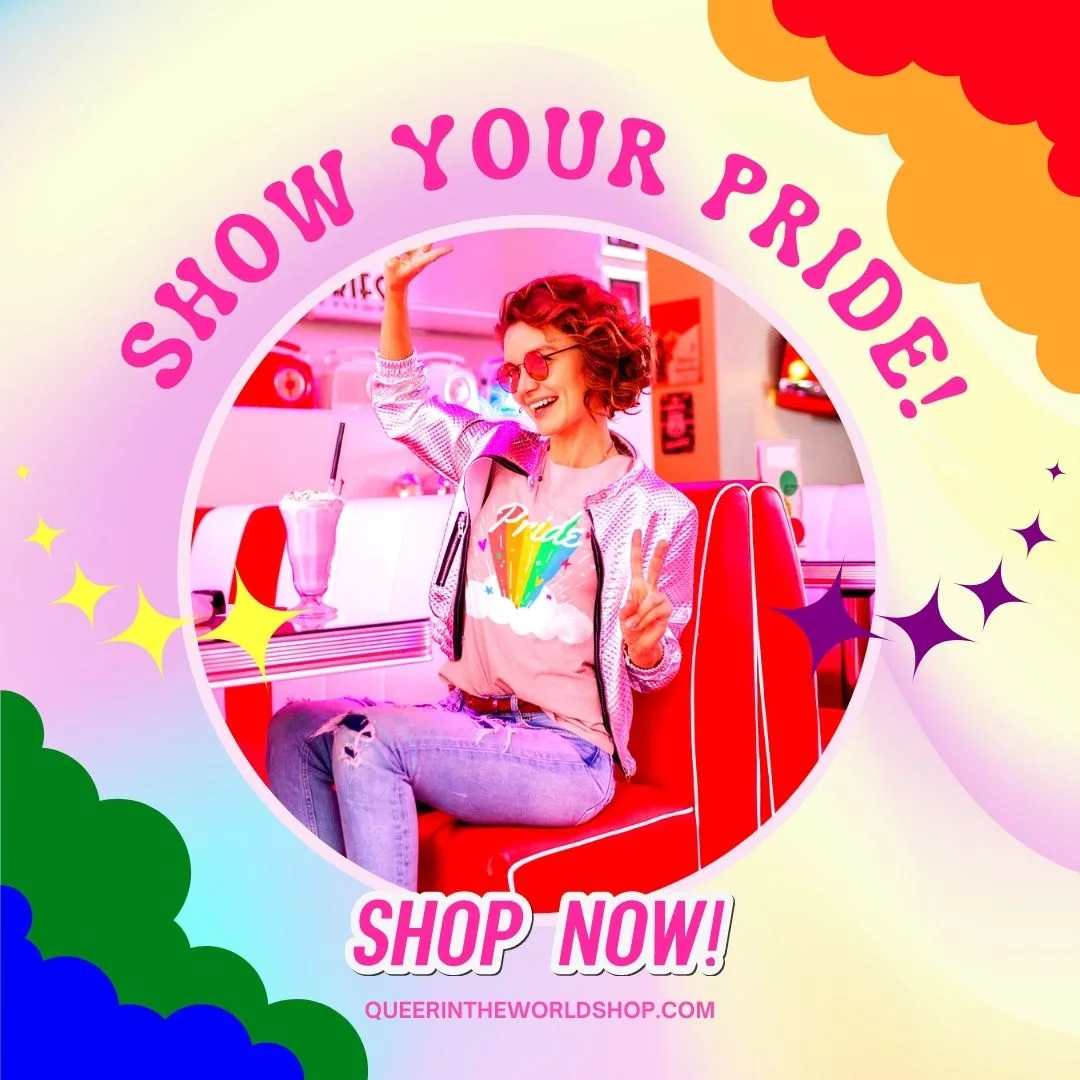 Gay-Friendly and Gay Hotels in Playa Del Carmen
Playa del Carmen is noted for its multiethnic environment, which has pushed inhabitants to be more open to new ideas and perspectives on the world. Locals typically make no distinctions based on guests' sexual orientation or gender and welcome visitors of all nationalities and origins.
Being gay-friendly accommodation means that the establishment is welcoming and inclusive to guests who identify as LGBTQ+. This can include, but is not limited to, having policies and practices in place that demonstrate a commitment to creating a safe and inclusive environment for LGBTQ+ guests, such as non-discrimination policies, and providing support and resources for LGBTQ+ travelers.
Some gay-friendly accommodations may also provide amenities specifically catering to the LGBTQ+ community, such as rainbow flags or literature about local LGBTQ+ events or resources. Furthermore, gay-friendly accommodations may be located in an area that is known for being LGBTQ+ friendly.
Needless to say, there are also hundreds more hotel and hostel options in Playa del Carmen if none of these suit your desired budget, facilities or area – but these are the best hotels according to other gay travelers and us. Whatever your needs are, Playa del Carmen has you covered.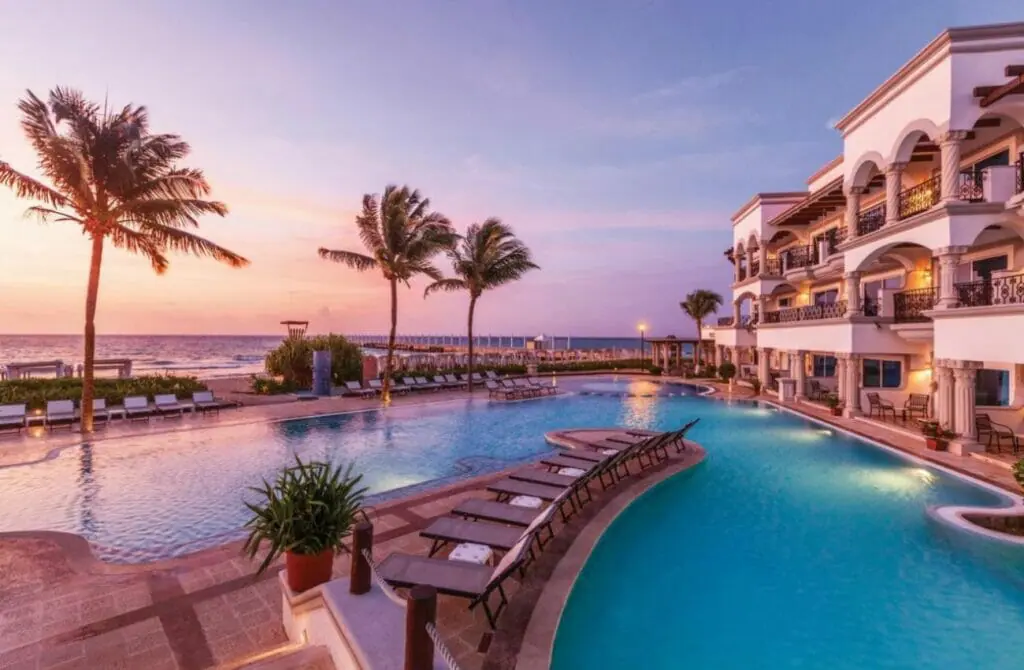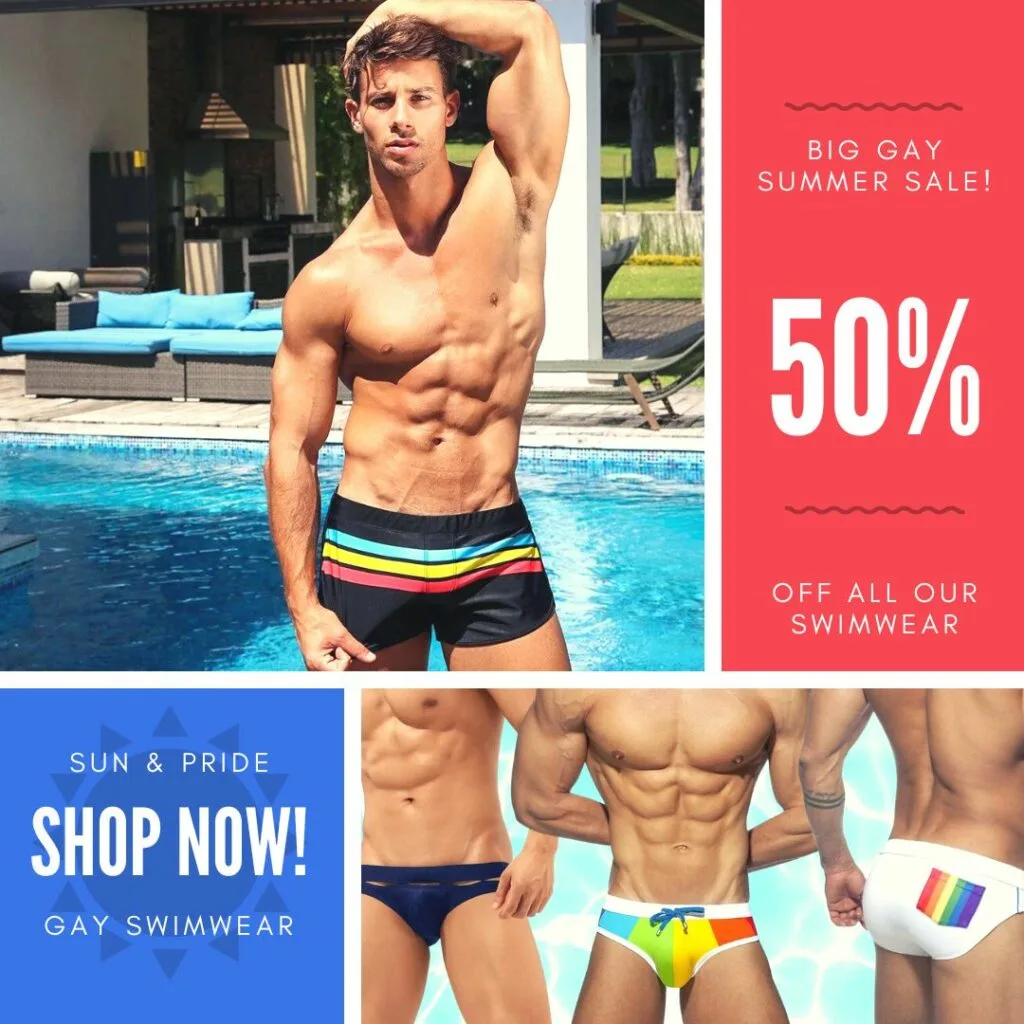 The Hilton Playa del Carmen is an excellent gay-friendly resort in the center of Playa del Carmen. The resort is also an all-inclusive establishment and a haven of peace that accepts LGBTQ guests. It is situated on the lovely Mamitas beach, which is famed for its fine white sand.
Because each room has its minibar and a view of the ocean, the party may go long after guests have retired for the night. A balcony and a huge bathtub are also available.
Every morning, tourists may choose between two different eateries or the on-site coffee shop for breakfast. Evening meals are available in one of the hotel's seven restaurants, providing everything from traditional Mexican to Italian and French fusion cuisine, Caribbean fusion, and Mexican-French fusion.
The world-famous Fifth Avenue, which is packed with restaurants, bars, and stores offering designer items, is just a few steps away from the hotel. The resort's pool has a swim-up bar serving exquisite drinks and other beverages. Guests may also visit Tequilera to sample some of Mexico's best tequilas.
The Hilton provides visitors with activities like scuba diving and salsa dancing workshops, a first-rate fitness facility, and a rooftop tennis court. You will not be bored throughout your stay at the Hilton. Every evening, live music and various types of entertainment are provided. This hotel also has a beauty salon, massage rooms, a hydromassage bathtub, and a sauna, among other facilities.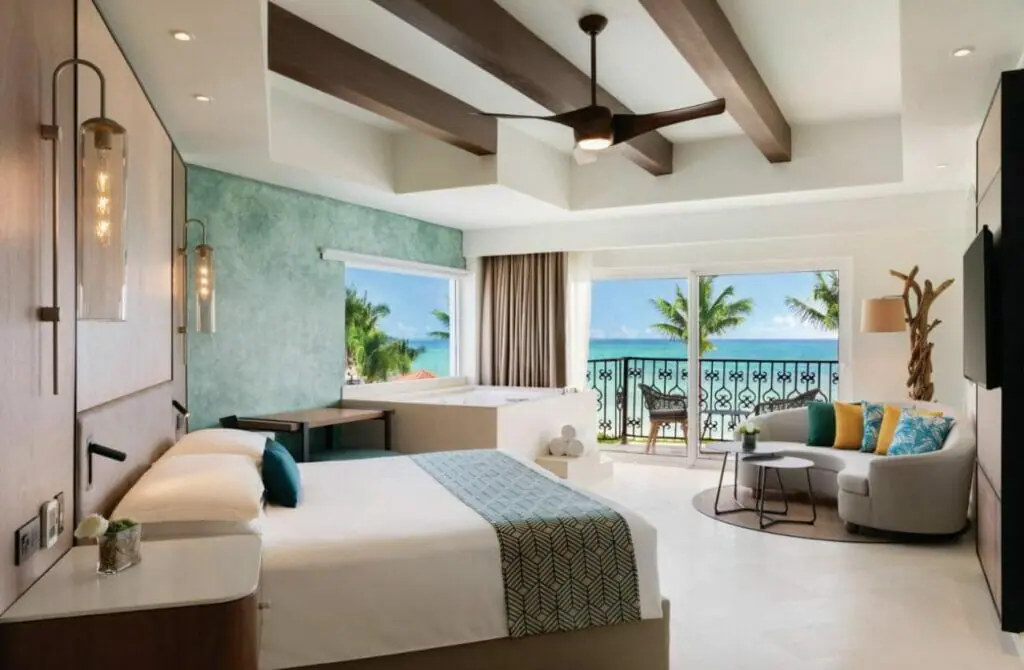 The Chablé Maroma is headquartered in Playa del Carmen, 17 kilometers from the ADO International Bus Station, and provides its visitors with air-conditioned apartments. In addition to a restaurant, the resort features a private beach area and a spa for guests. Free wifi and private parking are available on-site for guests' use.
The Chablé Maroma offers guests a sitting area, a flat-screen television with satellite channels, and a private bathroom with a shower and complimentary toiletries. Some of the lodgings at Chablé Maroma have a terrace, and all rooms include a coffee machine. Every room will include a closet and a kettle for guests to use.
Breakfast is served à la carte at the property. Daily activities include yoga classes and unlimited spa and fitness facility use. Bilingual receptionists who can provide tourists with valuable area information would be pleased to serve them in any language.
Chablé Maroma is 17 kilometers from the Playa del Carmen Maritime Terminal, while the Church of Guadalupe is 14 kilometers away. Cancun International Airport is around 40 kilometers distant, making it the nearest airport to Chablé Maroma.
Thompson Playa del Carmen ☆☆☆☆☆
Thompson Playa del Carmen is a beach in Mexico. The newest premium destination in Playa del Carmen combines sun-drenched luxury and exciting nightlife to a whole new level — five stories high — right in the heart of it all, on Playa's famed Quinta Avenida at Calle 12.
It is unquestionably the pinnacle of Playa, combining a rooftop infinity pool playground with eating and entertainment. It has stunning 360-degree views from the sea to the city and beyond.
The Thompson Playa del Carmen provides free wifi throughout the hotel and is located in Playa del Carmen, about 300 meters from 28 de Julio Square. In addition to an indoor and outdoor pool, as well as a fitness facility, the hotel features a restaurant.
All rooms at this hotel have air conditioning and are equipped with a flat-screen television with cable. After a long day, you may unwind in the common sitting room in many units. For your convenience and comfort, bathrobes and complimentary toiletries are supplied.
For the convenience of visitors, the area features a gift shop. You may participate in a range of activities, including windsurfing and snorkeling. The hotel also offers vehicle and bicycle rental services. Guests will have access to rooftop yoga instruction, tequila or mezcal samples, daily bottled water, and a faster wifi connection in the morning.
The Thompson Playa del Carmen hotel is 900 meters from the Playa del Carmen Maritime Terminal, and the ADO International Bus Station is just 700 meters away. The nearest airport to the hotel is Cancun International Airport.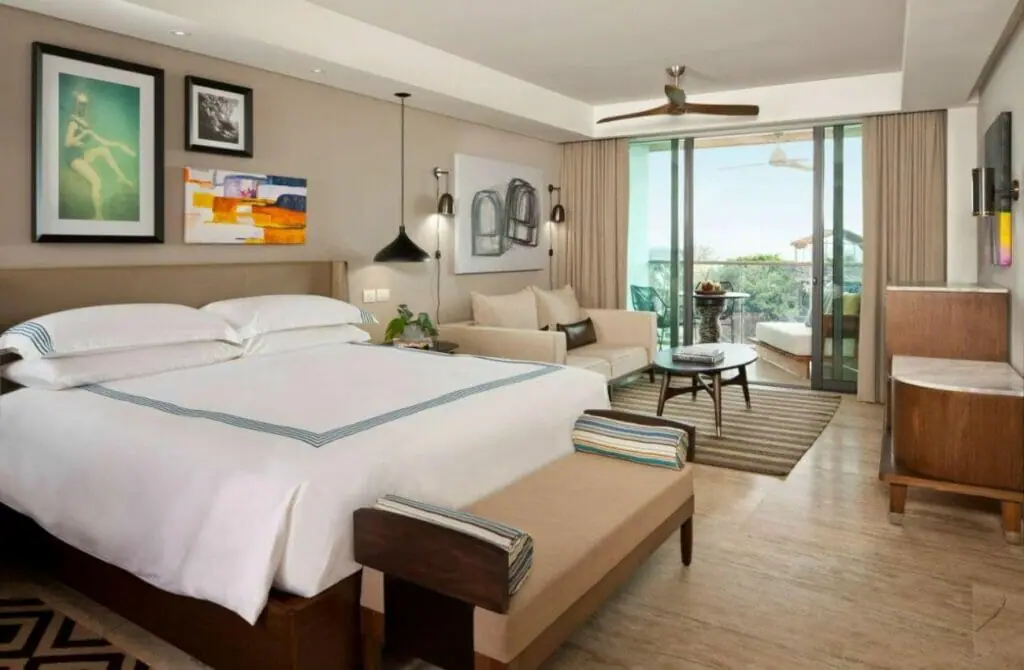 The Reina Roja Hostel is located in the center of downtown Playa del Carmen, only a few steps from Fifth Avenue and its world-renowned nightlife, high-end shopping, and eating options. You may taste the Riviera Maya's relaxed way of life right here. It's about a half-hour drive from Cancun International Airport. The ADO bus station in Playa del Carmen is ten minutes from the hotel.
The property has an indoor and outdoor swimming pool, a rooftop bar, a restaurant, high-speed wifi, and a solarium. It is furnished in a modernist style with seductive colors that captivate you. They provide the highest degree of comfort in their all-female dorm, which can sleep up to 6 people, and their mixed dorm, which can sleep up to 9 people.
The rooms include private bathrooms and separate lockers for visitors to store belongings. The bunk beds are contemporary and soundproof, and each individual gets a blackout curtain for a restful night's sleep. All behind the tamper-proof seal of the Reina Roja brand.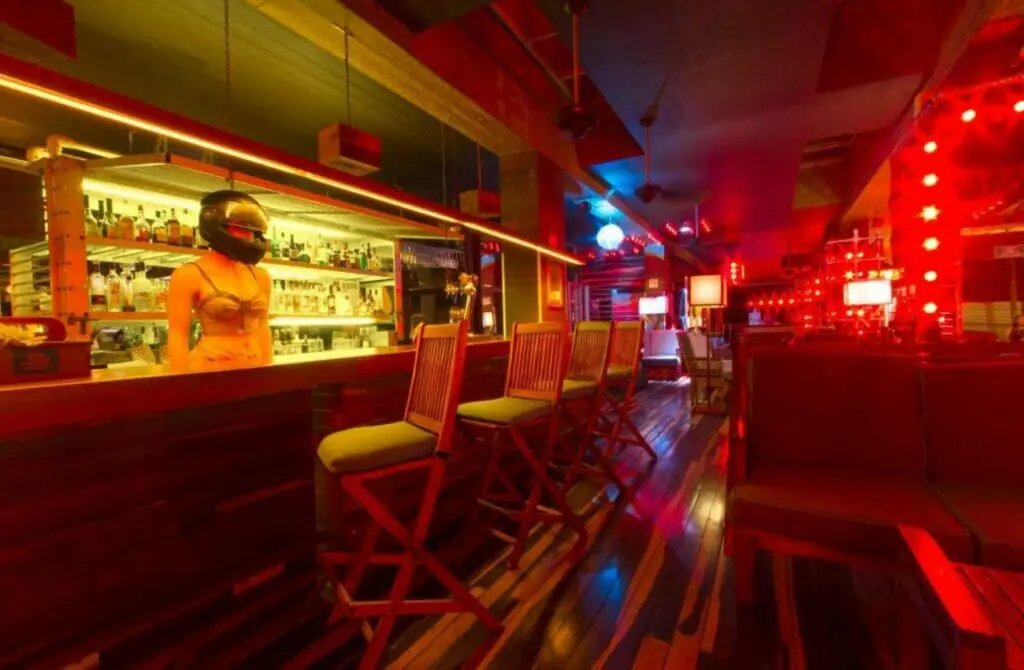 Gay Nightlife in Playa Del Carmen, Mexico
The gay community in Playa del Carmen is small, which is to be anticipated given the city's total population – but on the other hand, the city offers guests a reasonable number of LGBT-friendly bars and clubs.
Exploring the gay and gay-friendly nightlife in a new city can be one of the most exciting and rewarding experiences while traveling – and Gay Playa Del Carmen is no exception. Not only will you have the opportunity to meet new people and make friends, but you'll also get a taste of the local culture and learn more about the city's LGBTQ+ community.
Going out and experiencing the queer and queer-friendly nightlife in a new city can also be a great way to break out of your comfort zone and try new things. Whether it's dancing the night away at a gay club or mingling with locals at a gay-friendly bar, you'll have the chance to make memories and create lasting connections.
So, don't be afraid to step out of your comfort zone and explore the gay and gay-friendly nightlife in Playa Del Carmen. You'll be glad you did!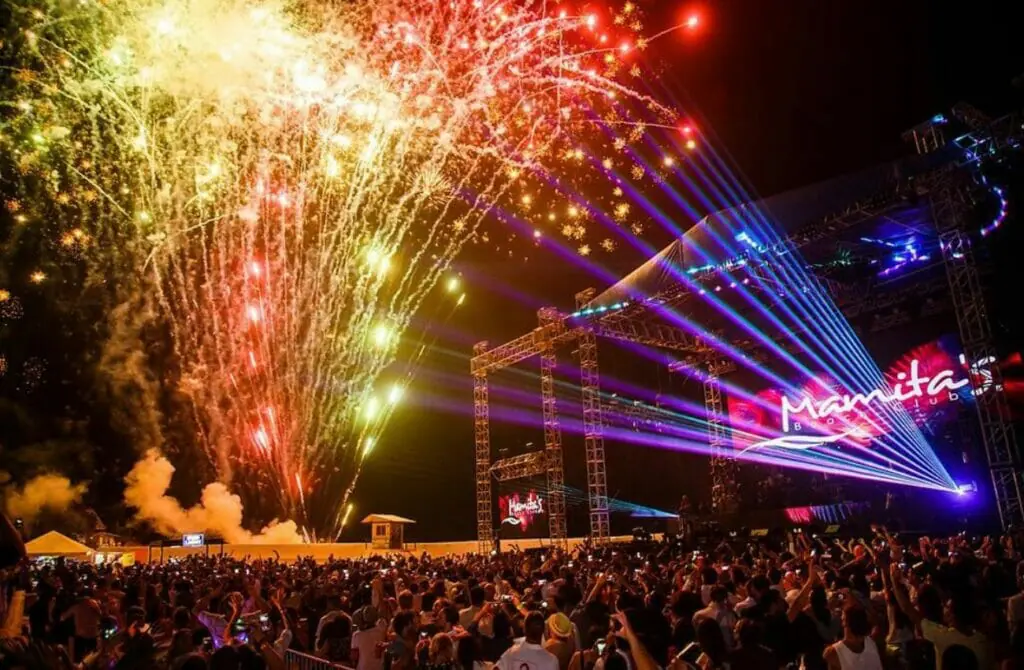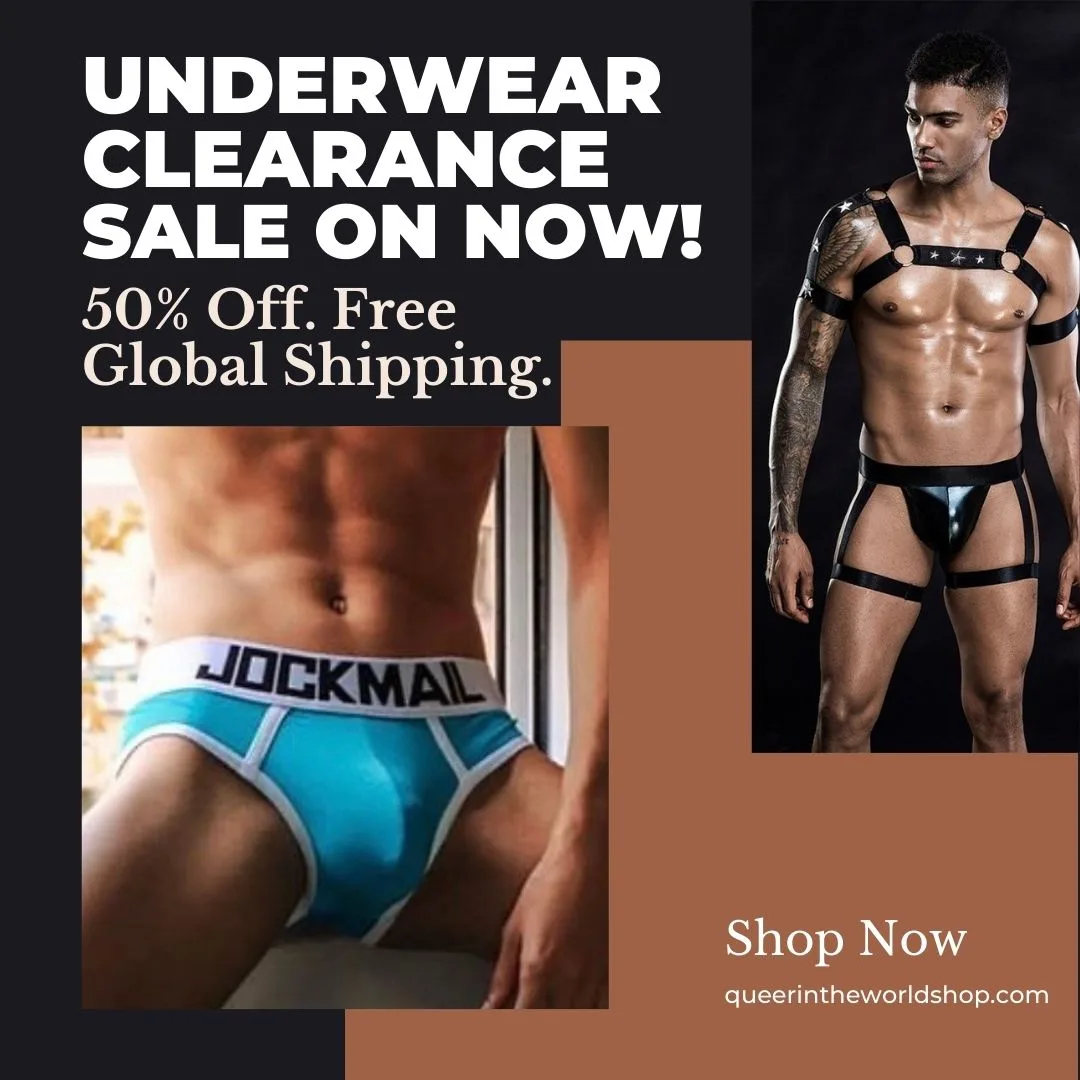 Mamitas Beach Club's superb music and modern ambiance add to the venue's enormous appeal. They give visitors beach chairs, umbrellas, and beds at their location. A group of male or female people may often hire a single bed to spend the day lying about and drinking.
This club caters to a trendy and young crowd. The bulk of the beach clubs is friendly. However, the most popular ones are frequently found between Constituyentes Street and CTM Avenue.
Although it is not a club, this hotel is particularly popular with LGBT guests and is well-known for its "gay-friendly" image. During the past year, the hotel has hosted a weekly "Apecar Gay Party" on Friday nights from 8:00 p.m. until 2:00 a.m.
The evening would include DJs, live performers, and some incredible drink deals. Even though it seems that this specific night will not be repeated after December 2018, the rooftop bar is still popular among hotel residents and tourists as a place to gather, dance, or speak.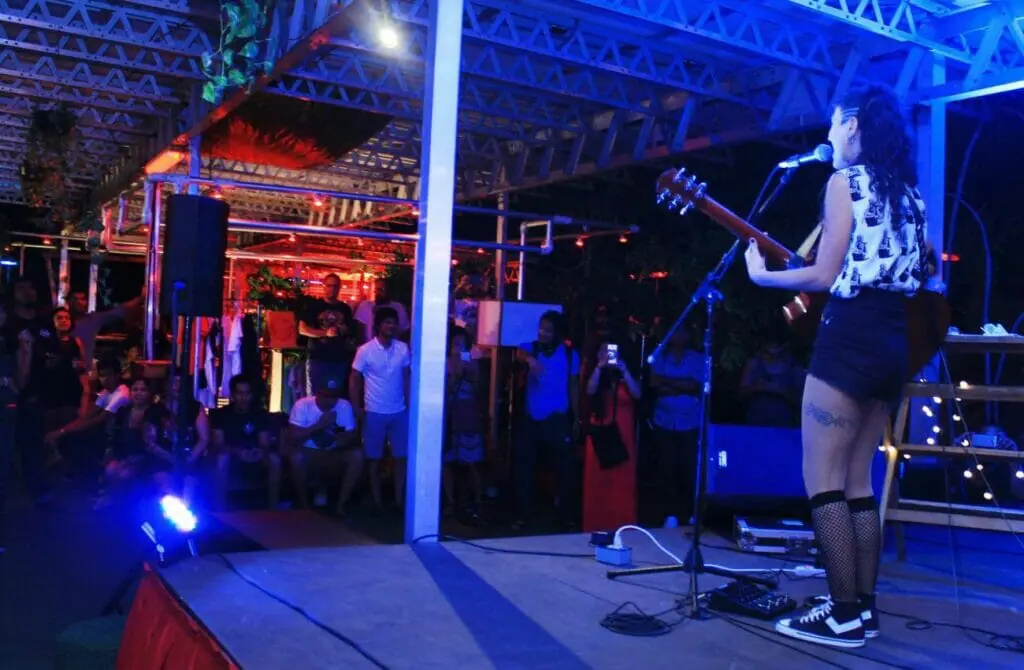 Club 69, the neighborhood's official oldest gay club, was founded in 1969. This dive tavern is furnished in a vintage manner and offers drag queens and tequila shots. The institution caters only to gay guys and has a consistent client base.
The group is made up of both residents and visitors. Club 69's entrance is on 5th Avenue's major roadway, right in the midst of the block that spans between 4th and 6th Streets. The most direct path to the drinking hole is to locate the 7-11 shop and take the alleyway that goes directly to the bar.
The bar is not very large, but most of the available inside space is taken up by a large stage area, which hosts thrilling drag acts on Fridays and Saturdays.
The performances begin at about noon and continue into the night. The stage becomes the central location for dancing when there is no show. In addition, there is a larger outdoor courtyard area where spectators may rest, drink, and socialize while watching performances.
You are strongly advised to visit 11-11 if you are exploring a little further from Playa del Carmen (aka Cancun). The club is well-known for its shirtless dancers, excellent bar service, and exquisite cocktails.
Under the disco lights, partygoers will be seen dancing to a selection of Latino favorites and traditional LGBT tunes. The music system is fantastic and individuals of all genders are welcome.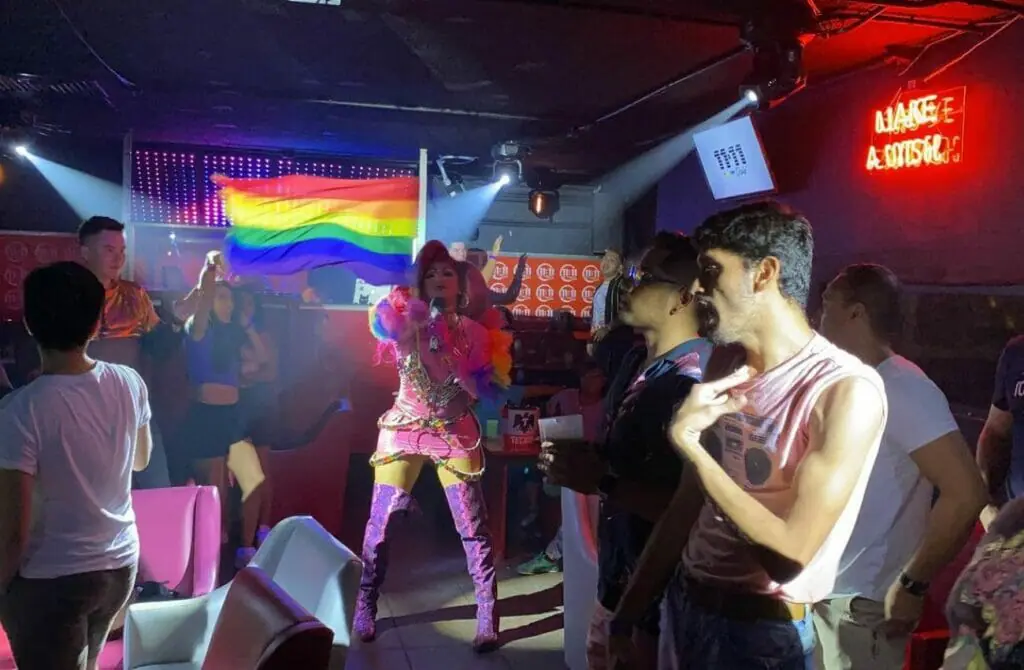 Arena Circuit is largely regarded as Mexico's most popular gay party. It usually takes place in January and attracts thousands of music enthusiasts worldwide.
While your friends back home are dealing with dreary mornings and cold rain showers, those competing in the Arena Circuit will be dancing in their tight speedos on the lovely PDC beaches in the early hours. In past years, guests constantly partied for six days and nights throughout the festival.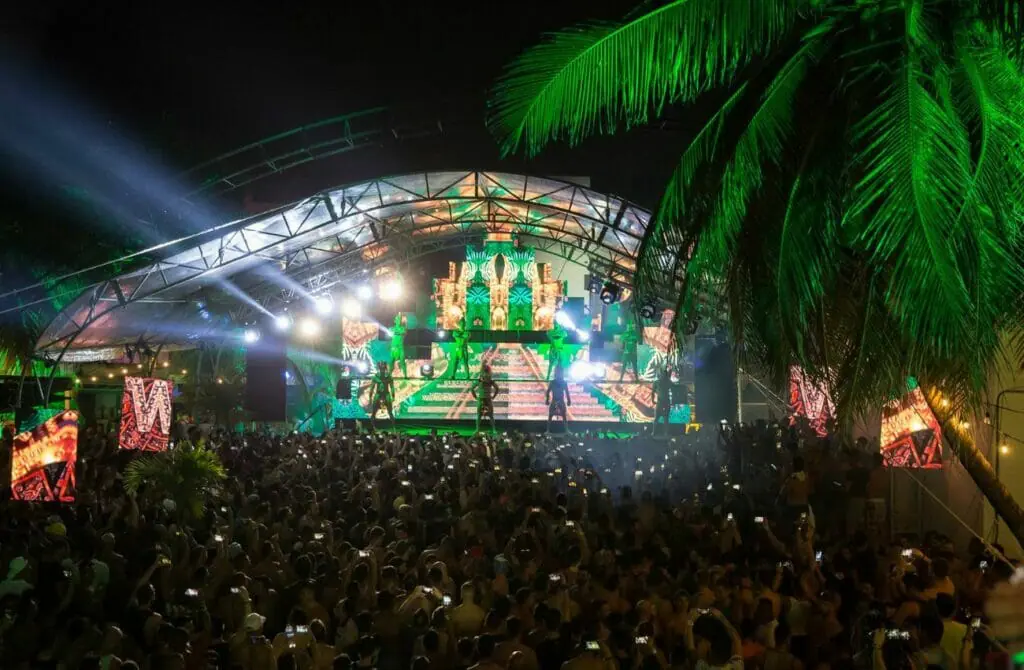 Cool Coffee Spots in Playa Del Carmen
If you're looking for a more low-key and relaxed vibe, then visiting an LGBT-friendly coffee shop in Playa Del Carmen may be the perfect choice for you. Whether you prefer not to drink or just want to take a break from the excitement of nightlife, these coffee shops offer a cozy and intimate atmosphere where you can unwind and chat with friends.
With a variety of specialty drinks and delicious treats to choose from, you'll be able to indulge in your favorite beverages while surrounded by a welcoming and accepting community. From latte art to artisanal pastries, these coffee shops have something for everyone, and many also offer outdoor seating, so you can enjoy the beauty of the city while sipping your coffee. So if you're in the mood for a more mellow and enjoyable experience, be sure to check out the LGBT-friendly coffee shops in Playa Del Carmen!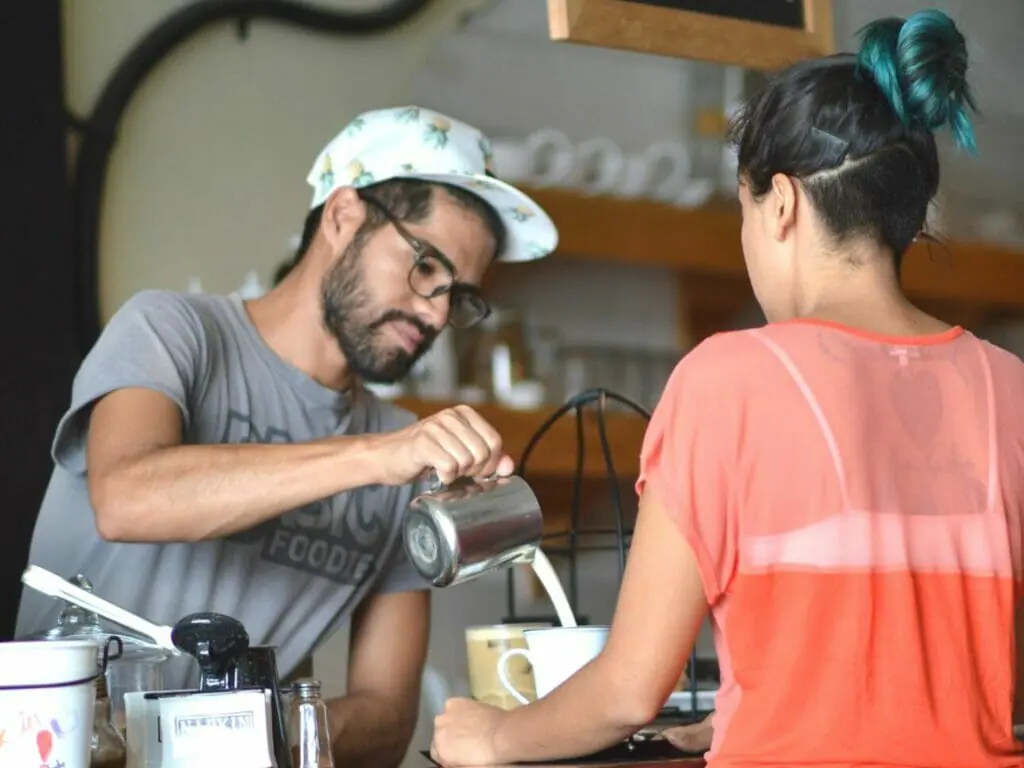 A beautiful new addition in the shape of an open-plan café. It has good wifi and a great location, as well as a calm place with large communal tables inside and a covered patio outside. Their huge tables are great for taking quick product shots.
Breakfast and lunch are available at the beautiful open-air Bajo Cafe at Mercado 30, which offers a blend of Mexican and other global cuisines. On the menu, there is a popular combo option in which guests may choose an appetizer, main course, and dessert for the low price of $130.
It is important to note that Bajo Cafe does not have air conditioning; nonetheless, plenty of large fans are available to keep you cool. There will be many other digital nomads working nearby, and the wifi will be sufficient.
Marley Coffee, located in the Fives Downtown Hotel in Playa del Carmen, is a beautiful coffee shop named after Bob Marley. It has Bob Marley artifacts and is backed by laid-back reggae music in the background. The coffee is wonderful, and there is also a large assortment of exquisite cakes and pastries. The oreo cheesecake exhibited in the pastry case is continuously calling my name.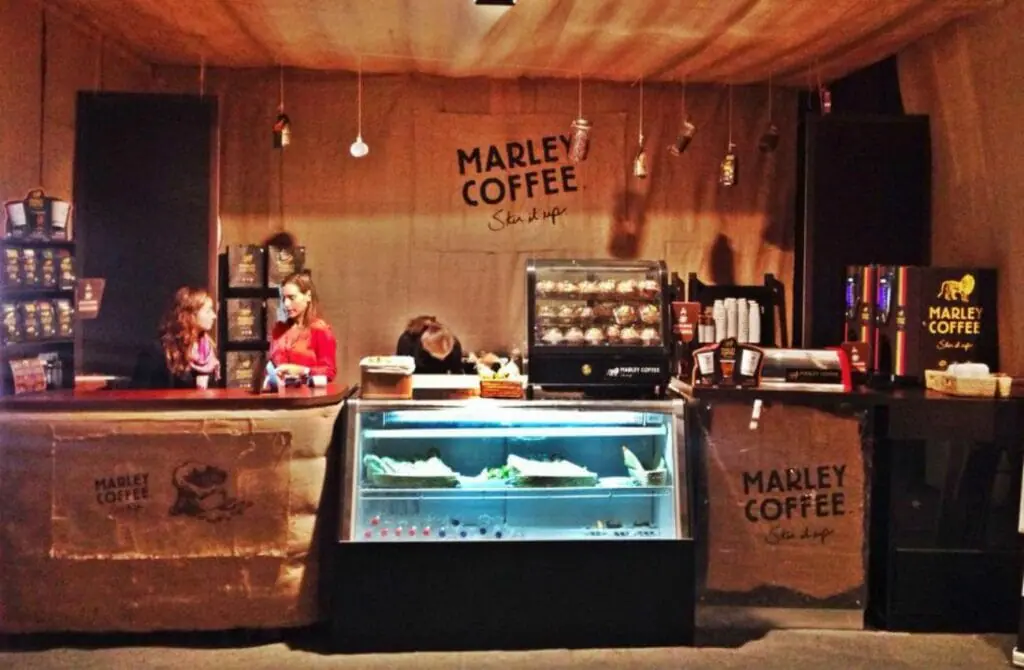 Cruising & Gay Saunas in Playa Del Carmen
When in Playa Del Carmen, exploring the local LGBTQ+ scene can be an exciting experience, and for those seeking a different type of adventure beyond just the bars and clubs, the city's only gay sauna, Sauna Gay X Mahan Nah, is definitely worth a visit.
Sauna Gay X Mahan Nah provides a space for queer men to socialize, meet new people, and engage in sexual activities, without relying on hook up apps. Although the sauna culture in Playa Del Carmen is not as extensive as in other cities like Amsterdam, Barcelona, or Berlin, Sauna Gay X Mahan Nah still offers a unique and intimate experience.
It's important to keep in mind that gay saunas and cruising clubs can vary greatly in terms of atmosphere, clientele, and rules, so it's advisable to educate yourself beforehand and prepare accordingly.
Always practice safe sex and respect local laws and customs regarding LGBTQ+ venues and sexual activities. With a little bit of planning and an open mind, visiting Sauna Gay X Mahan Nah can be a memorable and enjoyable part of your gay Playa Del Carmen travel itinerary.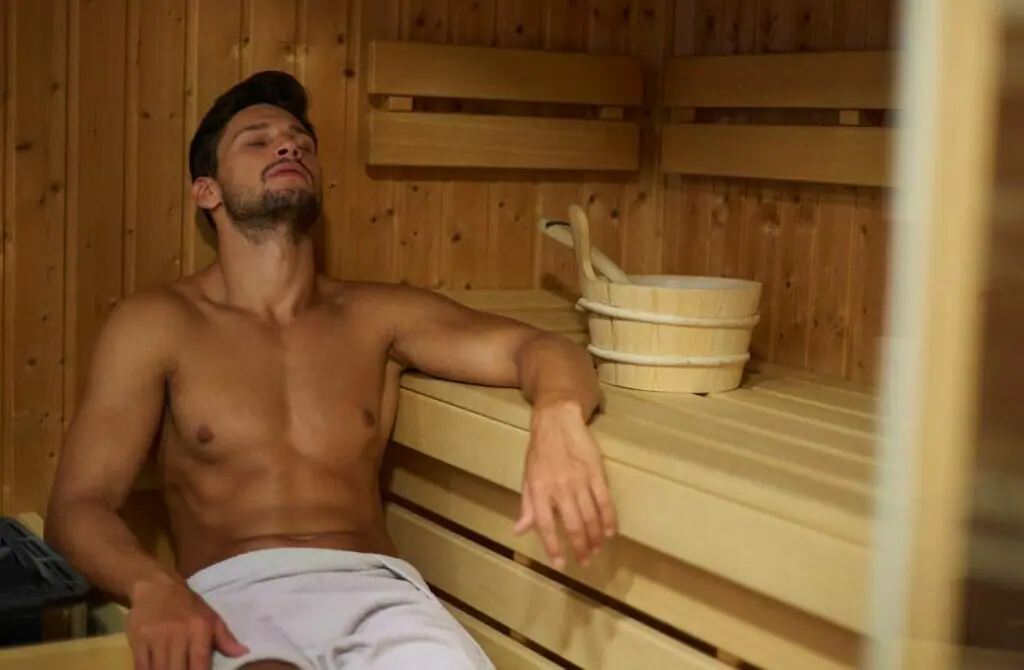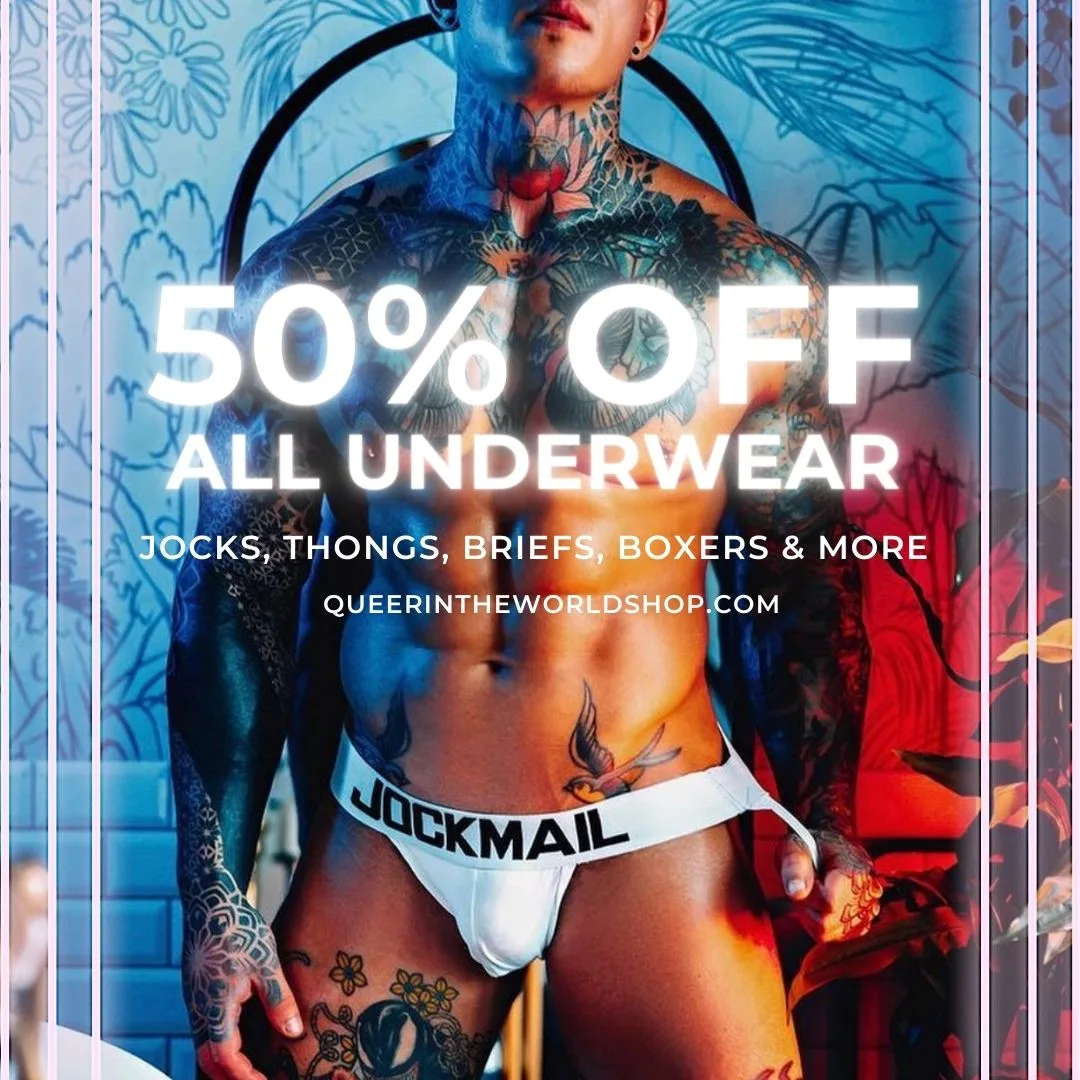 Gay Map Of Playa Del Carmen
Finding it hard to envisage where everything is in Playa Del Carmen? Hopefully, this queer-centric map helps where we have marked all the bars, clubs, parties, hotels, saunas, massages and more will help you stay in the spot best suited to you!