Nestled on Mexico's Pacific coast, the beautiful resort town of Gay Puerto Vallarta has long been known as a tropical sun lover's paradise, with tons to do in the way of watersports and adventure activities, not to mention all the fine things that come along with a booming resort destination: a gamut of lodging and dining options as well as easy access to local attractions.
But what many may not know is that in recent decades outcrop of gay resorts in Puerto Vallarta have opened, and Puerto Vallarta has become the most inclusive and gay-friendly resort town in all of Mexico, nabbing that honor away from bigger cities like Mexico City and Guadalajara.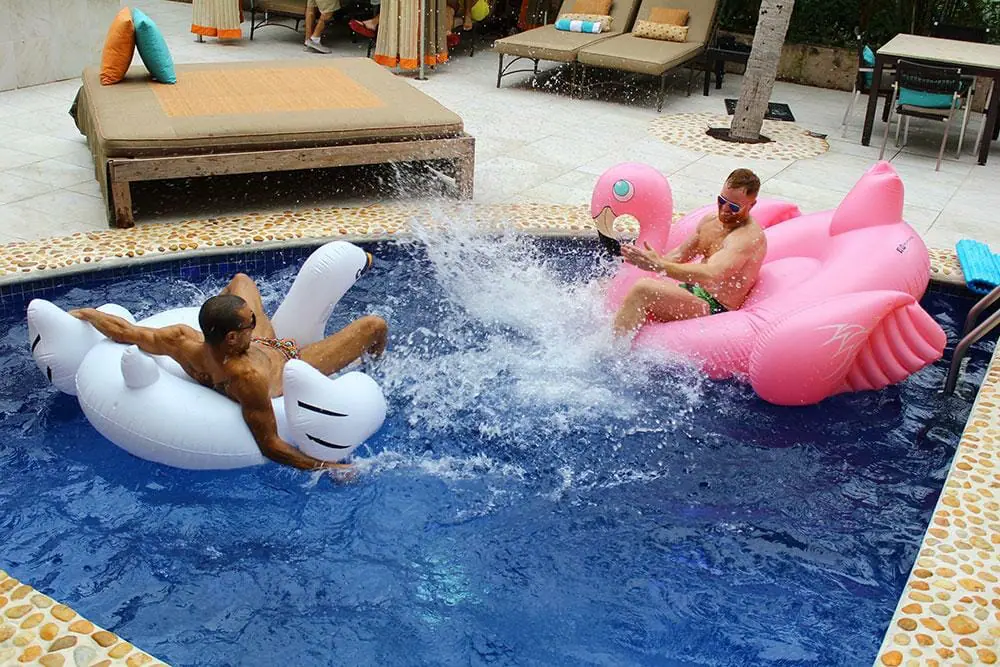 In fact, Puerto Vallarta has been called the "Friendliest City in the World," a title which it still likes to claim, as advertised on one billboard near the city's western entrance. Puerto Vallarta is also known as the "San Francisco of Mexico" and is recognized as a haven for LGBT acceptance in a region (Jalisco) that tends to be more conservative.
Puerto Vallarta is the premier destination in Mexico for gay travel and has been called the No.1 gay beach town in all of Latin America. While the straights might flock to Cancun, PV is a queer beach destination on par with Fort Lauderdale, Phuket, Sitges, and other top spots around the globe.
If you are wondering when to visit, Puerto Vallarta's annual pride festival coincides with Memorial Day in America – an effort to appeal to LGBT tourists from the United States – through there is plenty of fun to be had year-round. The city also boasts a vivacious gay scene known as Zona Romantico. Here you will find a wealth of hotels, bars, clubs, etc., – both gay and otherwise.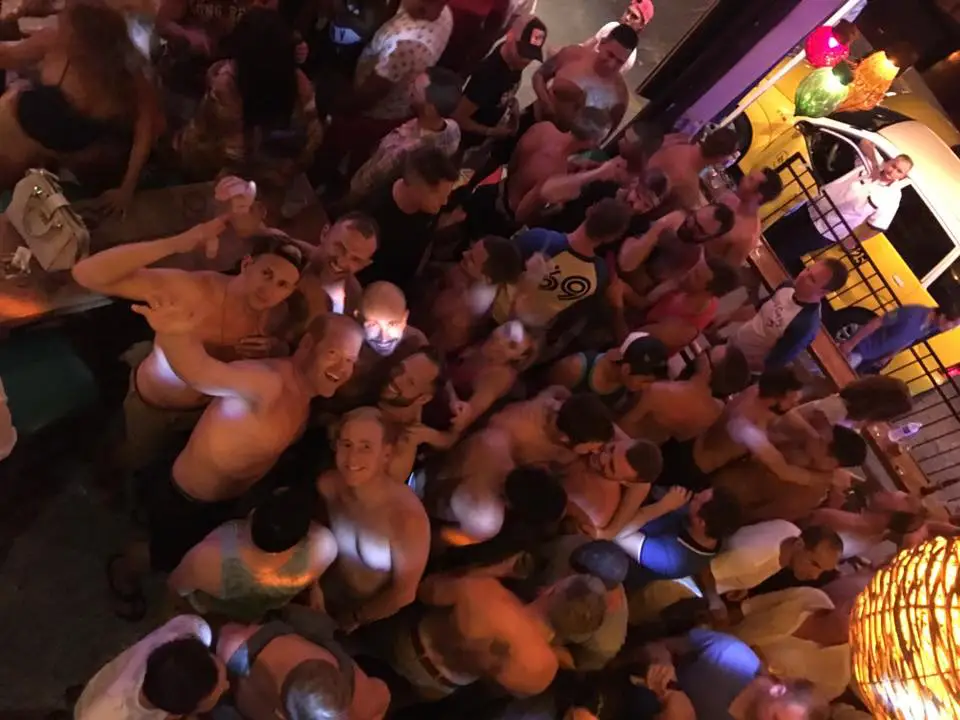 So it is safe to say that gay tourists to this part of the world are not going to find a more inclusive, friendly, and accepting atmosphere for fun in the sun and the hottest nightlife you are likely to find anywhere.
And the city offers so much to see and do; it can be hard to know where to start. There are nearly more shops, galleries, boutiques, bars, cafes, restaurants, bistros, cantinas, and kitchens than can be counted, seemingly dozens and dozens of gay and gay-friendly establishments; it's really enough to make a Puerto Vallarta newcomer's head spin. Visitors will be spoiled for choice, of that there is no doubt and adventure opportunities abound, as. Well they should be in a world-class resort destination.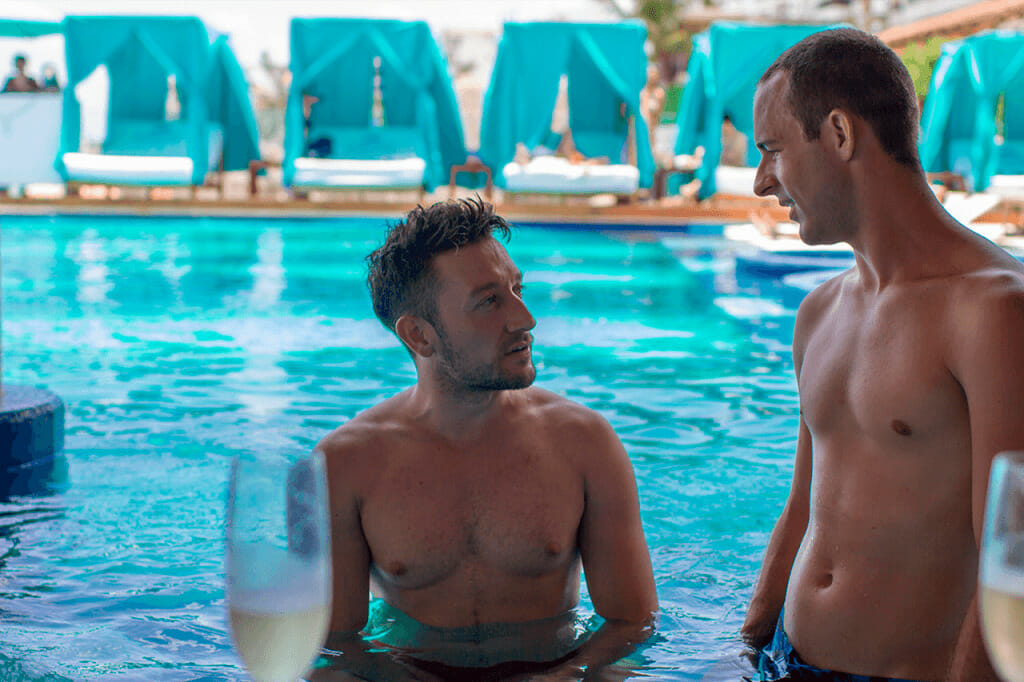 But one lingering question remains for the would-be gay visitor to Puerto Vallarta: where to stay while you are experiencing everything this sensational city has in store? Well, you need not worry; gay-friendly and gay resorts in Puerto Vallarta are abundant (this is the biggest gay travel destination in the country, after all)!
Much like with everything else in this amazing city, lodging options will not be hard to find. But you want the best – and why wouldn't you? Well, here they are, the best of the best gay resorts in Puerto Vallarta. We can safely say there really are no bad choices here.
So choose the one that suits you best, pack your bags, grab the suntan lotion and that gorgeous tropical queer shirt you have been just dying to bust out and let's go!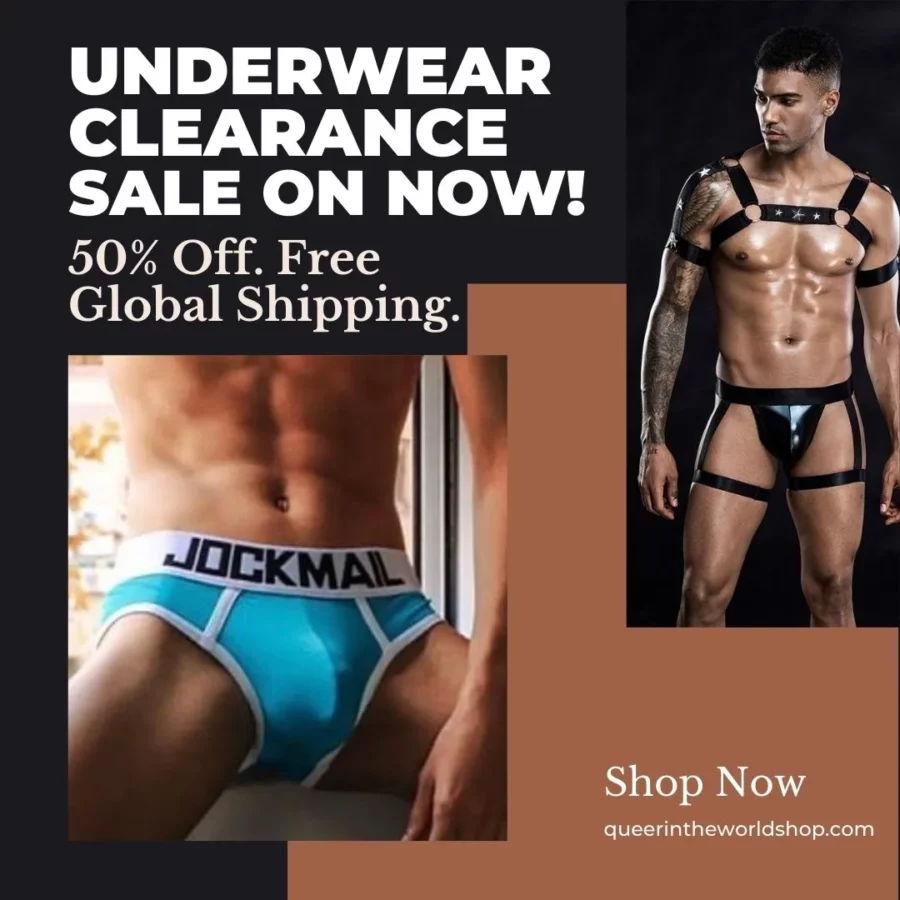 Gay Resorts In Puerto Vallarta
Our first resort up is the Almar Luxury LGBT Beach Front Experience, which is ideally located in the heart of the old town, in Zona Romantico. It bills itself as "The Only Gay Luxury Beachfront Hotel in Puerto Vallarta!" As the resort's name promises, you'll be right on the city's gay beach, the charmingly named Playa del Muertos (Beach of the Dead) overlooking the Bay of Banderas.
The property boasts 79 luxury suites catering to gay clientele. Room amenities are as follows: free Wi-Fi, air conditioning, coffee maker, minibar; and in some of the rooms, there is a kitchen with a refrigerator and microwave. 24-hour front desk service is available, as is concierge, currency exchange, laundry service, wake-up calls, and turndown service.
There will be plenty to do right at hand when guests stay at the straight-friendly Almar Luxury Gay Hotel. Snorkeling, scuba diving, water sports, and all the other adventurous activities Puerto Vallarta has to offer are within easy reach. The Almar also hosts gay weddings put together by a professional wedding coordinator that features live music, flowers, wedding-themed decor, gourmet banquet, wedding cake, beverages, and professional video and photography.
Nor will visitors want for eating options. Gourmet dinners and cocktails are on offer at the resort's own Top Sky Bar, which, as you may have guessed, affords a panoramic view of the city skyline to go along with the fine dining. When you're out on the gay beach itself, check out the Mantamar Beach Club Bar & Sushi. And Jorje's Hideaway Shrimp Shack is less than a ten minutes walk away.
The Almar Gay Luxury Resort can't come more highly recommended for gay tourists looking for gay-focused accommodations.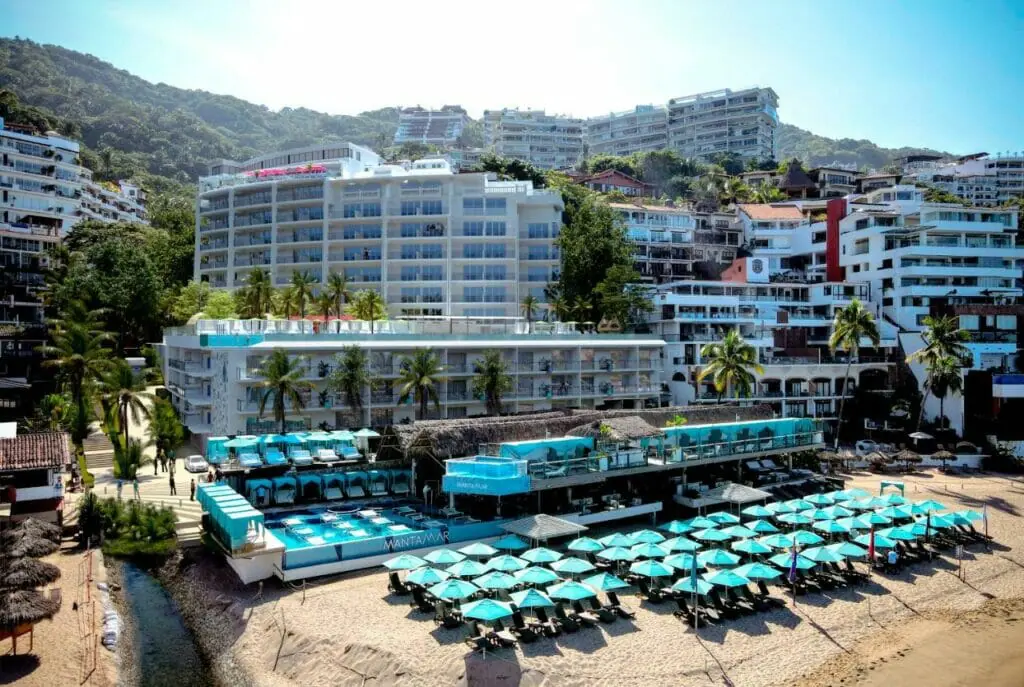 Gay-owned Casa Cupula is only a fifteen-minute walk from the gay beach of Playa del Muertos, so while it is not exactly on the beach, it is within easy striking distance.
This "Hip hotel catering to gay men" has a restaurant, bar, gym, outdoor pool, hot tub, and spa. Room accommodations at Casa Cupula come in various price points and styles, including suites and deluxe & vista rooms.
All rooms have free Wi-Fi access, flat-screen TVs, minifridges, and coffee makers. Suites feature kitchens, terraces (some shared, some private), and whirlpool tubs. Some feature views of the Bay of Banderas. Room service is available in all rooms, and in-room massage sessions can be arranged.
You have to visit Hot Mamma's Whiskey kitchen for the name alone when you are in the Romantic Zone, while La Palapa Restaurant serves up excellent Mexican food. Blondies' Loft + Sushi Bar is a hip gay bar with frozen cocktails and a virtual must for gay tourists to Puerto Vallarta.
A downtown food tour is on offer by Vallarta Food Tours, and kayaking, ziplining, and ATV adventure tours are some of the other adventurous excursions guests have access to.
Casa Cupula offers just about everything discerning gay tourists could want in a hotel, and with a friendly atmosphere, guests are bound to appreciate.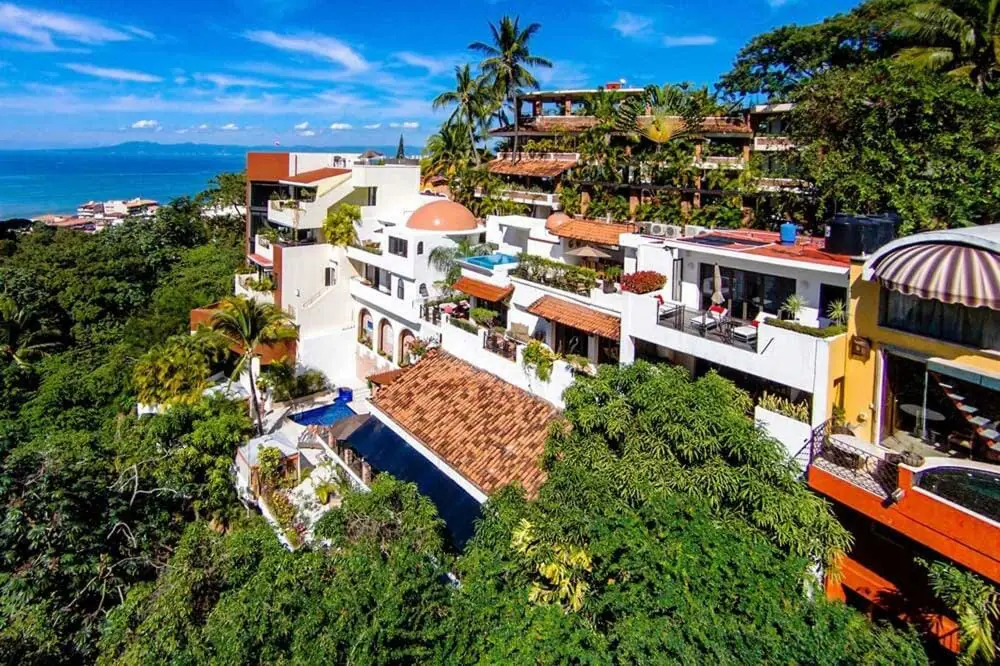 The 8-room Pinata PV Gay Hotel offers a gay men-only experience for travelers who prefer to get intimate. Among the property amenities are a bar, open-air gym, clothing-optional pool, and hot tub.
Evening social events provide guests the chance to meet and socialize with each other, though, of course, it isn't mandatory. Rooms come in three styles: the main level Poolside King Rooms, rather unsurprisingly, overlook the pool; Adventurer Queen Rooms are on the sun terrace level; and the one-of-a-kind Loft King Room is a guest-favorite, perhaps because of the large two-person shower it features, among other special amenities such as a private balcony.
The hotel is a fifteen-minute walk from the gay beach and the happening Malecon Boardwalk, and all the lively gay establishments of the Romantic Zone are just a few blocks away. The Palm Cabaret and Bar is one such establishment, and Los Amigos Cantina Style Gay Bar offers a great time to be had by gay visitors to Puerto Vallarta.
Fredy's Tuscan also offers a great breakfast restaurant if you are out and about early (as does The Pancake House nearby). Pancho's Takos and Blue Shrimp Puerto Vallarta offer more gastronomic wonders for Mexican and seafood, respectively.
Gay tourists looking for a cozy, intimate, gay-exclusive experience in Puerto Vallarta can't really do better than Pinata PV.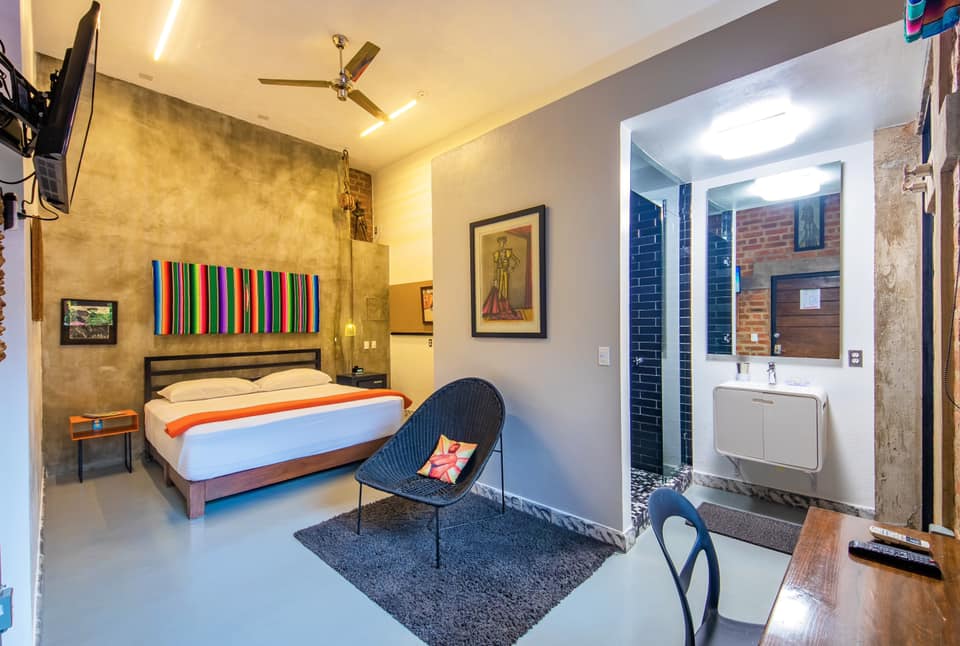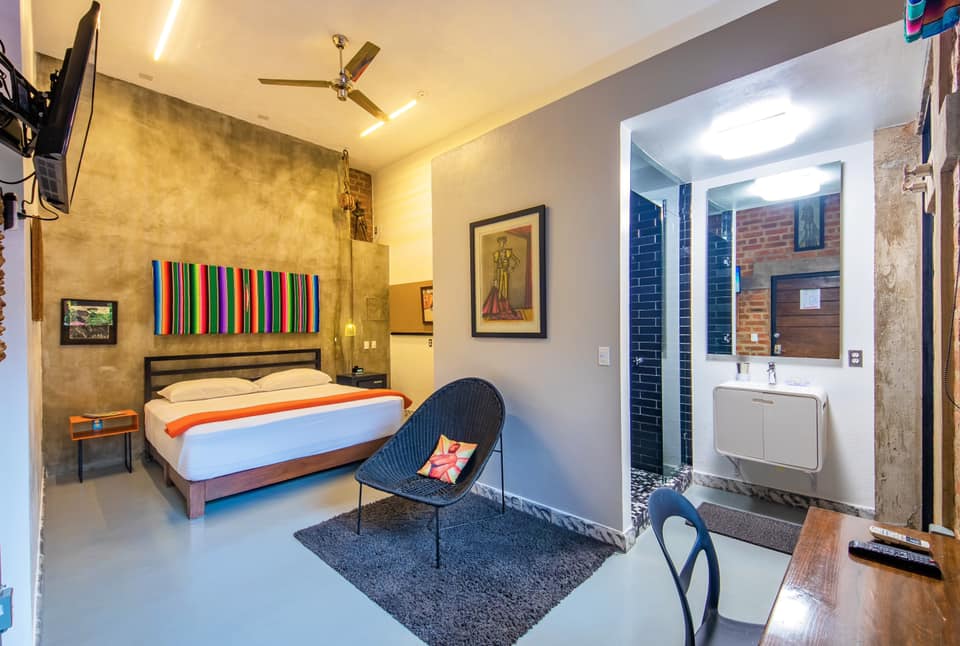 This is the first gay hostel in Puerto Vallarta and is a budget-friendly establishment geared toward younger gay men 18-35 and provides a dormitory-like experience. The hostel is air-conditioned and has free Wi-Fi internet access. Front desk service is available, as is housekeeping. Bunks feature comfortable memory foam beds and privacy curtains. Lockers are available to secure your belongings while you stay here, as are showers.
The hostel enjoys a good location central to pretty much everything of interest to gay tourists. All the gay clubs and beaches are within walking distance. Lucy's CuCu Cabana is a unique little shop selling Mexican folk art and is the perfect place to pick up a more authentic souvenir than what you will find at a tackier shop.
Owners, Lucy and Gil scour the entire country every year to find one-of-a-kind pieces for the shop. The Iguana Restaurant and Tequila Bar can't go unmentioned as well. Veggitalia offers Italian cuisine, as does La Capella and Casa Tradicional Cosina Mexicana offer traditional Mexican food.
The particular section of the Zona Romantico gayborhood in which Jet's is situated features street art displaying the distinct Mexican folk art style made famous by artists like Frida Kahlo and Diego Rivera, with many buildings adorned with wall art. The Lady Death Mural and the Blowfish Mural are of particular interest. If that isn't quite your thing, then the gay bars and clubs are on hand, along with the Playa del Muerto and the Malecon boardwalk.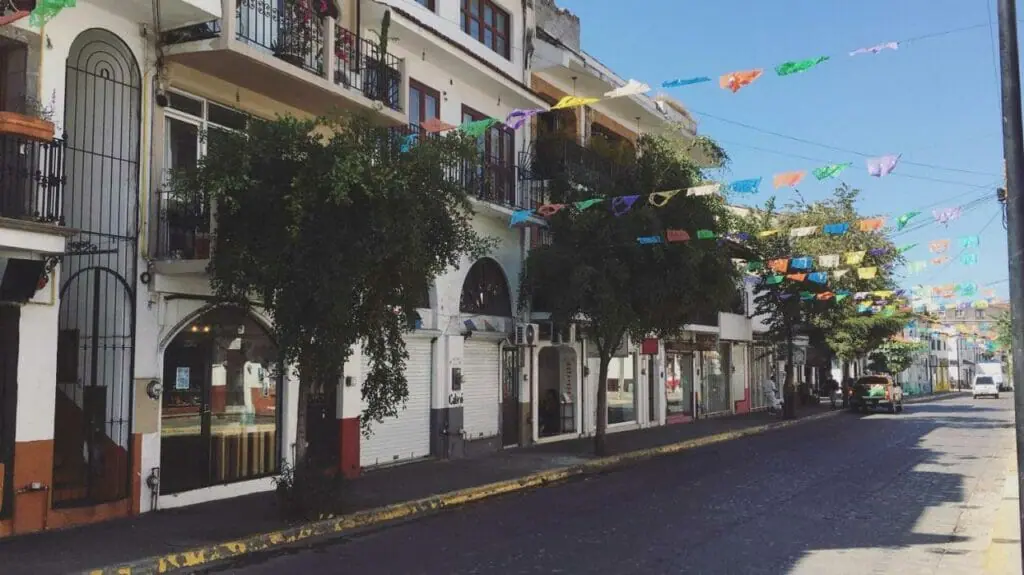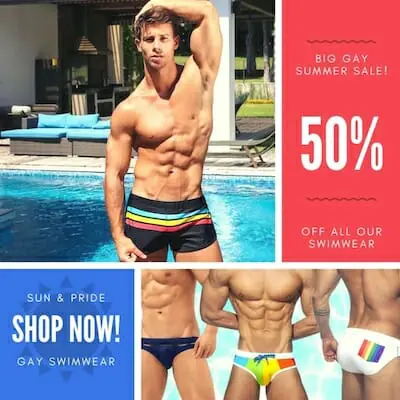 Here is another gay resort situated in the heart of the action in the Romantic Zone. The five-star Hotel Mercurio features 28 rooms and a pool with a swim-up bar, and a restaurant. Gourmet breakfast is included with your stay.
Guest rooms come with air conditioning as well as a ceiling fan, a mini fridge, free wireless internet, and cable TV, and also include private bathrooms. King and Queen rooms feature a king-sized or queen-sized bed, respectively and sleep one or two guests; double rooms sleep up to four.
The Agave Room and Playa Olas Atlas Beach are very nearby, and the Galleria Dante is well worth a visit. Visitors to Hotel Mercurio in the mood to dine out can check out the Si Senor Beach restaurant, which offers seafood. Andale's Bar & Grill is another worthy choice. The El Dorado restaurant offers up Mexican fare right next to the gay beach. CoCo's Kitchen presents one more dining choice in the very near vicinity of the hotel.
The Hotel Mercurio is a fine luxury lodging option for gay tourists to Puerto Vallarta who want the best. And honey, you deserve it!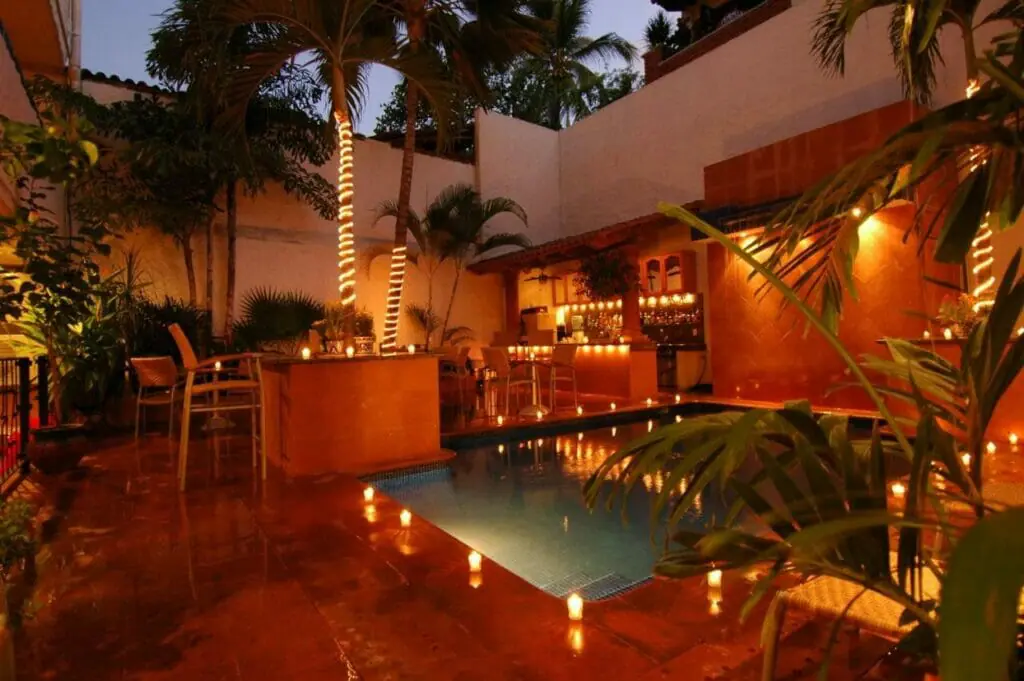 Another gay hotel in the old town's Zona Romantico with Conchas Chinas Beach and Los Muertos gay beach, both close to the hotel.
The rooms include A/C, free Wi-Fi, a private bathroom (with a bathtub, no shower), and towels and hair dryers are furnished. Rooms range from standard to penthouse suites; the latter sleeps four and offers views of the mountains lying to the east of Puerto Vallarta. Junior and "friendly" suites are also available.
As with so many other gay hotels sharing a nice central location in the heart of the downtown gayborhood of Romantic Zone, Pilitas Rainbow is perfectly situated for walkers to take advantage of everything the area has to offer: all the gay bars, clubs, and discos are easily accessible during your stay. Nearby restaurants include Tacos Revolucion, Cuates Cuetes for traditional Mexican, and Archie's Wok for something oriental.
The Vallarta Zoo is worth visiting if that's your thing, and whale-watching opportunities can be had in the Bay of Banderas as well, and charter boat tours are available.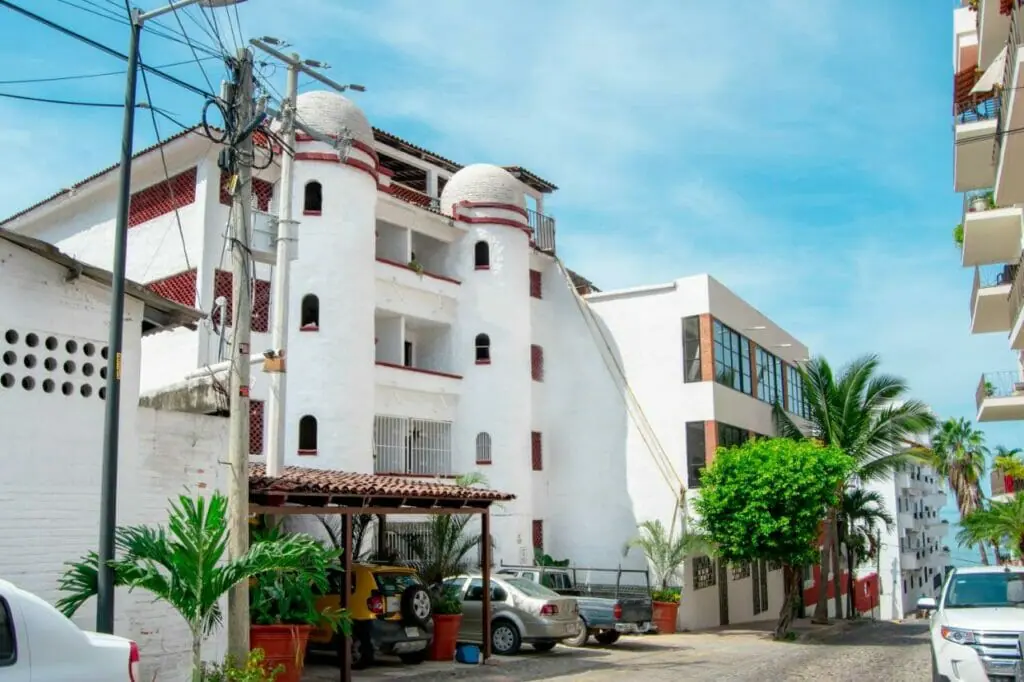 This is the city's longest-run gay B&B. Like most gay hotels in Puerto Vallarta, it is located amid the south side's Romantic Zone – the gay hub of one of the world's greatest gay-friendly resort towns, so you know gay tourists won't have it any better than this in Mexico or really, anywhere else in Latin America. The room amenities include a/c, flat-screen tv, free wireless internet, safe, beach towels, and ensuite bathrooms.
As previously mentioned, this charming gay-owned, men-only establishment is close to everything. While you are enjoying your stay here, be sure to check out the Panorama Restaurant and Bar or the El Colibri Cocktail Bar, both are highly recommended. Planeta Vegetariano offers vegetarian fare, as you might have guessed from the restaurant's name. El Campanario is a local Mexican restaurant that is close at hand.
Faro de Matamoros is a local historical landmark worth seeing when you are in this neighborhood, and the Studio Gallery JAR has a worthwhile collection for art lovers.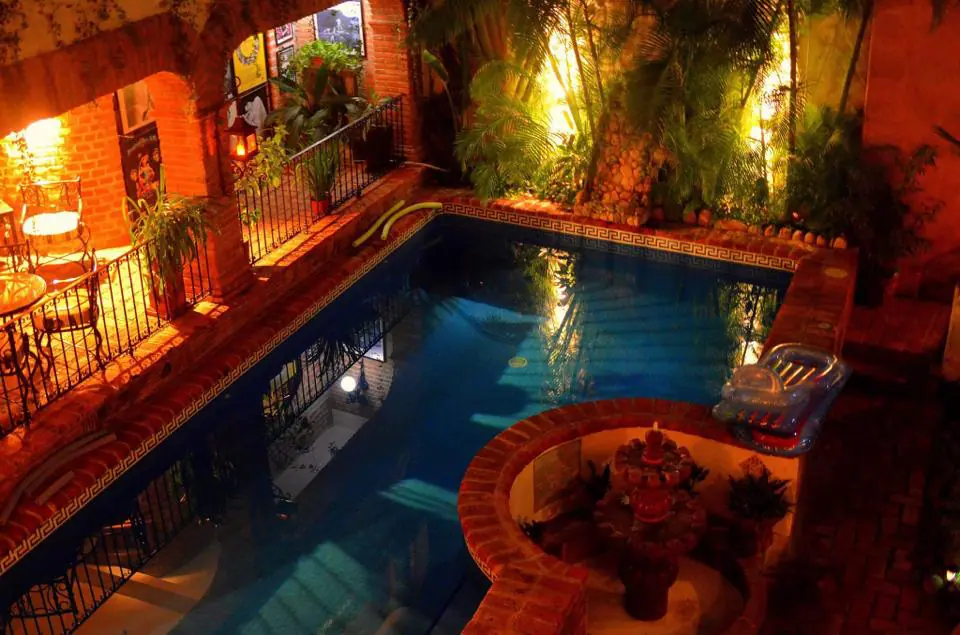 Gay-Friendly Resorts In Puerto Vallarta
LGBT travelers can't go too wrong with this popular gay-friendly hotel. It sits within the heart of old town, which abounds in small art galleries and boutique shops, and you almost literally cannot turn around without bumping into a bar, restaurant, or cafe. There is so much to experience in Puerto Vallarta's bustling downtown that it is almost overwhelming.
The hotel has a swimming pool, a rooftop terrace, and a communal kitchen, which is a great way for guests to socialize and interact with each other. It is equipped with a six-burner stovetop oven, two dining tables, blender, microwave, toaster, and a refrigerator, which managers ensure to keep packed. And of course, Fredy's Tuscan Restaurant is downstairs, and guests can order room service from the restaurant.
Rooms come with a flat-screen tv with cable, free Wi-Fi, minifridge, and a hairdryer. Safe deposit boxes are available at the front desk. Irons and ironing boards, as are coffee makers, hairdryers, and beach towels, are available on request. Economy and standard rooms each have one bed, while double rooms feature two double beds.
To be sure, the hotel provides something that will suit all budgets and needs.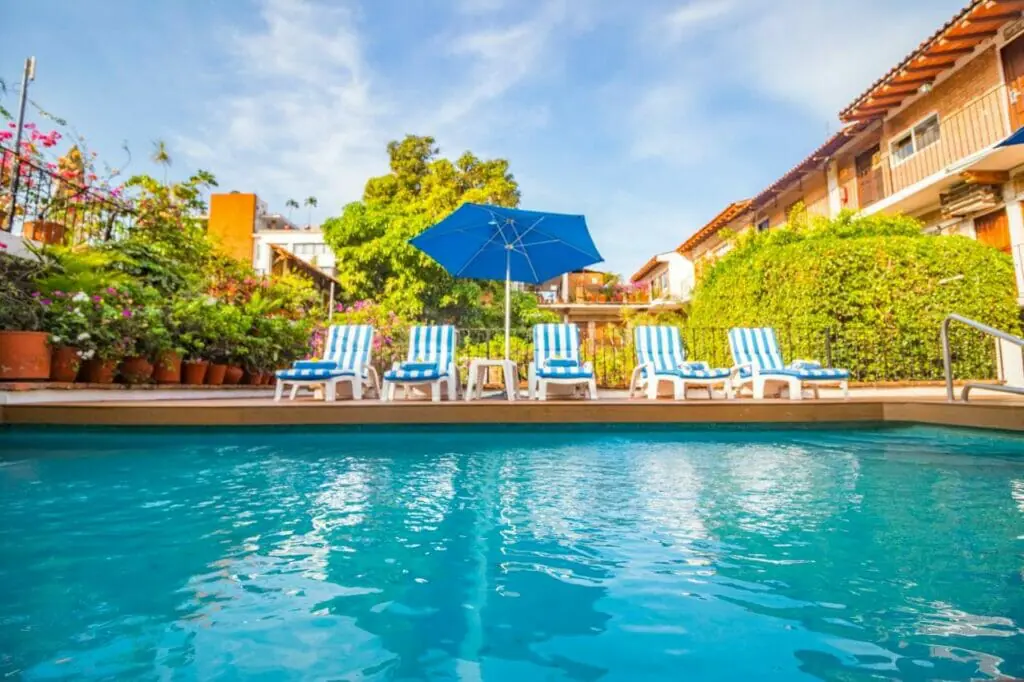 This gorgeous gay-friendly resort is right on the beachfront, with the esplanade not far away. It makes an excellent base from which to explore all that the Romantic Zone has to offer gay travelers in search of some of the hottest nightlife to be found anywhere in the western hemisphere. Rooms come with private balconies, and the ocean and beach views are unsurpassable.
Nearby, the Chinctini by Pinnacle has been called the newest crown jewel in Puerto Vallarta's bar scene, and of course, there is also the Palm Cabaret and Bar in the vicinity. Also, make sure to stop by the Sapphire Restaurant while you are in this area. Ritmos Beach Cafe is – you guessed it – right on the beach and affords an excellent opportunity to soak in the sun and enjoy a little people-watching to go with the fine food and drink and live music you'll enjoy here.
And while you may be tempted to stay, there is too much more to experience in downtown Puerto Vallarta to linger. And Blue Chairs Resort by the Sea is a wonderful, gay-friendly, accommodating place to base yourself as you take it all in.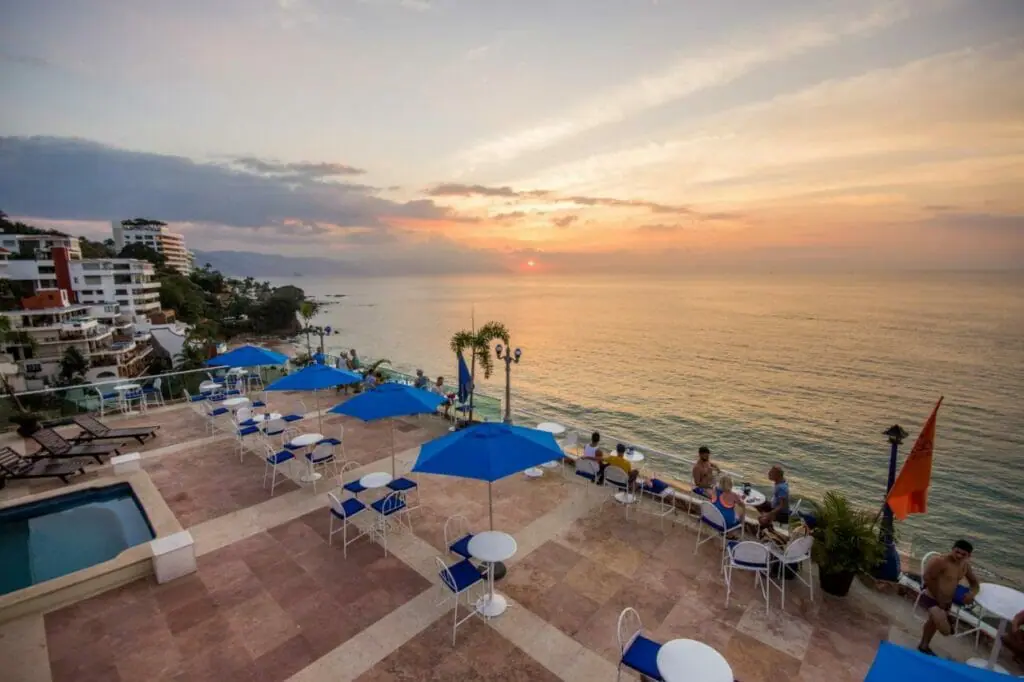 What better way to close out the list than with the beautiful Garlands Del Rio gay-friendly boutique hotel? This B&B boasts 17 rooms ranging from studio-style rooms to penthouse suites. Each room is unique and has its own distinct personality and style.
For instance, the Regina Pool Studio, the smallest and coziest in the hotel, is done in a gorgeous cerulean blue and has a walk-in closet and balcony, while the Marakesh features red walls and Indo arch windows for a decidedly more eastern vibe. The Ferrentino Room uses subtle pastels for the walls and bedding for a super calm vibe and has a private shower and an indoor/outdoor patio with direct access to the resort's pool. And so on, and so on.
And there is nary a one of the seventeen rooms that fail to be utterly amazing, and you'll be delighted no matter which you stay in. All include a/c, Wi-Fi, flat-screen tv, safe, balcony, complimentary breakfast, and room service availability.
Besides the pool above, the property features a hot tub, bar & lounge, and sun terrace. There is no shortage of dining options, seeing as how the hotel is right smack in the middle of everything the downtown area has to offer. For seafood, there is Mariscos El Guero, or alternatively, you can try Marisma Fish Taco. Mi Cafe Restaurant & Coffee Shop is also close at hand.
Incanto Vallarta is a hip little piano bar that is well worth a visit, and a short stroll away, Tintoque serves up Mexican fare. Truly there are more establishments in the Zona Romantica than you can shake a stick at, and since this is the gay fun capital of Mexico if they are not outright gay-oriented, then they are at least gay-friendly, so gay tourists here have nothing to worry about.
In fact, Puerto Vallarta can't be recommended enough for any gay travelers eyeing a trip to Mexico. And the Garlands del Rio can't be beaten as a top-notch gay-friendly hotel to make a gay tourists' Puerto Vallarta stay something they will cherish.