Whether you go on holiday for the suntan, for new experiences, to blow off steam, or just to escape the daily grind, we're willing to bet that you want to feel relaxed and feel free to be yourself. Thankfully the gay resorts of Spain allow you to do just that – to be 110% yourself, without a single double-take, all in the company of other open-minded folks.
After all, who could resist the splendor of Spain? With its old-world charm and unique cultural heritage, this crown jewel of western Europe, somewhere between the U.S. states of Montana and California in terms of size, plays host to millions of visitors every year…
And it's no wonder why. It is home to some of the most breathtaking architecture in the world: La Sagrada Familia, The House of Bones, the Alhambra are just a few of the most famous architectural wonders to be found in Spain, not to mention the many, many cathedrals and castles that call Spain home. Truly, the country is an architecture enthusiast's utopia.
And then, of course, there are the many beaches that grace Spain's coast, particularly on its southern, Mediterranean side. If Spain is an architecture buff's utopia, then it is also a people watcher's paradise. While the beaches of Spain can get a little crowded during the height of the travel season, if one can visit them sometime on the "shoulder seasons," they can be about as close to heaven on earth as you are likely to find.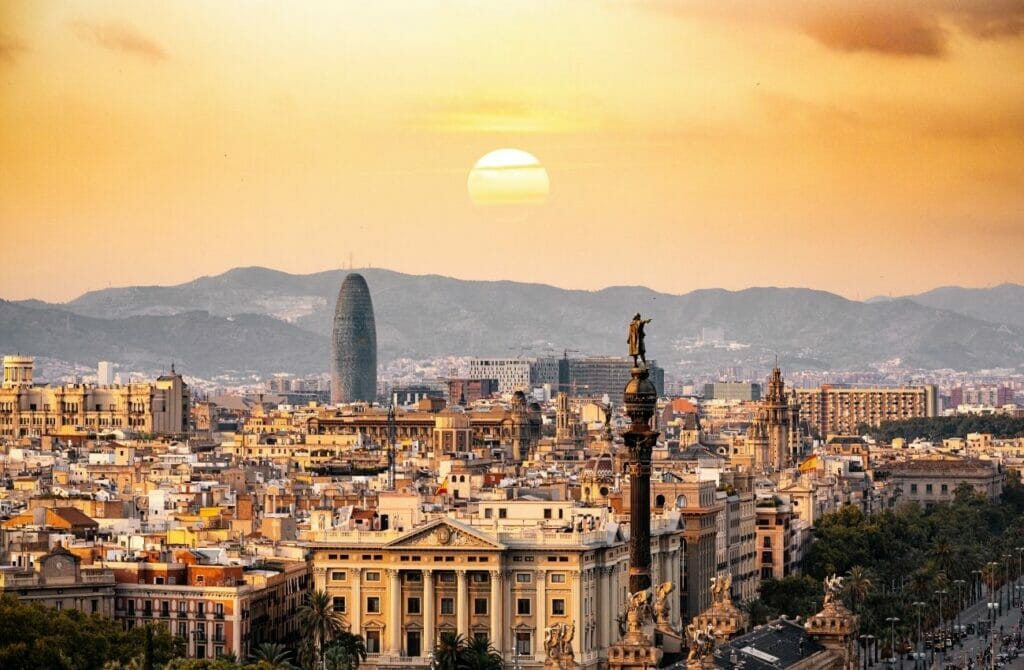 Tossa de Mar on the Costa Brava is one sandy highlight that stands out along with so many others. And we couldn't talk about the beaches of Spain without mentioning Gay Ibiza, one of the world's premier party destinations and a spring break haven for hip young tourists from all over who like their fun to be a little raucous.
Ibiza enjoys a well-earned reputation as "The Nightlife Capital of the Mediterranean," is also a magnet for gay tourists from across the globe, with its inclusive atmosphere where everyone is welcome. And if you're in the mood for cruising, there's no better place in all the world for the best gay nightlife than in sunny Ibiza.
Western Europe is one of the most gay-friendly regions of the world, and Spain is no exception. The country has seen impressive progress over the past few decades toward LGBT equality, particularly in the areas of protection from discrimination in the workplace, etc., based on sexual orientation, as well as gay marriage (it was one of the world's first to legalize same-sex marriage) and gay adoption rights.
Research conducted by the Pew Research Centre found that 90% of Spaniards think homosexuality should be accepted, while Gallup found Spain to be one of the top countries for LGBT people (it was tied for no.1, in fact). In light of these facts, it's easy to see why Spain has become a model nation for equality.
The country's remarkable strides toward progress can be witnessed firsthand in its capital, Madrid, which is also known as the unofficial gay capital of Europe. It is home to many gay hotels, bars, clubs, saunas, and more. Seeing as how Gay Madrid has a gay community that number around half a million, it is no wonder there are so many gay establishments in the city.
And you can surely imagine for yourself what Madrid's gay nightlife must be like, especially in the "gayborhood" of Chueca. Chueca is so gay that the locals say that it's not gay friendly; rather, it's straight friendly. Madrid is also the home of Europe's biggest pride event.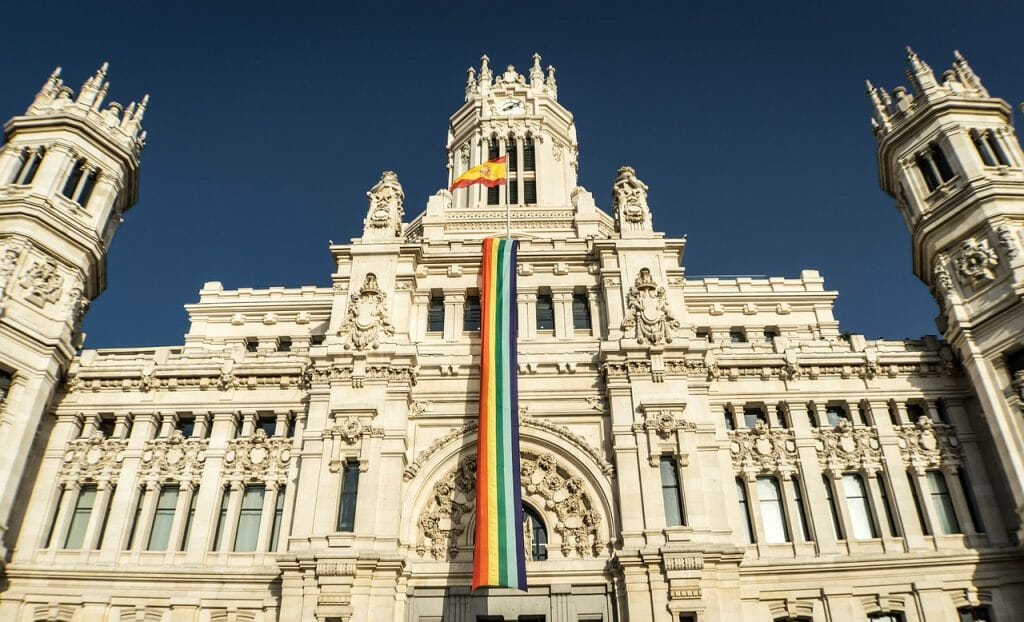 Not to be outdone, however is Gay Barcelona, which plays host to Pride Barcelona – one of Europe's premier gay pride events. Spain's second city is also the home of a huge Circuit Festival as well as a number of gay establishments serving up the best Barcelona has to offer, especially in the district known locally as "GayXample."
Gay travelers looking to get away from the crowds and noise of the big cities need to look no further than lovely Sitges, forty minutes out of Barcelona by train. This is a wonderful side destination for a day trip or even a weekend getaway…from your getaway. Sitges has been called "Spain's premier gay retreat" by more than a few gay travel bloggers, and it is hardly a mystery why. This town of under 30,000 features no fewer than 17 beaches – three of them nudist ones – and some of the hottest gay nightlife on the Spanish Mediterranean (for which Sitges is famous throughout Spain).
In fact, Sitges has earned for itself a reputation as "Ibiza in miniature," one which it most definitely lives up to as anyone who has been lucky enough to have enjoyed a holiday there can attest to. It has also been referred to as the "Saint Tropez of Spain," high praise indeed. Sitges also has a large carnival in February and March.
All told, Sitges is a must-visit, at least for a day trip for gay tourists finding themselves in this part of Spain for any length of time.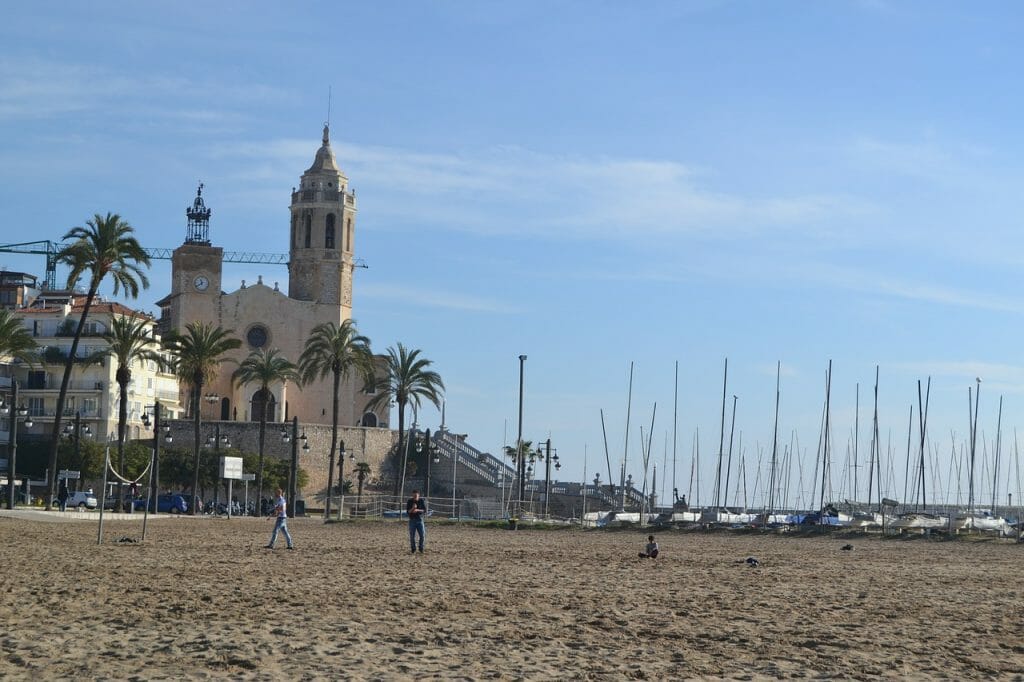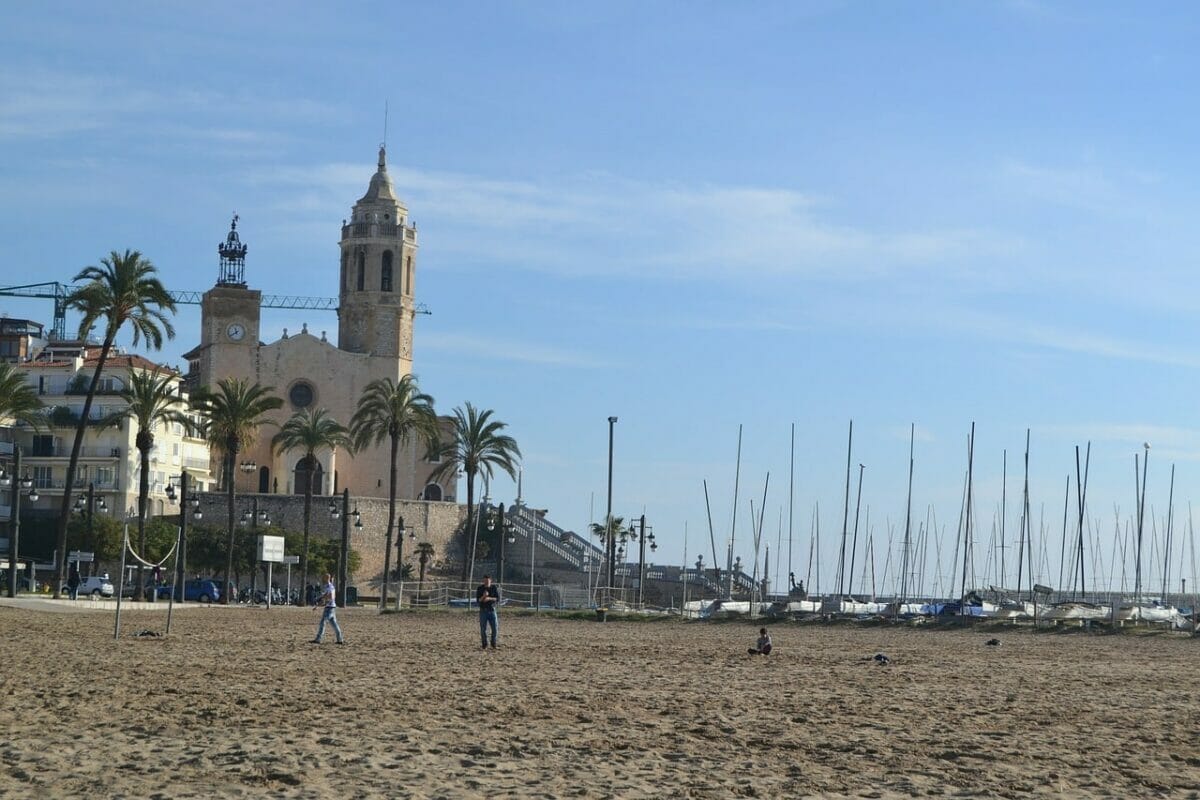 Another, lesser-known seaside gay resort town that should not go unmentioned is Benidorm. Some of you out there may be familiar with the name – a comedy series that aired on ITV was set in the booming resort town on Costa Blanca and took its name. Another show, this one airing in Belgium, also references the town: Benidorm Bastards. Though Benidorm was just a tiny fishing village a few decades ago, it has flourished into one of the most happening gay nightlife destinations in the whole country.
In fact, it may even be Spain's best-kept gay travel secret, though likely not for long. It is a very popular spot for tourists from other parts of Europe: particularly Belgium, Germany, and the United Kingdom.
All this is just a taste of what Spain has to offer for the gay tourist looking for a friendly, welcoming destination that can provide an unforgettable getaway experience. But of course, you are going to need a place to stay as you take it all in. As one of the best LGBT destinations on the globe, you can rest assured that there are more gay resorts in Spain than can be counted, so here we are only counting the best.
In fact, all the resorts featured here are targeted at gay travelers, and most of them are gay-owned and operated. And this is, of course, our mission: to provide you with a starting point in your quest for welcoming and inclusive accommodation for your stay in Spain. We aim to point you in the right direction, and once you stay, you'll find how quickly you can form friendships with people at a gay resort – it's as though knowing everyone there has something in conventional means, there's no judgment, and you can connect easier. Even better, there is no need for dating sites or gay apps to meet people here…
Without any further delay, here they are.
Gay Resorts In Spain
We start off with this adults-only, gay exclusive hotel set right in the heart of San Antoni de Portmany on exciting Ibiza. With Bossa beach and Talamanca beach only a stone's throw away. The hotel is affiliated with the International Gay and Lesbian Travel Association (IGLTA) and welcomes folks of all LGBTIQ+ stripes.
Hotel premises feature an outdoor pool, bar, restaurant, and a snack bar/deli. Each of the hotel's 28 rooms features free WiFi, air conditioning, LED TVs with satellite, safe, and minibars. Rooms come with full bathrooms with showers. Room service is available, as is concierge and laundry service. Car rental is available directly at the hotel, and club tickets can be purchased at the main reception desk.
The beaches are the main draw here, that and San Antoni's proximity to the world-famous nightlife of Ibiza. There are also snorkeling, scuba diving, adventure boating, and jet ski rental services at the beaches. Slingshot Ibiza is another nearby attraction for the more brave-hearted tourists to enjoy. There are a plethora of eateries in the vicinity, so guests at the Purple Hotel in San Antoni won't lack choice when it comes to dining options. Tokio Burger, Papillon Ibiza Street Food & Bar, Rita's Cantina, and Restaurante Gran China are just a few of the many fine restaurants within walking distance.
All told, gay visitors to Ibiza can't go wrong with a stay at the Purple Hotel, and they would be hard-pressed to find more welcoming accommodations anywhere in Ibiza.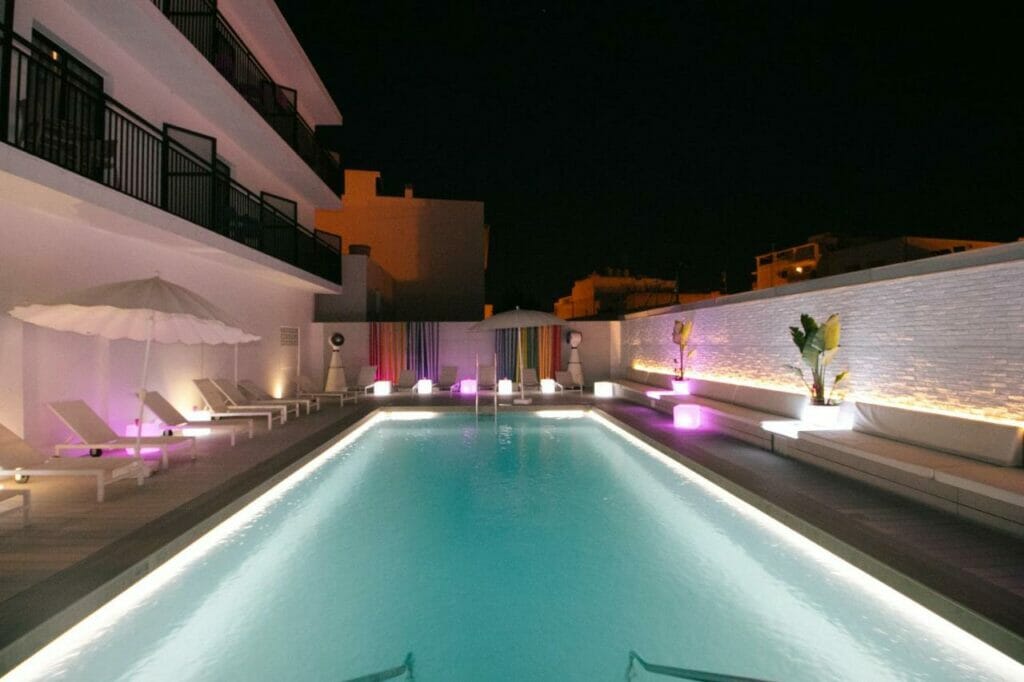 This stylish 4-star Barcelona hotel is conveniently situated in the GayXample district, so gay visitors to Spain's magnificent second city couldn't ask for a more convenient location to base their Barcelona adventures.
This "gay-centric hotel," as the Axel Hotel Barcelona likes to bill itself, features modern rooms with air conditioning, flat-screen TVs, and free wireless internet access. The property has a restaurant and a terrace bar, as well as a fitness center with a sauna and steam room. The rooftop bar has a hot tub.
If guests want to explore the gastronomic delights of the neighborhood outside of the hotel's restaurant, then they will be spoiled for choice. Nearby eateries include the Buenos Aires Grill, Wild Beef Barcelona, Zian Pizzeria, and the Thai Zaap restaurant serves up splendid Thai dishes if you are hungry for something different.
And of course, all of Barcelona's iconic and world-famous attractions are within reach: the Basilica of La Sagrada Familia, A UNESCO world heritage site; also the Gothic Quarter, artist Salvador Dali's surrealist park and the Mercat de la Boqueria – a world-famous public market and a real treat for those who, when they visit a place, like to experience the true essence of it and mingle with the locals.
Or, if you would prefer to stick close to your resort base, GayXample's own Quadrat D'or (Gold Quadrant) provides an unforgettable strolling opportunity with some of the most exquisite avant-garde architecture you will see anywhere in the city.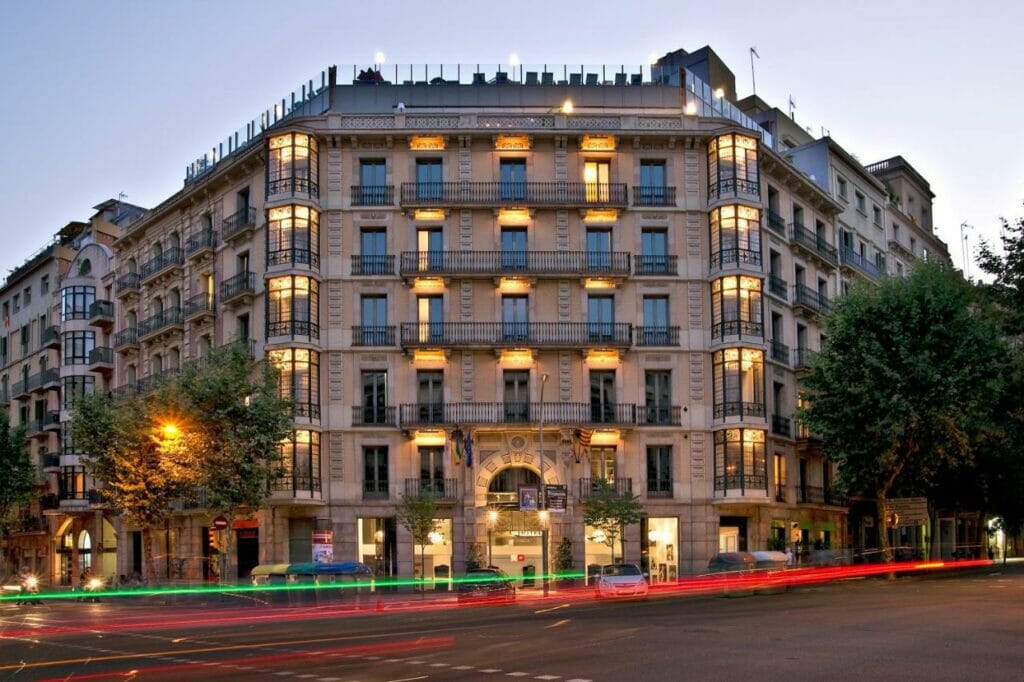 We just could not create a round-up of the best gay resorts in Spain without including the transcendent Seven Hotel & Wellness, set in fabulous Maspalomas, Grand Canaria.
The list of perks and amenities on offer at this resort is quite impressive: room service, pet friendly, WiFi, breakfast, late checkout. The rooms come with standard things like a flat-screen TV and air conditioning, as well as other perks like (in some but not all cases) a sofa bed, a furnished porch, and a dining area, something not seen in many hotel rooms.
Seven Hotel & Wellness is situated next to Maspalomas Golf Course, so if you feel like teeing off, you won't have to go far. The hotel also has a heated outdoor saltwater pool. Rooms come with free breakfast. Maspalomas botanical park and Minigolf Taidia are a few of the neighboring attractions.
All-wheel drive and wildlife tours, as well as scuba diving, climbing, sailing, and volcano hiking, will also be on offer. You won't have a reason to be bored in Grand Canaria, that's for sure! BurgerBar B2 and GoodVibes Cocktail Bar & Restaurant are just a few of the many dining choices that will be available to you.
As with all these gay hotels and resorts, Seven Hotel & Wellness is oriented toward making your stay as a gay visitor the best it can possibly be (it is, after all, gay-only) so you can rest assured that you will be made to feel right at home during the entirety of your stay here.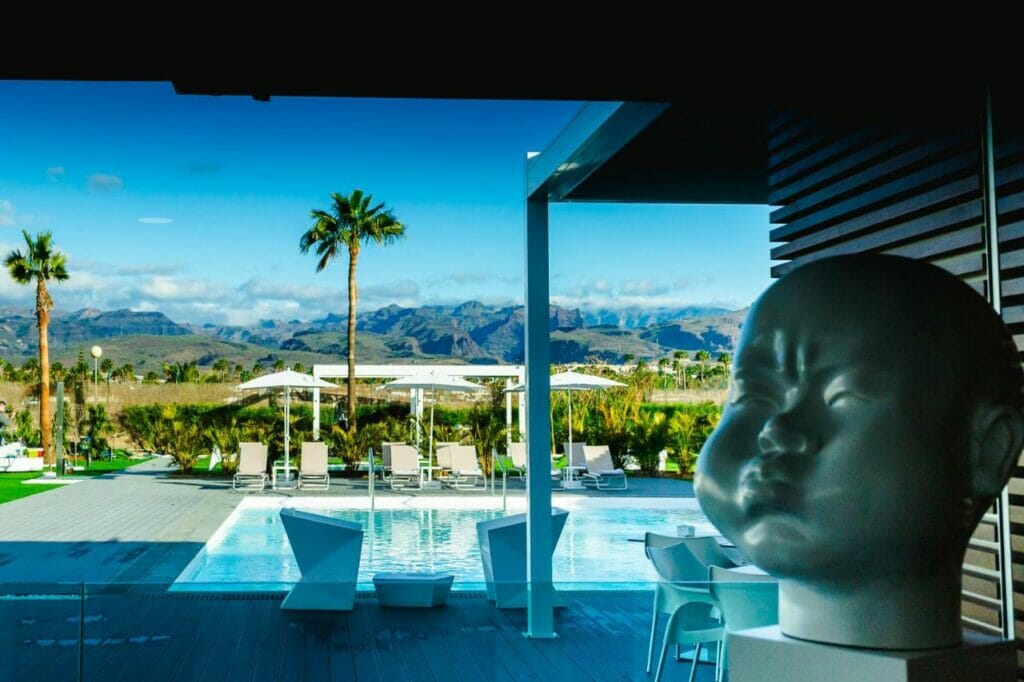 Maybe you've already experienced the glamour of the Axel Hotel Barcelona, in which case it's time to enjoy the sheer energy and joy of Spain's capital – Madrid.
There's no better base than this gay resort, a four-star accommodation in a converted 19th-century palace. The design and concept is imaginatively worked to recreate the spirit of the Movida Madrileña – the boom of creativity and debauchery that burst out with the death of Franco at the end of the 1970s. There are bright colors, neon slogans, and gold tiled showers; it's gloriously decadent.
As always with this LGBT-popular chain, the Axel Hotel Madrid wants their guests – gay or straight – to have a good time and are fully equipped for that. Another rooftop pool with a bar is a summertime hangout, and there is a funky bar and restaurant space on the ground floor with more Movida references.
In a brick-vaulted basement, the Bala Perdida Club offers all the indulgent partying you could wish for. Again, not the only gay-popular hotel in Madrid..but one of our personal favorites!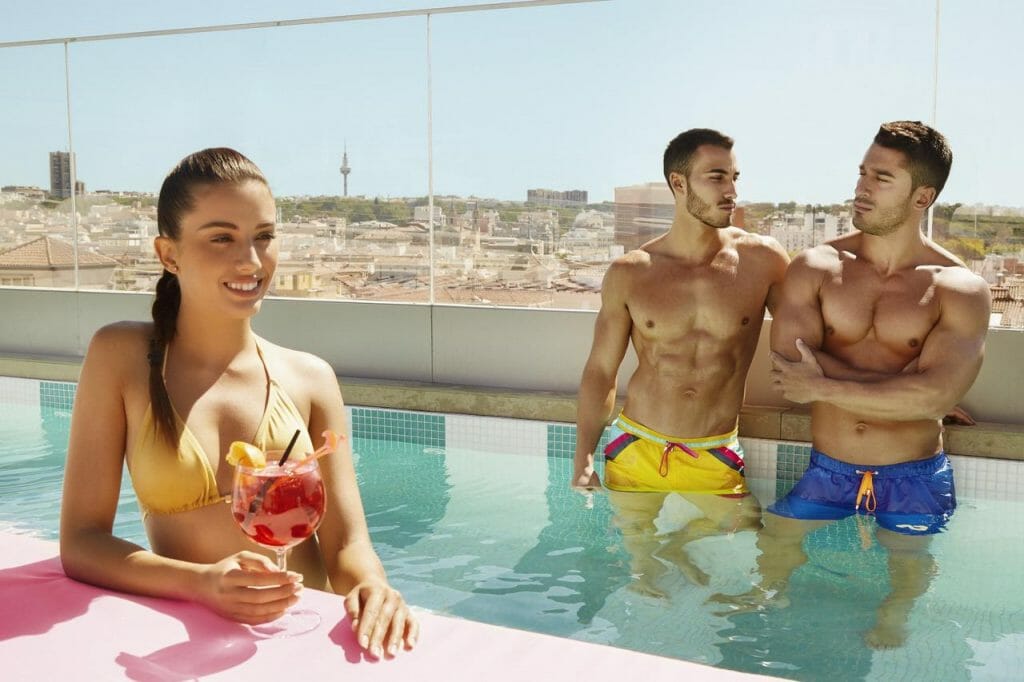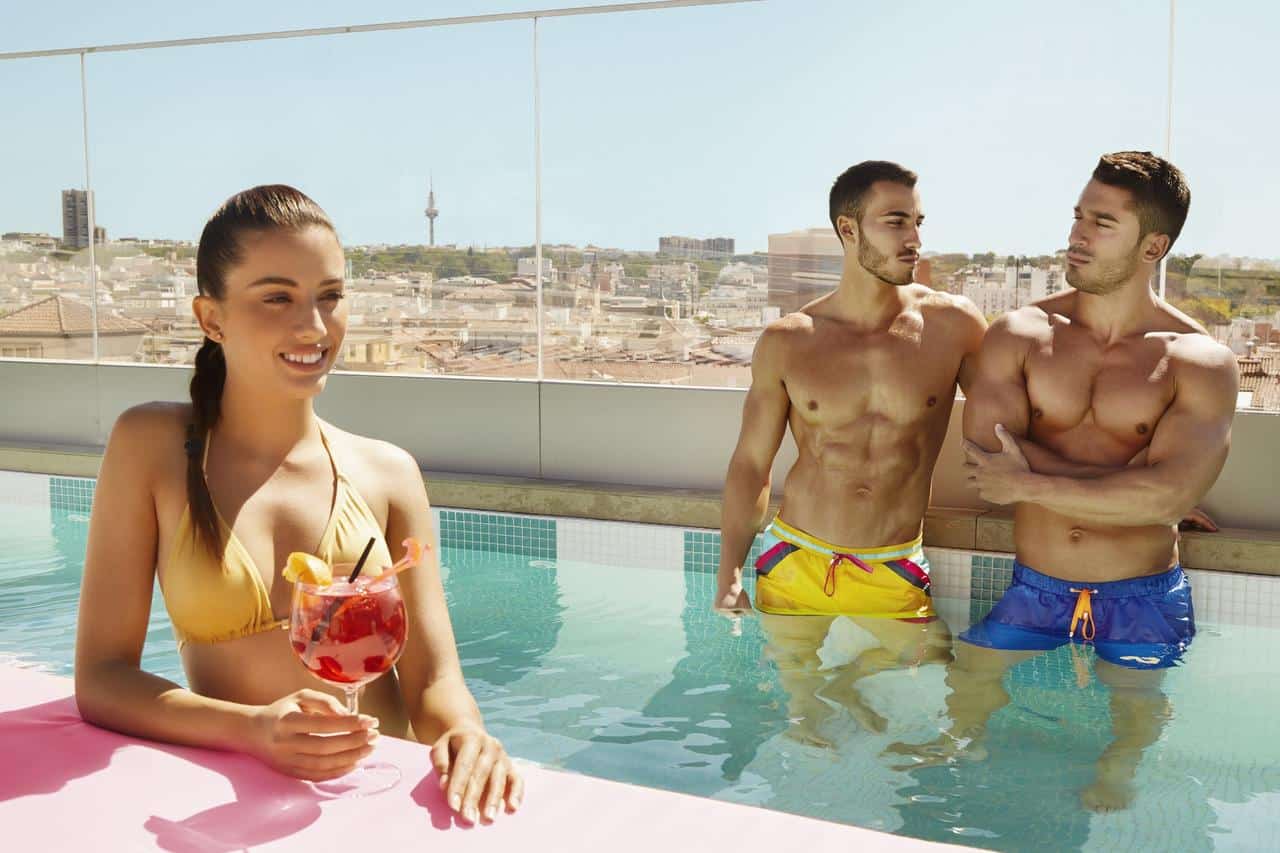 This gay resort is situated on the idyllic Costa del Sol in Gay Torremolinos, Spain, in the Malaga region. All rooms come with a private balcony (many with views of the Mediterranean) and modern decor and feature WiFi access, flat-screen TV, air conditioning, and even a mini bar! The site also has a poolside bar and a restaurant.
Many attractions are nearby, chief of them being Bajondillo Beach, where you can idyll away your days on the soft sand and sunbathe or just enjoy the people watching. There is an infinity pool as well as a nudist area with a rooftop bar (perfect if you'd rather leave your sexy men's underwear in your suitcase!). Of the many nearby attractions, a few noteworthy ones are Casa de Los Navajas, a Moorish palace with gardens that is an absolute feast for the eyes, Molina de Inca Botanical Garden, and Aqualand Torremolinos, a waterpark.
The gay resort Hotel Ritual also includes spas, a solarium, and a gym, not to mention many gay bars and restaurants are within easy walking distance.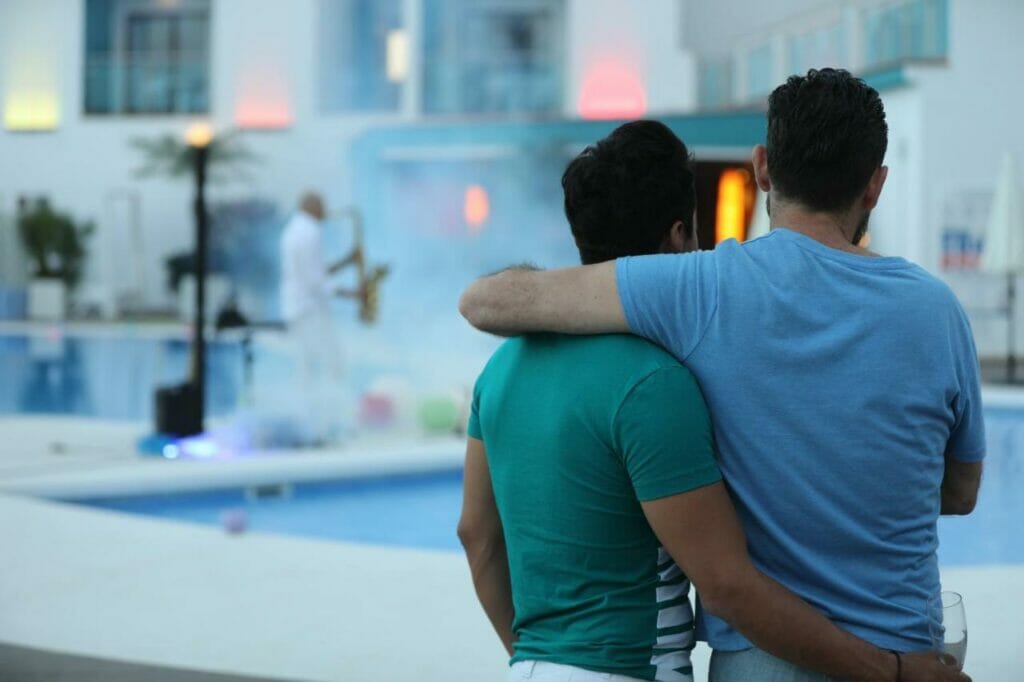 The Birdcage Gay Lifestyle Resort is located in the town of San Bartolomé de Tirajana in the beautiful Canary Islands, on Gran Canaria, to be exact. It is less than ten minutes' walk from the Yumbo Centre Shopping Centre and only about 6 km from Aqualand (water park).
A golf course, botanical garden, AstroGC Astronomy tours, the Hard Rock Cafe Gran Canaria, and Playa El Veril Beach are all just a short drive away. The resort has a restaurant, bar & lounge, and a wellness center. The Birdcage Hotel I situated right in the middle of the Yumbo district, the hub of Gran Canaria's gay community.
Rooms include free WiFi access and free breakfast. Room service available. Guest services include concierge, housekeeping, laundry facilities, and ticket assistance at the front desk. Restaurants in the area include Thai dining at Thai Bangkok Street Food. Aloha Burger, Restaurante Barbados, and Bistro-cafe Rainbow are just a few of the dining choices within easy reach for guests at the Birdcage Gay Resort. Hiking and biking opportunities are also on hand, like windsurfing and other watersports at the nearby beach, Playa del Ingles.
For LGBT travelers who find their way to these far-off islands, they really can't be the inclusive hospitality and gay-focused accommodations to be had at the Birdcage Gay Resort.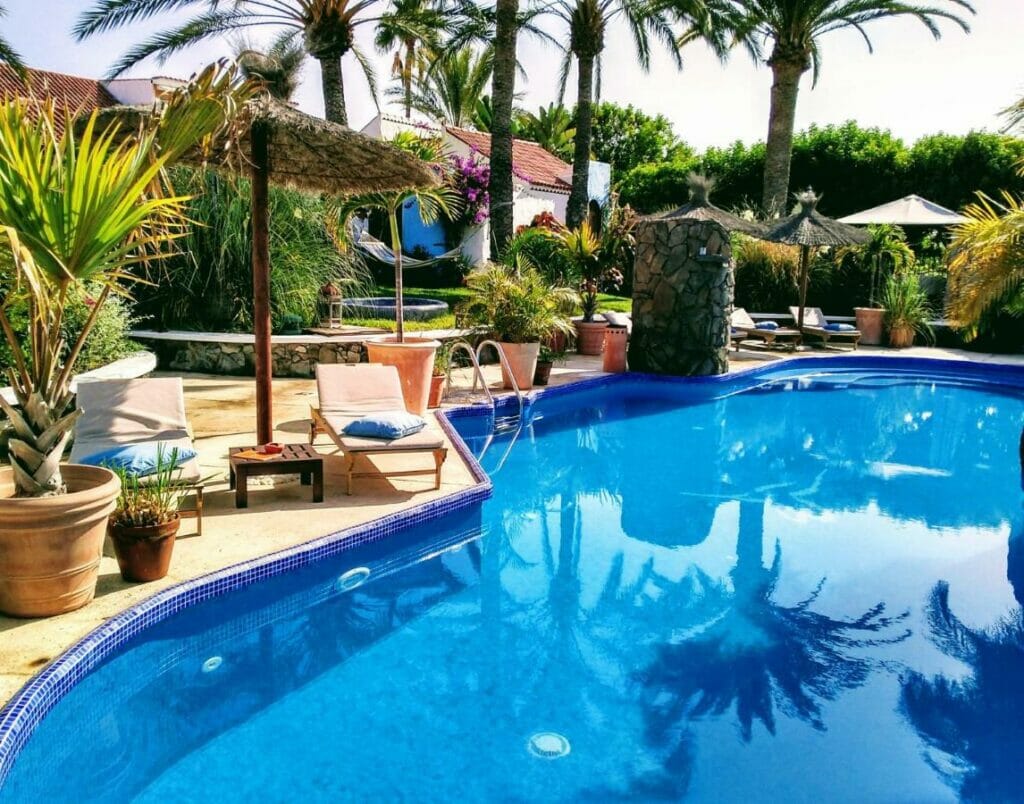 Here we have another gay hotel located in Gran Canaria. Like the previous entry, Gay Hotel Club Torso is a great location from which to base your adventures in Gran Canaria. The rooms here feature a kitchenette with a refrigerator, microwave, coffee maker, toaster, and kettle. Rooms also come with air conditioning, flat-screen TV, safe, and free breakfast is included with rooms. Property amenities include a pool, sun terrace, bar, and restaurant.
Outside the hotel's doors, restaurants, bars, and coffee houses abound. There are a couple of golf courses in the vicinity if that is your thing, as well as the Cita Shopping Centre and Holidayworld Maspalomas Centre.
While this hotel isn't exactly on the beach, it does offer a good base of operations for your stay on the island, not to mention a welcoming atmosphere unsurpassed by any other gay establishment where visitors will be made to feel like friends rather than just customers.
This is a gay hotel located in one of Spain's most beautiful, most celebrated cities. What's great about this establishment is that it is mere minutes from the Togayther Cultural Association's Headquarters, not to mention the Men to Men Bar. Hotel Gay Sevilla serves as an excellent base for exploring all that splendid Seville has to offer the gay tourist and one in which they will be sure to feel safe and welcomed.
The Hotel Gay Sevilla sits right in the heart of old town, so you will feel like you've been transported back in time to the Middle Ages! Soak in the old-world atmosphere as you explore the gastronomical wonders at hand and perhaps even mingle with the locals. Take in an unforgettable performance at an authentic flamenco bar. There is so much to see, do, and experience in Seville beyond the show-stopping architecture. Beautiful Seville is undoubtedly a must-see if you are going to be in Spain for any length of time.
Recommended attractions in Seville include stunning Plaza del Cabildo and Isla Magica Theme Park. Perro Tapas Bar is a more than worthwhile place to visit, and Patio San Eloy offers classic Spanish cuisine. La Cacharreria is a wonderful breakfast restaurant in the area. Then head over to Creme de la Creme cake shop if you have a sweet tooth.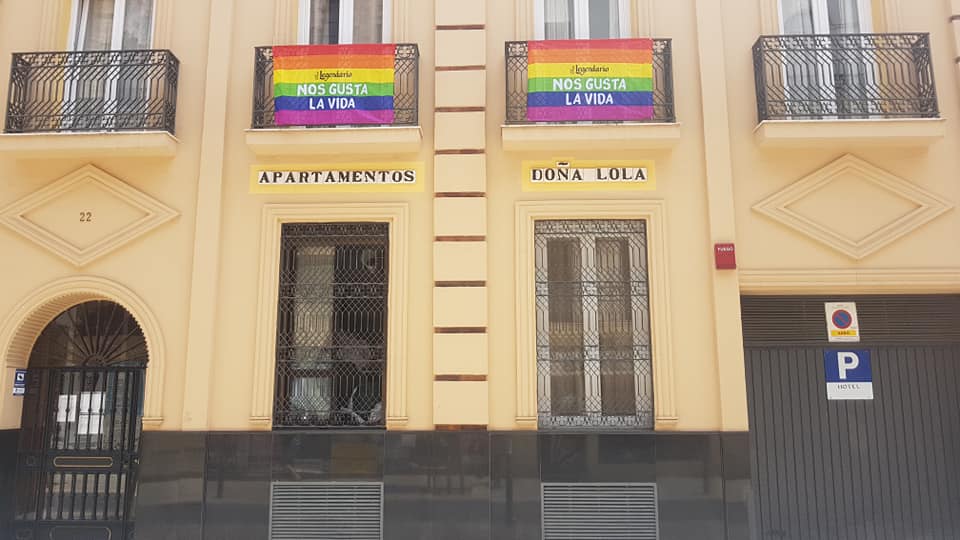 A chilled and sophisticated beach town, Maspalomas is a great place to escape the rat race for a week or two. And where better to do that than in Axel's gay adult-only resort. Large, bright apartments and a warm design make the Axelbeach Maspalomas a welcoming place to enjoy your holidays and the perfect choice for a gay resort in Spain.
There's a spectacular swimming pool where you can enjoy the heterofriendly scene, meeting fellow holiday-makers and letting your hair down with a cocktail or two. If you want to relax somewhere a bit more secluded, there's a unique lounge garden to recharge your batteries.
This gay hostel sits in the middle of Madrid, putting it at the very heart of Spain itself. A ten-minute walk from the Royal Palace of Madrid, the hostal Puerto del Sol caters exclusively to gay men, so guests who stay here know that staff and management will know exactly how to ensure their stay here will be a pleasant one. Free wireless internet is available in the rooms, as is air conditioning, and there is free breakfast. Budget accommodations make use of shared bathrooms, while upgraded rooms feature private bathrooms. This hostel is also a smoke-free establishment, and pets are not allowed.
The Museo Nacional del Prado is within walking distance along with Retiro Park, a UNESCO World Heritage Site, and there are many bars, clubs, and discos in the area, so guests of the gay hostel will have no shortage of things to see and do during their stay. It is also close to public transportation, so getting around will not be a problem for those gay tourists looking to venture out beyond the neighborhood.
The main draw for this hotel is its location in the center of downtown Madrid. It really doesn't get more central than this.
Villas Blancas (or White Villas) is a gay exclusive resort on Gran Canaria. Set within the Yumbo Centre, in the midst of Gran Canaria's gay community, Villas Blancas affords an excellent base for those gay travelers looking to meet other people.
Rooms include studios and one-, two-, and three-bedroom villas. The studio room comes with a double bed, kitchenette, bathroom, and private terrace. The larger villas add a lounge and larger terrace, along with a fully equipped kitchen and dining area.
Hotel amenities are not lacking, either. Guests can enjoy two heated pools, both with sun decks, tropical gardens, a jacuzzi, and a bar & restaurant. There is also a sauna on the premises. Things to do in the immediate area include the Rainbow Golf course and the beach at Playa del Ingles. The Hole Fetish cruising bar should not go unvisited as well.
For gay visitors to Gran Canaria, Villas Blancas presents an excellent choice of accommodation for gay tourists looking for lodging that comes with a warm welcome. Just don't forget to pack your best gay swimwear for the pool Instagram shot!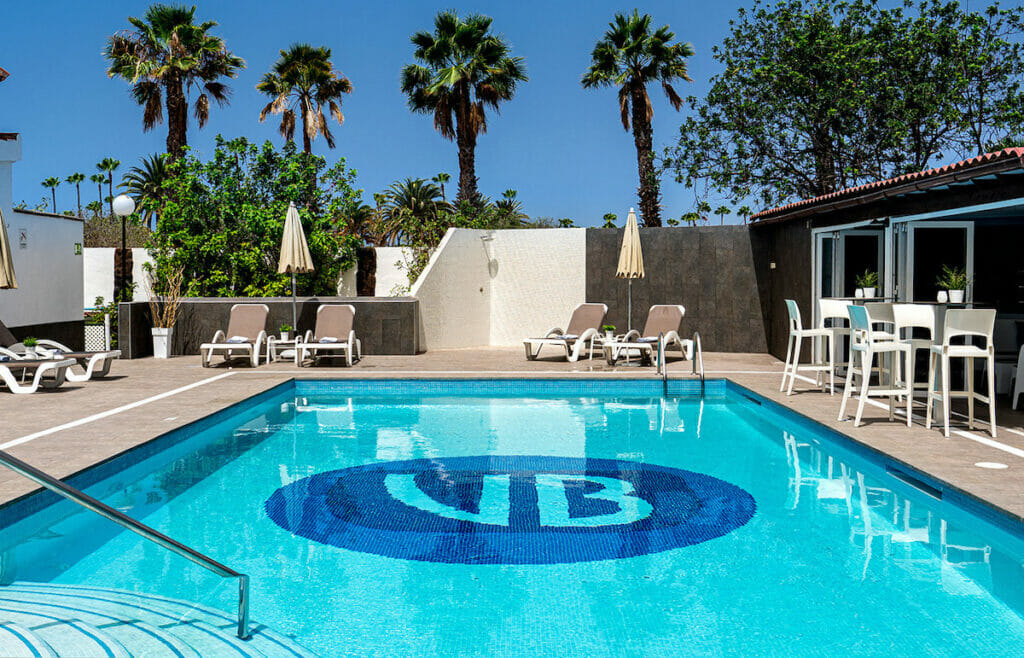 Virtually adjacent to the beach on Playa del Ingles, Villa Adler Gay Men Only has eight bungalows, all but one with private terraces. The property has a clothing-optional swimming pool where swimmers, sunbathers, and people-watchers can partake in the poolside cafe bar.
Each bungalow has a lounge and a kitchenette, and complimentary WiFi. All rooms also have a coffee/tea maker. The resort is literally feet away (350 to be more precise) from the CITA Shopping Centre, while a 5-minute walk will take you to the Yumbo Shopping Centre with its queer bars and XXX shops selling everything from gay lube to sex toys and more. Fifteen minutes' walk will find you in Maspalomas Dunes, where cruising opportunities abound…
For a cozy lodging option that caters specifically to gay men, that is central to practically everything of interest, visitors to Gran Canaria can't go much wrong with Villa Alder.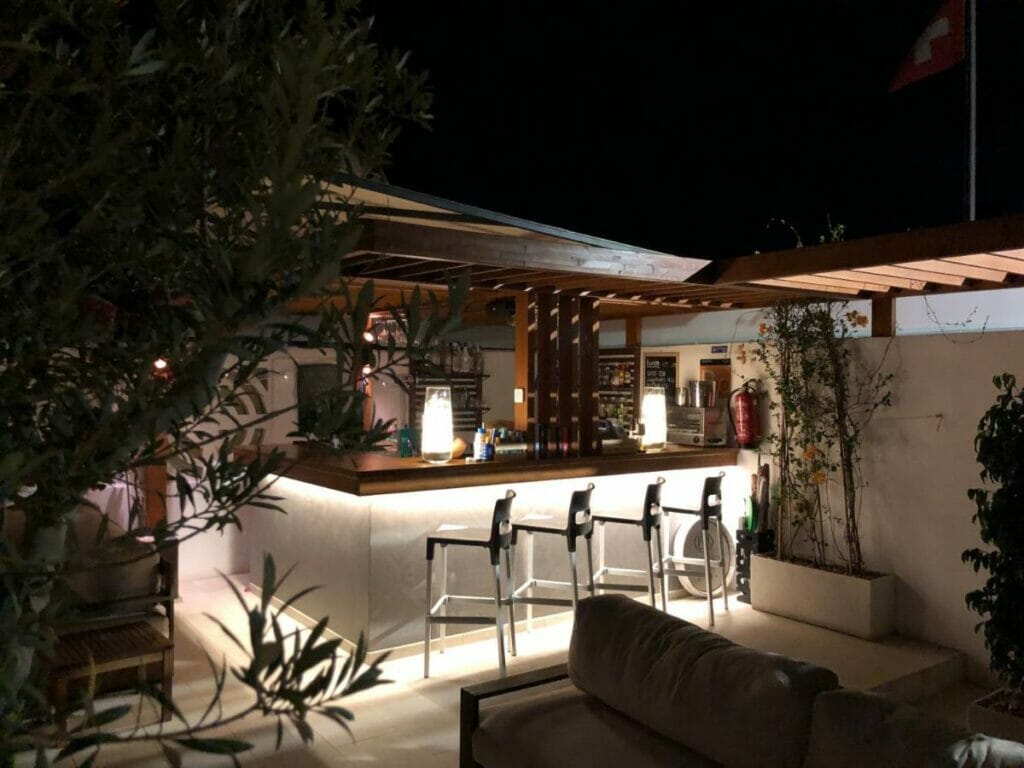 This lovely gay hotel sits on the promenade of the beautiful resort town of Sitges, on the Spanish Mediterranean coast only 30 minutes from Barcelona. It is adjacent to the gay beach in Sitges and about five minutes walk from the gay bars.
Accommodations for the 46 rooms at this 4 star, four-story gay-friendly hotel tend to be streamlined, and all of them are "fully equipped," according to the hotel's website. Amenities are as follows: concierge, housekeeping, wake-up calls (if desired), both full-service and self-service laundry services, room service, and on-site car rental available.
This hotel is popular among gay visitors for its location as well as for its friendly staff. Queens Cabaret Restaurant offers a recommended dining experience, as does the Ohana Restaurant. La Taglietta is the place to go if visitors find themselves craving some excellent Italian food. Many bars and cafes catering to gay clientele can be found in the beach area of Sitges.
You won't find a more beautiful seaside resort than Kalma Sitges Hotel, nor one more welcoming and accommodating.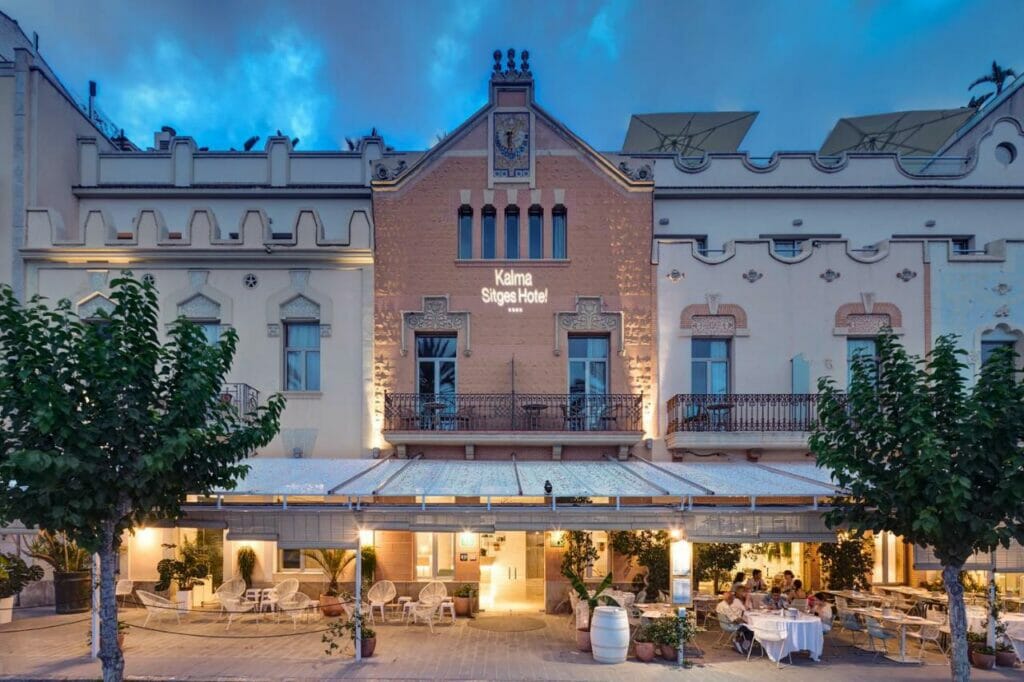 So when you're done with all the Spanish city breaks, the Axel Beach Ibiza has got to be your next holiday destination. It's got beautiful beaches, stunning sunsets, and some of the most famous gay nightlife in the world. And where there is gay nightlife, Axel is not far behind, and here their offering is a gay resort right on the beach with 89 sophisticated and comfortable apartments with private terraces.
The Sky Bar provides you with a place to tan and people-watch by day and with creative cocktails and flirting by night. Enjoy the pool and the view, then head inside for treatment at the glass spa. Delicious Mediterranean cuisine at the on-site restaurant provides you with energy for the Ibiza party scene.
And now we complete the list with this charming bed and breakfast in a gorgeous converted Valencian farmhouse located about a half-hour out of Valencia, in the Sansofi Nature Park.
A mere 5 km from Cullera on the Mediterranean and its beaches (including gay and nudist beaches), this establishment is a gay exclusive one, so any gay visitors to the area dreaming of a warm and welcoming place to lodge with all the coziness of a bed and breakfast, well their dream has come true with the Gay B&B Sansofi.
There are two double rooms here, each with its own terrace and bathroom. Each room also has free WiFi and air conditioning. The swimming pool and jacuzzi are both clothing optional. Satellite tv can be viewed in the dining room. There is a Mediterranean-style garden in which guests can partake of the organic fruit grown there.
Beautiful Benidorm is a short drive away for guests looking for a fun day trip or for a jaunt right from the property's figurative backyard swimming and hiking opportunities are available. For newlywed gay couples, we could think of no better place anywhere for a honeymoon.