Known for being a popular holiday destination for British Tourists, Benidorm is a fantastic Spanish coastal city with a thriving gay community and year-round sunshine. No matter if you are exploring the lively city life, the gorgeous beaches, or the booming gay quarter in Old Town, you will not struggle to find a gay or gay-friendly venue nearby…
Actually, you can't go far into the heart of Benidorm without passing a gay landmark, whether that be one of many fabulous gay bars or a popular cruising spot at the beach; but identifying them can be tough – which is why we are here to help you find queer spaces in Benidorm more easily!
This slice of Spanish Summer paradise has every type of venue that a gay tourist or resident could want, from gay saunas and cruising to gay pubs and dancehalls; it would be an understatement to say Benidorm was just a little queer-friendly…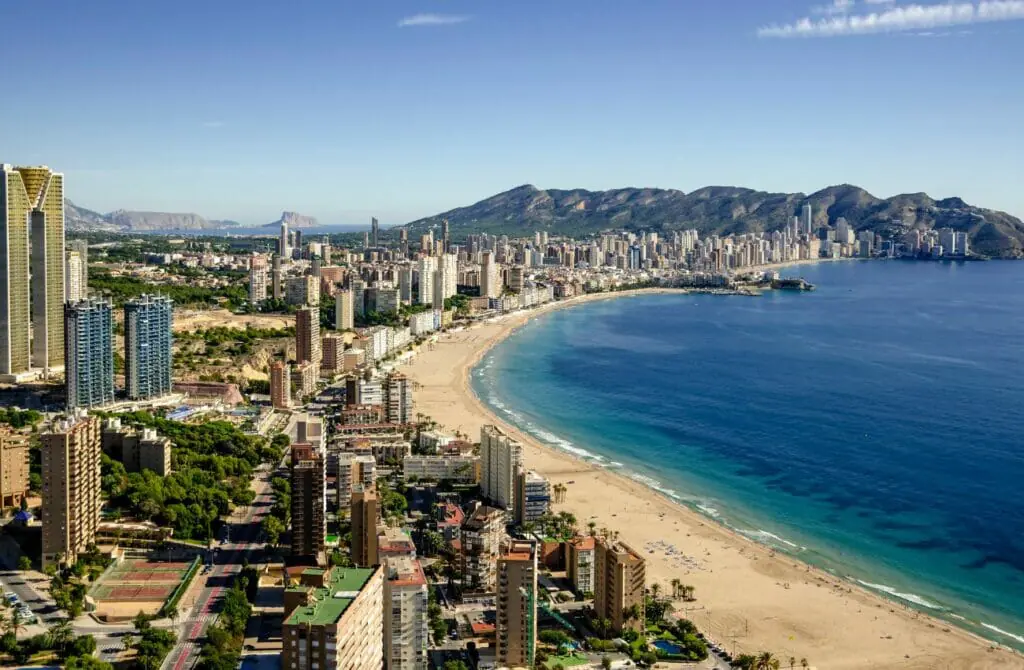 Apart from the energetic nightlife, Gay Benidorm offers much more than first meets the queer eye, whether you are here for the sights of tall skyscrapers in a backdrop of lush Spanish landscapes with the rich blue waters of the Mediterranean lapping at your feet or the many themed parks and historical landmarks.
Take a walk through a modern-day concrete jungle, hike up one of seven national park peaks, or take a photo of Roman ruins. The choices for daily activities are endless, and the same is valid for nightlife. Despite Benidorm only having a population of 72,000 residences, it has a plethora of activities you'd typically see in a much larger city.
In this article, we'll explore the gay scene in Benidorm and highlight some of the best spots to visit for a fun and inclusive vacation. From bars and clubs to beaches and events, we'll give you an inside look into what makes Benidorm a top destination for gay travelers. So whether you're looking for a romantic getaway or a wild party, read on to discover why Benidorm (and maybe nearby Gay Alicante) should be your next LGBTQ+ vacation destination.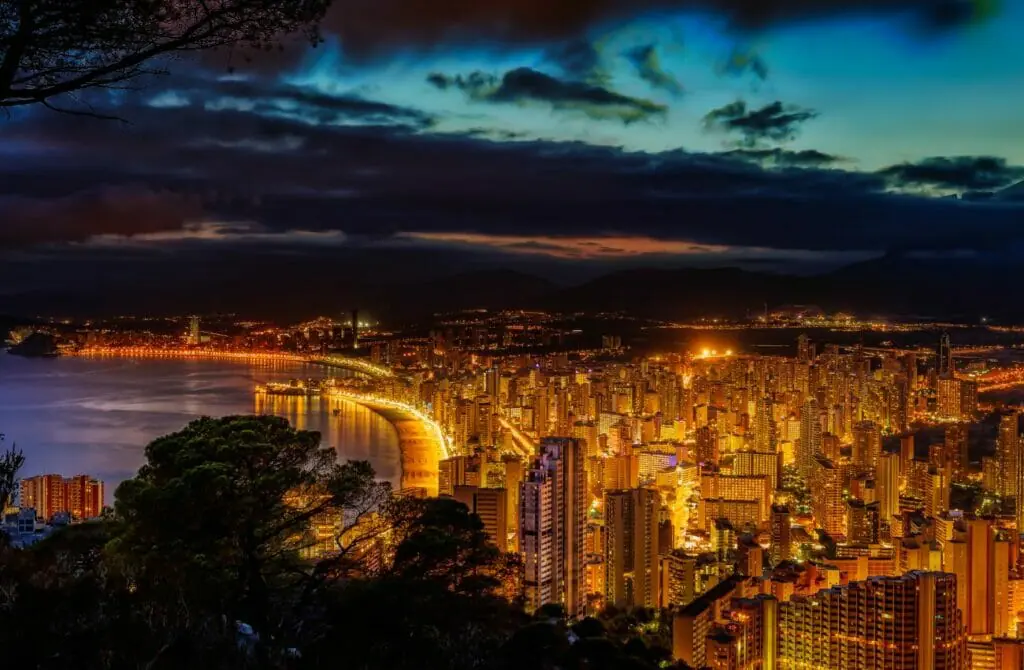 Attractions in Gay Benidorm
As a new visitor to Gay Benidorm, there are plenty of things to see and do, regardless of your sexual orientation. One of the best ways to experience any new city is to visit some of its most iconic landmarks and attractions, including visiting historical monuments, museums, and art galleries.
We also love gazing at architecture up close, exploring parks and gardens, sampling the regional cuisine, visiting local markets, and attending cultural events such as festivals, concerts and shows. From the beaches and island cruise to the themed parks and historical features, you should be able to fill your whole day with activities if you so wish.
Even as the out-and-proud queer we are, we still love to just explore the city and its culture in the same way as everyone else. Doing so allows us the opportunity to learn more about the city and its people and gain a deeper understanding of the local culture. As such, these are our favorite gay-friendly and outright gay attractions in Benidorm.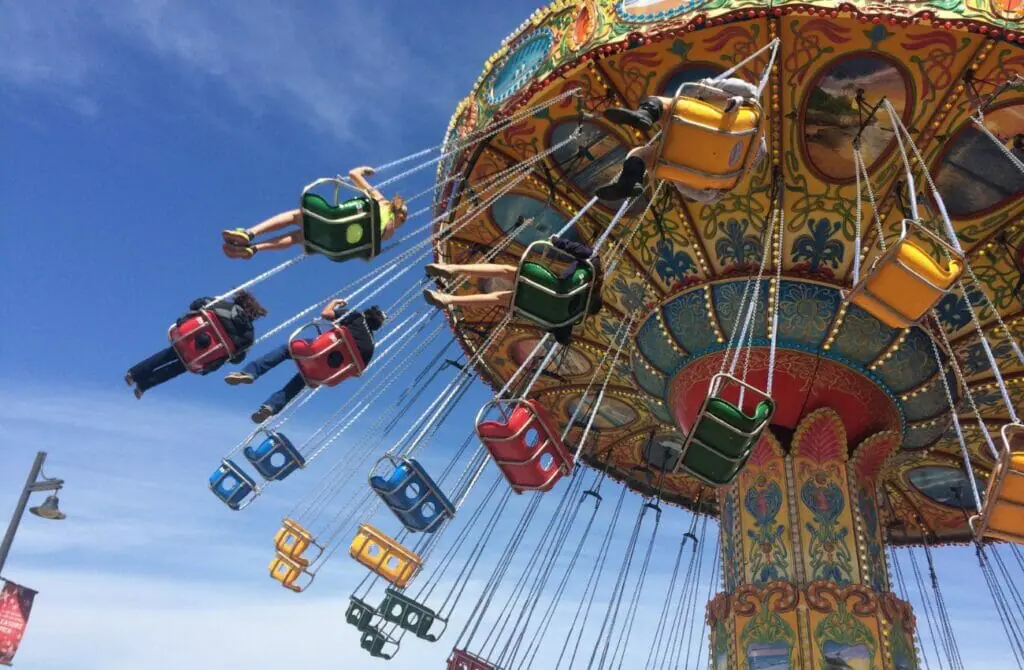 Opening only during summer, Terra Mitica is one of three theme parks in Benidorm you need to visit if you want to make the most of your holiday. What makes this stand out is the story and history of the region it is trying to tell through the designs of each ride and attraction at the park.
Moreover, apart from catering to all types of people, this park will allow you to take advantage of the warm climate and fill in several hours of your day.
The water world of Benidorm only opens up during summer, like the other theme parks in the area, and if you want to cool down from the outside activities during the heat, you can do so at this massive water park.
This park caters to all its users' needs, being a gay-friendly place to go swimming if you want to skip the salt and beach sands. Instead of swimming lengths, go at the water slides, the luge, and rapids, or take notes to experience every themed pool. You will feel like you are traveling through the Amazon one minute and the Pacific the next, and you don't have to travel far from Spain to do it.
Leave the chaos of the city and head out on a boat into the heart of the ocean, where you will be met by a stoic and untouched island that has watched over the birth of this resort city. Benidorm Island might not be able to greet you on arrival, but the beauty of its triangular structure will be worth it.
The boat ride to the island has an underwater viewing deck to see fish and the like as you make the twenty-minute journey. When you arrive, there is a cafe, and you can walk around the island, with the views looking back to the mainland worth it to most. Sadly, however, the peacocks it was once famed for are no longer here.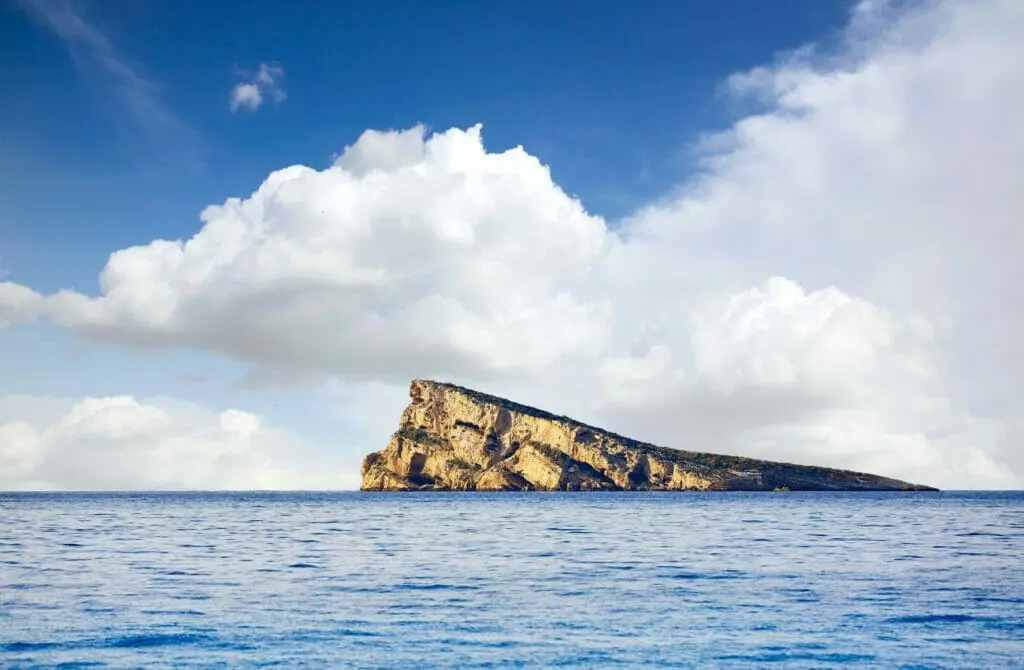 If you are a sucker for animals, the animal park Mundormar is a must-see in Benidorm. Take photos with animals like seals, dolphins, penguins, meerkats and more – but if you prefer to keep your distance, there is an option to view countless species from open exhibits.
This place is so vast that you could spend a whole day exploring the park, and your entry fee will go towards animal care and donations to wildlife foundations.
San Jaume Church
This historic church is an iconic part of the town's long history, and it was here before Benidorm became a towering skyscraper hub full of tourists. Built in 1740, the church still maintains much of its original two blue domes crafted in the Mediterranean neoclassical style.
Playa de Poniente and Playa de Levante
Benidorm has iconic beaches that stretch for miles along the coastline, and you cannot miss checking out both! In particular, Playa de Levante is exceptionally close to the gay quarter of Old Town, so you could stop by for a splash on your way to explore the queer scene Benidorm offers.
Either spot is super gay-friendly, with some even their own 'unofficial gay nudist spots' (such as Playa Levante Nudist Beach Beyond Cable-ski. However, for a more official option just outside of town, there is the Nudist Beach at Platja Raco Del Conill.
If getting your kit off is not for you, you can lounge in your clothes on the main stretch of the beaches or go for a drip in the crystal blue ocean taking advantage of the different events open during summer if you visit during Benidorm's most lively time of year.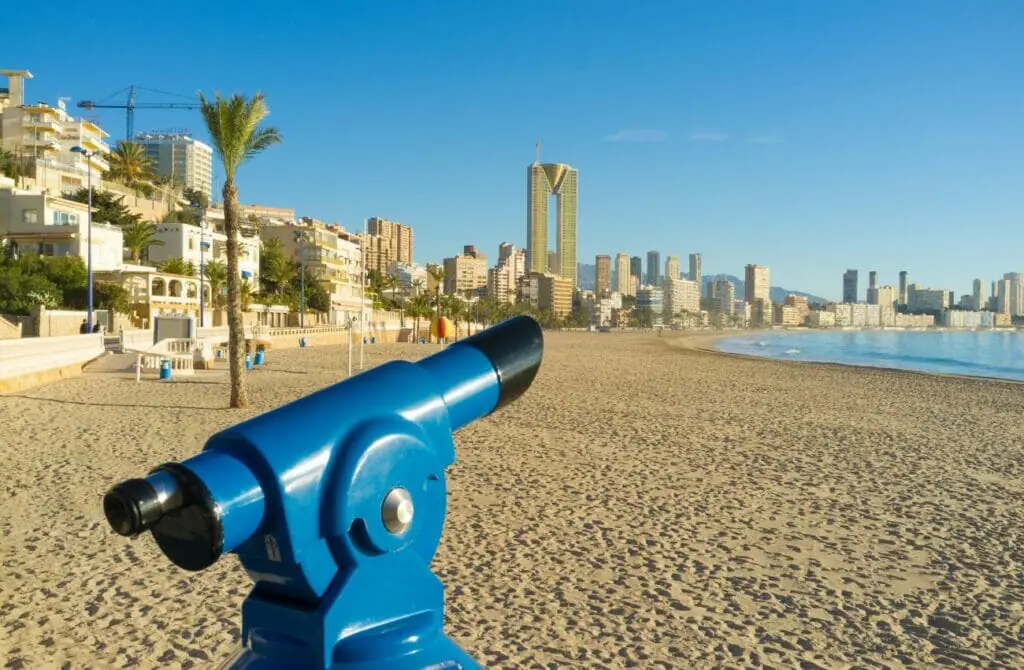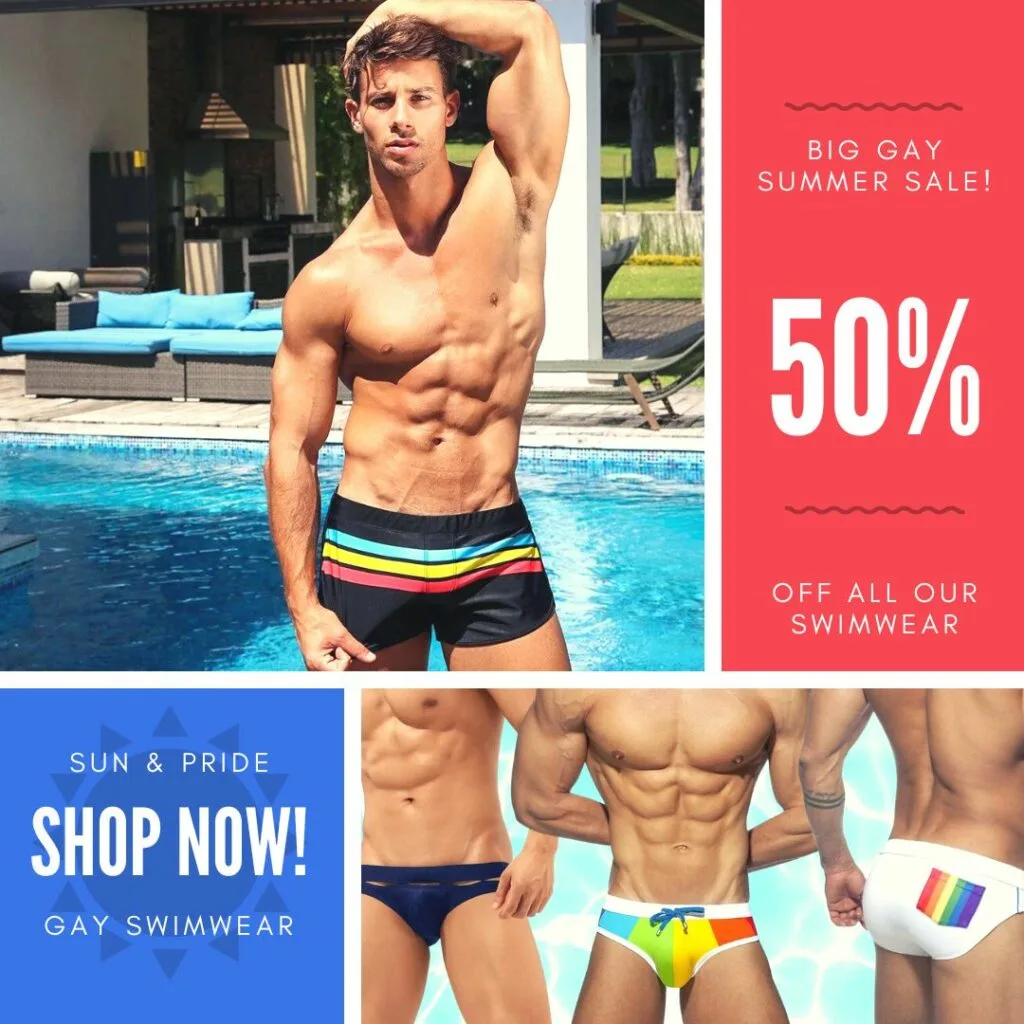 Benidorm Gay Scene
Strut the streets of Old Town in Benidorm, and this is where you'll find the queerest folks and establishments around. Home to the majority of the city's gay nightlife, here you will be able to pick from various different bars, nightclubs and other queer venues for the most incredible summer gay vacation in Spain. Ok, one of the most – it doesn't quite compare to Gay Sitges.
Altea Cruise with BBQ in Old Town
Experience Spain's magical "White Coast" on this catamaran cruise from Altea. After setting sail from the port of Altea, relax on deck while admiring magnificent coves and cliffs.
Enjoy a swim in the calm waters of an isolated beach, enjoy a complimentary barbecue lunch on board, as well as a cocktail and dinner at Casco Antiguo de Altea, a restaurant located atop a hill in Altea's charming old section.
Sierra Helada Natural Park Segway Tour
This national park is an incredible place to explore, whether on foot or as part of a segway tour. The national park sits at the backdoor of the city, is full of lush woodlands and has seven peaks to be conquered with amazing views.
Anyone that requires a hiking or wildlands attraction to draw them to a city will have their needs fulfilled here. So, regardless of how gay it is, this might be the hook to reel you or your queer friends to Benidorm.
Tossal de la Cala
Tossal de la Cala has a Roman ruin at the top of this hill, with spectacular coastline and sea views. You can experience history at your fingertips as you imagine Romans visiting this place over two thousand years ago. Perhaps this was a popular spot to sit with gay partners even back then?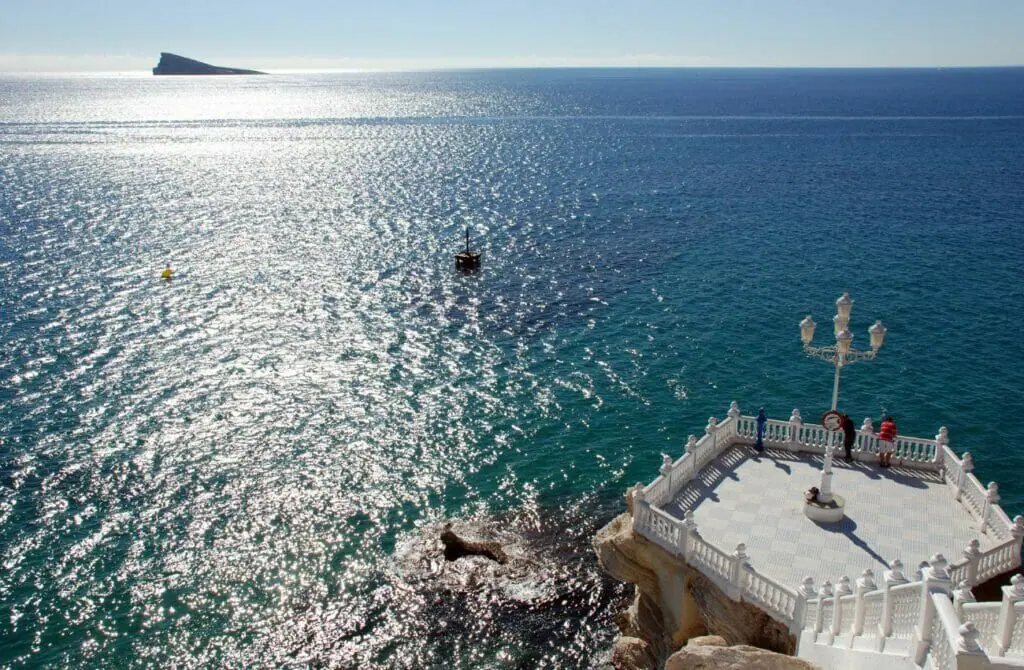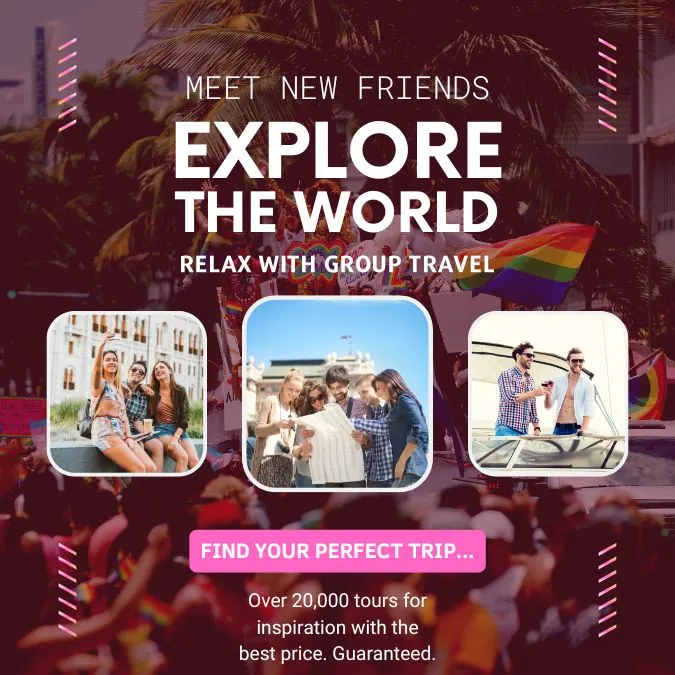 Gay-Friendly & Gay Hotels in Benidorm
With your days now spent at the various gay attractions, you need somewhere to rest in Gay Benidorm, so to keep you covered on both, there are many gay-friendly accommodation options to rest your tired little legs.
Many of these options are close to Old Town, where the heart of the gay nightlife thrives in Benidorm, so if you want to keep within walking distance of this hub, looking for a hotel nearby is easy.
Needless to say, there are also hundred's more hotel and hostel options in Benidorm if none of these suit your desired budget, facilities or area – but these are the best hotels according to other gay travelers and us.
Whatever your needs are, Benidorm has you covered.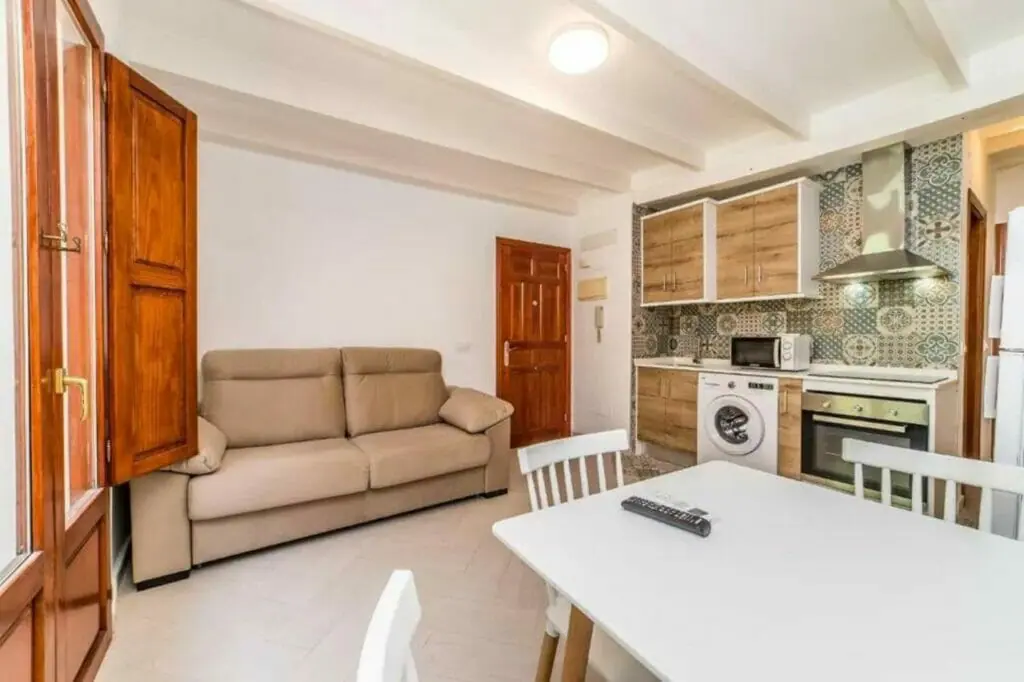 Alojamientos la Vila Mayor 7 ☆☆☆☆☆
Located a little way out from the gay hub of Benidorm, but with wheels, it would only be a short drive to Old Town. You can make the most of the beachside views within walking distance of the beach, Muralles de la Vila Joiosa, and Santa Maria de la Vila Joiosa.
In addition, you will have an entire apartment for yourself, so you could pretend you live here for a few days! So, with a massive place and two rooms, you could test out the local gay hook-up scene if you're feeling adventurous.
Located just a short bus ride from Old Town, this urban retreat will make you feel like a beach god with an incredible Mediterranean villa. The closed-in accommodation has a shared pool with mood night lighting, umbrella longers, and a small waterslide. Each private room is equipped with various options depending on the selected room.
The apartments vary from each other, but in basic needs, they provide an outdoor area for sitting and enjoying the natural aspects often forgotten in the heart of Benidorm, surrounded by concrete jungles. Inside you will find a separate bedroom, bathroom, lounging area, and kitchen with basic needs.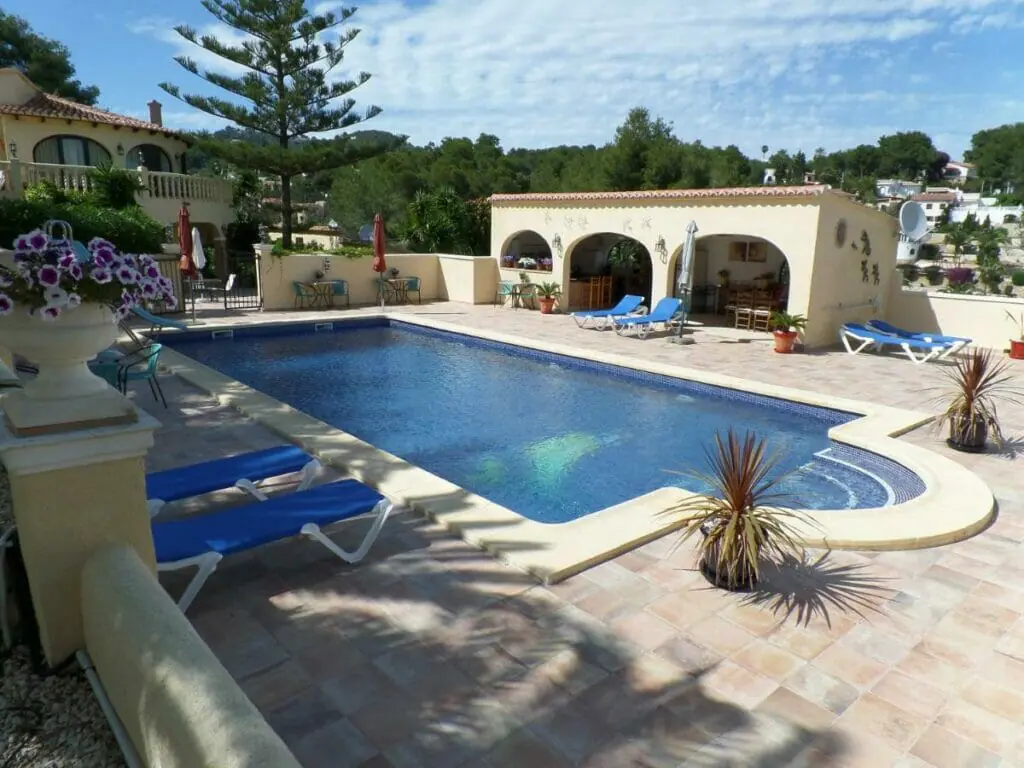 Apartamentos Primavera Loix ☆☆☆
Located extremely close to the beach and the backdoor woodlands of Benidorm, a location that is also queer-friendly doesn't get better than this. It will be hard to get your buns out of the sun with the many outdoor entertainment options for the clients of this hotel, from the massive pools and water features to the relaxing loungers and spas alongside the pool.
However, when you drag yourself to your room to get ready for the short walk to city attractions, your room might become another trap. Every room has a balcony, incredible views, a quaint place to spend the early morning after city curfew, and the basic kitchen, bathroom, bedroom, and lounge.
This gay-favorite urban oasis is one of the coolest hotels five minutes from Old Town. The complex has everything you could ever need when on holiday, from the in-house bar and cozy pool to a delightful garden to make us feel like we are in the country and not in the middle of a busy city.
The highlight of this four-star palace is that you'll be treated like royalty when you arrive, from the first baggage carrier to the on-demand breakfast. And don't get us started on the room; they have terraces, soft memory foam beds, a spiral staircase… You get the idea. Expect extravagance all day.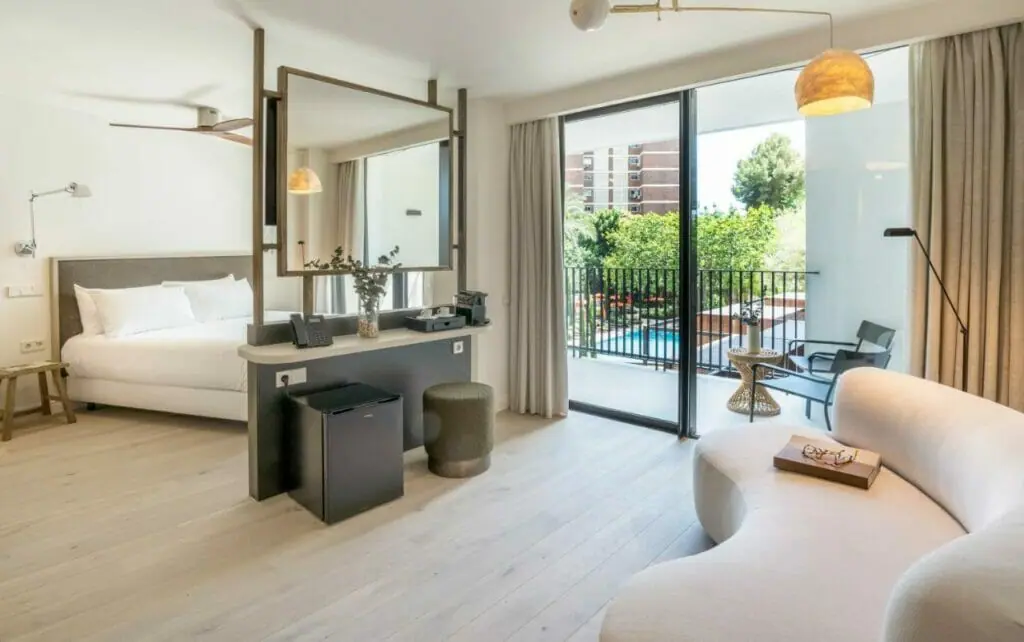 One of the most incredible central city hotels in Benidorm, close to Old Town, is Hotel Primavera Park. You can experience a tropical paradise with palm trees and crystal clear waters, all from the hotel's swimming pool terraces, and in the pool, you get some unique views of the city sitting well below.
The design of this hotel building is striking as it has sharp offset angles, which put the usual square concrete towers around it to shame. The choice of colors and interior designs make it feel like you are in the Pacific or Caribbean, with palm trees and glassy walls to let in as much light as possible.
The venue has several drinking bars, a snack bar, a restaurant, a gym, grand entrances and public spaces, and quaint city-view apartments. Your rooms have balconies, double beds, blackout curtains, desks, and bathrooms. Although for food, you'll need to purchase from the many hotel eateries or get takeout.
Asia Gardens Hotel & Thai Spa, a Royal Hideaway Hotel ☆☆☆☆☆
This five-star Asian-inspired garden hotel and spa is the most unexpected getaway to get discovered for gay accommodation options in Benidorm. Who'd have expected to find a little piece of Asia in a tourist hotspot in Spain? Either way, when you stay here, you will have to deal with the retreat being far from the coast, but with a car, this will not be a concern.
Rooms may not come with wifi, but the aesthetic and extras are why people go and say at this gay-friendly getaway. You have public pools, spas, and longing areas under a shaded pool umbrella, and with all the building's Asian architecture, it will look and feel like nothing else you can find in Benidorm.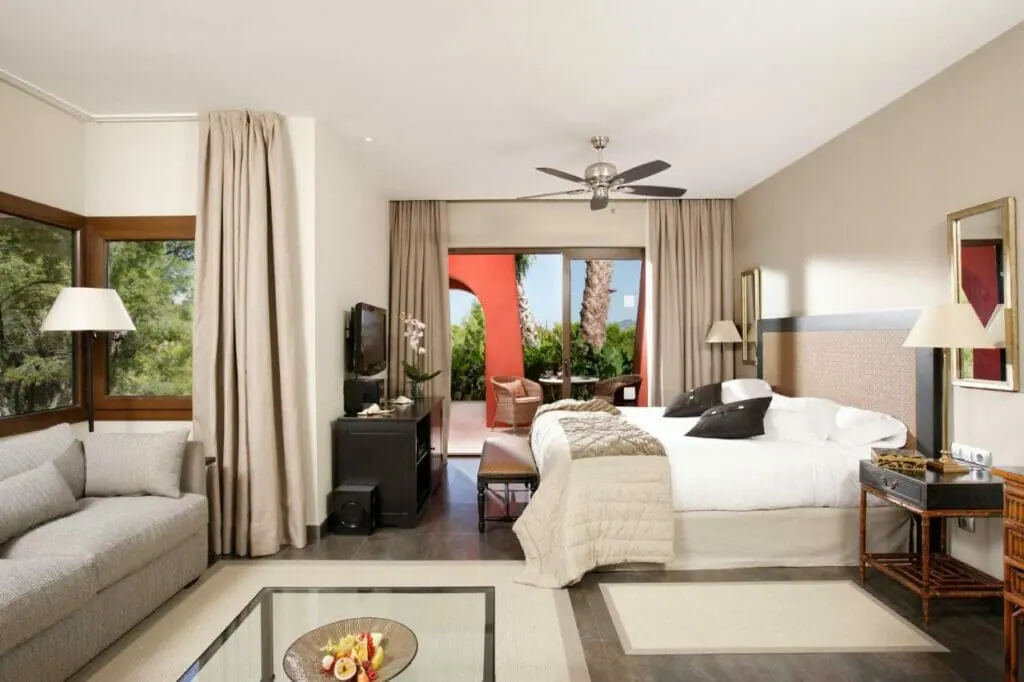 Gay Nightlife In Benidorm
To start your gay night in Benidorm, the first point of contact is always going to be the Old Town, to begin the rounds of the various LGBT bars and gay venues.
It is best to time your entrance early if you want to try to hit them all on one night, although we don't encourage trying to do much all at once, with the last entry to bars at around midnight, with most closing at 1 am.
However, you will have some venues that stay open to guests already inside until 6-7 am.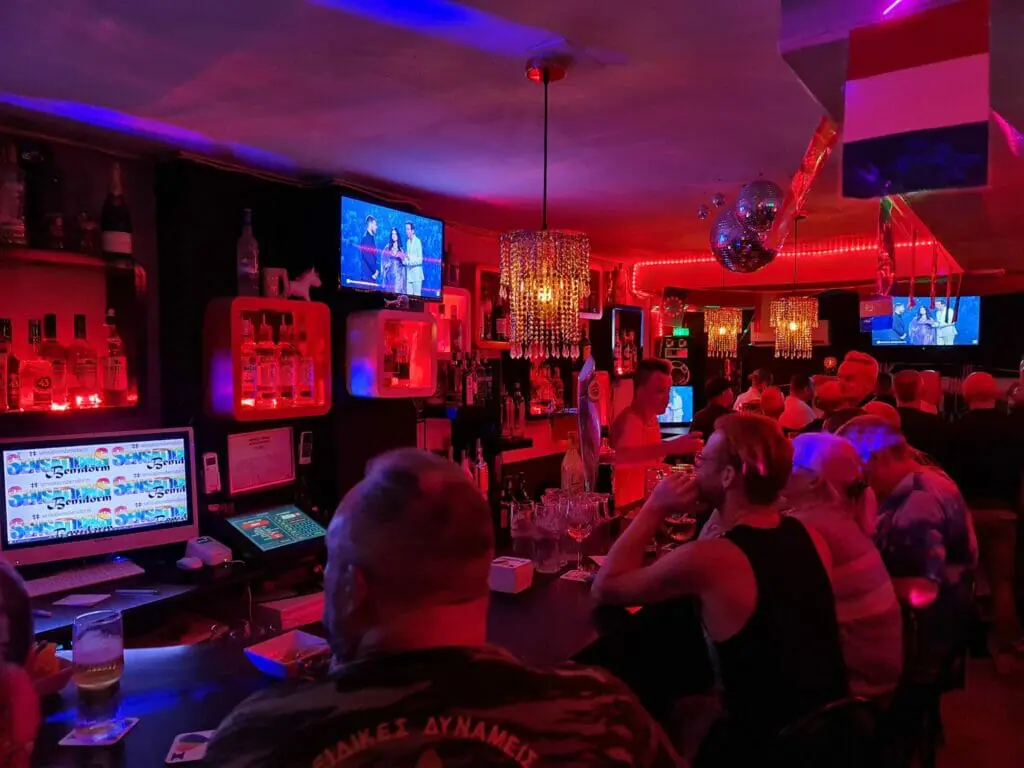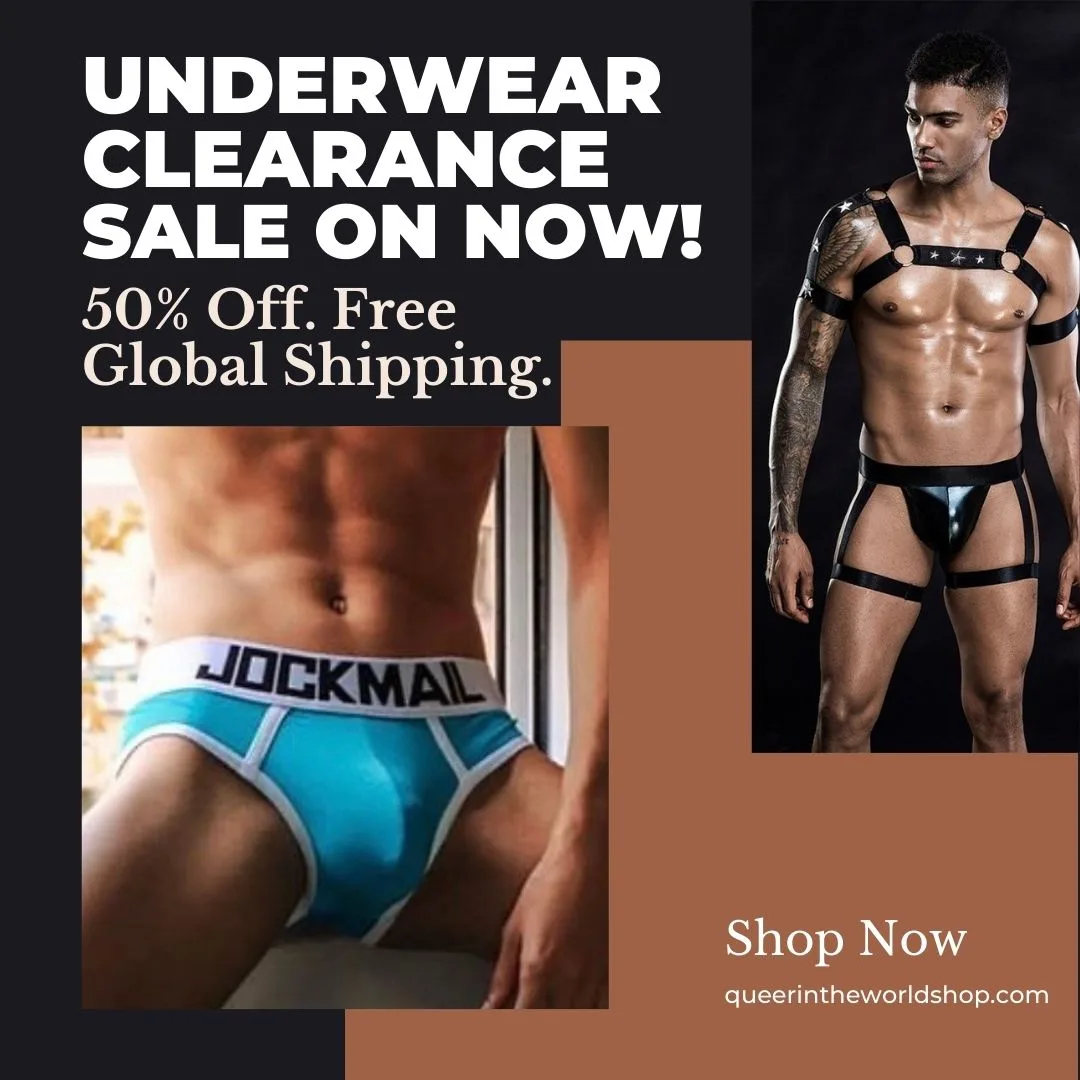 Gay Bars In Benidorm
The sensation is a stylish gay-owned bar located in the heart of Old Town down a quiet street. This relaxed bar plays the latest music and videos as you enjoy their signature cocktails or go for a little dance. You can be sure the music will not be too loud, so if you want a relaxing bar, this is a primo choice.
One of many gay bars in Benidorm located in Old Town, the Company Bar offers a great bar experience with themed events and regular drag queens. A highlight for many is the warm and welcoming barman Dino, who goes out of his way to help everyone regardless of how big or small the task is. As a result, you will surely have a great yarn, relaxed dining and drinking experience.
This gay bar in Old Town has everything you need for a great nightlife experience at a bar. From cocktails and beer to wines and spirits, the wonderful bar has you covered, with reasonable background music to make the conversation not impossible. If that isn't enough to tempt you, the facade is decked in queer rainbows and flags, so you will never feel out of place wearing that pride t-shirt.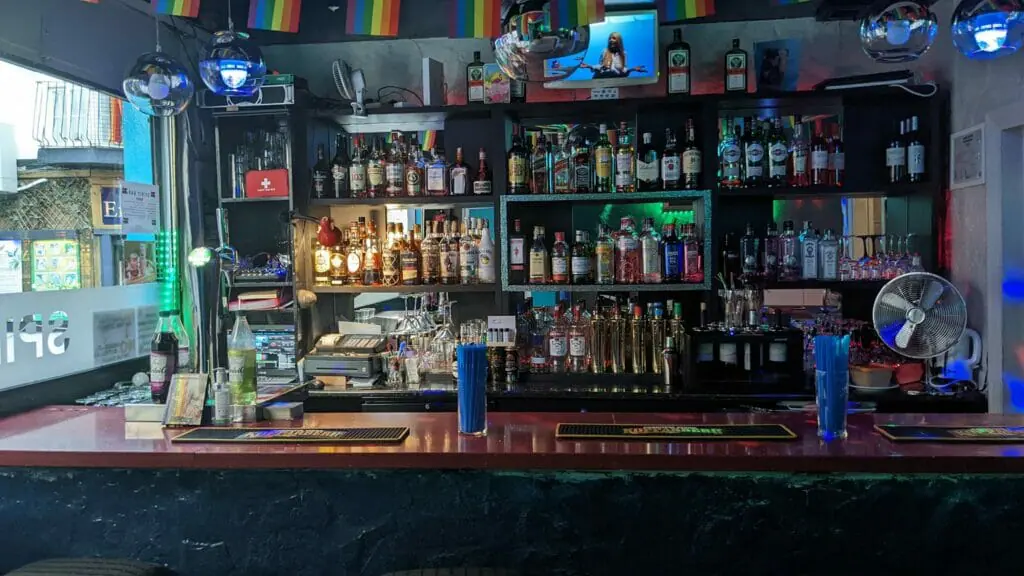 In Old Town, GSpot is one of the most popular gay bars. It stands out because it is gay-owned, and the owners are super friendly to patrons, making it a highlight of many visits. Not only that, the space is small yet quaint, with a relaxed atmosphere and home-mixed cocktails that makes people come back again and again.
Hunty's Bar is a new gay bar in the heart of Old Town that is open to all types of people, not just catering to gay people. Hetero-friendly, if you will. The venue is trendy, with a large terrace and plenty of seating to enjoy one of their many cocktails or other drinks. This easy-going bar is great if you want a quiet place to chat or date.
If you want to see one of the oldest drag cabaret bars run in Benidorm (since 1994), then Kafee Klee is a must-see. An even more remarkable fact is that entry is free, and all you need to do is a step in that door, and you will be faced with a night of endless entertainment, a friendly atmosphere and countless amounts of fun. This is a small venue, so they encourage you to book a place in advance.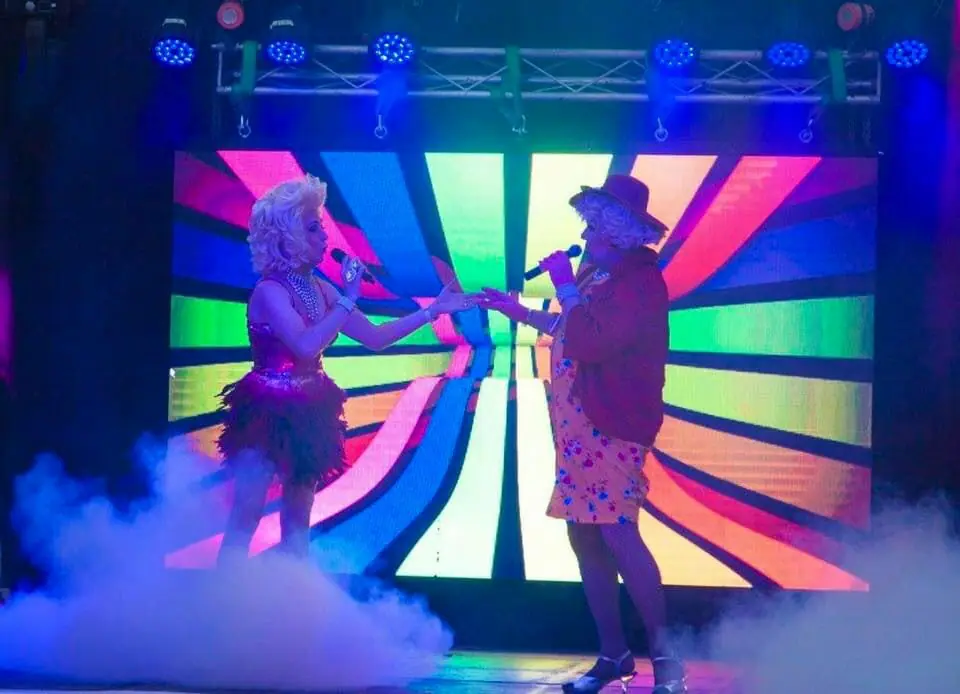 Described as an openly gay bar with abience and tranquillity, DD's Bar is a must-stop when making the rounds of Old Town. The owners are friendly, with cheap drinks and great conversation if you wish to speak to locals at the bar.
One final bonus of this being an open bar is that you can sit outside, and if you are visiting with dogs, they let you sit at the tables with them—just one of the many reasons why it's worth visiting. Even if you don't have a dog, it makes for a easy way to strike up conversations.
In the name of the colorful bird, Le Tucan is a colorful gay bar with a vibrant culture in Old Town that wants to bring to the table the 'old gay experience' as an alternative to the other gay nightlife in Benidorm. So if you are old-fashioned, this bar would be a prime place to visit, take a dance and a spin on the only dance pole in the gay quarter.
Brief Encounter is a gay multilingual bar in the center of Old Town with some of the buffest bartenders you might meet (and if you're lucky, they might be shirtless). The bar offers wifi, music and a relaxing environment around the bar for patrons from all walks of life to enjoy.
Located in the heart of Old Town and right next door to Mercury, we have Barcode Benidorm. With the gay disco venue next door, Barcode offers a quieter place to relax or take a break from the party, with cheap yet delicious drinks and great staff to keep your glasses full.
Mercury is a gay disco pub in Old Town with a huge gay cruising clientele. One of the big reasons for this is the dark upstairs room and massive dance hall. So you can enjoy a drink and then dance the night away. But if you are here to meet fellow queers, you can head upstairs to explore what fun Mercury offers in the dark!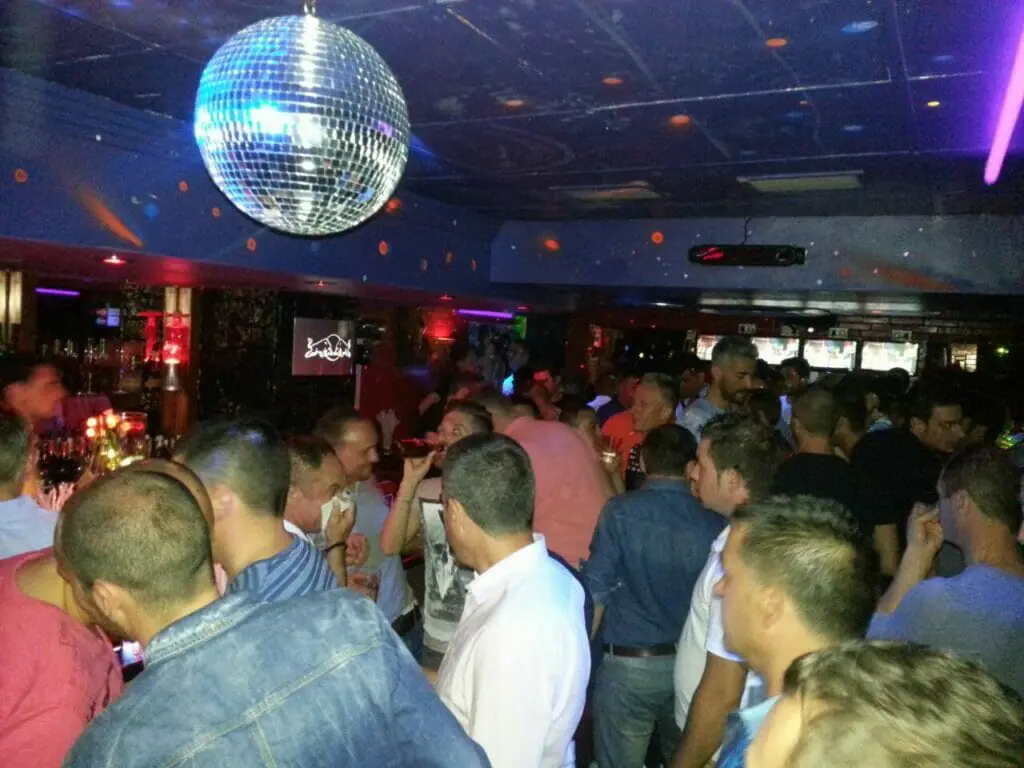 Cruising & Gay Saunas In Benidorm
Based on the options available for gay pubs, Benidorm does not fail to serve up options for cruising and gay saunas. Even if the language barrier in some of these places might be challenging, all venues are welcoming and will try to help you with whatever you need.
Sure, the sauna culture in Benidorm is not as hedonistic as in Amsterdam, Barcelona or Berlin, but these venues still offer a chance to meet new people, socialize, and engage in sexual activity – without resorting to gay hook-up apps. However, it's important to keep in mind that these venues can vary greatly in terms of atmosphere, clientele, and rules, so it's a good idea to prepare yourself before visiting. If you are apprehensive, we advise studying our guide to visiting a gay bathhouse for the first time, which should help set your mind at ease, and always practicing safe sex.
However, if all else fails, you can just turn to Grindr or Tinder to find a partner who might be ecstatic to give you a tour of the cruising scene in Benidorm.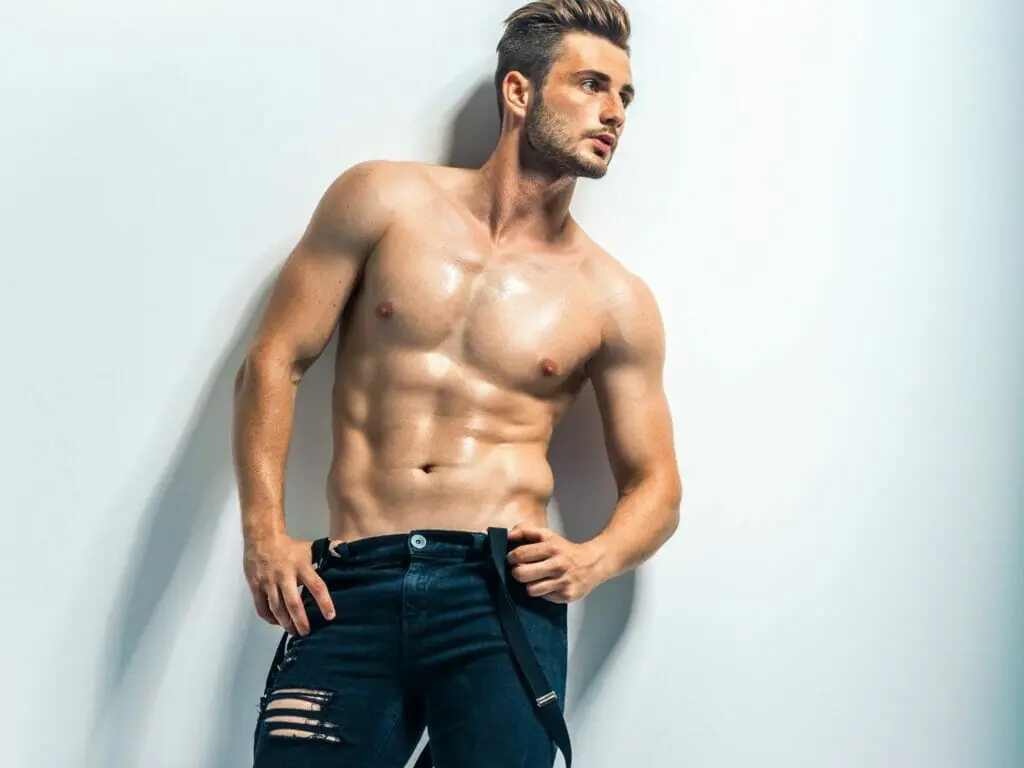 Gay Cruising Bars In Benidorm
If you're looking specifically for a gay man-only cruising bar, look no further than the Lib Club. There is a small entry fee to the venue, but this gives you a free drink from the bar and is worth the money if you are looking for a man-only space. With abundant patronage, you will have a great selection of men to choose from, and you could find the perfect match.
Copper Club is a private men-only gay bar that stands out from the others with its catering for fetishes. However, it isn't just a bar; it's a men's club, a fetish cruising zone, and a private club. You can enjoy various activities in a dark room, glory holes, sling and open cabins.
Their goal is to allow a safe space for men to explore their sexual fantasies to their fullest without hiding their true selves by finding similar people.
If you're looking for a gay cruising bar in Benidorm, you should check out the self-proclaimed gay bar of daddies, bears and other furry friends. Bears' Bar is a gay cruising bar to help connect gay men with a fetish or preference for larger or hairy guys. However, keep in mind this is strictly for men only.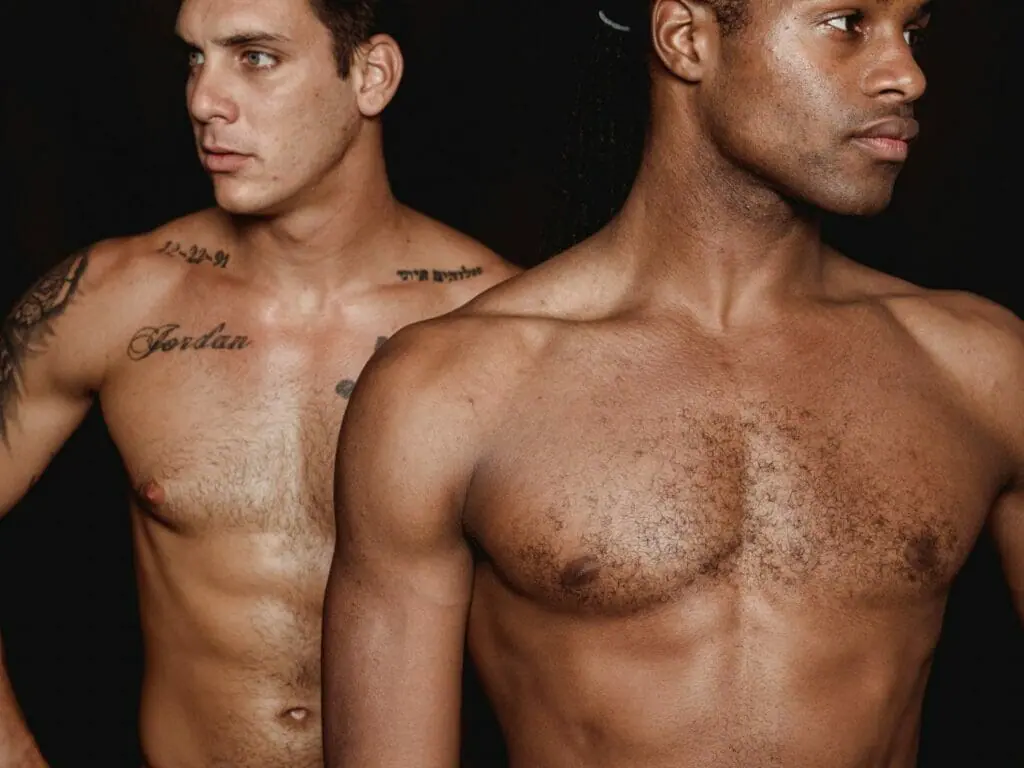 Gay Saunas In Benidorm
One of several men-only gay saunas, H2O stands out from the competition by over 18 years of offering great services to patrons. For just 12 euros, you have access for a whole day, with a free towel, locker, condom and lube, with extras purchased at the bar. You can have great fun with a companion at one of the many facilities or just relax and enjoy a hot tub.
For older gay men seeking an older gay crowd to spend time with in a gay pub and sauna, JJ Private Bar is a great choice. With a budding young gay scene in Benidorm, it might feel like the older generations are left out, but this sauna fills this spot nicely. In addition, it offers a bar, dance rooms, and sauna facilities that other gay facilities lack.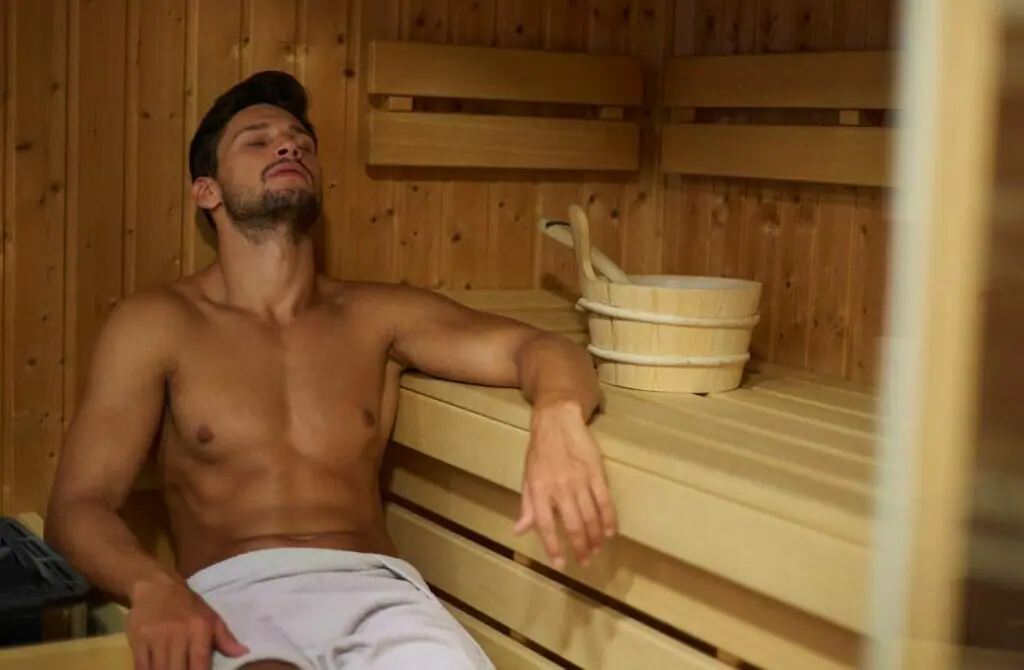 Gay Sex Shops In Benidorm
If you're looking for a gay-oriented sex shop, Eurovisex is the go-to for sex toys in Benidorm. They have an incredible range of toys that consider the needs of queer people and will provide a safe space to explore your sexuality, and can offer advice if promoted.
However, Eurovisex isn't just a sex shop; it's a gay cruising venue with cabins, a dark room, an adult-only venue, and cruise or fetish exploration. Located in the heart of the gay quarter, it is within walking distance of the Old Town gay bars.
Gay Adult Entertainment In Benidorm
Sex Cinema Peek A Boo Benidorm
If you are sick of the regular straight cinema, then it's time to try a sex cinema and watch some unique shows. They offer services beyond watching adult movies, with gloryholes, orgy beds, cabins and slings.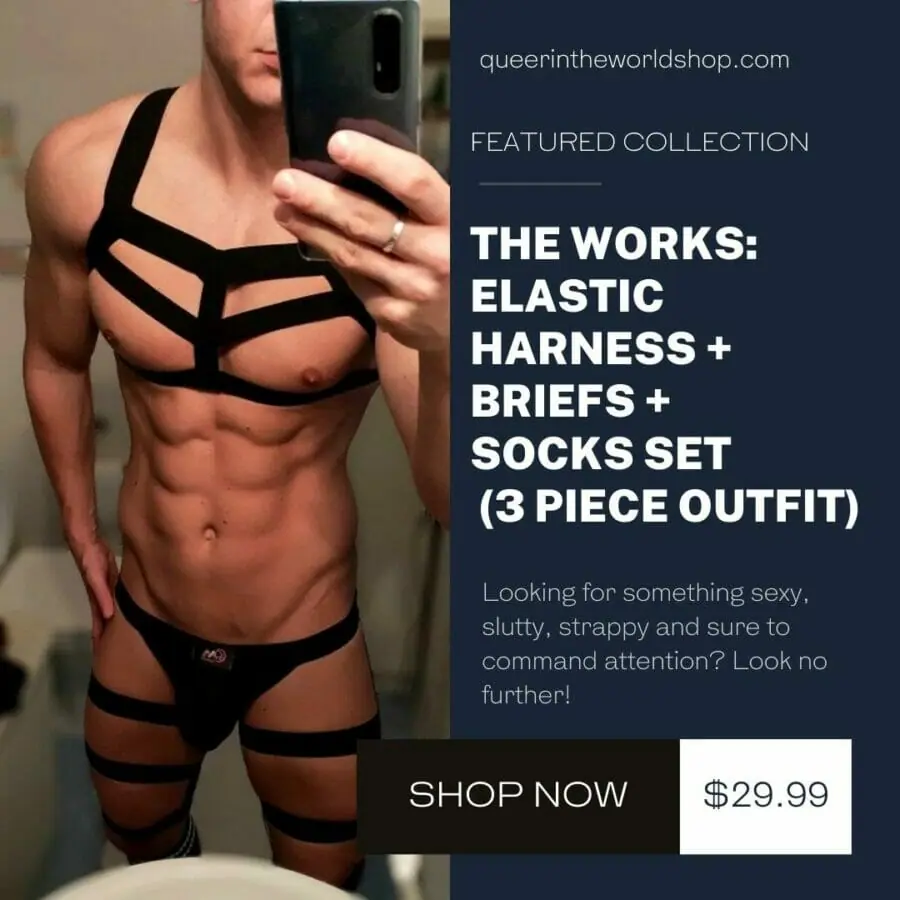 Gay Map Of Benidorm
Finding it hard to envisage where everything is Benidorm? Hopefully, this queer-centric map helps where we have marked all the bars, clubs, parties, hotels, saunas, massages and more will help you stay in the spot best suited to you!