Welcome to Gay Alicante, honey! This coastal city on the eastern shores of Spain offers an energetic and welcoming gay scene, perfect for those who want to soak up the sun, sea, and sexy vibes. Whether you're looking for a wild party, a chill beach day, or a romantic getaway, Alicante has something for everyone.
The main gay areas in Alicante are concentrated around the Old Town, where you'll find a variety of bars, restaurants, and nightclubs catering to the LGBTQ+ community.
The local government in Alicante is also supportive of the LGBTQ+ community, with several initiatives aimed at promoting inclusiveness and equality. The city is home to the Alicante Pride festival, which is held every summer. This festival celebrates the LGBTQ+ community with music, dance, and other festivities, and is a testament to the city's commitment to inclusiveness and equality.
It takes place in June, bringing together locals and visitors alike for a colorful and exciting parade through the city streets.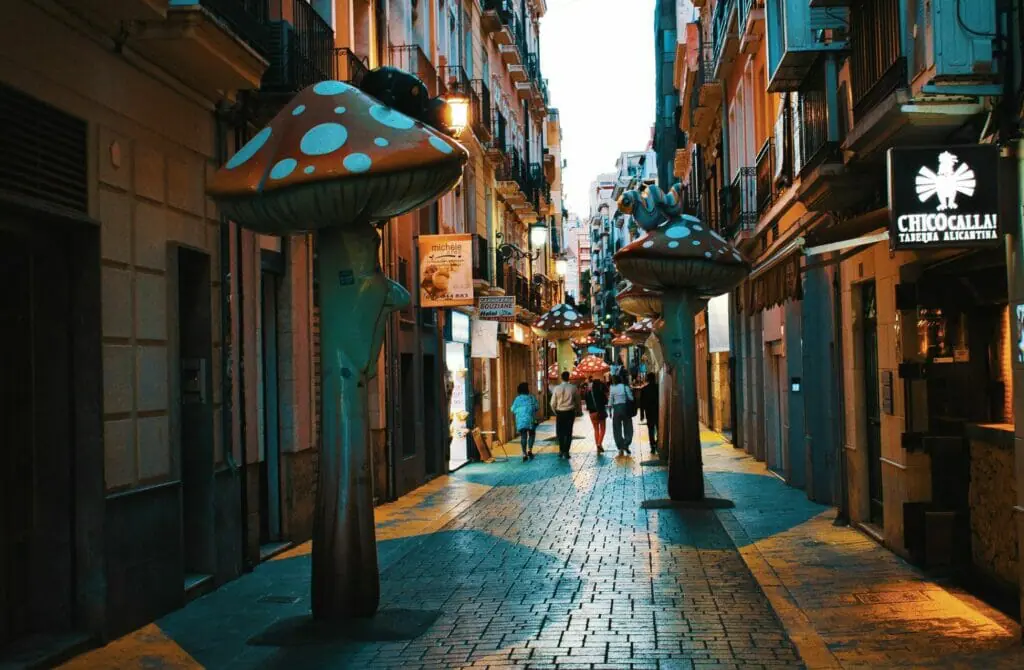 Alicante is like no other city on earth for a tourist to visit because, in addition to a flamboyant gay scene, it offers a unique blend of history, culture, and natural beauty.
The city's rich cultural heritage can be seen in its historic buildings, such as the Castle of Santa Barbara and the Santa Maria Basilica, which offer a glimpse into the city's past. In addition, the city boasts an impressive collection of museums and art galleries, such as the Museum of Contemporary Art and the Gravina Museum of Fine Arts, that showcase the best of Spanish and international art.
One of the most striking features of Alicante is its natural beauty. The city's coastline stretches for miles, offering stunning views of the Mediterranean Sea and the surrounding mountains.
Visitors can enjoy a leisurely stroll along the palm-lined Explanada de España, or take a dip in the crystal-clear waters of Postiguet Beach. Alicante is also surrounded by lush green hills, which provide the perfect backdrop for hiking and exploring the city's natural beauty.
Alicante also has a unique gay history, with a long tradition of LGBTQ+ rights activism dating back to the 1970s. The city has been a pioneer in promoting and protecting LGBTQ+ rights in Spain, with its first gay bar opening in the 1980s and its first Pride parade taking place in 2002. Today, Alicante is one of the most LGBTQ+ friendly cities in Spain, with a warm and accepting attitude towards all.
So pack your bags, grab your sunscreen and swimwear, and get ready to experience the sizzling hotness of Gay Alicante!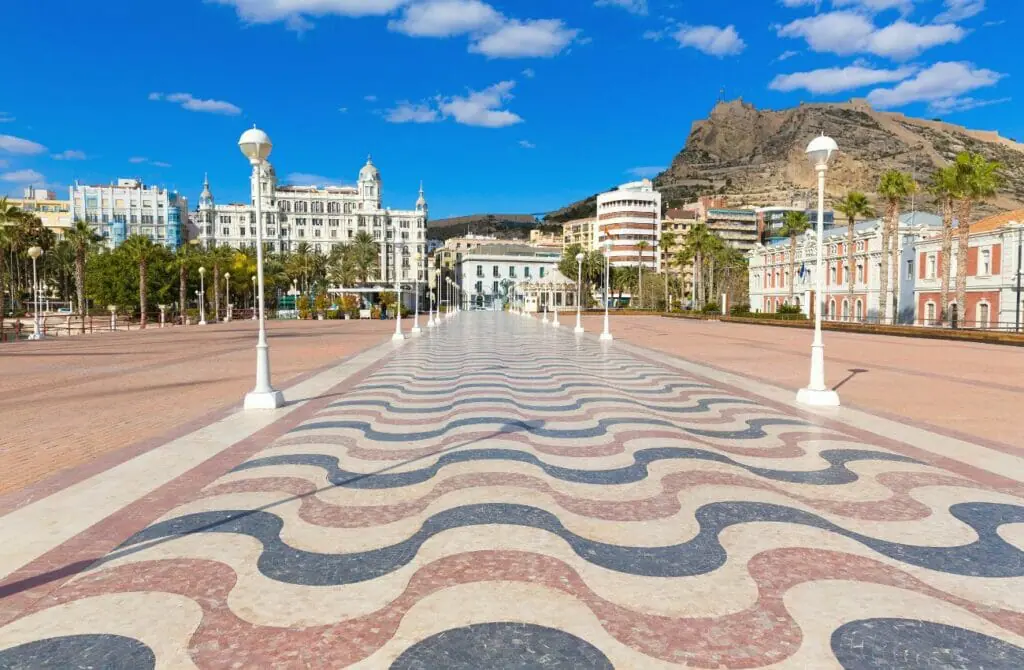 Top Attractions in Alicante
If you're looking for a thrilling adventure in Gay Alicante, then you're in for a treat! This Spanish coastal gem is packed with exciting things to see and do that will take your breath away. From its historic monuments and museums to its beautiful parks and gardens, Alicante is sure to delight even the most seasoned traveler.
If you're a fan of art and architecture, you won't want to miss the chance to explore the city's many stunning landmarks, such as the Castle of Santa Barbara, the Santa Maria Basilica, and the Gravina Museum of Fine Arts. And if you're a foodie at heart, Alicante's local cuisine will leave you wanting more, with its mouthwatering paella, fresh seafood, and delectable tapas.
But don't just take our word for it! Experience the passionate culture and stunning natural beauty of Alicante for yourself by visiting local markets, attending cultural events such as festivals, concerts, and shows, and exploring the city's many charming neighborhoods. So come on over, and let Gay Alicante show you a good time!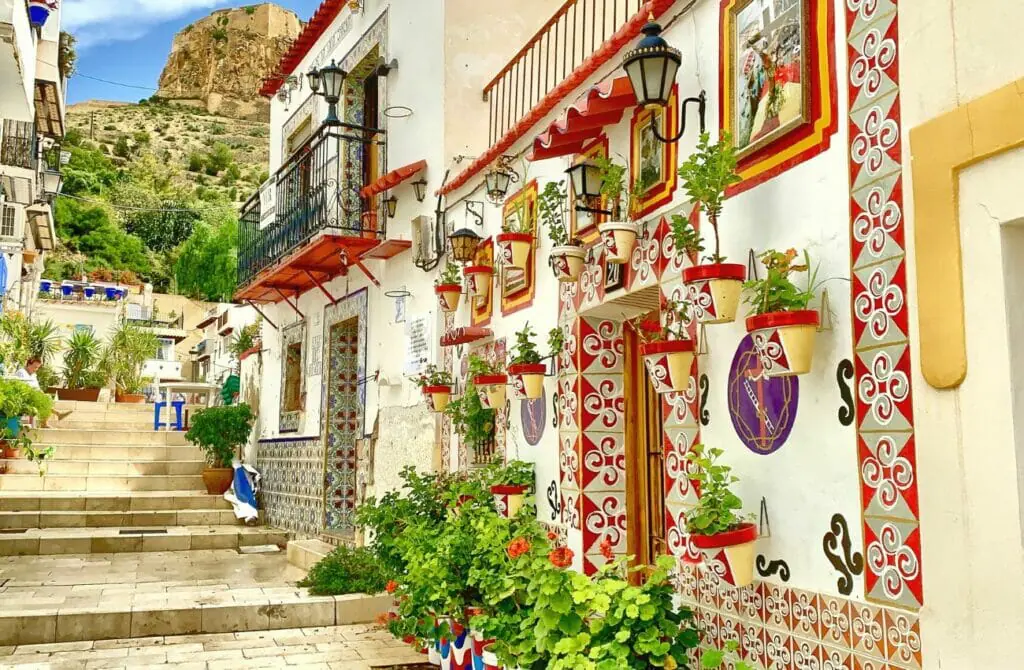 Punto Arcoiris Lgtbi San Vicentepunto Arcoiris Lgtbi San Vicente
A must-visit destination for any gay traveler visiting Alicante. This LGBTQ+ center is a safe space that offers a wide range of resources and support for the local LGBTQ+ community and visitors alike. Not only is the center a valuable resource for information on LGBTQ+ rights and issues in Alicante and Spain, but it also hosts a variety of events and activities throughout the year that are open to all.
The center is staffed by knowledgeable and friendly individuals who are dedicated to making everyone feel welcome and accepted. Whether you are looking for a place to meet like-minded people, need advice on LGBTQ+ rights and issues, or simply want to learn more about the community, Punto Arcoiris Lgtbi San Vicentepunto Arcoiris Lgtbi San Vicente is the perfect place to do so. Visiting this center is not only a great way to support the local LGBTQ+ community, but it's also an opportunity to gain a deeper understanding of LGBTQ+ culture in Spain.
The Castle dates back to the 9th century and it was built by the Moors, later it was taken over by the Christians and was used as a military fortress.
The castle has been well-preserved throughout the centuries and features a number of different architectural styles, including Gothic, Renaissance and Baroque.
Inside the castle, visitors can explore various exhibitions and displays that showcase the castle's history and significance, including artifacts from various time periods. Additionally, visitors can explore the castle's many towers, ramparts, and battlements, which offer some of the best views of the city.
The castle is also home to a number of gardens, including the Jardines de Santa Barbara, which is a popular spot for visitors to relax and enjoy the views. The Castle of Santa Barbara is open to the public and it is a popular tourist attraction in Alicante, it is a great place to learn about the history of the city and to admire the views of the sea and the city.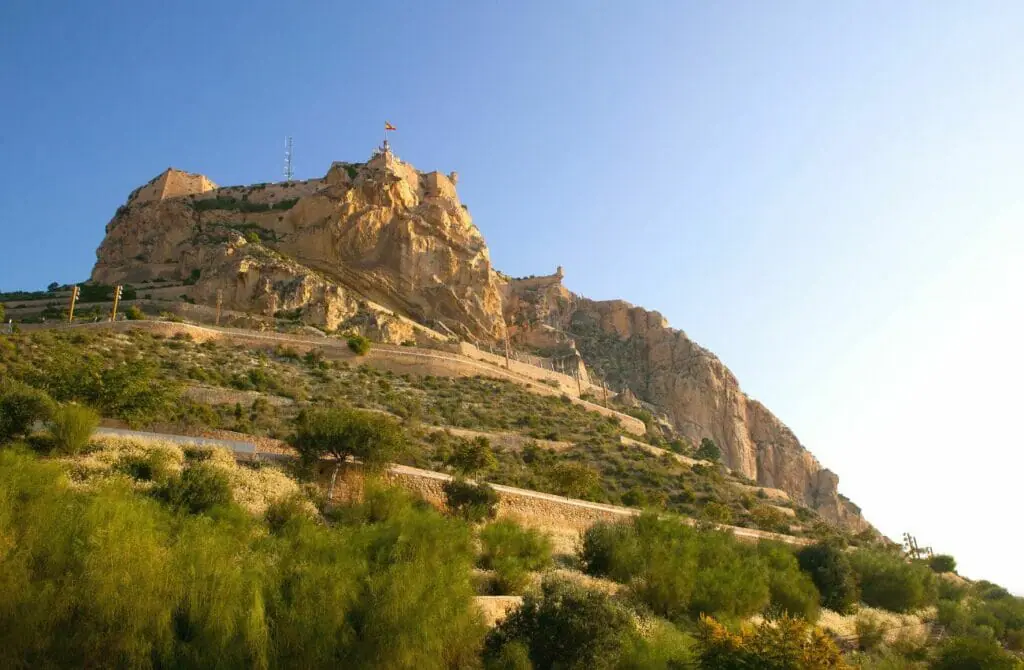 Archaeological Museum
The archaeological museum in Alicante, Spain is known as the MARQ (Archaeological Museum of Alicante). It is an important attraction for visitors interested in the history and culture of the region. The museum features a collection of artifacts and exhibits that showcase the history of Alicante and the surrounding area, from prehistoric times to the modern era.
Visitors can see a variety of artifacts such as ceramics, sculptures, jewelry, and other objects that give an insight into the different cultures that have inhabited the region over the centuries. The MARQ also has an archaeological park, which is located a few kilometers from the city center; it features a reconstructed Iberian settlement, where visitors can see how the Iberians lived during ancient times.
Explanada de España
The Explanada de España in Alicante is a popular tourist attraction in the city, known for its impressive mosaic pavement and stunning sea views. The promenade is a popular spot for walks, picnics, and relaxing on the beach. Visitors can also take a boat trip from the Explanada to admire the coastal views and see the city from the sea.
Along the Explanada, there are several cafes, restaurants, and ice cream parlors where visitors can enjoy a refreshing drink or a meal while taking in the views. The promenade is also home to several sculptures and monuments, including a statue of King Alfonso XIII, who officially opened the promenade in 1902.
Additionally, the Explanada is a popular spot for events and festivals, such as the famous Bonfires of San Juan Festival, which is celebrated every year in June with a big fireworks display.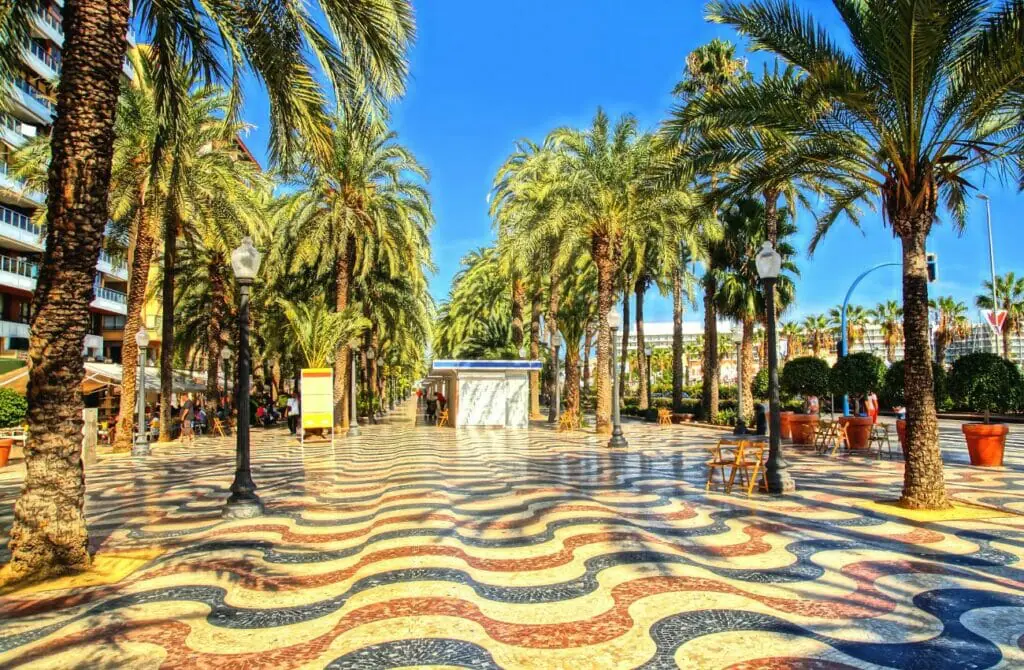 The local cuisine of Alicante, Spain is a major attraction for tourists visiting the region. Alicante is known for its delicious and diverse culinary offerings, which are influenced by both traditional Spanish and Mediterranean cuisine.
The region's proximity to the sea means that seafood is a staple in many of the local dishes, and the use of fresh, local ingredients adds to the overall quality and taste of the food.
One of the most popular local dishes in Alicante is paella, a traditional Spanish rice dish that is typically made with chicken, rabbit, and vegetables. The city of Alicante is famous for its "Paella Valenciana," which includes chicken, rabbit, green beans, and white beans as ingredients. This dish is a must-try for visitors looking to experience authentic Spanish cuisine.
Alicante also has a vibrant culinary scene that includes a variety of international restaurants, and local chefs are introducing new twists to traditional dishes. This gives visitors the opportunity to experience a diverse range of culinary options.
Postiguet Beach, also known as Playa del Postiguet, is a popular tourist attraction in the city of Alicante, Spain. The beach is located on the Mediterranean coast in the center of the city, making it easily accessible to visitors.
The beach is known for its fine, golden sand and crystal-clear waters, and is a popular spot for swimming, sunbathing, and water sports. There is also a promenade that runs along the beach, where visitors can take a walk, enjoy the sea views and relax.
The beach is equipped with all the necessary services such as showers, toilets, sun loungers and parasols, lifeguards and beach bars and restaurants. It is also accessible to people with disabilities.
The beach is also a popular spot for events and festivals, such as the famous Bonfires of San Juan Festival, which is celebrated every year in June with a big fireworks display.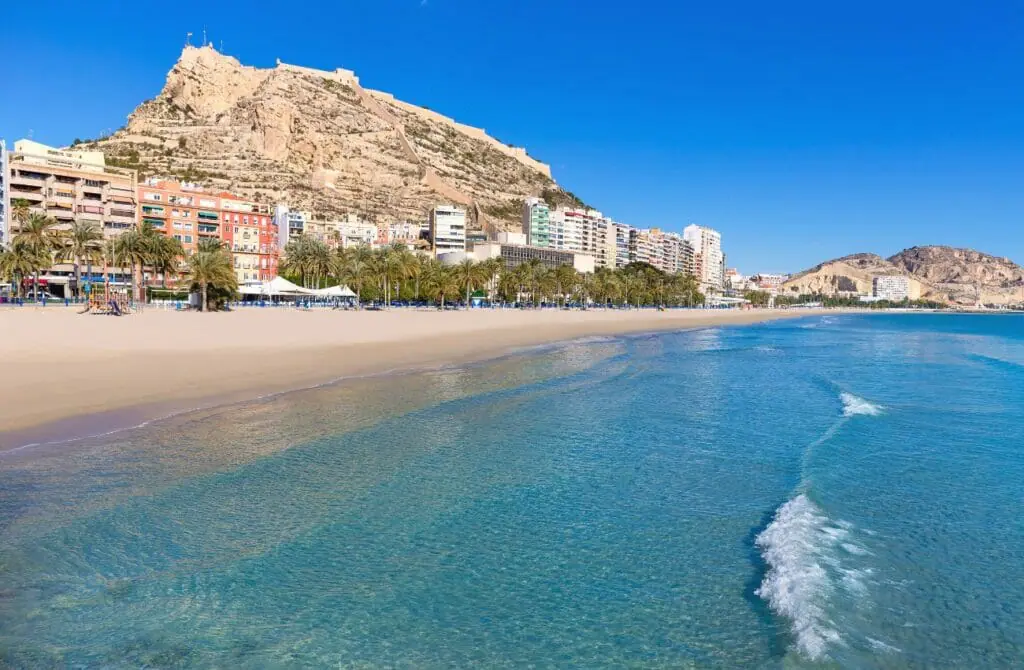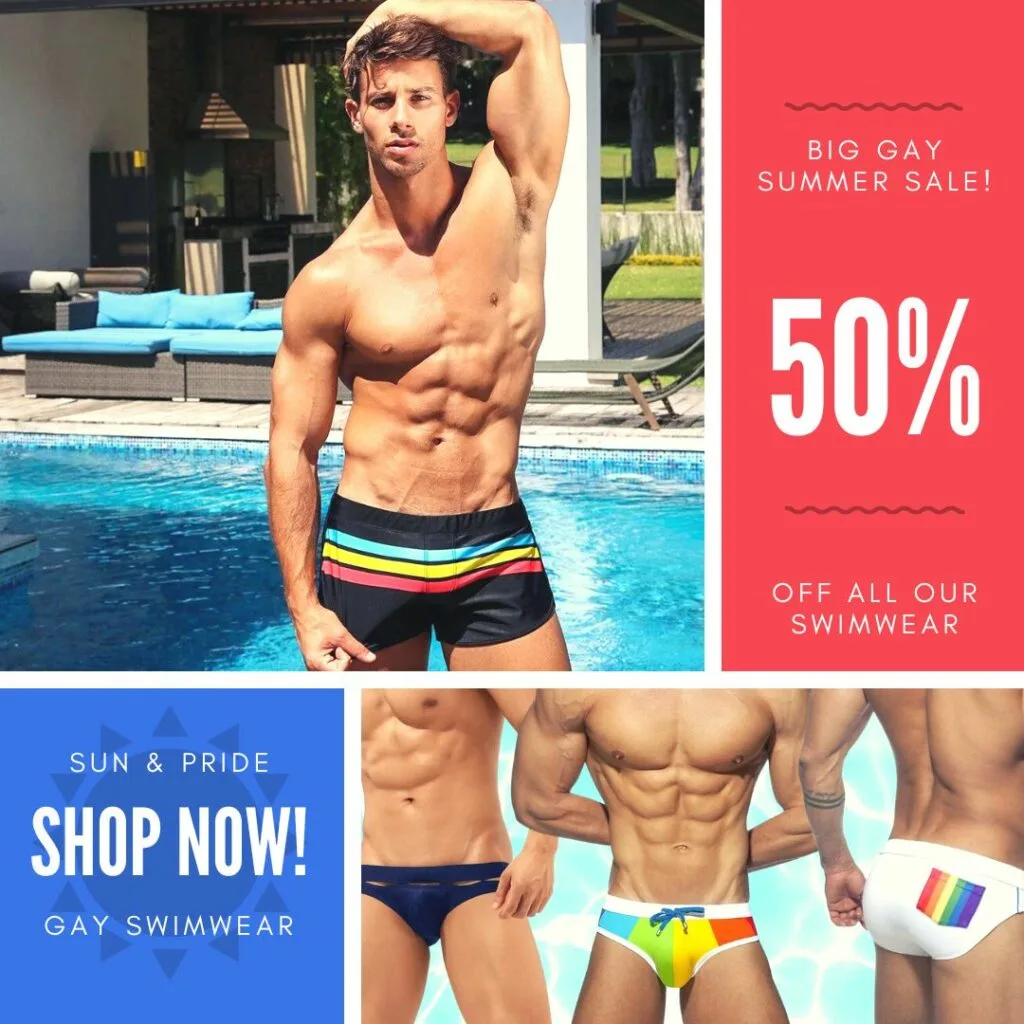 Boat trips have become an increasingly popular way for visitors to experience the best of what Alicante offers.
One of the most popular boat trips in Alicante is a tour of the island of Tabarca. This small island is located just a short boat ride from the city and offers visitors a glimpse of traditional Mediterranean life. The island is home to a charming fishing village and a variety of seafood restaurants that serve delicious local dishes.
Visitors can also explore the island's historic fortifications, which date back to the 18th century, and take a dip in the crystal-clear waters of the Mediterranean Sea.
Another popular boat trip in Alicante is a tour of the coastline. This type of tour allows visitors to experience the city's beautiful beaches and coves from a different perspective. The tour typically includes stops at several beaches and coves, giving visitors the opportunity to swim and sunbathe in some of the most picturesque locations in the area.
For those who want to experience the rich history of Alicante, a boat trip along the coastline to visit the Castle of Santa Barbara is a must. This medieval fortress sits high on a hilltop overlooking the city and offers stunning views of the sea and the city below. Visitors can explore the castle's many rooms and learn about its history and the role it played in the city's past.
The Basilica of Santa María is a Gothic-style church that dates back to the 14th century. It is located in the city center, at the top of the hill of Benacantil, which provides visitors with a beautiful view of the city and the sea. The church is known for its impressive architecture, including its pointed arches, ribbed vaults, and intricate stone carvings.
Inside the church, there are several chapels and altarpieces that are worth visiting, such as the chapels of the Virgen del Socorro and the Virgen de los Reyes, and the altarpiece of Santa María. Visitors can also admire the beautiful stained-glass windows, the Gothic cloister and the bell tower.
The Basilica of Santa María is an important pilgrimage site and it's also the location of the "Fiestas de la Santa Faz", which is celebrated every April, it's one of the most important festivals in Alicante.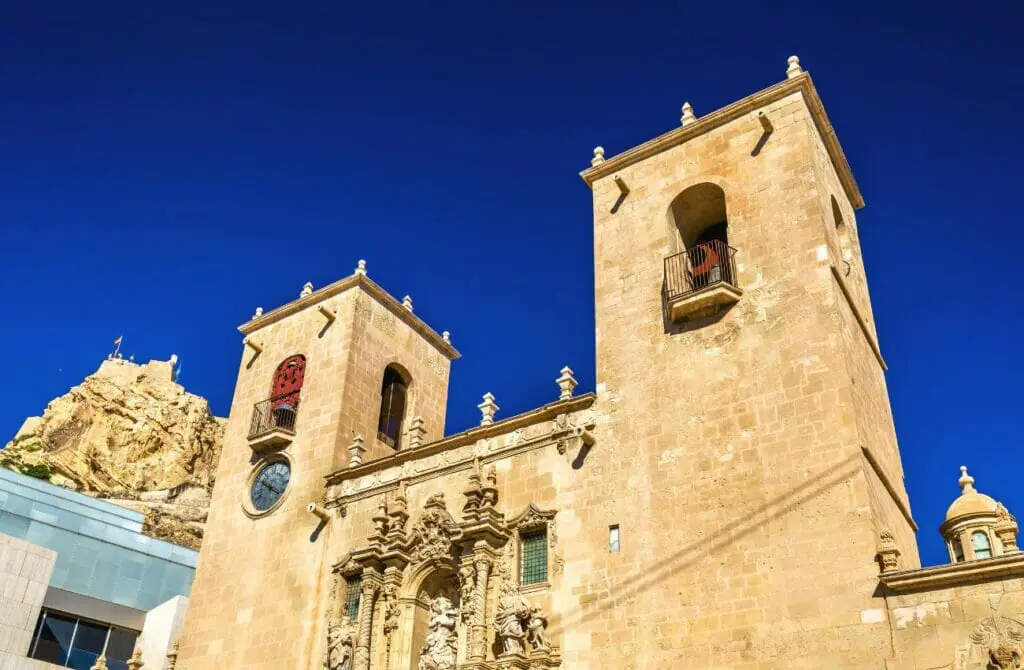 Contemporary Art Museum
The Contemporary Art Museum (Museo de Arte Contemporáneo) in Alicante, Spain, is a must-see attraction for art lovers visiting the region. The museum features a collection of modern and contemporary art, with rotating exhibitions that showcase the works of both local and international artists.
The museum is known for its interactive and educational programs, which offer visitors the opportunity to engage with the art in a meaningful way.
The building itself is a modern architectural masterpiece, with a large central courtyard that provides ample natural light and a sense of open space. The architecture of the museum is a perfect complement to the contemporary art that it houses, and visitors can enjoy the building as much as the art.
The museum's exhibitions are always changing, which means that visitors can return to the museum multiple times and always discover something new.
Elche Palmeral
The Elche Palm Grove (Palmeral de Elche) in Alicante, Spain is a UNESCO World Heritage Site and a popular tourist attraction. The palm grove is the largest in Europe, covering over 3.5 square kilometers and is home to over 200,000 palm trees.
The palm grove dates back to ancient times, and it is believed to have been created by the ancient Iberians and later expanded by the Romans. Today, it is an important cultural and historical site, with many of the trees believed to be over a thousand years old.
The palm grove is also an important ecological site, providing a habitat for a variety of plant and animal species. The palm trees themselves are an important source of food, shelter, and materials for many of the animals that call the palm grove home. The palm grove is also an important source of water, with many of the trees being fed by underground aquifers.
Visitors to the palm grove can explore it on foot or by bicycle, with several well-marked trails available. There are also guided tours available, which provide visitors with an in-depth look at the history, culture, and ecology of the palm grove.
In addition to the palm trees, there are also several important cultural and historical sites within the palm grove, including the Basilica of Santa Maria and the Palmeral Museum.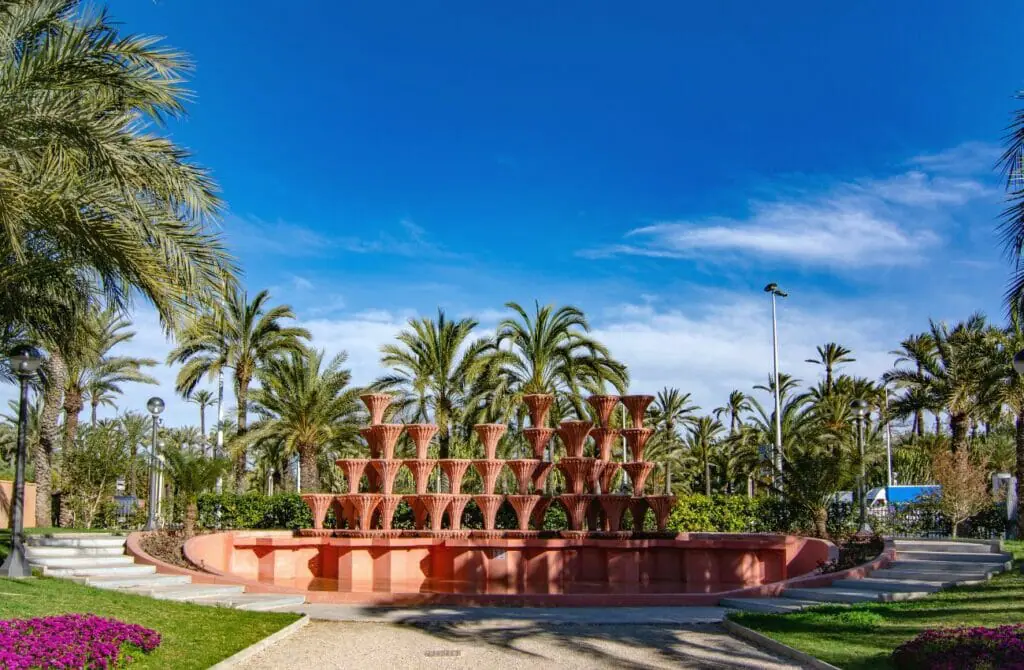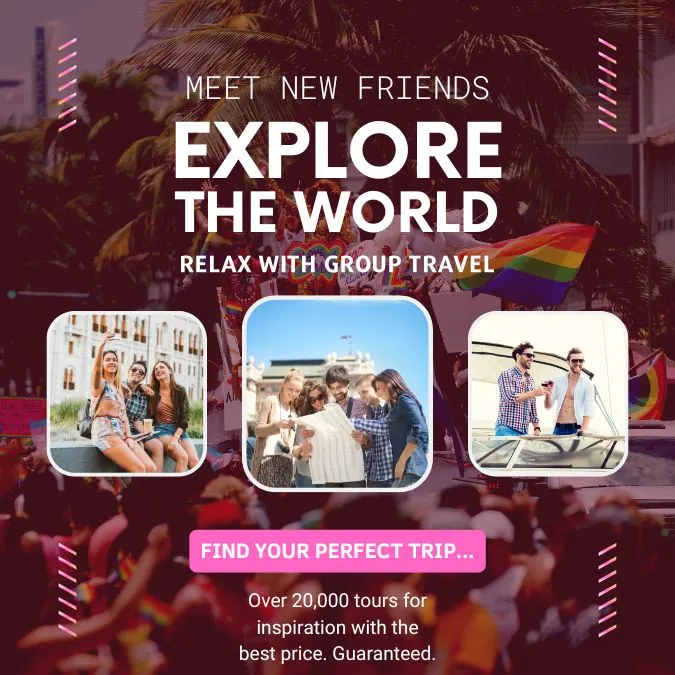 Gay-Friendly & Gay Hotels in Alicante
Are you seeking a luxurious and gay-friendly escape in Alicante? Look no further than these top-rated hotels that offer exceptional comfort, service, and a tailored experience for LGBTQ+ travelers.
These accommodations go above and beyond to provide an unforgettable experience, with stylish designer rooms, plush suites with stunning sea views, and plenty of amenities to make your stay unforgettable. Each of these hotels is a popular choice with gay travelers, and they are all located near the best daytime and evening attractions in Alicante.
From social and lively environments to intimate and exclusive atmospheres, these hotels cater to all tastes and preferences. Don't wait any longer to experience the ultimate in luxury and hospitality in Gay Alicante. Book your stay now and enjoy the best of what this enchanting city has to offer.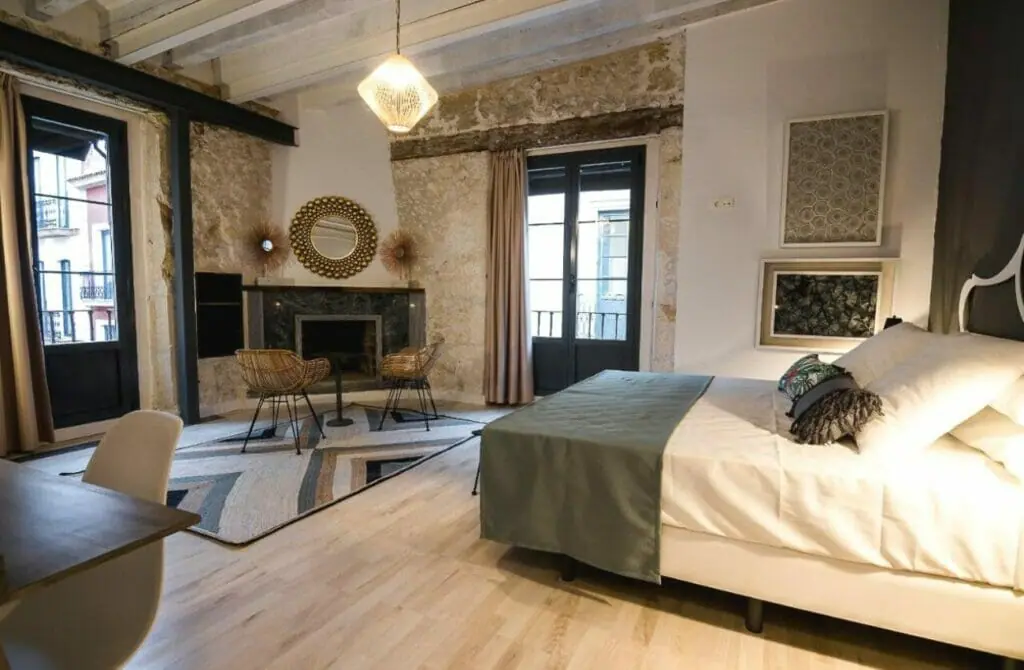 Hotel Boutique Alicante S.XVII ☆☆☆☆☆
A unique hotel that places a priority on maintaining customers' peace of mind. In the center of Alicante, close to the Mediterranean, this hotel has 17 rooms, and its dedication to providing guests with a compassionate and direct experience makes this hotel one of the best in the city. This haven welcomes everyone and is situated on a winding street outside a cathedral.
The stylish rooms have exposed stone walls and ceiling beams. Upgraded accommodations come with additional living spaces and/or balconies with views of the ocean. There is a bar, a restaurant with rustic decor, and a furnished terrace with cathedral views.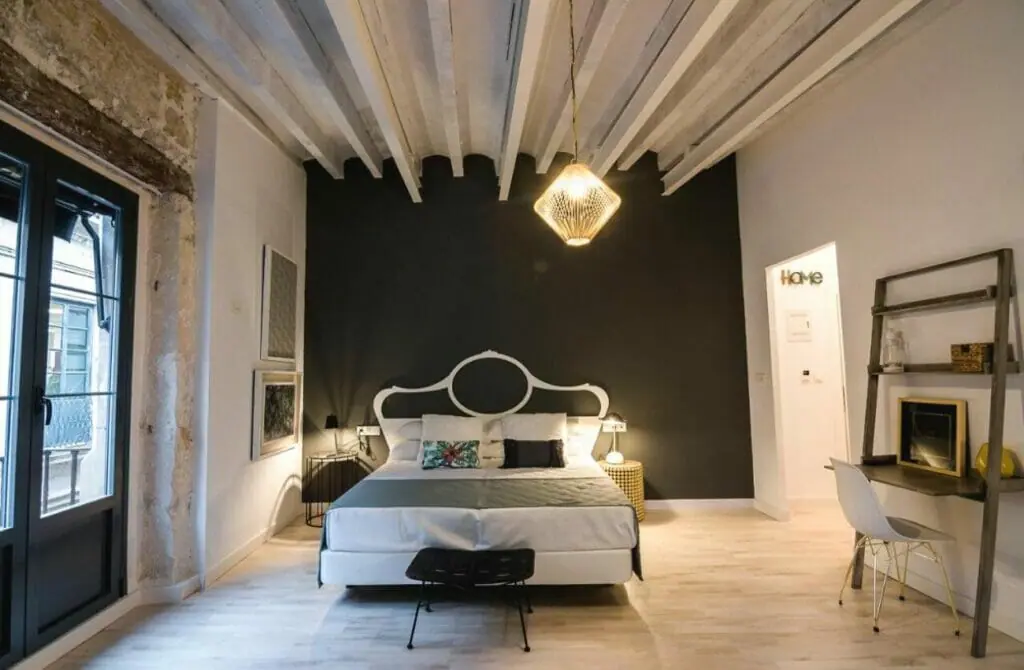 A sleek, residential area of the city is home to the NH Alicante hotel. With the city core nearby, you may have a tranquil stay here. Elegant, contemporary neutrals with bright red accents are used to design the rooms. It has a rooftop pool from which, in the summer, you can see the Santa Barbara castle.
You are also welcome to use the gym to exercise. A spa area with a Jacuzzi and a sauna is also included. And for meals, there is a restaurant, which offers contemporary Mediterranean cuisine, as well as a bar and patio, which are open in the summer.
AC Hotel by Marriott Alicant ☆☆☆☆
The Castillo de Santa Bárbara, a 9th-century castle, is 4 miles from this laid-back hotel. The contemporary rooms and suites offer Sea views. A modern Mediterranean restaurant/bar, a hammam, a rooftop pool with castle views, a fitness facility, and a business center will definitely make staying here pleasant.
Close to the center of the city of Alicante with excellent communication, by public transport, Bus and Tram. This amazing hotel is set in a quiet privileged environment. Its fully equipped rooms hold all the basic amenities and more. Its decor is flush with striking eye-catching pieces that draw you in without you realizing it. They completed their facilities with an outdoor swimming pool and a cafeteria with a terrace.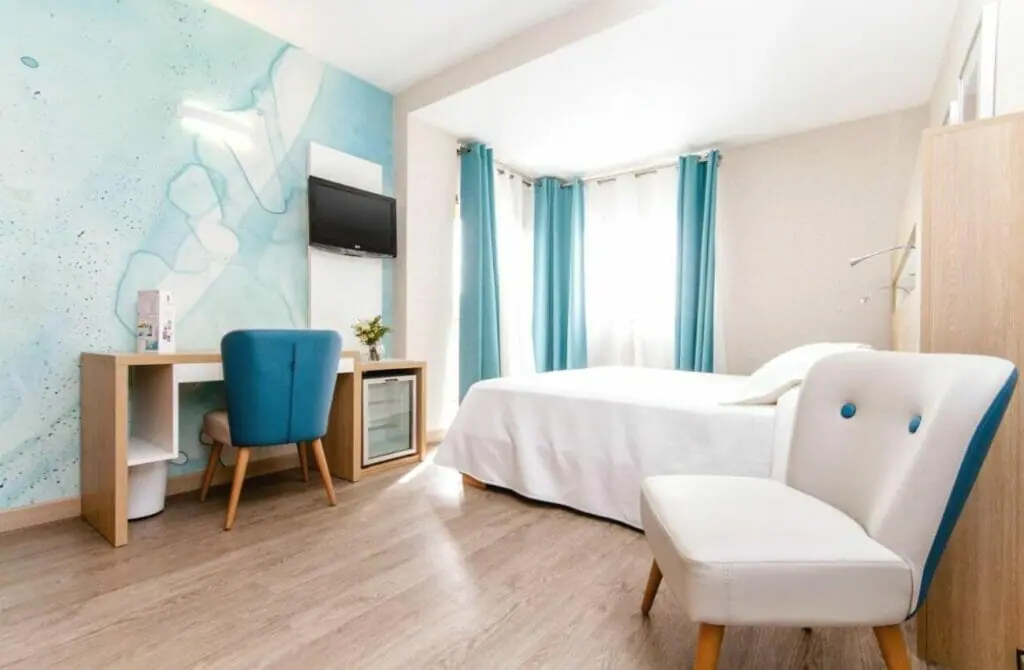 This recently constructed hotel is located in the center of the city, close to the Central Market. It gives you a wide range of high-quality amenities that will make your time in Alicante a wonderful memory.
The Hotel La City Mercado contains 30 rooms, all of which are furnished with essential amenities. Its extensive and tasty buffet breakfast will give you the energy to start the day, and you can also enjoy a coffee in the bar before venturing outside to see the lovely city of Alicante.
In the heart of Alicante, close to Postiguet Beach and the Central Market, is where you'll find Hostal La Lonja. The single or double rooms come equipped with a full bathroom (shower or bathtub), television, heating, and air conditioning.
It is obvious that they strive to make their guests' stay in Alicante as comfortable as possible at Hostal La Lonja. So from the minute, you make your reservation until the last night of your stay you are sure to enjoy every second of it.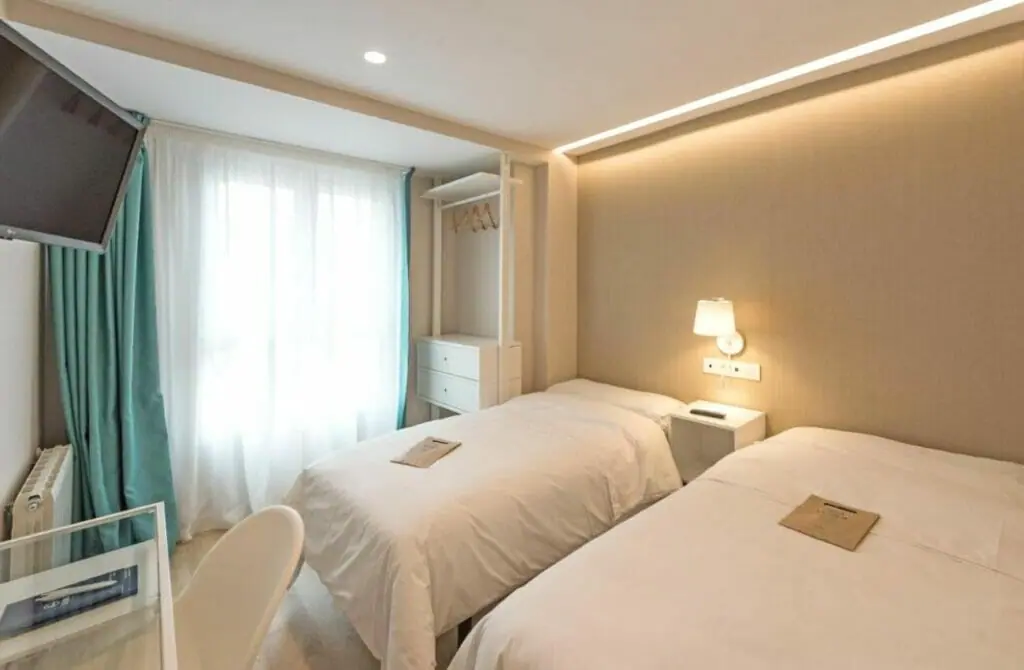 Gay Nightlife in Alicante
As a gay nightlife aficionado, you won't want to miss the electric atmosphere of Alicante's queer scene. This coastal Spanish city has a vigorous and colorful LGBTQ+ nightlife, with options for every taste and style. Whether you're in the mood for dancing, chilling with friends over a drink, or checking out some local drag shows, Alicante has got you covered.
The gay nightlife in Alicante typically starts a bit later than in other cities, with bars and clubs really getting going around midnight. The party goes on until the early hours of the morning, so pace yourself if you plan on experiencing it all – and take your best clubwear if you want to stand out, cause honey, these are some high-end gays here.
When you're out, be sure to check out the smaller gay bars and cafes in the historic center of town, as well as the larger gay clubs on the outskirts of the city. Alicante's queer scene is a mix of locals and visitors, creating a welcoming and inclusive environment where you'll be sure to make new friends and have a great time.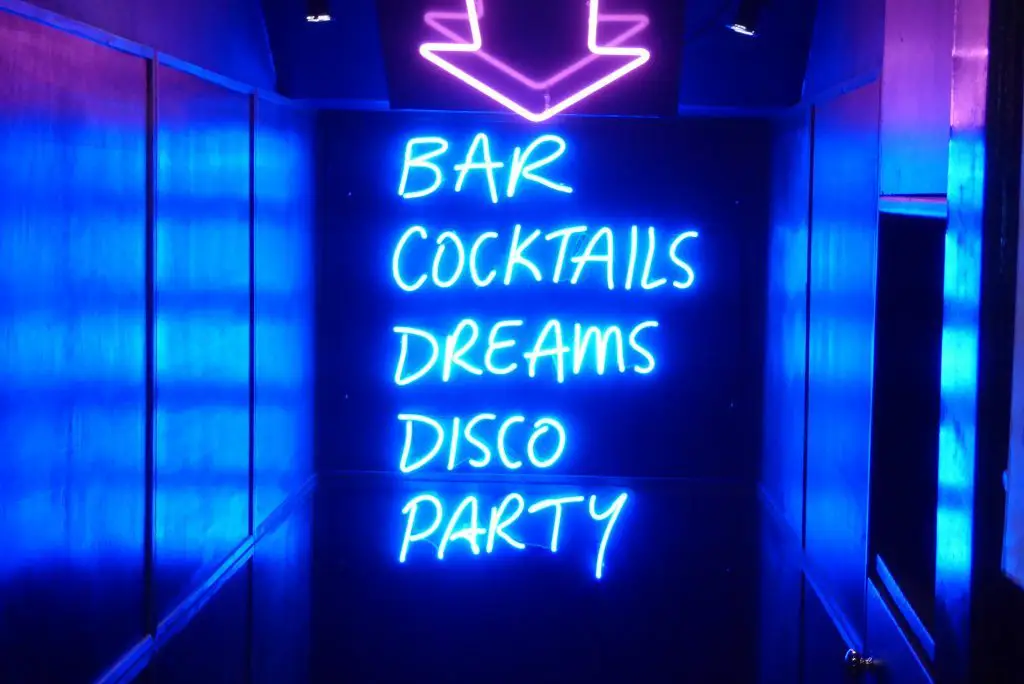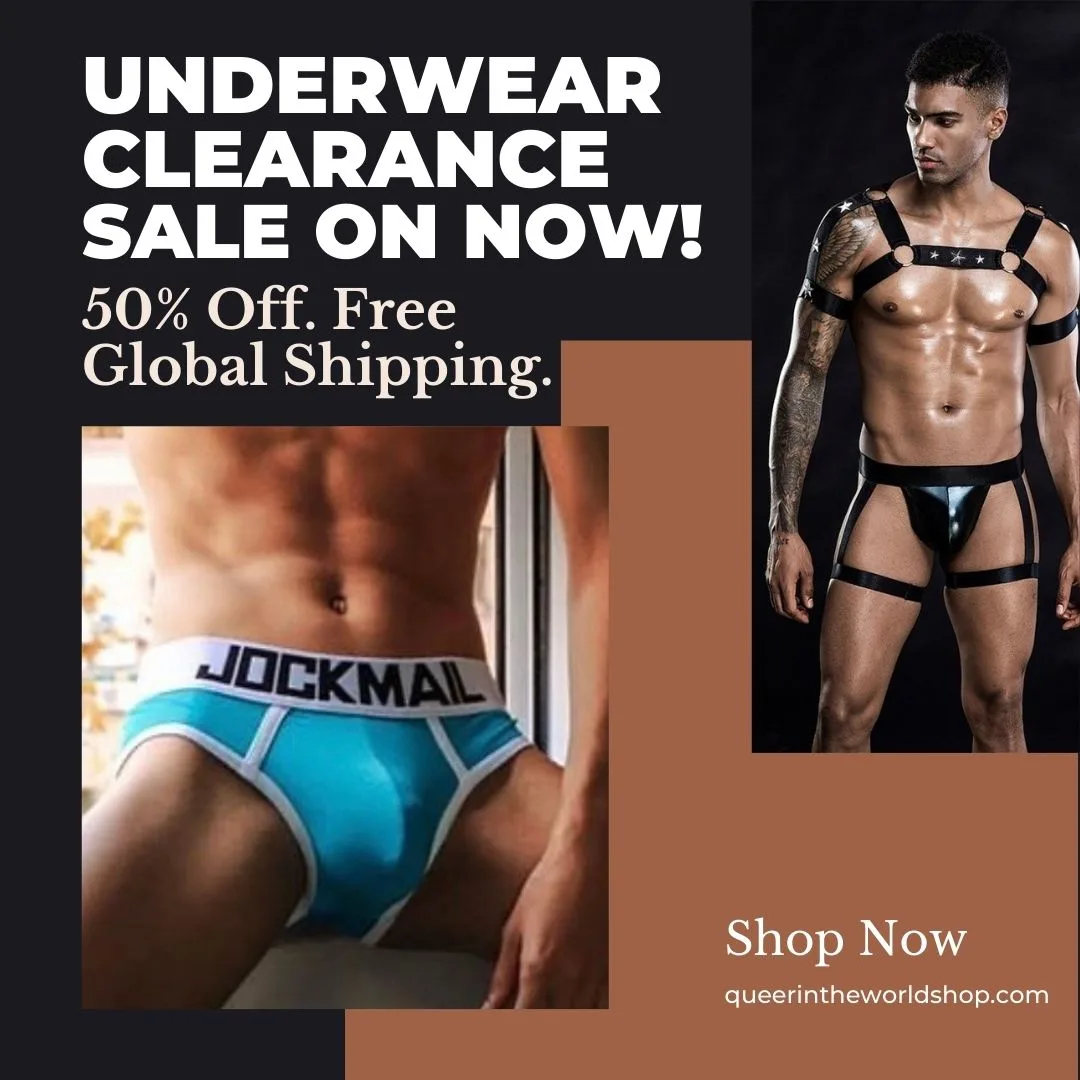 Gay Bars In Alicante
This is a gay cocktail bar. If you want a serene and chill environment amidst the buzz of gay Alicante, go there. Their cocktails are to die for and the music just swirls you into a pleasant nightlife.
One of the best things about Manikí is the variety of events and activities that take place there throughout the week. From drag shows and karaoke nights to themed parties and live music performances, there's always something happening to keep you entertained. It's the perfect spot to let your hair down, make new friends, and dance the night away.
Here is a bar where you can have food and drinks or just dance with friends. The pub is an LGBTQIA+ landmark in Alicante and is situated on the city's main promenade. You'll adore the laid-back music, wonderful ambiance, and cozy furnishings. The mixologist is an expert and creates fantastic drinks based on your preferences. gay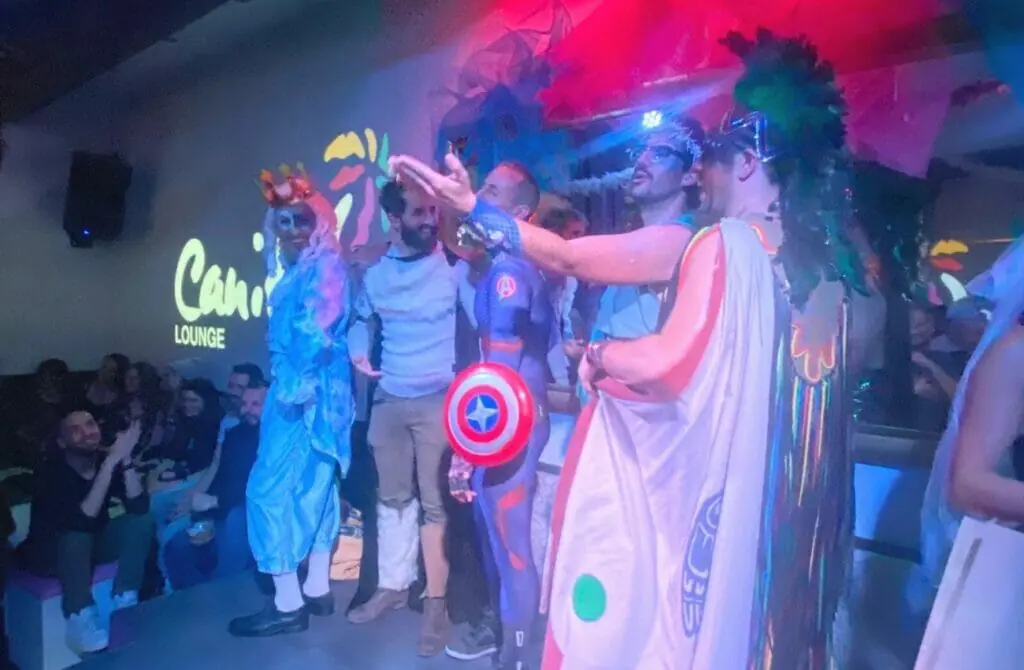 Things get a little wild here but just go with it. Dark is a gay cruise bar in this amazing city. They host regular events such as underwear parties and dark Fridays with the DJ. Keep an open mind in this bar, you will need it – along with your best jockstrap.
This is a small gay drag show bar that has been hosting shows in the middle of the old town of Alicante since 1998. You will have a great time and they also serve some of the most amazing beers you'd ever taste. You have to go here.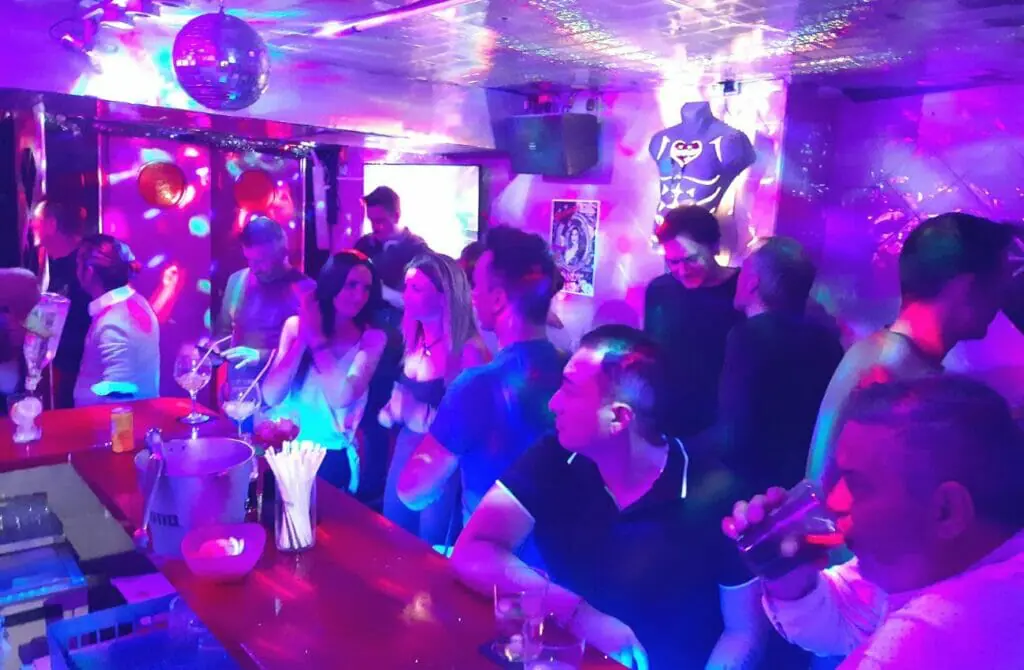 This is a two-floor bar that has electro music blasting through the speakers on each floor. You can not sit for a second, not because there aren't sofas and bar stools, but because the music is too good.
We recently changed the atmosphere a bit, added a drag queen on the weekends, played some funky house top music, and introduced Estrella Galicia on a draught (elected Spain's No. 1 beer), and it's working great. See for yourself when you visit!
This precious gem hides just outside of Alicante in nearby Benidorm. They are known for the best tapas in all of Alicante and their food is cooked from scratch. However, they do not have a serving menu so you have to call beforehand to know what they are serving. But whatever it is, trust that it would be amazing.
La Cupula Azul is yet another fantastic location for a fun time, with the best entertainment and drag performances in the area. This establishment, one of the city's oldest gay pubs, is situated in the heart of Alicante. It is well known for its cabaret and drag shows (every Thursday night). Here, you and your friends will have a blast dancing, drinking, and having a great time!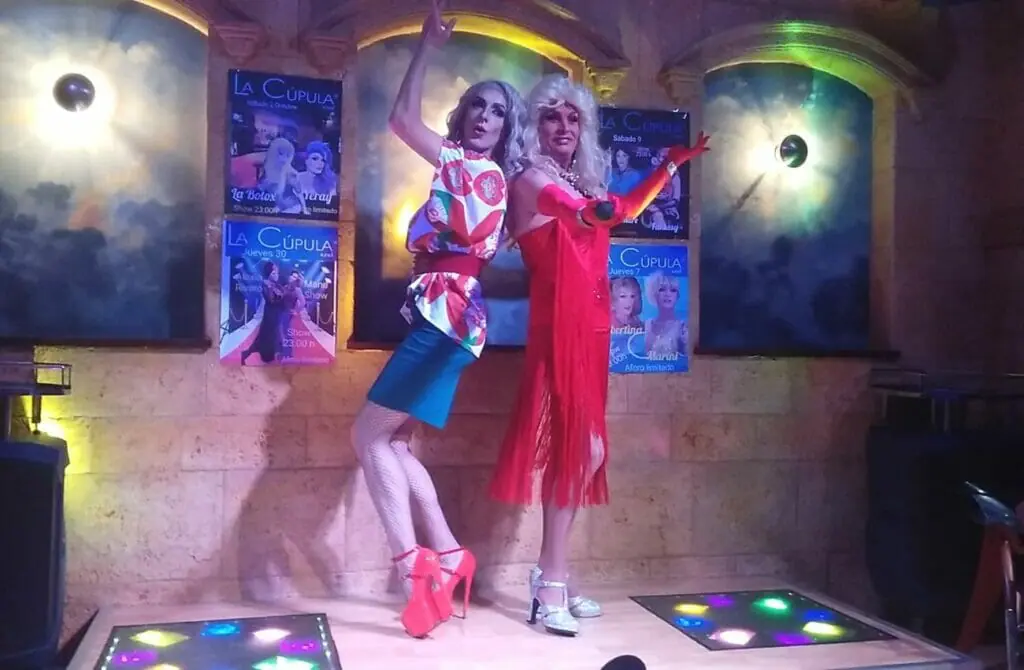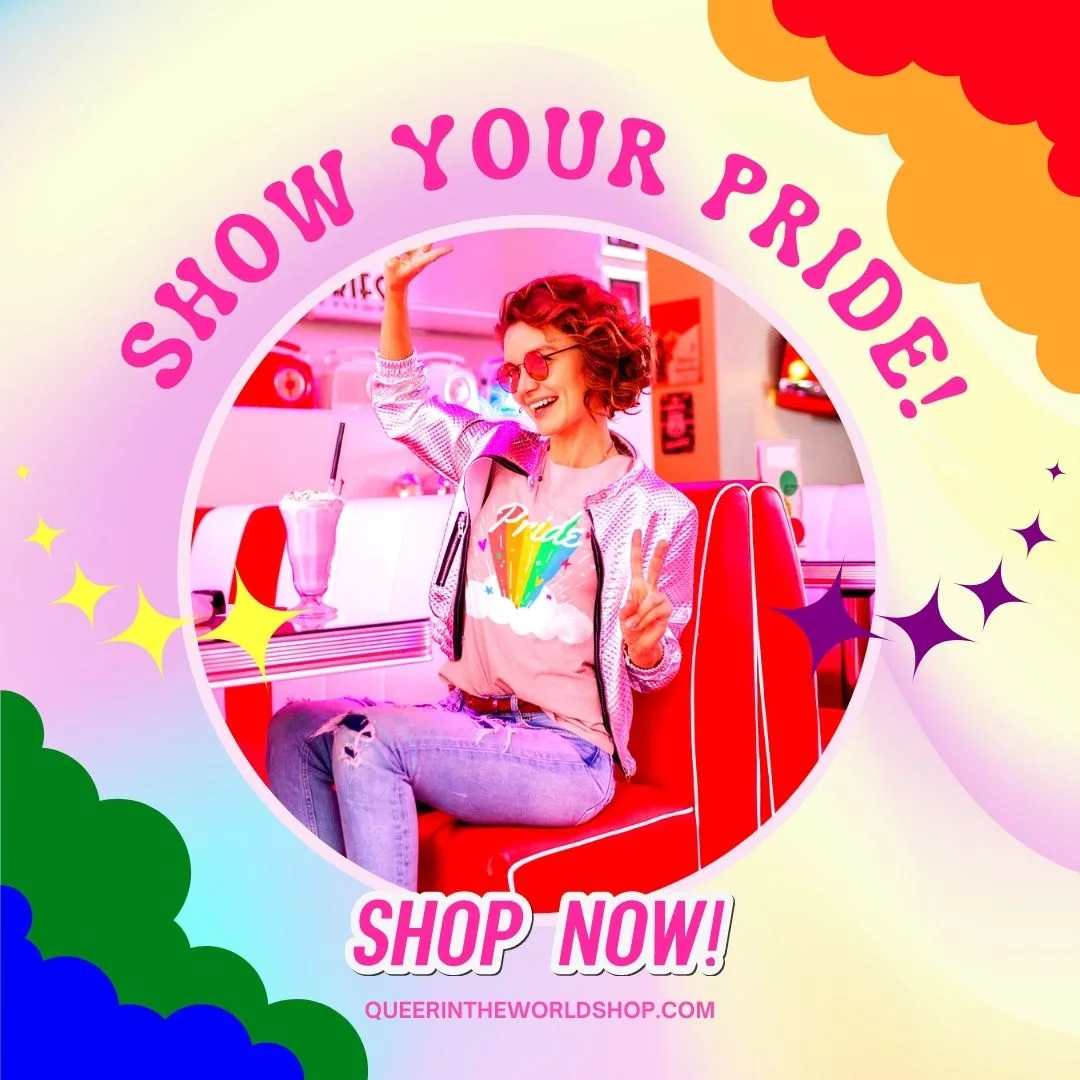 Gay Clubs In Alicante
The Mother Club is a wonderful place if you're looking for a welcoming environment for LGBTQIA+ people. Spend some time with your buddies or potential dates in Alicante's old town.
Every night at the club is different, and there are drag acts, themed parties on important occasions, the top DJs, and more to look forward to. The bartenders are welcoming and may recommend some tasty cocktails and cold drinks to try.
This is a private club, but it opens its doors to new folks. It is a modern stylish club set in the prime square of Alicante. Its menu is as inviting as the cool colors on its walls. It is relatively new to Spain but you have to have this on your itinerary.
Head to this rowdy bar if you're in a large party looking for inexpensive fun. Drink specials are plenty. Sure, picking the gay will be more difficult here, but it's worth it when the crowd is as young and lovely.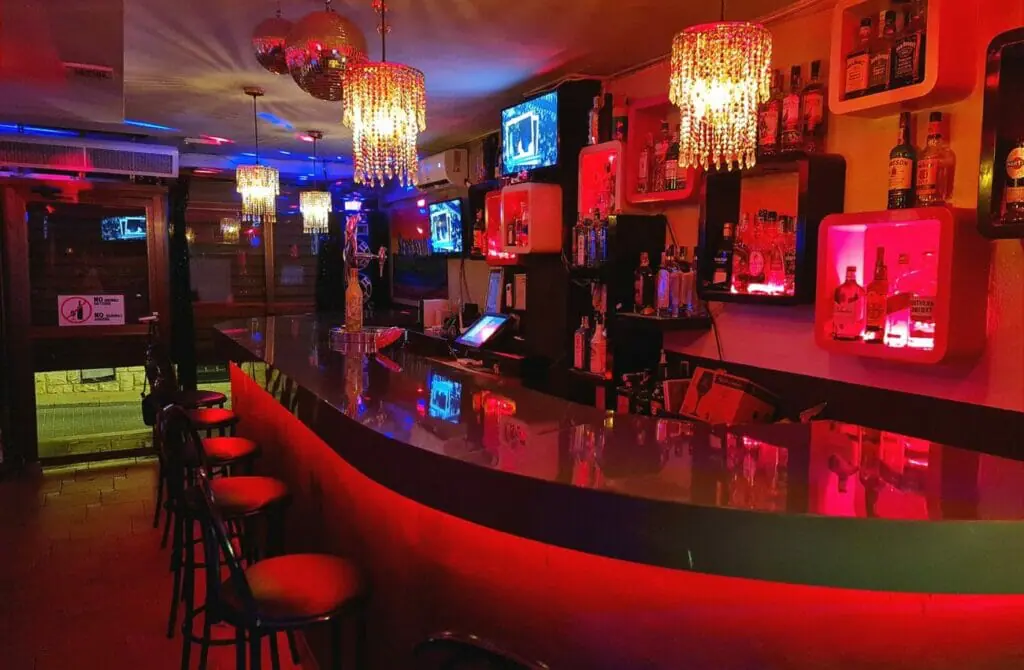 Cruising and Gay Sauna in Alicante
When traveling to a new city, it can be exciting to head out for more than just a stiff drink. One aspect of the Gay Alicante scene that many queer men enjoy is visiting gay saunas and cruising clubs.
Sure, the sauna culture in Alicante is not as hedonistic as in Amsterdam, Barcelona or Berlin, but these venues still offer a chance to meet new people, socialize, and engage in sexual activity – without resorting to gay hook-up apps. However, it's important to keep in mind that these venues can vary greatly in terms of atmosphere, clientele, and rules, so it's a good idea to prepare yourself before visiting. If you are apprehensive, we advise studying our guide to visiting a gay bathhouse for the first time, which should help set your mind at ease, and always practicing safe sex.
Additionally, it's important to be aware of and respect local laws and customs regarding gay venues and sexual activity. With a little bit of planning and an open mind, visiting gay saunas and cruising clubs can be a fun and exciting part of your gay Alicante travel itinerary.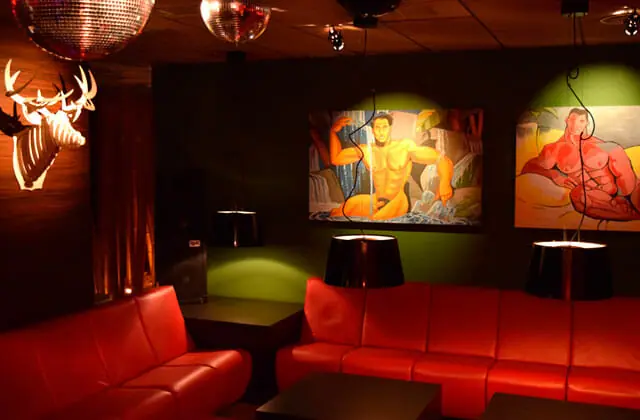 Pikante Sex Shop Cabinas & Cruising
A popular gay-friendly sex shop where you can pick up lube, condoms, essential gay sex toys or even a butt plug if you forgot yours at home. There are also booths at the back and a XXX cinema, so – needless to say – this is one of the best gay cruising spots in Alicante.
This is a steamy sauna club that attracts middle-aged men and the after-work cruising population. It is decor spotlights a new male sauna concept that is just marvelous. On Saturdays, they host a naked-themed party. It has everything a gay sauna has and an urban spa. Its massage sessions can end with a happy ending if you wish.
In Alicante's quarter, Carolinas Bajas, this superb sauna promises a relaxing and great time. The decor is warm and the boys are even warmer. Be sure to check their site for offers and events before going so you can be prepared for what's to come, but be rest assured that you'd love it.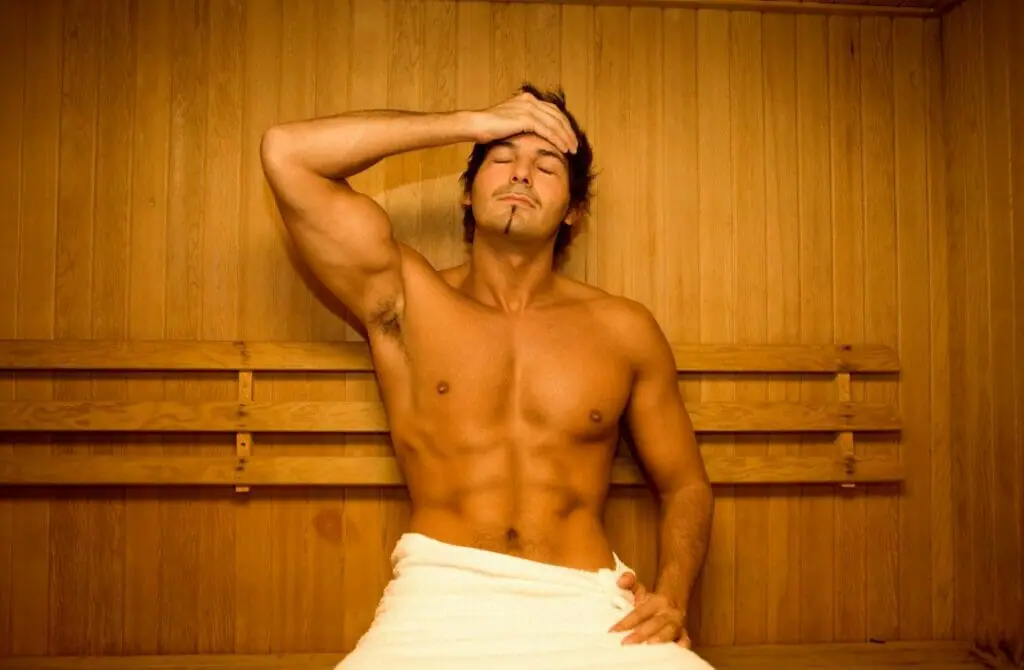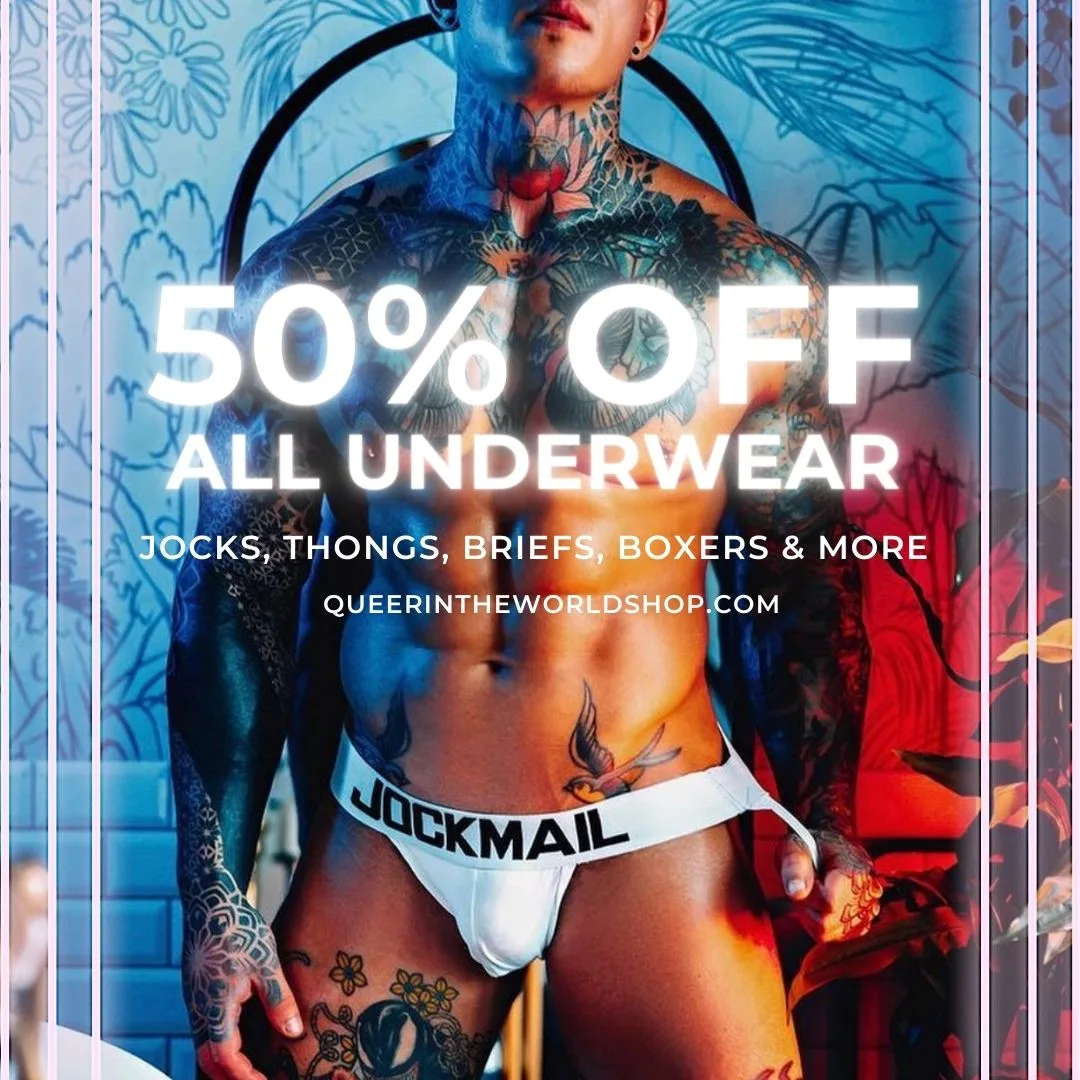 Gay Map Of Alicante
Finding it hard to envisage where everything is in Alicante? Hopefully, this queer-centric map helps where we have marked all the bars, clubs, parties, hotels, saunas, massages and more will help you stay in the spot best suited to you!