Well, hello there, darling! Looking for a fabulous destination that's just as passionate and colorful as you are? Well, let me tell you, there's no better place than Gay Naples for a queer adventure, sitting under the shadow of one of the most infamous volcanos in Italy, responsible for the destruction of Pompeii and Herculaneum in 79 AD.
Now, I know what you're thinking. "Naples? Really?" But trust me, this city has more sass and style than you can shake a feather boa at! From its stunning architecture and rich history to its thriving nightlife and welcoming queer community, Naples is a true hidden gem of southern Italy.
Let's start with the basics, shall we? When it comes to gay life in Naples, you'll find a scene that's both lively and laid-back. There's a bit of something for everyone here, whether you're in the mood for a cozy wine bar, a wild dance club, or a relaxed afternoon at the beach.
As for where to find all this fabulousness, you'll want to head to the historic center of Naples, where you'll find the bulk of the city's gay bars and clubs. Places like Il Paradiso degli Orchi and Rendezvous will have you shaking your hips until the wee hours of the morning, while more low-key spots like Le Stanze and Lato G will offer a chance to chill and chat with locals and fellow travelers alike.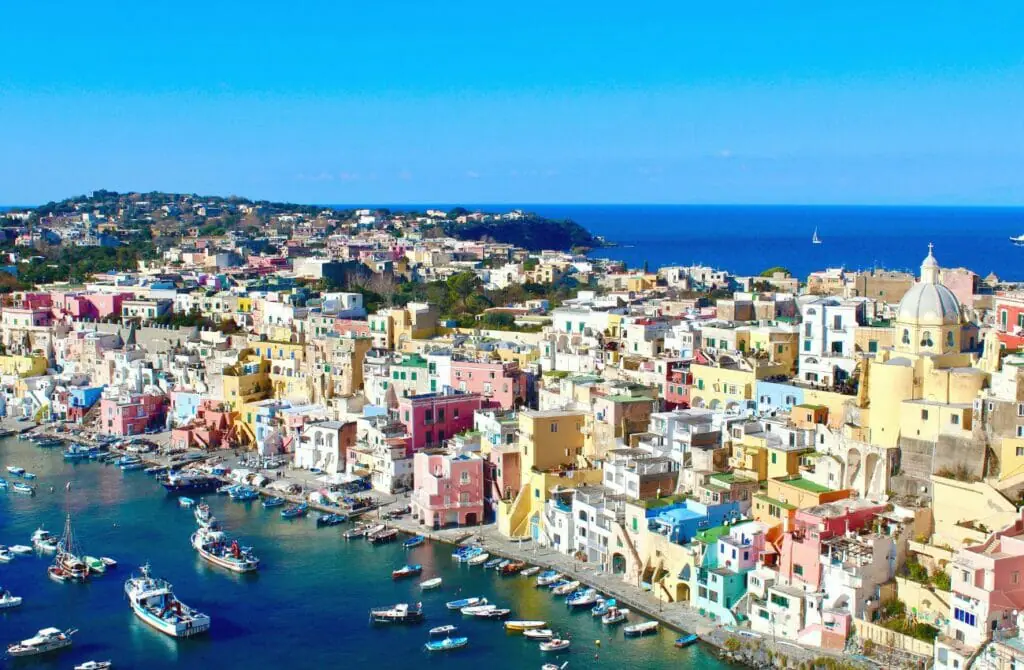 But there's more to Naples than just its nightlife. This city is also home to some of the most breathtaking architecture and art in all of Italy, from the ornate churches and palaces of the historic center to the stunning views of Mount Vesuvius and the Bay of Naples.
And if you're a bit of a history buff, you'll be pleased to know that Naples has a rich and colorful gay history, too. Did you know that the famous composer Tchaikovsky was rumored to have had a passionate affair with a young Neapolitan nobleman? Or that the poet and philosopher Friedrich Nietzsche spent some of his happiest days here, surrounded by the city's spirited culture and colorful characters?
So, whether you're looking to dance the night away, explore the city's stunning sights, or delve into its rich history and culture, Gay Naples is the perfect destination for any queer traveler with a taste for the fabulous. Come see for yourself why this hidden gem is quickly becoming one of Europe's hottest gay travel destinations!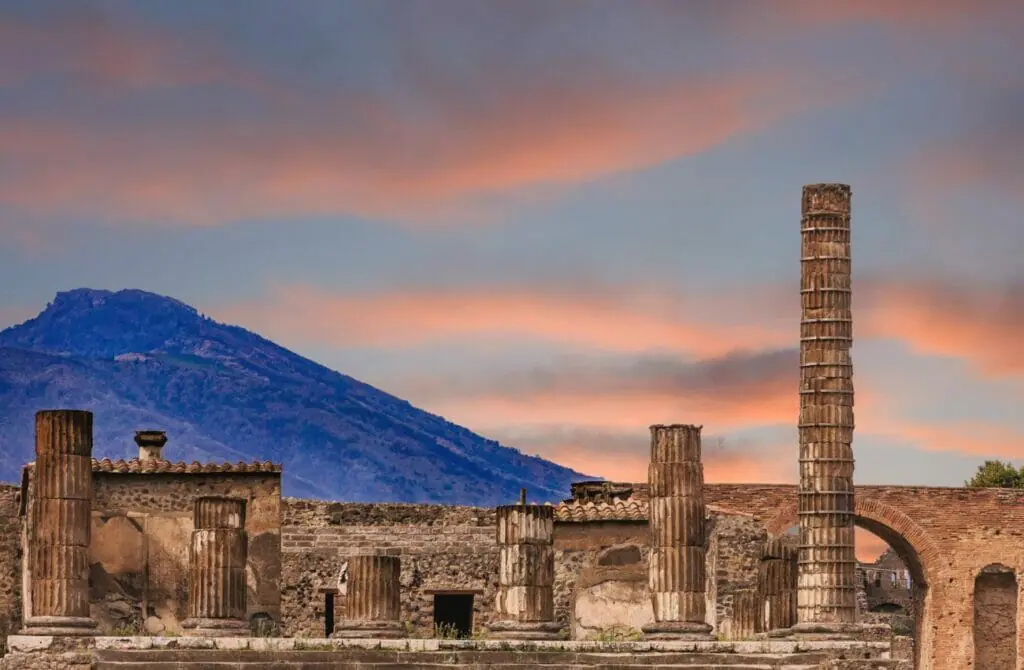 Attractions in Gay Naples
let me tell you that Gay Naples is a city that has it all! From jaw-dropping architecture to mouth-watering cuisine and a thriving queer scene, this southern Italian gem is not to be missed.
When it comes to exploring the city's iconic landmarks, you won't want to miss the majestic Royal Palace of Naples, which boasts stunning Baroque architecture and incredible frescoes. The Castel dell'Ovo, perched on a picturesque peninsula, is also a must-see for its rich history and breathtaking views of the Bay of Naples. And no visit to the city would be complete without a stroll through the ancient ruins of Pompeii, where you can walk the streets of this ancient city and get a sense of life as it was almost 2,000 years ago.
But let's talk about the food, honey! Naples is known for its delicious and hearty cuisine, from the classic pizza margherita to the mouth-watering ragù alla napoletana. Be sure to try some of the city's iconic street food, like arancini (fried rice balls) and cuoppo (a cone-shaped paper filled with fried goodies). And don't forget to indulge in the city's famous pastries, like the fluffy and delicious sfogliatella.
Of course, no trip to Naples would be complete without experiencing the city's unique and vivacious queer scene. The historic center of Naples is home to a variety of gay bars and clubs, from the lively and colorful Il Paradiso degli Orchi to the more relaxed and intimate Lato G. You'll find a warm and welcoming community here, where locals and visitors alike come together to dance, drink, and celebrate life.
But what really sets Naples apart is its unmistakable energy and spirit. This is a city that lives and breathes with passion and intensity, from the bustling markets to the lively piazzas. Here, you'll find a city that is truly like no other on earth, where the sights, sounds, and flavors are as bold and vibrant as the people themselves.
So, whether you're exploring ancient ruins or indulging in the city's famous cuisine, Gay Naples is a destination that is sure to captivate and delight. Come experience the energy and excitement of this unique and unforgettable city, and discover for yourself why it's one of the hottest gay travel destinations in all of Europe.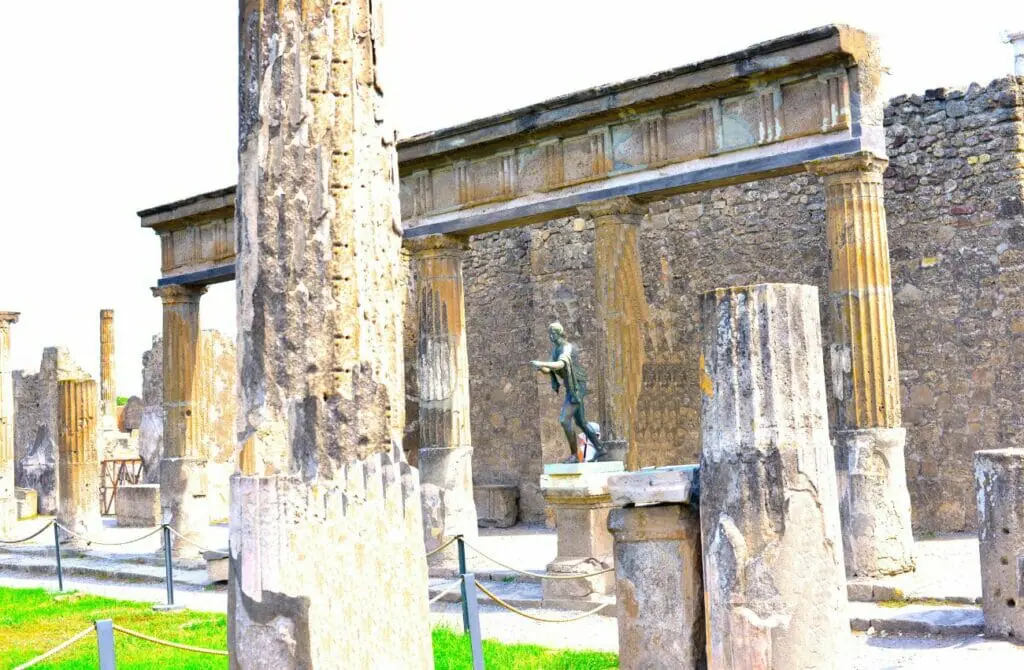 Tour Naples Historical Center and Underground Naples
Take a small-group tour of the historical center in Naples and the underground ruins of the city that is rarely seen. This six-hour tour will go beyond the history of pizza, looking at this beautiful place's history from an art historian's eyes.
Discover the ancient streets where Greek playwrights walked or philosophized in courtyards, numerous excavations, piazzas and cathedrals, and a chance to grab a slice of pizza even if it's not the be-all of this tour.
If you're after a slice of sweet history, Gay Odin is a chocolate shop operating since 1894 in Naples. You can find this delightful shop in various places over the city, open until 8 pm and at night. So if you want a sweet evening snack, you highly recommend you check out this gay-named but not gay store.
Travel the old part of Naples as you try exquisite food and see incredible sights. This walking tour starts in Sorrento, a coastal town overlooking the sea of Naples and a natural place, to begin with, its stunning city views.
Next, you will walk past the Royal Palace Museum of Naples, a regal victorian building built in 1858, and then advance to the church of San Francesco di Paola in Piazza del Plebiscito constructed in 1836.
Once you arrive at the Galleria Umberto I, you can wander around its interior and take in a monumental structure from 1891 and then onwards to the Teatro di San Carlo, Europe's oldest opera house, built in 1737. Finally, you'll arrive at the Pignasecca street market, where you can taste your first delicious street food. This is just a sample of what you'll see on this tour, so it is worth it.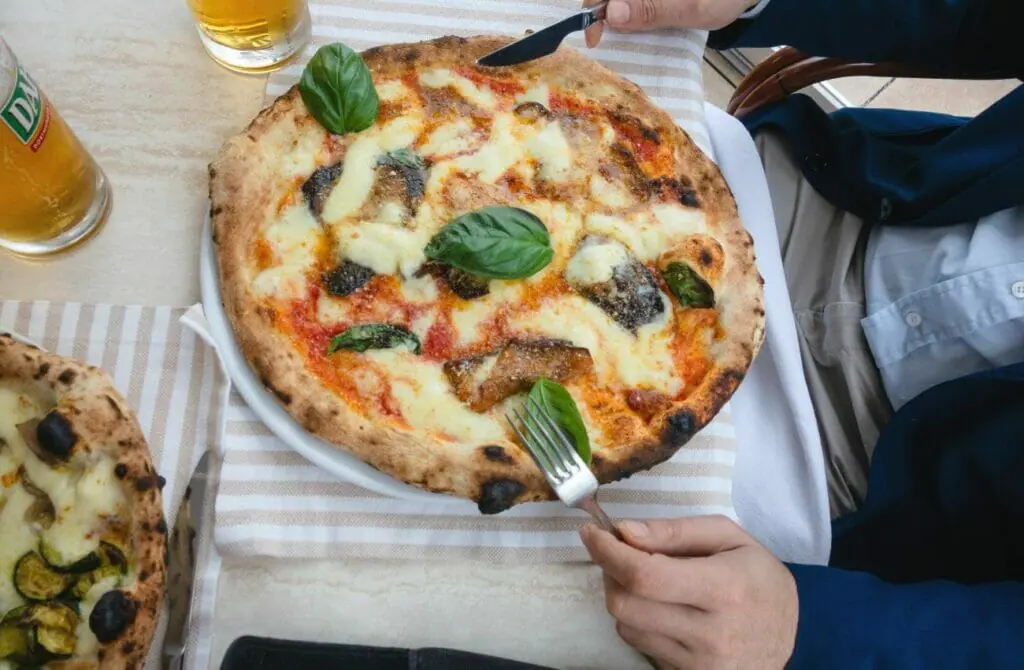 Day Trip From Naples to Matera and Back to Naples
A day trip to Matera is something you should consider when you visit Naples because not only is this mountainous city one of the oldest in the world, the unique architecture and cave hotels make it different from all others in Italy. Key attractions in this town include the Sassi di Matera, ancient cave dwellings that are 10,000 years old, and numerous Byzantine-style churches and buildings.
National Archeological Museum of Naples
Napes has a rich history with over 2,000 years of archaeology to experience in your travels around and outside the city and their archaeological museum. Experience not just the grand exhibition halls of this impressive Victorian building but the countless exhibits and collections of ancient artifacts.
The most prominent part of their collection is the large mosaic of Alexander representing his battle against Darius III of Persia, dated to 100 BC.
If you're after a bit of a crash course to Naples at night before getting stuck into the fantastic nightlife, this is a must! You will be picked up from your hotel in a luxury Mercedes Minivan and driven to the historic part of Naples to begin the night of festivities. The first stop of the evening is a famous pizzeria tasting a popular slice and drink on the house before taking to the streets on foot.
Next, travel through Spaccanapoli, the narrow straight main road of Naples that gets your efficiently to the heart of the city, and see some incredible sights along the way under the shade of twilight.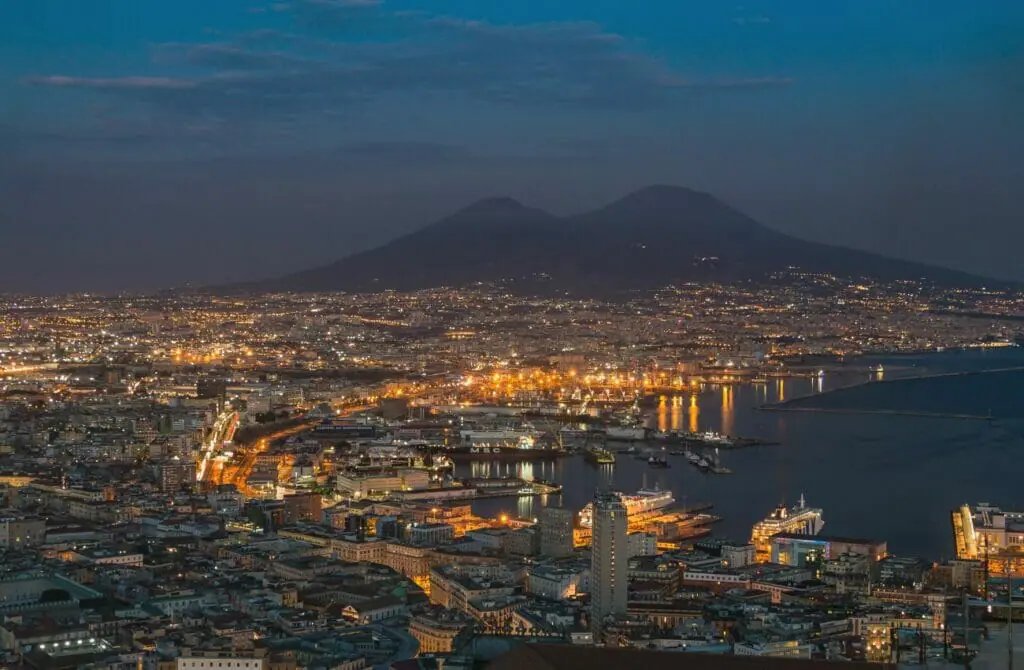 Herculaneum Private Tour with an Archaeologist 2023
Get a unique experience and consider a guided tour of the ruined Roman city of Herculaneum. So often disregarded by most for the more famous Pompeii, Herculaneum was one of many settlements around Vesuvius entirely covered by the volcanic eruption of 79 AD.
You will get a first-hand account from an archaeologist that knows all about the history of this complex and vast site, and when done with the tour, you'll be allowed to explore on your own. This is definitely worth stopping by, even if you also plan to see Pompeii.
Ancient Naples Underground Ruins Napoli Sotterranea
Under the ancient city is a vast network of tunnels, caves and catacombs offering incredible sights and surprises. You can get guided tours of these complex passageways and learn about how such a complex developed under the city and tales of past happenings.
Castel Nuovo and Castel dell'Ovo
Although Naples is better known for its ancient Roman and Greek history, there are also recent monuments from the last eight-hundred years. Amongst these is the numerous castles that line the coastline that represent the regal medieval landscape of Italy during times of noble knights and fictitious dragon slayers.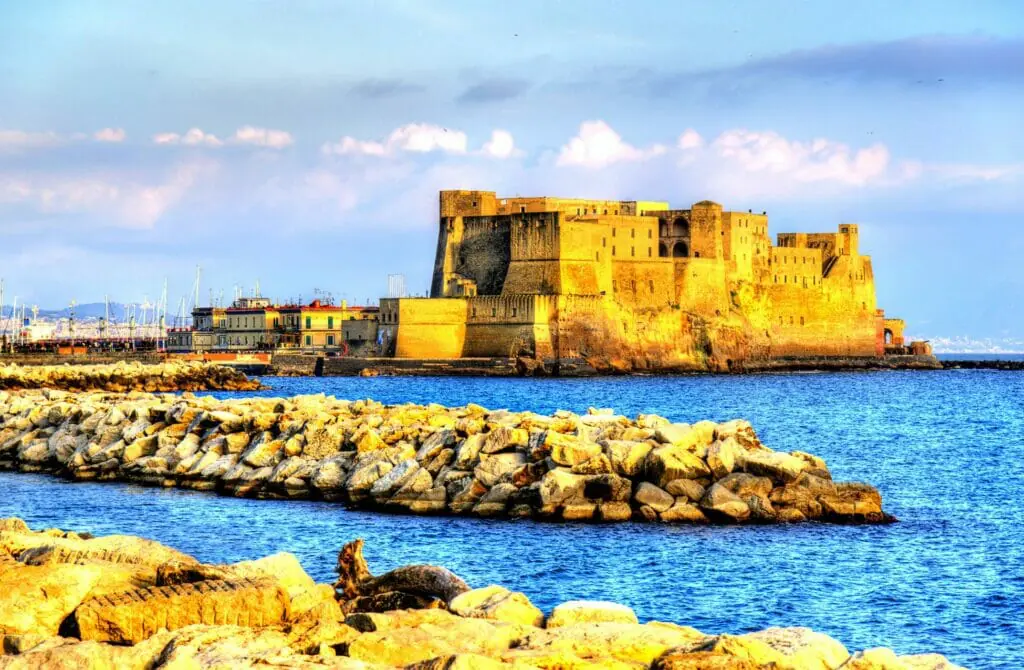 Pompeii and Naples City Full-Day Sightseeing Tour
Undoubtedly if you don't intend to go anywhere else outside of Naples, the number one destination is Pompeii. This eight-hour tour of this ruined city is one of the most eye-opening experiences as you see a frozen snapshot back in time to the day the volcano erupted and blanketed a thriving Roman town in ash.
And most incredible of all, if not the sex shops, erotic art, and penis signage, it's the preservation of bodies through voids left in the solid ash.
Piazza del Plebiscito
Naples might have narrow streets that make traversing it at times a little close to comfort with locals, but when you find the open piazzas, that's when you appreciate the beauty of this place. The most impressive of these squares is the Piazza del Plebiscito, constructed in 1846 and the largest found in the city.
The church of San Francesco di Paola sits in the center, overlooking all who take a stroll or lunch break outside the holy walls.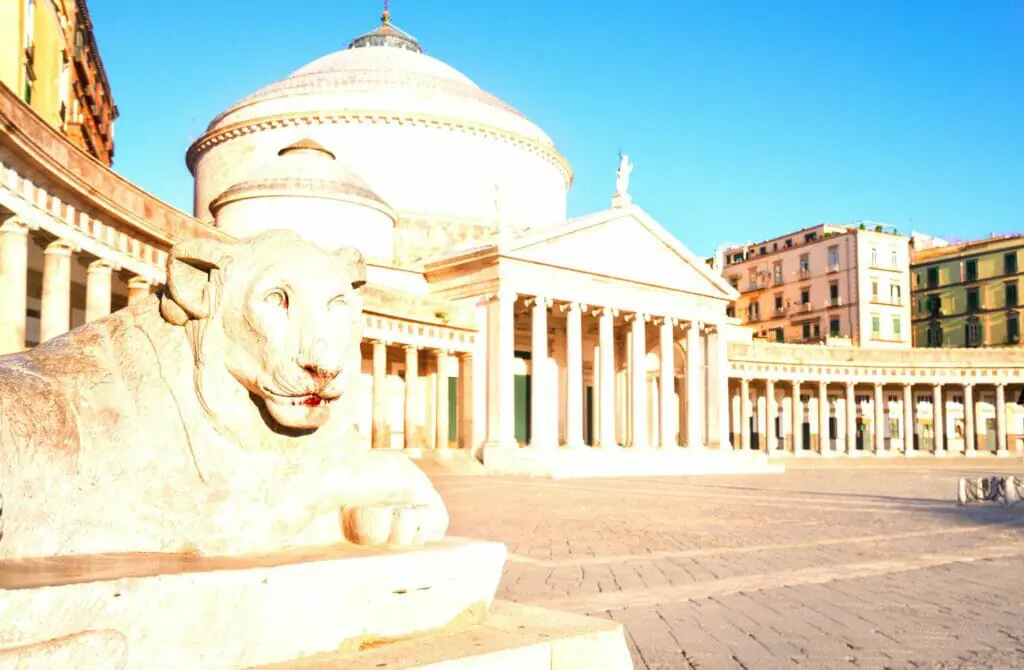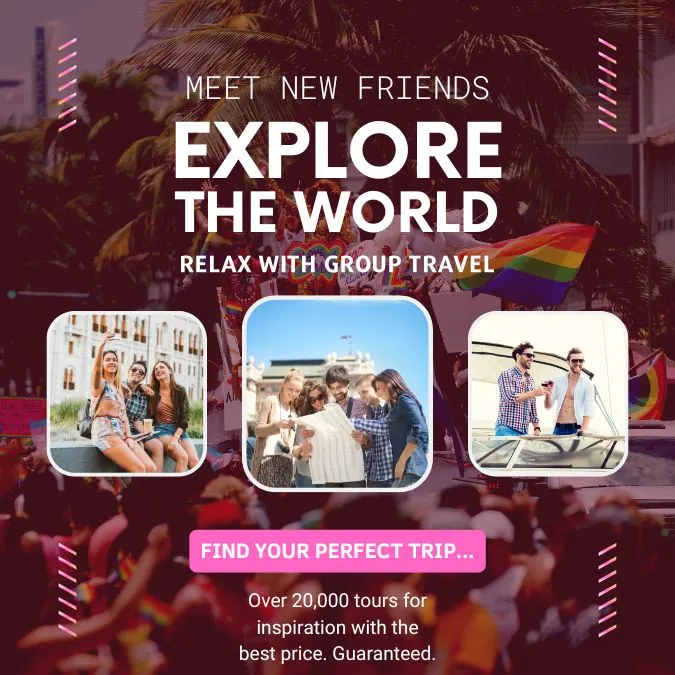 Questa Casa non è un Albergo (Rainbow Center Napoli) is a must-visit destination for any LGBTQ+ traveler visiting Naples. As the city's main LGBTQ+ community center, it provides a safe and welcoming space for people of all sexual orientations and gender identities to come together and celebrate their unique identities.
Not only is the Rainbow Center a great place to meet locals and make new friends, but it also hosts a variety of events, workshops, and cultural activities throughout the year. From film screenings to art exhibits to drag shows, there's always something exciting happening at the Rainbow Center.
Additionally, the center offers a range of resources and support services for the LGBTQ+ community, including counseling, legal advice, and HIV testing. By visiting the Rainbow Center, you'll not only have a fun and memorable experience, but you'll also be supporting an important organization that is doing valuable work to promote equality and inclusivity in Naples.
Looking for a sizzling gay pride experience in Southern Italy? Look no further than Naples Pride, one of the most exciting and inclusive pride celebrations in the region. Taking place annually in June, Naples Pride draws thousands of visitors from across Italy and around the world.
The festivities kick off with a colorful parade through the streets of Naples, featuring dazzling floats, fabulous costumes, and plenty of dancing and music. The parade ends at Piazza Plebiscito, where a massive outdoor festival takes place, featuring live performances, speeches, and entertainment. In recent years, Naples Pride has also included a variety of social and cultural events, including film screenings, art exhibitions, and parties at local clubs and bars.
Since its inception in 2001, Naples Pride has grown in popularity and visibility, with an estimated 40,000 participants and spectators attending the festival each year. Join us in Naples for an unforgettable pride celebration that showcases the very best of this vibrant and diverse city.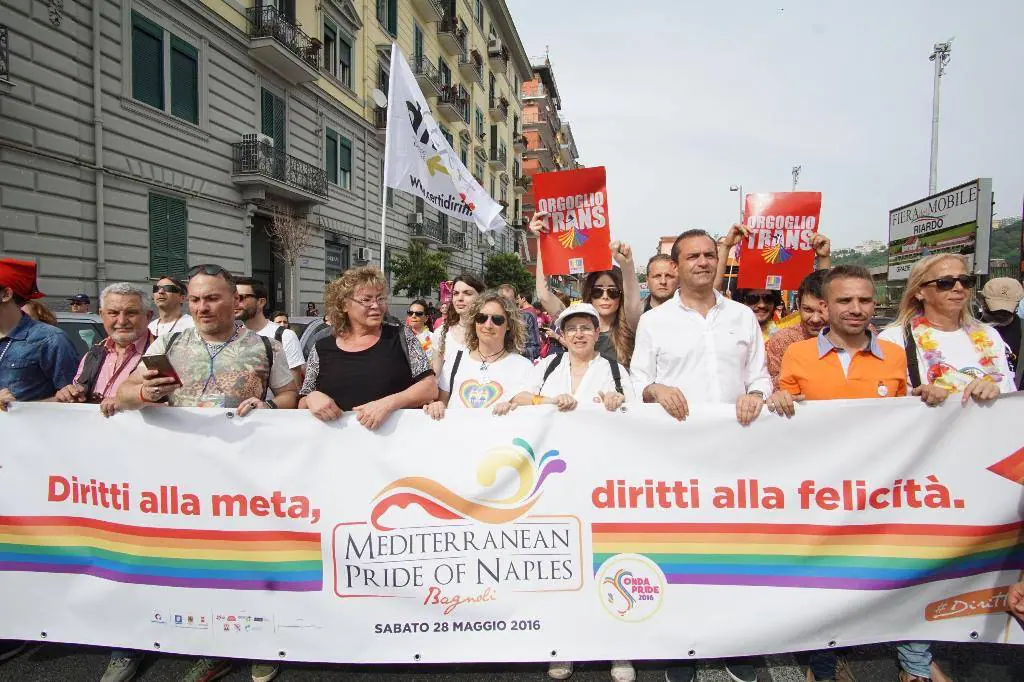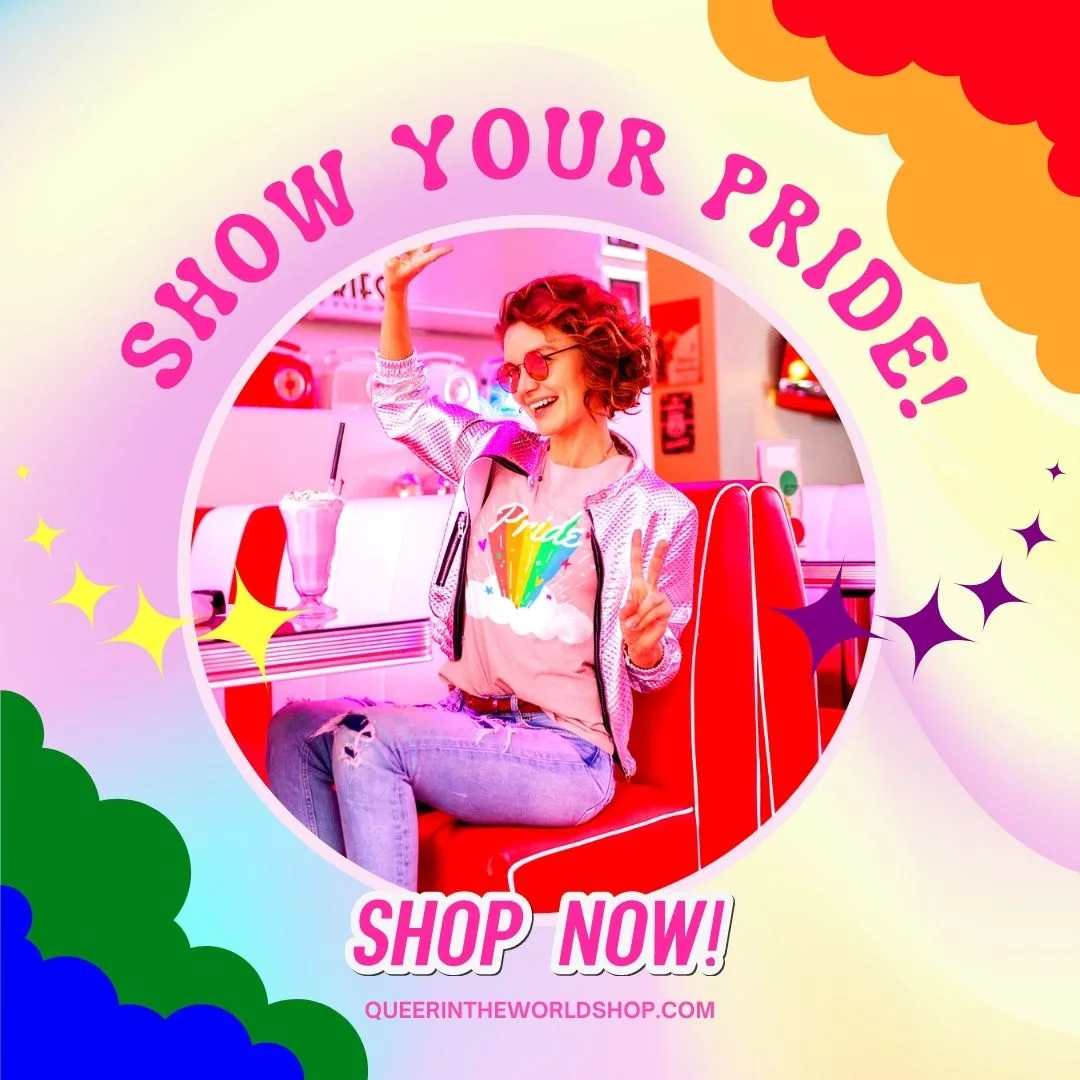 Gay-Friendly & Gay Hotels in Gay Naples
Welcoming and inclusive accommodation for LGBTQ+ travelers is a top priority in Naples, Italy. A gay-friendly establishment demonstrates a commitment to providing a safe and inclusive environment for all guests, regardless of their sexual orientation or gender identity. This may include policies and practices that promote non-discrimination and provide support and resources for LGBTQ+ travelers.
Many gay-friendly accommodations in Naples also offer amenities specifically catering to the LGBTQ+ community, such as rainbow flags or literature about local LGBTQ+ events and resources. These accommodations may also be located in areas known for being LGBTQ+ friendly, making it easier for guests to connect with other members of the community.
While there are currently no specifically gay hotels or resorts in Naples, there are many fabulous and proactively gay-friendly options available. Whether you're looking for budget-friendly hostels or luxurious hotels, there's an accommodation option that will suit your needs. And with a vibrant LGBTQ+ community and plenty of welcoming locals, Naples is the perfect destination for gay travelers looking for a warm and welcoming atmosphere.
Needless to say, there are also hundreds more hotel and hostel options in Naples if none of these suit your desired budget, facilities or area – but these are the best hotels according to other gay travelers and us. Whatever your needs are, Naples has you covered.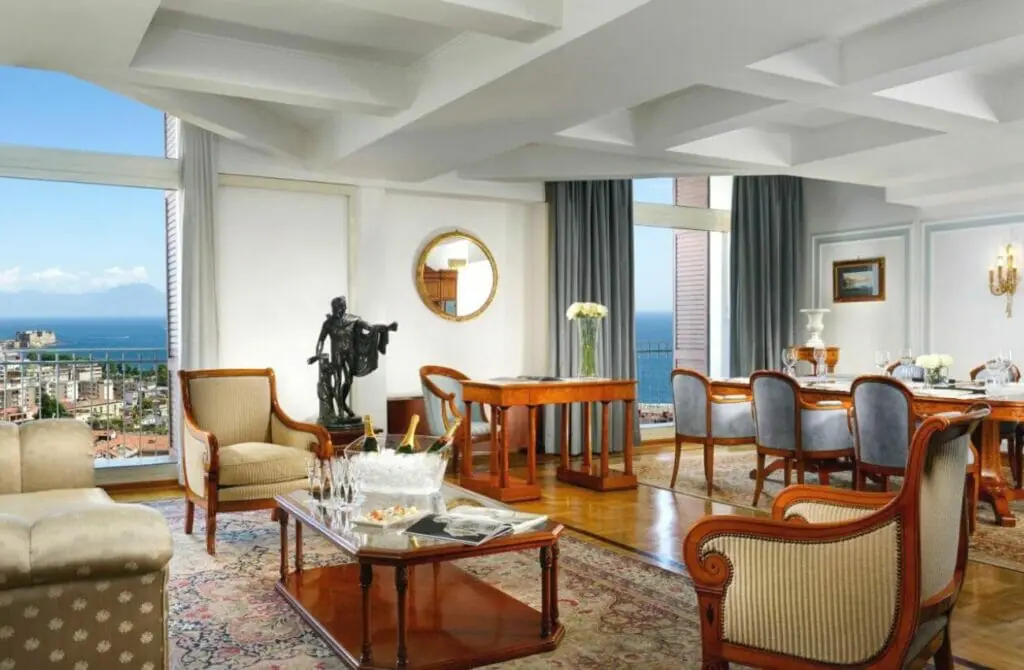 In the heart of Naples, you'll find a brilliant five-star accommodation hotel with incredible views over the ancient Italian city, the stretching beaches with pristine blue waters, and the shadow of the great Vesuvius on the horizon.
Being in this place, you won't need to go far to target the key tourist attractions, wander the streets of Naples and enjoy a slice of pizza, and, come evening, become the gay twinkle in the night.
The hotel provides the basics typical of a five-star experience, with several restaurants and bars on-site and also, uniquely, an art gallery. Not only that, you don't have to pay extra to see these incredible pieces, and breakfast is also on the house. So when you're not eating or admiring the rich culture, you can use the gym or lounge in your rooms.
So on the topic of your private quarters, you'll be pleased to learn all have speedy wifi, coffee on the house from the bar, room service, great views from your windows, a desk and chair, an ensuite, and so much more. Finding somewhere with the same love for cultural services and grand views will be a challenging task indeed.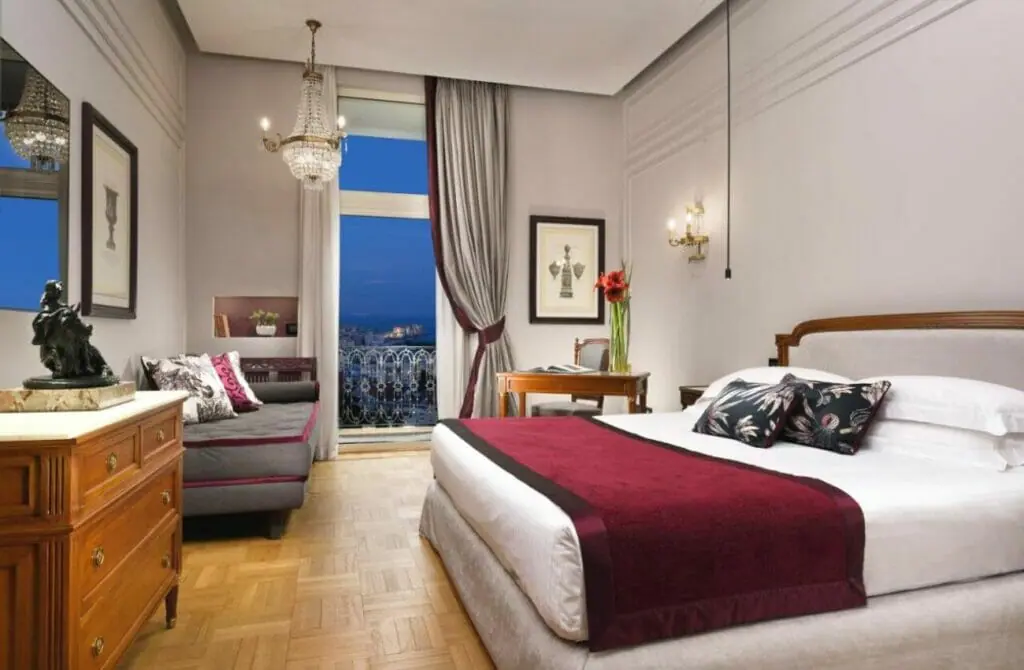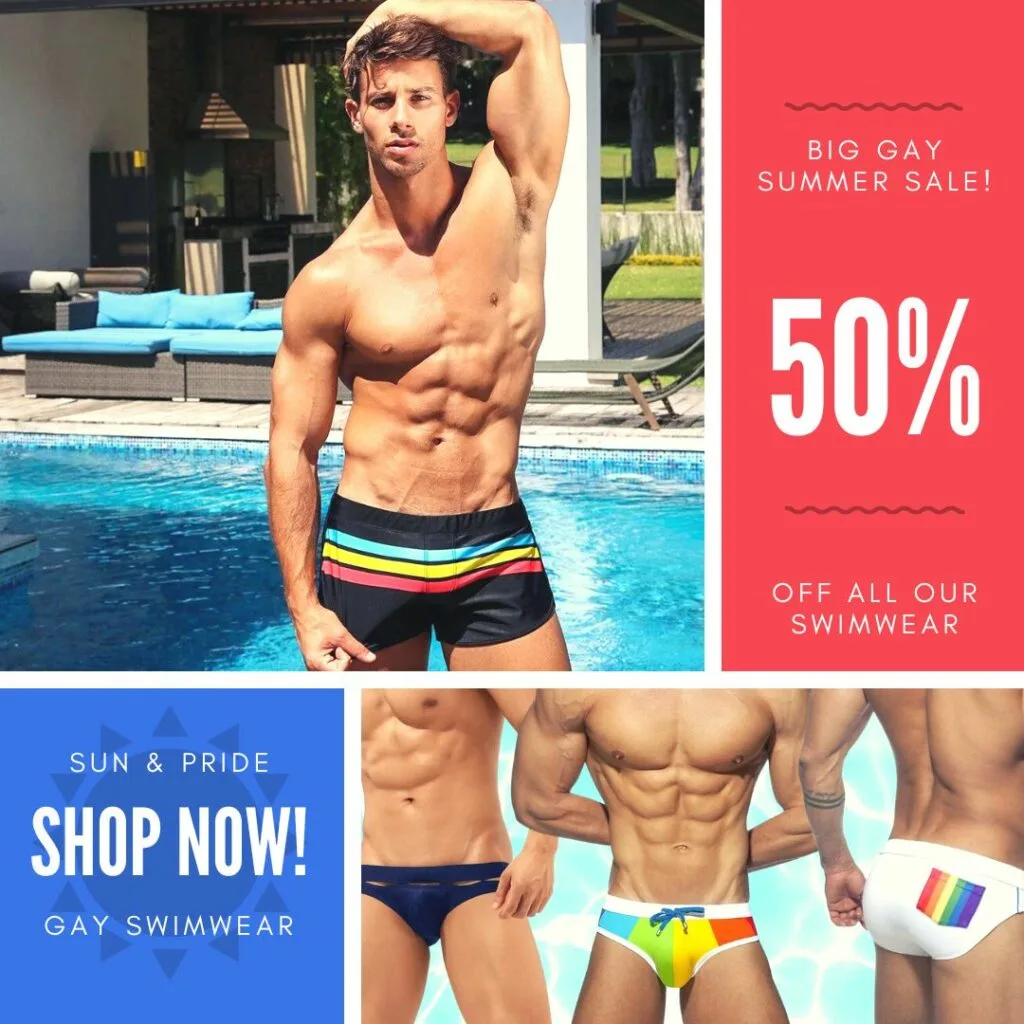 This four-star hotel stands out from the others because of its regal palace hallways, with presentation and services provided for all like they are royalty. Decumani hotel is located in the historic center of town, and not only is it a beauty to behold, but its central location makes it perfect for making the most of a trip and looking at seeing as many of the historical sites as possible.
Moreover, this makes it great for accessing the prime gay nightlife.
Unlike other four-star places where you'd expect a pool, this hotel doesn't have as many crazy entertainment services on offer. However, you can still enjoy a drink and meal at their on-site bar and get incredible views from their rooftop terrace.
Undubtlibly, the bonus of this hotel is the location and design. However, rooms are fully tended to with all the basics required and then some. For example, rooms come with complimentary breakfast and a mini kitchen with complimentary tea and coffee.
Ramada is a trendy modern hotel located very close to Naples port. Neon lights meet you as you approach this tall venue, and when you enter, you'll be met by vast open spaces that almost make it seem like you are entering a portal.
Despite looks on the outside, Ramada has many open spaces, both for public and shared, and private rooms. These open spaces are decorated by polished marble floors and modern art pieces, but not to the point that it is overdone.
You will find incredible views from the rooftop terrace and amazing food options at their coffee shop, restaurant and bar located on-site. But if you're looking for your own space, you will find it at the fitness center or your private quarters catering to all your needs.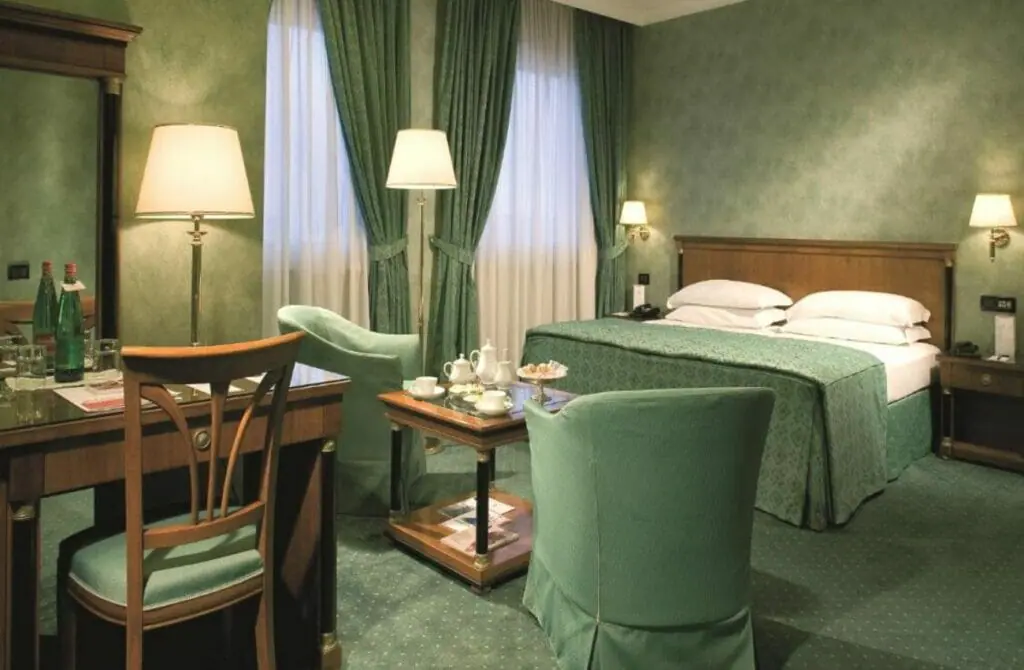 Located further out of town than the other options on this list, the Runa Hotel stands out from the others by its local heading into central Italy. It also looks like a classic American hotel straight out of Vagas from the outside at night with numerous neon lights and flags.
However, when you get inside, you are faced with decor that is less expected. Firstly, the rooms each have double-posted beds with drawn curtains, giving an air of modern romance to the backdrop of a cozy hotel room. It feels like a room your grandmother would let you sleep in as an adult, and that type of comfort places well into the overall feel of this Vegas-lookalike in Italy.
The Art Street Hotel does exactly what it says in the name. It presents a simple white-style canvas and decorates with local art. If you want simple lodgings in the center of Naples, look no further than here, as you'll be provided with basic rooms with an ensuite, bed, space for storage, a tv, and a desk.
However, if you require something more that includes a simple kitchen, you won't find it here. But, to compensate for this, you can pay extra for breakfast and room service, and hot drinks are free in the foyer.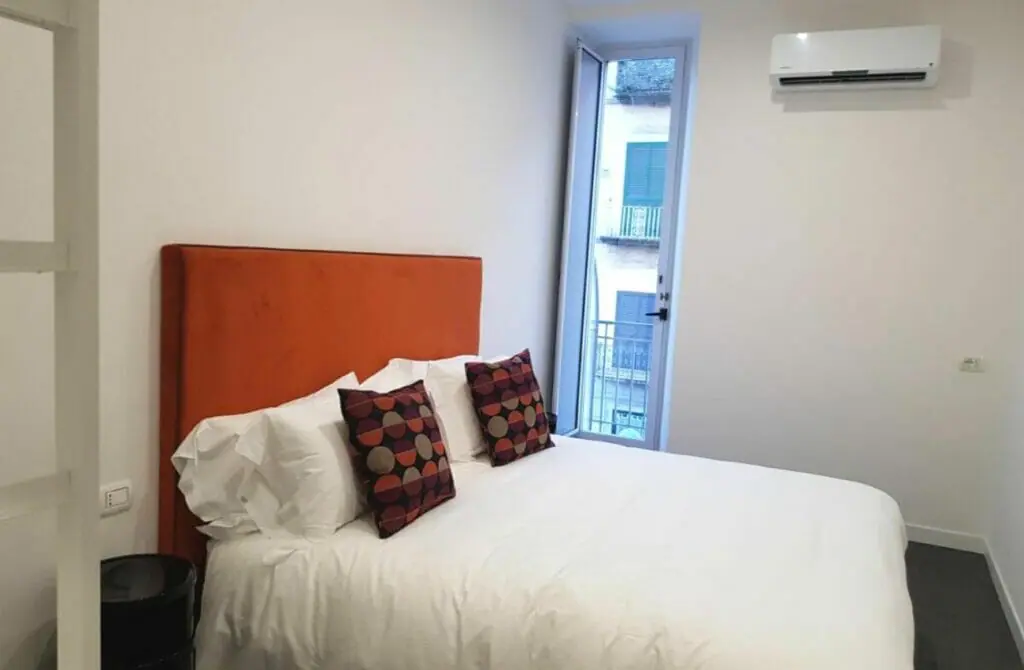 Gay Nightlife In Gay Naples
Oh, honey! Get ready to paint the town rainbow in Naples! Sure it is not Rome or Milan, but it isn't trying to be and the unique gay and gay-friendly nightlife scene is an absolute must-see when visiting this stunning city. Not only will you have the opportunity to meet new people and make friends, but you'll also get a taste of the local culture and learn more about the city's LGBTQ+ community.
Whether you're looking to dance the night away at a gay club or want to relax with a drink and mingle with locals at a gay-friendly bar, Naples has got you covered. The city's main gay nightlife areas are Chiaia and Montesanto, which are known for their lively and welcoming atmosphere. Things usually start getting busy around 11 pm, and most places close around 2 am, so make sure to pace yourself and enjoy the night to the fullest!
So don't be shy, darling. Step out of your comfort zone and immerse yourself in the fabulous gay and gay-friendly nightlife in Naples. You won't regret it!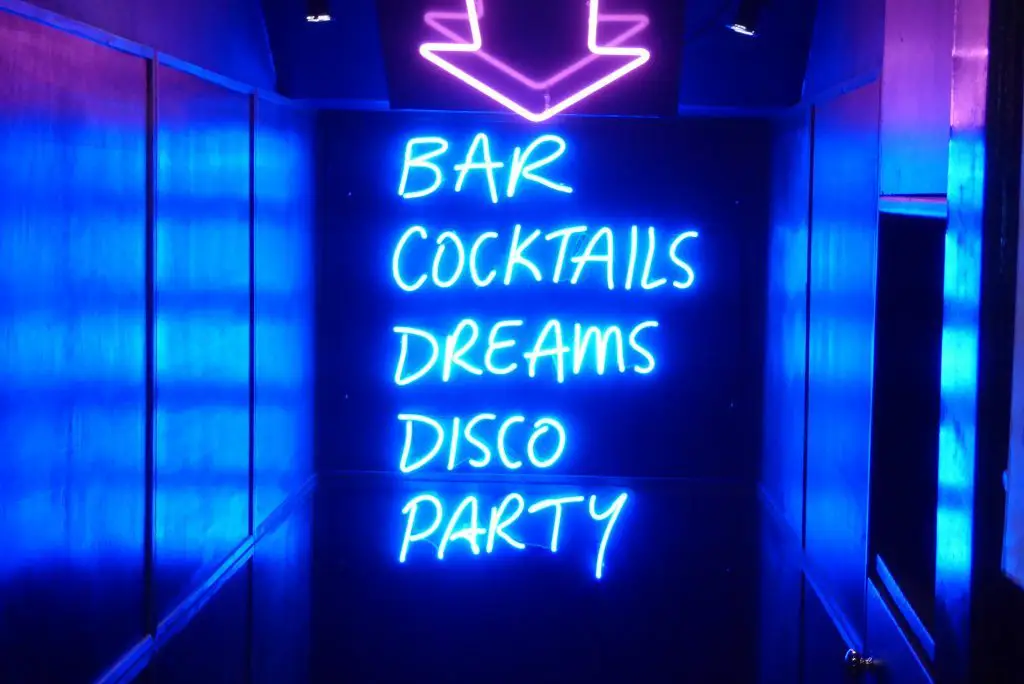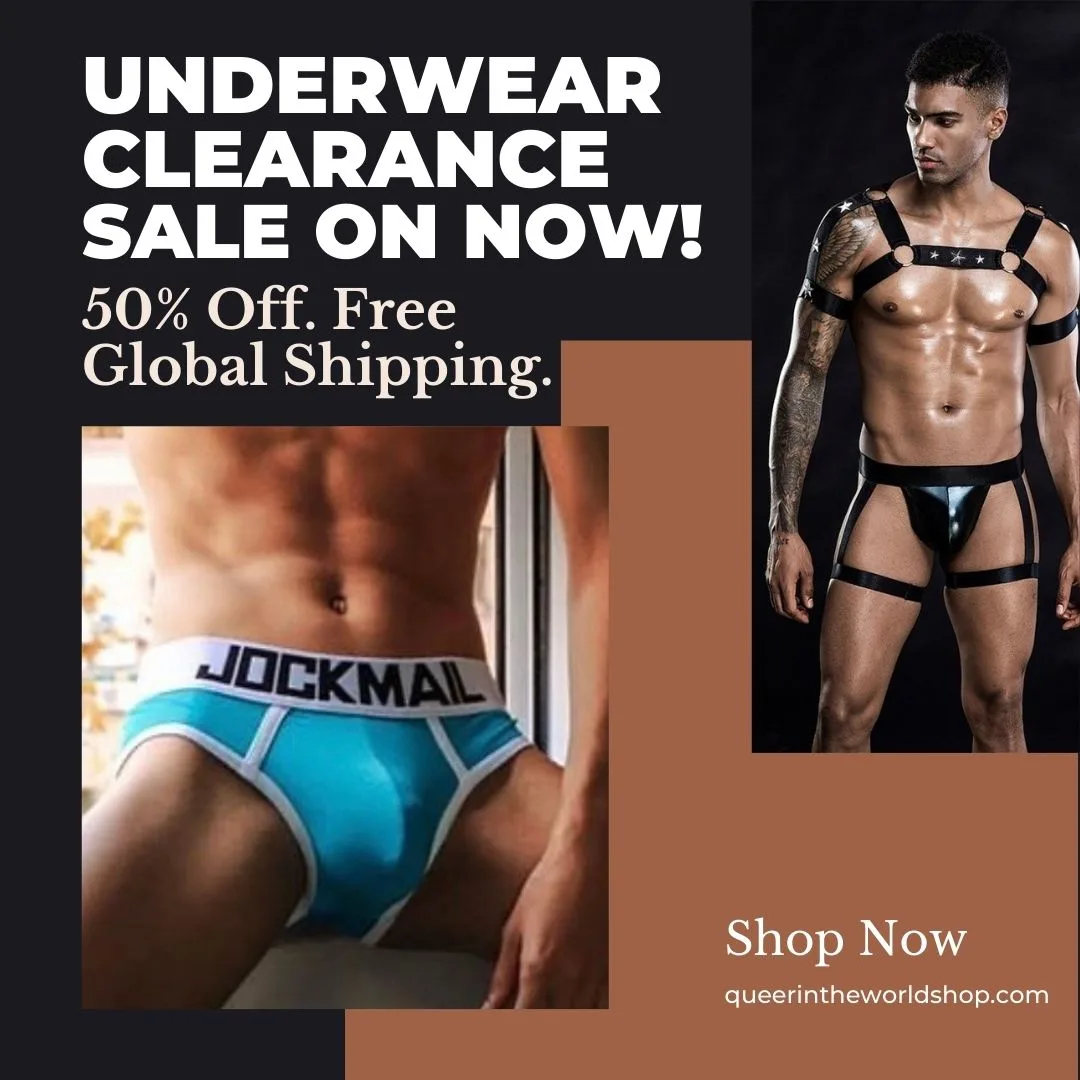 Gay Bars In Gay Naples
A gay disco cruise bar with a cozy and inviting atmosphere with dim lighting, stylish decor, and a great selection of cocktails. This bar is known for its live music and drag shows, which are a must-see for any visitor. The staff is friendly and welcoming, making Cactus a great spot to socialize and make new friends. Hot and seedy in the best of ways.
If you want to see what Naples' first and oldest gay bar looks like, head down to Macho Lato in the city's heart. This venue is massive as it takes up two floors of a vast central city complex, with a wide range of things to do you could easily spend a whole evening in here to experience it all.
Begin your evening lounging at the bar or dining area with a drink and light meal, then step onto the dance hall to make the most of the music and space. Then if you feel adventurous, you could try the darkrooms and cruising area and complete it with a movie or a last drink on the outside terrace.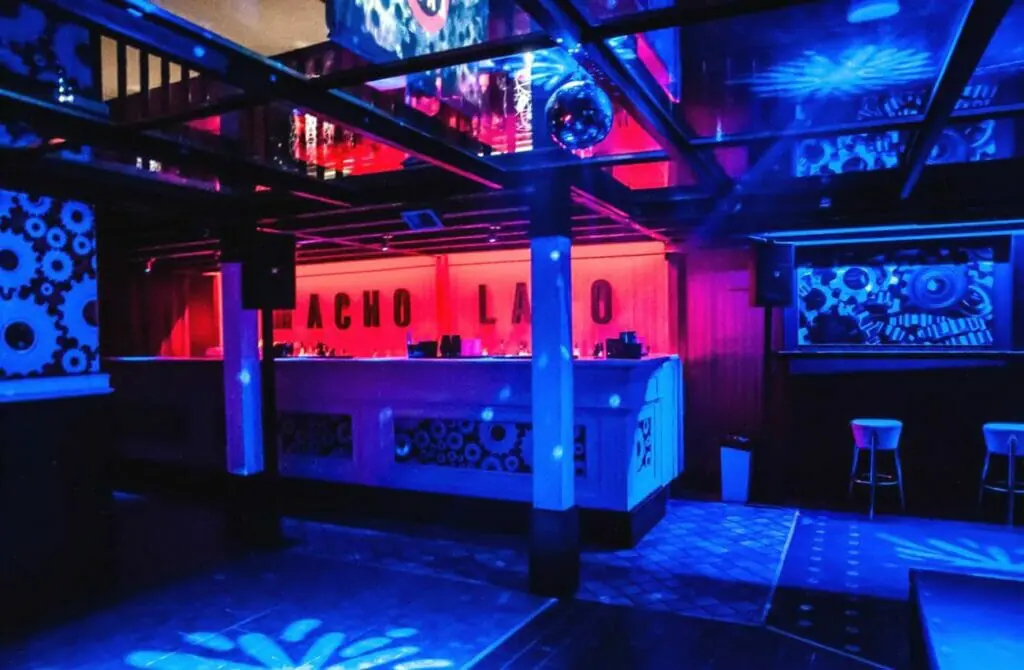 Other Gay-Popular Nightlife Spots
With breathtaking views of the Gulf of Naples, the Romeo Hotel's rooftop bar is one of the most stunning cocktail spots in the city. It's the perfect place to enjoy a drink while taking in the gorgeous scenery.
This Michelin-starred restaurant is also home to one of the city's most elegant and sophisticated cocktail bars. The interior is sleek and modern, with a marble bar and velvet seating, and the cocktails are every bit as stylish as the surroundings.
Terrace of the Hotel Excelsior
Located on the top floor of the grand Hotel Excelsior, the Terrace is a chic and elegant spot for a sunset cocktail. The panoramic views of the Bay of Naples are unbeatable, and the atmosphere is perfect for a special occasion or a romantic evening out.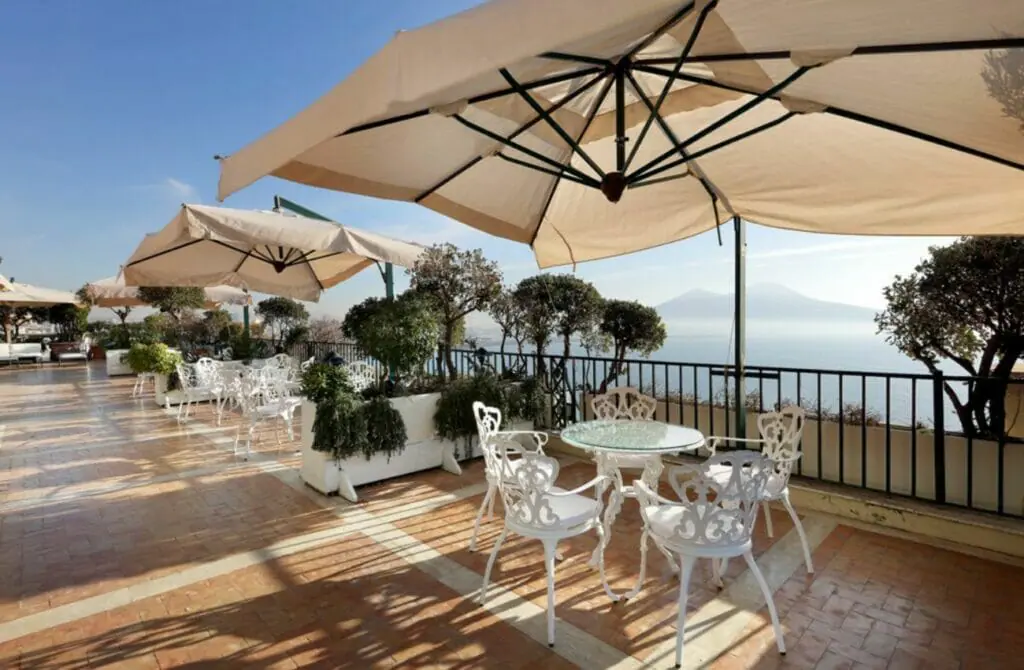 One of the most popular gay-friendly venues that regularly host LGBTQ+ events, the Volver Cafe will not disappoint any gay nightlife visit, regardless of what you expect.
Located in the Piazza Bellini, Naples' central nightlife hub, you will unlikely miss it as you pass through from bar to bar. This cocktail bar is unique because it is open all day and most of the night so that you can enjoy its high-class hospitality most times.
A more high-energy and edgy bar that's perfect for those who love to dance and party. The music is loud and the atmosphere is lively, with a mix of locals and visitors enjoying the energetic vibe. Buck Curt Bar is also known for its creative and innovative cocktails, so it's the perfect spot for those who want to try something new.
This lounge bar in Naples offers Italian Cicchetti, pastries, cocktails, and coffee served in a laid-back bar & cafe. With this gay-friendly venue, you can expect the height of comfy seating, enough to go around even during busy times, and a place to sit for the perfect date. In addition, with the range of foods on offer, you can try several pallets of the Italian culinary experience.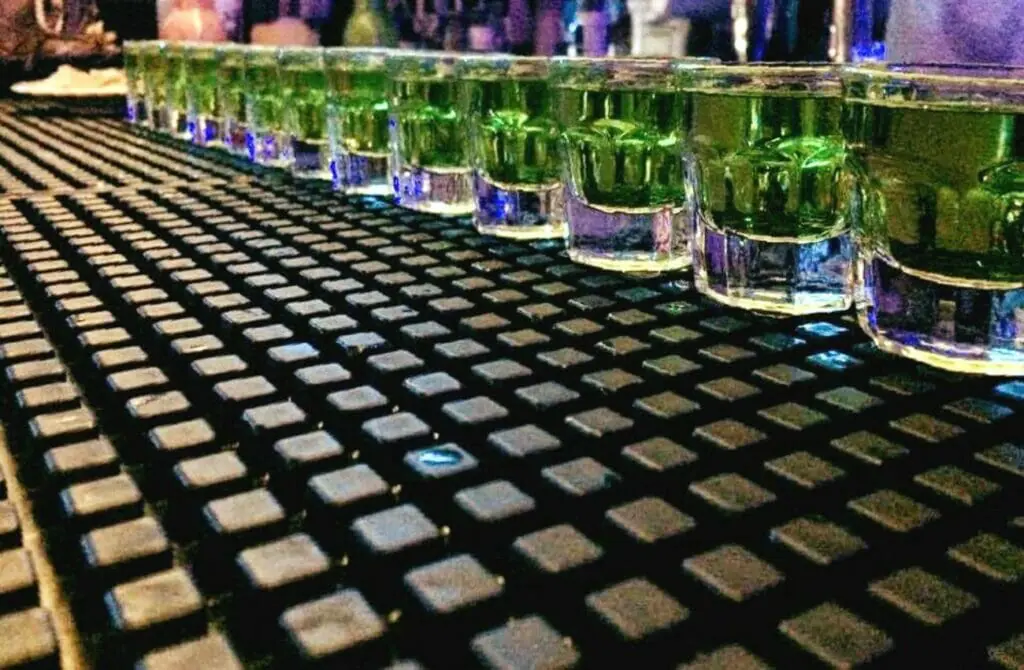 Another gay-friendly venue in the Piazza Bellini hub, Bar Fiorillo, is a small bar with a dining experience that is perfect for those who want a small venue that isn't crowded with hundreds of people. Hobester, bet to reserve a table as some days it can be squished, but even if the inside is full, they have an outside terrace, making it a rare issue.
If you're after one of the best pizza experiences in Naples, Intra Moenia doesn't disappoint as it is not only a popular gay hangout, its pizza is to die for.
Open both day and night, you can experience the beauty of the busy city life during the day from the outdoor terrace as you binge on pizza and the twilight hours as the city starts to rest and sleep. The rustic decor makes this venue stand out from other pizza bars, with rustic vines on the outside and exposed wooden beams on the side.
If you consider yourself an archaeologist, or you like to pretend you are one, then this archaeology-themed bar is a unique venue. Embrace the history of Naples by stepping into this cocktail bar and being treated not just by the sights of old dusty digs but excellent craft beer and cocktails.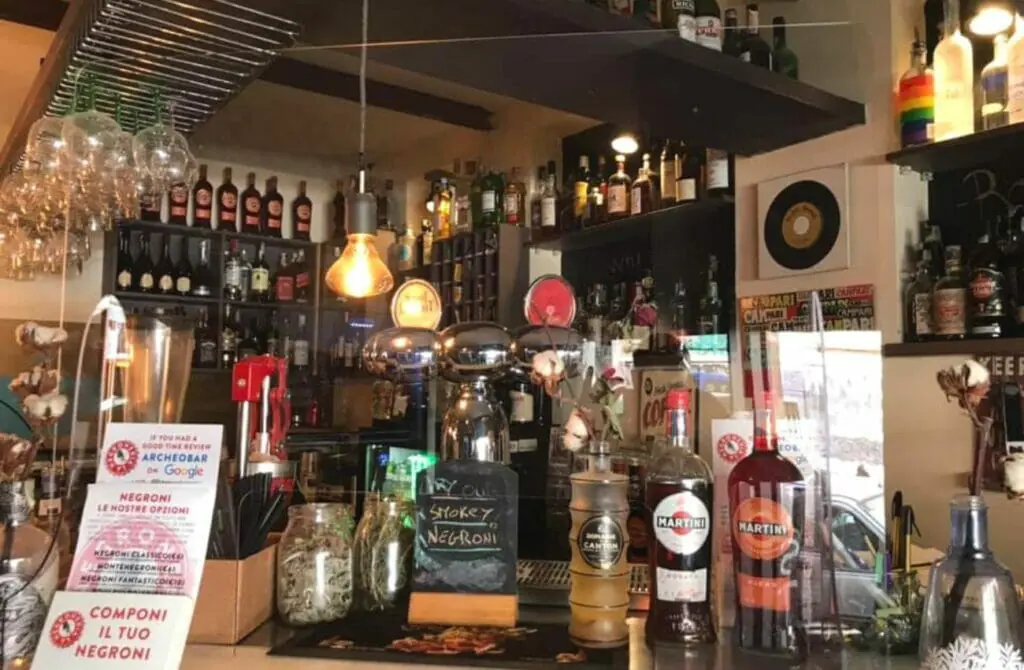 Cruising & Gay Saunas In Gay Naples
When traveling to a new city, it can be exciting to head out for more than just a stiff drink. One aspect of gay travel that many queer men enjoy is visiting gay saunas and cruising clubs and while Naples is not as hedonistic as Amsterdam, Barcelona or Berlin, there are thankfully a few venues that offer a chance to meet new people, socialize, and engage in sexual activity.
Without resorting to gay hook up apps or public cruising…
However, it's important to keep in mind that these sex-on-site venues around the world can vary greatly in terms of atmosphere, clientele, and rules, so it's a good idea to prepare yourself before visiting. If you are apprehensive, we advise studying our guide to visiting a gay bathhouse for the first time, which should help set your mind at ease, and always practicing safe sex.
Additionally, it's important to be aware of and respect local laws and customs regarding gay venues and sexual activity. With a little bit of planning and an open mind, visiting the gay cruise club and sauna can be a fun and exciting part of your gay Naples travel itinerary.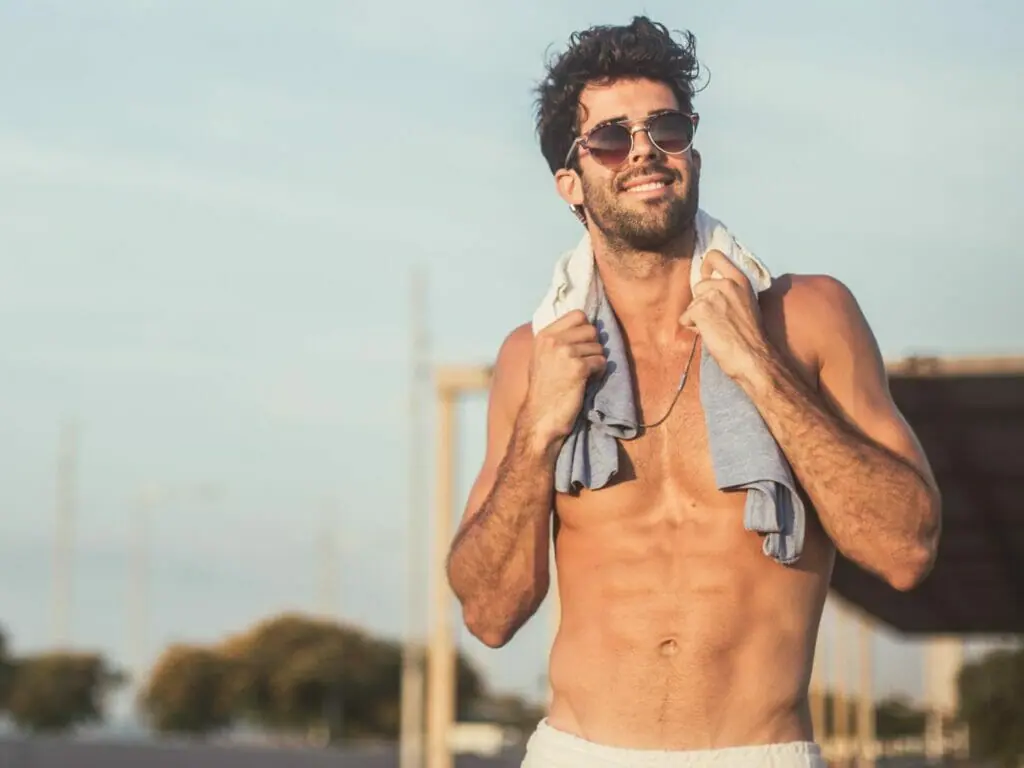 DEPOT is a modern gay bar experience in Naples, offering all that you'd expect in terms of basics from a bar. Whether you want a quiet space to enjoy, drink, chat, or find an excuse to let loose and dance, they can provide both. However, they also host a range of entertainment and themed nights, some the occasional cheeky nude night.
Don't be surprised if you spot most clients wearing leather or underwear or if the dancefloor has cages. DEPOT allows you to embrace not just your queerness but any leather fetishes you might hide away. So don't hide; check out the darker side of DEPOT if you dare.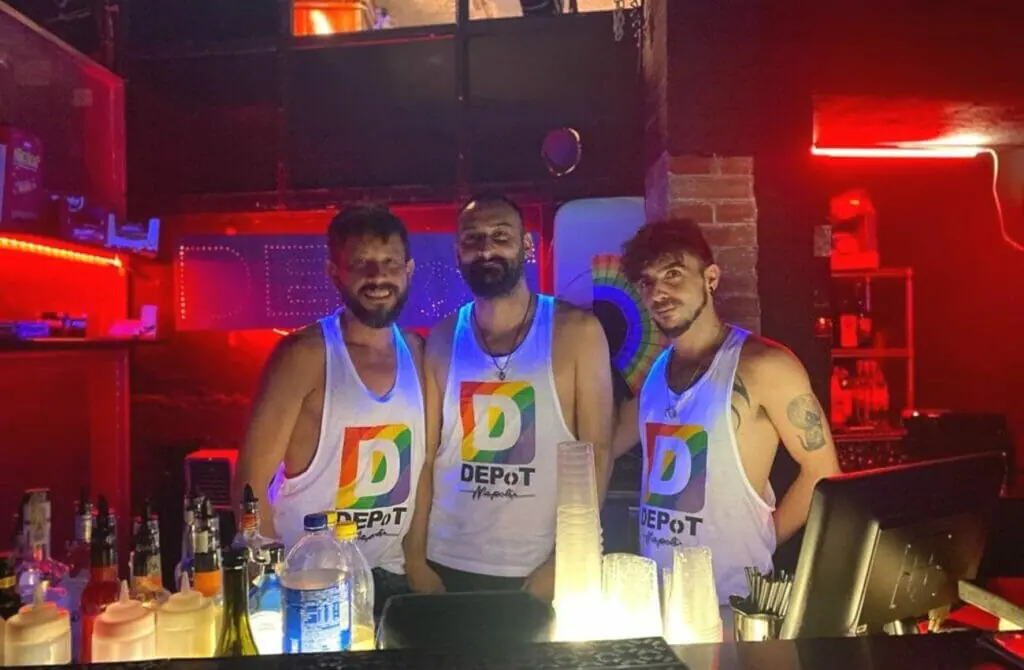 Of all the sex shops in Naples, Estasy is one you should look out for! It has a wide range of toys for numerous needs and people. From cock rings and lube to vibrators and butt plugs, you can have these and more. Don't be concerned about being judged, as the merchants have seen it all, and no question about a product or recommendation is off-limits.
This gay-friendly sauna is an excellent alternative for those feeling lost at a lack of gay saunas in Naples. Sauna Blu Angels are found in a discrete part of town and offer all the basics you could want from a good Sauna. It is open from 1 pm – 8 pm, so you can take some early evenings to relax before heading out to other nightlife spots.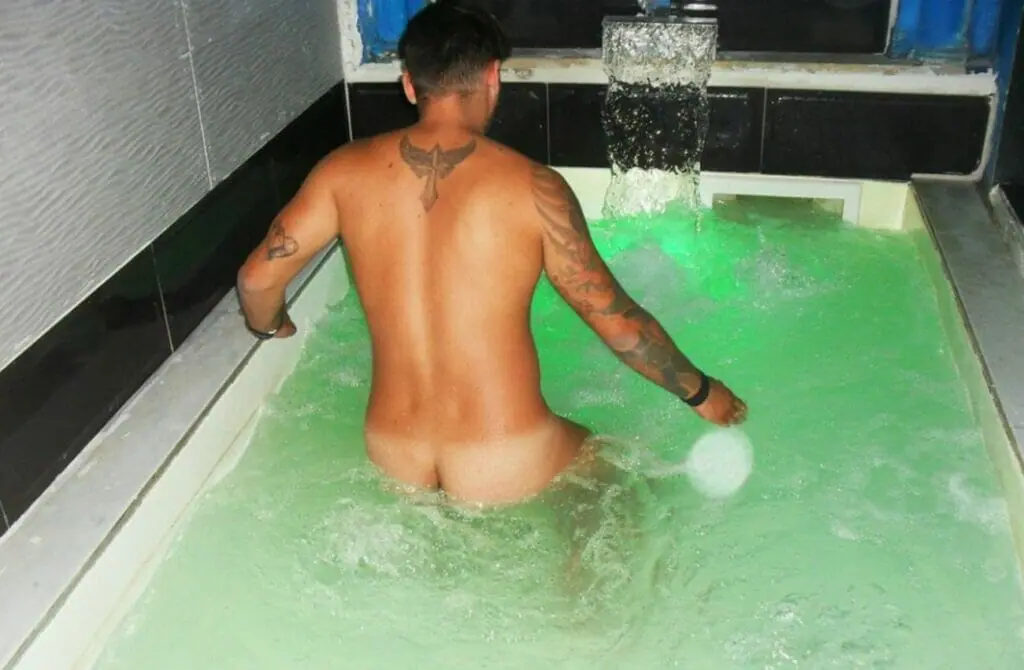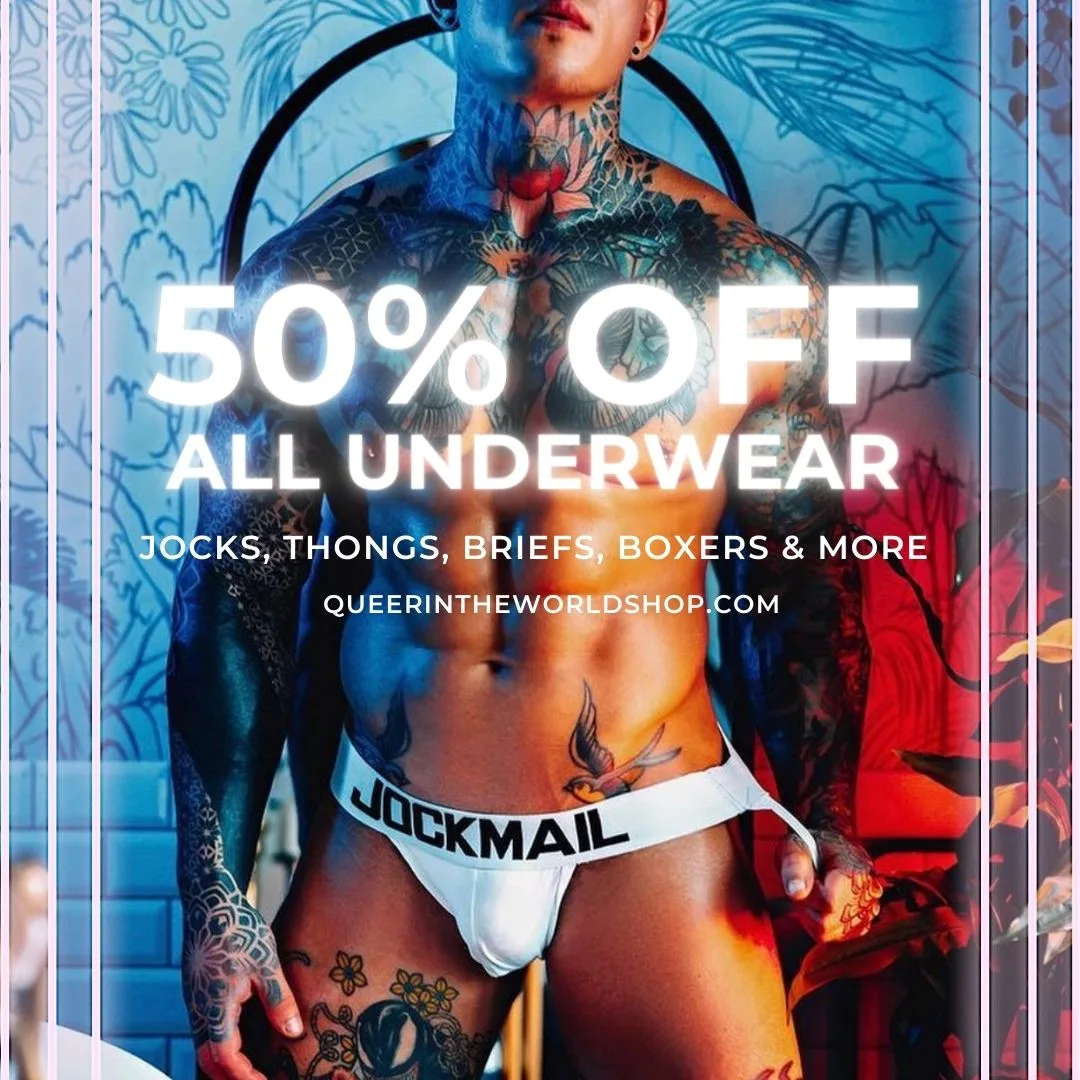 Gay Map Of Naples
Finding it hard to envisage where everything is in Naples? Hopefully, this queer-centric map helps where we have marked all the bars, clubs, parties, hotels, saunas, massages and more will help you stay in the spot best suited to you!