Gay Bilbao is a city that is known for its rich history in the Basque Country in northern Spain, is a hub of industry and commerce, and is also home to a thriving LGBTQ+ community.
Bilbao is also known for its delicious cuisine, with a range of traditional Basque dishes and tapas available in its many restaurants and cafes. The city is surrounded by beautiful natural scenery, including the nearby mountains and the Bay of Biscay, making it a popular destination for outdoor activities such as hiking and water sports.
In addition to its cultural and natural attractions, Bilbao is also a thriving commercial center with a bustling port and a well-developed transportation infrastructure. The city has a large population and a lively and friendly atmosphere, making it an attractive destination for both business and queer leisure travelers.
Gay Bilbao also has a rich and fascinating LGBT history and despite experiencing periods of repression, Bilbao's LGBT community has persevered and made significant strides in the fight for equal rights.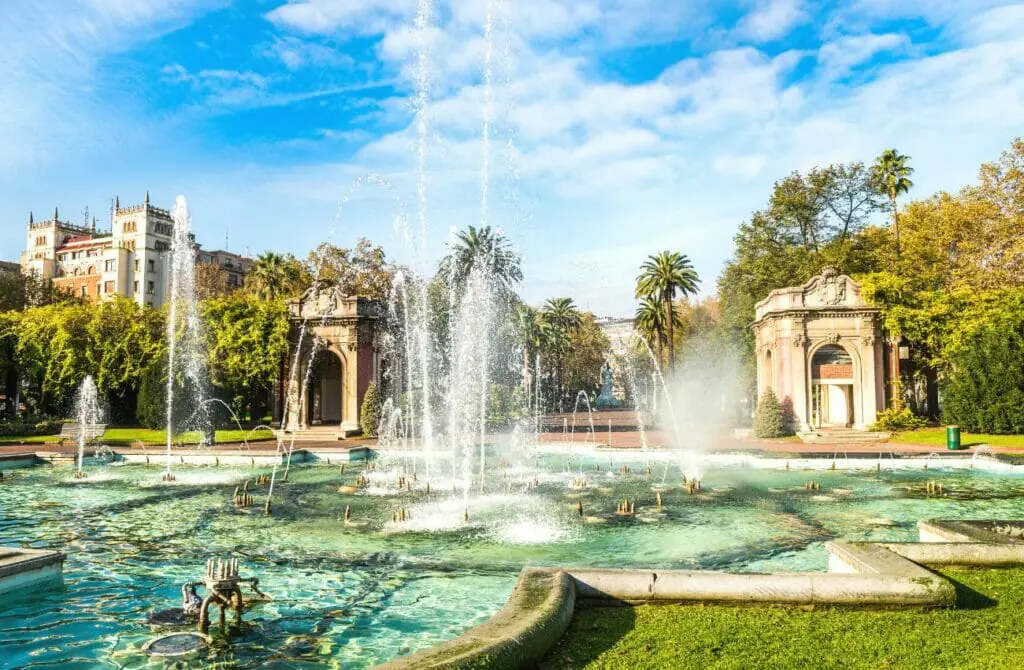 One of the pivotal moments in Bilbao's LGBT history was the emergence of the LGBT association Hegoak in 1993, which helped raise awareness of LGBT issues and advocate for the community's rights. In recent years, Bilbao has become a hub for the Basque Country's LGBT community, with an annual Pride celebration that attracts visitors from all over the region.
The city's gay scene is primarily centered around the Casco Viejo (Old Town) and Ensanche neighborhoods. The Casco Viejo is home to several gay bars and clubs, including Zorionak and La Korrala, which are popular with locals and visitors alike. The Ensanche, or "New Town," is home to several LGBT-friendly bars and restaurants, as well as the iconic Guggenheim Museum Bilbao, which has become a symbol of Bilbao's modernization and cultural revival. The museum hosts a variety of exhibitions and events throughout the year, including ones that celebrate LGBT artists and themes.
This city also has a well-attended annual Pride festival which celebrates the LGBTQ+ community with music, dance, and other festivities, and is a testament to the city's commitment to inclusiveness and equality.
Overall, Bilbao offers a unique blend of historical and cultural significance, making it a must-visit destination for any LGBT traveler to Spain.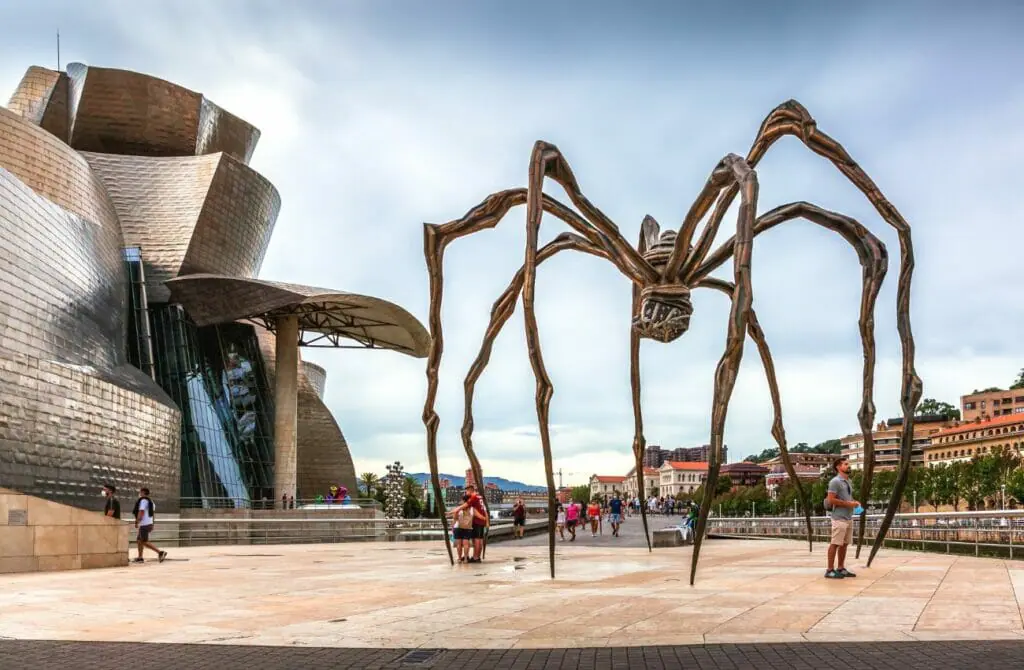 Top Attractions in Bilbao
Welcome, darlings, to fabulous Gay Bilbao! This spirited and colorful city has so much to offer, no matter who you love or how you identify. Of course, you'll want to soak up all the culture and history that Bilbao has to offer by visiting its iconic landmarks, museums, and art galleries. But let's not forget about the queer flair that this city brings! From its bold architecture to its lush gardens, there's something to delight every taste.
As fierce and fabulous queers, we know that exploring Bilbao is about more than just checking off tourist attractions. We want to dive into the heart of the city and experience the local cuisine, visit the bustling markets, and immerse ourselves in the fiery cultural events, darling. There's always something happening in Bilbao, whether it's a pride parade, a flamenco show, or a pop-up drag brunch. So put on your most stunning outfit and let's paint the town rainbow!
As we sashay through the streets of Bilbao, we'll take in all the beauty and history this city has to offer. But we'll also seek out the unique and queer-friendly spots that make Bilbao so special. So come along, my dears, and let's discover the must-see attractions that make Bilbao the ultimate gay travel destination.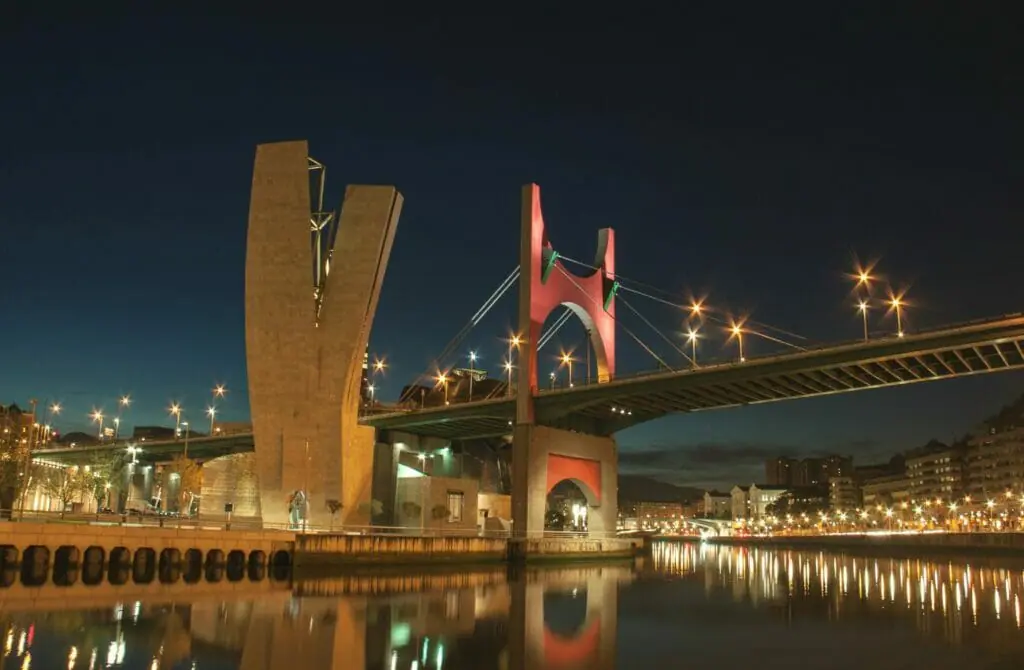 This community organization provides an array of valuable resources and services to LGBTQ+ individuals, including counseling, legal assistance, and social activities. For gay travelers who may be navigating a new city or country, having access to support and resources can be especially important, and Aldarte offers a welcoming and inclusive space for LGBTQ+ visitors to connect with local individuals and learn about the local scene.
Visiting Aldarte can also provide an opportunity for gay travelers to learn more about LGBTQ+ issues in Spain and connect with a supportive community. The organization hosts social events and activities, which can be a great way to meet new people and build connections while exploring a new place. Whether you're seeking information, support, or just looking to make new friends, a visit to Aldarte is a great way to experience Bilbao's vibrant and inclusive LGBTQ+ community.
The museum has a collection of over 8,000 works of art that spans from the 12th century to the present day. The collection includes works by famous European artists such as Goya, Velázquez, and El Greco, as well as a significant collection of works by Basque artists.
The museum also has a collection of contemporary art, which is a term used to describe art created by artists who are active in the present time, often self-taught or non-academically trained.
Another reason for the museum's popularity is its modern architecture. The museum building was designed by the architects Federico Soriano and Dolores Palacios, and it is considered one of the most impressive examples of modern architecture in the city. The building features a grand entrance, a large central courtyard, and a beautiful glass roof that floods the galleries with natural light.
Explore Casco Viejo (Old Town)
Casco Viejo is home to many historic buildings, such as the Gothic Cathedral of Santiago, the Baroque Basilica of Begoña, and the Art Nouveau Teatro Arriaga.
These buildings offer visitors a glimpse into the city's rich cultural heritage and provide a contrast to the modern architecture found in other parts of the city. Casco Viejo is a bustling neighborhood that is home to many restaurants, bars, and shops.
Visitors can enjoy traditional Basque cuisine, sample local wines, and browse through the many boutiques that line the streets. The neighborhood also offers a lively nightlife scene, with many bars and clubs that stay open late into the night.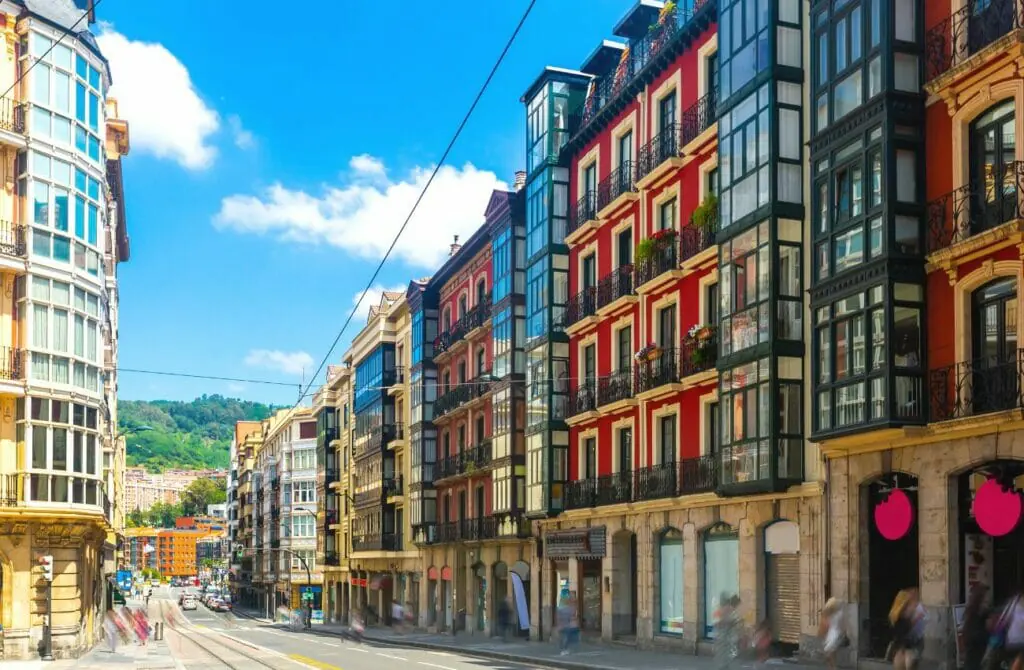 Basque Museum Bilbao (Museo Vasco)
The museum's collection includes a wide variety of artifacts and exhibits that tell the story of the Basque people, their history, and their culture. Visitors can expect to see a wide range of items on display, from traditional clothing and textiles to tools and weapons used by the Basque people throughout history.
The museum also has a number of interactive exhibits that allow visitors to learn about Basque culture and customs in a hands-on way.
Additionally, the museum also regularly hosts temporary exhibitions, workshops, and other cultural events that further explore and highlight the Basque culture and traditions.
The museum was designed by the famous architect Frank Gehry and opened in 1997. The building is considered one of the most iconic examples of modern architecture in the world, with its curved titanium-clad forms and large glass atriums. The building is often considered a masterpiece of architecture and has become one of the city's most recognizable landmarks.
Another reason for the museum's popularity is its impressive collection of modern and contemporary art. The museum features a permanent collection of over 1,000 works by some of the most renowned artists of the 20th and 21st centuries, including works by artists such as Picasso, Warhol, and Koons.
The museum also regularly hosts temporary exhibitions that showcase the works of emerging artists and provide visitors with the opportunity to discover new and exciting art.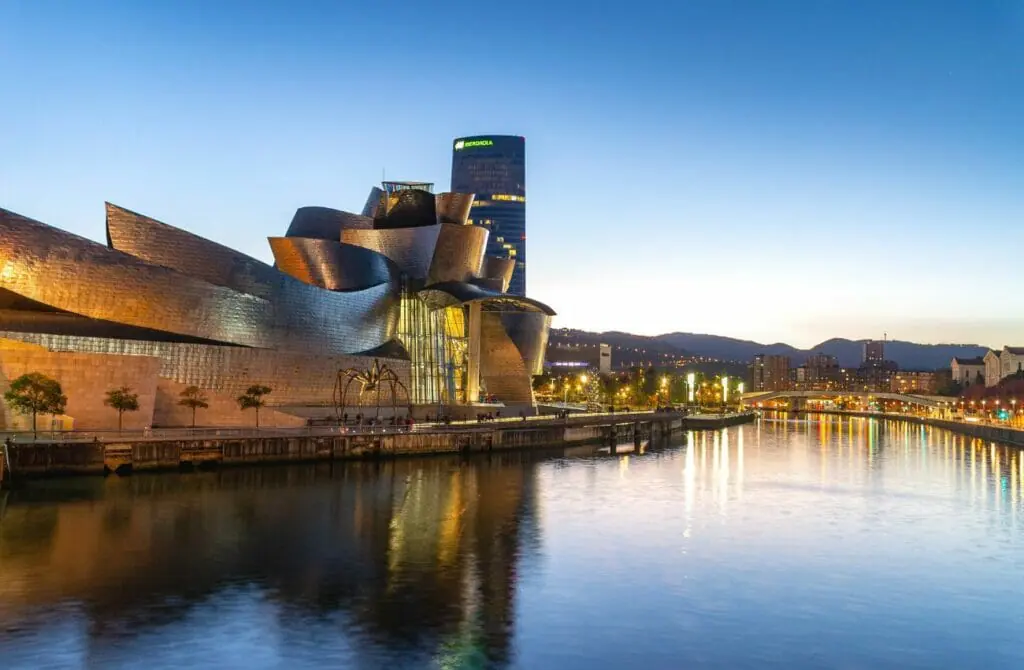 Get a New Perspective from the Bridges of Bilbao
The Bridges of Bilbao are a popular attraction for tourists visiting the city. The Zubizuri, in particular, is a well-known architectural landmark and a symbol of Bilbao's modernization and rejuvenation. The bridge, which was built in 1997, features a curved, pedestrian walkway that spans the river and offers views of the city and the surrounding mountains.
The other bridges are also popular for visitors, for example, the Puente de La Salve is a bridge over the Nervion river, linking the city center with the neighborhoods of Abando and Indautxu. The Puente del Arenal is a bridge that connects the neighborhoods of Deusto and Ibaiondo, it's a great spot to take panoramic views of the city.
Visitors can walk or bike across the bridges, taking in the views and experiencing the city from a different perspective. They can also take guided tours that highlight the history and architecture of the bridges. The Bridges of Bilbao are also popular for photography and for a romantic stroll.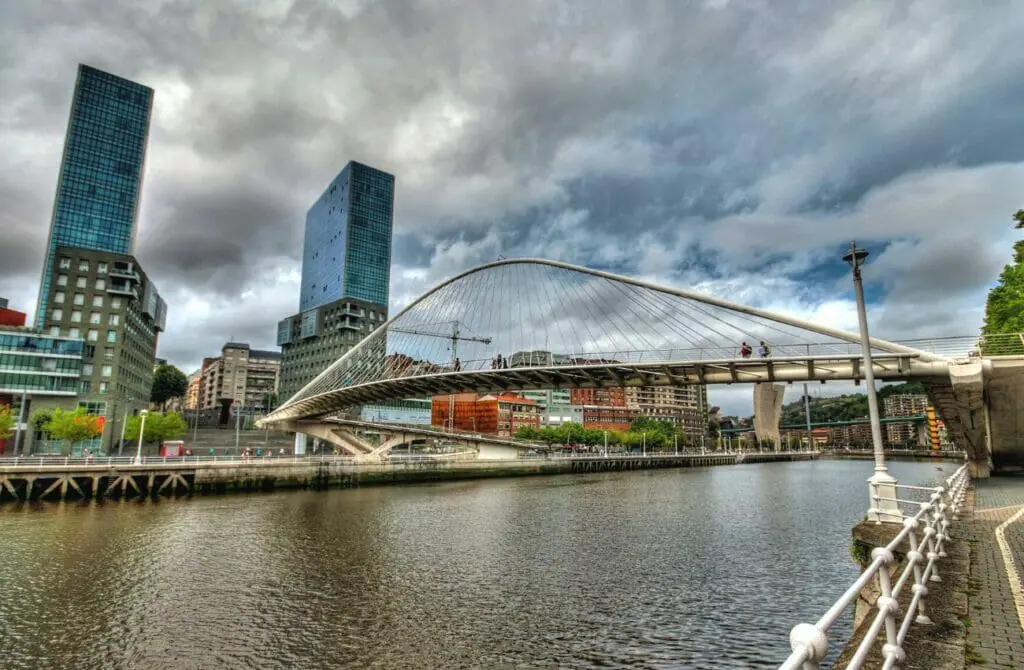 Sample Pintxos in the Plaza Nueva
known for its lively atmosphere and a wide variety of traditional pintxos (tapas) on offer. Visitors can expect to find a wide variety of bars and restaurants in the square, each offering its own unique take on pintxos. Many of these establishments have been in business for generations and are known for their commitment to using high-quality, local ingredients.
One of the main draws of Plaza Nueva is the opportunity to try a variety of different pintxos in a single location. Many visitors choose to hop from bar to bar, sampling different pintxos and trying different drinks as they go. The square is also a great place to people watch, as it is often filled with locals and tourists enjoying the lively atmosphere.
Plaza Nueva is also a great place to experience the local culture and customs of Bilbao, as the traditional pintxos and bars are deeply ingrained in the city's history and culture.
The cathedral is a Gothic-style building that dates back to the 14th century, although it has undergone many renovations and additions throughout the centuries. The cathedral is known for its impressive architecture, including its intricate stone carvings, grandiose arches and the grand altar, which is made of white marble.
The cathedral is also home to a number of important works of art, including a number of sculptures, paintings, and tapestries. Of particular note is the altarpiece of the main altar, which is a masterpiece of the Spanish Renaissance.
The Cathedral of Santiago is open to the public and is open to visitors daily, with the exception of mass hours. Visitors can expect to admire the stunning architecture and artwork of the cathedral, as well as learn about its history and significance to the city of Bilbao.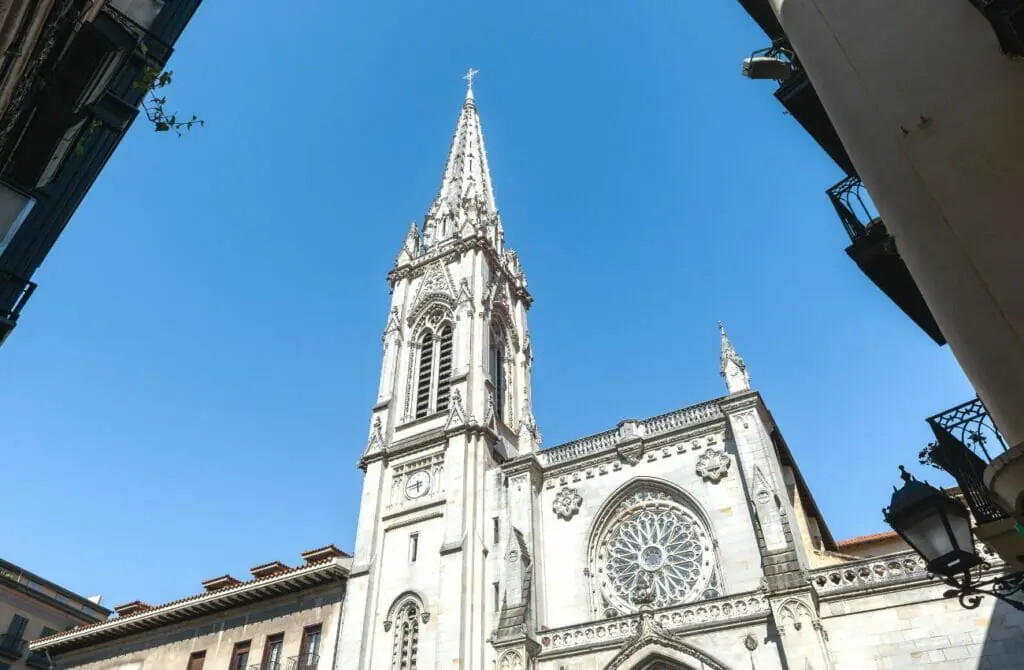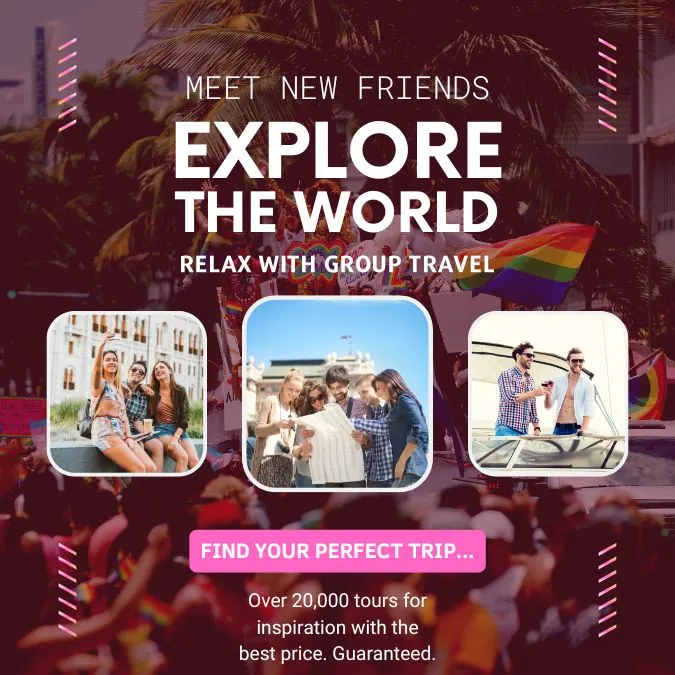 Gay Events in Bilbao
Bilbao Bear Weekend
Another notable event is the Bilbao Bear Weekend, which is held annually in September. This event is geared towards the bear community and features parties, social events, and cultural activities, such as guided tours and workshops.
Bilbao Bizirik Festival
The Bilbao Bizirik Festival is another event that takes place in September, it's a festival that promotes the visibility of the LGBTQ+ community, with a variety of cultural events, such as concerts, theater performances, and exhibitions.
Additionally, there are several gay clubs, bars, and saunas in Bilbao, many of which host regular events and parties. These venues provide a welcoming space for the LGBTQ+ community to socialize and connect with others.
Bilboa Pride is an exciting event that every queer traveler should consider attending. This vibrant festival takes place every June and is located in the heart of the city. The event began in 2009 and has grown into one of the biggest Pride celebrations in the country. With an estimated attendance of over 100,000 people, it is a lively and energetic event that is not to be missed.
What sets Bilboa Pride apart from other major Pride events in Spain is its unique focus on Basque culture and the important role it plays in the local LGBTQ+ community. The event features a diverse array of cultural events, performances, and parties, making it a truly authentic experience. In comparison to the larger and more well-known Prides in Madrid and Barcelona, Bilboa Pride offers a more intimate and community-driven atmosphere that celebrates the distinct and colorful spirit of Basque culture.
In conclusion, Bilboa Pride is a celebration of diversity, love, and acceptance that is not to be missed. Whether you're traveling solo or with friends, this event is an opportunity to connect with like-minded individuals, learn about Basque culture, and make unforgettable memories. So mark your calendar and prepare to join in the fun and celebration that is Bilboa Pride.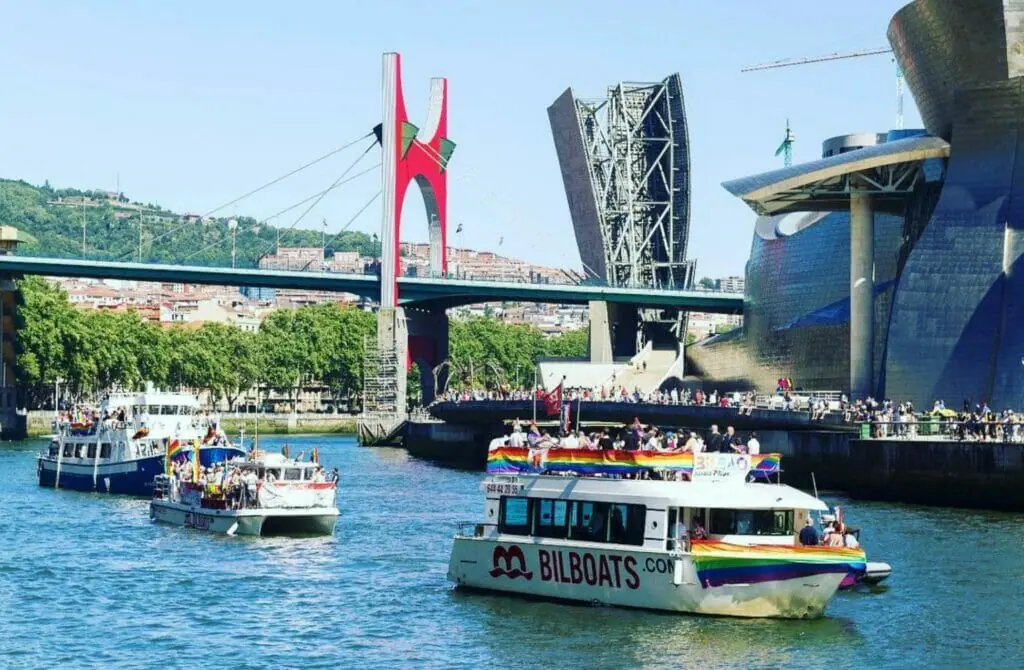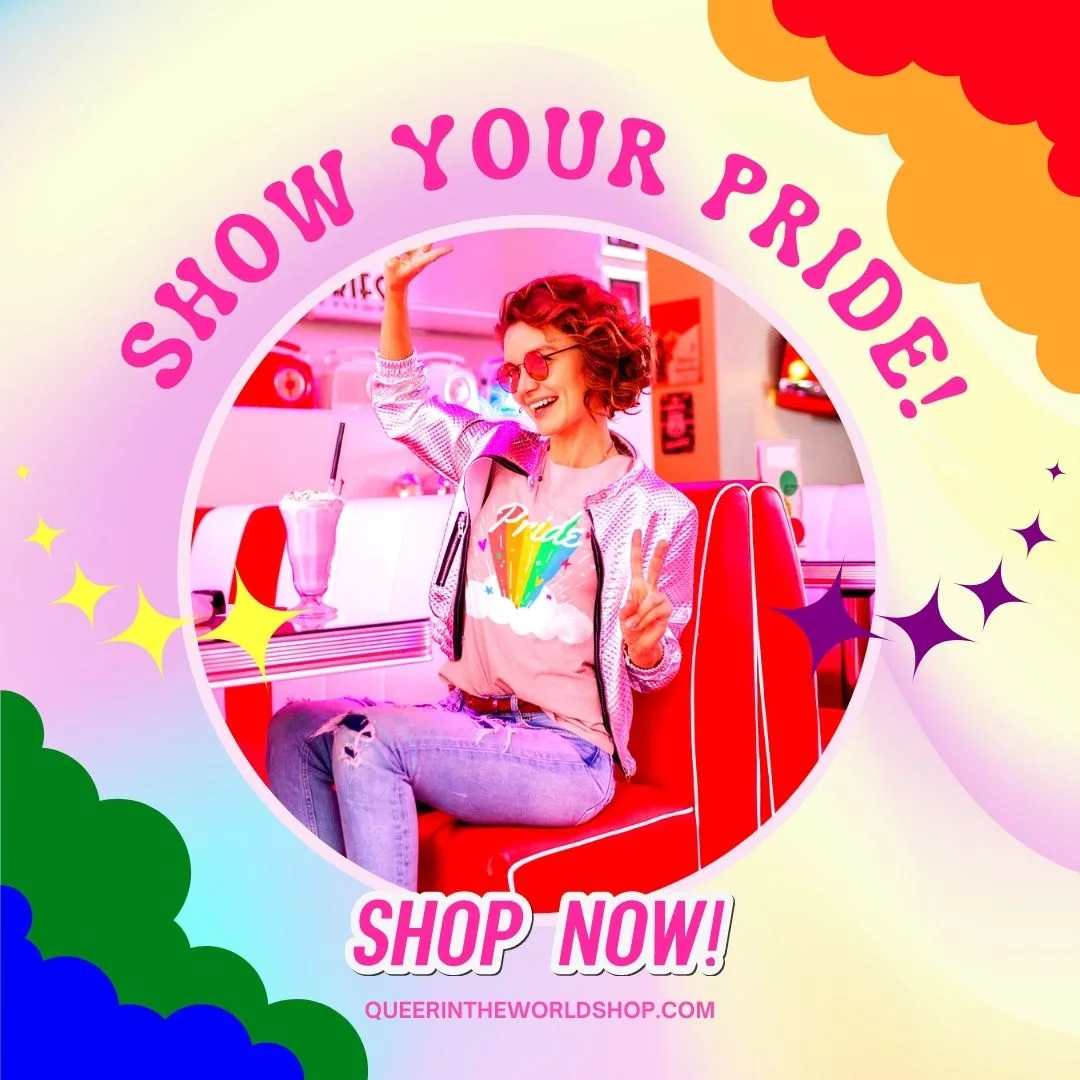 Gay-Friendly & Gay Hotels in Bilbao
As a queer traveler, it's important to feel safe and welcome when staying away from home. That's why gay-friendly accommodations in Bilbao are essential for a worry-free and enjoyable stay. Being gay-friendly goes beyond just being tolerant, it means creating an environment that fully accepts and celebrates the LGBTQ+ community.
In Bilbao, you'll find a range of accommodations that proudly display rainbow flags and have policies in place to ensure that everyone is treated with respect and dignity. From the friendliest staff to inclusive amenities, these hotels go above and beyond to make LGBTQ+ travelers feel comfortable and welcome. And even though there are no exclusively gay hotels or resorts in Bilbao, these are the most fabulous and proactively gay-friendly accommodations in the city.
With these hotels, you can relax and unwind knowing that you're in an inclusive environment that accepts and celebrates all individuals. So, whether you're looking for a luxury experience or a budget-friendly option, Bilbao has got you covered with the most welcoming and gay-friendly accommodations around.
Needless to say, there are also hundreds more hotel and hostel options in Bilbao if none of these suit your desired budget, facilities or area – but these are the best hotels according to other gay travelers and us. Whatever your needs are, Bilbao has you covered.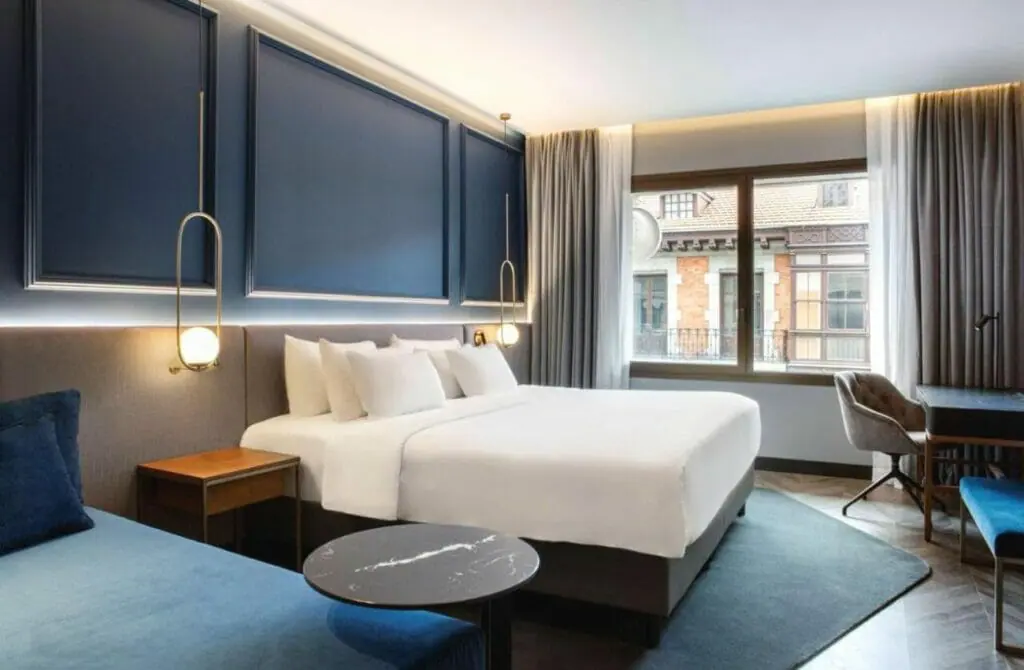 Radisson Collection Hotel, Gran Vía Bilbao ☆☆☆☆☆
Spend your time at the innovative 5-star Radisson Collection Hotel, Gran Va Bilbao and immerse yourself in everything the city offers. The hotel is close to Bilbao's famous attractions because it is in the cosmopolitan Gran Va neighborhood, in the center of the city.
The hotel is a haven of peace and relaxation because it combines enormous spaces with casual elegance. Admire the hotel's prominent pillars from the outside before entering to discover a refreshed Art Déco design with Japanese accents.
Enjoy top-notch encounters and services all across the hotel. A unique getaway above the city, the hotel has 137 rooms and suites, the outstanding NKO Restaurant where Basque and Japanese cuisine truly shines, and the speakeasy-style rooftop bar with vertical plants and vibrant parasols.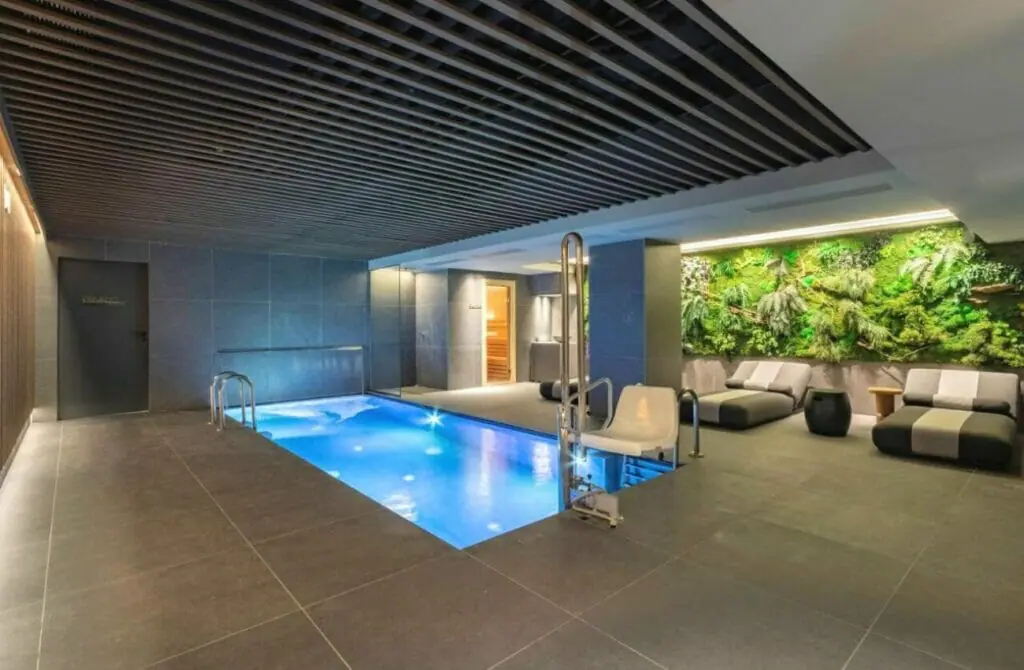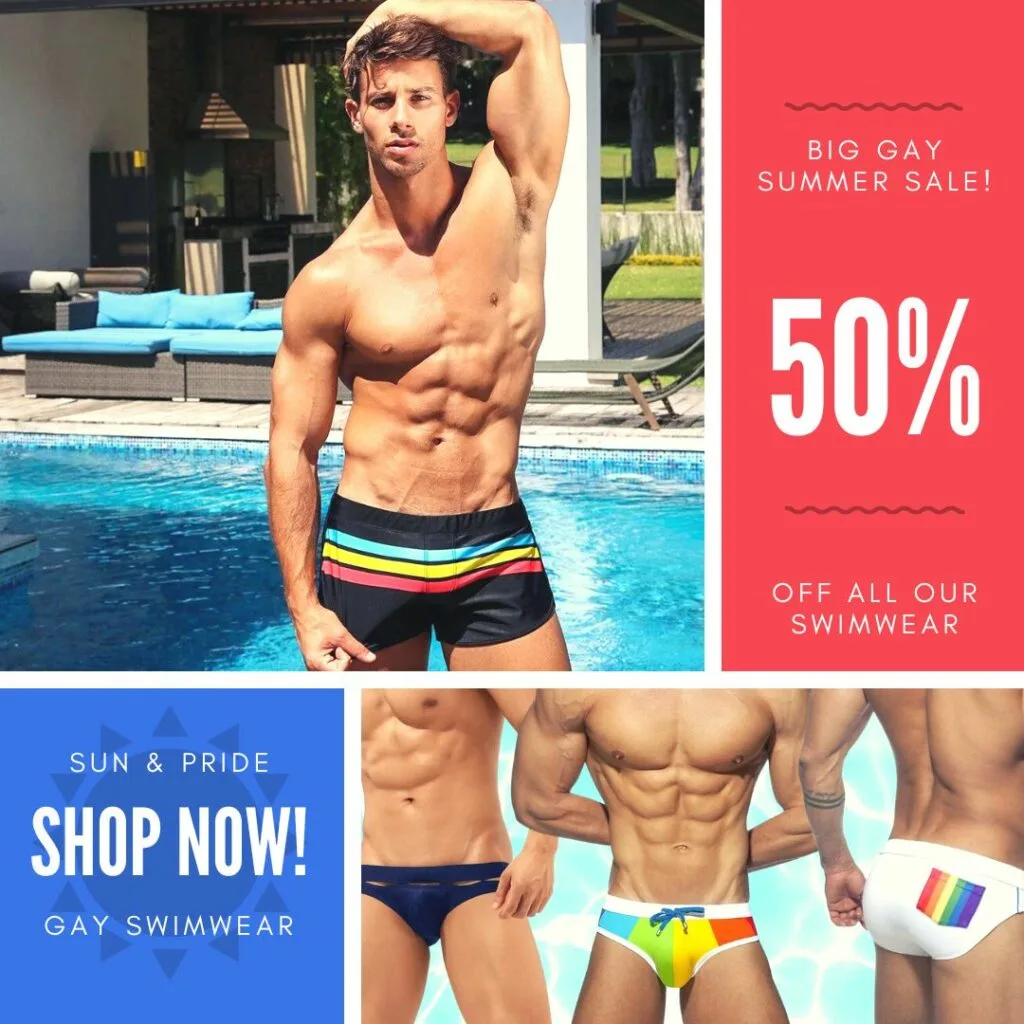 The most desirable position in the city, immediately across from the Guggenheim Museum Bilbao, is where you'll find the Gran Hotel Domine.
The 145 soundproofed, air-conditioned rooms and suites, some of which have views of the Guggenheim, allow You to unwind throughout your stay in the center of Bilbao. On the roof terrace, where there are stunning views of the museum and the River Nervion, breakfast is offered.
You can taste a variety of cuisines at the gastronomy Beltz restaurant, the more relaxed Le Café, or the chic Sixty-One Lobby Bar. Comfort is prioritized in these small, intimate spaces, from which you may take in the Guggenheim Museum's various perspectives as the light changes throughout the day.
The most famous and opulent building in the Villa de Bilbao is the Hotel Carlton. It includes 142 roomy, spacious accommodations spread across 6 levels, including regular rooms, superior type rooms, demi suites, suites, and The Imperial Suite. The Carlton Hotel offers rooms that are roomy and cozy, tastefully furnished to highlight opulent modern conveniences.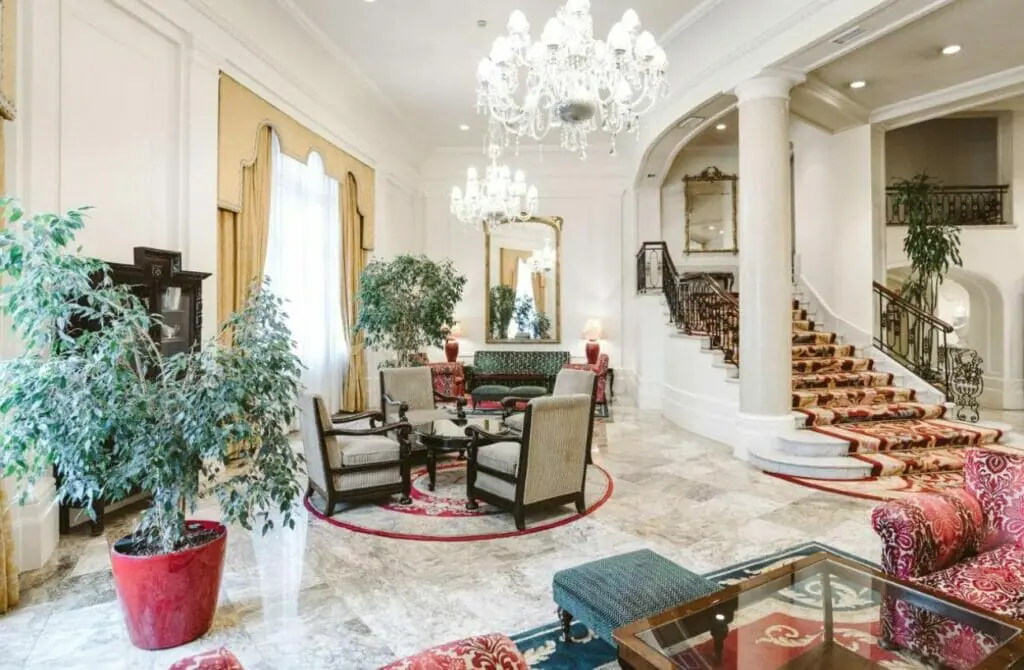 The renovated Sercotel Coliseo Bilbao offers you to unwind inside a significant piece of the city's historical architecture, the old opera house. Its exquisite exterior, extensive amenities, and convenient location near the Guggenheim Museum, Campos Elseos Theater, and the railway station make it the ideal place to stay for exploring Bilbao or unwinding after a long day of sightseeing.
At the Sercotel Coliseo Bilbao, settle into one of the 97 avant-garde rooms with warm colors. All come with contemporary facilities.
You'll want to stay in a hotel that is as fashionable as its surroundings in a city as forward-thinking and artistic as Bilbao, which is where the NYX Hotel Bilbao comes in. With local artists' works covering the walls, stylish furniture, and a bright energy that perfectly mirrors the city outside, this chic new hotel in northern Spain exudes cool.
Once inside the lobby, it is clear what sets NYX Bilbao apart from the competition. Vintage arcade games coexist with vibrant contemporary art, and the hotel staff, known as the City Lovers, will welcome you and introduce you to the hotel's amenities as well as offer you the inside scoop on Bilbao's hottest attractions to ensure you have the best possible experience.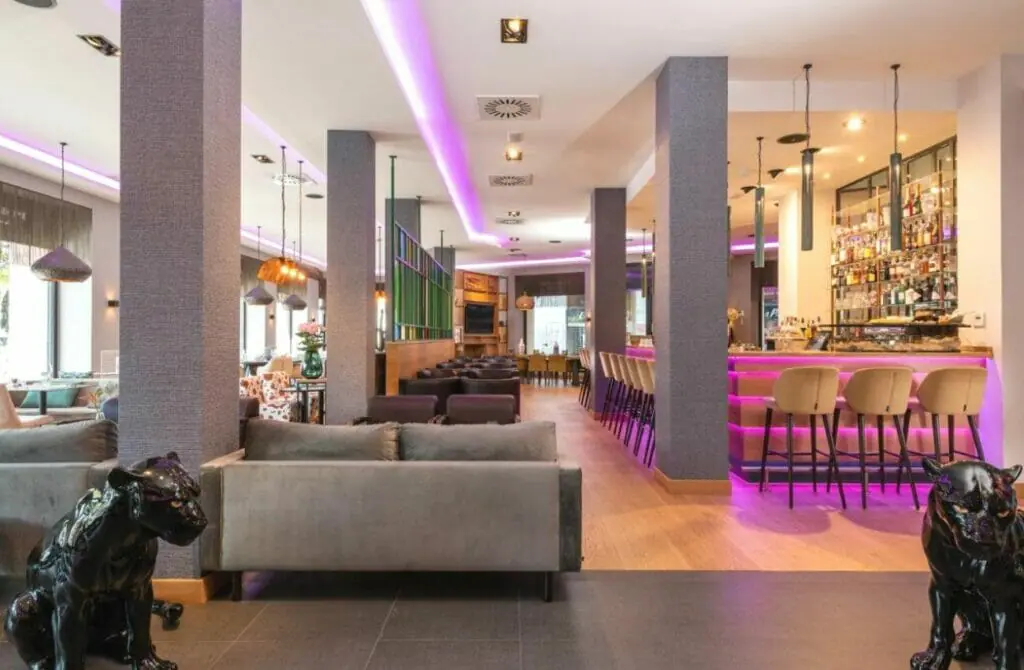 This modern hotel is in the heart of the city, 2 minutes from the Abando metro stop and 13 minutes from the Guggenheim Museum Bilbao. Flat-screen TVs and minibars are features of contemporary, furnished rooms. A lounge is added to upgraded rooms.
A chic restaurant provides Basque cuisine, and a relaxed cafe serves drinks, tapas, and sports on television. There are also six meeting rooms, a workout center, a sauna, and a library. A breakfast buffet and parking are both chargeable extras.
The top hostel in the heart of Bilbao. You can broaden your travel horizons, meet people from all over the world, and get to know Bilbao by sharing a room in a cozy bunk bed (or booking a private one for you and your friends). With serenely colored walls and understated yet magnificent furnishings, it provides a warm and cozy vibe.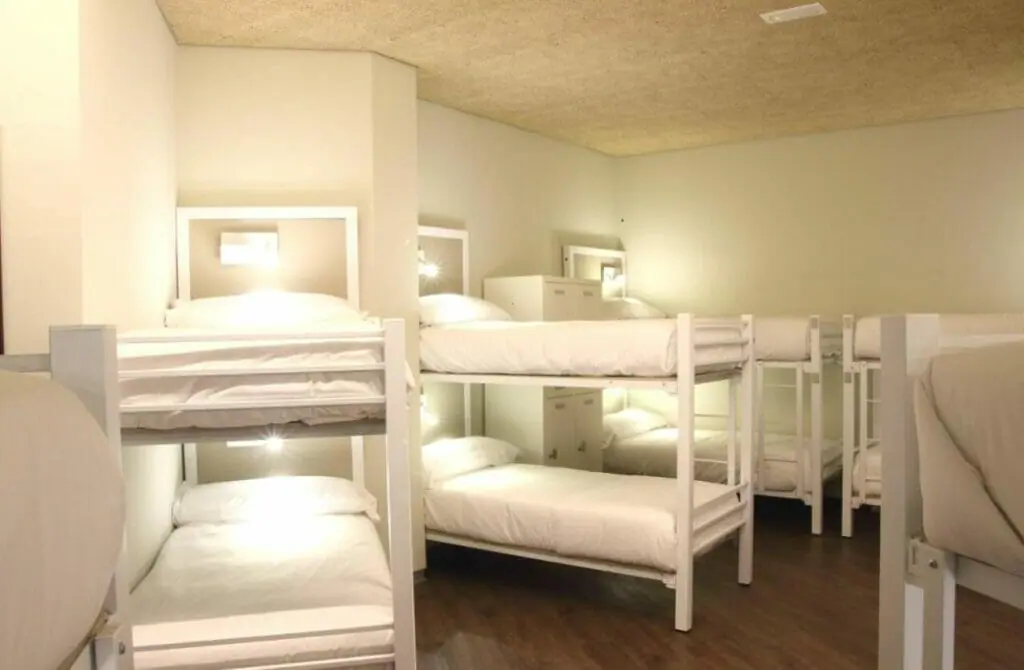 Gay Nightlife in Bilbao
Bilbao is a city that is full of life and energy, and its gay nightlife scene is no exception. The main gay nightlife area is located in the old town, which is where most of the city's bars and clubs are situated. This area is known for its lively and friendly atmosphere, making it a perfect spot for travelers to meet locals and other LGBTQ+ travelers.
The gay nightlife scene in Bilbao is eclectic and dynamic, with something for everyone. Whether you are looking for a chill bar to relax with a drink or a dance club to let loose and party, Bilbao has it all. Many of the bars and clubs stay open late into the night, and it's not uncommon for the party to continue until the early morning hours.
If you're looking to experience the gay nightlife scene in Bilbao, the best time to go is on the weekends. Bars and clubs tend to get busy around midnight and can stay that way until the early hours of the morning. So, put on your dancing shoes and head out to the old town to experience the fun and lively atmosphere that Bilbao has to offer!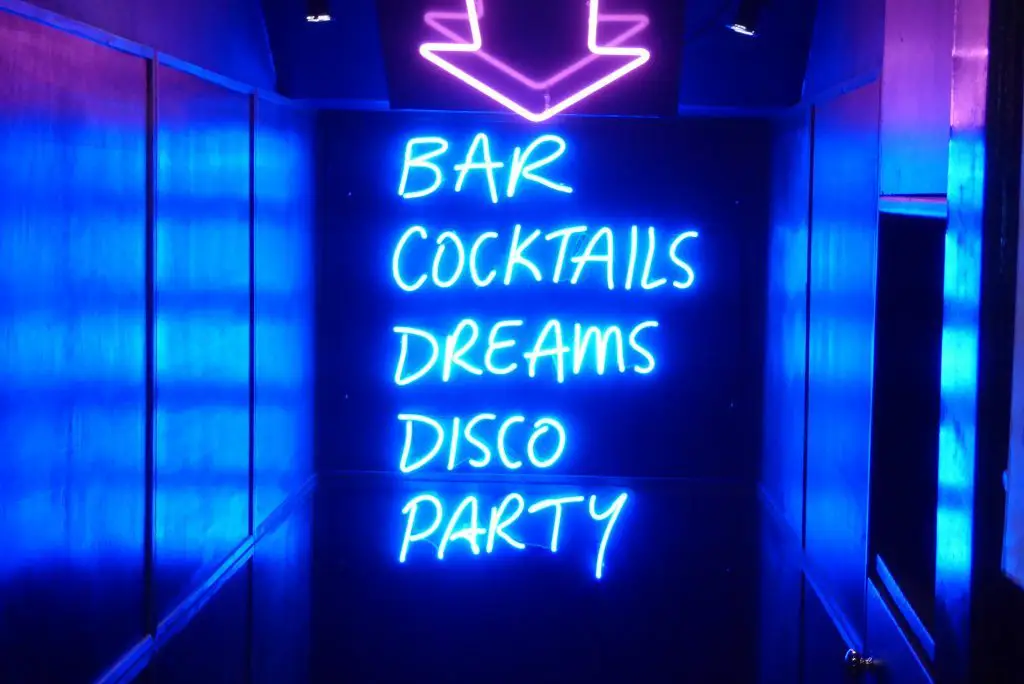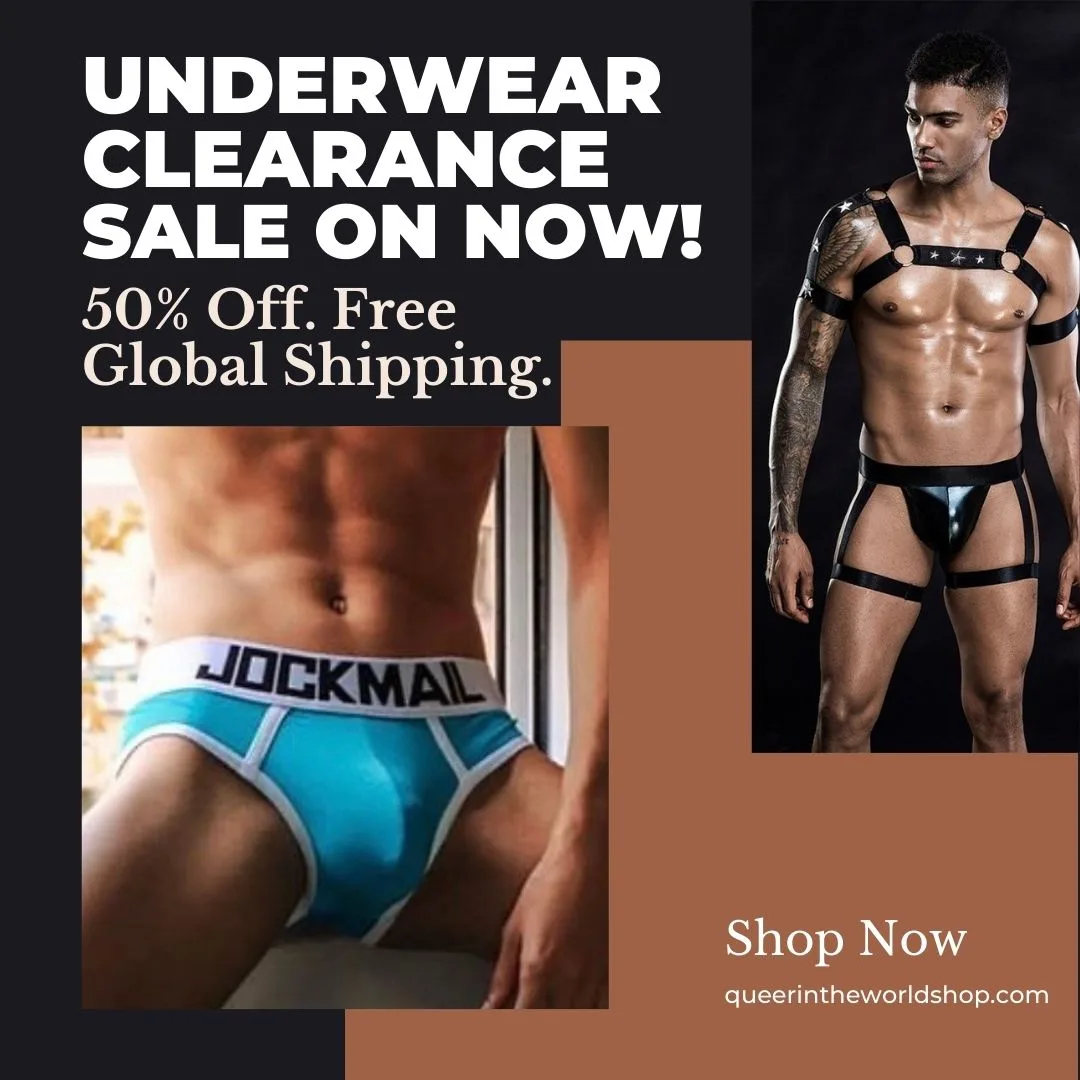 Gay-Friendly Bars and Clubs in Bilbao
With a beautiful setting, fantastic cocktails, and a great selection of music, this campy cocktail lounge is small but vivacious. While all the cocktails are exquisitely balanced, we have to recommend the Tom Sour, a classic gin-based cocktail that will have you buying round after round. Here, inhibitions and libations flow freely all night long.
The LGBT bar Modesto is in Bilbao's historic district (Casco Viejo). A long bar runs the length of the place's thin bar in a traditional configuration. Restrooms are to the right at the back (usually with a queue). You can also have your drinks outside.
Lamiak
Lamiak is an old-school gay bar with a relaxed and friendly vibe, that offers a variety of drinks and cocktails, along with a menu of delicious tapas. Lamiak also boasts an extensive selection of gin and tonics, along with a range of other spirits, making it a great destination for craft cocktails and quality libations.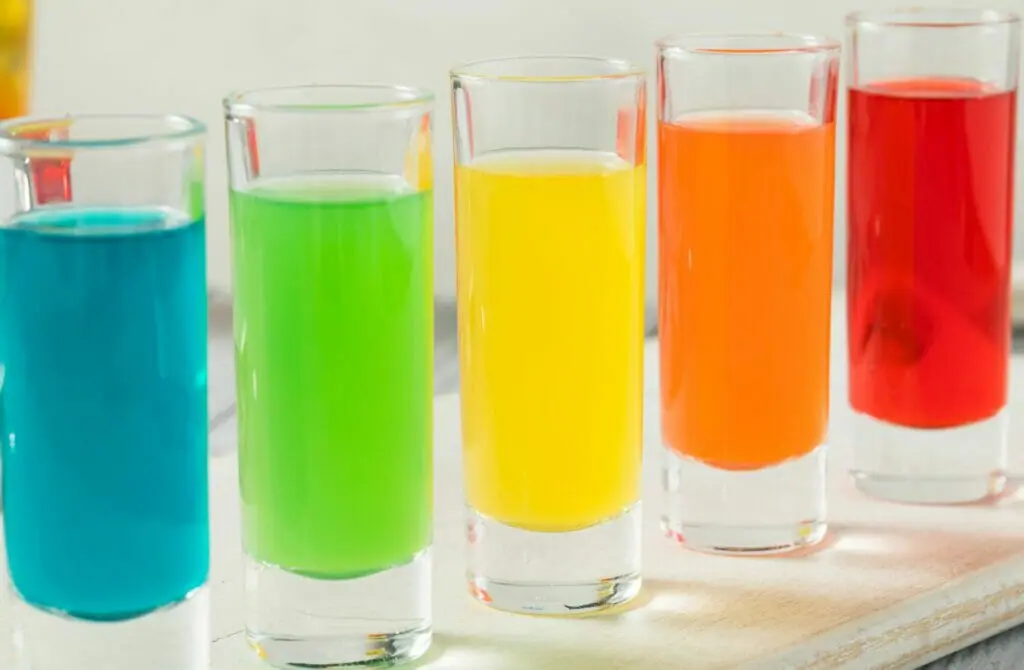 A renowned street corner in Bilbao's historic district is home to the LGBT bar Bizitza. Gay men and women congregate in the summer on the terrace or by loitering in the street between the other bars. What sets Bizitza apart from other bars in Bilbao is its commitment to inclusivity and diversity.
This is a place where everyone is welcome, regardless of sexual orientation or gender identity. Whether you're a solo traveler looking to meet new people or a group of friends looking for a fun night out, Bizitza has something for everyone. The bar also offers a great selection of drinks, including cocktails, beer, and wine, and regularly hosts special events, such as drag shows and karaoke nights.
A late-night gay bar is in the center of Bilbao's renowned Casco Viejo. It is a popular hangout for locals and savvy travelers alike, offering a stunning ambiance and superb drinks made with the highest care and attention to taste.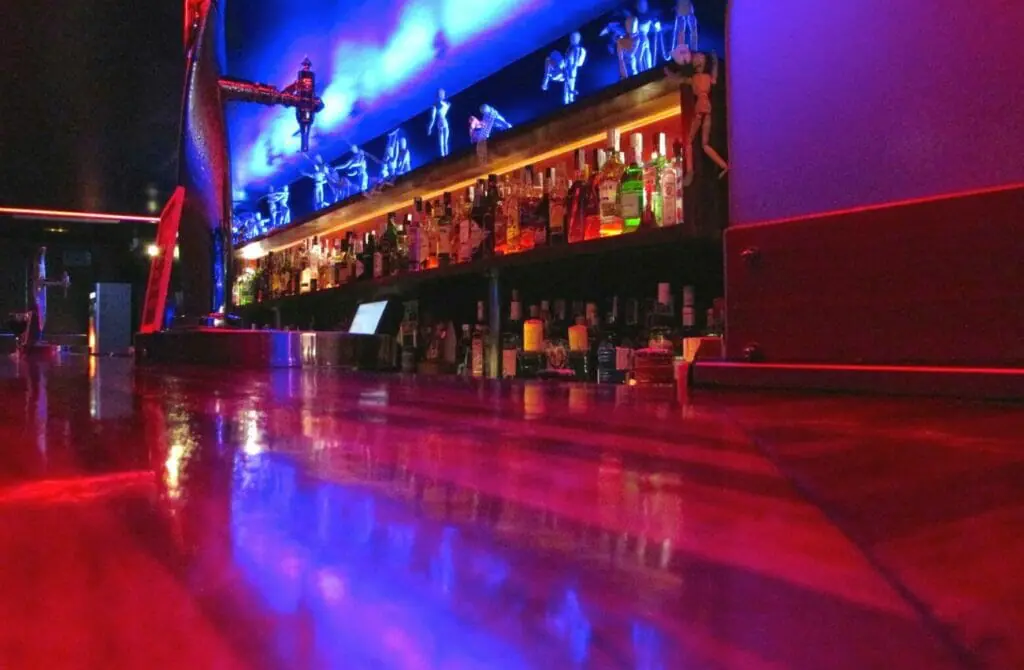 Gay-Friendly Bars and Clubs in Bilbao
This club has a subterranean, industrial feel and is hidden beneath former railroad arches. There is a wide range of music, with several Spanish dance songs. Around 3 a.m. on Saturdays, business normally picks up.
Fever is a must-see if you enjoy going to nightclubs. It is a disco that is currently highly fashionable. You will undoubtedly locate your place because there are several spaces. They feature modern sound systems and excellent programming.
You may listen to music from the top DJs and international performers at Fever. And keep an eye out since the Fever hosts ART AFTER DARK, a nighttime celebration that frequently takes place in the foyer of the Guggenheim Museum Bilbao.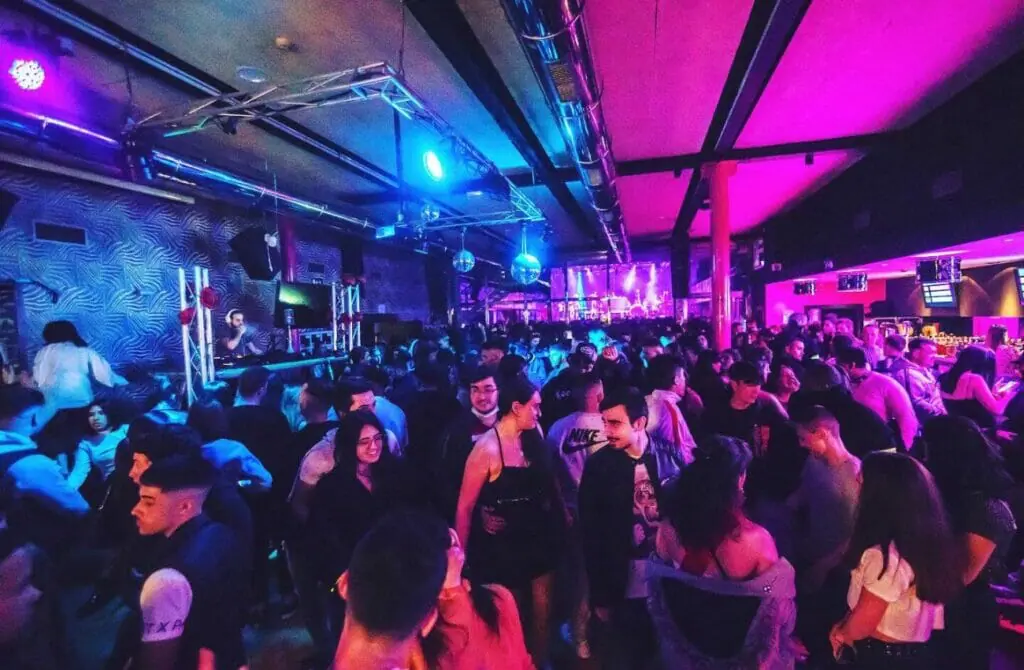 If you're looking for a passionate bar, this is the place to be. You get wonderful drinks and quick service. You will encounter persons ranging in age from 18 to 40 among its diverse clientele. It is a classy location that attends to the details, even in the littlest of things.
They have wonderful antiques from different parts of Europe littered throughout the space. From the entry to the rear of the bar, a row of tables is also present. It might be an excellent place to start a night out because of the pleasant ambiance.
Over 50 years ago, this karaoke bar first opened. Its unique personality is mirrored in the decor, which has a traditional vibe and is reminiscent of an English pub. It is comfortable but not overly spacious. There is an enormous selection of songs, so you can pick your favorites.
This club is in Gran Va. Since the dance floor is very spacious, moving around is no problem. The crowd is often older—40 and up—people from seven o'clock till midnight, and the venue takes on the feel of an antique disco. But considerably younger folks show up there later in the evening. It also serves as a location for rock concerts, where popular bands and vocalists frequently perform.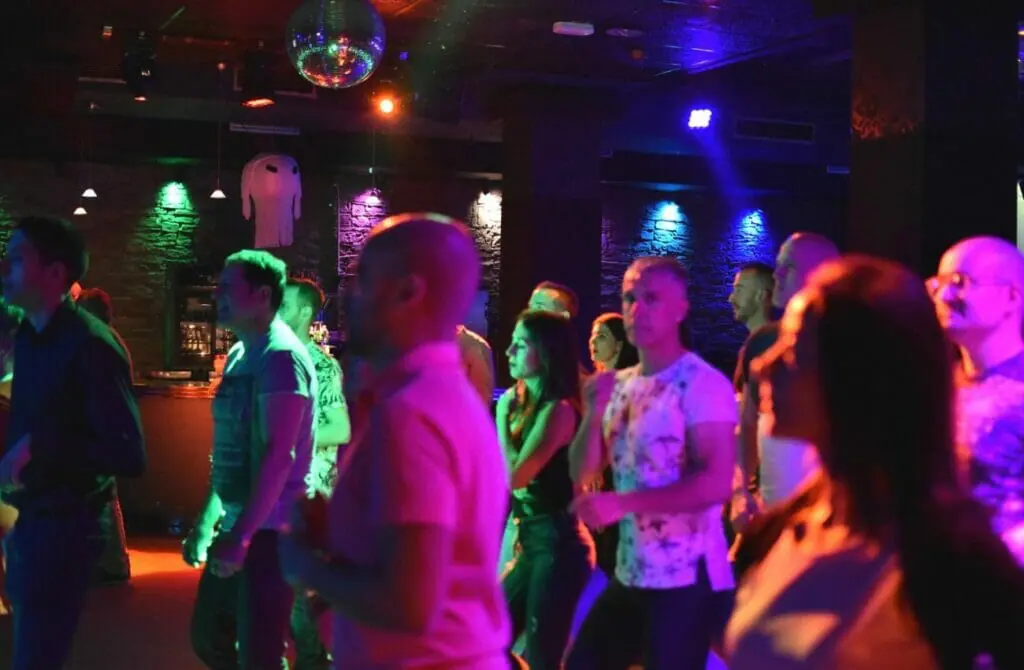 The Rendez Vous has been operating for 25 years. While the audience it draws has typically been middle-aged, young individuals appear to have recently shown a renewed interest in visiting this location, especially on weekends. The cordless microphones and a great selection of songs are both features of this amazing karaoke club.
The Residence hosts regular events where you may sample the finest Scottish whiskies and live music performances. This well-known pub employs a great and friendly bartender who is enthusiastic and shares it with everyone. It is also considered one of the greatest cocktail bars in the nation. The place to enjoy great cocktails is at Residence.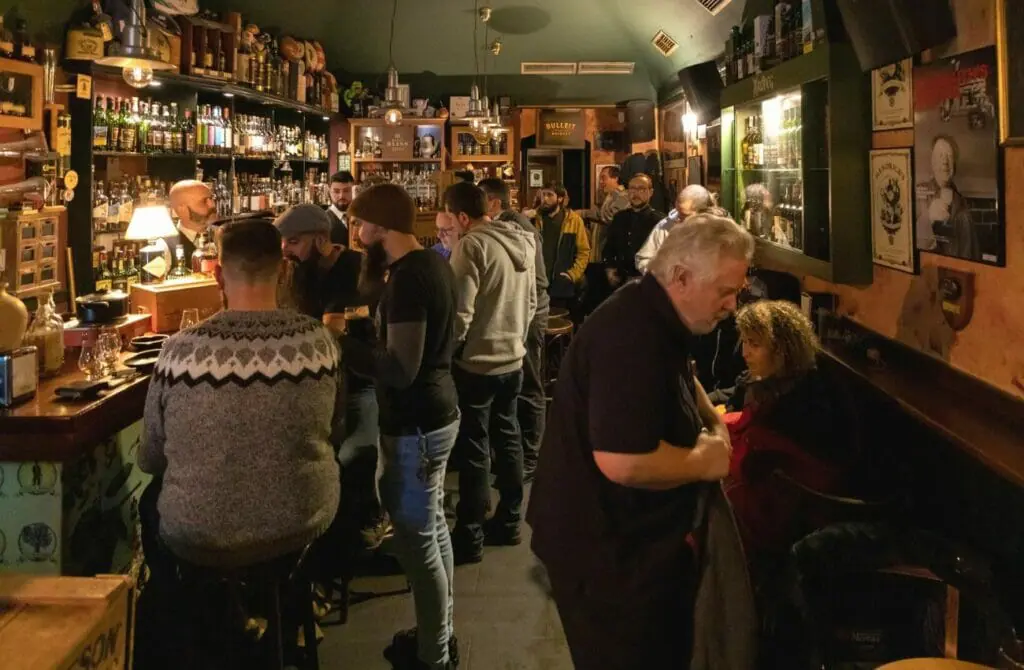 Bal2
Bal2 is a popular dance club with a trendy and modern atmosphere. The club features a spacious dance floor, state-of-the-art sound system, and a diverse music lineup, from pop and electronic to house and techno. Bal2 also hosts live music performances and theme nights, making it an exciting destination for dancing, socializing, and enjoying top-notch entertainment.
Bilbao Lounge Bar is a sophisticated cocktail bar that offers a cozy and relaxed ambiance, making it a great spot for conversation and mingling. The bar boasts a wide selection of premium drinks, from classic cocktails to unique creations, as well as a menu of tasty bites. The sleek and stylish decor, coupled with live music performances, make Bilbao Lounge Bar a go-to spot for a refined night out.
Otxoa
Otxoa is a long-standing gay bar with a retro feel and a lively dance floor. The bar is known for its eclectic mix of music, from pop and disco to classic rock, making it a great spot for dancing and socializing. Otxoa also hosts theme nights, including drag shows and karaoke, making it a fun and exciting destination for an unforgettable night out.
Pub Key is a lively pub that features a range of entertainment options, including live music, drag shows, karaoke, and trivia nights. The bar has a friendly and welcoming atmosphere, with a large outdoor terrace, making it a great spot for casual socializing and mingling with locals.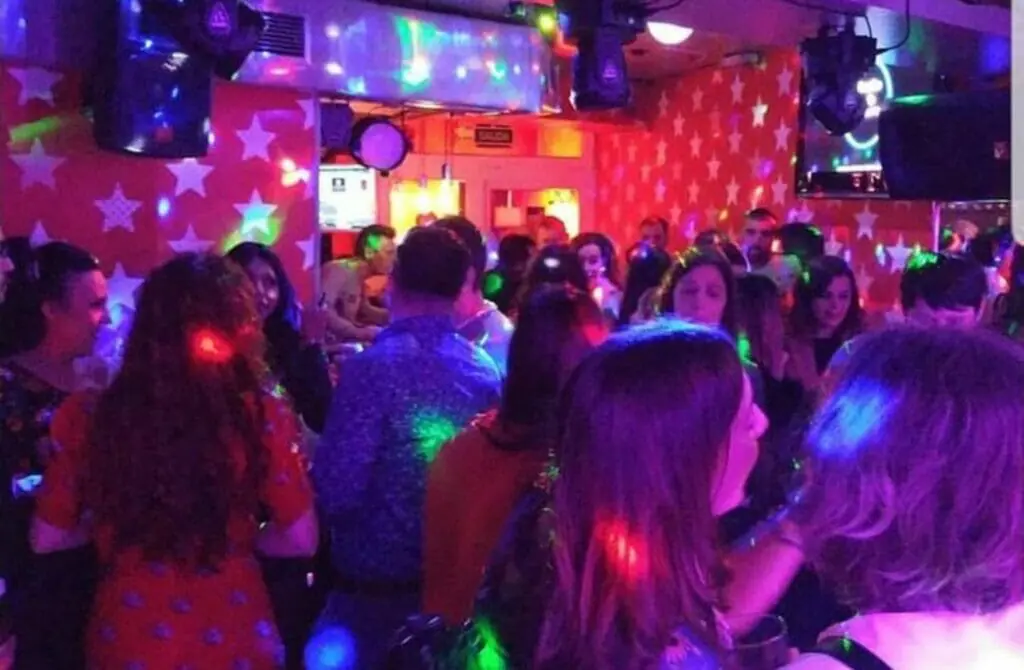 Cruising and Gay Saunas in Bilbao
When traveling to a new city, it can be exciting to head out for more than just a stiff drink. One aspect of the Gay Bilbao scene that many queer men enjoy is visiting gay saunas and cruising clubs.
Sure, the sauna culture in Bilbao is not as hedonistic as in Amsterdam, Barcelona or Berlin, but these venues still offer a chance to meet new people, socialize, and engage in sexual activity – without resorting to gay hook-up apps. However, it's important to keep in mind that these venues can vary greatly in terms of atmosphere, clientele, and rules, so it's a good idea to prepare yourself before visiting. If you are apprehensive, we advise studying our guide to visiting a gay bathhouse for the first time, which should help set your mind at ease, and always practicing safe sex.
Additionally, it's important to be aware of and respect local laws and customs regarding gay venues and sexual activity. With a little bit of planning and an open mind, visiting gay saunas and cruising clubs can be a fun and exciting part of your gay Bilbao travel itinerary.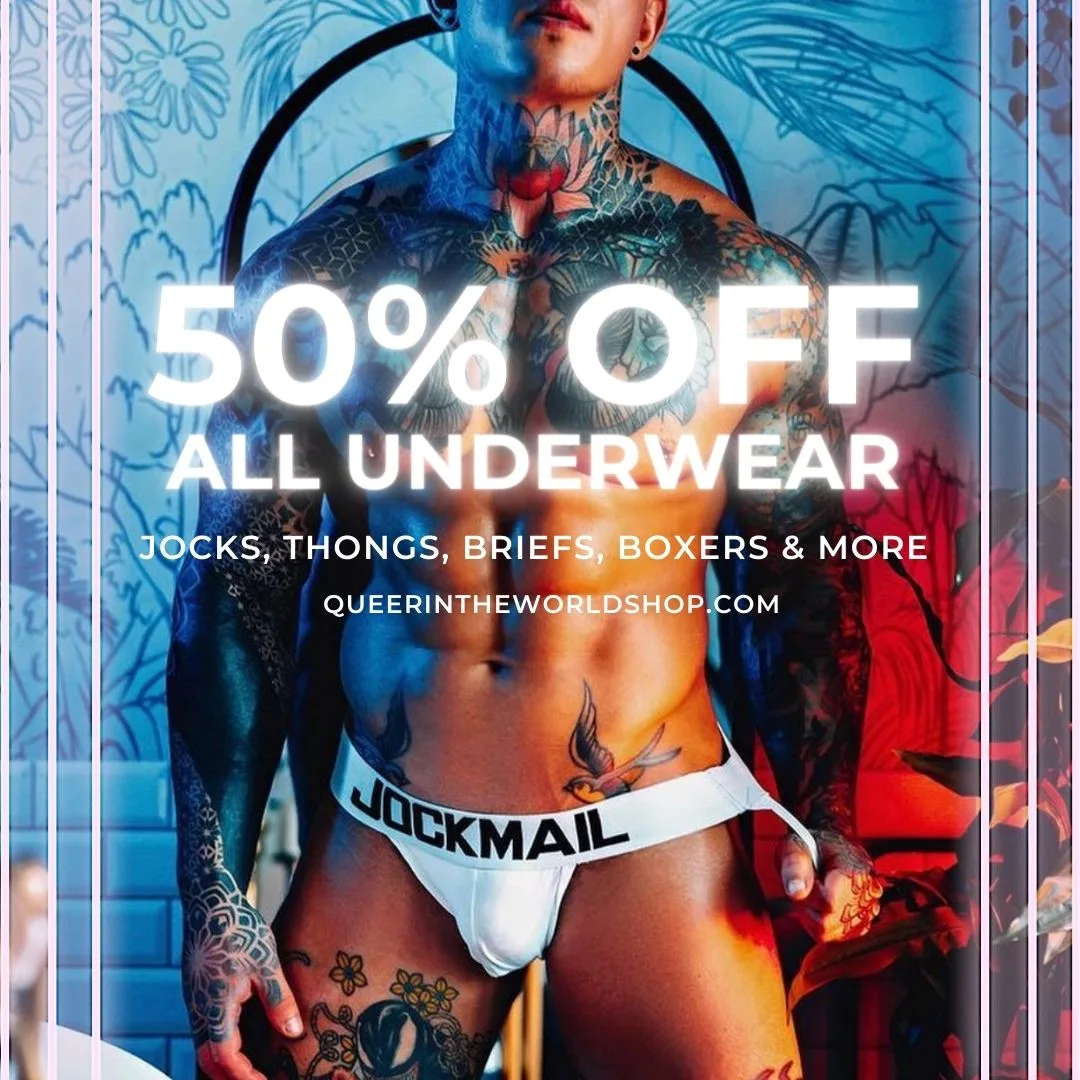 A lavish sauna where you can indulge all of your naughty, sexual fantasies. Open 24 hours a day, but especially well-known after work and on Sunday mornings for their after-party. There are many private cabins, a fantastic whirlpool, a gay movie theater, a bar, a steam room, and a dry sauna.
Although Sauna Bilbao is further from the city center and will probably require transportation by cab, its upscale atmosphere and spotless amenities may make this expense worthwhile. There were many younger, attractive guys—mostly from Europe—and relatively few locals.
This is not an exclusive sex shop, but you will be just as surprised when you realize it caters to gays as well. Almost everything is here; lubricants, plugs, rings, bondages, whatever you kink is, La Pera has you covered. This is also a popular gay cruising spot in Bilbao – but we found it a bit hit-and-miss.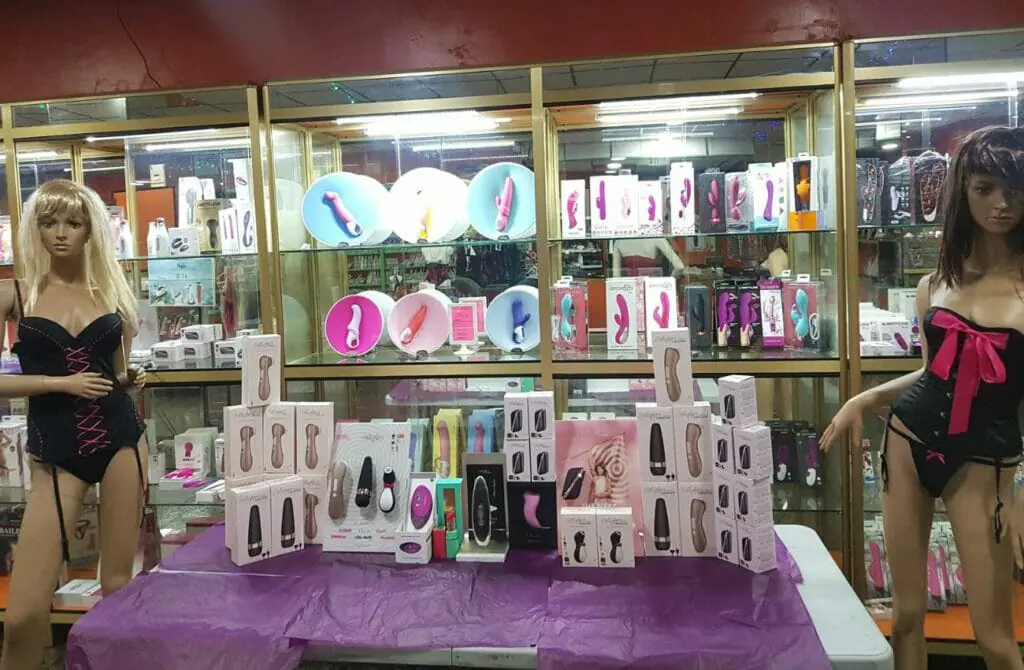 Gay Map Of Bilbao
Finding it hard to envisage where everything is in Bilbao? Hopefully, this queer-centric map helps where we have marked all the bars, clubs, parties, hotels, saunas, massages and more will help you stay in the spot best suited to you!