I don't know about you guys, but there's only one thing on my mind when summer rolls around: clothes! Or more accurately, what to wear so that I a) don't look like a boiled lobster because of all the heat, and b) have all the boys beating down my door trying to score a date with me, or at least get a few stares when I hit the beach.
Our priorities may not be the same, but everyone appreciates a guide to clothing and accessories for every season – everyone with taste, anyway – so I've decided to compile a list of must-have items from JJ Malibu.
It took a long time because you guys know how much I love clothes, but I managed to narrow it down to ten essentials. They range from t-shirts to shorts to briefs to even a cute little leather harness for when you've managed to hook those lingering lookers and you've run all the way past third base.
And for those of you who don't yet know about the famous pineapple, you will soon be embracing the crazy, outlandish and funky designs on offer from this Toronto-based gay clothing designer. Their extensive range of men's underwear, swimwear, and tank tops are sensual as hell and guarantee to turn heads wherever you go.
If you are looking for vivid gay thongs, short shorts, workout tanks, or that distinct harnesses for the next gay circuit party, this cheeky brand has something for you. Their driving mantra is to bequeath fierce fashion to gay men from all walks of life. So whether you're a party animal, a certified fashion freak, a buff gym shark, or just hunting for a chill outfit to wear on your next gay resort holiday, JJ Malibu has an idea!
Shipping to over 140 countries worldwide and just five years old, JJ Malibu has also sponsored the Bangkok White Party, the most prominent LGBTQ+ party in Asia, and been seen copious times on the main stage of RuPaul's Drag Race providing wardrobe for the beautiful Pit Crew. Establishing trends rather than chasing them, we don't think they will stop until they are a staple in every gay men's closest.
If you want to be ahead of the game – this is one gay underwear brand you need to know about.
All the items on the list of must-own JJ Malibu items won't burn a hole through your wallet, and you can enjoy your summer and not have to worry about how you'll pay the bills when the holidays are over. You're welcome.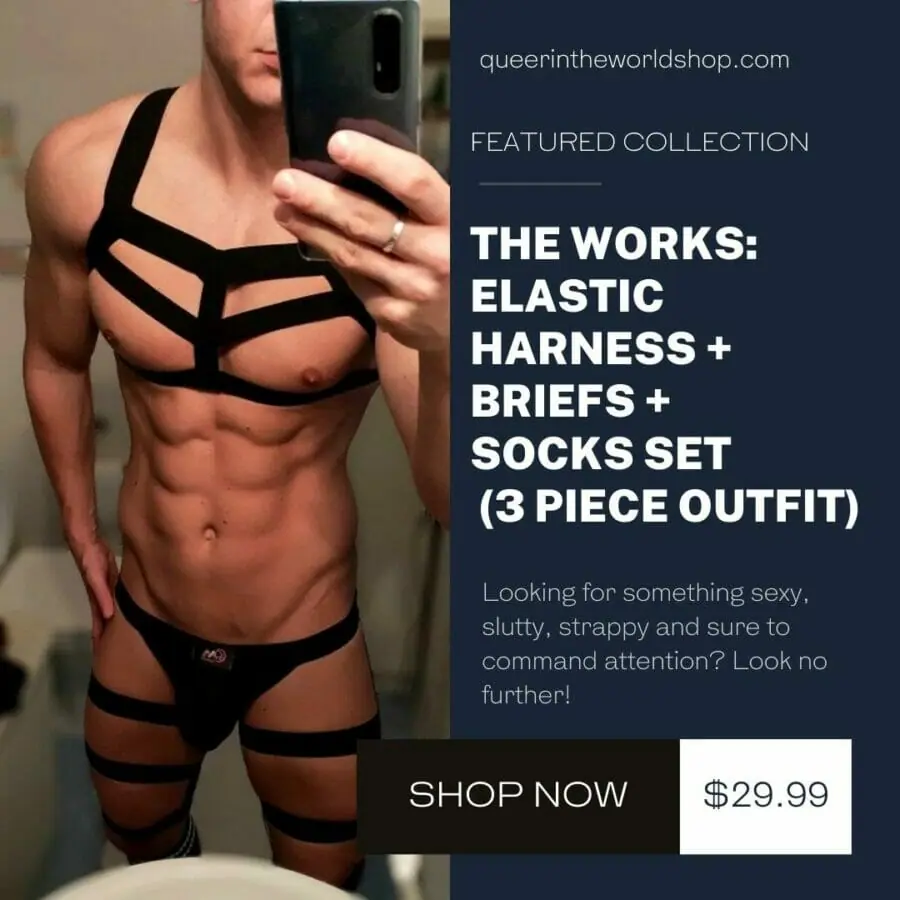 I'm starting out with a necessary staple: swim briefs.
JJ Malibu's classic swim briefs take this simple item of clothing to the next level by decorating it with a motif of puckered lips because there'd be no such thing as too much. It comes in a range of color schemes, but you can't go wrong with black.
It's made of one hundred percent polyester for comfort, and it's also totally waterproof, making it perfect for wearing on the beach and in the pool (as if you'd think of wearing it anywhere else).
Show off your fun side at parties with these chic, classic briefs, and thank me later.
This next JJ Malibu item is more of a novelty item, at least if you're planning to wear it with someone else present. It's another pair of briefs, but this time it's lightweight.
Seriously, it's so light and comfortable that you almost forget that you're wearing anything at all. Except you can't because it's got a pink pig right over your junk. Hey, like I said, it's not for everyone, but if you've got no problem being fun and a little quirky, it's the perfect pair of briefs.
It's also made of durable and stretchy polyester, which is also breathable, allowing you to wear it for long periods of time without discomfort. Best of all, it's got a new, improved cut that allows free and easy movement, something we could all use some more of when we're wearing briefs.
What's the best thing to wear to the beach? Water-patterned briefs, of course. And when it's made of comfy, lightweight mesh? I'll take a dozen, please.
These classic, comfort mesh briefs are perfect for that little, intimate teasing for when you've gotten past the talking stage. It's made of polyester and spandex and designed to give you the most attractive fit possible. Have no man to wear these sexy briefs for? No worries, it's also great for pool and underwear parties and, if the worst comes to the worst, you can wear it to the gym.
Not that you'd ever catch me wasting my summer away huffing and pudding on a treadmill, but I guess you can wear it to work out for that gorgeous summer body. If you must.
We're almost halfway through, and things are getting hotter than the beaches of Sitges and Fort Lauderdale! More accurately, they've gone from smoldering flame to supernova because this next item is going to have you reaching for a cold glass of water.
The g-string thong leaves very little to the imagination, which is just how I like it. Show off that perfect bubble butt with this lightweight, smoking hot item. And for you guys who aren't feeling so bold and daring – read, boring folks – it's got matching bikini bottoms, shorts, and even a tank top.
The thing itself is made of polygamist and elastin, which means it fits perfectly and feels like you're wearing air. It also comes in several other patterns and colors, so you can buy a dozen different styles if you want to. And trust me, you're going to want to, once you try it out for yourself.
In case you're not sold, it's got a bulge pouch to flatter and protect your junk at the same time.
With this item, we can move away from the bottoms – not that there's anything wrong with bottoms – and show the tops some well-deserved love. This graphic, fitted crop top bears a label we've all wished we'd seen at some point or the other, especially when it comes to certain exes – Toxic.
In this case, though, the toxic is in a good way. I hope. Not making any promise, though, especially if you've got a wild summer planned.
This fitted crop top is made of a spandex and cotton blend to give that great fit without sacrificing comfort and coziness. It also comes in a wide range of sizes, from small to extra-large, and you can wear it anywhere from the beach to parties to brunch with the girls, to even a super casual date that'll probably end up with the top cosplaying a rug.
Don't worry about it enough; it's super durable and easy to get clean.
Neon Yellow Sheer See-Through Short Shorts
We took a short break, but now we're back to the bottoms, and this time we've got some naughty short shorts. These particular ones come in only one color, but honestly, who needs any other shade when the one color is neon yellow.
Yellow screams ready, and with these shorts, you'll be ready to go from a party to a hot date in no time. It's also got a matching thong for when you want to hit the beach right after because the fun never stops in summer. You can also wear it without the thong or any sort of underwear if you're selling daring.
It's practically see-through for that extra dose of hotness, and it fits like a second skin. It's also made of one hundred percent breathable polyester for comfort and confidence.
Whew, I had a mini-crisis before I decided to share this one with you guys, but ultimately I decided y'all could handle it. As the name implies, this item is a singlet-harness-thong, made of leather!
Oh, and it's super-kinky, in case you can't tell from the name. We wouldn't recommend wearing this on the beach-unless it's a private beach – or any kind of public place, for that matter.
But you can wear it to private parties, clubs that allow these kinds of things, or the bedroom for a hot tumble between the sheets with your partner or tour the current flavor of the month.
It's made of an imitation leather that's so comfortable that you'll fall in love with the way it fits against your skin. The material also has some stretch for the right fit. Take a chance that summer, and you just might bring your long-buried leather play fantasies to life.
This cute leather harness is in keeping with the theme set by the item before it, but it also turns up the heat. This item is a full leather harness set, complete with wings. Wear it to a kinky costume party or BDSM play session (or both, if you can handle it.)
It's made of imitation leather, with a metal ring design that takes things from cute to hard-core. You can pair it with sexy briefs, a gay thong, or a jockstrap and skip the wings if they're not to your taste.
Style it however you like; the only rule that cannot be broken is that you must have fun because there's no greater crime than a fun-free summer.
This next JJ Malibu object of desire is tamer comparing to the one directly preceding it but put it to good use, and you'll create memories that'll have you fanning yourself in the middle of winter.
It's a bikini brief style jockstrap that puts you in the mood for some bedroom shenanigans the moment you slip it on. It's got extra room in the crotch area for the well-endowed who may need it, and it's made of comfortable yet supporting fabric, crafted to hold that cute ass.
The butt area is completely exposed save for a few well-placed straps, because why leave anything at all to the imagination when the alternative is so much more delicious?
Summer always brings the heat, and our Yes Daddy Fan is useful as well as stylish. It's made of an apron, durable nylon fabric with bamboo nibs for producing the best breeze when things get too hot. Of course, we're never boring over here, and the Yes Daddy Fan is decorated with special fluorescent paint that glows in the dark.
Imagine the possibilities this holds.
You can take it to festivals, concerts, raves, parties, everywhere there's music and sweating and dancing in the dark. It's a great way to stand out from the ground and save yourself from passing out from the heat at the same time.
Never thought about all the things you need a fan for? Well, now you know.