One of the hottest gay destinations in the US of A is Saugatuck, a tiny little beachside village in Michigan with a massive reputation in the queer community. How is this so? They not only have over 140 LGBTQ+ businesses (owned or operating as a gay space) but also have many brilliant pride events and one of the most prominent gay holiday destinations, The Dunes Resort. So, you can bet that it would be an understatement to describe Saugatuck just as a little bit queer!
Stepping outside of the rainbow cloud, Saugatuck has many more exceptional things that make it a delightful place to visit. It may have a 150-year history, however, it has remained relatively small despite its years.
You will find this place exceptionally laidback, with a year-round population of 800 and many things to see as you walk down her main street. You can expect to see galleries, little shops, cafes, and cute marine and beachside attractions.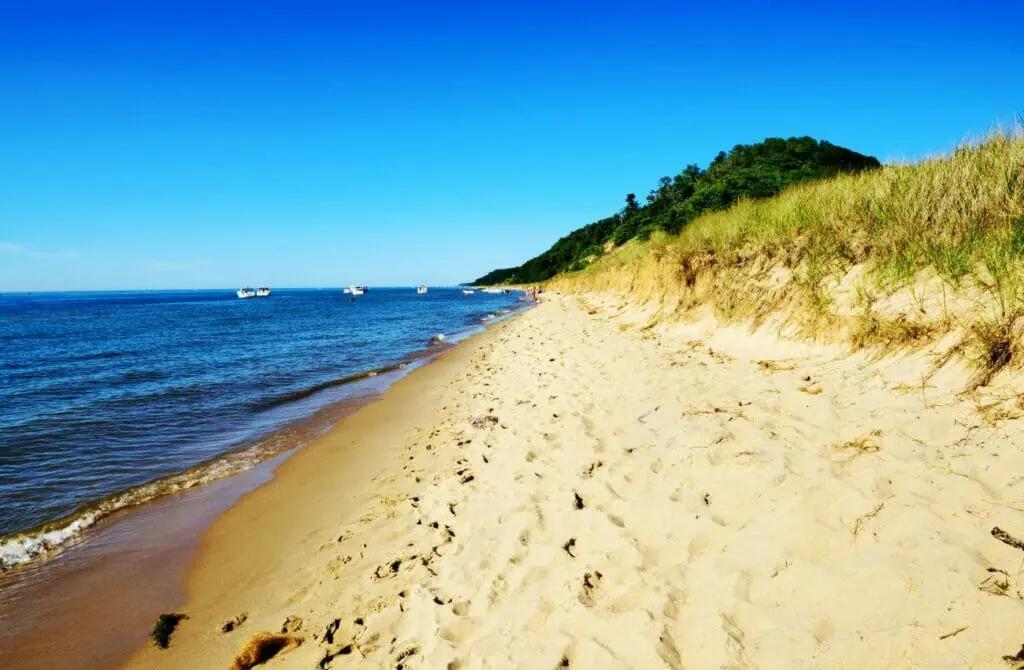 Outside its large, easy-going village life, the main draw for tourists is the world-renowned Oval Beach, which has crystal blue waters, an expansive sandy shore, and rolling dunes. Most of your holiday in summer will be spent as close to the sea as possible, making the most of warm Saugatuck.
However, suppose sandy toes aren't on your agenda. In that case, you can take a break from the sea by checking out the Saugatuck Dunes State Park, making the most of incredible hiking opportunities, with Mount Baldhead being a popular destination.
A gay trip to Saugatuck will be extra special!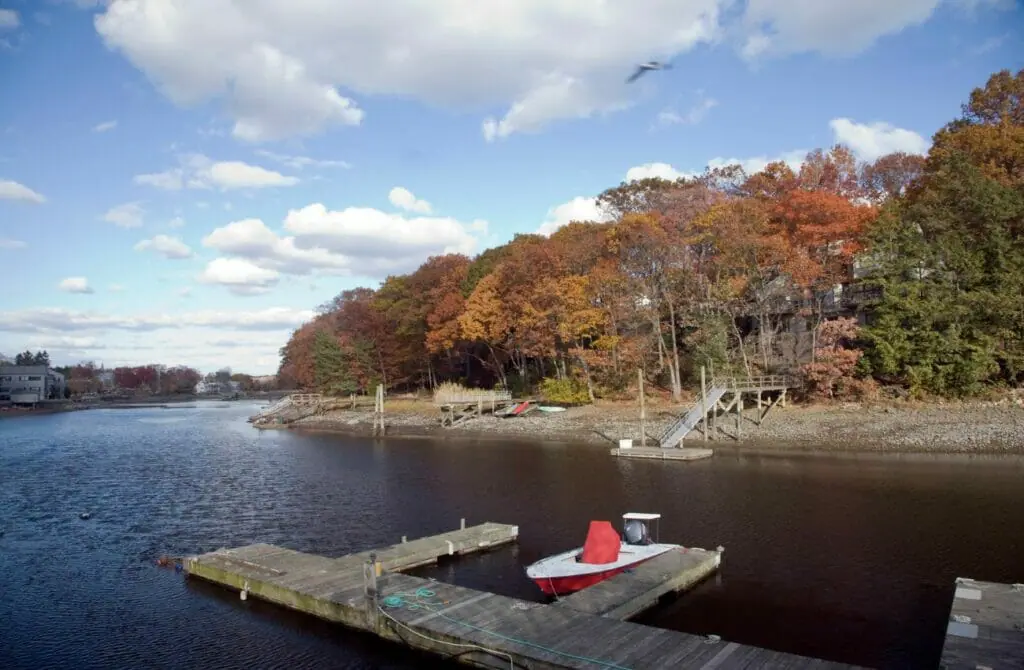 Attractions in Gay Saugatuck, USA
As a new visitor to Gay Saugatuck, there are many things to see and do, regardless of your sexual orientation. One of the best ways to experience any new city is to visit some of its most iconic landmarks and attractions, including historical monuments, museums, and art galleries.
We also love gazing at architecture up close, exploring parks and gardens, sampling the local cuisine, visiting local markets, and attending cultural events such as festivals, concerts and shows.
Even as the out-and-proud queer we are, we still love to explore the city and its culture in the same way as everyone else. Doing so allows us to learn more about the city and its people and gain a deeper understanding of the local culture. As such, these are our favorite must-see attractions in Saugatuck.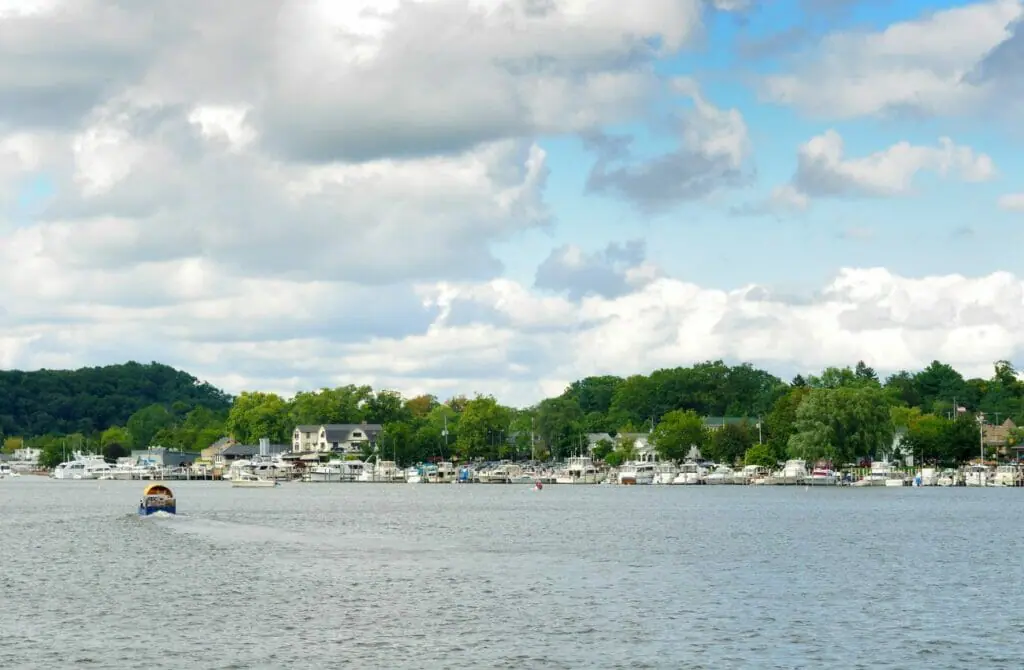 Saugatuck Michigan Guided Kayak and Canoe Trip and Rental
Rent a canoe or Kayak and go for a leisurely boat down the Lower Kalamazoo River Valley Water Trail. You will discover the area around Saugatuck, taking in exceptional sights of Michigan along the lazy river, such as a range of wildlife and wild bushland.
Part of this experience includes a guide that will tell you about the region's history and lead you through navigating your boat, with various stops for a break and photo ops.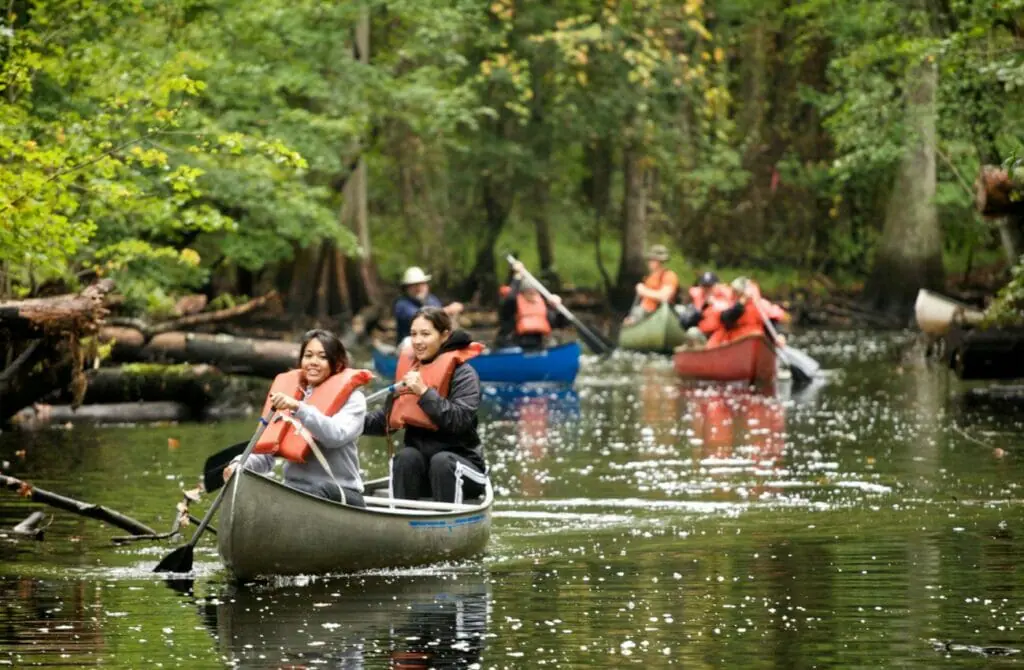 Saugatuck Douglas Antique Market
Saugatuck offers a brilliant shopping experience with various shops down her main street; however, it's even more special when they make an entire event with it. The Saugatuck Douglas Antique Market is an event by Saugatuck Antique Pavilion, one of the largest antique shops in the region, where you can find many brilliant artifacts!
Even if you don't intend to buy anything, it is a fun experience to wander through alleys of old stuff and discover how people used to live even a few decades ago. They even have treasure hunts in their store! So even shopping can be a fun time.
Petter Wine Gallery
One of the best galleries in Saugatuck is the Petter Wine Gallery, renowned for its relaxing lounge with a gorgeous art collection. You can hours trying different wines as you look around the gallery, spend time in their bar, and then purchase some drinks for later in their wine and boutique shop before you go.
Shaka Surf
Make the most of the beach with Shaka Surf! Hire a board and go paddle boarding, but if you are a complete newbie, they have lessons to get you started. You can go for a leisurely paddle, take in the sights, or sign up for one of their tours and discover things you may not have seen otherwise.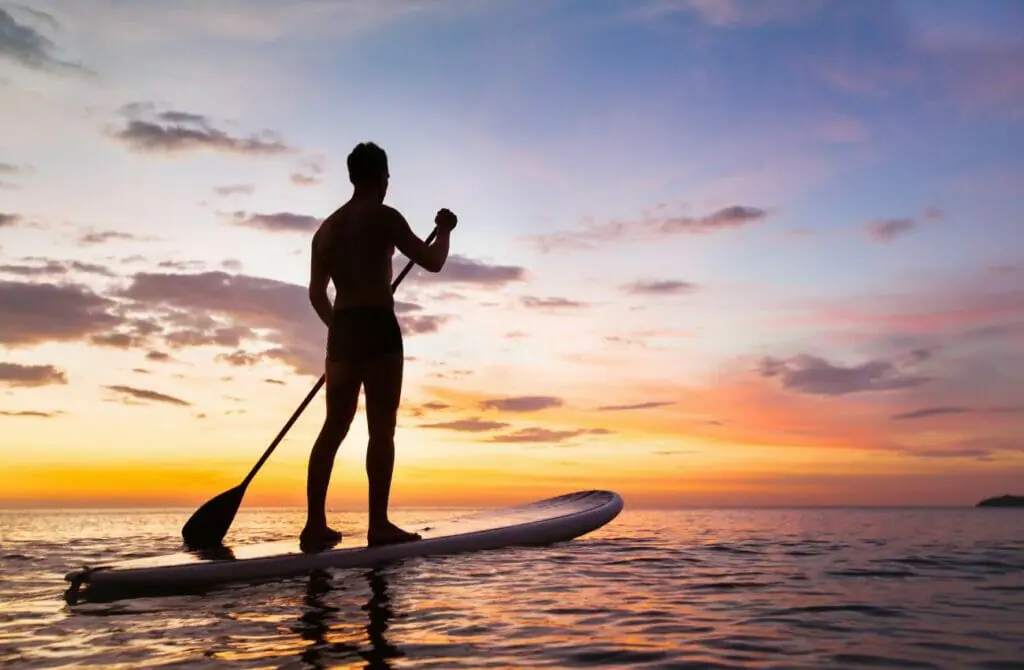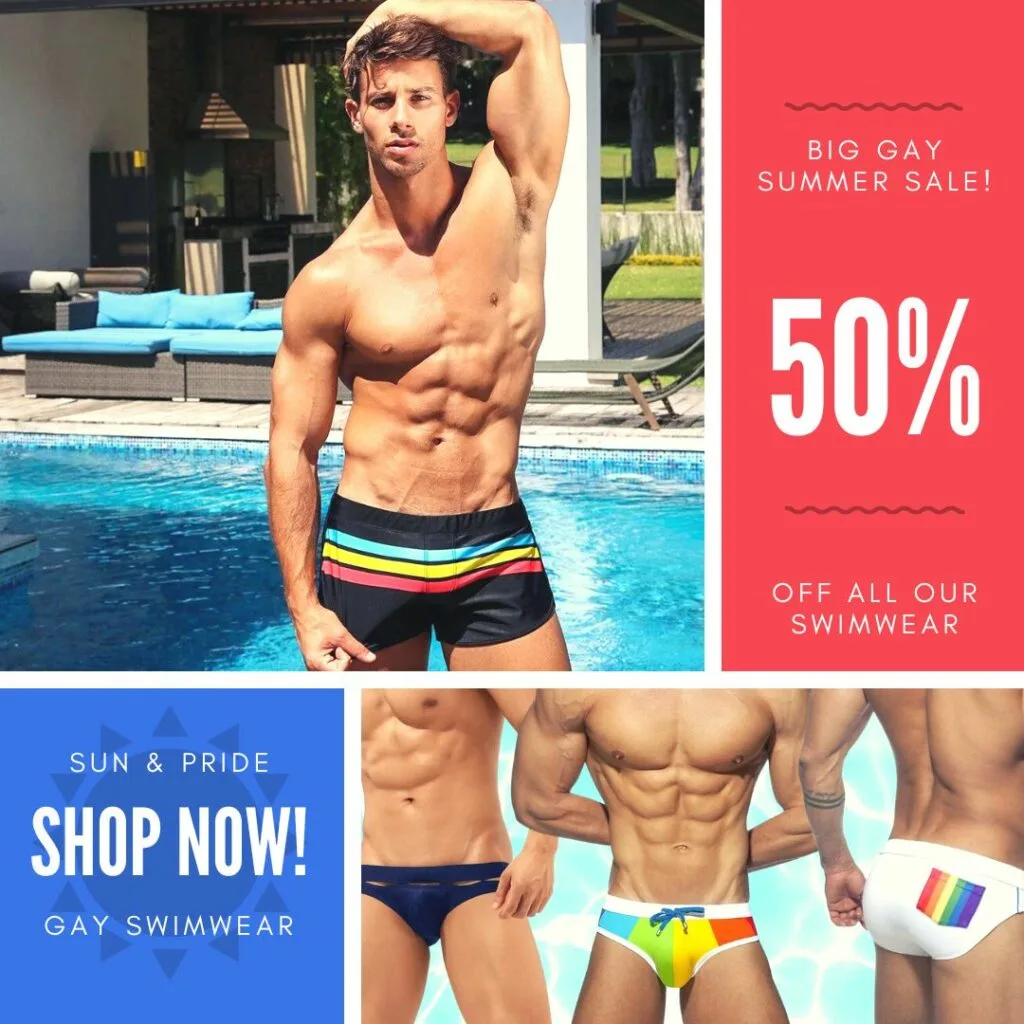 Oval Beach
Oval Beach is the stand-out tourist attraction in Saugatuck that annually draws thousands of tourists to this little village. And for good reason! It is a stunning coastline with a seemingly endless flat golden shore and cooling fresh salty water.
Most beach attendees lounge at their leisure under the shade of their umbrella or take a shallow dip in the currents. However, many enjoy the various water activities provided nearby. It isn't abnormal to see a yacht or surfer.
Mason Street Warehouse at the Saugatuck Centre for the Arts
One of the best ways to experience the cultural life in Saugatuck is to catch a show at the Mason Street Warehouse. You will be treated to a top performance by the local theatre group, with some nights much grander when traveling acts stop to put on a show.
Saugatuck Dunes State Park
The NUMBER ONE place to experience the outdoors of this little gay village is the Saugatuck Dunes State Park. Renowned for many reasons, it encompasses over a thousand acres of land with a sandy dunes coast on one end and delightful hilly grasslands and forest on the other.
They have several walks for different skill levels or to see certain parts of the area more clearly, such as their Dunes Trail, which is the shorter of the walks taking you close to the shoreline.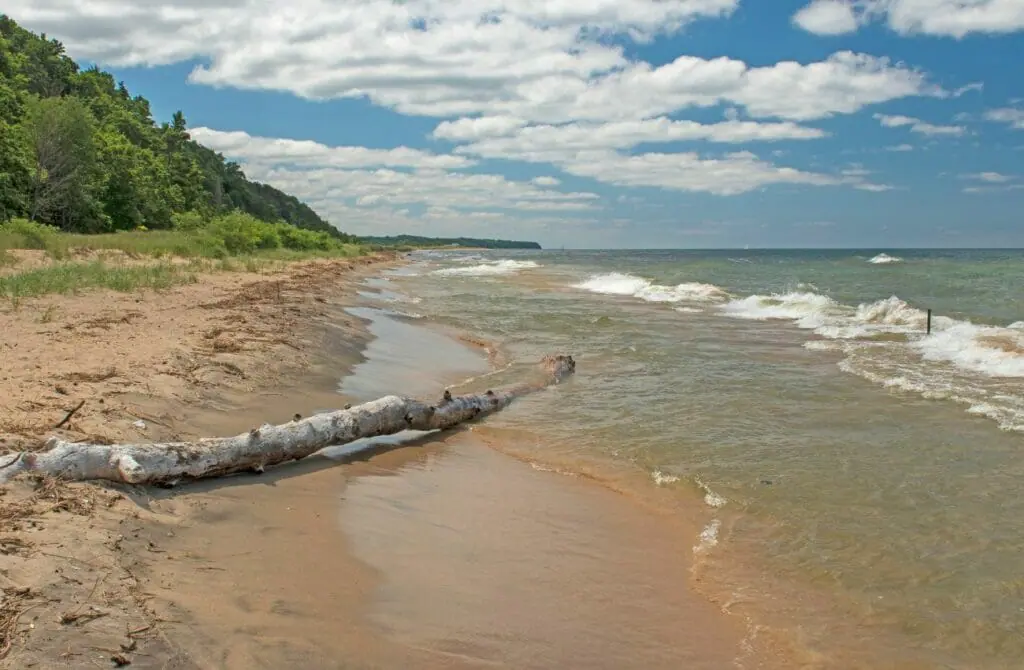 Coghlin Park
Enjoy a quiet open space of green with exceptional views of the beach at Coghlin Park. There is a sheltered pavilion with picnic chairs facing the ocean, numerous sculptures, and easy paths to avoid getting your feet wet 'and muddy on the grass!
Saugatuck Dune Rides
If you can't get enough of the beach, the Saugatuck Dune Rides is a fun adventure. You will be taken on a 40-minute drive through the local dunes with an entertaining guide who will take you through the best sights and amusing tales, with never a dull moment.
You even see some wildlife, from the ocean birds to the deer from the nearby forests, with the whole experience like a roller coaster in some areas (except without worrying about falling off!)
Enjoy the easy-to-access Kalamazoo River that runs alongside the town, and it could be the perfect way to get out for a day on a cruise or a laidback afternoon picnic. There are also plenty of riverside walking opportunities to let the river take you to unexpected places.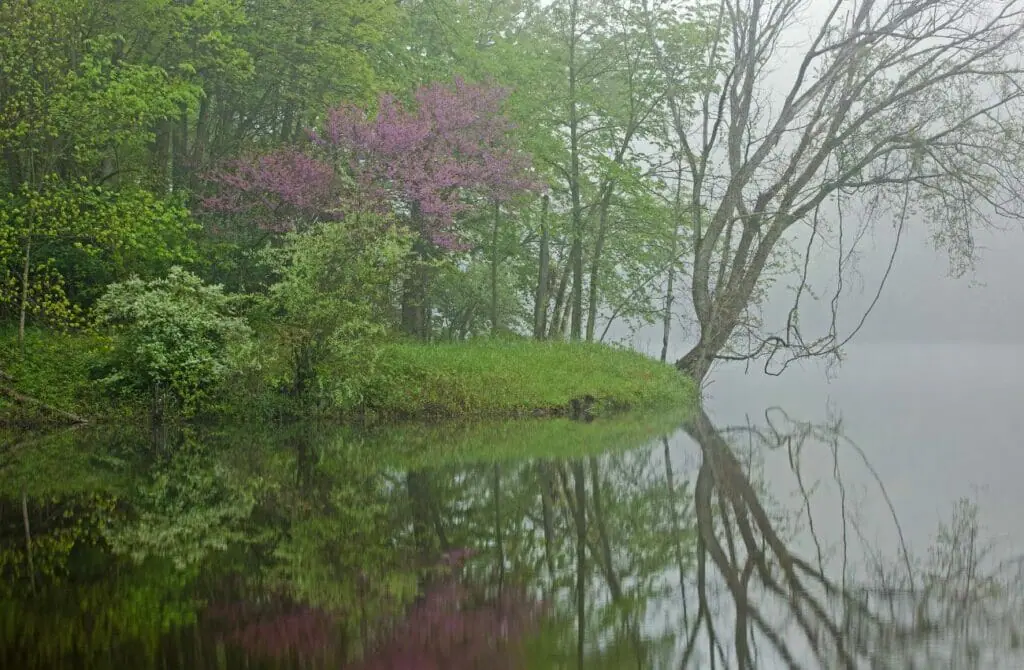 Saugatuck-Douglas History Museum
Learn about this tiny town's long and surprisingly rich history and her local cousin Douglas at Saugatuck's riverside history museum. Also, nestled in a beautiful garden, it's more than just a taste of the past you'll be getting! The highlights of this place are its showcase of local history with its rotating exhibits, and it's all free entry!
Retro Boat Rentals
Take a relaxing cruise down Kalamazoo River in a classic boat. You can even rent a boat and be free to sit behind the wheel in an old 1960s jetboat while experiencing the easy winding river and its sights.
You can take this experience to the next level by purchasing alcohol and delicious food from their restaurant, which is, as it turns out, where you also collect the boat. So you'll be in for a complete party on the water!
Day Trip to Douglas
Suppose you're spending a few days in Saugatuck; it's worth taking a day to check out Douglas to the south. Even on a short visit, they have fun things to see and do, starting with the Kalamazoo Replica Lighthouse, Lake Shore Chapel, and Button Gallery. It also has many small shops and galleries like Saugatuck, so you can see how they relate!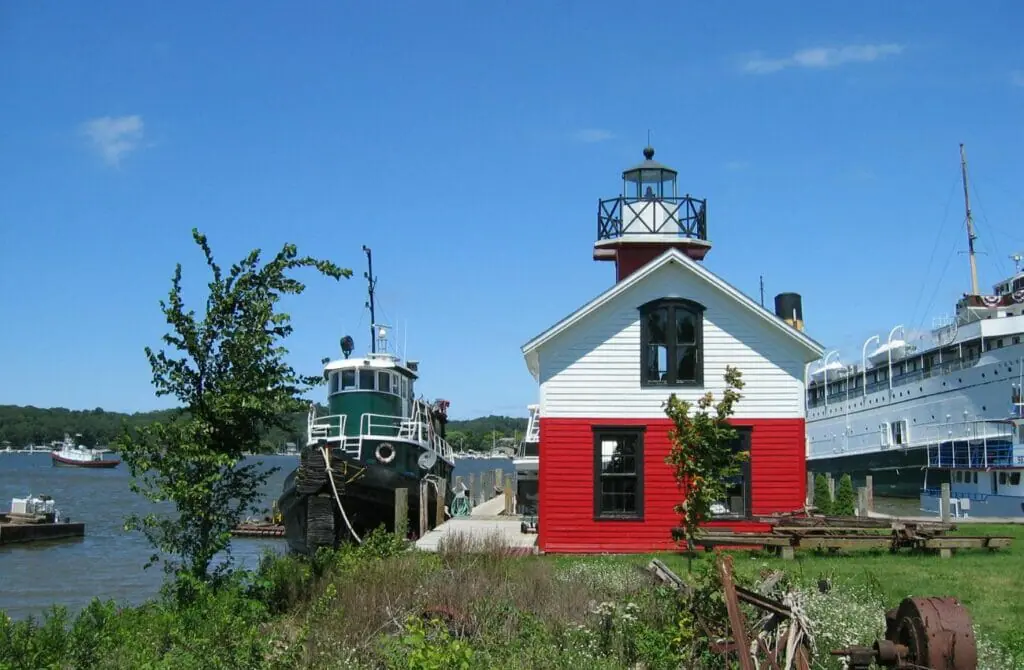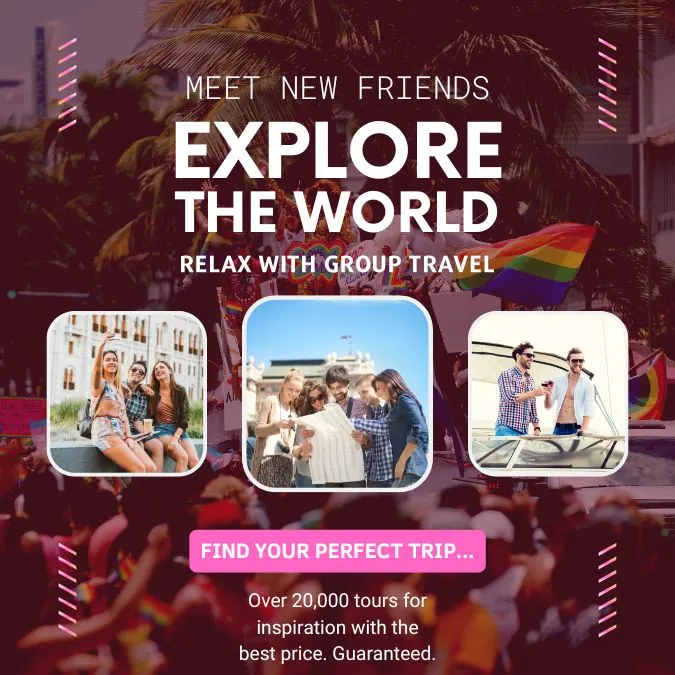 Gay-Friendly & Gay Hotels in Saugatuck, USA
Being gay-friendly accommodation means that the establishment is welcoming and inclusive to guests who identify as LGBTQ+. This can include, but is not limited to, having policies and practices that demonstrate a commitment to creating a safe and inclusive environment for LGBTQ+ guests, such as non-discrimination policies and providing support and resources for LGBTQ+ travelers.
Some gay-friendly accommodations may also provide amenities specifically catering to the LGBTQ+ community, such as rainbow flags or literature about local LGBTQ+ events or resources. Furthermore, gay-friendly accommodations may be located in an area known for being LGBTQ+ friendly.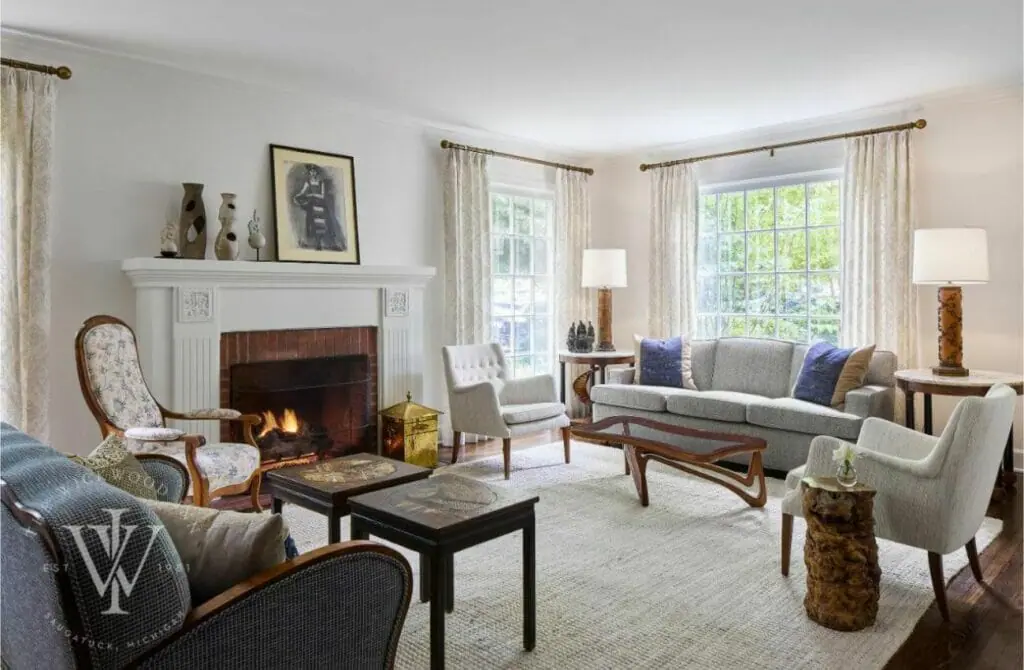 While Saugatuck does not have any specifically gay hotels or resorts, these are the most fabulous and pro-actively gay-friendly hotels in Saugatuck. Needless to say, there are also hundreds more hotel and hostel options in Saugatuck if none of these suit your desired budget, facilities or area – but these are the best hotels according to other gay travelers and us.
Whatever your needs are, Saugatuck has you covered.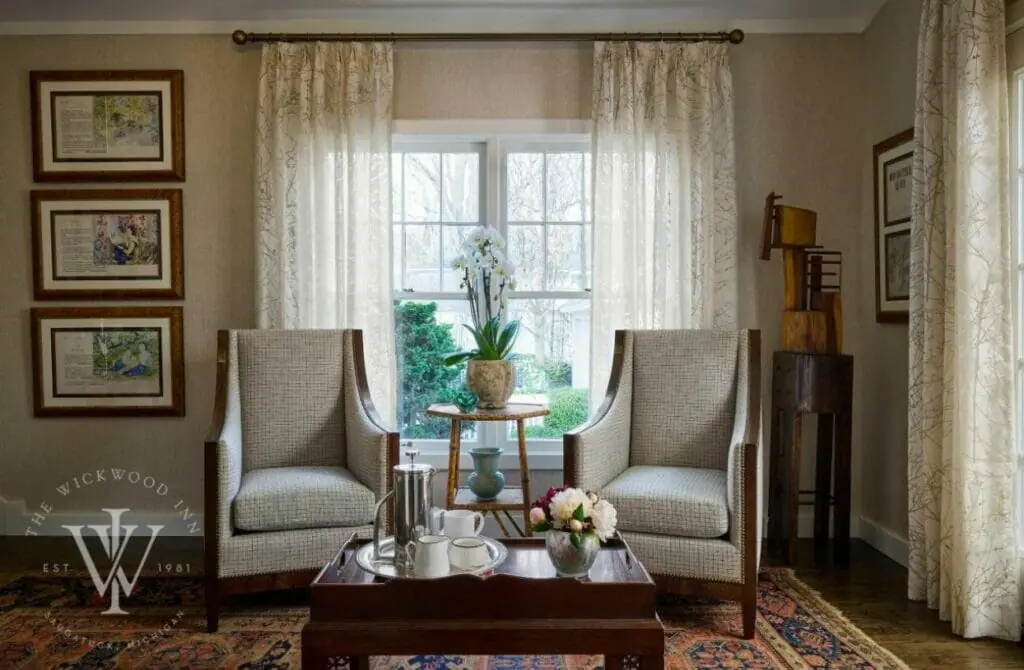 Experience the height of luxury in the very heart of Saugatuck at the colonial Wickwood Inn. This four-star royal stay will be hard to beat, with its complimentary breakfast, dining, spa massage, private garden with an outdoor terrace, business rooms, library, and on-site parking.
Rooms are also modern with recent refurbishments to ensure they have only 'the best' with cozy bedding, delightful ensuites with complimentary toiletries, places to lounge in the privacy of your space, and views!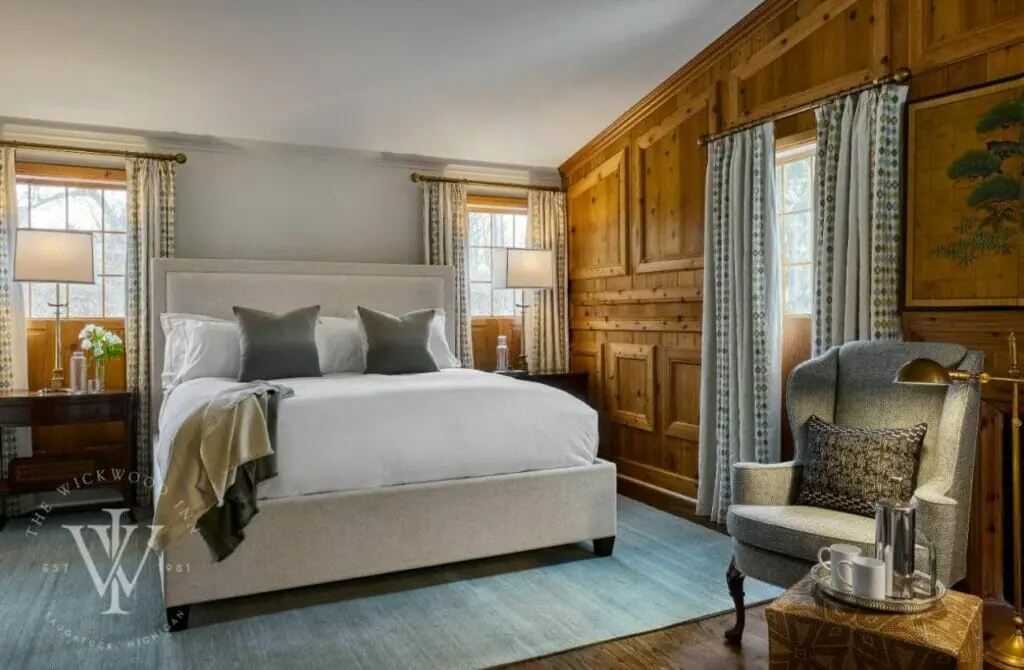 To many, the gay heart of Saugatuck is The Dunes Resort, one of the biggest gay venues in the region. Here you don't just find weekly gay events catering to their queer guests and anyone casually visiting for an evening, but a place with six gay bars!
These include The Main, The Club, The Vinyl Bar, The Show Bar, The Deck, and The Splash Pool. When you eat here, you will be blown away by the variety, with the choice to dine in or get room service. Their hearty restaurant Burger Hut will be your main chef throughout the experience. No wonder Saugatuck is regarded as a gay haven!
The Dunes Resort also has brilliant gay accommodation for those 21 and older (so no kids allowed, sorry). You can choose from standard motel rooms for those that don't want to spend too much with a simple space to relax and have some private time. Their suites and bedroom cottages are for those wanting a fully stocked home away from home!
Cottages with two or more bedrooms for the larger traveling queer groups that want to stay together and party long after the pubs close! The Wiley House Suites, with your quiet apartment with a private hot tub and deck. And finally, their budget-friendly Dunes Rooms is their MEN-ONLY open with a community pool, social spaces, and small private bedrooms.
Located close to the main Butler Street, Maplewood Hotel is a popular B&B with complimentary breakfast and a cozy homely feel, but it's also an outdoor seasonal pool, and business services make it popular with gay work travelers.
Their rooms are spacious and rustic with fun patterned wallpaper, a great break from the standard modern hotel room white, with ensuites with inviting hot baths.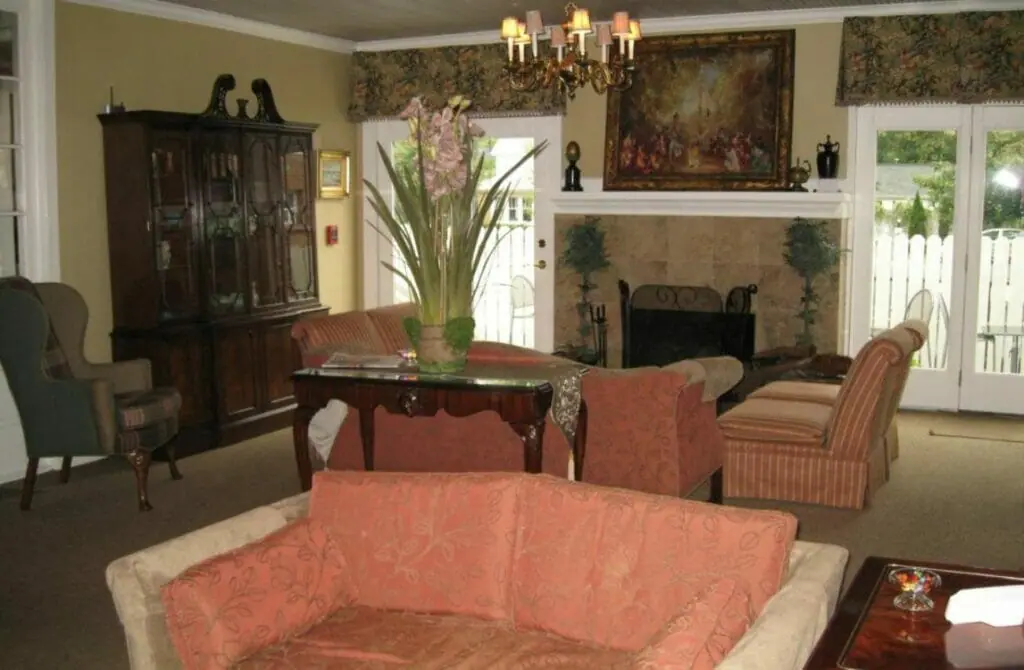 You won't find Robin Hood here! You will find a brilliant three-and-a-half-star B&B just a short drive from Saugatuck, right up by the beach. You have a brilliant array of extras outside and a fully stocked room inside. These treats include the private garden with a pool and outdoor loungers to get the most out of that sun and the complimentary breakfast.
You can choose from six rooms, each providing something unique, with a double bed and an attached ensuite. Of course, we can't forget that guests have access to a kitchen where you can make your meals and dine with fellow guests (only if you want)!
Holland Hotels Starlite Resort ☆☆
Located close to the arts center, Starlite Resort is a two-and-a-half-star hotel with a great place to stay in Saugatuck. You don't just get a pool and outdoor lounging area, with free parking and a friendly place to take your pet on holiday; you also get a picnic area with a fire pit, so it's great for a summer holiday.
Of course, there are also great guest rooms with soft beds, TV, and ensuites, which are a step away from the pool.
Best Western Plaza Hotel Saugatuck ☆☆
This fantastic two-star Best Western Plaza Hotel will guarantee a great stay in Saugatuck. It is found on the inland outskirts of the town.
However, it's so easy to make the short drive to reach the bustle of town life. You will be treated here to free breakfast, a gym, an outdoor pool, a hot tub, mini golf, an expansive garden, and picnic areas. This makes it a great place to go on a gay family holiday! However, solo workers also have business services and spacious rooms, so you never feel left out.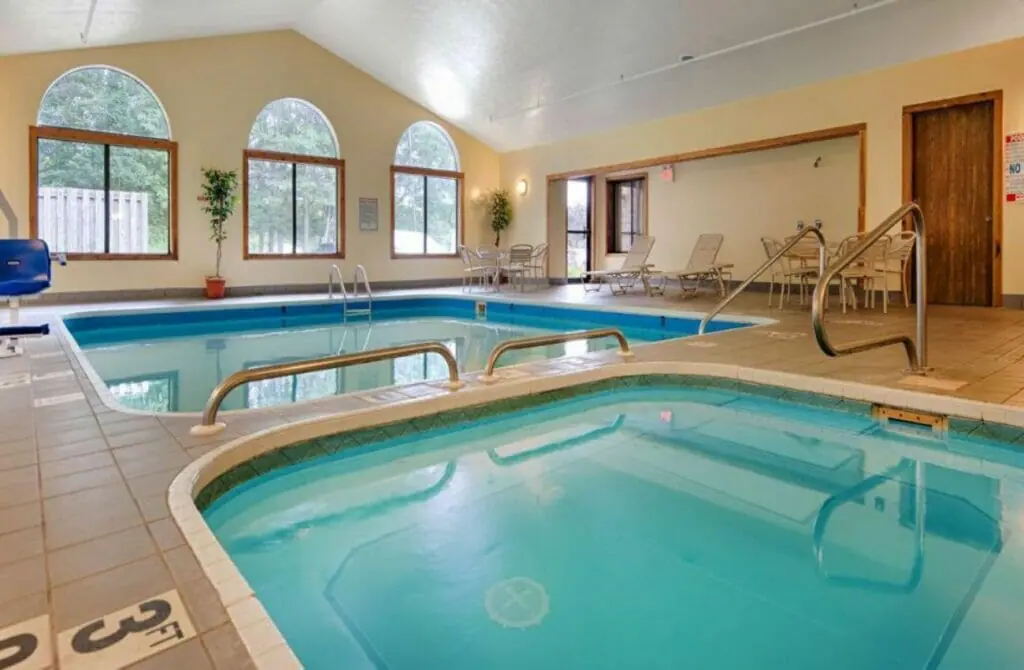 Gay Nightlife in Saugatuck, USA
Of course, Saugatuck, despite being a tiny village, has an incredible gay nightlife! Many of the main gay bars are found at The Dunes Resort, which has been labeled the gay cultural center of the village. However, even outside the busy tourist beach areas, you can discover delightful places to mix and mingle or enjoy a pretty solo drink before you have an early night.
Exploring the gay and gay-friendly nightlife in a new city can be one of the most exciting and rewarding experiences while traveling – and Gay Saugatuck is no exception. Not only will you have the opportunity to meet new people and make friends, but you'll also get a taste of the local culture and learn more about the city's LGBTQ+ community.
Going out and experiencing the queer and queer-friendly nightlife in a new city can also be a great way to break out of your comfort zone and try new things. Whether dancing the night away at a gay club or mingling with locals at a gay-friendly bar, you'll have the chance to make memories and create lasting connections.
So, don't be afraid to step out of your comfort zone and explore the gay and gay-friendly nightlife in Saugatuck. You'll be glad you did!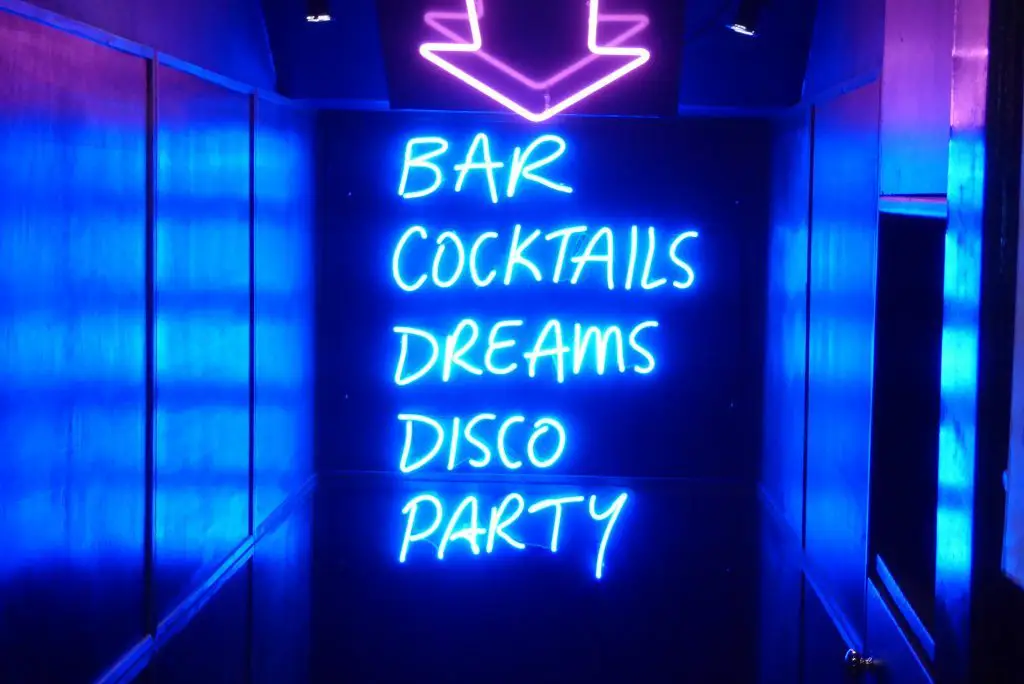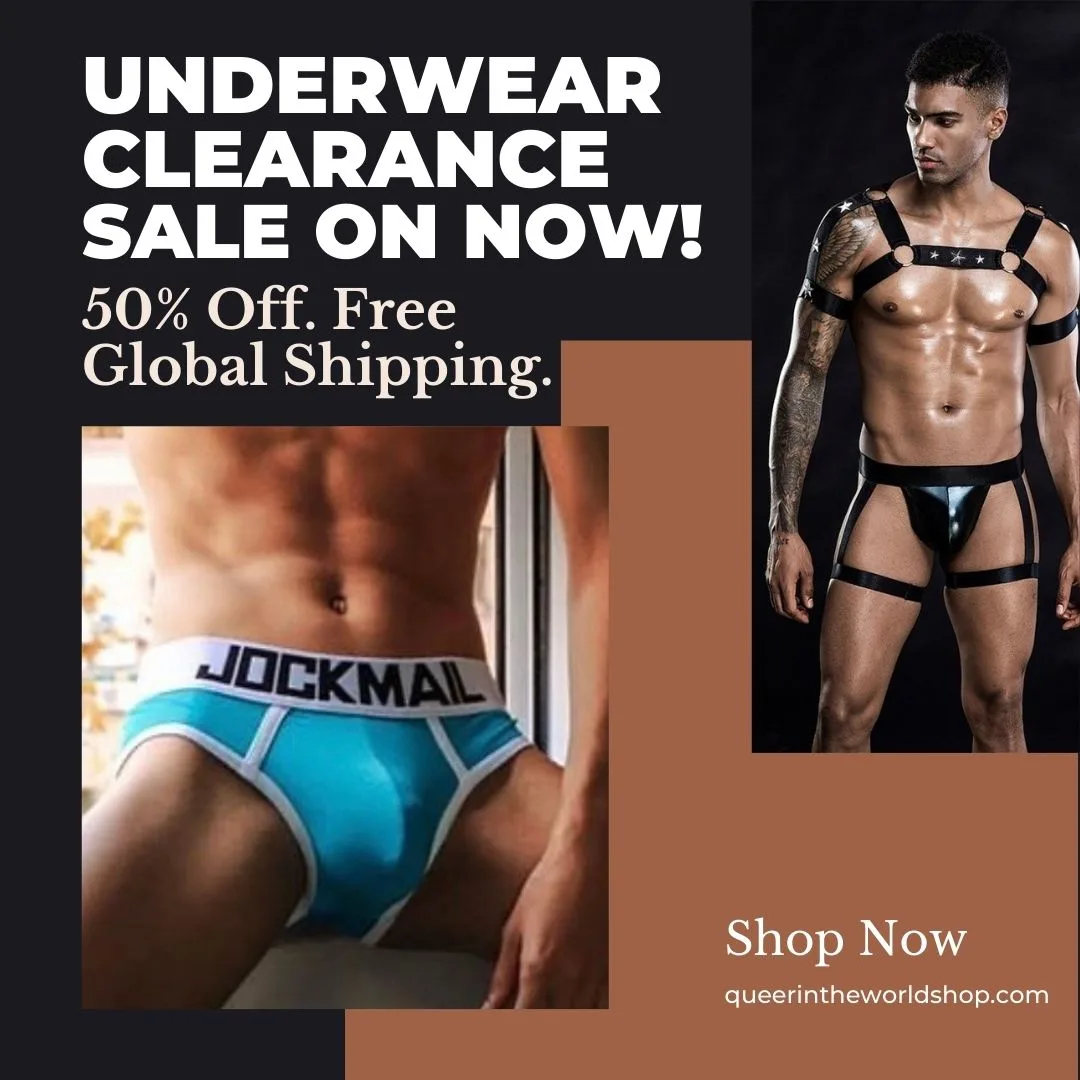 Gay Bars in Saugatuck, USA
The number one place in Saugatuck for a gay night out is The Dunes Resort, where you don't just have to be a guest to experience their six gay bars and clubs. You can expect a whole night of fun in one place with plenty of queer social experiences! Plus, their regular gay events make it never a dull night.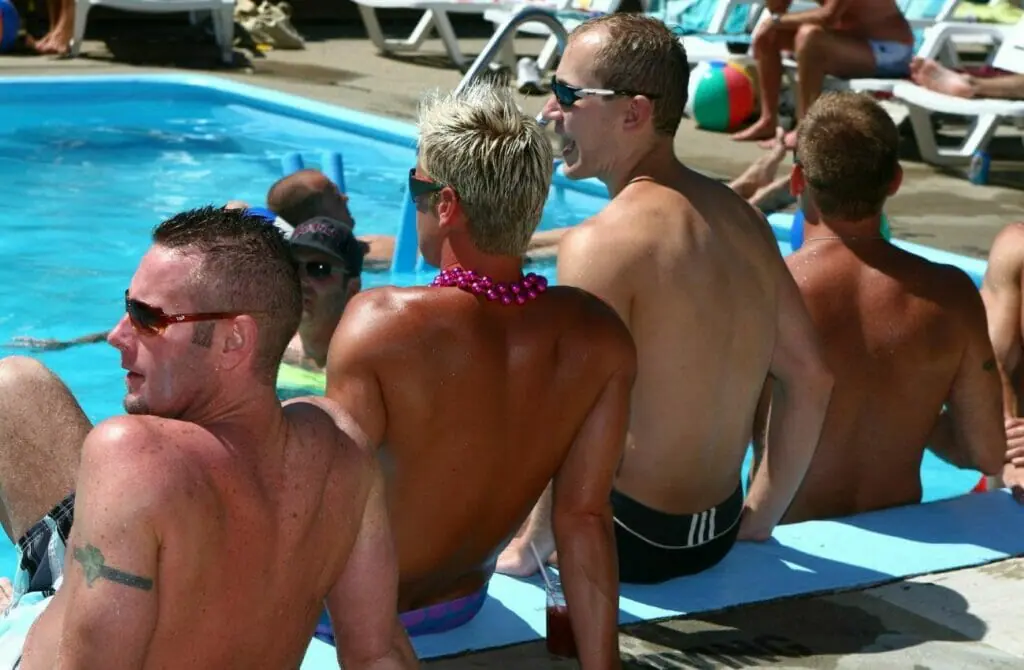 The Burger Hut
The burger hut is the best place to get a burger, wrap, or hearty meal at the Dunes Resort! They offer in-house dining as well as pick up and room service delivery for their guests, where you can expect come evening a healthy crowd to be hanging out enjoying their food.
The Main
One of the most popular venues at The Dunes is The Main, their… main bar. Open to 21+, expect to be open to a great drinking experience with a little bit of bingo every so often thrown in. It's the perfect place to hang out in the evening. However, it's also great for sneaking in a daytime drink, as their bar is open seven days. You also don't need to be a guest to stop by, so locals and day visitors to Saugatuck are common sights.
The Club
For a gay dance party, The Club is the place to be! They host a variety of DJs in their expansive dancehall with glowing lights and booming music, so it's never a dull night. Their endless flow of drinks from the bar also adds to the experience.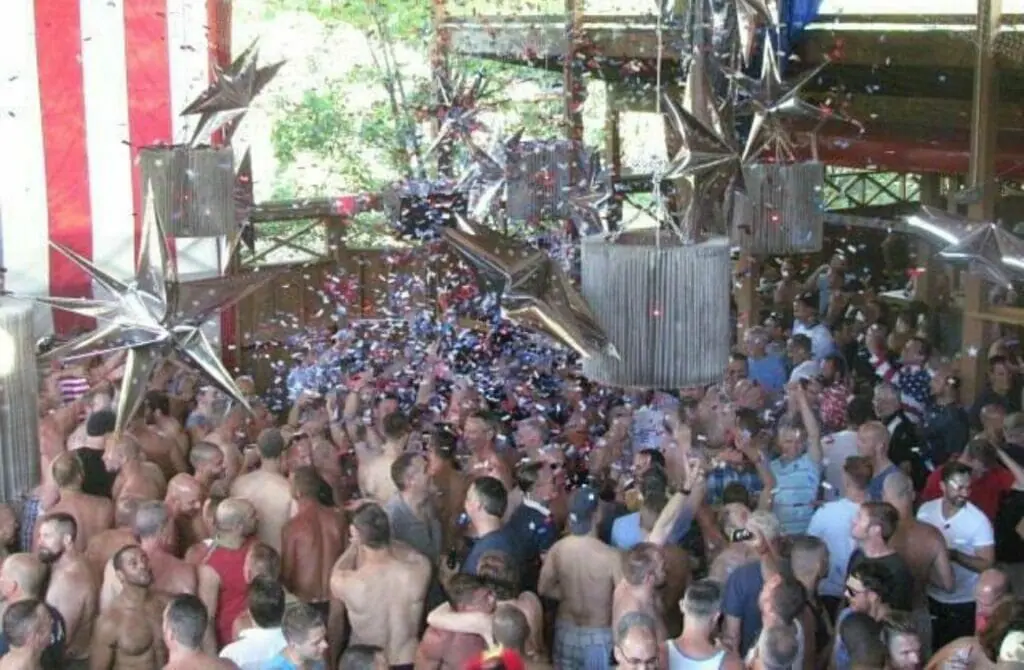 The Show Bar
For a drag show you won't forget, The Show Bar is for those sequin-loving queer people that can't get enough of queens. However, it isn't just drag queens you will see as this show bar is open to all types of regal entertainment as doors open at 10 pm and the main show kicks off at 10:30!
The Vinyl Lounge
Get your game on and play some fun at the Dune Resort's appointed sports bar. Expect a laid-back experience and be open to socializing with fellow members of our queer community.
However, this is the most relaxed of the bars here. Expect it to get mental during major sports events. They also have their game room open every day when their bar is available, with a pool just a small sample of what you can try!
The Deck
One of three outdoor bars, The Deck is a great way to make the most of summer and experience an outdoor party surrounded by fellow gay people. The DJs here know how to get the party started, and the partygoers will be shirtless and sweaty before you know it.
The Splash Pool
A unique outdoor bar at the Dune is their Splash Pool Bar which allows you to literally take a splash in their pool as you enjoy a drink, swim about in your trunks or bikini, and socialize with fellow pool goers. A gay summer experience in Saugatuck can't get much better than this!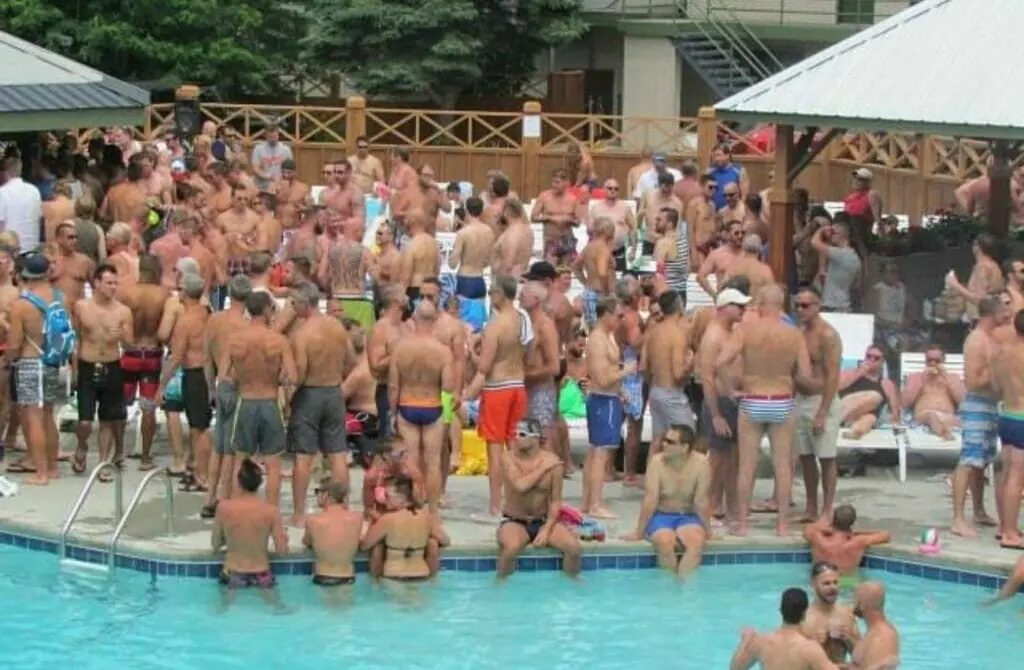 Gay Parties & Gay Clubs in Saugatuck, USA
You can get quickly acquainted with the gay community in Saugatuck and Douglas at this online gay resource. They even have a gay area guide with a long list of queer places in the two towns. You can use this as an extra travel guide to ensure you don't miss out on any of the best gay spots in town.
Go Girl is Saugatuck's women's social group, with a large portion of their membership being part of the LGBTQ+ community. So, all queer women will find a special place for them in this exclusive club open to all females, with regular events for members held.
Saugatuck places host annually to their Pride festival held in June. The event held in 2023 was a day festival at Douglas where visitors could walk through market stalls and take in the local queer businesses or attend a handful of social events and parties put on by local clubs as a special add-on.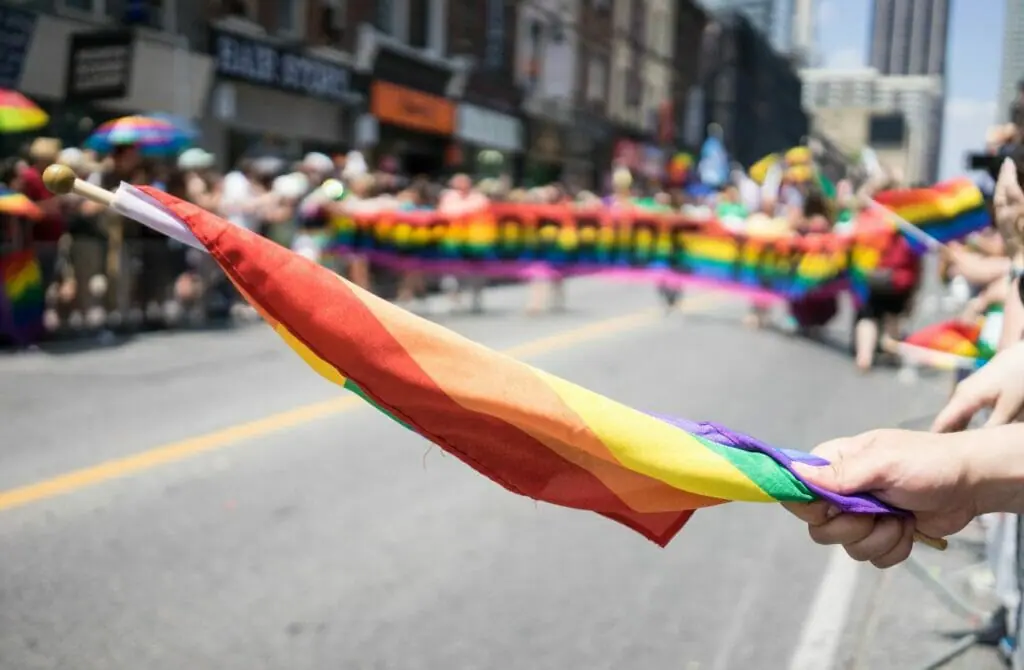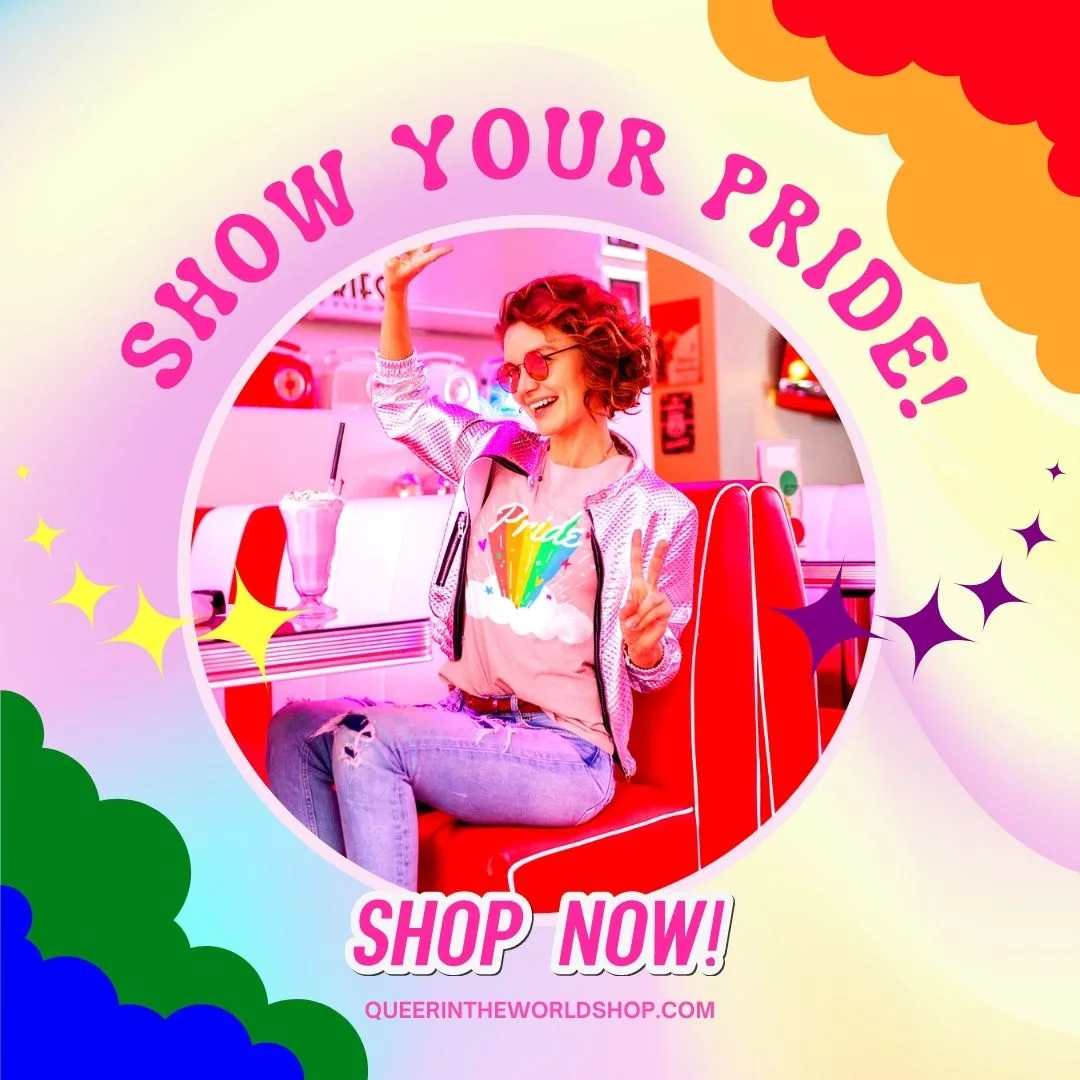 Gay-Friendly Nightlife in Saugatuck, USA
A great night out in Saugatuck is on the cards at their Wicks Park Bar & Grille, a laidback bar and restaurant with delicious food. While dining, you may be around during their evening entertainment, with easy background music complimenting their various food and drink options.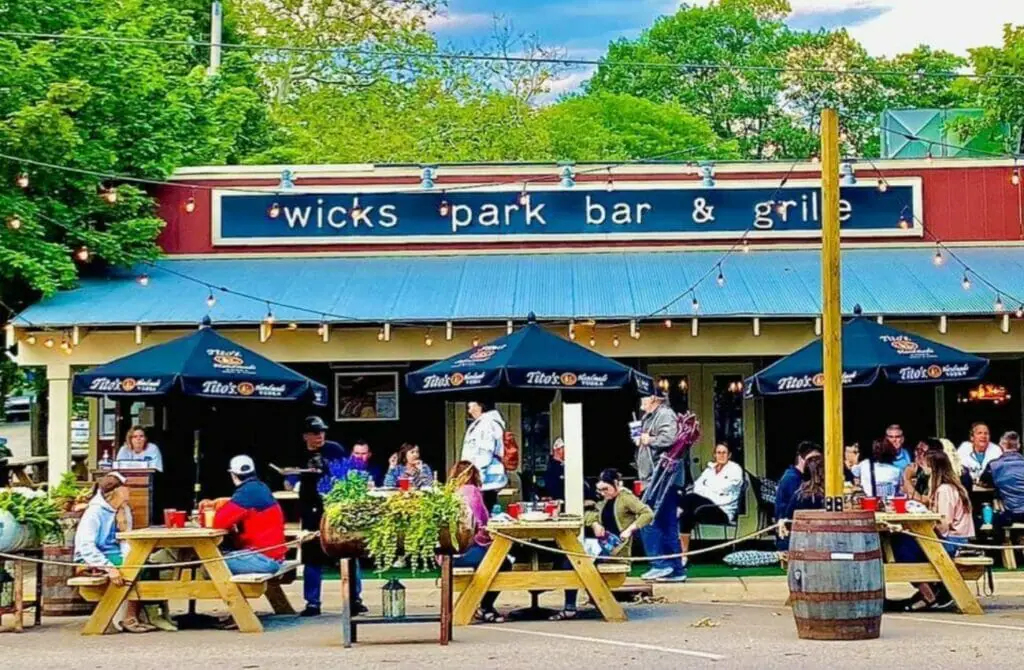 This family-owned bar and grill is a magical place where the Mermaids come out with delicious food and incredible evening ocean shoreline ambiance. They are found right up along the docks of Saugatuck, with outdoor seating looking out on the ocean, making it the perfect place to stop by for a meal day and night.
This cocktail lounge and boatel is always a brilliant time along the shoreline not far from Saugatuck. Not only is the all-American food delicious with a slice of taste straight from the sea, but you can boat watch as you enjoy a meal day and night from the outdoor terraces. This place may be popular during its open season over summer, but it is large enough to contain all that fun even during its busiest nights.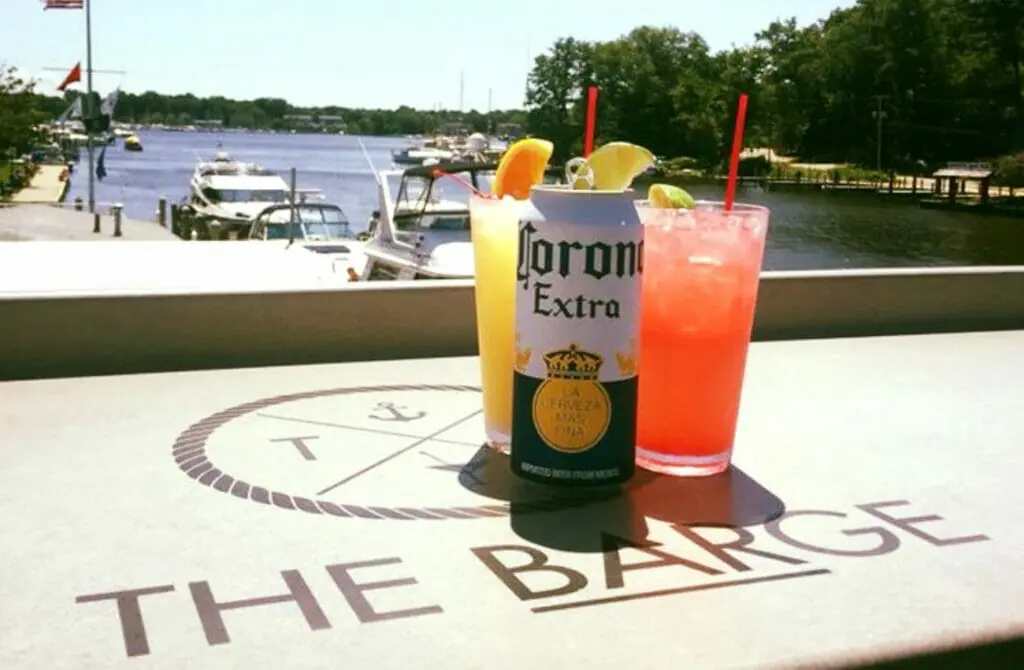 Cruising & Gay Saunas in Saugatuck, USA
There are no formal gay cruising bars or saunas in Saugatuck. However, even just visiting the Dunes Resort, you have a good chance of meeting other queer people that may be after the same thing. However, without assuming, it's always good to have dating apps as a backup with good communication when making friends before anything fun goes down!
When traveling to a new city, it can be exciting to head out for more than just a stiff drink. One aspect of the Gay Saugatuck scene that many queer men enjoy is visiting gay saunas and cruising clubs.
Sure, the sauna culture in Saugatuck is not as hedonistic as in Amsterdam, Barcelona or Berlin, but these venues still offer a chance to meet new people, socialize, and engage in sexual activity – without resorting to gay hookup apps.
However, it's important to remember that these venues can vary greatly in terms of atmosphere, clientele, and rules, so it's a good idea to prepare yourself before visiting. If you are apprehensive, we advise studying our guide to visiting a gay bathhouse for the first time, which should help set your mind at ease and always practice safe sex.
Additionally, it's important to be aware of and respect local laws and customs regarding gay venues and sexual activity. With a little bit of planning and an open mind, visiting gay saunas and cruising clubs can be a fun and exciting part of your gay Saugatuck travel itinerary.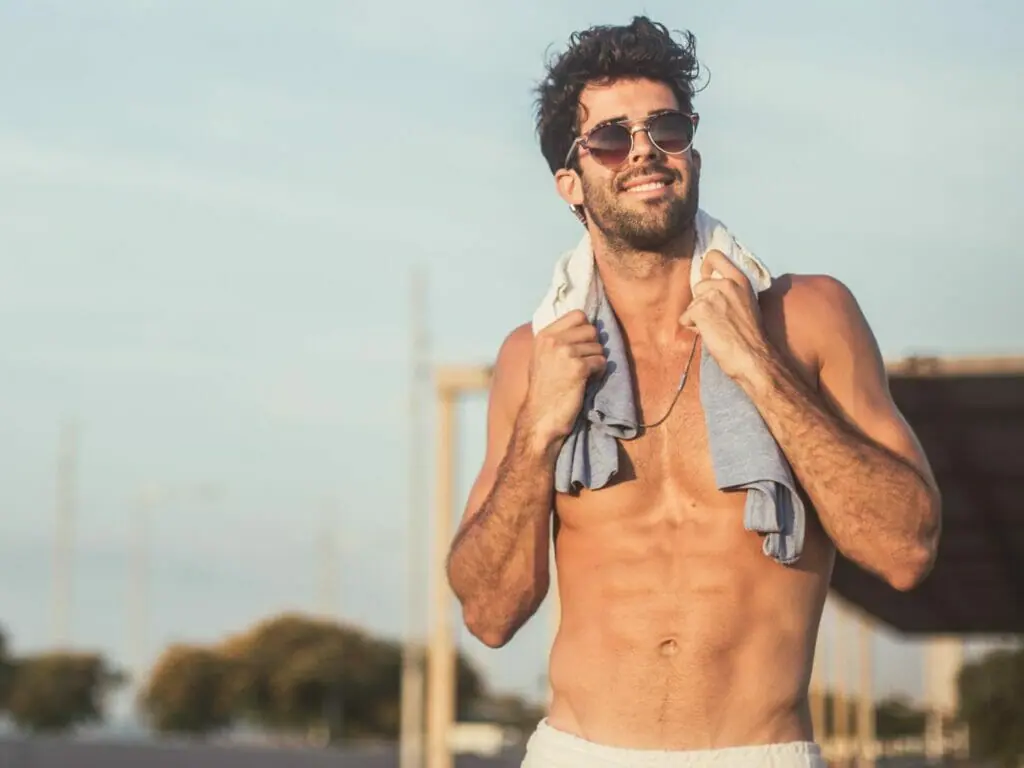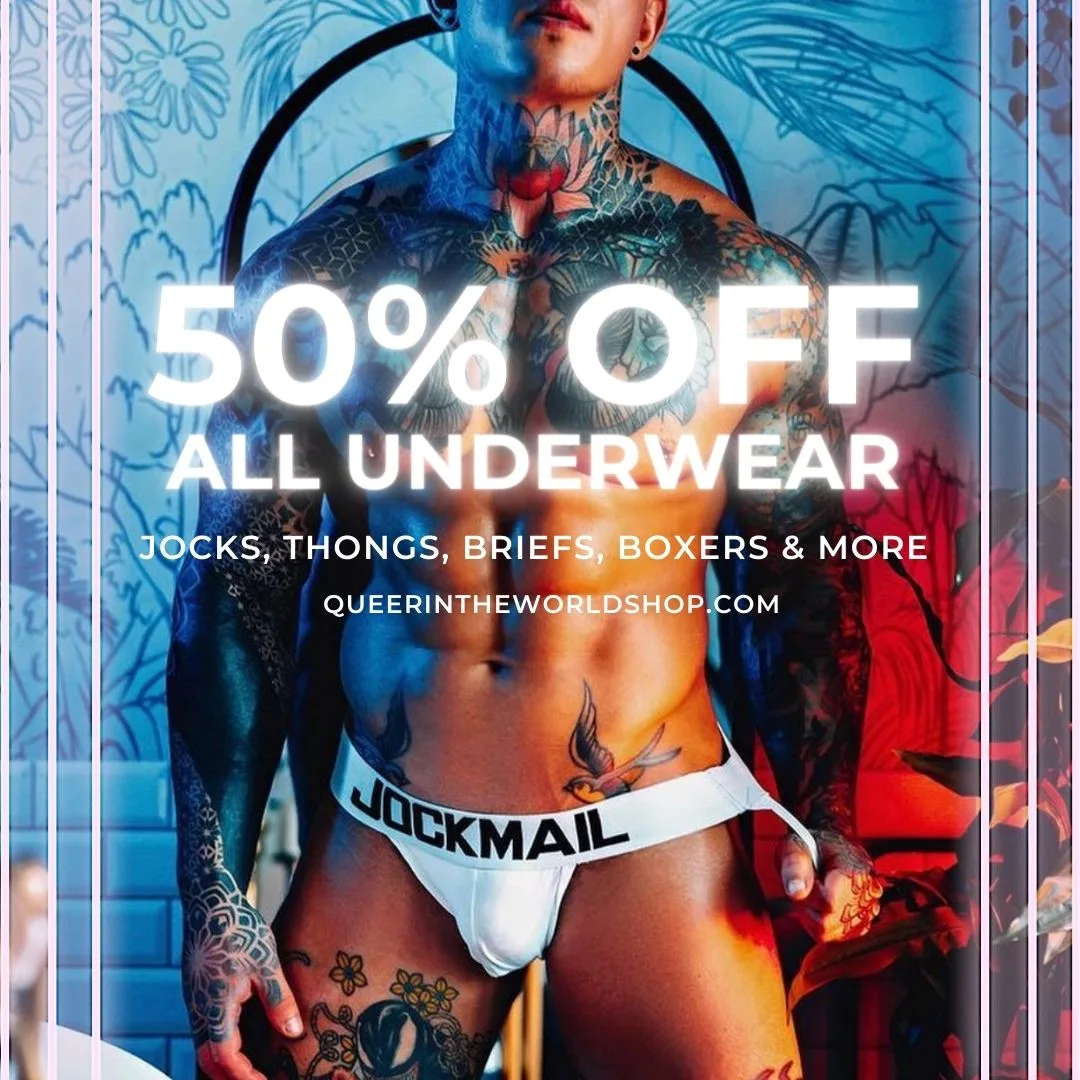 Gay Map Of Saugatuck
Finding it hard to envisage where everything is in Saugatuck? Hopefully, this queer-centric map helps where we have marked all the bars, clubs, parties, hotels, saunas, massages, and more will help you stay in the spot best suited to you!