In the cozy heart of England, gay tourists can find a small gay scene in Sheffield, where you will get a couple of gay bars and clubs, but it is not the same scale and variety as larger queer cities like London.
Even if the gay scene is not as thriving as in other places, you can bet there is still a fantastic time to be had! They are super gay-friendly, and the city is super green, so you can be sure that Sheffield has adventures outside their queer community.
Famous for being the oldest football club in the world and the World Snooker Championships, it would be an understatement to say that Sheffield was not obsessed with its sport! Here you can find many sporting facilities to catch a game, learn a few tips and tricks, or get stuck into their rich history.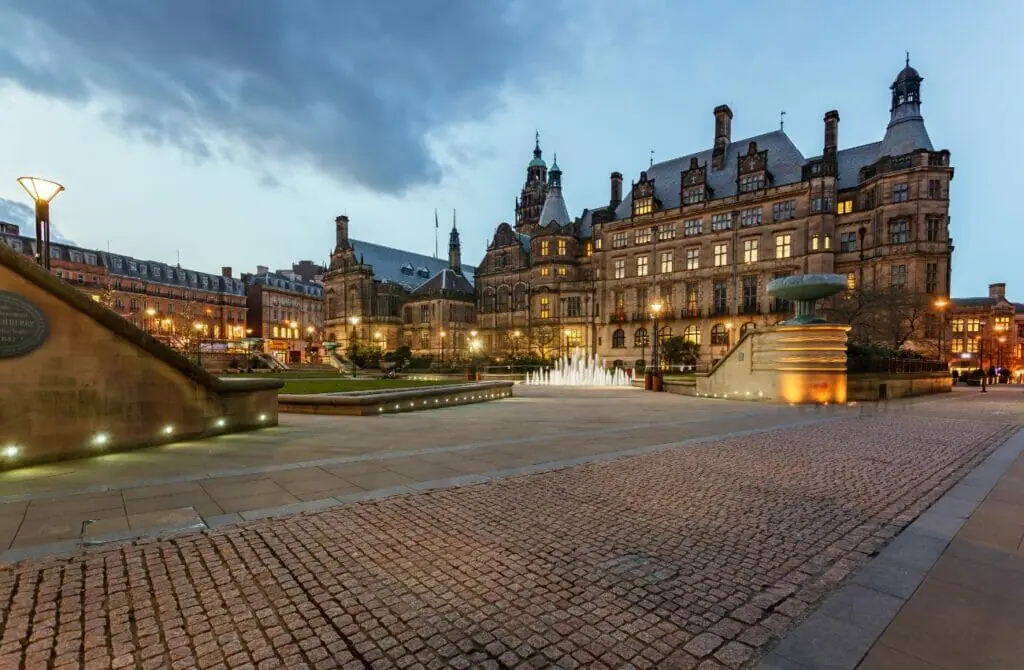 Outside of kicking a ball, Sheffield has a rich cultural history in various attractions, from museums and art galleries to world-renowned theatres and remarkable buildings.
Sheffield also has over 250 parks, with easy access to several central England national parks, so you have plenty of opportunities to step outside the city's concrete jungle and take in the beauty of the English countryside. Sheffield is a must-stop even if you pass through to bigger fish in northern England, such as Manchester.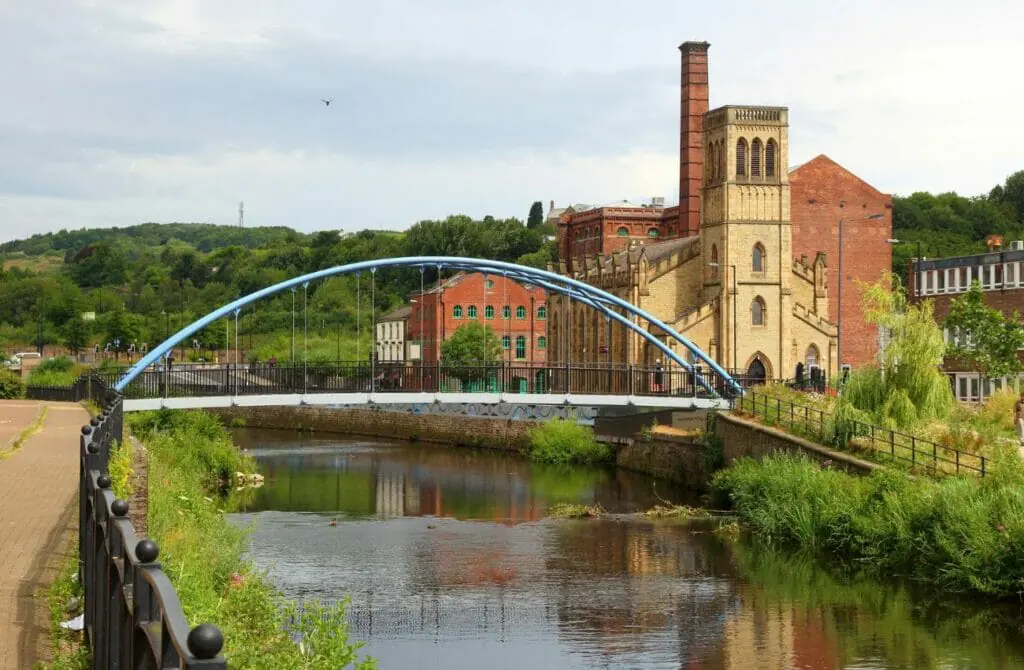 Attractions in Gay Sheffield, UK
As a new visitor to Gay Sheffield, there are plenty of things to see and do, regardless of your sexual orientation. One of the best ways to experience any new city is to visit some of its most iconic landmarks and attractions, including historical monuments, museums, and art galleries.
We also love gazing at architecture up close, exploring parks and gardens, sampling the local cuisine, visiting local markets, and attending cultural events such as festivals, concerts and shows.
Even as the out-and-proud queer we are, we still love to explore the city and its culture in the same way as everyone else. Doing so allows us to learn more about the city and its people and gain a deeper understanding of the local culture. As such, these are our favorite must-see attractions in Sheffield.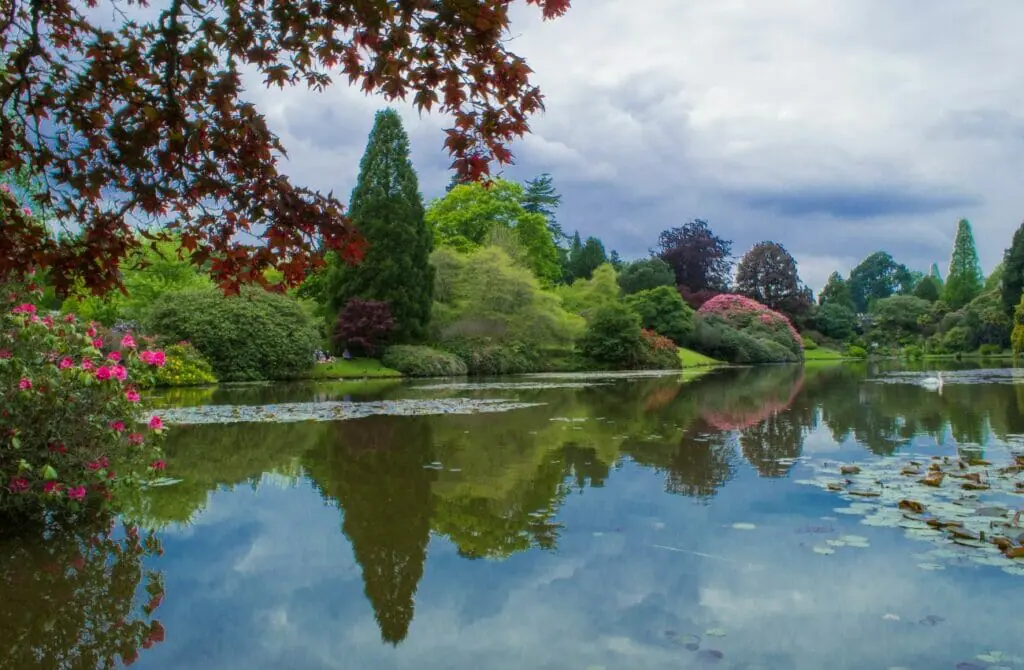 Sheffield Outdoor Escape Game: Murder on the Don
Explore Sheffield differently with an outdoor escape game, Murder on The Don, a downloadable mobile app you can play while venturing through the city.
It is a mixture of an escape room and treasure hunt as you are led on a quest to solve a murder, taking you to key locations where you must solve a puzzle to get the clue to the following location. This fabulous, fun, self-guided tour requires no prior knowledge of Sheffield, taking you to historic sites, iconic pubs, and cafes.
Weston Park Museum
Weston is the city's biggest museum hosting a rich collection of artifacts related to the long and intriguing history of Sheffield and the UK. You can find galleries catering to all aspects of the past and some natural history ones thrown into the mix so that you can see mummies from Ancient Egypt and furry friends like Spike the Wooly Rhino.
Sheffield Botanical Gardens
Constructed in the 1830s as a dream to amass an impressive collection of flora and fauna from all around the world, today, Sheffield's Botanical Gardens is one of the city's most extensive and varied parks.
Here you will not only find trees and plants rarely found in the British Isles, but the spaces and walkways they create make for one of the most relaxing experiences in the city's heart. You can get lost trying to see it all, and you never know what you will run into in all that fun.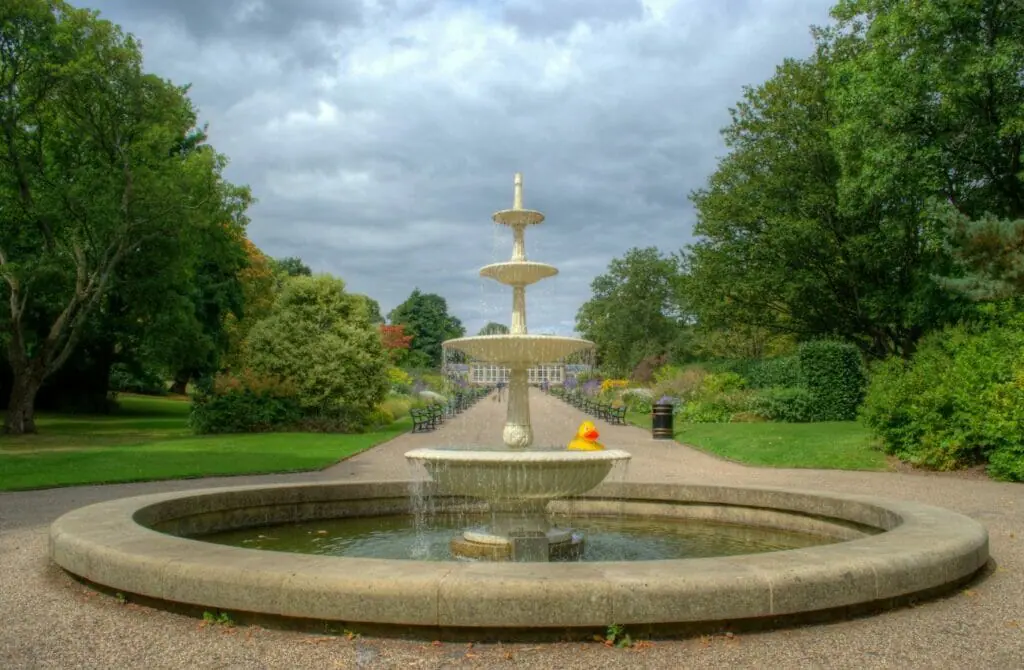 Meadowhall
The Meadowhall is the premium shopping center in Sheffield, so if you are looking for any goods or somewhere to experience the best shops in the city, this is the place to be. This modern mall has everything from high street shops and restaurants to accessories and Sheffield-breed classics. What makes this super handy for tourists is a bus exchange that takes you to the front doors.
Crucible Theatre
Known on the one hand for its stellar shows that cast a fun evening of entertainment on Sheffield's nightlife, the Crucible Theatre has been best known for hosting the annual World Snooker Championship since 1977. Either way, the theatre is a brilliant host with modern seating around a central stage and natural sound, so you can always catch a musical note or smash of the bat.
Sheffield Cathedral
For over a thousand years, the city's skyline has been ruled by the iconic spire of Sheffield Cathedral.
This gothic church cannot be missed even if you stop to admire it from the open square outside or step inside its open doors to check out the momentous religious regalia, which has not changed much since its construction. It is free to visit and becomes a magical place during church services.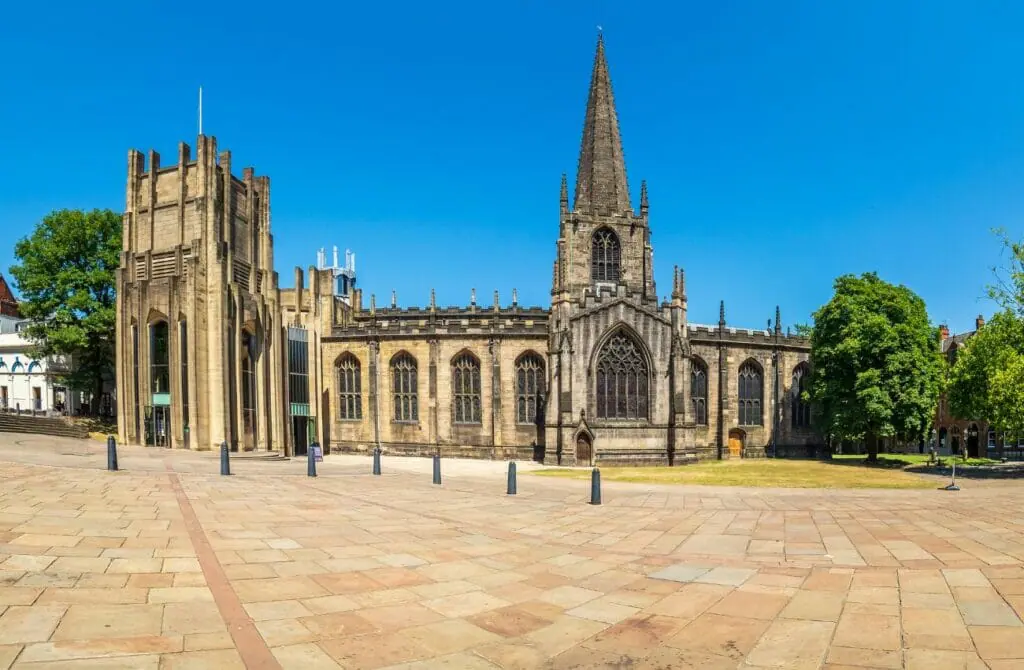 Tropical Butterfly House Wildlife & Falconry Centre
A short drive east outside of Sheffield, you can find the delightful Tropical Butterfly House Wildlife & Falconry Centre, which has something for the whole family and those singles.
Not only will you find yourself surrounded by incredible butterflies in their warm habitats, but you can learn all about the conversational efforts and the life cycles of these beautiful critters and discover firsthand how varied nature can be.
Despite being a zoo focused on butterflies and falcons, they also have a variety of other animals, so you will find meerkats, parrots, wild dogs, and a host of more attractions to make a special day out of town one you will remember.
Mappin Art Gallery
Connected to the Weston Park Museum is the Mappin Art Gallery, built in the 1930s to house some of the city's top art collections. This is a traditional art gallery of old masters intertwined in classical architecture, making it a refreshing break from the plain white spaces used by modern art galleries.
A short drive west of Sheffield takes you into the heart of Peak District National Park, a popular hiking destination with various biomes, from steep limestone valleys and moorland plateaus to gritstone ridges and towering mountain peaks.
This expansive park would need several weeks to explore. Still, there are many tour operators and short walk options to ensure you can experience most of what the National Park offers.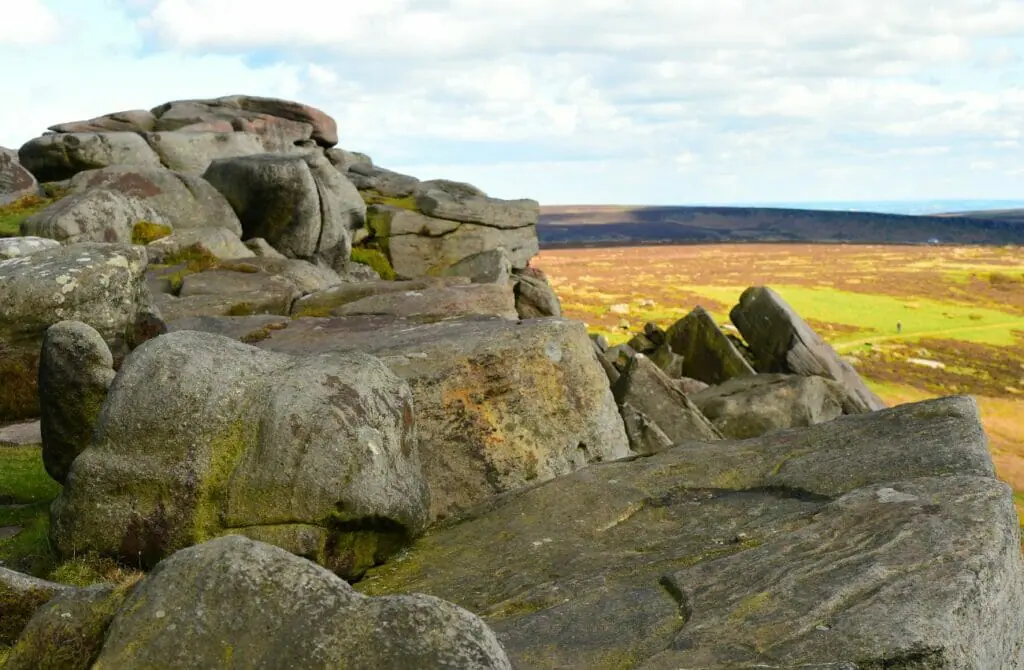 Kelham Island Museum
Suppose you cannot get enough of the industrial-era industries of Sheffield from the Victoria Quays. In that case, the Kelham Island Museum is the next port of call that teaches visitors about the history of Sheffield's metal and steel-making industries. Through interactive exhibits, it will make even a family visit a fun afternoon in the city.
The National Videogame Museum
Gamers will be disappointed if they miss visiting the National Videogame Museum in Sheffield. This modern museum takes you through the history of games with interactive exhibits, informative signs, guides, and an impressive collection of video games that highlight the importance of preserving history, even if recent or digital. It is fun to stop by and give an old classic ago, even if you dislike the usual museum experience!
Victoria Quays
Experience the smaller of the city's two rivers, the Sheffield Canal, which runs through the heart of Sheffield with the picturesque Victoria Quays. This historic waterfront is the terminal where you can catch a boat, travel along the canal, or check out the various sites around the waterside.
For example, you can see 1810s coal yards that once powered significant railways, an 1860s grain warehouse, and an 1870s coal merchant office.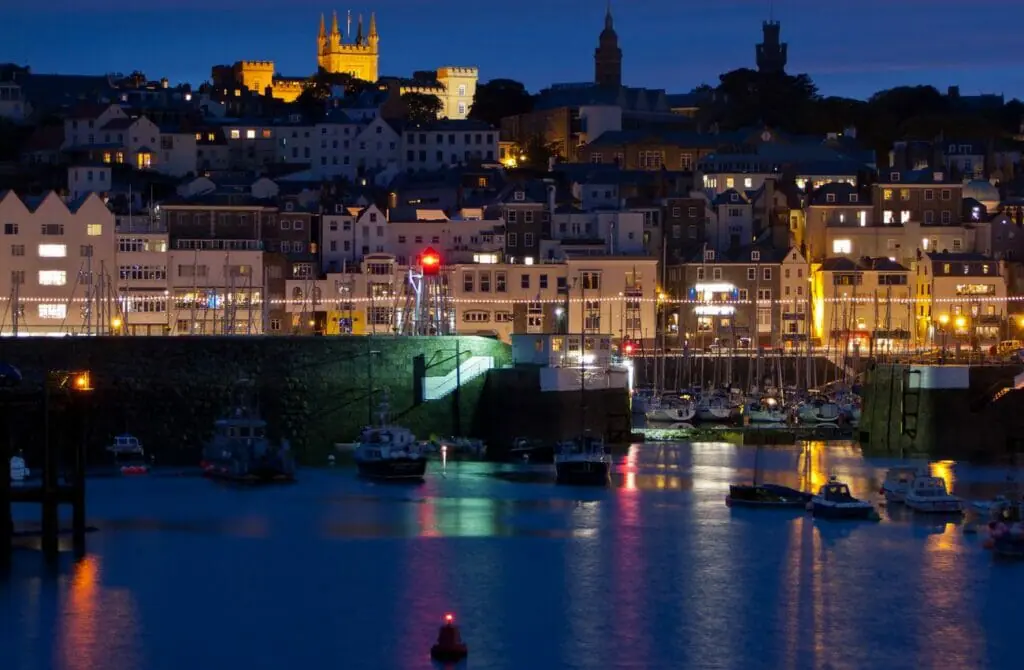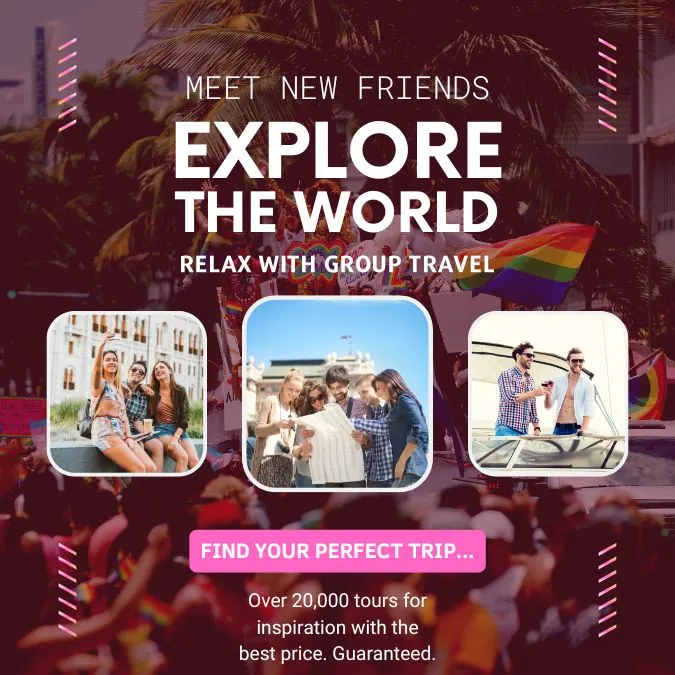 Gay-Friendly & Gay Hotels in Sheffield, UK
Being gay-friendly accommodation means that the establishment is welcoming and inclusive to guests who identify as LGBTQ+. This can include, but is not limited to, having policies and practices that demonstrate a commitment to creating a safe and inclusive environment for LGBTQ+ guests, such as non-discrimination policies and providing support and resources for LGBTQ+ travelers.
Some gay-friendly accommodations may also provide amenities specifically catering to the LGBTQ+ community, such as rainbow flags or literature about local LGBTQ+ events or resources. Furthermore, gay-friendly accommodations may be located in an area known for being LGBTQ+ friendly.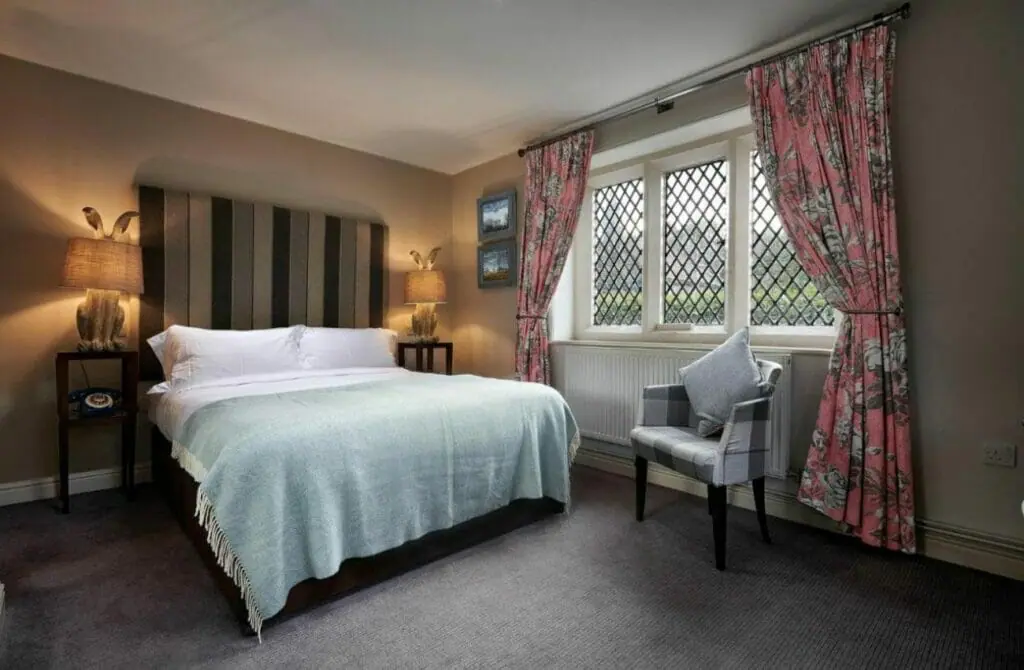 While Sheffield does not have any specifically gay hotels or resorts, these are Sheffield's most fabulous and pro-actively gay-friendly hotels. Needless to say, there are also hundreds more hotel and hostel options in Sheffield if none of these suit your desired budget, facilities or area – but these are the best hotels according to other gay travelers and us.
Whatever your needs are, Sheffield has you covered.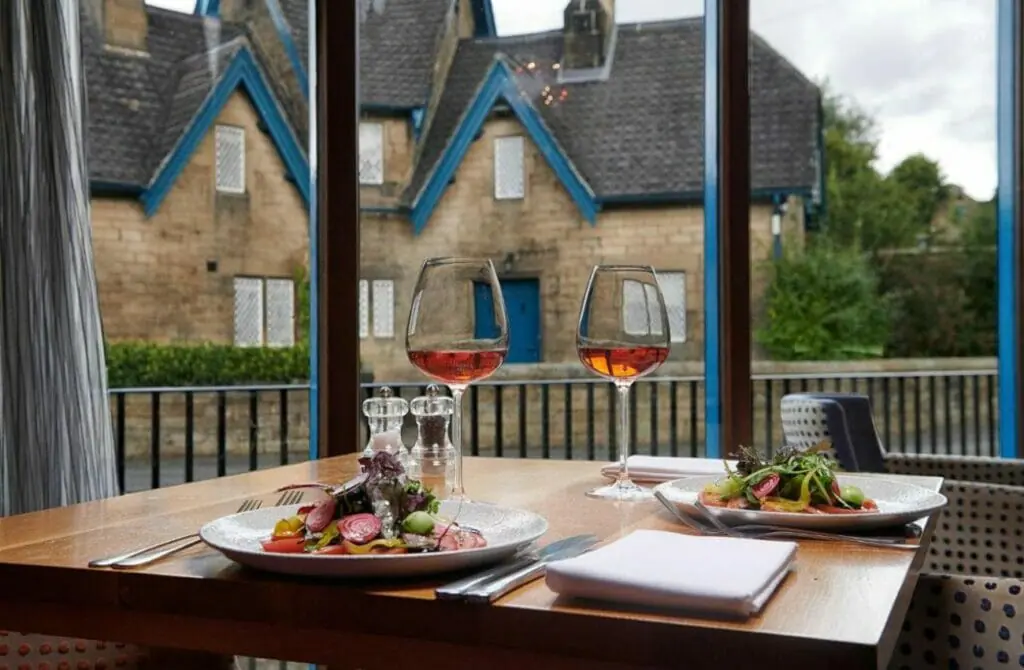 The Devonshire Arms at Beeley ☆☆☆☆☆
Those with a car who do not mind the twenty-five-kilometer drive north to Sheffield for a five-star rural experience will fall in love with the charmingly rustic Devonshire Arms at Beeley. You do not just have the rural small town of Beeley at your fingertips, but plenty of parking to make a quick trip to Sheffield.
This hotel is highlighted by the spacious modern dining hall, rustic bar, a restaurant serving food and drinks for guests, the garden terrace, and of course, the private quarters with different themes and little extras to fit all types of travelers.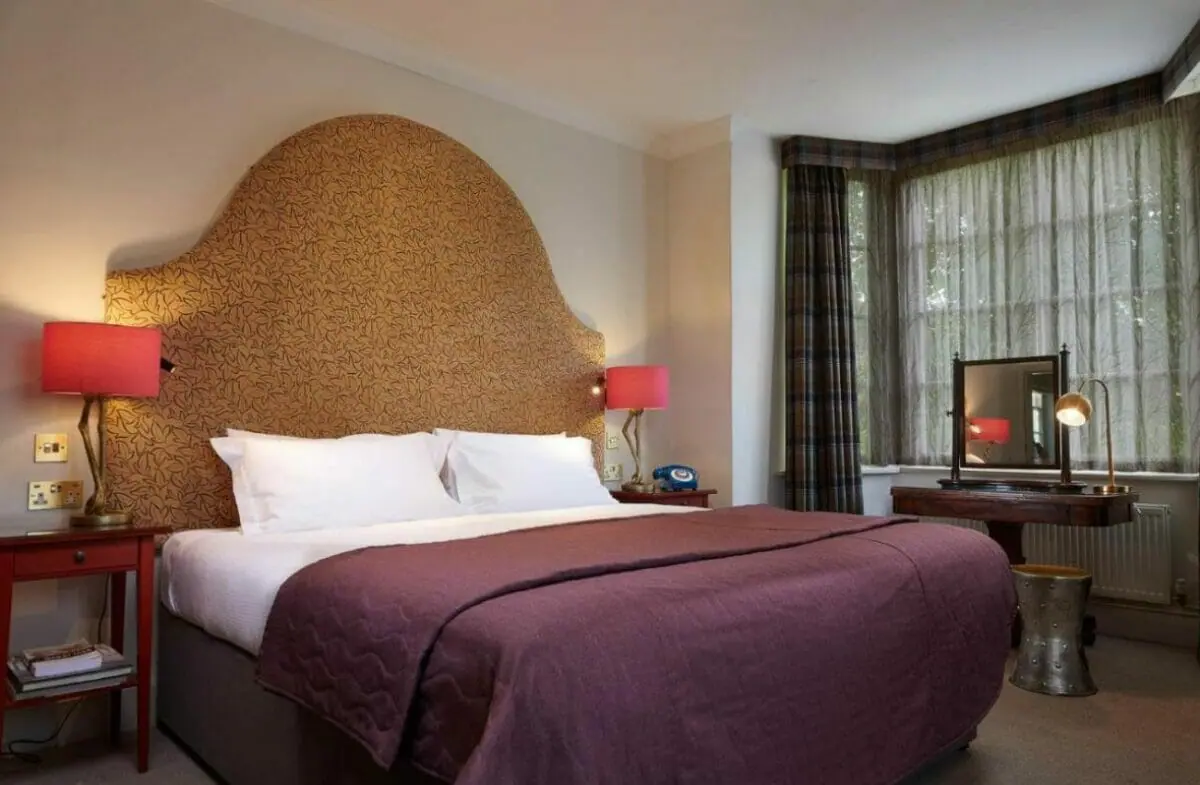 Crowne Plaza Royal Victoria Sheffield, an IHG Hotel ☆☆☆☆
In the heart of Sheffield is the brilliant four-star hotel Crowne Plaza Royal Victoria, which has become a favorite not just because it is set inside a 19th-century red brick building near top city attractions.
Inside you will be treated to a restaurant, lounge bar, and dining in elegant spaces, and we are just getting started! You do not just have access to royal gardens with lawns and water features; the sauna, gym, dance studio, and business services are a bonus.
However, above everything, the rooms make guests fall in love with this palace as you get your own Versailles-style apartment with an intermix of chic and modern services perfect for an upmarket stay in Sheffield.
Mercure Sheffield St Paul's Hotel & Spa ☆☆☆☆
Another exceptional central city hotel is Mercure Sheffield St Paul's, a four-star retreat with a pool and spa services to allow guests to relax fully on holiday. Of course, not everyone enjoys lounging away their whole holiday, so they have easy access to top citywide attractions and some of their own seen in the dining hall, two restaurants, bar, and gym.
There is also the outdoor terrace where you can soak in the sun as you work, taking a break from your well-equipped room of the shared business services. Guest rooms have cozy beds and plenty of space to complete the package.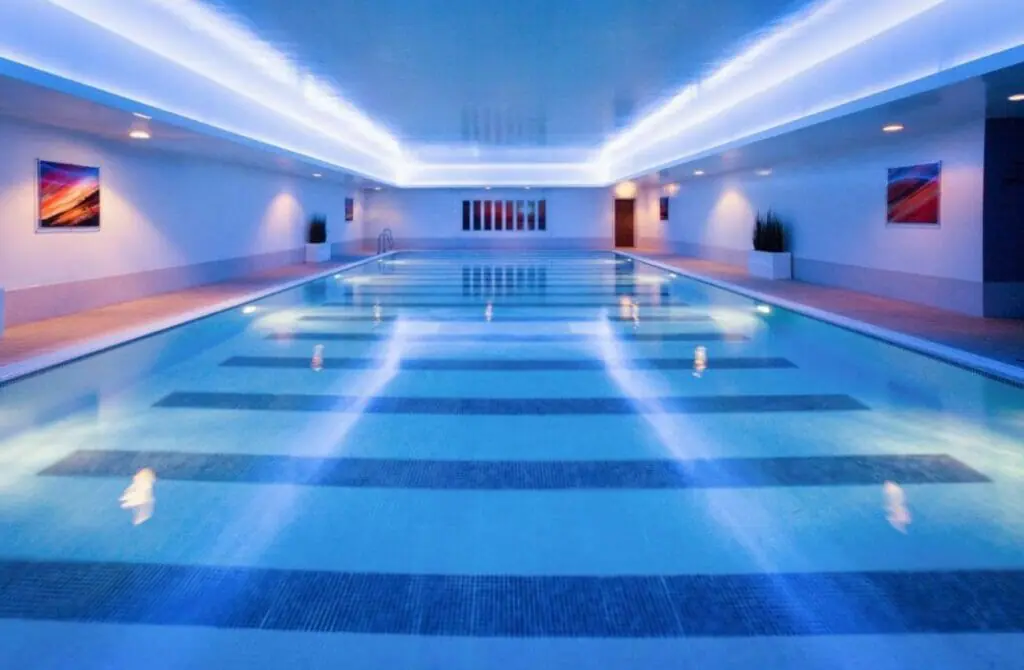 Hampton By Hilton Sheffield ☆☆☆
Stepping into the class of excellent three-star hotels in Sheffield, you will soon find Hampton by Hilton, close to the university and city hall. The lovely outside is just as splendor as the inside, offering guests simple rooms with cozy beds, ensuites, and desks.
However, the shared guest facilities are where this place shines the most, with complimentary buffet breakfast served out of their restaurant, and lunch and dinner can also be covered for extra. The gym and business services also allow guests to continue their routine even on holiday.
The three-star Ibis Sheffield City Hotel is a mid-range budget hotel perfect for accessing the town center without worrying about transport. Staying here, you will be treated to breakfast, a restaurant, a cafe, and a bar, making food, something about which you need not worry! They also come with private rooms where you can relax in their beds or work away at the desk. You do not need much more than this.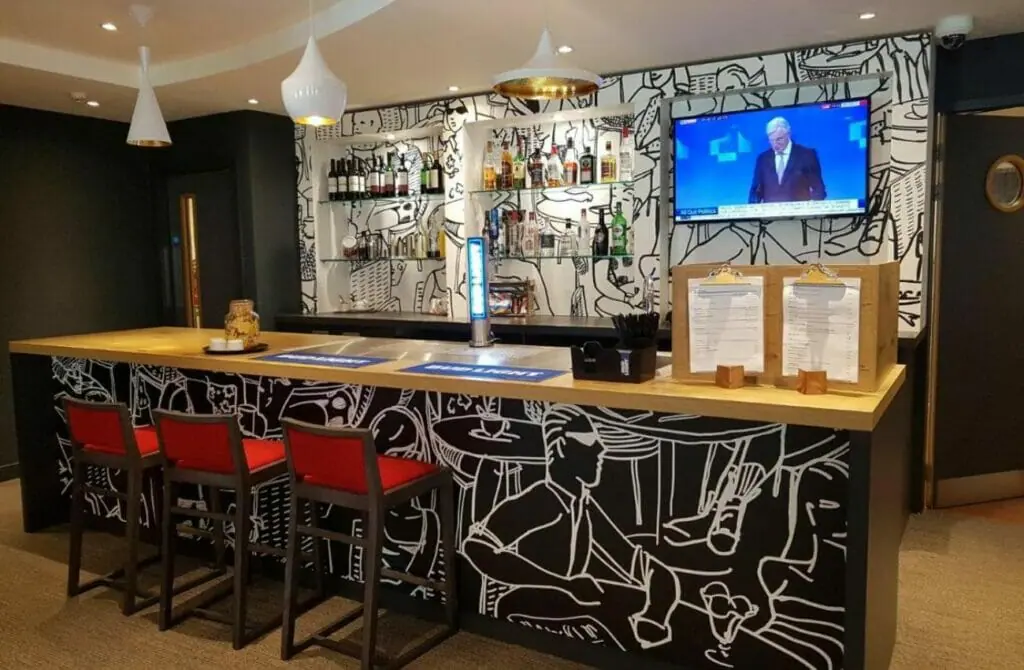 Ibis Budget Sheffield Centre St Mary's Gate ☆☆☆
One of the best options on a budget in Sheffield while still being treated to a tremendous three-star experience is the Ibis Budget Sheffield Centre. The modern rooms each come with essential services which allow you to relax, lounge watching TV and have the privacy of your ensuite, plus they even have room service.
However, the shared restaurant, breakfast, and dining options make Ibis Budget stand out the most. Their Chill artisan coffee shop makes delicious food and drink, with a cozy spot to spend time outside your hotel room.
For a hostel that provides excellent accommodation as cheap as you can get in Sheffield, you cannot go wrong with Russel Scott Hostel, a two-star place that compliments a cheap visit.
You can stay in a shared room with one or two other people, with more expensive options for those who want their own space. Moreover, breakfast is complimentary, and there is a shared kitchen and dining space to make a meal via a microwave.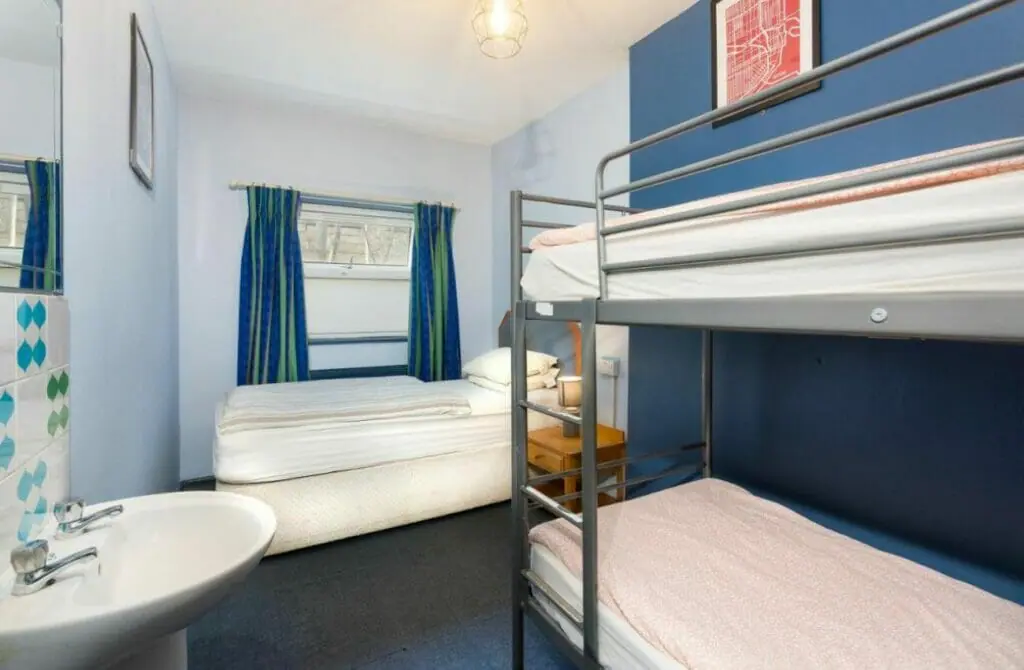 Gay Nightlife in Sheffield, UK
Sheffield is guaranteed to provide a fun slice of gay nightlife in the UK with several gay bars and gay cruising bars for those after something more. These are kept alive by the out and proud queer community with their gay clubs and the regular pride events, so you can bet there will be plenty of opportunities to have a wonderful time.
Exploring the gay and gay-friendly nightlife in a new city can be one of the most exciting and rewarding experiences while traveling – and Gay Sheffield is no exception. Not only will you have the opportunity to meet new people and make friends, but you'll also get a taste of the local culture and learn more about the city's LGBTQ+ community.
Going out and experiencing the queer and queer-friendly nightlife in a new city can also be a great way to break out of your comfort zone and try new things. Whether dancing the night away at a gay club or mingling with locals at a gay-friendly bar, you'll have the chance to make memories and create lasting connections.
So, don't be afraid to step out of your comfort zone and explore the gay and gay-friendly nightlife in Sheffield. You'll be glad you did!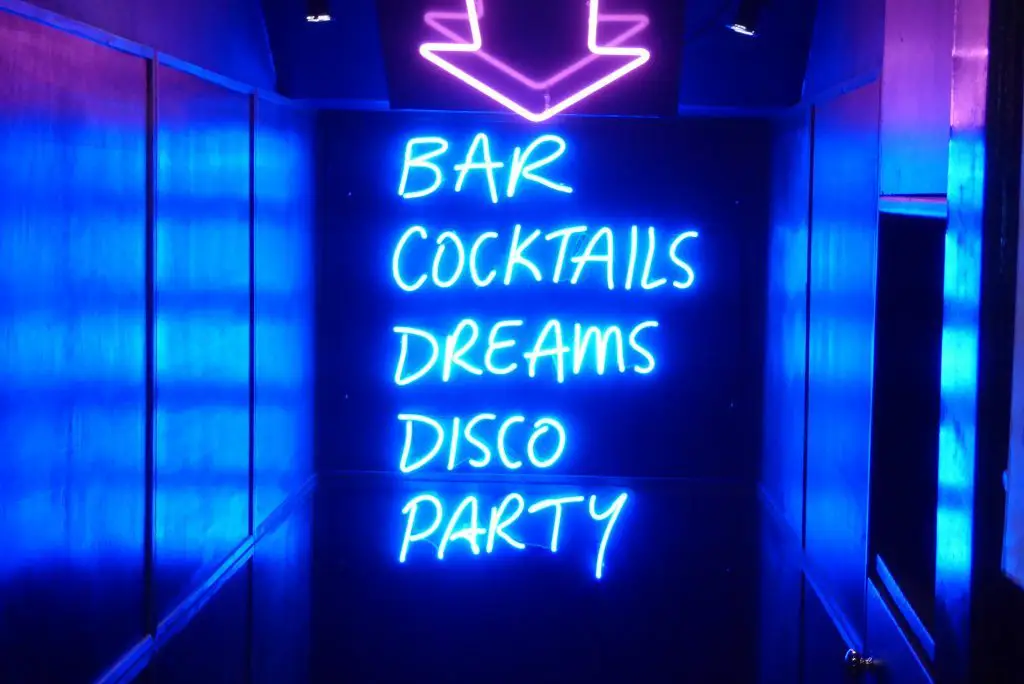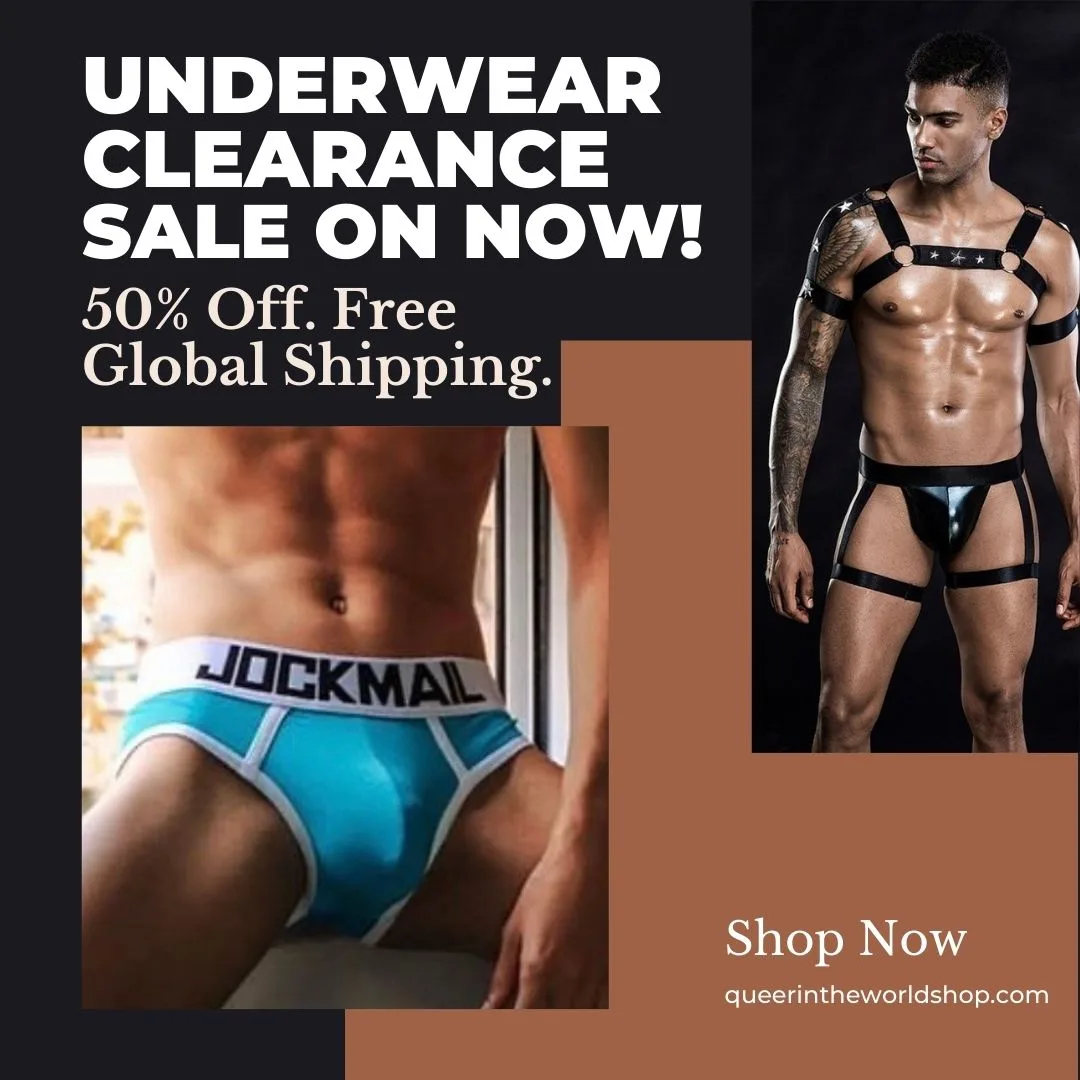 Gay Bars in Sheffield, UK
Dempseys is the partying place for an unforgettable gay night out in Sheffield. Not only are they the longest-running gay club and bar in town with twenty-two long brilliant years, but they are also the perfect place to stop by and see their yearning Eurovision viewing parties or RuPaul's Drag Race.
They are also the friendly hosts of quiz nights, trivia, and dance parties, so it is not always about sitting around and having a casual drink n' socializing.
For a fantastic night out full of drinks and a queer social scene, the Bar Code Halifax is a gay bar that hosts a lot of great entertainment, including drag queen impersonators like Miss Mindy Minogue and sexy podium dancers.
This is a show bar, so you should expect a show every waking hour they are open! Then, if that was not all, they also have a great drinking and dance scene, with a fully stocked bar and a dance floor large enough to contain all the late-night fun.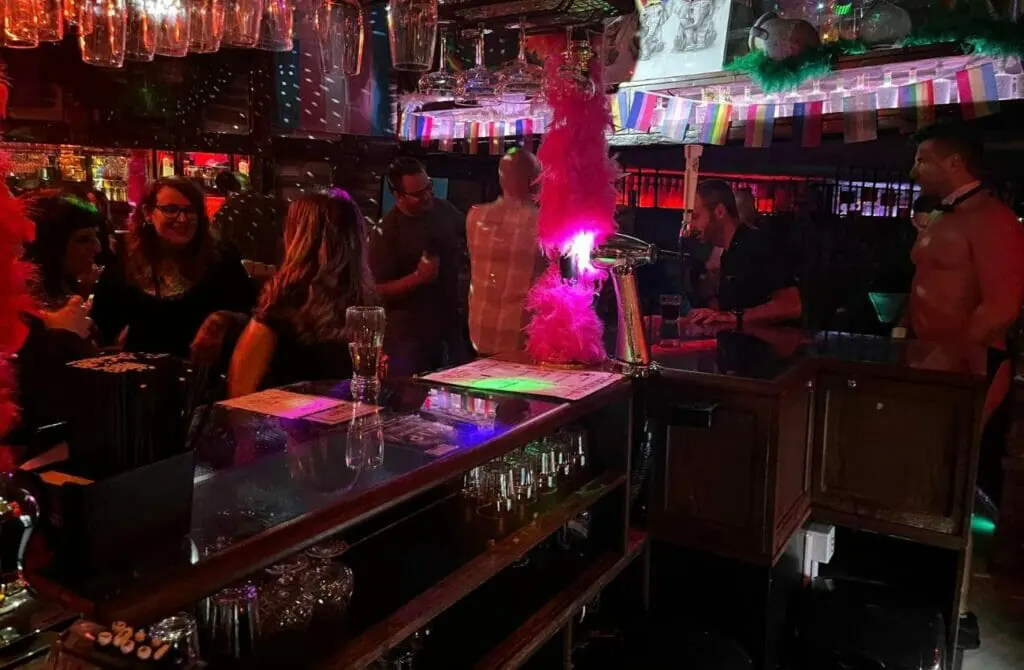 Gay Parties & Gay Clubs in Sheffield, UK
The largest gay club in Sheffield is, without a doubt, here! You can find excellent resources to learn all about the gay community and scene on their website or get involved in queer events if they crop up during your visit to the city.
A queer-affiliated art venue that provides fun-filled early evening and late-night gay social and entertainment spaces. Here you may be attending an art gallery opening one minute with complimentary nibbles and drink and the next minute laughing yourself silly at a drag show, surrounded by fellow queer people.
For those travelers aged twenty-five or under, SATiT has been the queer support group for 8-25 years olds in Sheffield, and they could be the perfect place to be in contact with parts of the queer community. They provide advice, host regular events, and bring the young gay crowd together in solidarity.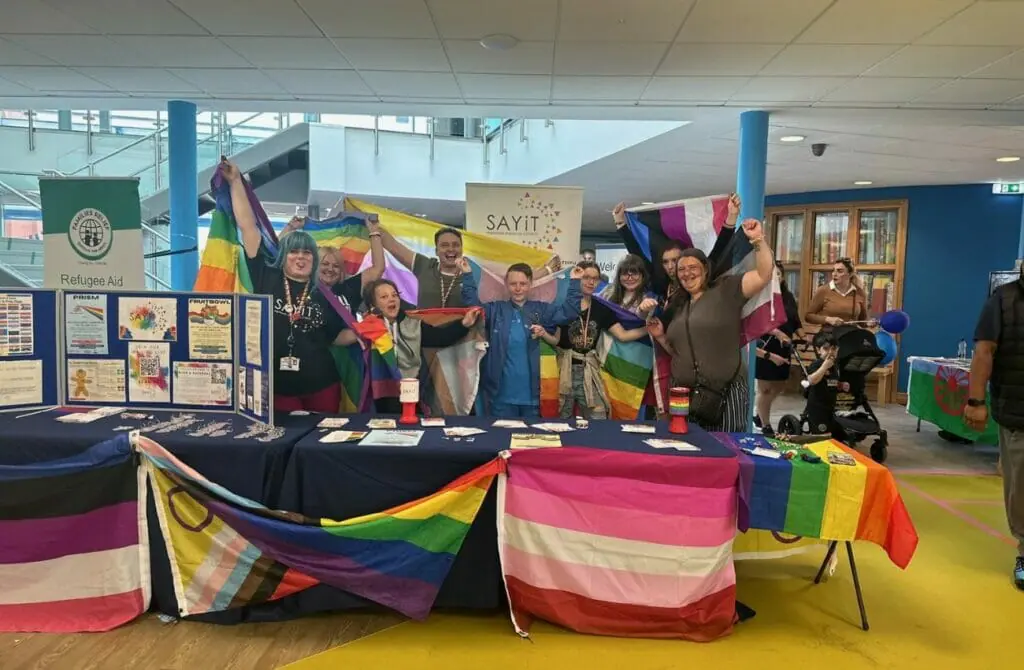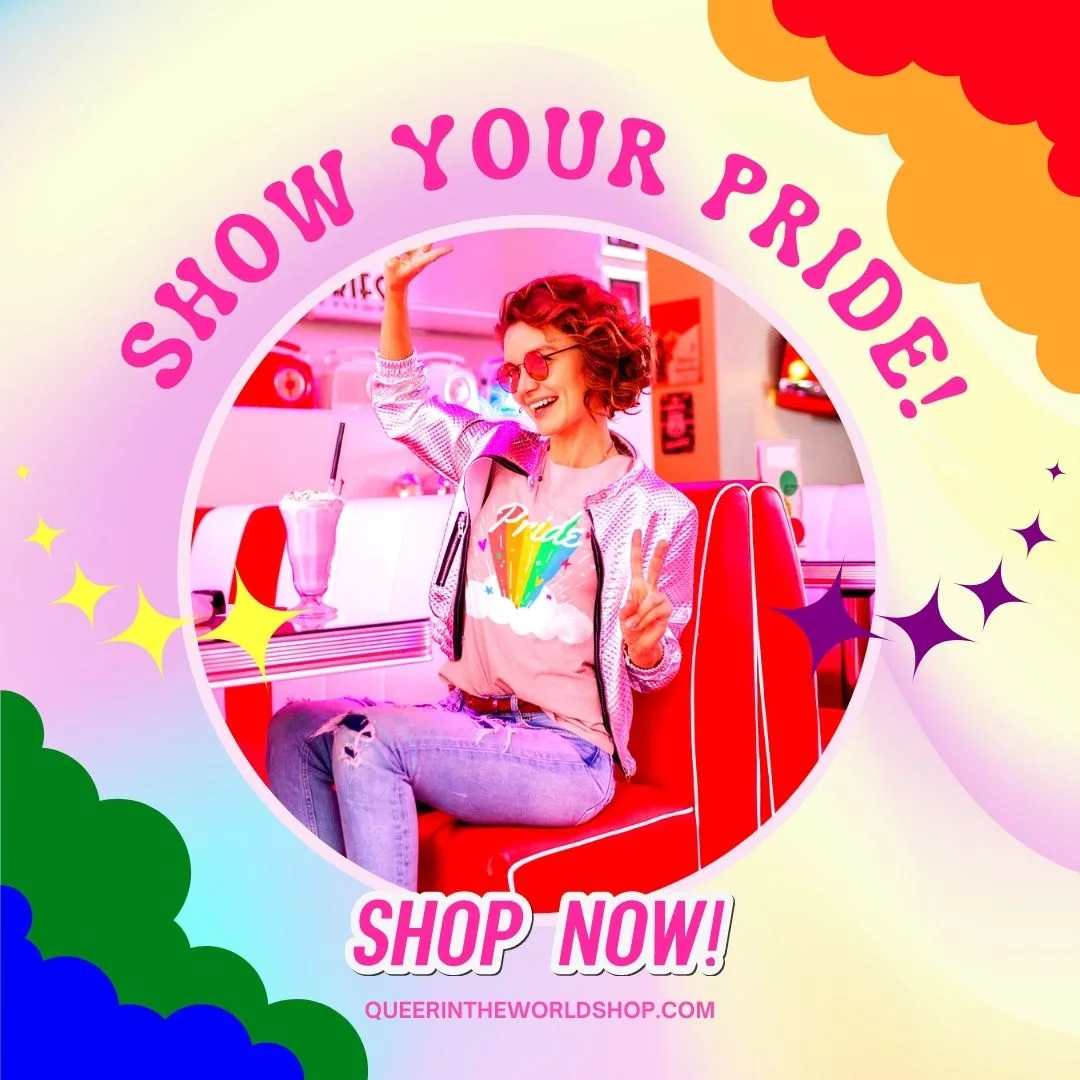 Gay-Friendly Nightlife in Sheffield, UK
At The Rutland Arms, you will find a traditional pub with great alcohol and food. It is a popular venue for the gay community as its decor matches their tastes with some unusual decor related to unusual horror, placards of past protests in Sheffield, and some surrealism. They also offer cozy loungers and an outdoor sitting garden for enjoying a soft drink in the evening.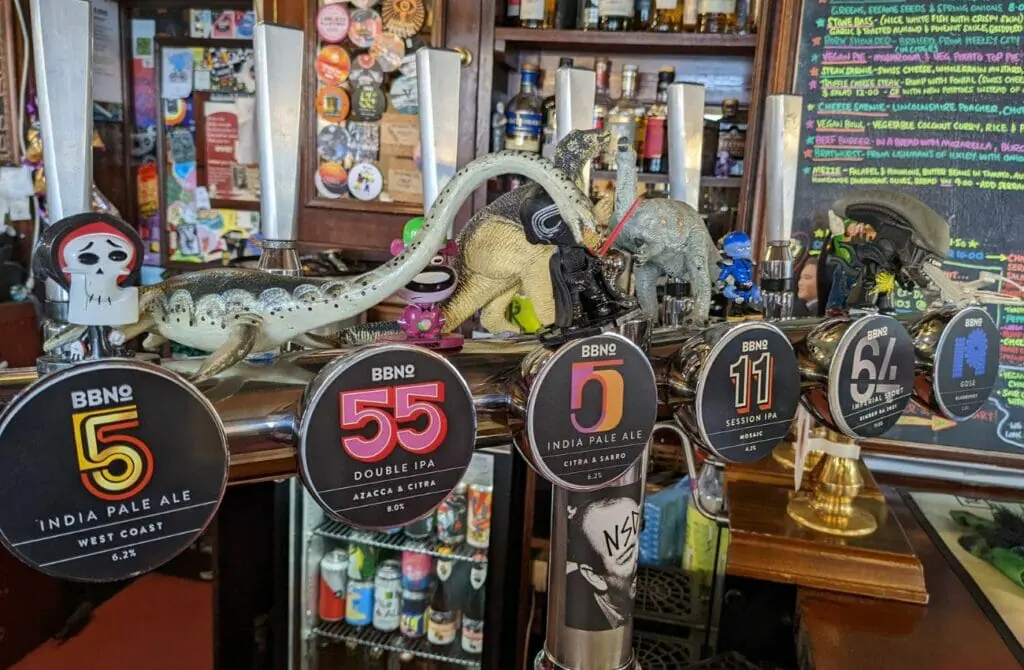 For a taste of a new name in the ale scene of Sheffield Industry Tap pleases with its delicious drought beers and ale. You can try some fantastic local craft beers with a leisurely drink at their bar or order on your way home with their easy click-and-collect system online, so you can be served excellent ale no matter where you are.
What makes it extra appealing to the queer crowd its unofficially run by queer women and is popular with goth and gay women.
For a hearty beer pub popular with lesbians and queer women, the Beer Engine is a cozy little drinking venue with delicious tapas tucked away on the edge of London Road.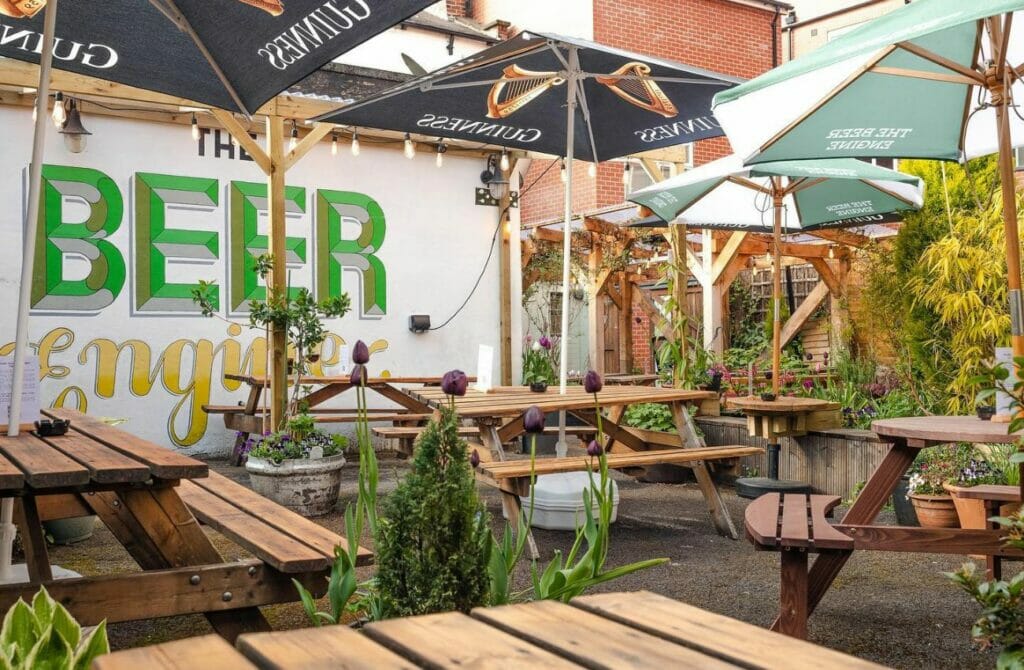 Gamers drawn to Sheffield for the Video Game Museum will get a kick of the Three Treehouse Board Game Cafe, which provides a nerdy space for people of all backgrounds to enjoy a great drink and a cozy room to play games.
You can bet that even if you are a solo traveler, you can still find cafegoers who would be happy to include you in their single D&D game or a quick roll of dice in Monopoly. The cafe even has a rich collection of games to try something new.
For those who are after a fantastic nineties dance club, you can find no better place to go back to the age of classic Brit-pop groups like Spice Girls and Oasis. This venue is fun, loud, and highly poppy, with each visit promising to bring something unexpected to the whole experience.
You can come here for a drink and dinner, but the highlight is the dance floor and live acts, with regular headline acts from famous musicians like Ronan Keating and DJs. You can party to old classics as you get a taste of your youth or relish modern mixers bringing new life to old tunes.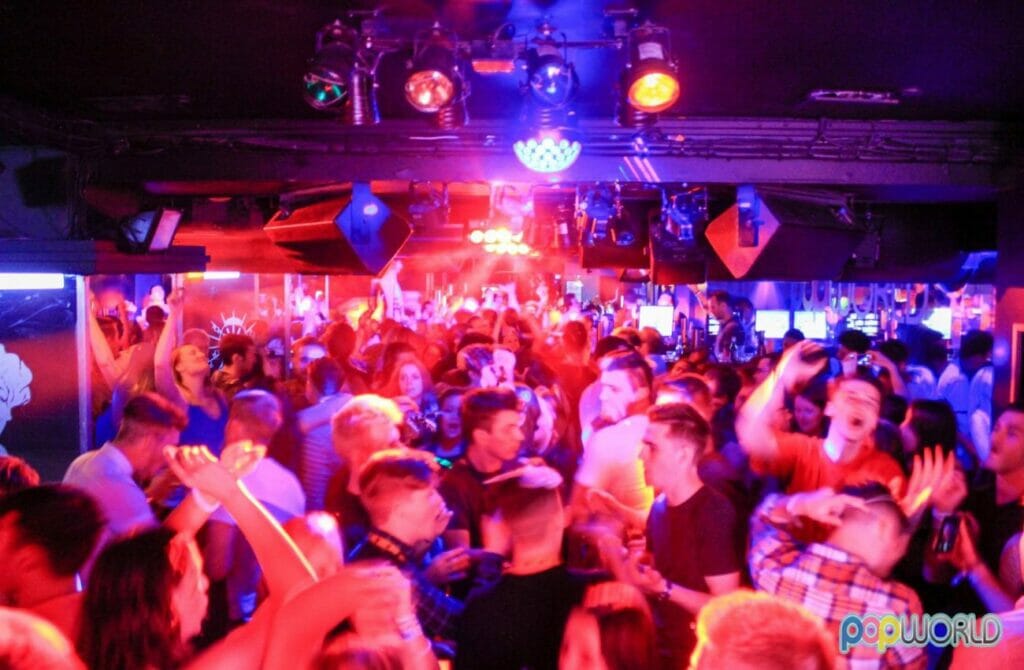 Cruising & Gay Saunas in Sheffield, UK
Sheffield may not be as big as cities like London in terms of their gay scene, but they do have a thriving queer cruising scene which makes it extra unique for gay men that want to explore the naughtier side of the gay nightlife in town. This includes a gay cruising lounge with a spa and sauna so that you can get the whole package all in one!
When traveling to a new city, it can be exciting to head out for more than just a stiff drink. One aspect of the Gay Sheffield scene that many queer men enjoy is visiting gay saunas and cruising clubs.
Sure, the sauna culture in Sheffield is not as hedonistic as in Amsterdam, Barcelona or Berlin, but these venues still offer a chance to meet new people, socialize, and engage in sexual activity – without resorting to gay hookup apps.
However, it's important to remember that these venues can vary greatly in terms of atmosphere, clientele, and rules, so it's a good idea to prepare yourself before visiting. If you are apprehensive, we advise studying our guide to visiting a gay bathhouse for the first time, which should help set your mind at ease and always practice safe sex.
Additionally, it's important to be aware of and respect local laws and customs regarding gay venues and sexual activity. With a little bit of planning and an open mind, visiting gay saunas and cruising clubs can be a fun and exciting part of your gay Sheffield travel itinerary.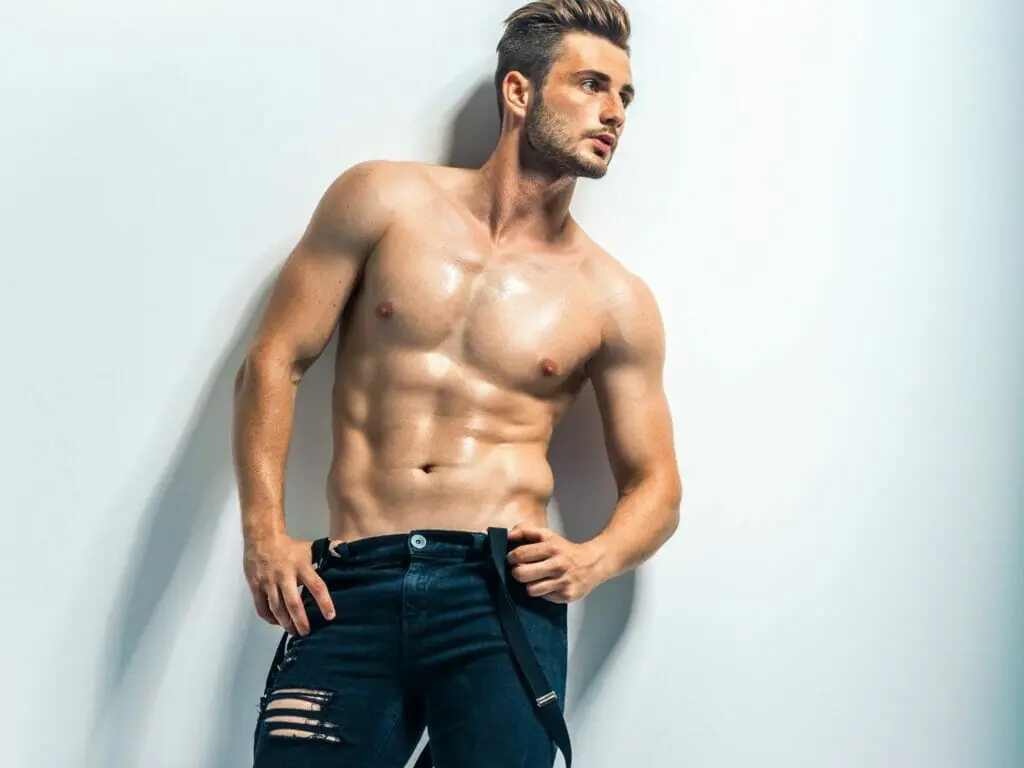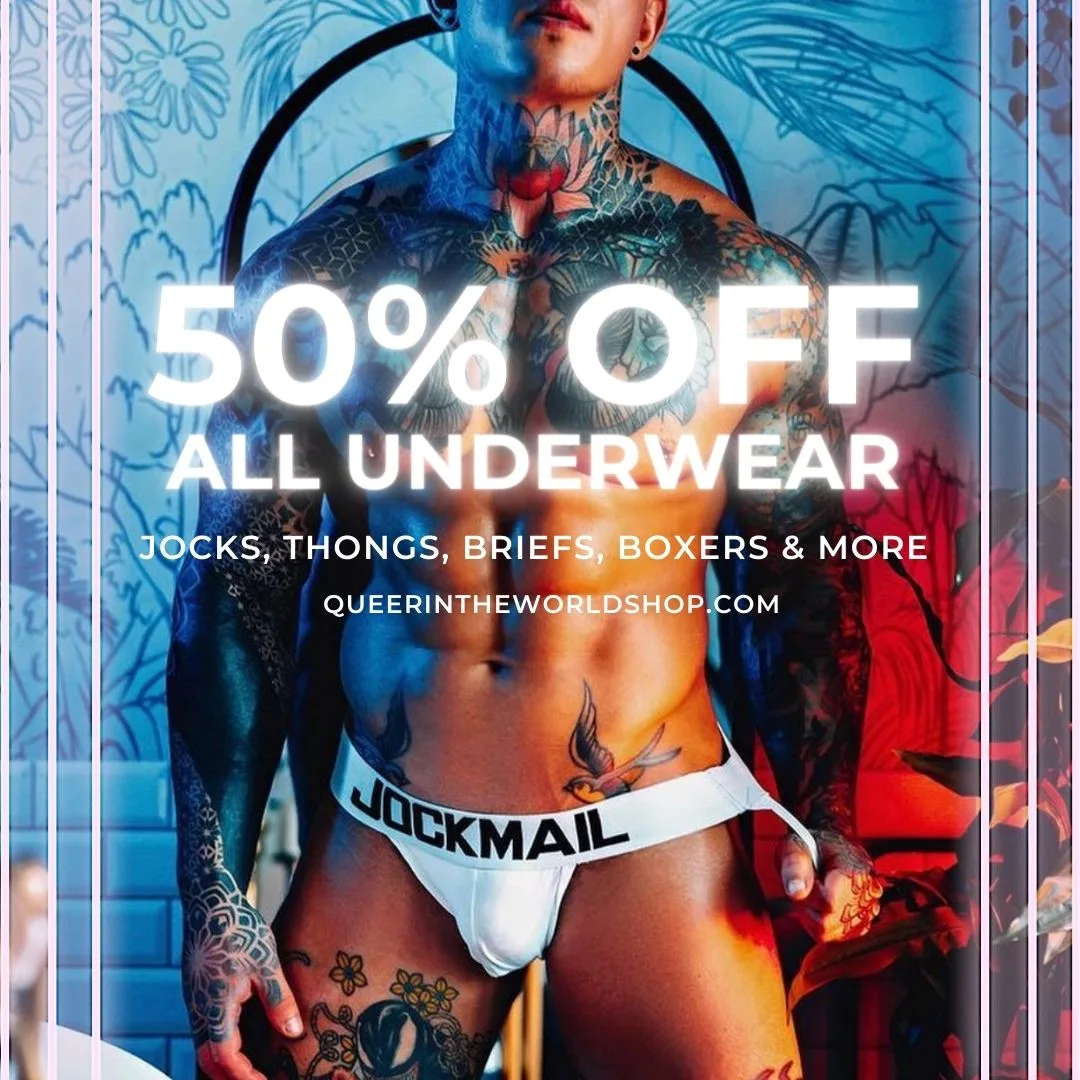 Gay Cruising Bars in Sheffield, UK
The Boiler Room is the number one place for gay cruising in Sheffield for gay men as it prides itself on providing a cruising lounge with delicious snacks and drinks for creating a relaxing and safe gay social scene. From there, you can explore the facility and make the most of its spa, sauna, and cruising facilities outback! So, for just ten pounds, it is worth the experience.
Gay Saunas in Sheffield, UK
The Boiler Room is the only gay sauna in Sheffield, so it is popular amongst gay men for filling the gay cruising itch for locals and visitors alike. Here you have access to a sauna, steam room, jacuzzi, lounge bar, cabins, glory holes, cinema, and more!
This place stands out because of the free parking, towels, lockers, water, and tea/coffee, so even if it costs ten to enter, it makes up for all these fantastic services and freebies.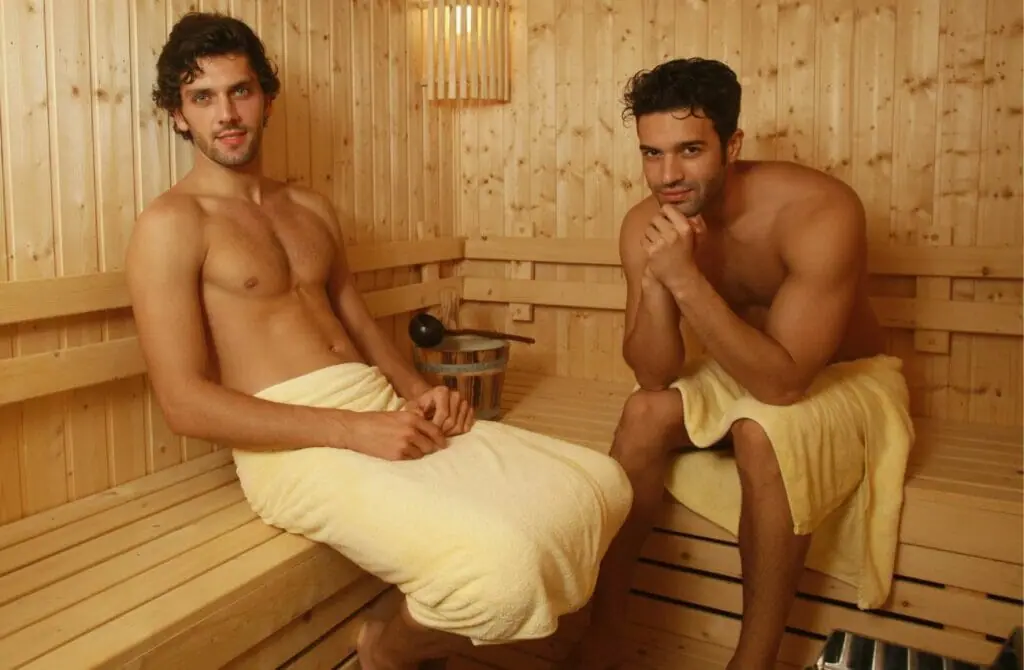 Gay Map Of Sheffield
Finding it hard to envisage where everything is in Sheffield? Hopefully, this queer-centric map helps where we have marked all the bars, clubs, parties, hotels, saunas, massages, and more will help you stay in the spot best suited to you!