Heading into the land of mustard, gingerbread, and the French, you will quickly find a fantastic gay scene in none other than the city of Dijon. This comes less in the form of gay bars and more in a tightly knitted community held together by their queer clubs and organizations, with regular events and year pride parades that allow the rainbow residents to come out loud and proud.
However, that doesn't mean there isn't a gay venue in town to enjoy, as there is a treasured gay man sauna and even a gay B&B!
Outside her gay scene, Dijon is better known for her famous food exports (gingerbread and Dijon mustard) and iconic vineyards. Her reputation as part of the 'Grands Crus' (high-class wine) in France has also earned her the loving nickname of Champs Elysées of Burgundy.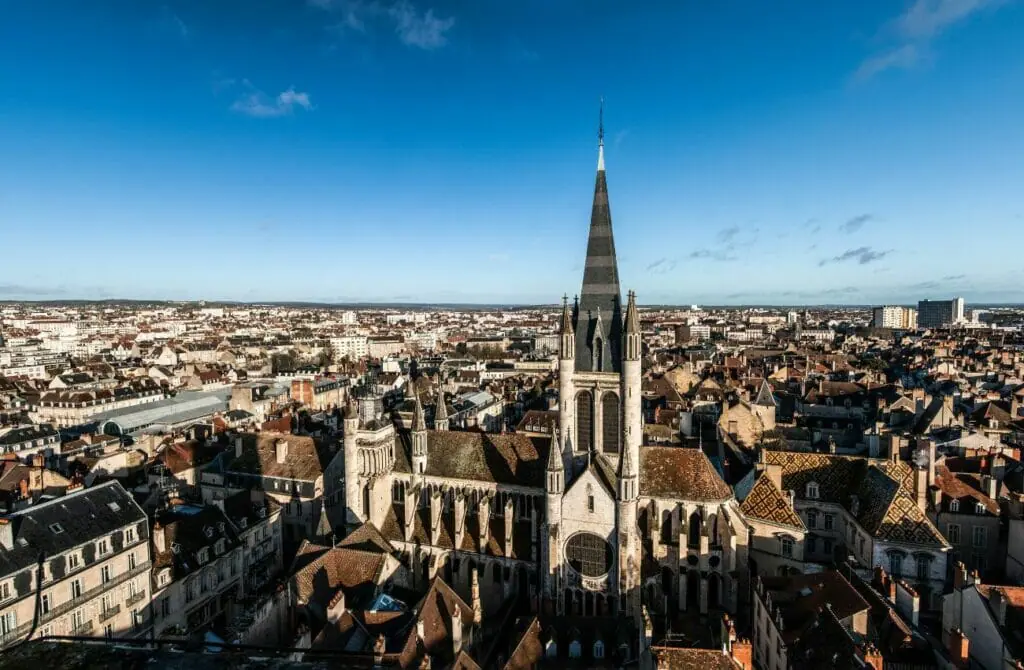 So, if you are after a top French culinary experience, Dijon is up there with the big players! Of course, you can find more than just delicious food on a trip to this city, with a rich cultural history that dates way back to the Neolithic period, with a formal settlement established during Roman times.
You can wander the streets and get a taste of this historic past or stick very much to the present in the selection of modern activities and sights. With all these incredible things to do in Dijon, no wonder it's a popular place for gay tourists.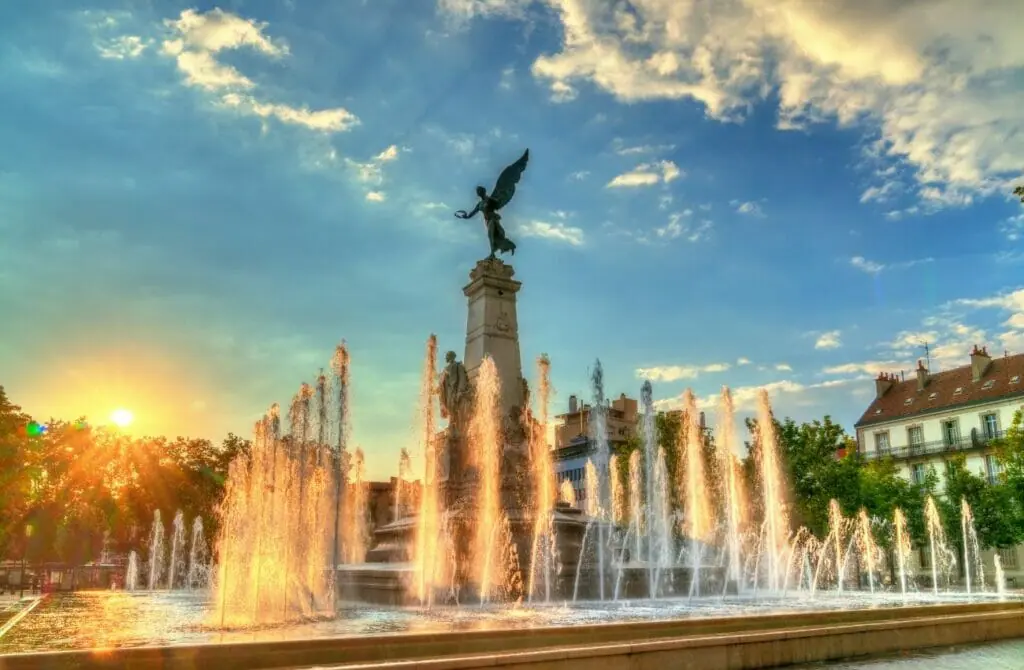 Attractions in Gay Dijon, France
As a new visitor to Gay Dijon, there are plenty of things to see and do, regardless of your sexual orientation. One of the best ways to experience any new city is to visit some of its most iconic landmarks and attractions, including historical monuments, museums, and art galleries.
We also love gazing at architecture up close, exploring parks and gardens, sampling the local cuisine, visiting local markets, and attending cultural events such as festivals, concerts and shows.
Even as the out-and-proud queer we are, we still love to explore the city and its culture in the same way as everyone else. Doing so allows us to learn more about the city and its people and gain a deeper understanding of the local culture. As such, these are our favorite must-see attractions in Dijon.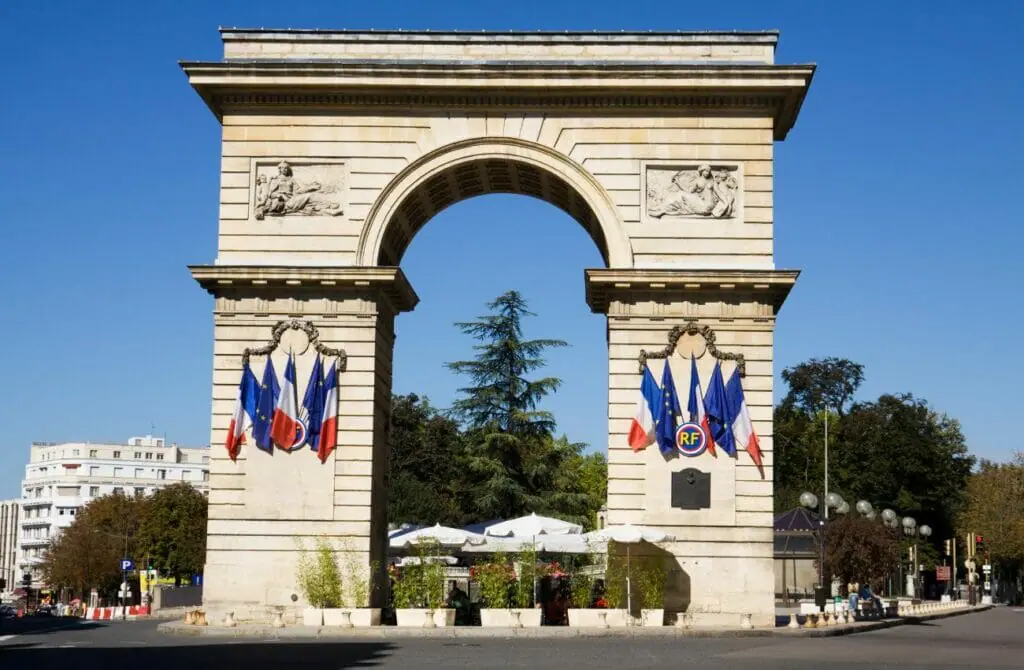 Half-Day Tour of the Cote de Nuits Vineyards from Dijon
Get stuck into what makes Dijon great by taking a half-day Cote de Nuits Vineyards tour. You will take in great French rural lands outside of Dijon and gain valuable insight into what makes their wine famous.
Part of this tour allows you to visit multiple vineyards where you will see the whole growth process through picking, fermenting, and the best part—drinking! You will see the picturesque Château du Clos de Vougeot, a medieval castle surrounded by fields of grape wine, making for great photo opportunities.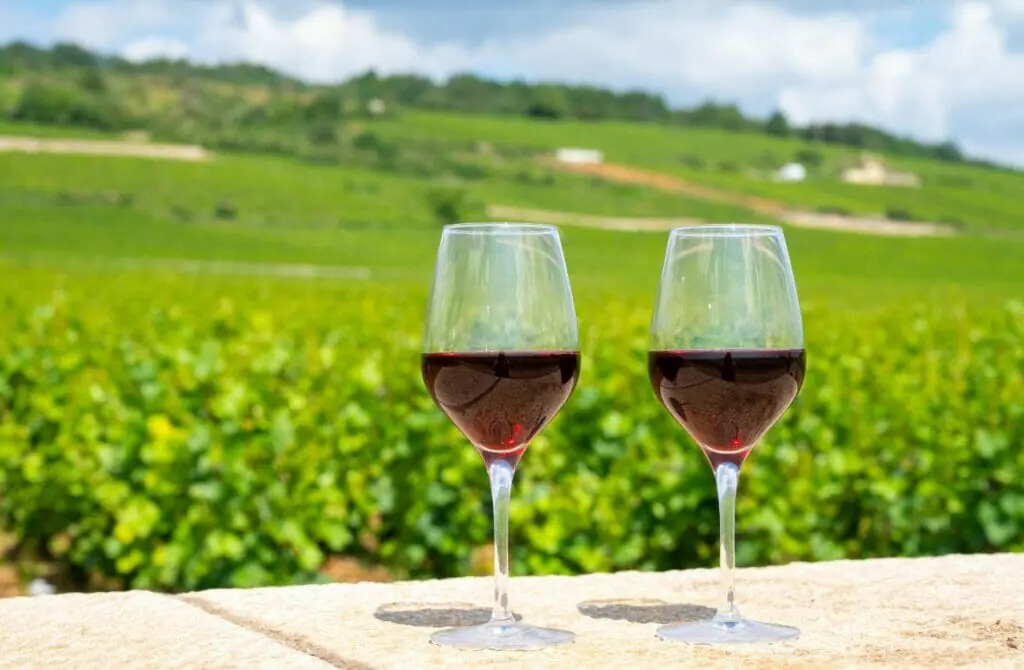 Discovery of Dijon by Bike + Tasting
Discover Dijon by bike in this heart-pumping tour that takes you all around the city's major sights with a friendly guide that knows a lot of fun facts about this city. This tour takes you through many central city parks and squares, passing by churches and other monuments before you head out into the city's rural outskirts.
You will see more of the town quickly than by foot, without feeling confined to a stuffy bus or car. The tour concludes with a delicious meal with wine tasting in a quiet area, allowing you to pat yourself on the back for all that hard cycling!
Museum of Fine Arts Dijon
One of the best ways to experience the fine art of Dijon is found in their Museum of Fine Arts, which has been open for over 250 years—making it one of the oldest in France. It has an extensive collection of art from around the world and locally, so you can get an all-rounded experience of art and will not get bored very quickly.
You also get to explore a former royal palace that houses the collection that dates back to the 16th century through galleries and hallways akin to Versailles.
Cathédrale Saint-Bénigne de Dijon
Visit one of Dijon's most iconic churches, the Cathédrale Saint-Bénigne, and be astounded by its towering gothic facade and spire built in the 13th century. You can enjoy its presence in the surrounding square, which is always bustling with activity and the occasional market or festival or make the most of its special spiritual company in the city's heart.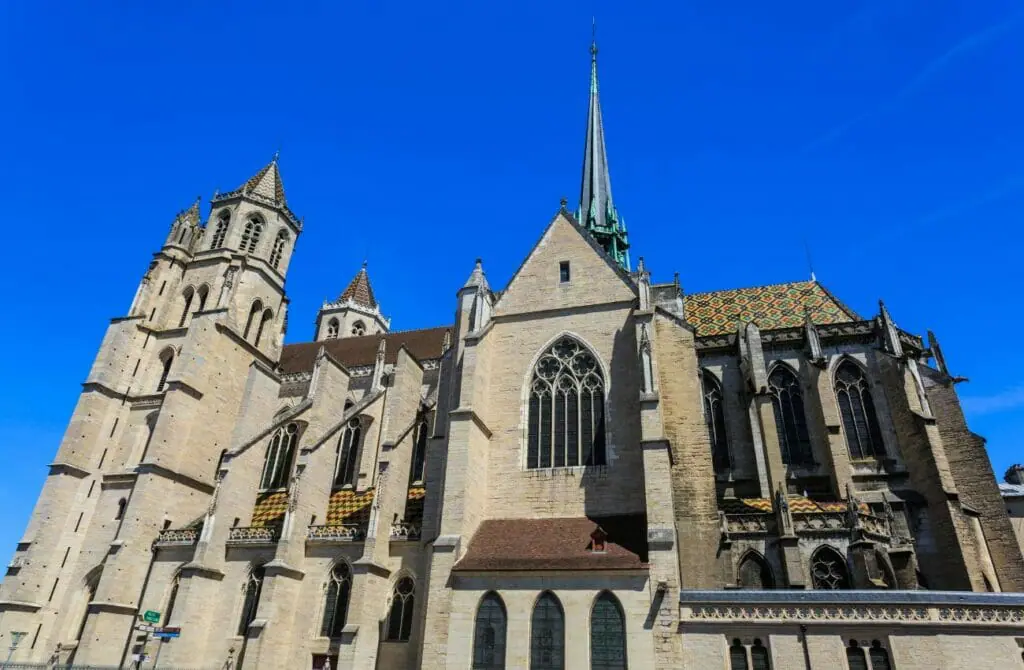 Rude Museum
Despite its name, the Rude Museum isn't even the tiniest bit rude as it is a gallery dedicated to the famous artist François Rude, one of the masters of 18th-19th century romantic art. You can experience an extensive collection of his work at the Rude Museum, seeing such pieces as The Départ des Volontaires, housed in a 12th-century church.
Palais des Ducs et des États de Bourgogne
Visiting the monumental Palais des Ducs, the former residence for the Dukes of Burgundy who ruled the Dutchy of Burgundy from the 9th to the 15th century.
The palace was built in the 14th century, so although it was only the home of the dukes for a hundred years, it has stood as a symbol of their former rule for five hundred years and a national monument of the city's history. You can visit this palace and imagine how they lived in this royal accommodation as you learn about this history.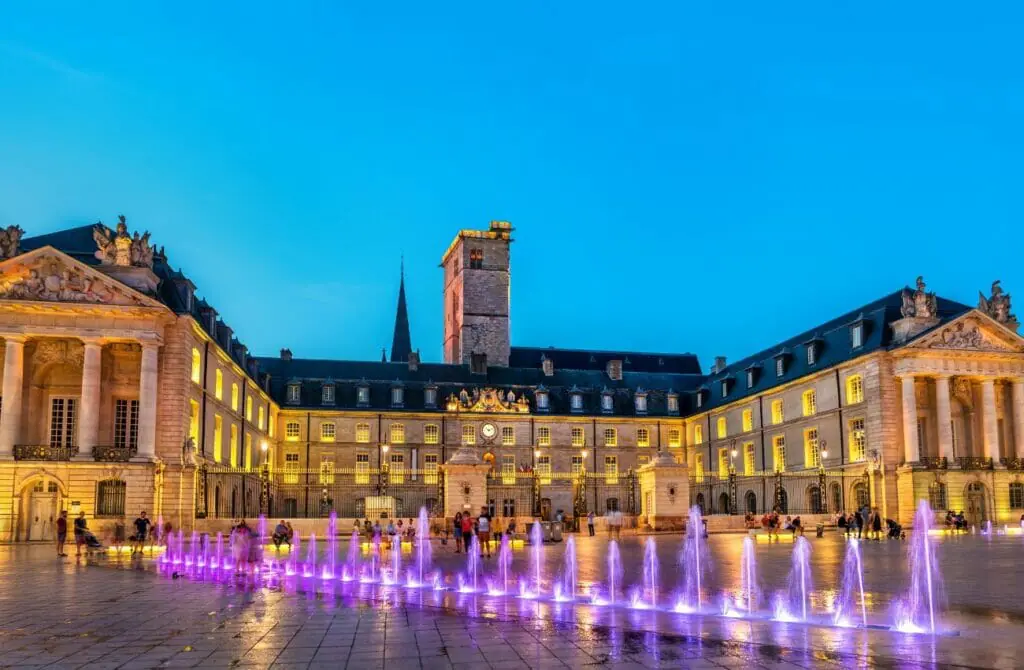 The most iconic street in Dijon is Rue des Forges, a fifteen-minute walk from the train station through the old part of the city past a mixture of wooden and stone buildings, arriving at a central square where quaint shops and eateries surround a central fountain. What makes this even more remarkable is the old merry-go-round and statues plotted around the area, creating a magical ambiance like none other.
Natural History Museum
For a little slice of the natural world that is different from Paris or London, the Natural History Museum in Dijon brings to the table this very experience. You can explore exhibits depicting local animals, exotic ones, and even prehistoric specimens, including dinosaur fossils and so much more.
Take in the taste of liberty as you stop by Liberation Square, an expansive circular square outside the city hall. It is named after the city's liberation by American forces from Nazi occupation in 1944 after a three-year ordeal during WW2.
Some also consider it the city's historic center, where you can find artifacts from the past, whether the neighboring buildings or the statue of Louis XIV (France's longest-reigning monarch).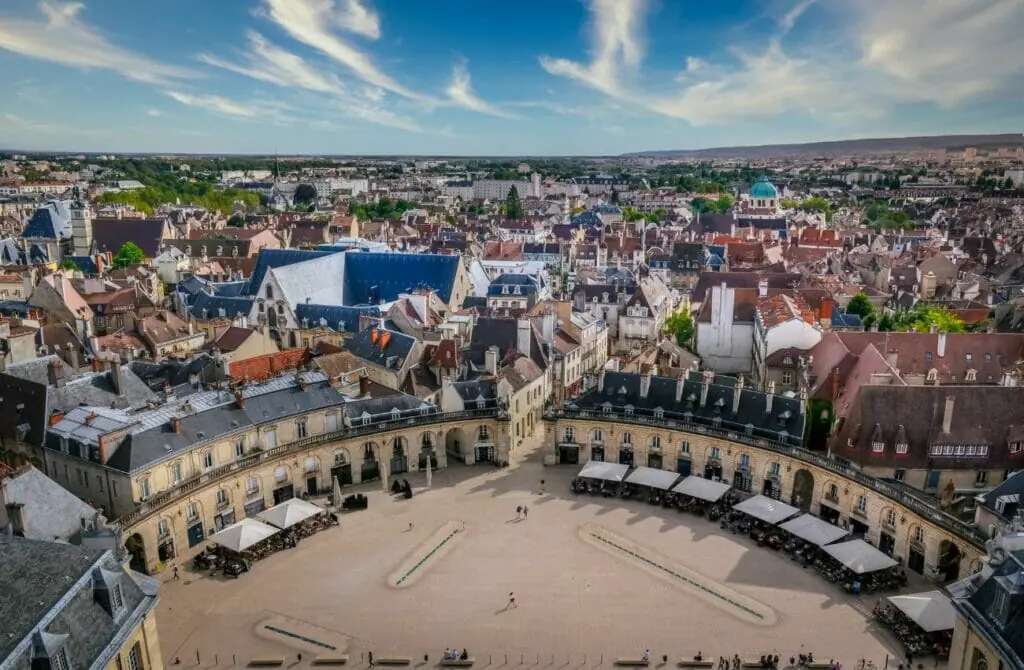 Arquebuse Botanical Garden
Of the many gardens in Dijon, the Arquebese Botanical Garden is the most prominent and most beloved way locals and visitors take a break in the folds of nature in the comfort of their city. Found in the grounds of a former palace today, this garden provides all manner of walking ventures from forest to meadows, and you will find adventure here!
Museum of Burgundian Life
Gain insight into the history and life of Dijon at the Museum of Burgundian Life. The museum tells its stories through costumes, recreated period scenes of old shops or working scenes, and domestic life during the 19th century. They even have some ancient monastery artifacts in their collection, making it a treasure to visit as you never know what finds you might discover for yourself.
You can get incredible views from the city at the 46-meter-tall summit of Tour Philippe le Bon, a mid-15th-century tower. Take in the cityscape from this unique vantage point that can see as far as Mont Blanc on a fine day.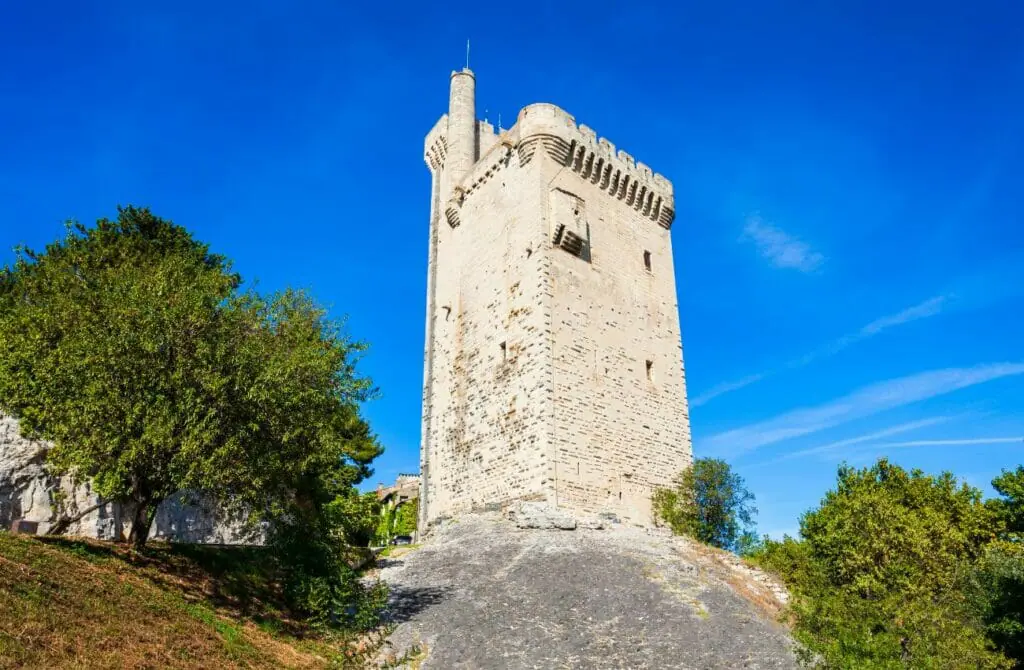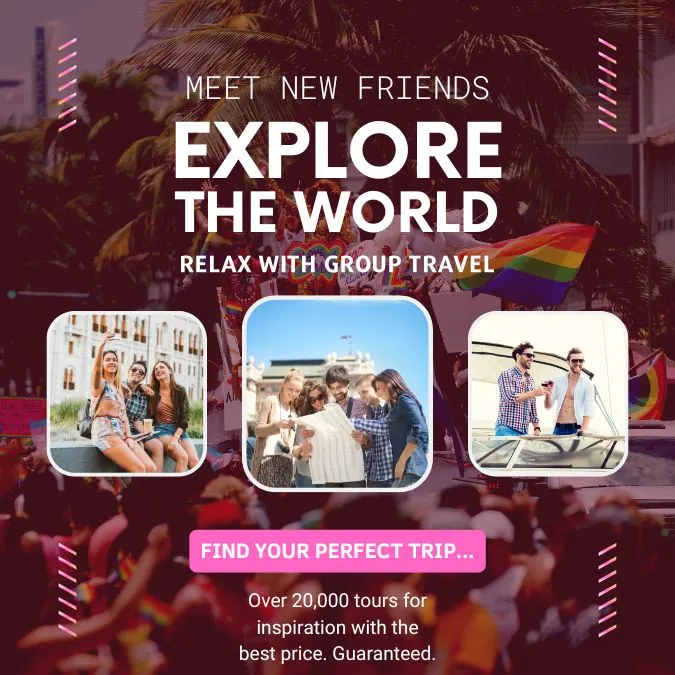 Gay-Friendly & Gay Hotels in Dijon, France
Being gay-friendly accommodation means that the establishment is welcoming and inclusive to guests who identify as LGBTQ+. This can include, but is not limited to, having policies and practices that demonstrate a commitment to creating a safe and inclusive environment for LGBTQ+ guests, such as non-discrimination policies and providing support and resources for LGBTQ+ travelers.
Some gay-friendly accommodations may also provide amenities specifically catering to the LGBTQ+ community, such as rainbow flags or literature about local LGBTQ+ events or resources. Furthermore, gay-friendly accommodations may be located in an area known for being LGBTQ+ friendly.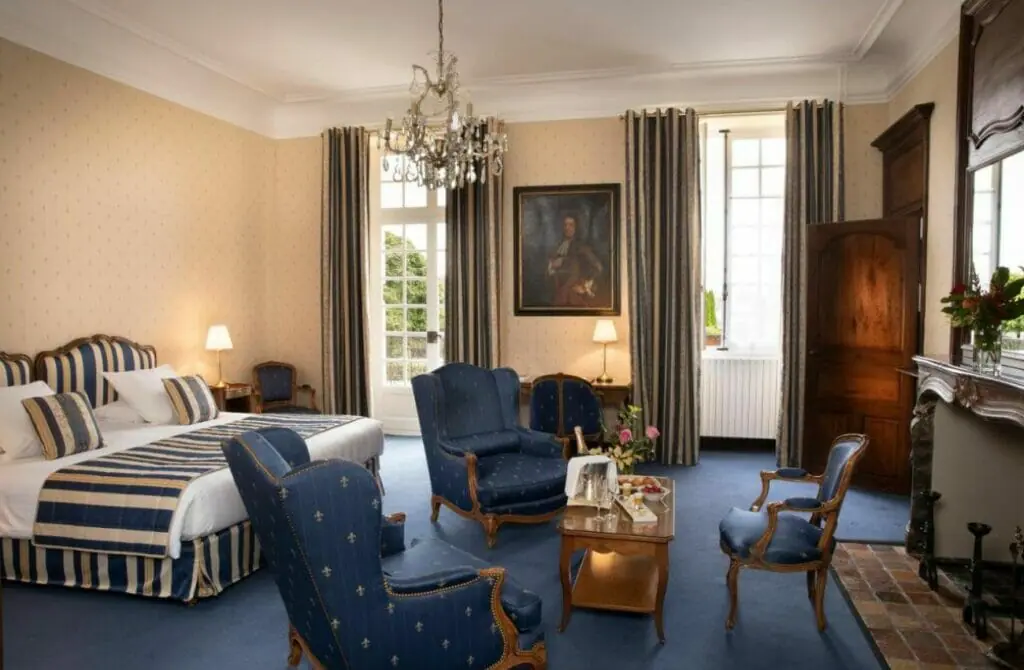 While Dijon does not have any specifically gay hotels or resorts, these are the most fabulous and pro-actively gay-friendly hotels in Dijon. Needless to say, there are also hundreds more hotel and hostel options in Dijon if none suit your desired budget, facilities or area – but these are the best hotels according to other gay travelers and us.
Whatever your needs are, Dijon has you covered.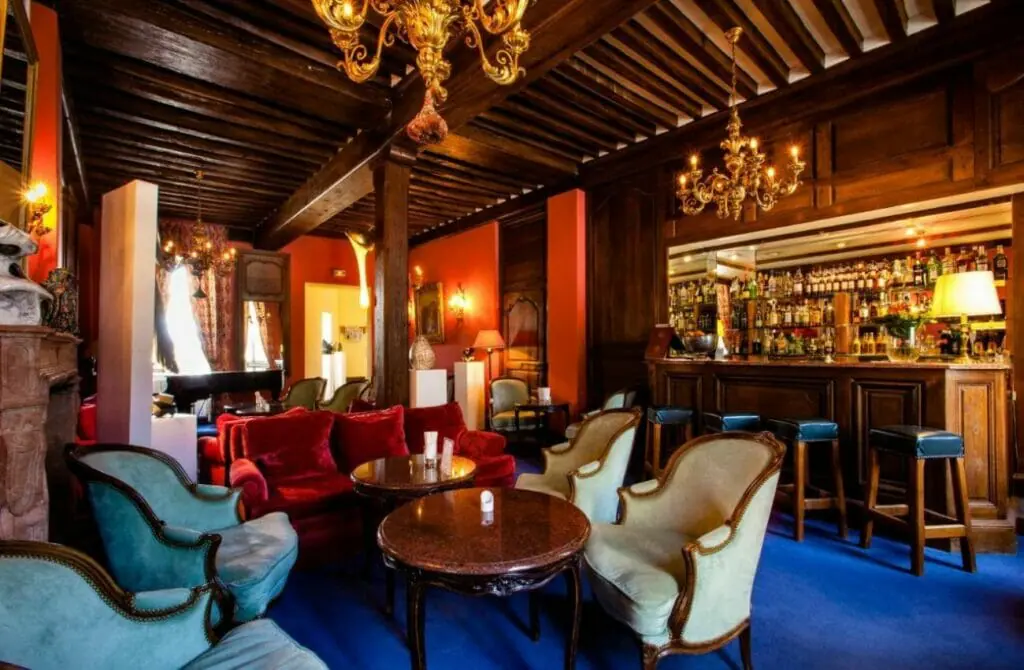 Located 17 kilometers from Dijon, if you are up for the extra travel time, the five-star Château de Gilly could be the hotel of your dreams. You will stay in a royal castle with expansive gardens in the heart of rural Burgundy, and the decor inside the palace is exceptional.
You can dine in their columned dining halls catered by high-class chefs and servers or spend quality time making the most of the castle's seasonal outdoor pool or business services. However, we are not done because outside, you can use their tennis court or free bike hire or retire to your private quarters and play being king or queen for the duration of your stay.
This is easy with room service, laying back in your bath bubbles, or sleeping comfortably on their soft fluffy beds. You need not look much further than here for the high-class accommodation experience in Dijon.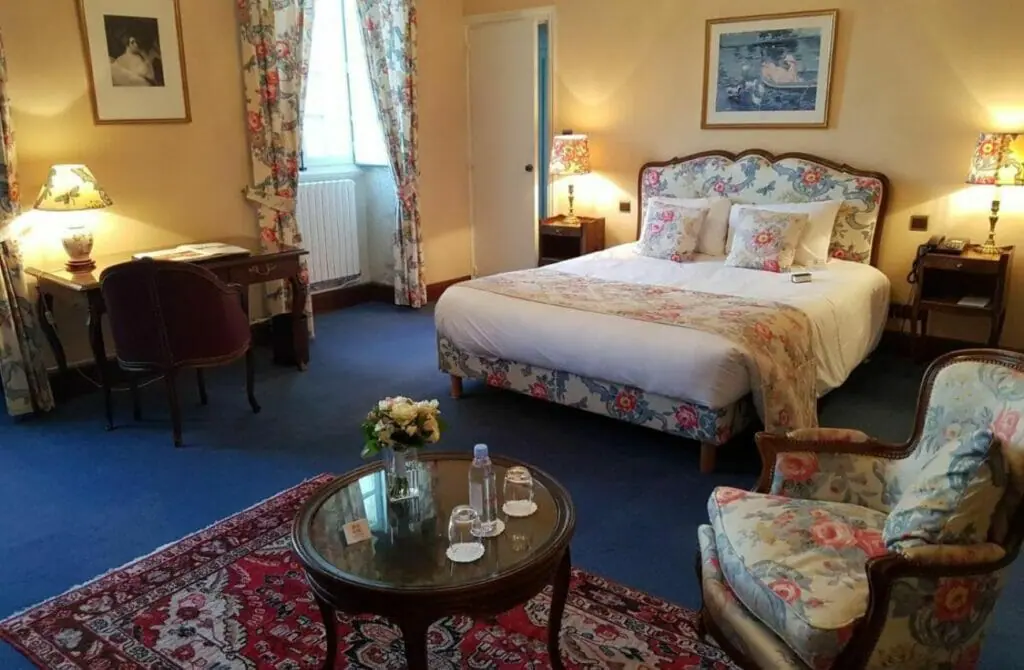 Make the most of the brilliant central city location at Vertigo Hotel, a four-star accommodation that makes you feel comfortable on holiday. You will be treated to a full-spa service, sauna, steam room, indoor pool, gym, and room service.
However, we're just getting started. Their on-site restaurant is a dream, with delicious food and drinks just as you need them, with dining areas to allow you to relax into the whole experience.
They also don't full-flat with guest rooms as these are modern with the latest top-notched services to make you feel special. In particular, the high-class Magic Suite has a massive jet bath with spa access. You might find it hard to consider anything less when you see this.
Kyriad Prestige Dijon Centre ☆☆☆☆
Stay in the gorgeous four-star Kyriad Prestige, a central city hotel a short walk from major attractions. You will be treated to breakfast and room service, but that is not all! However, this is a great option if you are after a simple hotel that allows you to keep a routine even on holiday.
They give guests access to nearby pool and gym services, and on-site, they also have a business center to get extra work done come evening. With all this, they also have modern cozy rooms that won't disappoint those after a no-thrills hotel.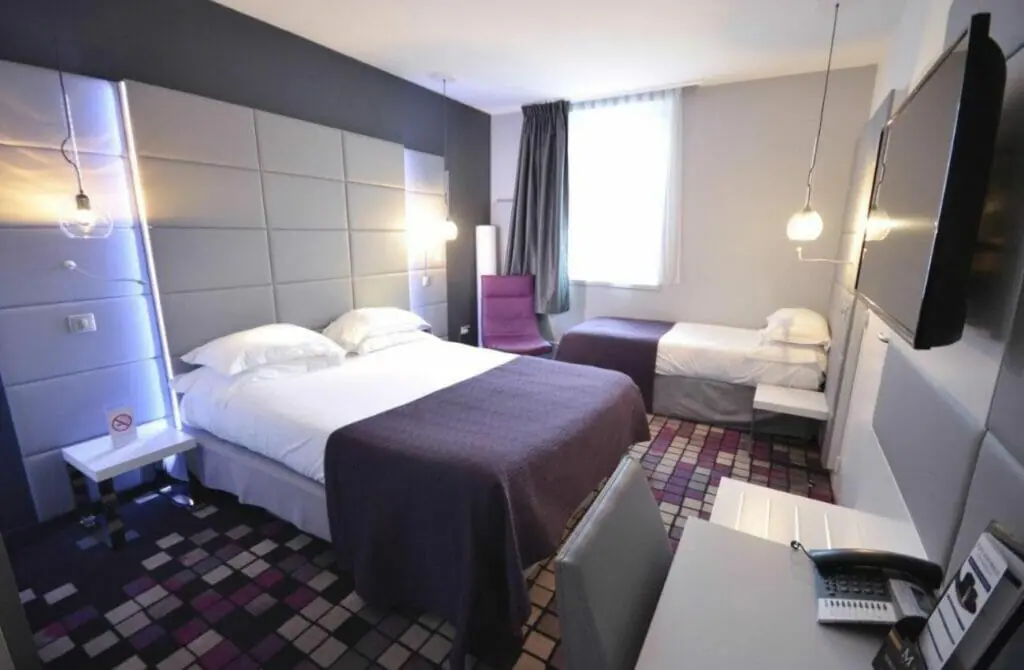 Hôtel Oceania Le Jura Dijon ☆☆☆☆
Take your holiday in Dijon to the next level with the Hôtel Oceania Le Jura Dijon, a wondrous four-star experience with a pool, gym, and hot tub! You can even get a massage or room service at a moment's notice if needed, and the buffet breakfast is top-notch.
However, those busybodies also have business services and plenty of places to work, even in your hotel room (so there's no chance of missing out on a critical deadline even on holiday). Overall, this comfortable modern experience in Dijon's heart is excellent for all.
Stepping into the magical realm of three-star hotels in Dijon, you won't be disappointed by the Hotel Kyriad Dijon. This modern central city hotel boasts excellent services, including a full spa, pool, and gym.
They even have a breakfast buffet for guests, a bar for those early evening drinks, and room services if you can't be bothered going downstairs. Their restaurant Kyriad Gare serves yummy food that changes regularly, with a lot of variety.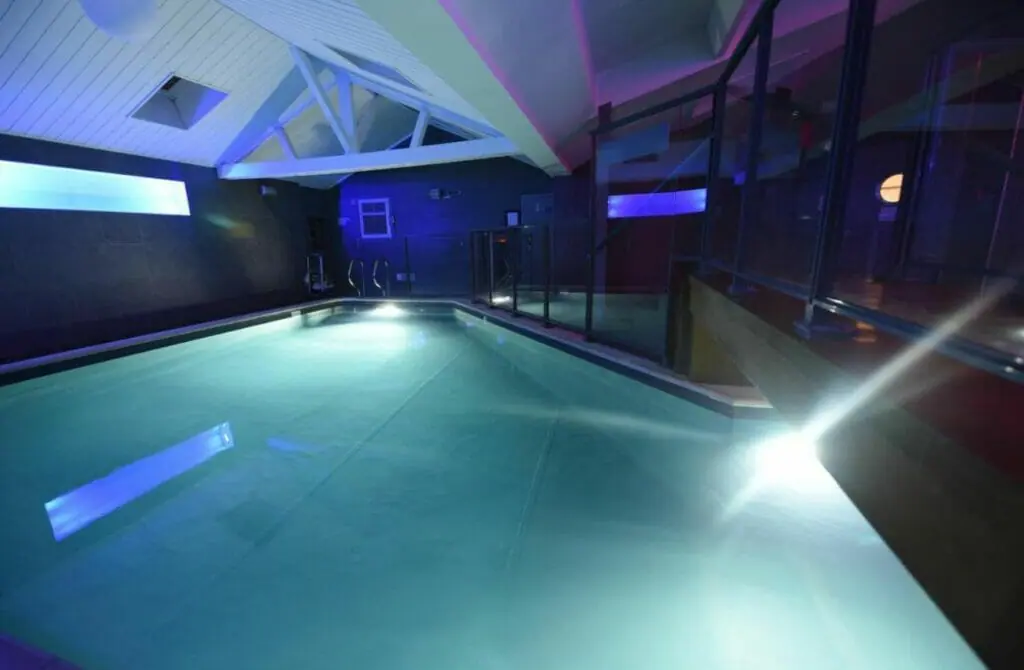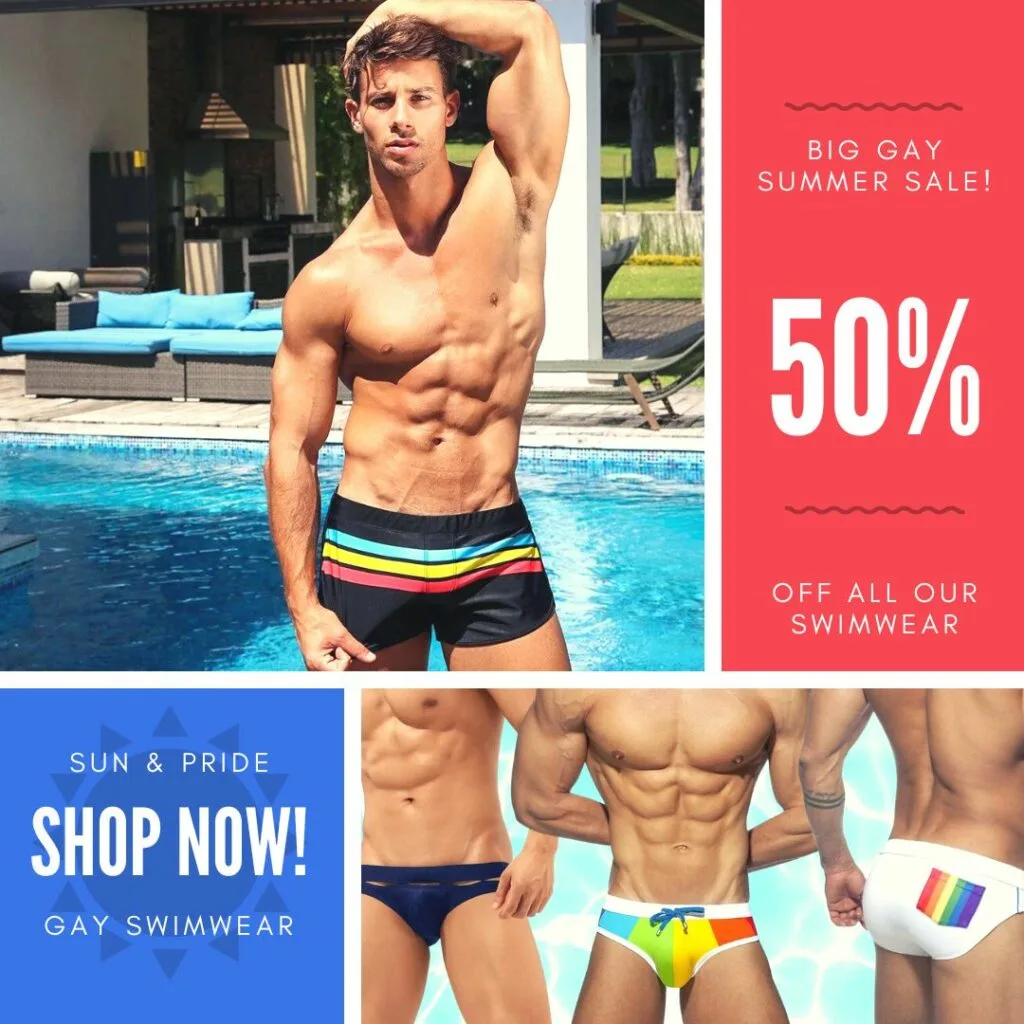 Le Chambellan could be the two-star hotel of your gay working holiday dreams. It doesn't just have great views of the rustic Medieval buildings outside your room; its services for business travelers make it easy to work while away from home.
They have a meeting room, conference spaces, and desks in private rooms. Outside their working facilities, they also offer great amenities for other guests, with dining space inside and out, room service, and a buffet breakfast.
A gay B&B on a boat! Péniche Ondine is an experience like nothing else in Dijon, as you will be treated to a quiet stay on a little boat bobbing in the canal of Burgundy.
You don't just have an exceptional gay experience through excellent hospitality, delicious food, and a delightful private room; its homely decor makes you forget you are on the water. Its proximity to the city and great boardwalk views makes it extra unique.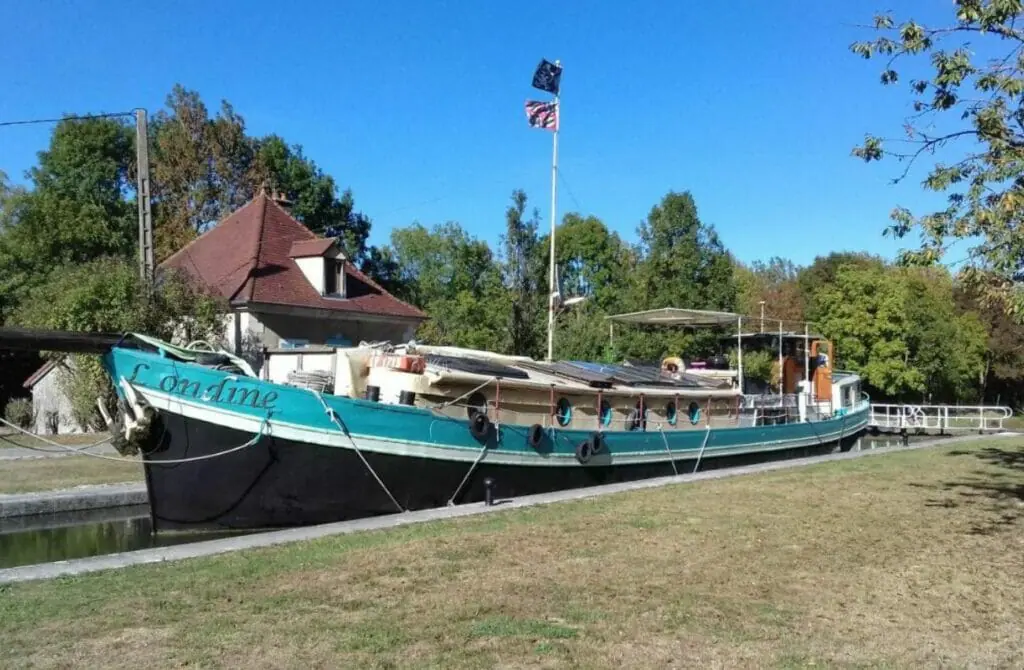 Gay Nightlife in Dijon, France
Dijon may not have many gay venues for exclusive gay nightlife, but you can still find a fantastic night out on the town, even if you are not a gay man looking for a cruise. Dijon may have a gay cruising bar and sauna, but the heart of its nightlife is thanks to its tight gay clubs that keep the scene alive. Outside the gay scene, the city offers exceptional nightlife for all, so you will never feel lost for something to do.
Exploring the gay and gay-friendly nightlife in a new city can be one of the most exciting and rewarding experiences while traveling – and Gay Dijon is no exception. Not only will you have the opportunity to meet new people and make friends, but you'll also get a taste of the local culture and learn more about the city's LGBTQ+ community.
Going out and experiencing the queer and queer-friendly nightlife in a new city can also be a great way to break out of your comfort zone and try new things. Whether dancing the night away at a gay club or mingling with locals at a gay-friendly bar, you'll have the chance to make memories and create lasting connections.
So, don't be afraid to step out of your comfort zone and explore the gay and gay-friendly nightlife in Dijon. You'll be glad you did!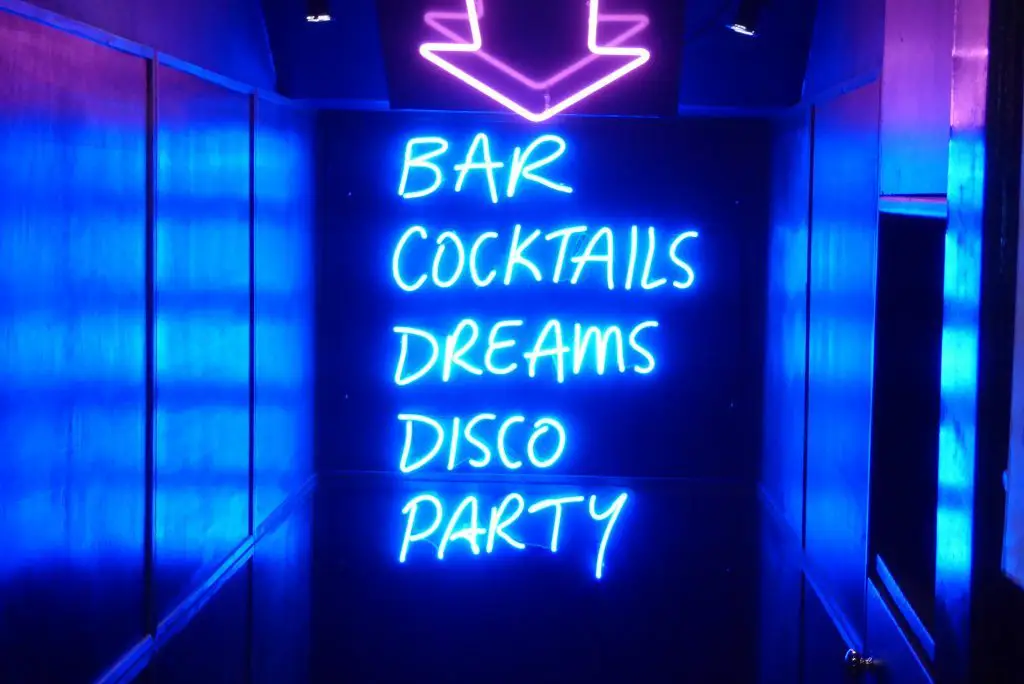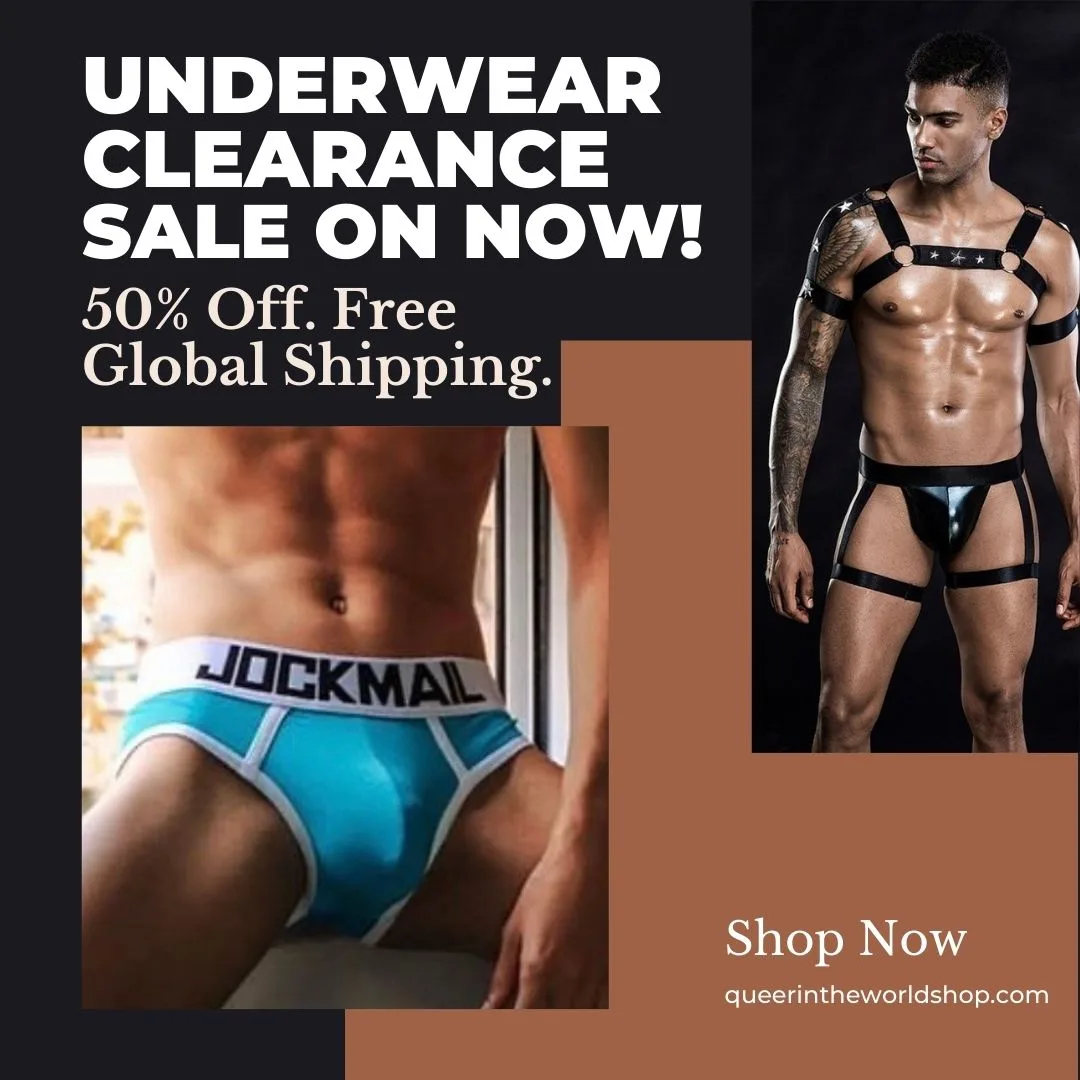 Here Le Bossuet is the exclusive queer club in Dijon, known for being not just a fun place to get a late-night drink with friends in a gay space. Most will know it for its gay cruising areas and sauna, with gay-men-only hours from 2 pm – 8 pm, however outside of these times; it is open to mixed clients so all members of the LGBTQ+ community (and everyone else) can enjoy a gay bar and sauna.
They are a brilliant club for many reasons, but the highlights include their themed events, naked nights, cruising spaces, and warm spa.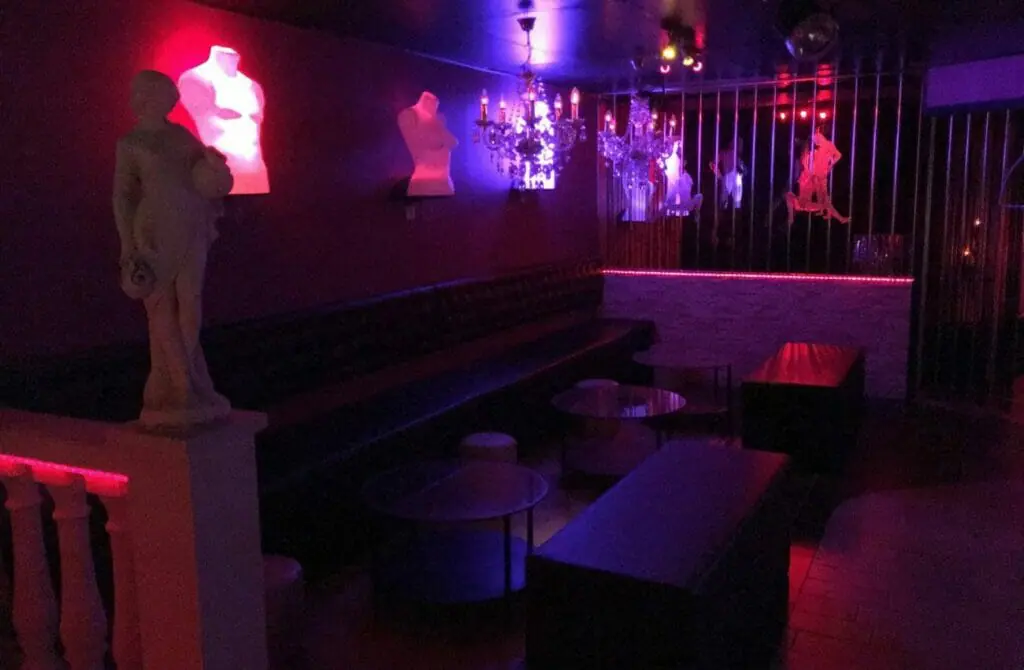 Gay Parties & Gay Clubs in Dijon, France
Cigales Centre is Dijon's local LGBTQ+ association that has been the place for the queer community to come out loud and proud since 1995. You can bet they aren't just gay; they could also be a valuable local resource for you to get to know the queer scene in Dijon.
The more active queer club in Dijon is the Association Contact Côte-d'Or. They don't just have a physical city location open during the week but also host regular social events. You will be welcomed regardless of whether you are local or a tourist, and the members are always available to show visitors their exceptional city.
Dijon isn't just an excellent place for many gay clubs, cruising spaces, and a gay B&B. They also host the biggest gay event on their calendar annually: Dijon Pride! Expect a gay party like none other as you relish in the rainbow flags flying, numerous queer events, social engagements, and so much more!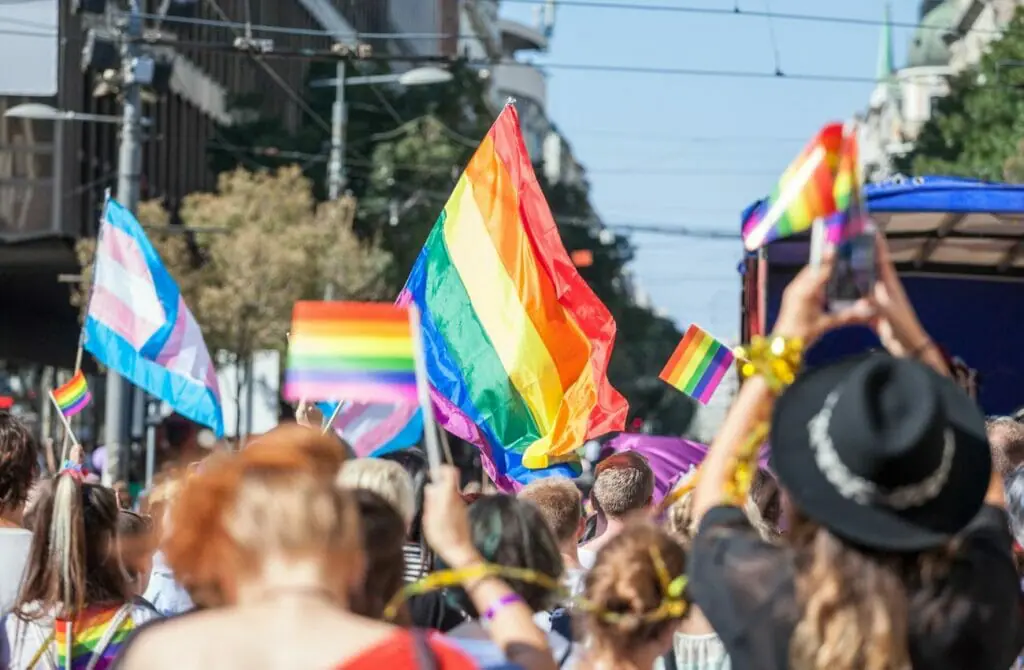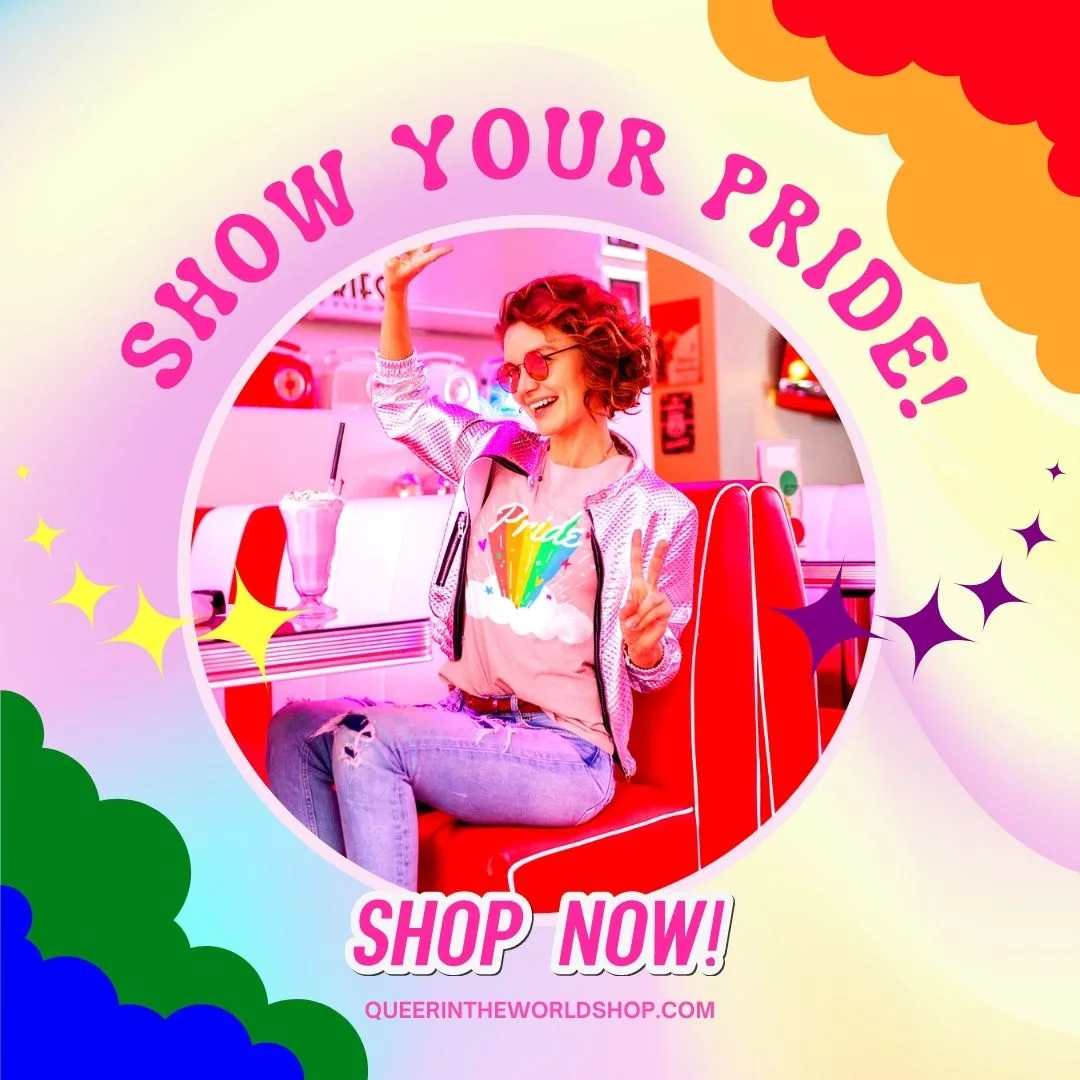 Gay-Friendly Nightlife in Dijon, France
Head down to Deep Inside Klub Rock, where the fun in the dead of night involves dancing with a skeleton or two at one of Dijon's most unique rock venues. You will be treated to a rustic cellar with a bar packed to the brim with great drinks, cozy seating, and great views of their live entertainment come night.
Adding to the haunted cemetery atmosphere with the dead rising is the smoke machine, ACDC arcade machine, and dimmed lights to create haunting shadows. It's a fun live music venue anyone can enjoy!
It may not be as big as the Universe, but L'Univers has enough space and entertainment. Here people come to enjoy a drink as they take in the hilarious comedy shows or stunning classical performances that play on their stage regularly. Your French doesn't need to be perfect to have a blast, as you can lay back in the friendly environment and taste their delicious cocktails.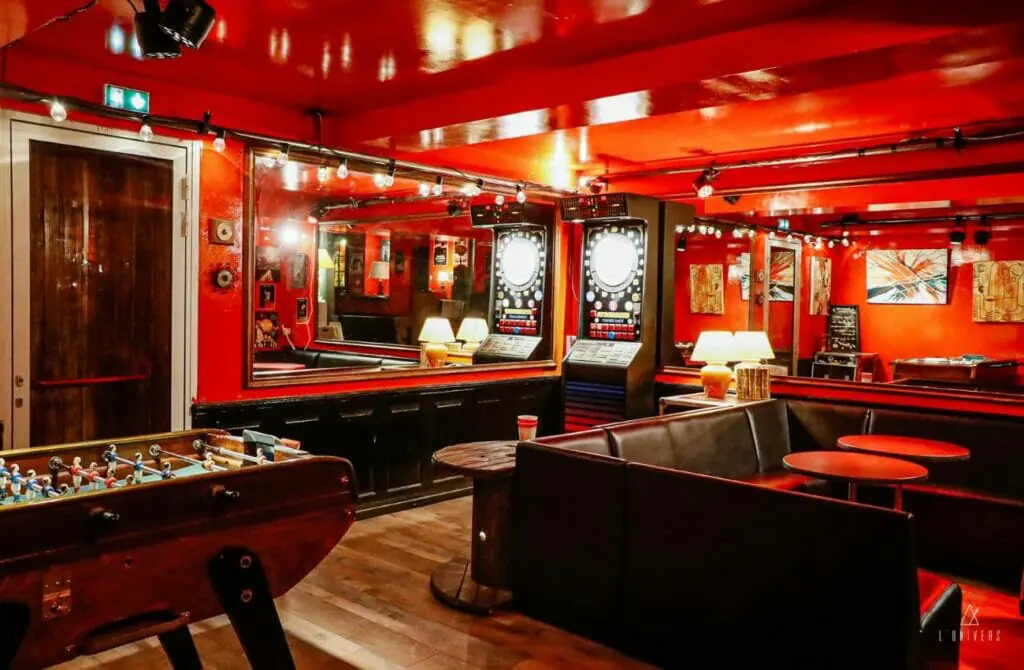 One of the best dance clubs in Dijon is the Belle Epoque which prides itself on playing only the most famous music intermixed with giving visitors a great dancing experience with drinks. You will find most of the people here are younger, with regular student events catering to their core audience. However, anyone can have a tremendous nice at the Belle.
Experience a little taste of Britain at Le Brighton, a little live music venue that embraces its British decor as much as its excellent drinking experience. It's a traditional laid-back pub with delicious food to complement their drinks and excellent service from friendly staff so that you can bet a good night with few unwanted surprises.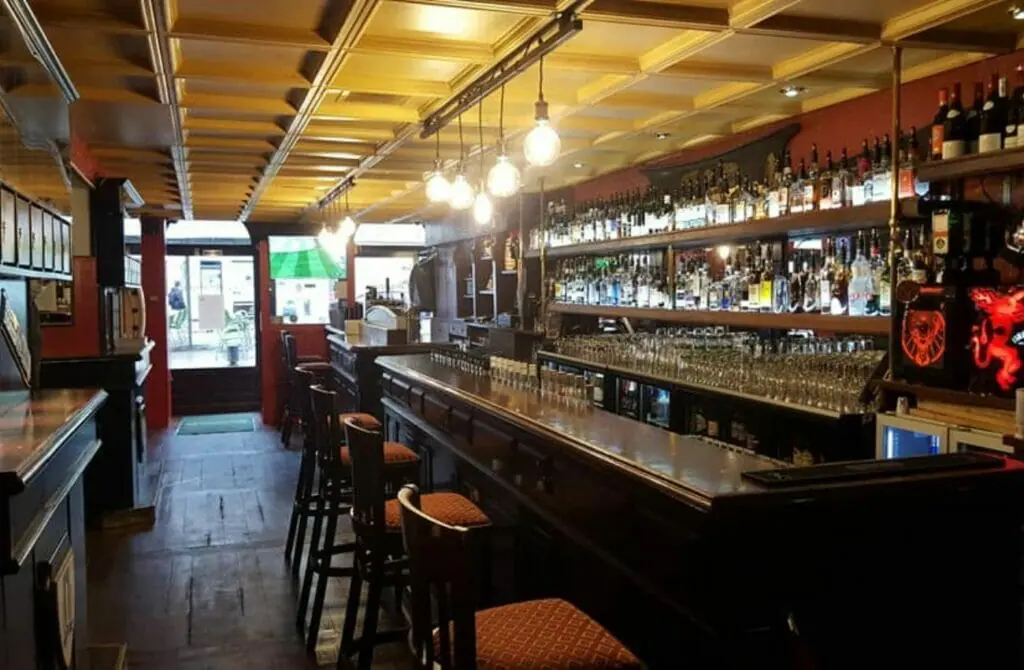 G'day mate! Are you after a little bit of Byron in France? You get Byron Bay Dijon, an Aussie-themed bar that prides itself on the land of giant spiders and rugby fanatics. This place is very laid back and has quickly become a popular cocktail lounge for those who want to taste the laidback Australian experience.
The barbarians in us will get a kick out of the Barbarian's Pub, a sports bar with incredible live sports footage and fun activities in the pub before and after the game. You can stop by the catch the latest football game, grab a drink, and experience the highs and lows of a fully packed bar.
Or you can visit during a quieter night and try your hand at a game of darts, and you may make a friend during a friendly competition.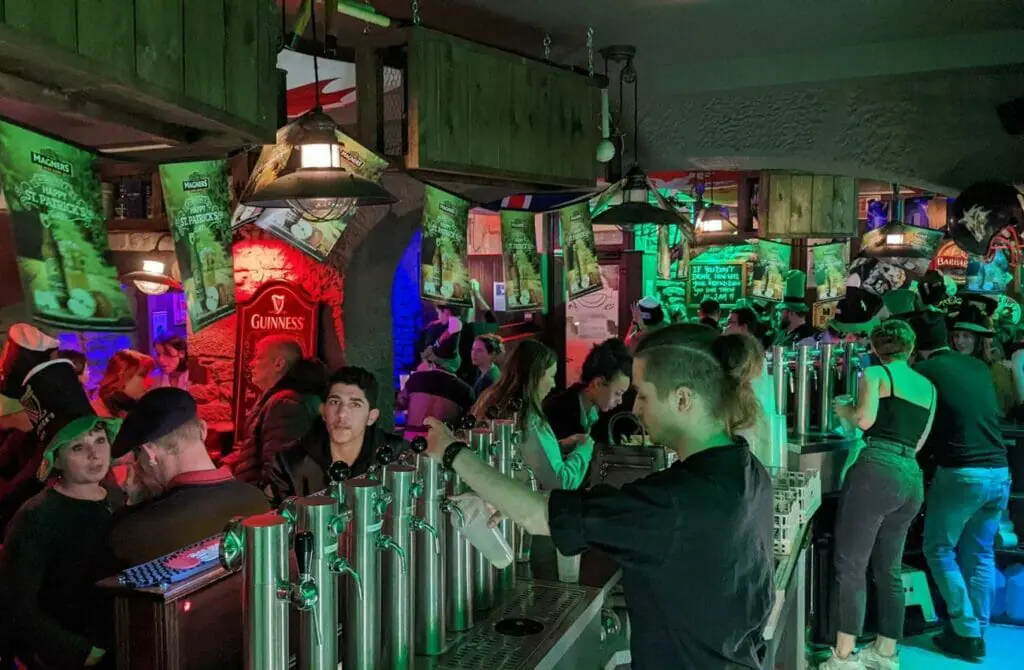 Cruising & Gay Saunas in Dijon, France
Dijon may not be known for its queer nightlife. However, even if all hope may seem lost at times, for gay men, there is one gay cruising bar and sauna. You can have a complete French cruising experience in one place! For everyone else, Dijon has a big enough rainbow community to still make it a special place, with dating apps the perfect way to go on a cruise or have a fun night out with a fellow queer person.
When traveling to a new city, it can be exciting to head out for more than just a stiff drink. One aspect of the Gay Dijon scene that many queer men enjoy is visiting gay saunas and cruising clubs.
Sure, the sauna culture in Dijon is not as hedonistic as in Amsterdam, Barcelona or Berlin, but these venues still offer a chance to meet new people, socialize, and engage in sexual activity – without resorting to gay hookup apps.
However, it's important to remember that these venues can vary greatly in terms of atmosphere, clientele, and rules, so it's a good idea to prepare yourself before visiting. If you are apprehensive, we advise studying our guide to visiting a gay bathhouse for the first time, which should help set your mind at ease and always practice safe sex.
Additionally, it's important to be aware of and respect local laws and customs regarding gay venues and sexual activity. With a little bit of planning and an open mind, visiting gay saunas and cruising clubs can be a fun and exciting part of your gay Dijon travel itinerary.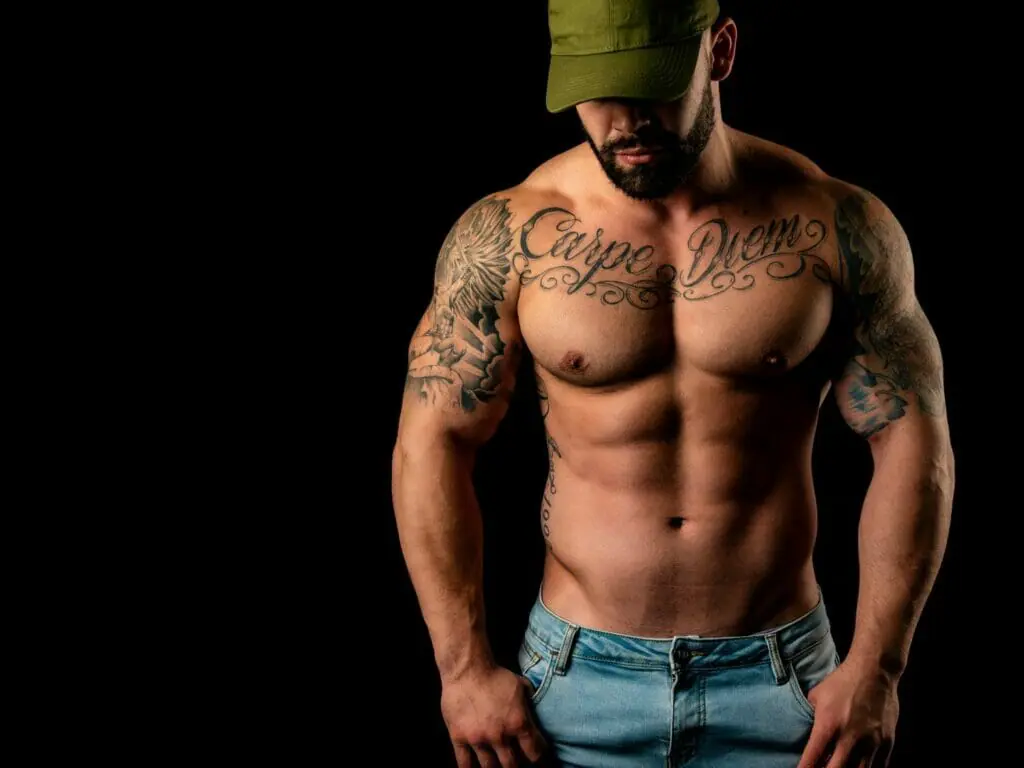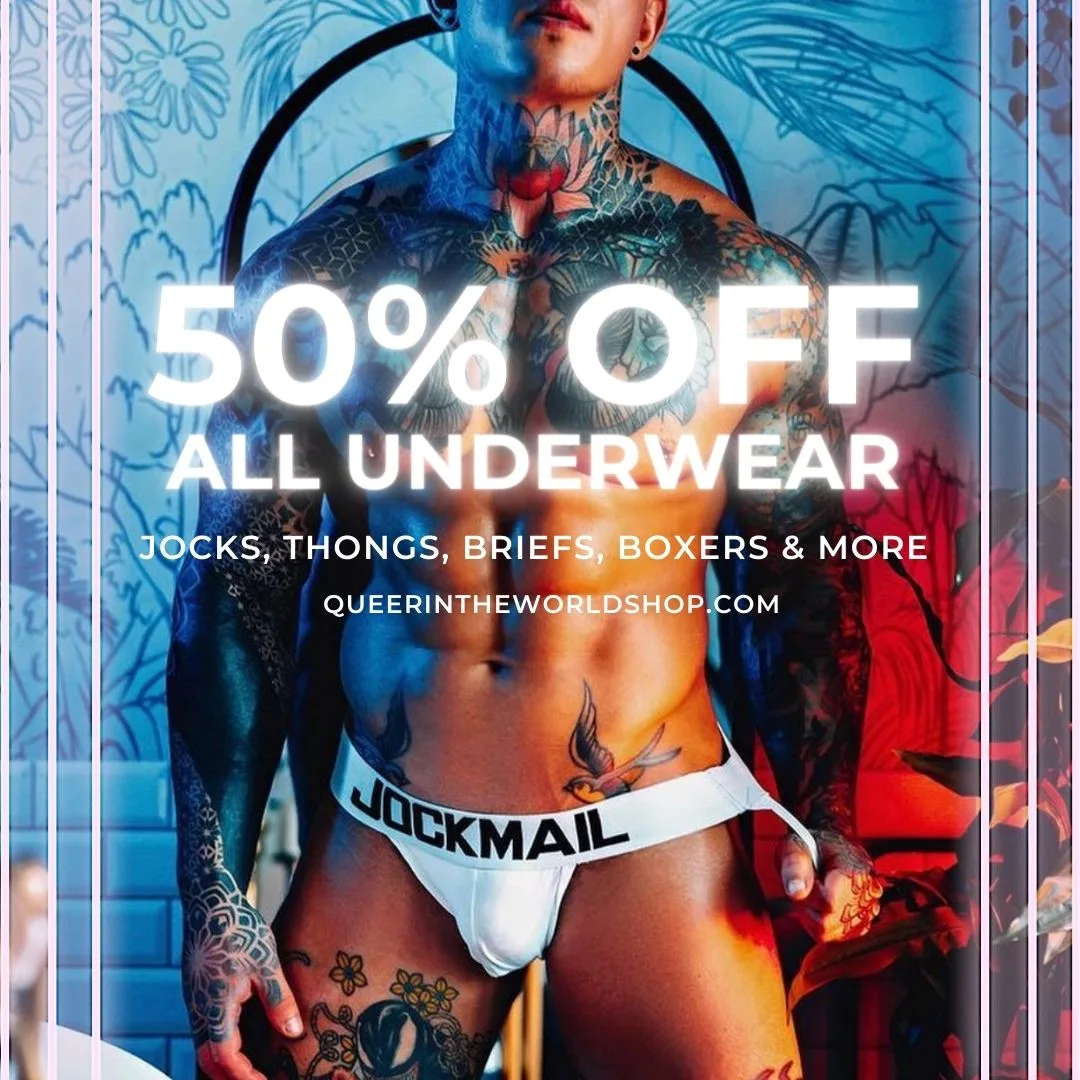 Gay Cruising Bars in Dijon, France
We discussed this brilliant gay club earlier, but from 2 pm – 8 pm, this club is for gay men only. Many use this club not just to hang out with fellow queer people but have some fun in their safe cruising spaces. These include a sauna, bar, sitting area, and private cabins.
Gay Saunas in Dijon, France
Heading into the backrooms of Le Boussuet, all members of the queer community (and their allies) can enjoy an actual gay sauna experience. You will find classic cruising facilities, a dry sauna, a jacuzzi, a steam room, a spa, and cabins! You need not look far to have a tremendous gay cruising experience here!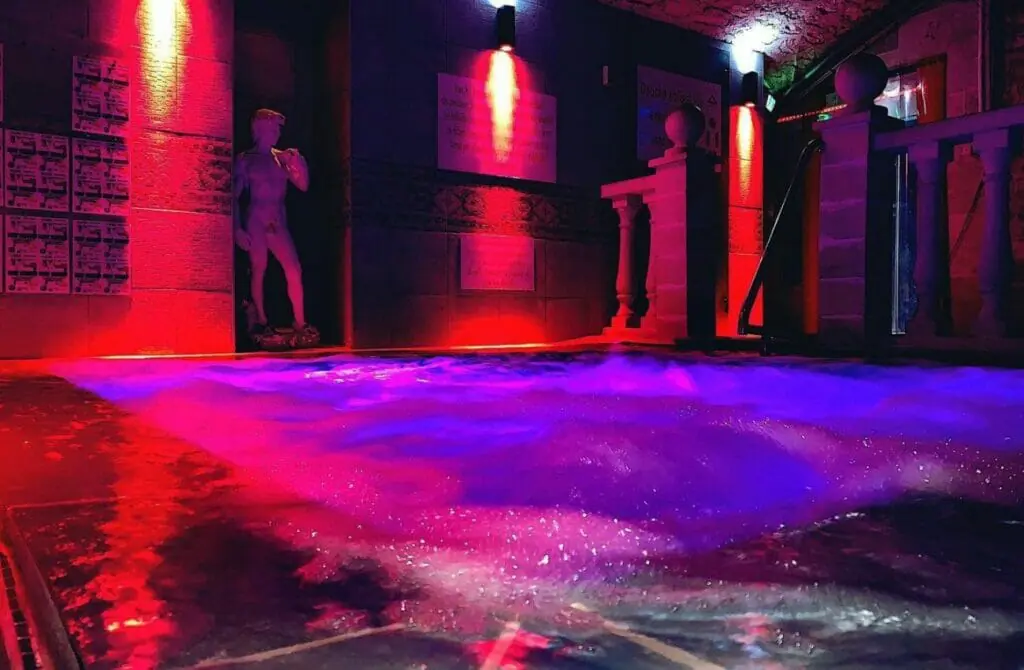 Gay Map Of Dijon
Finding it hard to envisage where everything is in Dijon? Hopefully, this queer-centric map helps where we have marked all the bars, clubs, parties, hotels, saunas, massages, and more will help you stay in the spot best suited to you!