Found in the heart of the Netherlands is a gay paradise, Utrecht, home to the largest university in the Netherlands and a lively queer community. You can experience the bulk of this scene in their gay nightlife with various bars and cafes catering to the rainbow, with gay clubs and yearly citywide celebrations like Pride, ensuring no one ever feels the need to hide in their closet.
Like most places in the Netherlands, Utrecht is open-minded and friendly to all, so it is a gay-friendly adventure wherever you go.
Utrecht is a laid-back Dutch city home to 360k people, with an ancient history going back to the Neolithic, but it became a formal settlement during Roman times as a Castellum. It would slowly develop into an important religious center by missionaries by the 8th century, where many sights from that time are seen today.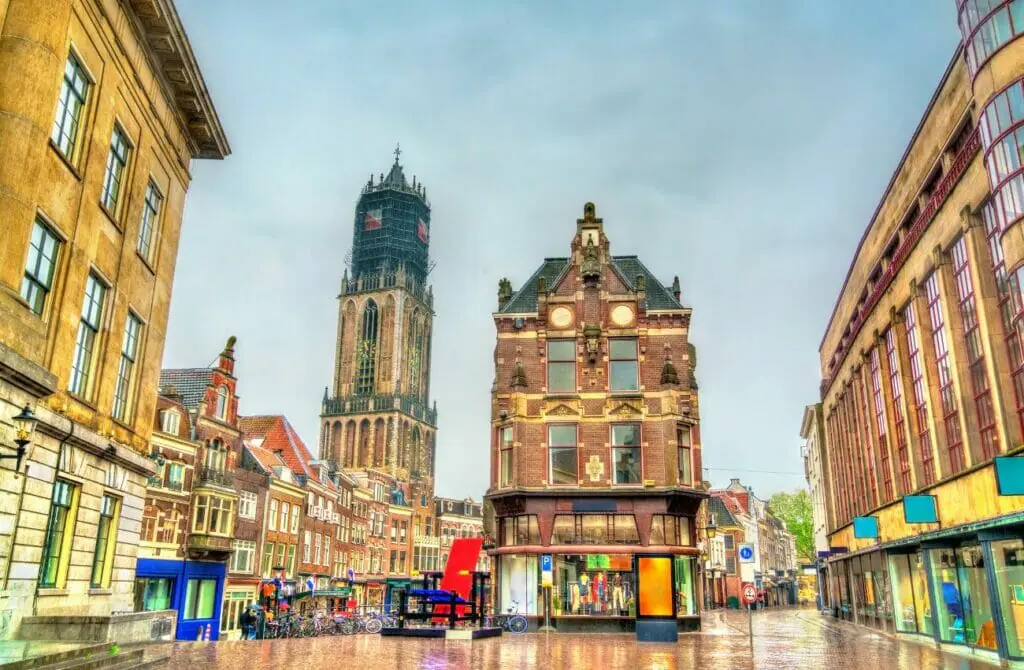 Over the next thousand years, the city grew up to what we see today, a modern city with elements of its old cultural heritage that makes it a dream to explore. Even outside her history, there is still plenty to see. With the river Rhine cutting through the middle, you can cruise or check out the numerous riverside walks.
Then, of course, there is the delicious Dutch food you can't miss out on, with many restaurants offering traditional dishes and an abundance of international ones. You can find so much in Utrecht, making it a must for any queer itinerary exploring the Netherlands.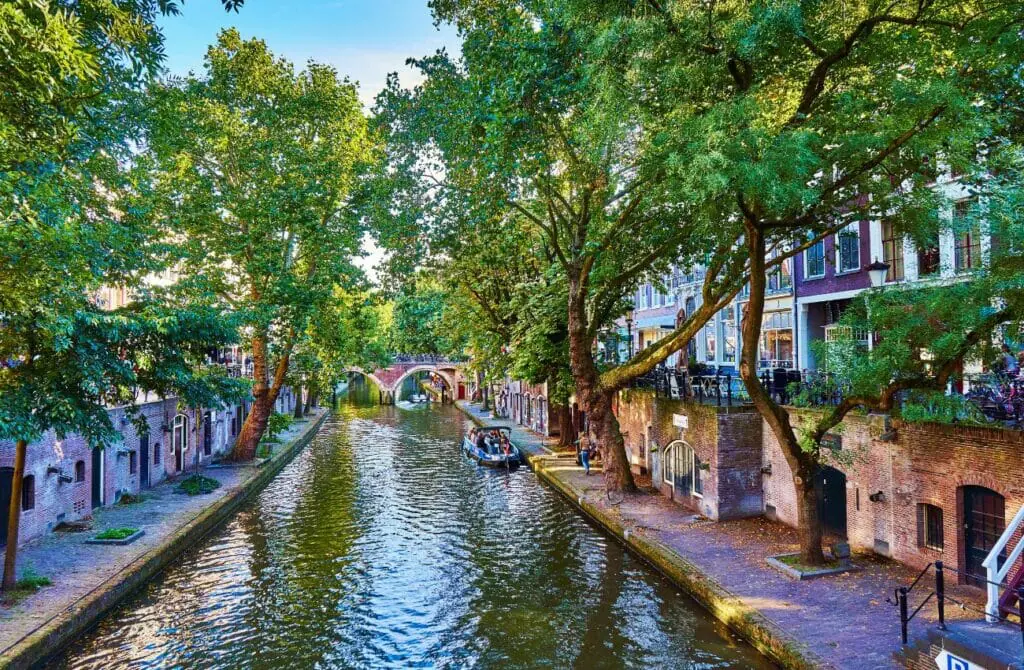 Attractions in Gay Utrecht, Netherlands
As a new visitor to Gay Utrecht, there are plenty of things to see and do, regardless of your sexual orientation. One of the best ways to experience any new city is to visit some of its most iconic landmarks and attractions, including historical monuments, museums, and art galleries.
We also love gazing at architecture up close, exploring parks and gardens, sampling the local cuisine, visiting local markets, and attending cultural events such as festivals, concerts and shows.
Even as the out-and-proud queer we are, we still love to explore the city and its culture in the same way as everyone else. Doing so allows us to learn more about the city and its people and gain a deeper understanding of the local culture. As such, these are our favorite must-see attractions in Utrecht.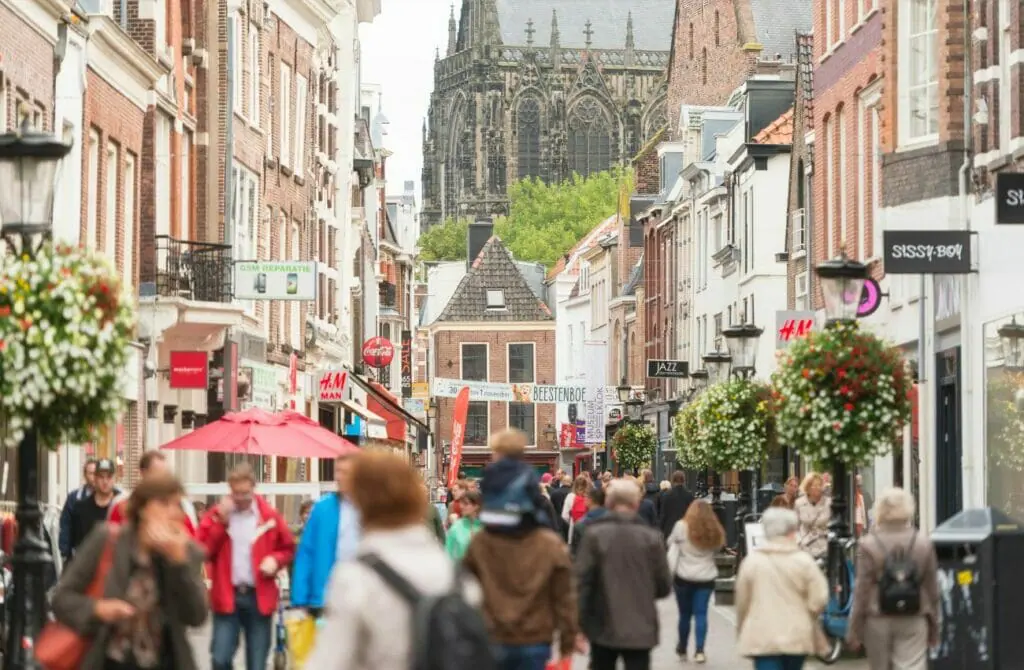 Half-Day Vegan Food Tour Utrecht
Even if you aren't a vegan, you can open your taste buds to many experiences with the Half-Gay Vegan Food Tour in Utrecht. You can try some of the city's most delicious vegan-friendly dishes and classic Dutch dishes like bitter balls. You will also be made to feel like a real Dutch person as this tour s by bike, taking you to various iconic places around the city, so you will feel like you've earnt the delicious food at the end of it all!
Utrecht Self-Guided Cell Phone Tour: Castles and Canals
Take a leisurely self-guided tour of Utrecht's best features with this phone tour! All you need is a reliable cell phone and some data, and you will be off on an adventure you won't soon forget. Plug your earphones in and be taken to attractions such as Hoog Catharijne, Vredenburg Market, Nederlands Volksbuurtmuseum, and Anne Frank Standbeeld.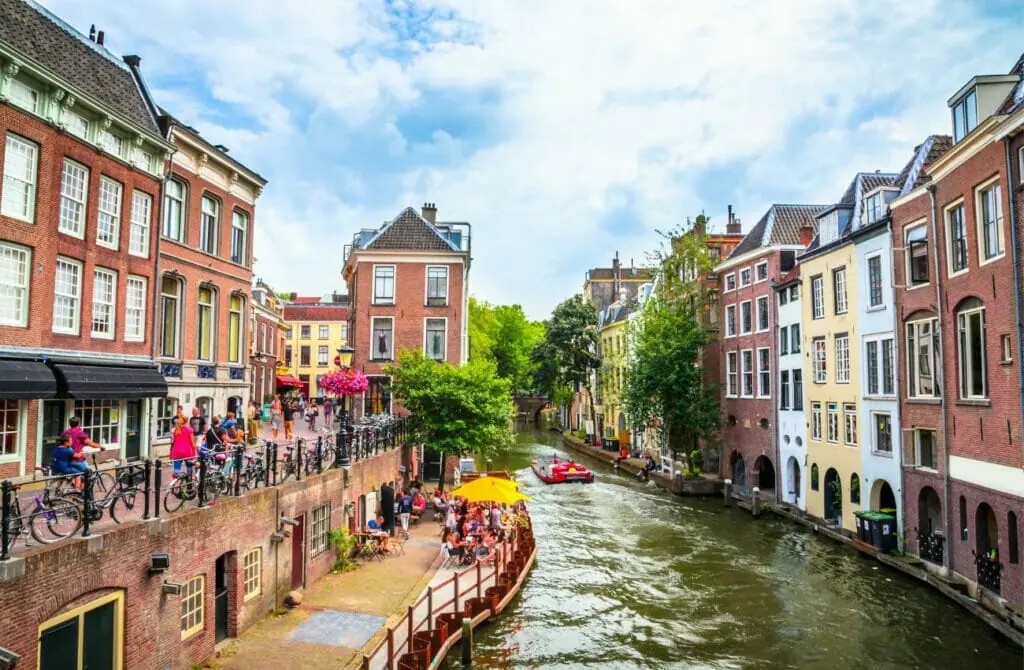 A great way to experience Utrecht is by bike; a tour makes it even easier. Starting at your meet-up point at Dom Tower, your guide will take you through various sights in the city, showing just how cycle friendly the Dutch genuinely are! It's laid back with numerous stops along the way, so you won't feel rushed either.
Museum Speelklok
The Museum Speelklok is a magical musical adventure unlike any other museum in the city. Here you can step into the world of self-playing musical instruments and let your ears experience delightful tunes as you wander through her exhibits.
They have an extensive collection of tools ranging from music boxes and clocks to pianolas and barrel organs. The building is also a delight to explore as it is the former Medieval church, Buurkerk.
Castle De Haar
Utrecht is a lucky city for those interested in medieval history because they have one of the most fairytale-like castles nearby!
We're talking about none other than Castle De Haar, where you have the most classic-looking castle with pointed towers, expansive gardens, and even a moat. You can explore the gardens and gaze in wonder at the exterior of the building or step inside and be treated to a royal experience in this fully restored 14th-century castle.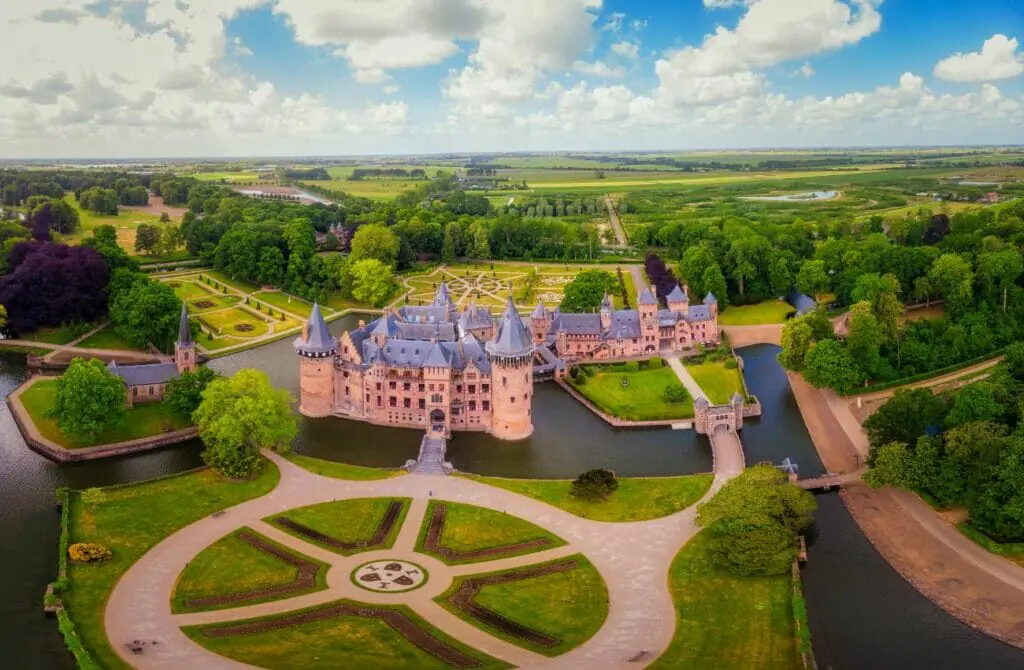 Rietveld Schröder House
Visit the iconic house designed by one of the Netherlands' most famous architects Gerrit Rietveld. Built in 1924 as a home for Truus Schröder-Schräder, a prominent figure in the De Stijl movement, it became a symbol of her life and the Avante-Garde art movements.
After she died, the house became a UNESCO World Heritage Site, and today, visitors can experience this unusual house for themselves. It's an arty attraction that art lovers and modernists can't miss.
DOMunder
Take a trip underground to experience the hidden history of Utrecht that has been uncovered under the city streets. DOMunder is a one-hour guided tour underneath DOM Cathedral which takes you through ruins dating back to 45 BC. This is an excellent introduction to the city's history with the added benefits of first-hand experience in archaeology.
St Martin's Cathedral
Stop by the impressive 6th-century St Martin Cathedral, a towering figure in the cityscape of Utrecht.
Not only is this pre-Reformation church the only kind in the city, but it is also unusual because it is more a ruin than an operational church (thanks to a storm in the 17th century). It has never been repaired despite the passing centuries, and now it's very much part of the city's fabric; it would be hard to see it without it.
You can visit it and take in its impressive exterior while imagining what church services may have been like in its heyday. Then you can see its tower, which is the famous Dom Tower, in a much better state of operation.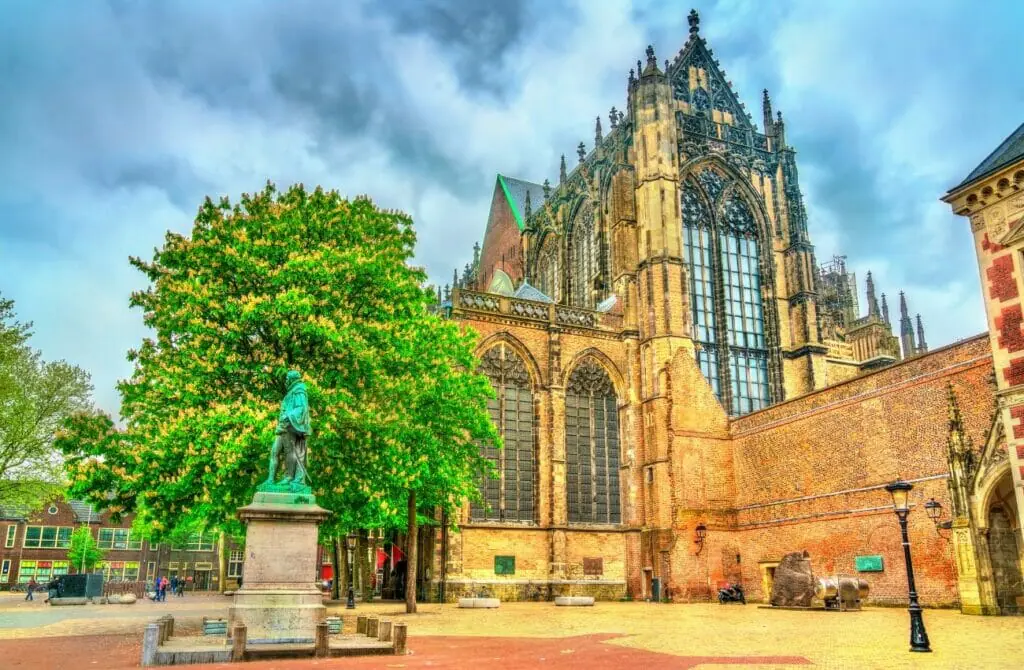 Centraal Museum
Take in the rich cultural history of Utrecht with their Centraal Museum, where you can get well acquainted with the past. Step through their galleries, looking at artifacts related to all eras, and see how Utrecht grew up from humble beginnings to the great city you see today. They also have a rich art collection of old masters from around Europe so that you will get a rounded cultural experience.
Market Vredenburg
Experience the marvel of a Dutch market at the Market Vredenburg. This will be the number one place to get fresh produce if you are making your food while on holiday, with plenty of stalls serving all sorts of food. It's also a great place to get a delicious snack if you are in the area and want to get it straight from the maker.
Dom Tower
Once the 14th-century tower of St Martin's Cathedral, today, the Dom Tower stands as a structure all on its own as the tallest church tower in all the Netherlands. After a storm damaged the main church, the tower was moved and came to stand as a symbol of Utrecht today. It is a great way to get 360 panoramic views of the city, and the story behind its construction is just more reason to visit the Dom.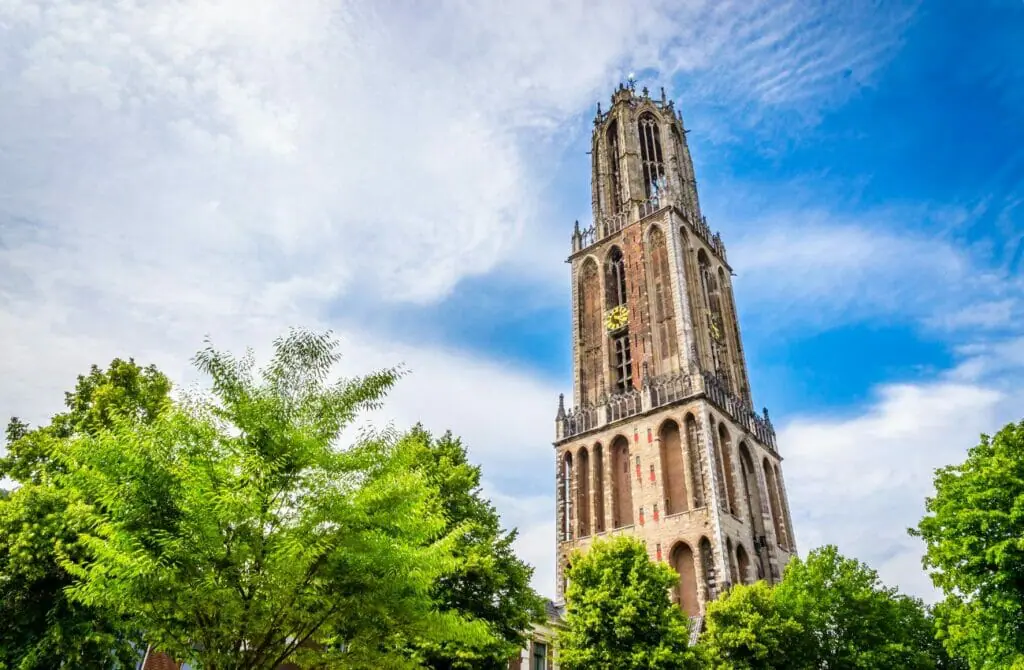 Sonnenborgh Observatory
Step into the folds of nature and experience a delightful park with the observatory. Come evening, when done looking around, you could look through the lens and see some stars like never before. Being more than just a place to view outer space, they also have a fun museum collection teaching visitors about the fun hobby of astronomy.
Griftpark
The best park in Utrecht is, of course, Griftpark, an expansive green space in the very center of the city where there is a lot to do and discover. It could be the perfect place for a picnic, a stroll looking at public art, or a place for the family to take their kids.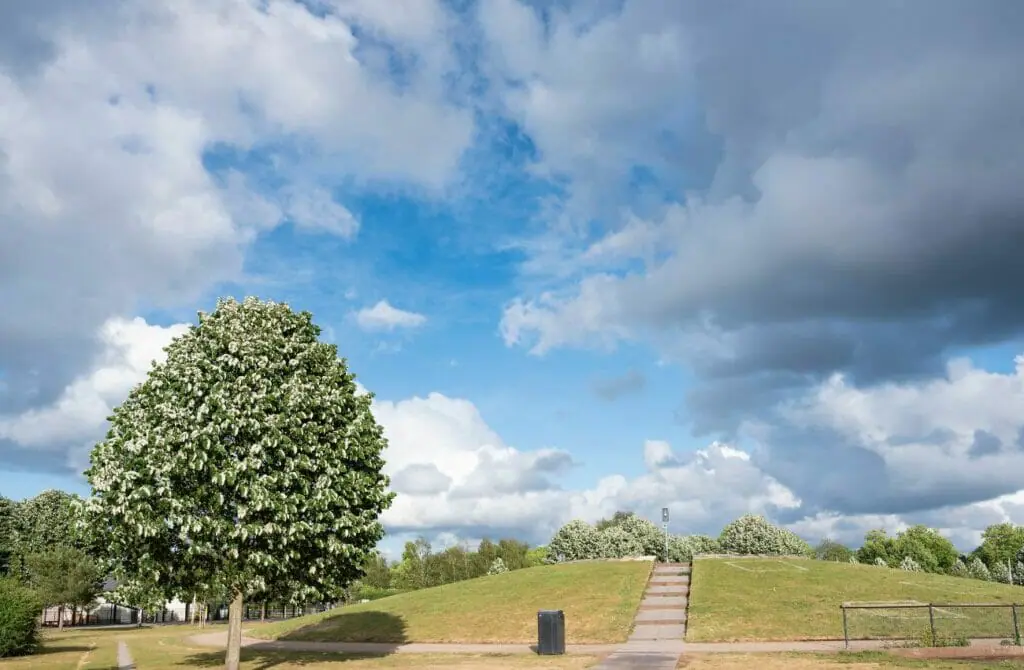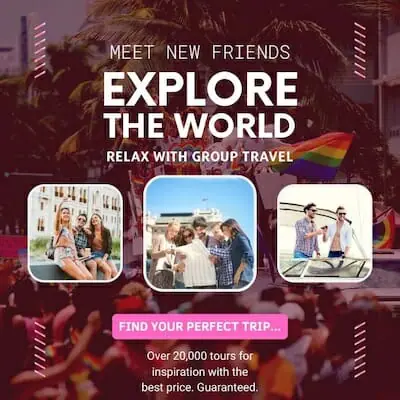 Gay-Friendly & Gay Hotels in Utrecht, Netherlands
Being gay-friendly accommodation means that the establishment is welcoming and inclusive to guests who identify as LGBTQ+. This can include, but is not limited to, having policies and practices that demonstrate a commitment to creating a safe and inclusive environment for LGBTQ+ guests, such as non-discrimination policies and providing support and resources for LGBTQ+ travelers.
Some gay-friendly accommodations may also provide amenities specifically catering to the LGBTQ+ community, such as rainbow flags or literature about local LGBTQ+ events or resources. Furthermore, gay-friendly accommodations may be located in an area known for being LGBTQ+ friendly.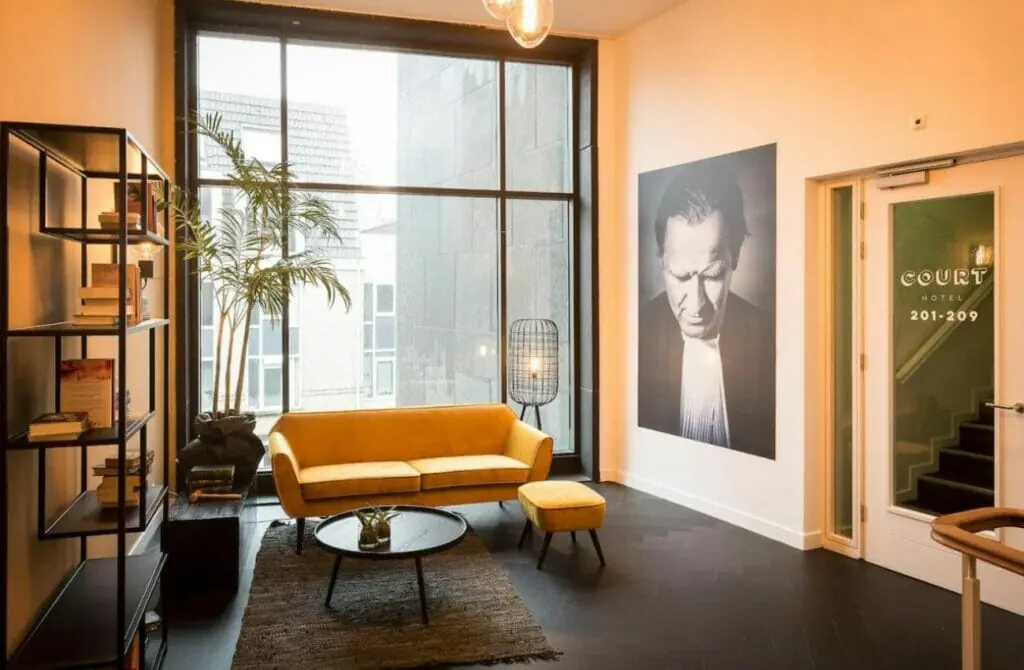 While Utrecht does not have any specifically gay hotels or resorts, these are the most fabulous and pro-actively gay-friendly hotels in Utrecht. Needless to say, there are also hundreds more hotel and hostel options in Utrecht if none of these suit your desired budget, facilities or area – but these are the best hotels according to other gay travelers and us.
Whatever your needs are, Utrecht has you covered.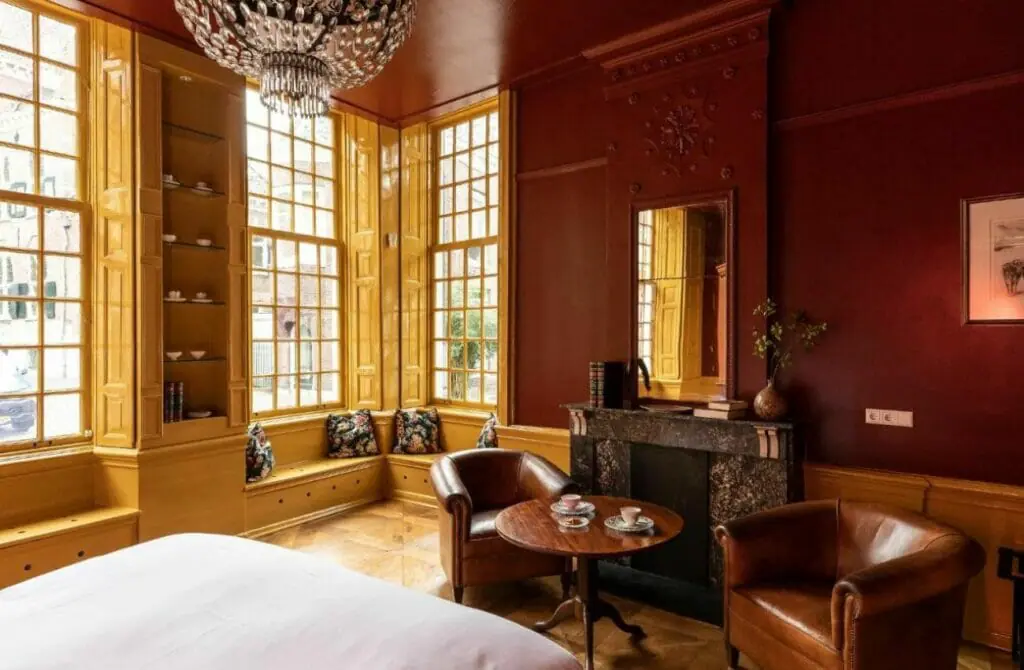 Court Hotel City Centre Utrecht ☆☆☆☆
Experience a luxurious stay at the Court Hotel in Utrecht's heart, a four-star Dutch delight. This place isn't just eco-certified; it's a hotel with a restaurant and bar, De Rechtbank, that serves a buffet breakfast and a chic dining experience with delicious food and coffee or wine. Their dining areas and an outdoor terrace take this to the next level!
Of course, it isn't just the food that has earnt this hotel its stars–it's the delightful guest quarters with room service! You will be treated to rooms with balconies, double beds, a TV, space to work, and a reasonably sized ensuite.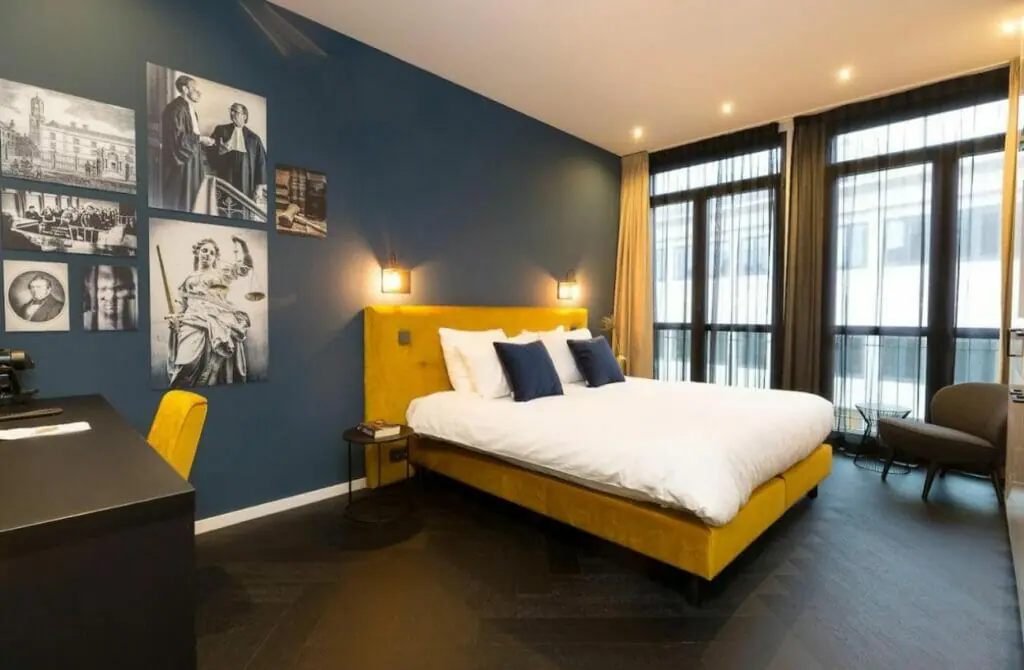 Be prepared to be blown away by the four-star Hotel Beijers, an excellent pet-friendly hotel in the town center. Not only is this place great for a pet holiday, but it's great for a working holiday with their business services.
However, regardless of who you are, you can find something great here: their delicious buffet breakfast and spacious guest rooms. The highlight of this isn't just the easy-to-access attractions in the vanity but the range of rooms that are each great for a romantic getaway.
Leonardo Hotel Utrecht City Centre ☆☆☆☆
Leonardo Hotel is a brilliant four-star experience in Utrecht's heart that brings a great all-around guest experience to the table. You don't just have 24-hour service and business services, but the breakfast buffet and restaurant are not bad either!
Their options for lunch and dinner meals from the comfort of your hotel make it extra convenient as it takes the hassle out of leaving. They even have dining areas, so you need not worry about making crumbs in your space. Guest lodgings also provide great city views with enough space to feel right at home. Of course, the best part of this place is the nearby attractions with the city at your fingertips.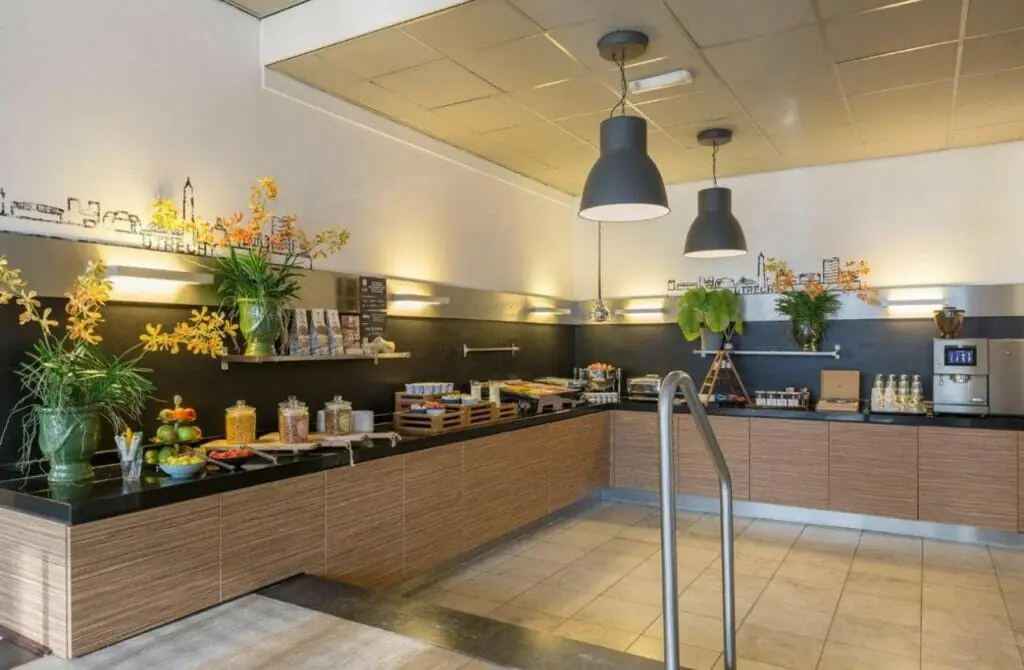 The Hunfeld offers a great three-and-a-half-star experience during a stay in Utrecht. Its simple modern guest rooms with contemporary art, buffet breakfast, and room service help it stand out from the crowd. However, the highlight of this place isn't just the place you'll sleep; it's the old part of the city with easy cycling in the area and plenty of attractions that are a stone's throw away.
Don't be afraid to let Mother Goose take care of you, as this three-point-five-star hotel will make you feel warm and cozy, like being nursed to sleep, cuddled by feathery arms.
Of course, the quaint place isn't just proud of its homely rooms but its central city location, where you can take a stroll or bike from the hotel and easily explore. They also offer breakfast and other meals at their restaurant and bar, with delightful dining spaces to relax fully into your trip.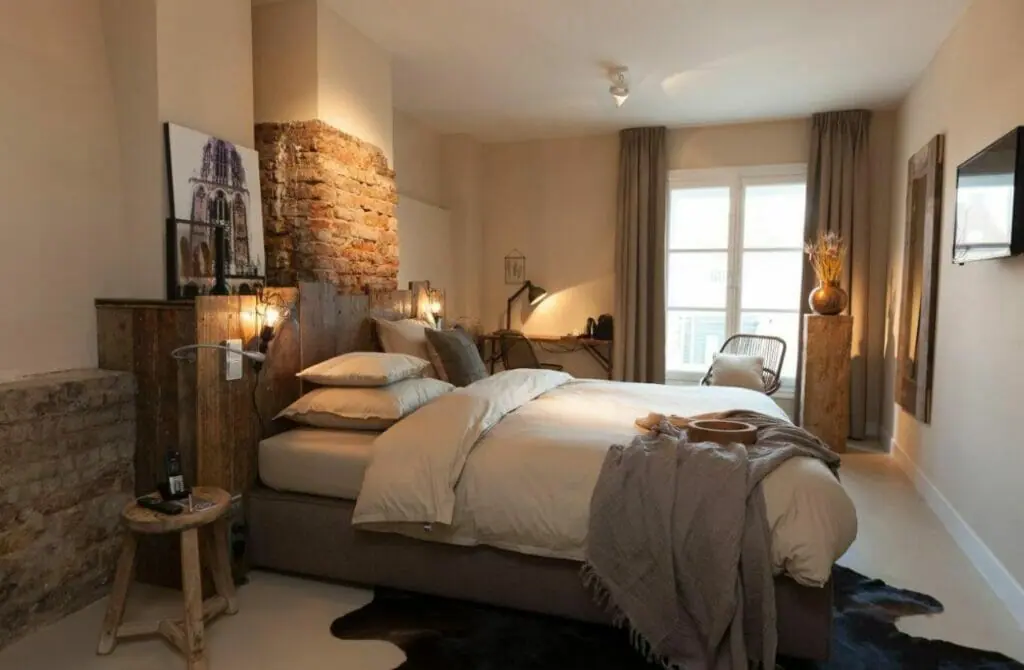 Be prepared for a hostel-type stay at the BUNK Hotel Utrecht, where this three-star accommodation, you can relish in their buffet breakfast or other delicious meals at their on-site restaurant. The shared spaces here are spacious, full of light and delightful views, so it's not just the cuisine that will impress!
BUNK is also very eco-friendly and budget-friendly, with the rooms simple with extras to best suit your needs. Of course, the best part of this place is the attractions, with the TivoliVredenburg just a two-minute walk away (perfect if staying in town for a show).
Ibis always satisfies, regardless of where you are. Their three-star hotel in Utrecht is a perfect option for staying in this city. They don't just offer breakfast and a restaurant to care for culinary needs; their bar is a great place to kick start the evening with a soft drink. Of course, most will be drawn to this place for its location, which gives easy access to Holland Casino Utrecht and Beatrix Theatre.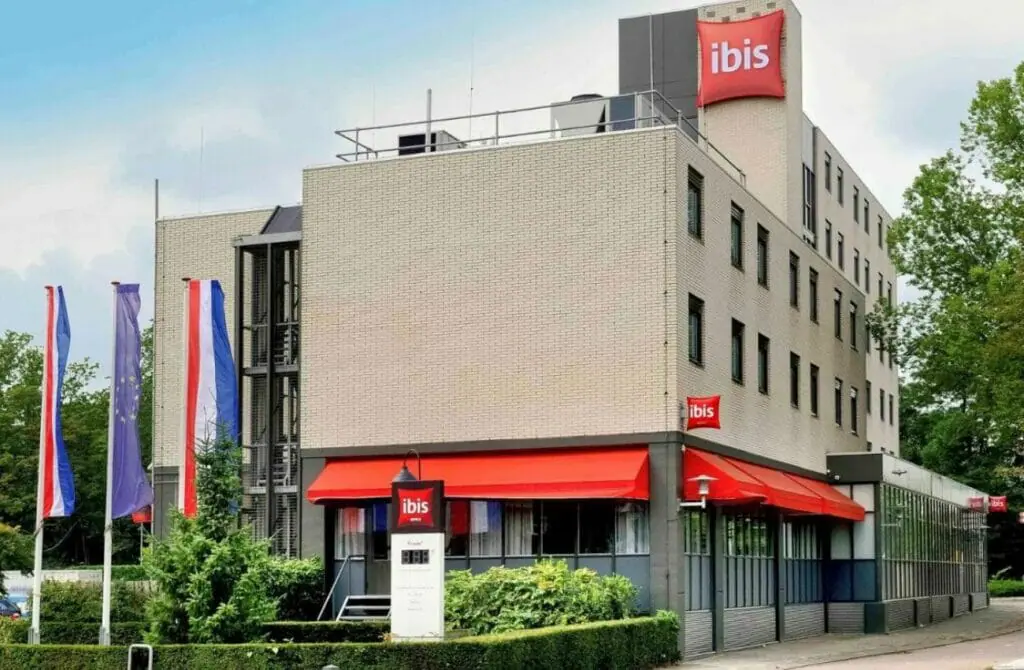 Gay Nightlife in Utrecht, Netherlands
Utrecht offers a brilliant gay nightlife experience that does not disappoint! Not only do they have three gay bars, but they have numerous gay clubs and annual events that ensure the gay community will never sit quietly. So those wanting to experience everything the Dutch rainbow community can offer will find it come night!
Exploring the gay and gay-friendly nightlife in a new city can be one of the most exciting and rewarding experiences while traveling – and Gay Utrecht is no exception. Not only will you have the opportunity to meet new people and make friends, but you'll also get a taste of the local culture and learn more about the city's LGBTQ+ community.
Going out and experiencing the queer and queer-friendly nightlife in a new city can also be a great way to break out of your comfort zone and try new things. Whether dancing the night away at a gay club or mingling with locals at a gay-friendly bar, you'll have the chance to make memories and create lasting connections.
So, don't be afraid to step out of your comfort zone and explore the gay and gay-friendly nightlife in Utrecht. You'll be glad you did!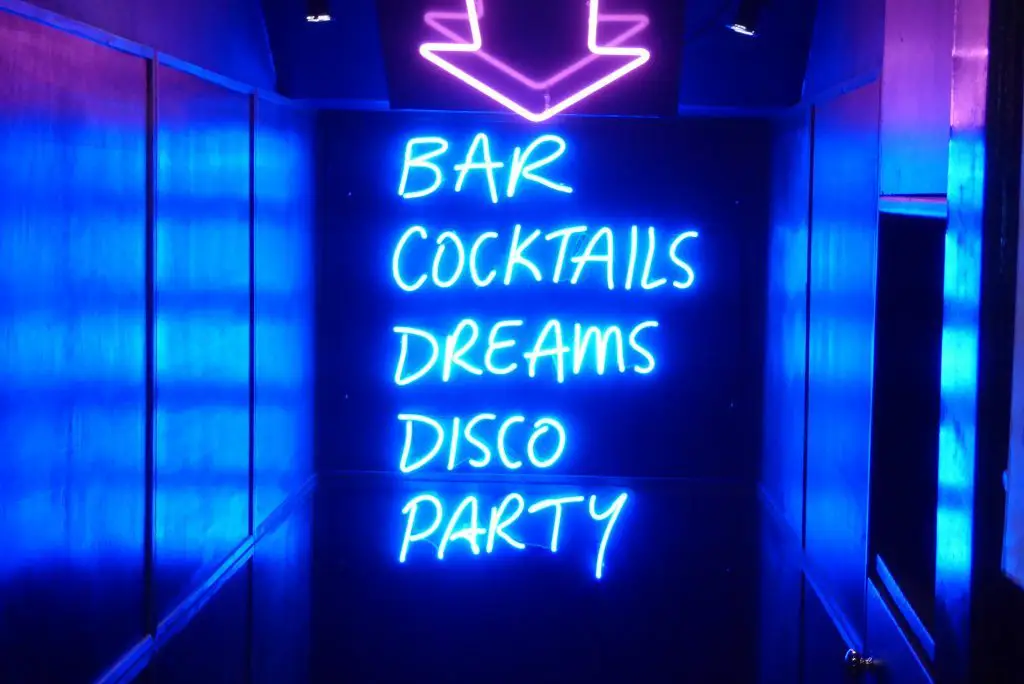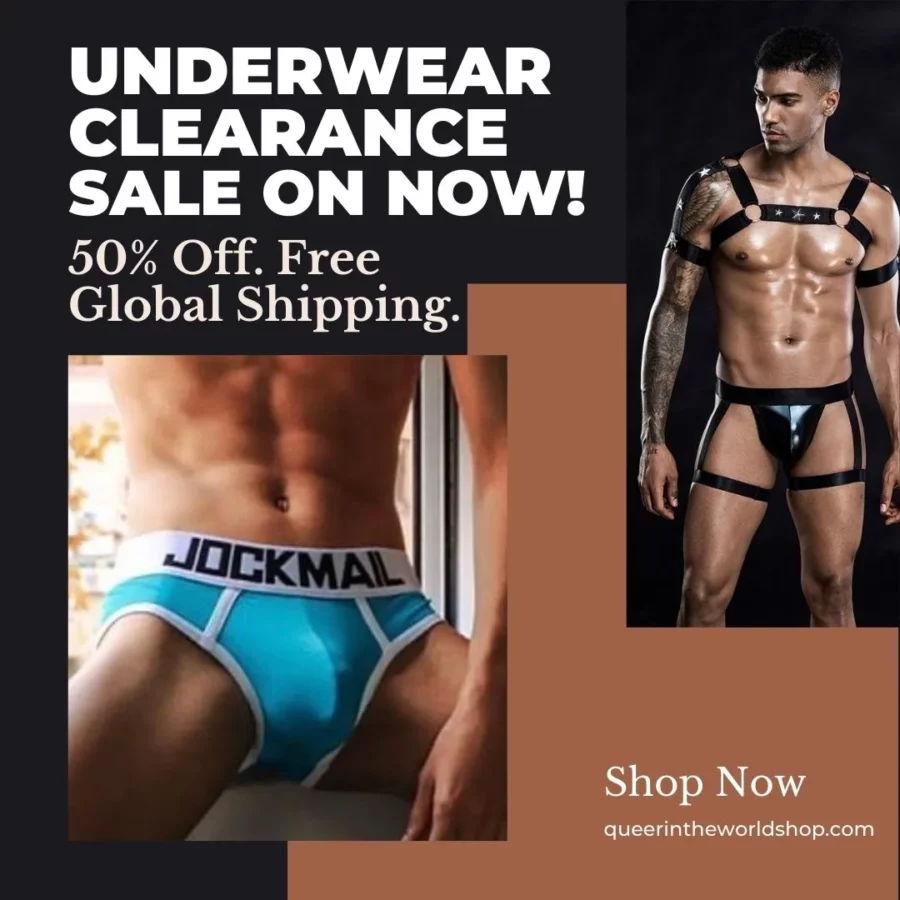 Gay Bars in Utrecht, Netherlands
When you visit Bodytalk, it isn't surprising to see why many call this the center of gay life in Utrecht. You will be treated to an authentic queer Dutch experience where there is always a late-night party with enough drinks to go around. Of course, they also have more than just a gay club with a bar; they host regular quiz nights and other fun social engagements.
If you didn't get enough at Bodytalk, the next must-see gay bar in Utrecht is the underground cellar club U-Bar. Here is yet another exceptionally queer space where you can have a fun little jig and drink at this more rustic space with a max capacity of 90 people.
It's open every day of the week, although some nights may be rented out for private events, so keep this in mind. However, many enjoy the dance experience as much as they also adore the drinking one, where they can have coffee instead of the usual if they go sober for the evening.
For a more laid-back queer experience, the gay Cafe Kalff is the place to be! You can make the most of their great gay space open to all and their friendly staff as you also take their delicious food and drink treats.
They are open late afternoon and well into the night with a great range of alcoholic drinks or energy-boosting coffees if you need a pick-me-up after work. Outside their normal operations, they host pride events and are exceptionally proud of their title of a gay cafe.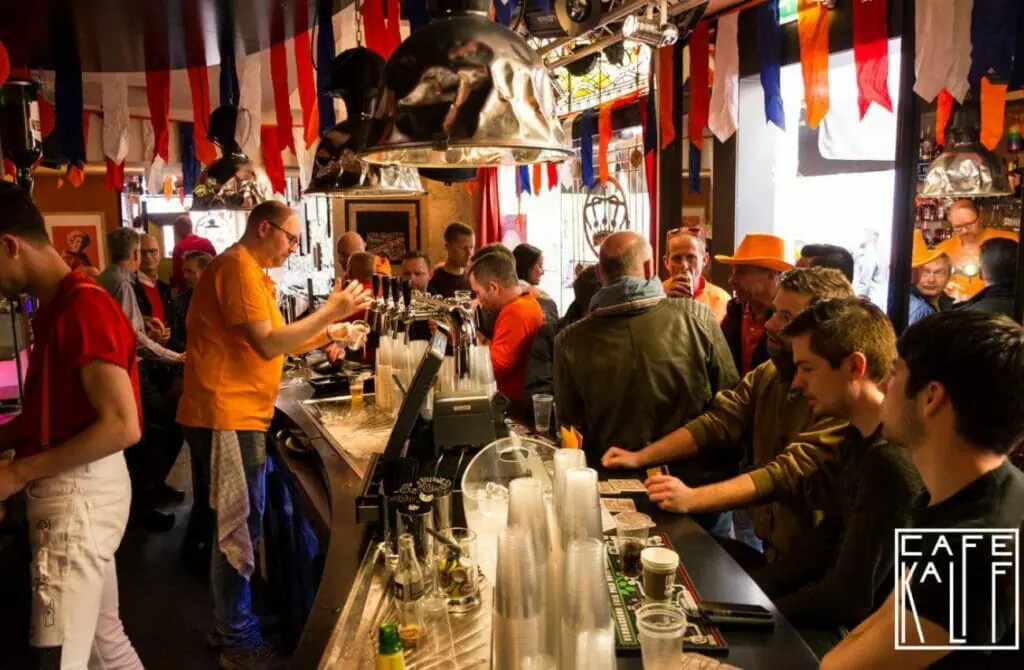 Gay Parties & Gay Clubs in Utrecht, Netherlands
Those looking for the gayest party in town will not be disappointed when RUBBER is in session with gay events like none other.
They are closely involved with Utrecht Pride putting on fantastic dance shows and social engagements, with every event bringing something different and the usual RUBBER flair of a gay good time. You may be in town when they have something on, so it's worth checking out their website.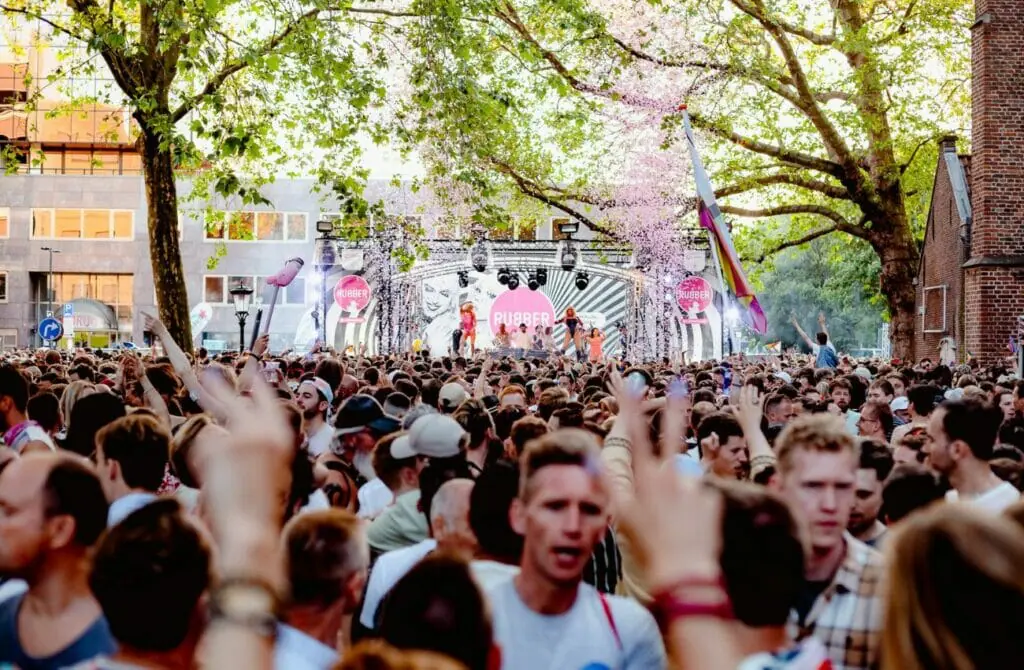 After a little dip in the local pool? Keen to meet fellow queer people while doing it? Just as well, Utrecht has you covered with their local gay swimming club. All are welcome, and even if you're stopping in for one session of lengths, you may make some great friends to hit the bars later with. It's a great way to keep fit and be social.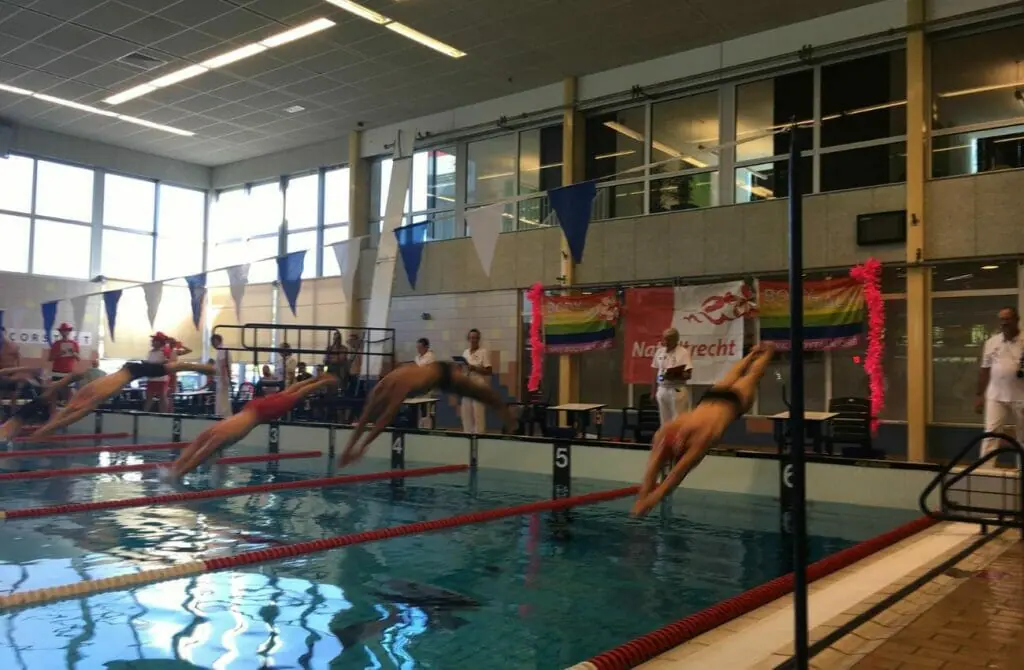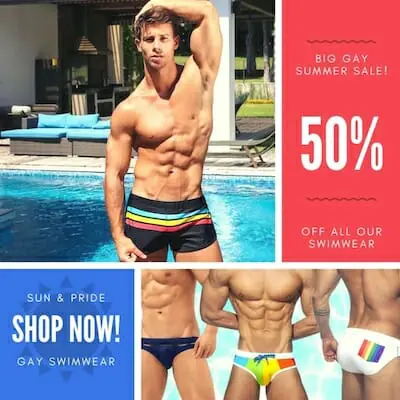 The biggest gay event of the year in Utrecht is their pride festival, an event not to be missed if you want the all-around queer experience of the city. Here you will see the streets filled with gay partygoers, loud parties that go well into the night, and an exceptional social experience where nowhere is hidden from the rainbow flag!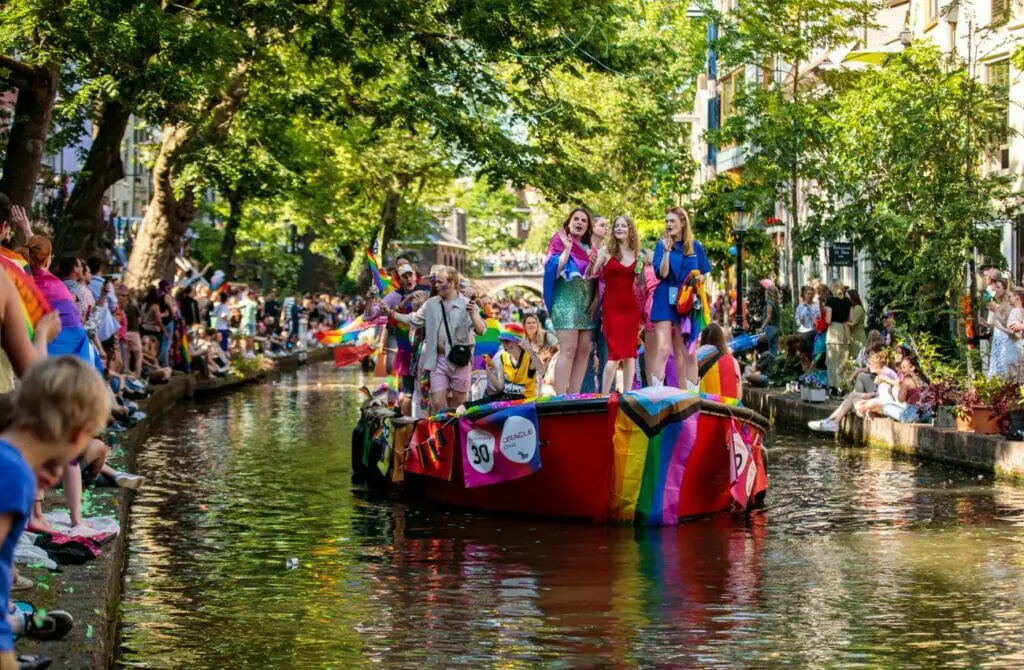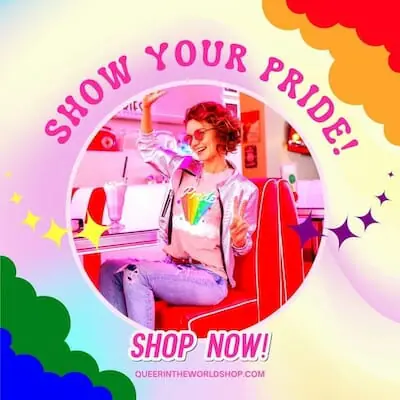 Gay-Friendly Nightlife in Utrecht, Netherlands
A delicious spot for late afternoon or deep into-the-night food is the Lefebvre, where they don't just serve food but a wide range of drinks to compliment this laidback experience. It's a great place to experience the quiet side of Utrecht's nightlife in the town center, so you need not go far to find it.
Calling all whiskey lovers! The Malt Vault will not disappoint with its collection of drinks and lounges if you are after a great drink with your favorite pastime. This is the best place to try a cocktail or whiskey brand and let your tastebuds get adventurous, but they also have a great menu to compliment the flavors. Imagine a first stop here before you hit the town or a romantic gay date!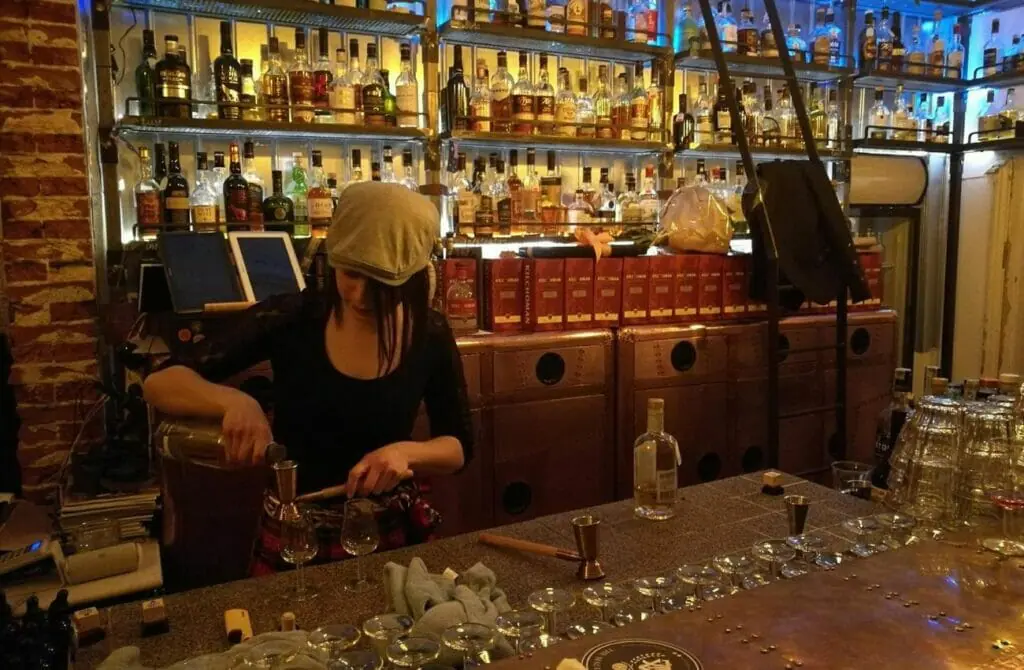 Enjoy a Latin American cocktail lounge in the heart of Utrecht. The Union Latin Lounge is a great place to relax in their soft loungers with a hand grasping your delicious mixes made by their talented staff. Or if you are with friends, you can enjoy each other's company as you enjoy the ambiance of the salsa music.
They even have salsa dance lessons at Union Latin, so you could go for a class and then relax in their lounge with a coffee to regain energy after a great dance.
Get your game on at the De Ping Pong Club, a day and night venue where you can play fun games in a venue that caters to adults. Their main event is the ping pong table hires, but they also have a restaurant to rest between rounds, and if you want an excuse to stay even longer, they also have over forty board games and regular event nights.
For those desperate for live entertainment beyond a band, the Mad Cow Comedy could be your main event for the night ahead. You don't need to worry about having any level of Dutch as these acts are all in English and will have you in fits of laughter—the perfect meds for relaxation. You can get your tickets on their website and be ready for a fun comedy night!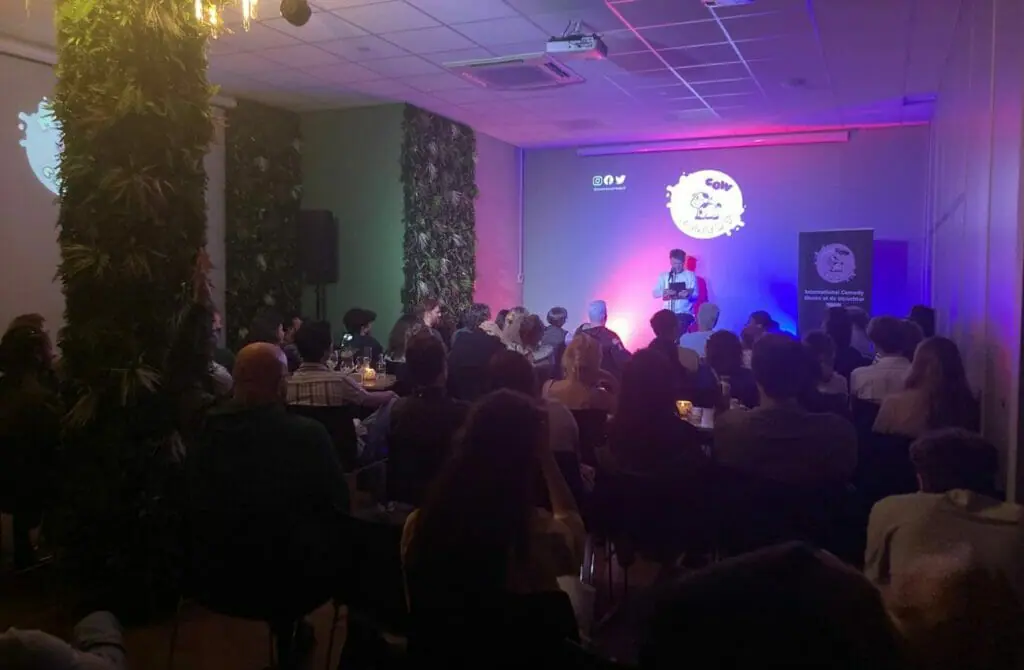 Cruising & Gay Saunas in Utrecht, Netherlands
The gay cruising scene in Utrecht is somewhat limited, and there are no cruising bars or gay-exclusive saunas. So, your best bet for catching some late-night fun on the cruise is to prepare well in advance with dating apps or try your luck the old fashion way at a gay bar and see where things go from there!
When traveling to a new city, it can be exciting to head out for more than just a stiff drink. One aspect of the Gay Utrecht scene that many queer men enjoy is visiting gay saunas and cruising clubs.
Sure, the sauna culture in Utrecht is not as hedonistic as in Amsterdam, Barcelona or Berlin, but these venues still offer a chance to meet new people, socialize, and engage in sexual activity – without resorting to gay hookup apps.
However, it's important to remember that these venues can vary greatly in terms of atmosphere, clientele, and rules, so it's a good idea to prepare yourself before visiting. If you are apprehensive, we advise studying our guide to visiting a gay bathhouse for the first time, which should help set your mind at ease and always practice safe sex.
Additionally, it's important to be aware of and respect local laws and customs regarding gay venues and sexual activity. With a little bit of planning and an open mind, visiting gay saunas and cruising clubs can be a fun and exciting part of your gay Utrecht travel itinerary.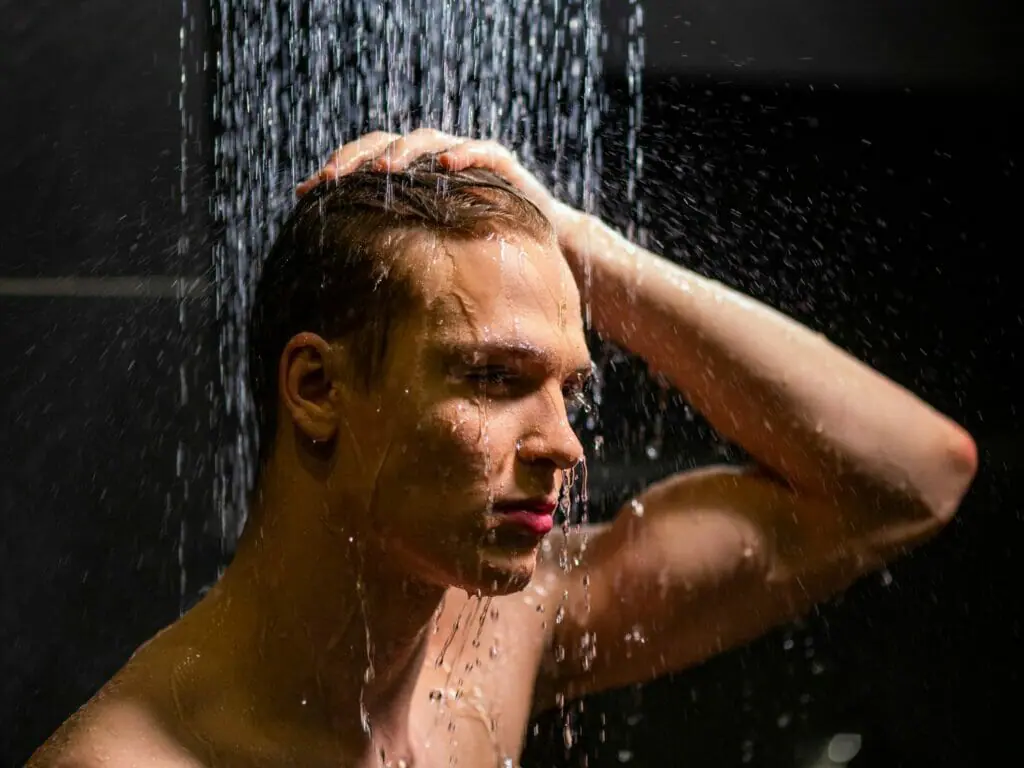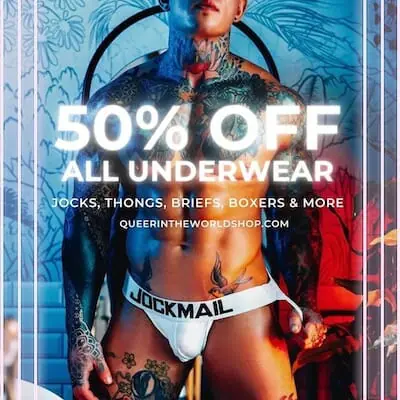 Gay Map Of Utrecht
Finding it hard to envisage where everything is in Utrecht? Hopefully, this queer-centric map helps where we have marked all the bars, clubs, parties, hotels, saunas, massages, and more will help you stay in the spot best suited to you!