Darlings, gather round as we dive into the enchanting yet challenging tapestry of Gay Jeddah. This city shimmers like a pearl within the shell of Saudi Arabia, boasting a culture as rich and diverse as the Arabian nights.
Serving as a nucleus for commerce, the city flaunts architectural marvels that kiss the sky, beaches that sparkle like a sapphire, and cuisine that dances a tantalizing waltz on the palate.
Yet, in the shadows of the palatial skyscrapers and bazaars brimming with scents and colors, Jeddah, like the rest of Saudi Arabia, harbors a stern adherence to ultra-conservative customs and religious beliefs. My dearest queer kin, in this land, the rainbow must don the cloak of the night – hidden and silent. The gravity of being openly LGBTQ+ here is severe, with public displays of same-sex affection seen as dire transgressions, potentially resulting in severe penalties including imprisonment, hefty fines, or deportation.
We must stress with the clarity of a desert sunrise, sweethearts, that we cannot advocate for an open display of your vibrant colors in this milieu. Our role as your travel scribes is simply to present you with a snapshot of the world, a canvas splashed with hues both welcoming and cautionary. We, in no way, can be held accountable for the actions you take, based on the narrative we spin.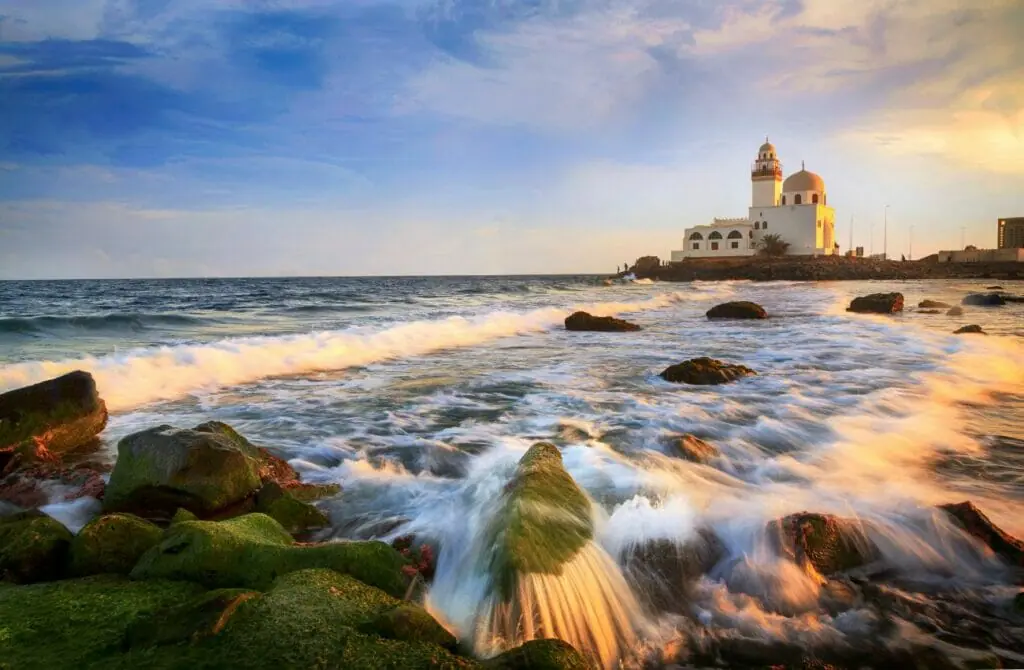 Jeddah, despite the storm clouds hovering over our community, unfurls a rainbow of luxurious accommodations, perfect for lovebirds fluttering under the radar. Immerse yourself in the opulence of the city's prime hotels, basking in discretion as your safest bet.
My darlings, recent events serve as stark reminders of the city's harsh stance towards our kind. The yearning whispers of change have been hushed by the nation's rigid laws, with many LGBTQ+ individuals facing severe penalties for any perceived transgressions.
Jeddah, nonetheless, parades an array of captivating sights. The glistening Jeddah Corniche, the majestic King Fahd Fountain, and the timeless charm of the Al-Balad district each bear testament to the city's allure. The cultural heritage is a labyrinth to get lost in, and the shopping scene a bazaar of enchanting finds, with a caveat of caution in the air.
Contemplating a clandestine sojourn to Jeddah? Our meticulously crafted travel guide is your clandestine scroll, brimming with covert tips, popular hideaways, and the safest havens. Remember, darlings, to cloak your colors and temper your gestures of affection. Be keenly aware that any form of PDA could unleash a tempest of repercussions in Jeddah and wider Saudi Arabia. Adventure beckons, but let it not dull the blade of caution.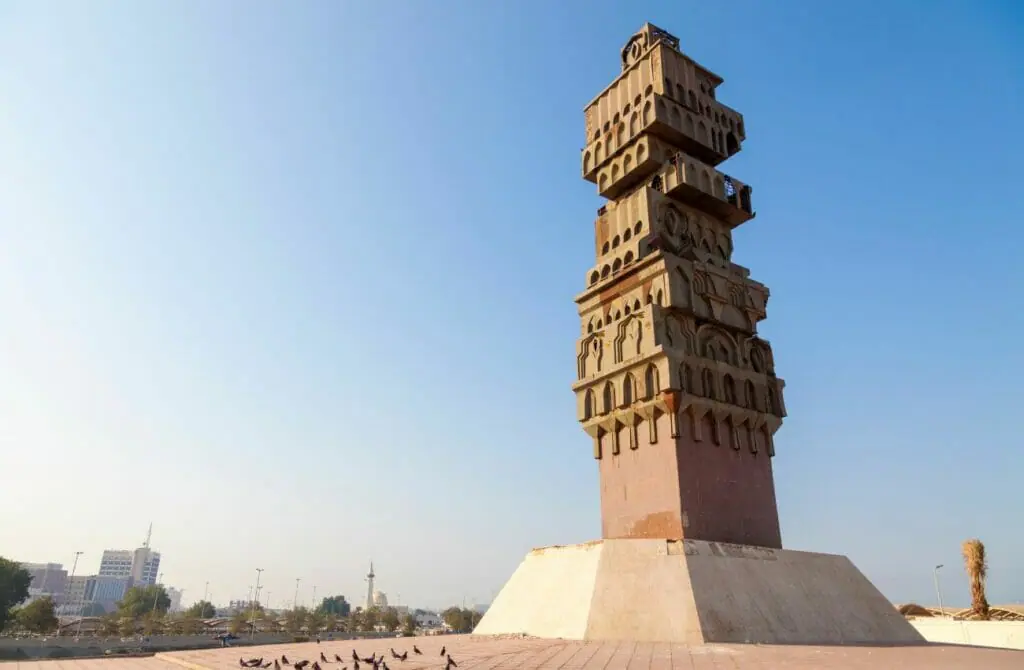 In this article we will cover...
Attractions in Gay Jeddah, Saudi Arabia
As a new visitor to Gay Jeddah, it's important to be aware that being queer is illegal in this city and country, and any same-sex activity should be avoided to ensure your safety. However, there are still plenty of things to see and do that do not involve expressing your sexual orientation.
One of the best ways to experience the city is to visit its most iconic landmarks and attractions, including historical monuments, museums, and art galleries. You can also admire the city's architecture, explore its parks and gardens, sample local cuisine, and visit local markets. Additionally, cultural events such as festivals, concerts, and shows can provide a glimpse into the local culture.
We feel it's important to acknowledge the challenges and risks associated with visiting destinations where same-sex activity is illegal. However, we still believe in the power of cultural exchange and the value of experiencing diverse cultures, even if we may not agree with their laws and customs.
Visiting queerphobic destinations allows us to learn about the local culture, history, and traditions and to gain a deeper understanding of the challenges faced by LGBTQ+ communities in those places. It also provides an opportunity to connect with local people, to hear their stories, and to show solidarity with the queer community.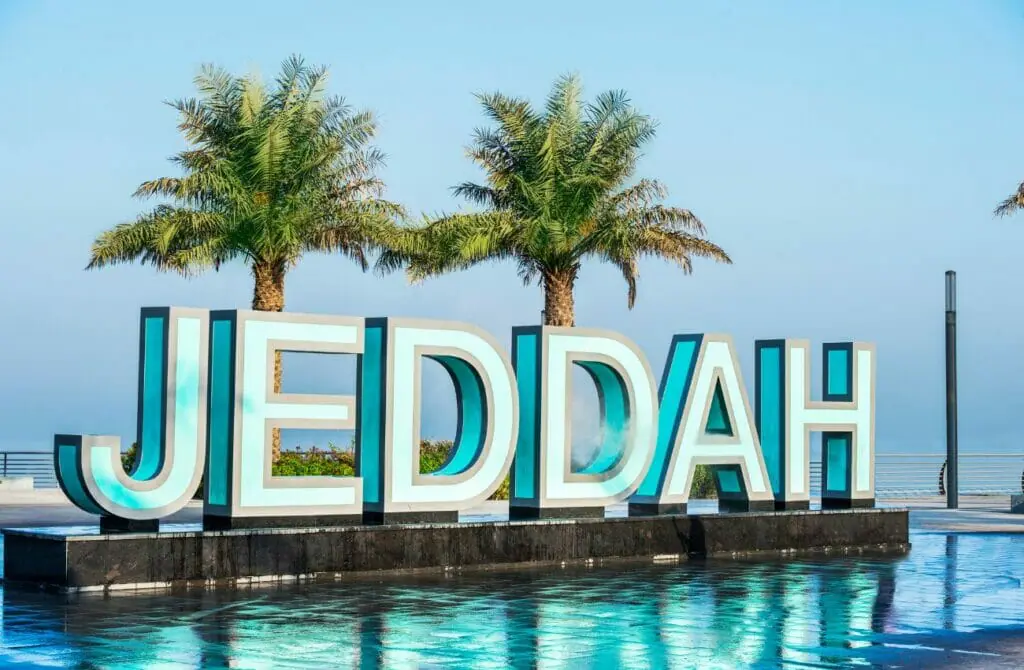 It's important, however, to be mindful of the risks and to take steps to ensure our safety and the safety of local queer people. This may include avoiding public displays of affection, not discussing our sexual orientation with strangers, and being aware of local laws and customs. As we explore these destinations, it's crucial to spare a thought for local queer people who may face discrimination, persecution, and even violence due to their sexual orientation.
We might also have the opportunity to use our platform to amplify their voices and to support local organizations working to protect and advocate for LGBTQ+ rights – however, this is best done once you have left (and if you reside in a gay-friendly country!).
While it may not always be easy or safe to visit queer-illegal destinations, we believe that cultural exchange and understanding can help bridge divides and promote acceptance and tolerance. Let's continue to explore the world while keeping in mind the experiences, struggles, and restrictions on LGBTQ+ expression in this city and country. Thankfully, it's still possible to enjoy the city's attractions and learn about its culture while being mindful of local laws and customs.
These are our recommended must-see attractions in Jeddah.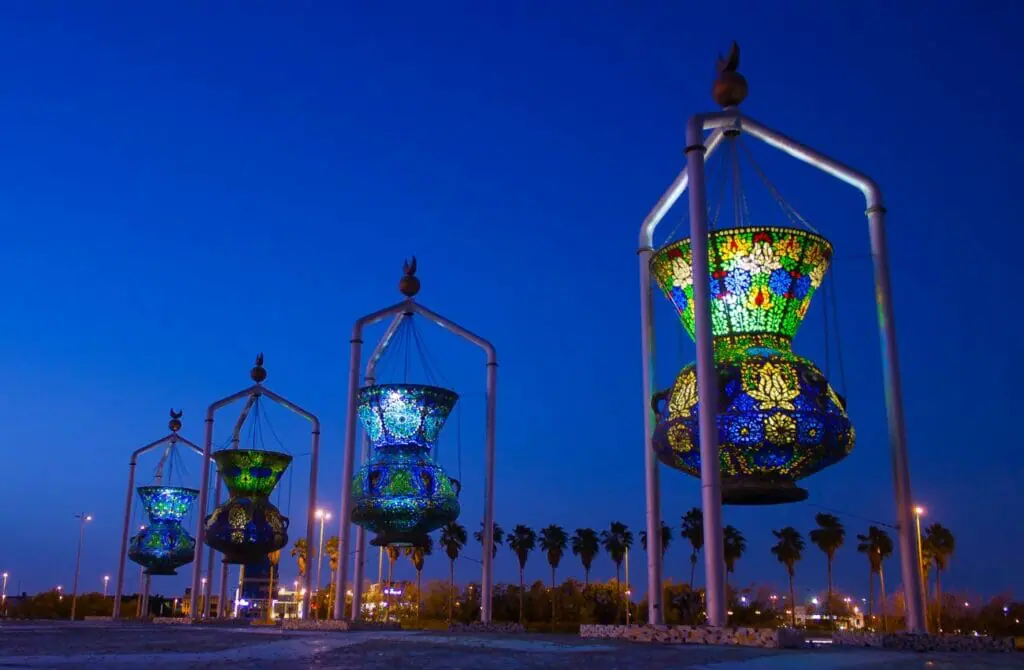 This magnificent museum showcases the roughly 2,500-year history of the Jeddah area, with exhibitions ranging from the pre-Islamic past through pre-modern civilizations, as well as the city's rich Islamic cultural legacy. The compound also includes a mosque and the façade of a historic castle.
Step into a world of timeless charm and discover the beating heart of Jeddah's culture and heritage in the vibrant district of Al Balad – a UNESCO Heritage site. Here, you'll be transported to a bygone era, where the streets are lined with beautiful coral-stone buildings adorned with intricate latticework, and the air is thick with the aroma of exotic spices and the sounds of bustling markets.
Whether you're an art enthusiast, a history buff, or a curious traveler, Al Balad has something for everyone. Lose yourself in the winding alleys of the Alawi Souq, where you'll find a treasure trove of traditional handicrafts, antiques, and unique souvenirs.
Marvel at the stunning architecture of the Al-Naseef House, once home to one of Jeddah's most influential families and now a fascinating museum showcasing the city's rich history and culture.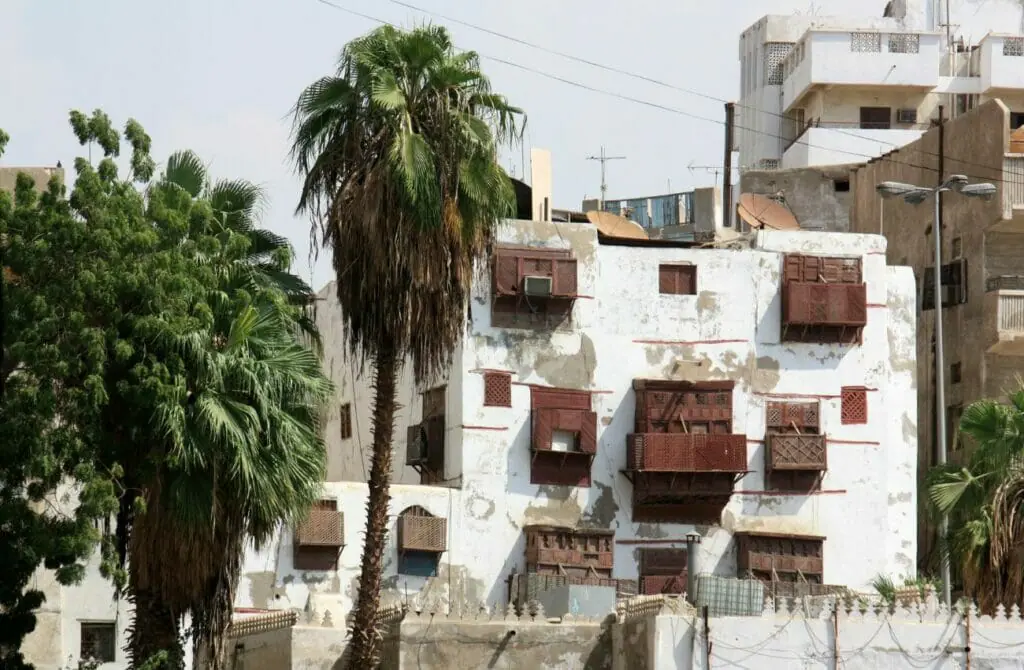 Embark on a journey through time and culture at Al Tayebat International City, where the rich history and heritage of Saudi Arabia come to life in a stunning display of art, architecture, and artifacts. From ancient pottery and exquisite textiles to intricate jewelry and gorgeous calligraphy, every corner of this magnificent museum is a treasure trove waiting to be discovered.
Immerse yourself in the sights, sounds, and scents of Arabia as you wander through the beautifully designed halls and courtyards, taking in the stories and traditions that have shaped this unique and vibrant country. With its unparalleled collection and awe-inspiring setting, Al Tayebat International City is a must-see destination for any visitor to Saudi Arabia.
Take a dip in the sparkling blue waters and discover a world of colorful marine life, or soak up the sun and enjoy the sea breeze while lounging on a luxurious yacht at the Red Sea Marina. Or, if you're feeling adventurous, try your hand at water sports like jet skiing, parasailing, or diving.
But the fun doesn't stop there! Red Sea Marina also boasts a variety of dining options, from elegant waterfront restaurants to cozy cafes. Indulge in fresh seafood dishes or savor your favorite international cuisine while taking in the picturesque views.
And for those who prefer to stay on dry land, the marina offers plenty of opportunities to shop, relax, and socialize. Explore the local boutiques and souvenir shops, or unwind at one of the many outdoor lounges or bars.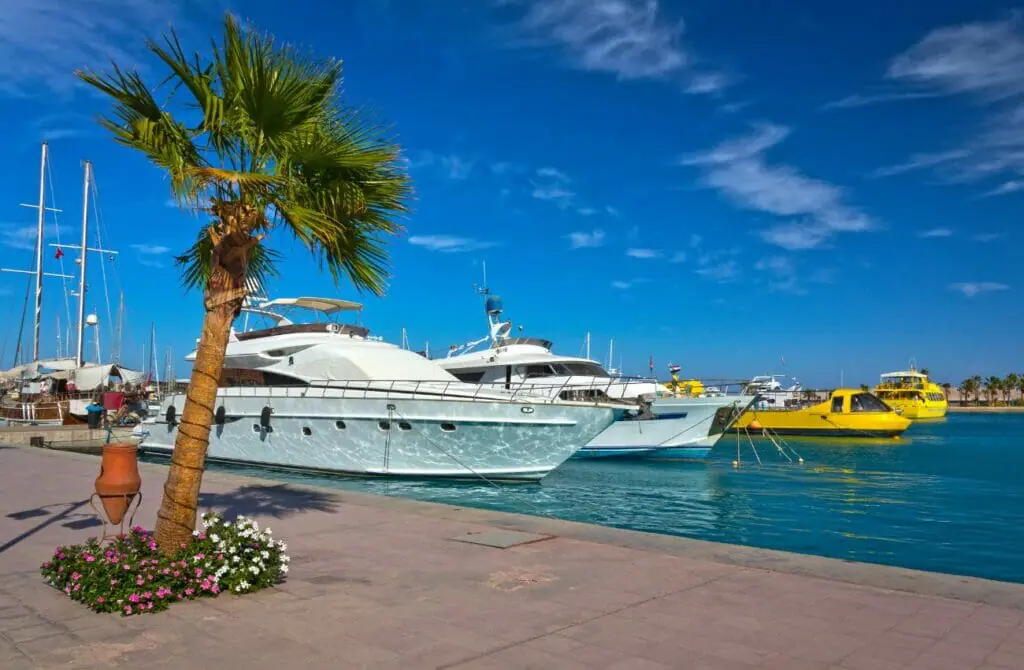 Get ready to embark on a sensory journey like no other at Jeddah Corniche! As you step foot on this picturesque coastal strip, you'll be greeted with a panoramic view of the Red Sea, the smell of saltwater in the air, and the sound of seagulls soaring overhead. But that's not all – Jeddah Corniche has something for everyone.
Looking for adventure? Stroll on the boardwalk or rent a bike to explore the winding paths. Want to relax? Unwind on the sandy beaches or dip in the refreshing waters of the Red Sea. Feeling hungry? Indulge in local delicacies at the numerous cafes and restaurants lining the Corniche.
But the real magic lies in the vibrant culture that surrounds you. Marvel at the stunning art installations, soak in the lively street performances and learn about the rich history and traditions of Jeddah at the cultural centers.
King Fahad's Fountain
Behold! A magnificent sight that will leave you in awe and wonder – the King Fahad's Fountain! Nestled in the vibrant city of Jeddah, this fountain is an architectural masterpiece that is not to be missed by any visitor to the city.
From afar, you will be greeted by a mesmerizing display of water shooting up into the air, reaching a height of over 300 meters. It's a breathtaking sight that will captivate your senses and leave you spellbound.
As you draw closer to the fountain, you will be enveloped in a misty veil of cool water droplets, creating a refreshing atmosphere perfect for beating the scorching heat of the Saudi Arabian sun.
But perhaps the most impressive aspect of King Fahad's Fountain is its size and power. With a pumping rate of over 18,000 liters per second, it's the largest fountain in the world and is a true feat of engineering.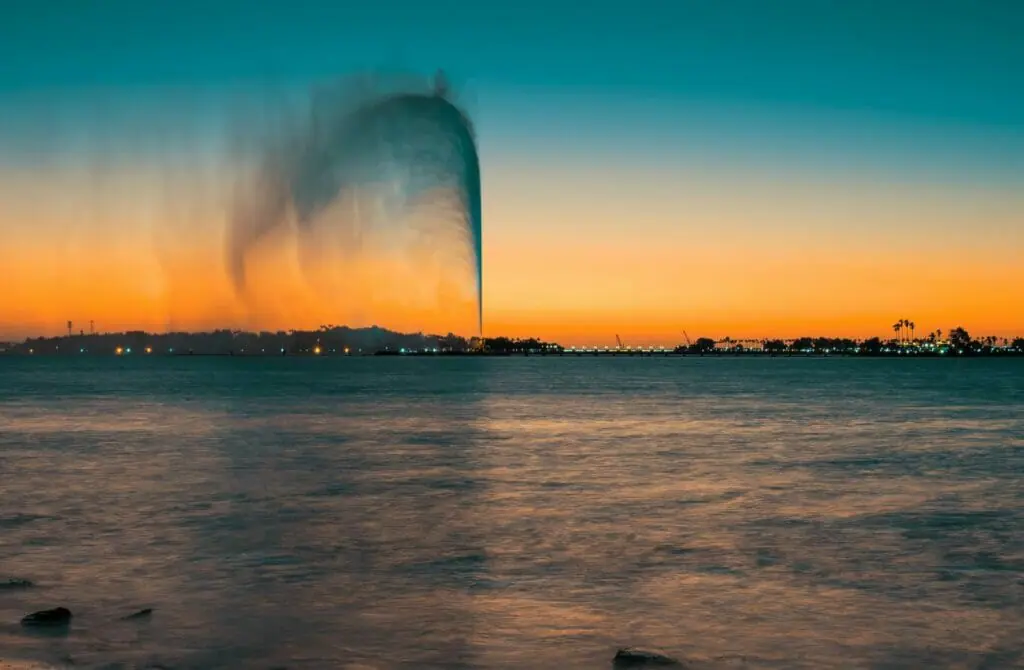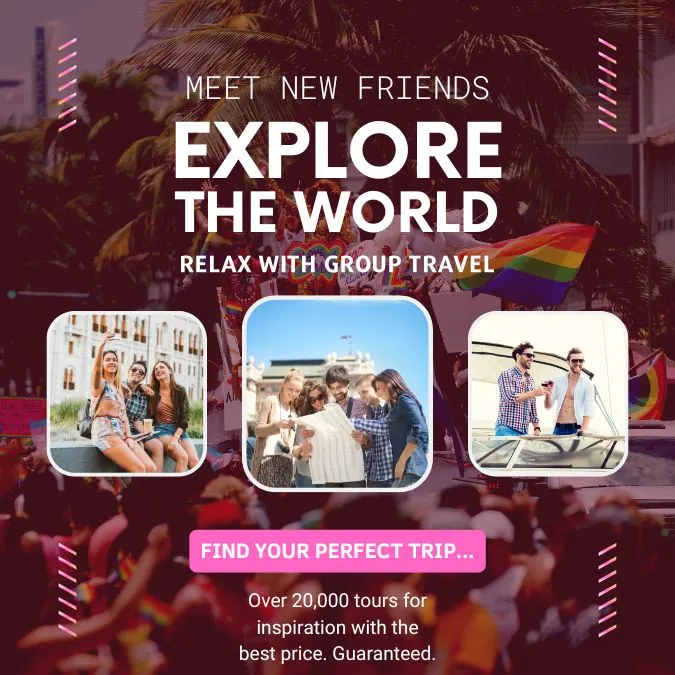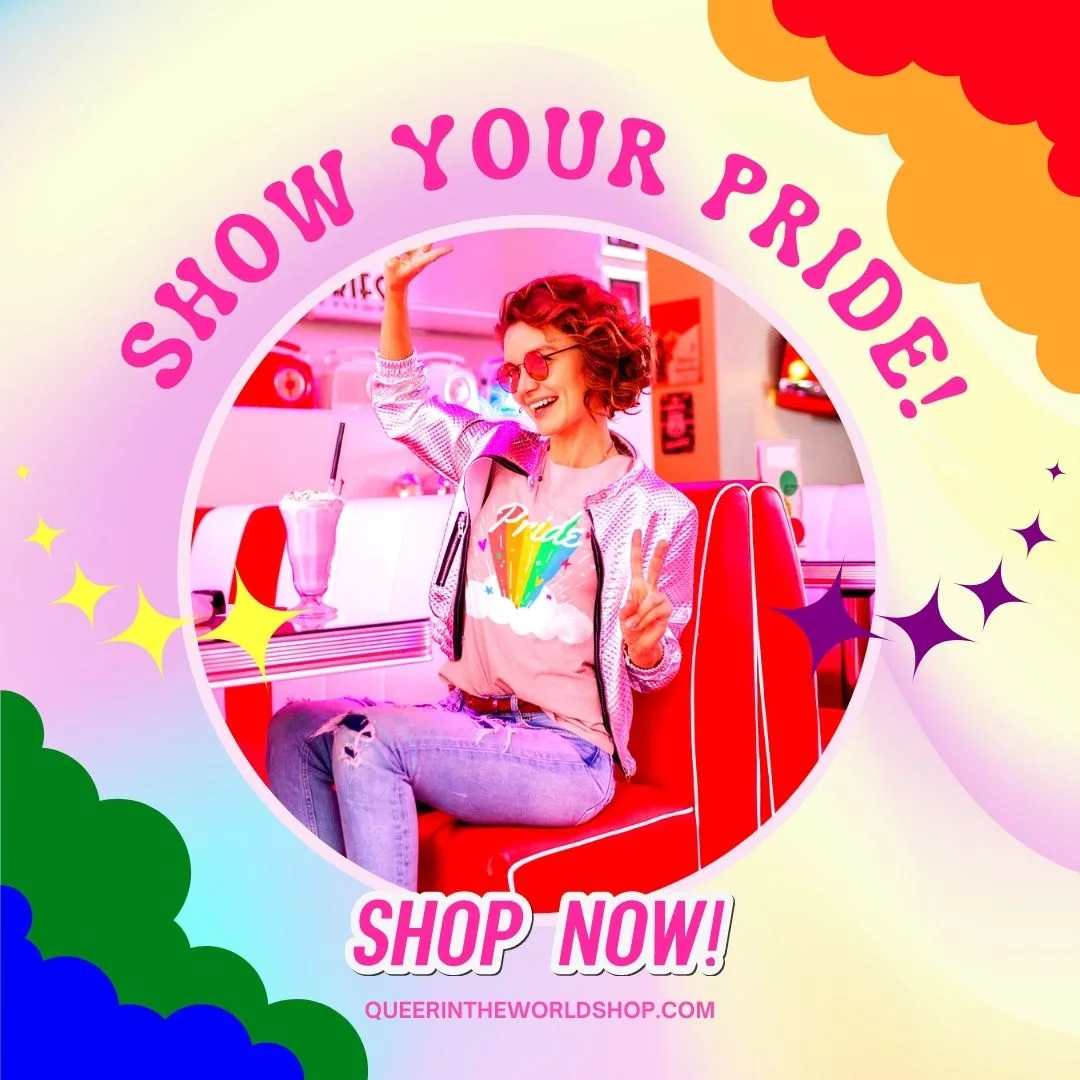 Gay-Friendly and Gay Hotels in Jeddah, Saudi Arabia
As a traveler in a homophobic country where being gay is illegal, it's important to be aware of the risks and take necessary precautions to ensure your safety. This includes choosing accommodations that are less likely to have issues with same-sex travelers.
We recommend booking two twin beds and traveling as friends only, avoiding any same-sex activities that could attract unwanted attention. While it's unfortunate that there are no gay-friendly accommodations in Jeddah, we suggest staying at international or high-end properties that are less likely to have issues with LGBTQ+ guests.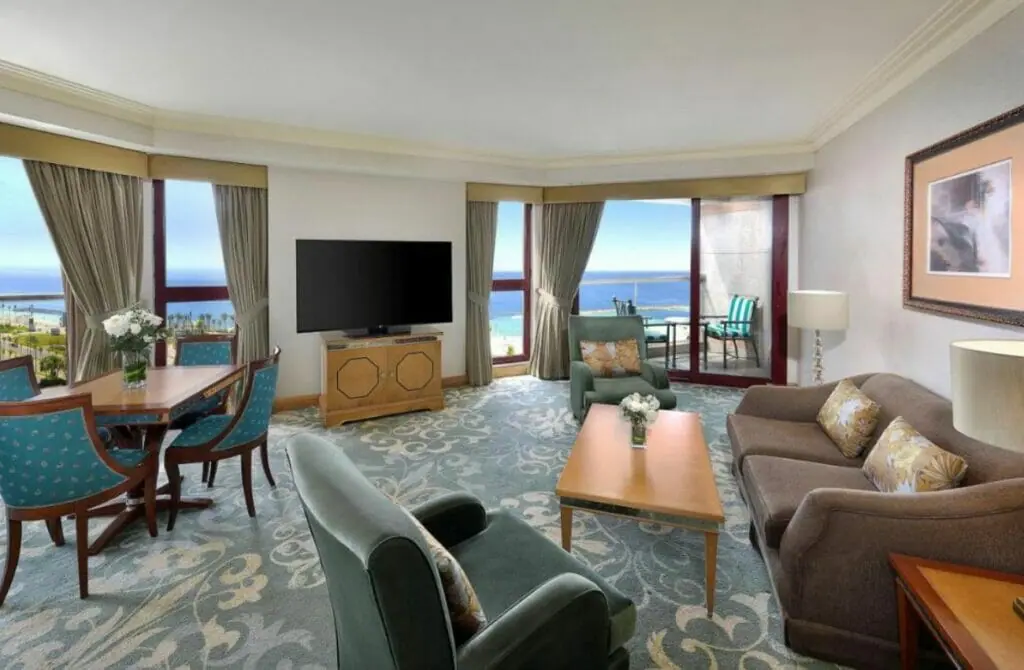 It's important to note that these accommodations are not gay-friendly and may not have policies or practices in place to create a safe and inclusive environment for LGBTQ+ guests. However, they are the most fabulous hotels in Jeddah, according to other gay travelers and us, and where we recommend staying.
Whatever your needs are, Jeddah has a wide range of accommodations. While it may be challenging to find gay-friendly options, taking these precautions can help ensure a safe and enjoyable stay in the city.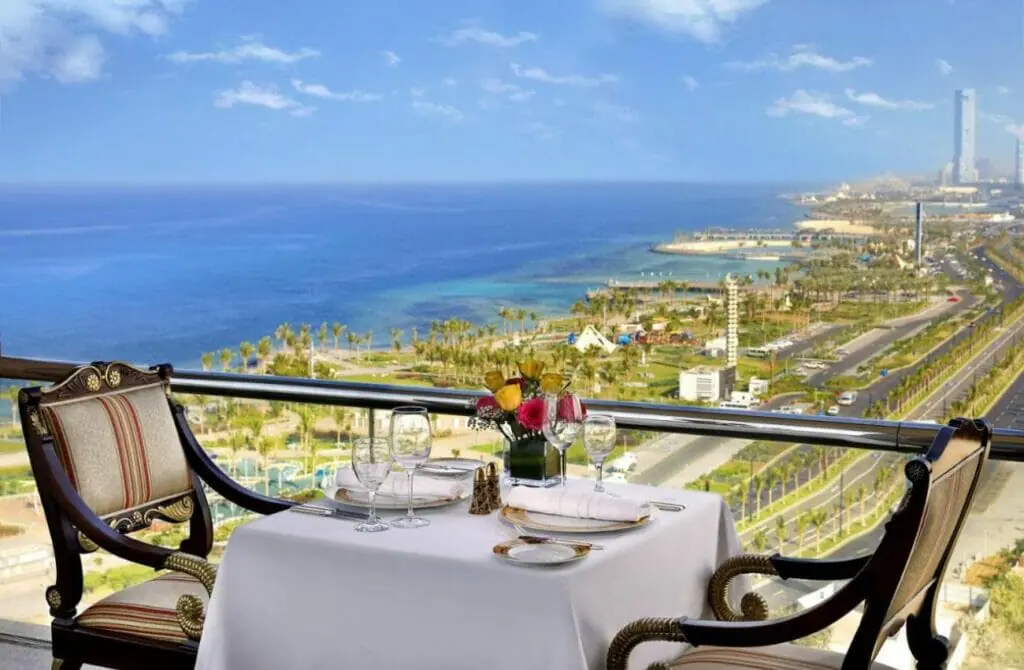 Relax on your balcony and soak up the warm sun as you take in the breathtaking sea view at the Jeddah Hilton. Staying at Jeddah Hilton offers a unique and spectacular experience with its stunning sea view and picturesque sunset visible from the balconies and windows of the rooms. The idea is truly awe-inspiring and provides a peaceful and serene atmosphere for guests to relax and unwind.
Watching the sunset over the Red Sea from the comfort of your room is an unforgettable experience that will leave a lasting impression. The sight of the sun slowly dipping below the horizon and painting the sky in vibrant shades of orange and pink is mesmerizing.
It's the perfect place to unwind and take in the beauty of the Red Sea while also enjoying the hotel's luxurious amenities and convenient location. So why not elevate your stay in Jeddah and indulge in the beauty of the sea view and pretty sunsets at Jeddah Hilton?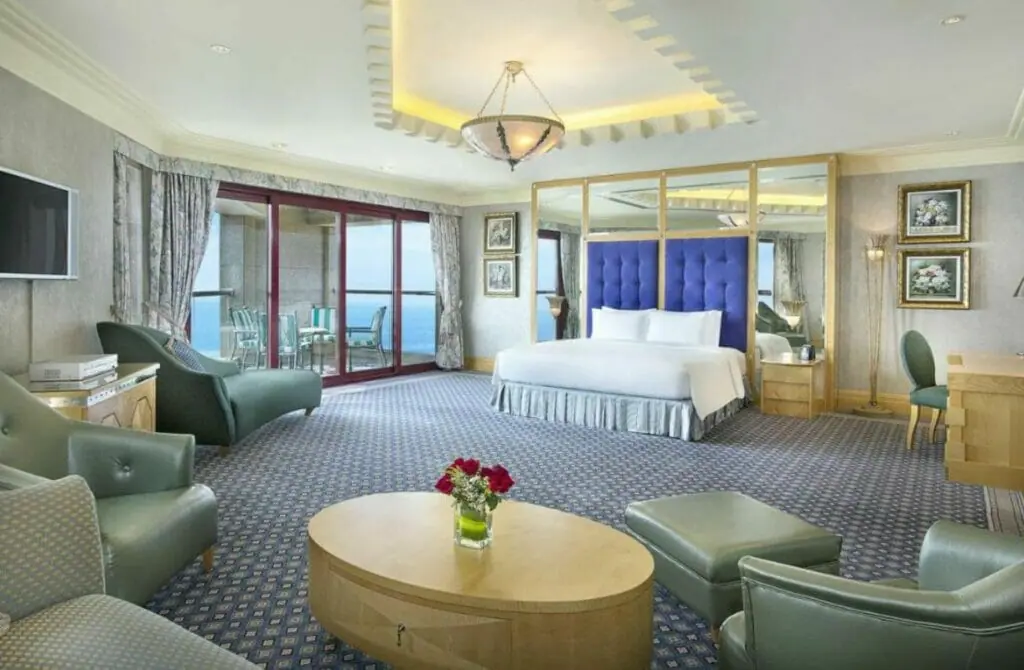 Housed in a magnificent 19th-century palace that was once the residence of King Abdul Aziz, this luxury hotel is a true masterpiece of architecture, featuring traditional Islamic and Andalusian design elements preserved and restored over the years.
The Ritz-Carlton's grand and impressive structure is a sight to behold, with its classic architecture punctuated by Arabic design elements overlooking the magnificent King Fahad Fountain. The hotel's opulent rooms and suites exude a blend of glamour and heritage, evoking a sense of royalty for guests.
Once you enter the hotel, you'll be immediately struck by the grandeur and elegance of its architecture. The high ceilings, detailed tilework, and intricate carvings all come together to create an atmosphere of unmatched luxury and sophistication.
There are many reasons why the Ibis Jeddah City Center is the perfect choice for your stay in Jeddah. But what truly sets the Ibis Jeddah City Center apart is the unparalleled level of service you'll receive from the staff.
From the moment you arrive, you'll be greeted with a warm welcome and treated like royalty throughout your stay. The team is always on hand to assist with any needs or queries you may have and will go above and beyond to ensure your stay is nothing short of perfect.
So whether you're seeking a luxurious escape or a convenient base for exploring the city, the Ibis Jeddah City Center is the ultimate destination. Book your stay today and experience the best of Jeddah in style and comfort.
Looking for a reasonable hotel with all the luxury and grandeur? Look no further, as the four-star Mövenpick Hotel has your basic amenities and much more. In addition, the hotel also offers a unique cultural experience that sets it apart from other hotels in the city. As a hotel that prides itself on embracing local traditions, Mövenpick provides a rich cultural environment that allows guests to immerse themselves in the local way of life.
Moreover, it is committed to sustainable tourism and takes great care to minimize its environmental impact. It is the perfect choice for environmentally conscious travelers who want to make a positive difference in the communities they visit.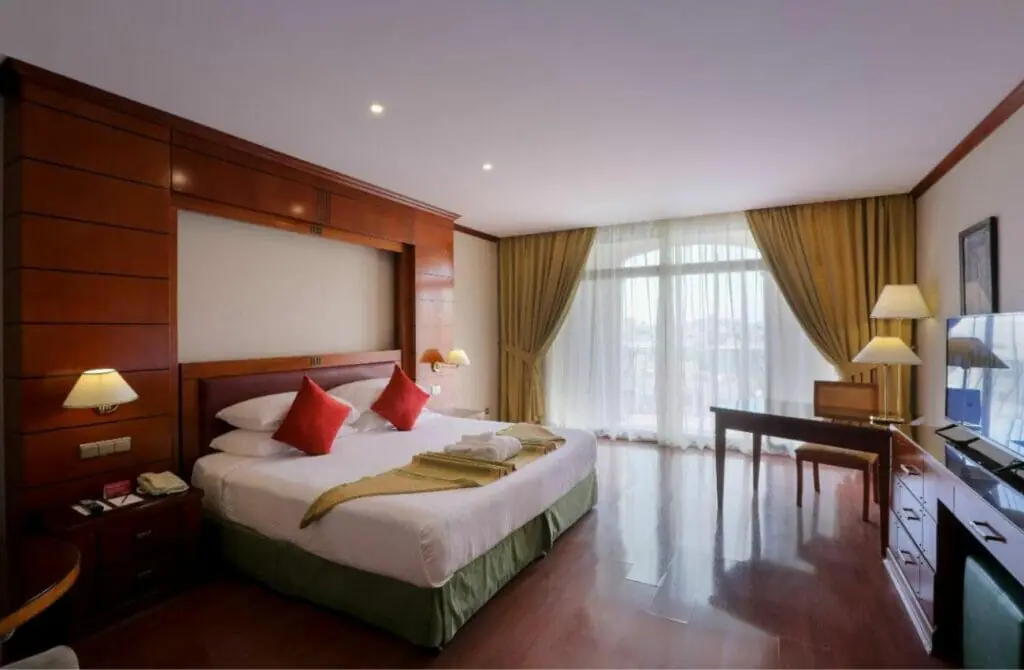 If you are looking for a cheap place to sleep and eat only while you roam around the city all day long, this is your stop. With astonishingly low prices, the hotel also offers delicious cuisine and an unbeatable location. It's situated in the heart of the city, just minutes from some of the most popular attractions and landmarks. Whether you're looking to explore the local souks and markets or you want to take in the stunning views of the city from a rooftop bar, you'll find everything you need just a stone's throw away from the hotel.
Secondly, the rooms at Dyar Alhamra are simply stunning. Each one is beautifully decorated in a unique style that combines traditional Arabic elements with modern design features. The beds are incredibly comfortable, and the linens are of the highest quality, ensuring you get a good night's sleep every night of your stay.
Radisson Blu Hotel, Jeddah Plaza ☆☆☆☆
Soak up the sun and cool off in the refreshing waters of the adult-only pool at the Radisson Blu – a top-notch hotel in the city. If you're looking for a luxurious and comfortable stay in Jeddah, this is a perfect choice. From its grand and contemporary design to its world-class amenities, this hotel will surely provide a truly unforgettable experience.
And it's an absolute heaven for food lovers as the hotel caters to a wide range of tastes and preferences – from delectable local cuisine to international delights; there's something for everyone at the Radisson Blu.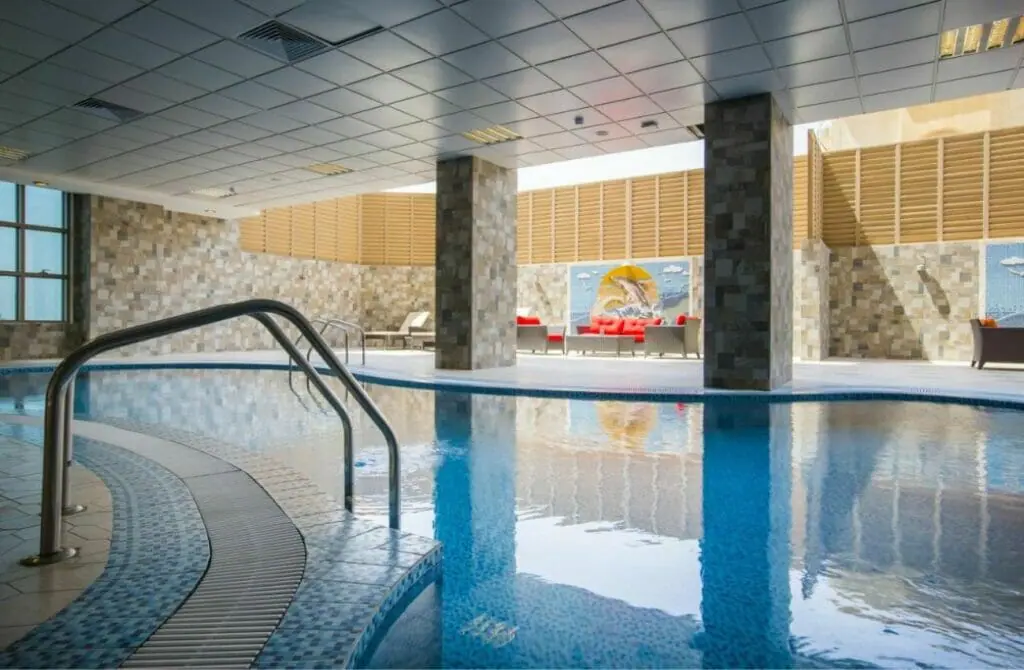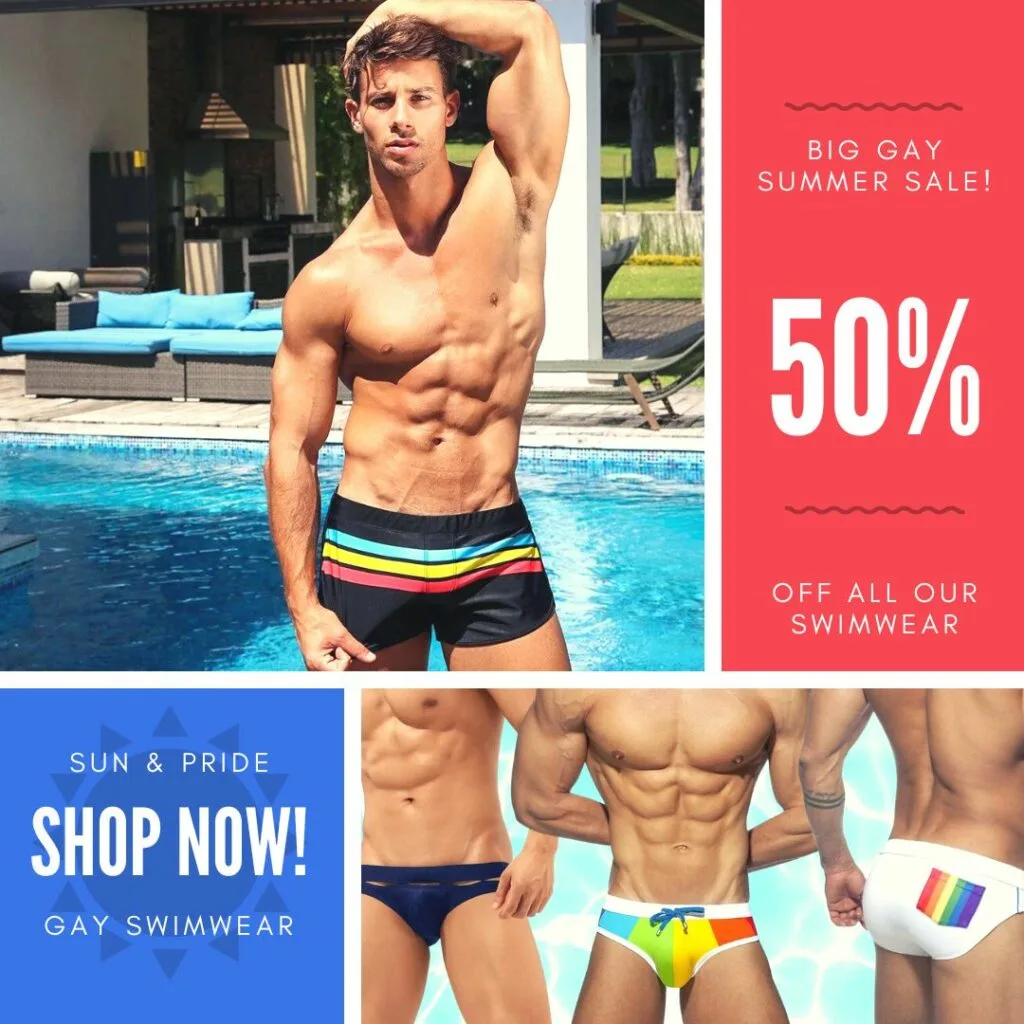 Gay Nightlife in Jeddah, Saudi Arabia
While exploring the nightlife of a new city can be exciting, it's important to remember that Gay Jeddah is a city in a country where same-sex activity is illegal, and being queer is not accepted in public. As such, it's crucial to avoid any displays of queerness or same-sex activity in public.
However, you can still enjoy the 'straight' nightlife in Gay Jeddah as you would in any other city – well, to a degree given local customs. You can meet new people, try new things, and get a taste of the local culture without attracting unwanted attention.
Whether you're dancing or mingling at a bar, remember to respect the local culture and avoid any behavior that may be seen as queer or same-sex activity. By doing so, you can have a fun and memorable experience while still being mindful of the local laws and customs.
So, step out of your comfort zone and explore the nightlife in Gay Jeddah, but remember to do so as a non-queer traveler. Enjoy the city's nightlife while respecting the local culture and avoiding any displays of queerness or same-sex activity in public.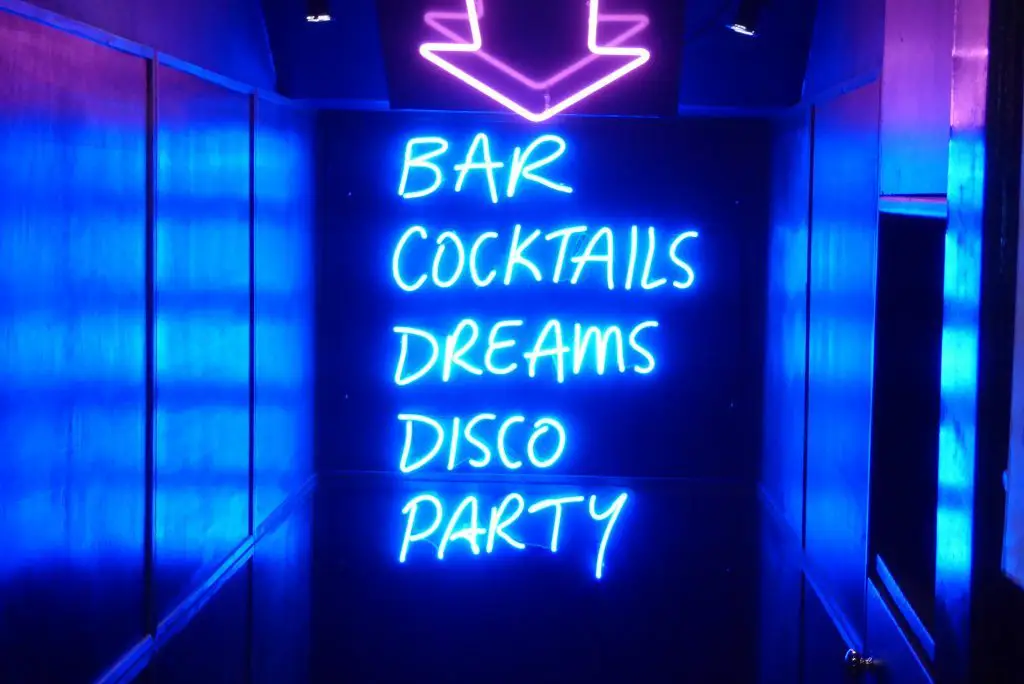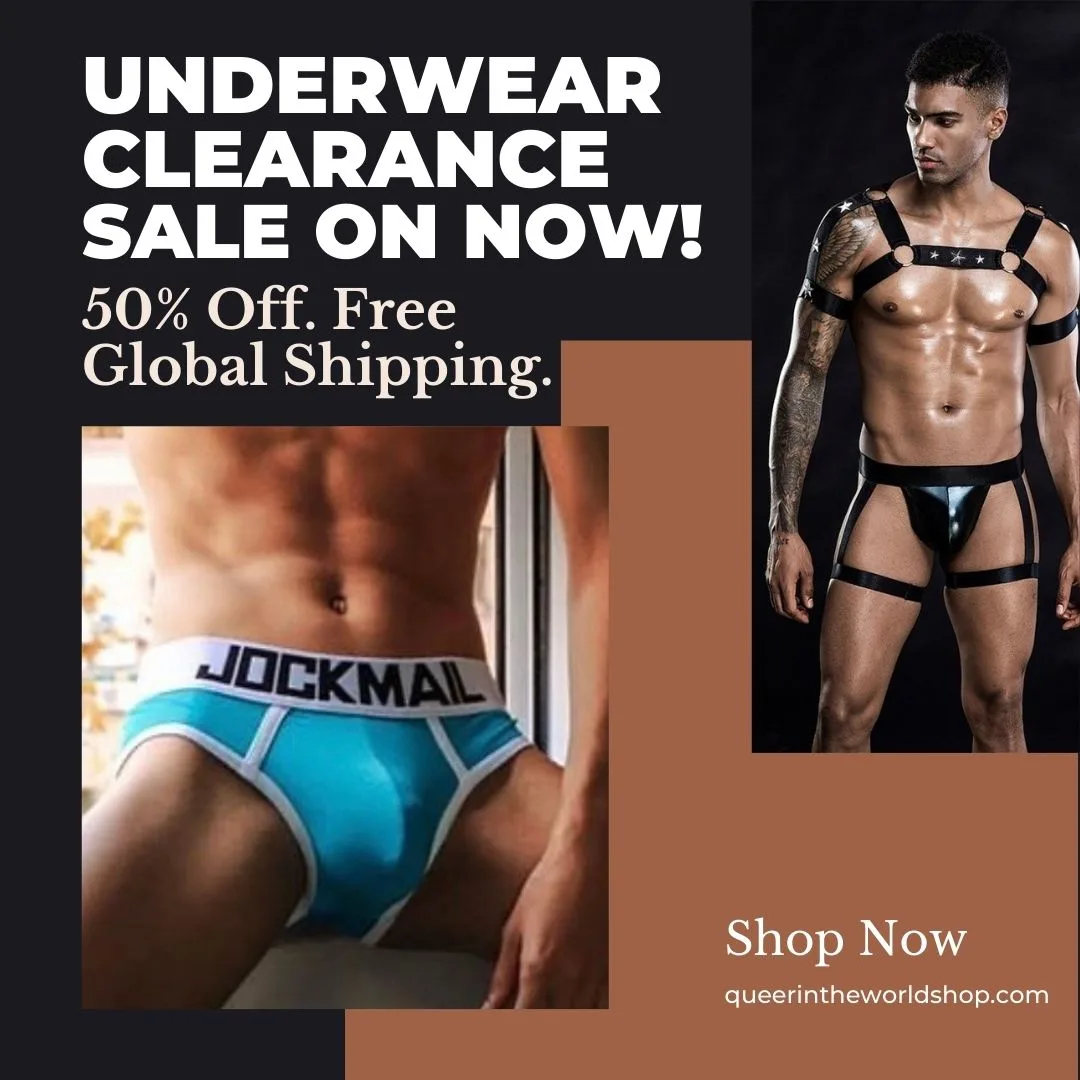 When visiting Al-Shati District's North Corniche, don't forget to stop at The Comedy Club, located in AlShallal Theme Park.
The Comedy Club, one of the first entertainment centers dedicated to living comedy performances, features stand-up comedy shows, improvised shows, band performances, live music, speakers, talent shows, and magic shows, all of which are located near the sea and invite you to live an unforgettable experience amidst audience laughter and enjoyment.
Purchase your tickets and prepare for a night of fun. Check out their YouTube channel to see their monthly program schedule.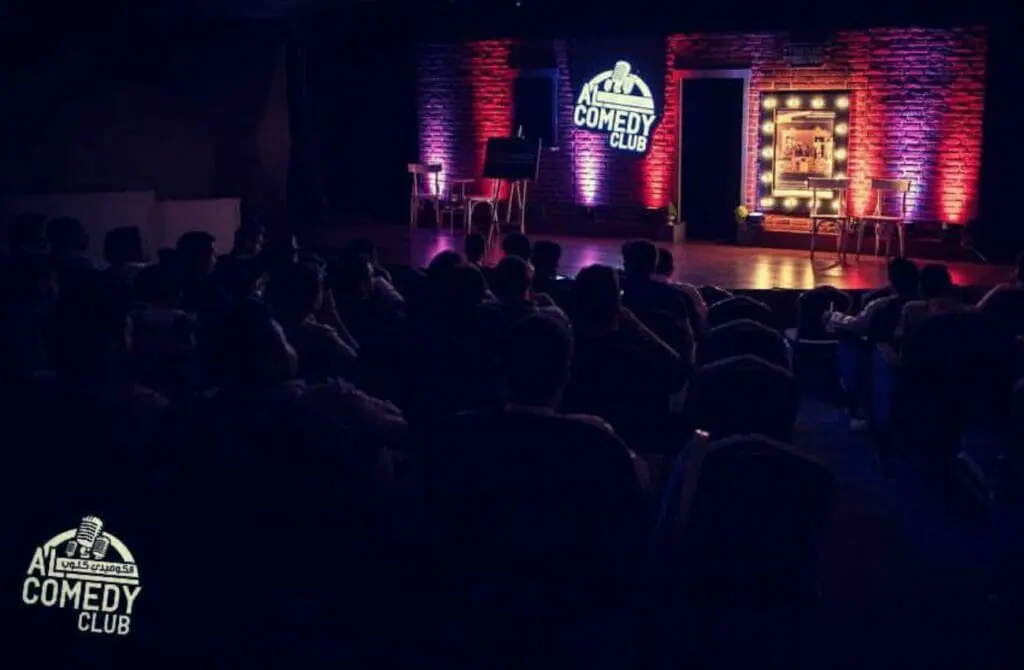 Gailah Hub is a freshly opened pop-up café in Jeddah that provides mouthwatering Masoud (a banana bread pudding), revolutionizing social events. You may experience Jeddah's evening scenes by visiting this new pop club.
It is held at various sites throughout Jeddah, and the details for the upcoming hub may be found on their Instagram feed. You can have your best nightlife in this pub with its cozy marketplace festival feel, with live music, Adani tea, art, and their famed Massoub.
The Red Sea is a famous tourist destination among the city's contemporary commercial malls. This trading center offers a wide range of merchandise. Luxury apparel and accessory boutiques, numerous jewelry stores and perfume shops, interesting souvenir shops and antique shops – you could easily spend an entire day admiring the gleaming displays of this massive shopping mall.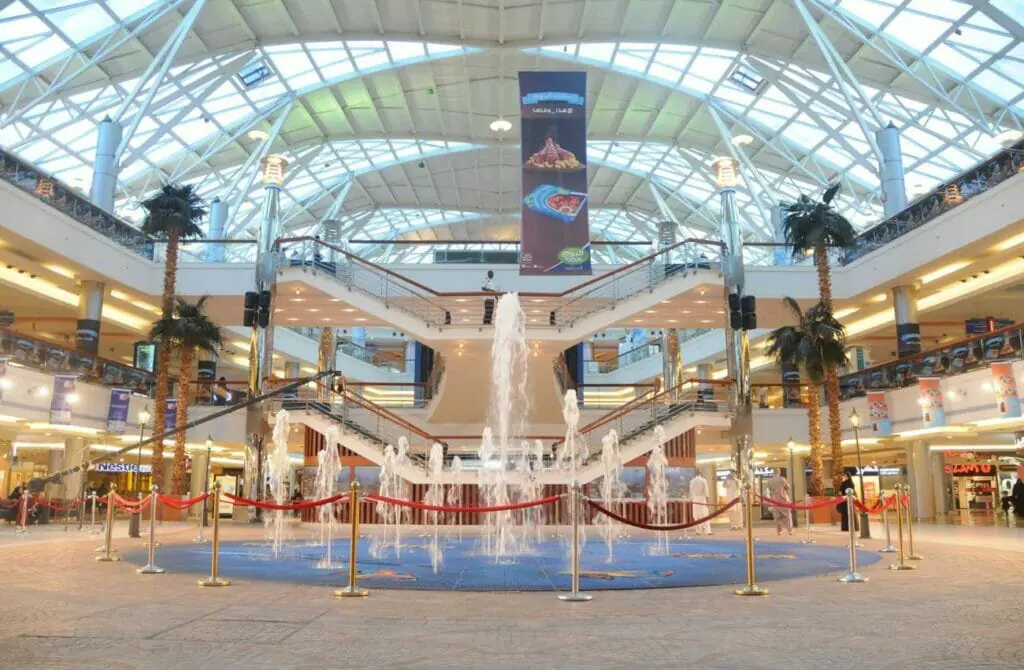 Titanium Café serves you coffee and tea, as well as various snacks and comfort food, and it is mostly a shisha café. Friends congregate here to spend an evening together around a hookah, savoring the unique flavors on offer, the favorite of which is the special double apple, which employs ice to keep the smoke cool.
Mall of Arabia, one of the city's main shopping centers, provides a wide variety of products at relatively reasonable costs. Several times a year, the center hosts a variety of exciting deals during which visitors may acquire clothing from major brands at extremely low costs.
This mall is a famous shopping, dining, and entertainment destination for Jeddah residents. It has everything customers need regarding restaurants and shops, including international names and smaller boutiques.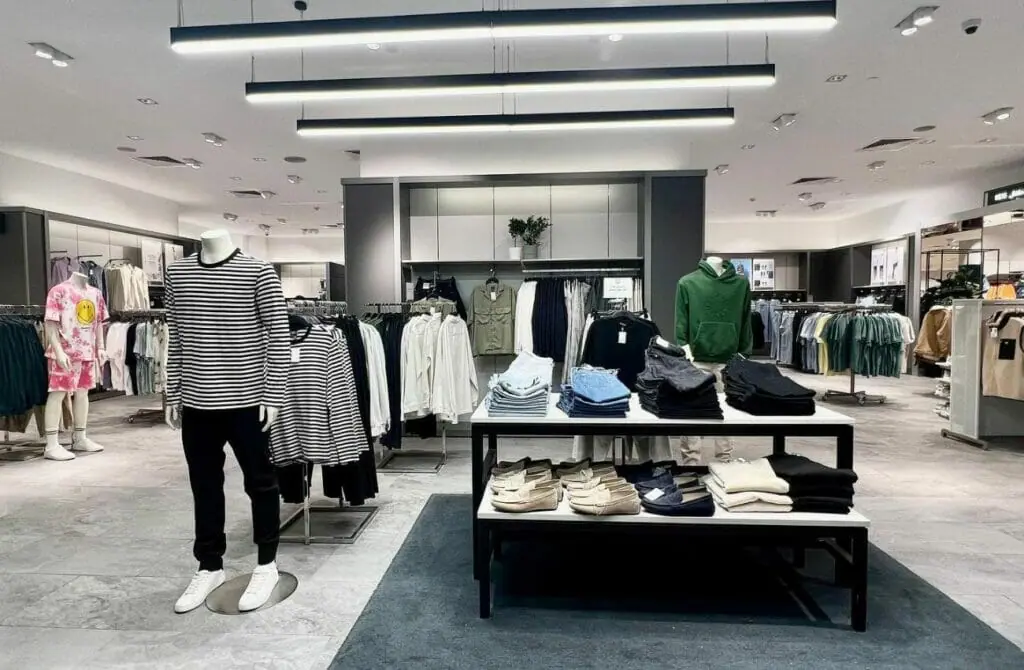 Adani Bar is well-known for its nostalgic ambiance, which brings back memories of gathering and feeling at home. The Adani bar's pleasant ambiance allows guests to sample the bar's sweet and aromatic Adani tea, made with condensed milk and cardamom cloves.
Among the many reasons for the restaurant's appeal is its fascinating menu. The motif that characterizes Adani Bar and its brand identity on social media and in the public eye is "The Chair," which is adorable in itself.
Papaya has a reputation for being a little pricey, but once you step inside and order, you'll understand why. The coffee is wonderful and fresh, but the food is the true draw here. The menu is extensive and diverse, with a focus on hearty breakfasts.
The restaurant has a large and delightful seating space with a beautiful environment and extremely friendly and enthusiastic staff. Because the roof is all glass, you have the impression that you are dining outside under the stars. This upscale restaurant is on Ahmad Al Attas Street in Jeddah.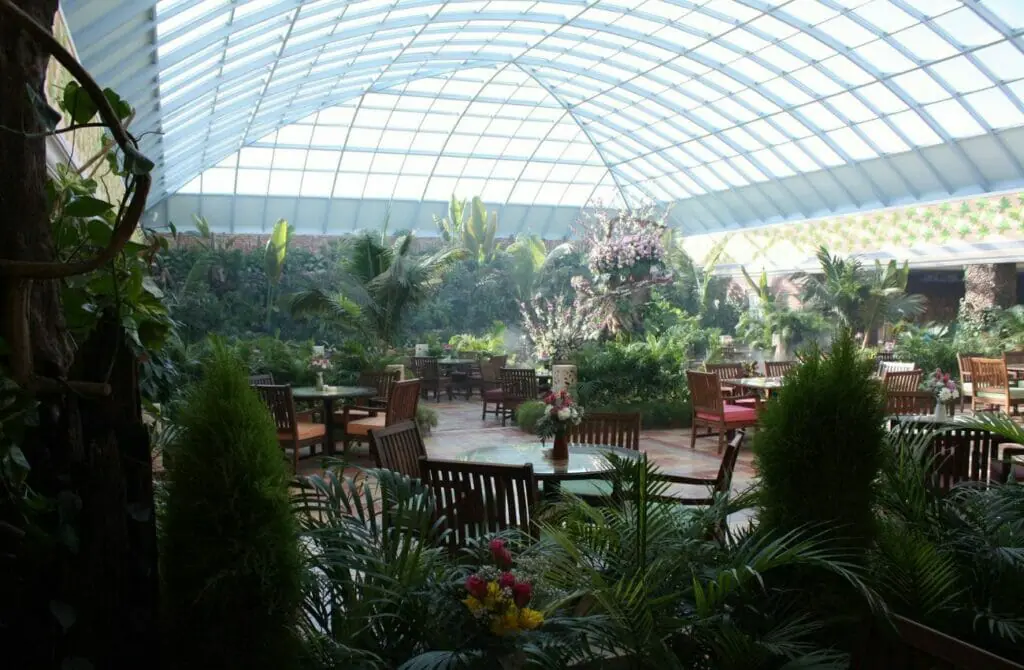 Gay Map Of Jeddah
Finding it hard to envisage where everything is in Jeddah? Hopefully, this queer-centric map helps where we have marked all the bars, clubs, parties, hotels, saunas, massages, and more will help you stay in the spot best suited to you!