When night falls and the curtains are drawn, when all your clothes come off, and you are left with nothing but your underwear, is there a moment where you begin to second guess yourself? Are you worried about the state of your underwear? If you fall under the percentage of men who struggle with ways to spice things up in the bedroom, or you simply want to increase sexual appeal, then you are in for a treat.
To help you find the best PUMP! underwear, we have created a list of our current favorites there is in the market to get you inspired. Before first, a little intro to PUMP! underwear.
PUMP! underwear is one of the world's most well-known gay underwear brands, with headquarters in Gay Montreal. They are known for combining a sporty vibe with entertaining fashion trends and bold ideas. And while we know them as a gay underwear brand, they prefer to keep their demographic broad, endeavoring to appeal to all crowds with their underwear.
PUMP! Underwear collections often have an aesthetic that revolves around youth, fitness, and athletics; however, they are for anyone who wants to stand out with striking use of intrepid, eye-catching color contrasts that sets them apart from other, more generic underwear designs and styles.
The PUMP! underwear line challenges expectations, not just in terms of style, color, and appearance, but also in terms of fabric usage. PUMP! takes pride in carefully selecting fabric, and they frequently have customized fabric created for their underwear. PUMP! maintains that underwear should "feel natural and comfortable while being durable and of the finest quality."
We will stress again, though, that while PUMP! Underwear designs trendy athletic underwear, you don't have to be an athlete to wear them, and everyone should feel comfortable and sexy in their unique designs and styles.
Excited? So are we. So, without any further ado; let us introduce the 15 Best PUMP! Underwear Options To Make You Feel And Look Sexy AF!
This 'brief' piece of PUMP! clothing takes the style pattern of the sporting jockstrap, but unlike the original jockstrap, it has been created to set the sexual tone and not protect the genital. It is a blue steel jock pump with an open behind, showcasing the buttocks flattering.
Easy to wear, comfortable to move around with. It is a mix of freaky and frisky with a healthy amount of sexiness put together. The contour pouch is made up of a lightweight material called mesh. Mesh material allows for breathability. The blue steel jockstrap is 64% nylon, 19% cotton, and 17% spandex. Machine wash with colors and tumble dry.
Seductiveness does not have to be uncomfortable, and this Pump! jockstrap somehow manages to offer both the snuggly and desirable feeling.
The orange color sets a tone for this PUMP! underwear as it invokes a refreshing and daring feeling all at once. This perfect blend of athleticism and alluring wonder somehow manages to unlock the passion embedded in the backless, jockstrap-like design. Its low rise fit, which sits well below the waistline, takes things up by a notch as it is a subtle invitation—a hint at what is to be unfolded underneath.
The supportive contour pouch with its contrasting stitching and piping provides more of some measure of lift to your genitals by taking it out front making your penis more visible to the viewer who happens to look at your crotch. It is 84% nylon, 16% spandex, and is safe to machine wash with like colors and tumble on a dry low.
Shockwave jockstrap-styled underwear is bound to make you feel sexier than you have ever felt before. This blue-green hue sensation is an appetizer to the main meal.
It gives you the emotional boost you need to add zest during foreplay. It highlights the bulge of your penis, making the crotch look firm and seductive. It is a fabulous panty-designed, backless neon green mesh cup with blue piping. In addition, its elastic waistband will always give your waistline a comfy feeling.
It is made up of 64% nylon, 19% cotton, and 17% spandex.
Can you picture it? Wearing briefs that cover your sexy behind, showing off the chiseled structure in an enticing way, wrapped in a bubbled of surprise. Who says surprises can't come in different packages? Get yourself these brief-styled low-rise pumps resting just below the waistline. This navy and white patterned underwear comes with a soft and stretchy ribbed mesh fabric that allows for flexibility and breathability fit—a supportive double-ply contour pouch layer.
No more feeling tight pressed between your thighs because the hemming at the edge gives a snug texture. The girth of this brief is elastic with a PUMP! logo broadly displayed for all toe see and is 73% nylon, 19% cotton and 8% spandex.
Do you want to dance in your room, slowly and sexily for your partner like you see people do in the movies, or you already do, but there isn't enough oomph? The combination of red and black does together creates ensures you will be a ferocious, unattainable, desirable demi-god …capable of a sexy dance that would delight and titillate anyone who was lucky enough to see you in them.
Men's scorpion red and black colored brief style underwear is a low-rise fit, which sits somewhere between the abdomen and the waistline. It has a supportive contour made from black cotton material and piping around the edges. The red design runs from the hips to the butt area—but in case you were looking for it, there is no backless opening on this design unlike many of the other best PUMP! underwear on this list.
With this PUMP! brief less truly is more. These cany briefs have been hemmed at the edge by blue piping, which makes the white layout of the fabric pop out.
Low-rising below the waistline, its elastic band body, carries the pump logo. The contoured part of this brief is made out of mesh which is a breathable material. Made up of 64% polyamide, 19% cotton, and 17% elastane, cold washing is what the fabric needs to be kept in good shape.
The power of subtle seduction is unlocked in one underwear. Brief candy is perfect for long use as it promotes airflow, which keeps you refreshed at all times.
Made up of elastic material around the waistline, the lemon drop pump is a mash-up of posh and spunky with its turquoise contour pouch faux flying stitching and side piping. This brief tailored underwear has a yellow design that travels from the hips area down to the backed derriere. The low-rise fit falls slightly below the natural waistline, a point just above the butt and beneath the hips.
It is made out of cotton material, perfect for absorbing sweat during high temperatures. The waistline has the PUMP! Logo boldly written on it. Its somewhat modest outlook still does the job of making you feel/look cozy and appealing. It is 96% cotton and 4% spandex.
Sporty and hot. This pump military access backless trunk-styled underwear has a supportive black pouch that allows for easy breathability. The side is piped with contrasting stitches, and a low-rise fit falling just below the natural waistline.
The apex of this underwear is the backless derriere designed. This black-green pump has an outdoorsy appearance to it, with a large dose of attractive goodness dripping from top to bottom. At the waistband is the PUMP! Logo proudly displayed.
This beauty would not be complete without the elastic bands around the leg openings. So, if you have experienced the discomfort that comes with feeling cramped in your groin area, then this is the pair of underwear for you. It is 84% nylon and 16% spandex.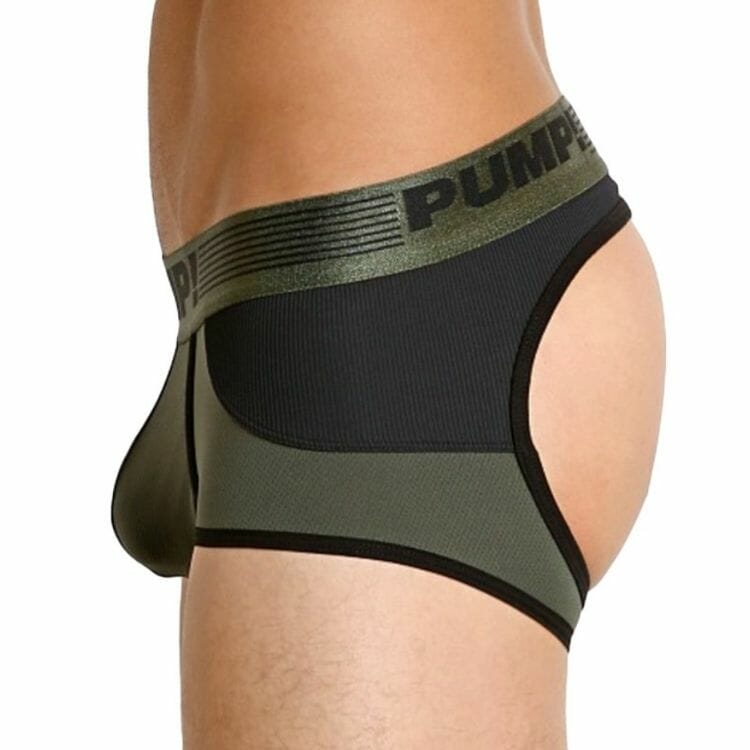 Play green jockstrap is a stunning pack of surprises with its backless behind showing off those butt muscles. The lustful drip is eternal with its blue piping at the sides of the black contour pouch together with the contrasting green stitches at the middle, which runs from the center down to the end.
The micro-mesh cup is lined with stretch cotton holds you up with the help of a form fitting cup. It is 78% nylon and 22% elastane.
There is a sporty, slutty look to this brief-styled underwear. With no backless strap, the derriere area is covered in electric blue, which blends well with the green design of the front view. The neon green contour pouch helps to take things up a notch by giving firmness to the penis. The subtle attempt at making this pump attempt fashionable was successful. Everything about it is bold and bright, even down to the last detail like the stitches that are in through the pouch.
Frequently, you make a purchase under the impression that it will automatically transform you into the model featured on the internet. While these aren't miraculous briefs, you'll enjoy how they make you feel and how they make you look: firm enough to capture someone's notice, but still quite comfortable!
This boxer-styled PUMP! underwear hugs your body in a snugly way which highlights your chiseled butt muscle. It is a mixture of black, neon green, and electric blue, but the black runs through from the front view to the butt area leaving just the edges for the neon green and electric blue. Just like the rest, the wide elastic waistline has the PUMP! Logo is written in blue ink. Colored baseball stitched cup that holds you perfectly in place without feeling cramped, elastic legs, low-rise fitting, and so much more with this play green boxer.
Even better? It is 94% cotton and 6% elastane for that comfortable and form-fitting feel.
Black contour pouch with blue stitching that runs vertically through the center. Low-rise, falling below the waistline. The PUMP! logo is written in black ink on the blue waistband of the jockstrap, backless style underwear.
PUMPPanther !'s Jock is a striking style that will show off your adventurous side. This body-hugging low-rise jockstrap is constructed of a stretchy cotton fabric. It has a sturdy contour pouch with vivid blue piping and a straight center seam. The elastic leg bands contour, accentuate, and raise your bott while allowing it to remain exposed. The standout component of this underwear is the wide, elastic waistband in a vivid, lively blue.
It is made up of 94% stretch cotton fabric and 6% spandex.
Brief styled classy white underwear with a waistband carrying the PUMP! logo which is written in black ink. A supportive pouch made from a soft, breathable mesh keeps you feeling comfortable all day long.
A highlight of this design is. the elastic legs that keep things in proportion while lifting and making you more noticeable or prominent. And, you have that all-important low-rise fit, falling below your waistline. These upscale but simple white and black colored briefs are made up of 64% nylon, 19% cotton, and 17% elastane.
Aquamarine boxer length, trunk styled length with a touch of black around the edges. The color combination is a soothing mix of aquamarine and black, with a low-rise sitting below the natural waistline.
The exposed elastic leg openings are hemmed with black piping, likewise the contour pouch around the edges. What makes this one of the best PUMP! underwear options is the fusion of sportiness and desire.
64% nylon, 19% cotton, 17% spandex.
Jockstrap underwear with a low-rise fit just below the natural waistline and a backless behind that draws attention to the pink waistband and the PUMP! Logo is written in white ink.
This blue panty-sized desirable piece of clothing is a must-have to set the tone for when you go freaky in the bedroom. You can picture it, butt exposed, contour pouch to lift and give firmness to you.
64% nylon, 19% cotton and 17% spandex.
Red and black panties styled underwear, with jockstrap design and no covering at the behind, but for the waistband carrying the PUMP! Logo, sitting just below the natural waistline, is an exotic, seductive instrument.
And if you aren't seducing, then there is the assurance of long-lasting comfort due to the mesh material it is made out of. In case you are wondering what mesh is, it is a material made of a network of threads. That is why you have freer access to air, unlike other underwear that is unpleasant to wear for long hours.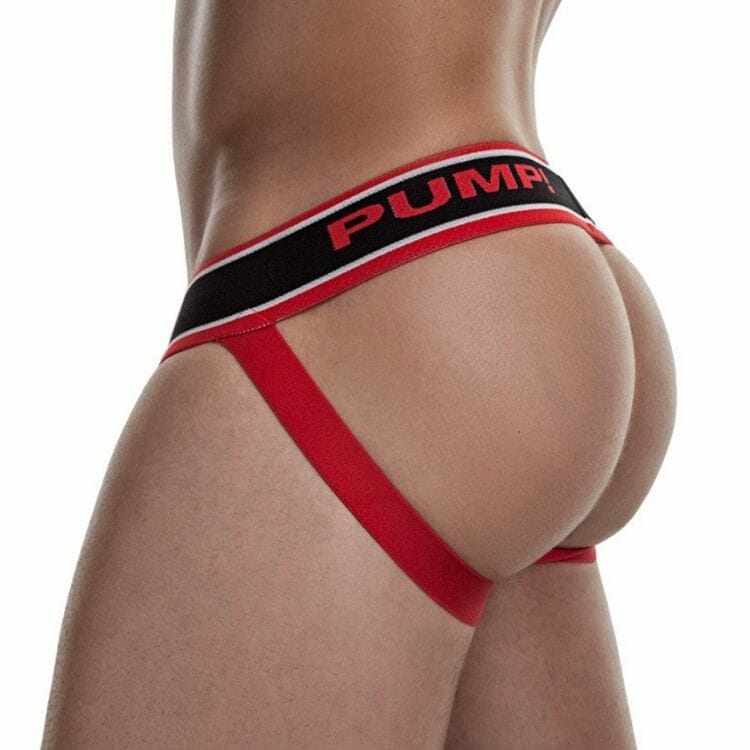 This is an athletic, sexy look trunk-styled underwear with a built-in mesh sides pocket. The lack of a backless strap covers the derriere area in a military green and orange colored design. The orange color starts from the groin area of this boxer-length underwear and ends a few meters away from the swell of the ass.
You will love everything about this and will also agree it is one of the best PUMP! underwear available, from its dark and bold color mix-up to the PUMP! Logo display which is written in white ink at the waistband.