Think of hedonism, history, and hipsters combined, and you get the glorious city of Berlin. Anything goes in this wild and wonderful capital; you're more likely to see a man in a leather skirt on the U-Bahn at 8 am than you are to see a man in a suit and tie, and we are here for that.
By day you can explore the rich history and culture the city has to offer; walk along the East Side Gallery, climb onto the roof of the Berlin Cathedral, stroll along Unter den Linden before grabbing Kaffee und Kuchen somewhere. By night, who knows? Great adventures await once the sun goes down in Berlin.
And NO!… We are not just talking about dark rooms (though if you are curious, read up on your gay sauna etiquette in advance..)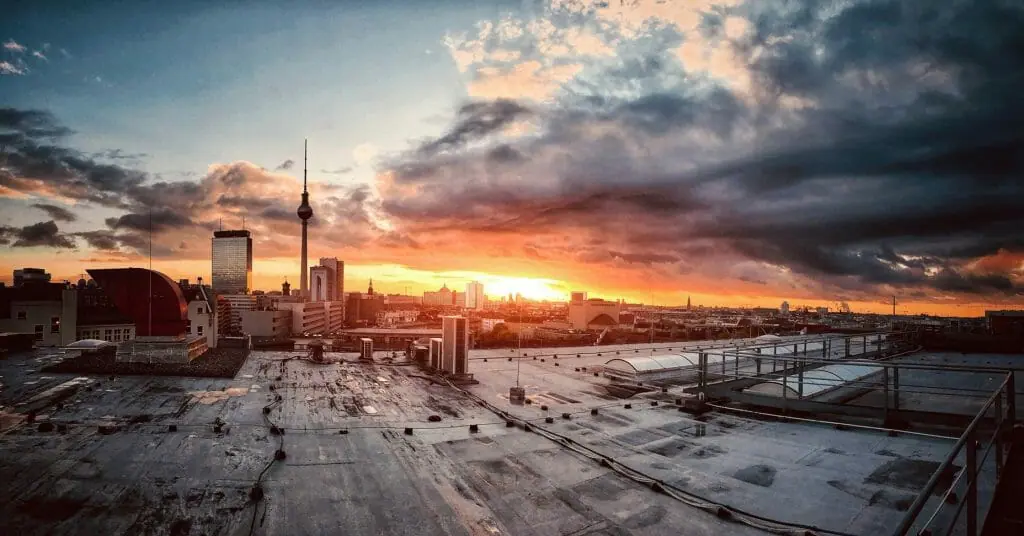 There's a long history of openness in Berlin, despite repression in Nazi-era Germany. In 1920s Weimar Republic, Schöneberg saw the establishment of the first gay village in the world, and it's still the heart of Berlin's gay scene, although gay culture is so widely accepted that you'll find a gay scene everywhere.
Everyone will have heard of Berghain, with its strict door policy, dark rooms, and sexual permissiveness. If you're feeling even braver than that, head over to the caverns of the KitKat club for scenes, you won't ever see again. Otherwise, there are plenty of gay clubs and bars in Schöneberg to get to know the locals in; go to Betty F*** Bar's for a very different form of drag show. You won't find the glossy Drag-Race inspired performances of San Diego, Miami or Chicago here!
If hard-core partying isn't your scene (or you just need a rest day), then there's a Queer Walking Tour, the world's first queer museum and lots of queer bookshops to discover. And of course there's a fabulous Gay Pride, called the Christopher Street Day Parade – one of the best Gay Pride festivals in the world; there's even a Berlin leather fetish week.
Want to know more, our full guide to the insanity that is Gay Berlin is now live…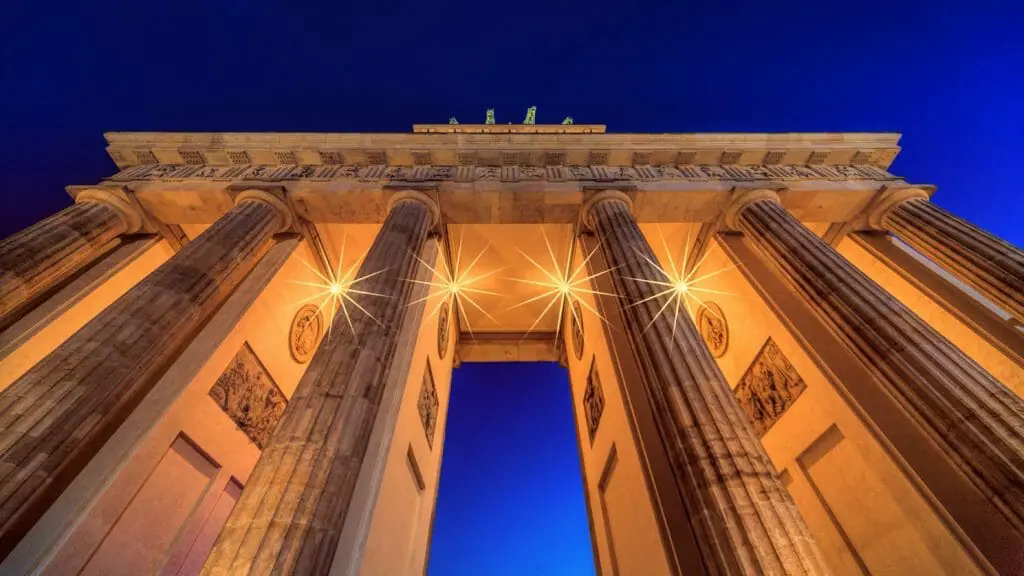 With all this gay fun to be had, it won't surprise you that Berlin is one of the only cities that has an exclusively gay hostel called… Gay Hostel. So no room for confusion there! If you're a traveler on a budget who prefers a bit more of a mixed crowd, there are plenty of other fabulous gay-friendly hostel options to choose from.
So you'll have somewhere to sleep during the day after partying until 10 am, or to at least wash if you end up having a sleepover after using those addictive gay travel hookup apps…
Now just between us girls, here are our favorite almost-gay hostels in Berlin that are popular with gay travelers. YAS GAWD!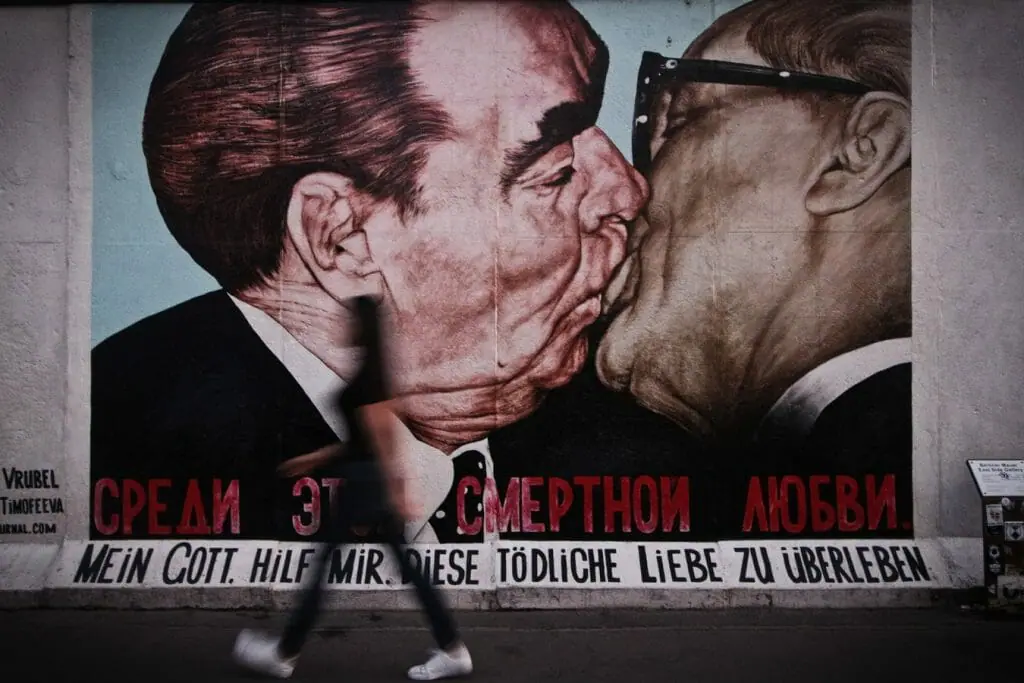 In this article we will cover...
As you can imagine from the name, this hostel wears its heart on its sleeve. A fun-loving, rowdy hostel perfect for gays who want to experience all of the joys Berlin has to offer.
It might not be the most modern or designer hostel on this list, but it more than makes up for that with its intimate atmosphere and welcoming staff. Located in the heart of Schöneberg, there's plenty of gay nightlife to explore and staying there means you'll find just the playmates to do it with.
The hostel will even offer you a Hostel-Pass that gets you exclusive offers and discounts. Stay in simple but comfortable shared rooms and get to know others in the lounge area or the sauna. Be aware that there's an age limit of 38. Enjoy!
If this doesn't quite tickle your fancy, check out some of the other options below.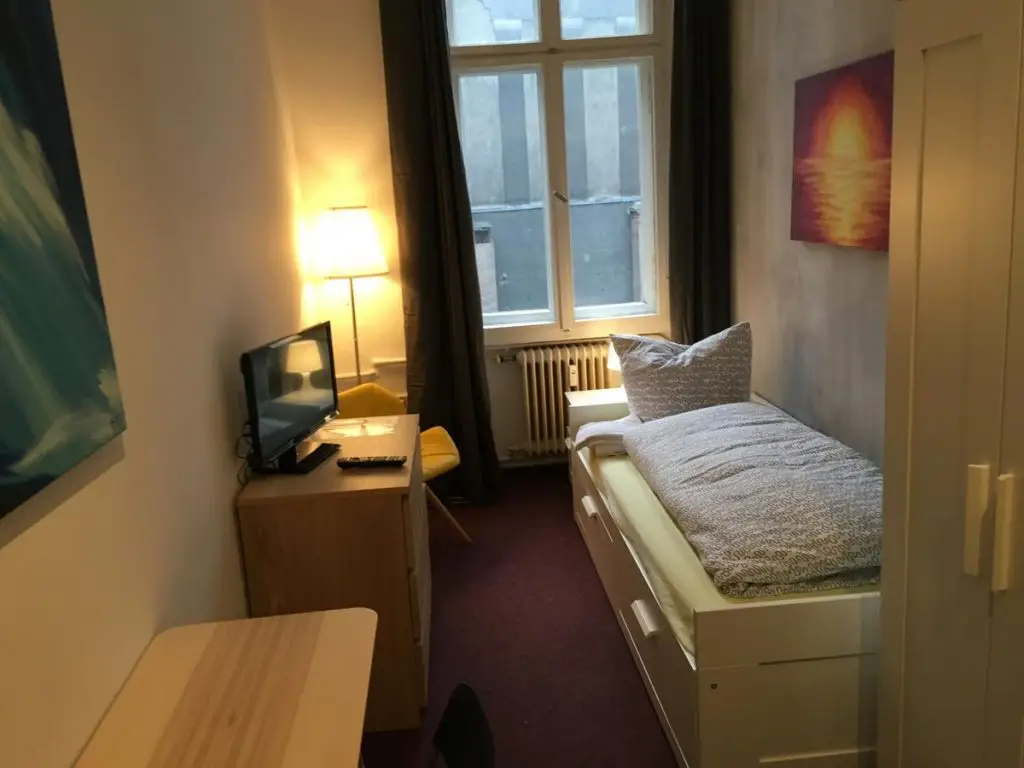 Positioned in Berlin's vibrant gay quarter, this basic hostel offers a space exclusively for young gay men- and is only a 5-minute walk from Nollendorfplatz square and its underground station.
The brightly furnished rooms of the Gay Youth Hostel are somewhat dated, but we loved the location, helpful staff and a sociable living room to meet other gay men and see where the night takes you. Beds were comfy, and the facilities were exceedingly clean + unlike more hostels in Berlin, it is very quiet at night, maybe because all of us queers are out partying the night away?
If you want to stay gay, cheap and have the fab gay scene of the Schöneberg district right on your doorstep, this is the gay Berlin hostel for you!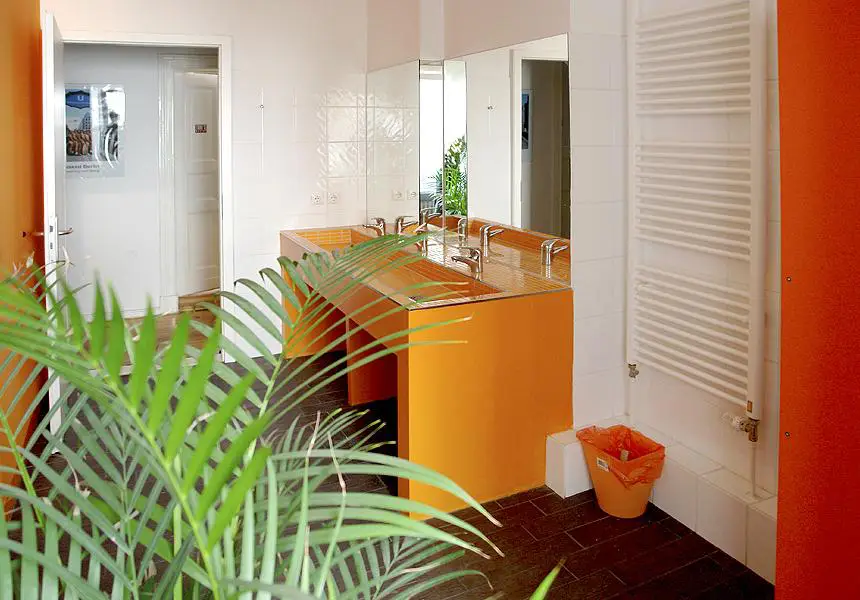 It might be a bit off the beaten track, in Moabit, but it's near the central train station, and the striking design makes it one of the more fabulous popular gay hostels in Berlin. We love the monochrome décor with mustard yellow sofas, and the exposed concrete walls.
There's a true Berlin feel about both the interior design and the location; the café is oh-so-hipster but with great coffee and sweet treats. Book a private room to enjoy a bit more space or get to know new people in the dorms. Rent a bike and cycle to the sights – a little exercise never hurt especially if you are trying to stay fit while on vacation!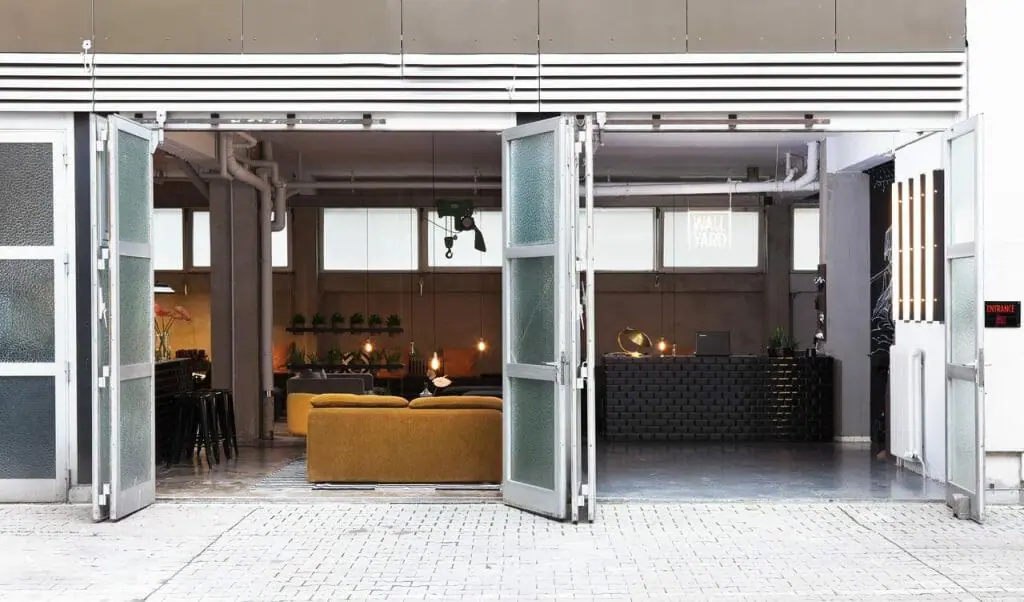 Located in leafy Prenzlauer Berg, this relaxed hostel continues the green theme with its décor inside. Butterflies adorn the walls, furniture is made of natural wood, and there's a lush garden where you can get to know fellow guests.
The rooms are basic, but bright and practical. Stay in a multi-bed dorm (4 or 8 people) or get a private room – you can even get a single private, which is unusual and makes it particularly suitable for gay solo travelers who want to meet people, but not listen to their snoring!
There is a vast list of facilities including bike rental, maps and recommendations, laundry service, BBQs and an all-you-can-eat breakfast washed down with good coffee. What really got this onto our list of (almost) gay hostels in Berlin, however, is the amazing atmosphere. The staff are friendly, and it's the perfect place to chill out.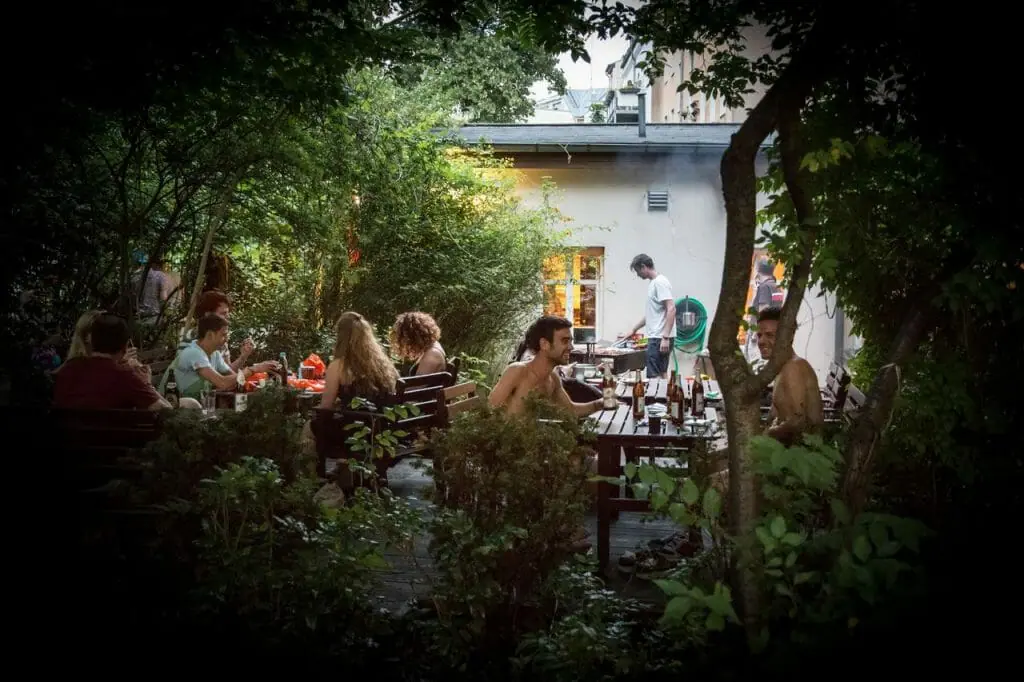 Right next to the East Side Gallery (and extremely near Berghain), this Friedrichshain hostel offers the facilities of a hotel combined with the value and sociability of a hostel. All of your needs are catered for with a swimming pool and sauna, courtyard garden and gorgeous bar and restaurant.
All of the rooms are en-suite, whether you're staying in a 2-bed, 4-bed or 6-bed dorm or a private room. The building is a neo-gothic converted school for fashion design, and the vibe is suitably artistic. It's definitely a good place to stay if you're in Berlin for the nightlife – they'll even give you a welcome shot to get you started!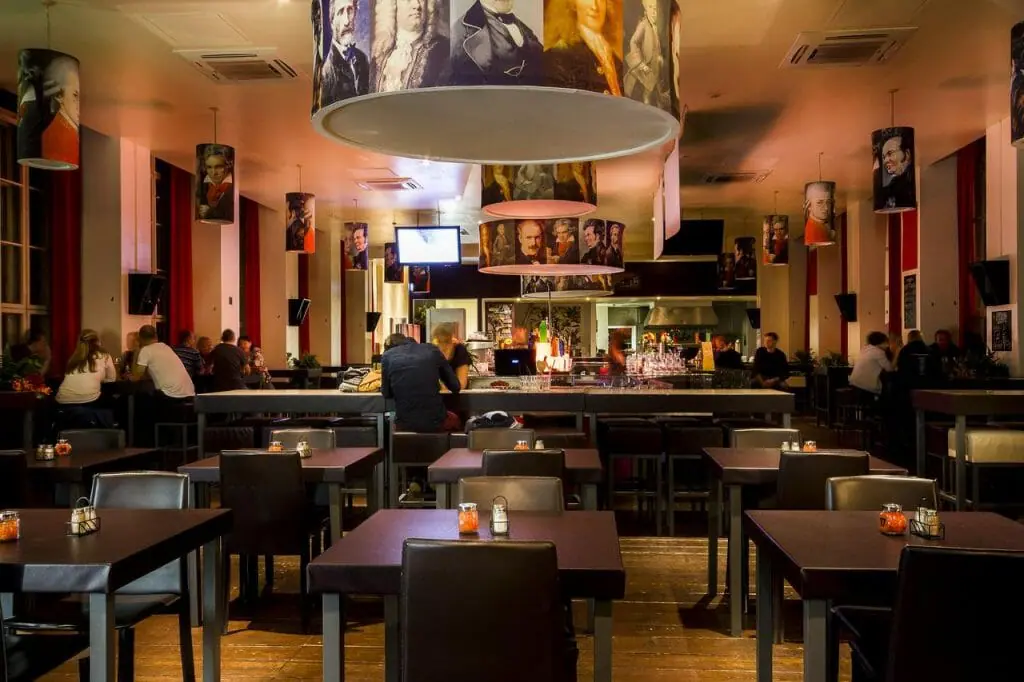 It might be tiny, but it's got an enormous heart; this welcoming hostel is located on the banks of the canal in the heart of Kreuzberg, near plenty of great coffee shops, cozy bars, the weekly Turkish market and some of the best ice-cream places in the city. Staying in Kreuzberg is a great way to experience life as a Berlin local.
The rooms are bright and spacious, whether you're staying in the six-bed dorm or in the apartment next door. Enjoy free tea and coffee, kitchen access and bike rental (the best way to see the city). The team here are friendly to everyone – one of the reasons it's on our list of gay hostels in Berlin. Although of course as Berlin is one of the worlds most gay-friendly travel destinations we would not expect anything else!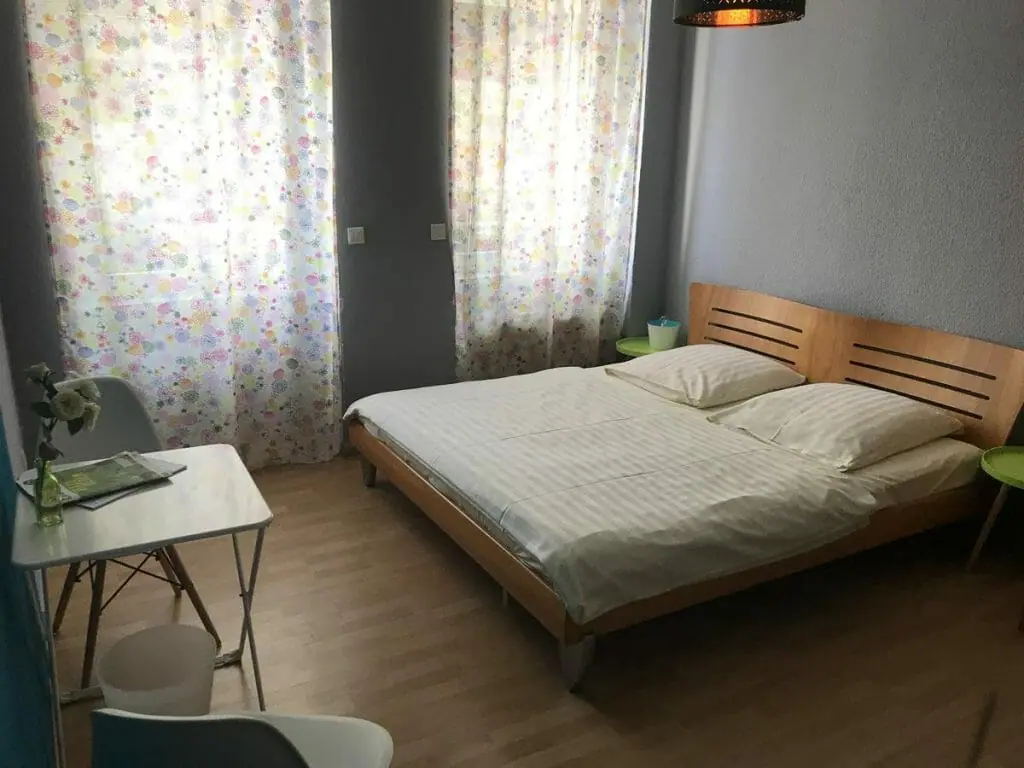 This hipster hostel, with its exposed brickwork and muesli at breakfast, is actually part of an old brewery that is now a cultural center, complete with studios, restaurants, and galleries; does it get any cooler than that? There's always something happening in the communal areas, which can make it sometimes hard to leave!
If you're more into the design side of the city than the wild gay nightlife (that's OK, too!), then this artistic space is the place to stay. The beds are incredibly comfy, and all of the ones in the 4, 6 or 8-bed dorms have their own locker, power socket and light. The private rooms have uniquely designed furniture.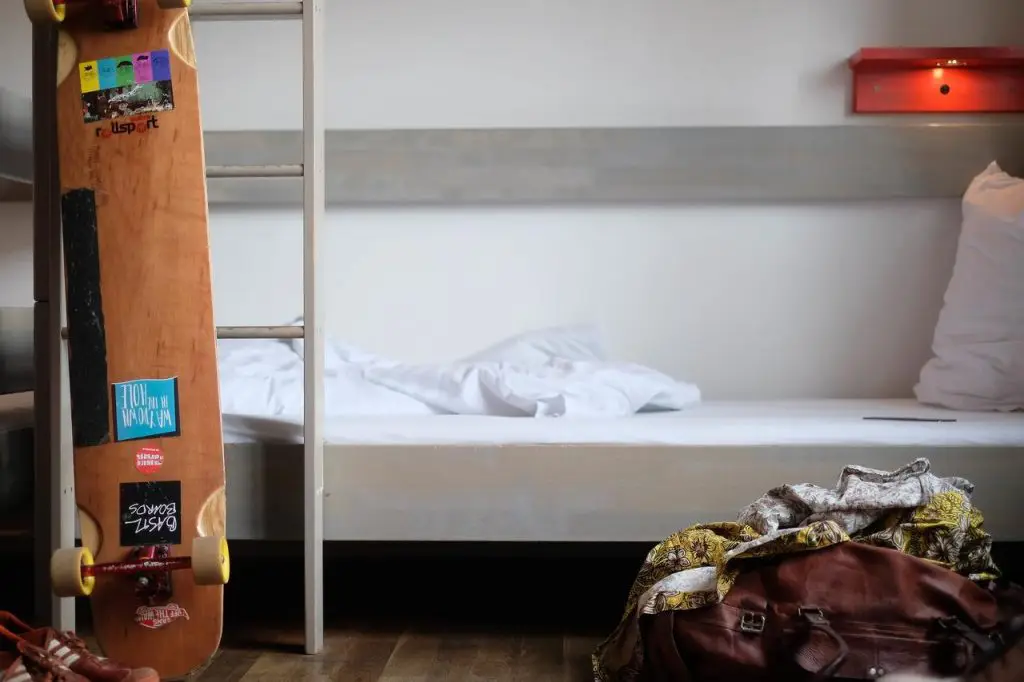 Unsurprisingly, MINIMAL offers sleek and practical design with no unnecessary frills or decorations. It is still an extremely attractive hostel, with a very 'Berlin' feel. Wooden furnishings and brilliant white bedding make it a peaceful and soothing environment to relax in (or recover after a big night out!).
There is a range of 6-bed dorms and some more luxury double private rooms. All bathrooms are shared but standards of cleanliness are high, and you won't find yourself waiting in a queue.
It's also located in the trendy Kreuzkölln, so there's plenty to keep you busy, but MINIMAL itself is the ideal venue for people who want to limit the partying to outside and find some quiet time when you're in the hostel.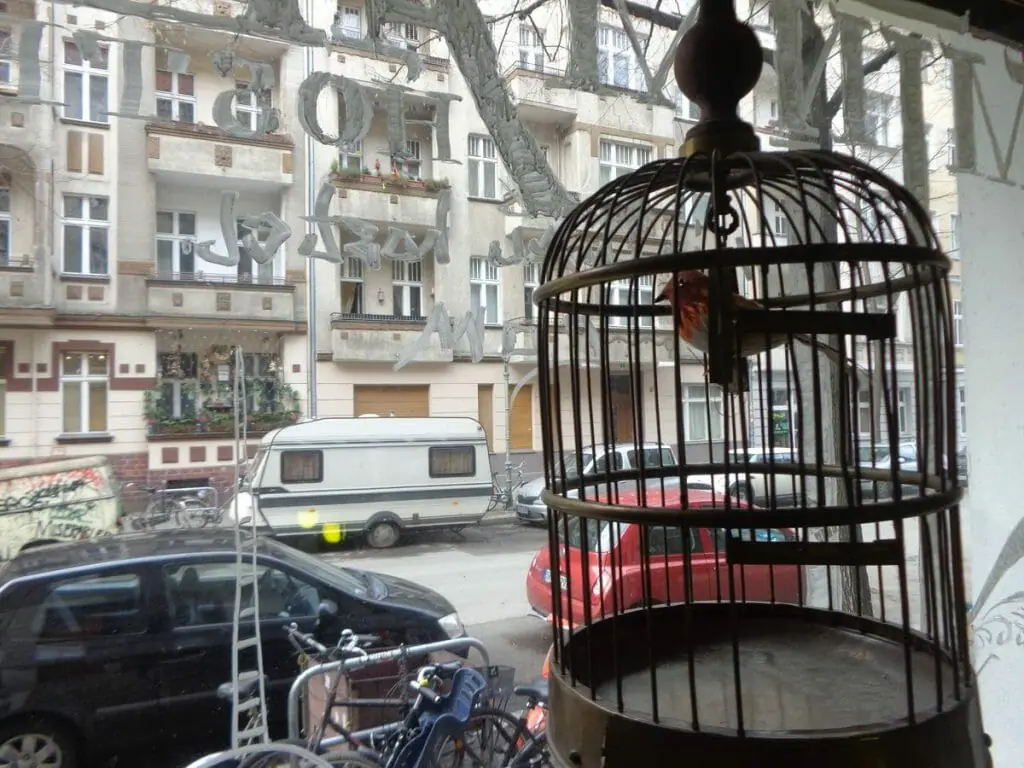 With attractive and quirky décor (yes, pictures of cats are sometimes involved) and good connections into the city, The Cat's Pajamas is fast becoming popular with gay travelers who aren't just after the Berlin party experience.
Dorms sleep up to 8 people; alternatively, there are single, double and twin private rooms. The open kitchen and dining area is bright and sleek, and there's a games room for some fun with other guests. Its location in Neukölln is ideal for people looking to explore the lesser-known side of Berlin.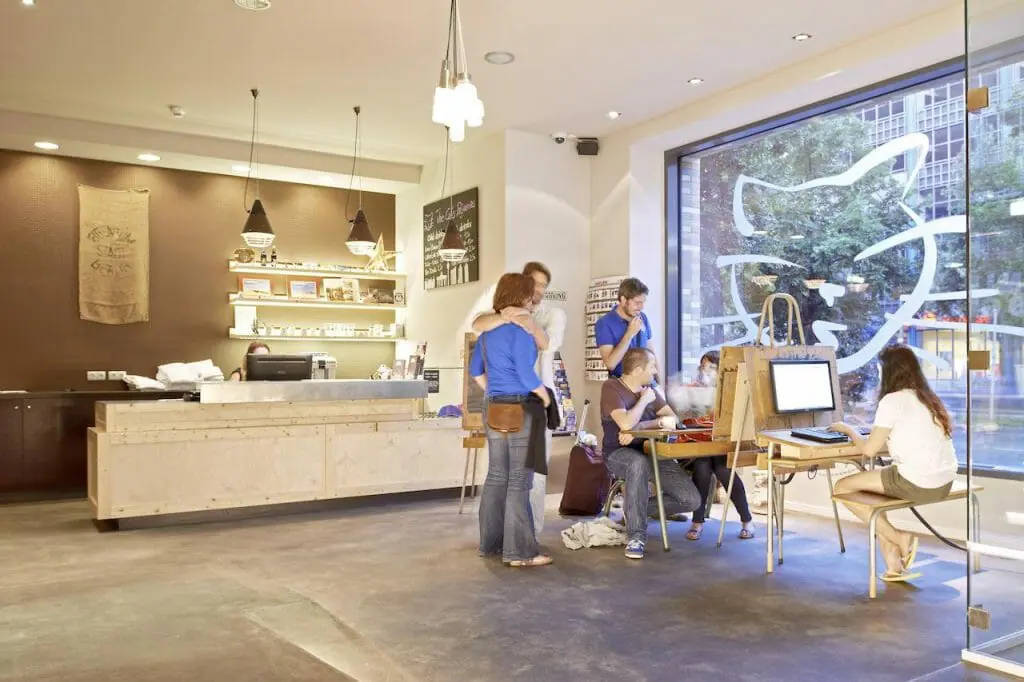 This mammoth hostel fully embraces the live and let live vibe of its surrounding area – guests are welcome to relax in the lounge, cook in the kitchen or head out all night and only just make it back in time for breakfast. Gay travelers will find the same warm welcome that everyone else does.
The rooms have the funky industrial style familiar to Berlin, and we love the coziness of the bunk beds. There are excellent views from some of the rooms as well. There's plenty of space in the bar to invite all your new friends for a beer, before heading out to explore Friedrichshain.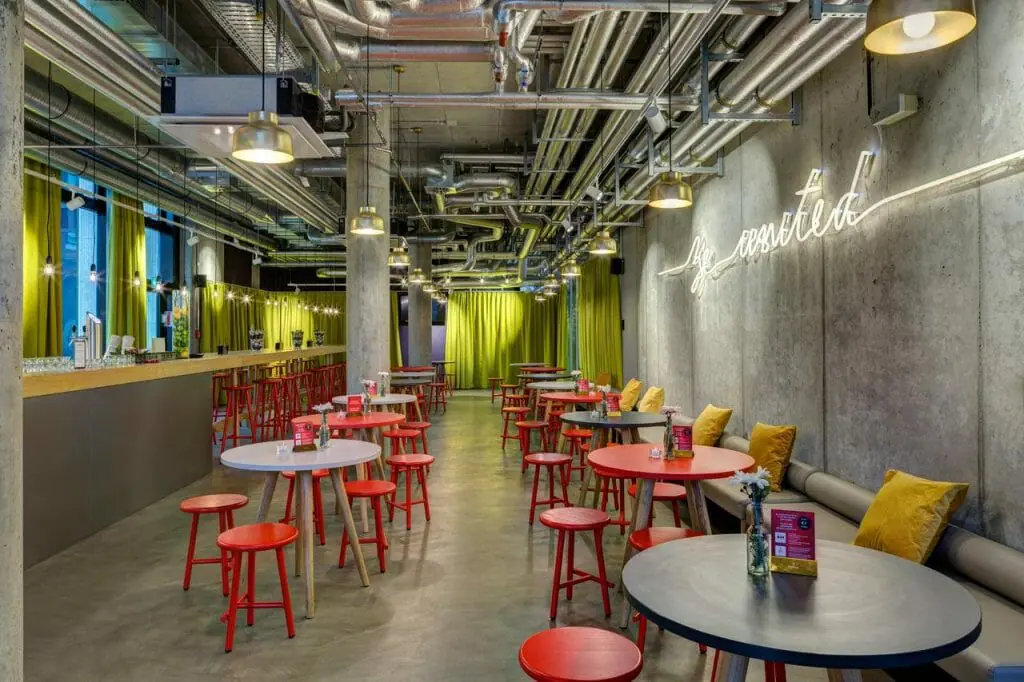 Stay slap bang in the center of Berlin at this Generator in Mitte, the perfect location for sightseeing, culture and partying till dawn. And that's without even leaving the hostel!
The bar is one of the best in the area with a wide range of drinks and club nights. When you get tired of that, head up to your room and snuggle into a comfortable bed; make the most of the free Wi-Fi by Instagramming your night before nodding off! Both the rooms and the communal spaces have contemporary design fitting of this mega-trendy city.