The gay scene in Goa, India, is tiny; gay visitors and locals can still find an incredible time in this region of its growing queer acceptance and gay-friendly attractions that will welcome all with open arms.
Located along the warm shores of the Arabian Sea, the state of Goa is more famously known for its tropical beaches and growing tourist industry, and being more accepting of queer people than other parts of India.
The historical roots of Goa go as far back as prehistoric times, evidenced through the Usgalimal rock engravings, even if the state has only existed since 1987! Part of the notable cultural history of this region includes the first kingdoms of the Maurya Empire and the Satavahana dynasty around the 1st century.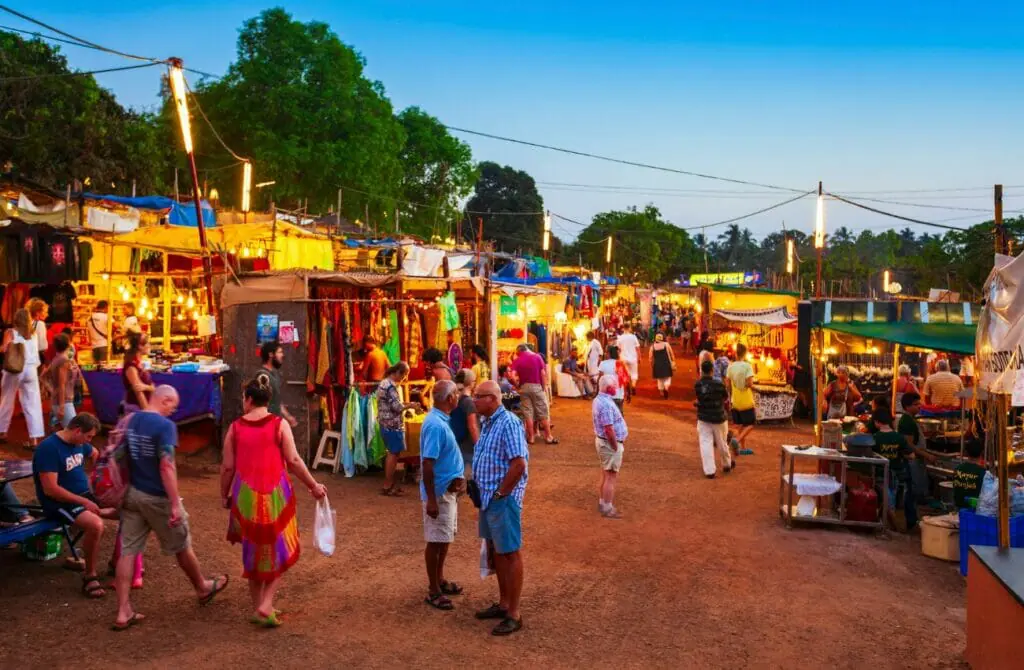 During the Medieval period, many kingdoms sprung up, evening passing the mantle onto the 16th-century colonial rule that held it until Indian Independence about seventy years ago. Today you can bask in this history and appreciate what was left behind.
However, there are also remarkable natural sights outside of tales of old. Goa is part of the Konkan coast, with a varied pallet of places to explore, hike, or private beach excursions. There are also many mountainous peaks and seven major rivers if you want to explore inland, with so much to be found!
However, for the bus city experience, the biggest by far is Vasco da Gama, famous for its shipbuilding industry and naval history.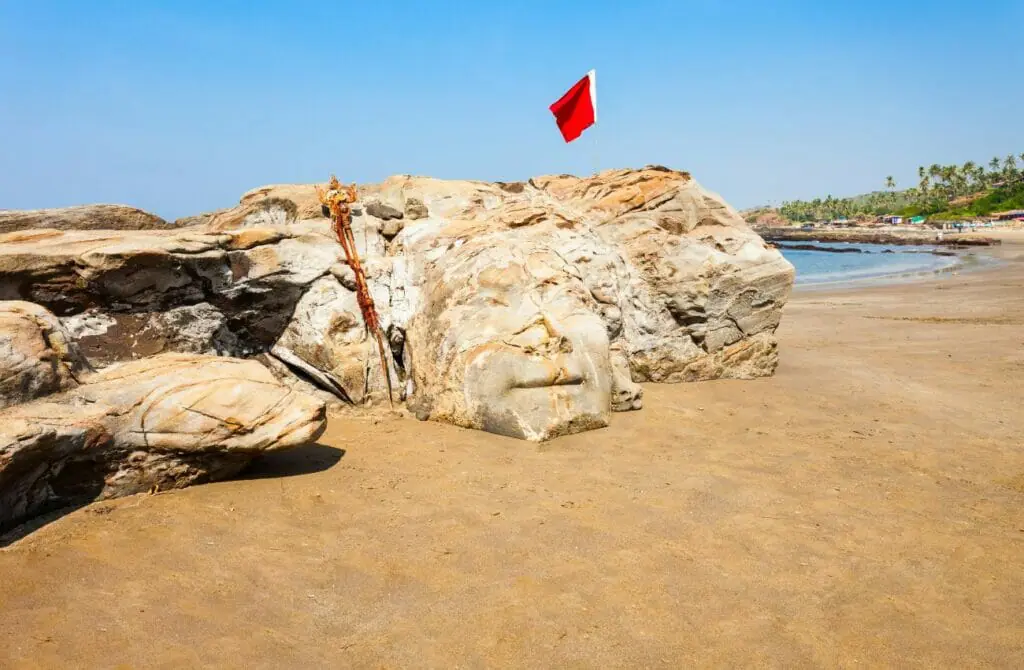 Attractions in Gay Goa, India
Welcome to Gay Goa, darling! While the city may not be the most welcoming to the queer community, fear not! There are still plenty of fabulous things for you to do while keeping things low-key. First and foremost, you must visit some of the city's most iconic landmarks and attractions, dahling!
Take in the history and culture by visiting museums, art galleries, and historical monuments. And don't forget to marvel at the stunning architecture, explore parks and gardens, and indulge in the local cuisine. But that's not all, darling! Gay or straight, there's always something to do in Gay Goa. Immerse yourself in the local culture by attending cultural events like festivals, concerts, and shows.
In India, LGBT rights have made significant strides in recent years, but many issues remain. In 2018, the country's Supreme Court overturned a colonial-era law that criminalized homosexuality and in 2023, the legal battle for same-sex marriage heated up, but societal attitudes towards LGBTQ+ people remain largely conservative.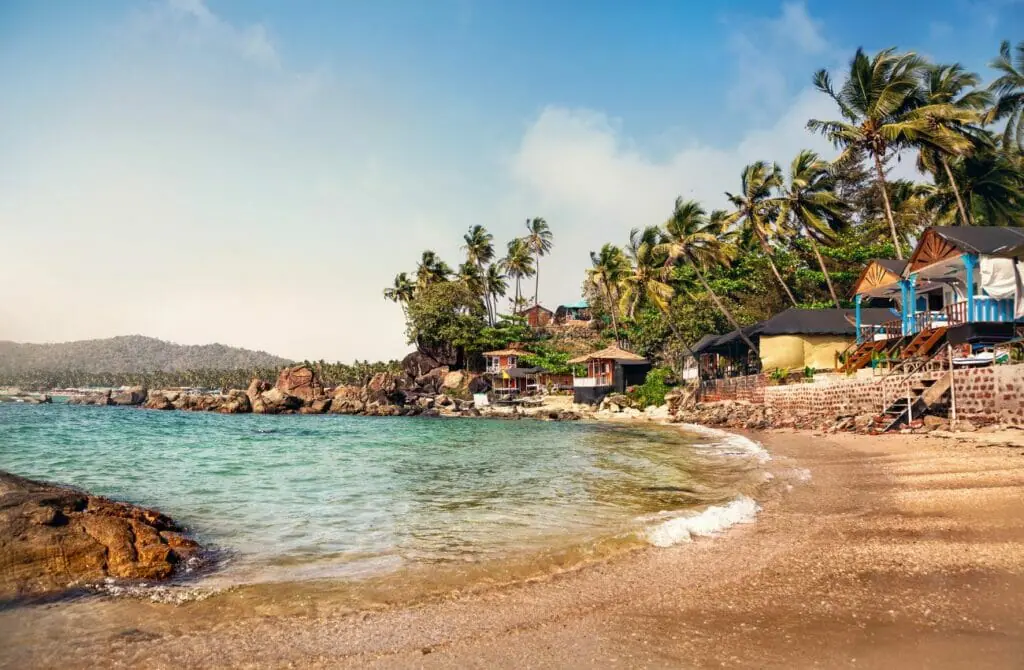 Discrimination and violence against queer individuals still occur, and there is still a long way to go regarding legal and societal acceptance.
As a queer traveler in India, it is important to exercise caution and be mindful of your surroundings. While larger cities like Mumbai and Delhi have more visible LGBTQ+ communities and venues, it is still important to be discreet in public spaces outside these areas.
Holding hands or displaying affection in public may draw unwanted attention or negative reactions. It's also important to be aware of local customs and dress codes, especially if visiting religious sites or rural areas. It's always best to err on the side of caution and respect the local culture.
Trust us; there's always something fun and exciting happening in this fabulous city. Remember, discretion is key in a city that's not always welcoming to our fabulous community. So, keep it lowkey and enjoy all the wonderful things Gay Goa has to offer!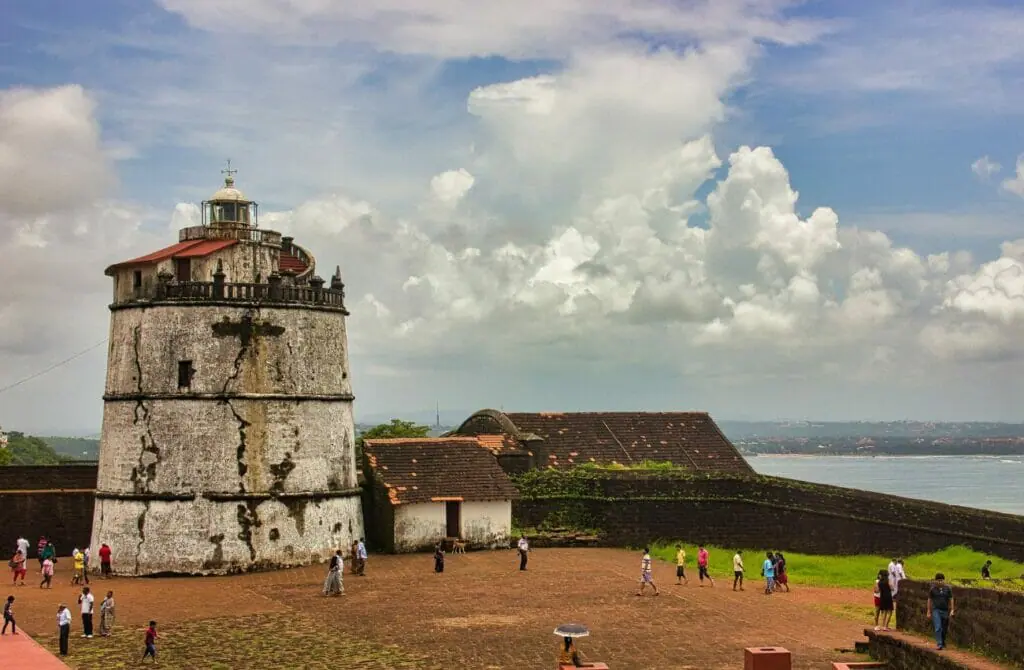 Goa State is home to an exceptional range of artworks and brilliant places to go and see, so a Goa Art Trail is a perfect way to see a large portion of the state safely and efficiently. In addition, you will see much of northern Goa, from the Houses of Goa Museum to the Mario Gallery. So it is an incredible way to experience exceptional Indian art.
Starting with a pick-up from northern Goa hotels, the shared tour of south Goa is a brilliant way to see the other side of the state visiting incredible world heritage sites. You will see Old Goa and the Basilica of Bom Jesus, with many more brilliant things that will teach you much about Indian history and beautiful culture.
Mollem National Park
Goa is home not just too unusual artificial attractions but natural ones as well, and this is made no clearer than Mollem National Park. Here you can experience not just what makes the wilds of this state so different from other parts of India, but their Bhagwan Mahavir Wildlife is an excellent place to see animals as well. You will see tigers, panthers, leopards, jungle cats, deer and hogs, and much more!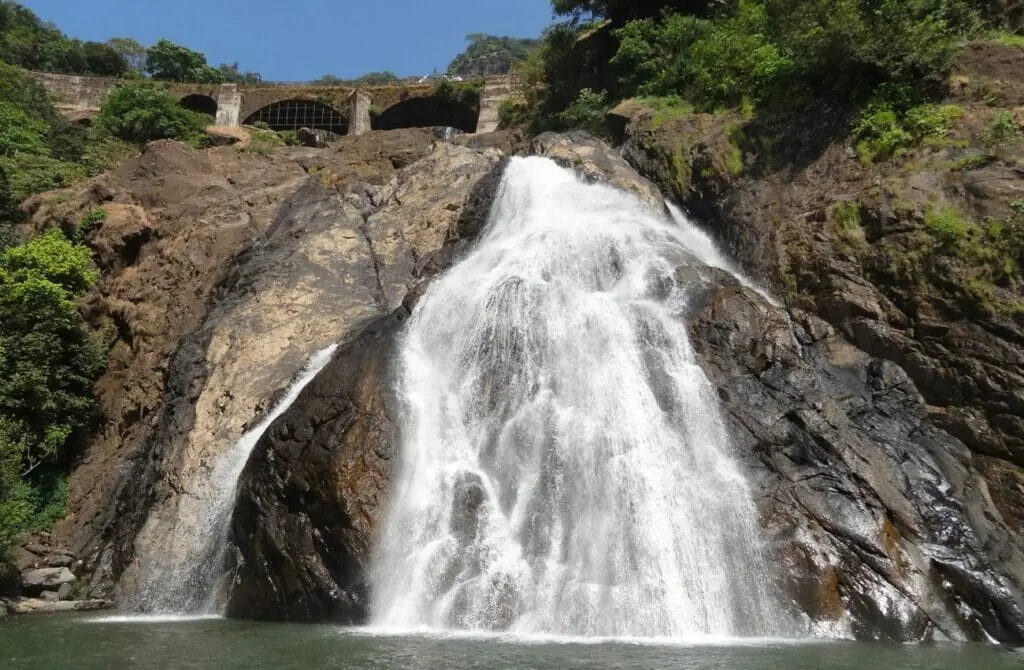 On this tour, you can follow the footsteps of the old Portuguese settlements that remain a reminder of the long history of India. You will see notable landmarks like Panaji (Panjim) and Old Goa, exploring the colonial side of Indian history. This snapshot is fun and rewarding, with an entertaining guide ready to lead you through the hassle of wondering how you get from point to point.
Dudhsagar Falls
In the home of the Mollem National Park & Bhagwan Mahavir Wildlife Sanctuary, you will find many incredible natural sights that make a hike in the wilderness of India a real treat. However, the most notable attraction is Dudhsagar Falls.
This wondrous waterfall is picturesque, and you need to see if you are conserving, adding a hike to your list when you visit Goa. In the wider park, you will see wildlife like elephants and tigers and contribute to conservation efforts.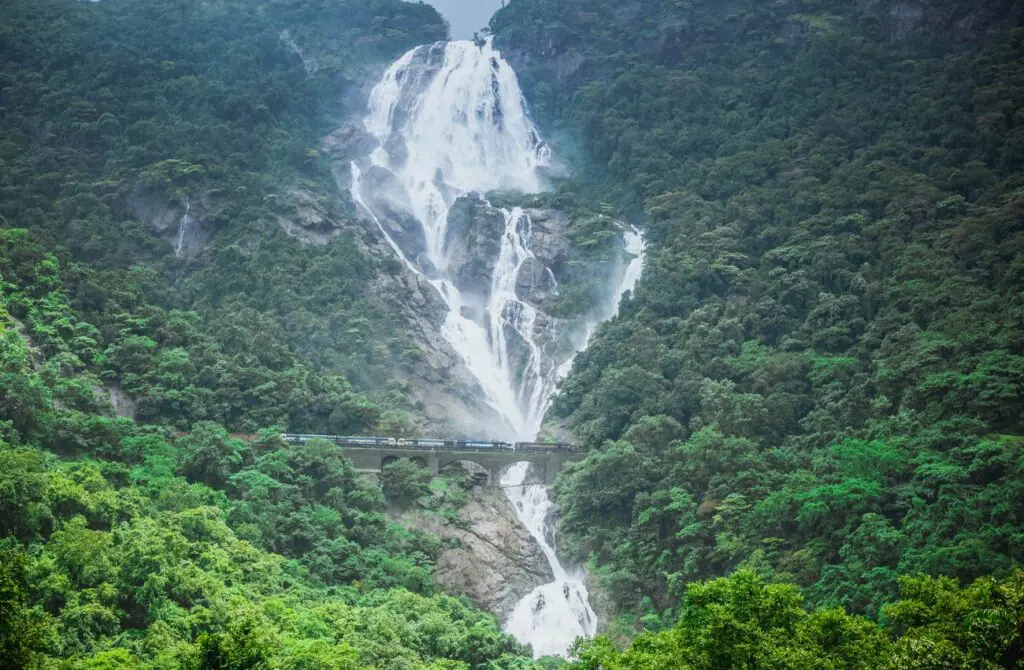 Salim Ali Bird Sanctuary
If you need more birds in your Indian experience, Goa has the unique Salim Ali Bird Sanctuary, home to native birds and endangered bird species. You can find this little slice of nature along the Mandovi River in a salt marsh mangrove swamp, seeing birds in the wild and spacious enclosures.
Basilica of Bom Jesus
In Old Goa, you can find the 1605 church where the tomb of St Francis Xavier, a legendary Catholic missionary who visited the Indies, is buried. Its beautiful colonial structure is a reminder of the region's troubled history, but with a fresh perspective as it now draws thousands of tourists annually.
You can visit it every day, getting close to the ornamental tomb of the missionary, praying to god, or marveling at its incredible architecture.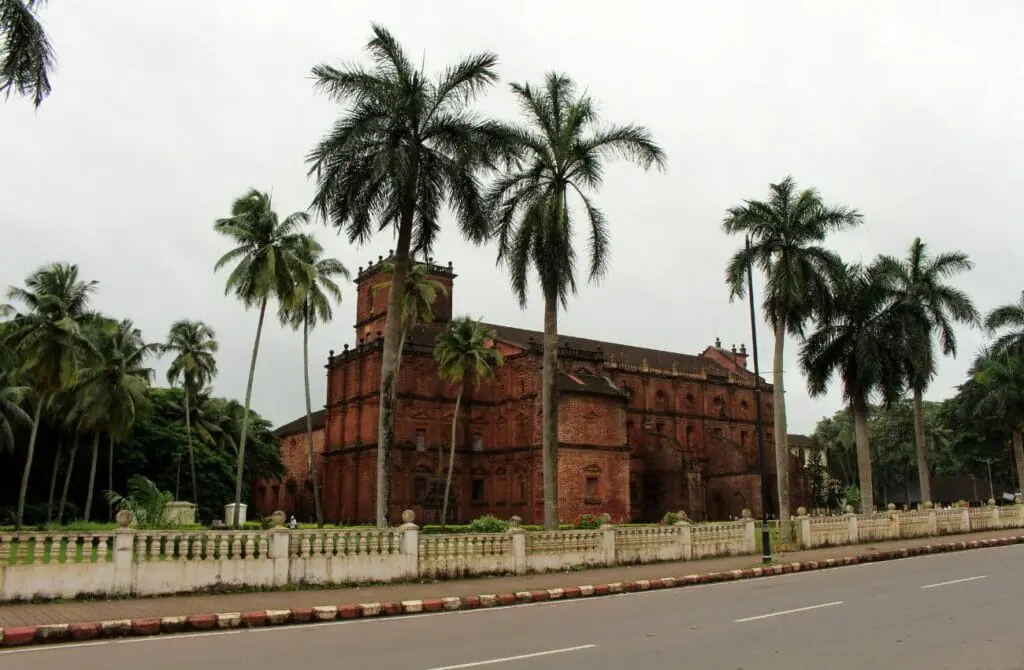 Private Half-Day Dolphin-Watching Boat Tour
This half-day dolphin-watching boat tour is an incredible chance to experience the natural ocean beauty off the western Indian coast. Heading out from Sinquerim Beach, you will get up close and personal with dolphins and other marine life in the wild. The other highlight is the refreshing drinks you can savor while being told about the local ecosystem of the Arabian Sea.
Aguada Fort
Here we have a well-preserved 17th-century former Portuguese military fort during the colonial occupation of India. Its location on the headland was a perfect place to watch out for enemy ships and the Indian Ocean pirates common during those centuries wreaking havoc along the coast. In addition, this fort is surrounded by other exceptional attractions, including caves, lighthouses, grounds, and beaches.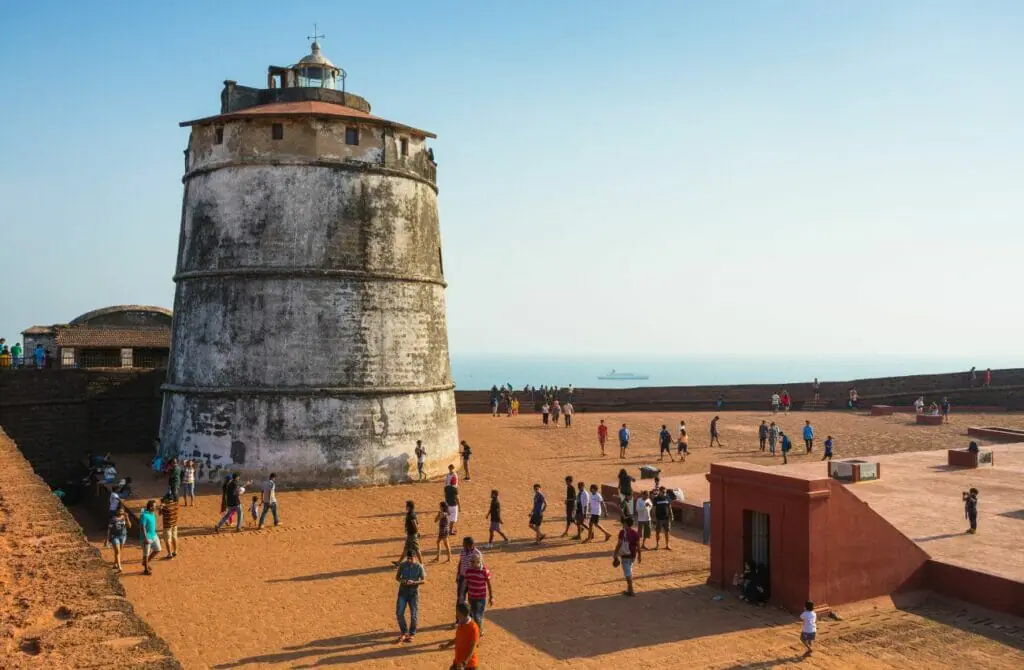 Shree Mangueshi Temple
In Mangueshi Village, you will find the famous Shree Mangueshi Temple, built in 1560 but with a former older structure built on the same grounds several centuries earlier. This small village is a prominent pilgrim place for tourists and worshippers alike for this iconic structure that is best known for being the oldest temple in Goa and uphold of traditions.
Sinquerim Beach
The most famous sandy beach in all of Goa is, without a doubt, Sinquerim Beach because it is exceptionally close to popular resorts, lined by lush greenery, home to water sports and just south of a former Portuguese fort.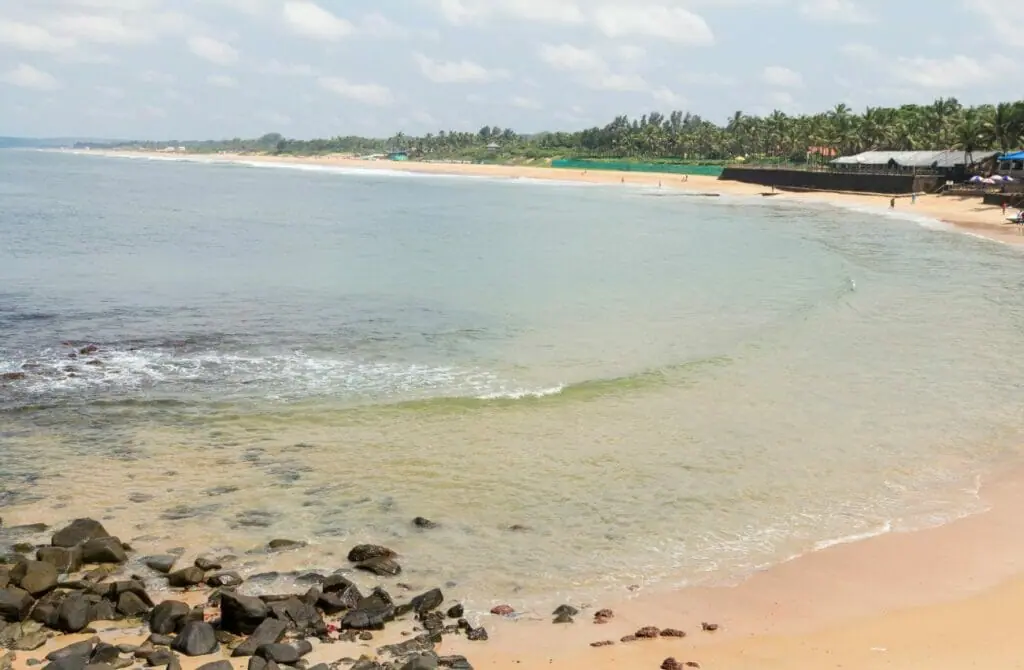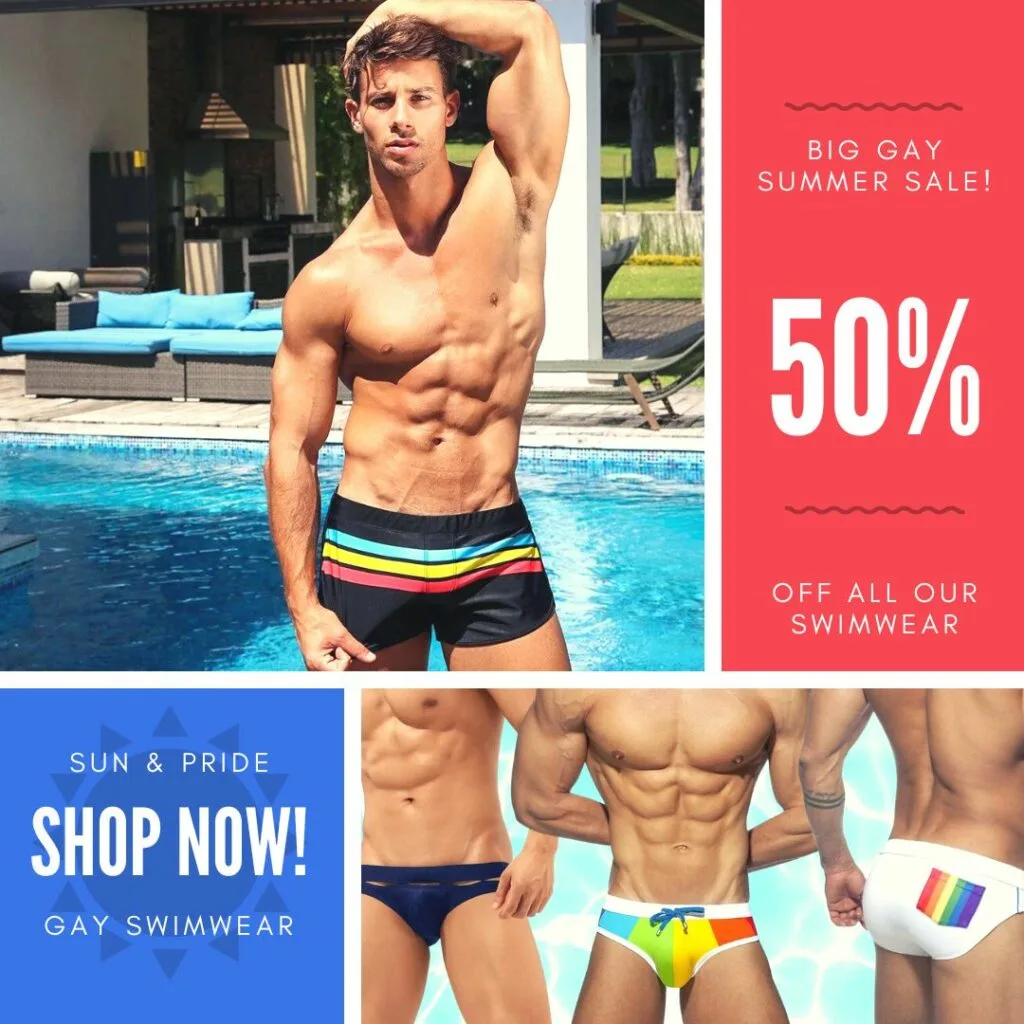 Harvalem Waterfalls & Rudreshwar Temple
Harvalem Waterfalls is a beautiful snapshot of Goa wilds, a perfect hiking spot with a worthwhile reward at the end of the short trail. You will get to take in the fresh air of inland Goa, and once the trickling waters have blessed you, you can head to the nearby Rudreshwar Temple in the village of the same name. This structure is dedicated to Lord Shiva, who created the universe in the Shakta tradition.
Catholic Church of St. Francis of Assisi
In Goa, we have the former Roman Catholic convent for eight Portuguese Franciscan friars who landed in Goa in 1517. You can explore the expansive flat grounds of fields, grasslands and sparse trees, enjoying the full extent of the complex from all angles.
You can also head inside and learn about the lives and history of the original intents of this structure and how missionaries worked in India during the early colonial period.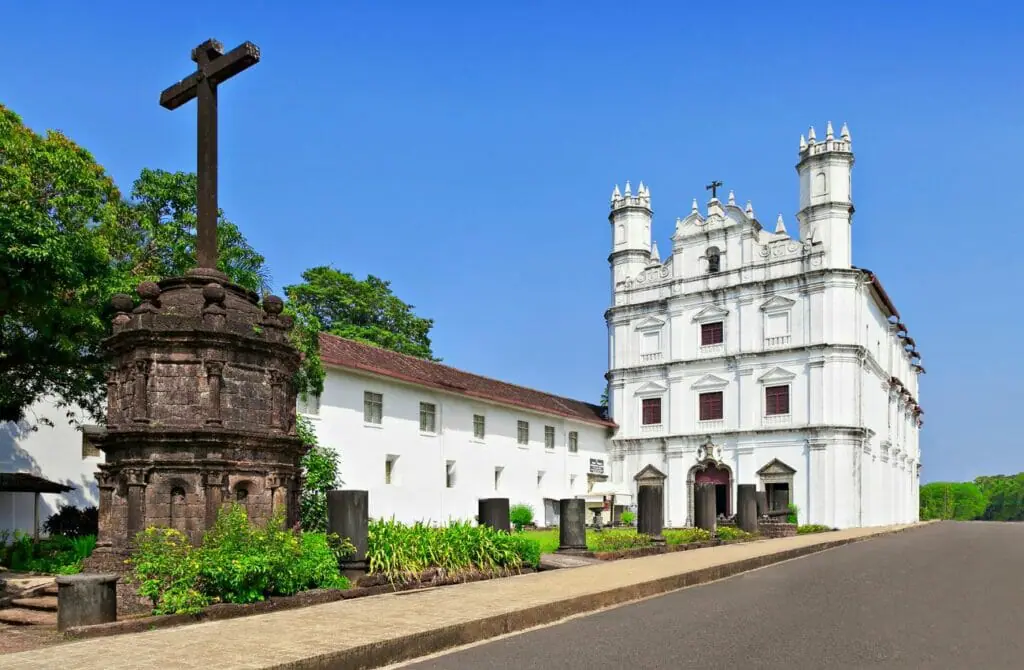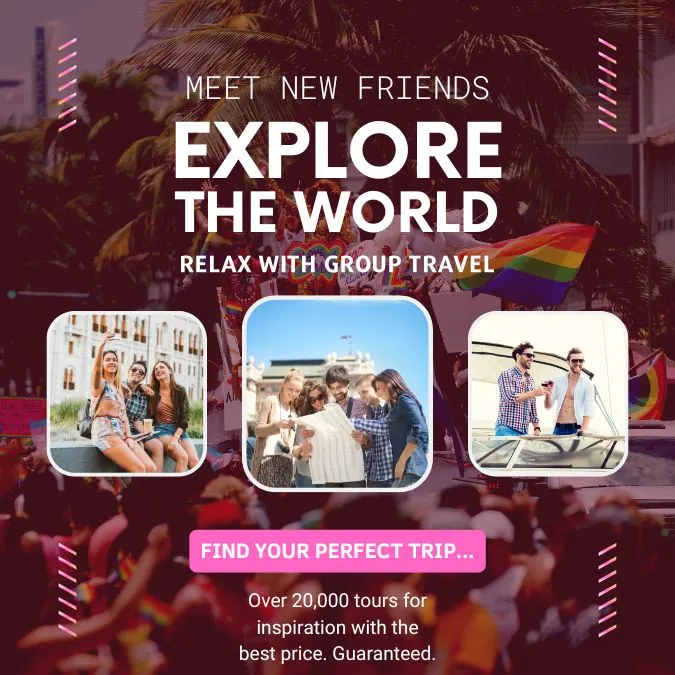 Gay-Friendly & Gay Hotels in Goa, India
Don't wait another minute to book your stay at one of the most fabulously queer-friendly hotels in Goa! While many establishments in town might not welcome our rainbow family, these hotels have all pledged to embrace our queer spirit with open arms.
From non-discrimination policies to LGBTQ+ resources and amenities, these hotels go above and beyond to create a safe and inclusive environment for all guests who identify as LGBTQ+. And if you're looking for a place to stay in an area known for being LGBTQ+ friendly, these hotels have got you covered too.
In addition to the locally-owned gay-friendly accommodations in Goa, international hotel chains can also be great options for LGBTQ+ travelers. Many of these chains have implemented policies and training programs to ensure that their hotels are welcoming and safe for LGBTQ+ guests.
They may also have LGBTQ+ affinity groups within the company, which can help to promote a culture of inclusivity and support for queer travelers.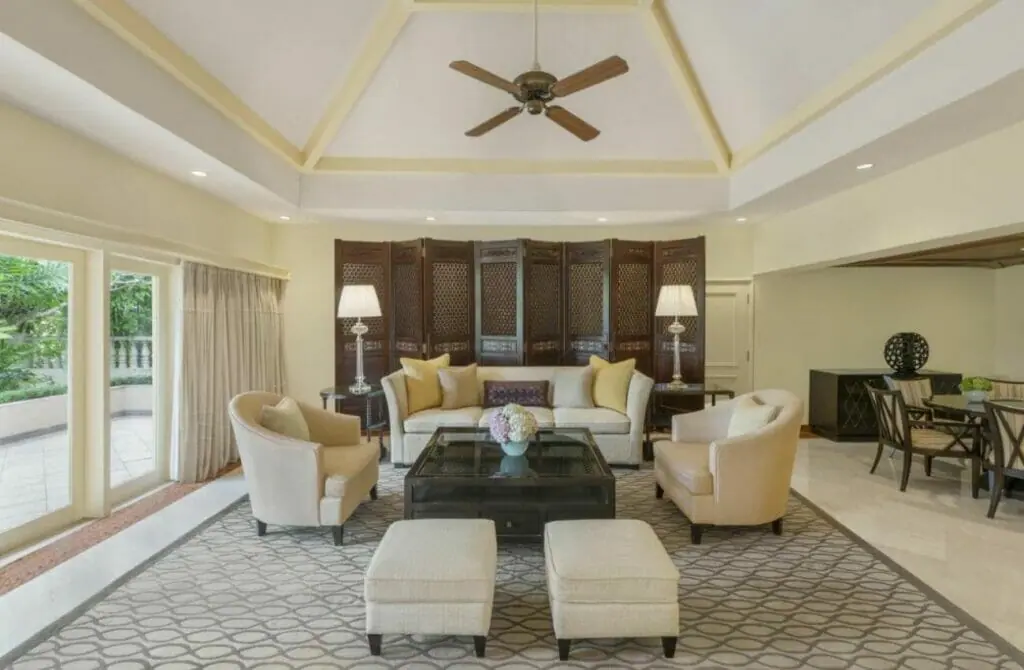 Moreover, international hotel chains are often known for their high-quality amenities and services, which can provide a more luxurious and comfortable stay for LGBTQ+ travelers. With a global presence, these chains can also provide a sense of familiarity and consistency for queer travelers who may be navigating unfamiliar destinations.
Whether you choose a locally-owned gay-friendly accommodation or an international hotel chain, it's important to do your research and choose a place that will make you feel welcome and comfortable during your stay in Goa.
So why wait? Book now to experience the comfort, luxury, and acceptance these gay-friendly hotels in Goa have to offer. With options to fit every budget and preference, you're sure to find the perfect home away from home.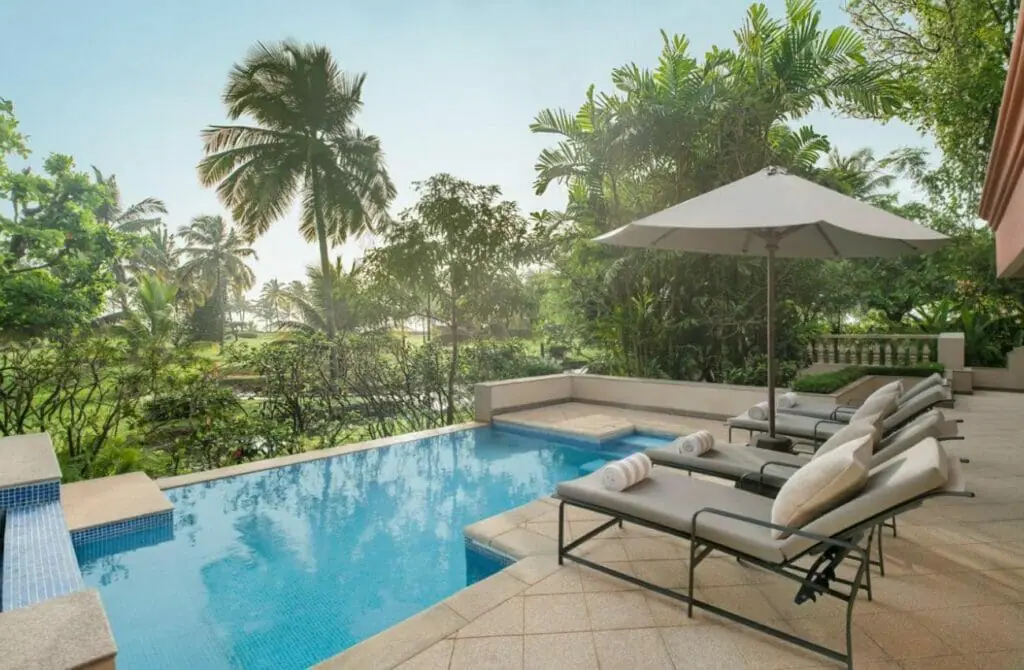 The St. Regis Goa Resort ☆☆☆☆☆
One of the few five-star hotels in India's Goa State is the St. Regis Goa Resort, found in Cavelossim right up alongside Cavelossim Beach. Cavelossim is a famous Indian village for its beautiful beaches, home to a population of 2,000 living around their fishing industry.
You can enjoy this small-town feel and meet some lesser-explored parts of India in this rural experience. The resort is also just as exceptional as it isn't just gay-friendly. You will be treated to the resort's private beach and your own separate house, amongst many others.
You will have so much space to relax, and it could be a perfect place if you're looking for a place to host an international wedding with space and places to house guests. The highlights of this place include the gardens, the pool, tennis courts, gym, bar and restaurants. And there is still so much more about this place, so you will love staying there.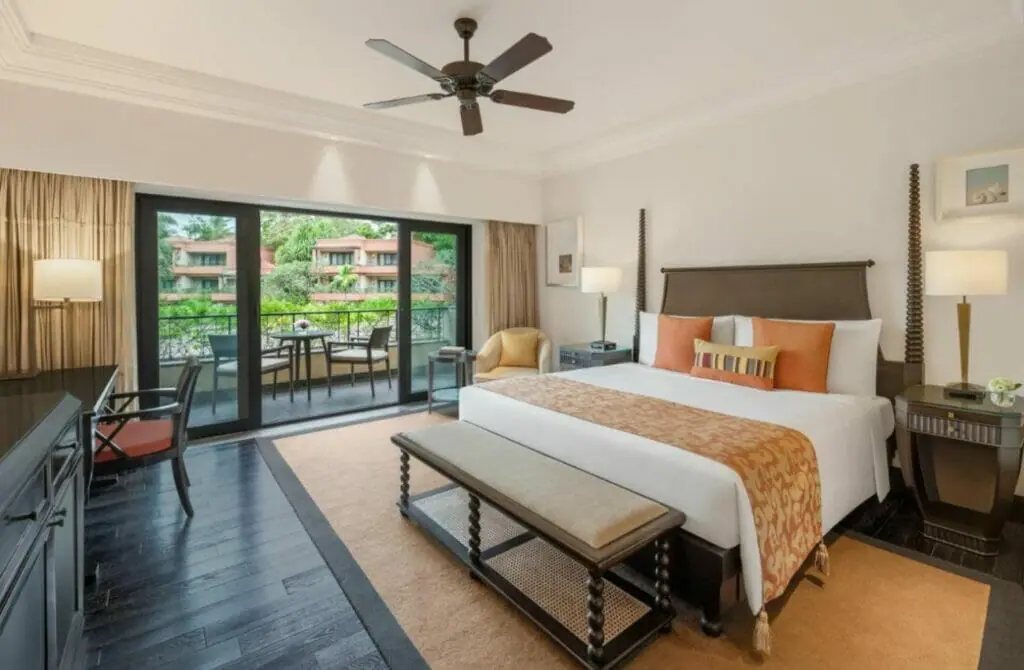 Another top five-star hotel in Goa is the Azaya Beach Resort found in Benaulim, another incredible beachside village recently becoming a popular tourist destination. Here you can enjoy the local Goa Chitra Museum or a variety of other attractions to meet locals and learn a little about this region's history.
The resort is just as splendor, so people stay here because you can use the sandy beach and outdoor pool. The private rooms are incredible because they have plenty of space to relax inside in your lounger or head out to your private terrace to take in the sun, with plenty of other extras to take your breath away.
When it comes to keeping fed, they have several restaurants that cater to various pallets, allowing you time to relax and enjoy exceptional food as the sun sets.
In the picturesque coastal city of Candolim, the Radisson Goa Candolim four-star hotel can be found in a unique part of rural Goa. You have easy access to Sinquerim Beach, notable for the nearby fort to the south and a popular place for water sports. The hotel is also exceptional because of the expansive outdoor terrace with loungers alongside the pool and modern romantic setting.
You will be treated to a wide range of dining options, delicious food, including service and cozy rooms. The highlights of everything on offer include the golf course and gym, which allows you to keep active without leaving the resort's confines.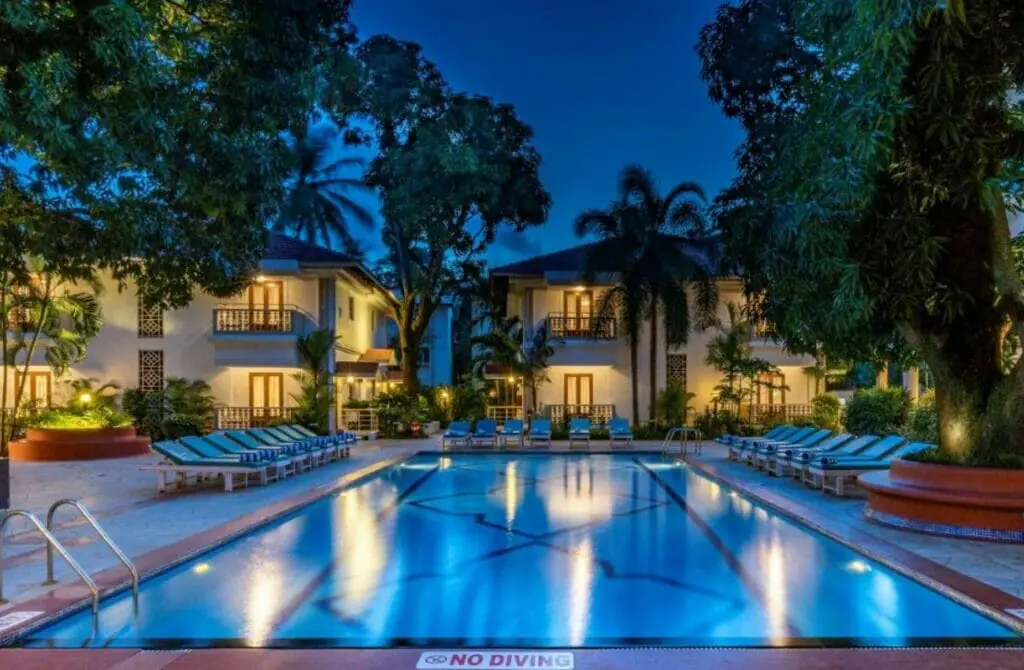 Fairfield by Marriott Goa Anjuna ☆☆☆☆
Located in the laidback coastal village of Anjuna, the four-star Fairfield hotel is slightly inland from the famous Anjuna Beach, which has become a well-known name in the region for its water sports and hippy culture. You can enjoy the laid-back company of the locals and jam out to electronic music or relax in the cozy hotel.
Here you will be treated to various ways to do so, from the loungers by the pool or 24-hour room service. Food is also incredible at their restaurant, as Kava provides food throughout the day. In summary, the highlights of this place include the hot tub, the family-friendly facilities, and the wide range of things to do and see.
Another exceptional hotel in Anjuna is the three-star JW Heritage which is located close to the heart of village life, where you still have enough space to enjoy a little quiet time. You can admire the unique rural village views from your private terrace or head into the dining areas and enjoy a drink and meal from their restaurant and bar.
They don't just have things to do while sitting around; they have an outdoor pool and terrace area to get some lengths in without getting salty. They even have working spaces to get work done even when enjoying a warm beach holiday in Goa.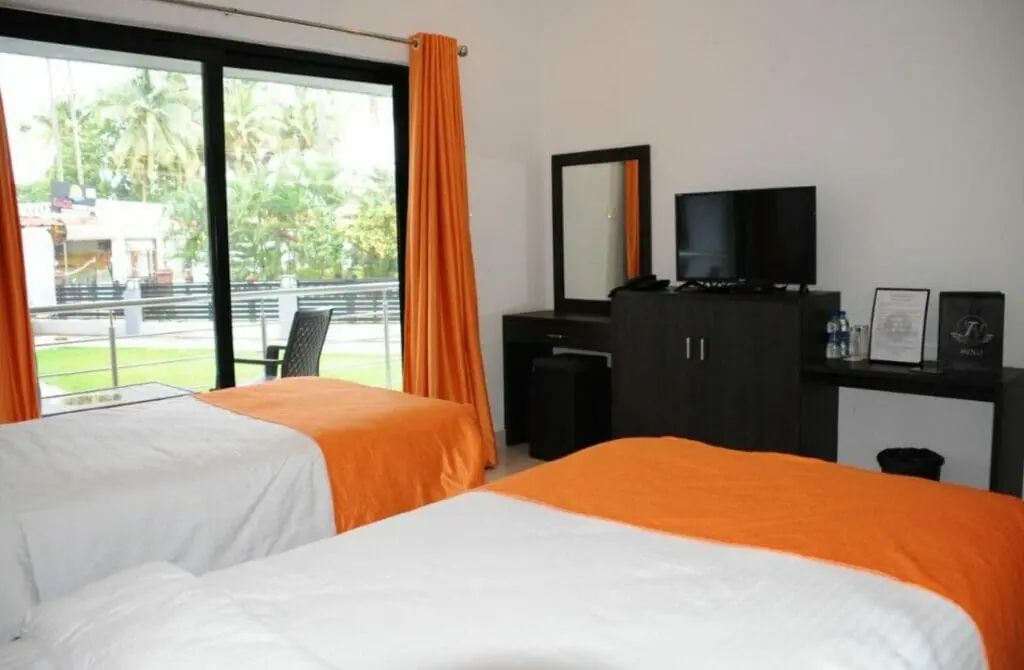 Gay Nightlife In Goa, India
Goa may not have a lot of gay venues like large Indian cities, but here you can still enjoy exceptionally entertaining gay-friendly nightlife all over this state. So whether you want a laidback rural experience by the coast or something more lively in the conditions most populated city, you will find something to tell those back home about.
Darling, let's talk about exploring the queer nightlife in Gay Goa, shall we? It's true this city might not be the most welcoming to our fabulous community but fear not! Being gay is perfectly legal here; remember to err on the side of caution when outside of queer-friendly spaces.
But let's focus on the fun, shall we? Exploring gay nightlife can be one of the most thrilling and enriching experiences while on the go. From dancing up a storm at a gay club to sipping cocktails and rubbing elbows with the locals at a gay-friendly bar, you'll have a chance to immerse yourself in the local culture and make memories that will last a lifetime.
And darling, we've got you covered with the best gay and gay-friendly spots in town. So don't be shy; step out of your comfort zone and explore the queer nightlife in Gay Goa. Trust us, it'll be worth it!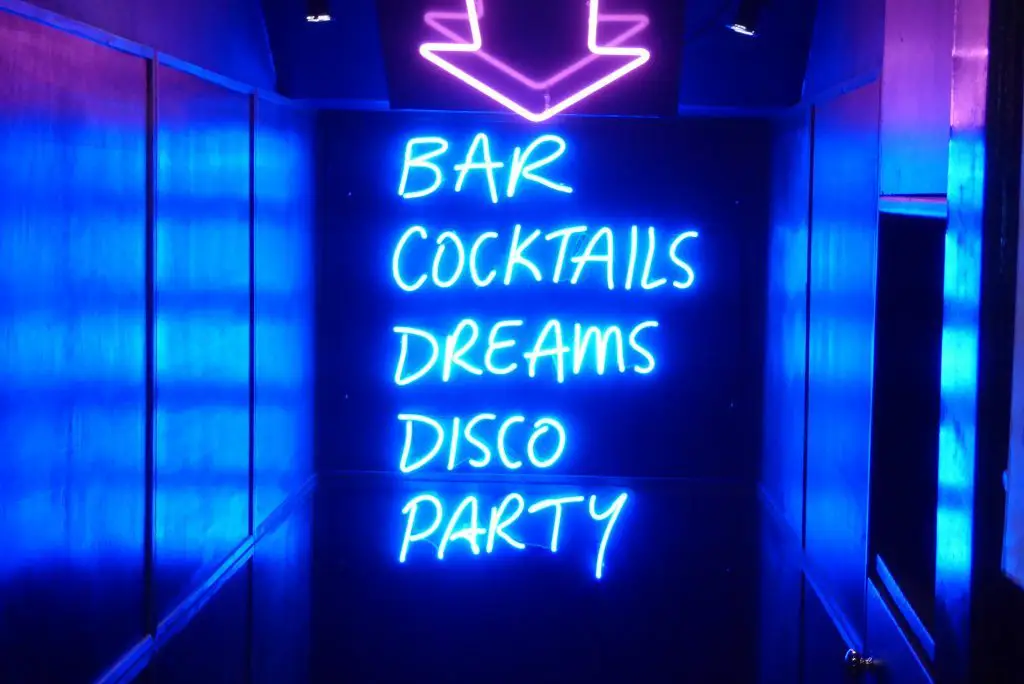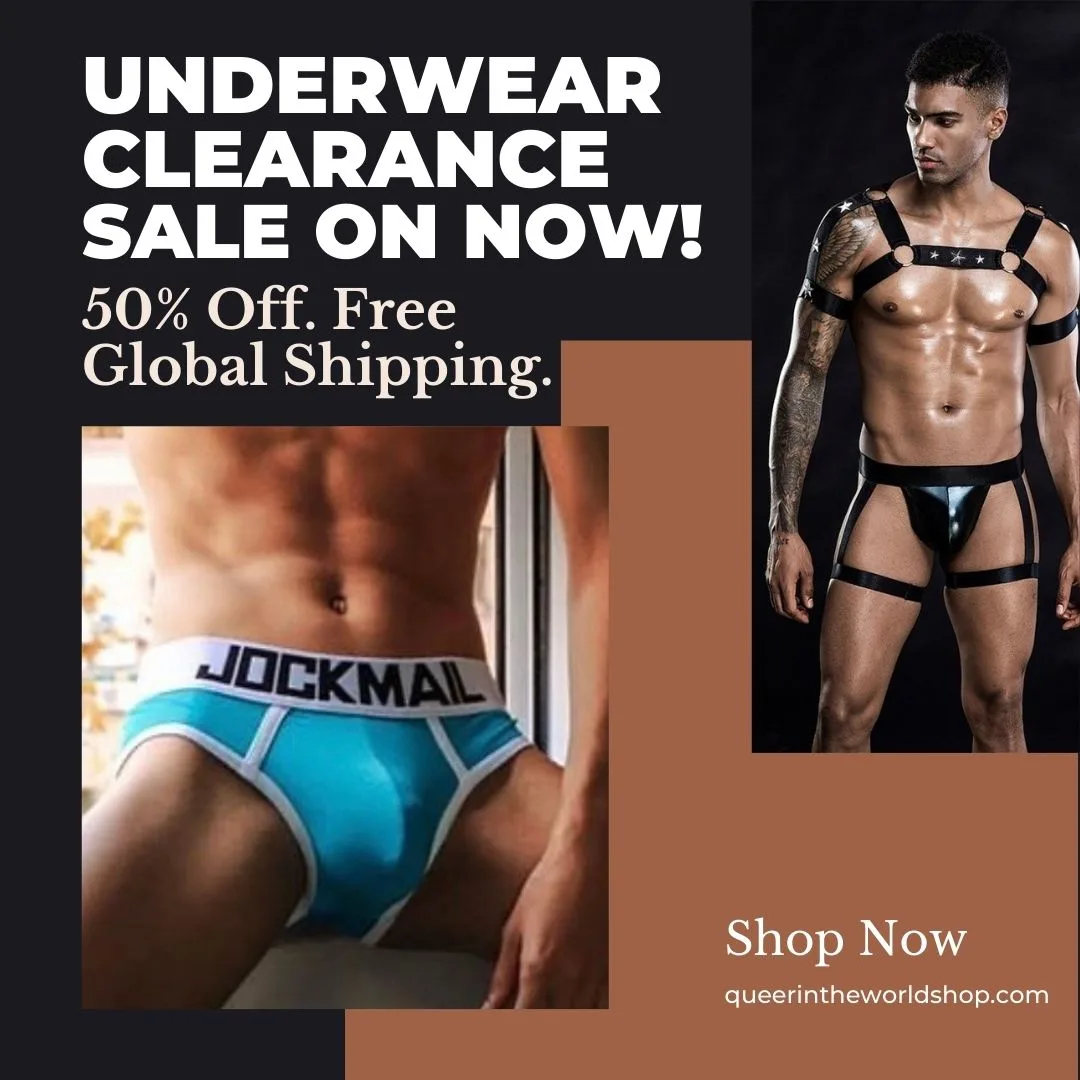 Gay Parties & Gay Clubs In Goa, India
Here we have to a heart of the gay social scene in Goa with Queer Kinara, where they regularly host social events and organize fun queer-themed parties all over Goa. So if you want to get the lowdown on the best places to visit or to meet fellow gay people, this is the place to start from the mouth of locals!
Goa has had an annual pride parade on and off for the last six years, and most recently, in 2023, they had the Goa Pride Festival in Northern Goa from the 7th to the 9th of April. Most certainly, this is the biggest event of the queer calendar in Goa, where people can dance, dress up, sing and be super gay!
So you can expect that at their pride festival, find rainbows, drag, leather, daytime markets and late-night dance parties. With so much to offer, this is the best time to experience gay Goa.
The local queer support group in Goa, which has been in operation for a long time, operates to support the growing gay community of Goa with valuable resources and social networks to allow her to thrive. They are certainly worth a look to see what secrets their queer life is hiding from outside eyes!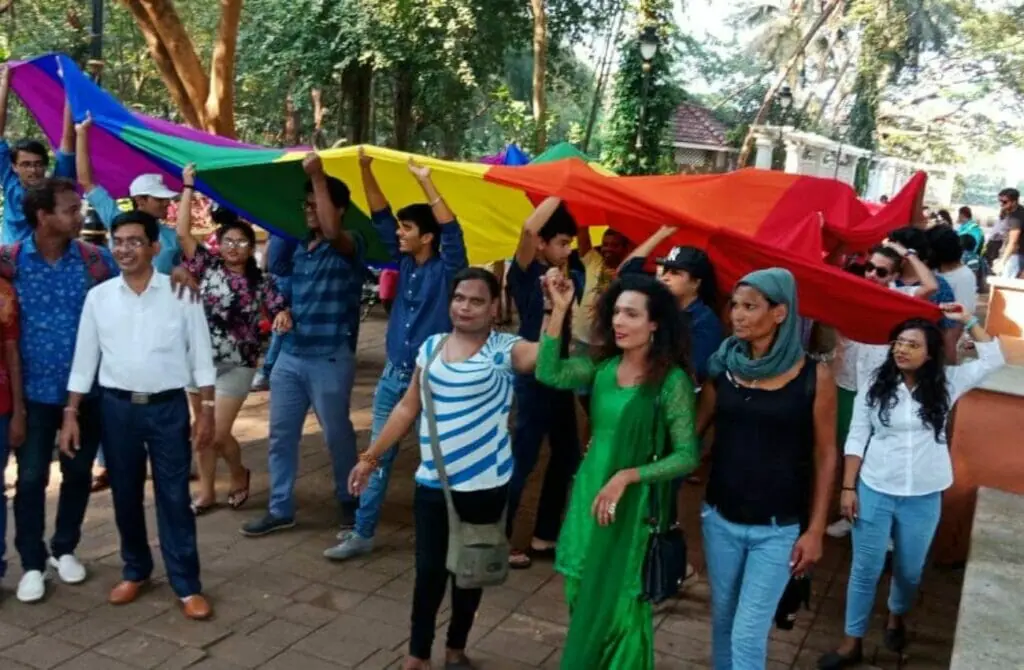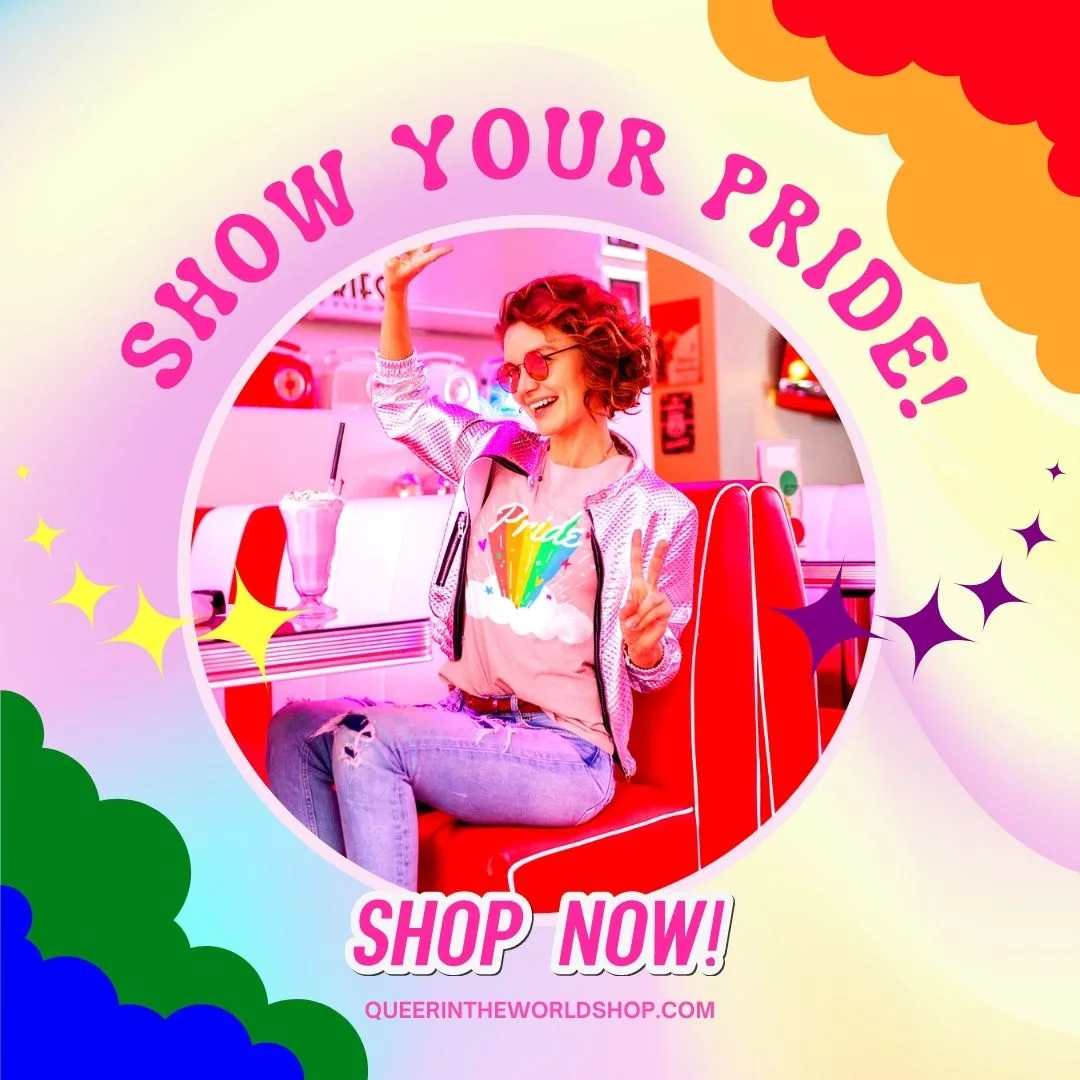 The Pink Pill organizes regular queer events throughout Goa, which want to add some NYC-type nightlife into the party scene of Goa. You can email them to find out what fun events are coming soon and expect, based on their history, for it to be a loud dance party.
One of Goa's oldest queer organizations, it is here to support the queer community not just in Goa but all over India. Here you have a vast network of queer people in Goa who will love to meet you and help you find your safe place in their beautiful state.
Gay-Friendly Nightlife in Goa, India
Exploring Southern Goa: Patnem, Palolem and Agonda
The most extensive party zones in Southern Goa are certainly Patnem, Palolem and Agonda, where you can find a range of gay-friendly nightlife attractions within walking distance of each other. You won't find gay venues here, but the villages are very laid-back and popular with tourists, so you will feel right at home in either town.
Exploring Northern Goa: Calangute, Paliyem, Anjuna and Baga
You can find remarkable gay-friendly nightlife attractions in Northern Goa towns such as Calangute, Paliyem, Anjuna and Baga. You will be treated to lush beachside resorts, water sports, and exceptional bars and restaurants to entertain you.
Found in Canacona, Zest Restaurant is a popular place to visit and enjoy a feed in Goa come evening. Not only is this a vegan restaurant, but it's also a beachside eatery with seaside facing outdoor dining terrace and Indian food, which is to die for.
They have heat-cooling tropical smoothies or warming coffees paired with mouth-watering curries or avocado bruschetta. The skill of their chiefs will have even non-vegans blown away at how delicious vegan food can be.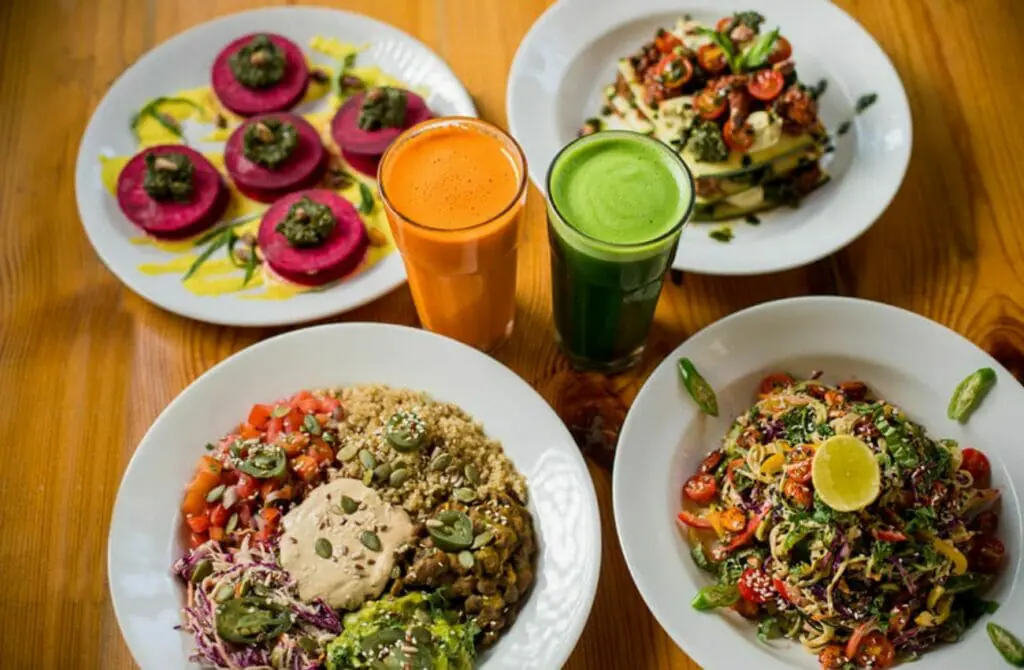 Flying Dolphin Beach Side Cafe and Bar
Found in Calangute, The Flying Dolphin Beach Side Cafe and Bar is a popular gay-friendly nightlife attraction for many reasons. To begin with, it is a popular event host for Queer Kinara parties! They are also queer-allied and host gay events like 'LGBT-Straight Mixer Bar Night on Thursdays. It is a beachside dining experience located along Calangute Beach, one of the busiest beaches in Northern Goa.
One of the top nightclubs in Goa can be found in Candolim, the party capital of Goa, and we are talking about none other than Live Passion Karma. This gay-friendly dance n music venue hosts a variety of great DJs, brilliant music and dance spaces, as well as top drinks to help ease into a fun night ahead. But, of course, being so close to the party center of Goa makes this even better!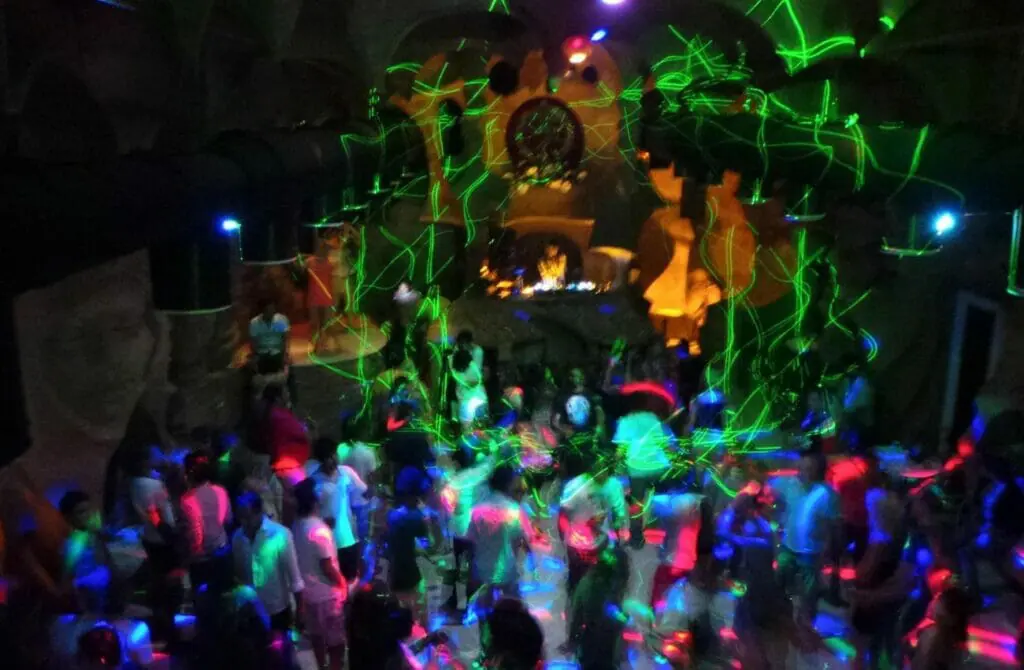 This is a 24-hour gay-friendly cafe in The Tamarind Hotel, Anjuna, Goa, and a popular spot for many to come and enjoy a quiet drink or catch up with friends.
The fact is that opening all hours means you can drink a coffee and have a relaxing break, regardless of the hour, even after a fully-packed night out. Patrons enjoy the stellar coffee, the inside and outside dining options, and the ability to have food with your delicious drinks.
For another top notched classy dining experience in Goa, the Bombay Adda Beach Lounge is famous for its decadent dining and delicious food. This tropical-themed lounge is located outside, with an outside bar under low lighting and an upper-story terrace with shade and great beach views.
You can come for a drink and chat or a hand-crafted chef meal, but either way, you will be treated to a relaxing experience.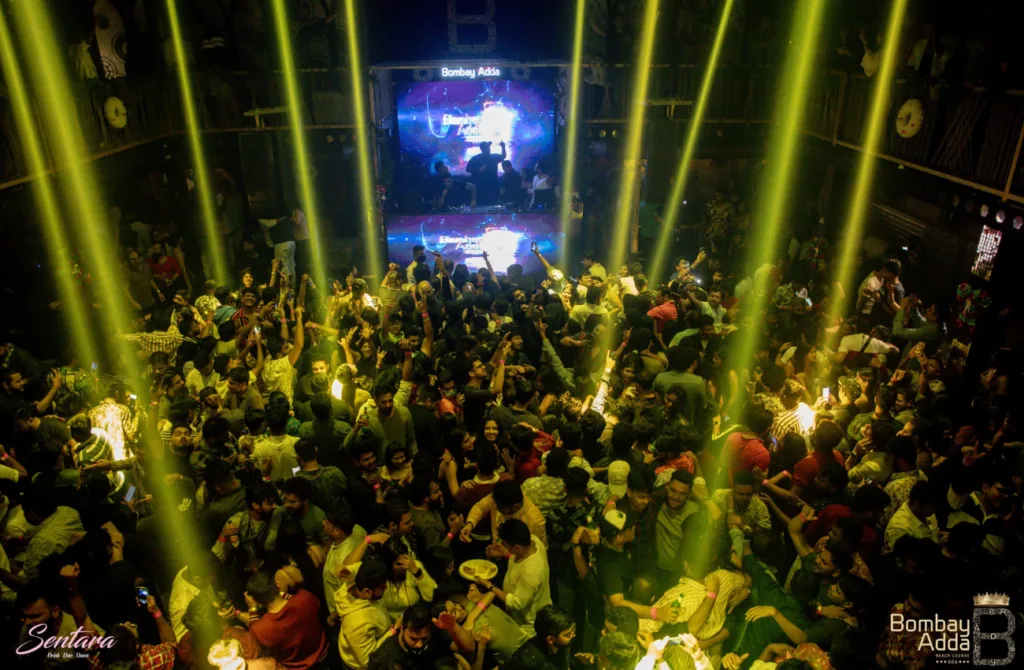 Welcome Restaurant & Juice Bar, Chapora
(Temporarily or permanently closed. If you know something, please suggest an edit.)
Welcome Restaurant & Juice Bar is a great excuse to relax and enjoy delectable food and drink while lounging off the Indian coast. Not only is this place gay-friendly, but the juice and laidback atmosphere will also make you feel like you are indeed on holiday!
Continuing your nightlife experience in Goa, also found in Candolim, is the lively yet chill SinQ Night Club which prides itself on offering a great dining and dancing experience in a unique venue. You can dine outside with fine food and drinks alongside pools shaded by regally draped terraces.
However, their inside dining is just as stellar if it gets cold. Queer Kinara has hosted several social events over the years, so you can bet they are exceptionally gay-friendly, and queers feel right at home.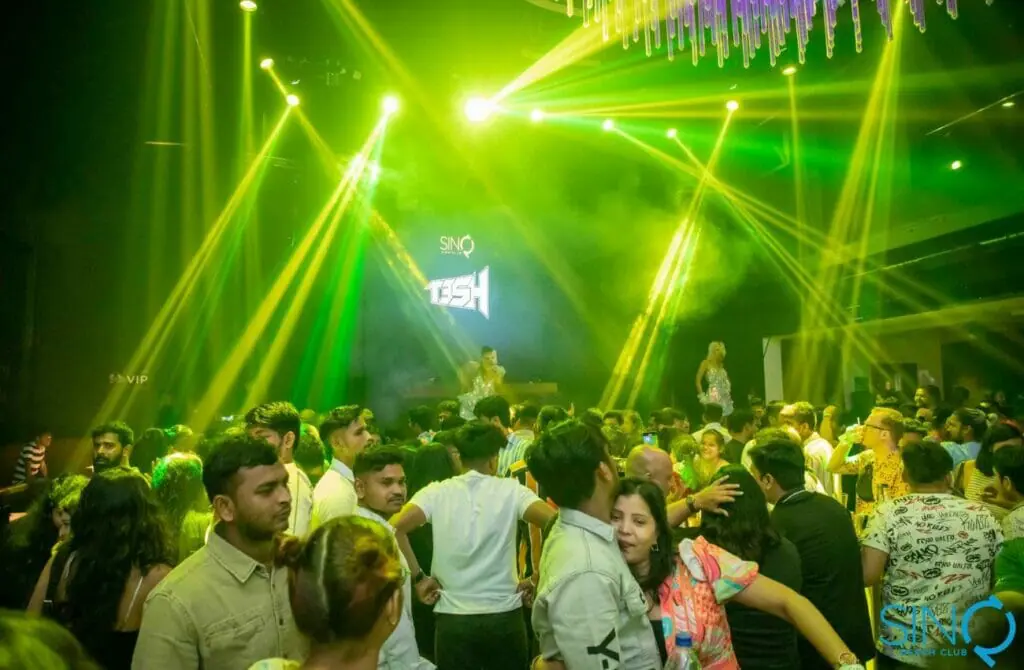 Gay Saunas & Cruising Clubs in Goa, India
The gay cruising scene in Goa is limited, and you will not find any gay cruising venues to enjoy a little bit of fun, so your best bet is to use your dating apps for hunting down positional partners, as many of the places you will visit in Goa are rural and sparsely populated. So your best chances of finding more people will be the cities with the more significant populations or tourist resort hot spots.
When exploring Gay Goa, there's more to life than just cocktails and beers. One aspect of the gay scene that many of us queens love are checking out the local gay saunas and cruising clubs.
Granted, Goa isn't quite as wild as Amsterdam, Barcelona, or Berlin, but these steamy venues still offer the perfect opportunity to meet new people, socialize, and engage in some hot and heavy action without swiping left or right. However, remember that these venues can differ in terms of vibe, patrons, and rules, so it's a good idea to be informed before you dive in.
Gay saunas, sex clubs, and cruising have long been popular ways for queer men to meet and engage in sexual activity, particularly in countries where same-sex activity is not widely accepted or may even be illegal. In these places, gay saunas and cruising clubs provide a safe and discreet environment for queer men to explore their sexuality and connect with like-minded individuals.
Despite the rise of gay dating apps, many queer men still prefer the anonymity and physical connection that can be found in these spaces – so somewhat counter-intuitively, you might have a hotter experience here than you would at home.
We recommend checking out our guide to cruising for first-timers before you get started, which should give you the lowdown, and always practice safe sex. Keep in mind that local laws and customs regarding gay venues and sexual activity should be respected at all times.
With a bit of forethought and an open mind, visiting gay saunas and cruising clubs can be a thrilling and steamy part of your gay Goa adventure.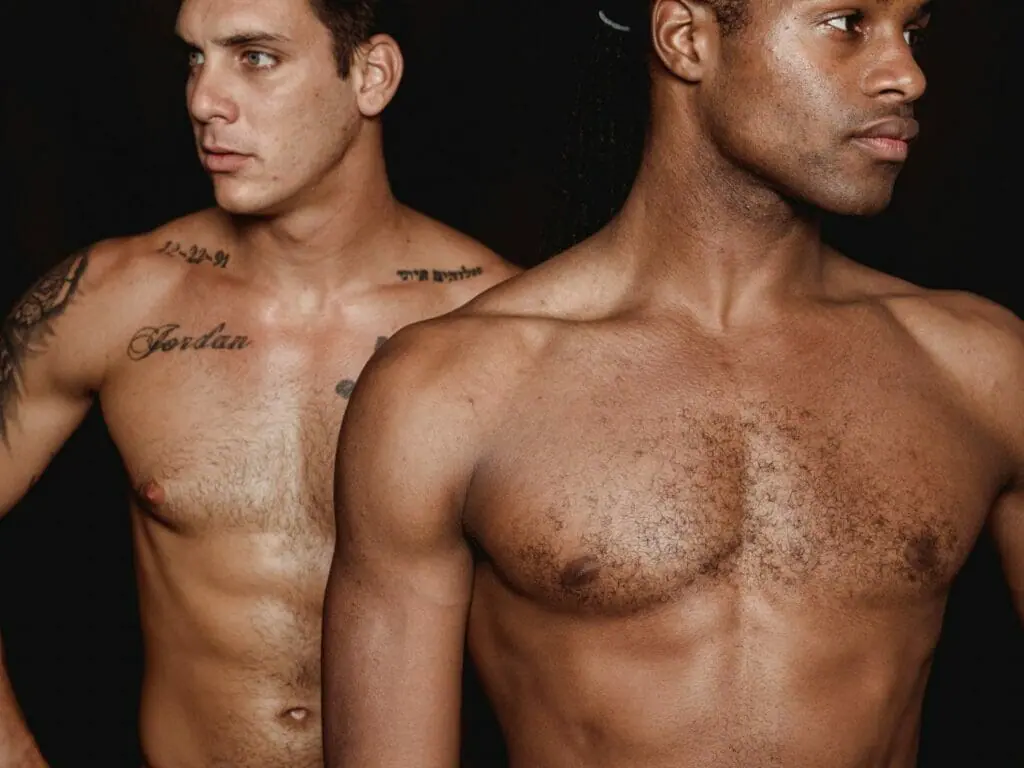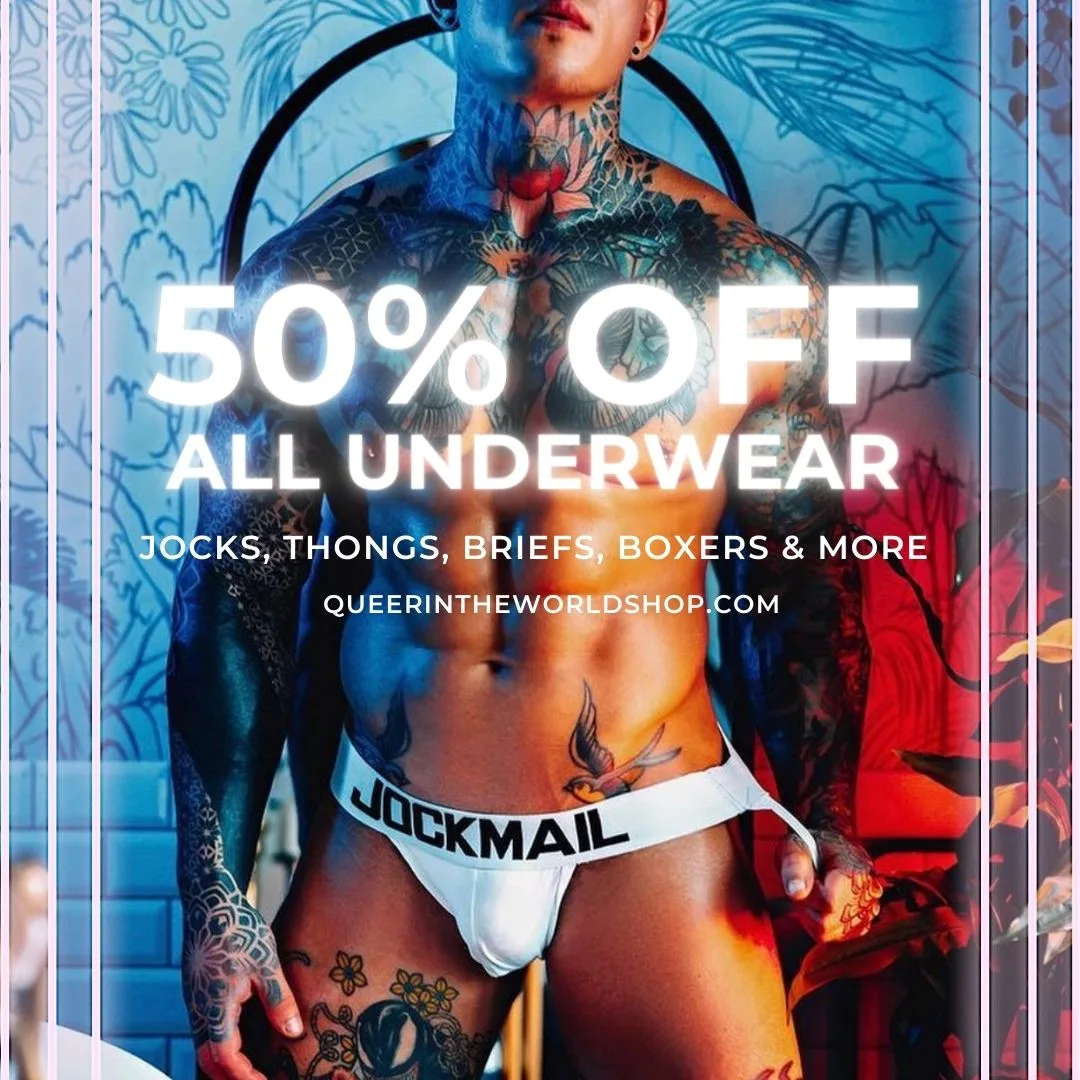 Gay Map Of Goa
Finding it hard to envisage where everything is in Goa? Hopefully, this queer-centric map helps where we have marked all the bars, clubs, parties, hotels, saunas, massages, and more will help you stay in the spot best suited to you!