New York is such an iconic city that the first few days you're there, you walk around wide-eyed with wonder, feeling like you're in a movie. Whether you're there in the heady day of summer, the crisp fall or snuggling up in cafes over winter, a trip to New York will be one to remember.
The vibrant city has tons to offer gay visitors – it's steeped in LGBT history and culture, and whatever you'd like to do here, you can! Between soaking up the atmosphere and walking so much your feet hurt, you'll want a fabulous hotel to chill in. So are there any gay hotels in New York?
Well, of course! There was one 'official' gay hotel – The Out Hotel – which is a great place to stay but is now no longer marketed as a gay hotel and has been renamed Cachet Boutique Hotel NYC. Luckily New York has always welcomed everyone, so it's no surprise that you've got a huge choice of designer gay-friendly hotels to stay.
Now just between us girls, here are our favorite gay hotels in NYC that are popular with gay travelers. YAS GAWD!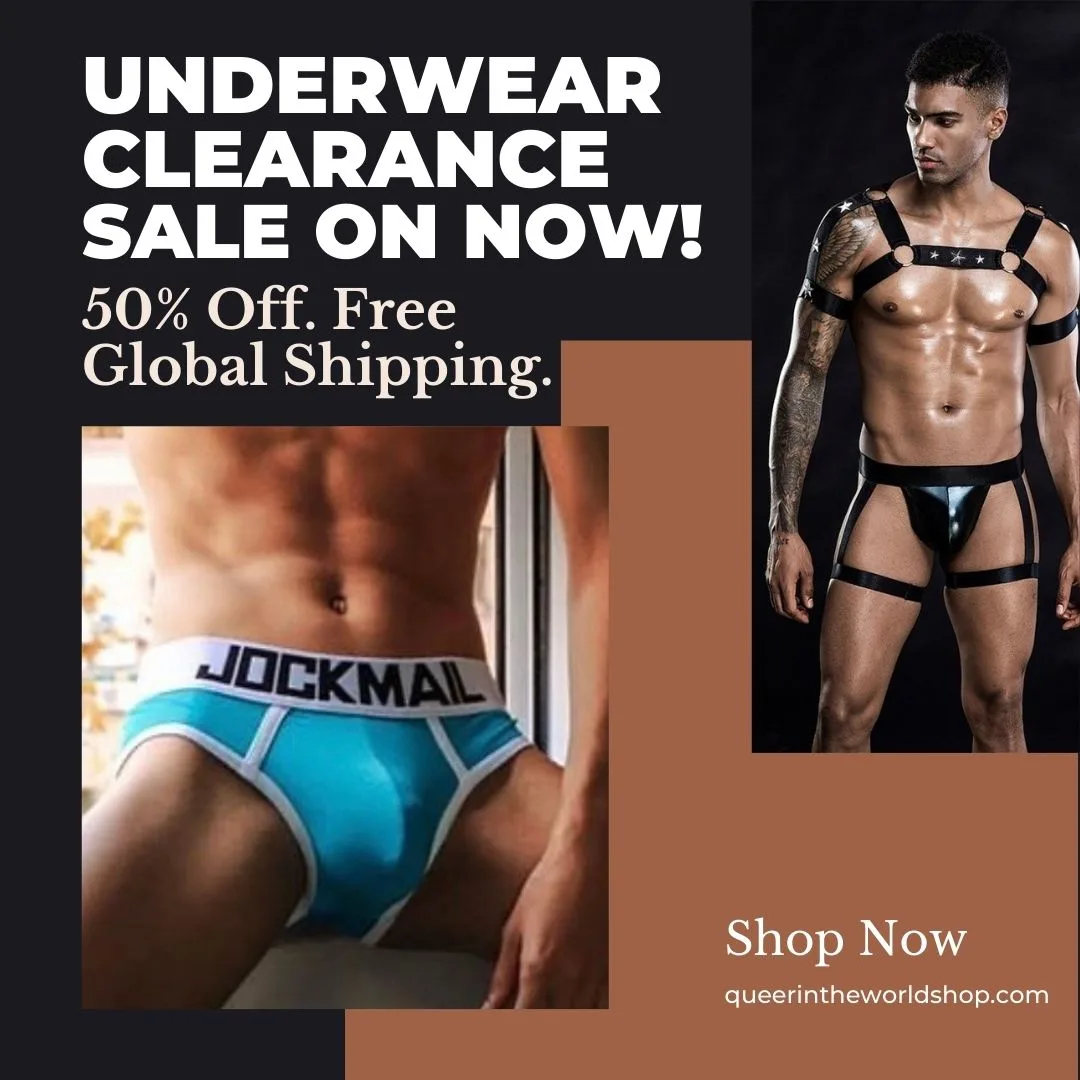 Stay Gay With These Hip & Fabulous Designer Gay Hotels in New York! 🗽
Have a completely luxurious Midtown stay in New York at this gay-friendly and modern hotel. If you're on a romantic break, the minimalist and well-equipped hotel room is the perfect place to lock yourselves away for the night. A restaurant serving Italian-American food is on the top floor, and a sky lounge with incredible views.
This recently renovated (almost) gay hotel in Chelsea has some seriously understated glamor. It's huge, taking up a whole block, and has a range of restaurants and bars on the ground floor; it's always a good sign when a hotel restaurant is populated not just by guests, and that's the case here. The rooms are spacious and have full-length windows looking over the city.
In addition, Kimpton hotels were one of the first major chains to support diversity and speak out about LGBT rights, so you always know you are in good hands when you stay here.
This sleek high-rise hotel towers over the High Line and offers incredible views through floor-to-ceiling windows. There are on-site bars and restaurants, but there's plenty to be found in the surrounding Meatpacking District as well. Fun, minimalist décor and sexy peek-a-boo showers make this one of the best gay hotels in New York. And a hotel chain we are utterly obsessed with.
The Ace New York is centrally located in Midtown Manhattan, accessible to anything you might want to do in the city. This historic building has been converted into a space that's ideal for business travelers, creatives, and everyone in between. If you have been to any of the other amazing Ace Hotel locations like New Orleans or Palm Springs, you know the captivating style aesthetic to expect.
The rooms combine coziness and minimalism, and they feature local artwork and design. Some rooms also feature guitars, turntables, refrigerators, and curated minibars. The lobby has a Stumptown Coffee outpost as well as a cozy lobby bar that is perfect for a casual first meeting organized from gay dating sites. We tested that ourselves…
For food, be sure to hit up The Breslin, which has won James Beard awards for its delectable seasonal menus. There's also the John Dory Oyster Bar, which serves refreshing seafood in a bright and beautiful space.
Perfect if you like the eclectic style and are right in the heart of the action, the W in Times Square has space and luxury galore. True to W standards, the service is exceptional and attention is paid to every detail. Broadway is just a step away and the hotel's location in Times Square really makes you feel like you are on the pulse of one of the greatest cities in the world.
You might guess from the name, but the Roxy is all about old-school glamor and a touch of jazz. There is an underground jazz club in the hotel, as well as a cinema and a cocktail bar. No wonder it's one of the most popular gay hotels in New York! Once you retreat to your room, you'll find comfortable beds and great amenities, which make this the perfect place to hunker down for a night of watching gay TV shows — if that is what you feel like. There is no judgment here!
This modern hotel on the Lower East Side offers a range of rooms, from standard rooms to deluxe suites. All needs are catered to with facilities including a 24-hour business center, a gym, a local restaurant, and two bars. Staying here, you know you are in safe hands – the service is good, the rooms are clean and elegant and there's easy access to all the best bits of New York!
From the minute you see the elaborate front of the Dream Downtown, you know that you are staying somewhere pretty special. It's appropriate that so many art galleries are nearby, as some of the décor here is close to being a work of art. The 315 rooms are inspired by New York lofts and every comfort is taken care of, from feather beds to wide-screen televisions.
The 50 foot heated swimming pool actually has portholes in the bottom where you can look through to the lobby below (it's a great way to check out the incoming guests!). There's also a glamorous restaurant offering three meals a day, or 24-hour room service.
Sure, Queens is a little further away from the city, but you gain hugely in space when you don't stay on Manhattan. This is a gorgeous boutique hotel in a renovated paper factory – expect exposed brickwork and hip design. We love that there's a food truck in the backyard and a games room where you can relax with a bit of shuffleboard.
Yotel is the epitome of affordable designer hotels in New York – don't be put off by the slightly odd exterior; the cabin-style rooms are attractive and have all the latest technology (there's even a robotic luggage store!). There's a roof terrace where you can chill out after a day's sightseeing and a Mediterranean restaurant serving tasty dishes to reenergize you for a night experiencing the legendary gay clubs of Manhattan.
An arty and compact hotel right in the heart of Manhattan, everything is 24-hour at the citizenM in Times Square. It's all designed to suit a busy, bustling visitor wanting to make the most of this busy bustling city. And, like all citizenM hotels, the rooms are modern and use state-of-the-art technology for your convenience. Escape from the hustle with a drink at the rooftop bar, where the sounds of the city fade away a bit!
As the name suggests, this is another hotel that understands that you need a comfortable place to stay in the heart of the city and streamlines that experience as much as possible. Your room might be small, but it has everything you need – and there's more space at the bar on the roof.
Stay in the heart of hip Brooklyn with this hotel with décor inspired by the surrounding lofts. With such chic design, central location and a bar called Misdemeanor, no wonder it's one of the more frequented gay hotels in New York. Rooms have all amenities, including minibars, safes, blackout curtains and some seriously comfortable beds.
The straight-friendly Out Hotel was opened in 2012 to provide a gay hotel in New York that was more than just a place to sleep, but a place where gay travelers could hang out, people watch and have fun. So while the rooms are great, they're the least of the attractions! Recently rebranded, the Cachet Boutique Hotel NYC is still very gay-friendly but no longer the gay paradise it once was.
The rooms in the postmodern building are well equipped with 40-inch TVs and organic skincare products. Relax in the comfort of your own space or head to one of the three outdoor courtyards for a drink and a peruse of the other guests.
The 'Great Lawn' is a place to chill out, while business travelers can work in the Bamboo Garden. The sun deck is inspired by Fire Island, with hot tubs and a waterfall. If you choose to leave all the fun, Times Square is just a stroll away.
With all natural light and various types of wood, the rooms at this central hotel are perfect retreats from the occasional chaos of New York. The hotel describes itself as a community that rejects boundaries – perhaps one reason why it is so popular with gay travelers. The beds are pleasingly spacious, and the public spaces are attractive and welcoming. Have a drink on the roof and listen to the city below.
This hotel offers the height of pared-down minimalist chic. We love the simple beds on blonde wood platforms, with the view of the city through the windows behind; the bathrooms are modern, and some even have soaking tubs. You're right in the middle of Chelsea and can rent bicycles to shoot around the city like a real New Yorker. To recover from that, head to the roof, where there's a swimming pool and loungers to relax on.
This is another contemporary and hip designer hotel where you'll sometimes feel like you're walking through an exhibit. The design is based on 1946 French Film 'La Belle et la Bête' (Beauty and the Beast) and features a huge ivy-clad gate and lantern at the entrance.
Nomo has managed to maintain this nod to SoHo's past while ensuring that the hotel guests have all modern conveniences. There are plate windows offering stunning views to the streets and you feel like you have your finger on the pulse in the open workspace downstairs.
Gay Hotel Map Of New York
Feeling a bit lost while planning your journey to New York? No worries, darling! Our detailed LGBTQ+ tailored map is here to guide you. We've pinpointed all the vibrant gay-friendly bars, exhilarating clubs, extravagant parties, cozy hotels, relaxing saunas, and soothing massage parlors to ensure you find the perfect spot.
And these aren't just any spots; we're talking about the creme de la creme of locations in the heart of the city's vibrant gay scene. Think panoramic views, easy access to nightlife, and all the amenities to make your stay as comfortable and enjoyable as possible.
But hold on to your feather boas! These hot spots are so fabulous they vanish quicker than a drag queen's five o'clock shadow. Don't delay; book now to secure the best deals and locations. Remember, the early bird catches the best deals in New York! So, pack your rainbow flag, and get ready to experience the ultimate gay-friendly holiday in New York.