Welcome to Gay Ottawa, the glittering queer capital of the already exceptionally welcoming and LGBT-friendly Canada. Think Ottawa is your average stuffy capital which only looks semi-alive 9-5 on business days? Think again!
Ottawa is dynamic, fresh, approachable and – dare we say – sexy! With a small yet vibrant and well organized gay community consisting of everyone from activists to professionals, pioneers to young queer visionaries there is always something going on here. Pop-up queer takeovers, drag shows, poetry, bear coffee meetups, and more arts & culture than we thought possible – just to name a few!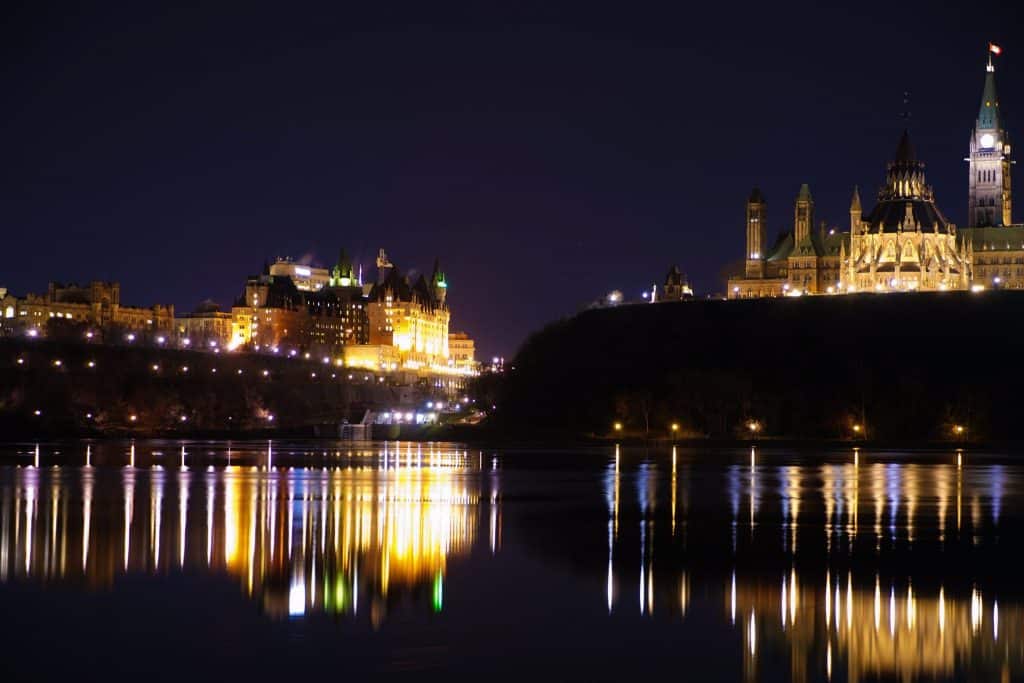 While there is plenty of idyllic demi-gods shaking their perfect body well into the night in the gay clubs what we loved about the Ottawa gay scene is the focus on inclusion and the full spectrum of the rainbow community. In Ottawa, there are all sorts of the queer serving organizations and grassroots social justice groups focussing on ensuring everyone gets the love and support they need and amplifying the queer voices that need it most.
If that's not enough Ottawa also has an insane roster of A-list events throughout the year, plenty of the best museums in Canada, leafy green spaces and of course, the chance of bumping into dreamy Justin Trudeau. Though if he is not to your liking (sacré bleu!), then the up-and-coming Ottawa gay village has plenty of cute boy and girls to fawn over!
Are you relocating? This guide will help travelers discover the queerer side of the city. However, if you are lucky enough to be considering a move here, we recommend getting in touch with a local gay realtor. They can happily give you no-obligation advice and all the information you'll ever need to know about your new city. And if you then want their help to find your dream home, you are guaranteed fair, equal, and honest representation. No surprises or awkward conversations necessary!

Gay Ottawa Guide: The Essential Guide To LGBT Travel In Ottawa Canada
Attractions in Gay Ottawa
Naturally being gay does not define which attractions most of us will want to see in each destination and most queer travelers will simply want to check out the top things to see in Ottawa during the day! We found our favorite memories were watching the sunset from a relaxing cocktail bar, dancing till dawn with our queer family, or exploring any one of the wonderful museums Canada's Capital has to offer.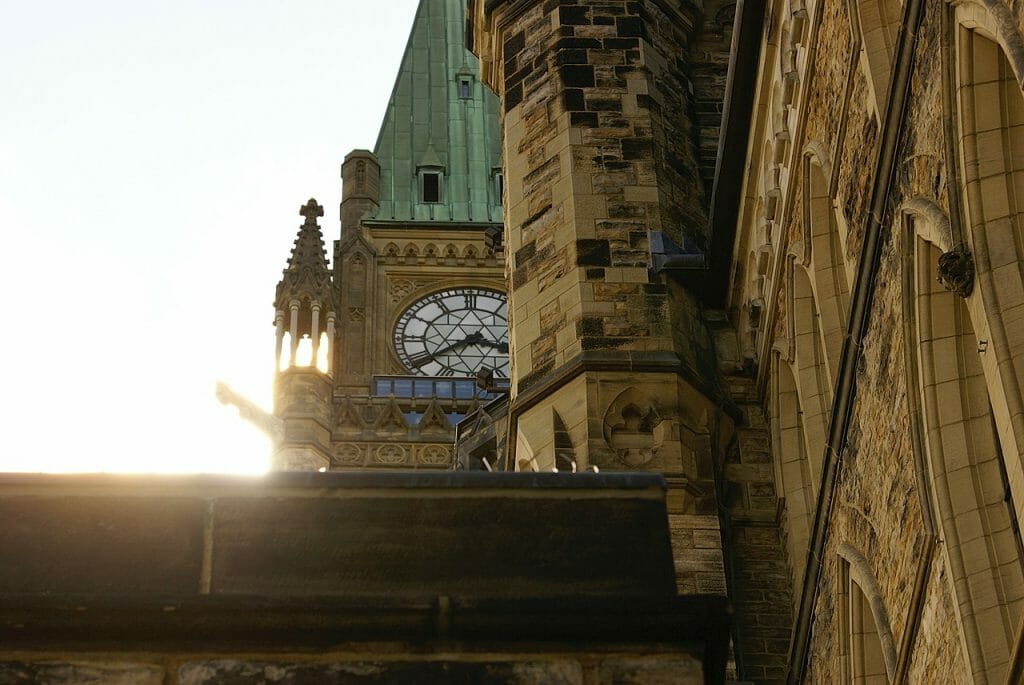 However, if you're someone who wants to see it all, we have put together a few of our other things to do in Ottawa that are sure to keep you busy! Rest assured, Ottawa is a very safe city, and gay travelers here do not need to take any extra precautions regarding public displays of affection (PDA) in this very progressive city.
If you do get any weird looks, take solace in the fact Hetero PDA also makes most Ottawa natives uncomfortable. They are a liberal yet reserved bunch, probably something to do with the fusion of British and French culture here…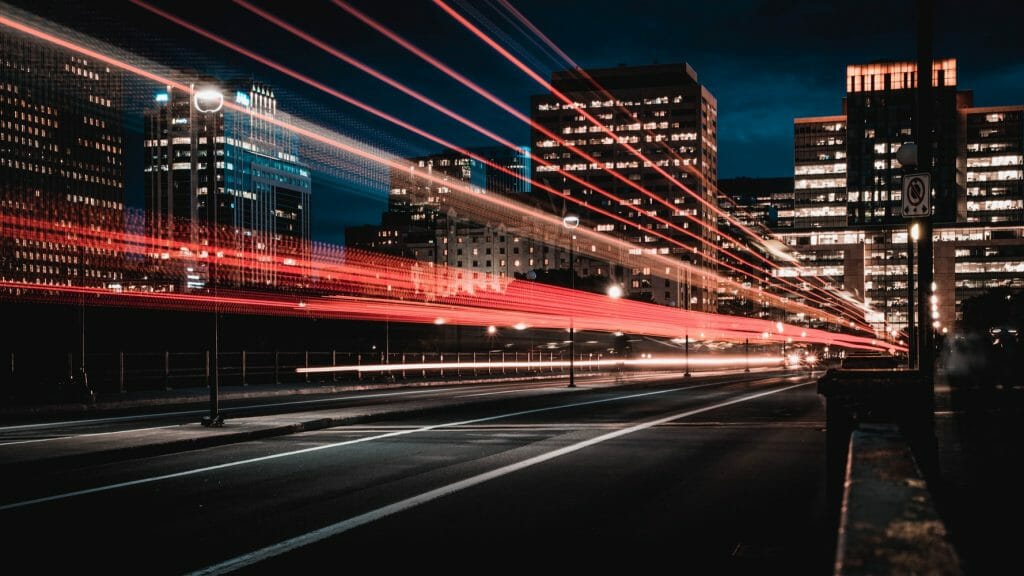 Top Places To See in Ottawa
ByWard Market – With over 600 shops and businesses, the ByWard Market is a unique blend of fine dining, delicious snacks, baked goods and the not-to-be-missed Beaver Tails or Obama Cookies. ByWard Market is actually older than the Canadian nation, and while it has changed drastically over the years to meet the changing trends and needs of Ottawa, this market has always been the 'go-to' meeting place for Ottawans in search of high-quality food, cutting-edge trends, and boutique stores.
Parliament Hill – Not just a collection of some of the finest Gothic Revival architecture in the world, Parliament Hill in Ottawa is the beating heart of the Canadian Nation. To truly understand how such a dynamic and multi-cultural state can exist take one of the many daily free tours of the parliament (on a first-come, first-served basis) to get a look inside and discover the history, art, and function of Canada's parliament including the senate, house of commons and library.
Ottawa Gay Village – A six by two block area of Bank Street has been officially designated Ottawa's Gay Village. Don't expect anything like Montreal, Lisbon, Munich or Glasgow but this growing gaybourhood is already home to many established and newly blossoming LGBT+ friendly bars and hotels, many of which are gay owned and operated. Let's hope it continues to grow and finds it's fabulous feet!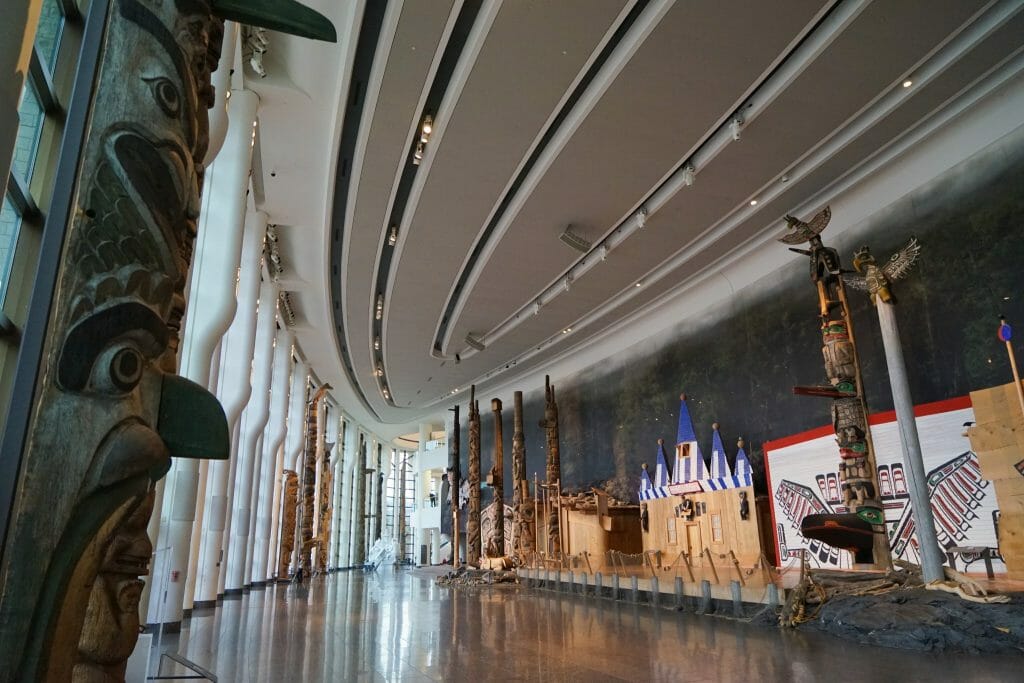 Canadian Museum of History – As the most-visited museum in Canada – and arguably the most important – the Canadian Museum of History is a drawcard all on its own with outstanding exhibits focused on First Nations, Canadian and world history. Whether you have only a few hours or entire days, the Canadian Museum of History in Ottawa offers a critical retrospective on the events which led to the formation of the Canadian state and since, given visitors a greater awareness of Canada; it's identity and place in the world.
National Gallery Of Canada – With a great mix of contemporary, indigenous, modern and historical art of practically every era, the National Gallery of Canada has something for everyone. The National Gallery of Canada is undisputedly the largest collection of Canadian Art in the world and of particular interest is the Inuit and Aboriginal art which offers a real point of difference to other world-class galleries around the world. Set inside a striking glass and granite building overlooking Parliament Hill – designed by esteemed architect Moshe Safdie, of Habitat 67 in Montreal fame – a visit here is worth it!
Canadian Museum of Nature – As the second largest country in the world, with a ridiculous amount of expansive nature, biomes, and animals it is impossible to see them all, which is where a trip to the Canadian Museum of Nature comes in. With over 14.6 million (yes, million) specimen, this museum brilliantly showcases the botany, mineralogy, paleontology, and zoology of Canada in a modern and fun manner suitable for all ages. Thanks to a recent multi-million dollar upgrade with the addition of many new interactive exhibits and a dazzling 'glass lantern,' there is no better place to get Handsome bartenders are manning understanding of the scale or relationships in the Canadian wilderness, and why it is so important to protect it.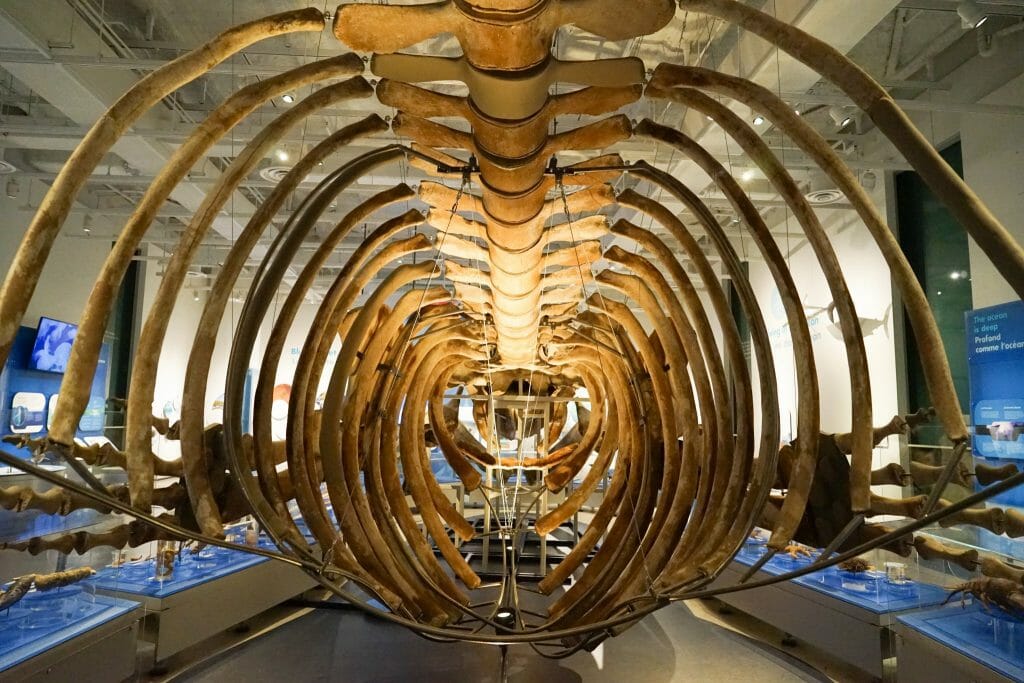 Rideau Canal – Where it all started, Ottawa (or ByTown as it was initially named) would simply not exist without the Rideau Canal, a monumental 19th-century construction spanning over 200 kilometers. Built primarily for military purposes to protect against an American invasion that never happened, the Rideau Canal is now a UNESCO World Heritage Site and the best-preserved example of a slack water canal in North America. Today it is still used – but for boat tours on the Rideau Canal or pleasure cruises – and offers something for everyone whether it is ice-skating in the winter, or picnicking in the summer. The Rideau Canal cuts through the heart of Ottawa, and there is a fabulous trail along its length which is a great way to explore the city from a new perspective.
Ottawa Art Gallery – Newly expanded in 2018, this $38-million dollar state-of-the-art facility that finally gives the Firestone Collection of Canadian Art – a collection of over 1600 works of twentieth-century Canadian art amassed by Ottawa residents O.J. and Isobel Firestone – a proper home. The Ottawa Art Gallery focuses on growing connections between artists and the community, and this current iteration at 5 times the size of the old space is truly a coming of age for the Ottawa art scene.
Ottawa Street Art – Of all the beautiful surprises that Ottawa throws at you, the proliferation of street art in hidden spaces has to be one of the most exciting. Eschewing the stereotypical expectations of 'plain and safe' world capital's, Ottawa invites murals and street arts in every possible public space, in alleys, doorways, parks, and buildings. Programs such as "Paint it up!" or "Paint the Pavement" help to remove the stigma of street art and graffiti meaning exploring the urban streets of Ottawa has never been so exciting, or photographable!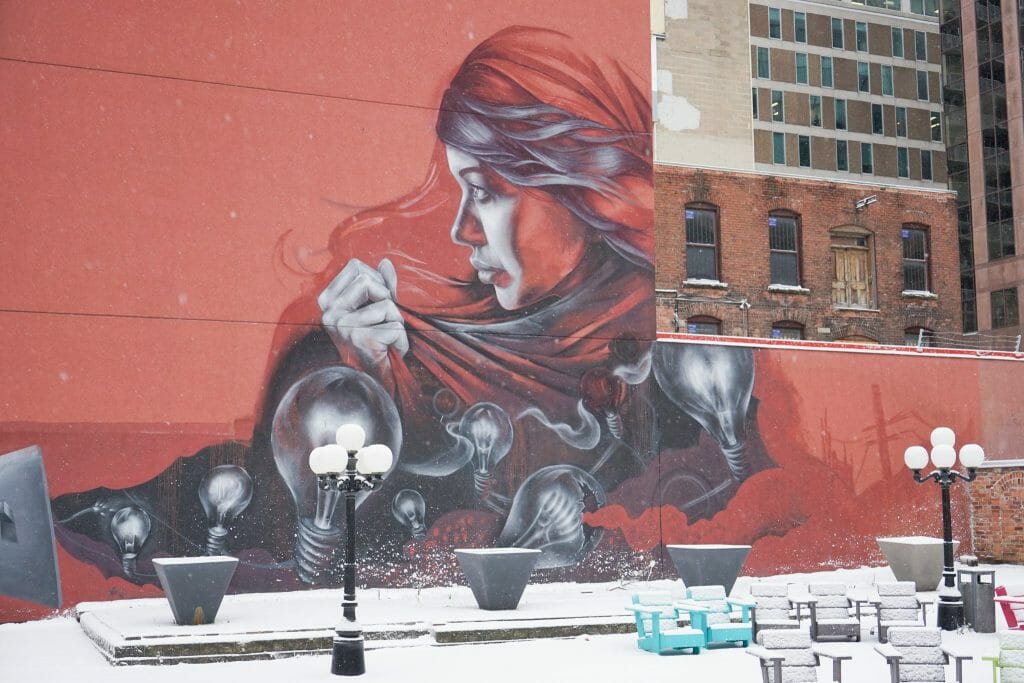 Gay Things To Do In Ottawa
Stonewall Wilde's – A recent merger of two of Ottawa's longstanding gay-owned stores, a bookstore, and a sex toy shop. Stop by to experience this unusual place where you can shop for homewares and local crafts before moving on to the men's den, with men's clothing, queer sex toys, and grooming products. Just think for a moment the diverse range of customers that could be in store at any one time!
Venus Envy Ottawa – An award-winning sex shop and bookstore with something for everyone. Anyone who's turned off by traditional sex shops will find Venus a welcoming and informative place to get cool and sexy stuff, with gear for safe sex, gender expression and play and health. More education focussed with a core belief that customers deserve quality products and useful information, and that sex should be dirty in a good way, not a shameful one. Venus Envy (also found in Halifax) operates a bursary fund in Ottawa to support women and trans people working towards a degree, diploma or certificate in any subject and runs a pay-it-forward program for binders and gaffs.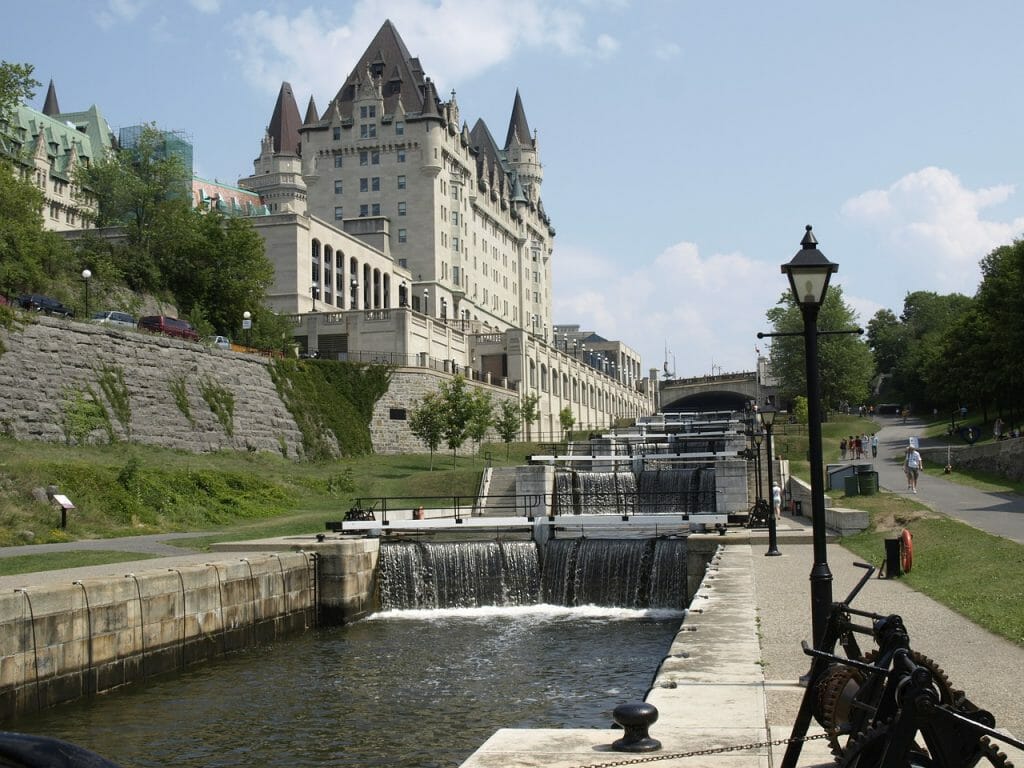 Gay ZONE – Canada's only gay men's specific HIV/STI testing facility providing a wide range of programs and services for gay, bi, transmen and other men who have sex with men in the Ottawa area. Check out their monthly yoga sessions, book club, queer youth group, film nights, cooking meetups and more.
Roosters Classic Barbershop – A classic American groom-shop every popular with the Ottawa LGBT community and serving everyone regardless of race, gender or sexual orientation. Stop by if you're in need of a touch-up, and you will leave looking like a 21st-century man while feeling better than Leonardo DiCaprio after he finally won that Oscar.
Sexual Overtones – A non-profit performance troupe in Ottawa committed to the lost art of sexual satire. Their performances ride the seam between burlesque, physical humor, and vaudeville entertainment. Female, body and sex-positive the Sexual Overtones offer an all-inclusive, so why to go attend, as either an audience member or participant of this breakthrough performance art.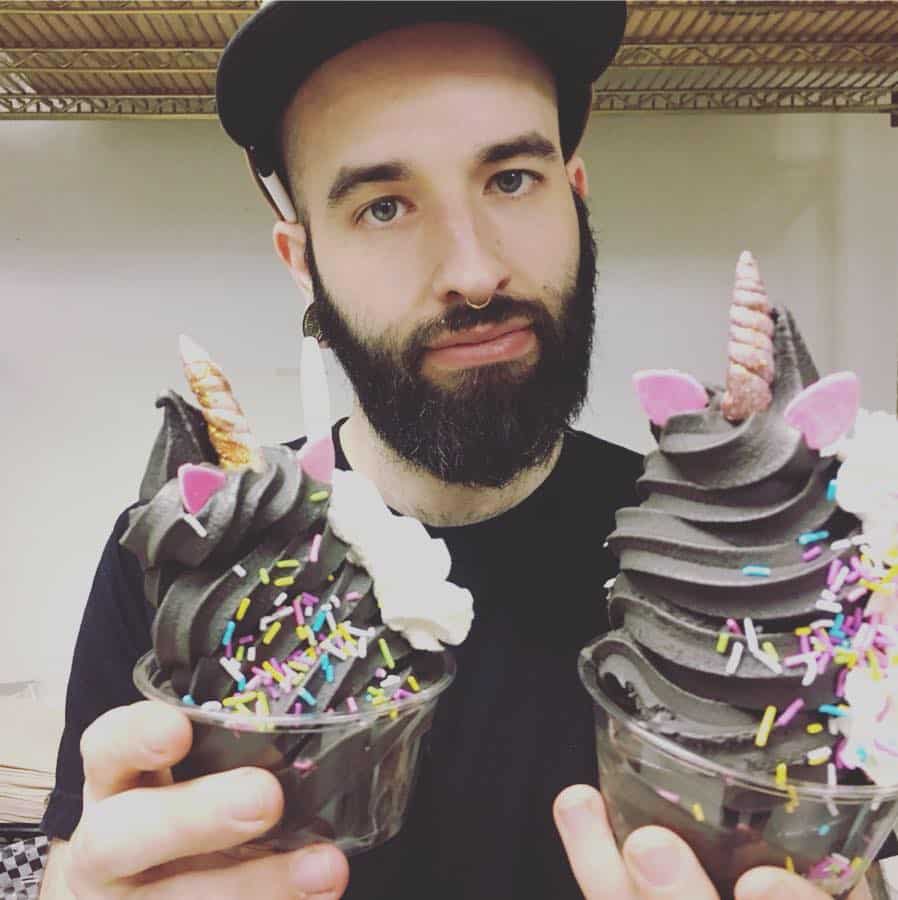 Little Jo Berry's Coffee & Eats – A fantastic bakery with fresh daily offerings, delicious coffee, and innovative food. Whether it be dairy-free, gluten-free, or just plain ole' delicious…They have you covered! Very gay-popular, as all things trendy and cool tend to be – this is one place in Ottawa you won't want to miss! Our favorite thing? Try the Matcha Latte with Agave – the best in town, or any of their ultra-instagrammable food. And it's all even more delicious than it looks!
Bike Yeah! – An LGBTQ+ bike group in Ottawa offering a safety, accessibility, and acceptance on their twice-monthly rides. Popularised across Canada, we love the focus on breaking down barriers and forming community through commonality. Besides, it's nice to get some exercise that isn't bouncing around a club until 4 am…
Manajiwin – A body-positive LGBT+ fitness space to celebrate yourself and building self-confidence while surrounded by positive, encouraging vibes. Manajiwin is about personal fitness the way you want it, with volunteer available for guidance and help. Currently operating Saturdays from 5 pm – 8 pm at 250 City Centre Ave at the Odawa Native Friendship Centre who has generously offered their space.
Ottawa Wolves – A rugby team with a mission to promote and encourage participation in rugby among those who have traditionally been under-represented in the game. The team members are predominantly part of the LGBTQA community, but diverse in its make-up, and inclusive of everyone. Join them on the pitch, try out at practices, watch games and maybe even play in the real this? With both male and female teams, they are always recruiting both new and experienced players!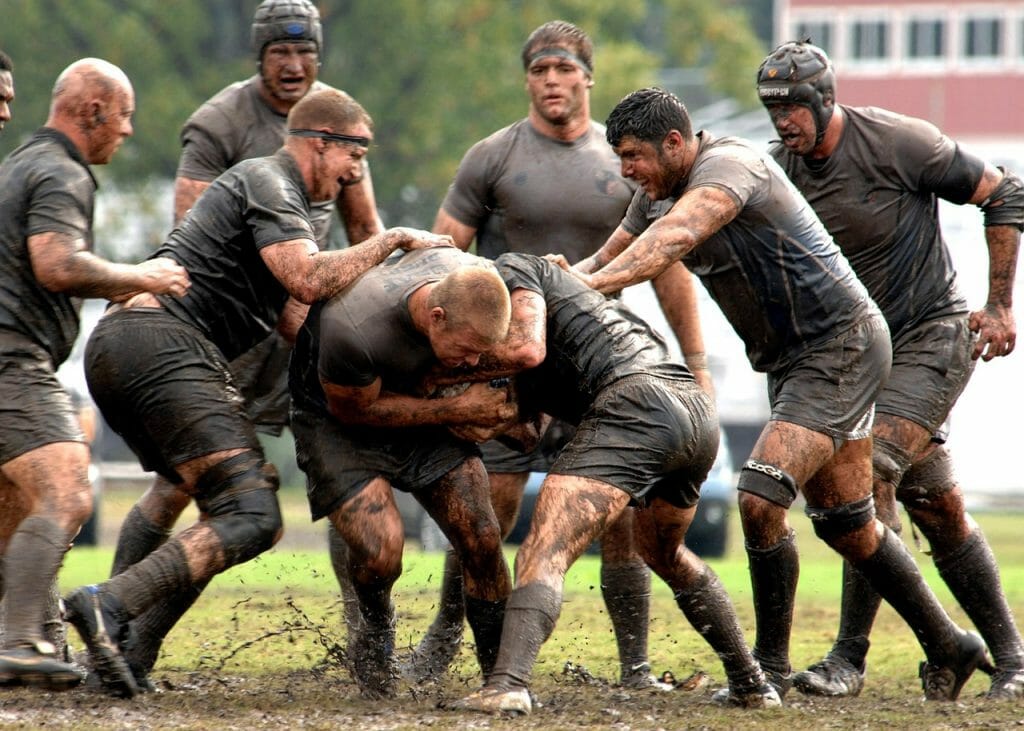 Gay Events in Ottawa
Gay Ottawa is a city that has hundreds of events on across the year, and queer travelers to Canada should not restrict themselves to exclusively gay events. Especially of note are the many music festivals of all sizes that are organized through the year, but every night of the week you can find live music and plenty of club events on the weekend.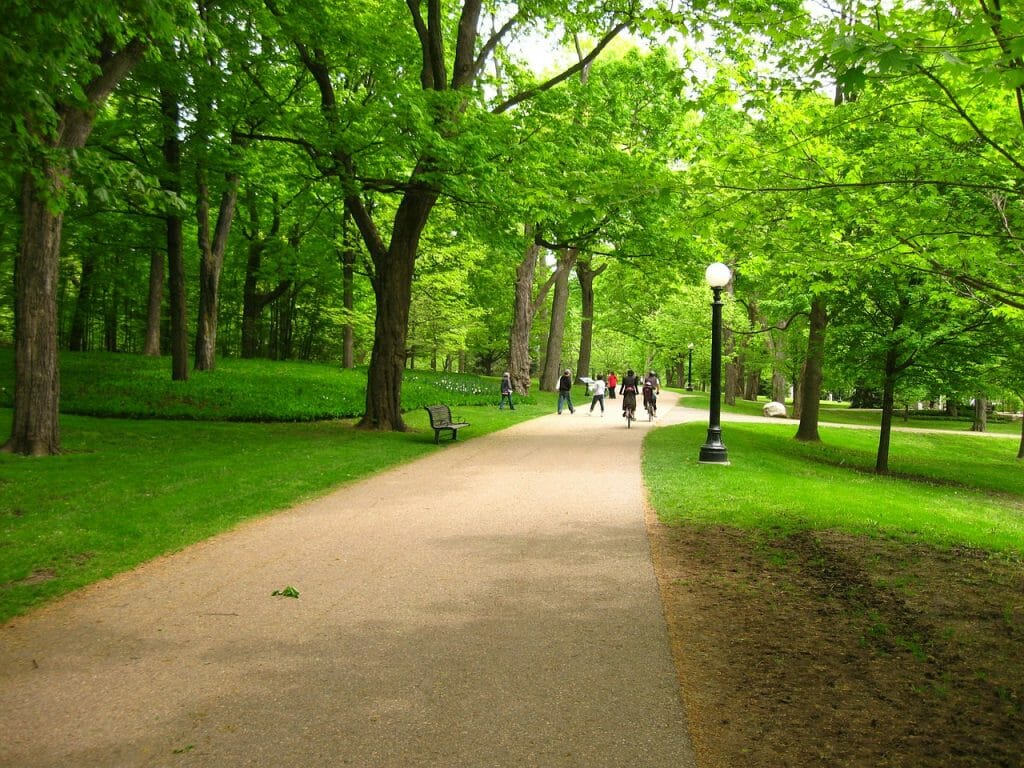 While June is the primary month of LGBT celebrations and events for Ottawa's gay community revolving around the vast Capital Pride Festival, there are plenty of other gay events in Ottawa to look out for during the rest of the year. People in Ottawa are shy but very welcoming, so if you can start a conversation on any of popular hookup apps or in person, you are almost guaranteed to hear about something somewhere and get invited. These, however, are the most prominent events currently on the Gay Ottawa calendar.
Ottawa Gay Pride / Capital Pride Festival – The most significant Ottawa gay event held annually in August. The entire pride week is fuel by parties, picnics, sporting events, workshops and plenty of art and culture. Everything culminates on the Sunday in a Pride Parade and Festival on Ottawa's City Hall grounds where everybody celebrates and enjoys the live entertainment. This is one gay event in Ottawa worth planning your trip around though make sure to book your hotel in Ottawa far in advance as the best hotels everything decent sell out months in advance.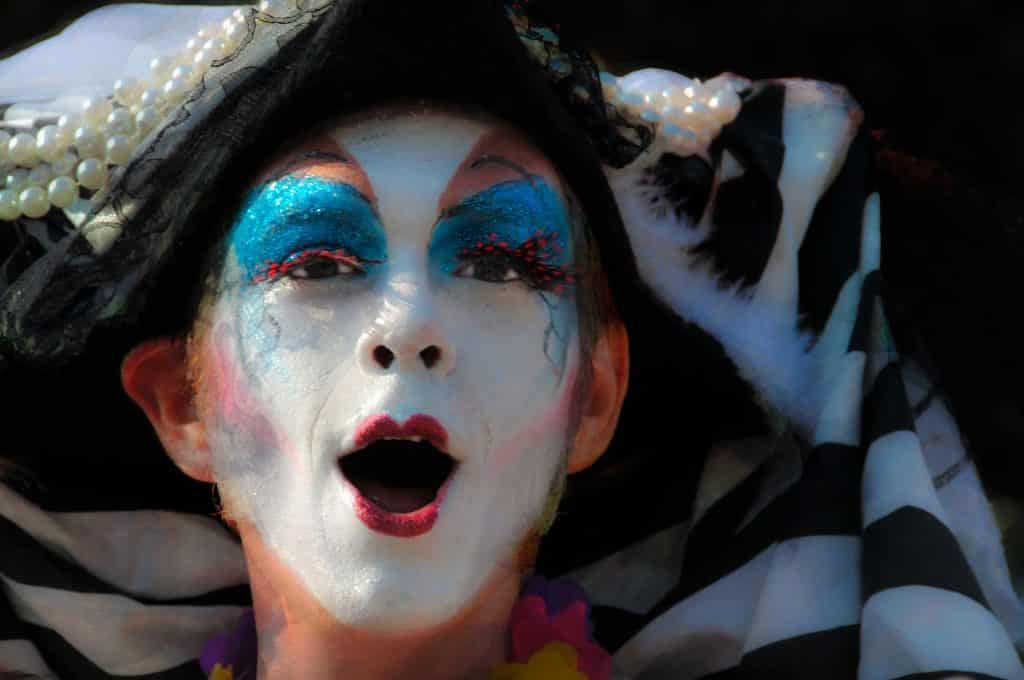 Inside Out | The Ottawa LGBT Film Festival – 3 days in November of the best in queer cinema from Canada and around the world. We swoon anytime there is a gay kiss on TV, so this is pretty much a dream come true for us. One of the biggest rainbow film festival in Canada with over 4,000 attendees + plenty of swanky before and after parties. A fun way to explore Ottawa gay life without staying out past midnight.
Glowfair Festival – A relatively new event that takes place in June across ten city blocks in Downtown Ottawa, Each of these blocks focuses on a unique theme or element to celebrate the diverse community that Ottawa is known for. Very gay-popular, but open to everyone (obviously) this one-of-a-kind event is a true celebration of music, light, and art with bizarre experimental activities that make us want to go soooo bad!

Geek Out! Ottawa – A safe space for all members of the LGBT+ community to come together and socialize outside of the clubs and bars. Generally held at the first and third weekend each month, we wish more events like this would take place around the world as a great way to meet like-minded people, bond and just enjoy a fun event without loud music or excessive drinking.
Ottawa Knights Club Night – A Leather and Denim Social Club has over 42 years of History in the Community. On the 2nd Saturday of every month, they host a Fetish/Kink/Themed Leather Nights @ T Pub's, their home base. The Ottawa Knights also host various other workshops and event's throughout the year worth looking out for.
Ottawa Bears – A social group for all bear, otters, cubs, and admirers. To see what they are all about head to along to their bear coffee afternoons every Sunday or the popular gaymer night on Tuesday's. The Ottawa Bears also host a once-a-month 'Bear Feeding' night at a local restaurant and other special events throughout the year. Is it just us or is it slightly ironic that real Bears are solitary in nature, yet in the gay community are generally the most sociable of all of us!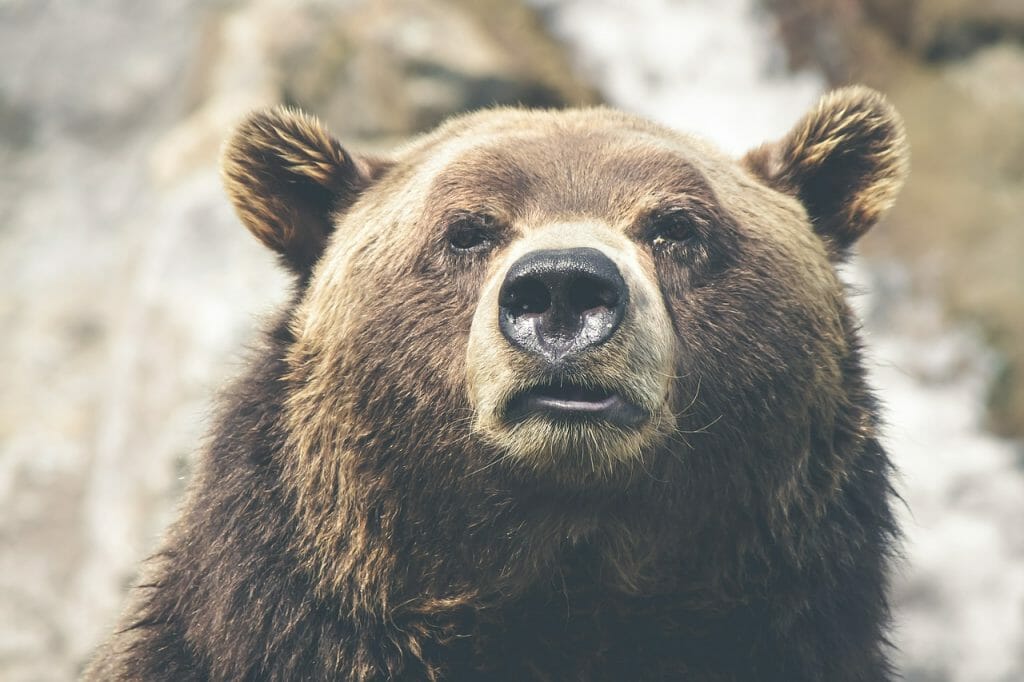 Other Events in Ottawa
Yes, Ottawa really punches well above its weight when it comes to events, and when planning a trip here you would be hard-pressed to find a date where there was nothing going on. In Gay Ottawa, you are welcome everywhere, but we have highlights two events which are particularly gay popular.
Ottawa is a destination for all seasons, from the snowy depths of winter and the yellow-orange glow of Autumn to the long days and warm weather of summer – and they truly know how to use all these conditions to their advantage when planning events.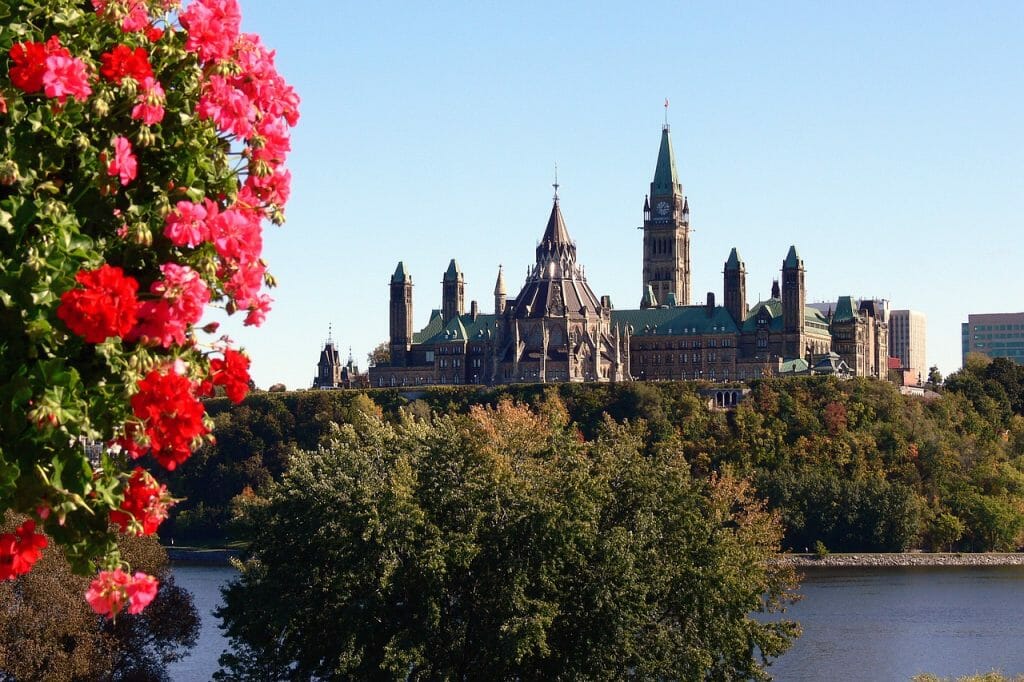 International Ottawa Busker Festival – An event we first came across in Gay Auckland but is also held along Sparks Street Mall in August in Ottawa. Plenty of free entertainment including clowns, jugglers, acrobats, fire-eaters, comedians, magicians and other street performers from around the world – just don't forget to tip!
Ottawa Fringe Festival – The Fringe Festival is a celebration of the arts and an opportunity for local, national and international artists to showcase their original work. While the concept originated from Edinburgh, Fringe Festival have pop'd up all over the world, from Orlando to Melbourne to Taipei. Always rich with LGBT themes and with many queer participants, its almost as if gays just can't get enough drama …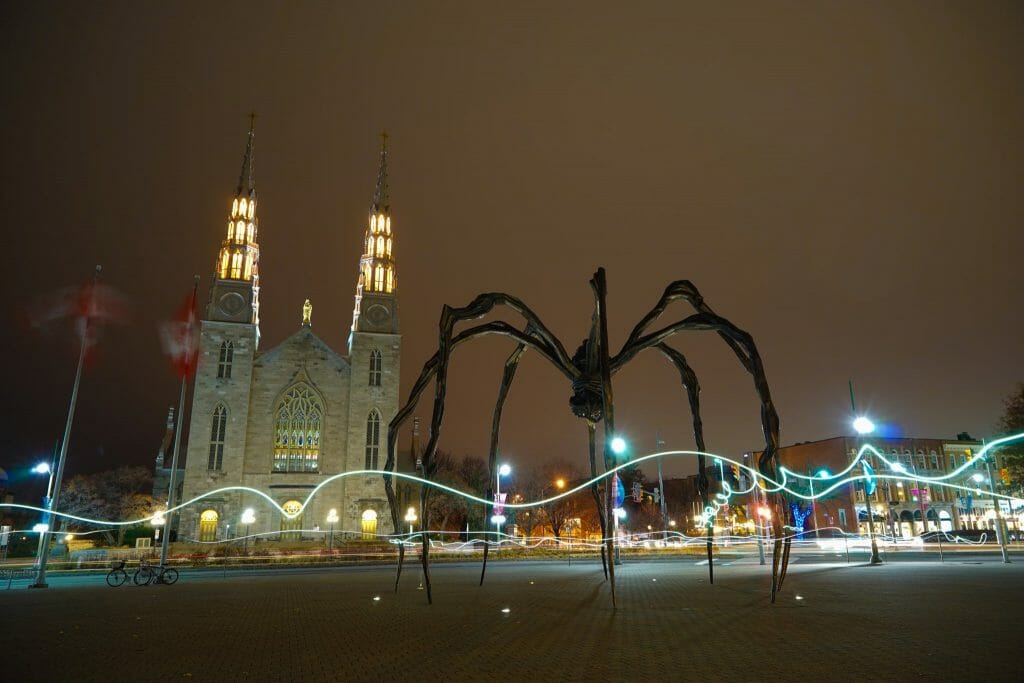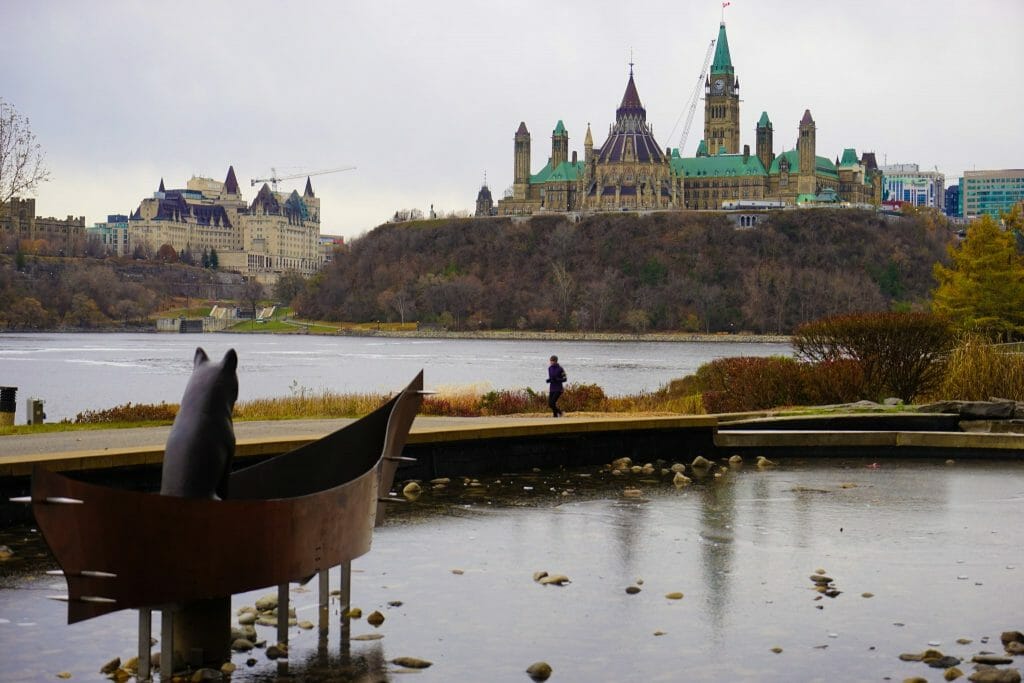 Gay-friendly and Gay Hotels in Ottawa Canada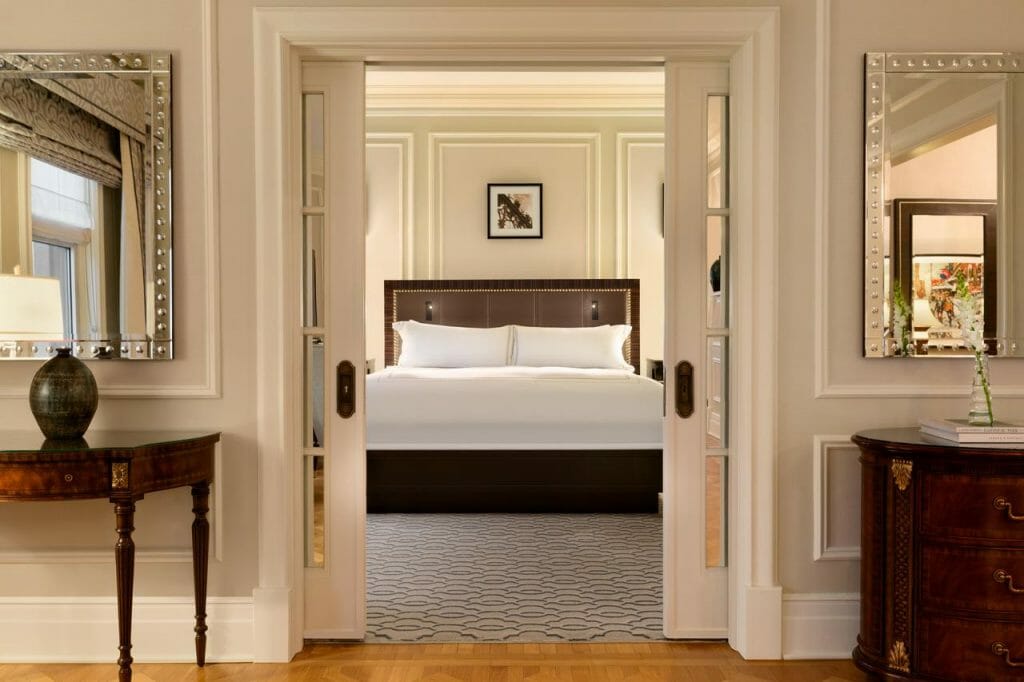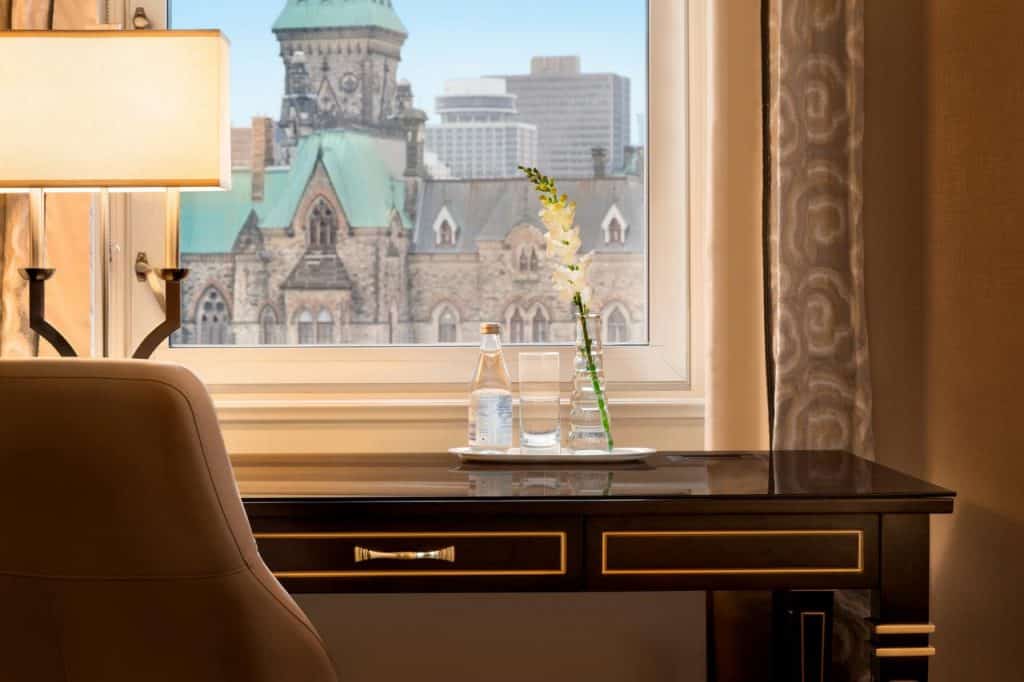 As you would expect in such a progressive country, pretty much every hotel and hostel in Ottawa can be considered gay-friendly – after all being a gay-friendly it not all about upscale luxury, but about providing friendly and open service and welcoming everyone with open arms! Having said this, everyone likes to be surrounded by people with common interests, and as such there a few well-known hotels in Ottawa that are known hot spots for gay travelers to stay!



The best locations for gay travelers is in the downtown area and ByWard Markets / faux Ottawa Gay Village which is close to all the top tourist sites and attractions – by day or by night. However, as long as you are close to a bus stop or if hiring your own car then everything is relatively easy to reach – and there are hundreds of other hotels in Ottawa you could consider.

We have put a Gay Ottawa map at the end in case you need some help getting an idea of where everything is. Whether you want a fun and social hostel, a cheap place to crash after a night of partying or a chic designer option to sip cocktails and surround yourself with fabulous people – Gay Ottawa as something for everyone!



Fairmont Chateau Laurier ☆☆☆☆☆ – Since there are no gay hotels in Ottawa, this is basically the next best choice: being a queen of your own castle. This landmark hotel overlooking the Rideau Canal is an instantly recognizable building offering old world luxury mixed with modern conveniences. We don't believe travel ends when you return to your hotel, and a stay at the Fairmont Chateau Laurier guaranteed the adventure continues after you check in and all the way till you head hits the pillow (and maybe after, who are we to judge!). The polished rooms offer parliament or city views, the location is literally in the middle of everything, and there is a unique art-deco swimming pool and gym. Coupled with a recent renovation and a prestigious history this is probably Ottawa's best luxury hotel.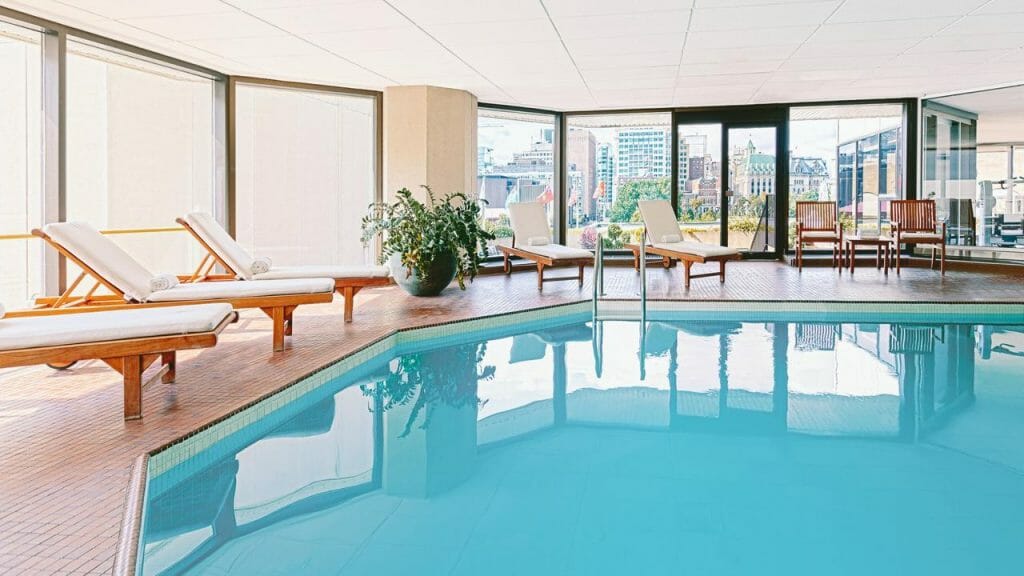 The Westin Ottawa ☆☆☆☆ – Enjoy your perfect gaycation at this 4-star hotel in the heart of downtown Ottawa. Offering a picture-perfect location right on the famous Rideau Canal with stunning views over to Parliament Hill, this is a haven for renewal. Every room offers floor-to-ceiling windows, many with separate living areas, Bose sound systems, conference tables and wet bars. Still not enough? Unwind in the indoor saltwater pool, work up a sweat at the gym or indulge at the two on-site restaurants + a coffee bar.
Arc The Hotel ☆☆☆☆ – If you prefer something more modern, then the Arc hotel is a premier design boutique hotel offering urban luxury and design to discerning customers. Featuring hardwood floors, unique design and complimentary Belgian chocolates in their sleek rooms, what more could you want? Sparkling wine on check-in? SOLD!
Sheraton Ottawa Hotel ☆☆☆☆ – An international hotel featuring low-key contemporary rooms, a club lounge, indoor swimming pool and more…all in the center of the downtown. If you don't fancy leaving the complex, the Carleton Grill offers an a la carte menu for breakfast, and a lunch buffet or guests can enjoy a light meal at Sasha's Bar.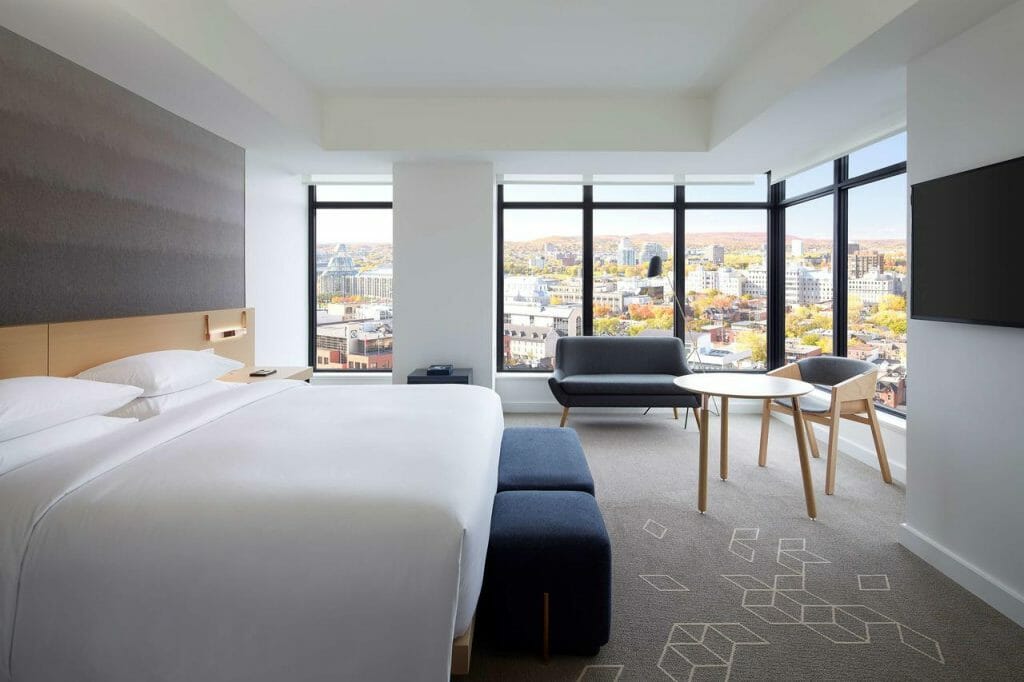 Andaz Ottawa Byward Market ☆☆☆☆ – A sleek hotel in the trendy Byward Market district, Andaz is very LGBT -popular with most of the cities best gay hangouts right on its doorstep. The airy, stylish rooms feature rainfall showers and floor-to-ceiling windows, many with spectacular views of the Gatineau Hills. If that isn't enough, there is also a very fashionable penthouse cocktail bar, a hip restaurant offering Frontier Canadian cuisine and plenty of locally inspired design.
Le Germain Hotel Ottawa ☆☆☆☆ – A funky modern hotel opened in 2018 close to all the highlights of Gay Ottawa. Bold yet chic design elements inspire and delight, while the rooms provide the ultimate in comfort and relaxation. Currently, the talk of the town, why not try Le Germain Hotel Ottawa why everything still has that 'brand new' scent?
Alt Hotel Ottawa ☆☆☆ – Offering affordable luxury and industrial style n the heart of Ottawa Downtown, the Alt Hotel is the best place to stay in Ottawa on a budget. Expect striking rooms with absolutely everything you need: a comfortable bed, a nice hot shower, and super-fast Wi-Fi. There is a bustling café, super-helpful staff, well-equipt gym and gorgeous views from the higher level rooms.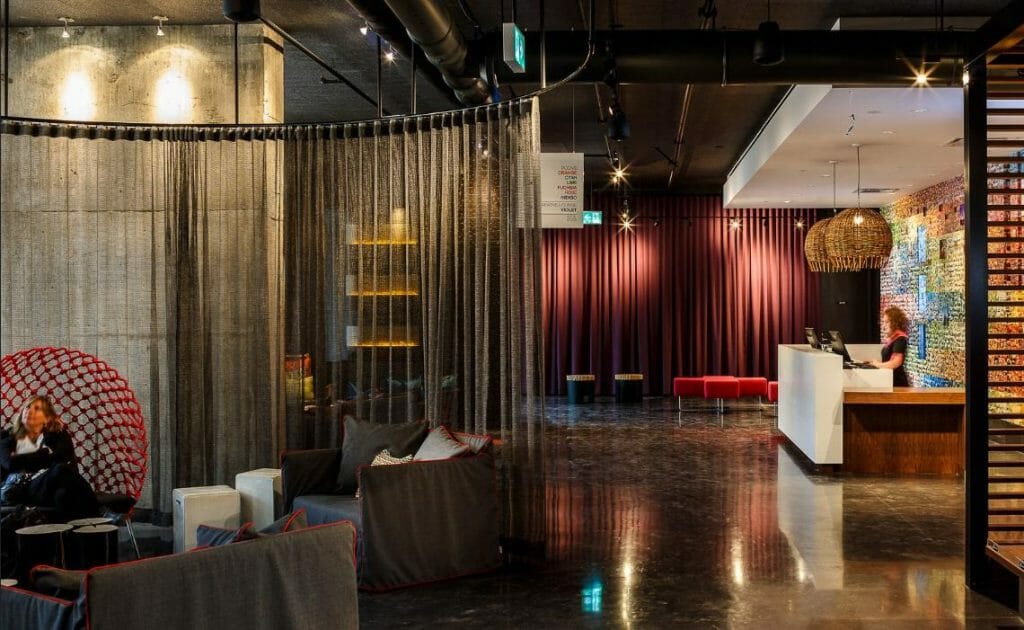 Benner's Bed & Breakfast ☆☆☆ – A very gay-friendly and tasteful B&B / guesthouse just a short walk away from Ottawa downtown. Each bright, modernly furnished room offers free WiFi, a flat-screen TV, and air conditioning and there is free parking included if you are renting a car (or bringing your own!). Warm and considerate owners, an exceptional breakfast and clean rooms. What more could you ask for?
HI – Ottawa Jail Hostel ☆☆ – One of the cheapest beds in Ottawa housed in the renovated 19th-century former jail. The rooms are no frills, but there is an on-site pub, continental breakfast and a tour of the jail are free. Plus its only a few minutes walk to the gay scene of Ottawa. If you are on a budget, want to make friends to explore the nightlife in – or want to stay in a weirdly beautiful hostel – the Ottawa Jail Hostel is for you!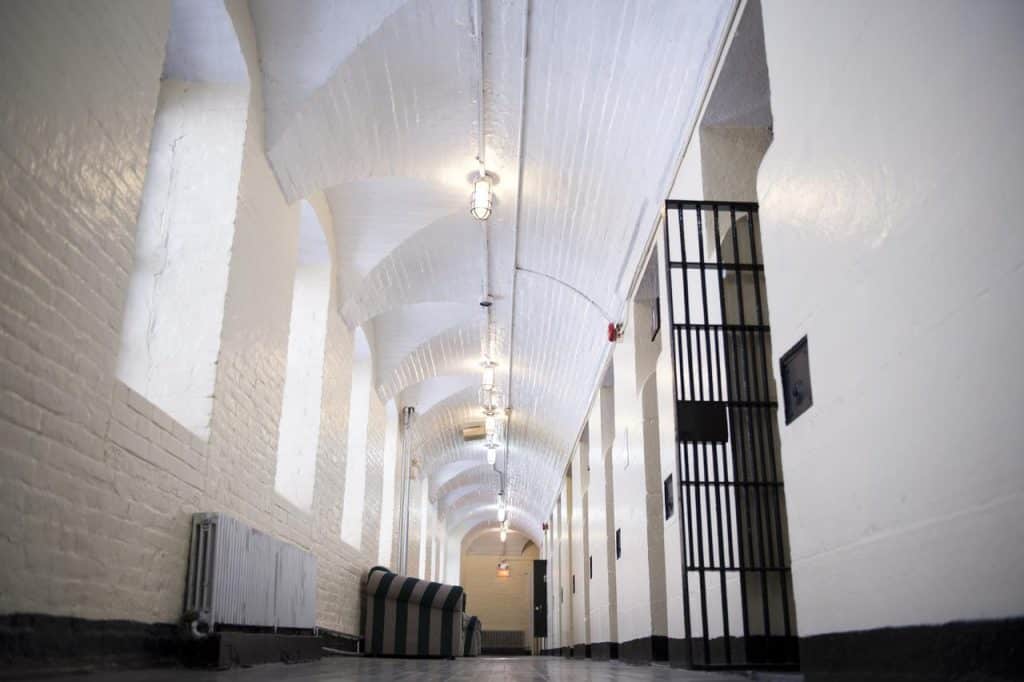 Gay Nightlife in Ottawa
Ottawa is one of the most gay-friendly destinations in the world and has plenty of gay nightlife to cater for any kind of mood. Being such a tolerant society, you are unlikely to experience any issues with displays of affection in public and as such will be welcomed in most clubs and bars in Ottawa.
In fact, this is what many gay locals in Ottawa do, so there is less of a dedicated gay scene here than you might expect! There are however three fantastic gay bars in Ottawa and a variety of gay-popular venues we have featured here, but if you want to mix with hetero's, you will be accepted pretty much anywhere you go.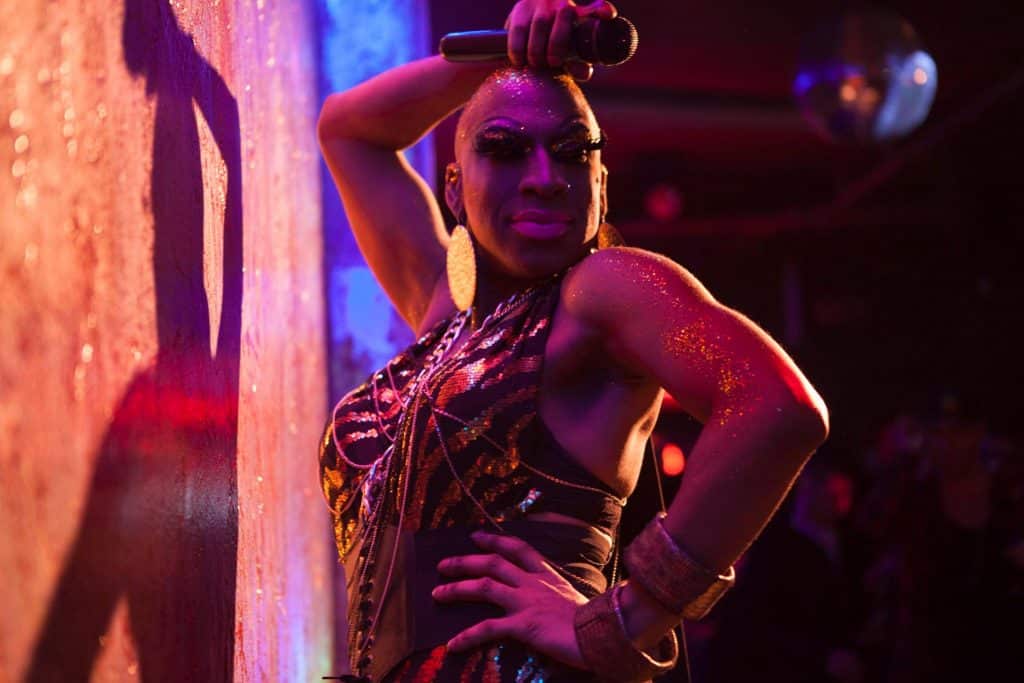 There are also a variety of queer takeover events in Ottawa, but they seem to be coming and going faster than we can add them here. Please contact us to get a gay nightlife event in Ottawa listed if you have more information. For now, try the fabulous, glittery SaShay seasonal event's which are bringing spice back to the Ottawa gay scene with occasional parties around town – or the THROB underground dance and cruise parties playing "beats … a little harder, darker, and sexier."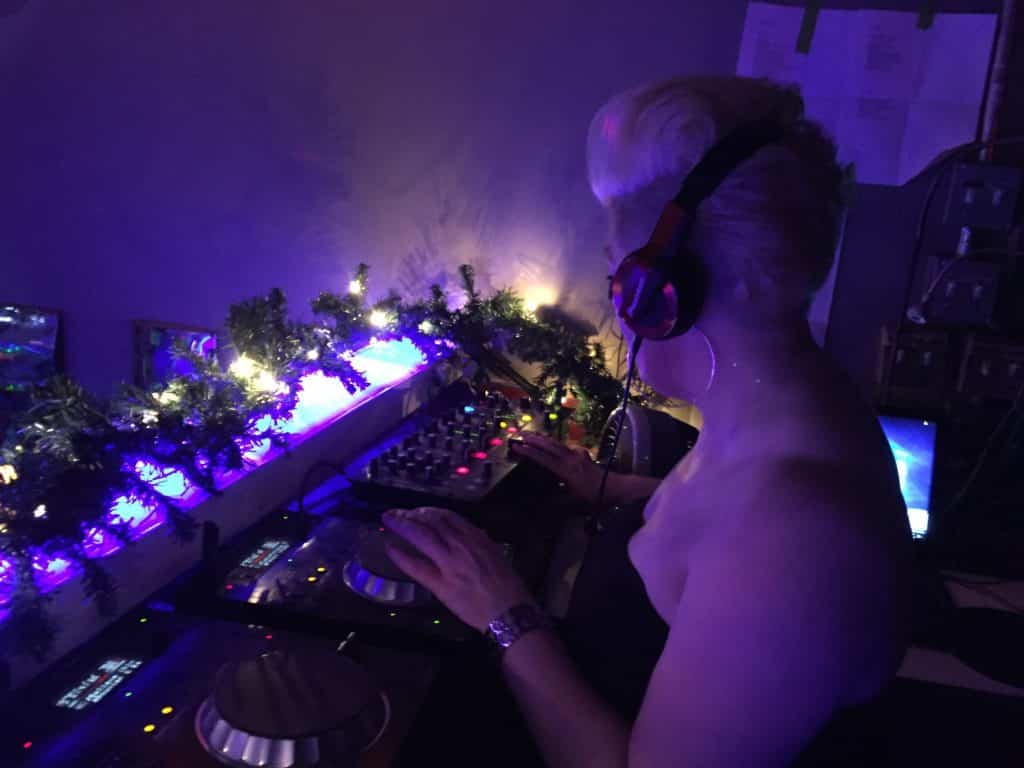 Gay Bars in Ottawa
Lookout – The best gay bar in Ottawa although it is straight-friendly if you have companions. In a central location with a fabulous balcony overlooking the Ottawa marketplace. There are events here most nights, but Thursday is popular with gays, Friday with lesbians (the closest thing to an Ottawa lesbian bar sorry ladies!) and Saturday with everyone thanks to the amazing drag shows and all-night dancing. On Tuesday and Wednesday, there is also the gay bar staple: karaoke. For an unforgettable night surrounded by your global gay family, Lookout Bar is the place to go!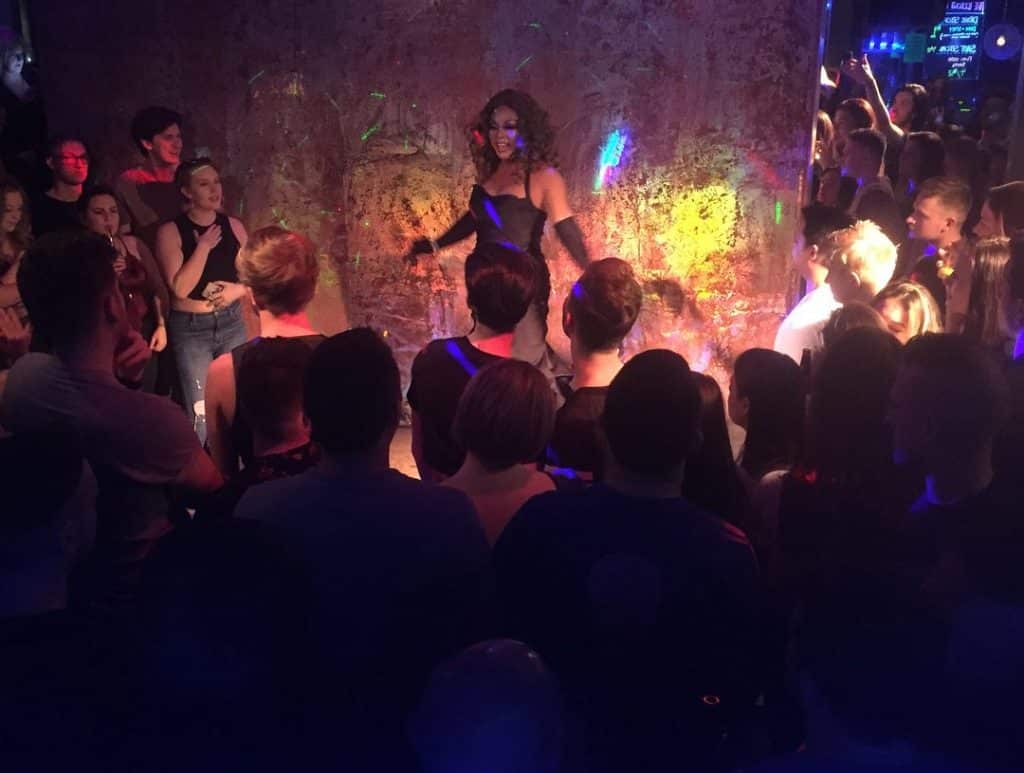 T's Pub – The newest gay bar to open in Ottawa found in Centretown. Resident DJs, all-night dancing, weekly drag shows and delicious cocktails. If you're a RuPaul Drag Race fan grab your merch and head down for their drag race viewing parties.
Swizzles – Located in the heart of downtown Ottawa, Swizzles is a gay bar open to the entire community. On any given day, you can find whatever it is your desire: boys, girls, everything in between, there is no bias here. Expect plenty of fun and to leave with new friends, just turn up for their regular game, drag, live music, comedy, poetry reading, karaoke nights and away you go. A place for unicorns to just be unicorns, with no judgment!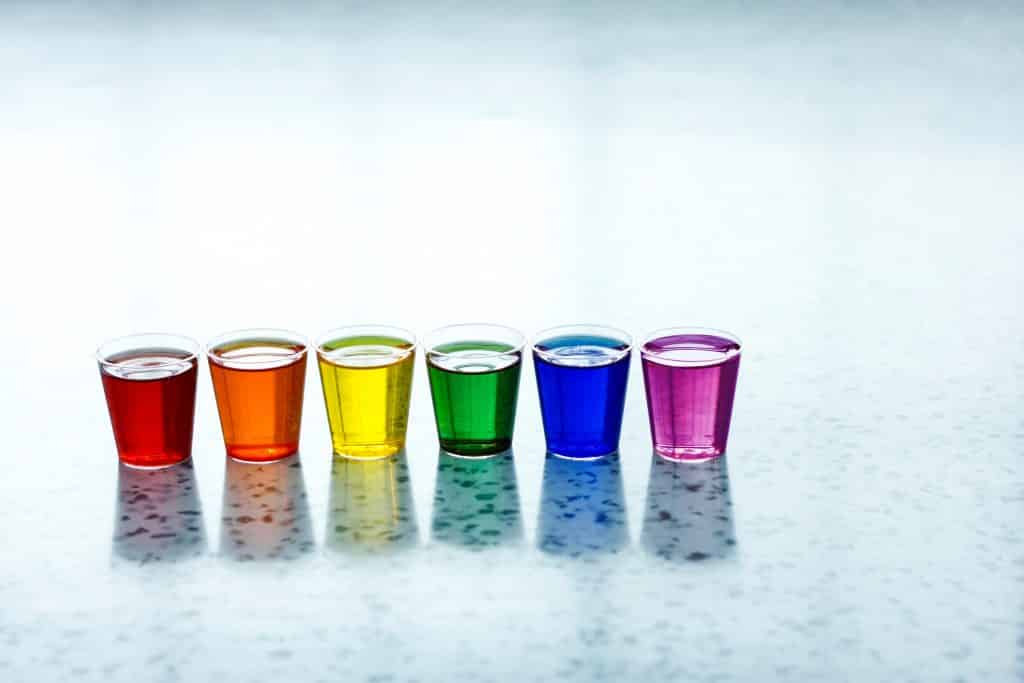 Gay-Popular Nightlife Venues in Ottawa
Babylon Nightclub – All all-welcoming nightclub found in Ottawa's Centretown area. Babylon is a multipurpose nightlife venue known as one of the best live music venues in Ottawa. Babylon seamlessly shifts between content hall and club so check in advance if you're after a specific type of music or atmosphere. Anything can happen here, and while Babylon is always gay-friendly try to visit on the 3rd Saturday of every month for THE QUEER MAFIA dance party.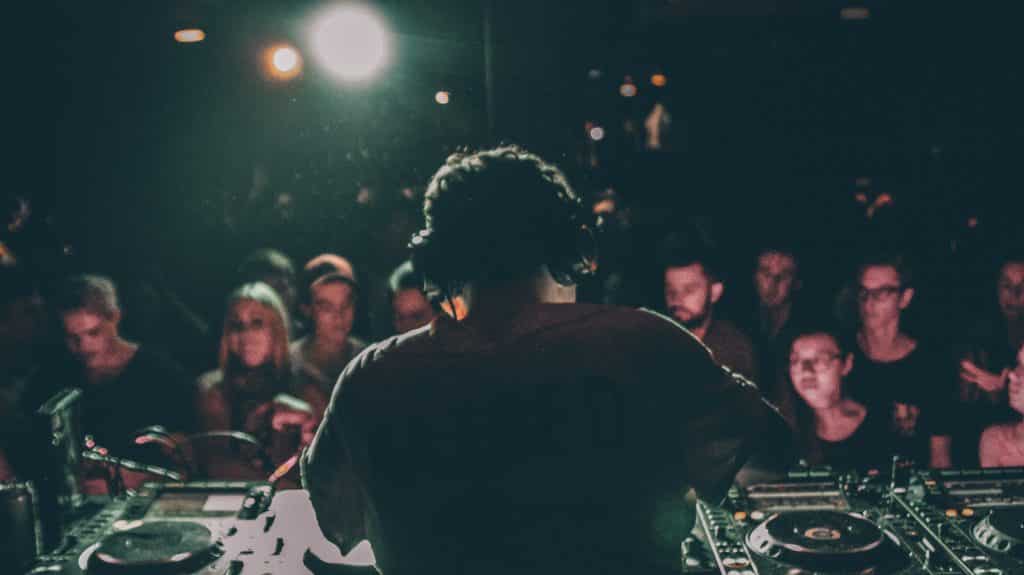 FlyBar – A new venue for high fashion, art, and music – or so they try to be. This quintessential nightspot, supposedly attended by Ottawa's most stylish is all about exquisite extravagance. Ok, that's what they say, but honestly, we found it full of posers and plenty of young things spending half their paycheck on a few drinks. It's gay-popular, so try your luck at this open and welcoming venue… but we think there is much, much better places in town.
The Mercury Lounge – An intimate mixed / LGBT-popular nightlife and event space. Check out the events in advance but expect dance music DJs are pumping electronic, house, soul, jazz and funk music. Try going for the gay night on Wednesday, Hump Day, for maximum queerness!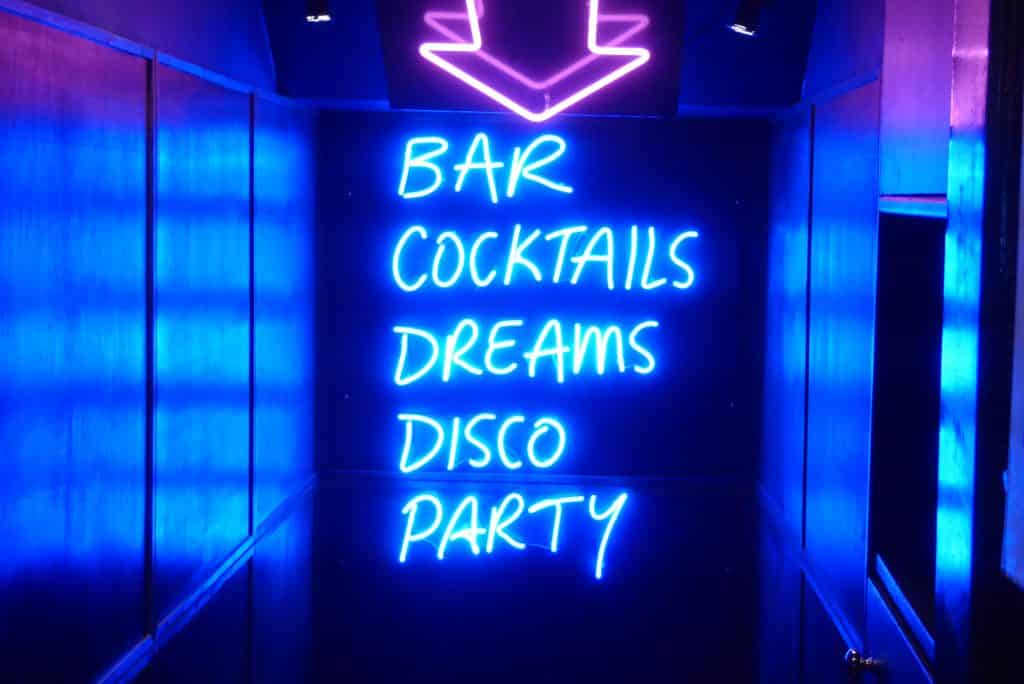 Level One Game Pub – The anti-thesis of Fly Bar, a fun, casual wine and drinks bar which is very popular with the LGBT crowd and those without pretense. We loved the delicious food, sociable atmosphere and access to over 900 + games. Everything from family games and card games to party games, strategy games, and war games. Loft Board Game Lounge is insanely popular and has since opened another location: Level One.
Copper Spirits and Sights Rooftop Bar @ Andaz Ottawa Byward Market – One of the best cocktail bars in town offering unparallel views from the 16th floor of the hotel. A premium lounge space boasting the title of city's tallest rooftop bar and the perfect place to enjoy the sunset with elevated company.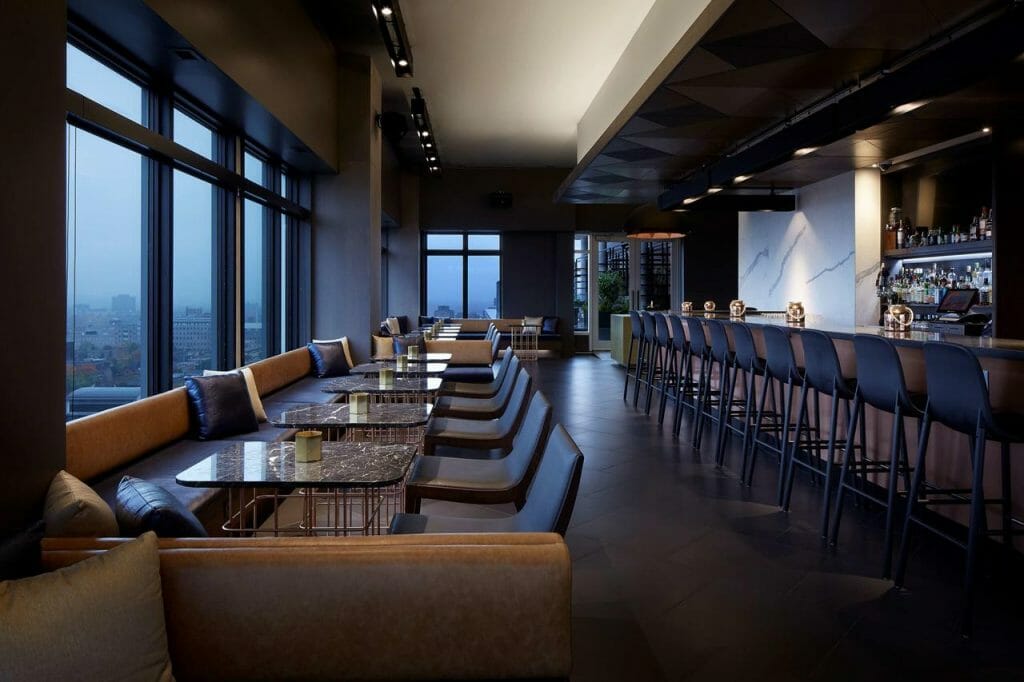 Cruising Spots & Gay Sauna in Ottawa
Had enough of gay cruising in Ottawa – either in the bars or elsewhere? Want to explore the naughtier side of Ottawa? There is two gay saunas in Ottawa, which should not disappoint you (unlikely all those faceless accounts on Grindr or the other hook up apps…). In such a foreign-friendly city you should have no issues visiting any of the Ottawa gay sauna/bathhouses and will be welcomed openly, as in the rest of the Ottawa gay scene.
Club Ottawa – A only gay sauna in Ottawa under the Central Spa brand, with locations in London and Hamilton (their Toronto location is now closed). Expect friendly, easy-going men – many of who a married, bisexual or questioning. An old-school sauna with steam room, dry room, video room, open showers, private and single rooms, lockers and a large cruising space. There are handsome bartenders manning the bar, a bear night on the second Thursday of every month and black-out nights on the last Thursday of the month.
Sweet 300 Ottawa – An upscale sex shop with two adult cinemas and five private booths. Popular with both gay and straight client, as well as a shop for picking up any of your adult product needs.