Rio de Janeiro is a bustling, vibrant, and exciting center of art, culture, and entertainment in Brazil – and the most well-known city in the country. The city is one of the most popular holiday destinations for gay visitors for various reasons, including the country's beautiful weather, sexy men, and gay-friendly social scene.
Rio de Janeiro, Brazil's most liberal city, also features a thriving and well-established gay culture, complete with many wonderful gay bars, clubs, and cafés. The Farme de Amoedo block is commonly regarded as having the city's biggest gay population.
According to recent polls, more LGBT visitors come to Gay Rio de Janeiro than any other city in South America. This queer haven, which is also Brazil's second-largest city, has all you could want and more.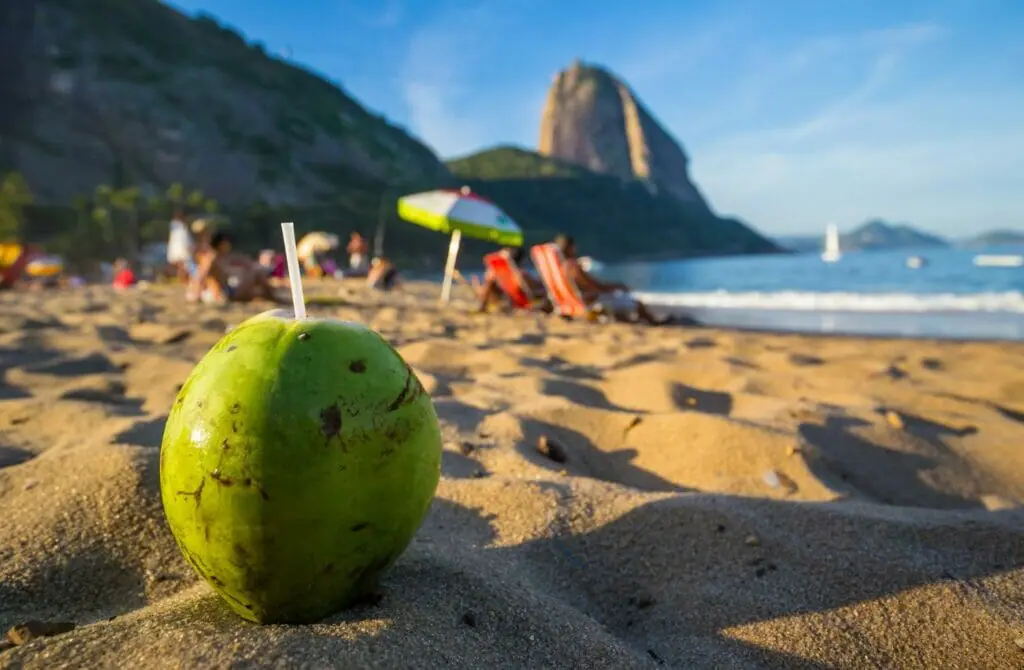 Rio is renowned for its magnificent beauty that frequently takes your breath away. Do you like the feeling of warm sand between your toes while drinking an ice-cold drink? It would be almost impossible to miss out on Rio's breathtaking beaches – and we don't suggest you even try.
Rio de Janeiro's most renowned attraction is the beach at Copacabana. The Antonio Carlos Jobim International Airport is the largest of Rio de Janeiro's three airports and serves the whole city. In addition to being Brazil's fourth busiest airport, the facilities at this airport are utilized by the Brazilian airforce.
Getting around is easy with ride-share apps though buses also offer a cheap and reliable mode of transportation inside the city, allowing passengers to take in the views as they go. A sign on the upper half of the vehicle's windscreen indicates the location of the next bus stop.
Rio de Janeiro, just like Rome or New York City, is one of those destinations that everyone should see at least once in their lifetime. This is due to Rio's world-renowned gay culture, picture-perfect beaches, attractive people, and wild carnivals.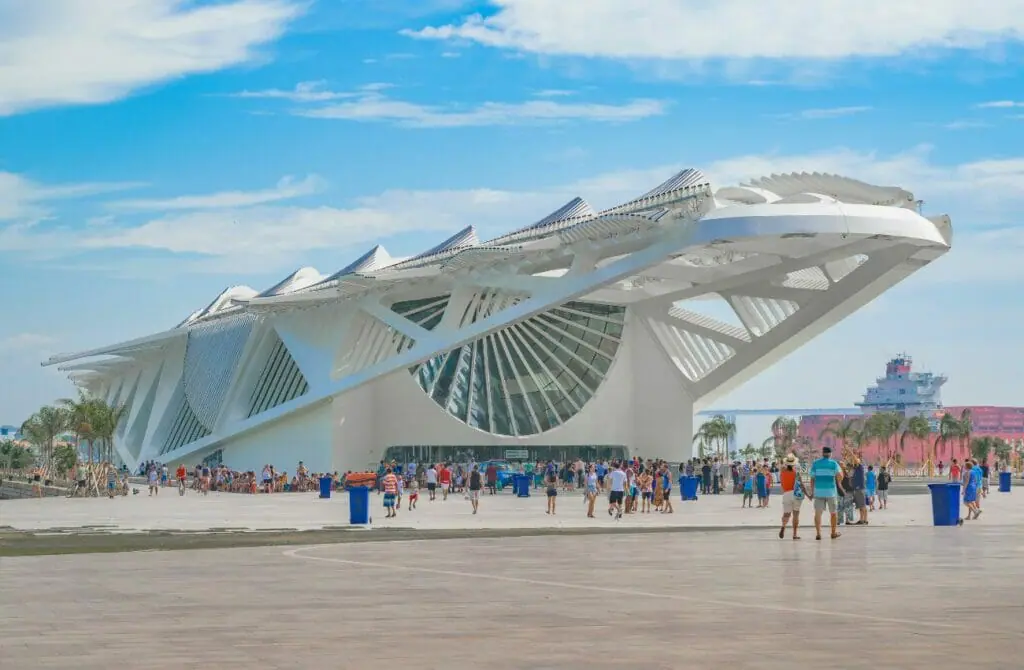 Attractions in Rio de Janeiro
Rio de Janeiro is Brazil's second biggest city and served as the country's capital from 1763 until 1960, when Brasilia was created. The city appears to always have been aware of its physical assets —the towering mountains behind it, Sugarloaf towering above its harbor, and the long crescent beaches that serve as its primary tourist attractions and built itself to maximize views of each and every turn.
Throughout its history, it has enhanced that landscape with notable buildings from each era of its history, as well as a generous supply of urban parks and open spaces. The following are some of Rio de Janeiro's most popular tourist attractions that you shouldn't miss explore – gay or straight.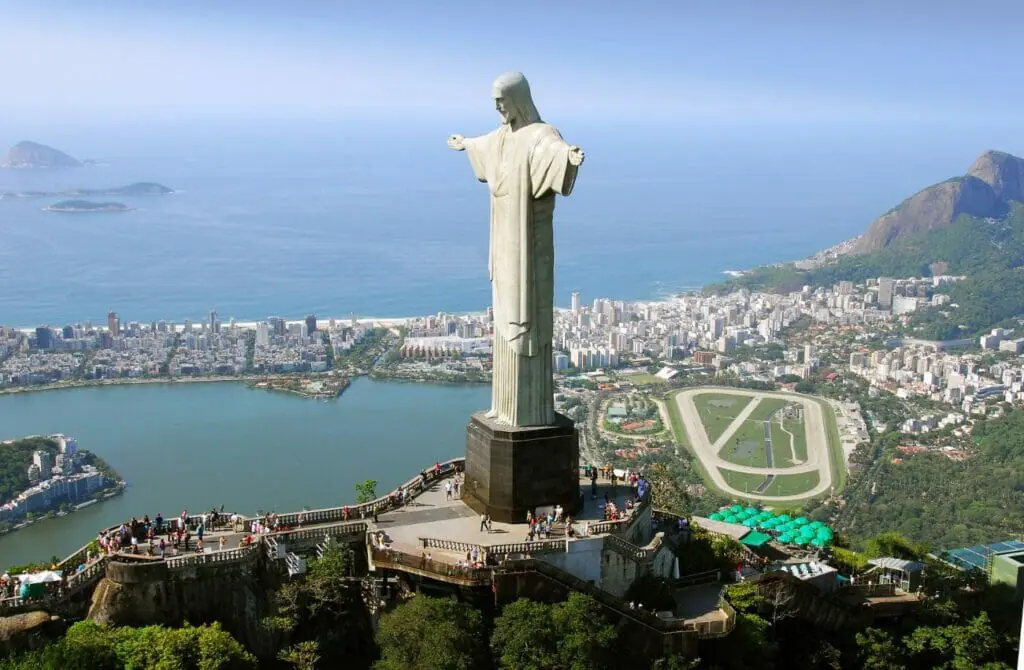 Cristo Redentor (Christ the Redeemer)
Christ the Redeemer is arguably one of the most iconic sites in Brazil. It is a massive statue of Christ that overlooks the city from the summit of Corcovado, which is approximately 709 meters above sea level. The globally known monument was practically entirely supported by contributions made by Brazilian Catholics between 1922 and 1931.
The Polish-French artist Paul Landowski designed the Art Deco statue, which was built by the Brazilian engineer Heitor da Silva Costa with help from the French engineer Albert Caquot. The figure's body is composed of reinforced concrete and soapstone; its height is 30 meters, and its arms extend to a length of 28 meters; its total mass is 635 metric tons.
There is a chapel within its eight-meter-high base, and rituals such as weddings and baptisms are common.
The Corcovado rack railway begins at the Rua do Cosme Velho station and runs through Tijuca National Park to the statue at the mountain's summit. You will get the chance to visit this monument before the regular crowd arrives and in the early morning light during the guided Early Access to Christ Redeemer Statue with Optional Sugarloaf Mountain Tour.
An upgrade to the excursion involves a cable car ride up Sugarloaf Mountain, which provides even more magnificent views.
Sugarloaf, a granite peak in Rio de Janeiro that towers 394 meters above the bay, is the city's most iconic landmark. It is located on the point of land that juts out into the bay and includes its port, and it is connected to the city by a small, flat strip of land.
A cable car may be taken from Praca General Tibrcio to the top of the Morro da Urca, a lower peak that serves as the starting point for a second cableway that goes to the top of the Sugarloaf. You can view the cliff surrounding the bay and its islands from this vantage point.
The Praia da Urca beach, which is just 100 meters long and located between the Morro Cara de Co and the Sugarloaf, is near Rio's ancient center. There are three forts on Cara de Có, one of which, the star-shaped Fort So Joo, originates from the 16th century and is open to the public.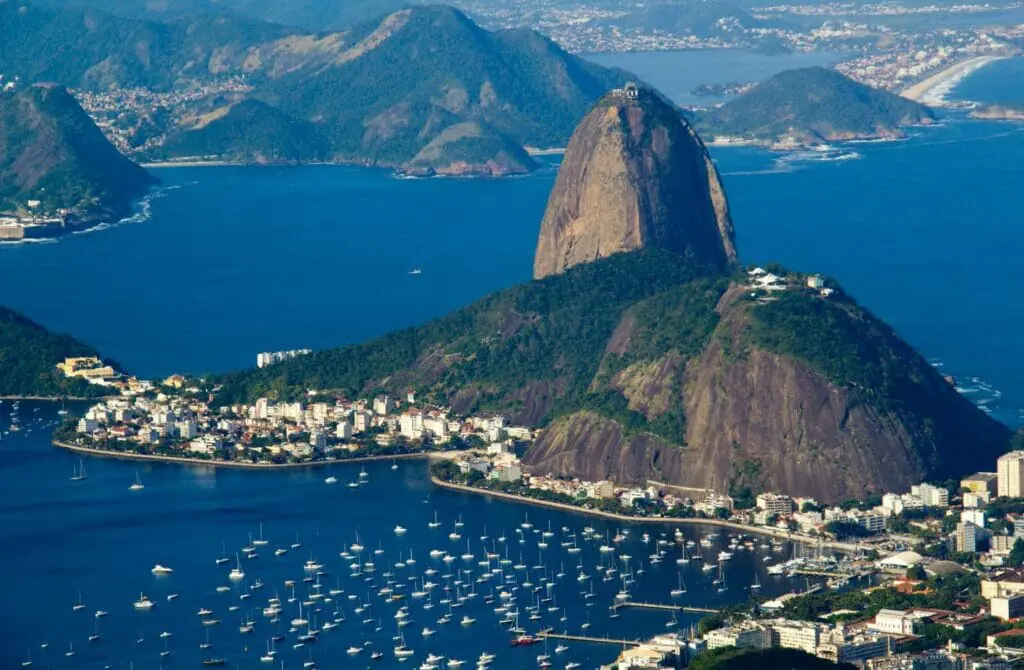 Tijuca National Park has a large area and is largely mountainous; it is renowned as one of the world's largest urban woods. Hikers may summit Pico da Tijuca, Rio's highest peak, where they will be rewarded with magnificent views of Guanabara Bay and the city below.
A substantial chunk of the forest, which was on the point of extinction in the early 1800s owing to the spread of coffee plantations, was replanted by hand with as many as nine million trees in the latter half of the century. Attractions include the 100-foot-tall cascading Cascatinha Waterfall and the Mayrink Chapel, which has paintings by well-known Brazilian neo-realist painter Candido Portinari.
The beaches of Ipanema and Leblon are situated west of Copacabana's four-kilometer beachfront and are divided by the Jardim de Alá Canal, which drains into Lagoa Rodrigo de Freitas. Large hotels, sidewalk cafés, and restaurants may be located along the water's edge promenade.
Although these two areas are most known for their beaches (one of which was made famous by the song "The Girl from Ipanema"), they also have a vibrant cultural life, complete with art galleries, cinemas, and an avant-garde theater.
Every Sunday, the Praca de Quental in Leblon has an antique market. At the same time, the Sunday Feira de Artesanato de Ipanema takes place in the Praca General Osorio and offers crafts, music, art, and local foods. Ipanema is home to both of these marketplaces.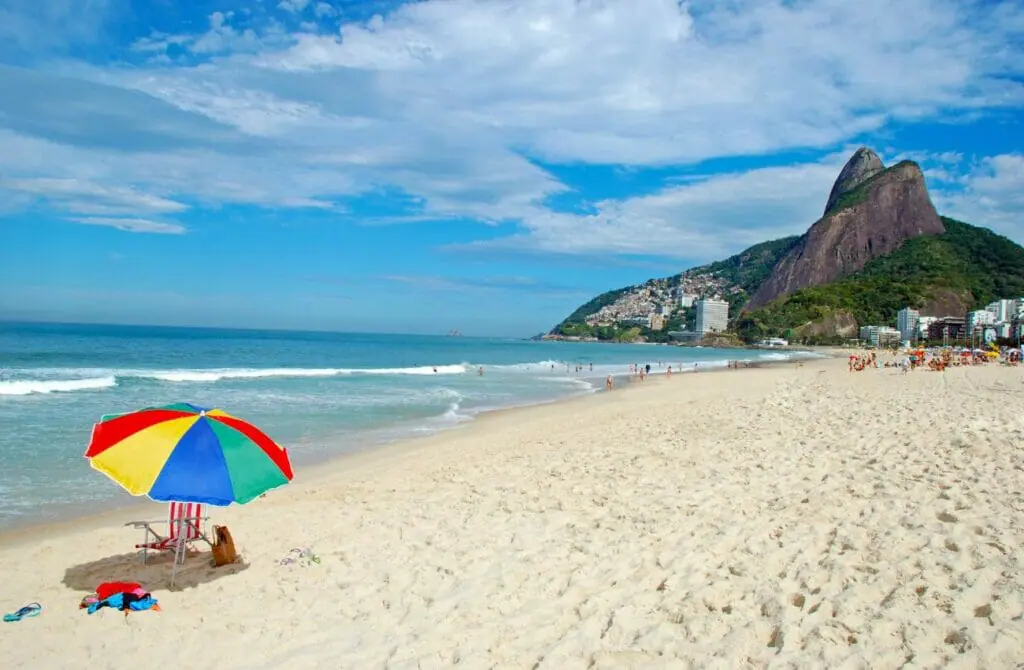 The Lapa neighborhood, located in the center area of Rio known as "Centro," was historically the city's red-light district. The area is well-known these days for its vibrant nightlife scene. On weekends, people rush out of the samba and choro clubs that line the street, filling the street with music and dancing.
Most of the neighborhood's architecture was built in the 1800s, providing a gorgeous backdrop for all events. It is a perfect venue for gathering with friends and locals to sample regional cuisine and sip caipirinha, Brazil's national cocktail made with sugarcane liqueur, lime juice, and sugar. Lapa and Santa Teresa are two settlements linked by the well-known Escadaria Selarón, a set of steps.
The Jardim Botanico, often known as the Rio de Janeiro Botanical Garden, is located west of the Lagoa neighborhood. It is home to around 8,000 distinct plant species. The garden, which was founded in the early 1800s, has several well-developed species, including pathways lined with towering palm palms.
People go from all over the globe to view the park's 600 different types of orchids. The park has a variety of monuments, fountains, and other attractions, including a Japanese garden, a pond filled with water lilies, and the new Museu do Meio Ambiente, which houses environmental exhibitions. The area also has a Japanese garden, a pond with water lilies, and the new Museu do Meio Ambiente.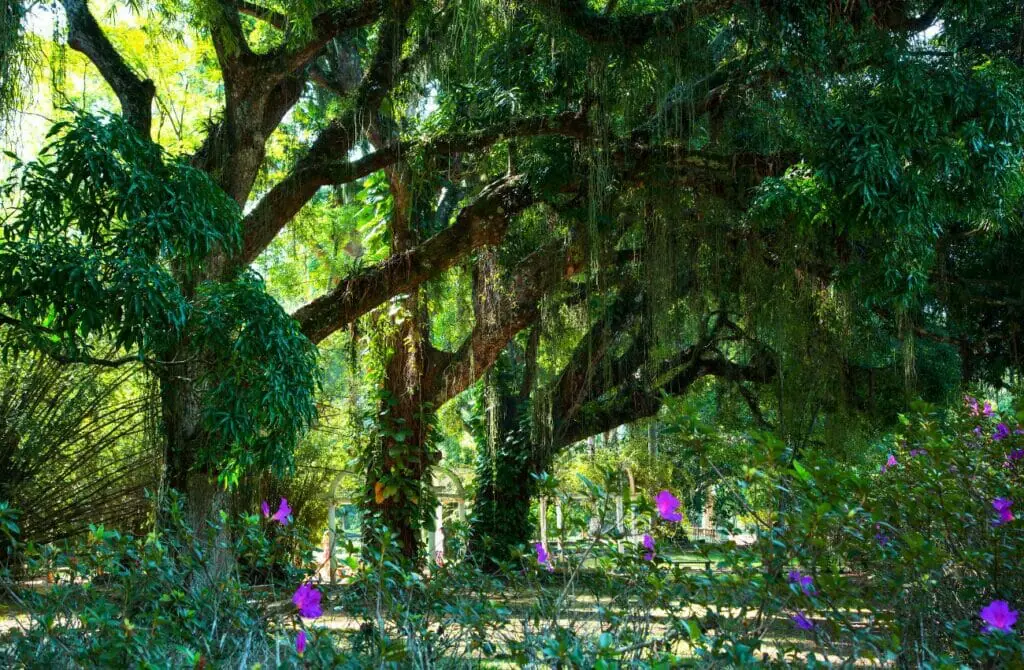 The Municipal Theater was built in Rio de Janeiro's Mareschal Floriano Square in the early twentieth century. The edifice that houses the Municipal Theatre is situated at Floriano Square, which is in the city's heart. The unusual facade of the theater, with its variety of decorative patterns, is an example of architectural style fusion.
Despite its name, the theater is not owned by the city; rather, it has a significant relationship to the city's evolution since it was built as part of an architectural ensemble created during the renovation of one of the main streets.
The theater has undergone various restorations since it opened its doors in 1909, including the addition of modern lifts and lighting equipment. The theatrical scene has grown to attract globally famous groups, symphony orchestras, and ballet companies.
Copacabana
It is a rare privilege for a city to have a beautiful sandy beach right in the heart of its downtown area, much alone one that goes for four kilometers along one side of the central business district. The golden beaches are just a few feet away from Avenida Atlantica, Avenida Nossa Senhora de Copacabana, and the neighboring smaller streets.
You'll find attractive architecture dating back a century, gorgeous hotels, and famous restaurants and cafés on these streets and the neighboring minor streets.
The world-famous and very-gay popular Copacabana Palace, built in the 1920s and now designated a national monument, is perhaps the most distinguished hotel in this vicinity and among Rio's accommodation possibilities. The Copacabana Palace harkens back to the glory days of power, money, and elegance when Rio de Janeiro was Brazil's capital.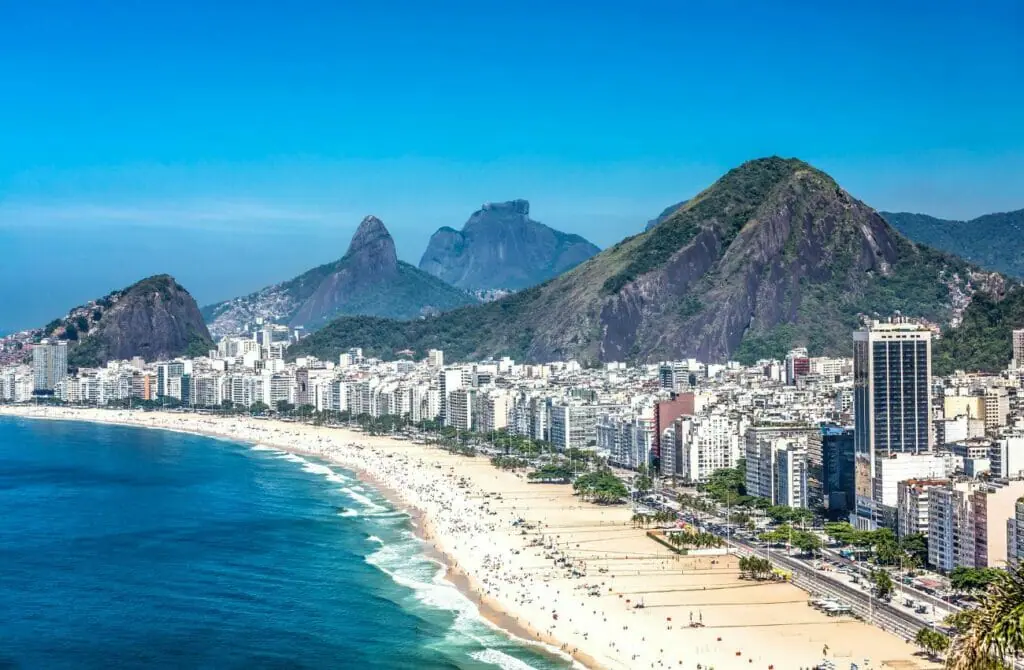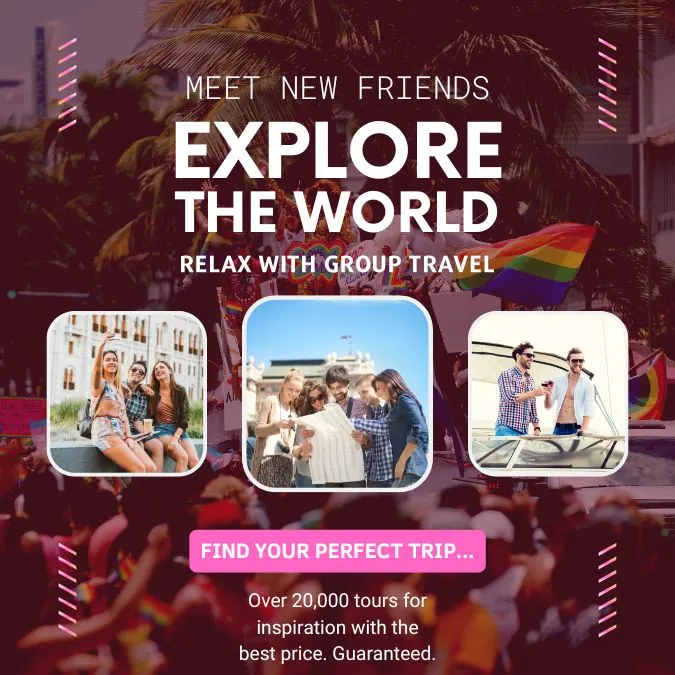 Gay-Friendly And Gay Hotels in Rio de Janeiro
Rio de Janeiro is famous for its golden sand beaches, stunning green vegetation, and sultry environment. The majestic and magical city is also known for having one of the world's most open minds and cultural variety. For the second year in a row, it has also been named the sexiest and best queer destination in the world.
It should come as no surprise then that it has developed vibrant gay neighborhoods that individuals who identify as LGBTQ and travel from all over the world must visit. Rio, with its outstanding nightlife, chiseled bodies, and sensual, laidback attitude, lies smack dab amid the global LGBT travel map.
As a result, LGBTQ travelers seeking a place to stay in Rio de Janeiro can find plenty of gay hotels. The following is a list of the best gay-friendly hotels in Rio de Janeiro, Brazil.
Needless to say, there are also hundred's more hotel and hostel options in Rio de Janeiro if none of these suit your desired budget, facilities or area – but these are the best hotels according to other gay travelers and us. Whatever your needs are, Rio de Janeiro has you covered.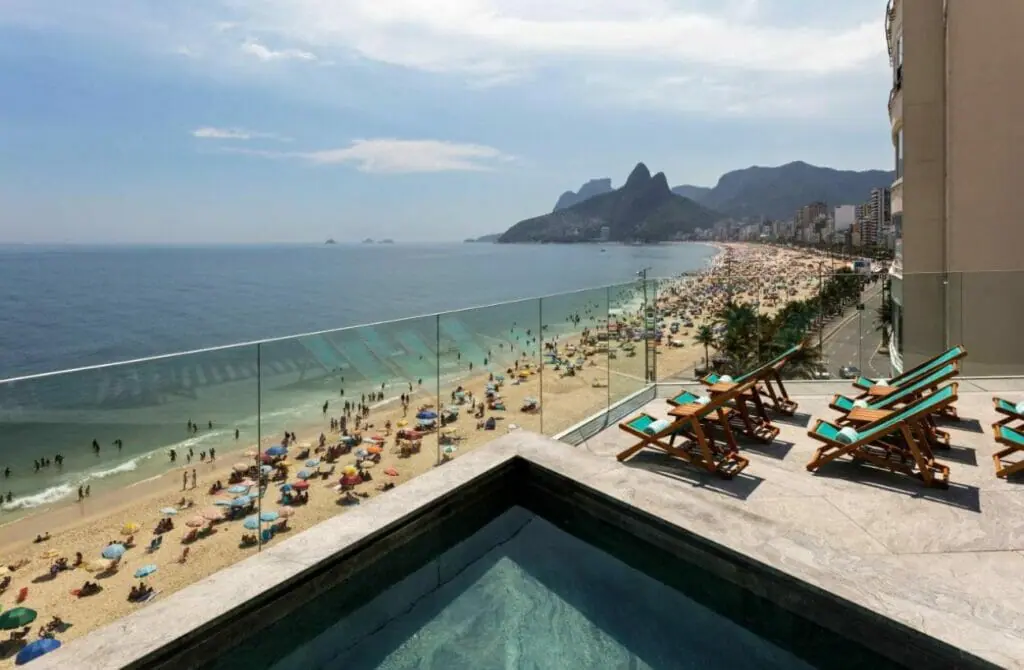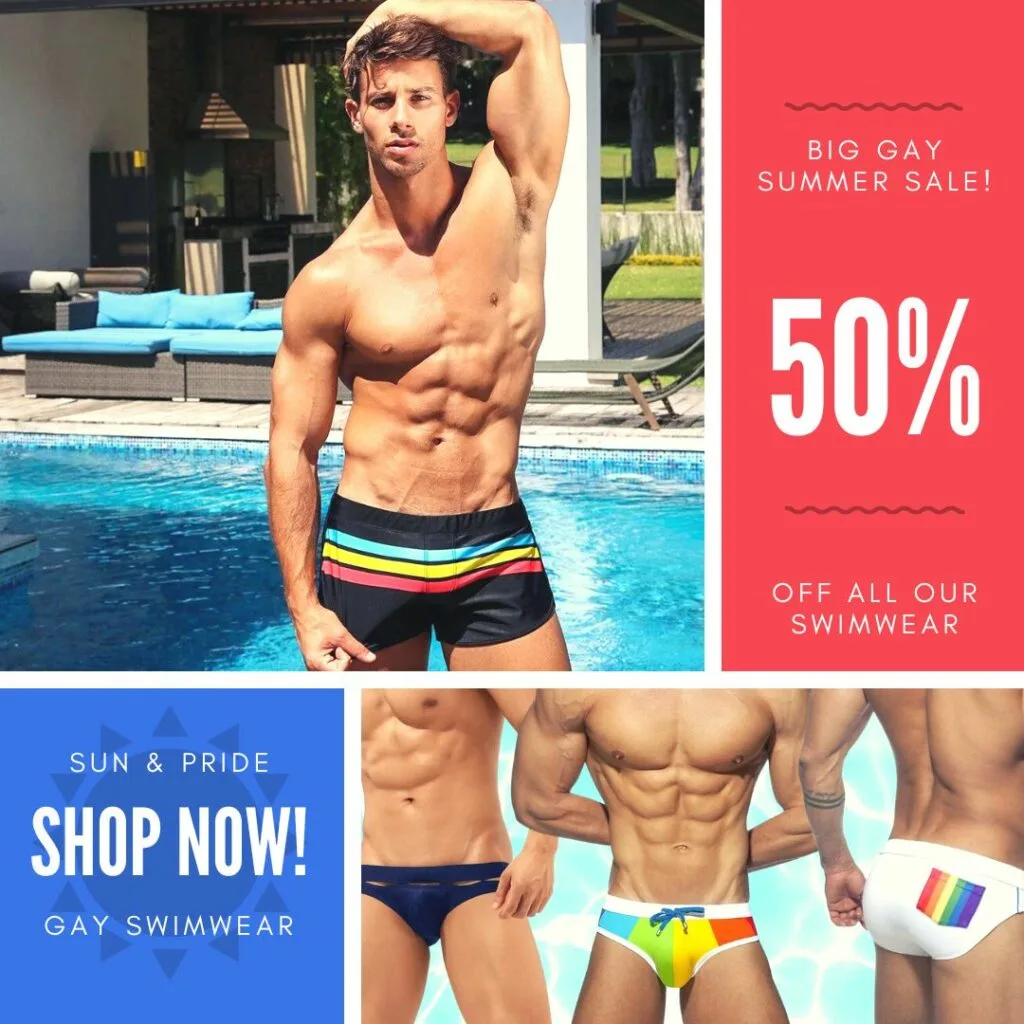 The Hotel Arpoador is one of the most sought beachside locations in Rio. It boasts a clear view of a stunning stretch of sand that is great for spending the day at the beach. The people-watching at Hotel Arpoador is spectacular, and LGBT travelers will enjoy this element of their stay.
The rooms at the rear of the Hotel Arpoador are the most attractive since they are more spacious and offer beachfront patios with beautiful ocean views. All of the rooms, however, are modern and pleasant. The in-house restaurant's superb Brazilian cuisine raises the breakfast buffet to a level beyond a normal spread.
A little pool on the roof is ideal for swimming, and a large sauna and steam room for relaxing soaks. The adjacent rooftop bar is extremely popular with the local LGBT population and is considered one of the town's best places for an evening drink.
Visitors who identify as LGBTQ will appreciate the Hotel Arpoador's location, which is excellent for navigating the thriving gay nightlife scene in Ipanema and Copacabana.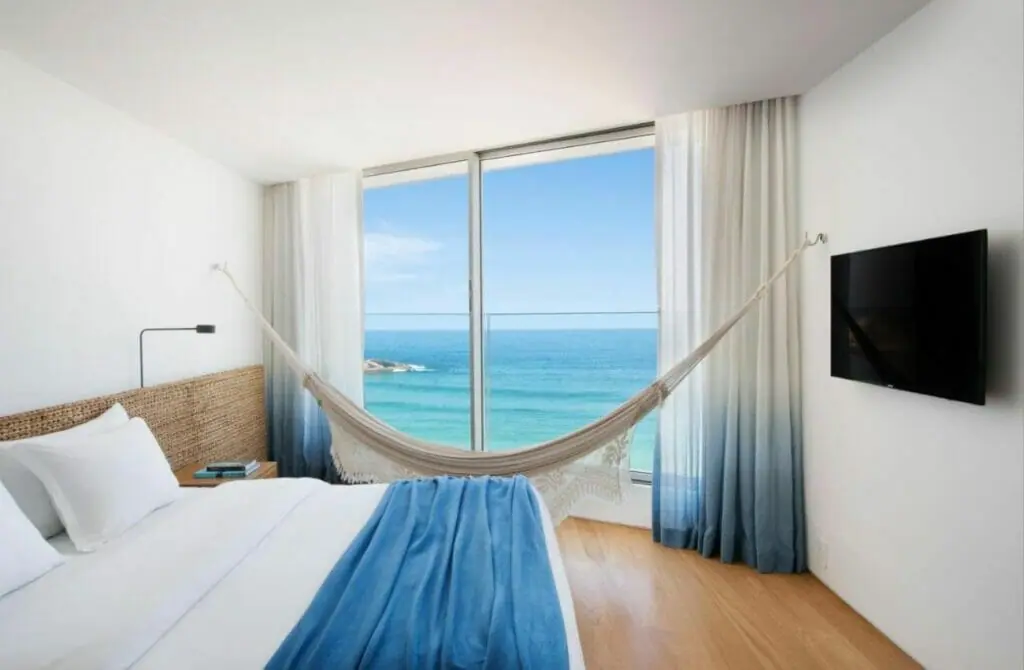 Casa Amerelo is one of Rio de Janeiro's most well-known and highly acclaimed gay boutique hotels. The lovely designer hotel is nestled on a hillside in the picturesque Santa Teresa region and features exquisite French-inspired décor.
The hotel is housed in a lovely yellow-colored early-nineteenth-century villa. This decision was taken to complement the area's different architectural styles. The Bohemian mansion has a tiled winter garden,' expansive terraces, lovely towers, stained-glass windows, and luxurious materials.
Furthermore, the property has its distinct personality. Everything, from samba dance lessons to massages, can be booked ahead of time here. Finally, the relaxing swimming pool area with lounge seats is great for unwinding.
Casa Amarelo's interiors are furnished with dark Brazilian wood contrasting with tropical floral patterns, antique furniture, chandeliers, and extremely high ceilings. Breakfast includes a choice of hot and cold foods and a broad selection of seasonal fruits.
Stopping at the pub for a cool Brazilian beer before exploring Rio is the best way to prepare. Casa Amarelo is certain to capture the hearts of LGBT visitors with discerning tastes due to its loving demeanor and attentive service.
The best attractions in Rio, such as Glória Marina, Paris Square Park, and the Modern Art Museum, are within a ten to twenty minutes walk of Casa Amarelo. Even the Passeio Publico park, founded in the 18th century and is Brazil's oldest and one of the Americas' oldest parks, is within walking distance. If that isn't enough, Rio's most popular gay nightclub, The Week, is just a 15-minute taxi ride away.
Rio de Janeiro is brimming with historical landmarks and stunning natural regions waiting to be explored by eager travelers. The modest but elegant Mar Ipanema, one of the finest LGBT hotels in Rio de Janeiro, is located on the neighborhood's main boulevard and is a fantastic starting point for exploring the city.
If you stay here, you can sign up for the all-day tour of Rio's most renowned tourist attractions. The tour culminates with spectacular, panoramic views of Rio de Janeiro and learns about its history and some of its most popular sites.
Mar Ipanema's ambiance is evocative of the 1950s, with slatted paneling, hardwood floors, and designer furniture. The rooms are understated, and the illustrations of Rio de Janeiro's beach scenes and palm trees provide a beachy feel.
The rooms facing the street provide a more lively ambiance, while the standard triple rooms offer outstanding value for money for groups on a tight budget.
Even better, the hotel connects with Devassa, the traditional Brazilian beer tavern next door, so that guests can have a fantastic breakfast there. Furthermore, the gay district of Rio de Janeiro, known as Farme de Amoedo, is just a few blocks away.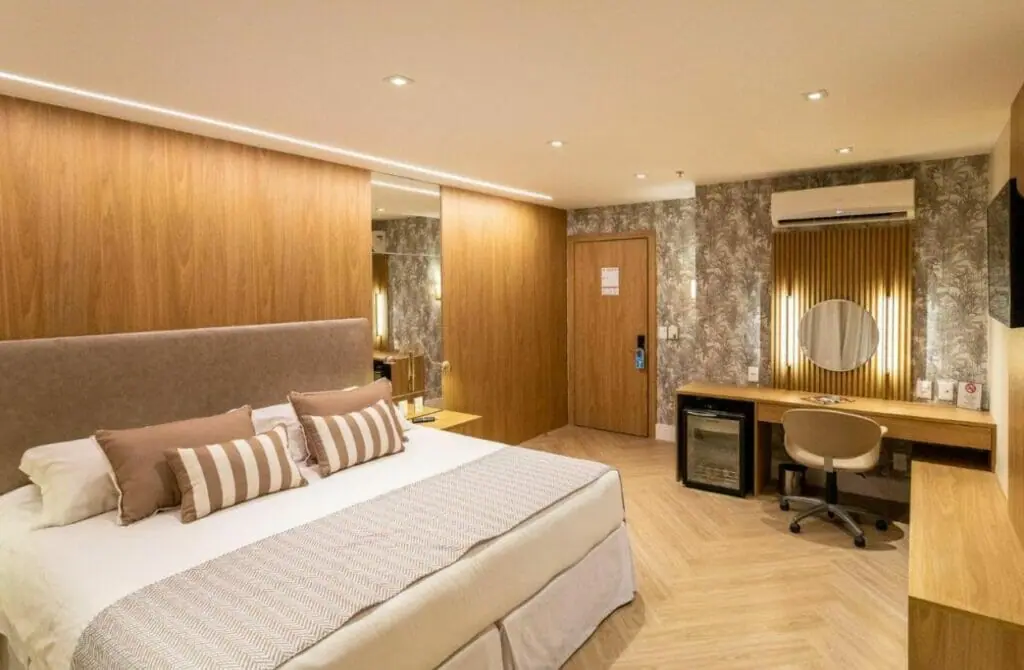 Casa Cool Beans is Rio de Janeiro's only gay-only hotel, with exquisite interior design and a laid-back ambiance throughout the facility. The lovely Casa Cool Beans, which is dedicated exclusively to adults, is housed in a former colonial mansion painted in a rich purple.
The bed and breakfast lives up to its name by offering a variety of shaded outside spots and comfy sundecks across the property. The beautiful swimming pool patio, with palm palms giving shade for the loungers, adds to B&B's bohemian vibe.
Breakfast is served daily, providing an excellent start to the day. In addition, the bed and breakfast can arrange private excursions and guides, and with a 24-hour notice, they can even arrange on-site massages for guests.
The rooms are spacious and outfitted with all of the latest amenities. They feature colorful walls, dark wood furnishings, fascinating artwork produced by local artists, and plants with various foliage textures. In the bathrooms of the larger rooms, bathtubs and showers are combined.
Make time to see the gorgeous Santa Teresa hilltop region, which is one of Rio's most famous tourist locations. Overall, Casa Cool Beans is an excellent choice for a romantic getaway with the person you spend your life with.
The fantastic gay scene in Centro is a ten to fifteen-minute taxi ride from Casa Cool Beans. Even better, Rio's most prominent tourist attractions, such as the Pedra do Sal, the Catete Palace, and the Modern Art Museum, are just a twenty-minute taxi ride away.
The three-story, gay-friendly El Misti Hostel is located in the heart of Copacabana, the most popular tourist attraction north of Havana. The youth hostel is just in front of the Siqueira Campos metro station, giving travelers easy access to some of Rio's most popular tourist attractions.
The tempting blue oceans of Copacabana beach are seen from three blocks away. Furthermore, the hostel is associated with the Marquinhos beach point, so you may leave your possessions in the tent while you splash about in the water.
El Misti Rio offers its visitors the option of sleeping in a mixed or female-only hostel, in addition to private double, twin, triple, and quadruple rooms. Every room at a hostel has a locker for storing and protecting personal items. El Misti charges a price for a generous breakfast buffet, but there is also a large common kitchen where visitors may swiftly cook their meals.
Although the gay areas of Ipanema and Copacabana in Rio de Janeiro are just a ten-minute walk away, the LGBT-friendly music venue Fosfobox nightclub is right next door. This long-running restaurant is well-known for its very gay Friday nights.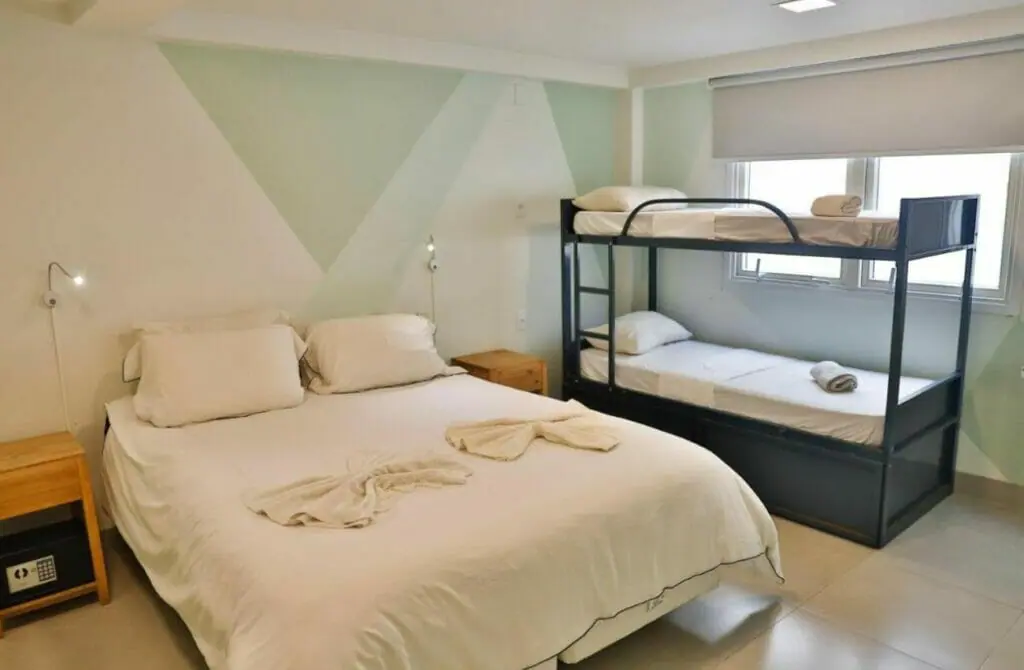 Gay Nightlife in Rio de Janeiro
Rio de Janeiro, Brazil, boasts a broad range of activities for visitors who wish to spend the day with a warm beach between their toes and the nights listening to the pulsating beats of seductive samba rhythms.
And in recent years, it has emerged as a prominent city on the South American LGBT scene, with various vibrant, popular, and modern clubs attracting a dynamic and open-minded audience eager to have fun and dance the night away.
When people start congregating at Farme de Amoedo and the other gay-friendly bars and gourmet restaurants in the area around nine o'clock at night, the mood begins to heat up. The following is a list of some of the best gay bars and clubs in Rio de Janeiro for experiencing the city's legendary nightlife.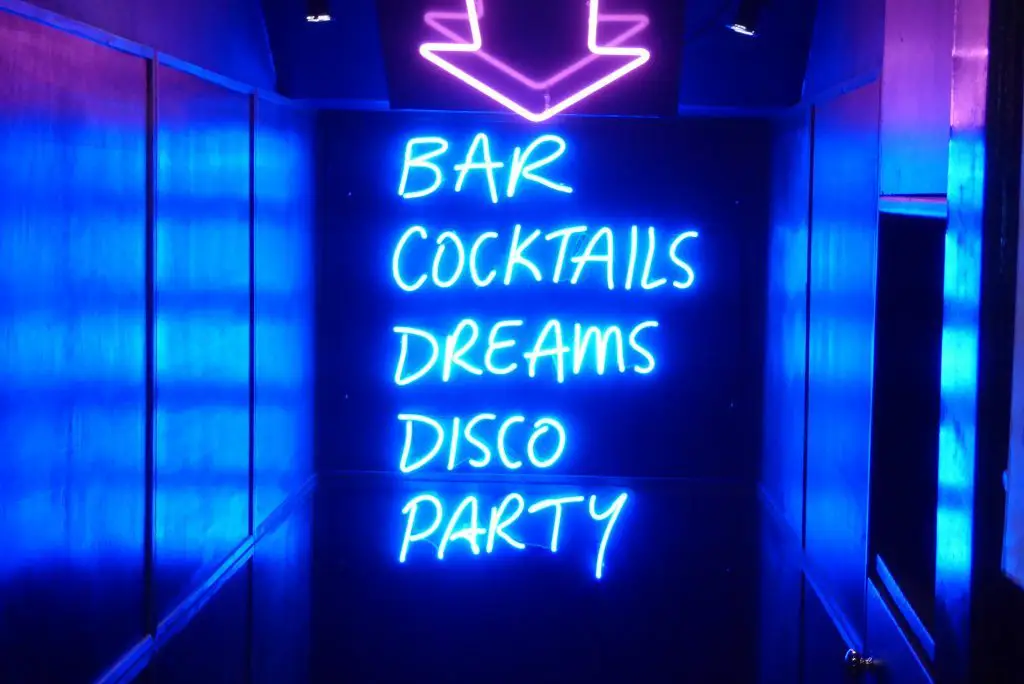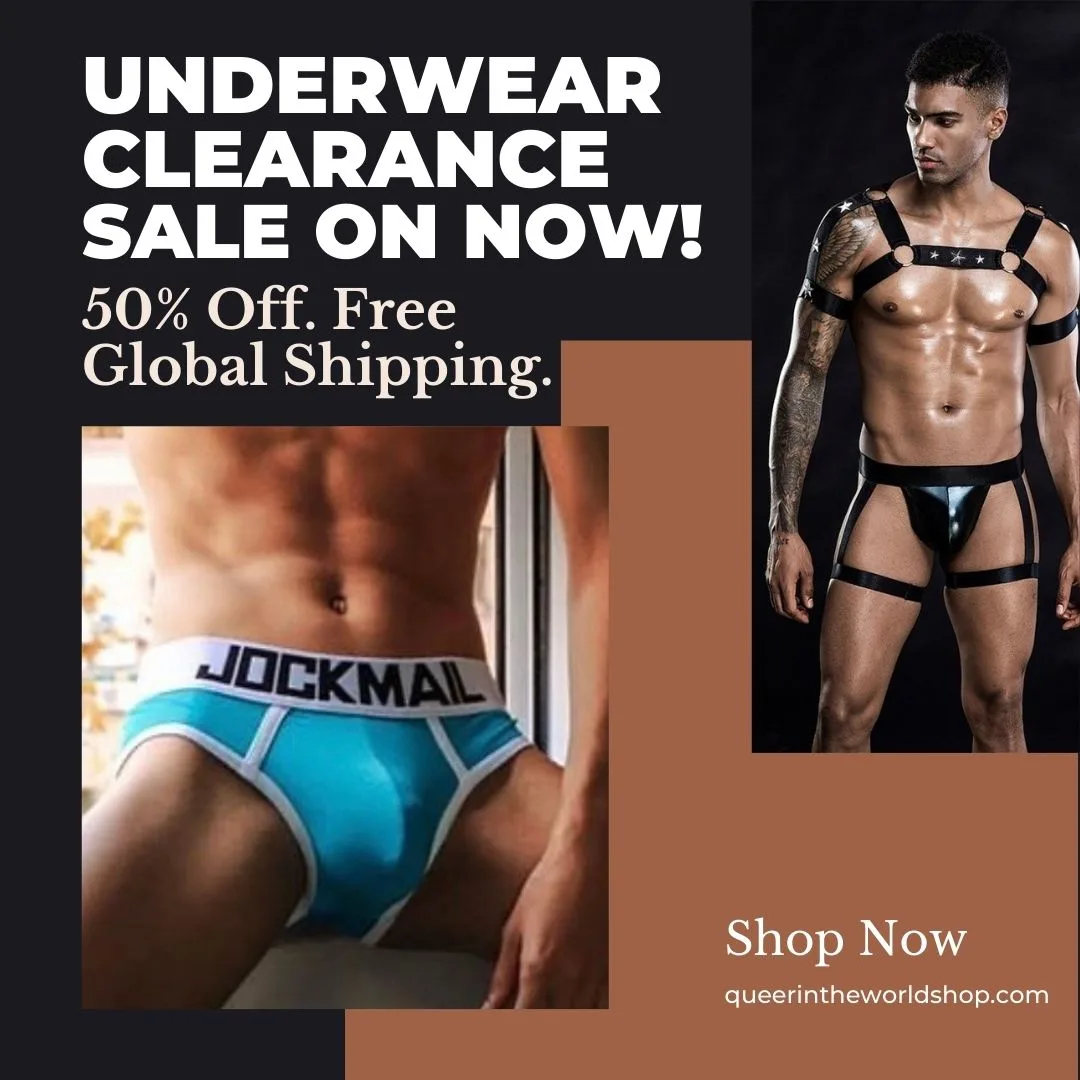 This LGBT nightclub has resident DJs and drink specials for its customers. Large parties are held at Papa G every Wednesday through Sunday for gay and lesbian clientele who are prepared to drive the hour from the Copacabana tourist zone.
Boate 1140 has built a tremendous reputation for being the place to escape the stresses of daily life and completely let go on the dance floor since it first opened its doors nearly 30 years ago. Because of this reputation, the club has been able to prosper.
It's no wonder that this club is popular with Rio's gay community: the enthusiasm of the dancers here is infectious, and it truly gets the party started on weekends. This trendy spot is popular for various reasons, not the least of which are its fairly priced beverages and contemporary, modern interior decor.
It should be no surprise that you should visit this spot in Rio since it features a range of great nights every week. There is never a boring moment at Up Turn Bar since it is constantly packed with enthusiastic customers. The venue is spacious, with comfortable seating and a large dance floor. The beverages are also acidic and delicious. A lovely evening with the right blend!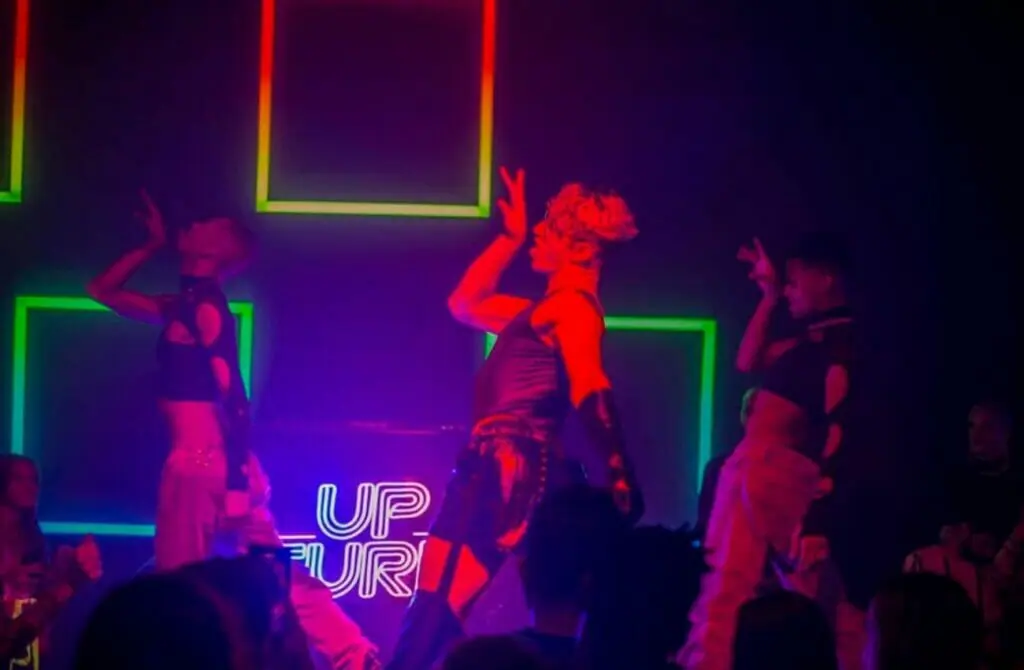 This tavern and disco have been in operation since 1964. It was designed to seem like a warm cave and hosts a variety of activities. La Cueva is considered Copacabana's longest-running gay bar, having initially opened its doors in 1964.
This tavern and disco, which is a favored meeting site for members of Rio's more established LGBT community as well as their supporters, plays Brazilian and techno music till late at night. La Cueva's furnishings set it apart from other businesses; they will make you feel as if you are underwater. This site has the most foot activity at night between Friday and Saturday.
The Rainbow Kiosk is situated on the beach in front of the world-famous Copacabana Palace Hotel in Copacabana. As the name suggests, this is a popular spot for members of the LGBT community to unwind after a day at the beach.
When clients visit this institution for a bite to eat, they may pick from a range of miniature South American cuisine, such as empanadas and freshly baked pastries.
Some visitors may feel melancholic while visiting the TV Bar in Copacabana. However, the bar operators prefer their clients to feel this way. The history of television production in Rio de Janeiro may be found here. Why? Because TV Rio used to utilize this location as a set for their programs a few years back.
The proprietors carefully picked each decorative piece and wall sign here, and delightful furnishings contribute to the venue's general cheeriness. With over 40 fruity and colorful drinks available, it's no surprise that this location is a favorite of Rio's LGBT community night after night.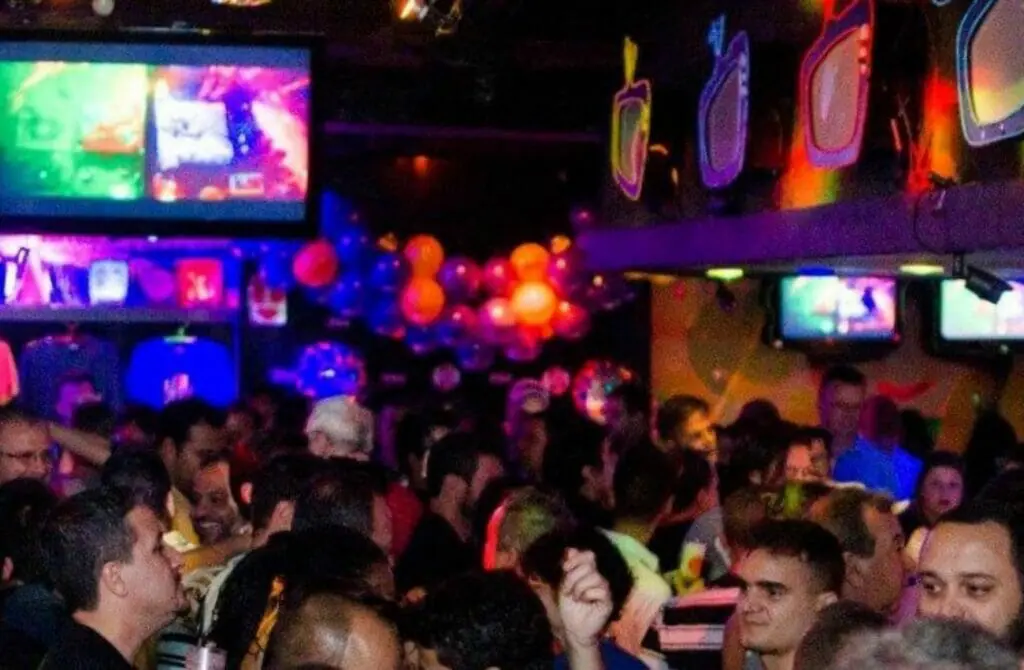 The Week in Rio Rio is Rio's biggest and most popular gay dance club. It is extraordinarily massive, and the organizers say that it is the world's biggest event of its sort, except for The Week Sao Paulo, one of its sister events. If you happen to be in Brazil, you must go to this spectacular facility, which boasts not one but two stages, a limitless number of bars, an outdoor patio, and even a pool.
The nightclub is located in the Northern Centro district, close to the water's edge.
The Pink Flamingo is one of the most recent gay pubs to debut in the Copacabana neighborhood. It opens at about 7 p.m., allowing you to start your LGBT night out in Rio with an early door time.
Before traveling to The Week, you and your pals may meet at this place for pre-drinks. The service is excellent, the ambiance is enthralling, great music is playing, a beautiful area to smoke and speak in, and water is available at the party counter.
Galeria Café, Ipanema's most famous dance club, is located on Rua Farme de Amoedos. Rio de Janeiro's lesbian, gay, bisexual, transgender, and questioning population has made it a haven due to its historical reputation.
This crowd includes gays, lesbians, barbies, bears, transgender persons, queens, and many more. The drinks are moderately priced, and some excellent DJs are on hand.
Zazà Bistrô, located in the heart of Ipanema at the junction of Joana Angélica and Prudente de Morais streets, was one of the first restaurants to open its doors in 1999. Spending the whole day relaxing on Ipanema Beach and then heading to Zazá for a few drinks as the sun sets is a terrific idea.
The founders' global travels inspired the one-of-a-kind décor, and the owners' travels also inspired the unique cuisines that are often featured on the menu.
Pool Parties
Rio is presently hosting a lot of gay-friendly pool parties. These parties are usually hosted in Gavea or Barra, but the exact site isn't always publicized; instead, you buy your ticket online and then meet at a designated spot to be taken to the private event. These events are not regularly planned and are often announced just on Facebook. There is a fabulous pool party in Ipanema every Sunday in Rio during June, July, and August with inflatables, good cocktails, and one of the most stunning views over Copacabana and Ipanema can be found on the roof of a gigantic home called Casa Mosquito. Ask around on the apps or at bars when you arrive.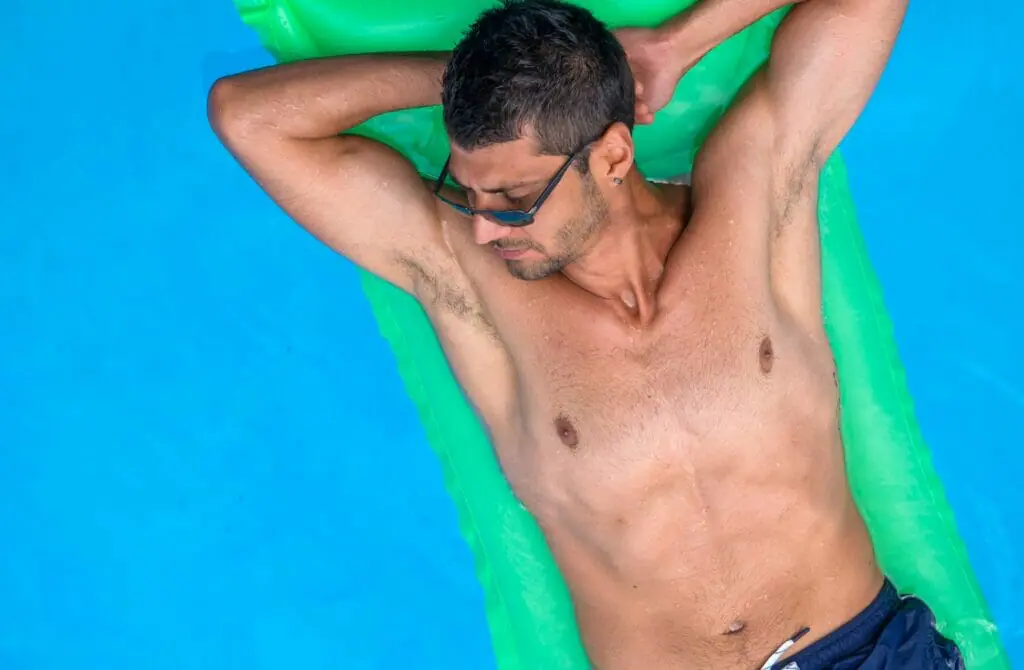 Cool Coffee Spots in Rio de Janeiro
Your entire time here could be spent partying and at the beach, but we should also let you know that Gay Rio de Janeiro is also home to some of the country's most tasty and well-crafted coffee in the world.
Here is a list of some of Rio's most prominent coffee shops; whether you're looking for a lovely modest café to work remotely from or a particularly strong cup of coffee, these places are guaranteed to fulfill your demands.
The Curto Cafe is hidden in the back of a small commercial gallery. Its whole business strategy is centered on a responsible economic system in which customers only pay what they feel they should. Despite the lack of repetition and hullaballoo, Curto manages to cater to coffee-crazed Brazilians all around Rio.
These coffee enthusiasts travel to Curto to enjoy the great taste of the coffee as well as the intriguing business concept.
Despite being furnished in the style of European coffee shops, the ambiance here is more akin to French patisseries than any of Rio de Janeiro's best coffee shops. Despite this, it is unquestionably one of the best since it provides outstanding coffee and some of the best pastel de Natas in the city. You should come for the coffee, but you should also stay for the continental vibe and the delectable sweets.
Ipanema is home to one of jewelry designer Mônica Pondé's businesses, and she has just decided to create a coffee shop there. All of the coffee served here is brewed using the Hario method. There are four different varieties, including Bonjour, which features a light and fruity coffee beans from the state of Minas Gerais, and Petit Noir, a special Jacu bird coffee in which the beans are picked from the droppings of the native birds that live in the Mata Atlantica rainforest.
Yes, the coffee comes from bird excrement. Each bean is organic, acquired from a specific region of Brazil (from Bahia to Espirito Santo), and freshly roasted, ground, and brewed at the customer's request.
Confeitaria Colombo is one of Rio de Janeiro's most well-known coffee cafes. There are two of them: one in Centro and the other near Forte de Copacabana. The one in Centro has stood the test of time for more than a century, and its elaborate furniture and floor-to-ceiling mirrors convey a feeling of nobility.
Although it lacks the magnificence of its counterpart in Centro, the one at Forte de Copacabana compensates for its lack of refinement with stunning views of Copacabana's beach and sea. You are strongly advised to sit down to enjoy the scrumptious breakfast spread or a cup of velvety coffee followed by an outstanding pastry or dessert.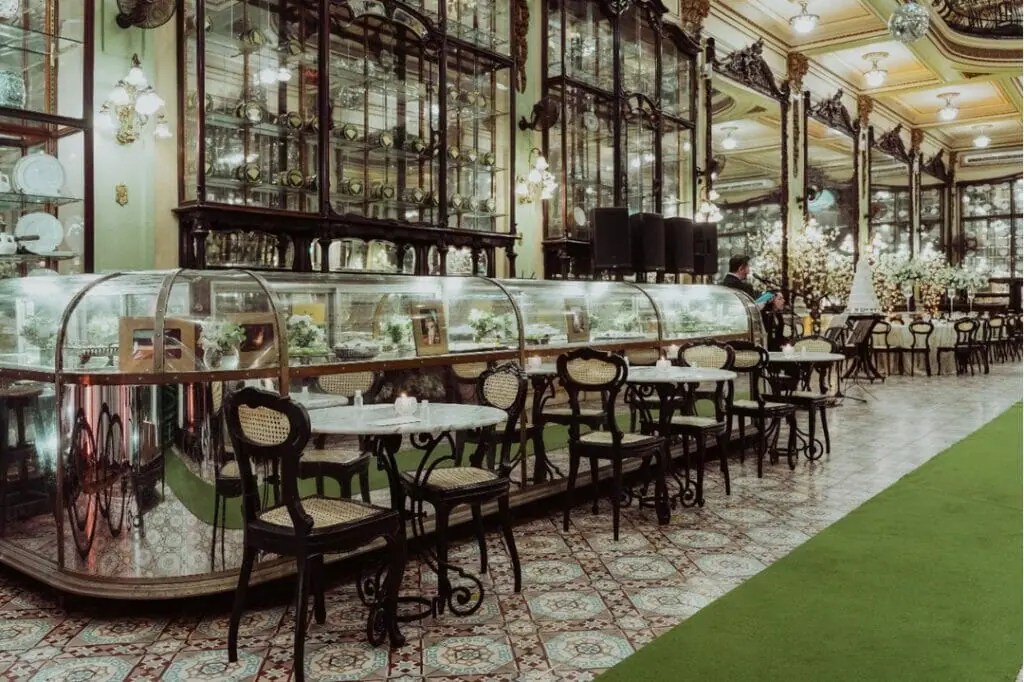 LGBT Rights in Rio de Janeiro
In Rio de Janeiro, the rights of persons who identify as lesbian, gay, bisexual, or transgender (LGBT) are more liberal than in other parts of Latin America. The state allows marriages between persons of the same gender. Brazil's legal protections for LGBT individuals are among the most advanced in Latin America and the rest of the world.
Since May 16, 2013, homosexual couples in Brazil have enjoyed the same rights as heterosexual couples, including the opportunity to marry.
On April 17, 2013, the General Magistrate of Justice of Rio de Janeiro, Judge Valmir de Oliveira Silva, issued a judicial judgment that legalized same-sex marriage in the state if municipal courts agreed with the ruling. The first same-sex weddings are scheduled to take place in the coming days.
According to the judgment (25/2013), a couple's request must be documented by civil registration authorities, who must then give the district 15 days to assess whether or not they agree with the request. The wedding will be canceled if they cannot reach an agreement.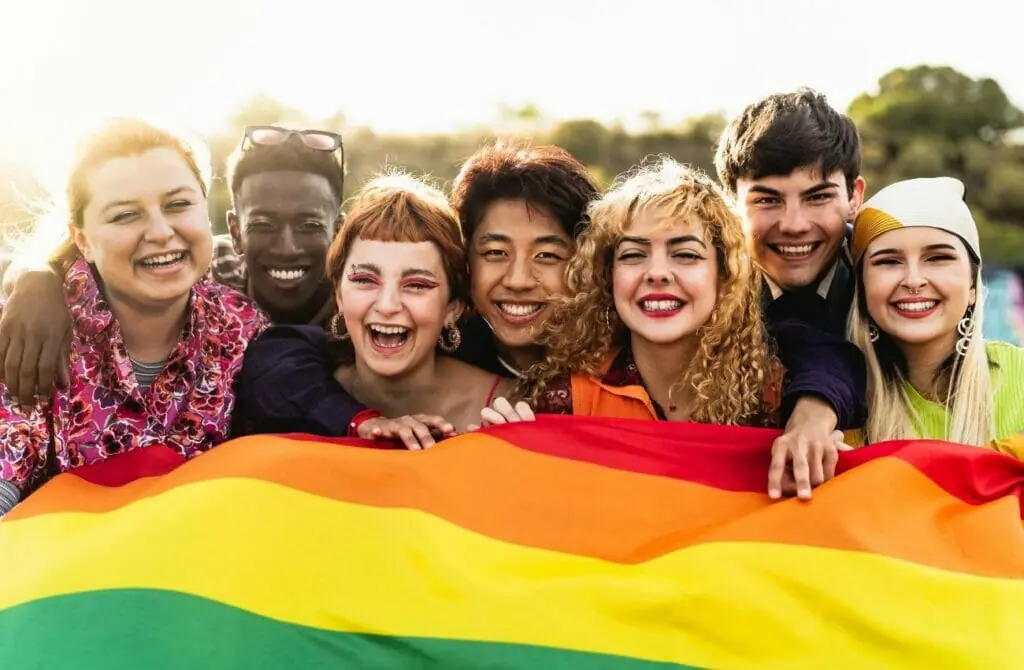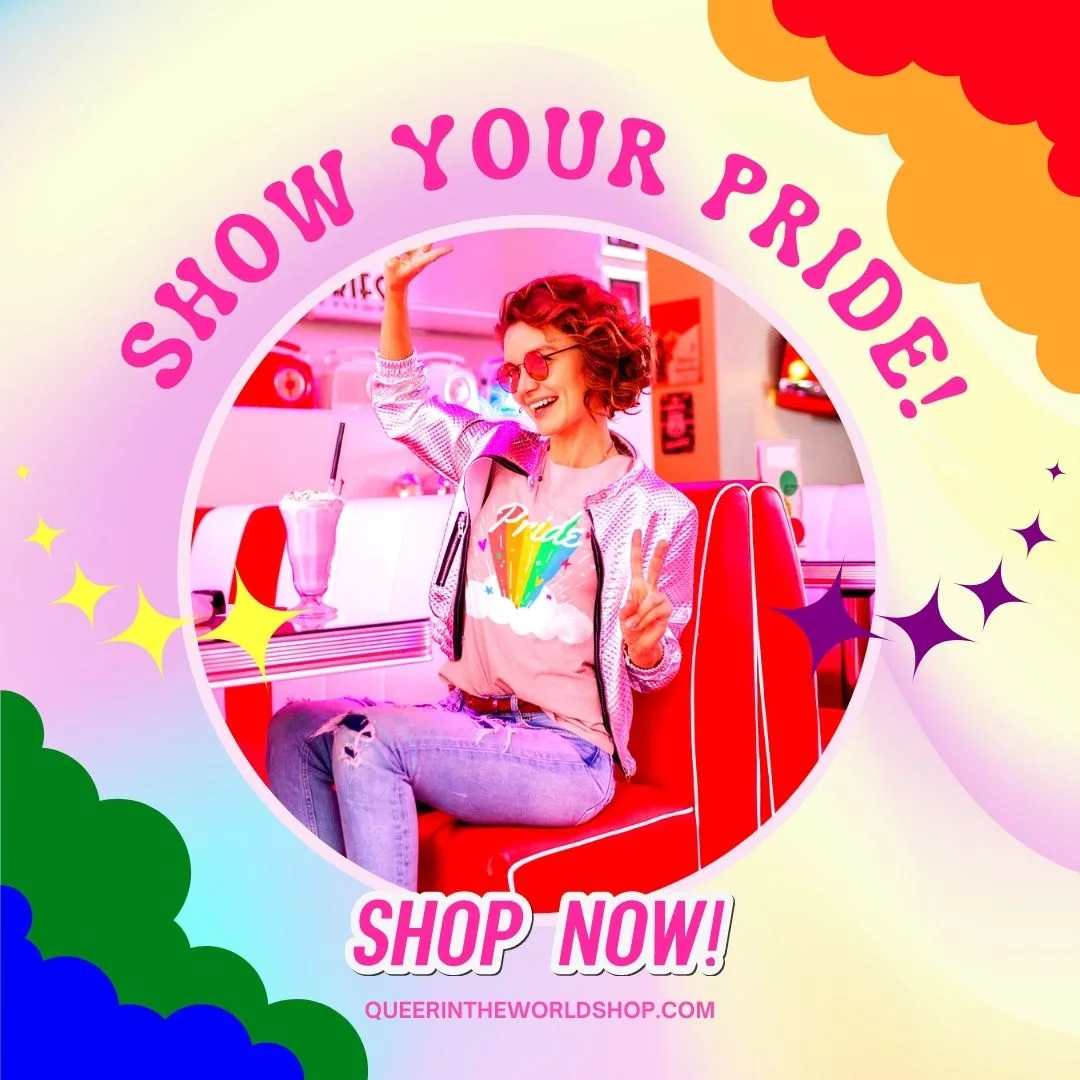 Cruising & Gay Saunas in Rio de Janeiro
Gay men's saunas may be found throughout Rio de Janeiro. These saunas are a significant part of Rio de Janeiro's social scene and may be located throughout the city. They are open at all times, although the busiest are between 6 and 10 p.m. Most of them close around midnight. None of them demand membership.
When you leave, you will pay the admission charge, any massage fees, and your bar bill; escorts will be paid in cash. Many of them are set up like social clubs, and men often go there only to have a few drinks, play some cards, and socialize. Almost everything has accessible private cabins; some even have people who work independently and give sex services for money.
Massage therapists operate from home, relieving clients of severe muscle strain. You must bring your lubricant and condoms. However, they will provide you with flip-flops and towels. The following is a list of some of Rio de Janeiro's most well-known gay saunas: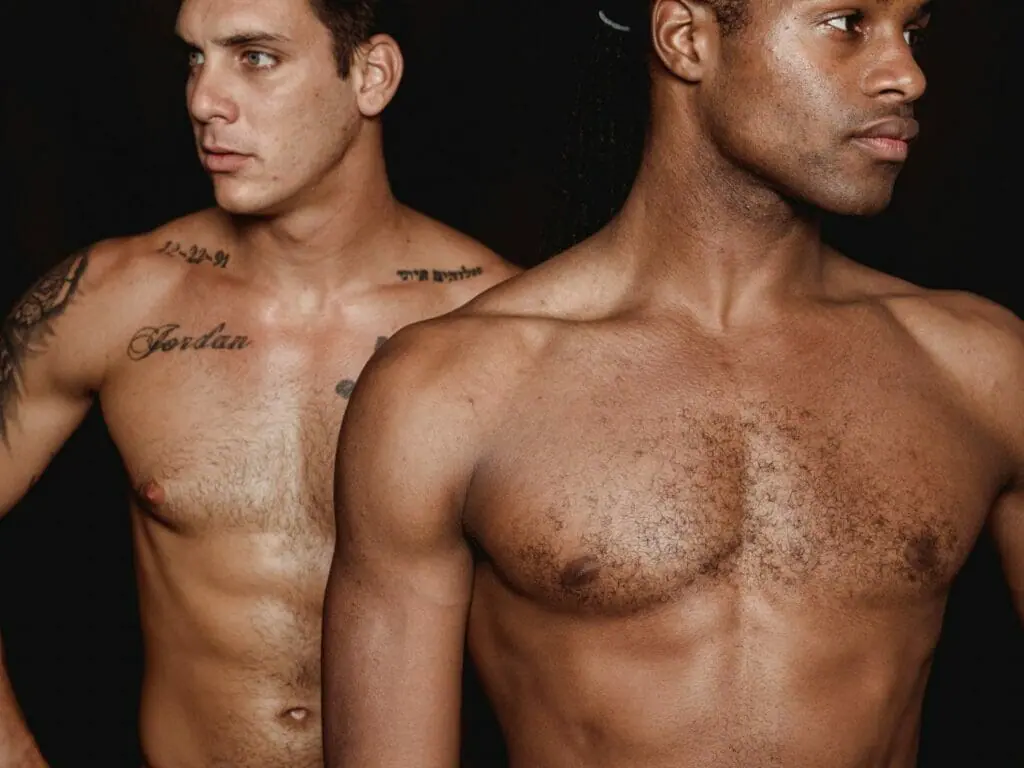 This well-known gay sauna may be situated in the heart of Ipanema, Rio de Janeiro's gay quarter. There are private cabins, a fitness room, a cinema room, a bar, a dark room, and a steam and sauna room. A bar is among the other facilities.
Relax and get a massage in this sauna after a long night of visiting the local region's bars and clubs, or spend the evening meeting new friends in this sauna after spending the day basking in the sun on one of the area's beautiful beaches. You should take this route if you wish to avoid con artists.
Club 117 is a homosexual sauna in the heart of Rio de Janeiro with a smoking area, a dry sauna, a steam room, a TV room, a dark room, and private rooms. When you enter Club 117's locker rooms, you will be welcomed by good-looking and courteous males providing services.
You have to arrange a fee with them and then go to one of their private rooms. Club 117 is well-known for attracting many of Rio's hottest men.
This is a men-only gay sauna near Copacabana beach in Rio de Janeiro. And it is particularly popular with older men. The amenities include a solarium, a steam room, a sauna, a pool, a bar, private TVs, and private cabins, in addition to a solarium and a dark room. A professional massage is available as an alternative.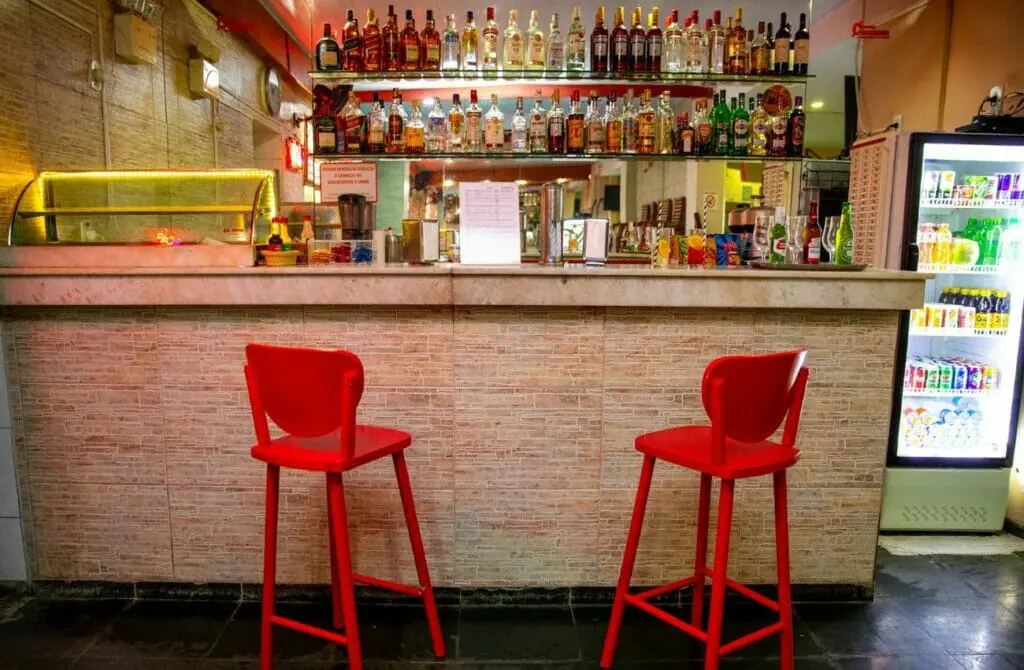 Gay Map Of Rio de Janeiro
Finding it hard to envisage where everything is in Rio de Janeiro? Hopefully, this queer-centric map helps where we have marked all the bars, clubs, parties, hotels, saunas, massages and more will help you stay in the spot best suited to you!