Brasilia, which replaced Rio de Janeiro as Brazil's capital in 1960, was built in a little over two years. It was strategically positioned in the center of Brazil to provide access to the country's western area. It is the site of the nation's capital and the federal government's seat.
On the other hand, Brasilia seems to the average gay man to be an urban closet. Gays with a fairly amazing lifestyle would loathe living in a city as drab and geometric as this one. It's more like a city created by old straight men for middle-aged straight people.
Kissing someone in public is considered impolite in Brasilia. Heteronormative rules prevail outside the forest parklands and away from the University of Brasilia (UnB) corridors. In the evening, the gyms are transformed into exhibitions of Barbies (Brazilian gay slang for gorgeous homos with an Adonis Complex) for the envy or amusement of onlookers.
Casual sex apps like Grindr are a breath of fresh air for "straight-acting and exclusively top" individuals looking for a nice escape from dysfunctional households.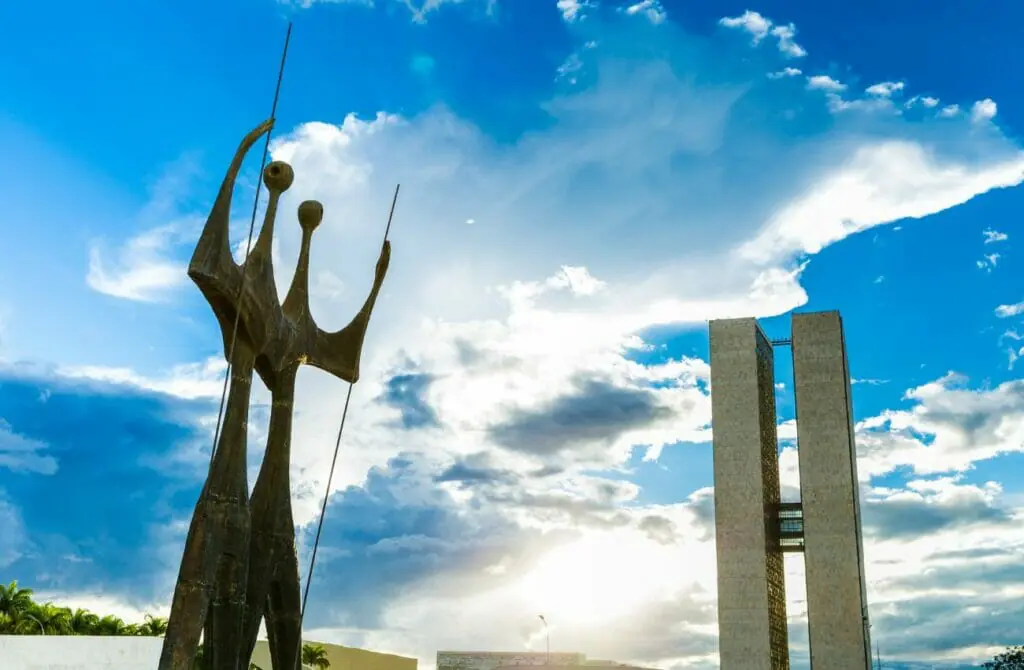 While homophobia and queerness are kept hidden in the central business area of BSB (another name for Brasilia), things go worse outside the city:
There have been several allegations of violent crimes performed against homosexual men and lesbians in the Federal District, not to mention the long-ignored transgender persons, who are ostracized from society daily without receiving an explanation or apology from nearly every "decent citizen."
Brasilia, on the other hand, hosts various events like film festivals, music concerts, and political conferences. It is a cosmopolitan city with over 124 embassies, a broad assortment of cuisines, and a sophisticated infrastructure capable of accommodating any event.
Gay Brasilia is small but well-established, with bars and clubs luring gay visitors and residents to the Asa Sul neighborhood. With hundreds of hotels across the federal capital, it should be no surprise that the city is an important business and tourist destination.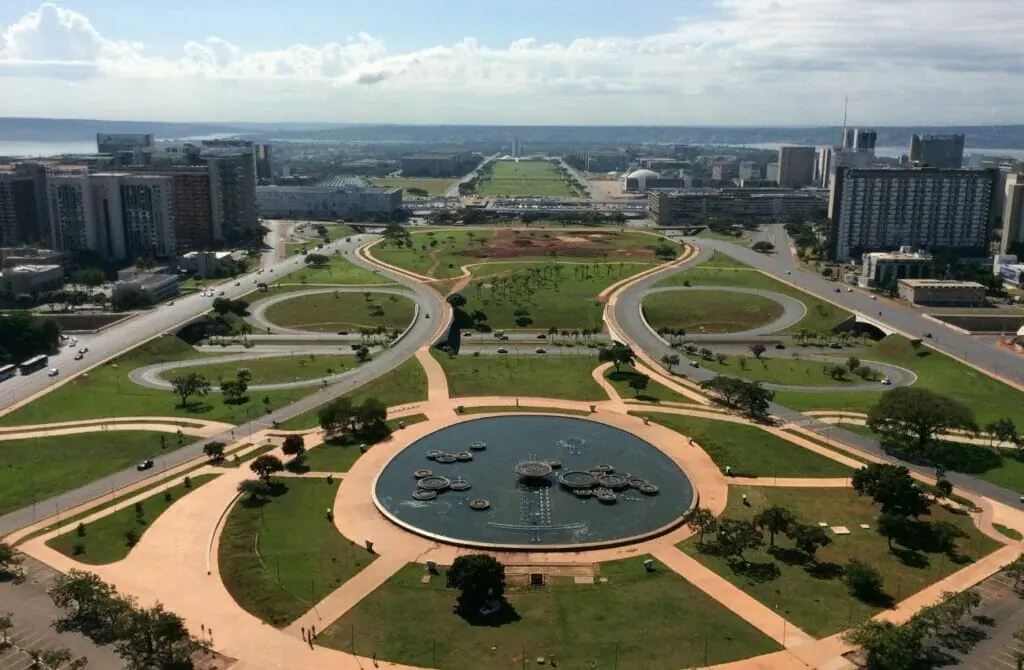 Attractions in Brasilia, Brazil
In 1956, Lucio Costa, Oscar Niemeyer, and Joaquim Cardozo proposed moving Brazil's capital from Rio de Janeiro to a location closer to the country's geographic center. This approach culminated in the creation of Brazil's planned city.
Roberto Burle Marx oversaw the landscaping. The city is split into numbered blocks as well as sectors for different sorts of companies and organizations, such as the Hotel Sector, the Banking Sector, and the Embassy Sector.
As a result, locating the architectural highlights, which are the most popular tourist locations, is straightforward. The bulk of these highlights is concentrated in a single huge area.
However, they are physically separated from the business and residential zones, where you may engage in everyday life in the region. The things on the following list are regarded to be the city's most popular tourist attractions.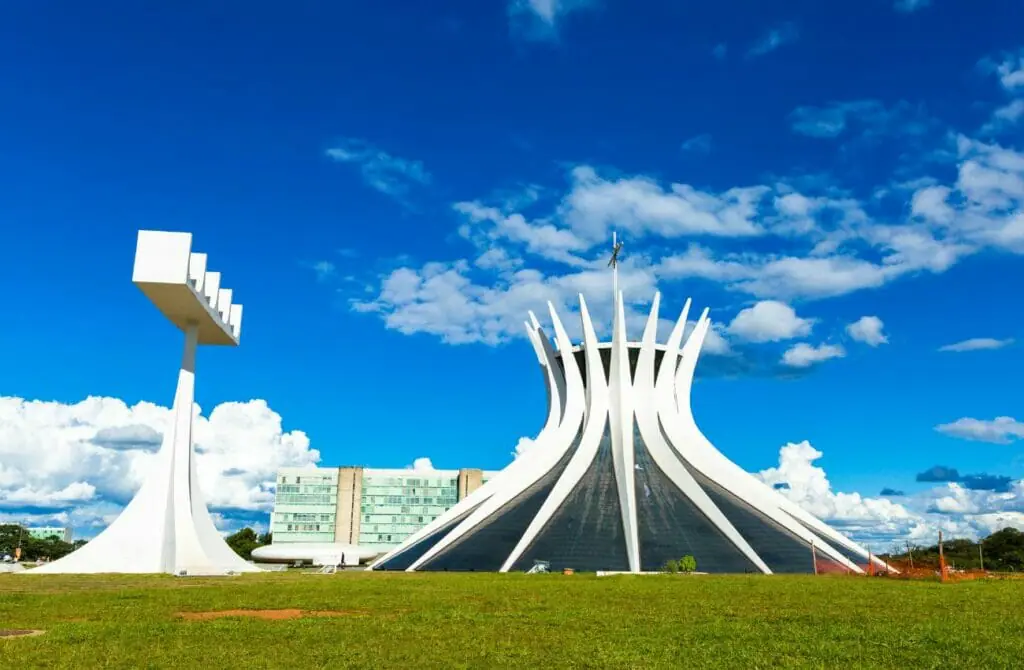 A homage to President Juscelino Kubitschek, a larger-than-life Brazilian president, widely regarded as the architect of Brasilia, may be seen on the majestic Praca do Cruzeiro monument. Oscar Niemeyer designed the monument, which many consider one of his greatest works.
In addition to Kubitschek's burial and a museum devoted to him, the monument features a variety of intriguing exhibits on the city that he envisioned and saw through to completion. These exhibits show early blueprints, construction photos, and other materials from Brasilia's history.
Along with its historical importance, the monument is flanked by works by contemporary sculptors, contributing to the location's attractiveness as a tourist attraction.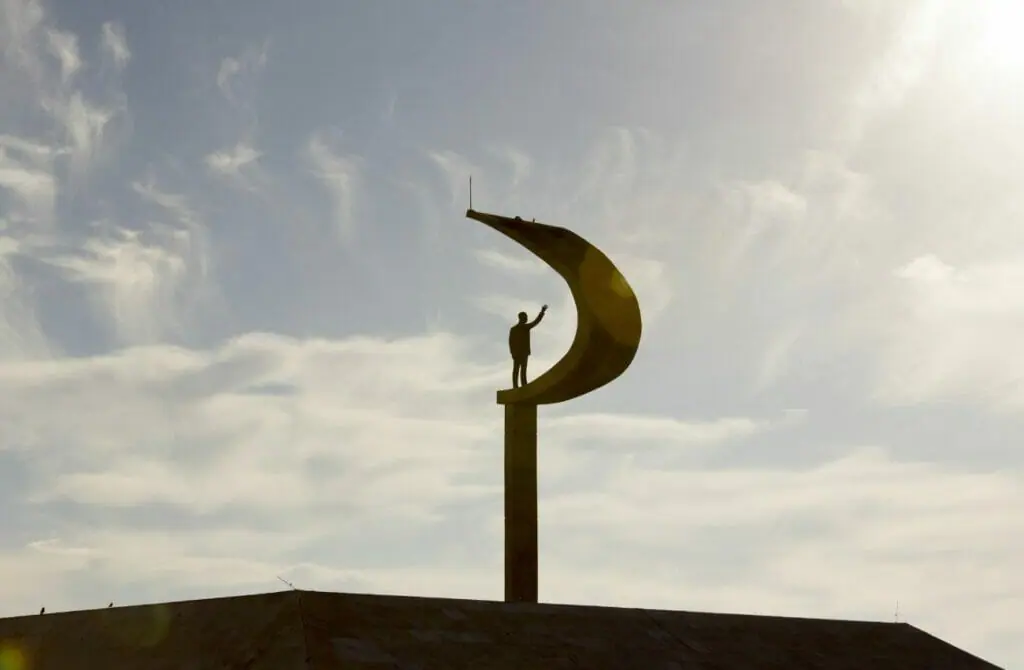 Brasilia's central government sector is a stunning example of modern architecture, bringing together some of the city's most prominent landmarks and monuments.
The structures surrounding the Praca dos Tràs Poderes, commonly known as the Square of the Three Powers, are the Palácio do Planalto, the President's official home, the Supremo Tribunal Federal (Supreme Court), and the Congresso Nacional.
The Praca dos Tràs Poderes is flanked by buildings that contain the executive, legislature, and judiciary, as the name implies.
In addition, the Historical Museum of Brasilia and the Panteo da Liberdade (Pantheon of Freedom) are in the plaza's immediate vicinity. Oscar Niemeyer constructed the Panteo da Liberdade (Pantheon of Freedom) to remember the rebels of the Inconfidàcia Mineira in 1789, as well as President Tancredo Neves, who died in 1985, soon after taking office.
On the southern side, you may find the Palácio dos Arcos. The Mastro da Bandeira is a 91-meter-tall flagpole that flies a 73-meter-long Brazilian flag.
Catedral Metropolitana Nossa Senhora Aparecida
The extraordinary circular cathedral, designed by Niemeyer and erected in 1970, is the city's most well-known and well-recognized landmark. Its sixteen curving concrete columns ascend to create a crown that encircles the structure's glass roof at the top. The effect of natural sunlight inside is breathtaking.
When you approach the church via a tunnel in the dark, you will be surprised to discover that what you saw from the outside is just the top of the building; the remainder of the cathedral is underground. The roof's simple construction is two layers, with stained glass on top of the plexiglass.
The Four Evangelists are shown in enormous statues outside the gate and a twenty-meter-tall freestanding bell tower.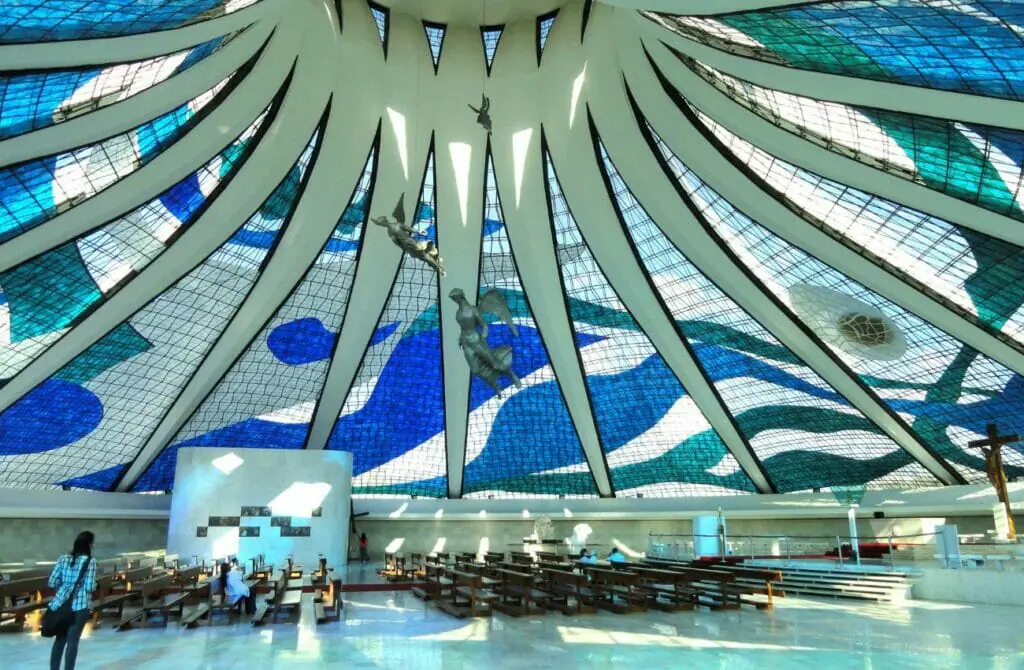 Palácio dos Arcos
Oscar Niemeyer's Palácio dos Arcos, also known as the Palácio Itamaraty, is one of his most notable works. This structure presently houses Brazil's Ministry of Foreign Affairs.
The magnificent grounds surrounding the monument, consisting of a continuous sequence of symmetrical arches standing above a reflecting lake, were designed by a prominent Brazilian landscape architect called Roberto Burle Marx.
The lavishly furnished interior includes a partly covered patio with a garden. The interior of the construction is open to the public, and one of the most notable aspects is the freestanding spiraling stairway that seems to float in the air.
Lago do Paranoá, Ponte Juscelino Kubitschek and Ponteo Lago Sud
The Ponte Juscelino Kubitschek, also known as the Ponte JK, is a bridge that crosses the lake and is made of concrete and steel. It's supported by three crisscrossing arches that rise more than 60 meters above the lake. The bridge, designed by architect Alexandre Chan and structural engineer Mário Vila Verde and completed in 2002, has received several architectural awards since its completion.
It is especially spectacular in the evening when floodlights illuminate the structure's towering arcs. The Pontao do Lago Sul is a promenade that extends along the south side of the lake and is dotted with restaurants, and ice cream stands, making it a popular weekend destination.
Santuario Dom Bosco (Sanctuary of Dom Bosco)
So Joo Bosco Church is dedicated to the Italian priest who lived in the nineteenth century and was canonized in 1934. Brasilia is considered to have been inspired by his goal of establishing a utopian capital city in the New World at the 15th parallel.
This holy site was built exactly on the 15th meridian north. Vasconcelos Naves, the architect, envisioned a square edifice with forty towering pointed arches. These arches were used to frame tall windows made of stained glass in various shades of blue, designed by Claudio Naves and built by Hubert van Doorne.
The windows cover most of the walls, and the massive chandelier comprises almost 7,000 pieces of Murano glass. Gotfredo Tralli created the huge wooden crucifix that hung above the altar from a single tree trunk.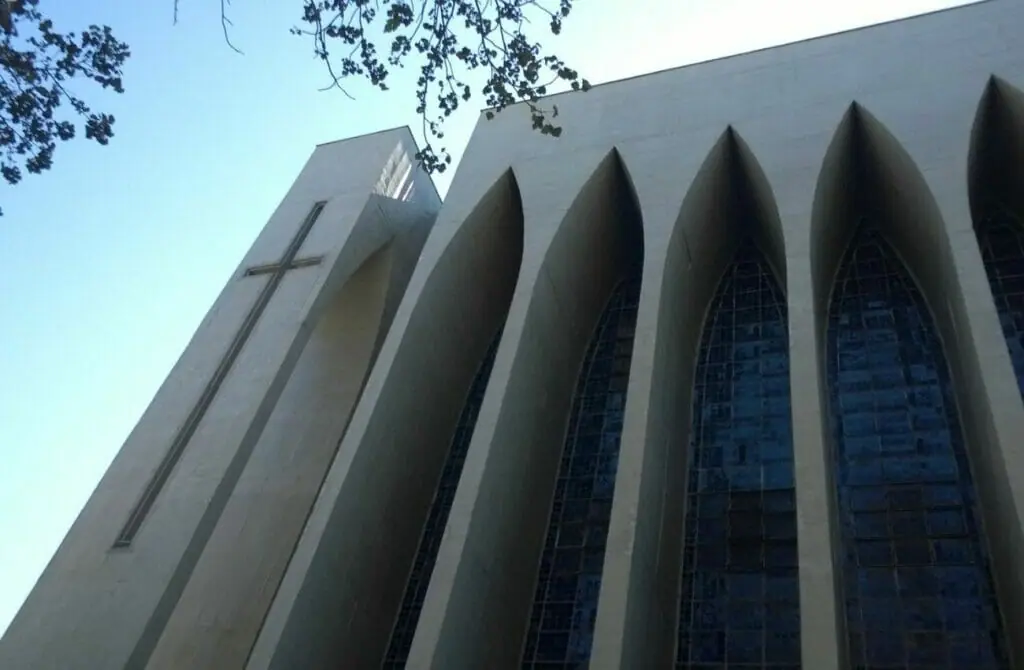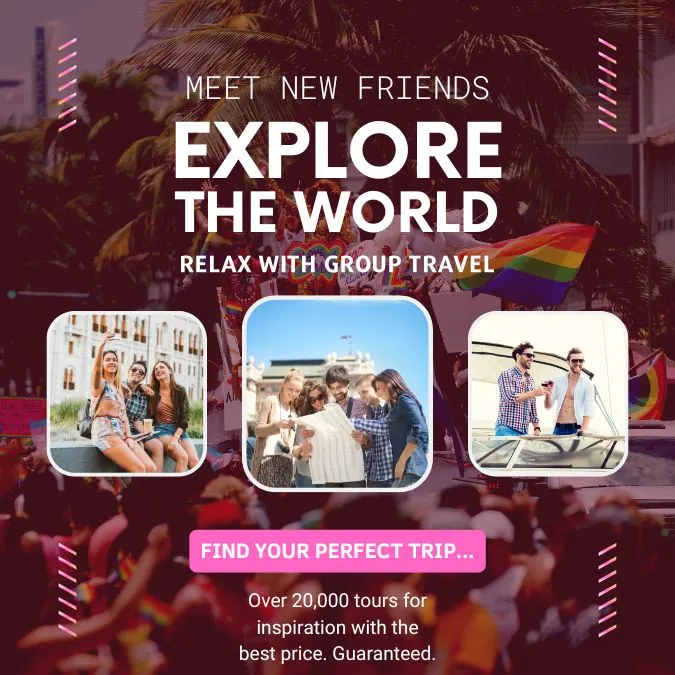 Gay-Friendly And Gay Hotels in Brasilia, Brazil
There are several LGBTQ-friendly hotels in Brasilia. There is a broad selection of housing available that accepts members of the LGBTQ community, ranging from lavish resorts to motels that are accessible to people on lower incomes. Gay-friendly resorts in Brasilia are likely among the most enticing alternatives for couples looking to spend quality time together while on vacation.
Furthermore, staying at one of these gay-friendly hotels or resorts makes it much easier to engage in LGBTQ+ events and attractions in and around the local region. Non-discrimination laws are strictly enforced in these sorts of enterprises. The list below includes various types of accommodation and the finest hotels in Brasilia, Brazil that welcome LGBT guests.
Needless to say, there are also hundreds more hotel and hostel options in Brasilia if none of these suit your desired budget, facilities or area – but these are the best hotels according to other gay travelers and us. Whatever your needs are, Brasilia has you covered.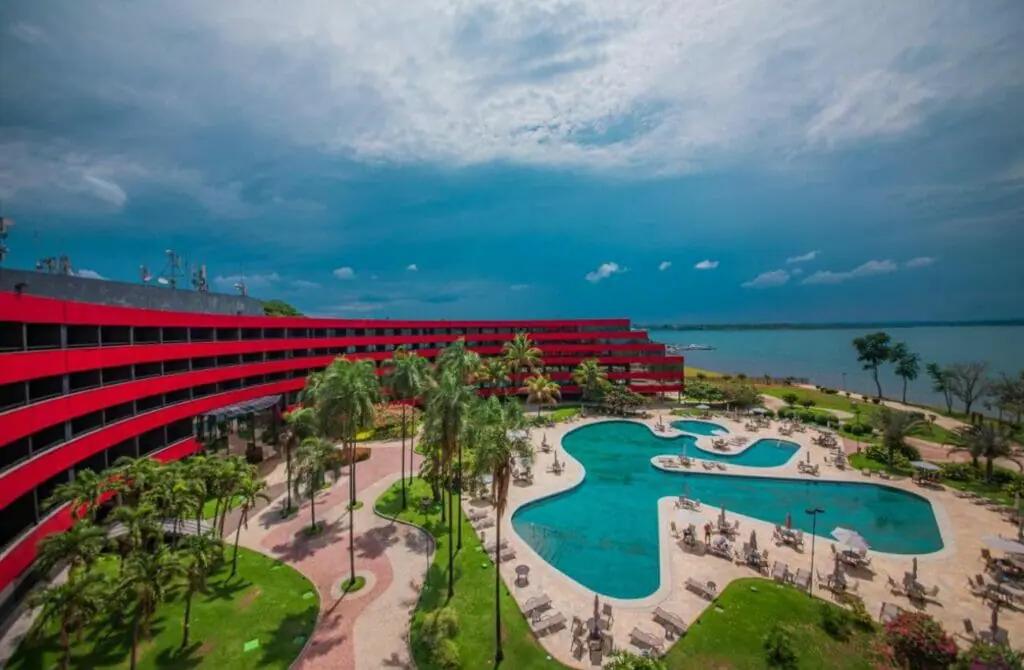 Royal Tulip Brasília Alvorada ★★★★★
These extraordinary hotels may be located in similarly unusual locales. Each Royal Tulip hotel stands out for its elegant and luxurious interior design, high-quality customized service, cutting-edge amenities, and elite levels of comfort.
This hotel boasts a lovely design, nice rooms, and a large pool close to the garden. It is located on Lake Paranoá in the Brazilian capital of Brasilia, about 850 meters from the Palácio da Alvorada.
These spacious rooms at the Royal Tulip Brasilia Alvorada are air-conditioned and have king-size beds, a balcony, cable television, and a minibar. Furthermore, the rooms are well-designed. Some feature a living room, a flat-screen television, and a larger balcony with a lake view.
Guests at the Royal Tulip Brasilia Alvorada hotel may begin their day with a full breakfast buffet or relax with a refreshing drink at the hotel's English bar. You may pick from a range of regional and international cuisines at the Herbs Restaurant.
This magnificent 5-star hotel offers two swimming pools and a spa where guests may obtain treatments. A sauna and a fitness facility are among the facilities available to guests. Within 6 kilometers, you may reach the National Congress and the Planalto Palace. The nearest airport is Presidente Juscelino Kubitschek International Airport in Brasilia, which is 13 kilometers away.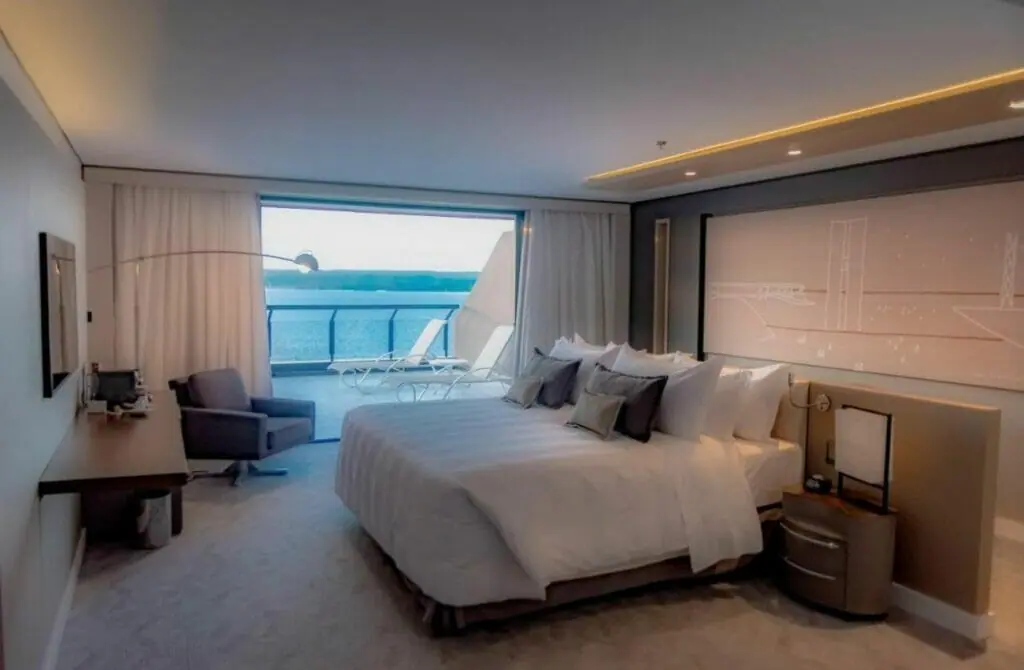 The B Hotel Brasilia is located in the center of Brasilia, near Eixo Monumental Avenue and about three kilometers from the National Congress and Palácio do Planalto. Guests may enjoy free WiFi in their rooms and free private parking at the hotel. The Burle Marx Garden and the Mané Garrincha Stadium are easily accessible by foot.
Air conditioning, soundproofing, a minibar, an electric kettle, a flat-screen TV with cable channels, a work desk, a safety deposit box, a private bathroom with a shower, complimentary toiletries, and a hairdryer are all included in the spare rooms.
Furthermore, the rooms are all decorated in a modern style. Each unit also has a sitting area and a Jacuzzi tub. In addition, for our customers' pleasure and convenience, we provide room service.
The hotel has a breakfast buffet with a wide selection of fresh fruits, hot and cold beverages, bread, cakes, pastries, eggs, cereal, and cold meats. In addition, the hotel offers a variety of hot and cold drinks. The on-site restaurant, Restaurante do B, offers both à la carte and buffet eating options. They provide a wide range of international cuisines as well as vegetarian options.
Guests may also take advantage of the on-site bar and outdoor swimming pool throughout their stay. The hotel has a well-equipped fitness facility for guests who like keeping up with their workout regimen.
Other features of the B Hotel Brasilia include a sun terrace, conference space, and a luggage storage facility. Furthermore, visitors may rely on the front desk for assistance in either English or Spanish at any time of day or night.
The Dom Bosco Sanctuary and the Metropolitan Cathedral of Brasil are less than three kilometers from B Brasil. The nearest airport is Brasilia / Presidente Juscelino Kubitschek International Airport, which is 14 kilometers away.
The Jade Hotel Brasil is located in the center of Brasilia, about 450 meters from Park Design Shopping. Guests may utilize the Toro Parrila restaurant during their stay. Private parking and WiFi are also included at the accommodation.
In addition to its five outdoor swimming pools, the Jade Hotel Brasilia boasts a water complex with a sauna and a semi-Olympic swimming pool. The sauna is accessible via one of the swimming pools. Each accommodation offers a minibar and a flat-screen television with cable channels. Private restrooms with functioning showers are supplied. Hair dryers and toiletries are provided as extras.
Guests may enjoy a breakfast buffet every morning in the dedicated breakfast area. There is also a selection of warm and cold drinks, fresh fruits, bread, and cold cuts of meat. Guests of the Jade Hotel Brasilia may use a 24-hour front desk.
The Conjunto Nacional Mall is 8 kilometers away from the hotel. The Presidente Juscelino Kubitschek International Airport in Brasilia is around 6 kilometers away.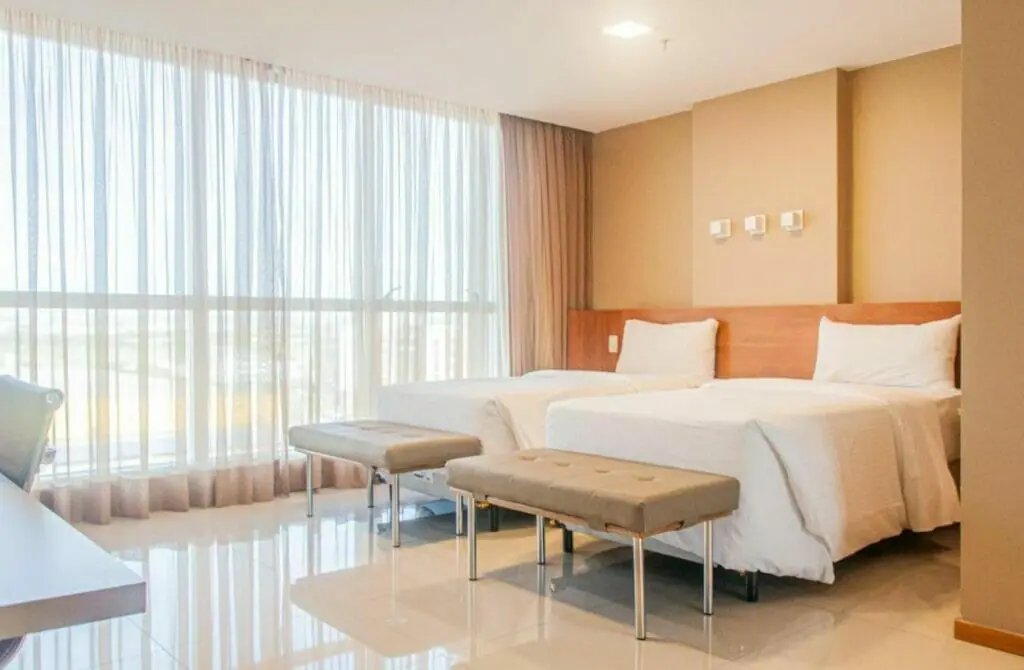 Quality Hotel & Suites Brasília ★★★★★
In addition to other facilities, the Quality Hotel & Suites Brasilia has a swimming pool, a large outdoor area, a fitness center, and free WiFi. The Quality Hotel & Suites Brasilia is about 300 meters from the Interstate bus terminal, while the Park Shopping metro station is approximately 200 meters away.
For your comfort, each room at this hotel has a flat-screen television with cable channels, air conditioning, and a minibar. Private bathrooms have a shower and a blow dryer for your hair. As soon as guests arrive, they are handed a drink.
Each morning's complimentary breakfast buffet includes a variety of fresh fruits, bread, and cold meats. Furthermore, the hotel's restaurant provides both local and international food and a selection of drinks for guests to pick from.
There is also a coffee shop, room service, laundry facilities, and other amenities like a steam room, squash court, and conference center. The hotel is 8 kilometers from the Juscelino Kubitschek International Airport and 12 kilometers from the Mané Garrincha Stadium. The National Congress is about 16 kilometers away.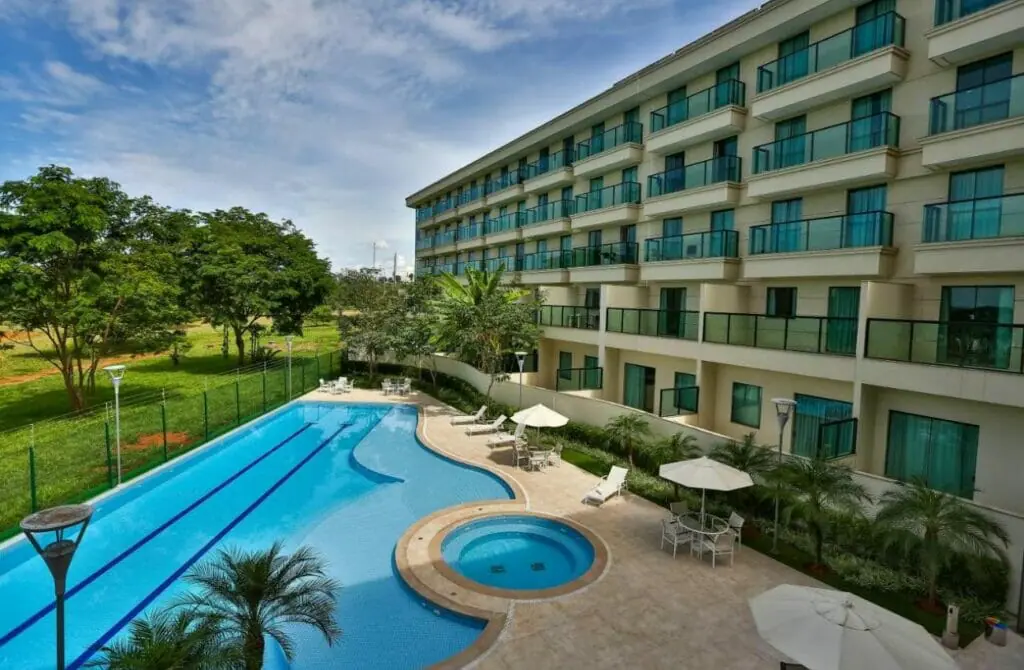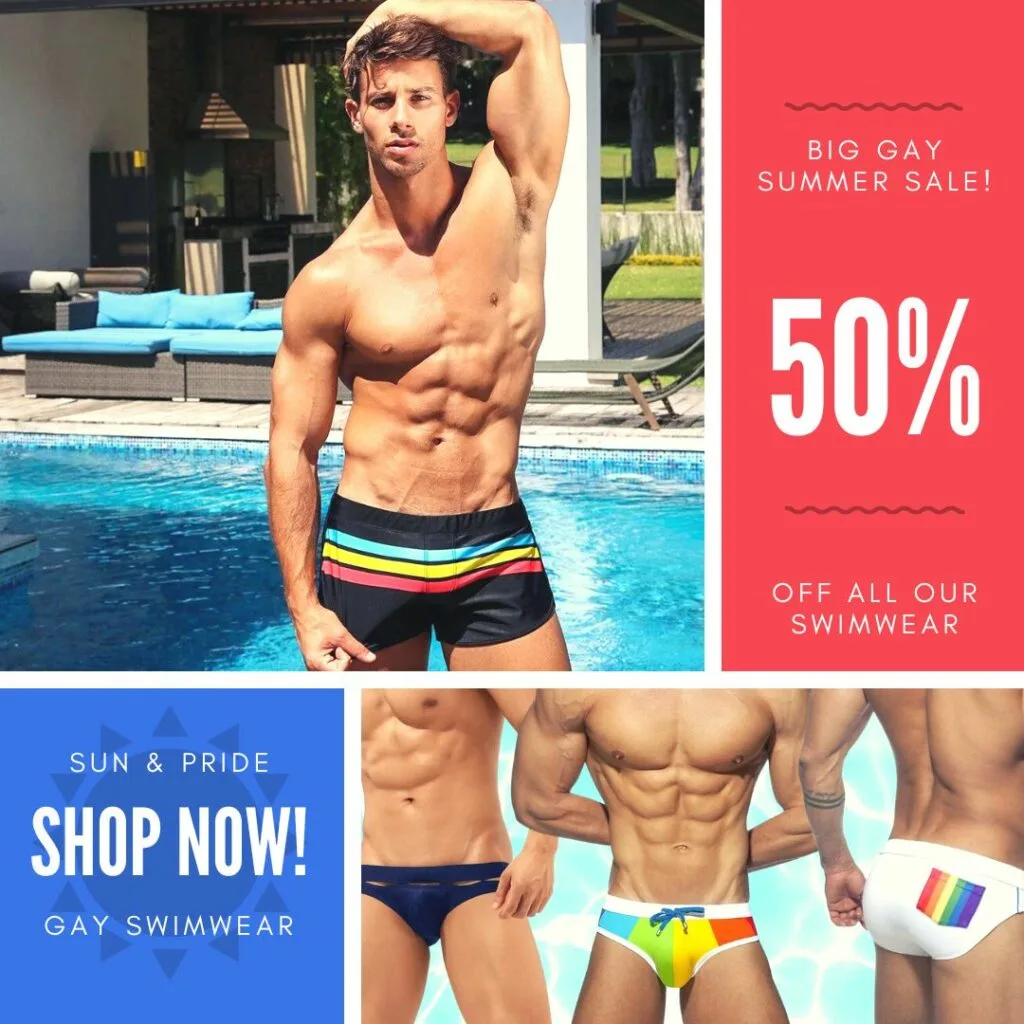 Gay Nightlife in Brasilia, Brazil
A gay or lesbian couple in Brasilia is likely to be treated no differently than a heterosexual couple in most social circumstances.
The city offers a diverse and consistent selection of LGBT nightlife places. Because the LGBT population in Brasilia is smaller than in most other Brazilian cities, many straight bars and nightclubs hold gay evenings once a week to compensate. Restaurants, nightclubs, and taverns are all full in the early hours of the morning.
Furthermore, Brasilia is home to a handful of crazy nightclubs that remain up till the sun rises. This will enable you to party into the wee hours of the morning and make some incredible memories. The Asa Sul neighborhood has the highest concentration of gay-friendly bars and clubs in the city. The following is a list of some of Brasilia's most renowned gay-friendly bars and clubs.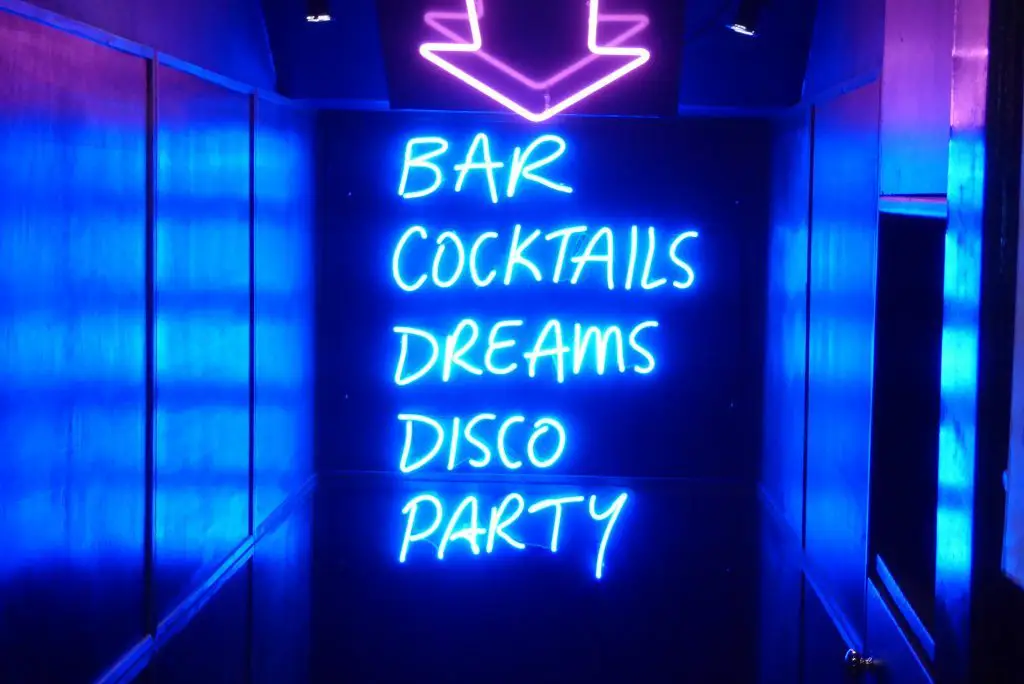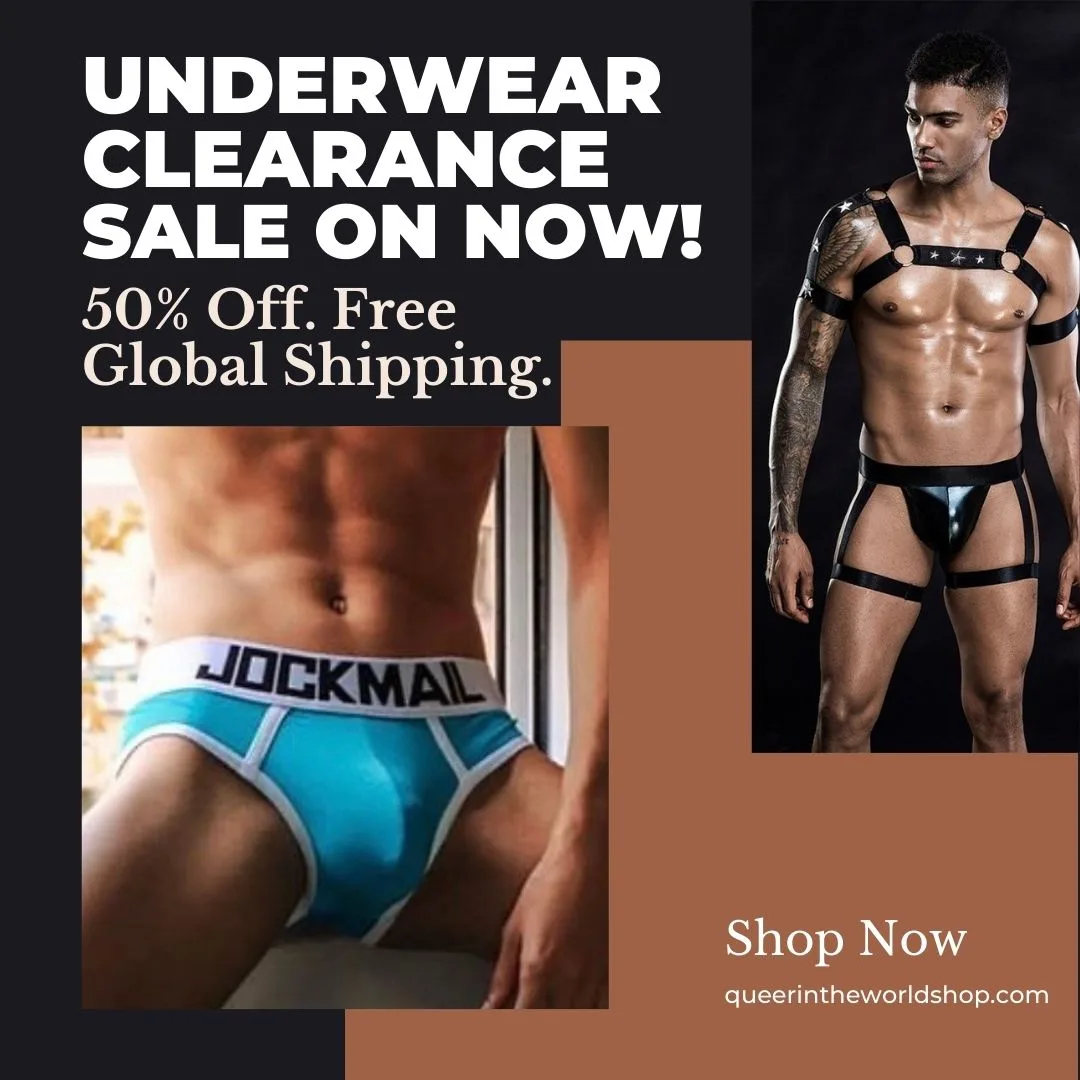 The queer-friendly bar LAH may be found in the Brazilian city of Brasilia. It is a sophisticated site where everyone and a big group of friends should go together. Furthermore, there are a variety of live performances performed by locals to amuse visitors.
An essential thing you can do to make the most of your stay in Brasilia is to include some local flavor into your agenda. Because they have distinct places for drinking and dancing, you can imagine how huge the whole room is. During happy hour, they also offer a bargain where clients pay for one drink and get two.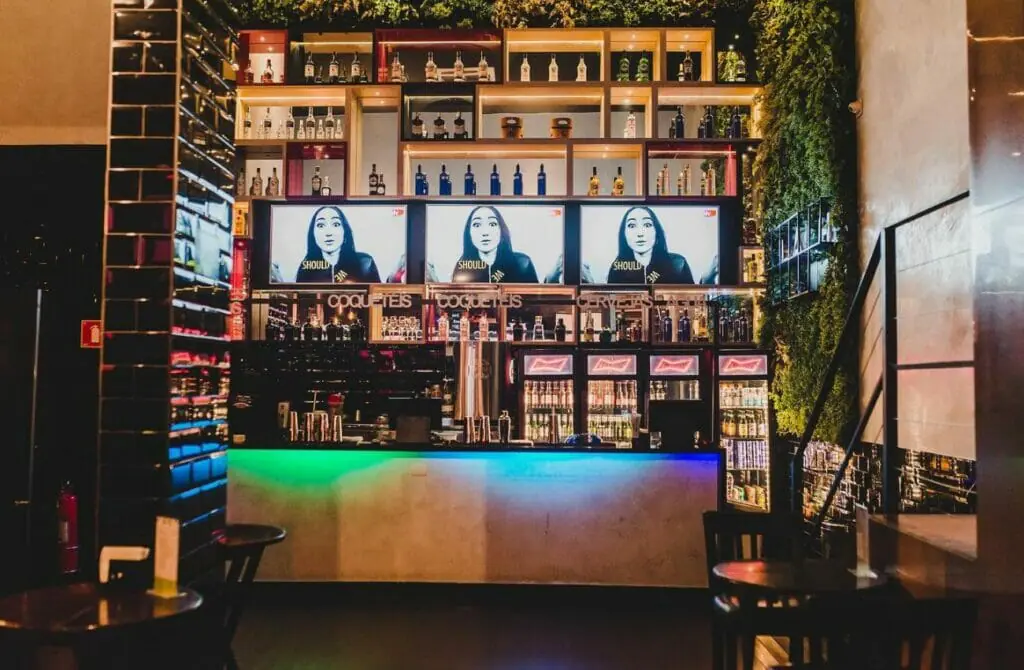 If you want to take your significant other someplace, there's no need to go to a romantic restaurant when you can have a nice time at a nightclub instead. The Fun Haus Club Brasilia is a nightclub that specializes in love encounters between two individuals.
They give a labyrinth for visitors to enjoy as a romantic pastime together. If you are single, you need not be worried since they also accept people in that situation. The atmosphere is ominous, and there are bright lights all around.
Vegan options are offered at the Prime Pobre Tavern, a tavern noted for serving the best pub food in the region. Seats in the open air are available, allowing you to breathe better and feel a sensation of regeneration.
Several different live acts are put on to augment the enjoyment. Furthermore, there is a fun decoration on the walls. They also host karaoke nights, so if you've always wanted to sing your heart out in front of an audience, this is the place to go.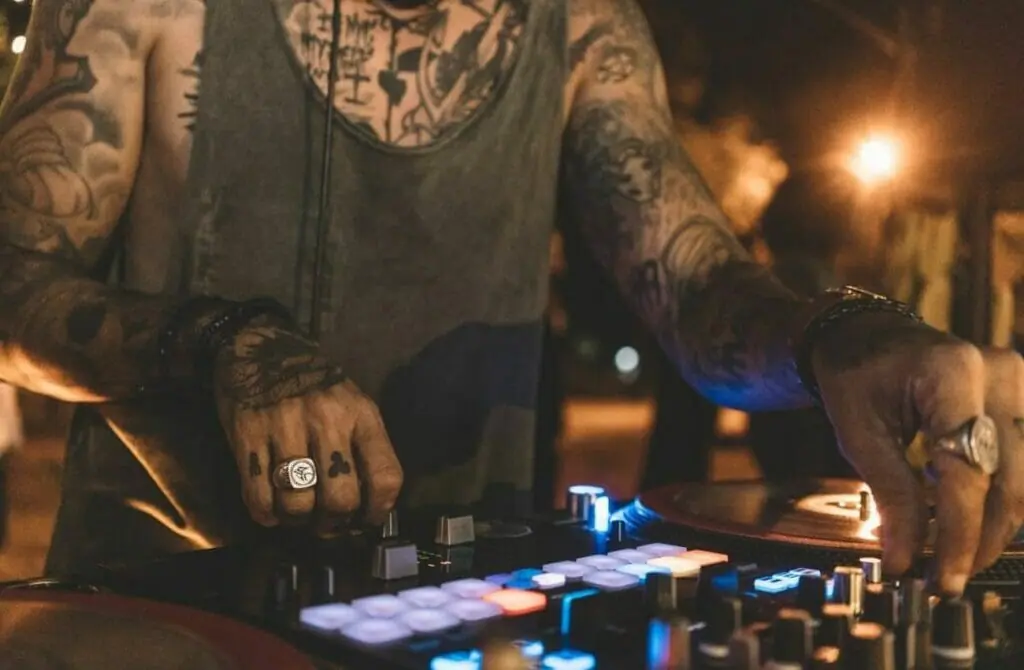 The Zeus Nightclub is a disco club where you can enjoy live performances by various artists. It delivers quite an excellent service. Furthermore, you do not need to be worried about protecting your belongings since they offer lockable lockers to put all of your belongings. Let go of all worries and dance your heart out.
Cool Coffee Spots in Brasilia, Brazil
Heloisa Checheliski and Vitor Vila had both previously worked in television and used to go on dates at cafés. After experiencing too many mediocre cups of coffee on their most recent trip to Patagonia, Argentina, they decided to build a café in that area.
The idea, however, was slightly disrupted, and they opted to build a shop in their hometown of Brasilia as a consequence. It is located on a picturesque business street near the University of Brasilia and government institutions. Breakfast is offered in the form of a brunch at Los Baristas Casa de Cafés, with a selection of artisanal sweet and savory dishes to pick from.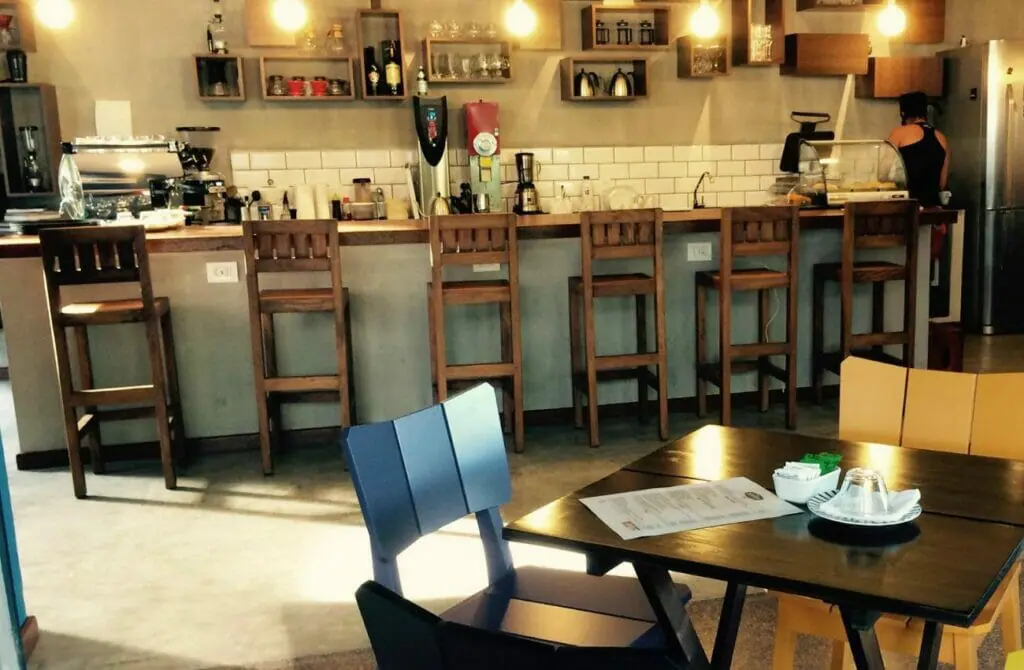 Objeto Encontrado's owners, Lucas Hamu, Luciana Arajo, and Lussifer Silveira, have successfully merged an art gallery, a whiskey bar, and a handcrafted coffee shop into a single space is incentive enough to come.
And the coffee is excellent: with beans from a range of roasters (I had a Red Catuai micro-lot from Pereira Villela that Hamu extracted), Objeto offers well-constructed cappuccinos as well as filter coffee options made with a Hario V60 or Bravilor.
The Clandestino Café and Music venue is located directly in front of Parque Olhos D'água, a natural savanna park in Brasilia's North Wing, and is just a few hundred meters from the University of Brasilia.
Rodrigo Balduino, Liana David, and Carolina Balduino opened a coffee business in the Nordic style in 2014. They also often hold live music events, which draw many individuals from the Brazilian music scene.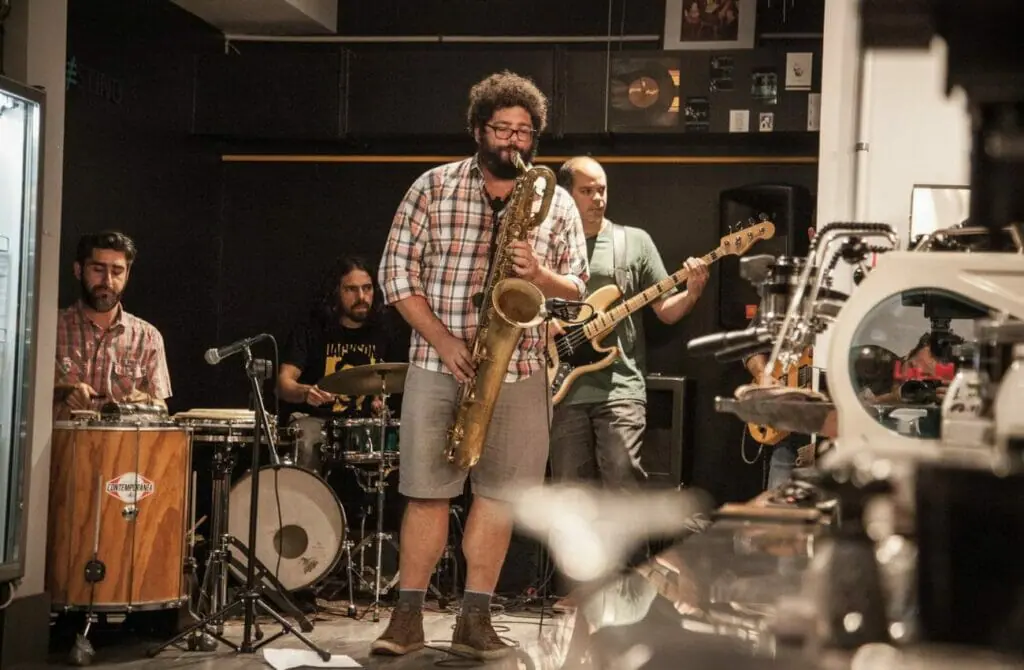 LGBT Rights in Brasilia, Brazil
Lesbian, homosexual, bisexual, and transgender (LGBT) rights in Brazil are among the most advanced in Latin America and the world. Since May 16, 2013, homosexual couples in Brazil have enjoyed the same rights as heterosexual couples, including the opportunity to marry.
The Supreme Court of Brazil issued the judgment on June 13, 2019, indicating that discrimination based on a person's sexual orientation or gender identity is a crime on par with racism.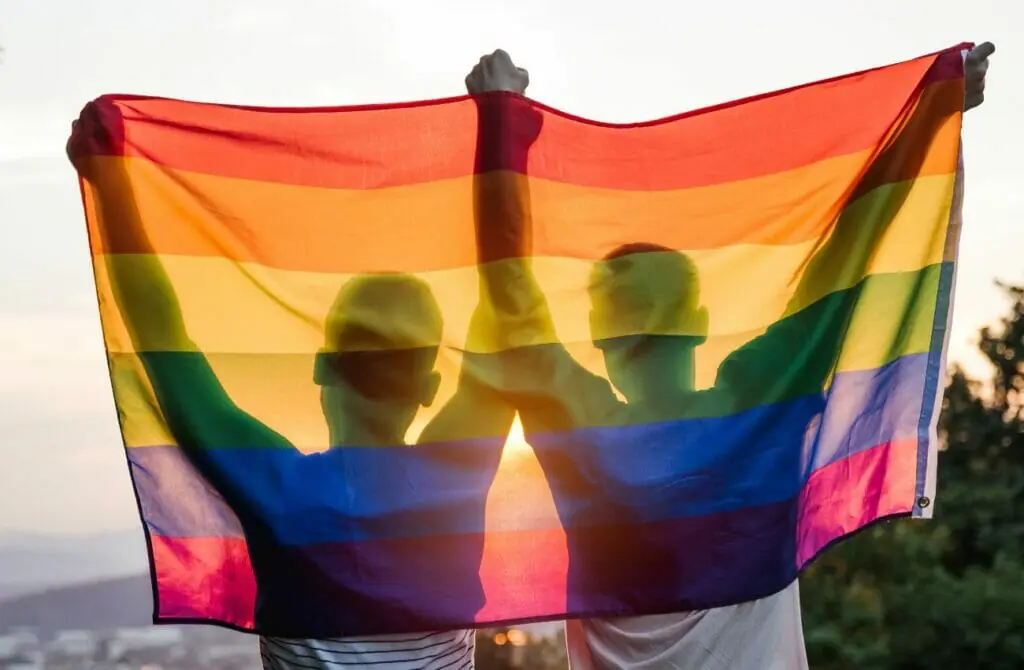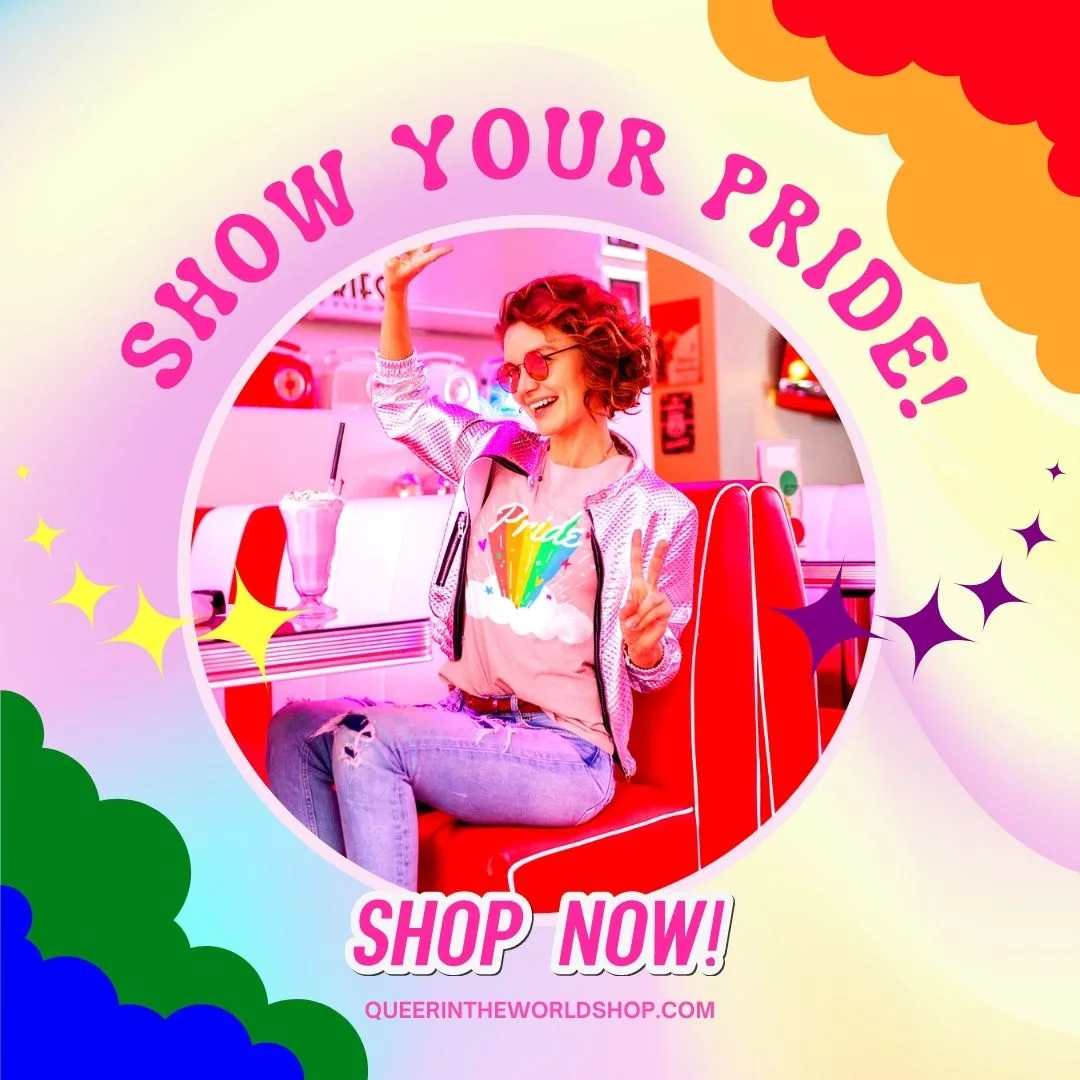 Cruising & Gay Saunas in Brasilia, Brazil
In Brasilia, there are no gay-friendly saunas or bathhouses open to men. However, there are a few locations that other gay travelers have been to and have mentioned online as places where they have met other gay males.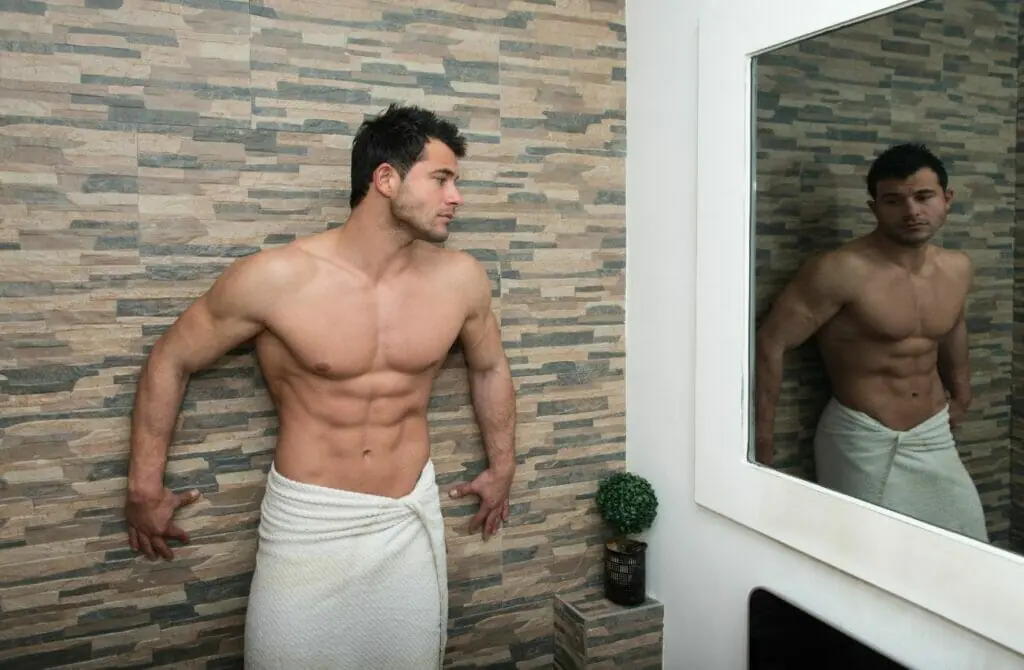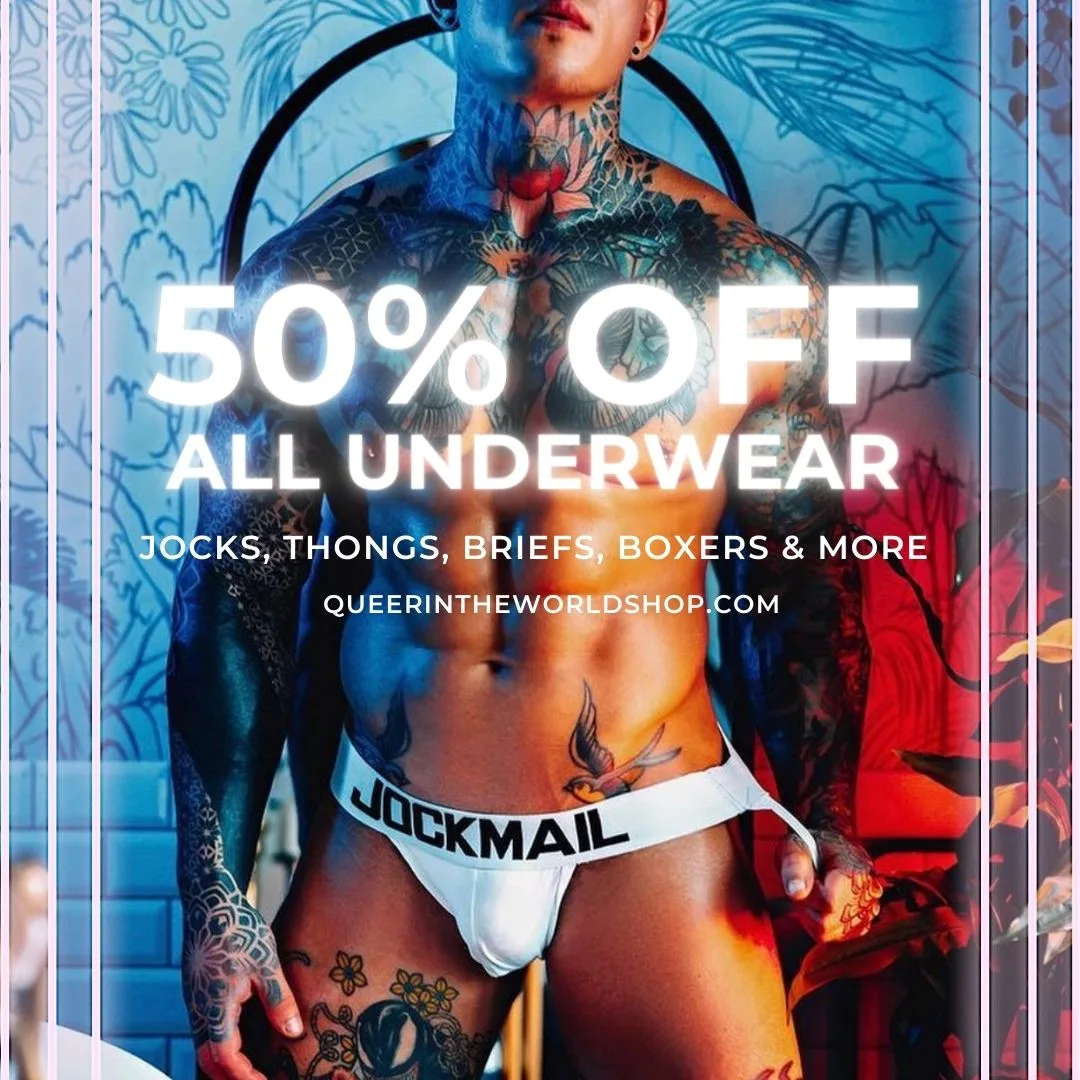 Gay Map Of Brasilia
Finding it hard to envisage where everything is in Brasilia? Hopefully, this queer-centric map helps where we have marked all the bars, clubs, parties, hotels, saunas, massages and more will help you stay in the spot best suited to you!