Osaka might fly under the radar as a destination oft-forgotten amongst Kyoto's history and Tokyo's modernity. Still, in this lively city, you'll find the people a little less conservative, a little more playful, and all ready to have a good time. Home to Japan's second-largest gay scene, Osaka is the place to let loose and see where the night takes you.
There are three main gay areas in Osaka, but Doyama is easily the largest and most welcoming to foreigners. Much like in Gay Tokyo, the bars here are usually hyper niched, catering toward a particular tribe – bears, salarymen, young twinks, etc. – and oh-so- Japanese. Discreet, compartmentalized, often smaller than a cruise ship cabin and obsessed with order, though thankfully not quite as uptight as Tokyo.
Ladies should be aware that many gay nightlife spots in Doyama do not permit female customers, but there are a few lesbian bars that do not allow male customers, so there is something here for everyone. The most adventurous gay traveler might also wish to explore the smaller Namba gay scene, Kabukiza-ura ("behind the Kabuki theater"), which is decidedly less international but still very welcoming. Or if you speak Japanese, try the Tennoji gay scene, in the area around Tsutenkaku Tower – the original post-war gay area that today attracts mostly older locals.
Local attitudes, however, mean many most foreigners can only sample but a few spots, especially outside of Doyama, as personal friendships with members and strict Japanese only rules dictate who can enter. You might think this is xenophobic – and it is – but this is done in large part to protect members from being judged by unfamiliar standards.
Japan is like nowhere else on Earth, and as anyone who has visited before will know, the Japanese do things very differently. Luckily the ongoing economic stagnation in Japan has made the country – and the gay scene of Osaka – more open to foreigners, and there are now many gay saunas, bars, and clubs who actively welcome Gaijin (the Japanese word for foreigners) into their midst.
Homosexuality has never been prosecuted in Japan – it was not considered a sin, just shameful. Today, despite recent trends of tolerance and openly gay spaces in cosmopolitan areas like Osaka, Yokohama, and Tokyo, many Japanese gay men and lesbians still hide who they are. Being gay is often still seen as a personal choice, and while homophobia is uncommon, Japanese society views being gay as not something to be flaunted or openly discussed.
This live and let live attitude – as long as outward appearances are maintained – towards LGBT people now is actively hindering gay rights in Japan. There is no political and social friction to propel things forward, unlike in Vietnam, China, and Korea. There are few openly gay lawmakers, celebrities, or business people, and the National Diet has yet to take action on including sexual orientation in the country's civil rights code.
Same-sex marriage is not legal at the national level, though as of 2019, twenty cities and city wards issue same-sex partnerships certificates, which provide some benefits; however, they are entirely symbolic. Taiwan currently leads Asia in LGBT rights, and with the growing momentum and grand plans of Kansai Pride, we hope this will prompt Japanese society and lawmakers to discuss protections and equality for all citizens.
Despite this, gay travelers to Osaka – and Japan – are highly unlikely to experience any discrimination at all regarding sexual preferences. With a dazzling gay scene – endless skyline, delicious street food, quirky personalities, and more attractions that one could ever hope to discover – along with a refreshing passion for seemingly absolutely everything – Gay Osaka is one of the world's most underrated cities and gay scenes.
Pop culture, fashion, and neon-lit streetscapes collide with cherry blossoms, hidden shrines, and quiet alleys to ensure you will never be bored in Osaka. And even if you are, Osaka isn't known as the 'nations kitchen' for nothing, and everyone here is seemingly out for good food – and a fun time!
Gay Osaka Guide: The Essential Guide To LGBT Travel In Osaka Japan
Attractions in Osaka
Naturally, being gay does not define which attractions most of us will want to see in each city, and most queer travelers will want to check out the top things to see in Osaka during the day!
There is so much to do here – but we found our favorite memories were wandering through then getting lost in the seemingly endless food streets, visiting all the weird cafes, hitting up Universal Studios and relaxing on one of the many Osaka river cruises! Still – it helps to have some idea what is going on, so here are the best things to do in Osaka, according to us!
Of course, when you leave Osaka and head back home, you won't be able to bring these street vendors and sushi chefs with you – why not learn how to cook some of these classic Osaka dishes from locals during your stay?
AirKitchen, an online gay-friendly cooking class service that provides travelers with an opportunity to visit an ordinary Japanese family home's to learn to cook – and then share a meal together. Its Airbnb-esque, and a fabulous way to get to experience the authenticity and warmth of local Japanese people. The cooking class choices are as varied as Osaka itself: sushi-making, ramen, bento boxes, takoyaki (octopus balls) and okonomiyaki (a Japanese savory pancake) – to name a few.
One of the best tips we can give you for exploring Gay Osaka is to pre-order a travel SIM card for easy airport pickup and activation the moment you arrive so you will not pay a fortune in international roaming charges. Get restaurants recommendation and reservations on the fly, public transport instructions up to the minute, bar opening hours, and if it is your thing – access to gay hook up apps to find out more about the local scene.
Mobile data is fast, cheap, and available almost everywhere in Asia, so it is no wonder most travelers choose to stay connected and to get off the beaten track (without ever worrying about getting lost). So why wait? Pre-order the best local SIM card now to have it waiting for you in Osaka when you arrive.
Things To Do in Osaka
Gay-friendly and Gay Hotels in Osaka
As Osaka is one of the more progressive and gay-friendly countries in Asia, pretty much every hotel in Osaka can be considered gay-friendly, and none of our readers will experience any issues here. After all, being gay-friendly is not all about upscale luxury, but about providing friendly service and welcoming everyone with open arms!
Osaka is a global mega-city with a shortage of space, so room sizes are smaller than almost everywhere else in the world – but as plenty of gay men know, it's not all about size, but how you use it! We are talking about design, functionality, and views, darling!

Everyone likes to be surrounded by people with common interests. As such, there are a few well-known gay-friendly hotels in Osaka that are hot spots for gay travelers to stay – either because of their location near the Doyama district gay village – the best place to stay in Osaka if you are looking for gay nightlife – or their design and inclusive vibes.
The following hotels in Gay Osaka have all have glowing recommendations from gay travelers in the past, but of course, there are hundreds of other hotels in Osaka if these are not quite what you are looking for. Whether you want a fun and social hostel, a cheap place to crash after a night of partying, or an ultra-chic designer option to sip cocktails and surround yourself with fabulous people – Gay Osaka has something for everyone!
Gay-friendly Hotels Near Umeda / The Doyama Gay Scene
Other Gay-friendly Hotels in Osaka
Gay Nightlife in Osaka
With Osaka being one of the most gay-friendly destinations in Asia – joined by the likes of Taipei, Bangkok, Phuket, and Hong Kong – you would expect an incredible gay nightlife scene, and luckily Osaka does not disappoint. Depending on your mood, you can find anything here from a relaxed cocktail in an upscale bar to an all-night dance rave surrounded by your queer family!
The central Osaka gay bar scene is found in the infamous Doyama district, near Umeda Station, which is the biggest gay town in Western Japan. We couldn't possibly list every single venue – some of which are little more than broom closets – and have focussed on those that are foreign friendly with a point of a difference. There is also a sprinkling of gay bars in Namba/Shinsaibashi, and a few catering for older locals in the Shin-sekai area, near Tennoji, in the south of Osaka.
Because of the size of bars here, customers usually sit at a bar and spend the night chatting away with other patrons and the normally charismatic bartenders. Karaoke is also very in vogue and is a sure-fire way to get the shy Japanese to open up. You could also try plying them with alcohol or setting them loose in a dark room, but we will get to sauna and cruise spaces later.
Regulars frequent most of the small bars in Osaka, and some operate a bottle keep system – unheard of in the West – where you keep your bottle of liquor behind the bar for future visits. The social groupings at these bars usually are very strong, with bars organizing outings to onsens, sporting events, picnics, and more. They really are a family here, and you can see this generally in photos often displayed around the bar.
We found most bar owners, known as "Mamas" or "Masters" to be extremely welcoming to new customers and Gaijin, but not all – especially those where the Mamas or clientele do not speak English. This is to save their patrons from any embarrassment for the most part – and to a certain degree, we understand and agree. Here we have included only those we know are welcoming to foreigners, but if you have a local friend or necessary Japanese skills, we encourage you to explore further.
There are also other gay bars spread across the city, so use our gay Osaka map at the end to help, and do not miss the world-class gay clubbing and gay dance parties in Osaka! A night out here is guaranteed to be insane and unforgettable – just go with it!
Doyama Gay Bars & Clubs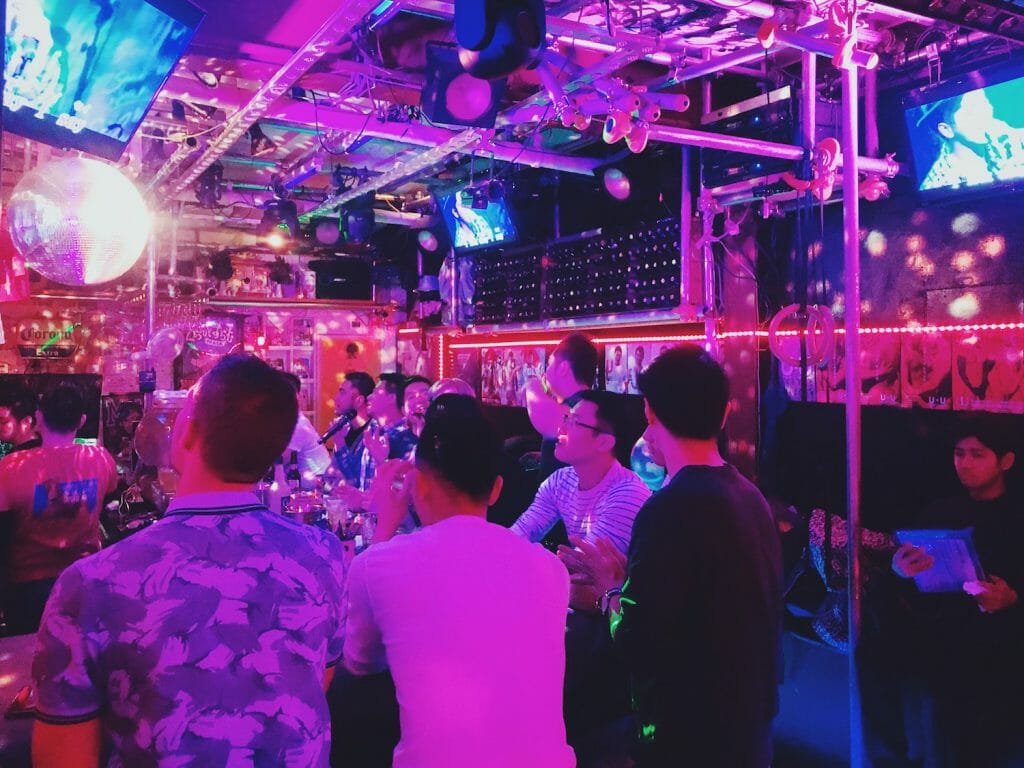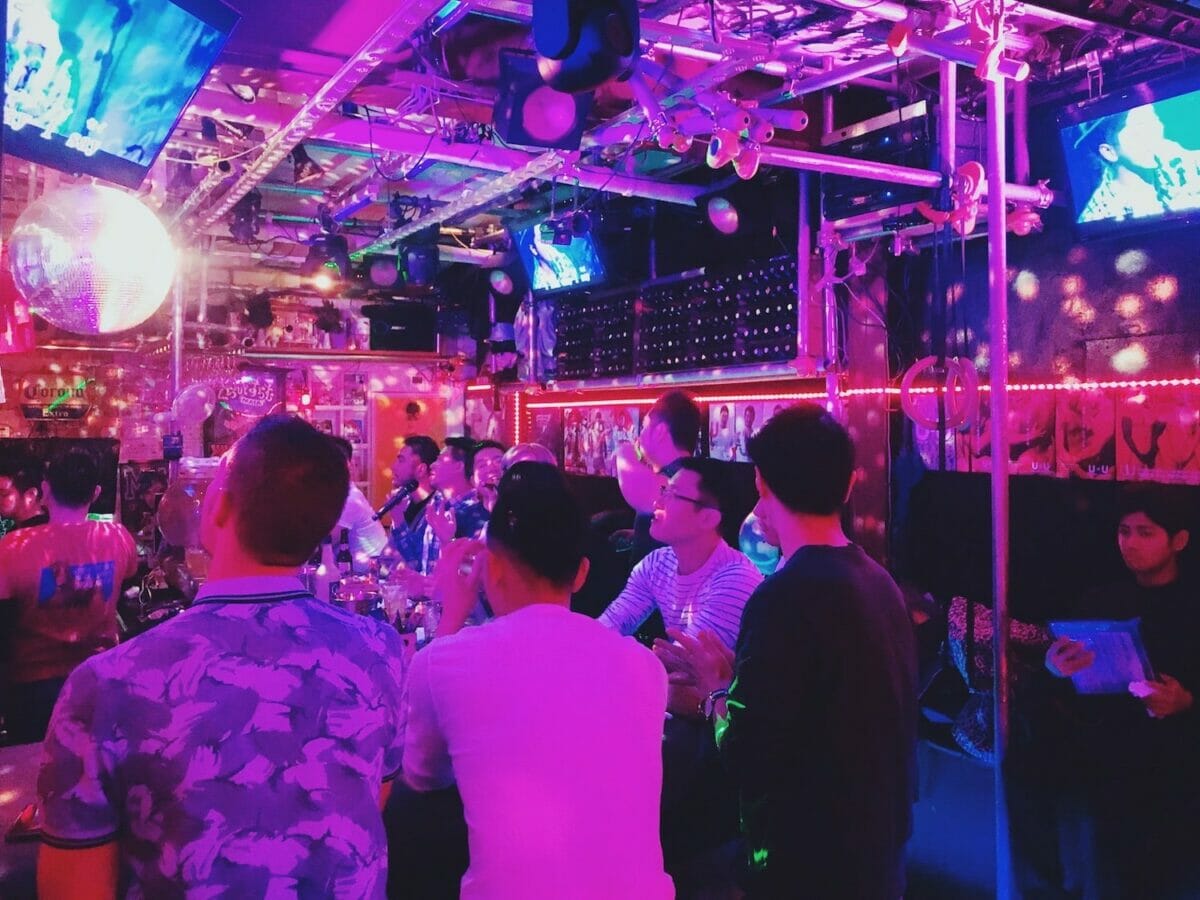 Namba Gay Bars & Clubs
Other Gay Spots in Osaka
Gay Cruising in Osaka
Had enough of gay cruising in Osaka – either in the bars or elsewhere? For those who want a bit more guaranteed action, the gay saunas in Osaka will not disappoint you (unlikely all those faceless accounts on Grindr or the other hook up apps…). – although they are not quite as high-quality as Taipei, Ho Chi Minh City or Bangkok.
Since most gay sauna in Osaka are open 24 hours, it is not uncommon for men to spend the night sleeping in their private cabin afterward, so as the night goes on, don't be surprised when the moaning changes to snoring! If you are nervous about visiting, read our gay sauna etiquette guide, but remember: Japanese guys are generally bashful and nervous, so you'll often have to make the first move. Unless you are a dark room, then all their fears seem to melt away.
We have heard reports that older, hairy, or chubbier guys being ignored in some saunas, and foreign guys getting attitude from some locals. Some sauna have banned foreigners or have age-discrimination policies. We have tried our best only to include those that are 'foreign-friendly' here. You can also be an object of curiosity and desire, so it does work both ways. Gay cruise clubs in Osaka are not nearly as favored – or numerous – as, say, Berlin, Madrid, and Prague but can still be a lot of fun, especially when they are hosting an event, and the crowds flock in.
Gay Sauna in Osaka
Gay Cruise Clubs in Osaka
Gay Osaka Map