Gay Ho Chi Minh City is a high-octane experience, an intoxicating collision of commerce, culture, food and vitality with a small but vibrant gay scene and plenty of Pride.
While gay communities in Hanoi and Ho Chi Minh City (aka Saigon) are not as visible as those in Thailand (Bangkok, Phuket, and Pattaya) or nearby Queen of Gay Asia, Taipei – everyone is quick to remind you that being gay, or same-sex marriage, has never been against the law here.
There is a laissez-faire attitude to the LGBT community, and gay travelers here are extremely unlikely to experience any issues or discrimination.
In fact, the current community party line conveyed in newspapers now is homosexuality is natural and that to be 'against' gays are backward and superstitious – about time, we say! While there is still a long way to go, public opinion is quickly changing in this atheist / authoritarian state, and it's fair to say no one saw this move coming a decade ago.
Only a handful of establishments in Gay Ho Chi Minh City are really "gay places", as in reality, gays here gather in "mixed" hang-outs with their personal friends.
That is not to say there is nothing gay here for travelers, and Ho Chi has a growing drag scene, monthly LGBT parties, one of the best gay saunas in Asia and plenty of male massage parlors.
If these aren't for you, you can still rest assured knowing Gay Ho Chi Minh City is exceptionally tolerant of LGBT visitors – and has plenty of fabulous luxury resorts, al fresco drip coffee shops, incredible food, craft cocktail bars and hidden corners to explore!
Things To Do in Gay Ho Chi Minh City
Obviously, being gay does not define which attractions most of us will want to see in each city, and most queer travelers will simply want to check out the top things to see in Ho Chi Minh City during the day!
There is so much to do here – but we found our favorite memories were wandering lost on animated side streets, sipping delicious cà phê đá in trendy cafes and stuffing ourselves with as much incredible street food as we could!
One of the best tips we can give you for exploring Gay Ho Chi Minh City is to pre-order a travel SIM card for easy airport pickup and activation the moment you arrive, so you will not pay a fortune in international roaming charges.
Get restaurants recommendation and reservations on the fly, public transport instructions up to the minute, bar opening hours and, if it is your thing – access to gay hook-up apps to find out more about the local scene.
Mobile data is fast, cheap and available almost everywhere in Asia, so it is no wonder most travelers choose to stay connected and get off the beaten track (without ever worrying about getting lost). So why wait? Pre-order the best local SIM card now to have it waiting for you in Vietnam when you arrive.
In Southeast Asia, there is often a digital gap between local suppliers and world travelers and getting around can seem difficult. Luckily, we found Bookaway, which enables travelers to find, compare and book ground transportation tickets online with outstanding user experience and a 24/7 support team that works closely with local suppliers.
If you want to simplify the travel planning process and make travel ticket booking easier – check them out before you travel.
Still – it helps to have some idea of what is going on, so here are the most popular attractions in Ho Chi Minh City according to us!
A social networking group for gays and their friends living/working or just traveling through vibrant Ho Chi Minh City! Ask advice, find out the if there is a new club/ 'gay-centric' hangout, or just make some new friends!
Saigon Extravaganza Scooter Tours
A fabulously gay-friendly scooter tour team run by true Saigonese guys. They love to give tourists the most authentic experience of their hometown. Nightlife, food, or just seeing the city, this excellent team can customize any experience to suit your interests.
Owned by German-Vietnamese interior designer, Thai Cong and his partner, who is a core part of the local LGBT community. Store by their designer interiors shop (ranging from classical to neo-classical and modern) and try their fabulous contemporary restaurant with a primarily Asian fusion menu and exceptional pho.
An annual Pride event is growing each year throughout Vietnam to show support and campaign for equality for Vietnam's lesbian, gay, bisexual and transgender (LGBT) community.
Celebrated across Vietnam in different cities between July 29 and October 1, this liberating and exciting event is paving the way for full societal acceptance of LGBT citizens and helping many queer people to step out into the rainbow-adorned streets to celebrate themselves and the community as a whole.
A weekly casual English conversation group is held every Sunday night for local and foreign gay men. Get in touch with the cute organizer, Danny, if this sounds like it could be for you!
Go on a journey to the stunning countryside of the Mekong Delta, then board a peaceful boat ride along the river to see the iconic fishing villages made up of stilt houses and endless rice paddies as far as the eye can see. A fabulous day trip and one of the most popular things to do in Saigon, gay or straight!
Get skinny bitches! Explore the hidden underground world of Vietnam's byzantine network of tunnels while learning all about the convoluted and incredibly inventive lives of the tunnel dwellers.
Impress all the boys back home when you master the art of Vietnamese cooking in Saigon. Acquire the knowledge of how to cook authentic Vietnamese dishes while touring around Saigon and shopping at the local market for the fleshiest produce – essential for creating any Vietnamese delicacies.
Want a romantic evening? Why not try the traditional water puppet show complemented by a dinner cruise after? Watch the traditional art form of a water puppet come to life before your eyes, with the wonderful sounds of traditional Vietnamese instruments. Later, relax on an evening dinner cruise on the Mekong river with a view of one of the world's most animated cities.
Enjoy a Vietnamese cultural evening at the Saigon Opera House with one of Ho Chi Minh's most well-known shows. Join in the playful narrative, telling the tale of the people of Vietnam. The show is a live performance featuring some of the best musicians, performing artists, and acrobats in the country.
VietPride
VietPride, the biggest and most colorful pride event in Vietnam, takes place annually in Ho Chi Minh City, and is an event that you simply cannot miss! It's a great opportunity to show your support for the LGBTQ+ community in Vietnam, as well as celebrate diversity and freedom of expression. The event started in 2012 and has since grown to become one of the most important LGBTQ+ events in Southeast Asia, attracting more than 10,000 participants each year.
The parade takes place in early August and winds through the streets of Ho Chi Minh City, with a colorful and lively procession of floats, music, and people. VietPride also includes a week of events and activities, including music performances, film screenings, and parties, making it a great opportunity to meet like-minded people and make new friends. Not only is VietPride a fun and enjoyable event, but it's also an important moment to raise awareness and promote equal rights for the LGBTQ+ community in Vietnam, and as a traveler, attending VietPride is an excellent way to immerse yourself in local culture and support the LGBTQ+ community.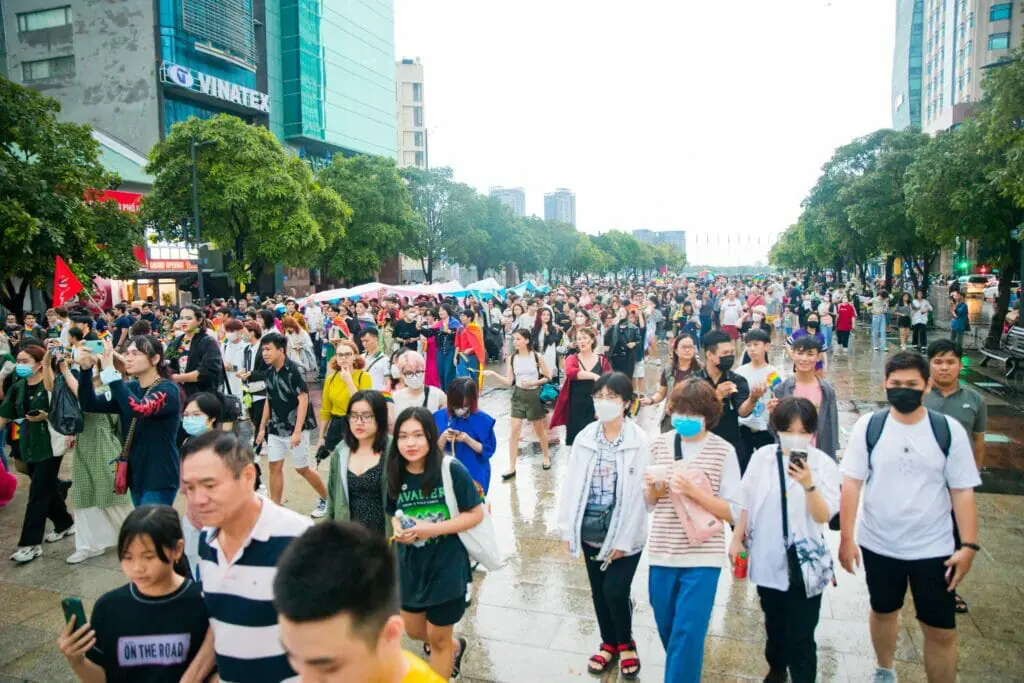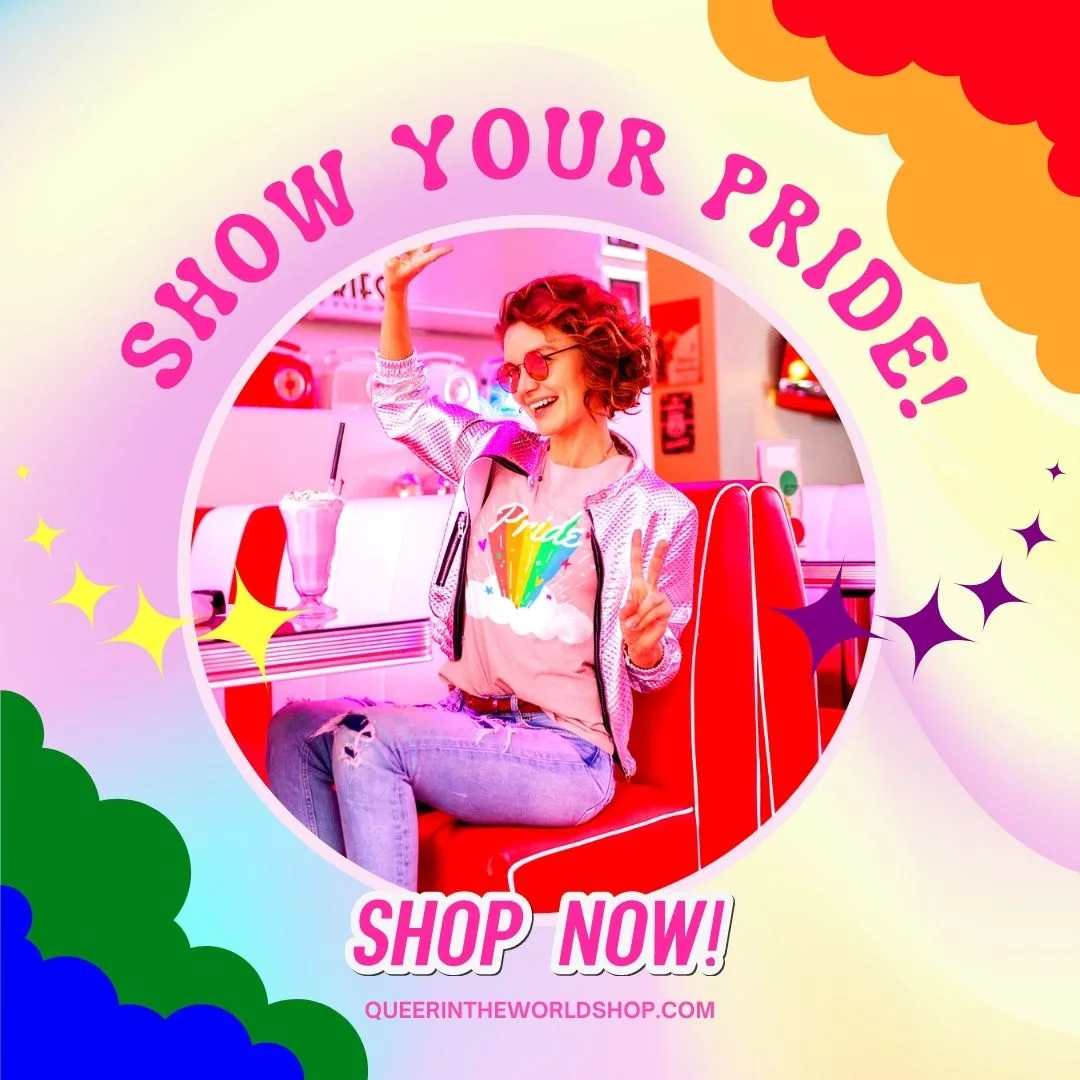 Gay-Friendly and Gay Hotels in Ho Chi Minh City
As Ho Chi Minh City is one of the most progressive and gay-friendly cities in Asia, most quality hotels in Ho Chi Minh City can be considered gay-friendly, and none of our readers will likely experience issues – after all being gay-friendly is not all about upscale luxury, but about providing friendly service and welcoming everyone with open arms!
Having said that, everyone likes to be surrounded by people with common interests, and as such, there are a few well-known gay-friendly hotels in Ho Chi Minh City that are hot spots for gay travelers to stay – either because of their location or their design and inclusive vibes.
The following hotels in Gay Ho Chi Minh City have all had glowing recommendations from gay travelers in the past, but of course, there are hundreds of other hotels in Ho Chi Minh City if these are not quite what you are looking for.
Whether you want a fun and social hostel, a cheap place to crash after a night of partying or a chic designer option to sip cocktails and surround yourself with fabulous people – Gay Ho Chi Minh City has something for everyone!
Step into pure serenity in this modern hotel, a rare silent note in this often chaotic city found on a peaceful street filled with tamarind trees – yet so close to all the gay places in Ho Chi Minh city. Bamboo features and lush foliage adorn the facade of this hotel, a tantalizing taste of what awaits inside.
Inside, simplicity design is filled with natural items and materials designed with rest and relaxation in mind. Wood and stone dominate the décor, with gentle music, a central water feature and a lush garden backdrop completing the sense of serenity and calm.
On the hotel rooftop, you will find their famous outdoor Jacuzzi pool. Relax in the warm waters as you take in stunning vistas of downtown Saigon, sip a cocktail on a comfy lounger, or rejuvenate in our sauna or steam bath. What more could you want?
A timeless, upscale hotel frequented by many gay travelers who love the ylang-ylang-scented lobby, hushed modern spaces and singular design tinged with relics of Saigon's storied past – stained-glass details, wrought iron roses, and storied local artifacts.
The staff is genuinely warm, the rooms impeccably furnished – without being over the top – and the rooftop infinity pool is just gag-worthy. An oasis of calm in an otherwise wild Gay Saigon, spend your days relaxing by the swimming pool, rejuvenate at the luxe KL Spa, or energize your body and mind at the fitness center.
Housed in an imposing French Colonial building across from the City Opera House, this posh hotel offers an international design that meets all exceptions. The Park Hyatt is unsurprising luxurious – trust us, the city will have enough surprises in store for you that you don't need them in your hotel. Refined rooms, 24-hour butler service, renowned Italian and French restaurants and a fab tea room, outdoor pool, a fitness center, and a spa.
The most spectacularly extravagant hotel in Vietnam takes pride in place on the topmost floors of the landmark Times Square Building in prestigious District 1. The Reverie transcends all exceptions with its world-class hospitality, impeccable service and unique celebration of Haute Italian design and inimitable luxury.
The fabulously elegant rooms offer floor-to-ceiling windows, many with panoramic city views and onsite, there is an outdoor pool, a plush spa, a 24-hour gym and five posh drinking and dining options. A hotel like no other, and at a price, you won't find anything else like this in the Western World!
Located in the heart of District 1, just steps from one of Ho Chi Minh City's oldest parks, the Fusion Suites Sai Gon is a down-to-earth, gay-friendly "all-suite hotel" designed to bring peace and harmony to the modern urban adventurer.
With a daily spa treatment included in the room rate, Fusion's unique "breakfast anywhere, anytime" service, and minimalist contemporary design throughout, it's no wonder gay travelers find this the perfect respite from the hustle and bustle of Vietnam's most energetic city.
An oh-so-chic hotel with an inspired Nordic design palette reminiscent of Bergen, Oslo or Helsinki. Situated in the central District 1, this is our favorite 'basic' hotel in town with a great location, wonderfully helpful staff, delicious breakfast, and a gorgeous view from the suites. Very gay-friendly, but really – gay travelers won't have any trouble in practically any hotel here.
A gay-popular basic hotel with straightforward rooms, a free breakfast, rooftop garden. Close to all the main attractions of Gay Saigon, there is also a spa, an indoor pool, and a fitness room.
A popular – yet basic – gay hotel in Saigon, or at least very, very gay-friendly. Located in the city center close to the backpacker district, the owner Anne is a pure delight, and the Pink Tulip Hotel has a well-established reputation as the go-to place for gay travelers after cheap rooms, fabulous service, and a delicious free breakfast. Close to all the best bars in Gay Saigon.
A beautiful, designer hostel in HCMC is found in a historic mansion. This hostel will give you three things for sure: relaxed and cozy spaces, a location in the heart of the city, and free local coffee/tea every day. Gay-friendly, this hostel is perfect for solo travelers looking to save some cash and meet other travelers in a very chic space.
Gay Nightlife in Ho Chi Minh City
For a city of its size, Gay Ho Chi Minh City has a relatively limited array of gay nightlife – though hopefully, the current boom in tourism will encourage more LGBT bars, clubs, and events to spring up in the future.
More known for late-night coffee chats and chic cocktail bars, nightlife here is often focused on tourists and ex-pats with a few younger, wealthy locals. There is only one true gay bar in Ho Chi Minh City, but a few other LGBT-favourite hangouts and events to consider as well as some wicked monthly gay parties!
The only true gay bar and nightclub in Hi Chi Minh City – and the best place to go to find a queer party. There are fabulous drag shows on the weekends, epic DJs, plenty of dancing and a very young, attractive crowd fuelled by locals and foreigners.
It is mostly EDM dance remixes to top-40s, with things getting busy around 10 pm every night. Drinks are not cheap compared to other places in Ho Chi Minh, but that is to be expected in this upscale, modern place.
You're perfect; you're beautiful; you look like Linda Evangelista. You're a model. Everything about you is perfect! A monthly LGBT party is featuring outrageous drag shows, an epic DJ late into the night and all your queer family. Check their Facebook page for the latest events and locations! This is sure to be a busy night. The show generally starts at 10 pm, get there early to get the best view of the action!
Saigon's first queer women and trans-inclusive event series, with drag kings, burlesque, performance art and glitter being staples of these fabulous events.
Saigon's Biggest Disco Dance party provides a safe space to explore your creativity, gender, and darkness. These events are not to be missed, and you just know the team behind them is fluffing, brushing, glittering and gluing a feast of hair just for your own eyes! Drag performances, Free Glitter Bar and best-dressed prizes.
A gay-owned bar in Ho Chi Minh City attracts a mixed crowd who come for the regular happy hour specials, live music every night and friendly atmosphere. Small and extremely popular on weekends, this is one of the most LGBT-friendly venues in Ho Chi Minh City – and the best place to sing, dance and let loose!
A new cocktail bar owned by two very handsome American guys with a mixed / LGBT popular crowd. Trendy yet intimate, this is one of our favorite hangouts in Vietnam, filled with conversation, unique cocktails, and industrial-style decor. You will feel welcome as soon as you walk through the door and want to return time and time again.
PAPA Cafe
(Temporarily or permanently closed. If you know something, please suggest an edit.)
A small restaurant that has become the local LGBT neighborhood hangout with karaoke, drinks, dinner and plenty of fun. The gay crowd is mostly here earlier in the night before moving on elsewhere. Found just off the Cong Truong Quoc Te traffic roundabout.
A cool bar and nightclub with funky art, lighting and a chilled-out atmosphere. Close to the backpacker district, you get a mix of Western and local guys here, and some nights are gayer than others but are always LGBT-friendly. Very popular on weekends with karaoke and an upbeat vibe.
Gay or straight, you won't want to miss a chance to head out in style at this uber-chic 25th-floor rooftop bar. Breathtaking views, delicious – if somewhat expensive – drinks and a designer crowd. What's not to love?
The name says it all, really, one of the best bars in Ho Chi Minh city with a chilled atmosphere, great live music, knowledgeable staff, and of course, the best gin and tonics in Vietnam.
The Alley Cocktail Bar & Kitchen
The perfect place to meet for jazzy pop, a quiet catch-up, and delectable drinks. One of the many hidden gems in Gay Saigon, the Alley Bar is both nostalgic and modern with a world-class bartender team, a wide range of wines and innovative cocktails. Our favorite is the Mekong Delta drink, but we will let the owner – Mr. Tan – tell you more about that.
Gay Spas & Gay Saunas

in Ho Chi Minh City
Had enough of gay cruising in Ho Chi Minh City – either in the bars or elsewhere?
For those who want a bit more guaranteed action, the gay saunas in Ho Chi Minh City are open late and of surprisingly good quality in general – especially compared to other places in Asia like Shanghai, Chiang Mai, Taichung, and Hanoi!
In such a foreign-friendly city, you will have no issues visiting the Ho Chi Minh City gay sauna as a foreigner – but expect plenty of shy Vietnamese guys who are afraid to break the touch barrier (like many guys in Asia.)
You will always need to make the first move if you are interested – or head to the dark rooms to get right down to business. Gay Sauna and Gay Spa in Ho Chi Minh are hard to tell apart, and many offer both options, but we have tried to separate them out into those more focused on free cruising fun – or happy male massages.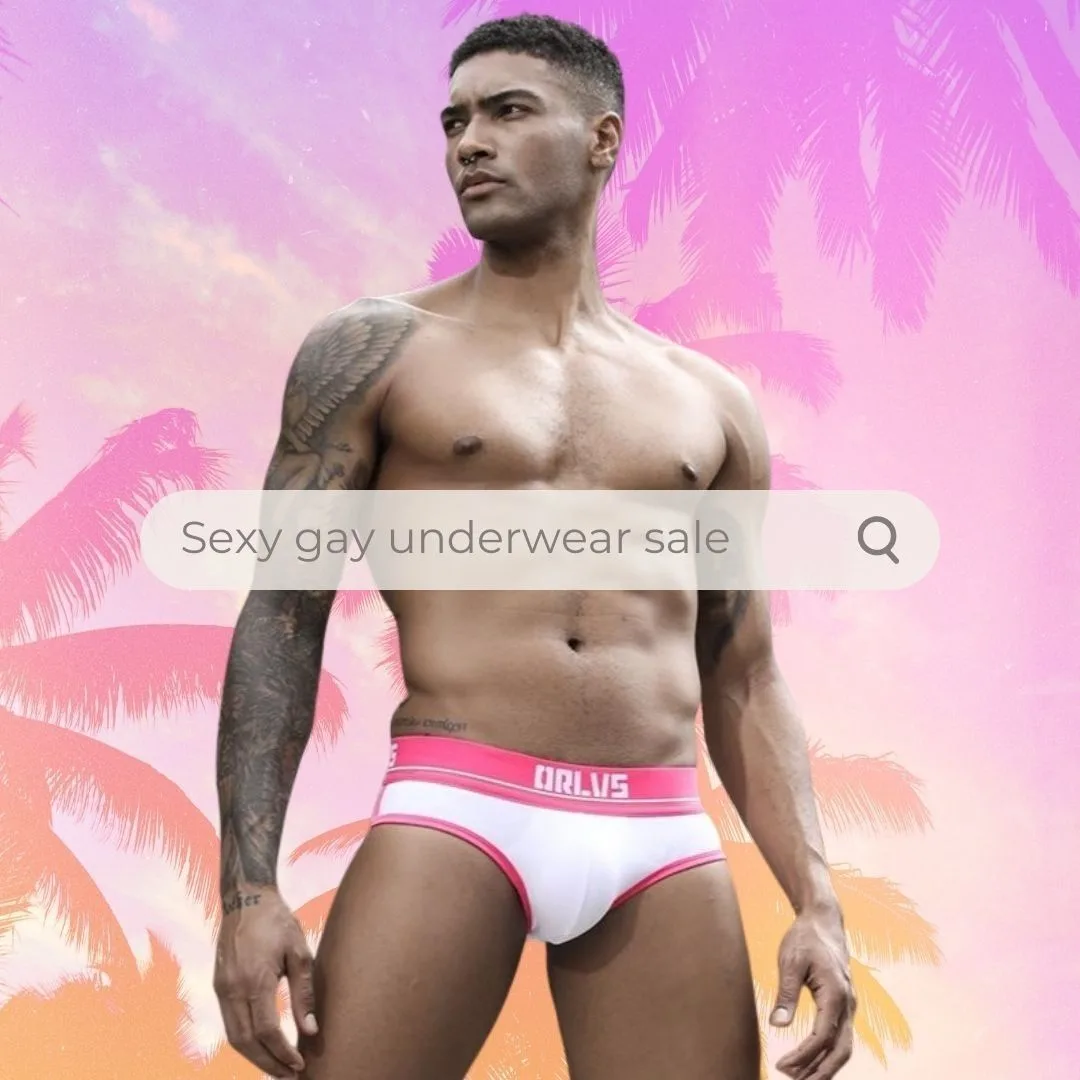 One of the biggest and most well-known gay saunas in HCMC, drawing in a range of locals, ex-pats, and tourists. Heavenly relaxation, where your senses are taken care of, Nadam is one of the best spas for men in Vietnam – with a fabulous reputation and stunning design, housed in a beautiful imperial palace with ancient brick and wood.
Better than some of our favorite saunas in the world, like Babylon in Bangkok or Sun City in Paris. There is a busy dry sauna, steam room, dark room and large jacuzzi – as well as massages, facials and other treatment options. Have fun!
A fabulous new and somewhat beautiful Ho Chi Min gay sauna in a lush garden, modern design, and all the expected amenities. Locker, steam room, sauna, cinemas, jacuzzi and private cabins – but no massage services, nor a bar.
Mostly young cute guys with little English, but plenty of fun to be had in a nice rooftop chill-out space. Not your typical sauna – which is probably why we liked De.soi9 Sauna so much!
A popular new Ho Chi Min gay sauna with daily themes including bears, students and 6-pack nights with different discounts for younger members. Crowded with mostly young locals who are quite shy, but foreigners can expect lots of attention.
There are lockers, a sauna, a jacuzzi, a steam bath, a dark room, lockers, and a relaxation zone. 69 Sauna Zone has the same owners as De.Soi9 Sauna.
Ngoc Diep (ND) Spa
(Temporarily or permanently closed. If you know something, please suggest an edit.)
A very small Moroccan-themed sauna with a dark, dark room, sauna, steam room and lockers. Young, shy locals who want to play, if someone shows them the way. Located in a little alley, (10°47'01.5″N 106°40'23.9" E) with the group and private rooms.
Previous a reputable male massage parlor in Ho Chi Min with a side dry sauna, steam room and swimming pool – but things seem to have declined. Why was once a beautiful boutique male spa with a sauna, jacuzzi and steam room now seems to be almost entirely about the massages with showers broken and the jacuzzi empty on the last visit?
Hopefully, they return to their previously high standards – but currently are not worth visiting in this crowded market.
Male Massage and Gay Spa

in Ho Chi Minh City
Don't care about the sights or simply want to take advantage of affordable gay massages in Ho Chi Minh City? Then why not get a sensual male massage in Ho Chi Minh City – there are plenty of options!
Here are the top recommended gay spas and male massage in Ho Chi Minh City options (there are other gay massage places, of course – we have just heard mixed reviews about the rest!). A range of treatments are available, and what happens in private is between the masseur and you.
To be blunt, most people that go for body-to-body massages are usually looking for sex, so make sure you get the right masseur to match what you are after. And don't hold too tight on your money; you will get what you pay more.
A central male massage in Ho Chi Min with cute boys and a helpful owner. Newly opened with skilled and friendly staff offering a variety of treatment options.
A gay spa in Ho Chi Min with a range of massage treatments, a sauna, and a jacuzzi. The focus here is on male massages; you select your boy through an iPad and your preferred treatment option. Prices are expensive – even by Vietnam standards – and quality is hit-or-miss.
A centrally located spa for men in Ho Chi Min with professional male masseurs who are very adept at relieving and relaxing treatments. A very basic fit-out, and not the cheapest, but you are unlikely to be disappointed with the range of treatments on offer here.
Technically there is a sauna and outdoor pool here, but it is all about Vietnamese male massages. Quite far from the central areas, but cute masseurs (though you normally cannot choose). They all demand tips for whichever treatment you opt for – as is the way with these sorts of things. Hit-or-miss, with average to sub-par cleanliness and overall not worth the trip out.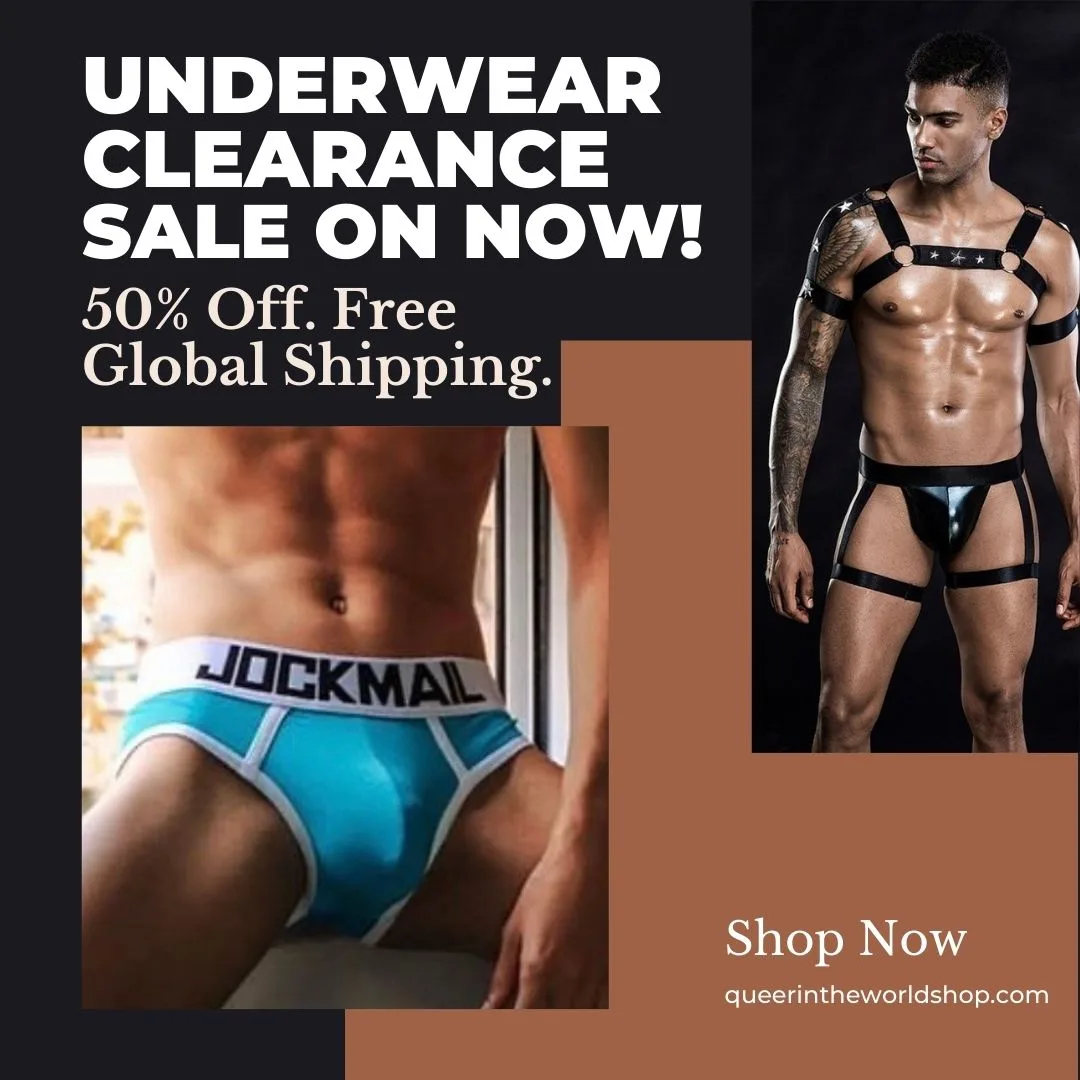 Gay Map Of Ho Chi Minh City
Finding it hard to envisage where everything is Gay Ho Chi Minh City? Hopefully, this queer-centric map helps where we have marked all the bars, clubs, parties, hotels, saunas, massages and more will help you stay in the spot best suited to you!