Abu Dhabi is a city where bigger is always better. Nothing stands still in this magnificent experimentation in combing intense Islamic traditions with a ruthlessly futuristic vision, all amidst an exquisitely desolate desert landscape.
Abu Dhabi is sleek rooftop terraces, vast shopping complexes, a world-class skyline, lavish infinity pools, scorching beach clubs and, well, just an excessive amount of wealth and gold. Many would argue this grand experiment has been a supreme success, but for the LGBT community, this leap into modernity is very much a facade.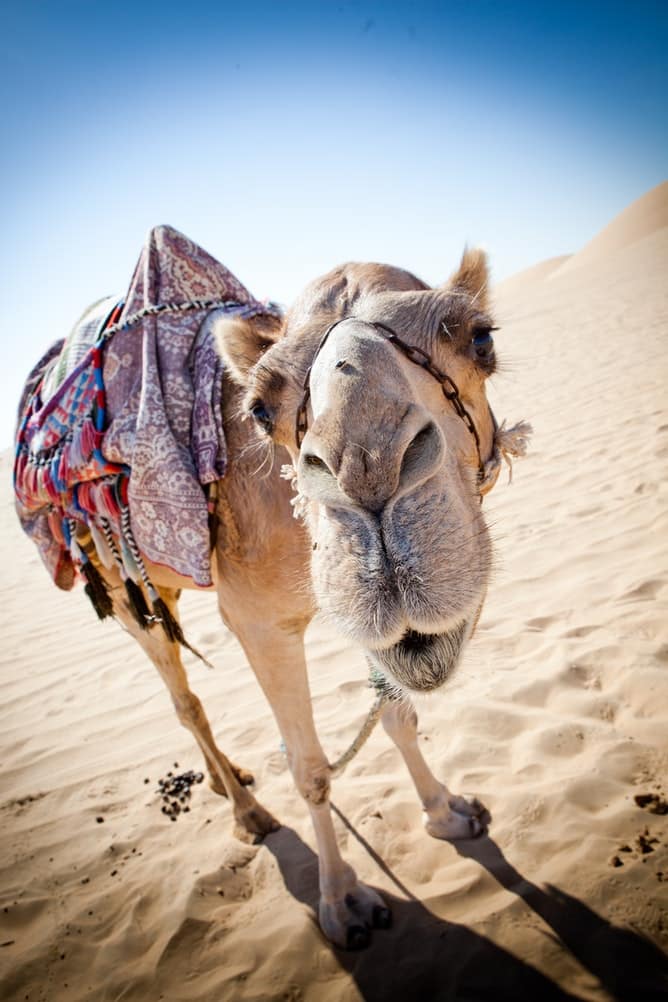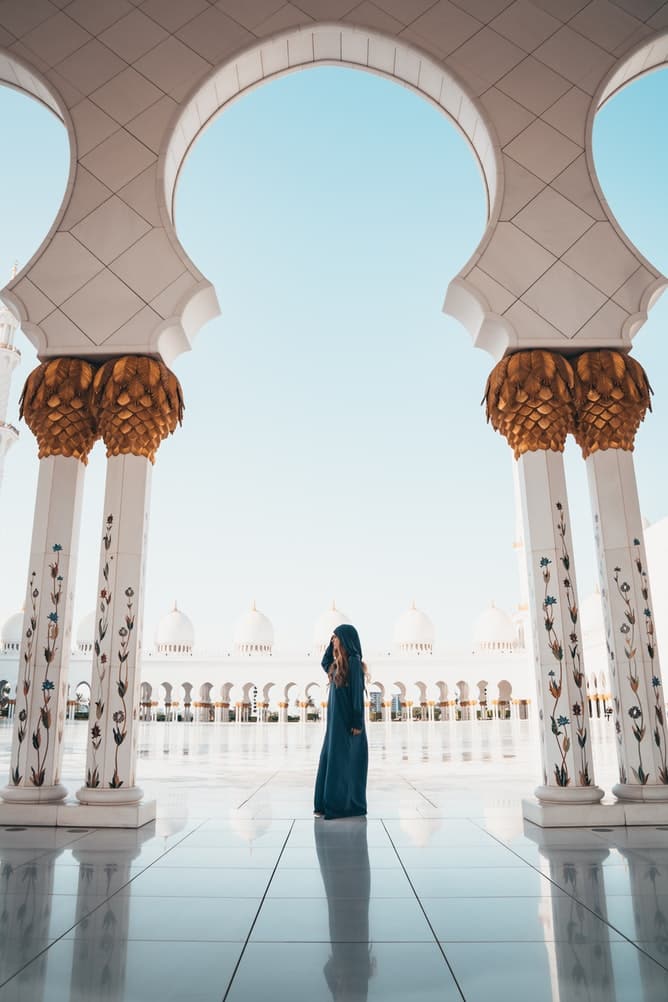 So let's be clear here…
As forward-looking as Abu Dhabi aims to be, the absolute monarchy rulers here are definitely cherry-picking which parts of progress and modernity they want to embrace. In Abu Dhabi, and across the United Arab Emirates, it is still illegal to be gay. As Islamic Sharia Law is applied to all sexual relations outside of a heterosexual marriage are considered a crime. The maximum penalty for a person convicted of homosexuality ten years in jail, followed by deportation, if you are a foreigner. Floggings, beatings, torture, death, fines can all be applied in other parts of the Emirates. Though to be fair, the death penalty has never actually ever been carried out as a punishment for homosexuality or sodomy in the entire history of the United Arab Emirates.
We know all that art, fashion, design, glitz luxury, and wild nightlife…with no gays? "I'm not buying it!"
Yes, this sounds all a bit scary and wild, but in reality, the United Arab Emirates are something of a Gay Mecca in the region – especially Dubai but Abu Dhabi as it is still is also a hub for one of the world's biggest airlines, Etihad. And all of those cute flight attendants, form the backbone of the local gay scene which can be quite fun, if very discreet – and only known through social media or word of mouth!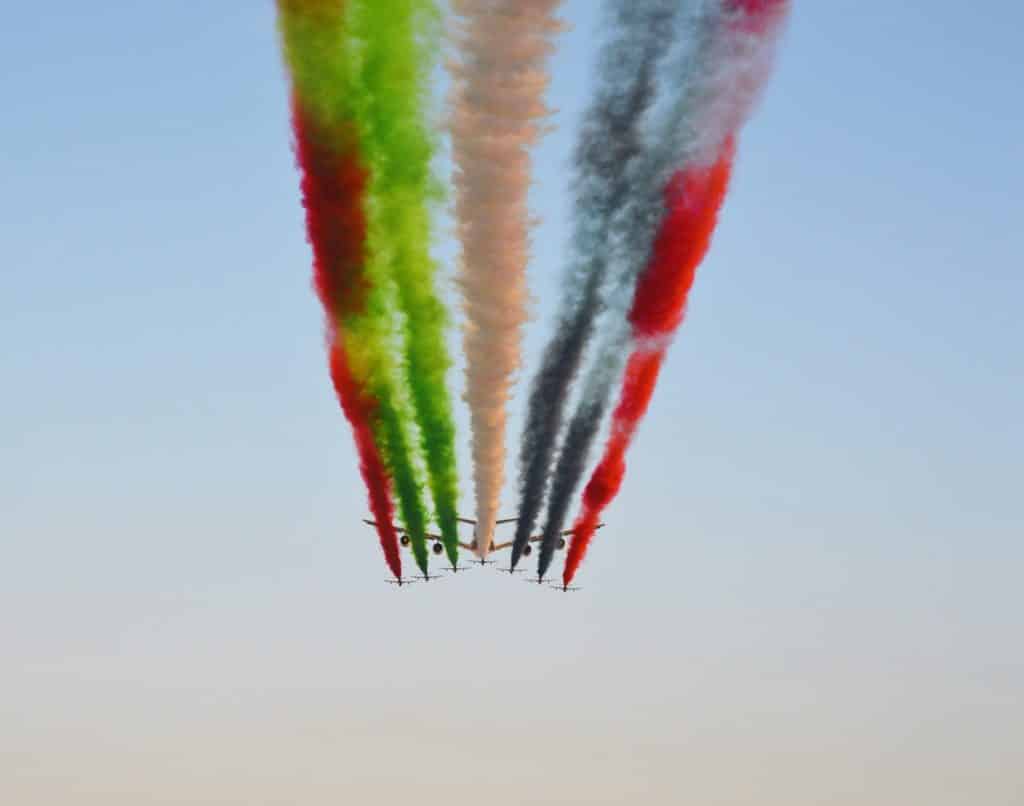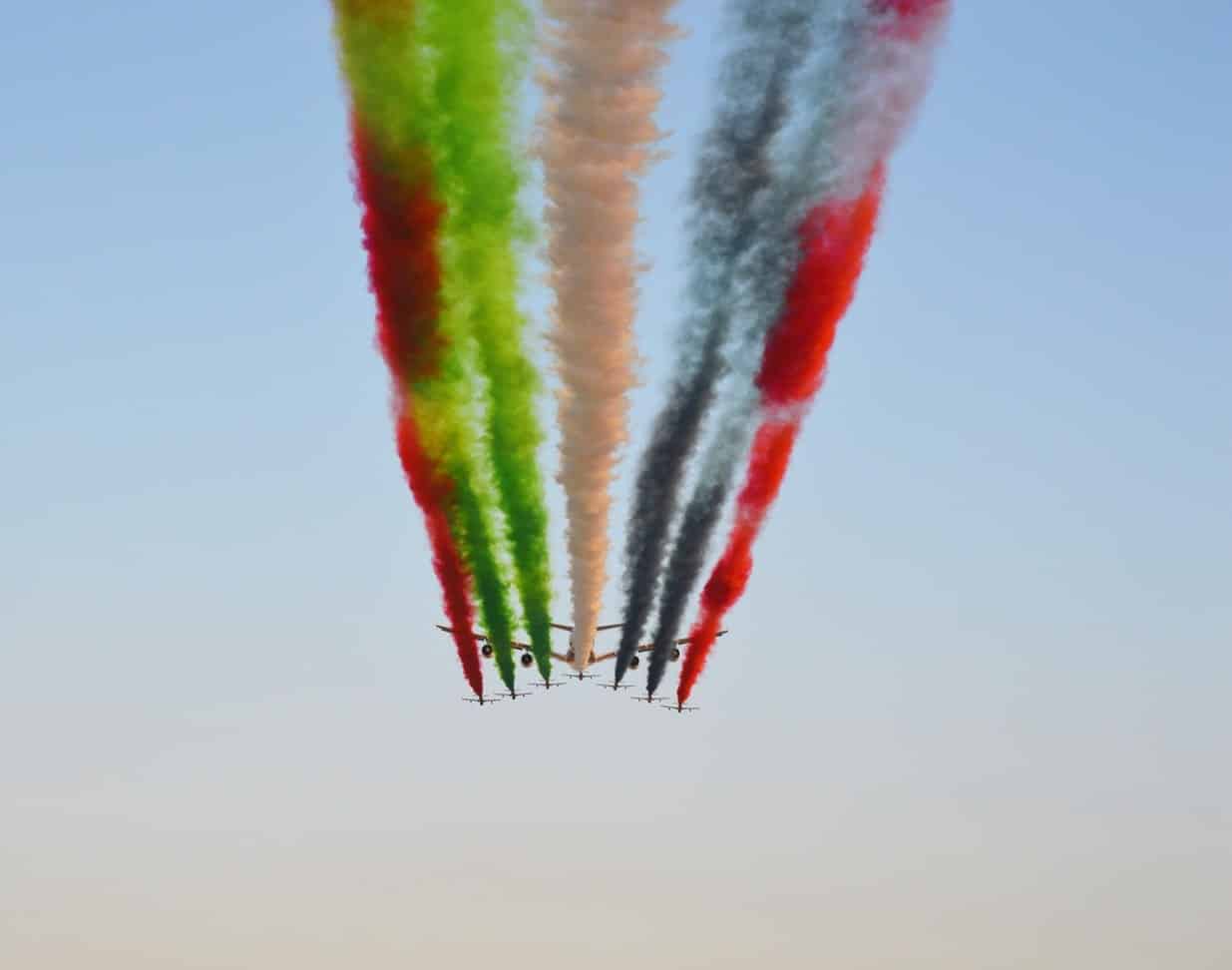 Yes, you are going to need to either know someone or make some friends through gay hookup apps. One silver lining is the UAE is a very private, and respect for that privacy is of the utmost importance. Therefore paranoia is not needed as people will not pry into your personal business, and the Sharia Police will never come knocking on your hotel door…
Almost all reports for arrests for same-sex sexual activity we could find involved having sex in a public place, so in case you were in doubt public displays of affection are unquestionably off-limits whether you are gay, straight or unicorn. Other than that, the population of Abu Dhabi is over 80% expats – many of who have very liberal values – so there is no need to live in fear and not enjoy yourself here. Just be cautious in public.
The exceptional socioeconomic development of the UAE in recent years has meant that Abu Dhabi – and Dubai – is generally more tolerant than any of its Persian Gulf neighbors, especially Saudi Arabia. Yes, in Abu Dhabi you can find Christian churches, Hindu temples, and Sikh gurdwaras – but no synagogues, or any LGBT groups, clubs or spaces for that matter. While the cosmopolitan atmosphere is progressively emergent, it still has a long, long way to go.
We don't generally advise boycotting destinations which heavily suppress LGBT right, as such an approach is often counter-productive, but obviously, the choice is yours.
If you do decide to visit Gay Abu Dhabi, you will either fall head-over-heels in love, or absolute detest everything it stands for. Radiating glamor and glitz in every imaginable way, the extravagant of Abu Dhabi is unsurpassed and is perhaps the ultimate luxury travel destination.
From the lofty heights of its ultramodern architecture to the fashionable beach clubs, burgeoning cultural scene, opulent hotels, and resorts, nothing in Gay Abu Dhabi is ever understated or straightforward.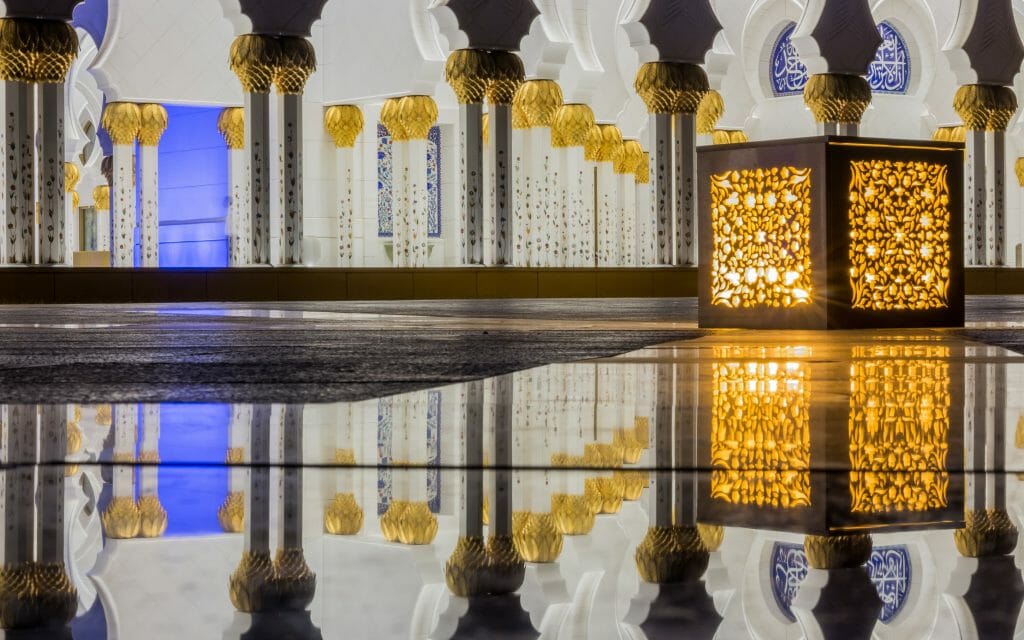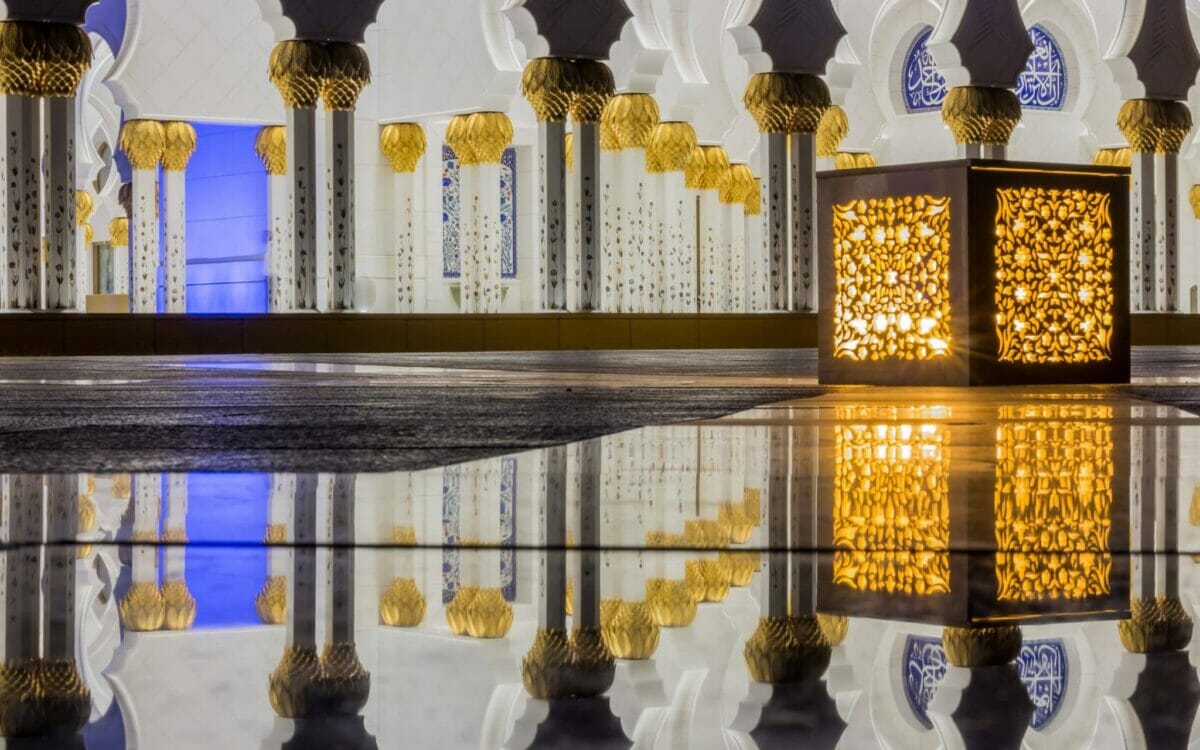 Gay Abu Dhabi Guide: The Essential Guide To LGBT Travel In Abu Dhabi UAE
Attractions in Abu Dhabi
Because gay life in Abu Dhabi only really takes place in a few select club parties and behind closed doors, during the day most gay travelers in Abu Dhabi simply want to get out and see the sights.
As all, the appeal of desert oasis's, crazy architecture, beach clubs, and wild theme parks is not specific to sexuality…
As always, gay travelers in Abu Dhabi should take extreme care not to accidentally make any public displays of affection. Otherwise, Abu Dhabi is a very safe, and a common-sense approach to travel will generally ensure you have no issues exploring this splashy city of the future!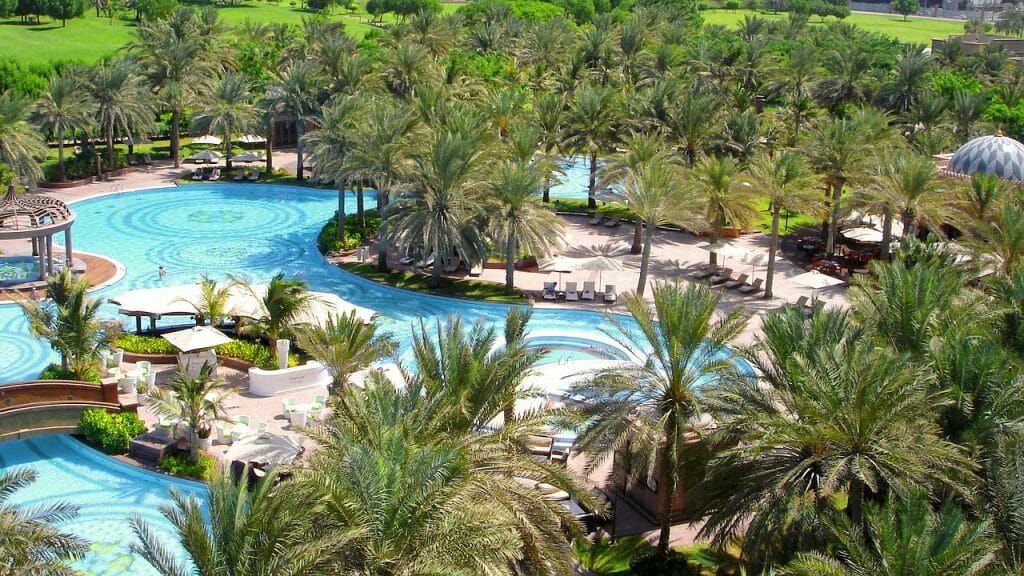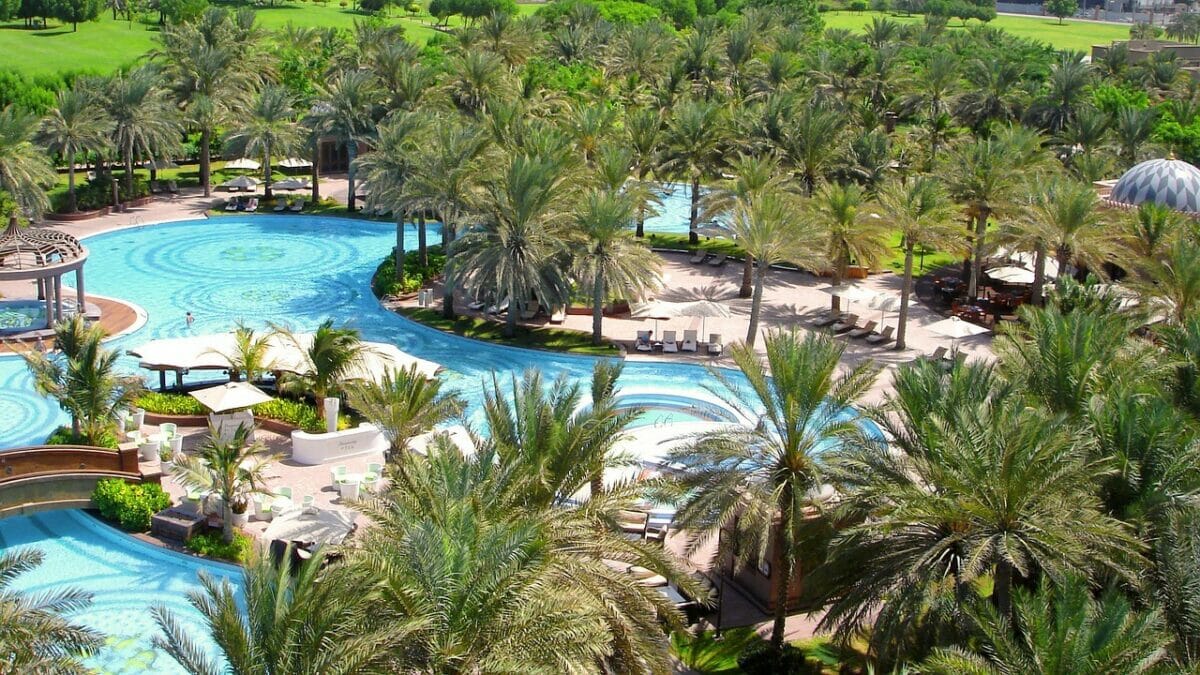 Evening Desert Safari -Tackle the supreme dunes of the Arabian desert and relish the magic of desert culture on an iconic evening safari! Enjoy customary activities such as camel riding and henna tattoos, try sand boarding down the steep slope and experience the excitement of a 4×4 ride over the dune peaks. An off-road roller-coaster adventure, followed by a relaxes sunset watching a belly dancing show while enjoying a barbecue dinner in the desert encampment. If there is one thing you need to experience in Abu Dhabi ..This is it!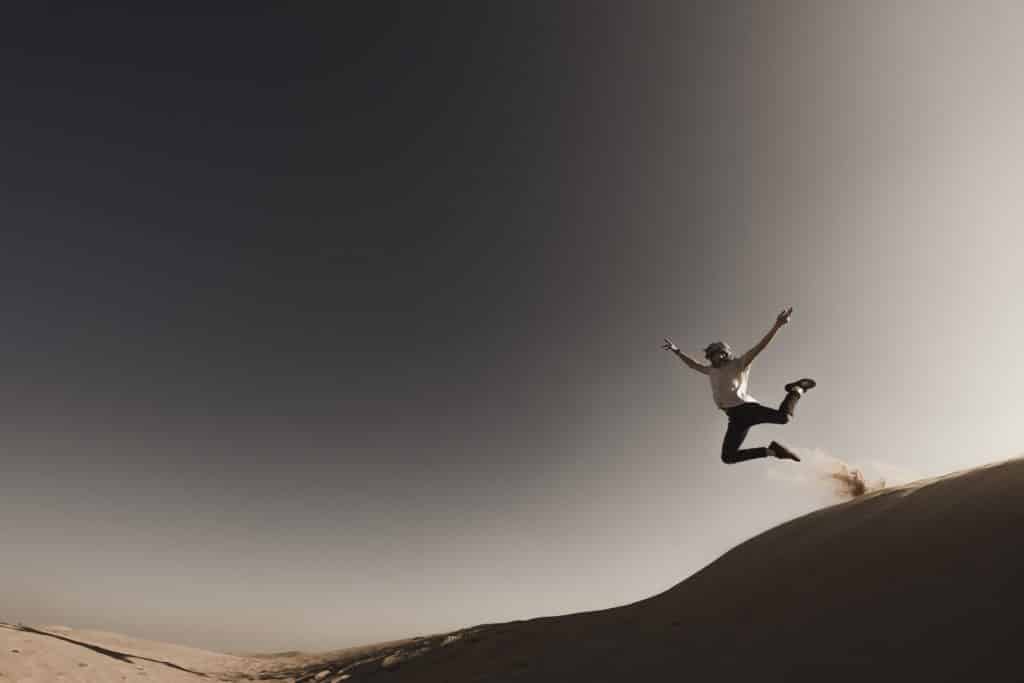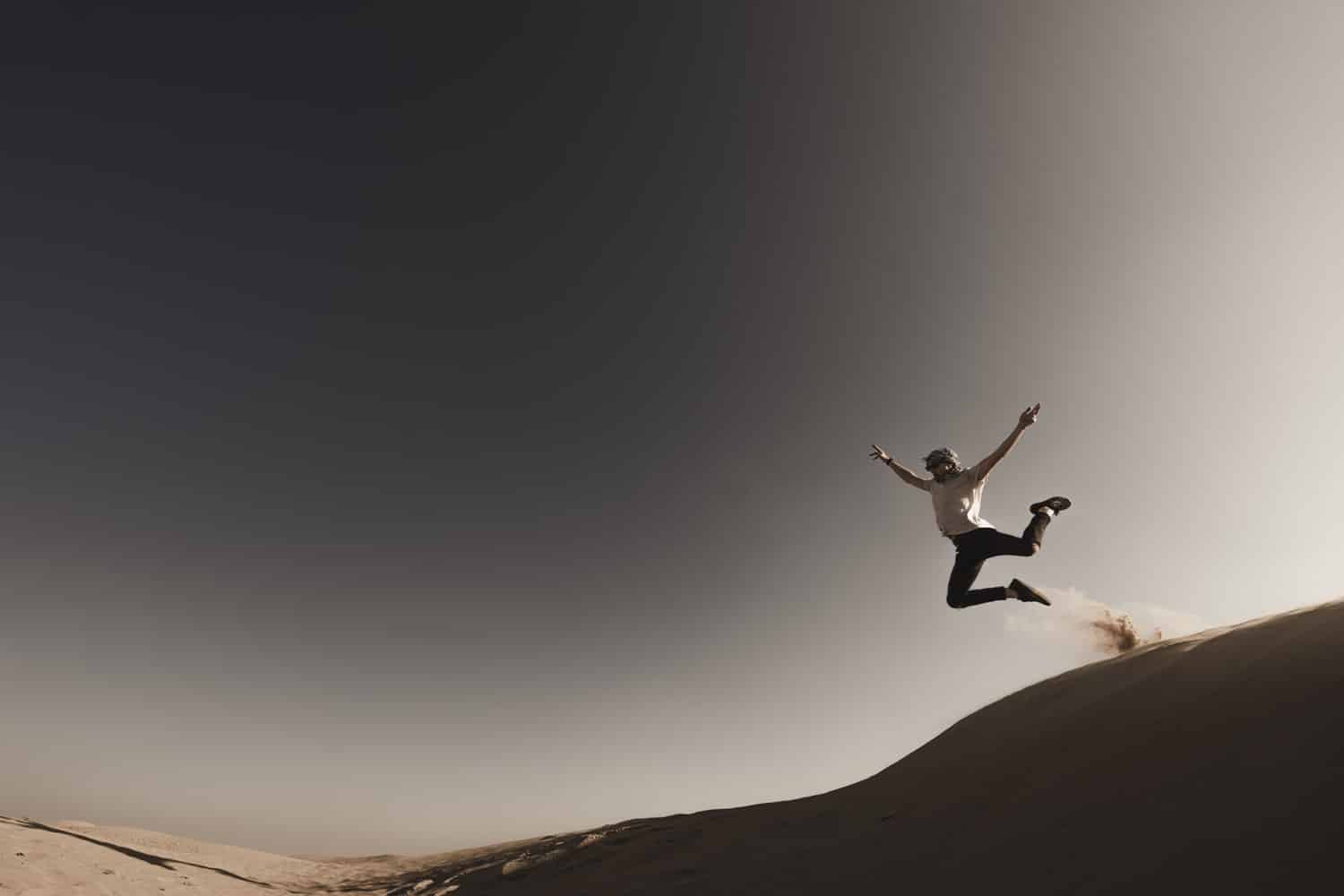 Sheikh Zayed & Heritage Village – Visit Abu Dhabi's most popular tourist attractions in one trip including the immeasurable opulence of the iconic Grand Sheikh Zayed Mosque, one of the largest mosques in the world. Then stop off at the Heritage Village, a reconstructed Emirati village and get a glimpse into the traditional Bedouin way of life. Wander along the Corniche, an 8km stretch of waterfront with fantastic views of the city's skyline and of course make a quick stop at the Emirates Palace Hotel, one of the finest hotels in the world.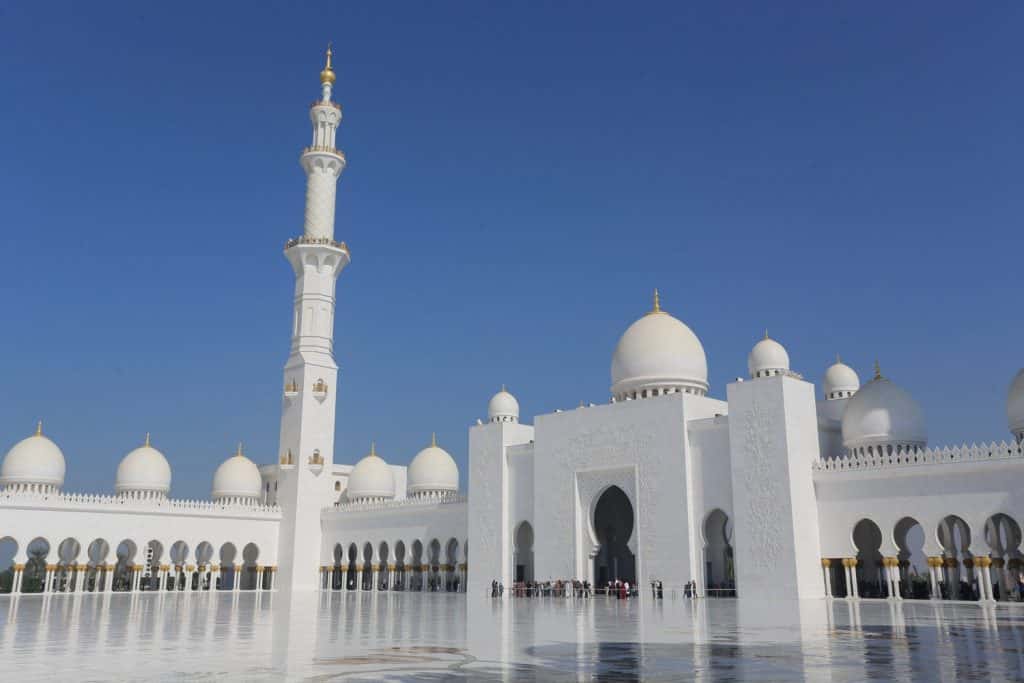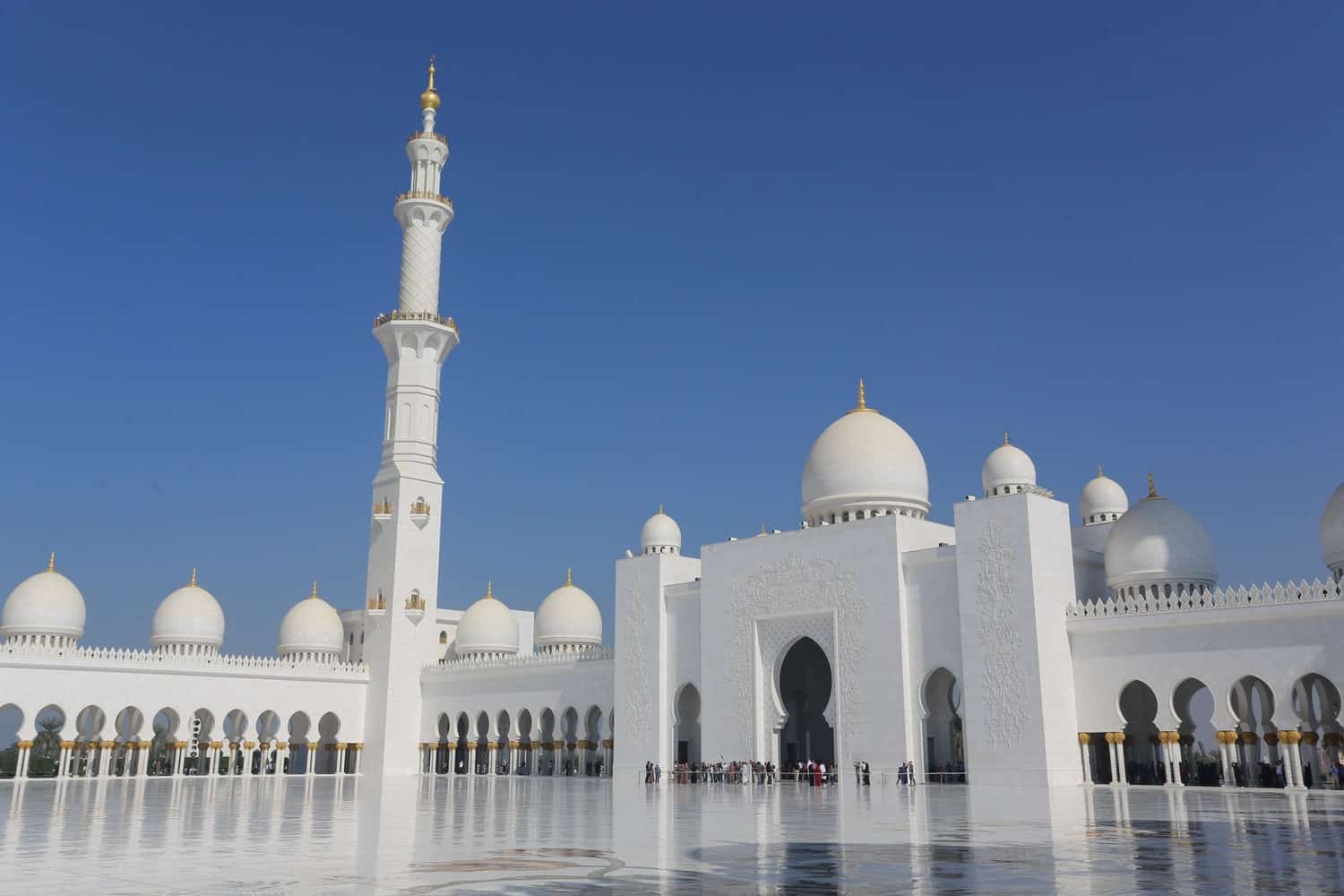 Louvre Museum Abu Dhabi – A art and civilization museum opened in an agreement between the city of Abu Dhabi and the French government. Who needs to visit the real Louvre in Paris when you can have it all in sunny Abu Dhabi? The largest museum in the Arabian peninsula, and ridiculously popular, spend the day admiring the building's unique architecture, see classic and modern from around the world, and enjoy access to permanent collections and special exhibitions. Artworks from around the world are showcased at the museum, with particular focus placed upon bridging the gap between Eastern and Western art. Interesting, even though the Museum collection is specifically not meant to be affected by it being based in a Muslim country – there is still a striking absence of ancient Greek male nudes. Sorry boys, it's all medieval and Victorian-era fig leaves here. Be sure to skip the lines with an advance ticket if you want to make the most of your time here rather than waiting outside.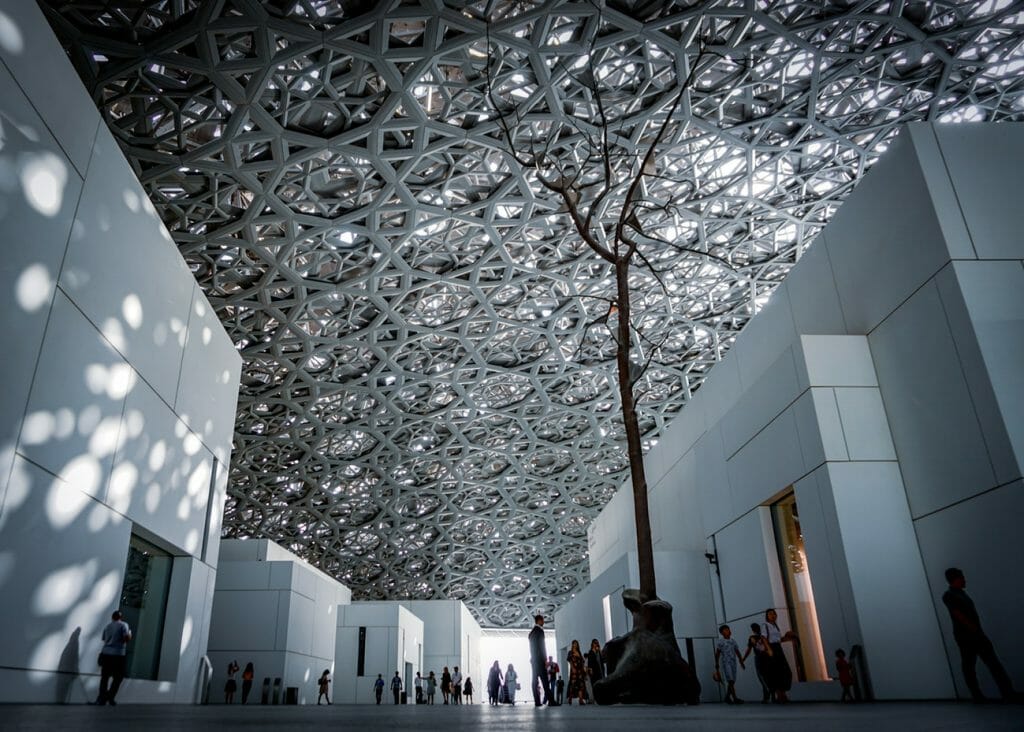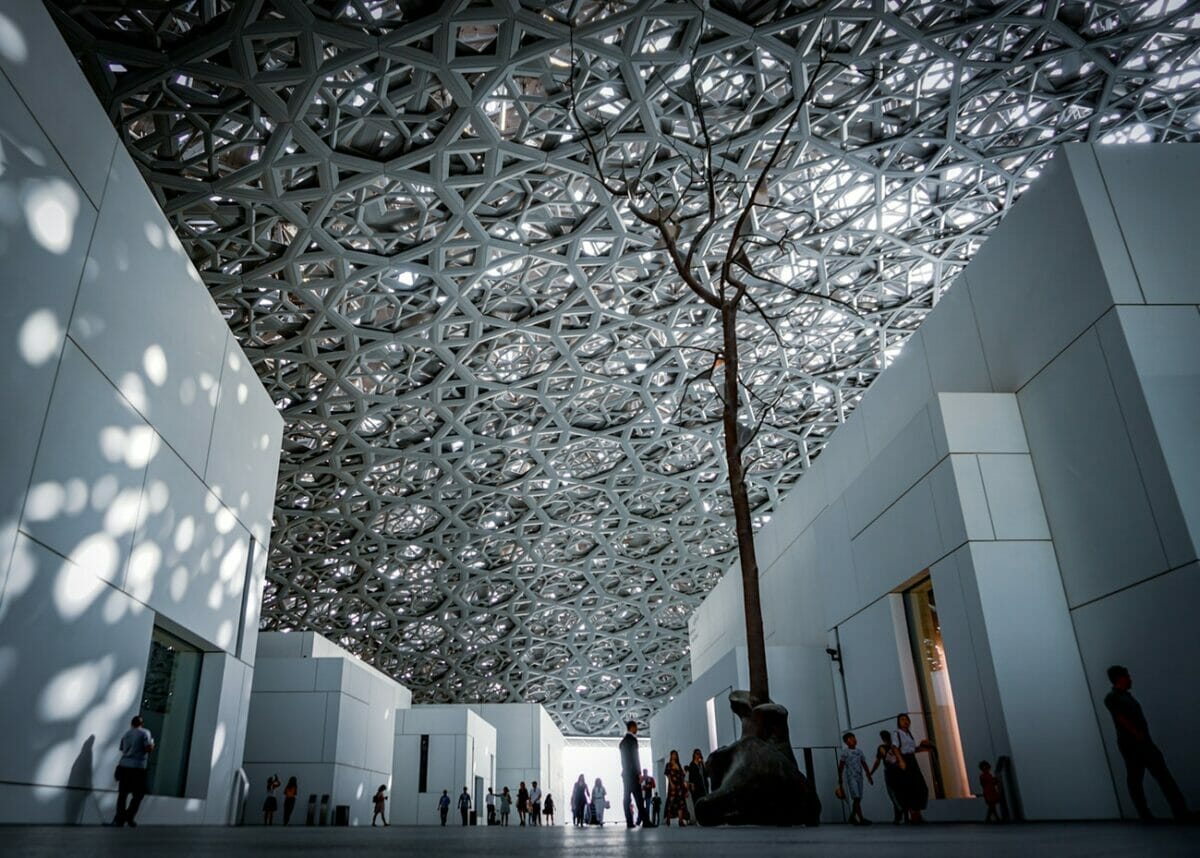 Yas Waterworld Abu Dhabi – Escape the oppressive desert heat at Abu Dhabi's mega waterpark! Get a pass for a day and enjoy unlimited entry to 43 rides, slides and attractions with over four different thrill level. A clear highlight is the Dawamma, the world's largest six-person water-slide, as well as the Bandit Bomber, a 550m long rollercoaster complete with water guns and special water effects. Or if you just want to relax, chill in the winding Al Raha river and just watch the world go by.
Dubai Day Trip – Explore Dubai's famous sightseeing spots all in one day, perfect if don't have time to stay over in both cities. Visit the oldest building in the city and see cultural locations such as the Dubai Heritage Village. Stop by all of the must-see landmarks such as the Burj Al Arab, Palm Island, Atlantis Hotel, and the Burj Khalifa before continuing to Dubai's authentic gold and spice souks. You can make the trip yourself by hiring a car, but honestly, parking is a nightmare – and costly – so a day tour is more relaxed, cheaper and perhaps even more fun. Though, we still recommend more than a day in Gay Dubai to take in all of its temptuous delights…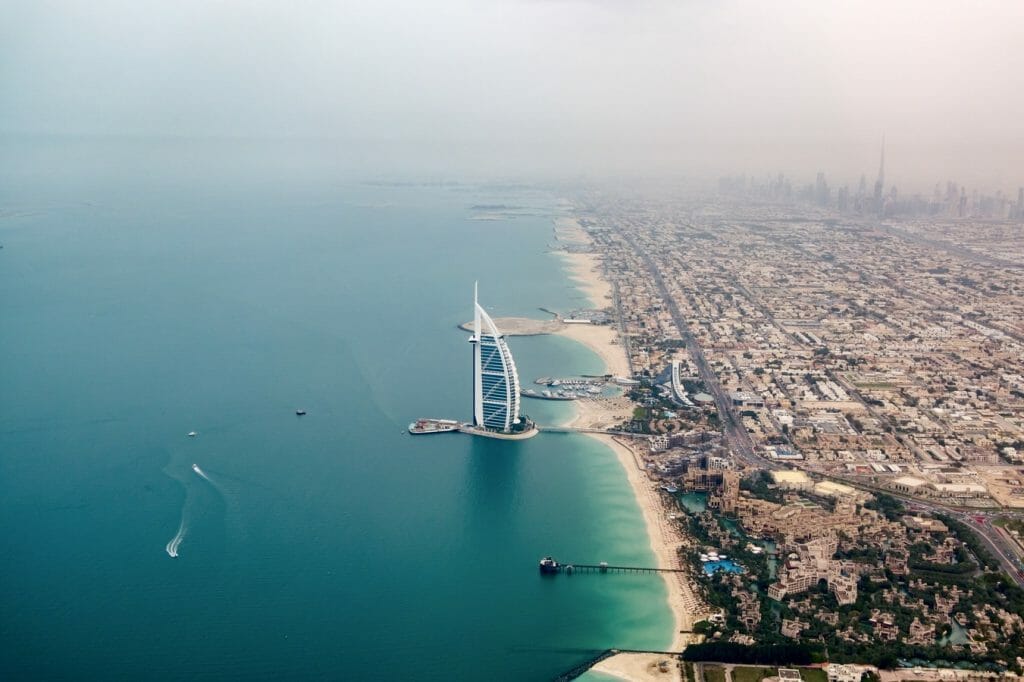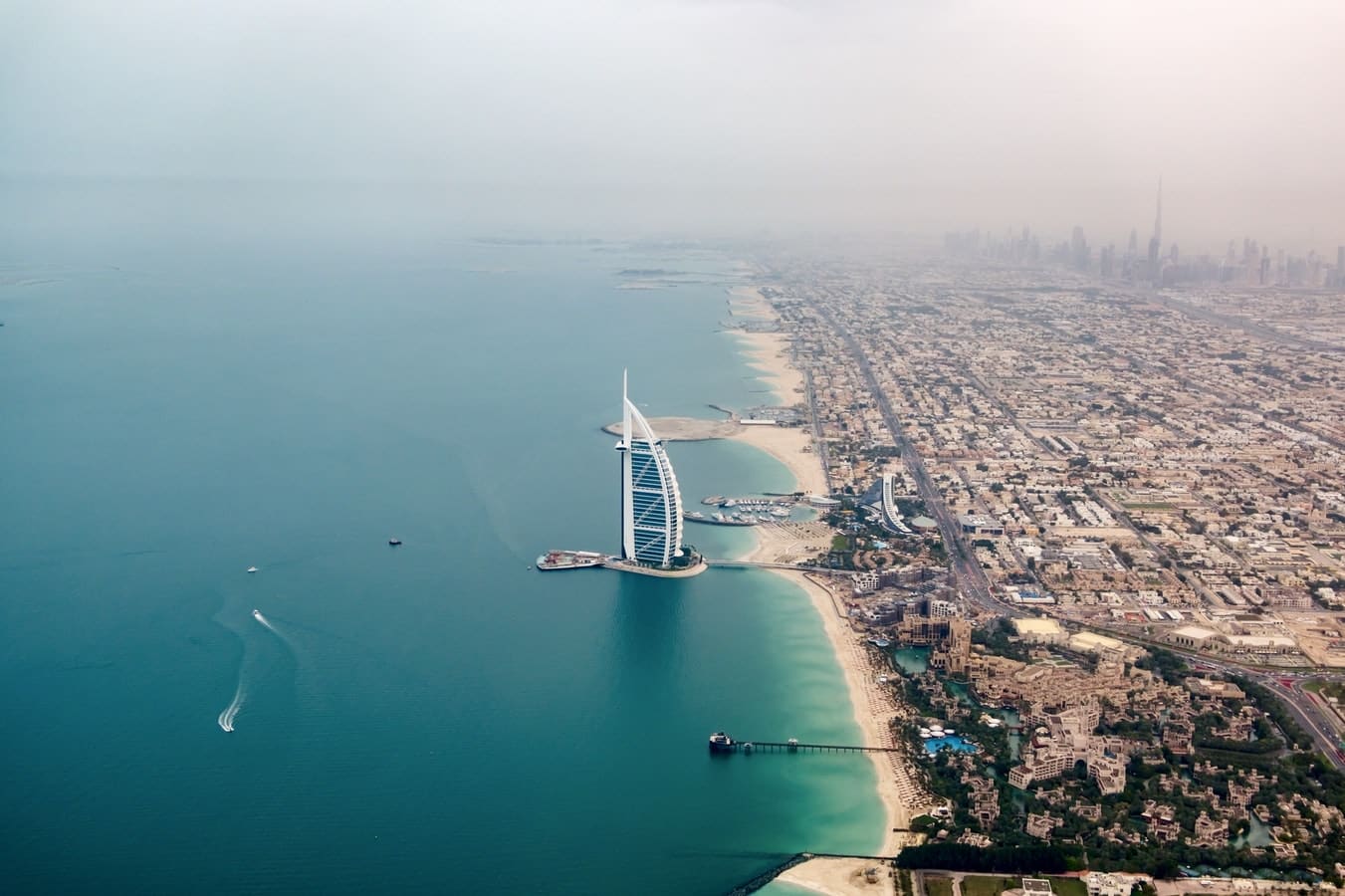 Ferrari World Abu Dhabi – Buckle up for the world's fastest theme park, with over 25 racing-themed rides, shows, and attractions! Immerse yourself in a unique F1 experience with state of the art racing simulators then put the pedal to the metal at the Karting Academy as you race along a 290 Meter track inspired by Abu Dhabi's actual Formula 1 venue. Still not enough? Experience the really G-force of a Ferrari ride on a tower that will shoot you 62 meters in the air straight through the roof. For car-lovers and amusement park fans alike, this is the only Ferrari World in existence!
Boat Sightseeing – Sick of walking and all that time on land? Enjoy a unique touring experience as you tour the Persian Gulf on a zippy speedboat! Gaze at the city's attractive skyline that lights up at night while getting magnificent photographs of Abu Dhabi's famous landmarks from the open sea! Plus, all that fresh sea breeze is sure to be a welcome relief – especially during the summer months.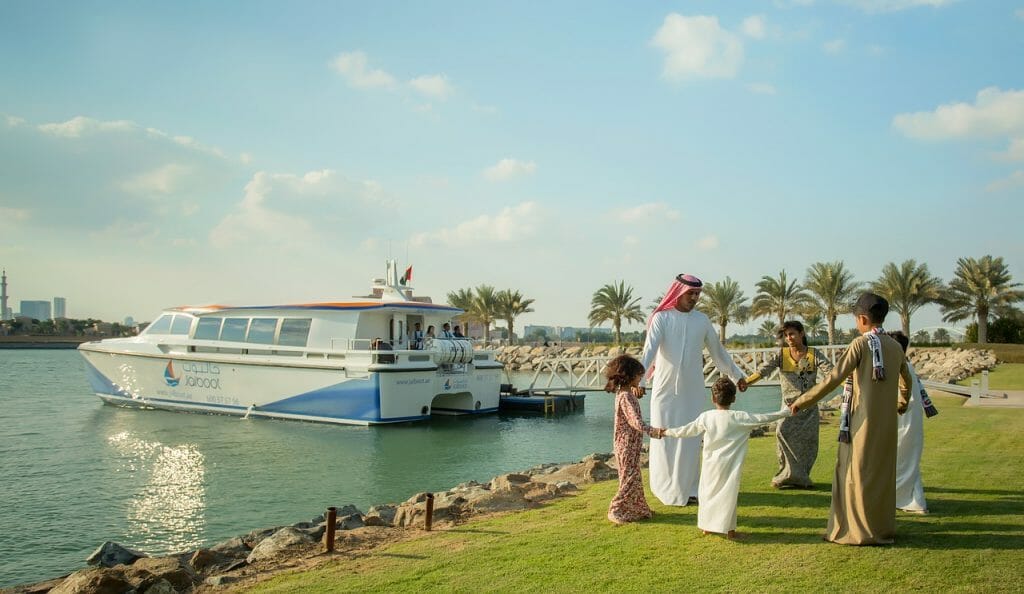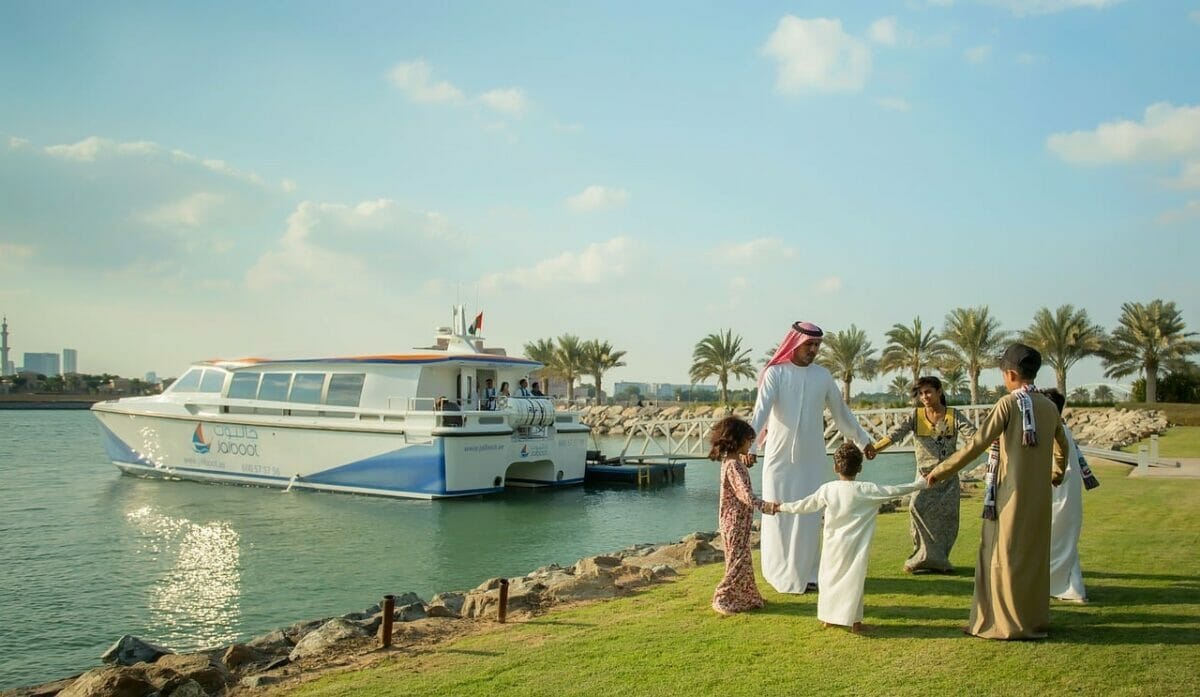 Le Cafe in Emirates Palace Hotel – Even if you can't stay here, why not treat yourself to a luxurious meal at this icon of Abu Dhabi, the Emirates Palace Hotel. Chow down on sumptuous sweet and savory treats with a fine selection of with one of their famous afternoon tea sets. Le Cafe at the Emirates Palace Hotel takes great pride in honoring the long-standing tradition of taking afternoon tea, yet giving it their uniquely refreshing take. Don't pass up the chance to enjoy a slice of the palace's famous chocolate cake almost as opulent as the surroundings and tasting all the better as you admire the magnificent views.
Warner Bros. World – Visit the world's first ever Warner Bros. indoor theme park in Abu Dhabi. Be transported to a whole new world of action, adventure, and more, explore the variety of different zones including Warner Bros. Plaza, Gotham City, Metropolis, Cartoon Junction, Bedrock, and Dynamite Gulch. Spot your favorite characters like Bugs Bunny, Superman, and more amongst 29 state-of-the-art thrilling rides. There is also a variety of unique live entertainment, multiple dining options and plenty of fun photo-opportunity to full at least a whole day. Be sure to book your ticket in advance to avoid the long lines in peak seasons.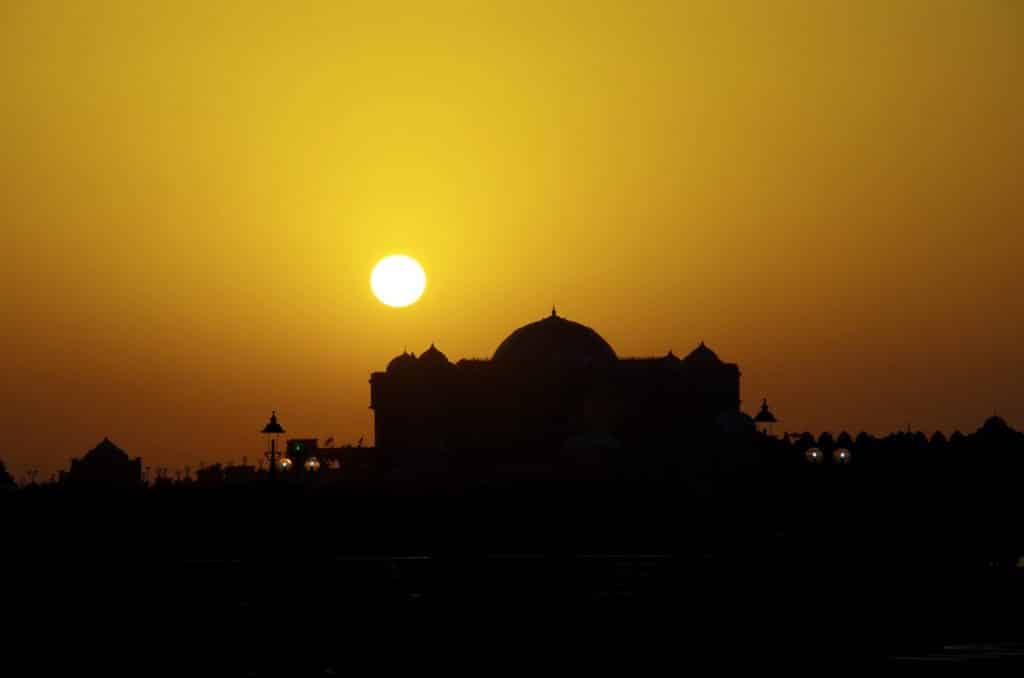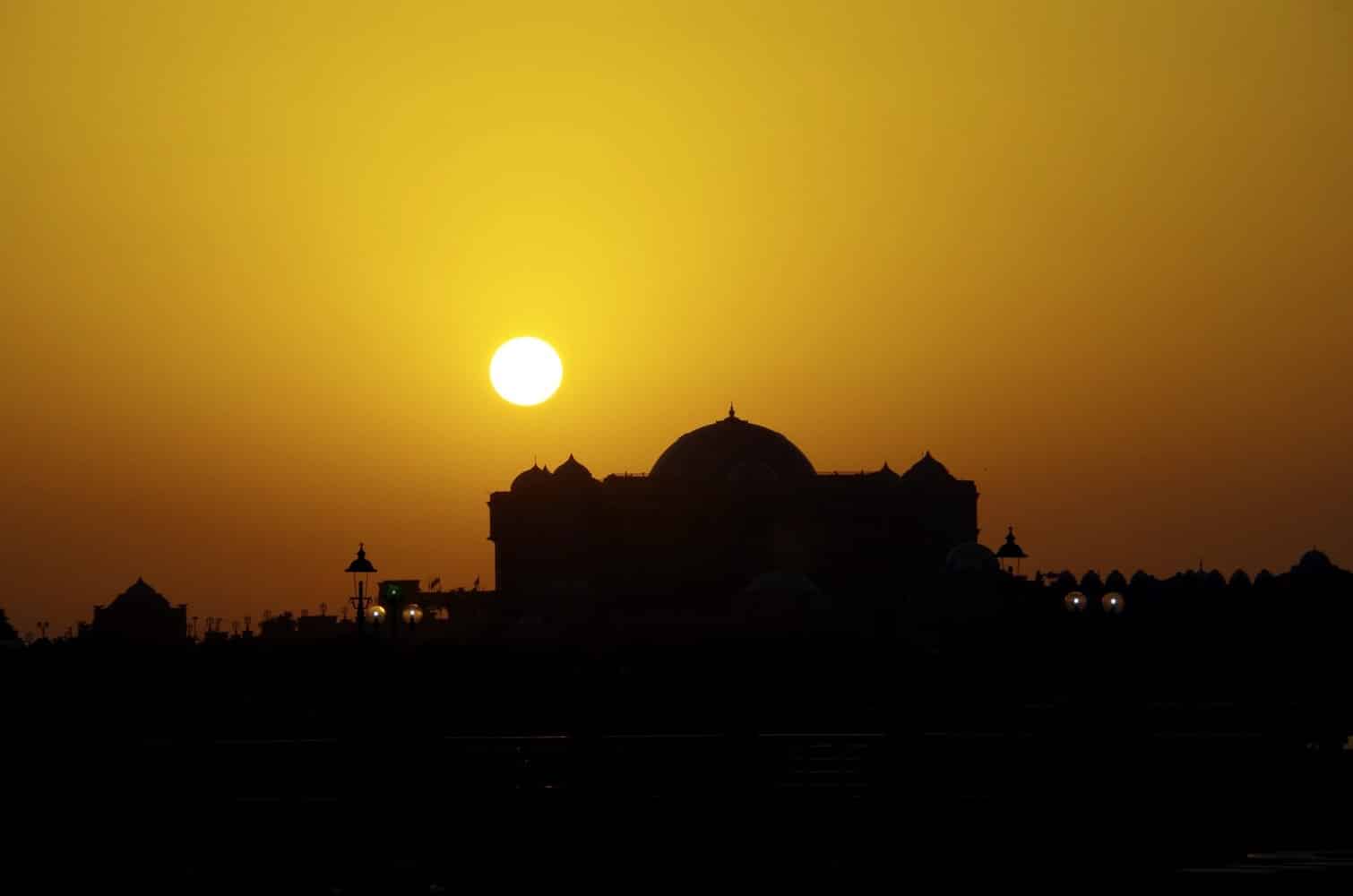 BE YOUR MOST
FABULOUS SELF!
PRIDE 2020 COLLECTION
CHECK OUT THE QUEER IN THE WORLD SUMMER LINE UP.
BE THE FIRST TO GET THE BEST!
Shop Now
Gay Hotels in Abu Dhabi
In a country where being illegal is gay, obviously, there are no gay hotels or resorts in Abu Dhabi. Zip. Nada. Zilch
If you want those – you should be heading to Tel Aviv, Key West, Barcelona or Fire Island. Not Abu Dhabi.
What Abu Dhabi has to offer however some of the world's best luxury hotels known for their opulent décor, spectacular infinity pools, extravagant fine-dining restaurants, and magnificent spa experiences. So why not flash out on an experience you will never, ever forget!
For gay travelers, there is one glaring complication: men sharing a bed is inherently forbidden. While Sharia Police are not invading hotel rooms, many hotels will automatically allocate you a twin room or add an extra bed without letting you know. It is up to you how you want to handle this.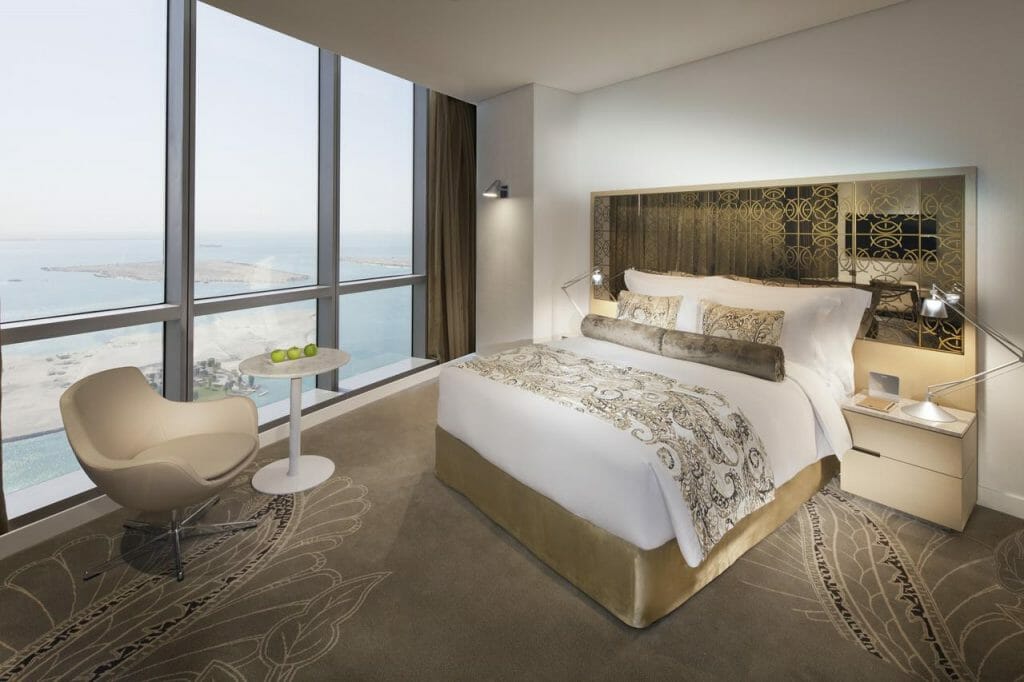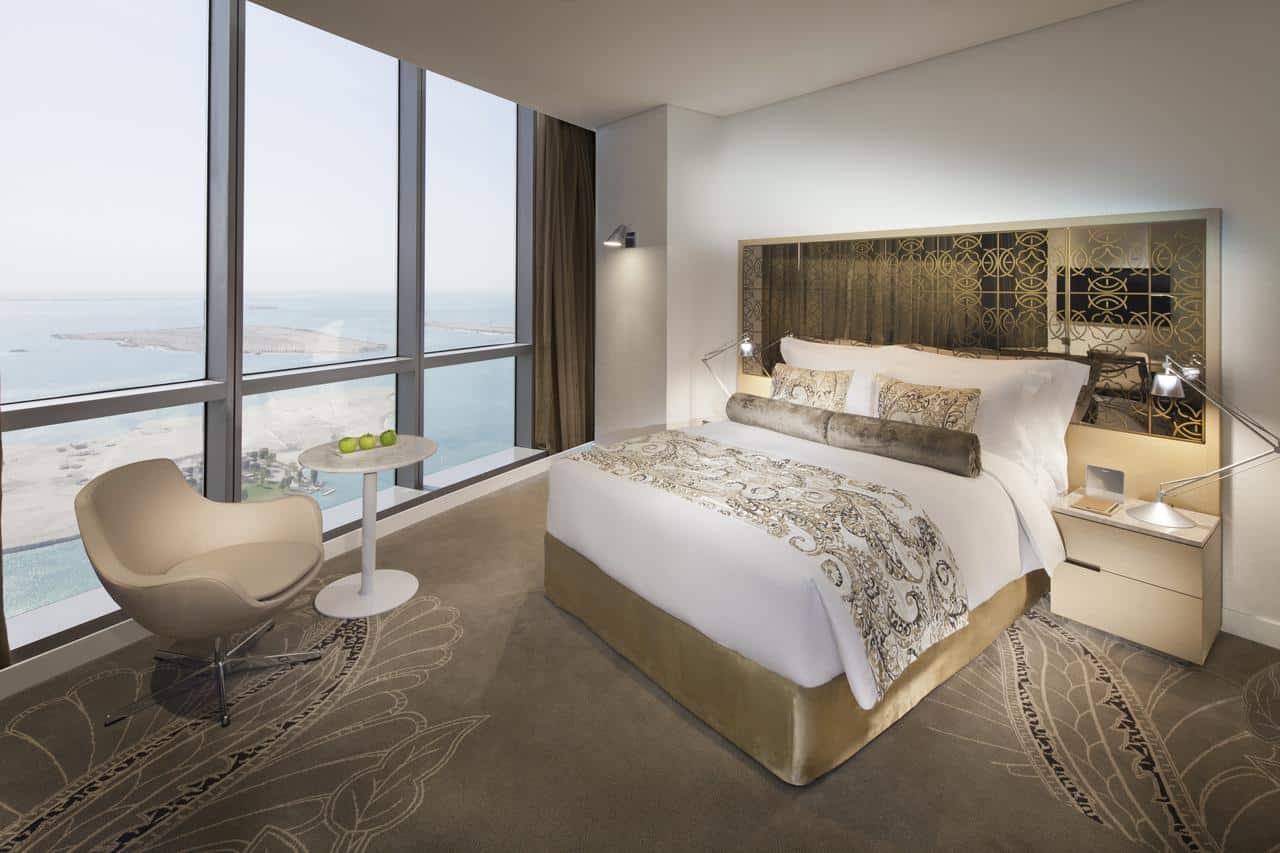 Most international luxury brands will allow gay couples to share beds – so if you feel comfortable just selection a double instead of a twin configuration when booking. If they respect this, then perfect. But if you changed at check-in, our advice is to err on the side of caution and settle with what you are given.
It sucks. But again, you are visiting a country where homosexuality is strictly forbidden. If it helps, unmarried straight couples are also compelled by law not to share a bed, and while some low-end hotels have been known to enforce this, it is rarely enforced. Of course, if it doesn't bother you then booking a twin room is much easier, and to some people more considerate of the place that you are in.
But let's forget the sad state of LGBT rights in the UAE and focus on the fun stuff. Find all your Abu Dhabi hotel options here but we have gathered together of favorite gay-popular luxury hotels in Abu Dhabi, and a few more budget-friendly options with style and sass to make things easier.
We are talking eleganza extravaganza darling.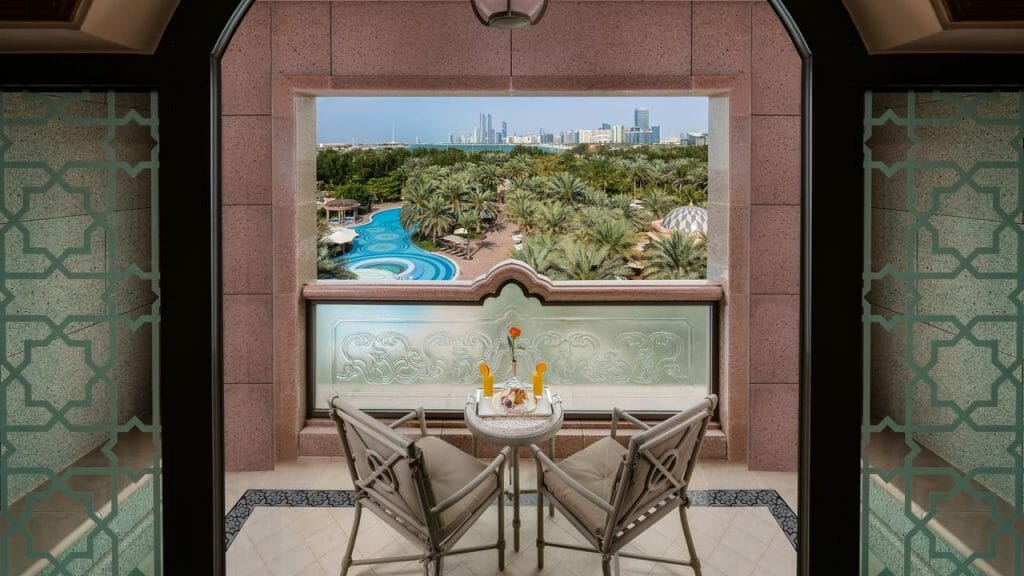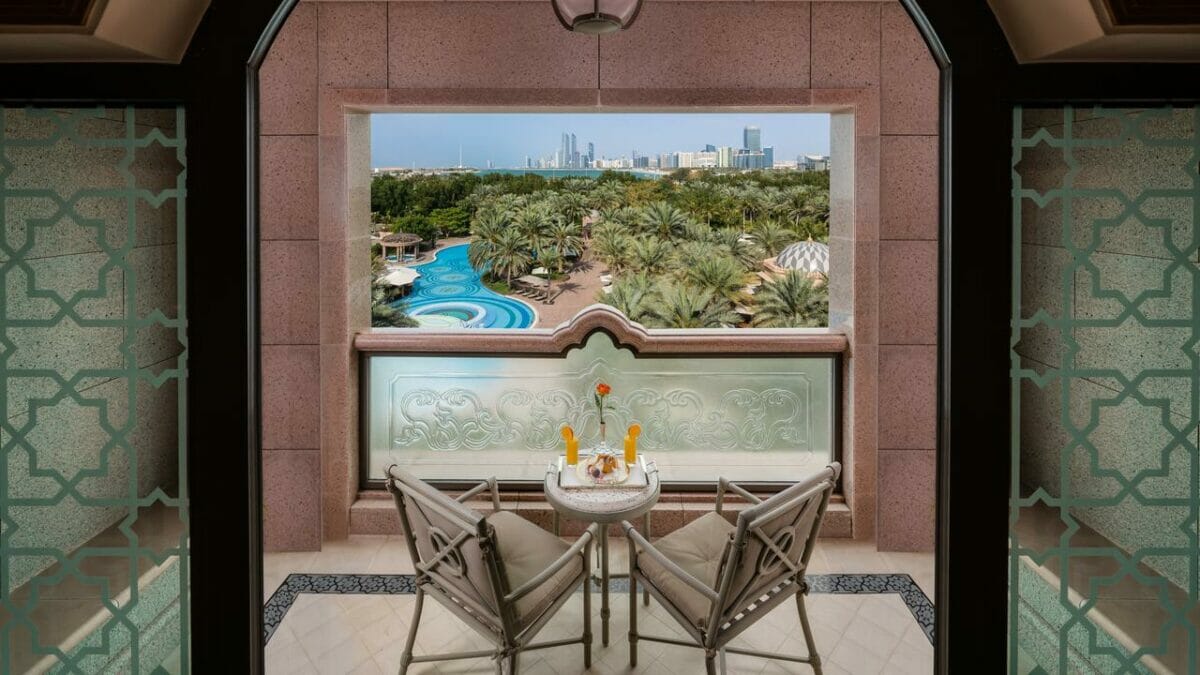 Emirates Palace Hotel ☆☆☆☆☆ – A lavishly imagined fantasy-come-true, the Emirates Palace offers you sheer 5-star elegance and an enchanted location to enjoy award-winning hospitality at this palatial beachfront hotel. With 394 opulent rooms and suites, award-winning culinary cuisine and a fabulous location in the heart of Abu Dhabi, Emirates Palace is the definition of an unrivaled Arabian fantasy. Majestic in both its design and countless offerings, everything is here from a 1.3 km pristine beach and landscaped pools to jogging and cycling trails, a spa and two fitness centers, the Emirates Palace is unflawed and an ideal option for an ethereal experience and a once-in-a-lifetime holiday.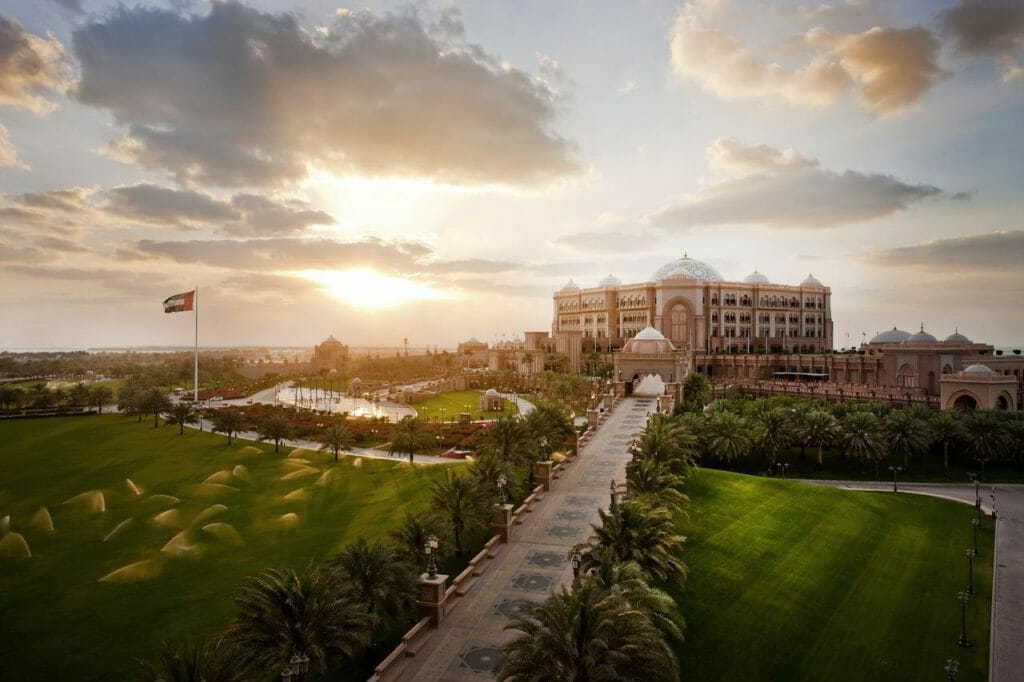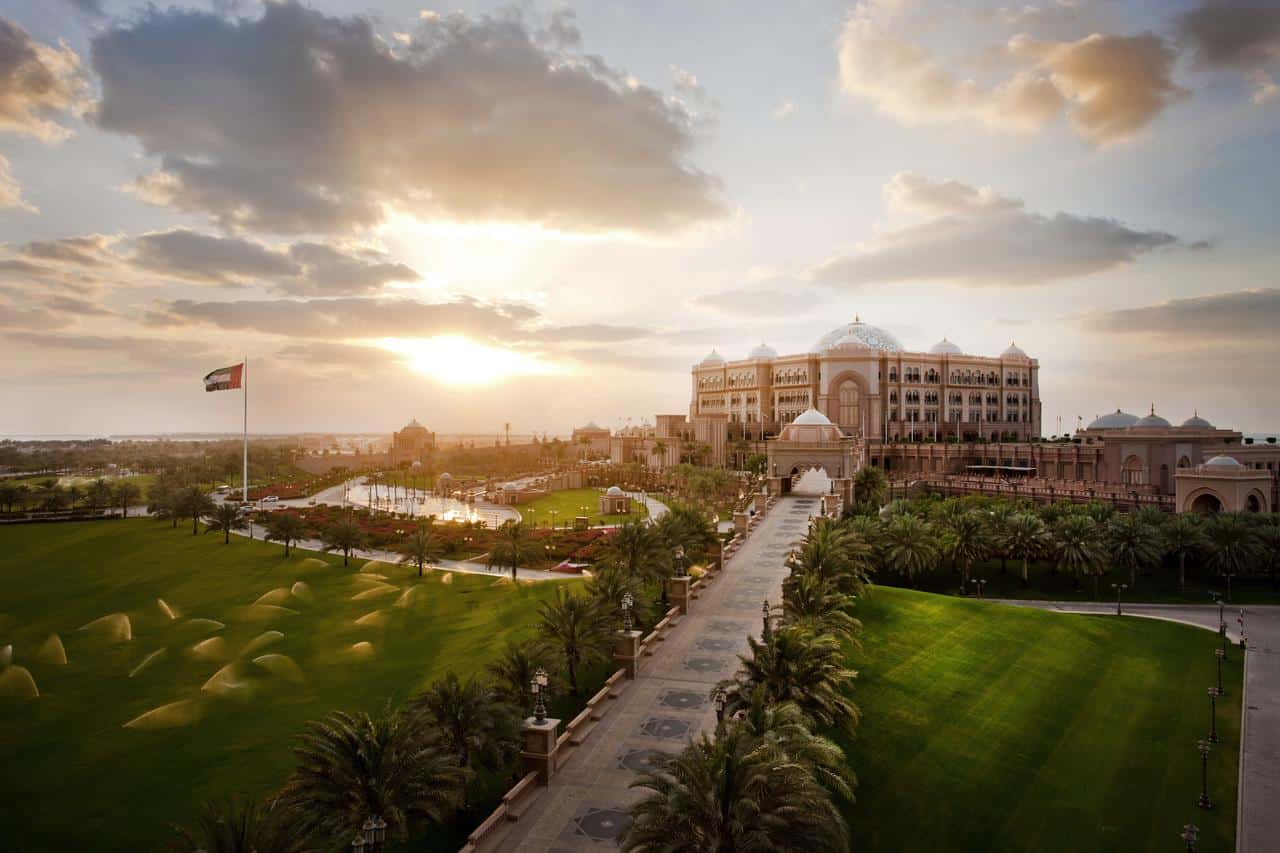 Four Seasons Hotel Abu Dhabi ☆☆☆☆☆ – An ultra-modern refuge on the Arabian Gulf, this posh, 34-story high-rise hotel isn't afraid of standing out. Inside its distinctive exterior of vertical lines inspired by the colorful textiles of the souks, are plush, modern rooms with floor-to-ceiling windows offering gulf views. The luxe amenities on offer include a polished steakhouse, an Italian bistro, three fashionable bars, and two guys – not to mention the spa and outdoor pool. An international chain used to gay travelers, none of our readers have experienced any problems checking into double rooms here, but if things change, please let us know. Sleek, laid-back and a haven for relaxation – day or night.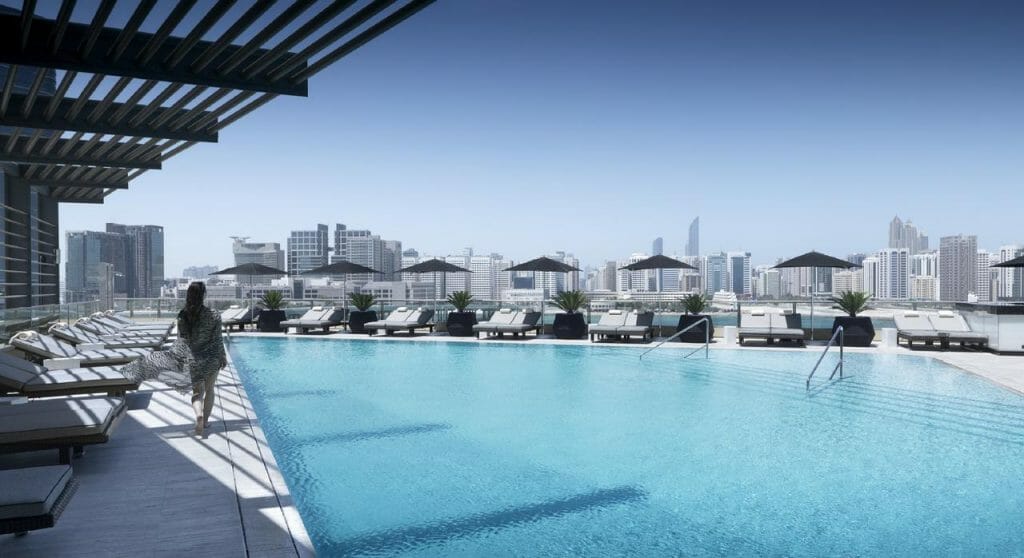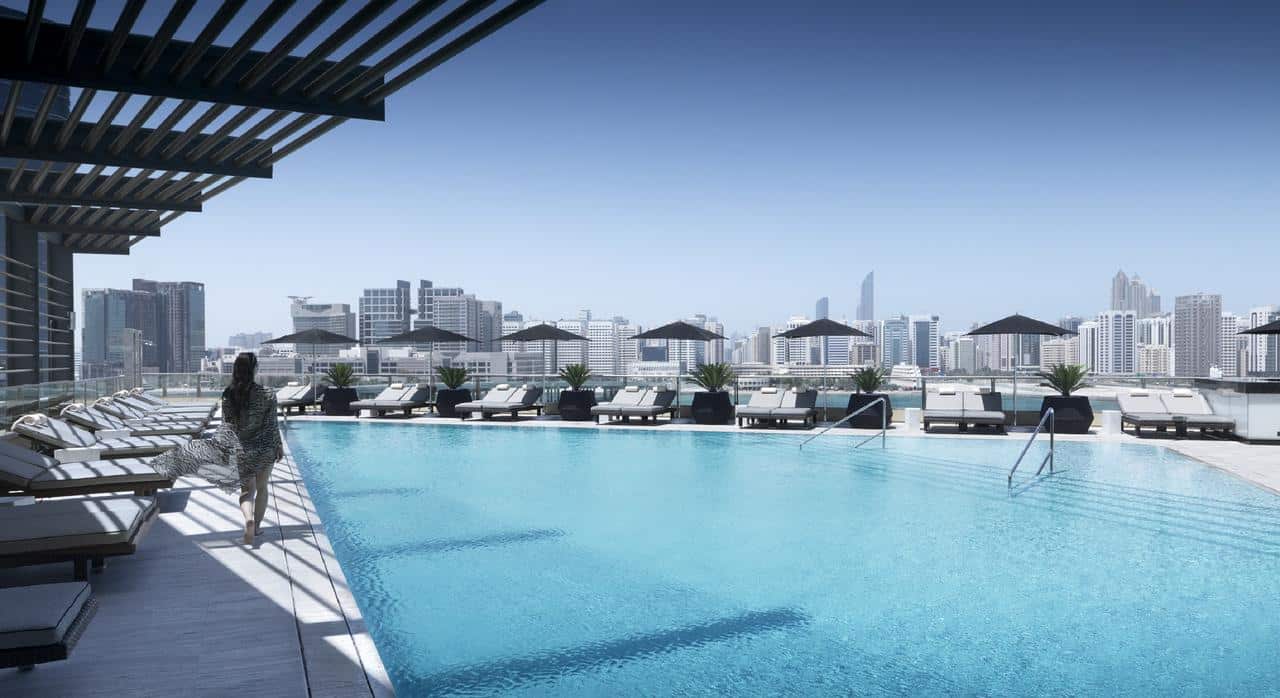 Jumeirah at Etihad Towers Hotel ☆☆☆☆☆ – Part of the iconic Etihad Towers high-rise complex, this contemporary hotel is sleek, sculptured and standing tall against the endless desert sky. There are 382 dynamic rooms and suites, a variety of world-class restaurants and chic bars plus multiple swimming pools and a private beach. Be it the spectacular cityscape, the rejuvenating experience at Talise Spa, or the elegant suites; you are ensuring a lasting impression of luxurious living at Jumeirah at Etihad Towers.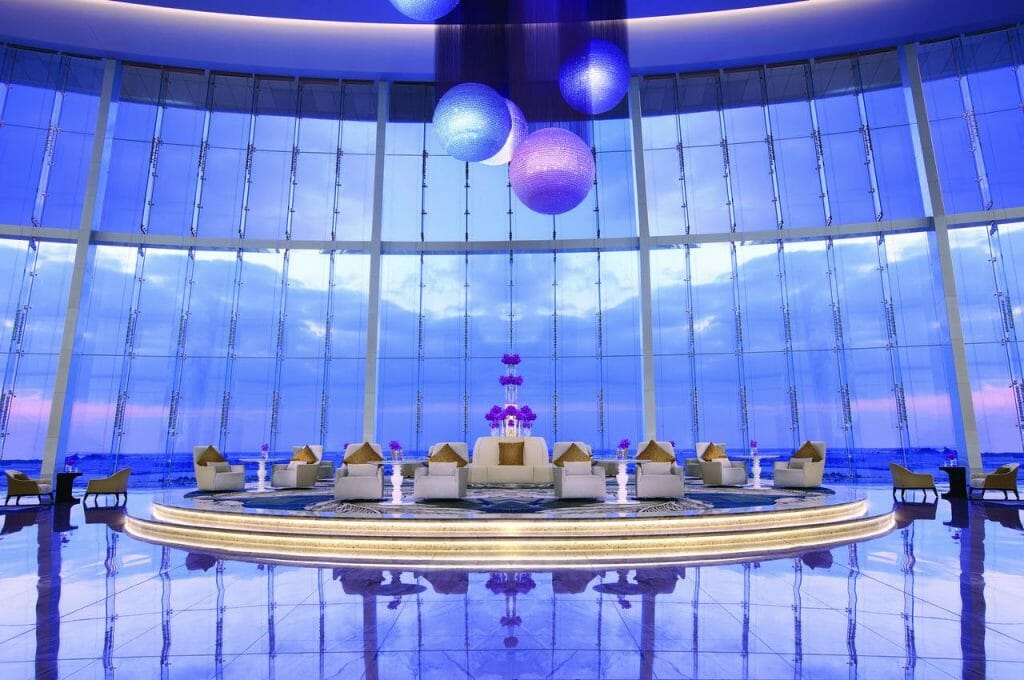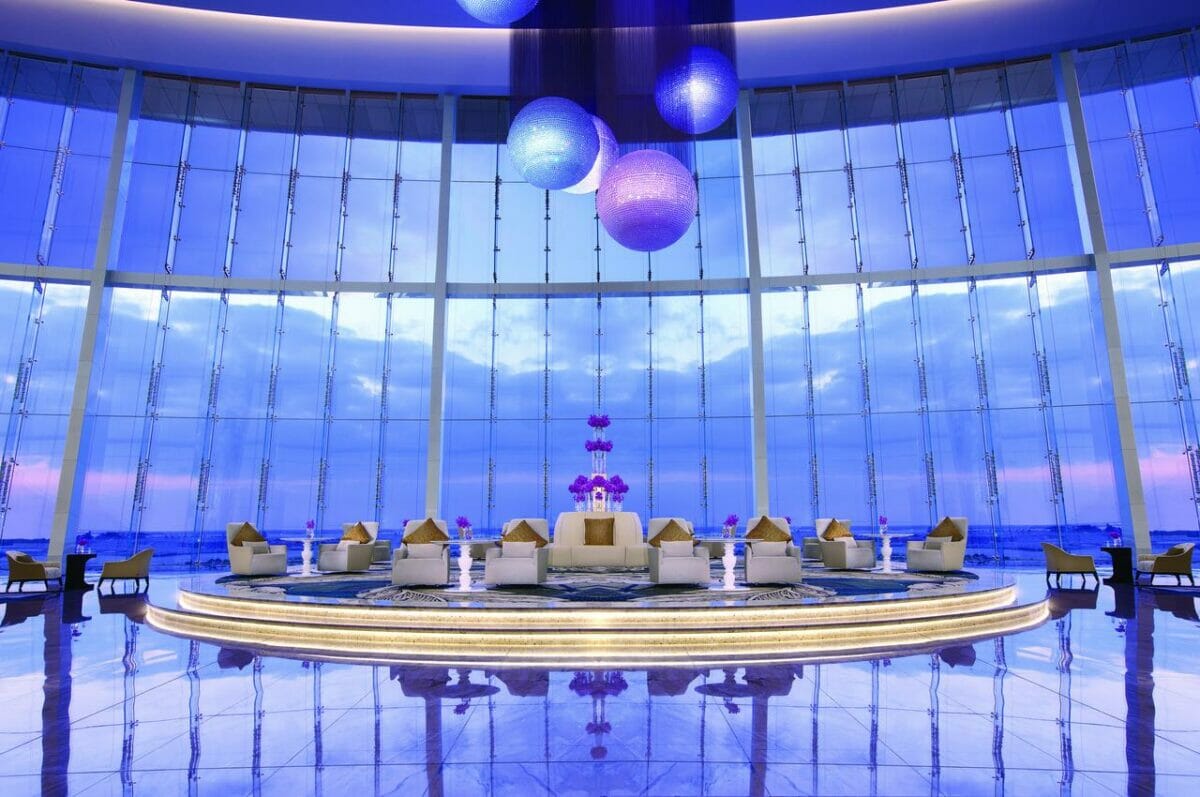 Dusit Thani Abu Dhabi ☆☆☆☆☆ – Bringing Thai-inspired design and hospitality to the heart of the United Arab Emirates' capital city, this luxe hotel is frequently named amongst the World's Top 100 Hotels. Centrally located in the city's new business and government district, and in a prominent glass tower hotel, Dusit Thani grants a fresh and ground-breaking architectural approach that is sure to inspire before you even step foot inside. The refined guest rooms are infused with Thai elegance, and an array of attractive restaurants serve delicacies to satisfy any palate. Guests can also nurture their minds and bodies in the chic poolside, rooftop bar – or in the opulent spa and fitness center. Why go to Bangkok or Phuket, when they can come to you …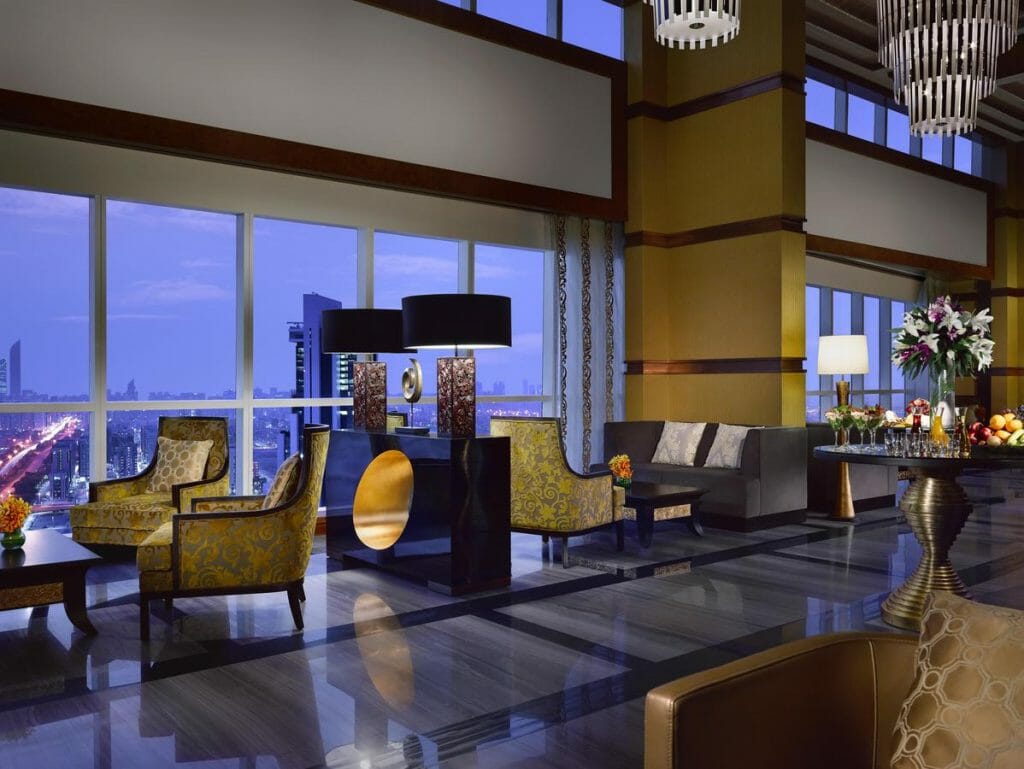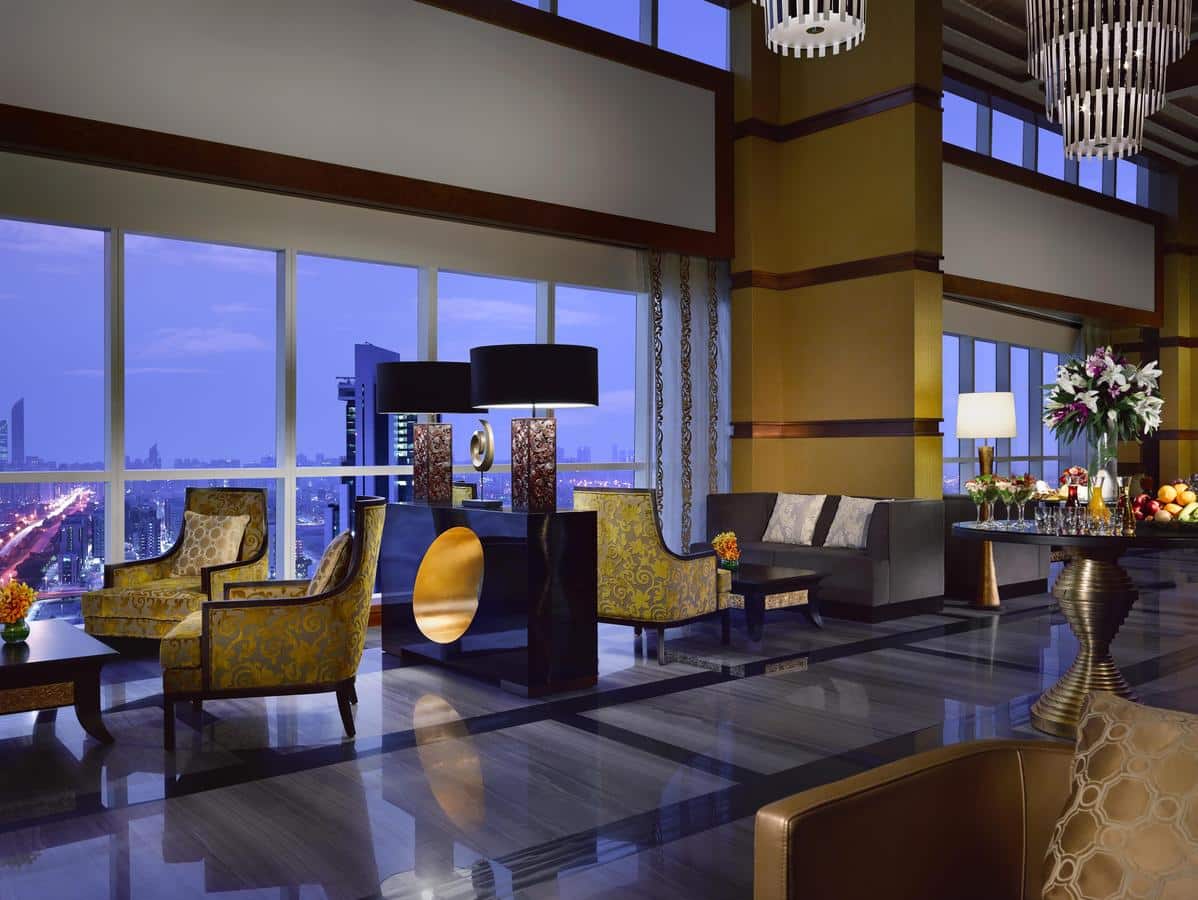 Park Hyatt Abu Dhabi ☆☆☆☆☆ – Relax in the luxury of an island sanctuary, providing a residential feel with the UAE's cultural touches. The Park Hyatt Abu Dhabi is perfect for enjoying the stunning views of the Arabian Sea or relaxing in their landscaped gardens and contemporary rooms featuring marble bathrooms, soaking tubs and rain showers. Hosting the largest pool in Abu Dhabi, the award-winning Atarmia Spa, three restaurants, two bars and a cafe serving an opulent afternoon tea, you will never be short of things to do here. There is also a gym, tennis court, hot tub, spa, and unique boat tours of the surrounding coastal habitats.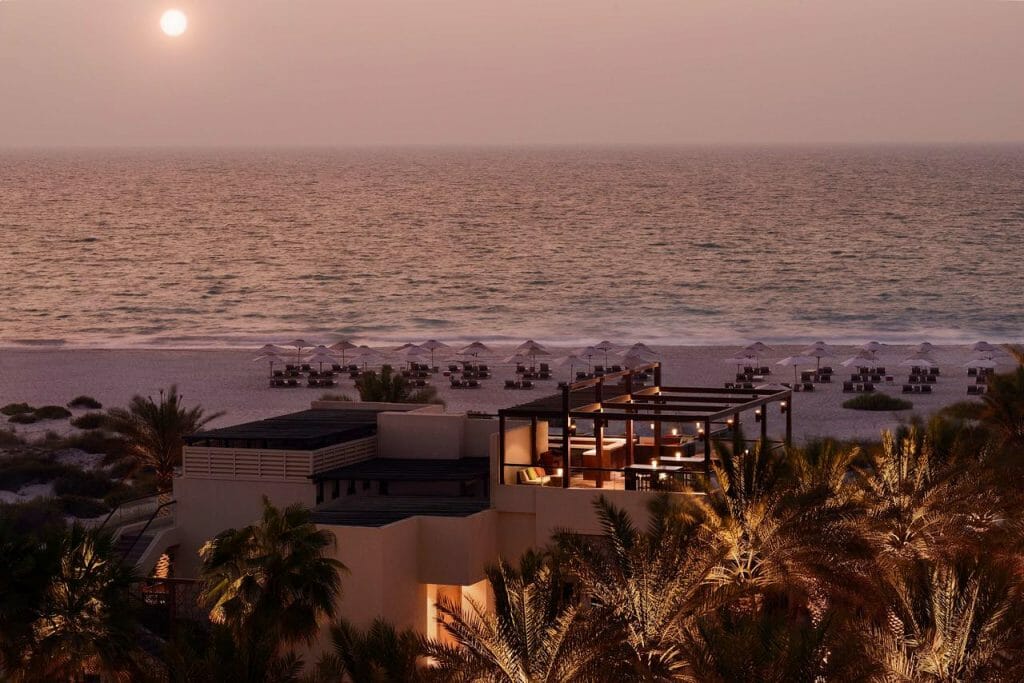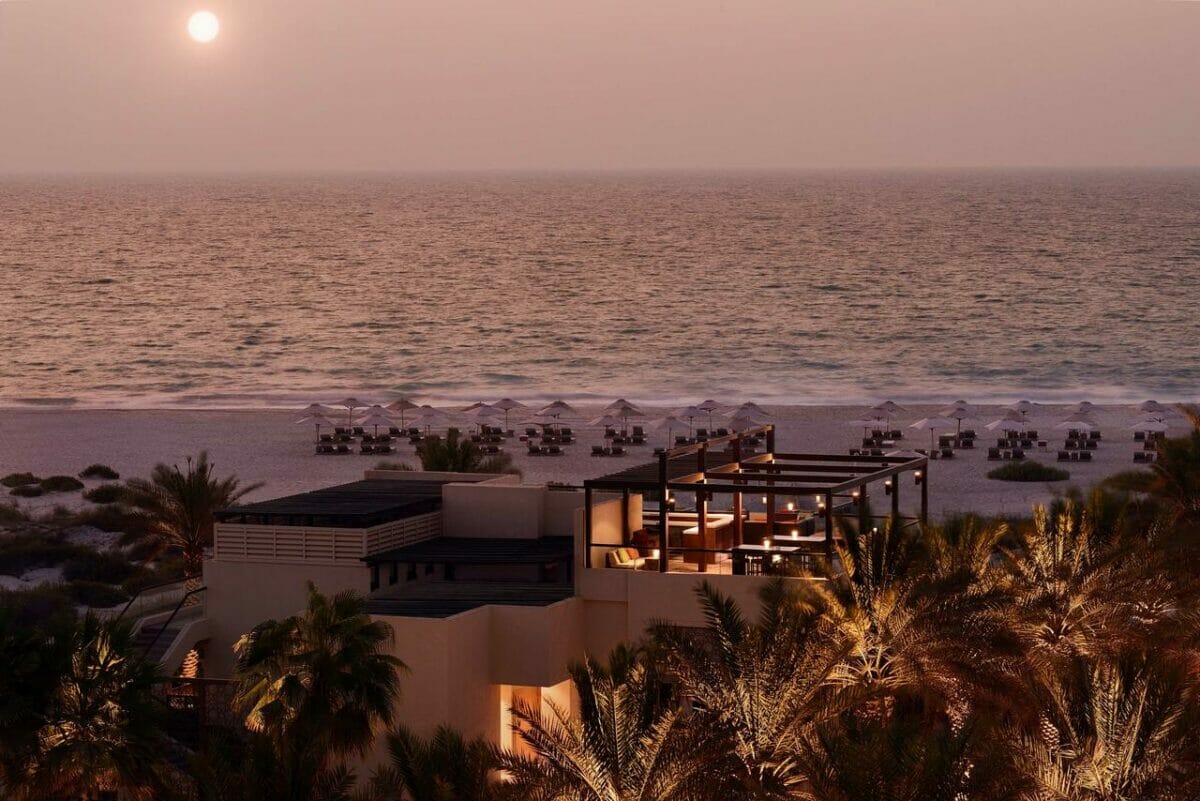 Zaya Nurai Island ☆☆☆☆☆ – If you are looking for something completely different, this private island surrounded by natural beauty might be just it. Stemming from the Arabic word 'Nur' meaning light, Nurai is an island of staggering beauty, of turquoise seas and white sands. It's a place filled with natural harmony appealing to all five senses. If you want a relaxed beach holiday filled with fine dining, cocktails, dips in the pool and complete relaxing – this is it. With different villas, estates and houses to choose from, and multiple activities on land and at sea, it is no wonder Zaya Nurai Island is frequently named one of the world's best island retreats.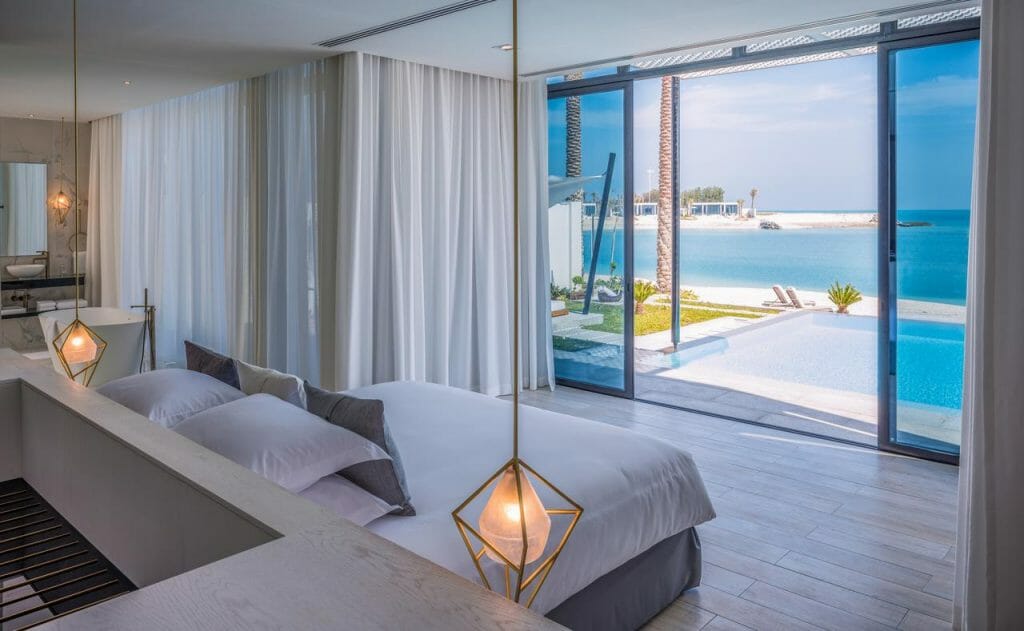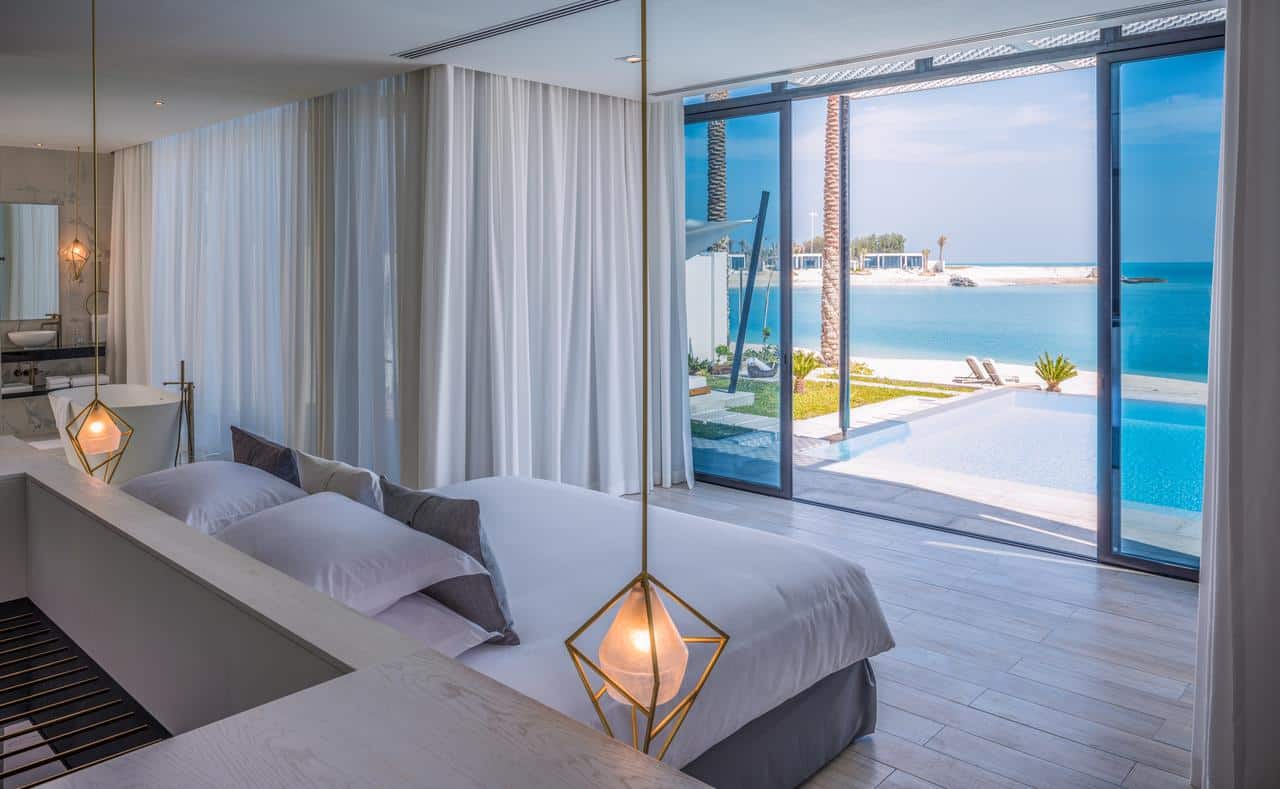 Aloft ☆☆☆☆ – Abu Dhabi is not known for its budget-friendly option, but the Aloft international hotel chain is one of the best options. Offering loft-inspired design steps from the diplomatic district, there is a trendy bar, relaxing lounge, and affordable prices. Heavy on technology and comfort, get a great nights sleep and a stylish hotel without paying for all the extra convinces you won't actually end up using.
Premier Inn Abu Dhabi International Airport ☆☆☆ – Hotels near Abu Dhabi airport don't get any closer than this. Simply stroll through the Skypark Walkway to reach the comforts of this budget hotel, perfect if you are only here for a short stopover and don't want to venture far. Have a coffee, or a meal, hit the gym or take a swim. Simply unwind after your travels and plan out your Abu Dhabi adventures, be they work or play.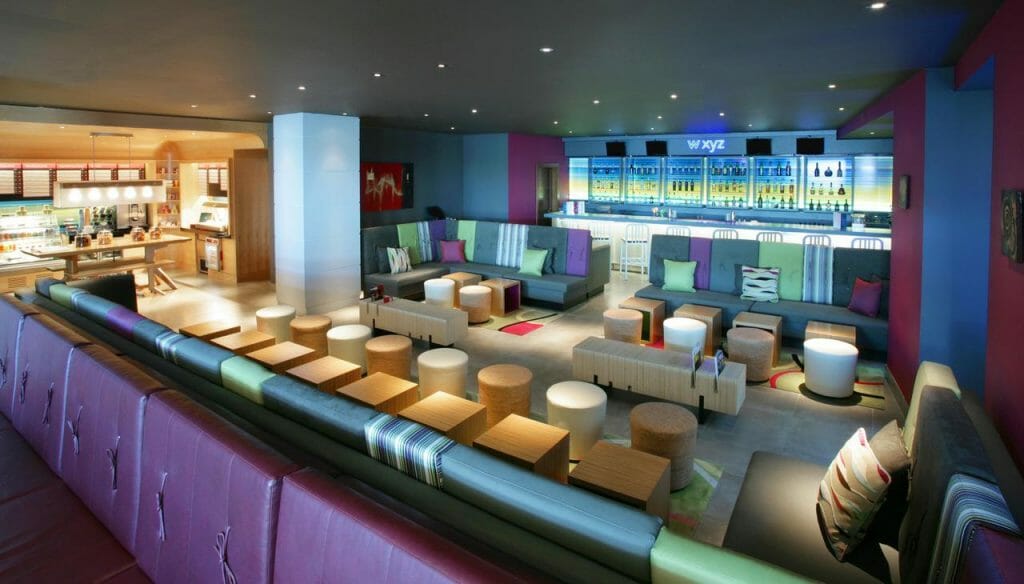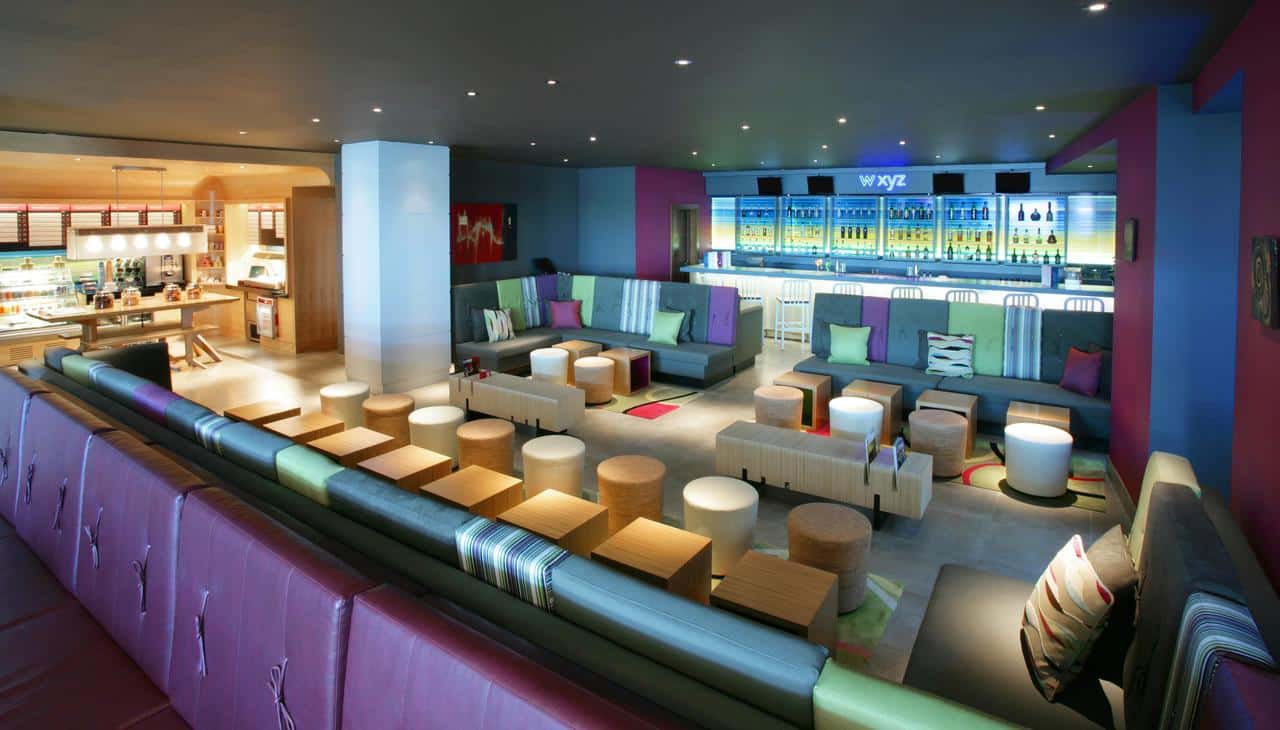 Gay Clubs in Abu Dhabi
Yes, even in a country where being gay is absolutely illegal – the UAE has managed to become a bit of a Mecca for gay Arab men in the region. While most flock to the Gay Dubai, plenty still head to Abu Dhabi.
Just don't expect anything like Tel Aviv, or even Istanbul.
Despite being very conservative by Western standards, Abu Dhabi offers alcohol and sex-starved Arabs a quick fix before returning to their even more strict homelands — and yes that include the gays. For example Saudi Arabia, one of the world's most conservative countries, if right next door, and Iran is just across the Gulf. It might be bad to be a gay in Abu Dhabi, but in most of the neighboring countries, it can be a lot worse.
Nothing is worse than the death penalty after all, right?
In Gay Abu Dhabi, it's all about knowing the right people here, and there are a host of unofficial gay parties taking place in lavish villas, but if you are only in town of a quick visit the gay hookup apps are going to be your best source of information. Just do not forget to protect yourself with a reliable VPN.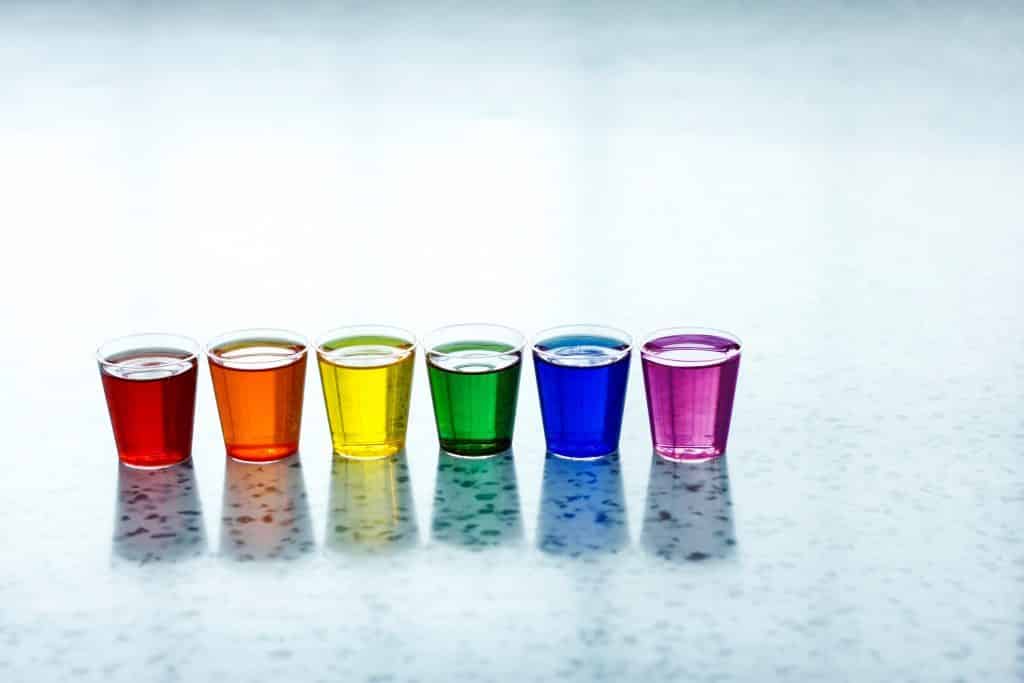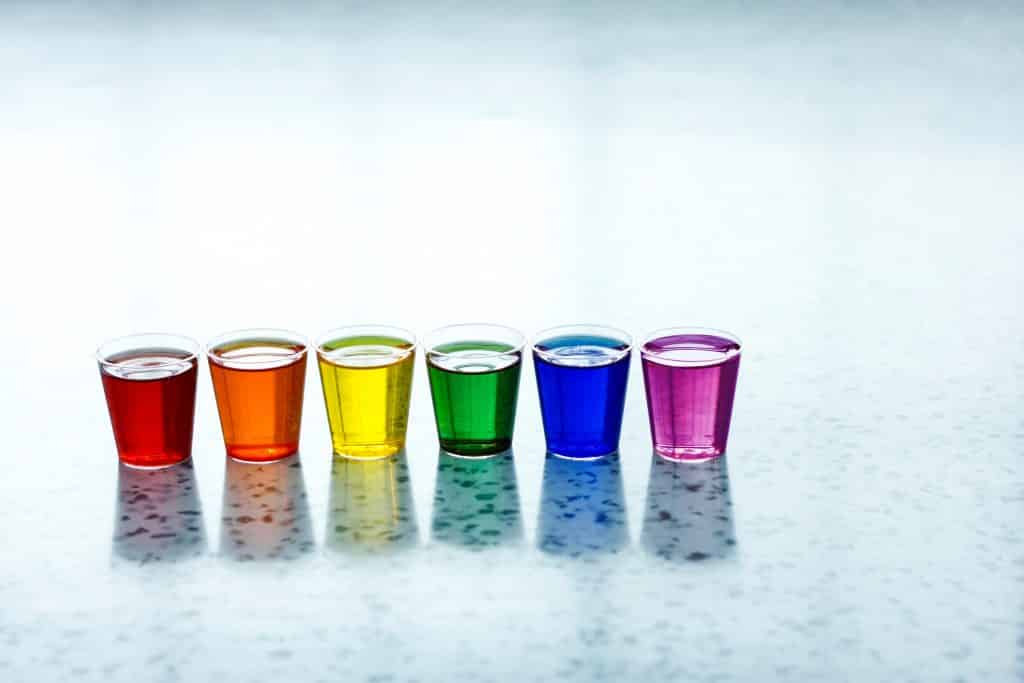 Even at many gay hotspots you will only see a bunch of men randomly sitting around with loud music, so no different than any other Middle East nightclubs. Don't expect any drag or Vogue Balls, but one thing that did stick us is the diversity of gayness at the Abu Dhabi gay parties. Camp, very effeminate boys, mix happily with large, hairy bears and muscle jocks – all races, styles, and cultures come together here.
There is no pigeonholing like Paris, Rome, Amsterdam – or the extreme gay sub-culture of Tokyo.
Yes ironically in a society and country where being gay must be concealed at all time, the underground gay scene provides something of an all-encompassing haven for equal opportunity and indiscrimination. Could the gay community in the West learn a lesson about intolerance and extreme exclusivity from this?
While private apartments and hotel rooms are almost never invaded, police raids of clubs and parties suspected of being gay are somewhat common. So no matter how safe you feel in your alcohol-fueled cocoon being surrounded by glitter and glamour, remember the consequences for gay sex in Abu Dhabi can be up to ten years in prison.
That's our subtle way of saying, no club bathroom should ever, ever be treated like a dark room and it is best to save all PDA -even kissing or touching – for back in the privacy of your accommodation.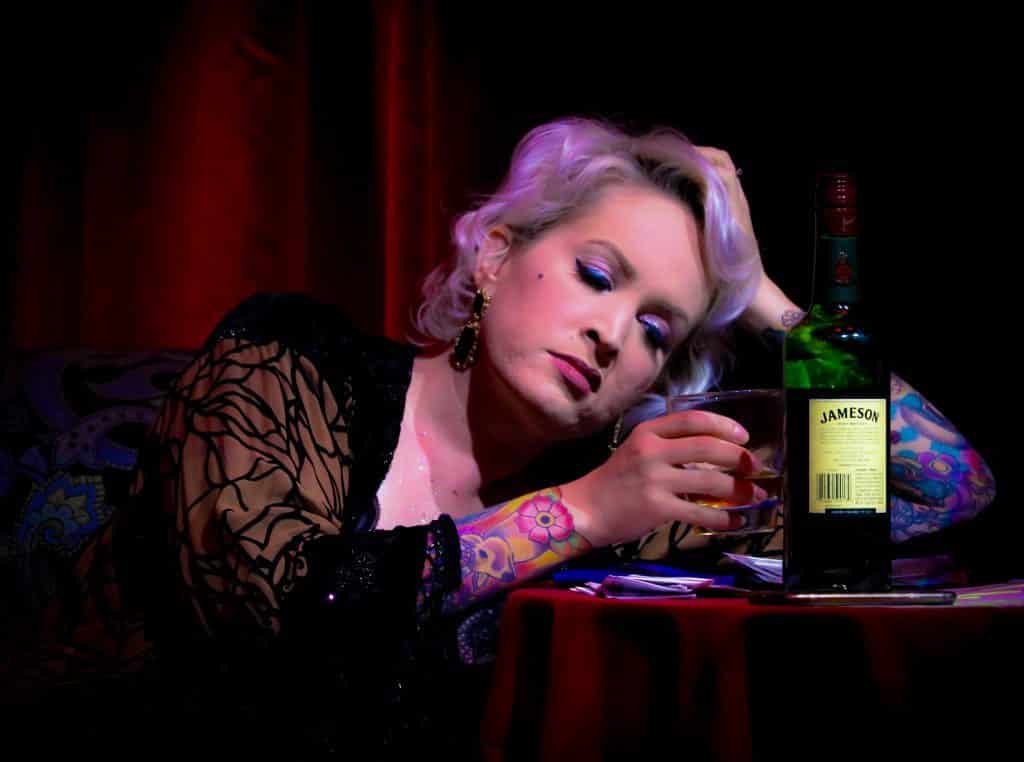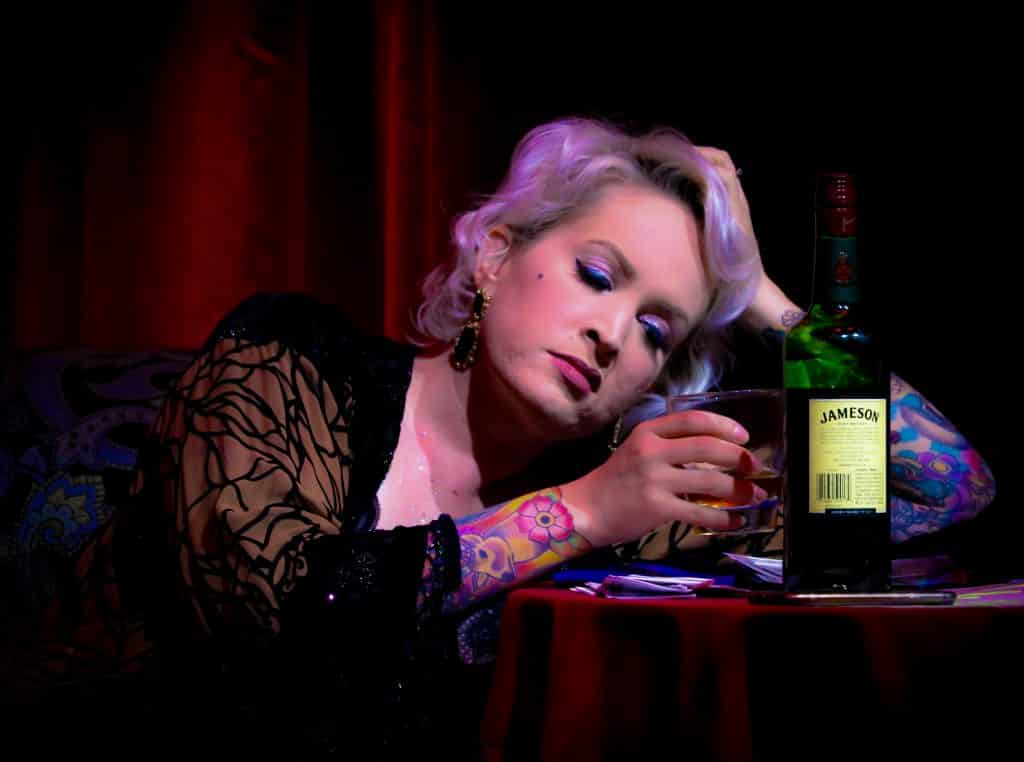 Gay parties in Abu Dhabi typically take place on Saturday's at different international hotels, if they are even to take place, – but you will need to ask around on Grindr the day before for information. If you want huge gay parties, you typically have to make the trip up to more liberal Dubai in part, because the sale of alcoholic beverages is even more regulated in Abu Dhabi and only sold in four or five-star hotels. There are also different queer-popular parties in Abu Dhabi during the week, but due to their sensitive nature, you will again need to discover them on your own.
Sorry, we don't make the rules. Nor do we want to expose anyone to trouble…
However, we have put together a list of our favorite gay-popular nightlife spots in Abu Dhabi for cocktails and glamour. After all, Abu Dhabi is an elaborate playground for those who are on a quest for the finer things in life: elegant bars, world-class nightclubs, and sophisticated beach clubs. For the ever-changing [hetero] club nights in Abu Dhabi check out this guide.
To be clear none of these spots are openly gay-friendly, and we are recommending them more for their over-the-top-style, fun vibes and extreme refinement.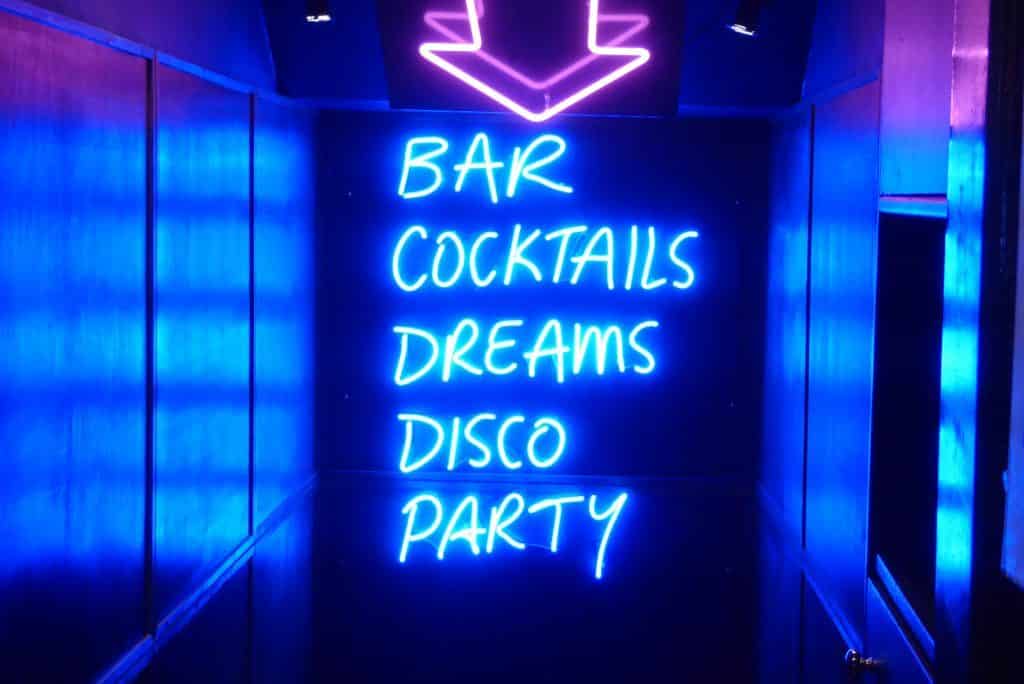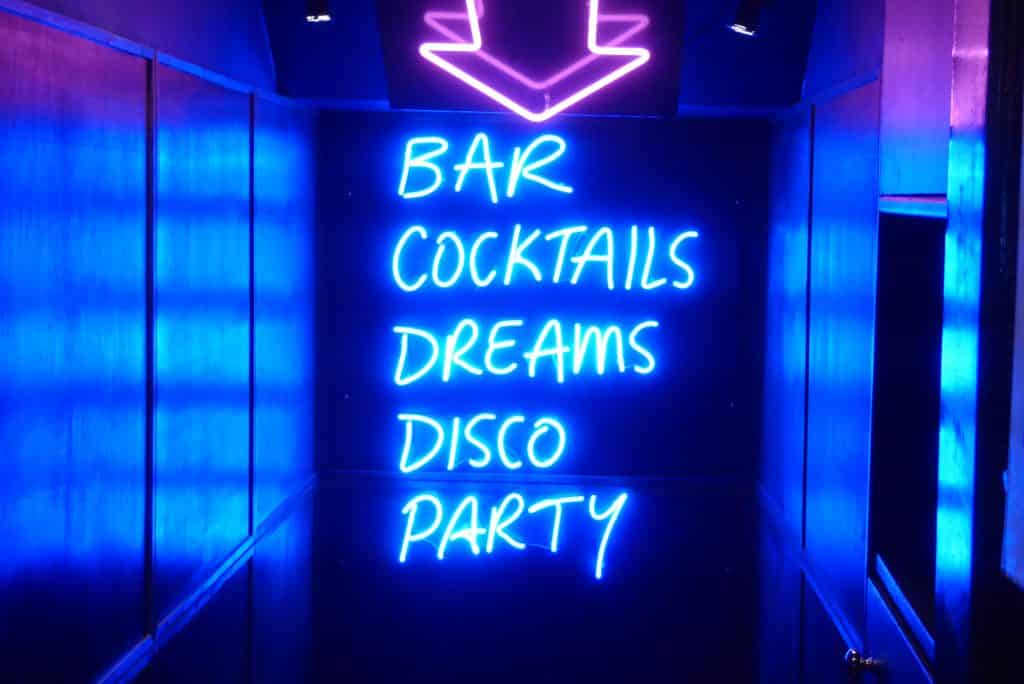 Nightlife in Abu Dhabi
La Cava Wine Bar – Accessed via a circular wooden staircase and motivated by the long history of wine-making, La Cava is an intimate and fashionable wine cellar featuring an extensive wall-to-wall wine collect boasting over 1,000 premium labels. Discover your inner oenophile as their expert sommeliers present a variety of wines, from boutique to classic vineyards. A high-class affair, with some of the most expensive wine to be found anywhere in the UAE, but the La Cava's wine buffet concept is a considerably more affordable way to visit. Featuring 30 red, white and rosé wines paired with an irresistible cheese selection, you can opt-in daily from 7 til 9 pm.
Ray's Bar – Enjoy innovative drinks on the Level 62 of Jumeirah at Etihad Towers. As you can imagine the views are surreal and larger-than-life, as is the opulent surroundings with oversized vodka bottles and conceited served. Still, for the view alone it is worth visiting, but there is a happy hour from 5pm-8pm daily and chic DJ sets later in the night. Dress to impress!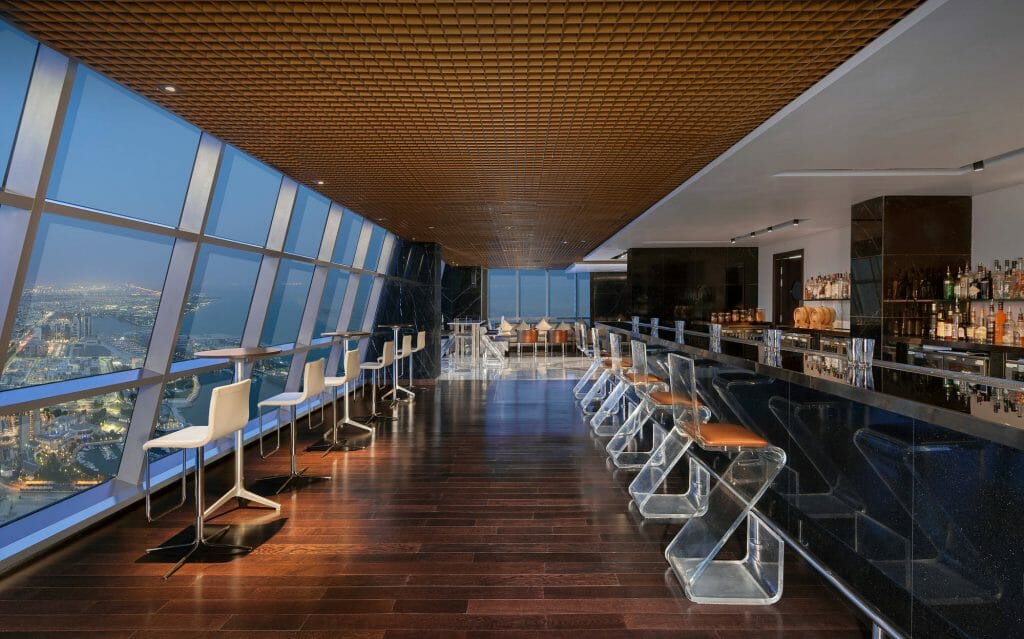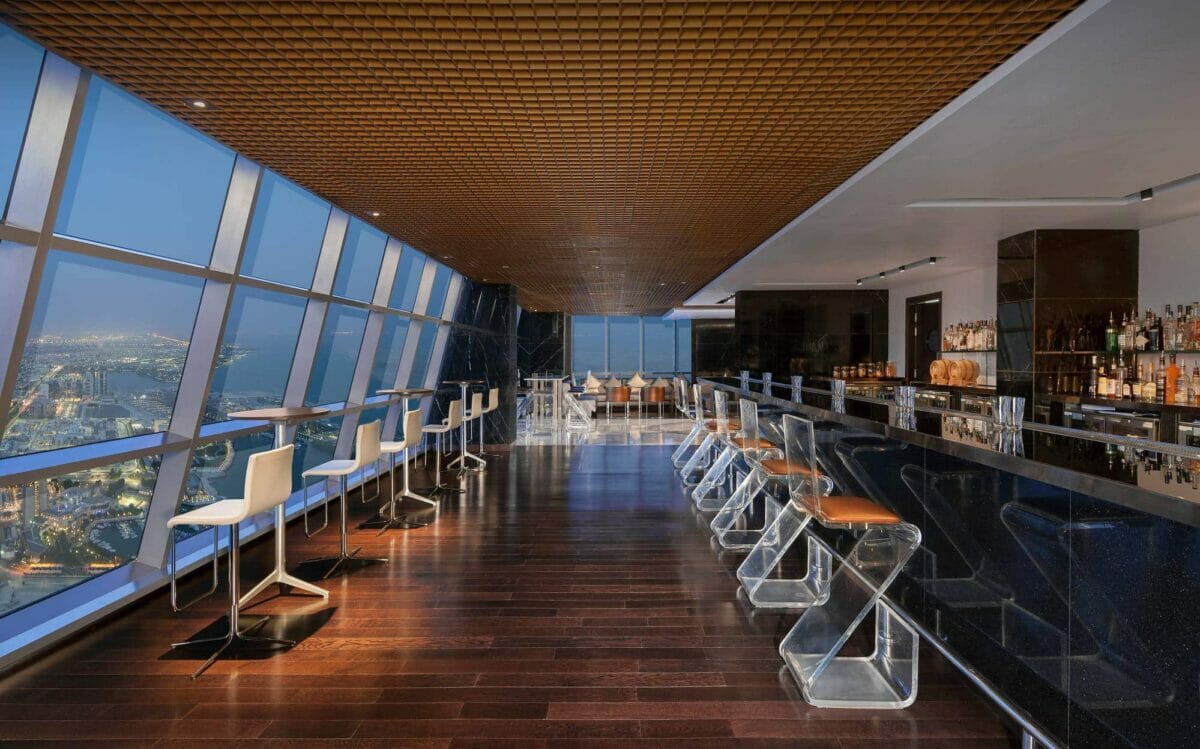 Barfly by Buddha Bar – The only Neo-Baroque mystic-lounge concept in Abu Dhabi, offering guests the luxury and comfort of an intimate restaurant. The atmosphere of Barfly is multi-dimensional depending on the time of day; be it a relaxing afternoon lounge offering shisha, an intimate bar setting for a late afternoon or pre-dinner drinks and finally an exquisite culinary dining experience in the evening with the energy in the room ever increasing as the night progresses.
Butcher & Still – A swanky interpretation of a 1920s Chicago steakhouse, with leather banquettes, rich wood floors, specially selected prime cuts of American beef and Prohibition-era cocktails shaken to perfection. Enjoy views over the water out to Al Maryah Island, speak-easy vibes and refined elegance. Being in the Four Seasons, drinks here don't come cheap but do between 4-7 pm for an incredible two-for-one Happy Hour offer on drinks.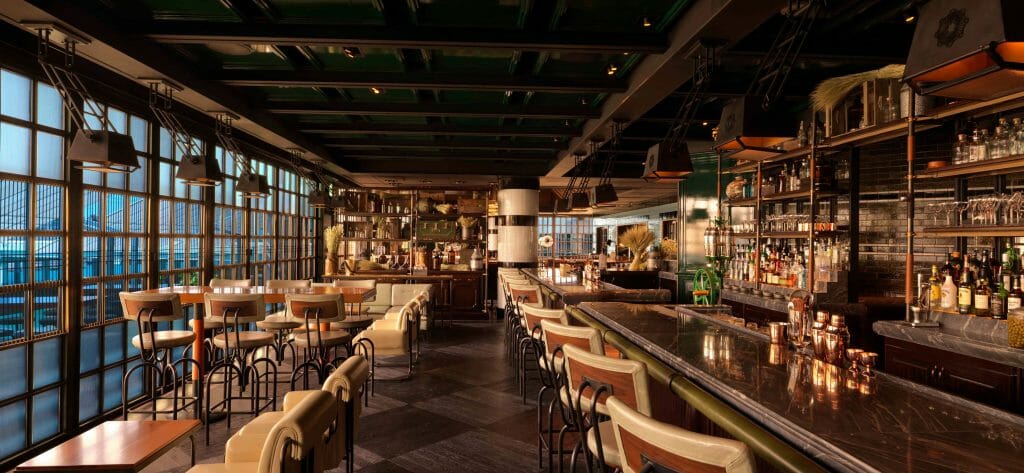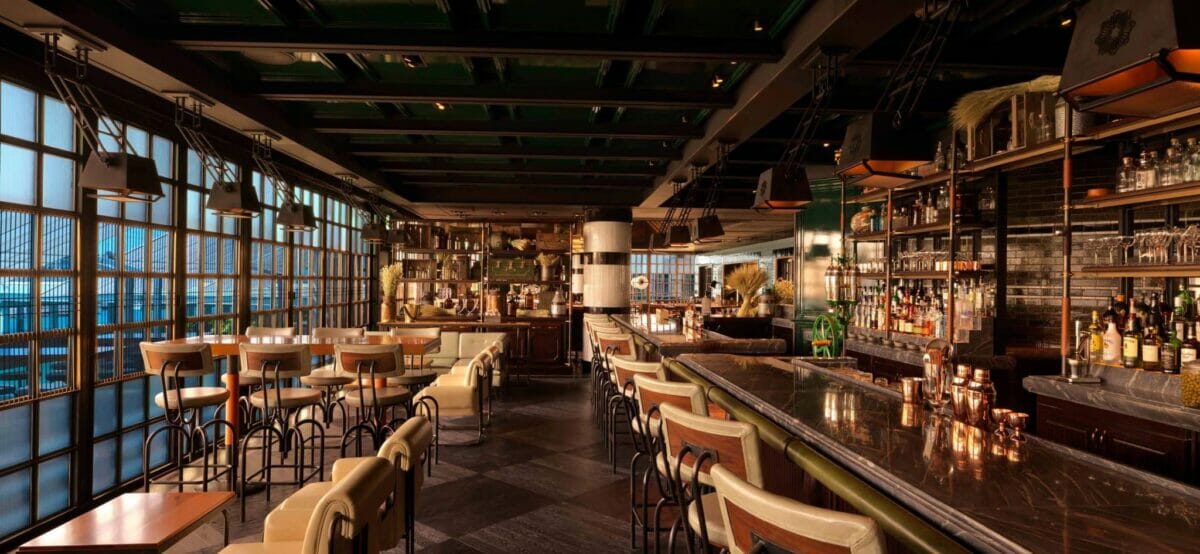 Skylite Rooftop Lounge – An iconic venue to celebrate, meet, mingle and party the night away. This sophisticated open-air rooftop lounge overlooking a Formula One racetrack offering fantastic cocktail mixes and themed drink specials. There is also a daily happy hour from 6-8pm. The talented DJ keeps the party going with groovy lounge tracks, but during Formula One season be sure to book in advance if you want to have a chance of getting in.
The Jazz and Fizz Bar – A chic Abu Dhabi bar perfect for late night drinking and enjoying signature cocktails in refined surroundings. Dark woods, deep reds, and a beautiful embossed ceiling create a stylish feel as does the jazz music is infused by Latin and Arabic tunes. A strict dress code is enforced, as in many cocktail lounges in the UAE.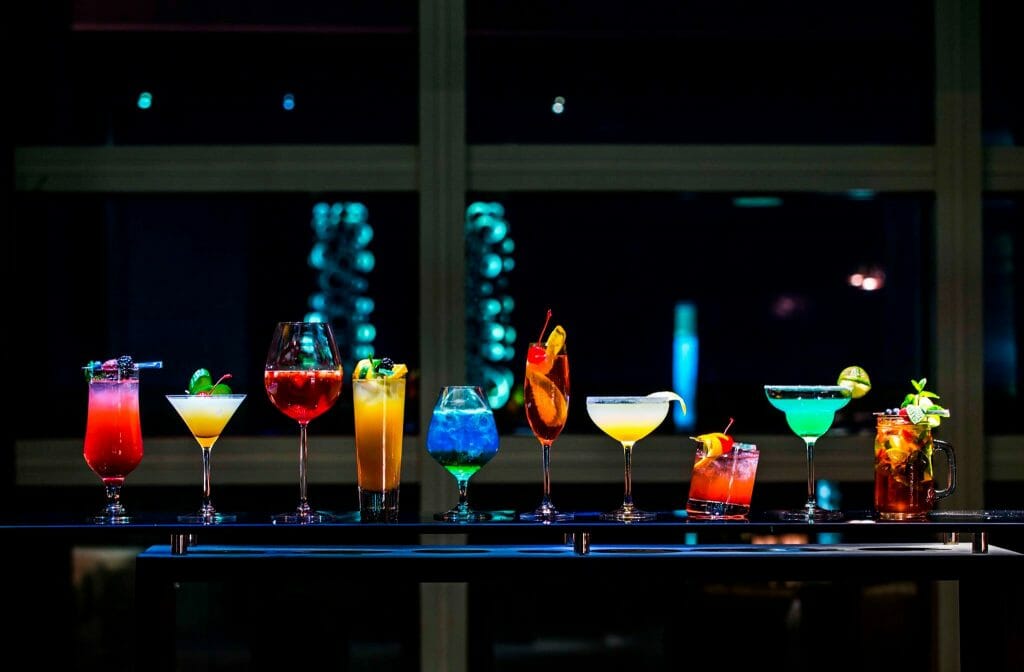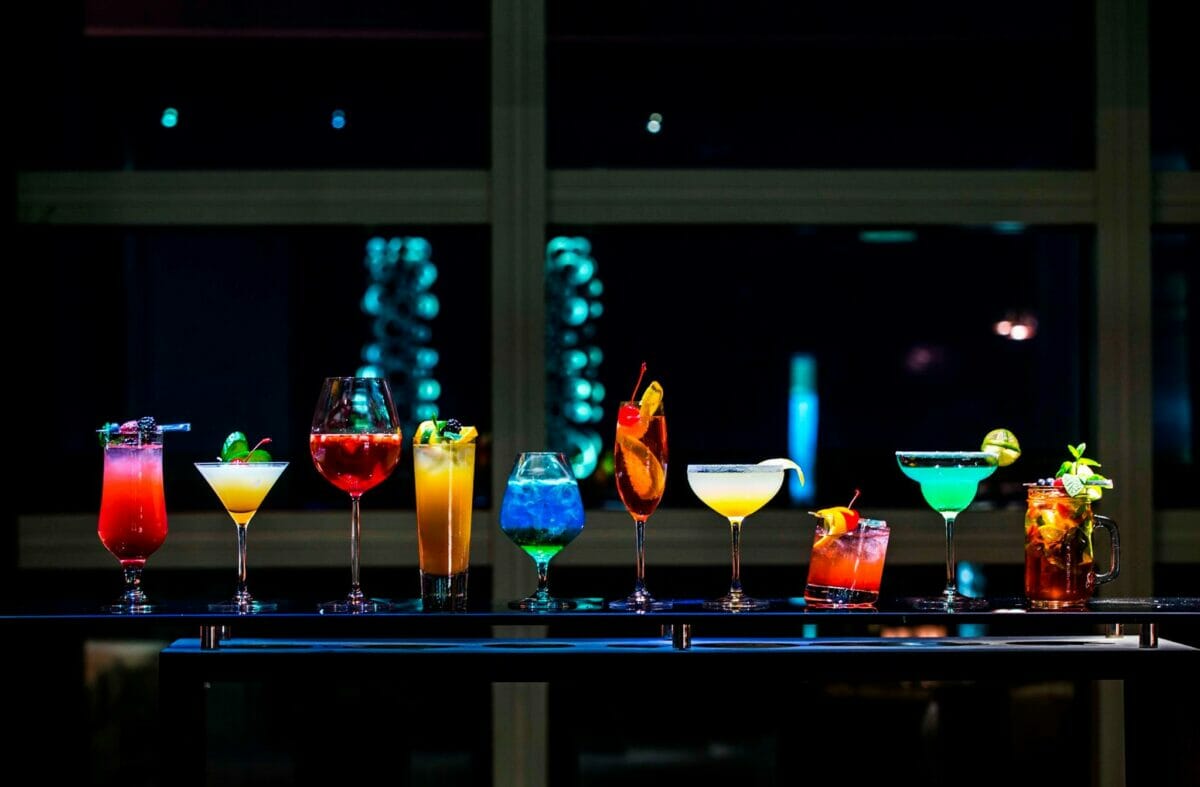 Belgian Beer Café – An escape from the ridiculously over-the-top glamourpuss Dubai, this fun wood-paneled bar is more popular among beer connoisseurs than billionaires and socialites. If you are looking more of a laid-back – and affordably priced night – this is the place to do. There is a wide selection of beers, on tap or bottle, which you can enjoy over a hearty meal and question why you are not in Gay Brussels instead.
[email protected] – Enjoy a cool breeze in this sleek outdoor lounge on the roof of the Aloft hotel serving diving cocktails, sushi & other Asian bites. On a clear night, you can see for miles around, basking in the beauty of modern Abu Dhabi, and enjoy prices that are lower than most of the other high-end Abu Dhabi hot spots. There are even different drink specials advertised daily from 5-7pm to make [email protected] an even more tempting proposition.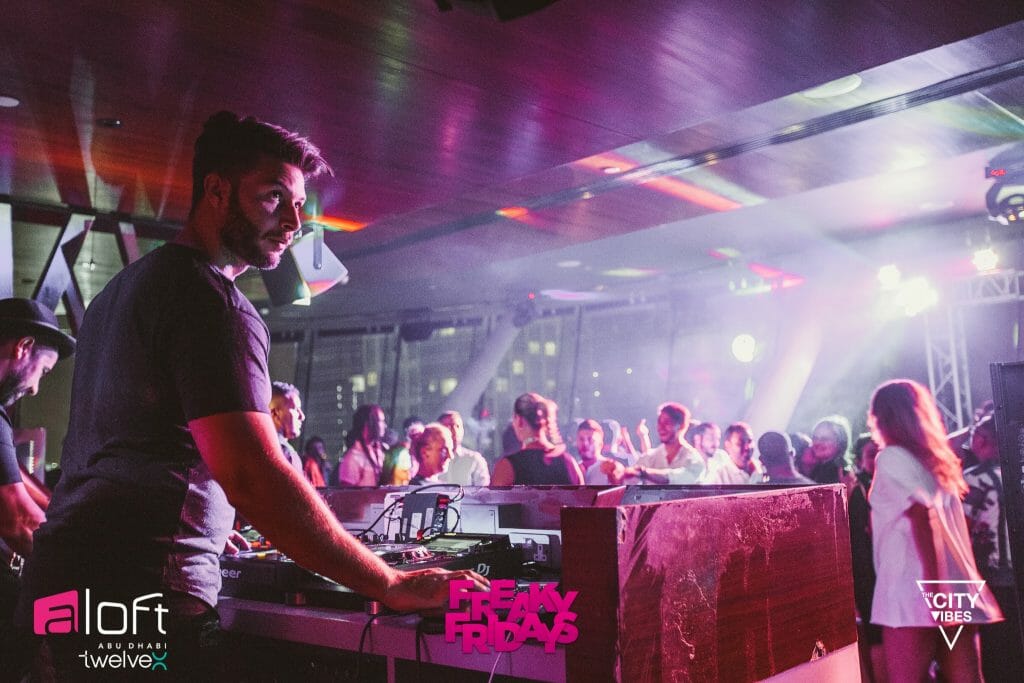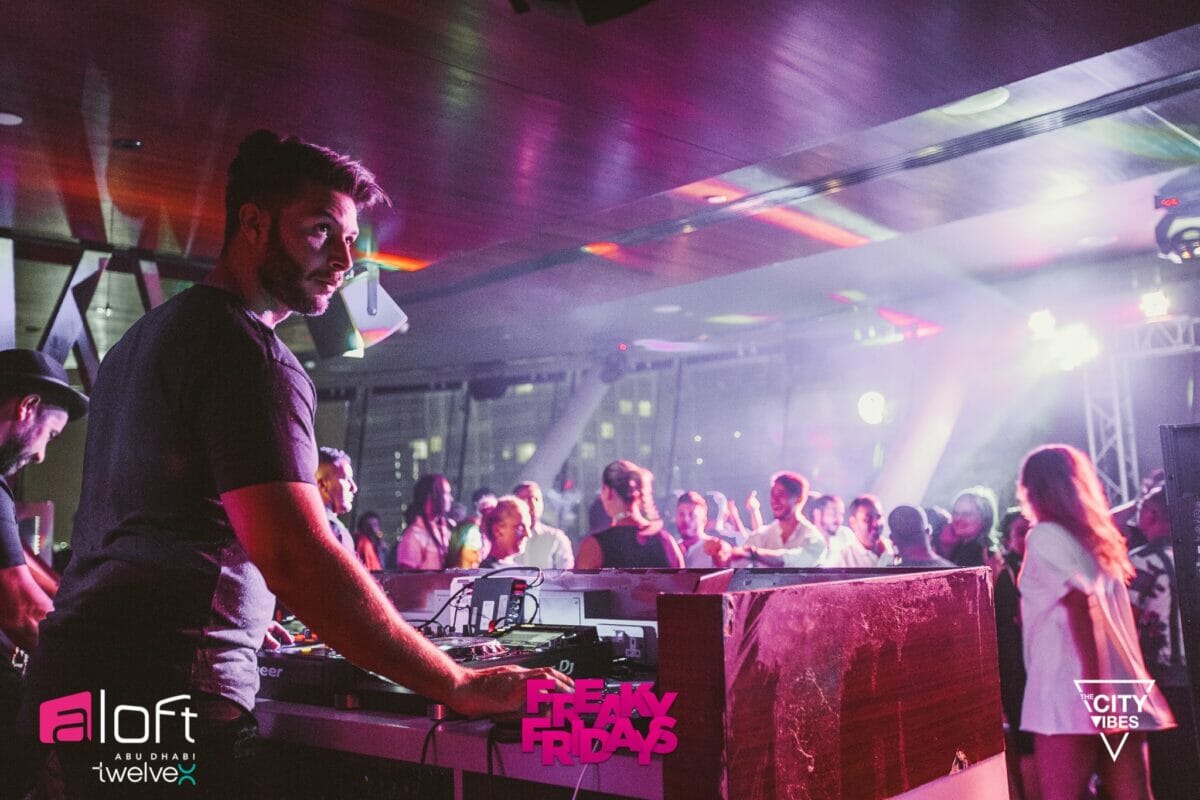 Beach Clubs in Abu Dhabi
Al Maya Island Pool Party – A weekly ritual undertaking by hundreds of trendy setting Abu Dhabi residents who start the weekend early on Friday at lunchtime by heading out on a boat for a day of comparative hedonism at Al Maya Island. Join them for epic scenery, crystal-clear water, an exotic swim-up bar and – of course – DJ who knows how to set the vibes for a beach part take goes late into the night. You won't get stranded here with boats making the 20-minute journey out frequently, and even if you don't want to drink you can work on your tan, take a swim, admire all the gorgeous bodies playing volleyball or have lunch in the chic restaurant.
Saadiyat Beach Club – Nestled away on the island of Saadiyat this fabulous beach club celebrates health and wellness in natural surroundings and beautiful facilities. Named the Best Beach Club in the UAE, here you can escape to another world on the natural beach and laze around in your private cocoon of peace and calm. Or take a dip in their stunning outdoor 650 square meters, chilled pool surrounded by private cabanas that seem to float magically above the shimmering water like miniature islands. Luxury like this doesn't come cheap, but if you wanted a budget holiday, the UAE was never going to be the right place for you…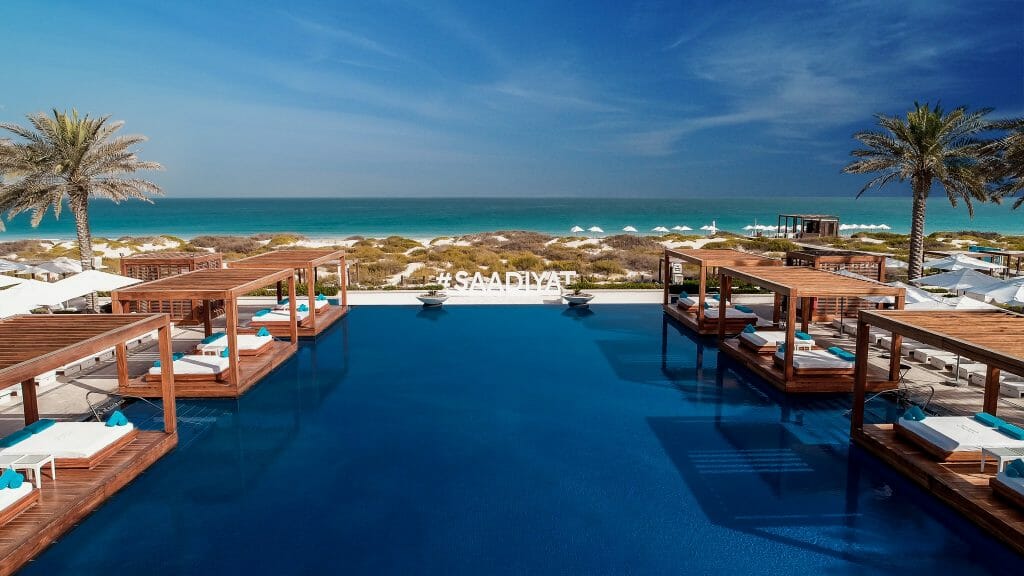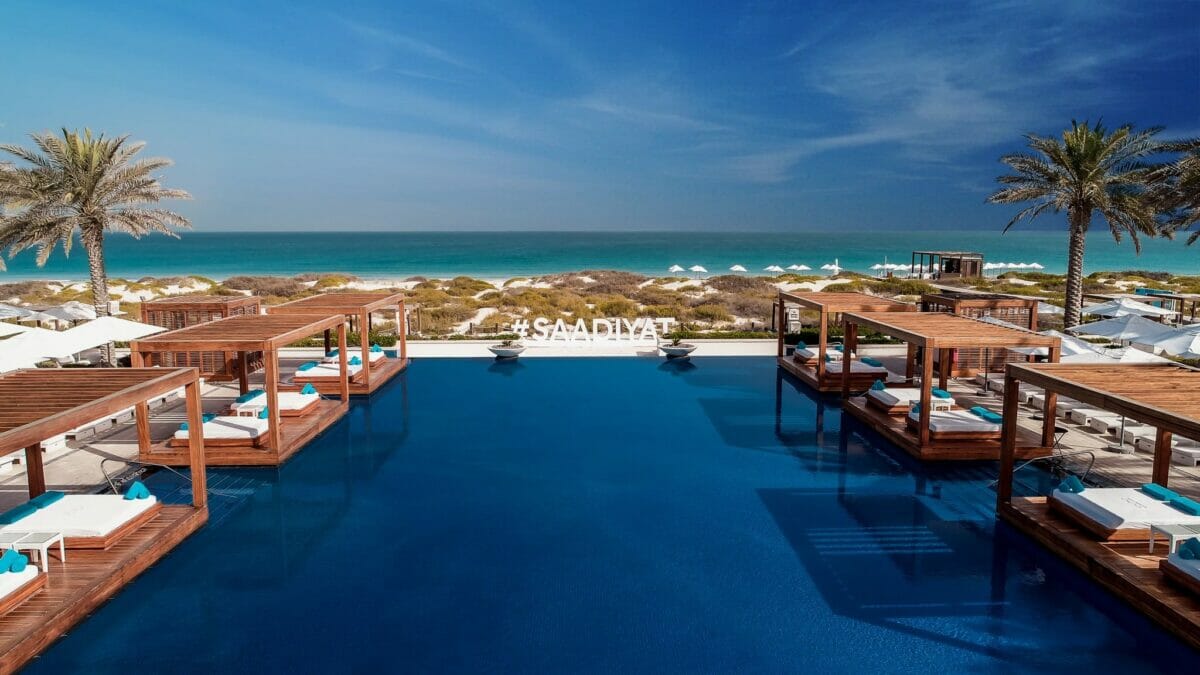 The Bayshore Beach Club – An urban oasis of tranquillity overlooking the Arabian Gulf in the heart of Abu Dhabi. Bayshore Beach Club possesses a secluded private beach, mature tropical gardens and a selection of pools to cool off in – including an infinity pool with swim-up bar. Offering delectable dining, relaxing treatment and all kinds of fun activities, this luxe offering is part of the prestigious Intercontinental – but has surprisingly affordable day rates compared to other beach clubs we visited.
Breeze Poolside Bar – Not technically a beach club but still a fabulous place to hang out. The Breeze Poolside Bar is located on the 23rd floor of the Dusit Thani hotel and boasts a panoramic view of Abu Dhabi's cityscape. Breeze is a refreshingly different pool bar where guests can enjoy a wide selection of light and healthy dishes complemented by refreshing smoothies, vitamin boosters, and fresh cocktails. Perfect for drinking all day, or getting a health kick to help with the night-after hangover.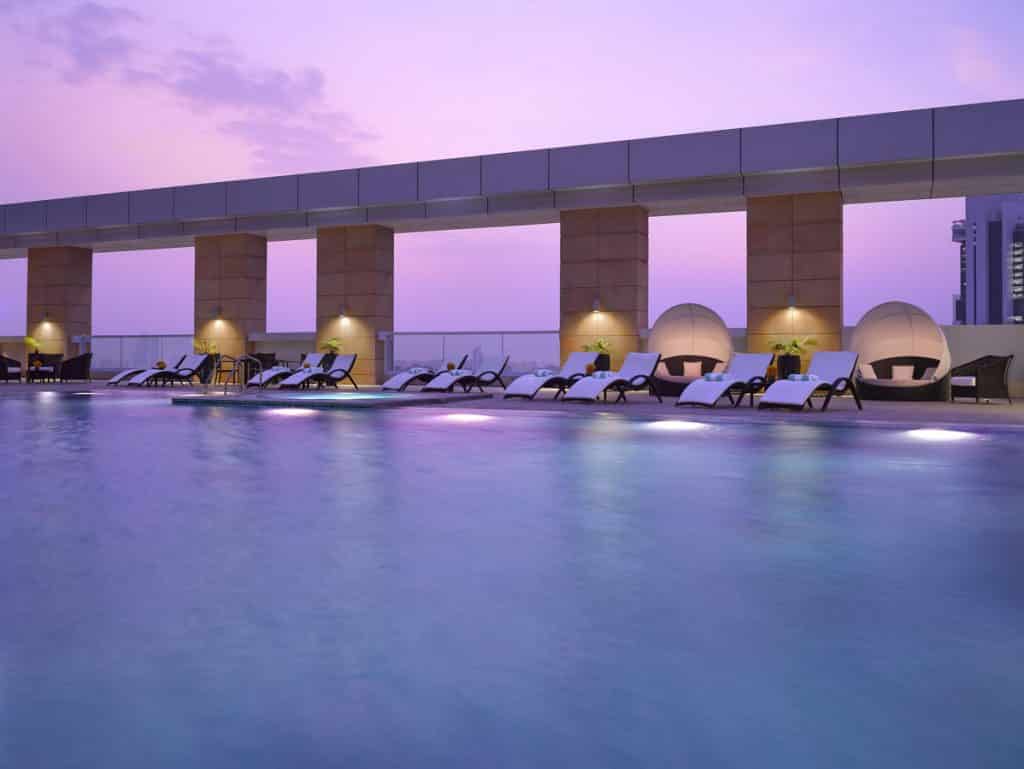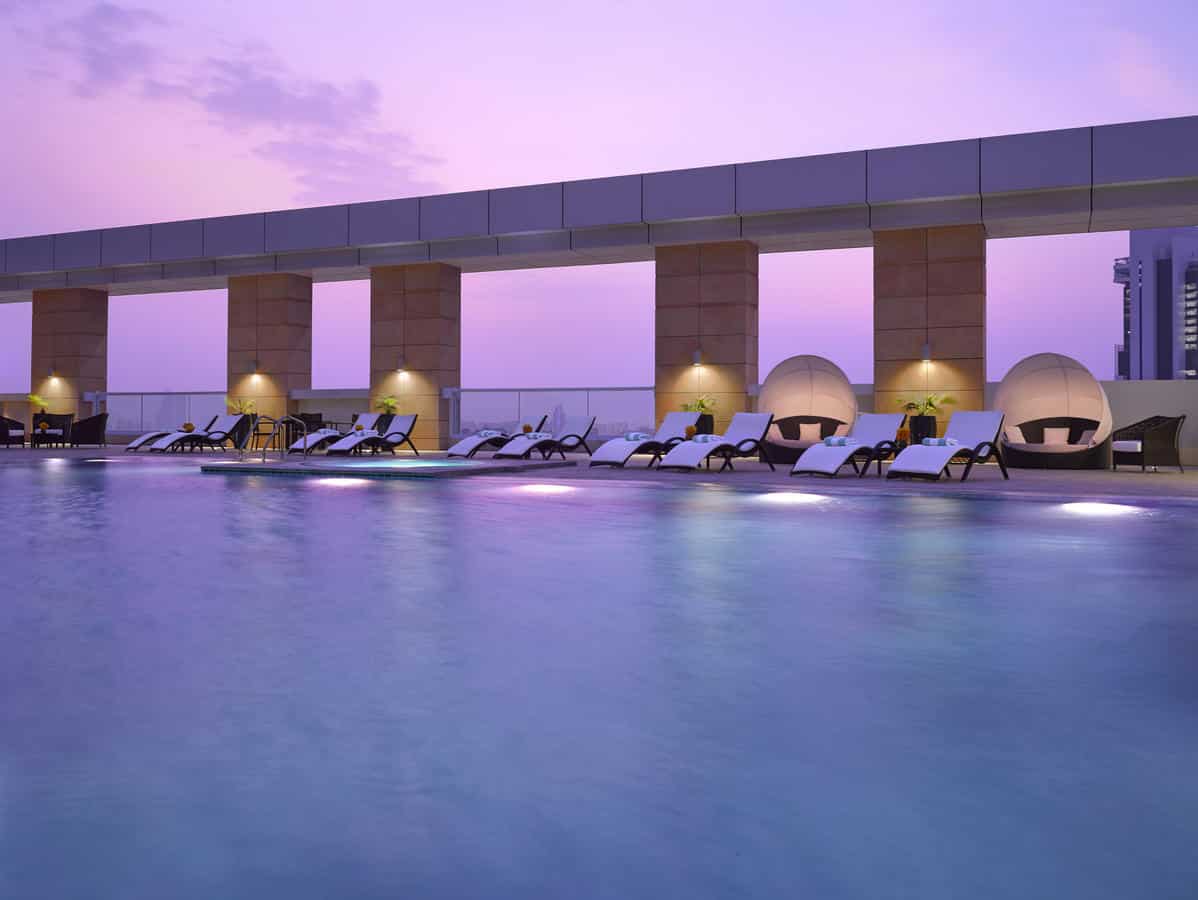 Gay Sex in Abu Dhabi
Let's not beat around the bush here, if you have not figured this out already – Gay sex in Abu Dhabi is completely illegal. Any public displays of affection between same-sex couples put you at risk of prison or deportation. Even accidental ones.
Still, thousands of gay travelers flock to Abu Dhabi every day and just as many LGBT people live here. Not to mention this is the home base for Etihad Airways and all those flight attendants. And you just know they are not all signing up to a vow of abstinence while they are here!
This is possible because the Sharia Police are more focused on what you do in public, so don't flaunt your sexuality in public and be careful of where (and who) you meet. They don't go about smashing down doors to private apartments or hotels or watch your every move, so with discretion, you can still have plenty of private fun here. Don't believe us? Under UAE law, only married hetero-couples are even allowed to have sex, or share a bed -and police are not scouring hotels and arresting them either!
It's all a bit wink-wink, nudge-nudge…There are no gays here!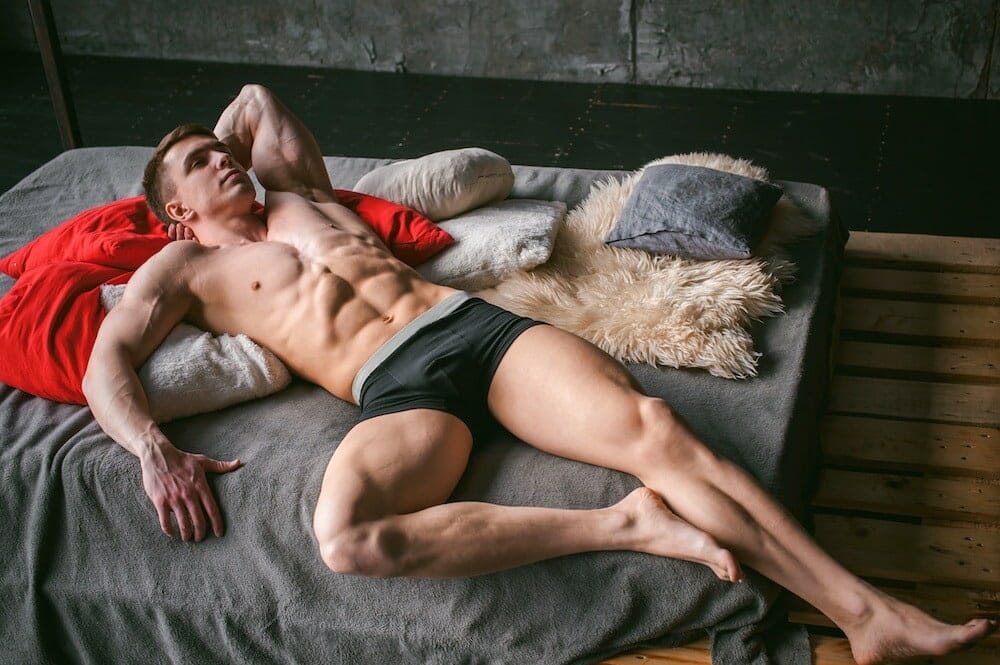 We cannot stress enough the importance of protecting yourself by installing a reliable VPN on your phone or laptop before you go to Gay Abu Dhabi. Anything even remotely LGBTQ related is blocked in this country – including all your favorite gay hookup apps.
Protect your privacy and remain anonymous with a VPN before ever attempting to connect with other gay men in Abu Dhabi – and always take extreme care. At the end of the day, the Abu Dhabi's authorities are not in the business of hunting gay tourists to arrest so conversely don't be too afraid of having some hot fun with the right guy behind closed doors.
We believe nobody should ever have to regress back into the closet or hide who they are, but if you are choosing to travel to Gay Abu Dhabi it is, unfortunately, the only way to stay safe…
Gay Abu Dhabi Map