Welcome to Gay Rovaniemi – the cultured capital of Finnish Lapland filled with intriguing museums, gorgeous hotels, quirky bars and more than a few sauna options.
Not to mention all that expansive wilderness right on your doorsteps where the dense Taiga forest is only broken by the odd husky kennels, reindeer farms and rustic huts perfect for Northern Light viewing.
Of course, in this small town "gay" means something closer to "merry and bright," than it does "homosexual" – there is no camp nightlife nor a gay village or raunchy saunas. For us, this was actually a large part of the appeal… If you wanted a high-energy gaycation, Amsterdam, Fort Lauderdale or Las Vegas might be better options.
There is a fabulous annual Arctic Pride and Rovaniemi is the official residence of the world's most famous bushy-bearded bear, Santa Claus – but for LGBT travelers the appeal perhaps lies more in the complete acceptance they will find in such a liberal and open-minded destination.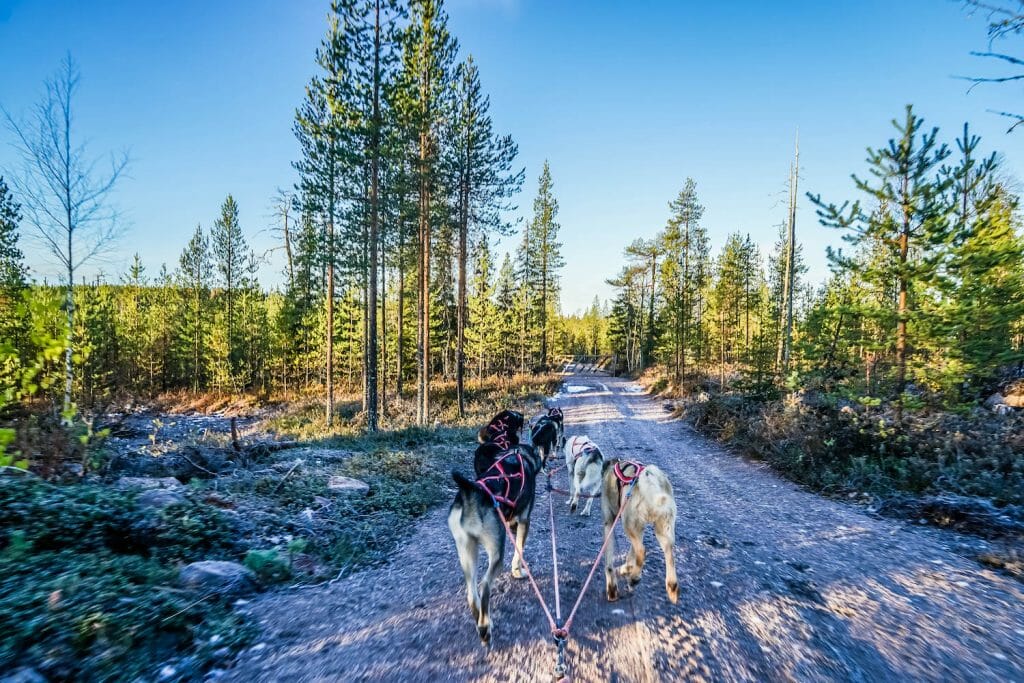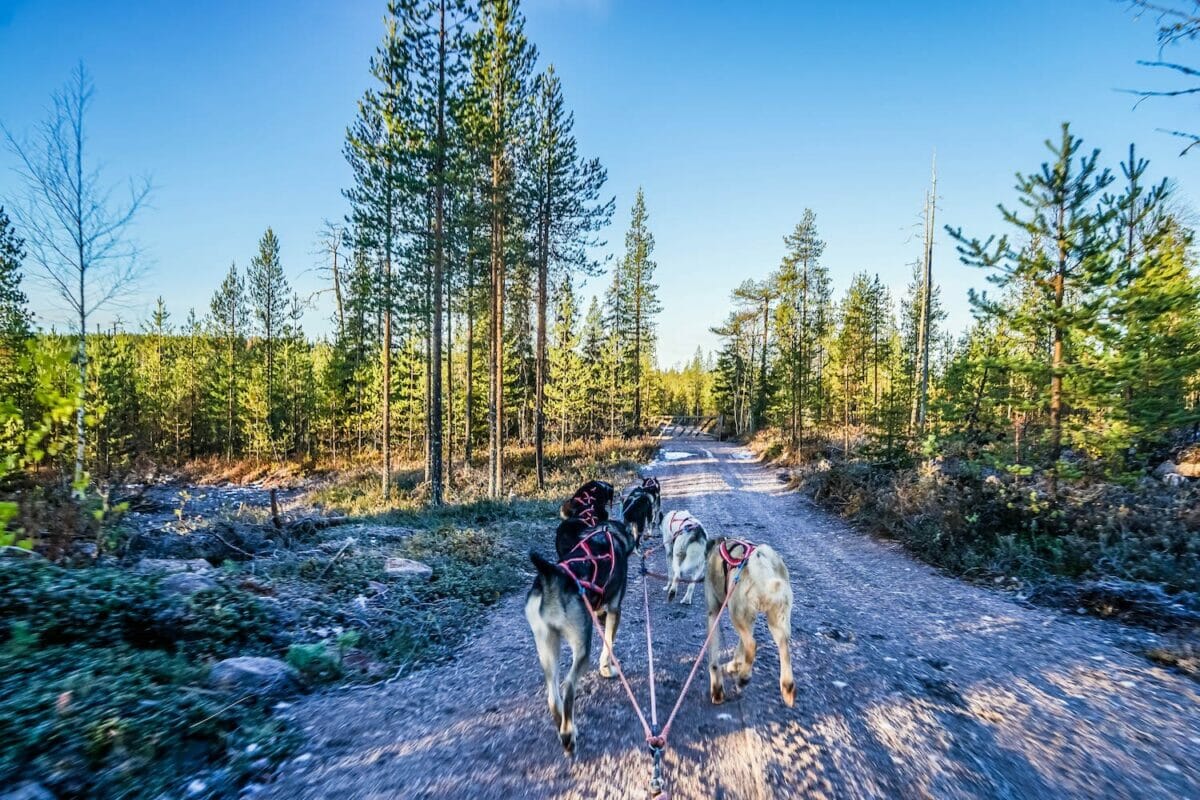 This is the country that produced Tom of Finland after all – and today Rovaniemi is for everyone to enjoy, after all, no matter their gender, sexual preference or race.
Same-sex marriage has been legal in Finland since 2017, and in this peaceful and open-minded city, queer travelers are welcomed everywhere. While during the long, beautiful summer days it is easy to meet gay locals in the parks or by the river, in the bitterly cold winters you might want to turn to hookup apps to meet a friendly local in Rovaniemi to show you around (or perhaps invite you to enjoy a sauna…the Finnish kind!).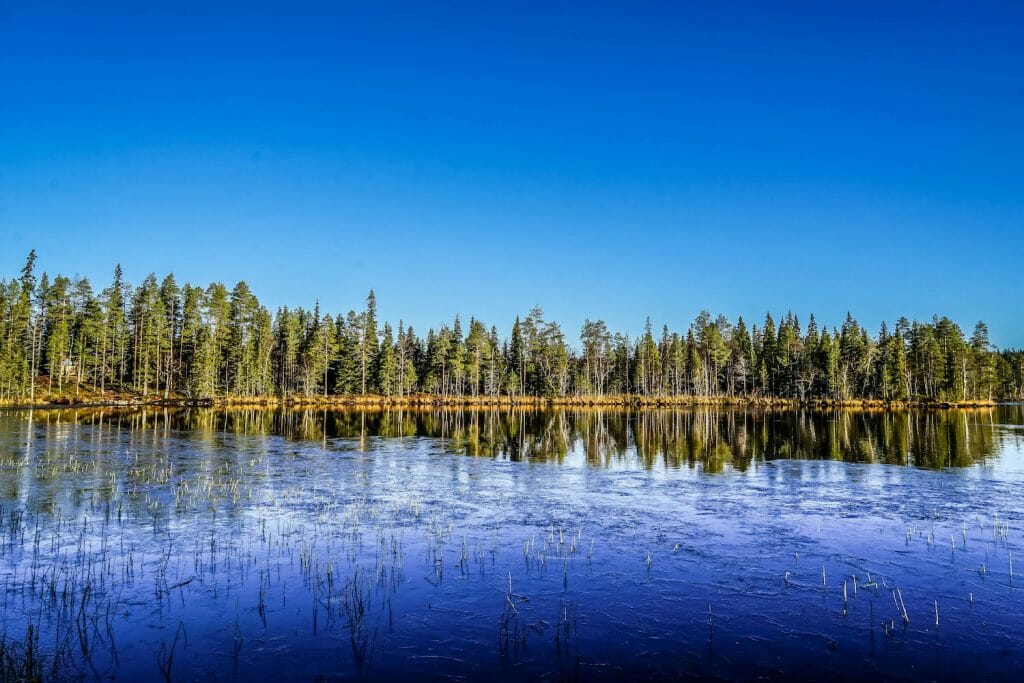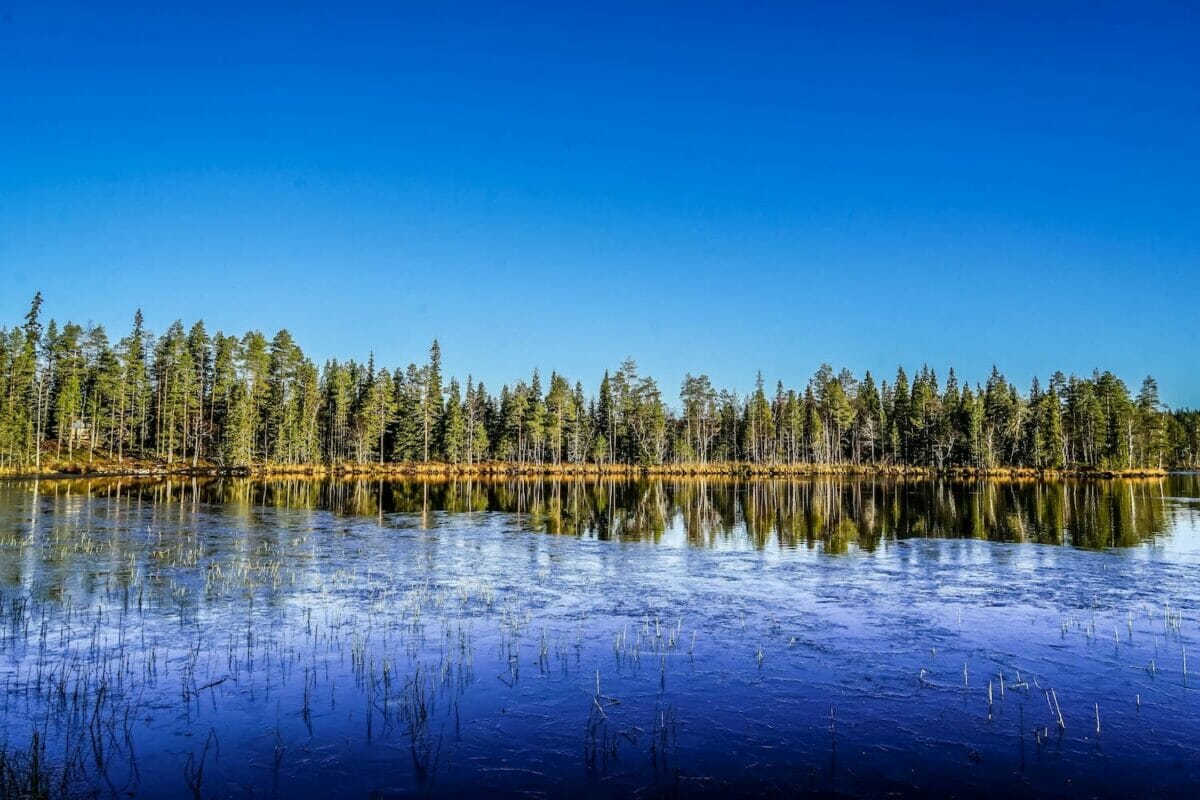 Finns are famously shy and withdrawn, loving to brag about how withdrawn they are – but we have to disagree and found Finns in Rovaniemi warm, open and sincere…once you start a conversation.
There is no gay bar in Rovaniemi so you can't try this out there (and there only a few left in Finland found in Oulu, Turku, Tampere, and Helsinki), but we must admit we really enjoyed the freedom of just being ourselves in all the other clubs and bars we visited in Rovaniemi – and we were not the only ones!
Above all else, Rovaniemi is a city for everyone, where you are welcomed as you are and it is okay just to be you. No matter where your interests lie: culture, food, design, nature, husky puppies or something more – Gay Rovaniemi is for you!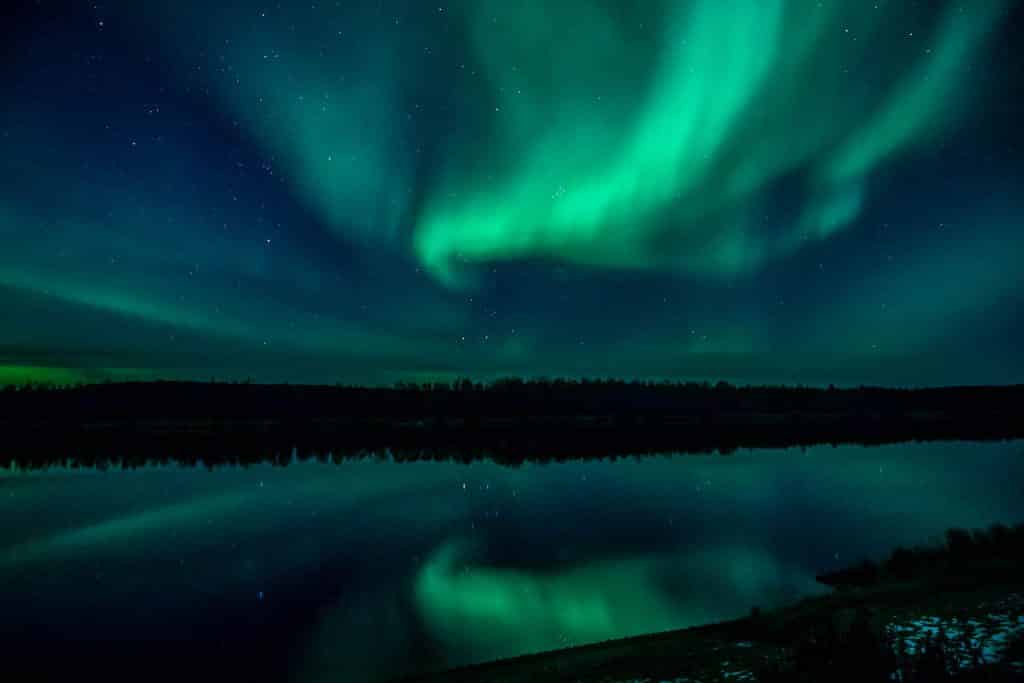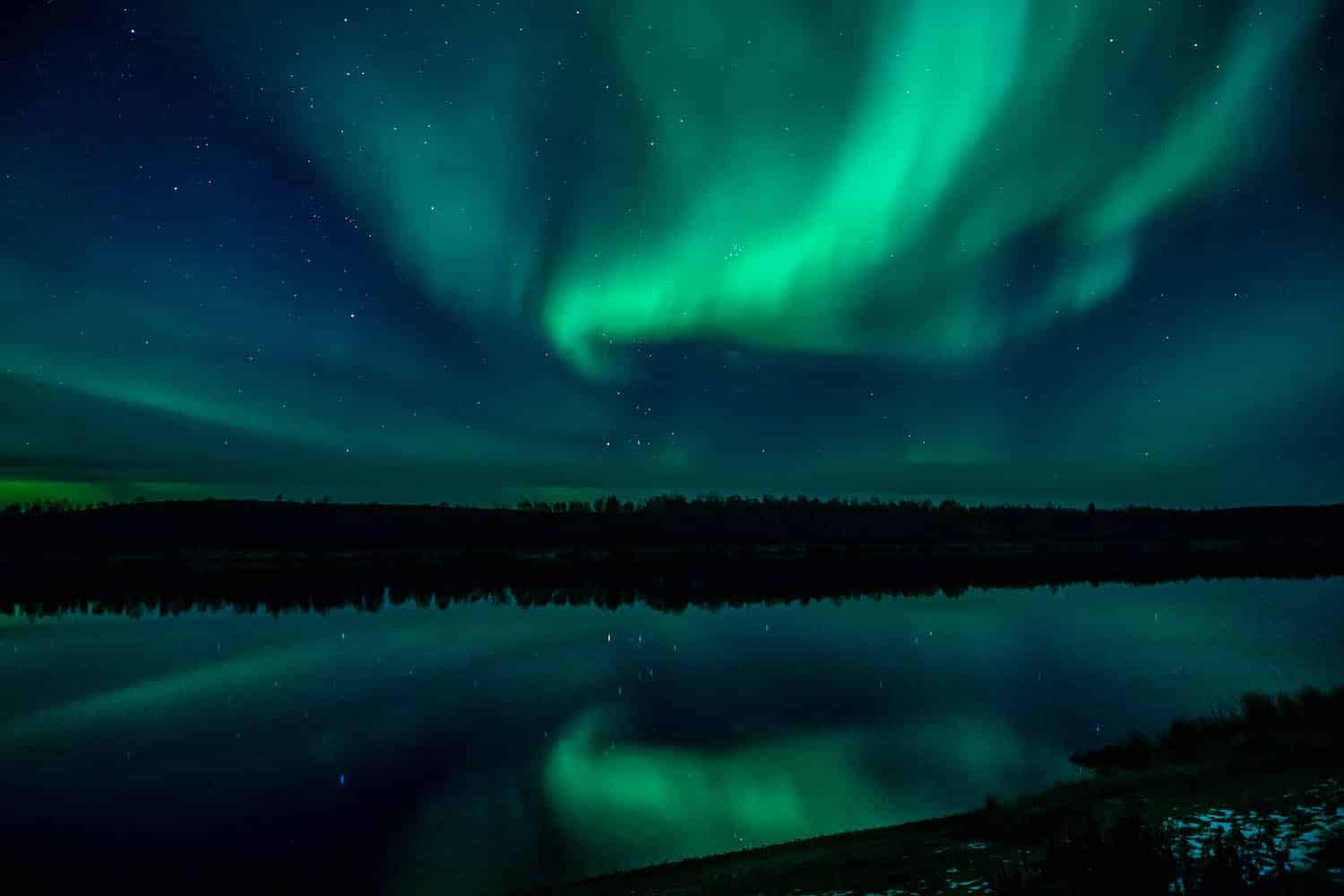 Gay Rovaniemi Guide: The Essential Guide To LGBT Travel In Rovaniemi Finland
Attractions in Rovaniemi Finland
Obviously being gay does not define which attraction most of us will want to see in each city and most queer travelers will simply want to check out the top things to see in and around Rovaniemi during the day!
Rovaniemi is a very safe city, and gay travelers here do not need to take any extra precautions regarding public displays of affection here. So relax, take in the sights and just be yourself – You won't have any issues!
Here are just a few of our favorite highlights in Rovaniemi, but we are confident you will discover many, many more…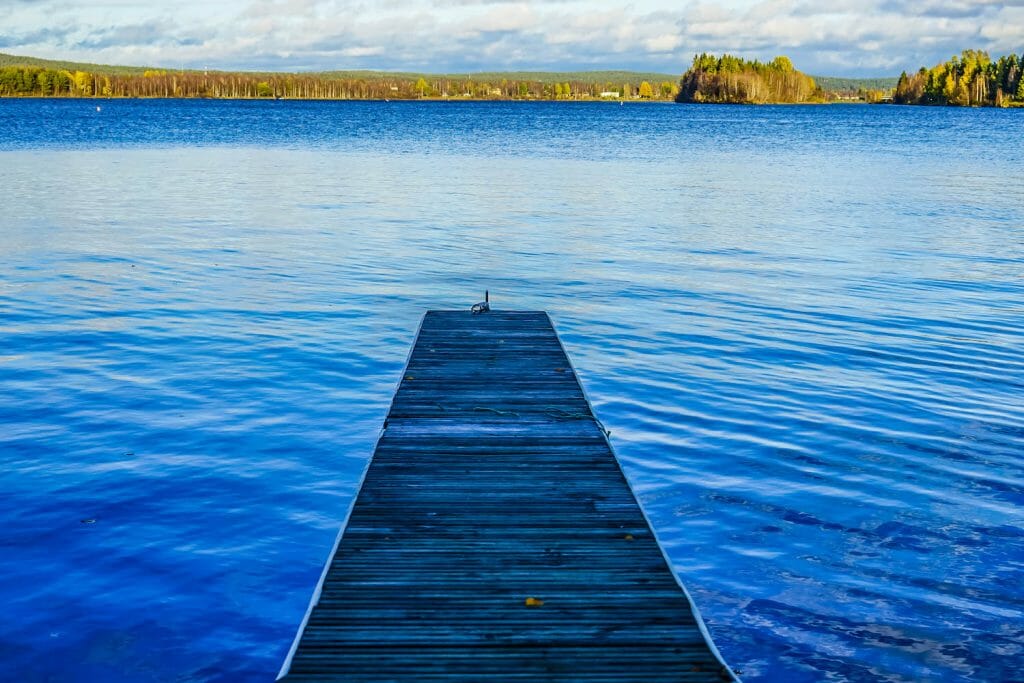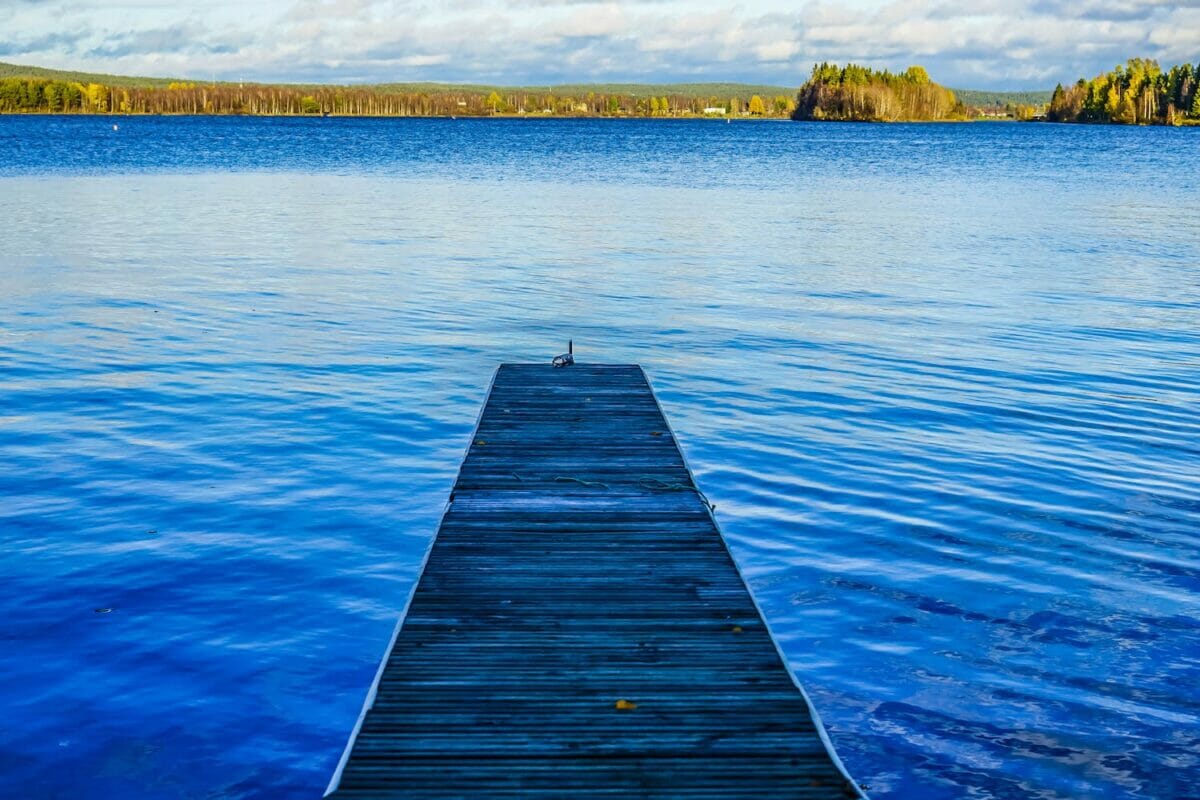 Northern Lights – In Finland, people used to think the Northern Lights resulted from the flick of a fox's tail through a snowdrift… so we can only assume that little firefox was pretty busy when we were there. The Northern Lights are always unpredictable, however, and there is absolutely no guarantee they will make an appearance while you visit Rovaniemi. While you can use an Aurora forecast app in Rovaniemi and then dash down to the Arktikum beach for a good chance of seeing the action, the best way to look at the displays is to get out and photograph the fantastic Northern Lights on a tour with professional guides who are adept showcasing visitors the magic of Lapland. While there are many tour companies in Rovaniemi, we chose Beyond Arctic because of their stellar reviews and specialization in photography. These guys are real Aurora hunters and have a genuine determination to find the Northern Lights every night.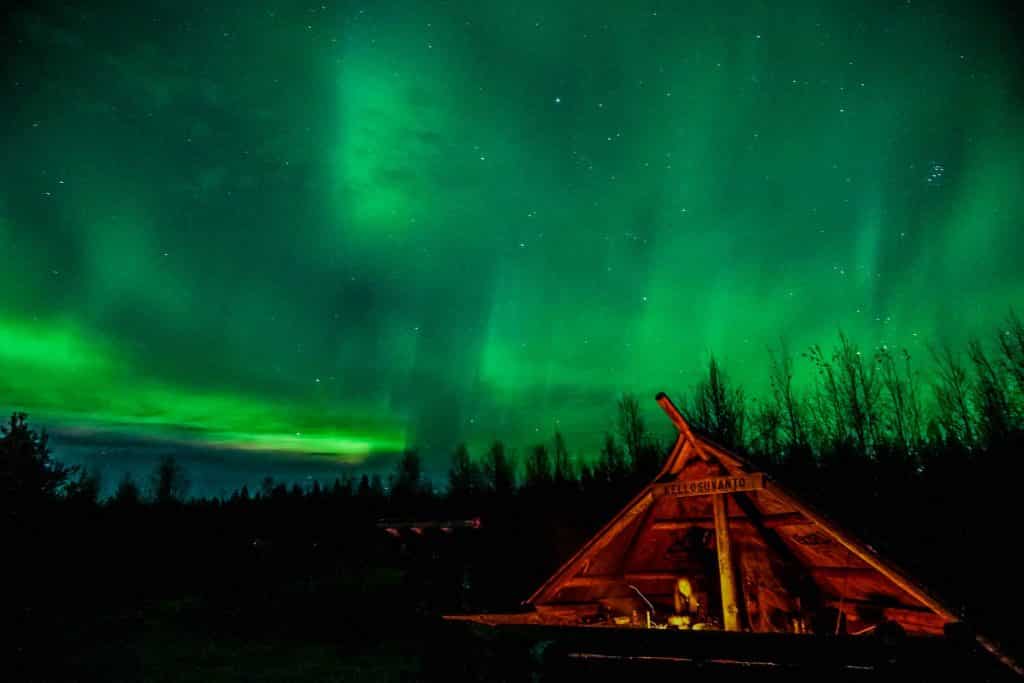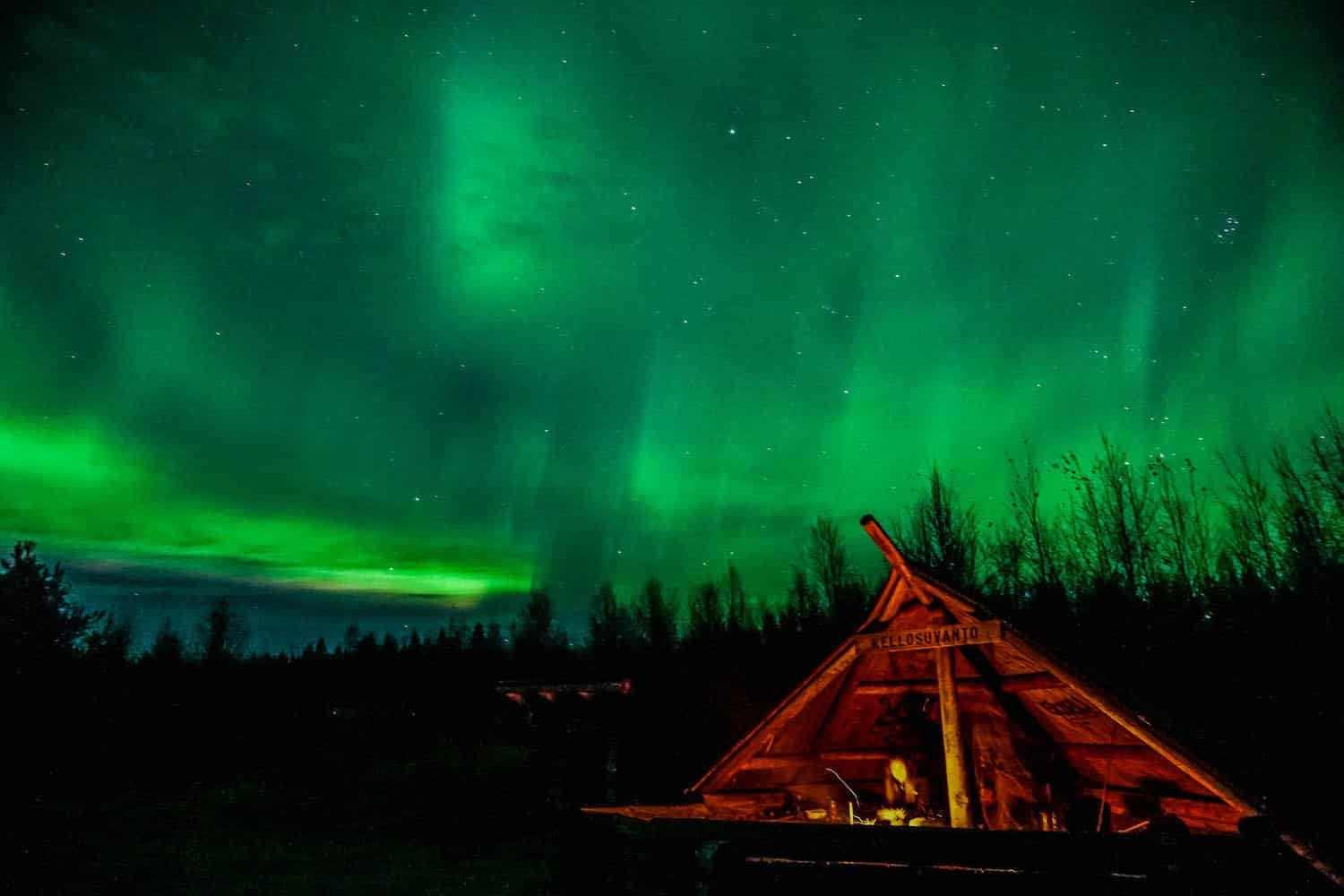 Snowmobile Safari – Learn how to properly ride snowmobiles, then ride into the forest and through an ice lake. Sure, they are not as cute as huskies… but there is (almost) nothing like that raw power between your legs…
Santa Claus Village – The Santa Claus Village offers a wide range of activities – you can send a postcard from Santa Claus's Offical post office, get a ride on a sleigh pull by a reindeer, shop for kitschy souvenirs, chat with the helping elves or cross over the arctic circle. You will have the experience of a lifetime, and most crucially you can meet the jolly man himself – Santa Claus!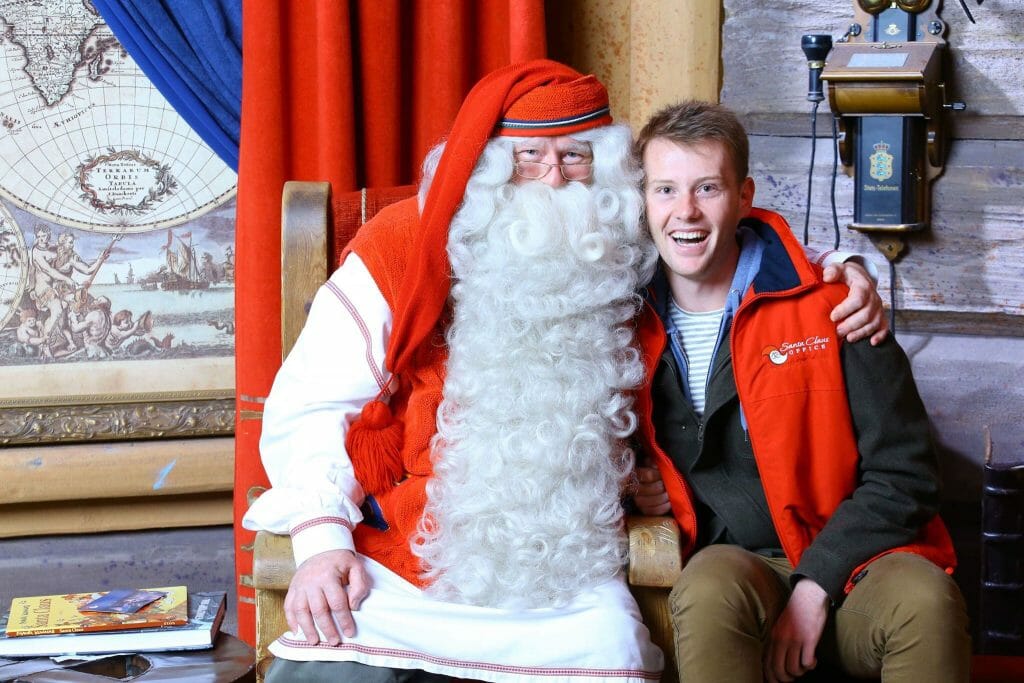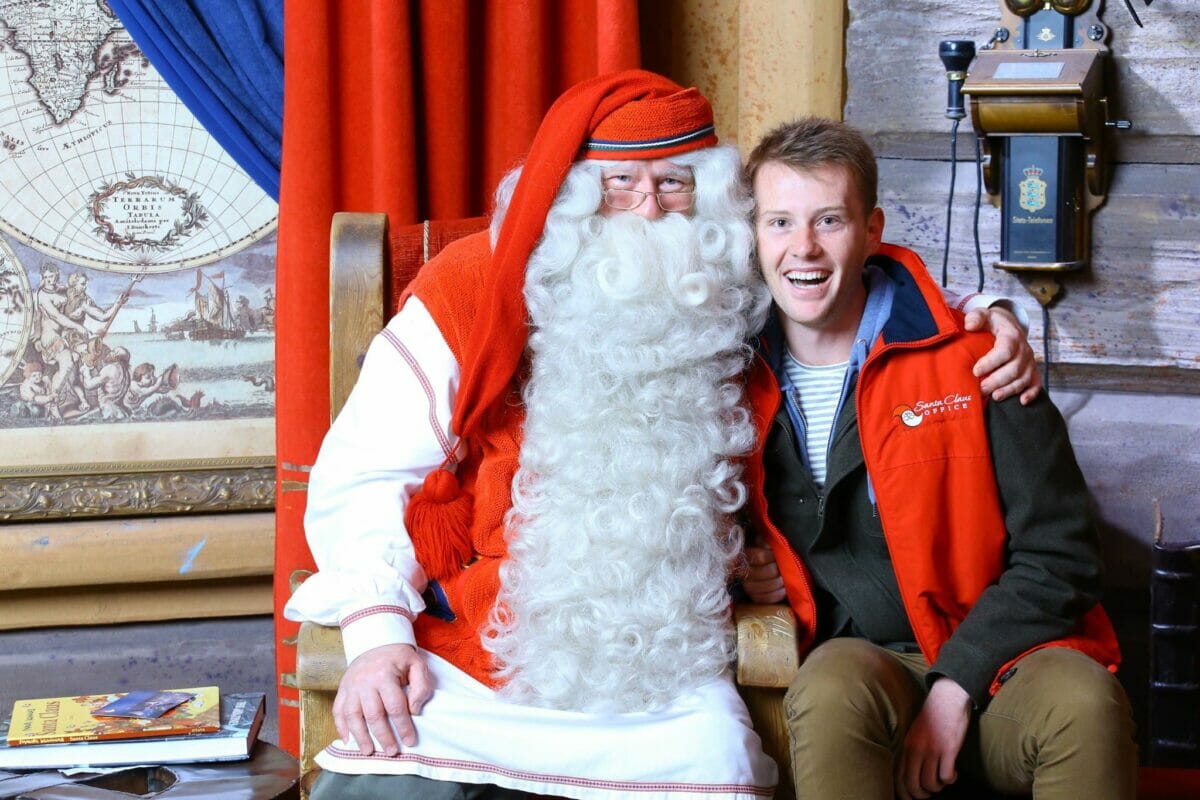 Santa Claus Reindeer – It's true that the number of reindeer in Lapland is roughly equal to the number of people, and that like Australia, Finns also eat their most iconic animal. If you are wondering why they eat them, it is because otherwise in some years the reindeer would take over Lapland and then who would deliver all the presents at Christmas? You can see and feed reindeer behind Santa Claus's Office from the early summer until the beginning of autumn – no need to book just had over 5€ and pet, feed and take as many selfies with them as you want…with absolutely no time limit (unless closing time is a limit?). If you are visiting at other times of the year, you can also hike or sled ride with them! As soft as silk and smelling like marshmallows, be sure to ask your guide all about each reindeer and the history of reindeer herding in the region.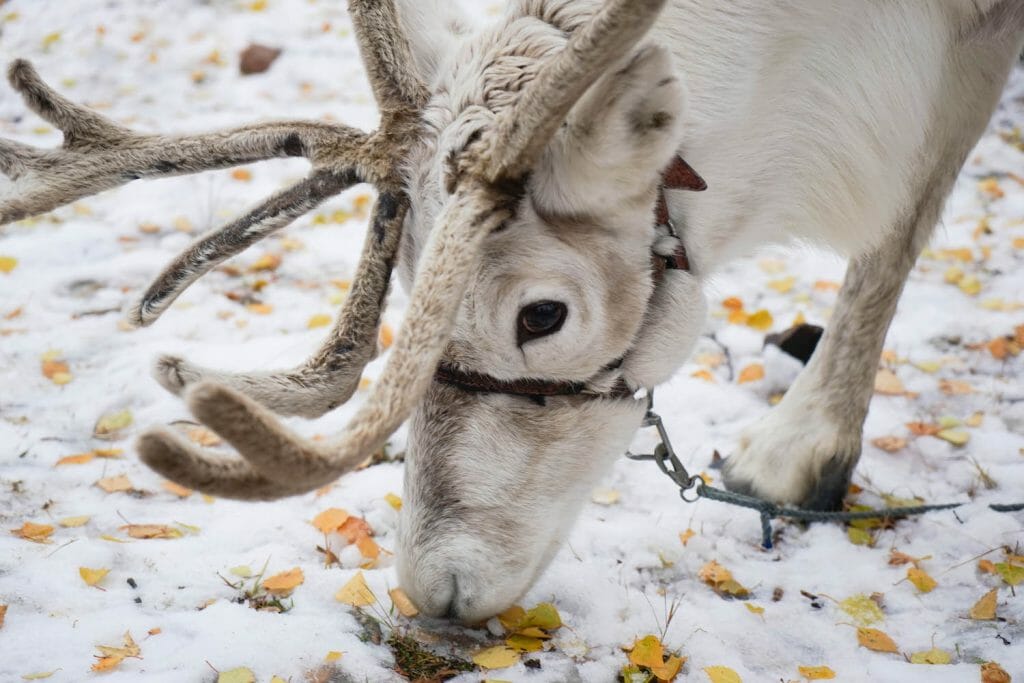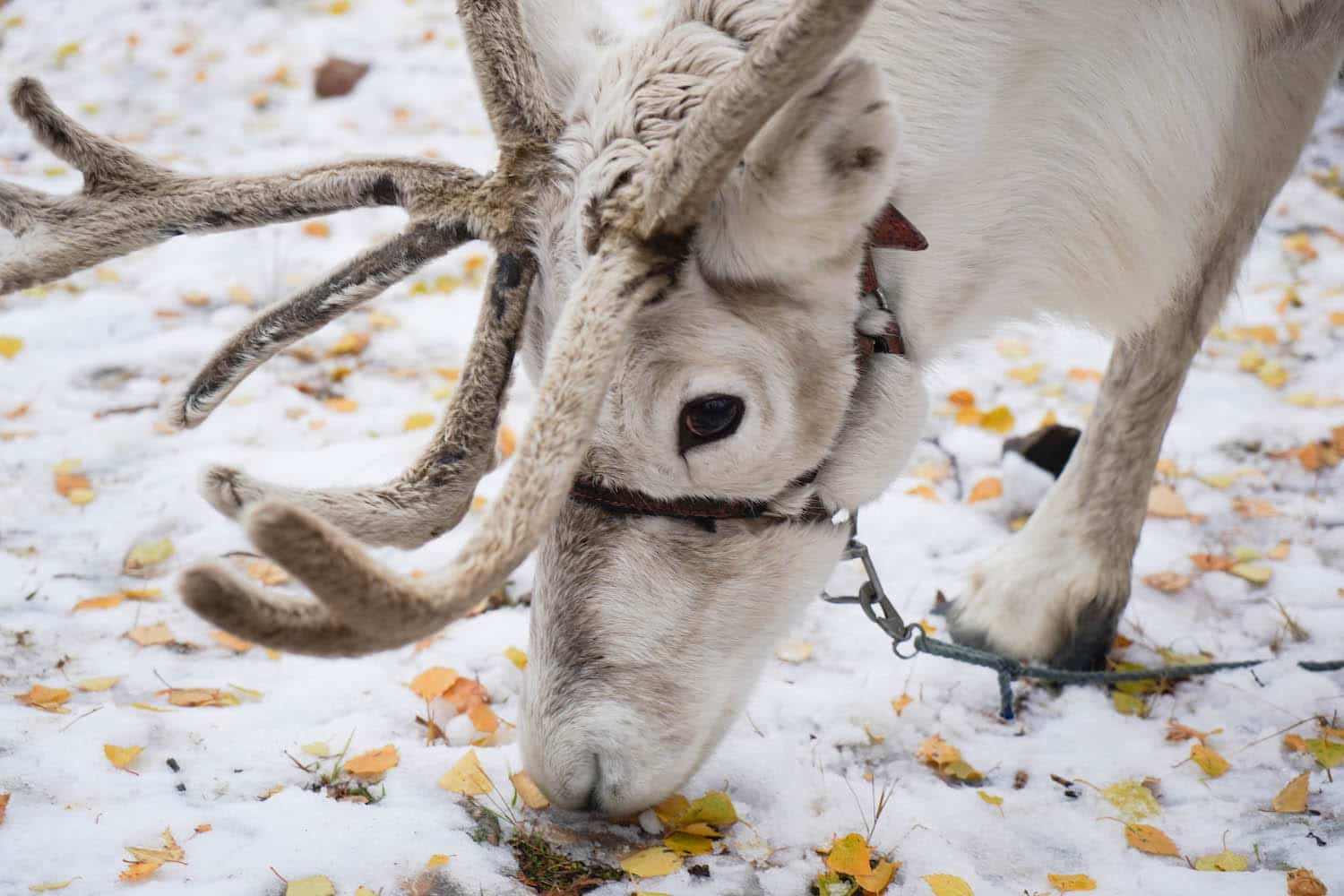 Korouoma Canyon – Head our on a day trip – in summer or winter – to this famous canyon landscape and nature reserve that is exceptionally rugged and grand. The highlight is the 30 kilometers long and up to 130 meters deep canyon fracture valley, but a close second is that streams which freeze during the winter forming colossal ice formations perfect for ice climbing.
Arktikum Science Museum – Focussed on Arctic Science and the history of Finnish Lapland in particular, there is a lot to take in here, and spending an entire day here is not out of the question. There is an ever-changing range of temporary exhibitions but the main permanent exhibits exploring the 'Northern Ways' and what life is like in the world's northernmost regions. There is also an awesome video room giving you the experience of the Northern Lights, even in the middle of summer, and exhibitions showcasing the everyday life and stories of Lapland.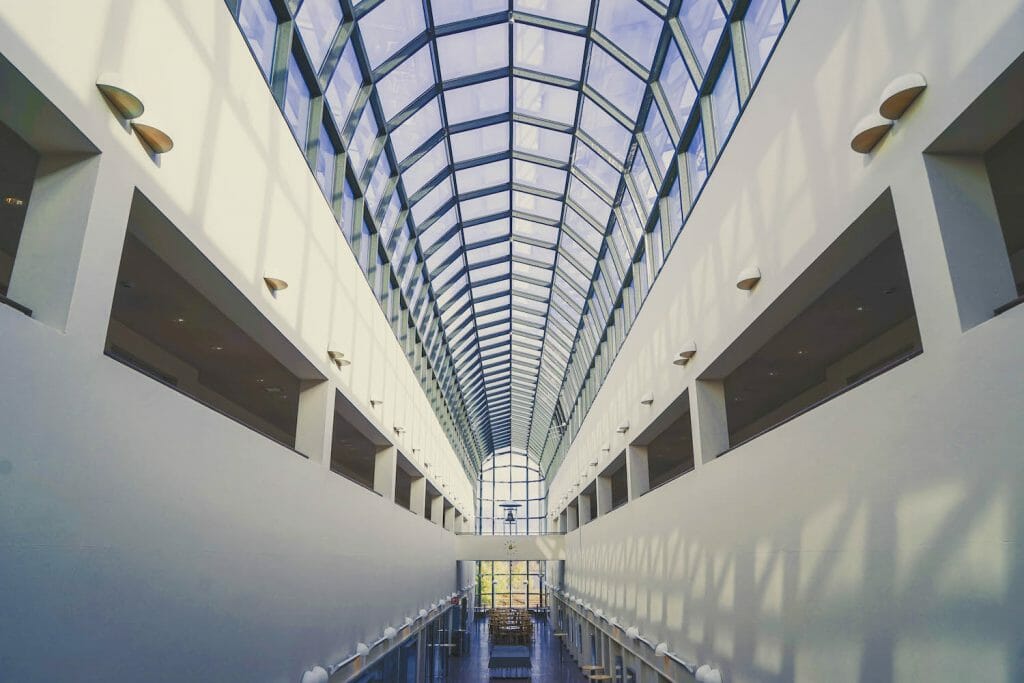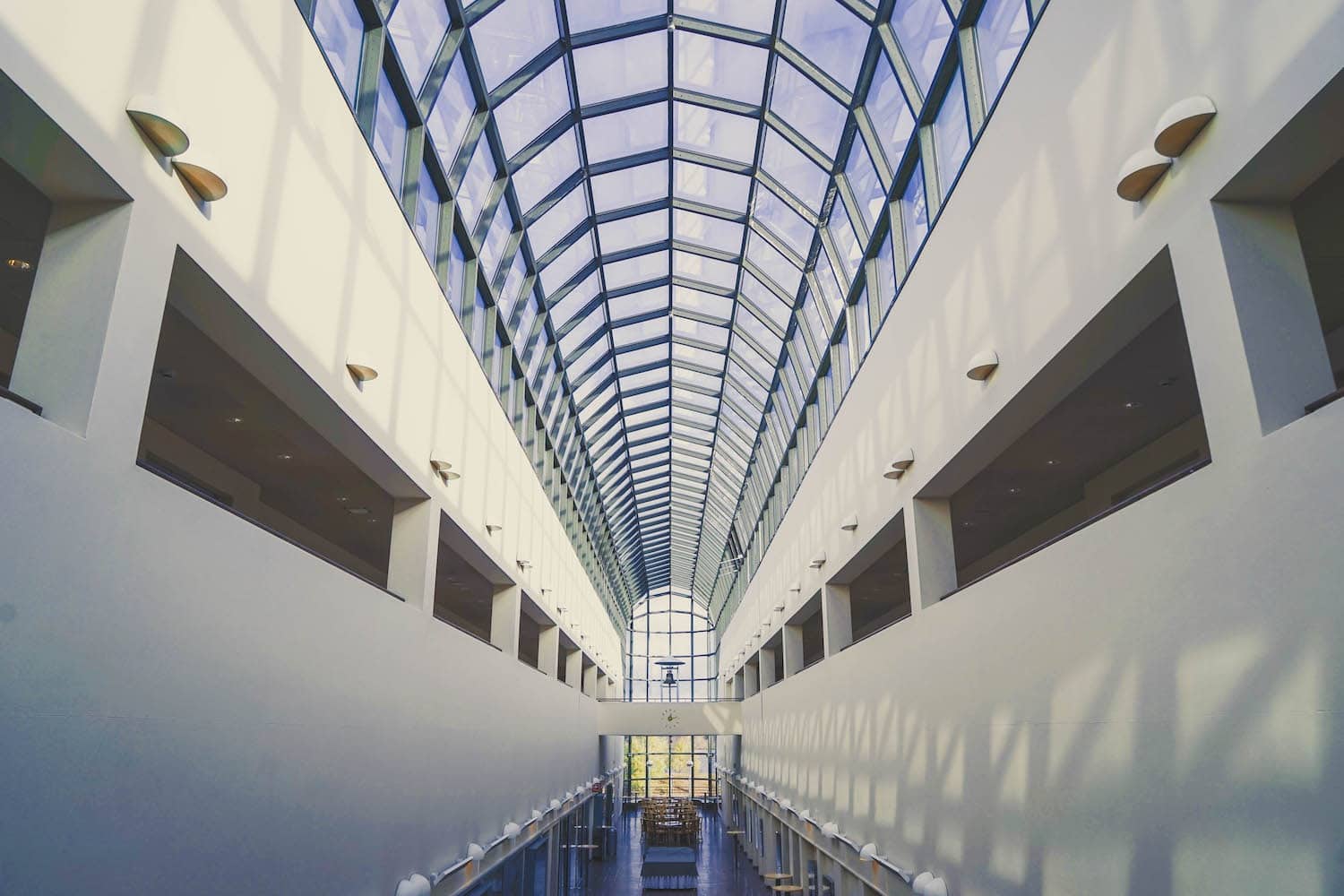 Rovaniemi Art Museum – Focussed on Finnish contemporary art and Northern art, the annually changing exhibits always feature Lapland artists who either worked in the region or were born here. Both celebrated, and young artists to watch can be found here. As you would expect from artists who live in such a beautiful area, most of the art here explores, or is at least influenced by, the natural beauty of Lapland. Interesting the Rovaniemi Art Museum / Korundi House of Culture is housed in a converted old post bus depot, one of the very few buildings in Rovaniemi that survived the German retreat in the Second World War. Rising like a phoenix from the bricks of ruined buildings and chimneys around Rovaniemi, today the Rovaniemi Art Museum is an intriguing blend of modern art, classical works, local history, and functional architecture.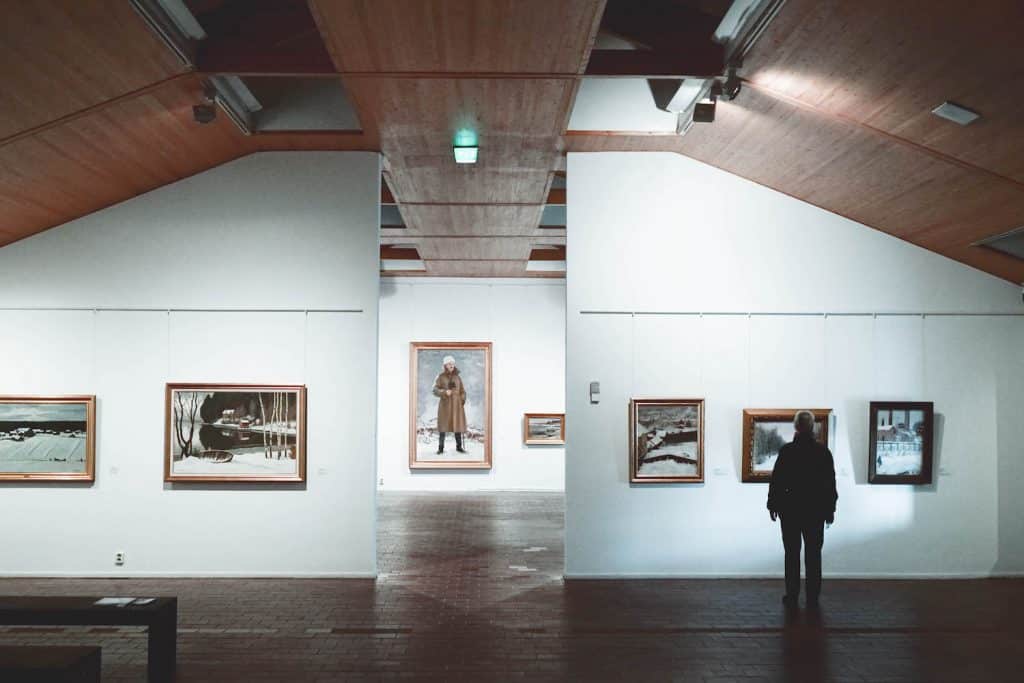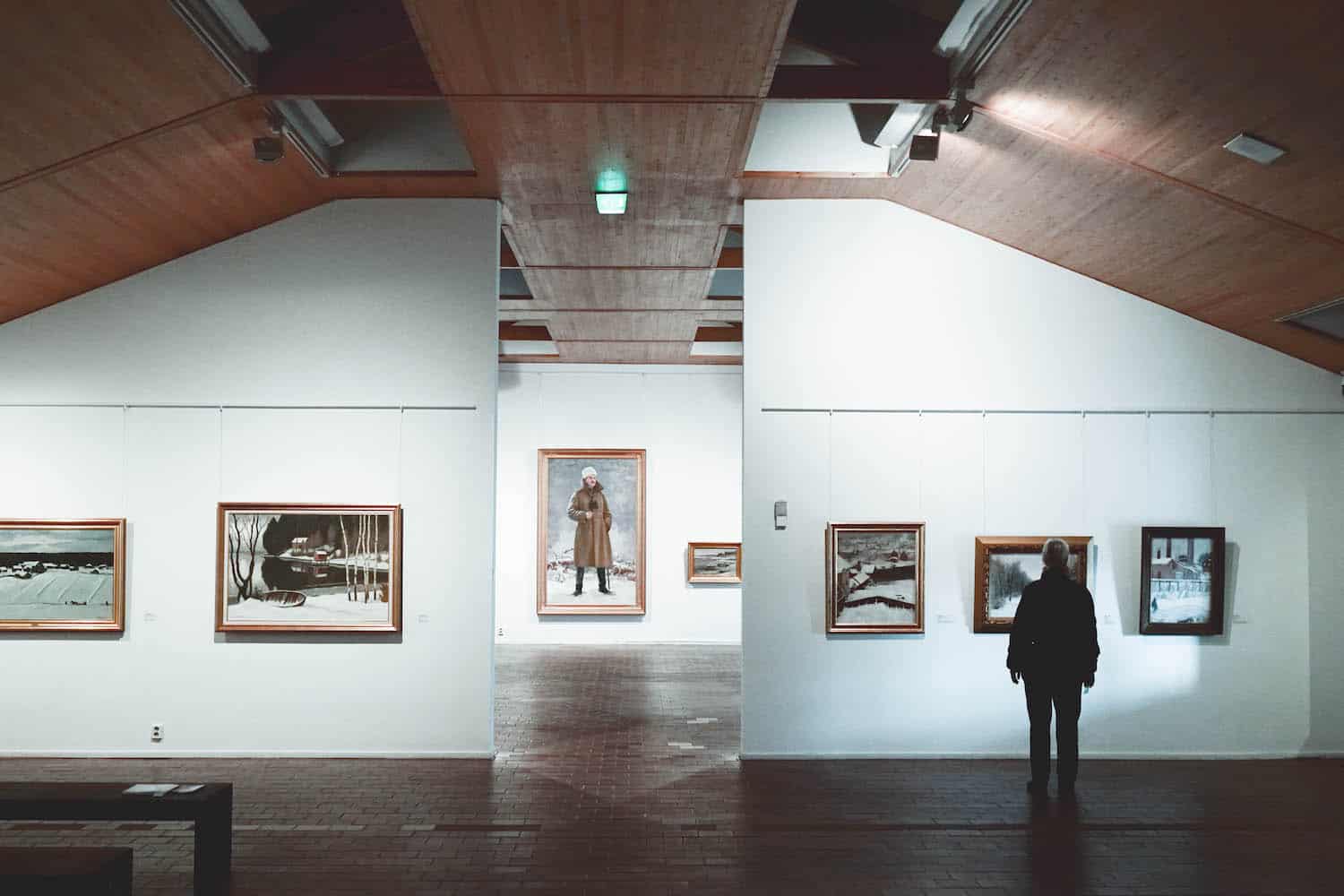 Arctic Design Shop – Finnish design is so very en vogue right now, and it is easy to see why. Design here is a way of living, more than just pretty objects but something to be woven seamlessly into life – part of everything around you but never drawing focus or distracting. Attention to detail and quality is paramount – and the epitome of good design is an intractable timeless quality, meaning when you find something you like; you know you will have it for life. While Rovaniemi doesn't quite have the fabulous design scene of Turku, there is still plenty of local creatives producing wonderfully unique works for you to admire – or better yet, take home and cherish for a lifetime. One of the best places to browse such works is the Arctic Design Shop, a concept store in the city center of Rovaniemi which showcases trailblazing designers starting their career from the local University of Lapland as well as from around the greater Lapland area. At the Arctic Design store, there is also a welcome range of products (and prices) with something for everyone. Jewelry, home decor, textiles, prints, food, clothing and yes – reindeer art – and all in abundance. So, be sure to stop by and take a look. You never know what will pique your curiosity…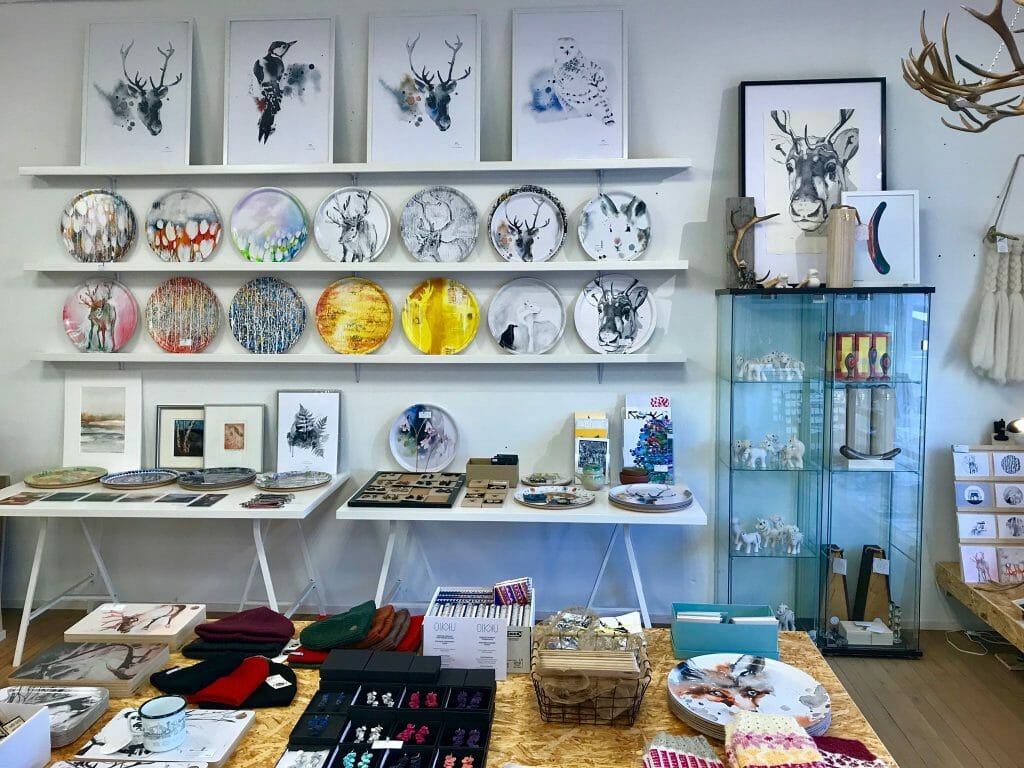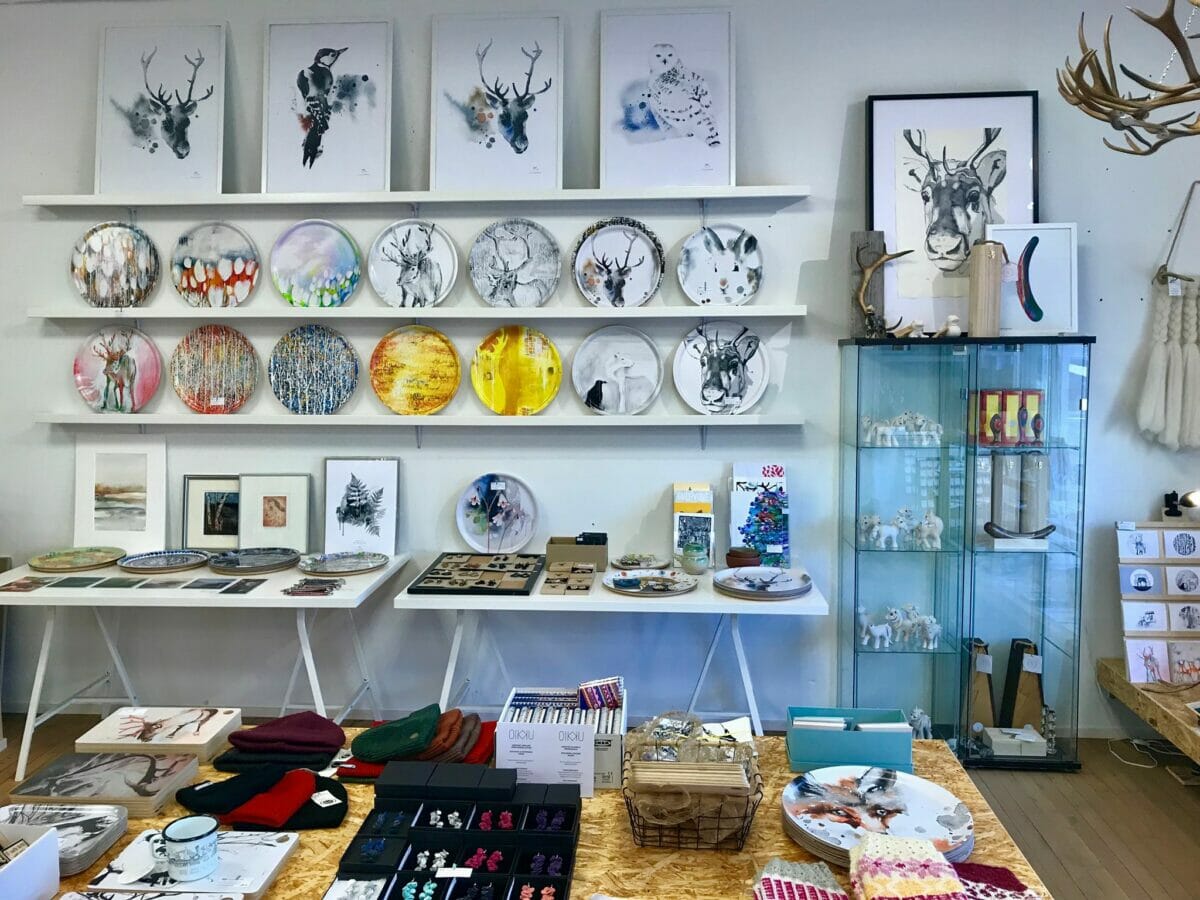 Teatiamo – A start-up run by entrepreneur/designer Tea Latvala that warrants its own mention for creating high-end design pleasure products. Think sleek birch dildos – symbolic of beginnings, renewal & starting over – or dyed-rainbow wooden butt plugs from Lappish forests. Available only or in the Arctic Design Shop, we dare you to try to find a better souvenir.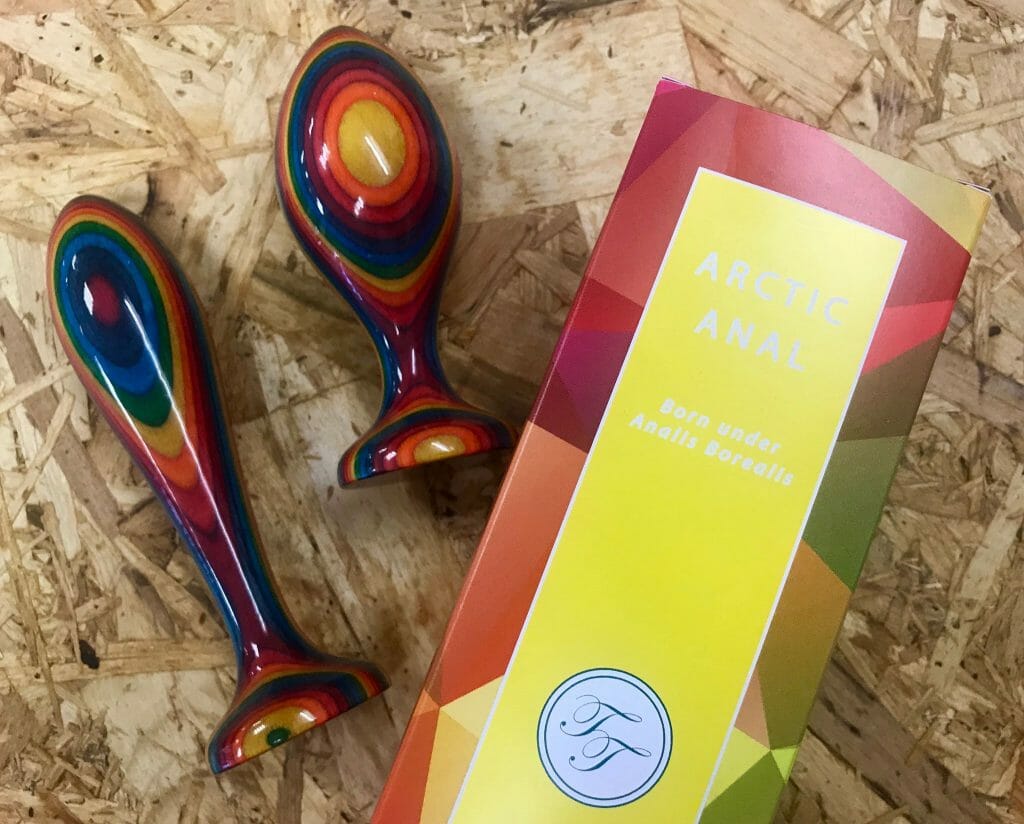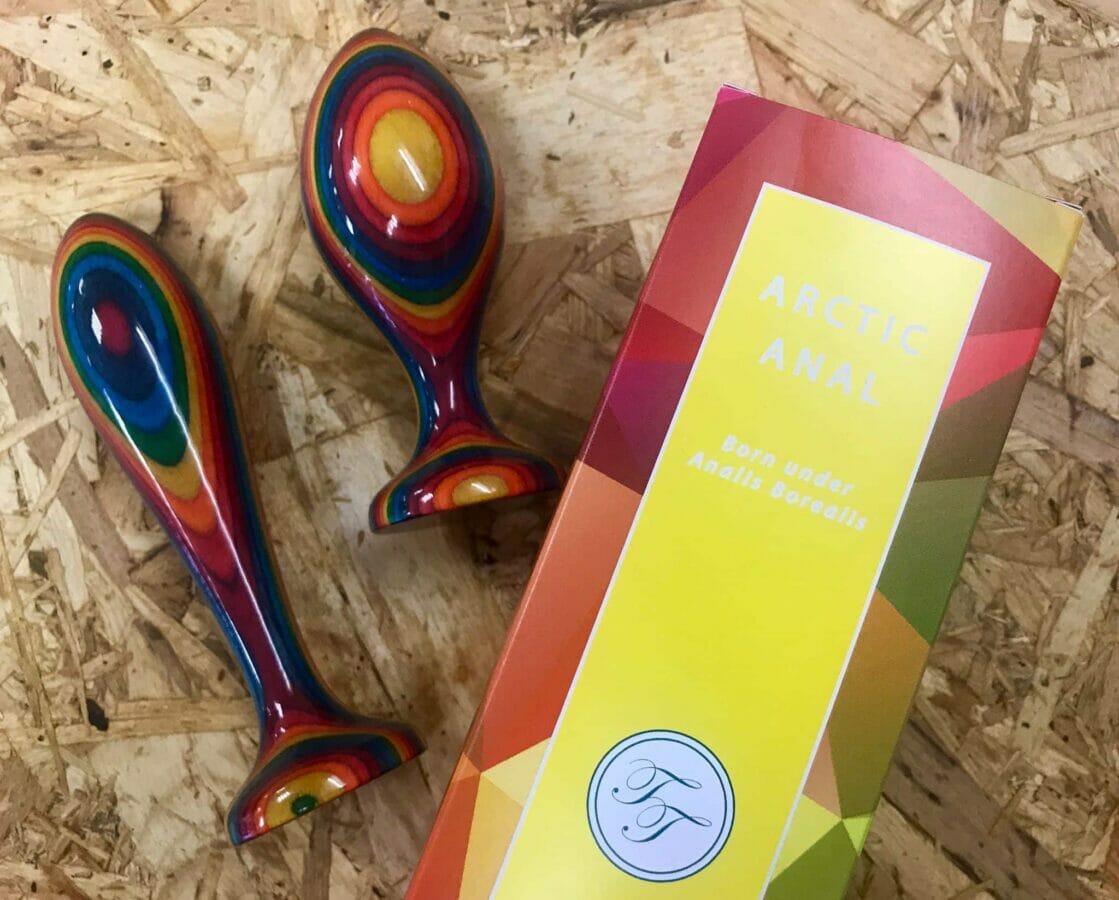 Ranua Zoo – The world's northernmost zoo and one of Lapland's leading tourist attractions. This arctic wildlife park is all year round, and its fun safari services offer an extraordinary opportunity to watch arctic animals up close and in an authentic environment. At last count, there were over 50 species of wild animals at Rauma Zoo – including polar bears-, and there is also a domestic animal park section if you just want to pat cute and cuddly things.
Midnight Sun – Head out into the Lapland landscape for a photography expedition while the midnight sun shines. Find the best vantage points, enjoy the views and explore the unique ecosystem of the taiga forest. Sparkling wine and snacks served around an open fire complete this romantic experience.
Tuhat-Tori

– Good for your wallet, the earth, and your fashion style – if done right – browsing this second-hand store is like stepping back into a time machine. Their collection extensive and versatile and prices are low, so whether you need a new winter coat to keep warm, an alternative souvenir you can guarantee no one else is bringing back or just want to find the weirdest items you can… Tuhat-Tori is the place!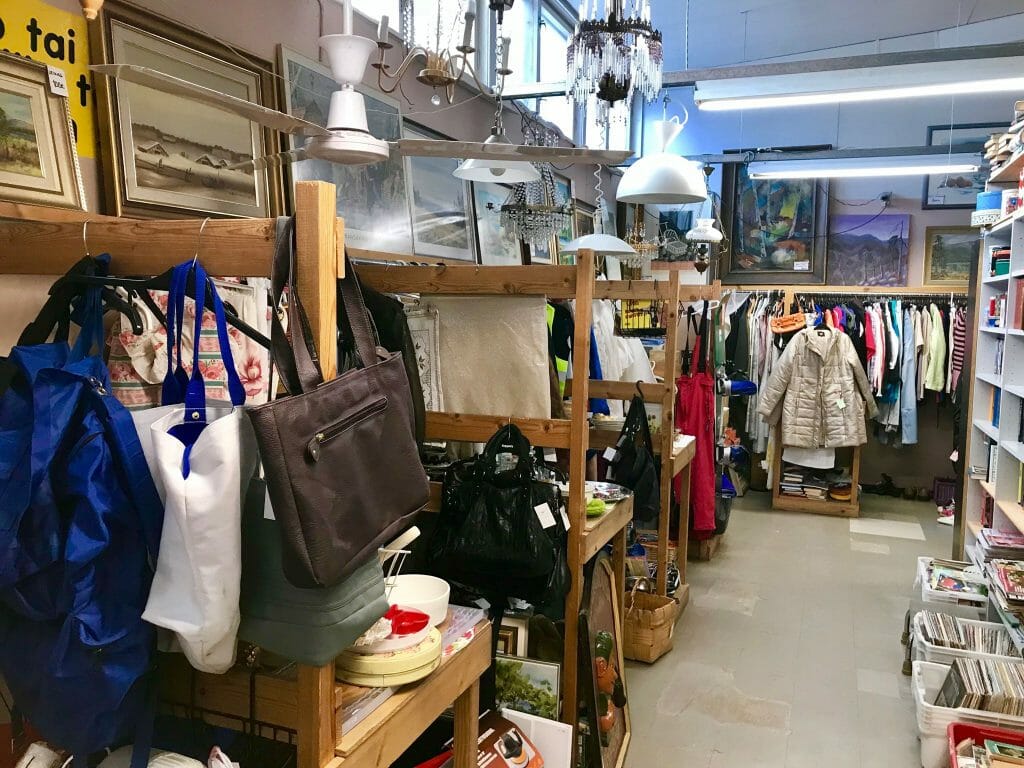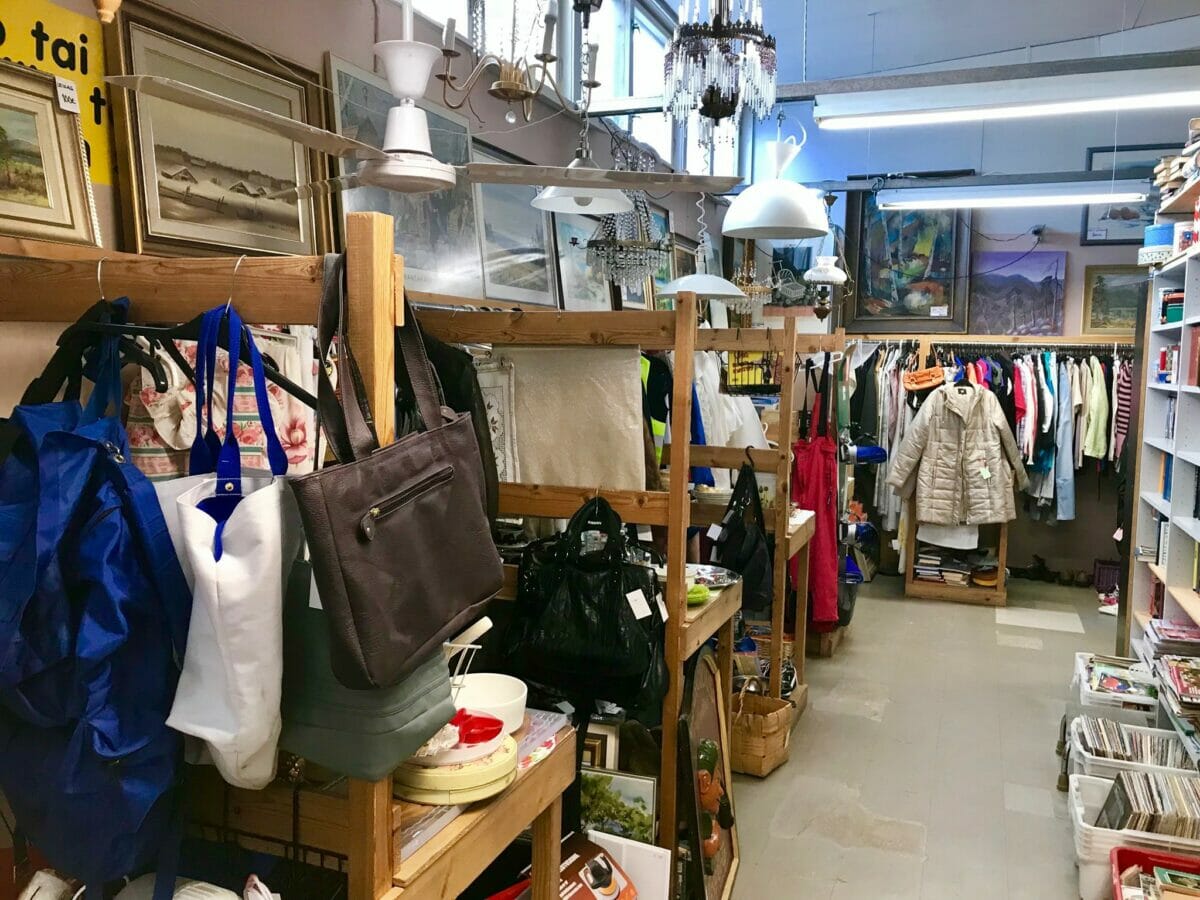 Café and Bar 21 – While Helsinki remains obsessed with chasing the trendy New Age Nordic food culture ala Copenhagen with prices to match) – Rovaniemi actually holds some Finland's more unique restaurants and has specially cultivated the growth of a creative dining culture in recent years. Just one such place I become obsessed with was Cafe & Bar 21 a stylish cafè and a cocktail bar in the centrum of Rovaniemi, Fusing Lappish ingredients with the style and international fair of New York, Tokyo and Sydney … it's fair to say Cafe & Bar 21 has been a crazy success, with both trendy locals and foreign guests vying for a tablespace. Try their heavenly cloudberry waffles, reindeer potatoes, a bowl of creamy smoked salmon soup with rye bread or the unique Lappish Tapas with fresh gravlax, reindeer sausage & lingonberry jam, house mustard, rye chips with smoked salmon and smoked reindeer mousse, Lappish squeaky cheese & cloudberry jam.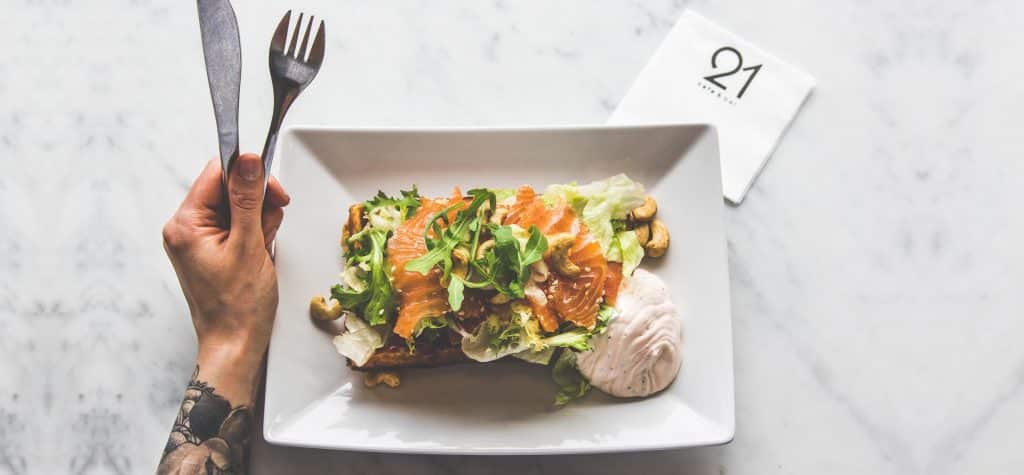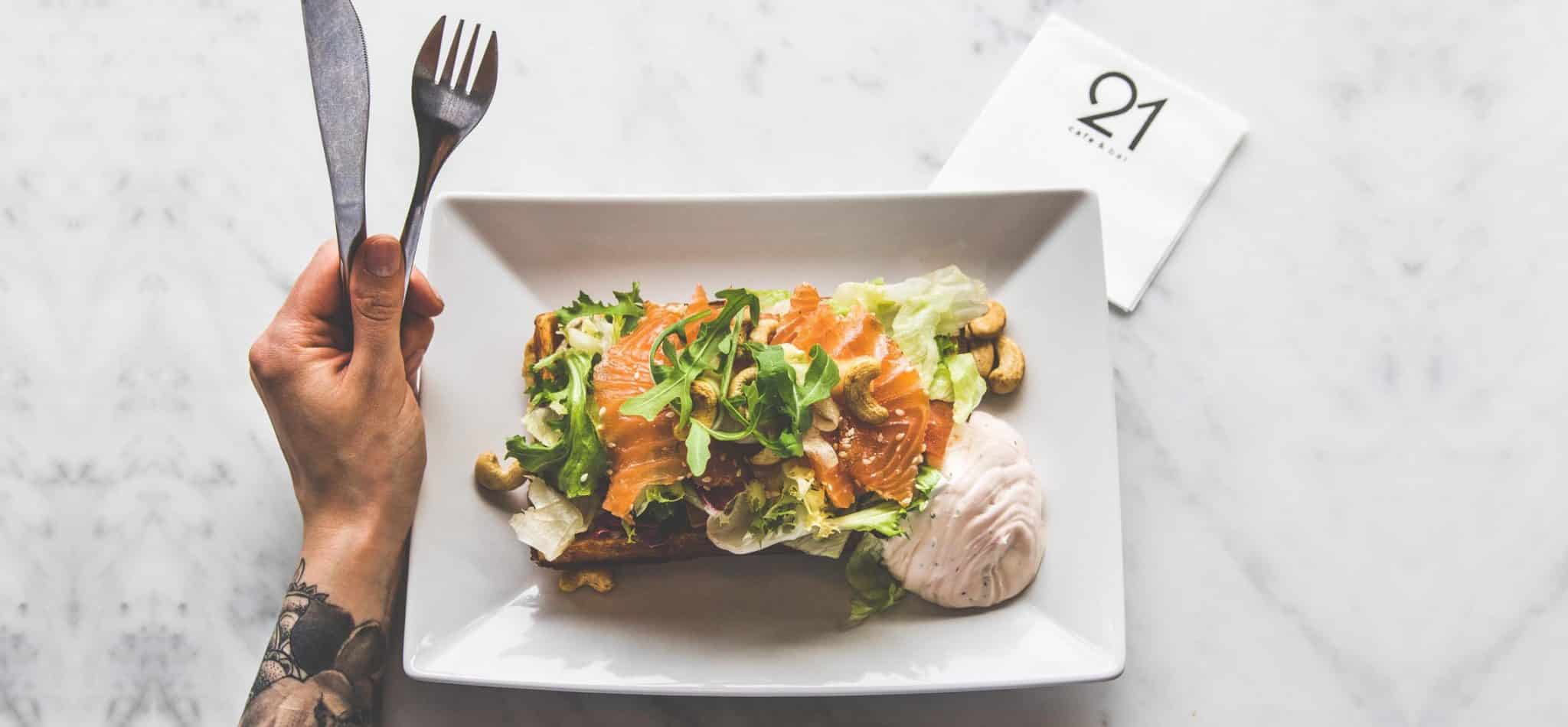 Arctic Boulevard – Food is important to how we experience travel, and if you also want to let your taste buds experience Lapland, then the tasting menu at Arctic Boulevard is the perfect way to do it. Mains and tasting menus are very reasonably priced for Finnish restaurants, served in a sophisticated yet casual setting that allows you to relax and enjoy the experience. Across the menu, you will find game food from the northern forests and fells as well as fish and seafood from lakes of Lapland and the Arctic Ocean. Really the entire menu is well thought out and focussed on the idea that the intense flavors of Lapland that don't need magic in the kitchen, as they are magical by themselves – so the chefs here are merely accentuating nature's work.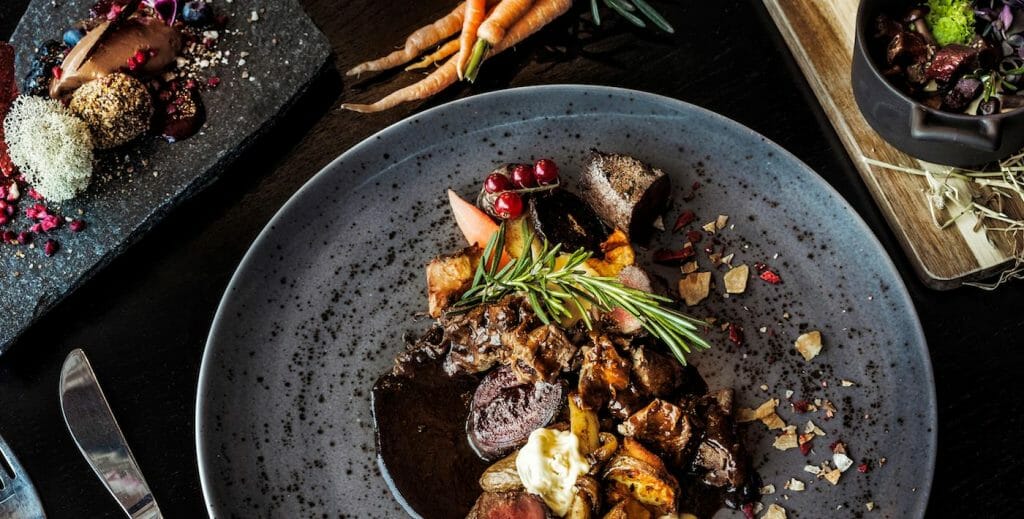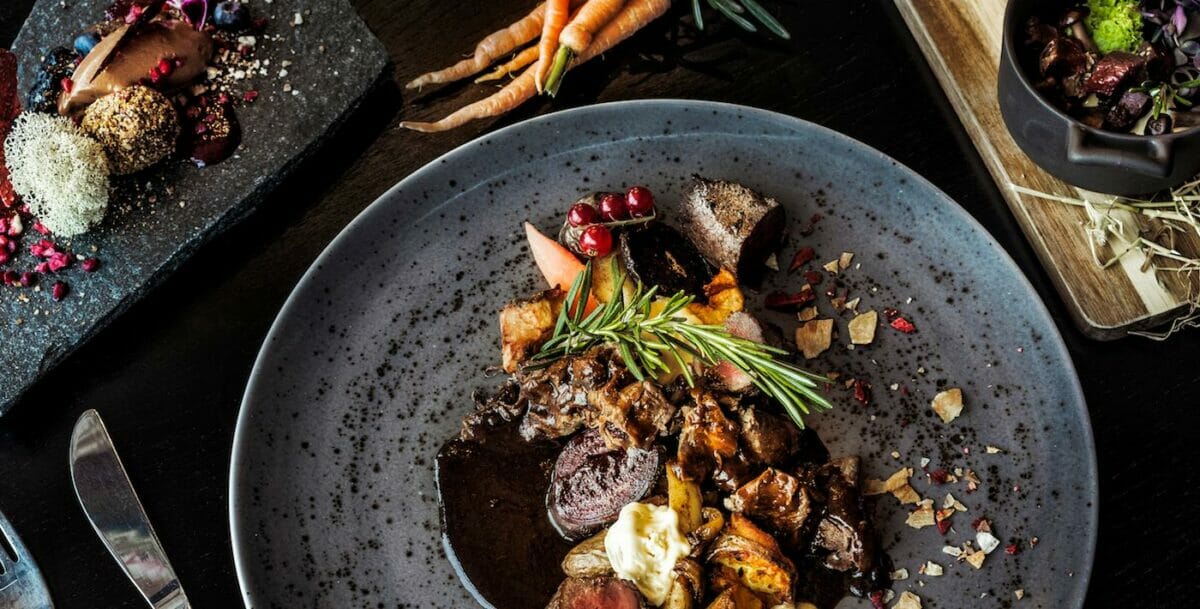 Rovaniemi Library – Designed by Alvar Aalto, along with a host of other civic complex buildings as part of his reindeer antler-inspired masterplan he produced following the devastation of WW2, the Rovaniemi City Library is just gorgeous! While the outside of the library is low-slung, lean and somewhat discreet the interior is thought-provoking, refined and oh-so-inviting with sunken reading rooms, tall shelves of books and skylights which invite in as much light as humanly possible without producing shadows thanks to an elegant arch and lowered ceiling. Bespoke fixtures are everywhere here from the signature door-handles ("the handshake of a building") to Aalto's unrivaled array of lamps, everything here is deceptively simple and beautifully orchestrated. The theme of Aalto's Rovaniemi library design was social equality, and inside this is clearly evident with people-sized spaces and unembellished entrances that make everyone feel welcome. A treasured icon often missed by tourists, and a physical manifestation of Finnish equality – don't miss the opportunity to be wowed by the Rovaniemi library.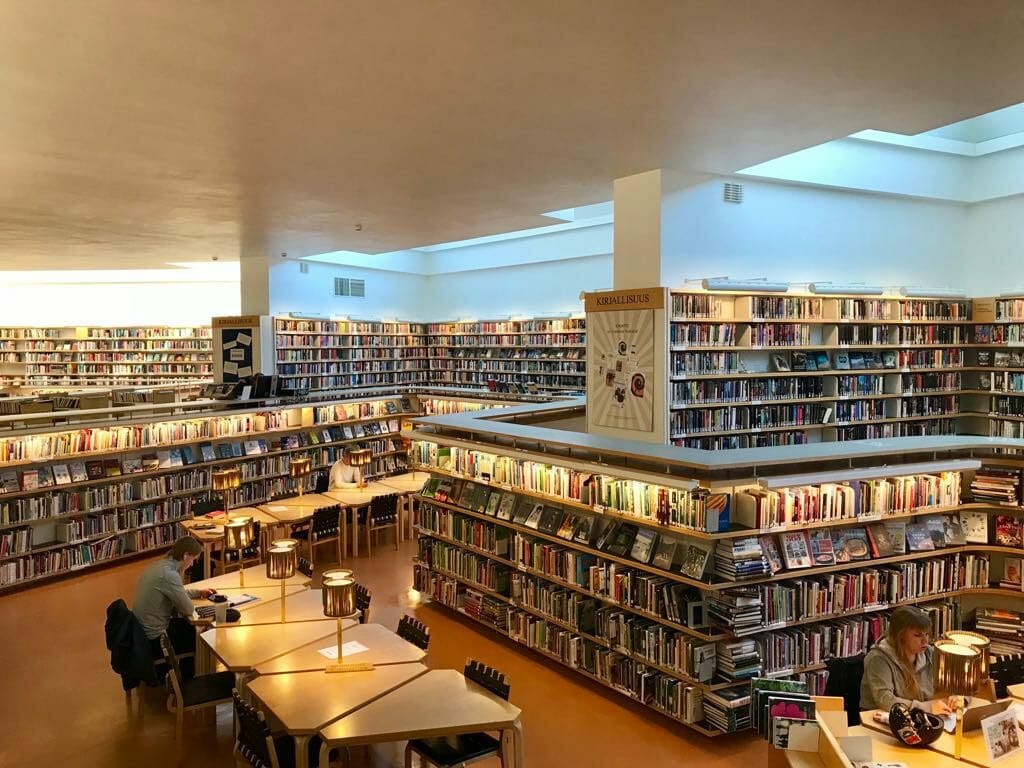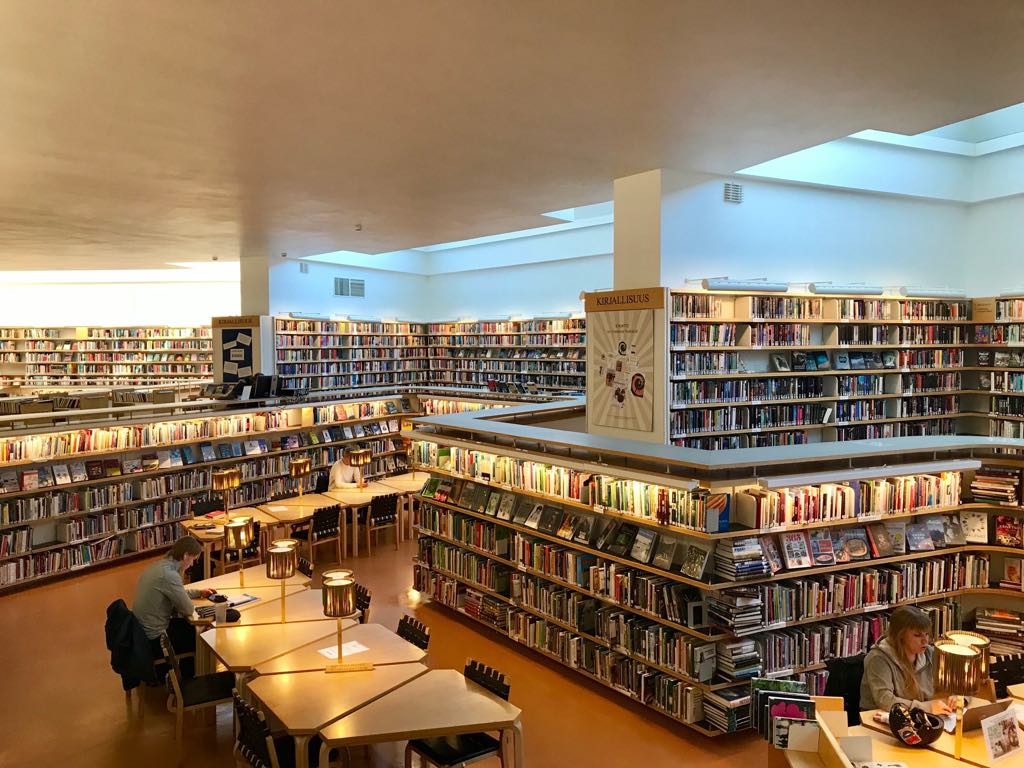 Bearhill Husky Kennel – Husky dogs are undeniably cute and cuddly, as well as being fierce runners – so it should come as no surprise that embarking on a sled dog tour or visit a husky kennel in Rovaniemi is one of the most popular activities around – either with a sledding tour in winter, husky cart tour in autumn or walking in summer. We recommend ethical recommend BearHill Husky Tours, a family run husky kennel where everything is done for the betterment of the dogs, the staff and the environment – all of which result in a better visitor experience. The owner Valentijn is a man that loves dogs and learning about them, with every fibre of his being. He can – and will – talk for hours about the intricacies of dog training, the history of huskies, breeding and their nutrition, so if nothing else you will leave here with a Ph.D. in

huskyology

.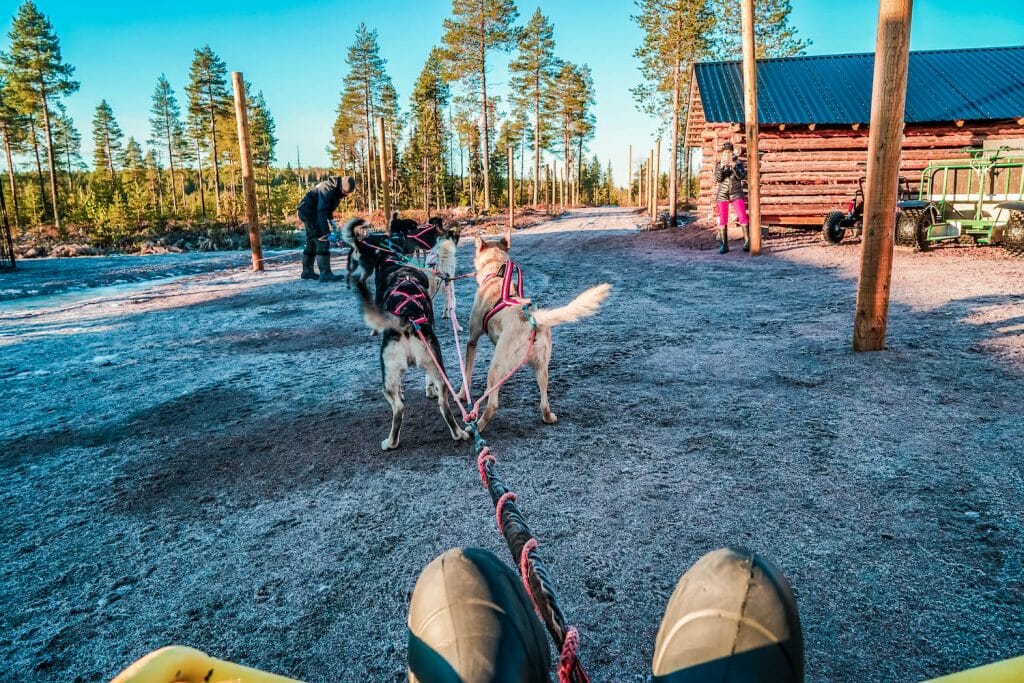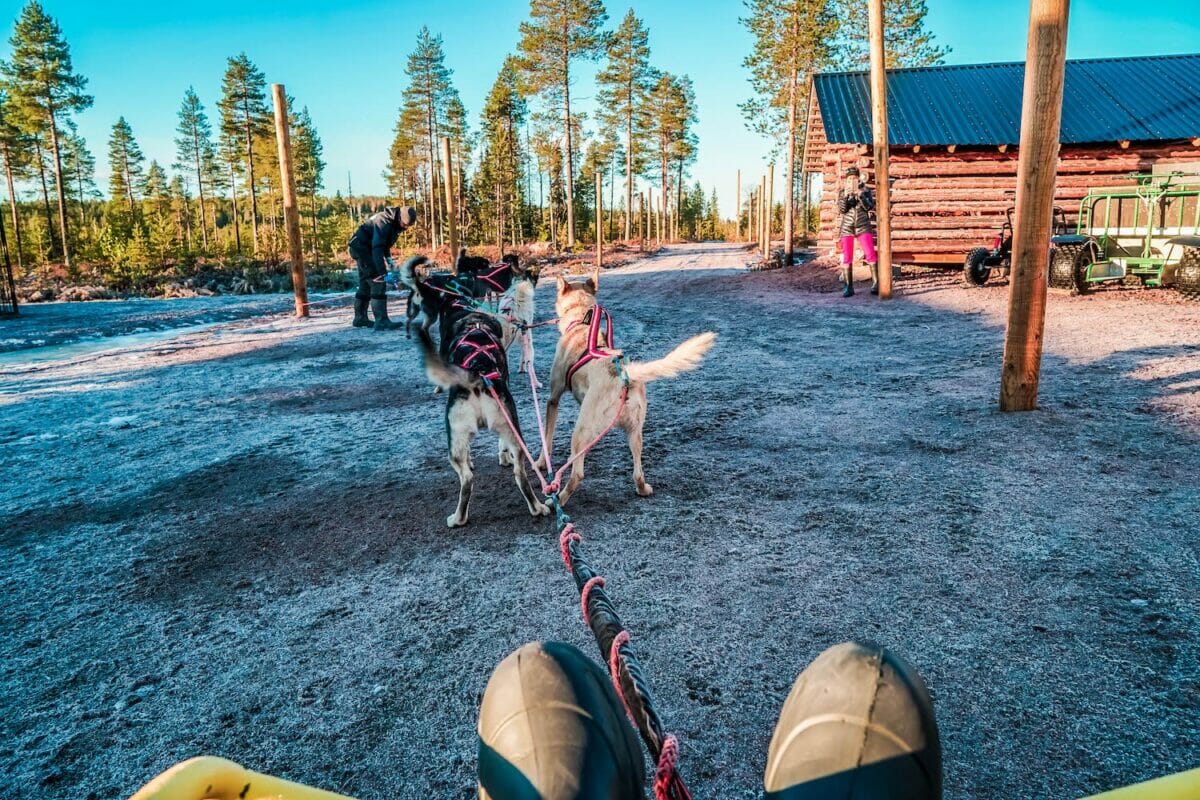 Arctic Pride – A exuberant cultural event that embraces minorities and fuels discussion around sexual and gender minorities' in Lapland. Held in Rovaniemi since 2013, Arctic Pride is Finland's northernmost Pride festival and one of its most fabulous – proudly held in March, with plenty of Lappish hospitality, diverse crowds and normally a reindeer or two with pride flags. Everyone can feel welcome just the way they are – and what's even better is this is generally a lower season for travel to Rovaniemi so you can enjoy more queer spirit, lower prices and longer days than all the craziness that surrounds Christmas. Yes Gawd, let's get sickening!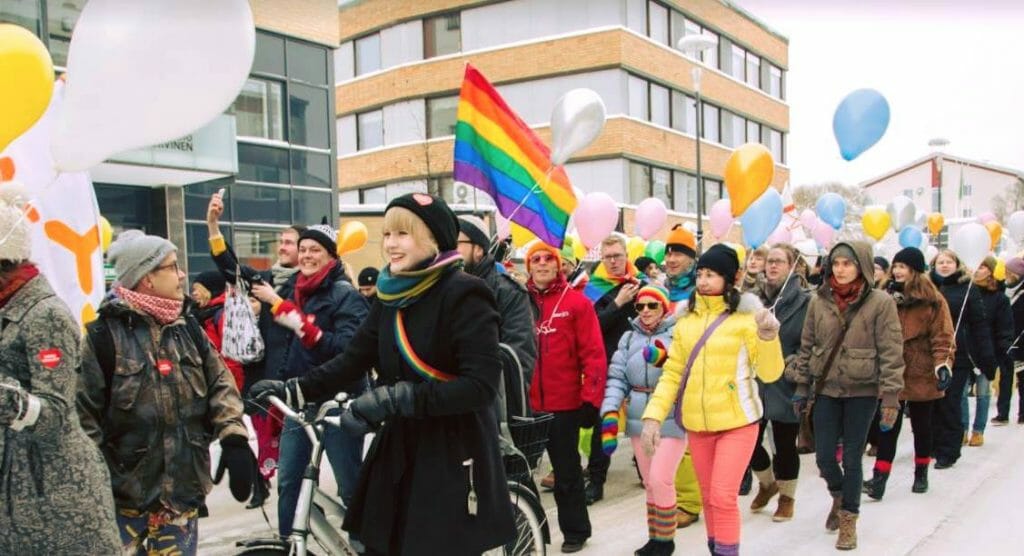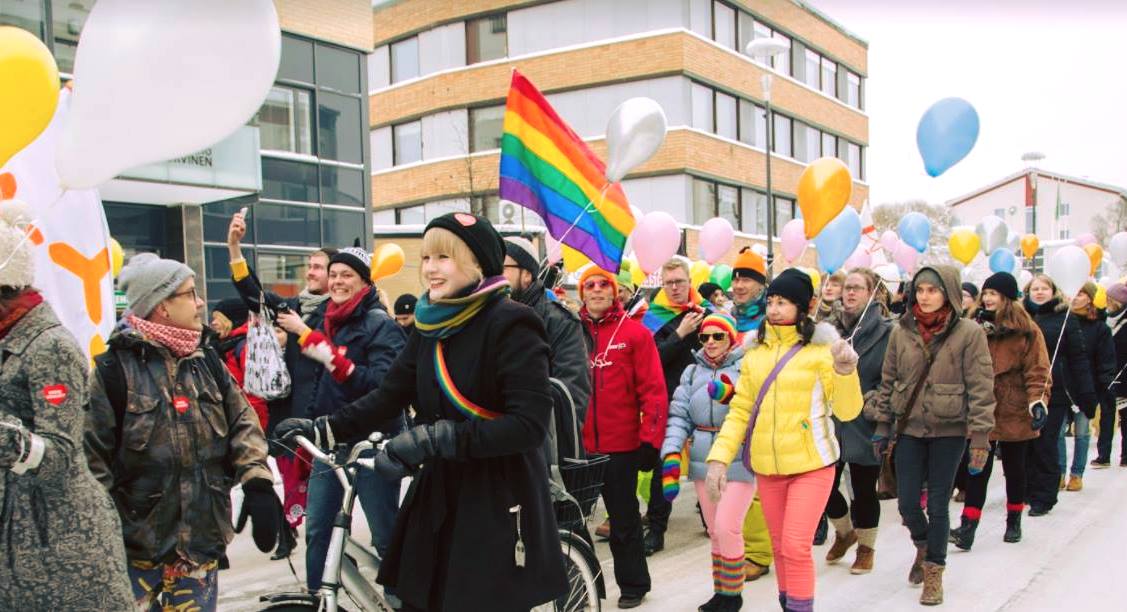 Gay-friendly and Gay Hotels in Rovaniemi Finland
Being one of the most gay-friendly countries in the world, almost every hotel and hostel in Rovaniemi can be considered open and welcoming to LGBT travelers.


After all being gay-friendly is simply providing a non-judgmental and respectful environment in which all people are treated equally. Some businesses have gone above and beyond in recognizing and marketing to the LGBT community, and it seems to have paid off – and of course, elegant design, helpful staff, and luxurious comfort never hurt anyone…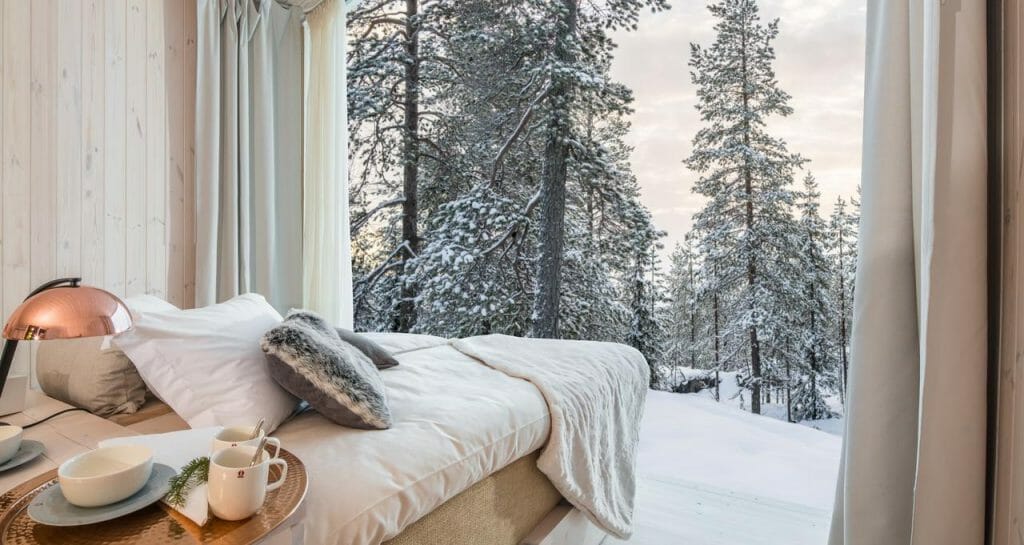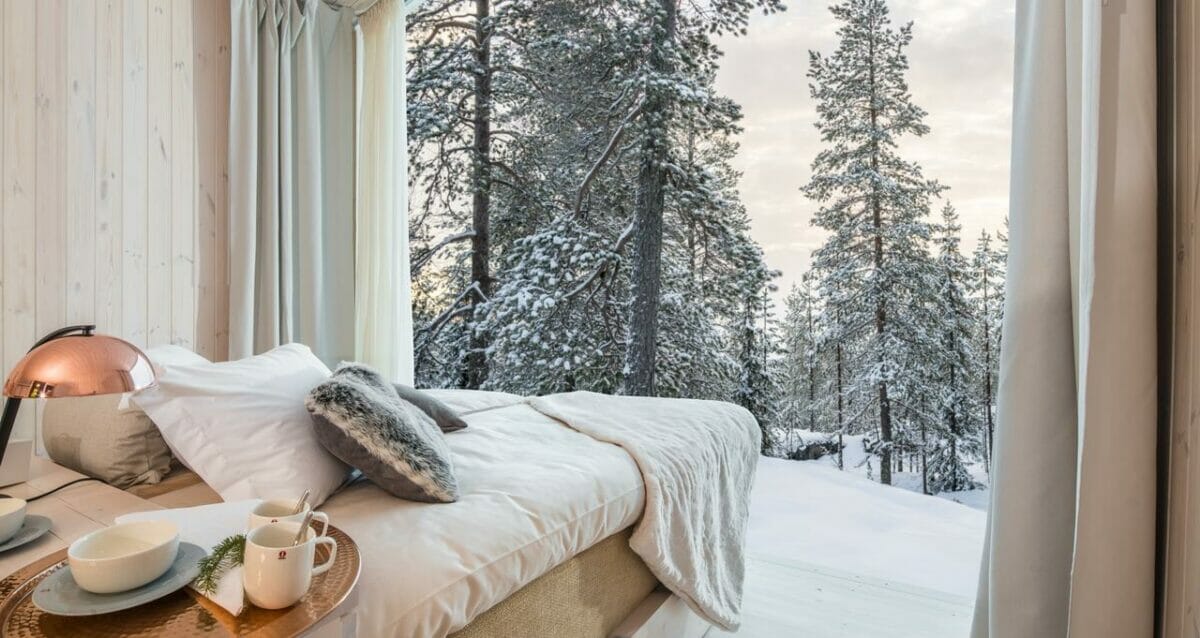 Here is our favorite selection of marvelous hotels in Rovaniemi that are go-to hot spots for gay travelers…and really, does everyone like to be surrounded by people with common interests!


If you don't find what you are looking for, there are hundreds of other accommodation options in Rovaniemi if you don't see what you are looking for. Whether you want a fun and social hostel, a quiet retreat to admire the Northern Lights or a chic designer option to sip cocktails and surround yourself with fabulous people – Gay Rovaniemi has something for everyone!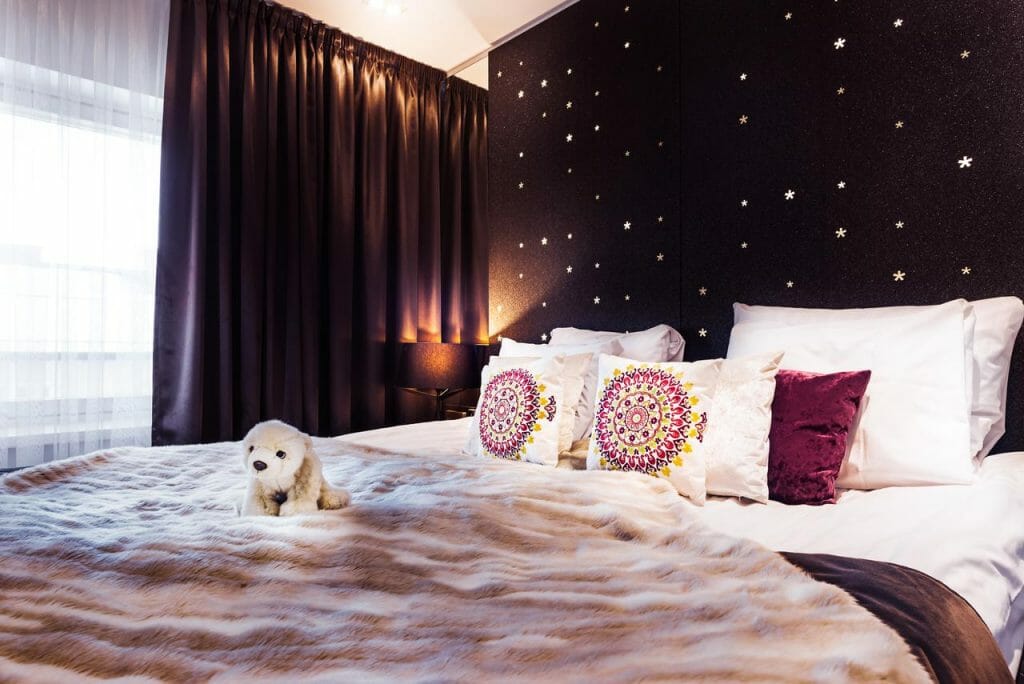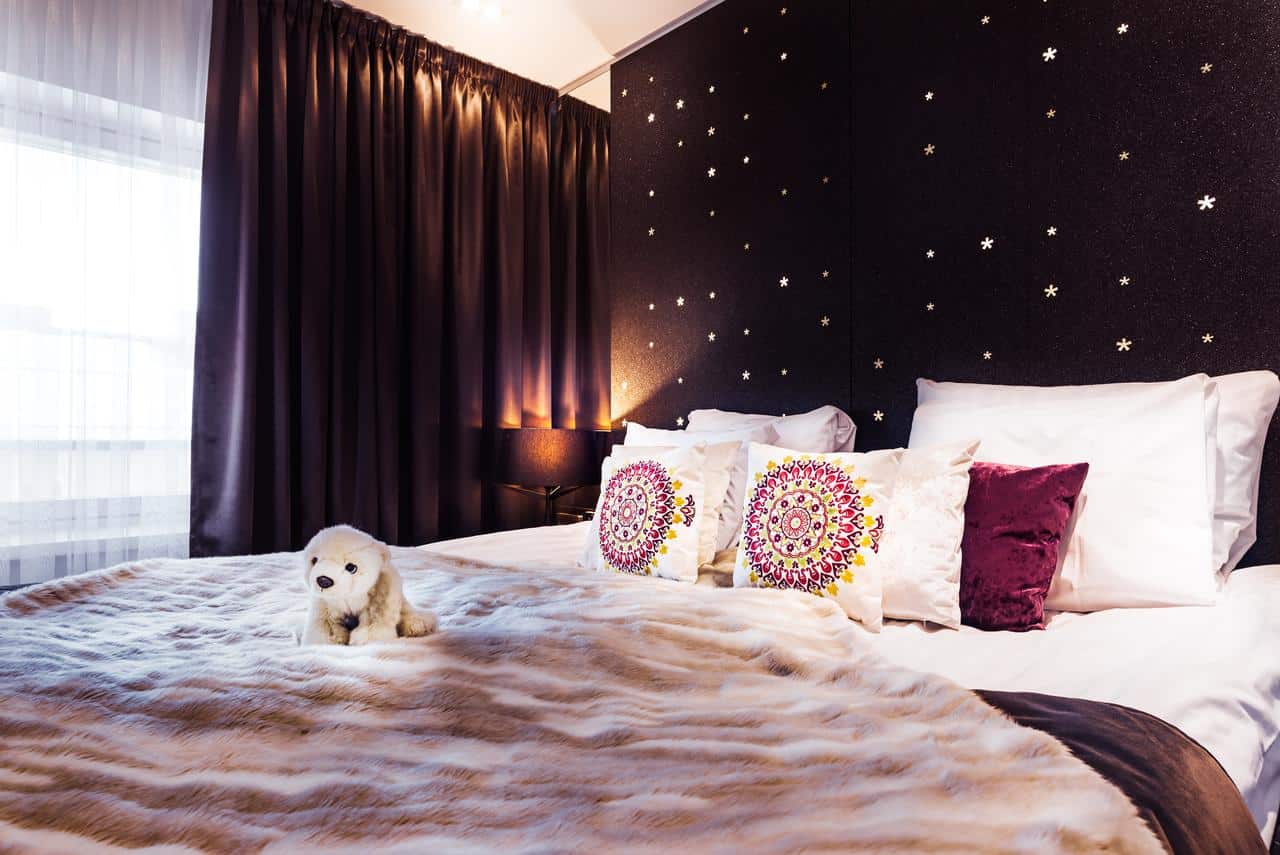 Arctic Light Hotel ☆☆☆☆ – You have got to sleep somewhere in Rovaniemi, so why not try out the best hotel in Finland, and one of the best new hotels on the planet according to Travel+Leisure? Elegant yet understated, the Arctic Light Hotel – a contemporary family-owned hotel, exudes Lappish hospitality and design at every turn. The warm ultra-chic rooms each have various nature themes, and in-room Nespresso machines, rainfall showers, private sauna bookings, and a fantastic breakfast come as standard. Housed in a 1950's building and former City Hall of Rovaniemi, the Arctic Light Hotel is literally only steps away from all the main attractions of Rovaniemi and major shopping and cultural areas – including one block to the river if you need to dash out quickly to try spot the Northern Lights. From the cozy lounge, spacious rooms and relaxed sauna (available for private bookings to enjoy all to yourself), everything here was about the guest's supreme comfort and full of personalized touches. A boutique hotel which is supremely adept at marrying Lappish heritage with the ultimate in contemporary style, the Arctic Light Hotel offers the perfect stay influenced by the authentic styling, hospitality, nature and myths of Lapland.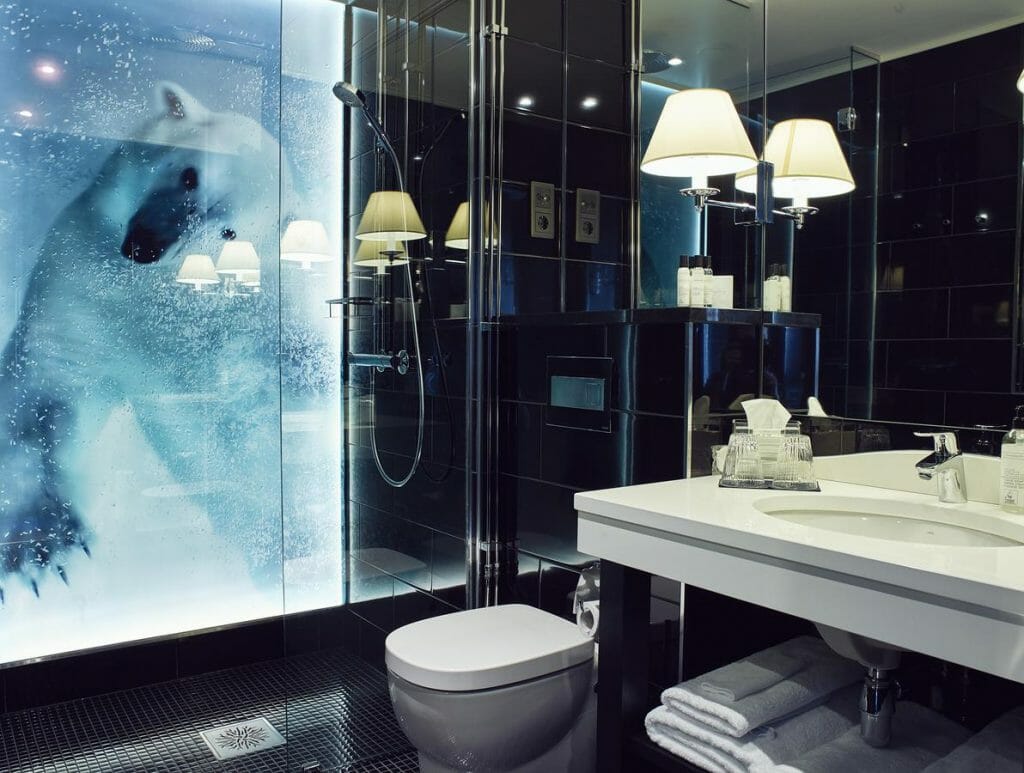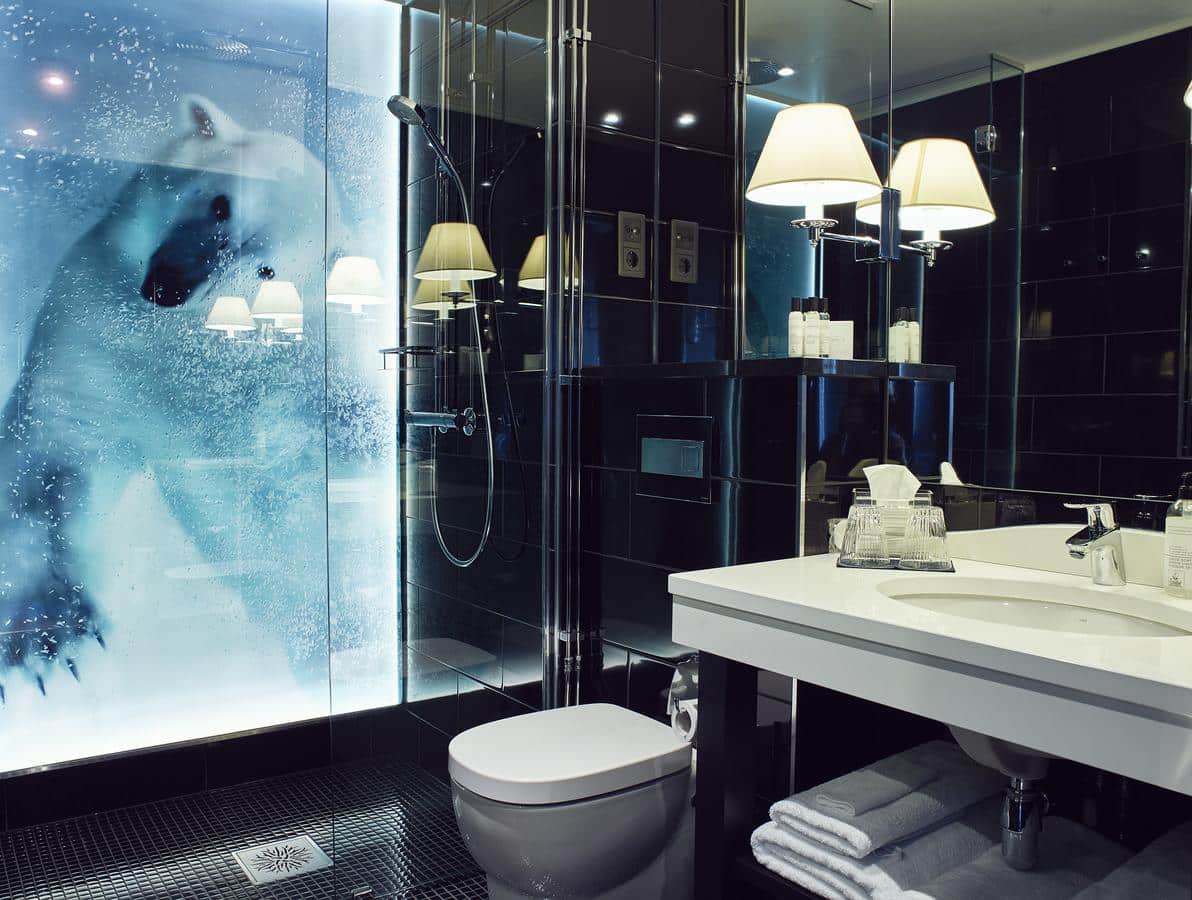 Arctic TreeHouse Hotel ☆☆☆☆ – Surrounded by Lappish pine forest, this innovative hotel in the Arctic Circle is a 3-minute walk from Santa Park and has oodles of Scandinavian design. The meticulously designed, nest-like suites with private sauna sit in their own tranquil location and impressive panoramic spectacles of the surrounding forest and Arctic skies. An area shuttle is available complimentarily for guests, as is the breakfast buffet served in a snug, contemporary restaurant. An unforgettable accommodation experience awaits you!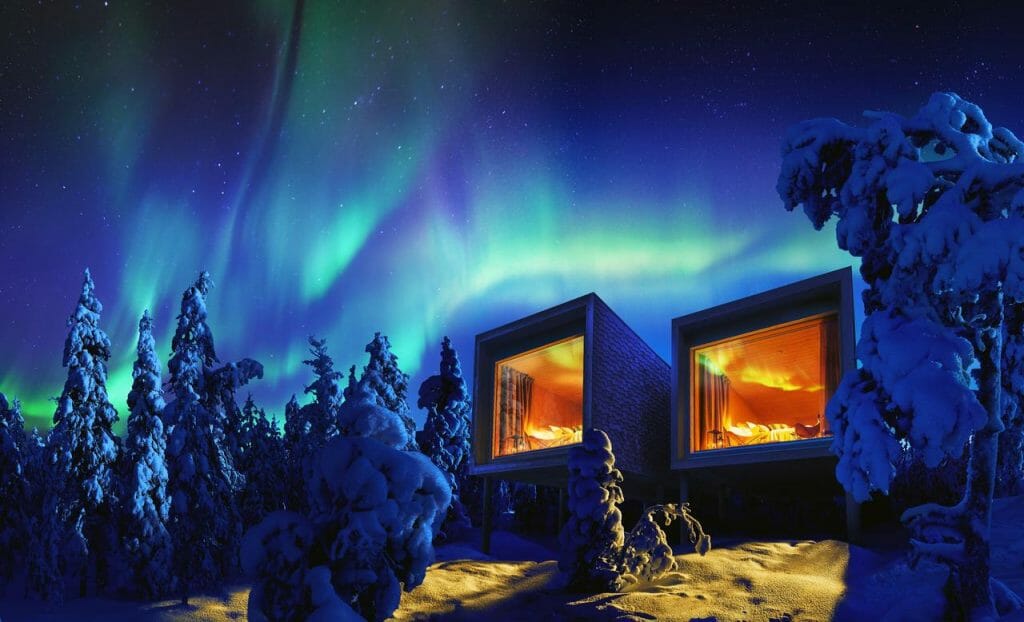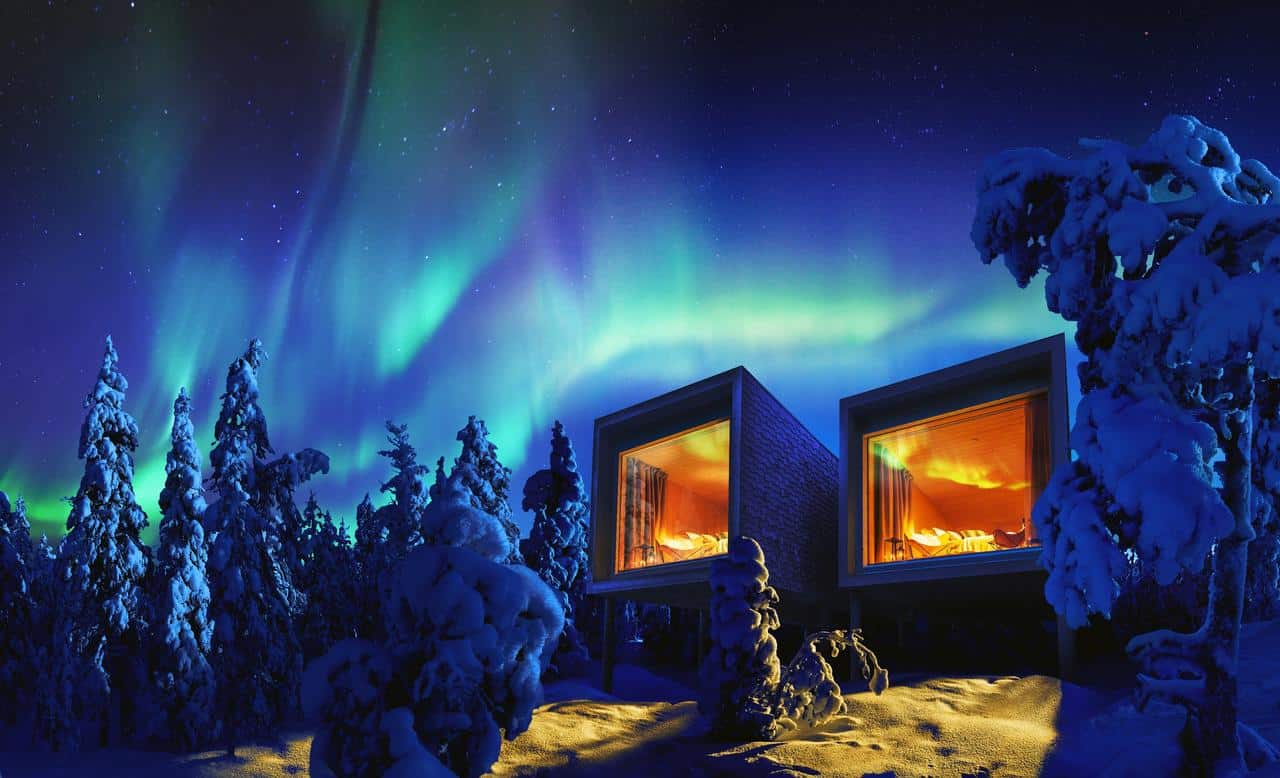 Santa's Igloos Arctic Circle ☆☆☆☆ – Sleeping under the starry skies while in complete luxury is now effortlessly achieved thanks to these newly constructed glass-roofed Santa's Igloos Arctic Circle with a 360º glass roof – perfect for Northern Lights viewing. Each igloo is exceptionally well heat insulated to ensure guests are not bothered by the cold in even the unkindest of times at night – and the temperature is the same as in your average hotel room. But let's be clear – this is not your average hotel room. The roofs of these iconic igloo's are made from electrically heated glass, which means the glass will not cool but instead evenly distributed warmth to ensure all the snow and ice melts off the roof leaving you with uninterrupted views of the sky. Also, the igloo has underfloor heating, a modern sauna and outdoor Jacuzzi with views into the surrounding forest. Intended for year-round use, these unique accommodation options are perfect for enjoying Lapland's ever-changing nature – and not only the northern lights but the midnight sun, autumn colors and polar winter nights!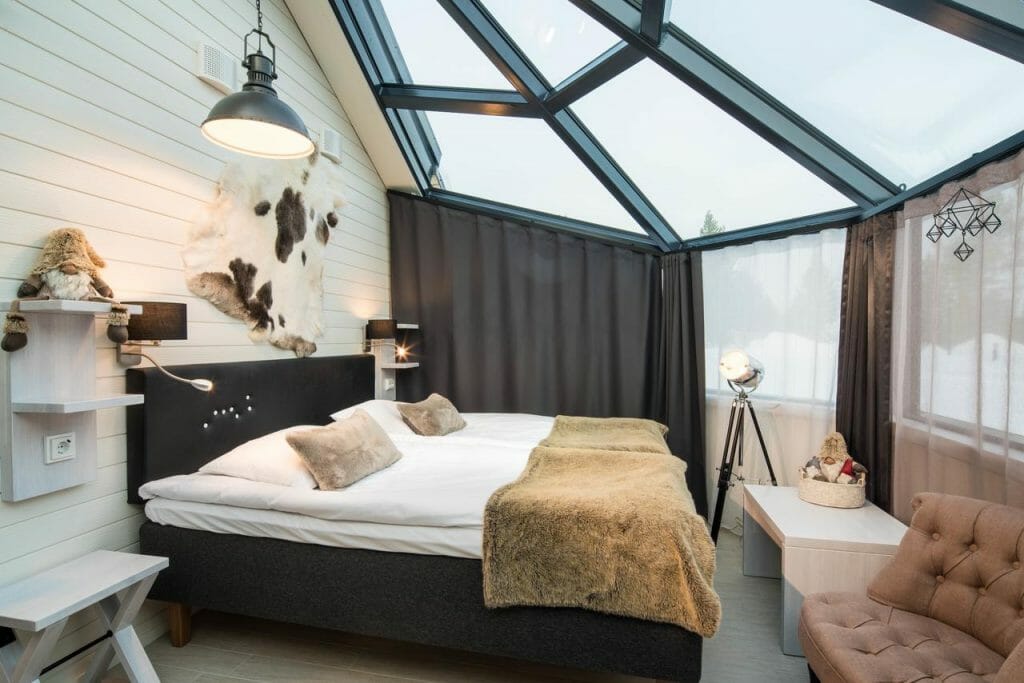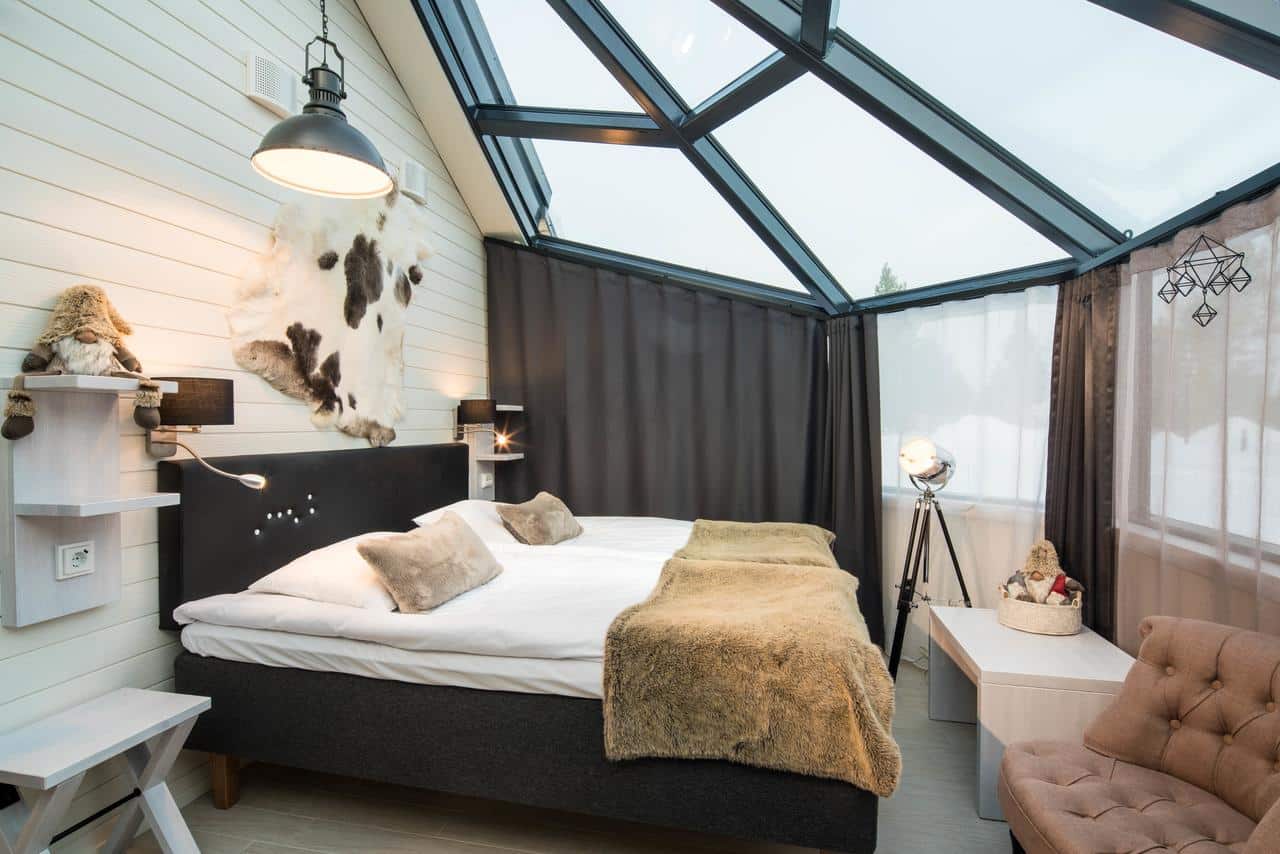 Original Sokos Hotel Vaakuna Rovaniemi ☆☆☆ – A quirky, contemporary hotel in the center of Rovaniemi offering sleek rooms, some with river views, with novel themes such as Christmas or the Arctic Circle. There is also a free breakfast buffet, sauna, a nightclub, and a fun pub.
Kotitie Bed & Breakfast ☆☆ – A fabulous bed and breakfast with natural food, homely touches, and the nicest owners. In a wooden house, only a few minutes walk from town there is an annex studio, upstairs bedroom, fully equipped kitchen, bathroom, and sauna!
Hostel Café Koti ☆☆ – Affordable quality accommodation in the heart of Rovaniemi. Hostel Café Koti's private rooms and dorms are furnished in Scandinavian style and offer incredible value – plus the chance to bond with other travelers!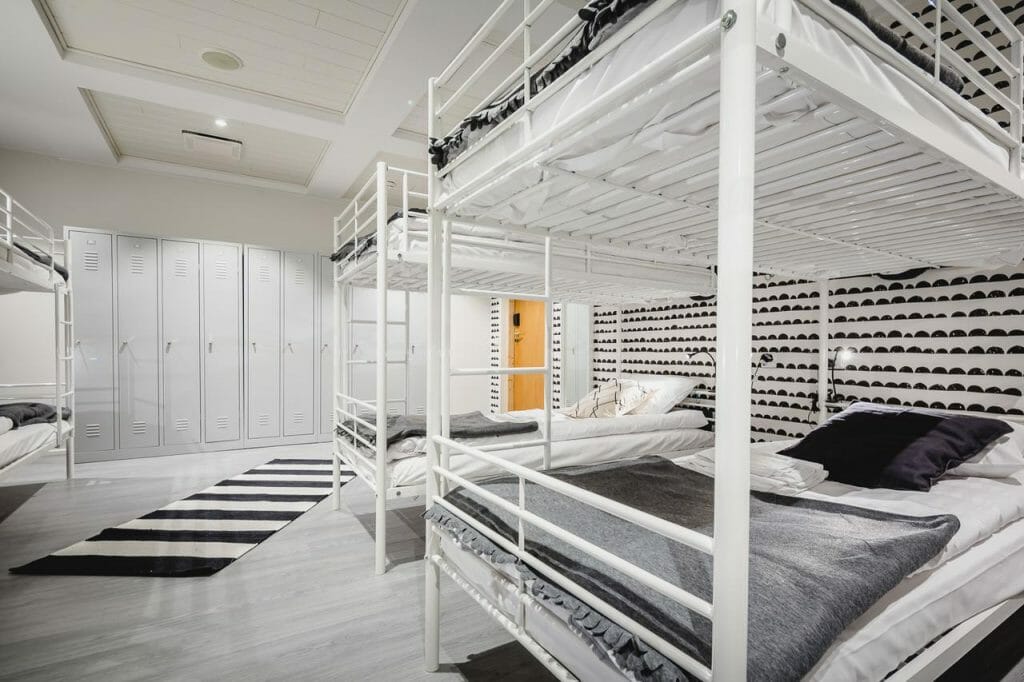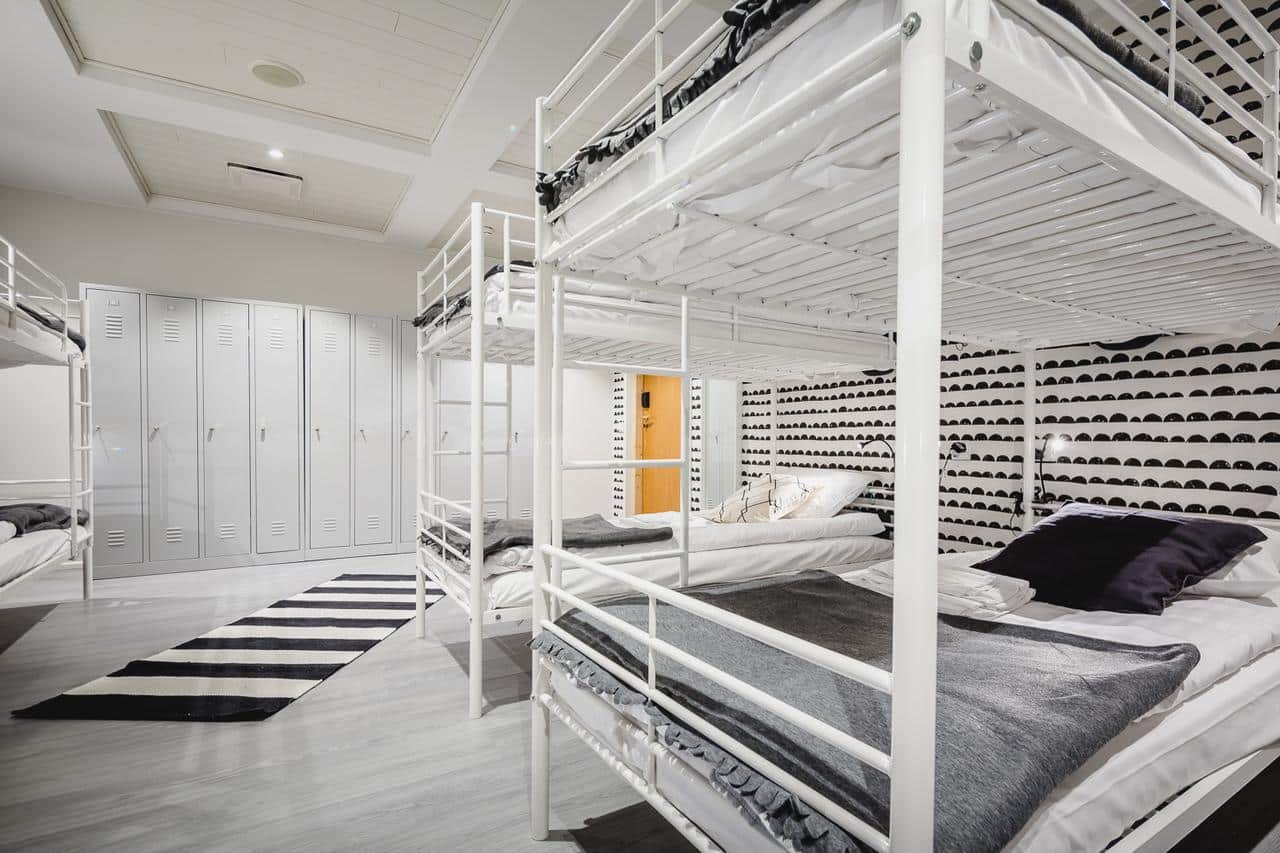 Gay-Friendly Bars and Clubs in Rovaniemi
Finland is easily one of the most gay-friendly countries in Europe, and while in Rovaniemi there are no specific gay clubs there are plenty of fun nightlife options welcoming to all traveler. Want to enjoy divine cocktails in intimate surroundings, feel the bass pulse through you until the sunrises – or just relax in a Finnish pub?
Then Rovaniemi nightlife has something for you!
Being such a tolerant society, you are unlikely to experience any issues with displays of affection in public and as such will be welcomed in most clubs and bars in Rovaniemi. We spotted quite a few gay groups openly fraternizing in different venues, and honestly, we were probably the only one to pay any attention!
Yes, this is really how free and progressive Finnish society is: a refreshing change from places like Warsaw, Istanbul, Jakarta or Budapest.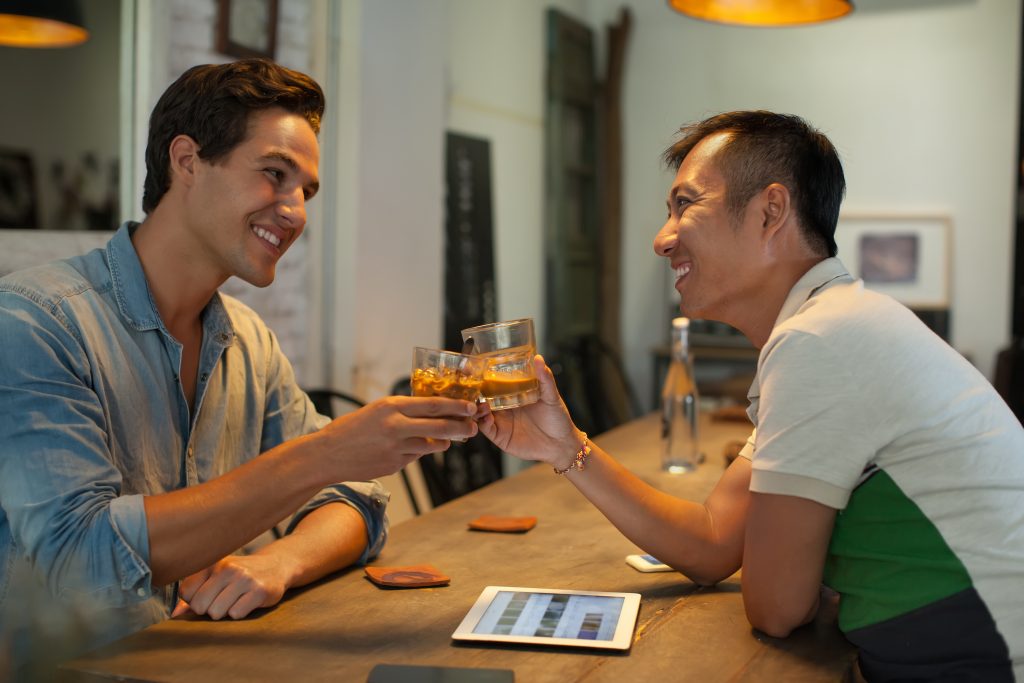 Helsinki might claim to be the nightlife capital of Finland, but Rovaniemi has the advantage of a bubbly and adaptable nightlife scene fuelled by a large tourist and student populations. Exploring is easy as everything is just a short walk away – weather you visit during the bright summer nights or in the bitterly cold winters!
In winter, Finns drinks because there is nothing else to do – and in the brief summer they drink to celebrate, after all, there is no time to waste! Pubs and bars often don't close until 4 am, and while Finns are not known for their small talk, if you give them a chance (and maybe force the first minutes of conversation) they are very proficient in English. We found in Rovaniemi many Finns – gay or straight – delighted to chat the night away with interesting foreigners. Just brush up on your Finnish facts beforehand – they will love it!
Please remember, go at your own pace, known your own limit and don't feel compelled to keep up with the seasoned Finnish pros…otherwise let loose, you never know where the night will lead!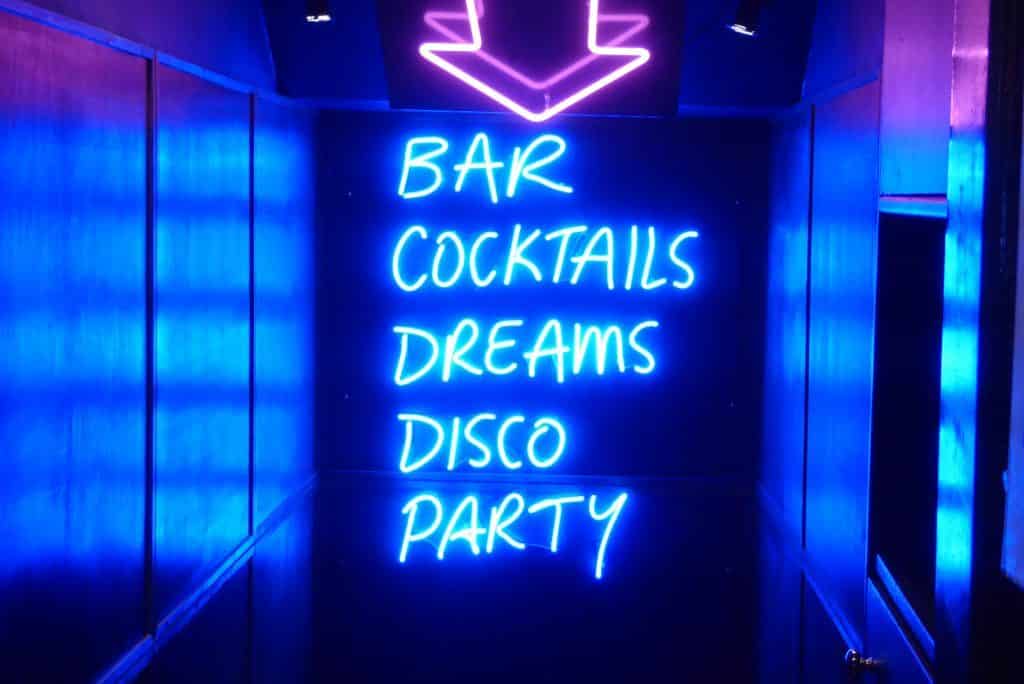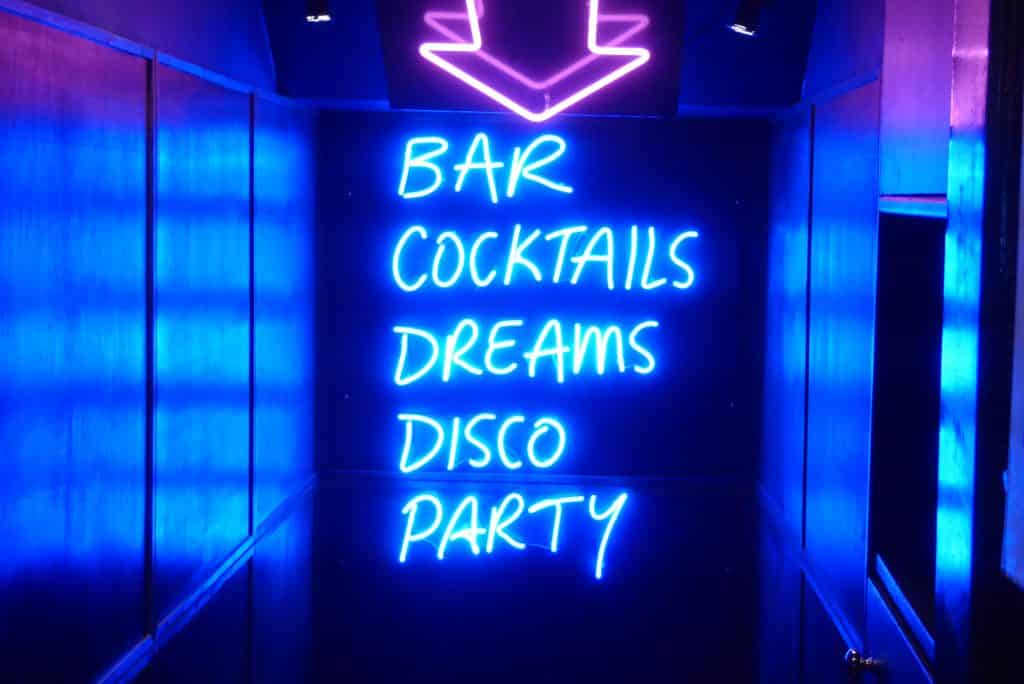 Cafe & Bar 21 – A happening spot day or night for relaxing with divine cocktails and intimate conversation. The head bartenders Juha, Pekka, and Emilia, are always creating something new and interesting with signature drinks made from fresh ingredients. Tempt yourself with the signature Lapland Mojito (Lime, sugar, mint, cloudberries, Angostura 1824, Ginger Beer), the Pharmacy Negroni (served and smoked in a pharmacy bottle) or the Caramel Popcorn (Jim Beam Honey, popcorn, walnuts, caramel, vanilla gelato). Delicious!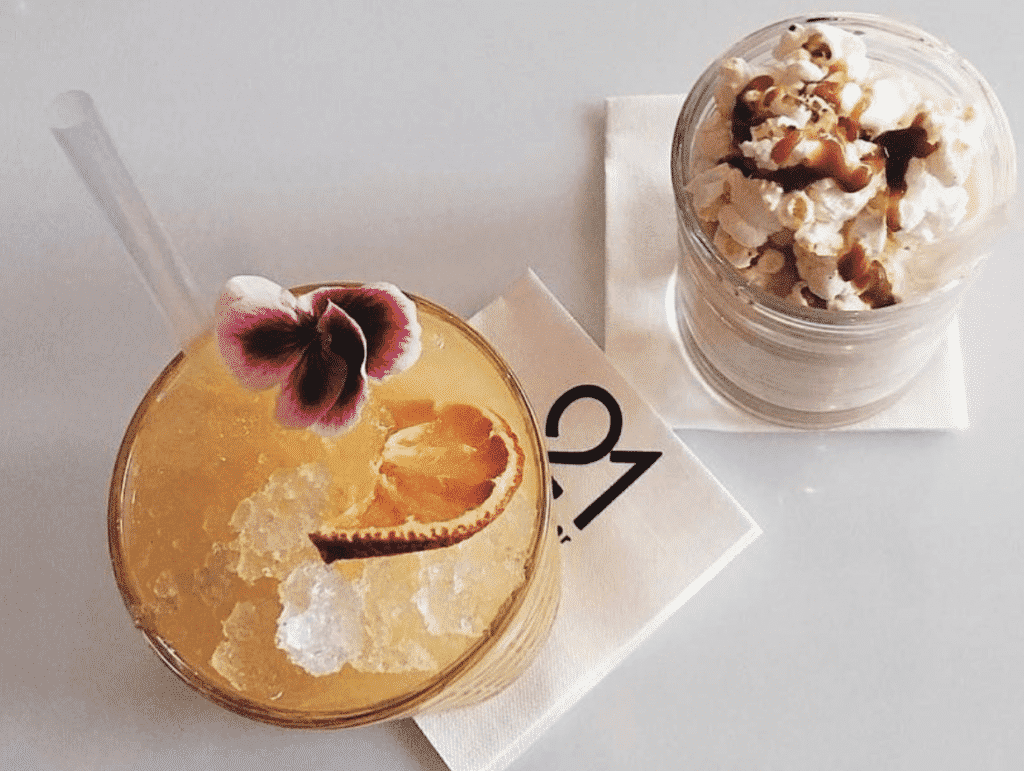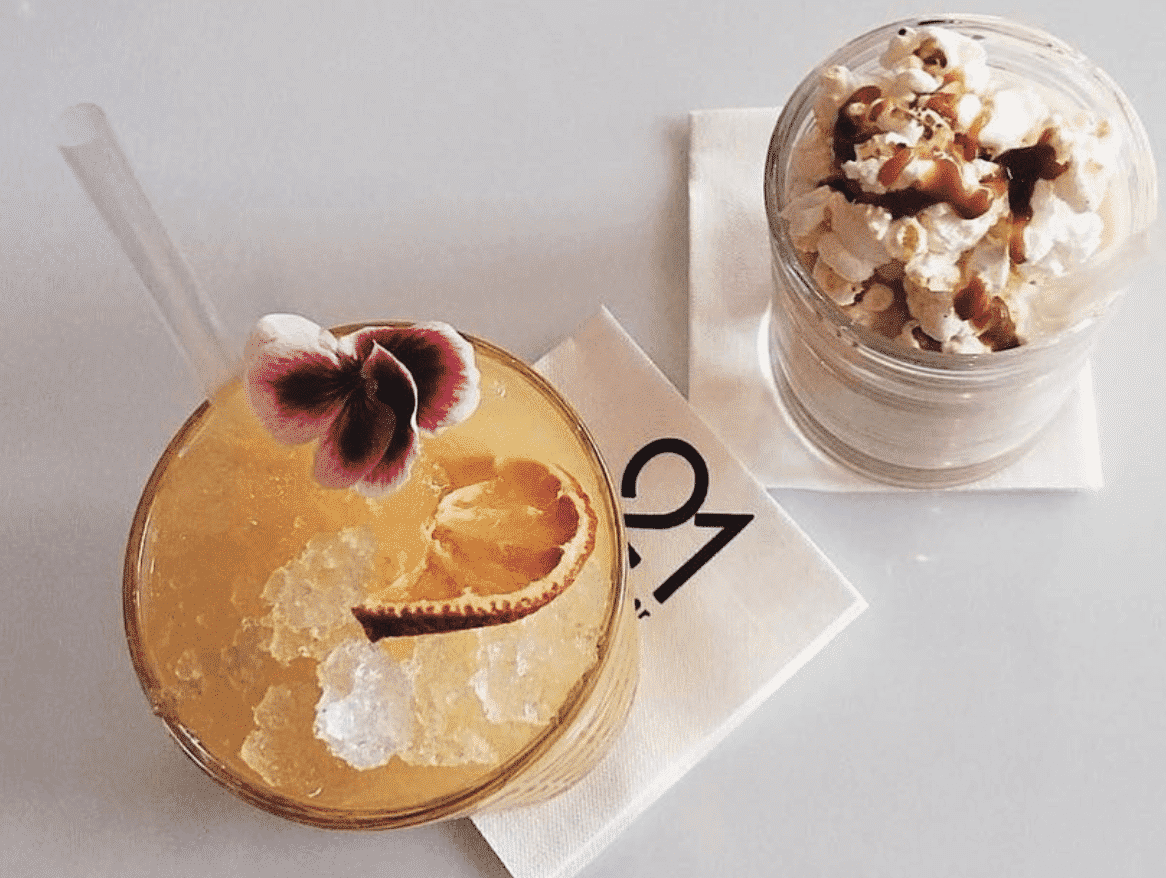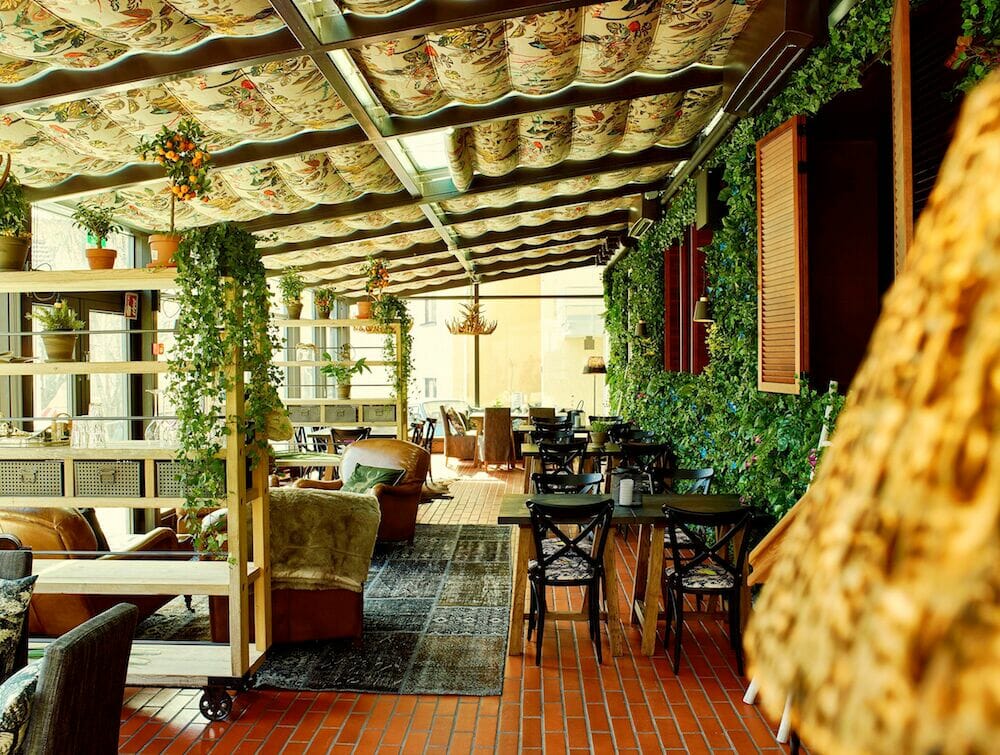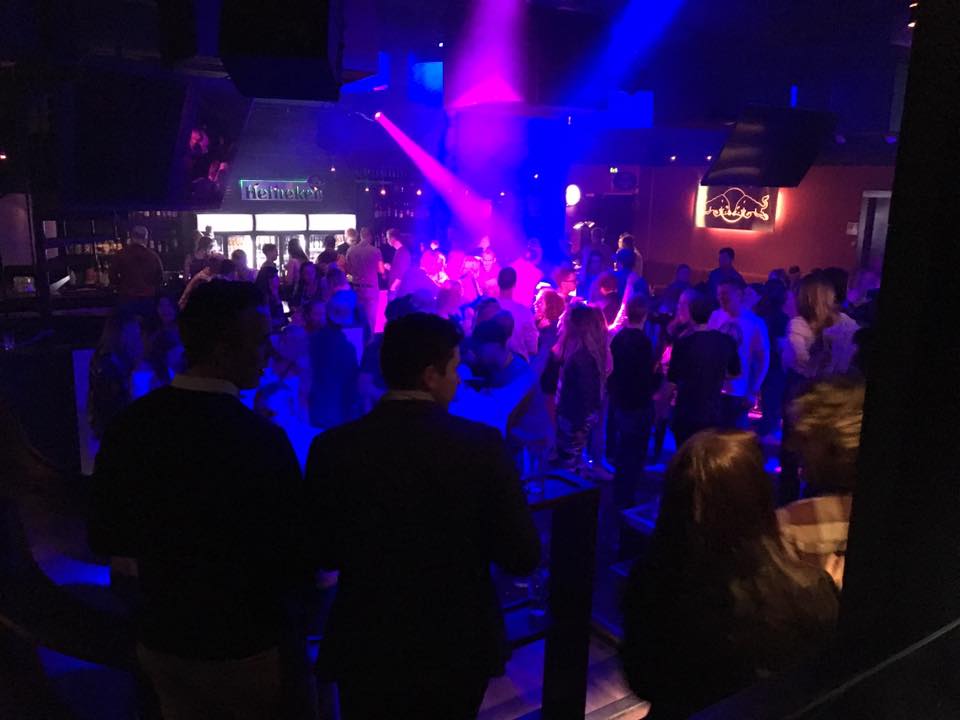 Sauna in Rovaniemi
For those wanting to explore the naughtier side of Rovaniemi, you should know there is absolutely no gay sauna here! Sorry boys, for this you are going to need to head to Helsinki, or just use your favorite gay hook up apps.
Most saunas in Finland are separated by sex and guests will generally be naked, though there are a few exceptions. LGBT travelers should take care never to confuse gay sauna's versus traditional sauna as it would be incredibly awkward to make advances in a conventional sauna in Rovaniemi – which are all about health and relaxation rather than sex.
The traditional sauna was invented in Finland, and hot steam and ice-cold water have been a way of life in Finland for over 2000 years – long before the health benefits of sauna bathing were recorded scientifically! Public saunas are the best place for tourists to get a crash-course in this intrinsic part of Finnish culture and no visit to Rovaniemi would be complete without an authentic Finnish sauna experience. Tampere might be the sauna capital of the world, but you still have a few options in Rovaniemi so why not give it a go!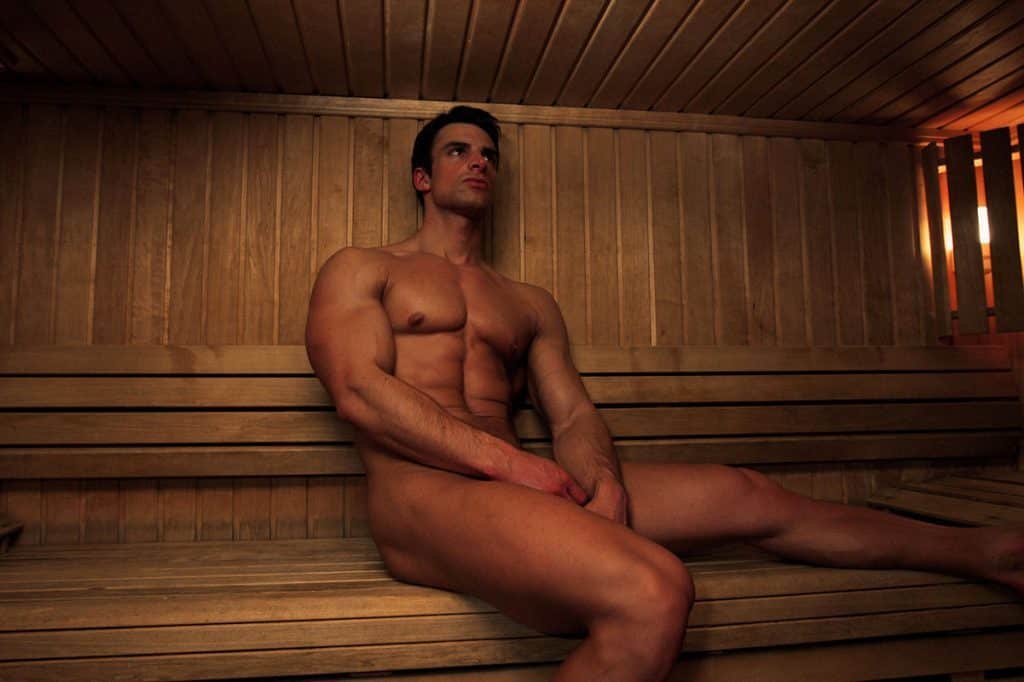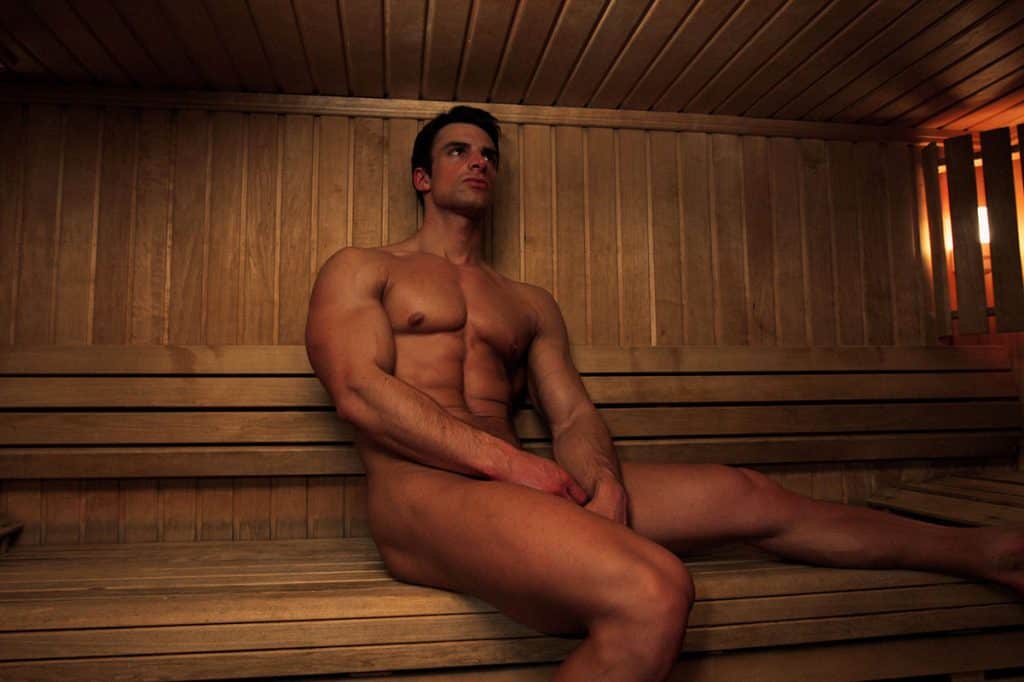 Arctic Lights Hotel – Offers private sauna bookings complimentarily for their guests daily. Beautifully maintained and peaceful, make sure to book your sessions early and allow for at least an hour to fully heat up and cool down after without feeling rushed.
Hostel Café Koti – This trendy hostel has daily sessions reserved for guests separated by gender in their public sauna. Modern and clean, this is one of the most affordable ways to enjoy a Finnish sauna in Rovaniemi as the entrance is included in your stay. The sauna can also be booked for private use outside of this time.
Arctic Forest Sauna & Spa – A haven dedicated to relaxation and the life-enhancing warmth of the extraordinary Finnish sauna. They offer a variety of pampering sauna treatments and exciting programs in beautiful forest surroundings by a peaceful lake. Experience ice swimming and admire the northern lights or the midnight sun in the Jacuzzi with a glass of champagne with their unique Finnish sauna under the auroras program.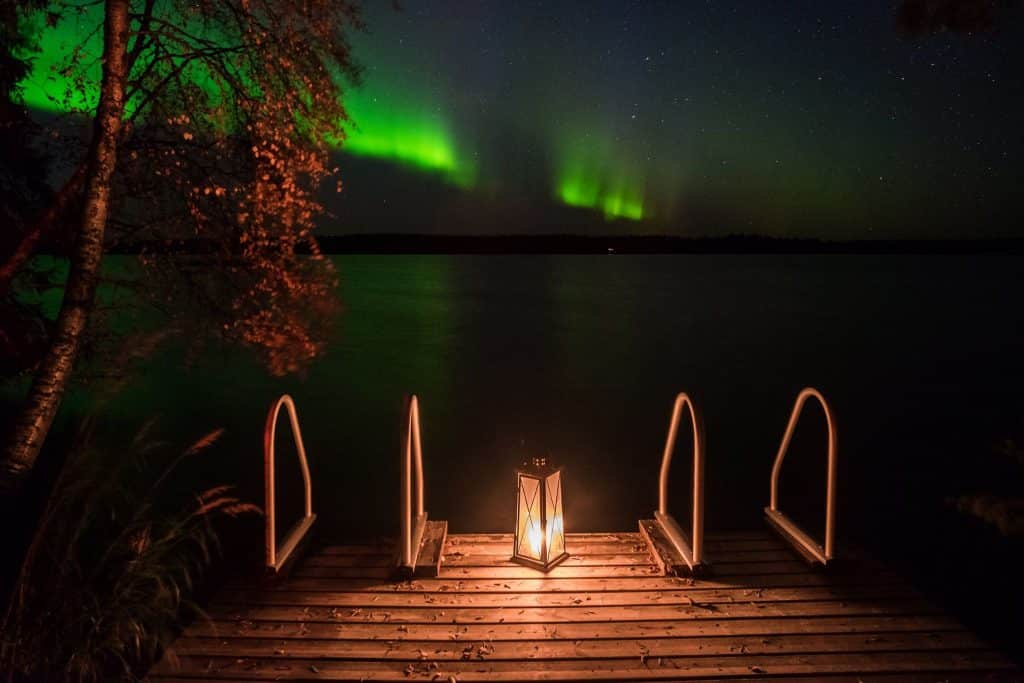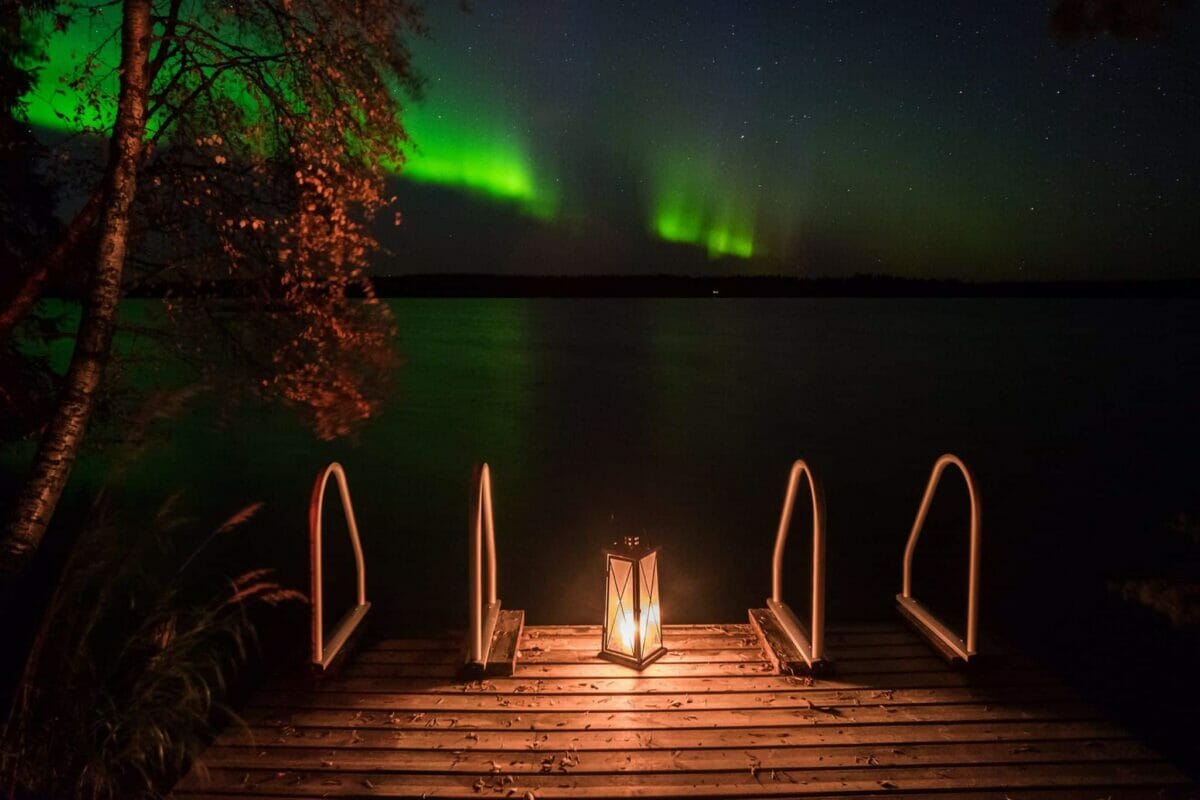 B&B Kotitie – – An incredible nature-based accommodation option in the middle of the town run by Aini and Pekka offers a fabulous sauna experience complete with herbal treatments and traditional Finnish vasta (birch-tree branches tied together and used to swat skin to improve circulation). There is even home-made soaps, oils direct from Finnish nature, refreshing sauna drinks and customary sauna snacks. Aini and Pekka are focussed on everything naturally and right, so after your sauna, be sure to ask them about their work in natural therapy and health treatment. Or about excursions to their summer cottage, where you can also enjoy a lake sauna along with fishing, picking berries, mushrooms, and herbs.