Smart, sophisticated and 'under-the-radar-cool' – Gay Adelaide might not be your top choice for a fabulously queer getaway, but its pumping arts and live-music scene, hipster bars, the passionate local LGBT community, and spirited events calendar do make it an increasingly tempting proposition…
Australia's fifth-largest metropolitan area and gateway to some of Australia's best regions including McLaren Vale, Barossa Valley and Clare Valley, if you are a lover of the outdoors Adelaide is for you. Long thought of as a stuffy, self-absorbed stronghold stuck in the doldrums, this 'City of Churches' is finally coming into its own.
Today in this modern version of Adelaide, you can enjoy voguish architecture, designers shopping, delightful swimming, and surf beaches, extraordinary arts events, wild nightlife, multi-cultural dining, and some of Australia's best cafés.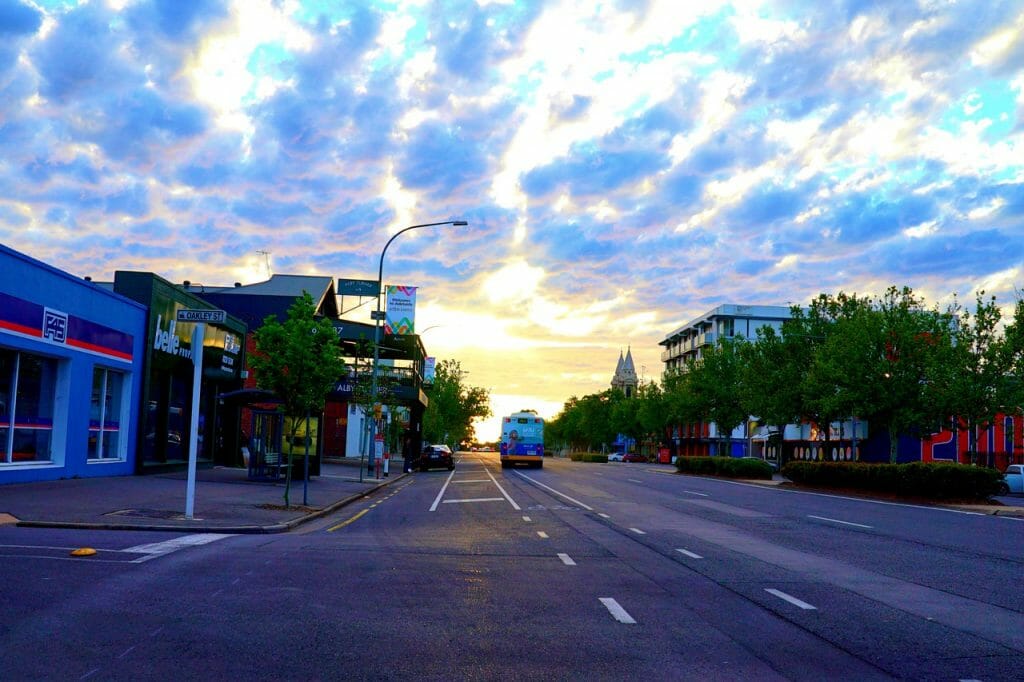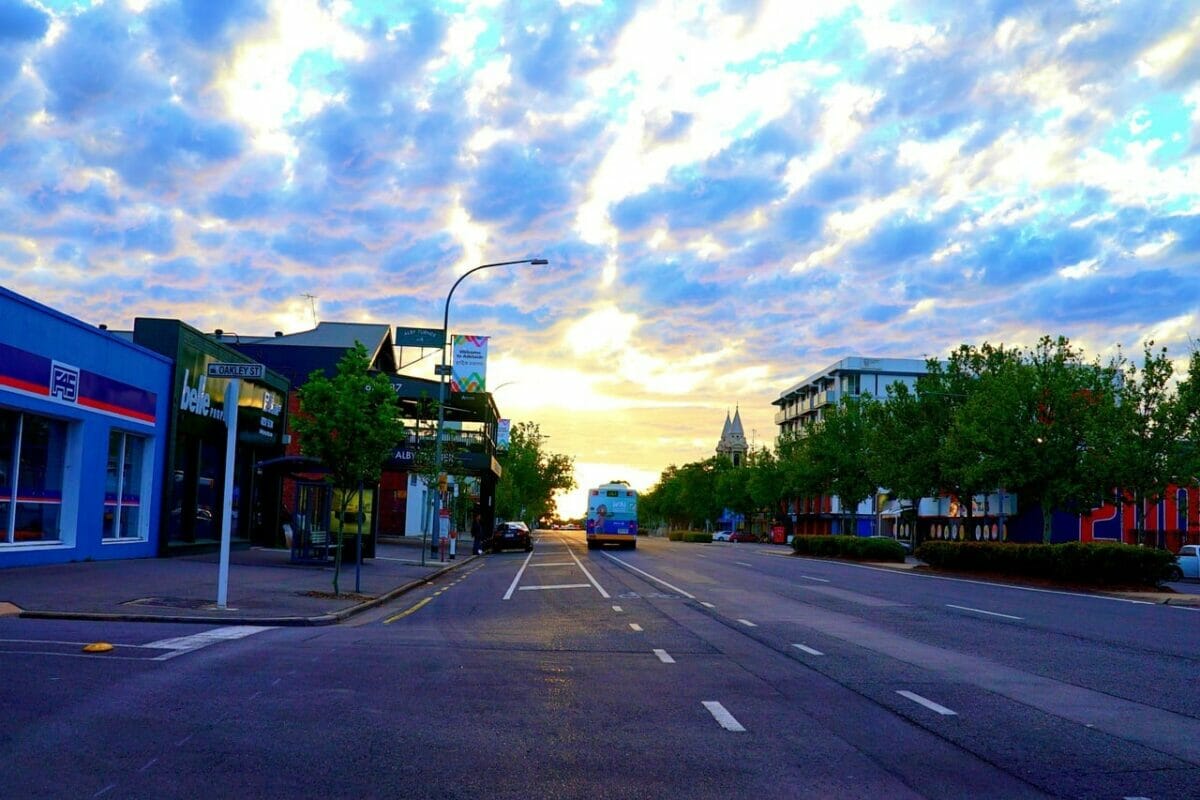 We even found the gay community of Adelaide to be surprisingly enthusiastic and well organized – especially in the arts and culture scene – and while the closure of the cities only true gay club has left a hole in the local scene, there is still a lot to do … If you know where to look. Theirs is no gaybourhood that we could discern, but most of the gay-popular hotspots are located right in the Adelaide downtown, making this area the ideal place to play and stay.
Gay locals will tell you, being gay just feels normal here – as it should be – and in the inner city especially, a same-sex couple holding hands on the street will not even warrant a second glance. Queer folk also seem to have been recently emboldened here by the passing of same-sex marriage bill after a vicious (and unnecessary) national debate and referendum and it was this air of optimism and inclusive vibes that we found positively affirming – tempting us to stay far longer than we had ever anticipated.
It is also good to note that in Adelaide, like all of Australia, discrimination on the basis of sexual orientation, gender identity or expression is strictly prohibited, and it is highly unlikely gay travelers will have issues exploring the wonders of Gay Adelaide. Everything and nothing like you might expect, Gay Adelaide is bold, incredibly varied, exceptionally beautiful – and waiting for you!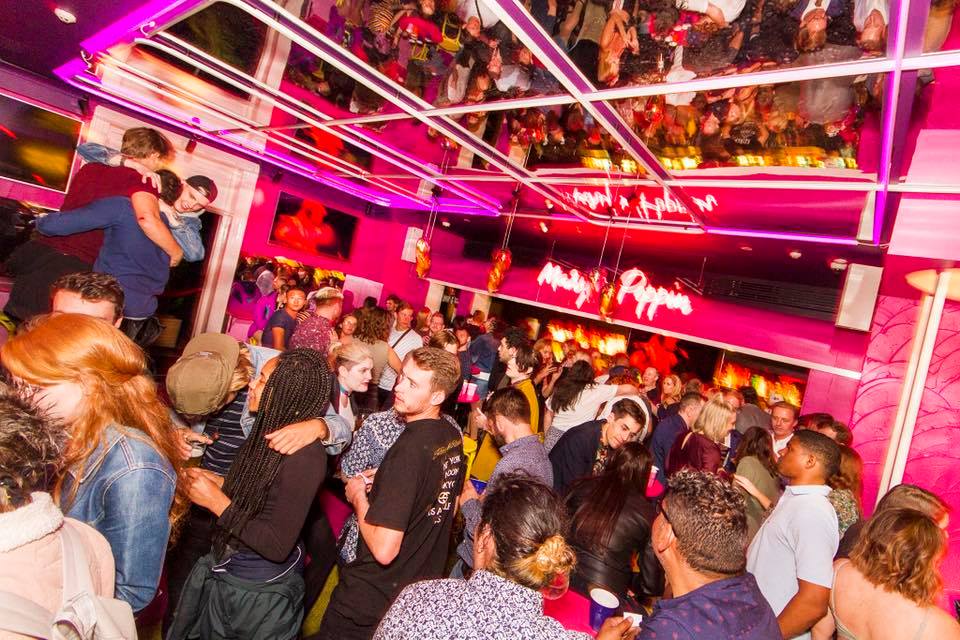 Gay Adelaide Guide: The Essential Guide To LGBT Travel In Adelaide Australia
Attractions in Adelaide
Obviously being gay does not define which attraction most of us will want to see in each city and most queer travelers will simply want to check out the top things to see in Adelaide during the day! Adelaide is a very safe city, and gay travelers in Adelaide do not need to take any extra precautions regarding public displays of affection in this very tolerant and progressive city.
If you are at a loss for things to do in Gay Adelaide or can't decide – we recommend just heading to one of the beautiful beaches during the day, or the seemingly endless supply of trendy coffee-shop and fabulous dining. Or you could explore the wilder lures of Southern Australia. You can choose if we mean the wonderful beaches or the hedonistic nightlife of Adelaide here…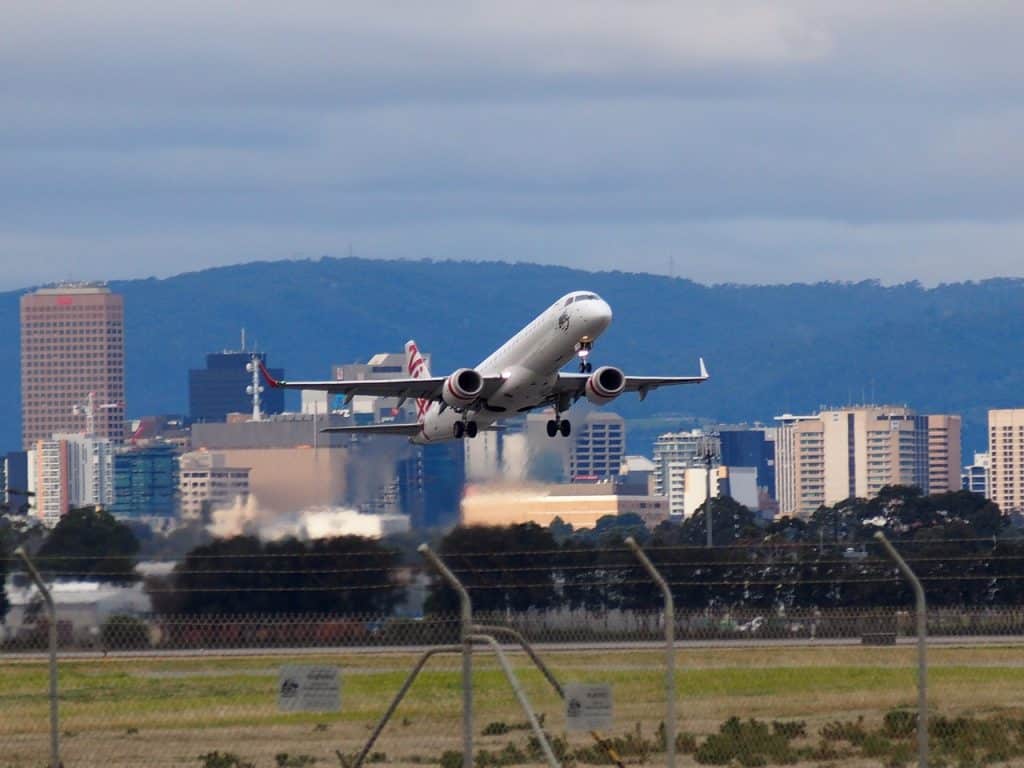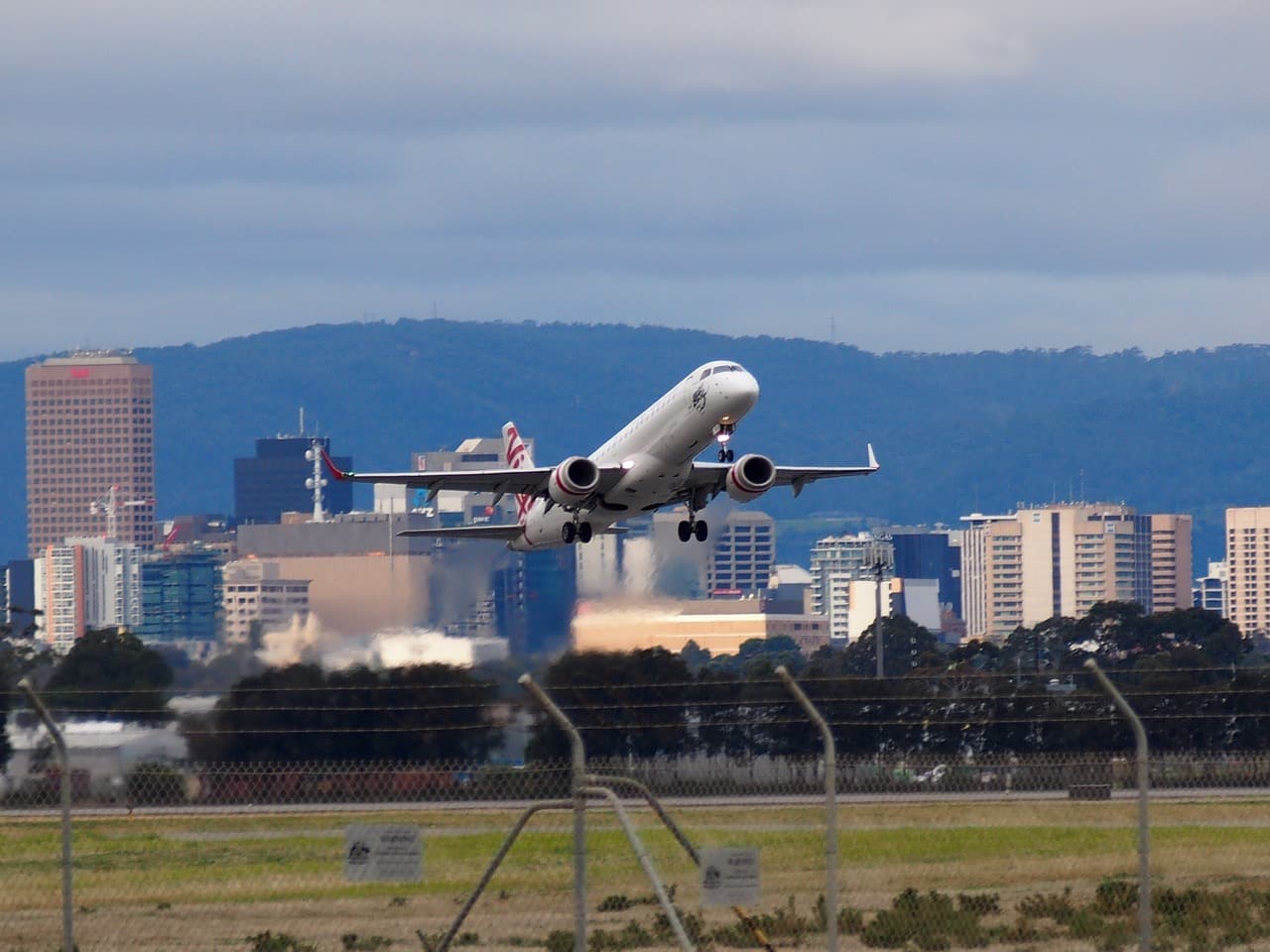 Highlights Of Gay Adelaide
McLaren Vale Wine Tasting – Discover South Australia's popular McLaren Vale wine region in a day trip from Adelaide – either in your own car with a sober driver or by taking a tour. On a tour with a knowledgeable guide, you will visit two wineries—Rosemount Estate and Lloyd Brothers Wine—to enjoy wine tastings of much-loved Australian varietals like shiraz. You'll also have free time in town to browse local shops or stop by another winery on your own. On the way back to Adelaide, visit the beach town of Glenelg to stretch your legs with a walk along Gulf St Vincent.
Gay Beach in Adelaide – There is no official gay beach in Adelaide, and you will be welcome wherever you go, but much like Auckland, Perth and other beach towns around the world: clothing optional hotspots tend to attract the gays for some reason. The closest beach to Adelaide for this is a 45 km drive through the scenic Morphett Vale to Maslin Beach, though to be clear nude bathing is only allowed on the southern stretch. There are showers, toilets and a café nearby, plus stunning cliffs and gorgeous sand making it worthy of hiring a car for this day trip either way!
2-Day Kangaroo Island Trip – Kangaroo Island tours are often day trips, but with this 2-day adventure that includes overnight accommodation, you'll have twice the time to discover South Australia's wildlife paradise. Visit natural attractions like Seal Bay, ogle Australian animals at Hanson Bay Wildlife Sanctuary and check out local operations like Clifford's Honey Farm. Some meals are provided, and you'll spend the night in a sea-view hotel room. When booking, select from four transportation options from Adelaide to customize your tour with ferry rides and flights.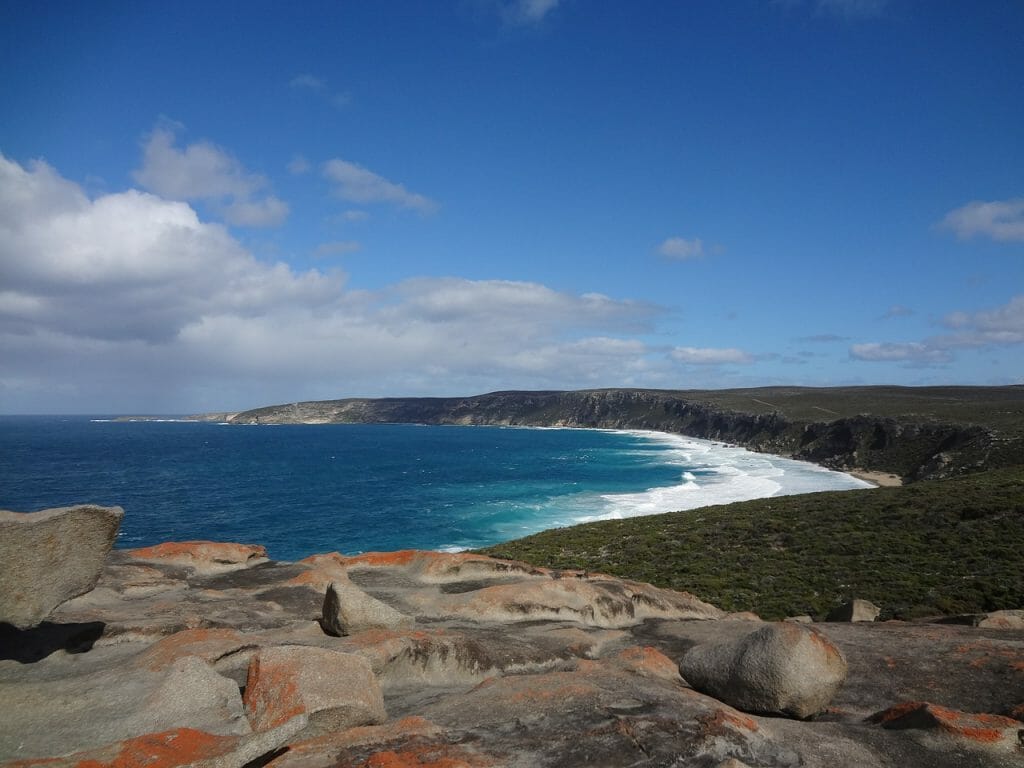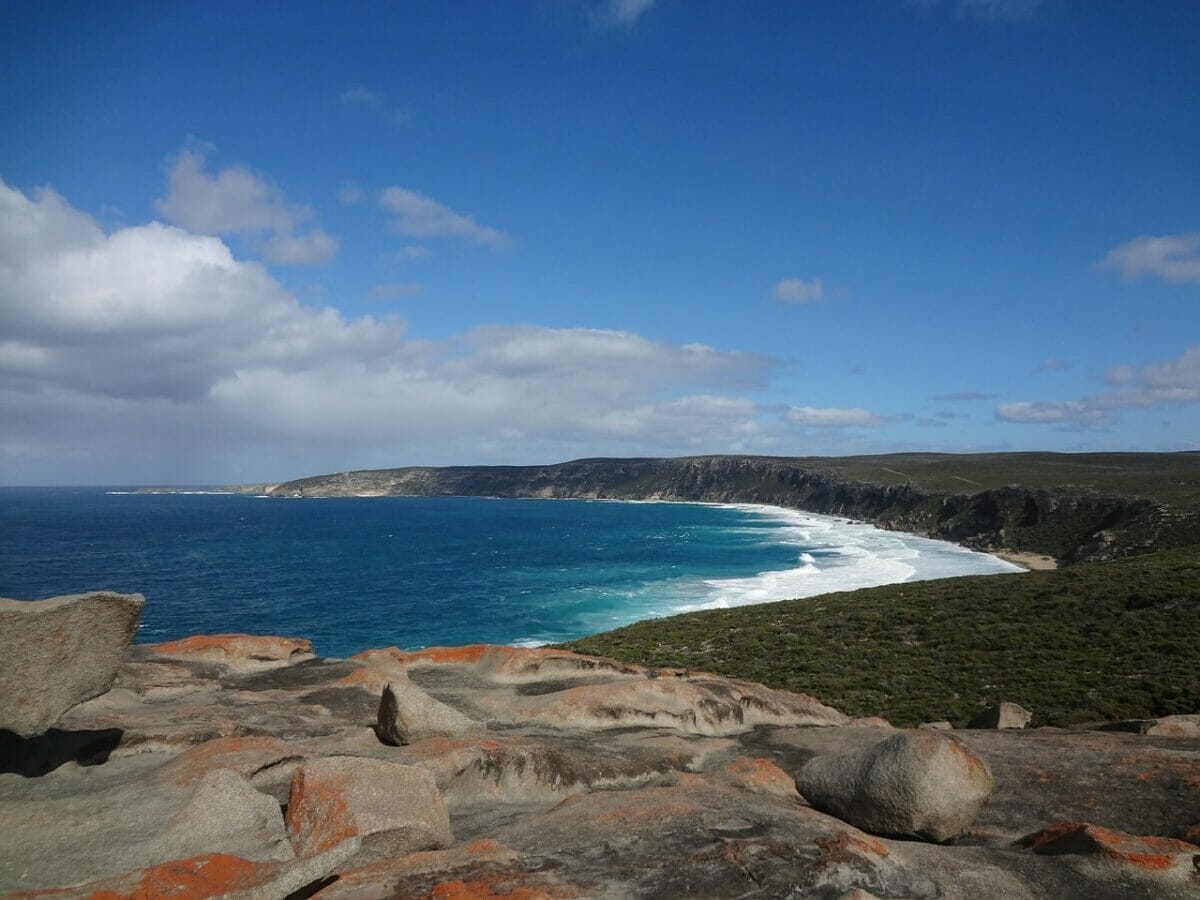 Cleland Wildlife Park – Meet some of Australia's most beloved native animals on this day trip from Adelaide to Cleland Wildlife Park in the Adelaide Hills. Learn about koalas, feed wallabies and kangaroos under staff supervision, be amused by wombats and emus, and observe dingos, Tasmanian devils and more. If you have time, be sure to also visit the nearby Mt Lofty Summit for panoramic views and photo ops.
The Bakehouse Theatre – A charming, intimate live theatre presents ground-breaking live events, many with queer themes. Relaxed, with a casual bar and affordable prices, take a look at upcoming events and see if any might appeal to you!
South Australian Museum – A huge 5-story museum committed to making Australia's natural and cultural heritage accessible, engaging and fun for over 150 years. Today the Museum is one of the most visited museums in Australia and holds collections of national and international significance. It is a leader in remote and regional community engagement and in Australian Aboriginal heritage and scientific research.
Adelaide Botanic Gardens – In the heart of the city but another world away … Take time out to explore the beauty and diversity of plants from across Australia and around the world. Spend an hour or spend the day among the 50 hectares of magnificently maintained gardens and stunning architecture. Relax in the shade or enjoy a coffee among some of Australia's finest plant collections.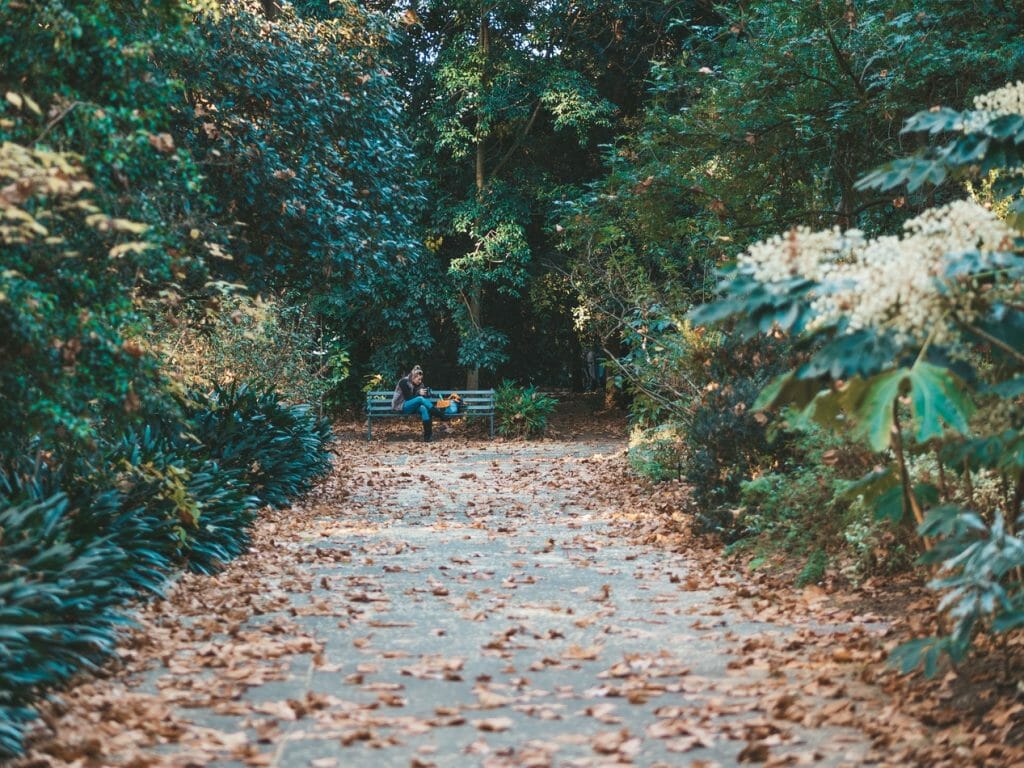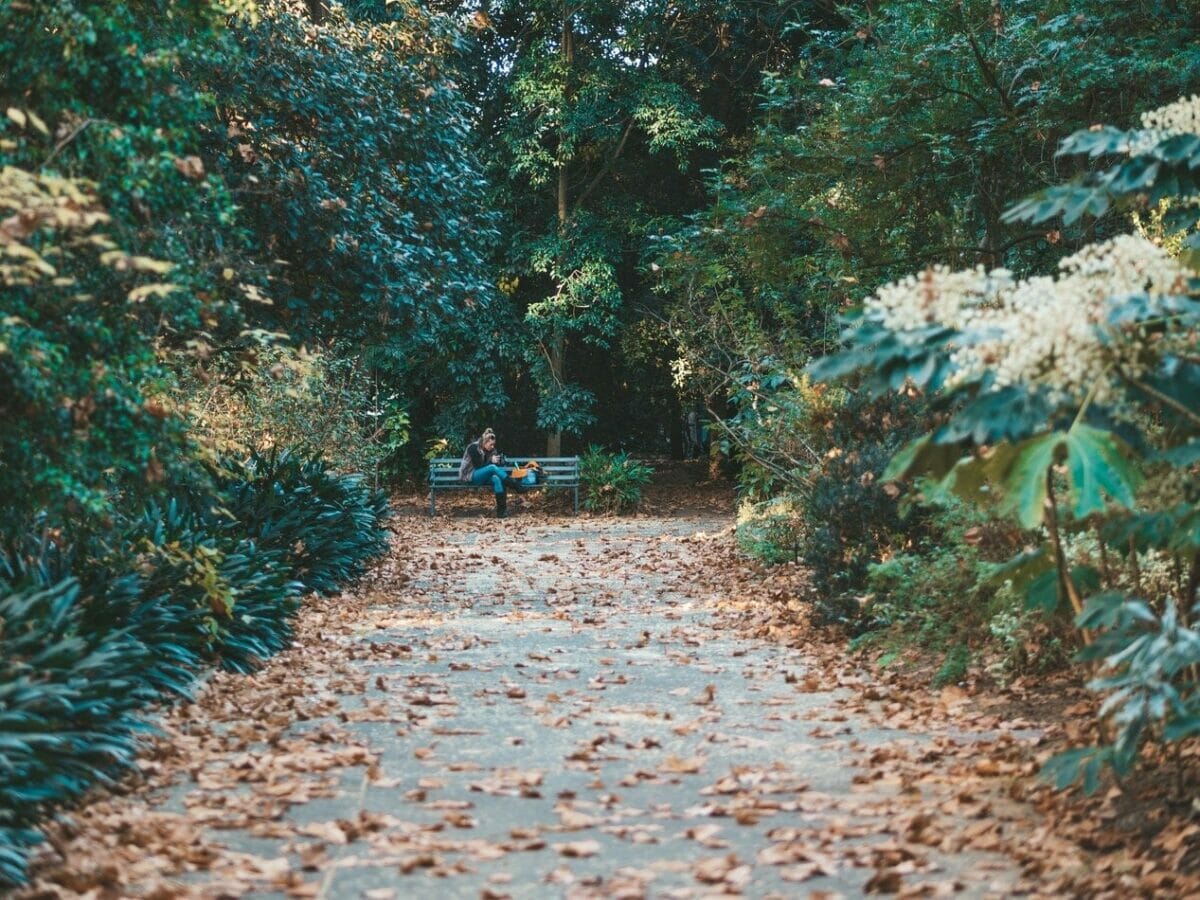 National Wine Centre of Australia – Nestled in the botanical gardens, is this national showcase for the Australian wine industry. If you're coming to the Centre to find out more about Australian wine, you're certain to be impressed. It's your chance to experience the winemaking process from the vine to the bottle through our interactive Wine Discovery Journey. You can then complete your experience by tasting fine Australian wines, and enjoying a meal from our seasonal menu at the Wined Bar.
Murray River Lunch Cruise – See the Murray River from the comfort of an authentic paddle wheeler during a 3-hour lunch cruise from Murray Bridge. Take in the scenery and enjoy an included 2-course lunch during this leisurely sightseeing cruise.
Adelaide City to Sea Bike Trip – Maximize your time in Adelaide and experience sights that many tourists miss on a bike ride between the city and the sea. At a relaxed pace, you'll cycle to the vibrant Riverside Precinct and visit Henley Beach for morning brunch. Pedal along the River Torrens Linear trail and parallel to the south Australian coastline, a visual feast of white sand beaches. Finally, explore Glenelg town and opt to return to Adelaide by tour bus or on the iconic Glenelg tram.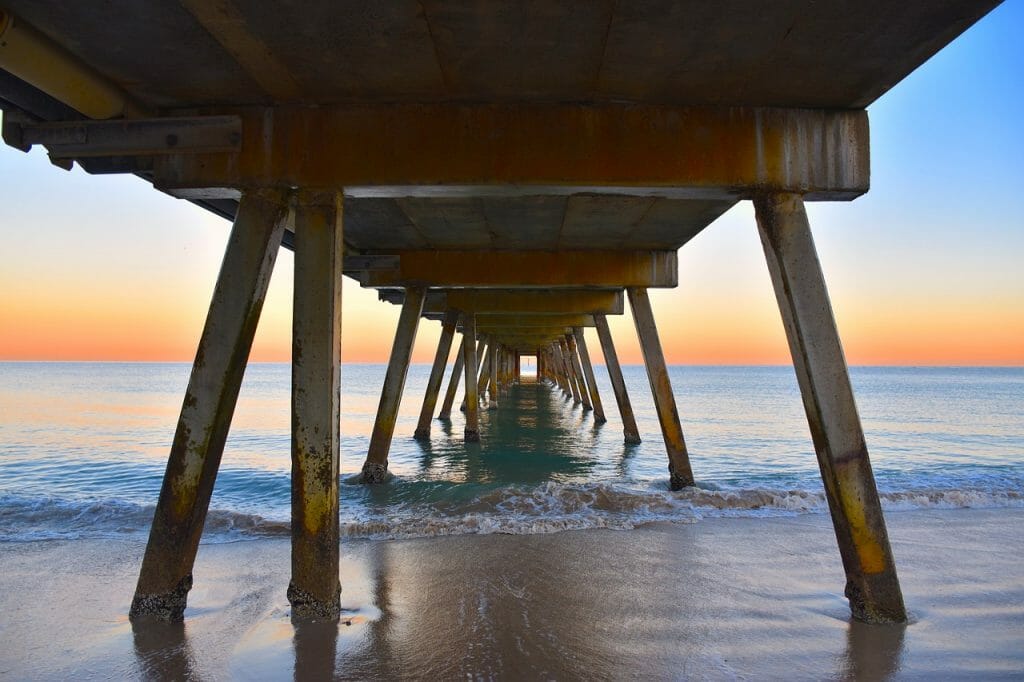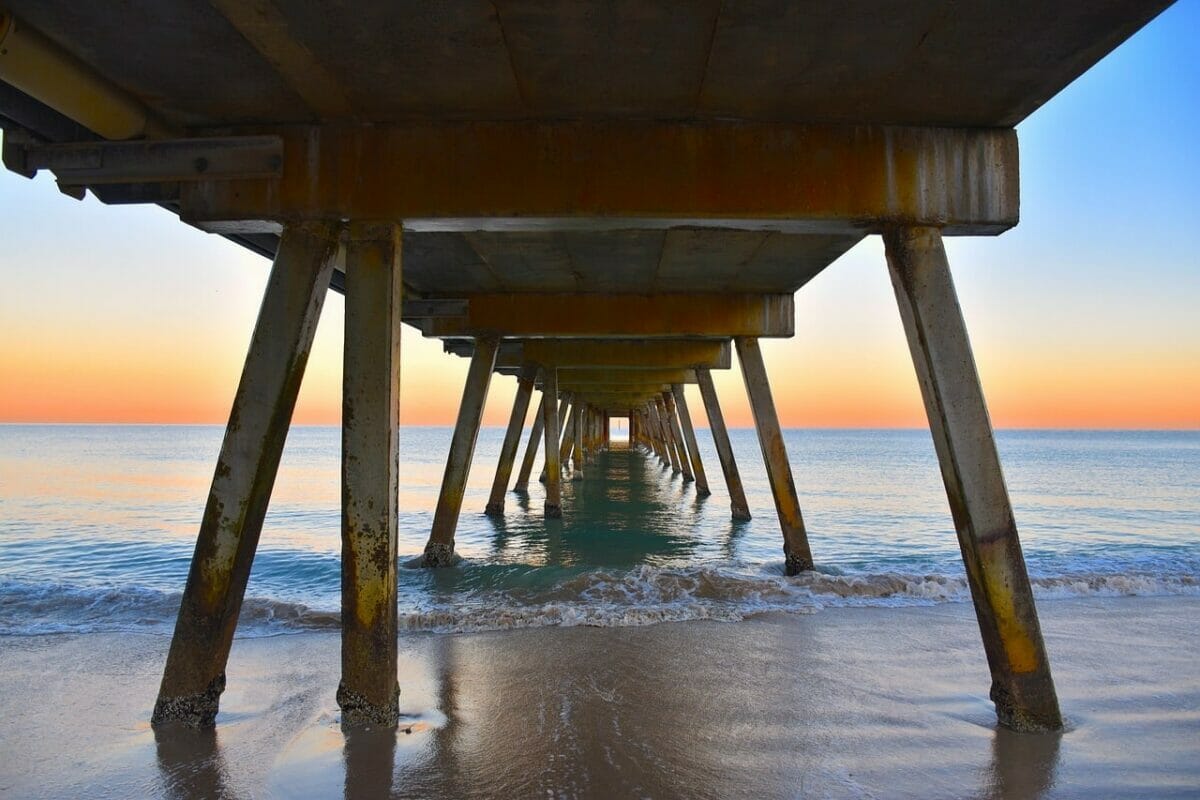 Rundle Mall – The heart of South Australian retail, circulating the freshest of fashion, beauty, lifestyle and food into the City of Adelaide. The longest and one of the busiest malls in Australia, Adelaide's Rundle Mall attracts more than 400,000 visitors and locals each week. Home to more than more than 700 retailers, over 300 non-retail services, and 2,500 food court seats. We personally prefer shopping for our LGBT clothing online (and getting it delivered right to our door…)
Adelaide Central Market – The Adelaide Central Market is one of the southern hemisphere's largest food markets and a thriving cultural hub. Rather than show up without knowing which stalls to visit, tour the market with a guide who takes you to sample tried-and-true winners. While you sample food, your guide also tells you about the history of migration in South Australia and how it has influenced the food culture. If you are short on time, you can also visit on your own which is fun, but really foodies won't want to risk getting the inside scoop!
Fleurieu Peninsula Craft Beer and Brewery 4WD Trip – If you're more into craft beer than high-end wine, skip South Australia's many wineries in favor of a 4WD day trip that highlights the hopping beer scene of the McLaren Vale region and Fleurieu Peninsula. With an insider guide, you'll travel across rugged landscapes and into the Australian bush to visit four microbreweries, where you'll taste the goods and learn about the beer-making process. Enjoy views of the coastal scenery of Gulf St Vincent, and stop for a hearty lunch on this small-group tour.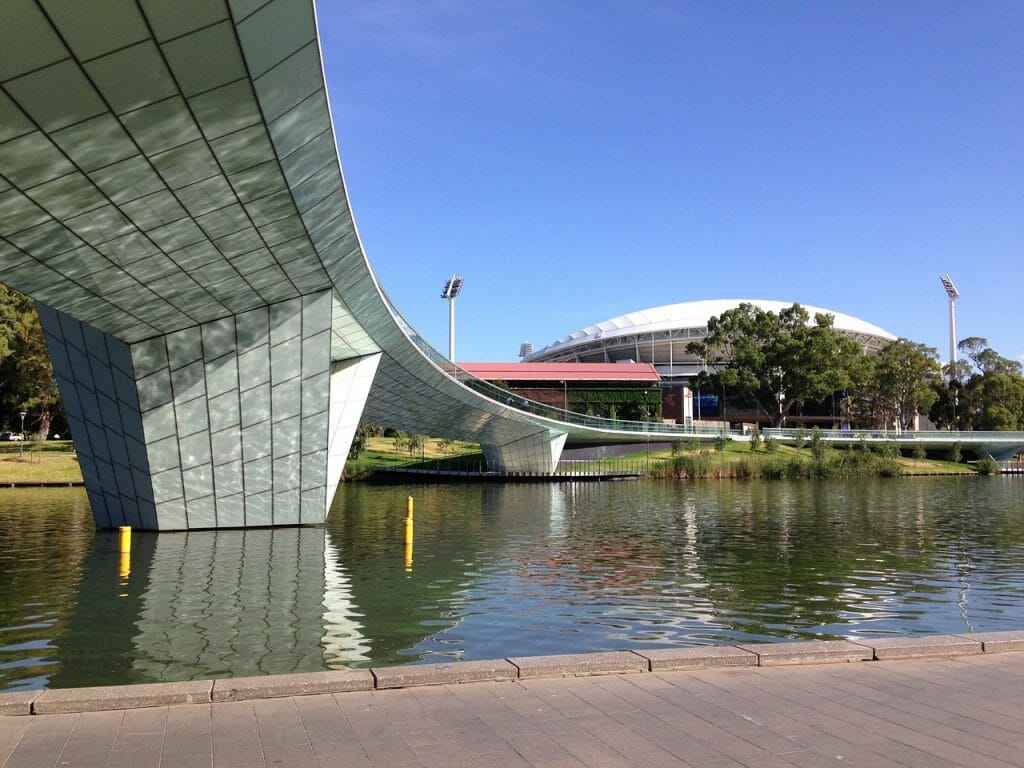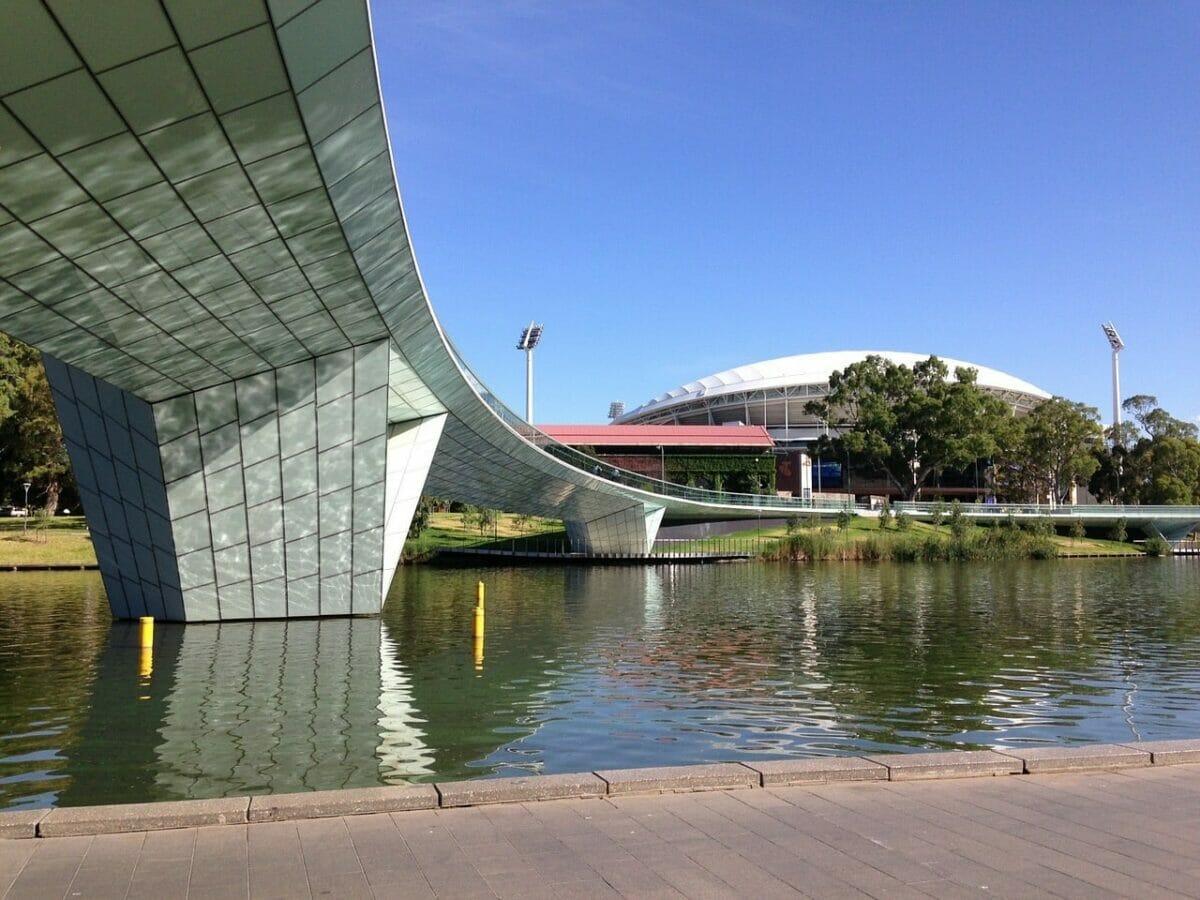 Gay Popular Annual Events in Adelaide
The Adelaide Festival – Held annually in March, this is one of Australia's great arts events – and though not specifically for the gays, it is fair to say a large proportion of artists, exhibitions and participants are of the queer persuasion. With a focus on the contemporary and strong tradition of innovation and excellence., the festival features the best in theatre, dance, music, literature, the visual arts and new media, from around Australia and the world
Feast Festival – Held annually in November, this is Adelaide's only not-for-profit LGBTI Queer Arts and Cultural Festival that celebrates Pride and Diversity. Feast began in 1997 providing a safe and inclusive platform for the LGBTIQ community to share and express themselves through art and culture – and has since grown to be one of 10 major Festivals in South Australia and is the 3rd largest LGBTIQ Festival in the country. Feast is an International event, bringing performers from all over the world, such as 2014 Eurovision winner Conchita Wurst, adult film star and trans activist Buck Angel, Olympic Diver Matthew Mitcham, 90's dance icon Dannii Minogue, Real Housewives of Melbourne star Gamble Breaux and many more, attracting visitors from near and far. Well worth planning a trip around, expect shocking events, fabulous queer fun, and ground-breaking art displays.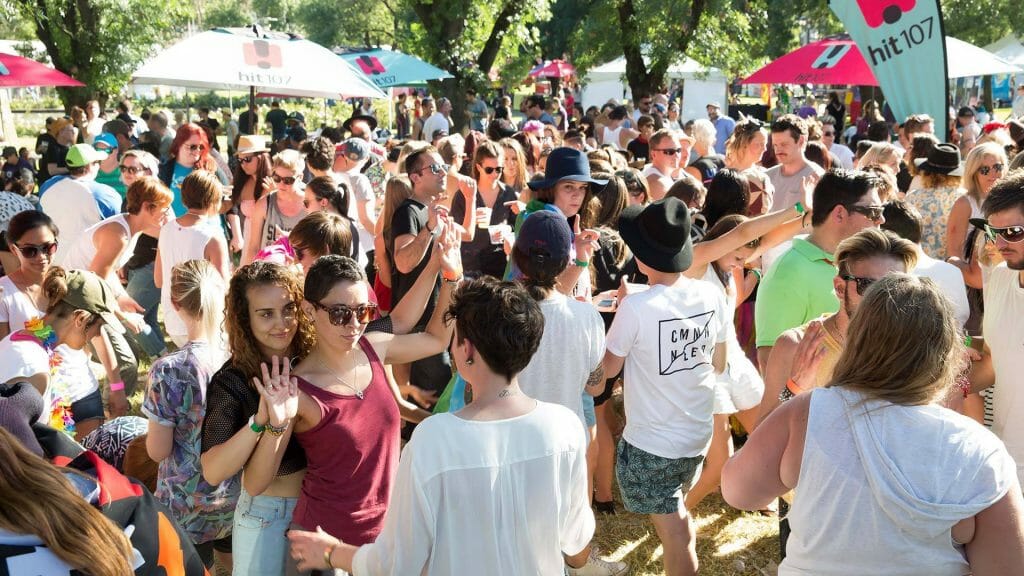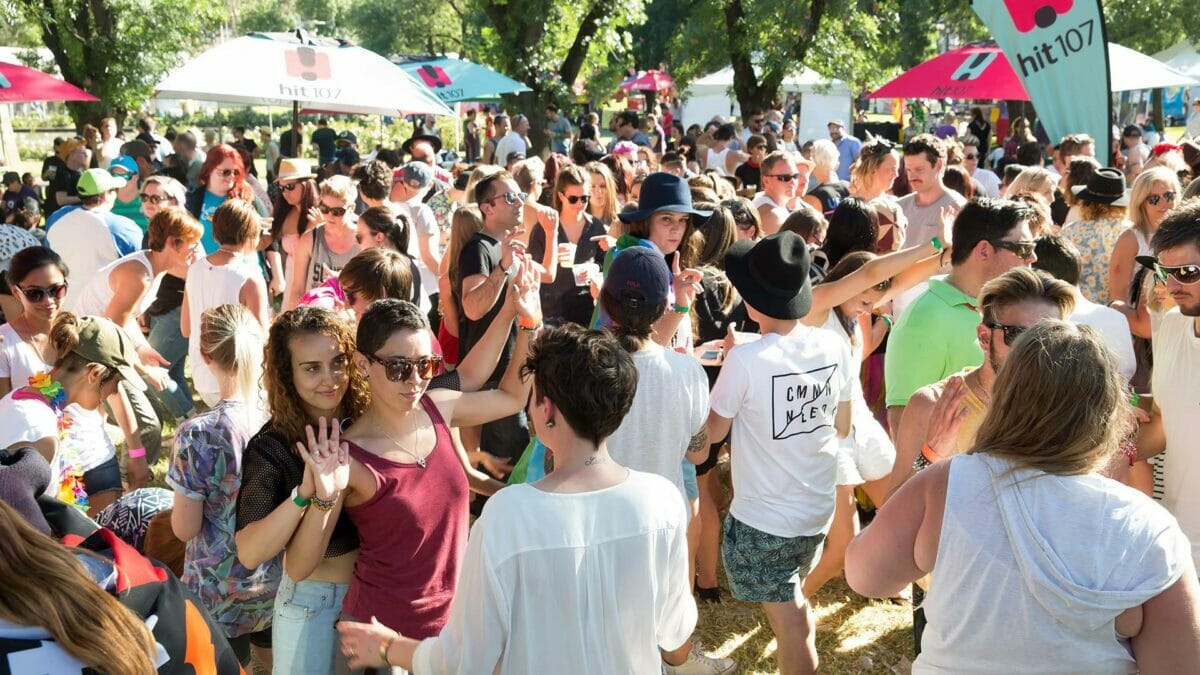 Pride March Adelaide – An annual celebration of love, diversity, and inclusion, Pride March Adelaide, is a community festival for LGBTIQ Southern Australians and allies. Adelaide Pride's Mission is to encourage the cultural expression, celebration and human rights of lesbian, gays, bisexual, transgender, intersex, queer and all people of diverse sexuality and gender living in Southern Australia – and this event is the perfect way to come out, celebrate queerness and support a good cause. Taking place annually in November, there is plenty of club nights and fun quirky events to go along to including fairs, dog shows, talks, cinema, shows and more. Check out their Facebook event page for more info, and look out for the other events and committee meetings held regularly throughout the year if you want to be involved more.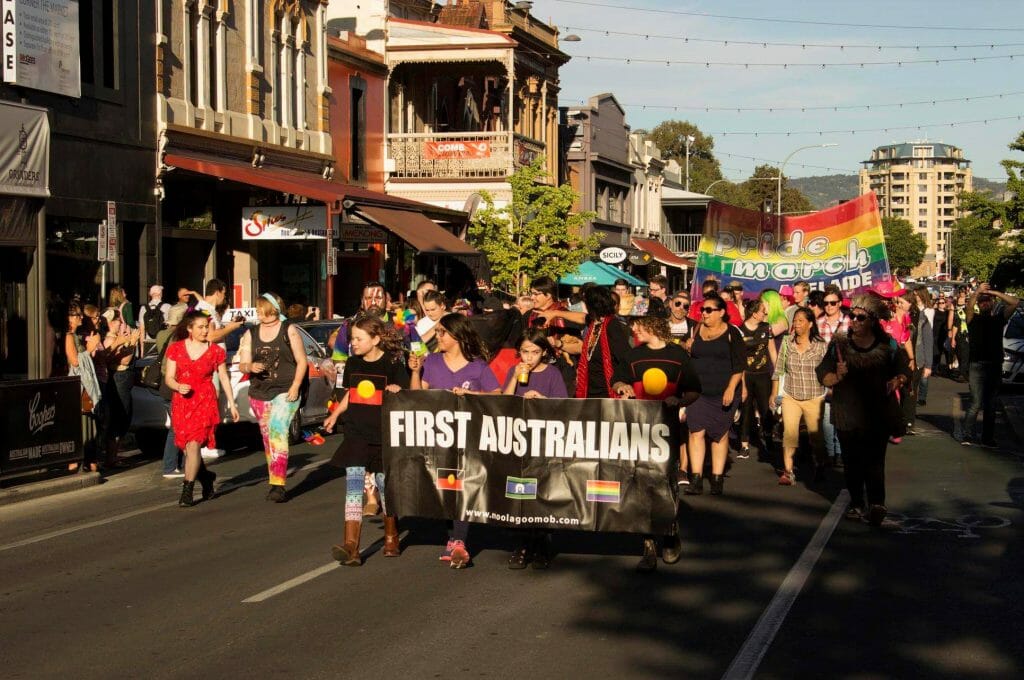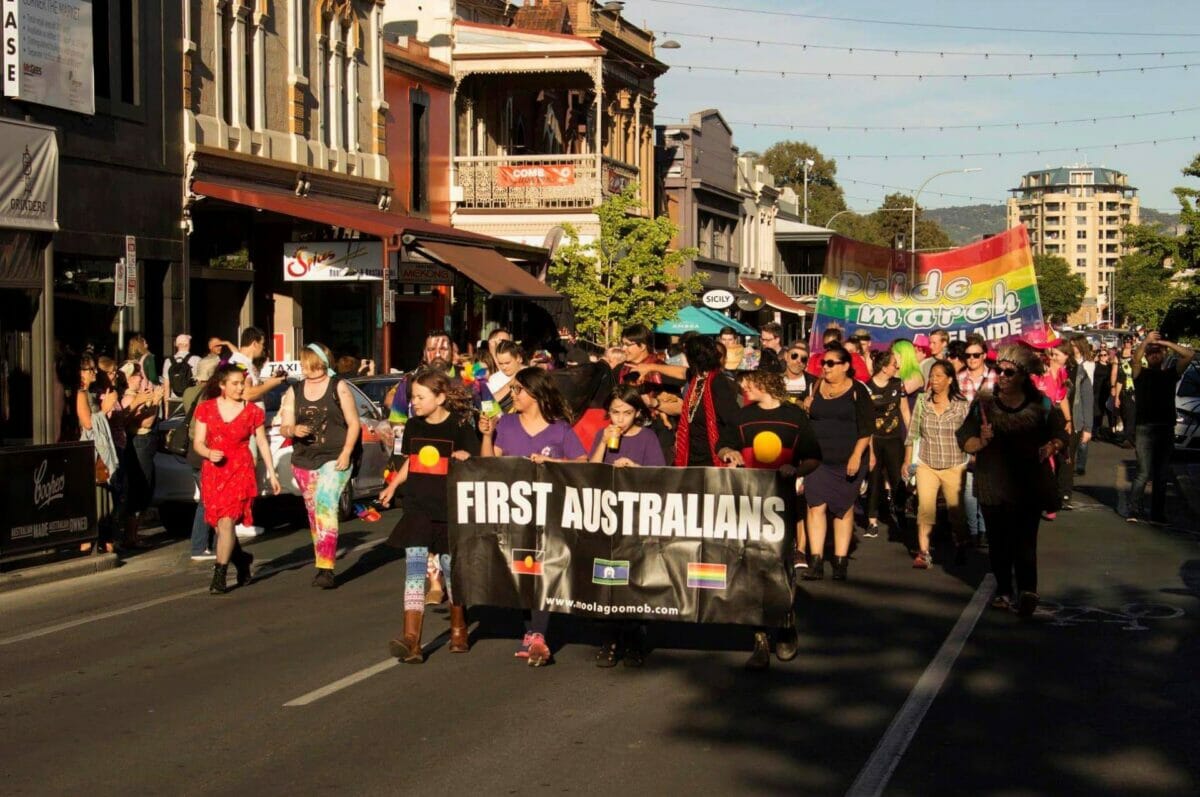 Gay-friendly and Gay Hotels in Adelaide
As a world leader in LGBT tourism, pretty much every hotel and hostel in Adelaide can be considered gay-friendly – after all being a gay-friendly it not all about upscale luxury, but about providing friendly and open service and welcoming everyone with open arms! Having said that, everyone likes to be surrounded by people with common interests, and as such there a few well-known hotels in Adelaide that are known hot spots for gay travelers to stay.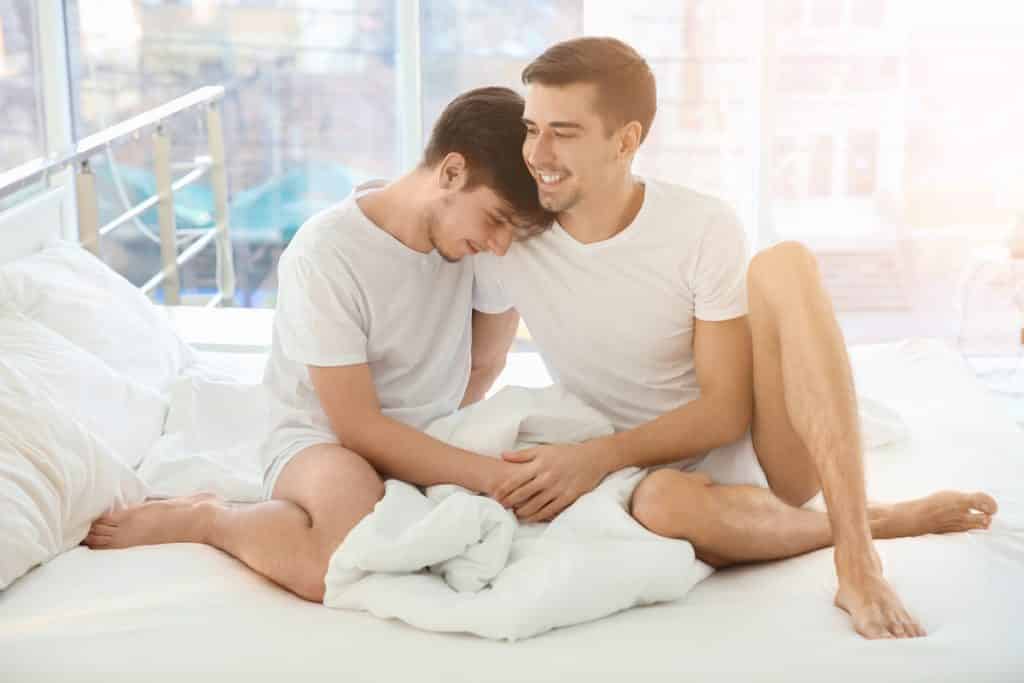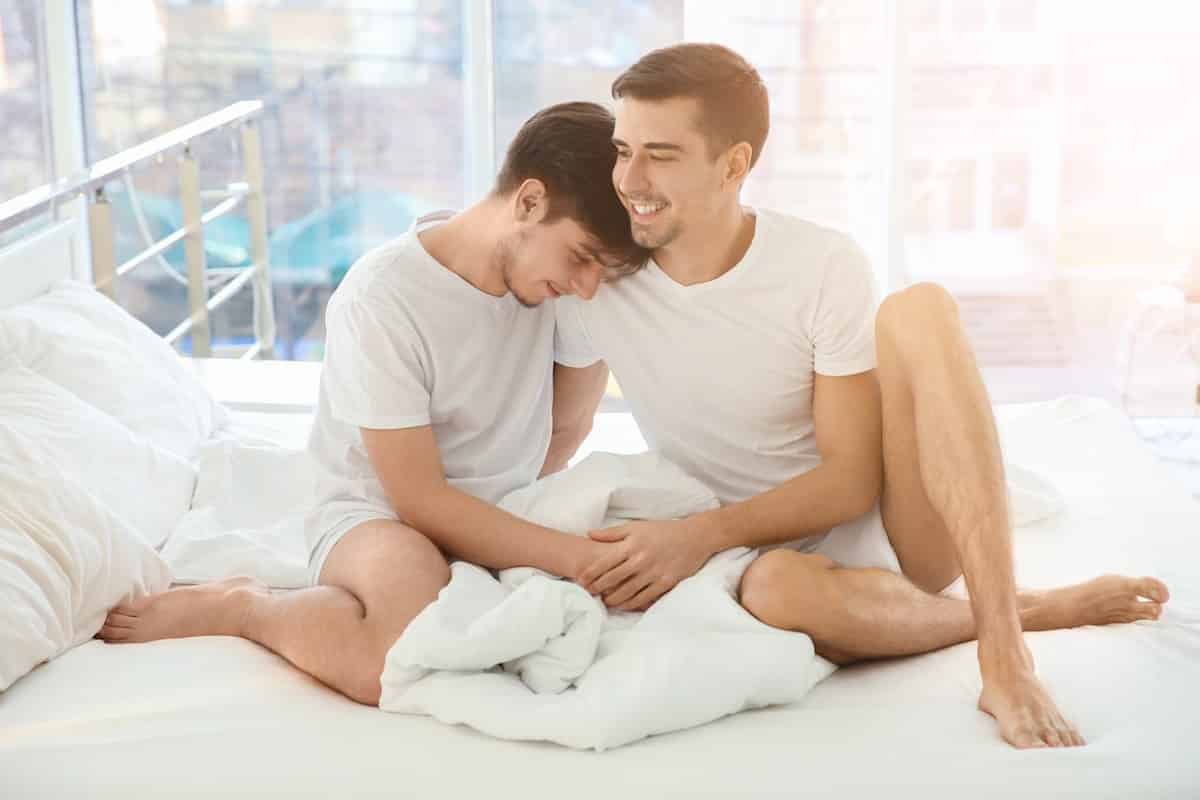 The best locations for gay travelers is in the CBD or West Eda area which is close to all the gay attractions of the Adelaide gay scene – by day or by night. The following gay-friendly and gay hotels in Adelaide are only the most popular with gay travelers but there are hundreds of other hotels in Adelaide if you don't find quite what you are looking for.
To be clear, however, there are no exclusively gay hotels in Adelaide like you might find in Key West, Fort Lauderdale, Puerto Vallarta or Palm Spring. Still, whether you want a fun and social hostel, a cheap place to crash after a night of partying or a chic designer option to sip cocktails and surround yourself with fabulous people – Gay Adelaide has it all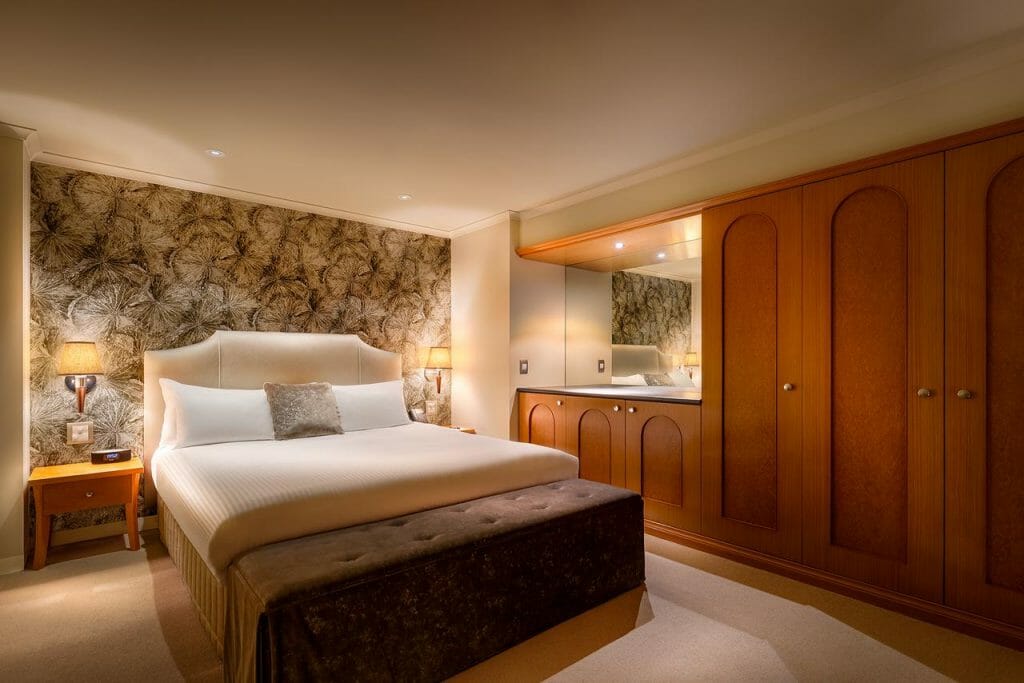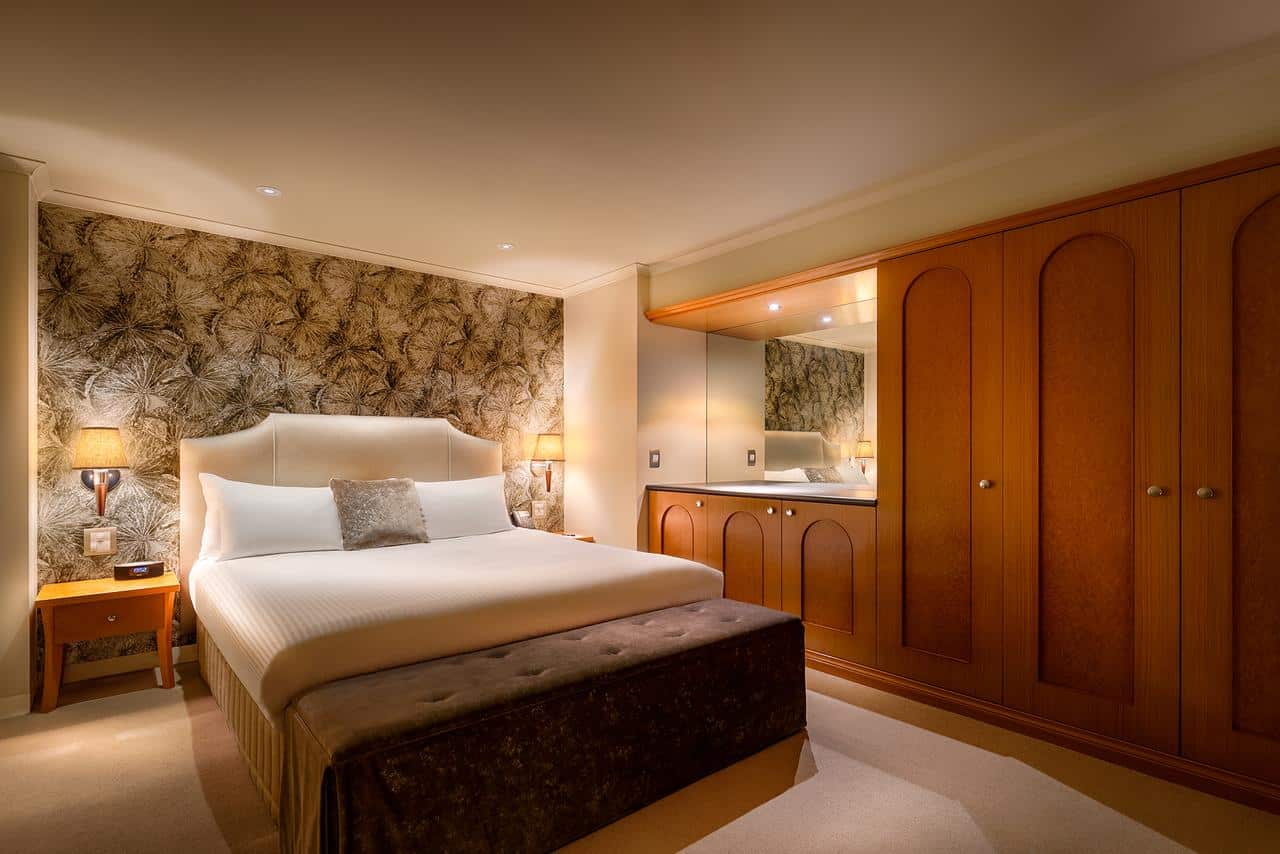 The Playford Adelaide MGallery by Sofitel ☆☆☆☆☆ – A gorgeous boutique hotel in the heart of Adelaide which offers the perfect blend of classical style and contemporary luxury. Very gay-popular thanks to this location and outlandish style, this hotel has a stunning Art Nouveau ambiance and features 182 beautifully appointed guestrooms and suites, luxurious amenities and exquisite cuisine. Ideally located opposite The Adelaide Convention Centre, Adelaide Casino, Adelaide Oval and within close walking proximity to the central business district. Offering the perfect blend of classical style and contemporary luxury, this is our first choice of accommodation when in town, with wonderfully detailed guest rooms, the award-winning Playford Restaurant, and stylish onsite bar.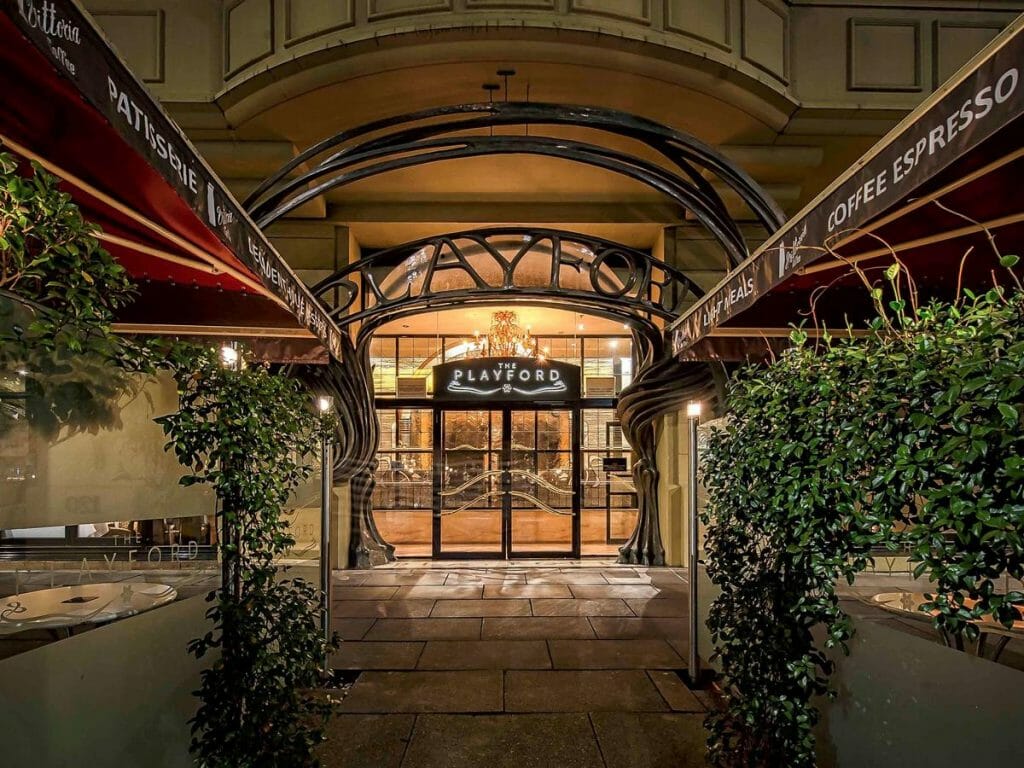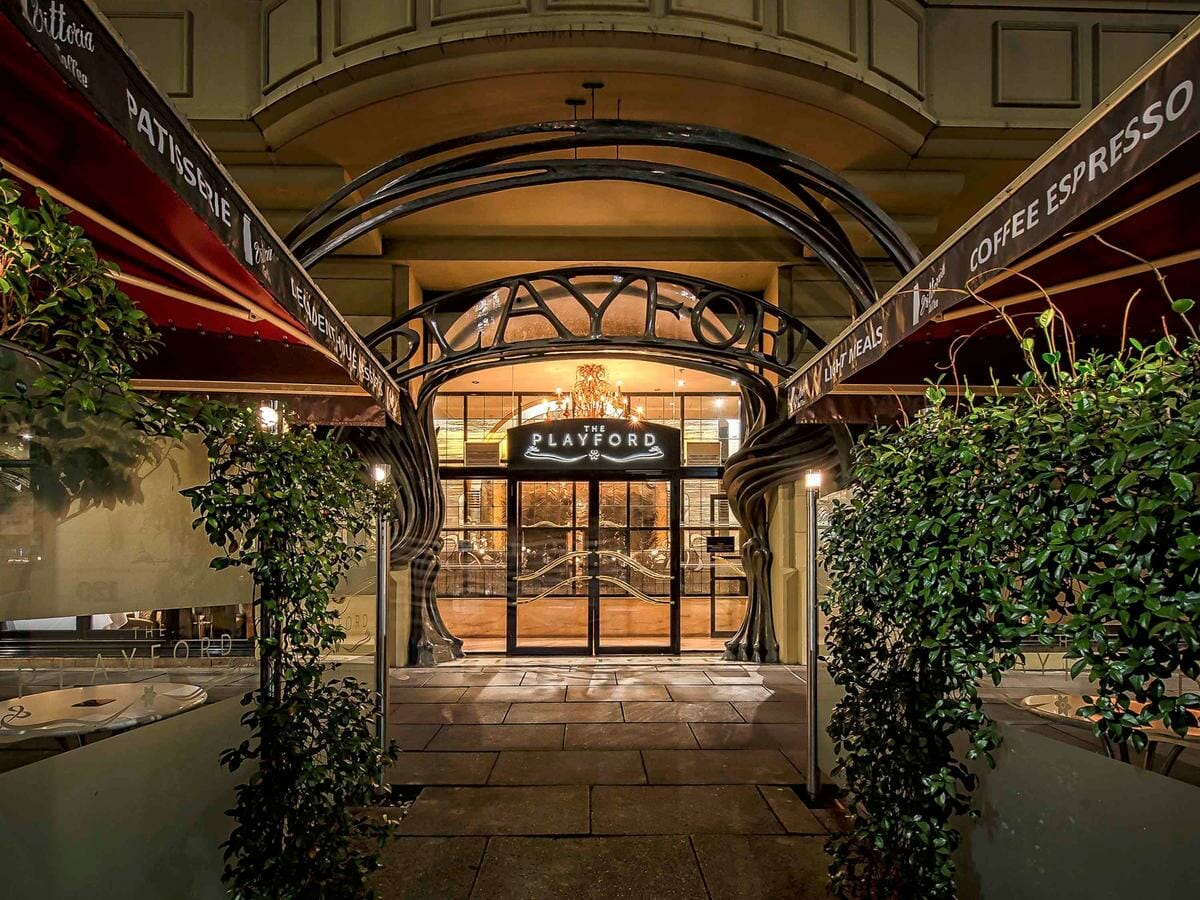 Mayfair Hotel ☆☆☆☆☆ – Style, elegance and a touch of glamour comes to Adelaide with the arrival of the city's newest five-star boutique hotel. The magnificent Mayfair Hotel is located right in the heart of the city at the corner of King William and Hindley Streets in the heritage-listed, beautifully renovated Colonial Mutual Life building. A recent stunning 'jewel box' addition beautifully complementing the original 'Romanesque' style building, and inside there are 170 elegant and well-appointed rooms and suites, opulent yet stylish spaces, a business center, gym, exquisite restaurant and a newly opened rooftop bar.
Quest King William South ☆☆☆☆ – Luxurious serviced apartments offering guests a relaxed and comfortable Adelaide CBD accommodation experience, perfect for both short and long stays. Quest King William South has 104 serviced apartments, including Studio, One and Two Bedroom Apartments. Studios, featuring kitchenettes, modern furnishings, open-plan living spaces, and stunning views out across the city. If you value space and style over superfluous amenities, this is an excellent option.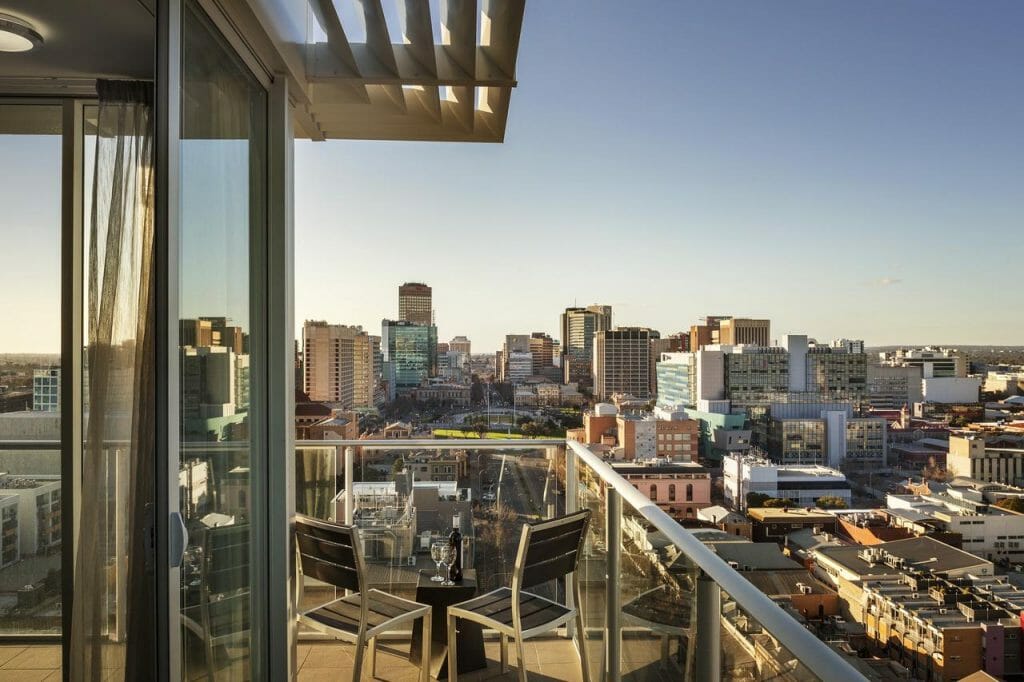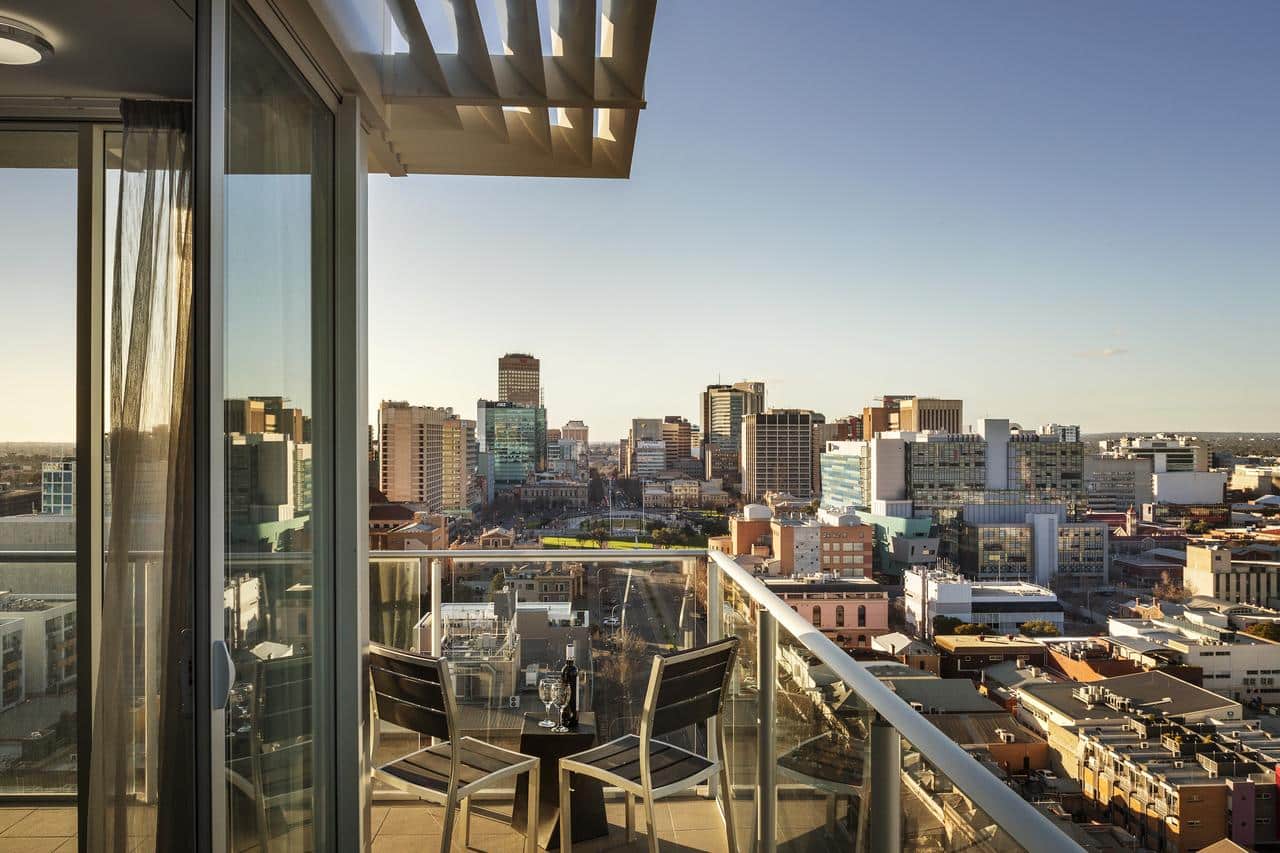 ibis Adelaide ☆☆☆☆ – Vibrant. Affordable. Hi-Tech. A fresh, new destination among CBD hotels, ibis Adelaide offers some of the best value accommodation in Adelaide, and all right in the heart of the city. Boasting 311 modern guest room accommodation outfitted with the latest technology, fast, Wi-Fi and views of Adelaide Hills, this is the perfect hotel for the budget minded business or leisure travelers who want a comfortable stay without an eye-watering price tag!
Majestic Minima Hotel ☆☆☆ – Located in North Adelaide, Majestic Minima Hotel has set new trends in stylish yet inexpensive city fringe accommodation, offering mini-rooms at a mini-price. It has been transformed into a creative space for guests and artists. Every room is unique, with a selection of local South Australian artists commissioned to paint a room, representing their vision along the theme of creation. Quirky and affordable accommodation that you will not soon forget!
Adelaide Central YHA ☆☆ – An award-winning hostel ideally located in the heart of the vibrant city center overlooking a leafy squarer, only minutes away from all major attractions and public transport. Enjoy cool activities like ping pong competitions, walking tours and pub nights, meet new friends in the social areas and enjoy waking up with pancakes for breakfast each morning. Sure, you have to share a dorm room – but a bed here is a lot cheaper than a private room in Adelaide and a great alternative to meeting people over hook up apps if you are traveling solo!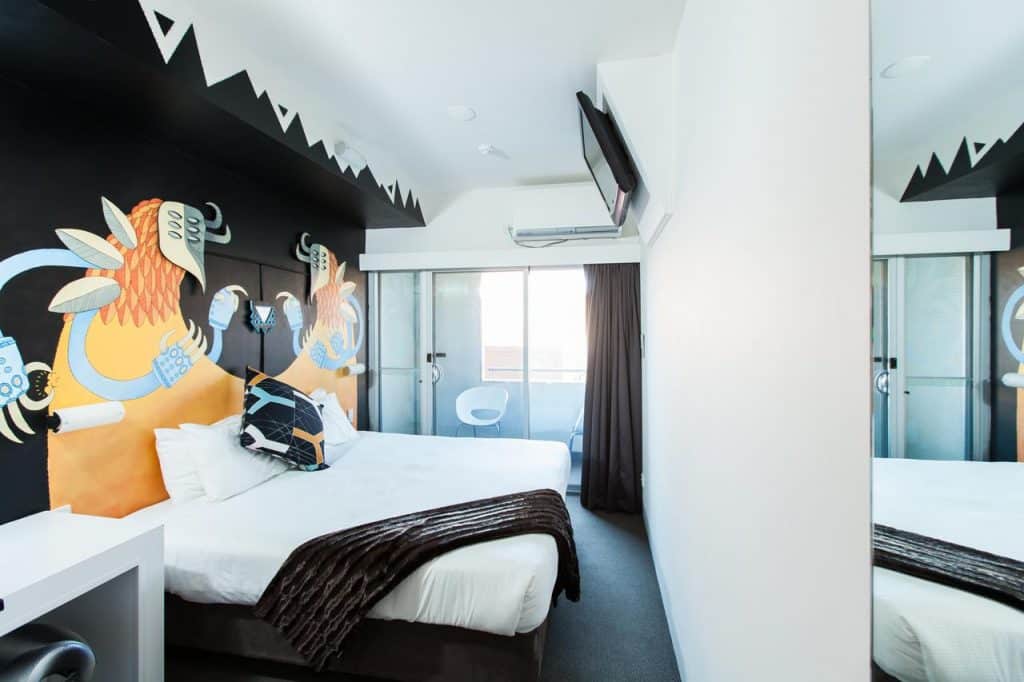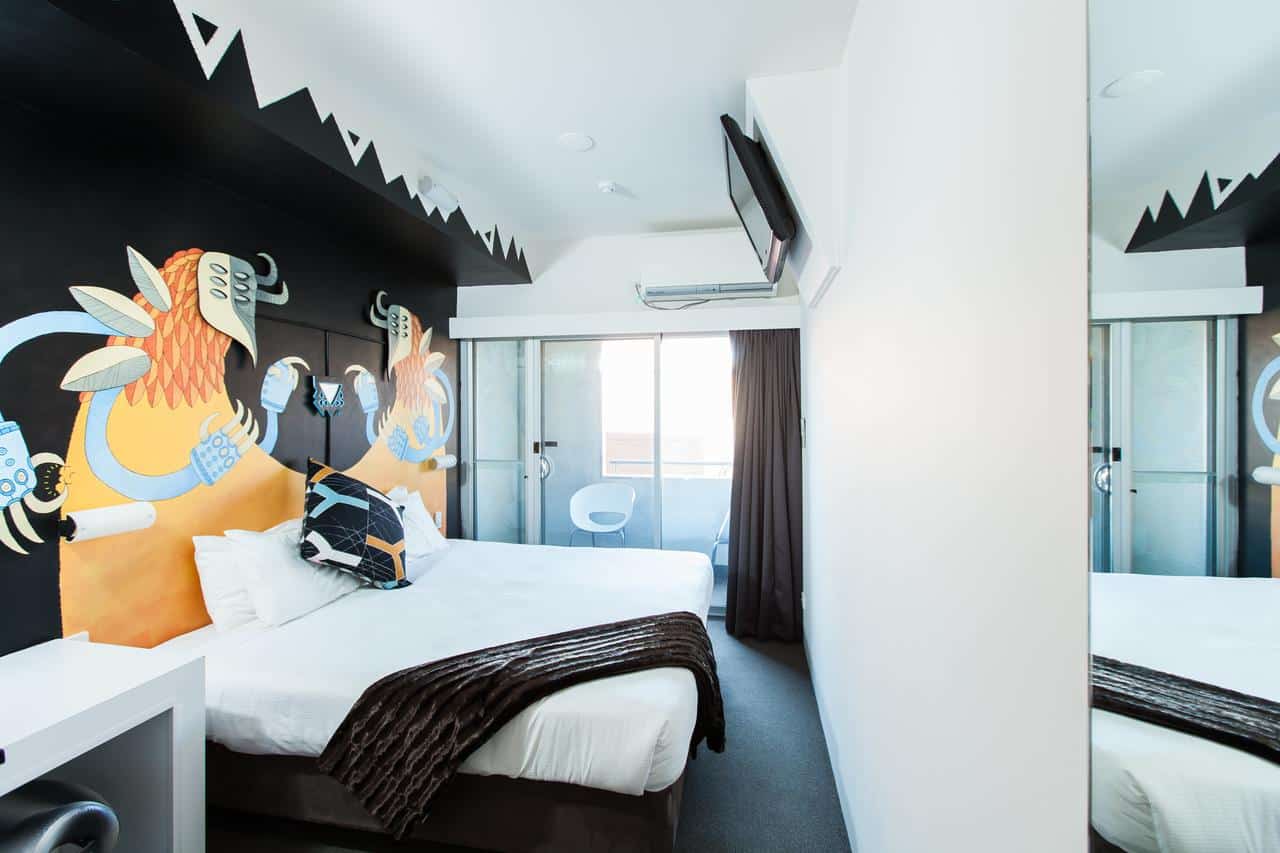 The Adelaide Gay Nightlife Scene
For a city of its size which isn't particularly well-known internationally, Adelaide has some unexpectedly good options for nightlife that promise plenty of fun and something for everyone. The Adelaide nightlife scene is surprisingly vivacious, open and welcoming to anybody who just wants to have a good time – but sadly there is only one venue with as specifically for the LGBT crowd following the recent closure of OZ nightclub.
Contrary to what the rest of Australia, and the world, might believe – Adelaide is anything but boring. In fact, the cocktail bars and clubs here are truly some of the most inventive, energetic and fun we have ever experienced – plus there is a steady stream of theme nights, drag performances and epic DJ's visiting thanks to local LGBT events company, In The Dark.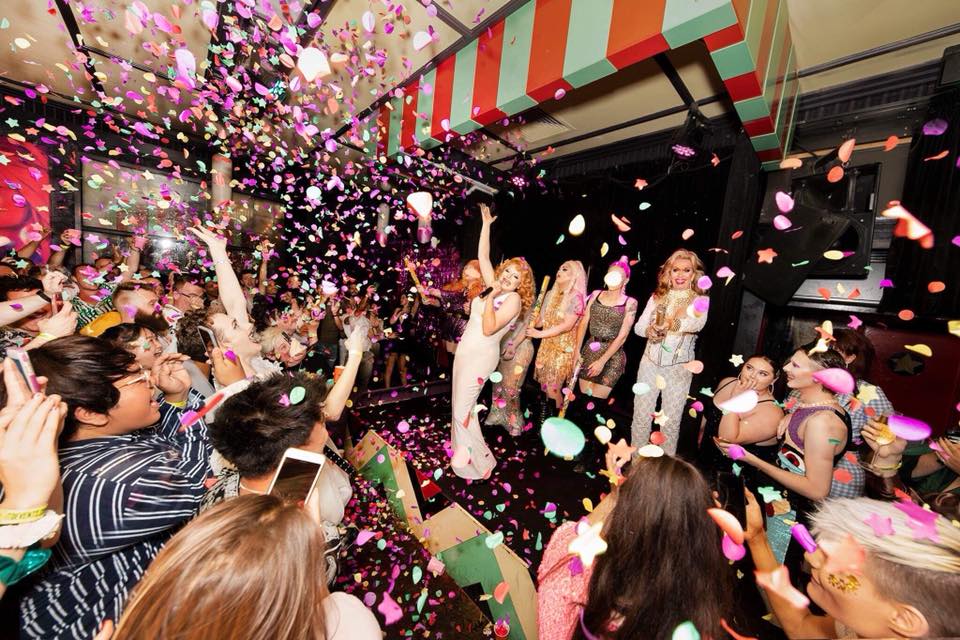 Most venues are located in downtown area with bustling restaurants and nightclub – but a few are more far-flung in the inner and outer suburbs which could be fun to explore if you have more than a few nights in town.
One thing we also loved about the Adelaide club scene is it has plenty of fabulous cocktail and food options as well as unforgettable, high-end venues. Sure, they don't come cheap but while maxing out your credit card you can expect to sip fantastic mojitos and martinis in charming courtyards or panoramic rooftop's overlooking this modern city. Seriously though, prices here are some of the most expensive we have ever come across and are up there with Dubai, Copenhagen, Luxembourg, and Oslo.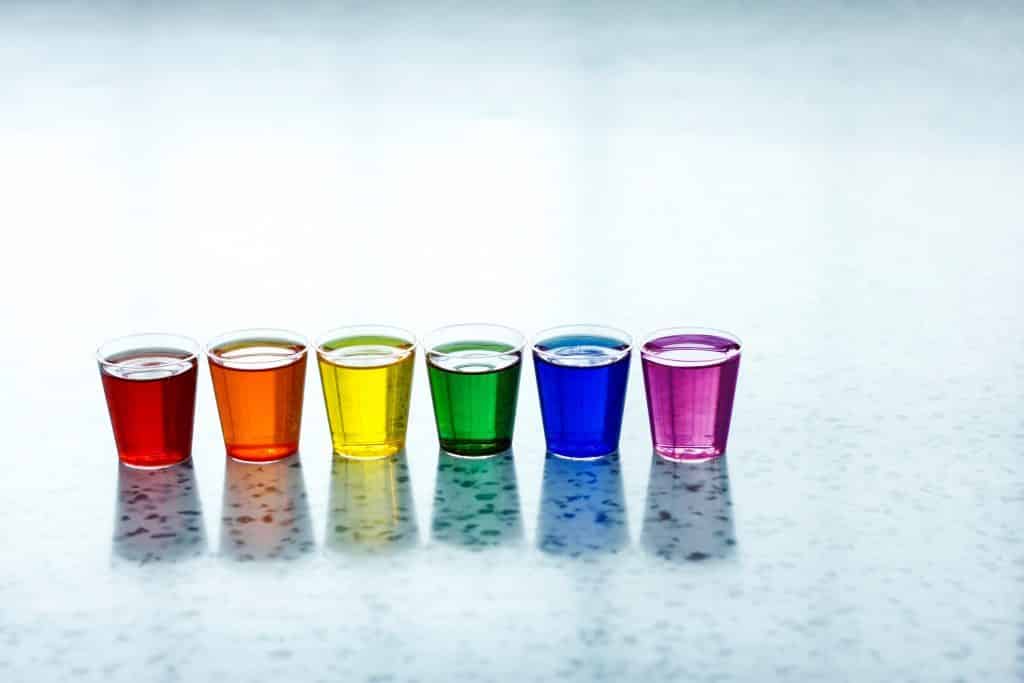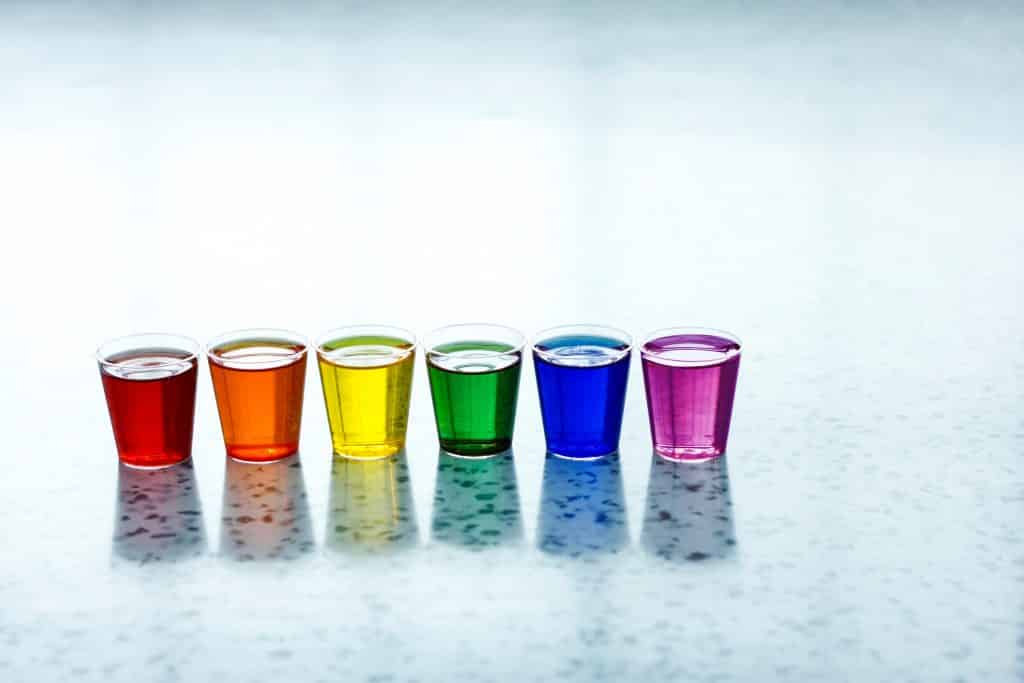 Hotspots For Gay Nightlife in Adelaide
In The Dark Events – Also known as ITDEVENTS, these guys are the leading marketing, special event and production company focussing on the LGBTQI market since 2001 within Australia – and more recently Auckland in New Zealand. Check out their upcoming events, both in Adelaide and in Sydney, Melbourne, Brisbane and Perth for mega-parties, world-famous drag talents from RuPaul's Drag Race and more…
Mary's Poppin – Mary's here and she doesn't like to knit or drink tea. Unless it's a Schlong Island Iced Tea and knitting is code for a drag show. This eccentric new spot in the heart of the East End of Adelaide is a push against the trend of hip small bars. Cocktails are twists on once-cool classics like the Pina Colada and dancing is encouraged. Insisted on, even. There are 9 drag shows a night by the Mary's Divas and you won't find any Tiesto or Darude here, just sweet-like-candy '80s pop hits to have you boppin' into the wee hours. A relatively new addition to the Adelaide gay scene opening only in 2016 but already now the only gay venue remaining in town! Open Every Friday & Saturday from 8 pm.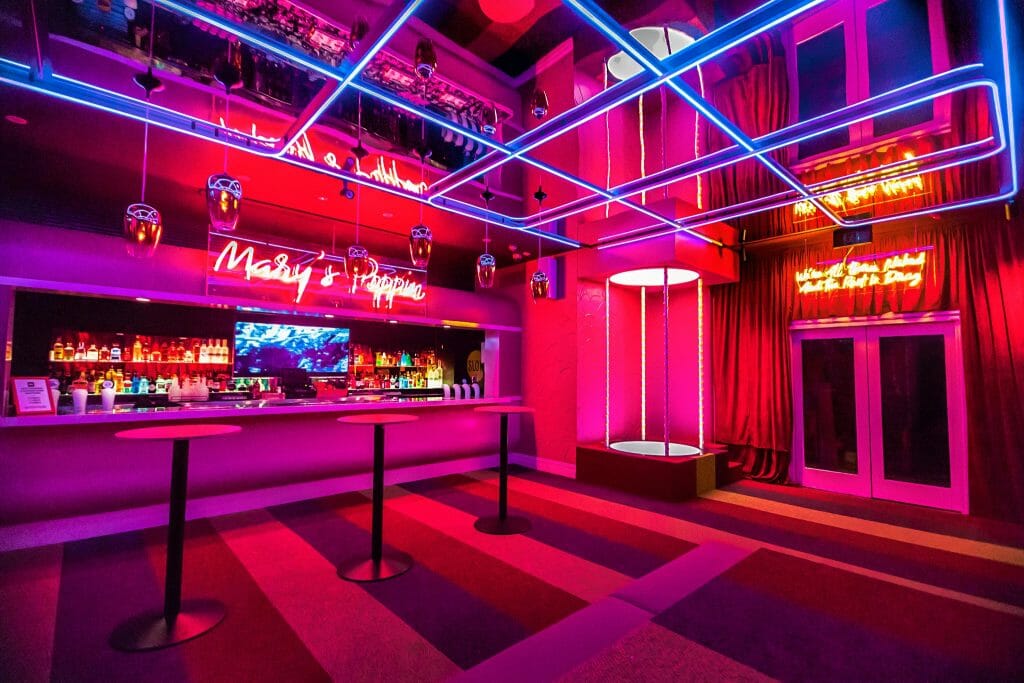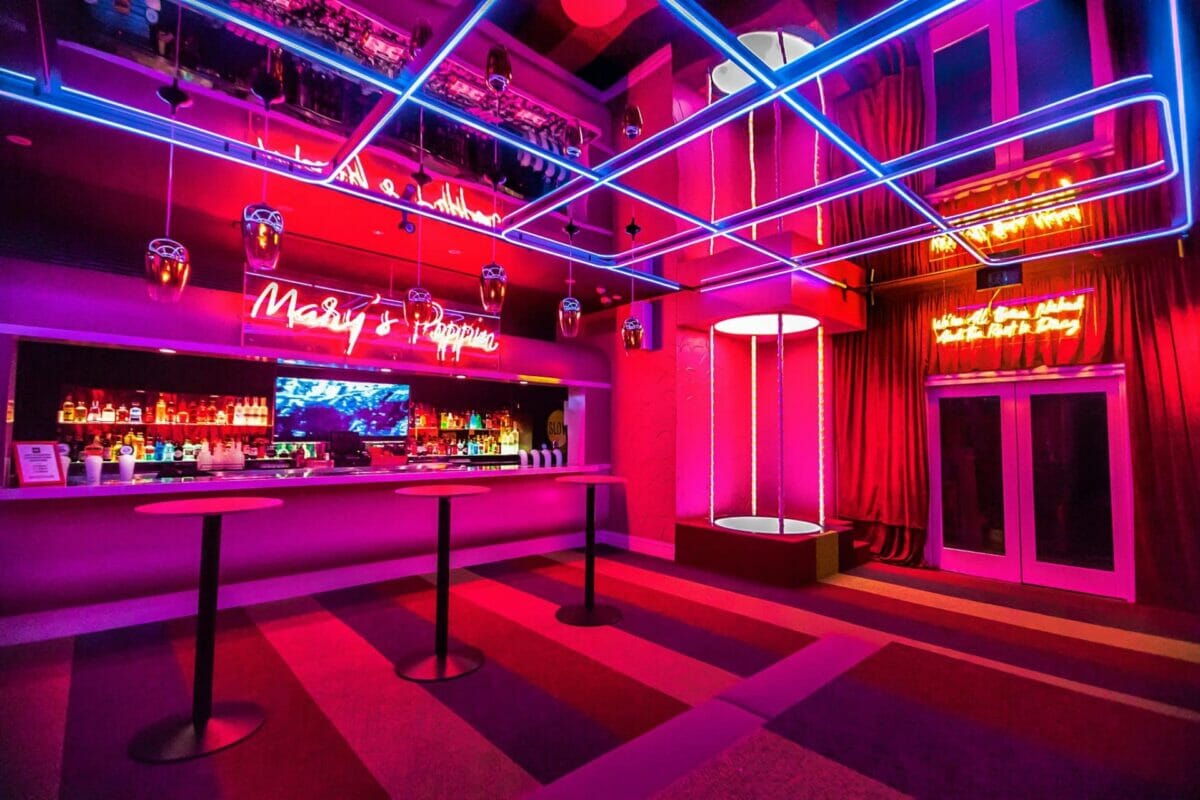 Mother Vine – Wherever there is wine, there is bound to be gays and this happening spot is no exception. The cute blonde waiters probably help too. Escape here for a night of refined elegance, contemporary decor, fussy wine, and quiet conversation.
The Libertine by Louis – Often listed as a gay venue, but really mixed and welcome to all – the focus here is simply combining food, fun, and creativity into one extraordinary space. Cozy and quirky with mismatched décor that lends itself to interesting conversations, we recommend going for one of their bizarre events, or on a date where you want to talk and enjoy good food and drinks. Most well-known for their murder mystery dinners full of hairspray and glitter and mirror balls. If you are lucky enough to attend, prepare for murder on the dance floor in between the Spice Girls and Marky Mark and the funky bunch. The staff are super cute, it is run by a gay couple, and – as you would expect – fabulously inclusive.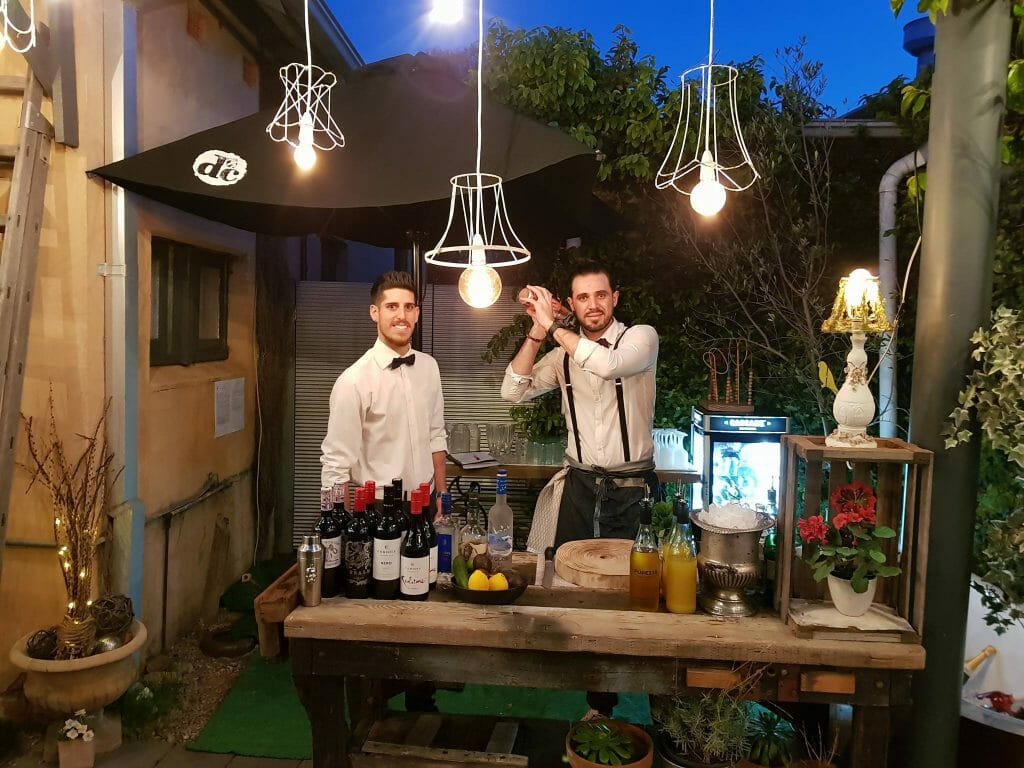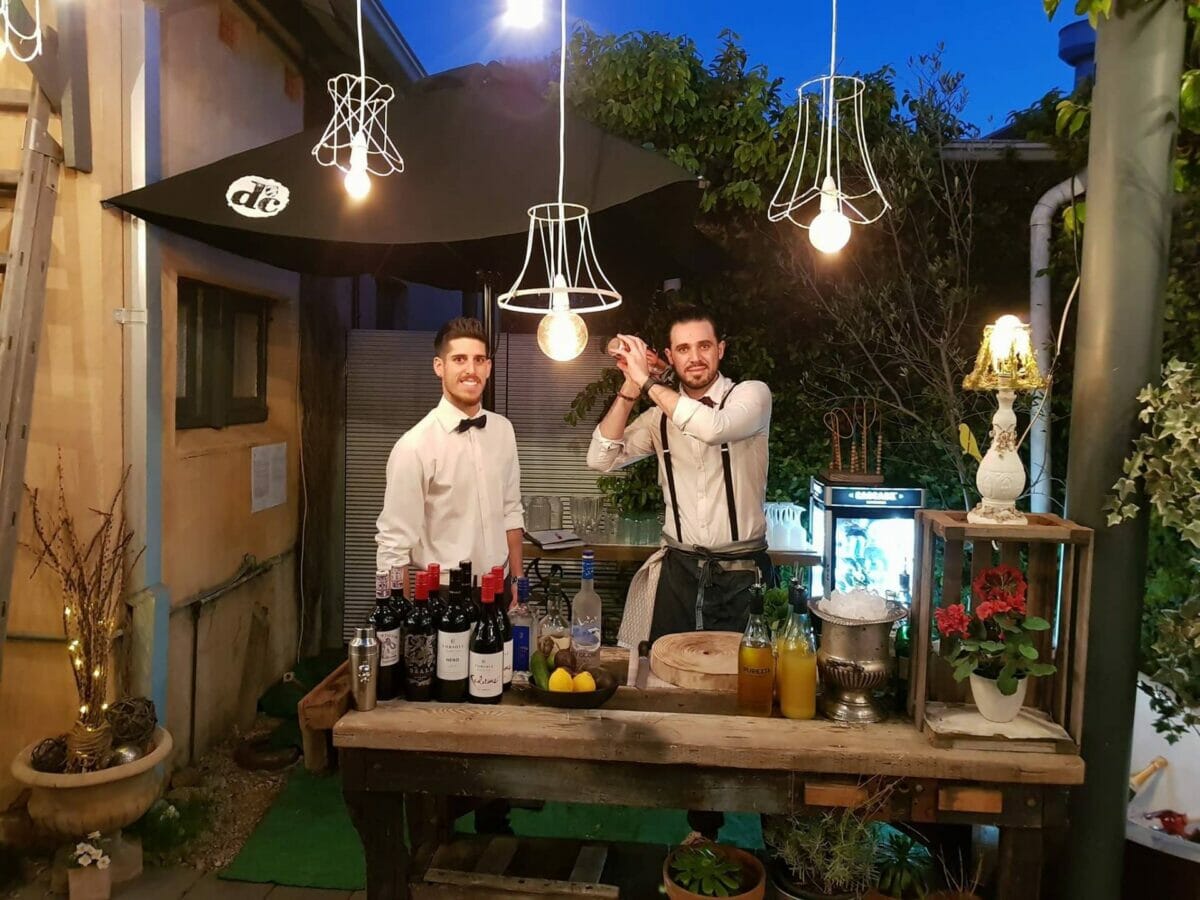 The Unley – An Adelaide pub on the edge of the city center, located on popular Unley Road in Parkside with a welcoming bright and airy interior, complemented by cozy fireplaces, first-floor balconies, and an open rooftop bar to watch the world go by. The revamped interior of this Adelaide pub features a series of open and free-flowing spaces, with contemporary styling and furniture. The Unley boasts a gorgeous rooftop space, perfect for drinks, dinner, lunch or catch-ups with friends. Gay-popular and most certainly welcoming of everybody!
Rocket Bar & Rooftop – An outdoor bar situated above the live music institution (the Electric Circus complex), Rocket Bar offering a relaxed environment with everything from house and disco to indie music. The upstairs, relaxed cocktail bar with city views is one of our favorite spots in the whole city.
Pink Moon Saloon – A cute cabin-inspired bar and kitchen in Adelaide hidden on a 4-meter wide site. Cooler than cool, this spot serves us divine cocktails and will have you dreaming of your next wilderness getaway.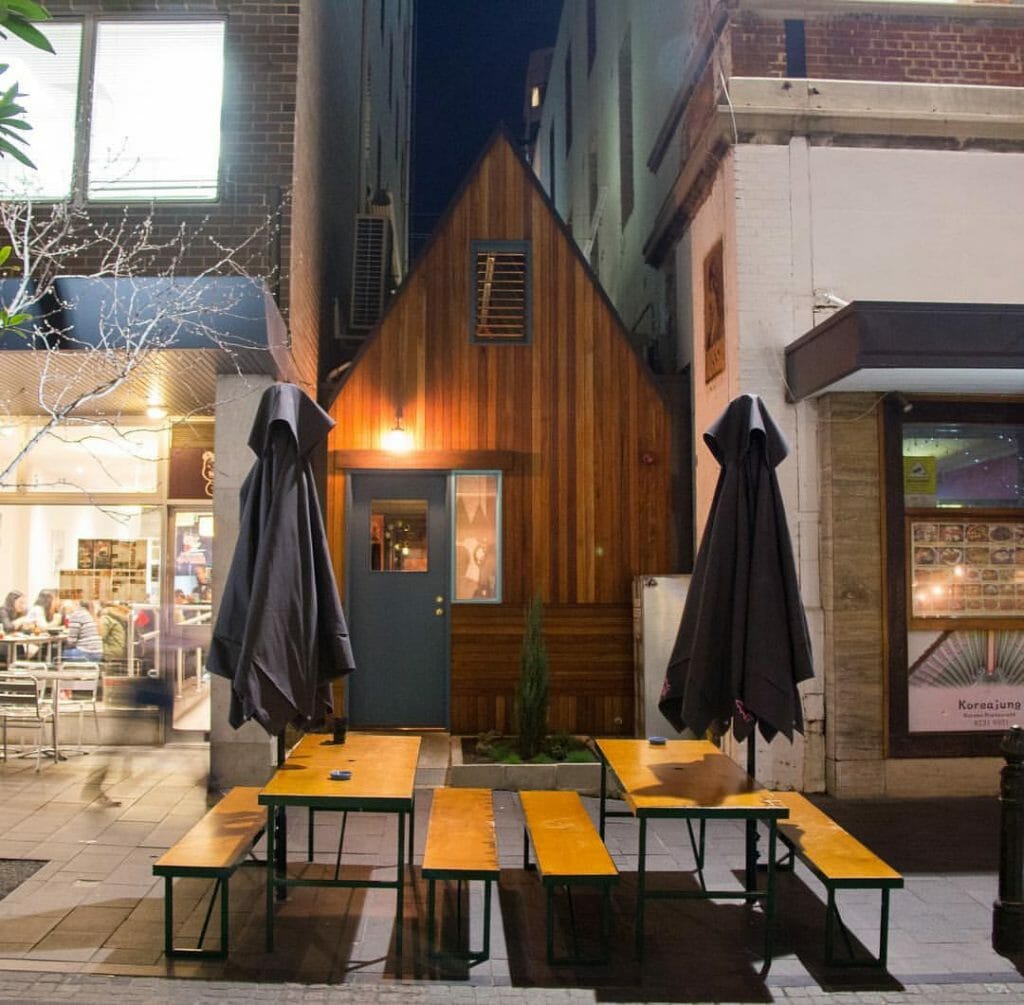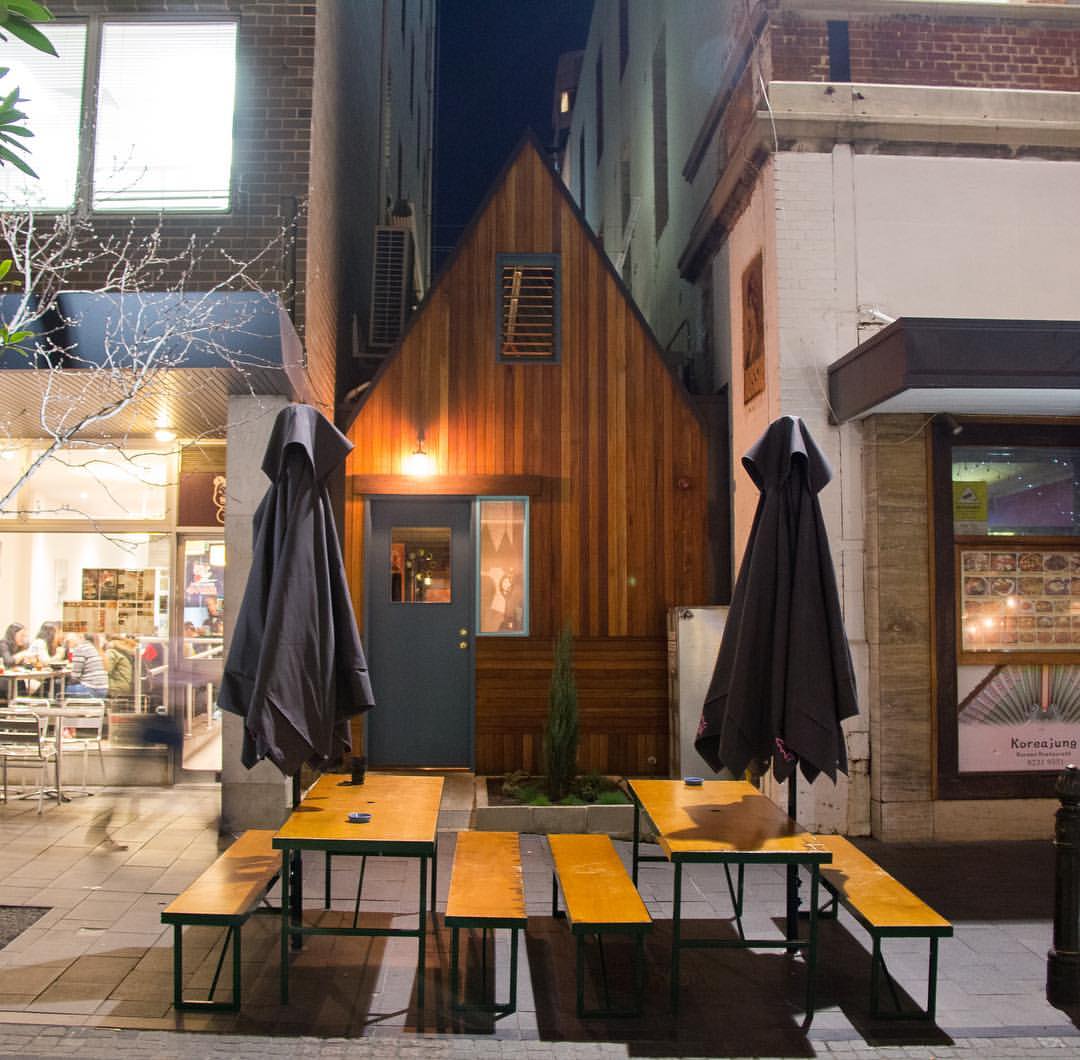 Sugar – With the closure of OZ, there are now no longer any dedicated LGBT dance clubs in Adelaide, but this gay-friendly/ mixed space opened Wednesday-Sunday is welcoming to everyone and even hosts special LGBT nights such as Horse Meat Disco. Located in the lofts of the picturesque Rundle St, Sugar is an intimate art club with 5 pool tables, an art gallery, and a fine selection of beverages. We hope a new gay space opens soon to fill this void, but for now, Sugar is our favorite option!
The Bibliotheca Bar and Book Exchange – A newly established European style small bar in Adelaide CBD focusing on spirits from around the globe, perfect classic cocktails and books. Lots of books.
Zhivago – A sprawling, late-night club with pumping house DJs, colorful street-art decorated walls reminiscent of Melbourne's laneways and a progressive and energetic vibe. With two huge weekly nights, Uplate Saturdays and Black Cherry Sundays, Zhiv always delivers a clubbing experience like no other. To be clear, this is by no means a gay club, but with so few options – why not explore the hetero-world of Adelaide?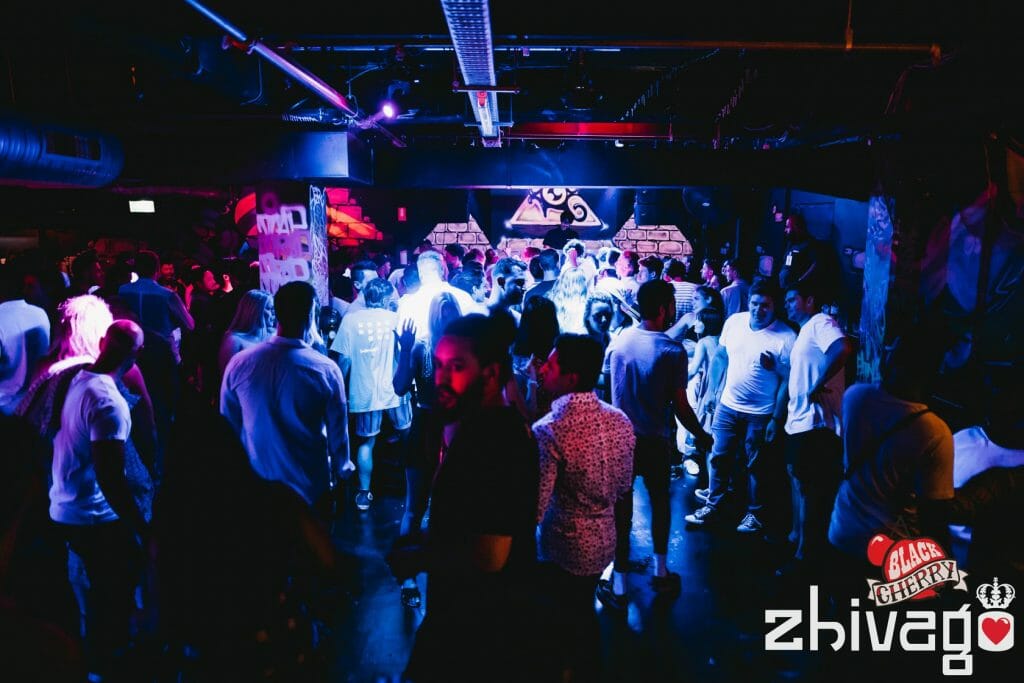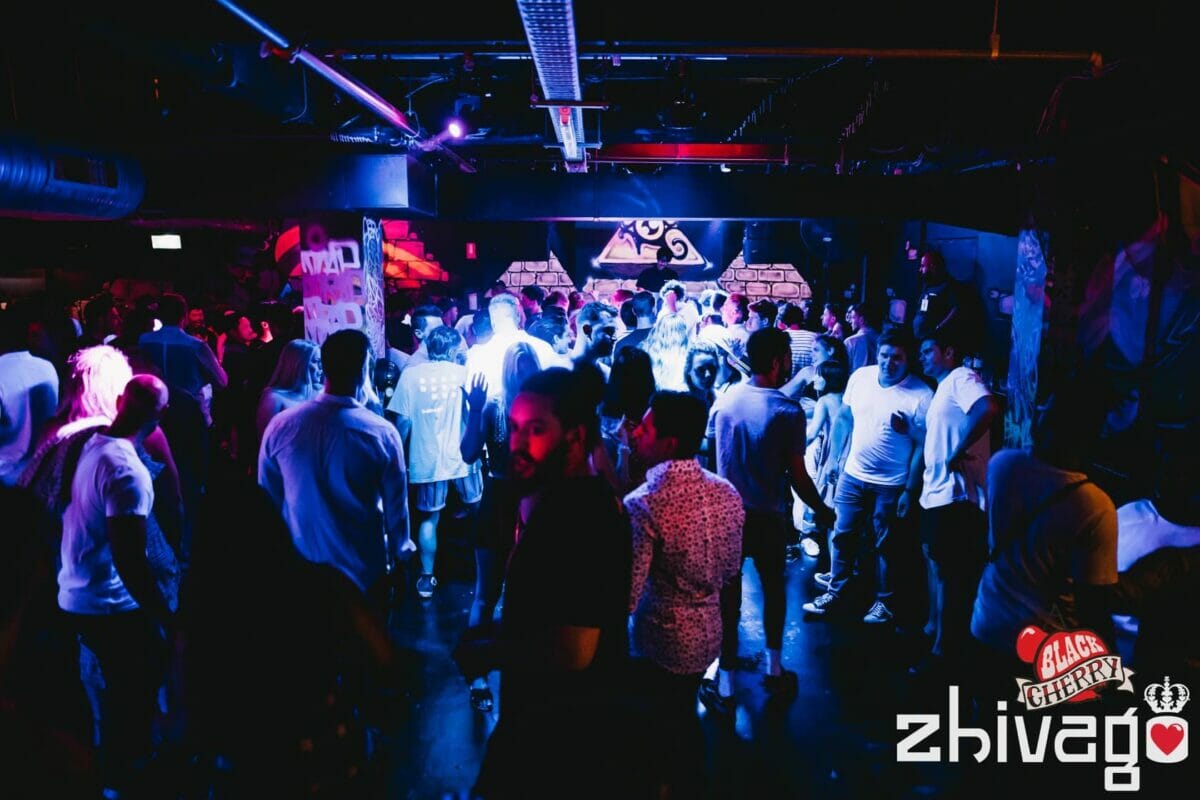 Lady Burra Brewhouse – A fully-functional microbrewery in the heart of Adelaide's CBD, Lady Burra Brewhouse is about passionate people who are masters of their craft. With delicious beer, a social atmosphere and traditional brewhouse fair with a Portuguese twist – what's not to love!
Maybe Mae – A hidden cocktail bar and wine spot in Adelaide's west end. Found in the basement of the tunnel between Peel and Leigh Sreet, behind a carefully disguised, wood-paneled door, is this chic spot which oozes the magnificence of a bygone Art Deco era with mirror-covered walls, green leather sofas, bespoke glass pendant lights, and sickening designer cocktails. No, your not dream – this isn't old-school New York or Chicago, you really still are in little old Adelaide. We told you there was a lot more here than meets the eye!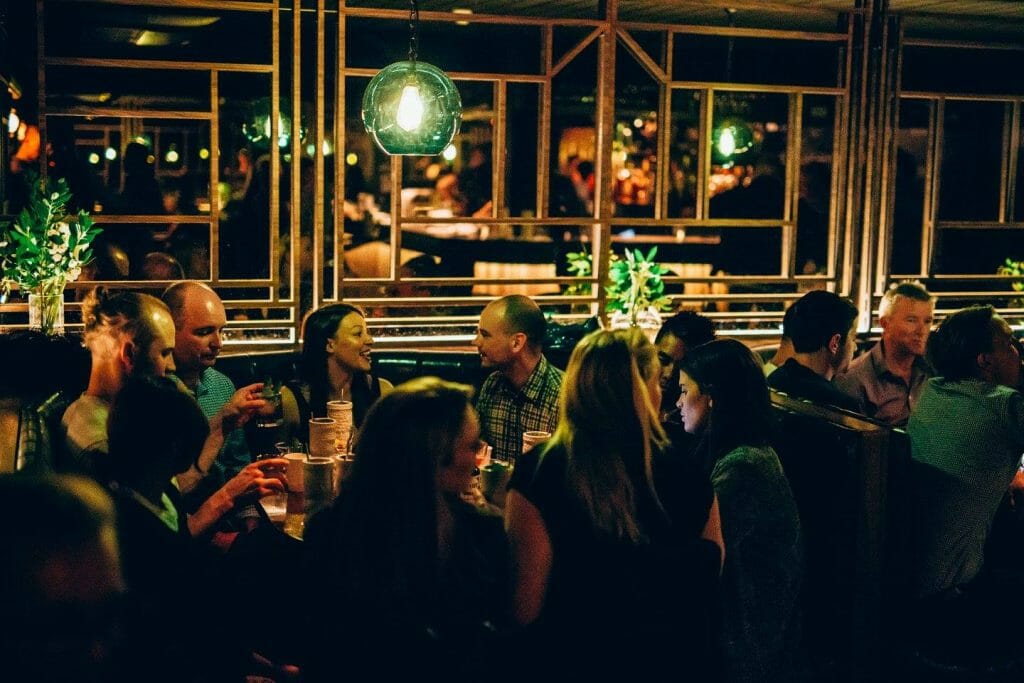 Sex On Premises Venue and Gay Saunas in Adelaide
Even though Adelaide is a fabulously fun vacation destination there is only one gay sex venue here, so you won't get the range of option we came to know and love in Sydney and Melbourne.
The gay sauna culture is not very prevalent here and in no way as popular or as high-quality as you might find in international destinations such as Bangkok, Barcelona, London, and Paris. Local gays here prefer to use hook-up apps or meet in bars and clubs – a sign of the times we guess.
In Australia, cruising spots are known as gay beats, parodies the beat walked by a police officer or a prostitute. The gay beats in Adelaide frequently change but are no longer very popular (but are still somewhat dangerous). We do not recommend seeking them out, but we did enjoy our time at the gay sauna in Adelaide and would happily recommend it to anyone!
Gay Saunas in Adelaide
Pulteney 431 – A gay & bi venue for men, and the only gay sauna in Adelaide. Pulteney 431, often referred to as 'The Club' or '431', has been operating continuously in Adelaide for over 40 years, providing a safe and friendly haven to relax and enjoy the club's facilities whilst meeting other likeminded men. In fact, the Club was opened in October 1977 and therefore is one of Australia's longest serving venues for the gay and bisexual community in the country. Inside you will find a pool, spa, dry sauna, steam room, TV lounge, sling room, lockers, and garden snack bar, so there isn't much reason to ever leave. But should you want to sneak out for a bit, up to two complimentary pass-outs are available to visitors wishing to leave the venue for a few hours but are only valid on the same day they are issued. Overall, a surprisingly high-quality sauna and though the number of guests can be fickle, everything here was safe, secure, clean and welcoming.