Just like a candy shop is known for having so many types of candy, the Candyman underwear brand has gained a reputation for stocking a vast range of exquisite male lingerie, with everything from simple briefs to more complex, niche items of clothing including jockstraps, thongs, harnesses and more among their boutique offerings.
Although they are a relatively new brand, they have already gained a sterling reputation for offering quality products and some of the sexiest men's underwear at very affordable prices. Their collection is a virtual treasure trove for the man who takes pride in his underwear, and one could easily spend countless hours fantasizing about their various options. They are constantly bringing out new underwear collections catering to everything from pride to fetish, and each exhibition matches the quality of standard Candyman is known for.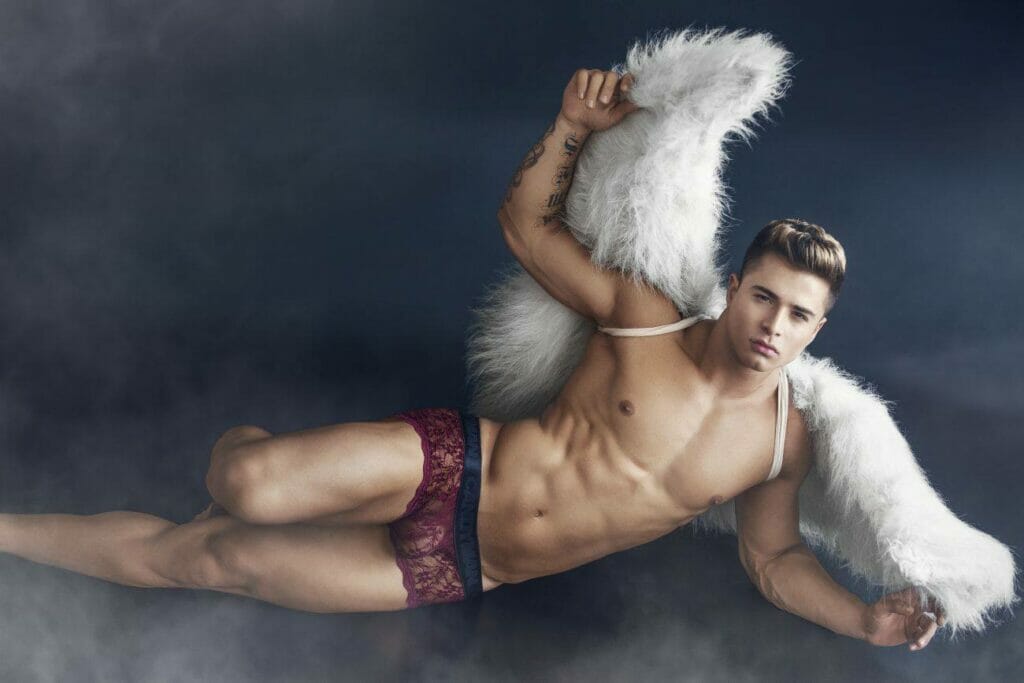 Candyman strives to achieve perfection by inclusively offering garments that do not discriminate on any front. The inclusivity pledge on the brand website unquestionably lets you know they mean business. It's also a deeply personal brand. Despite being ready-to-wear, it can sometimes feel like couture because of the thought, care, and consideration that goes into every item of clothing they produce.
Much like our other favorite underwear brands; Papi, Addicted and Aussiebum, you'll likely be spoiled for choice with Candyman brand, and your main concern will be choosing which items to buy. To help with that, here's a list of the best Candyman underwear available on the market right now. It includes a diverse range of styles, so even if they're not all to your taste, you'll surely find a few that you like.
Depending on how you read it, the words 'Hands Off' printed in bold yellow at the base of this pair of Candyman briefs can either be taken as an endorsement of enthusiastic consent or a teasing statement to encourage pursuit from a lover, what's most important in the context.
Regardless of how it is read, it gives an otherwise plain pair of black briefs a little pop of color that makes it stand out. Combined with the sheer paneling at the back and sides, the low-rise waistline, and the clinging polyester blend these briefs are made of, the Hands Off Brief is guaranteed to become a firm favorite among underwear enthusiasts who understand the value of blending comfort and style seamlessly.
I promised you pride-themed underwear, and I delivered. With as little coverage as it can get away with, this thing is not your daddy's pride underwear. Back coverage at the back is minimal, as expected from such a bold brand, but it is the daring cutout at the front that's the star of the show.
The pouch features a missing piece just below the waistband, allowing you to show off even more skin. Support is not compromised, though, as the specially constructed pouch has an extra seam to ensure that your crown jewels have an easy and safe landing.
The back also features a cutout, and between that and the one at the front, you know that you're in for one hell of a pride party if you choose to wear this.
With this, we see another very different side of Candyman, not that we're complaining. The devil jockstrap harness is certainly not for wearing out or to work every day, but we can think of several interesting red-hot uses for it, wink wink.
The whole outfit consists of a jockstrap fitted to a harness and a headpiece with devil horns. It comes in only red, so there's no mistaking the intent and reveals more than enough skin, so it's perfect for showing off your body. The harness is fairly simple and easy to figure out, so you don't have to spend hours trying to figure out which strap goes where, and it's made from a super soft fabric that is easy to clean.
The back also features a cutout if you enjoy a little rear-end exposure. And if you want to go all out, say for a fetish party or sexy costumed night in, a devil tail butt plug would also be the perfect finishing touch.
Here we see another area of Candyman underwear's expertise, and it's sure to find more than a few fans, even though it may not be to everyone's taste. It's listed as a bikini, but one look at it, and you'll know exactly why you probably should not wear it to any public beach, unless you happen to be in Sitges or Puerto Vallarta…
This jockstrap is made of a nylon blend woven into soft microfibers for an incredible feel. It's a light, fancy piece with a rainbow pattern on the back and a unicorn's face at the front. The pièce de résistance, though, is the horn sticking out from the unicorn's horn, right in the middle of your crotch. It also has a wide waistband for support and definition.
This costume is perfect for wearing to a late-night sexy LGBT costume party.
Lace is not exactly synonymous with male underwear, but who cares? Many brands have realized that lace is too versatile and sexy a fabric to be reserved for only female underwear, and they have begun to include lace in male underwear offerings, doing everything from trimming to constructing the whole underwear out of lace.
This one is more of the former, although the lace is more substantial than a simple trim. The lace forms the bottom part of the jockstrap, wrapping around the thighs, and then there is a gap before the waistband stands the top. This means that the ass area is almost completely exposed.
On the other hand, the front is protected by a solid contour pouch that also serves to improve your silhouette.
Go wild with this animal print thong from Candyman. Made from a multicolored, tiger-print, microfibre fabric, it's a close-fitting, barely-there thong that still manages to get noticed because of the array of rainbow colors on the fabric. It could almost double as a pride outfit – if your pride party is animal-themed, that is.
The polyester blend fabric is stretchy, giving you a great look and silhouette, and the fabric is designed to be cool and well-aerated, so you can expect comfort, no matter how long you wear it for, and the fabric lies flat against the skin, with no tugging and pulling. The contour pouch provides all the support you need. This animal print thong is a triple threat of style and comfort.
This lace Jockstrap is for those interested in injecting a little variety into their underwear closet without taking things too far. It's got all the classical features of a jockstrap at the front, including a seamed color pouch, for those who aren't very confident in the supporting qualities of the lace.
The back, though, is a whole other party. It's made completely out of lace, with a cutout right in the middle of the rear area, so if you're looking for something to show off your buns of steel in, it's probably this. It comes in a luxurious burgundy color that allows the beauty of the lace to shine through.
Whatever your reasons for buying this bikini are, mesh underwear plus a zipper is pretty much a recipe for easy access. Do whatever you want with that information.
The edgy aesthetic is enhanced by the functional zipper down the front of the fake leather panels and the fact that it comes in two colors: black and red. This underwear is perfect for the manly men out there who want stylish underwear without frills and fuss. The mesh affords a bit of modesty without completely covering your skin and making you look prudish.
At the same time, it also boasts an ergonomically designed pouch for the utmost comfort down below. It comes in a range of sizes, so you can choose one that suits you best.
You might not be a fan of lace, but one look at this one, and you'll be. The lace is of the highest quality, made with polyamide and elastane, so it's strong, with a luxe finish. The strength, in particular, is important, as the bikini is made to reveal as much skin as possible.
It's almost like a thong, with the cutouts at the back making the rear piece form a V, revealing enough of your ass to make you feel and look sexy. Regardless, the strength of the lace means that there's substantial boosting of both the front and back, while the super-strong elastic waistband holds the lace-up while maintaining a sleek, minimalist look. The waistband is also adjustable.
Florals aren't a thing you often see in the world of male underwear, so this thong marks a refreshing change from all the solid colors and sporty designs. We recommend saving it for days you need a little change of pace or when you're trying to seduce someone with an eye for the finer things.
It's made from nylon and elastane covered with a fresh, floral motif and trimmed with lace on both sides. The back is also made of lace, but it still provides some coverage. It comes in blue for a traditional touch to a modern piece and is supporting and quick to dry.
This cage harness thong set from Canydman underwear should be saved for a truly special occasion or a night out with a truly special someone. Inspired by BDSM toys and harnesses, this set adds a more elegant thought to the harness by eliminating studs and buckles and giving it a geometric design that's sure to look good on any body type.
The thong is similarly designed, with straps running from the sides to the back. Back coverage is minimal, so it's great for showing off to the person – or people – of your choice. Wear this as gay clubwear to your favourite queer party, and you'll be the center of attention.
This underwear from Candyman does not need a fancy name or description to make it stand out. Instead, its selling point is that it's one of the best pairs of simple, everyday briefs available on the market right now. It comes in two simple colors: blue and green.
However, there are two varieties, with blue being the dominant color in one and green dominating in the other. It's made from polyester and elastane, so you can expect that all your bases are covered. For a little extra flair, it has sheer panels on both sides, so you can feel sexy sliding it on. Still, adequate coverage is provided, and you can wear it pretty much anywhere.
For some people, their idea of paradise is a trip to an exotic tropical island – preferably one without a return ticket. That's probably why this tropical-themed thong is named for a slice of heaven. Whatever the reason, you'll feel like you're floating in the clouds of Bali or Hawaii once you put this on.
The front features a beautiful tropical scene that almost looks hand-painted. You can count on a pouch underneath all that is for support and an improved silhouette. The back has minimal coverage, with traps running across the top and bottom of your rear to frame and emphasize your cheeks. The low-rise waistband also does wonders for your general appearance.
A couple of times a year – depending on where you live – Pride rolls around, and then it's time to lock up all the boring stuff and fill your home with a joyous riot of colors, declaring your identity – or your support for the community – proudly to the world.
This color explosion extends to clothing choices for many people, including underwear. For ensuring who celebrate the wonder of Pride, these Rainbow Pride Briefs shouldn't be missing from their underwear drawer. They are covered in a stylish, sexy, geometric pattern of multicolored stripes and will bring some brightness to your underwear drawer, even after Pride ends.
This thong's name is a bit deceiving, as it doesn't zip up to the top. Instead, the zip stops midway, giving the already sizzling underwear piece a little extra heat. No one's complained so far, so it's safe to say they love the way it looks.
It's made from faux leather that feels like the real thing. The pouch completely unzips, and it also features thin leather straps rather than reaching around to the rear area. That's pretty much all the coverage you get for the back, so it's perfect for lovers of exposed rear underwear.
Curious about what a lace jockstrap-thong is? We're not sure what it is either, but judging by how this one looks, it's pretty great. It's made from a sensual red lace and combines the classic thong style with straps reaching around from both ends for a sexy, sophisticated look.
The lace fabric is polyamide and elastane and provides adequate hold and support. The straps feature metal rings on both sides, which elevate the entire aesthetic of the thong.
Candyman seems to find a certain appeal in combining underwear styles, and so far, it seems to be working for them. The sensual design of this Jockstrap-style brief illustrates it perfectly. The main body of the underwear is made of a faux leather polyester blend that's great for support.
It also features sheer panels by the sides. The jockstrap part is in leather straps that criss-cross around the thighs, creating a bondage effect that screams sexy. Despite the edgy look, it's so comfortable you'll probably forget you're wearing underwear.