There ain't no better season than summertime, and there ain't no better way to celebrate it than with some comfortable Aussiebum underwear.
Everyone loves summertime, and everyone looks forward to it. It's such a relaxing time for lazing around in pools, spending the entire day at the beach with friends, going to seaside restaurants for dinner dates, meeting hot potential lovers in cool bars and great carnivals.
Having the right underwear is essential to all this. And what better underwear could there be to revel with fun in the sun than Aussiebum, an Australian men's swimwear and underwear company based in the land down under. They know sun, they know sexy and they know what gay boys want. If you have been to Sydney or Mardi Gras where they are based, you will know exactly what I mean.
When everywhere is bursting with activities like festivals and beach night parties and there is a rippling tension in the air, you want to be sure you're putting on sexy underwear before finding your man for the night.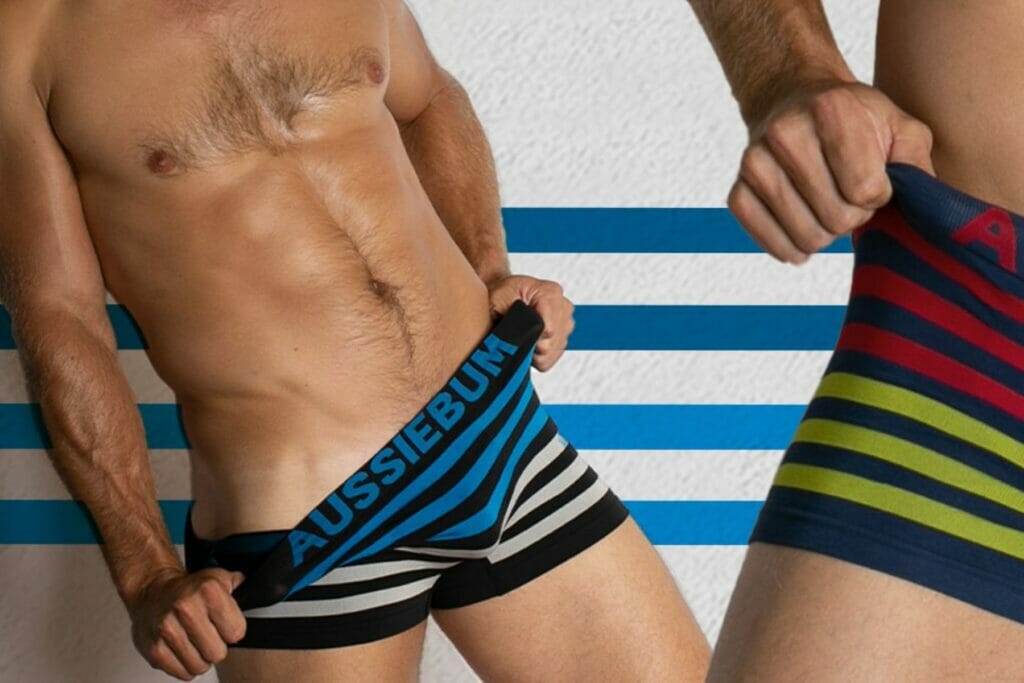 I'll tell you now that nothing beats the feeling of knowing that you have great Aussebum underwear on while kissing the guy you're planning to take home from that beach night party or bar. Nothing beats confidence, the assurance that you're not wearing unattractive underwear, or one ridden with holes and a slack waistband when you've just found a hot guy to fulfill those wild fantasies.
For me, underwear carries more weight than just being a clothing necessity. It gives you an amazing sense of dignity and sexiness.
When your clothes are off, you want to hear the soft growl of pure pleasure from your partner that comes with looking at your sexy body in equally sexy underwear.
Well, with all these benefits of having the right underwear I've just listed out here, the best thing to do is stock up on the best Aussiebum underwear for summertime. So that you won't have to spend time searching, I have put together a list of to feel sexy and dignified at the same time.
So read on and stock up!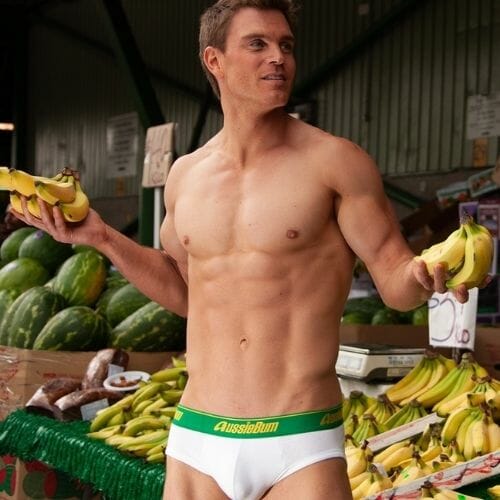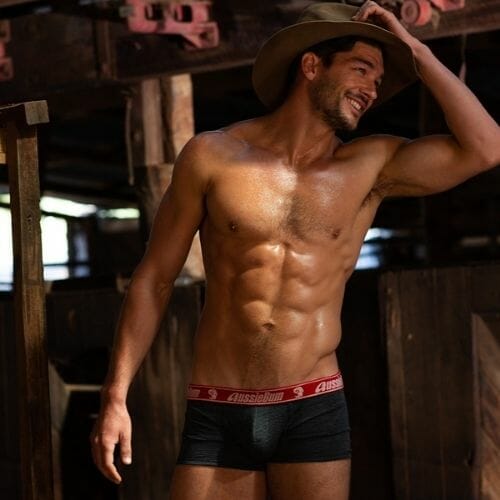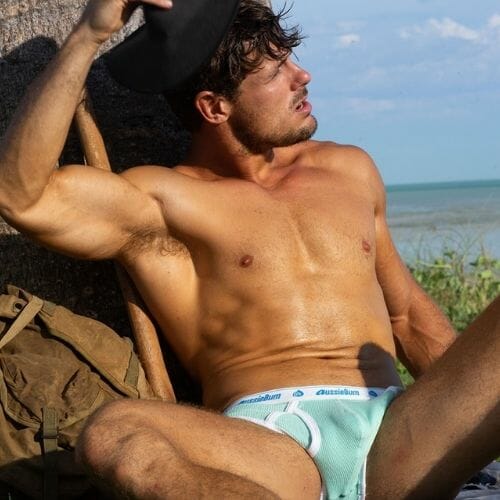 In this article we will cover...
Everything classic from the 90s is coming back in style, or maybe they never went out of style because they say classics never go out of style. This is the case with the Classic Original.
It is forever going to be the most popular Aussiebum male underwear. It has a large selection of colors to choose from, including but not limited to neon green, mustard yellow, and hot pink. Not to mention the very opulent Marle tones.
Made from a great blend of cotton and polyester, the Classic Original underwear is beautiful and built to last. It is also equipped with a breathable, elastic waistband that doesn't cut into your skin, with the Aussiebum branding stamped all over it.
You can be sure that the Classic Original is your go-to underwear for summertime.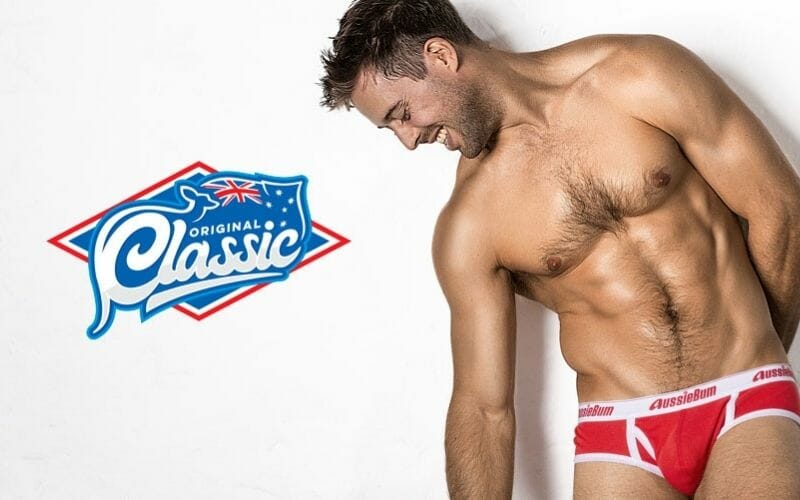 This product from Aussiebum is made from nylon, cotton, and elastane and was made basically for sports and sportsmen. The concept of this gay jockstrap is to help men relive their sports days, the days of toil and sweat and hard work. It is also made for men who are still in sports, the classic jocks who put in the hard work every day in the boxing rings, on the football field, and other sports. Or just those that want to look sexy AF!
The Classic Jock is a men's jockstrap underwear designed for comfort and support in sports. With this product, it's simply taking you back to the memories in the locker room.
The Classic Jock also boasts a wide, breathable, and highly comfortable elastic waistband to keep your underwear in place. The pouch which holds your precious cargo is made of a 4-way knitted classic fabric and is guaranteed to provide top comfort and sports-level ventilation.
So start jocking with Classic Jock!!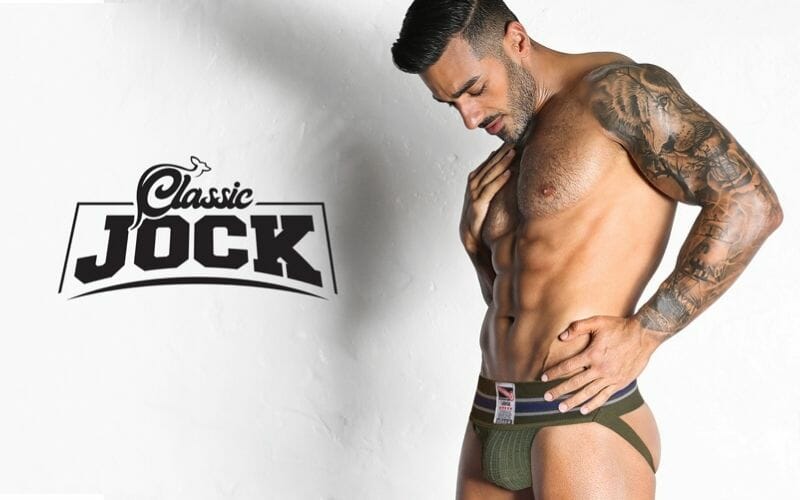 Made in Australia with 90% cotton and 10% elastane, the Aussiebum WJ PRO was created for men who desire to get elevated into the big leagues. Nothing beats the peace of mind that comes with wearing designer yet comfortable underwear, and you can get it with this product.
It has a super comfortable pouch that is formulated to protect your precious cargo and provides the exclusive treatment they deserve.
Featuring AussieBum's pioneering and patented Pouch Enhancing Technology – it now incorporates 4D Grid Framing Technology, which contours and amplifies like never before.
There is a wide range of colors to select from, including the highly popular Geometric print and Marle tones, and it is available in brief, hipster, and jockstrap styles so that you are not limited in choice. You might also try a new style….
It has a very comfortable, stretchy elastic waistband with Aussiebum branding stamped on it, and this waistband effectively keeps everything in shape. I'm pretty sure you'd like to have this one in your collection.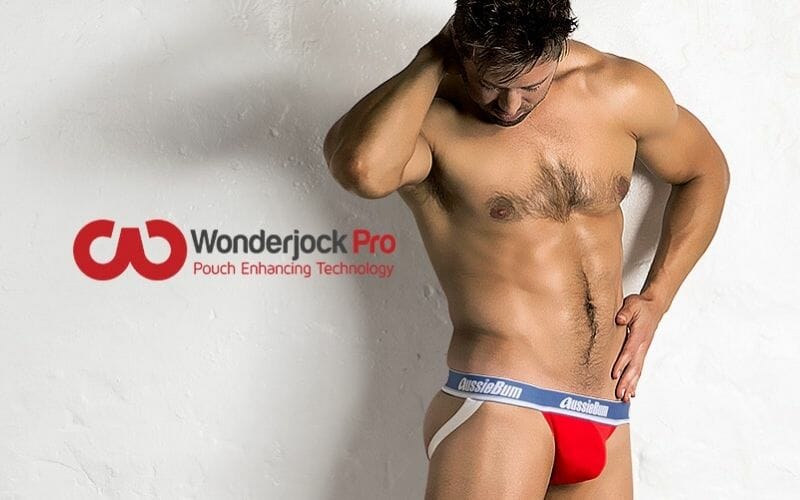 Now we're talkin'! We've taken aussieBum's famous WonderJock technology to the next level. EnlargeIT shows off a ground-breaking new ergonomic pouch to maximize comfort and give you a lift where it counts.
The new supersizing design features dual air vents for increased breathability, strong stitching that make EnlargeIT great underwear for wearing when you play sport, and a super-soft microfibre waistband for that touch of comfort.
One of our favorite gay underwear offerings in the world – EnlargeIt is our go-to for large club parties around the world from Berlin to Las Vegas and has even accompanied us on a gay cruise to two (with much success!)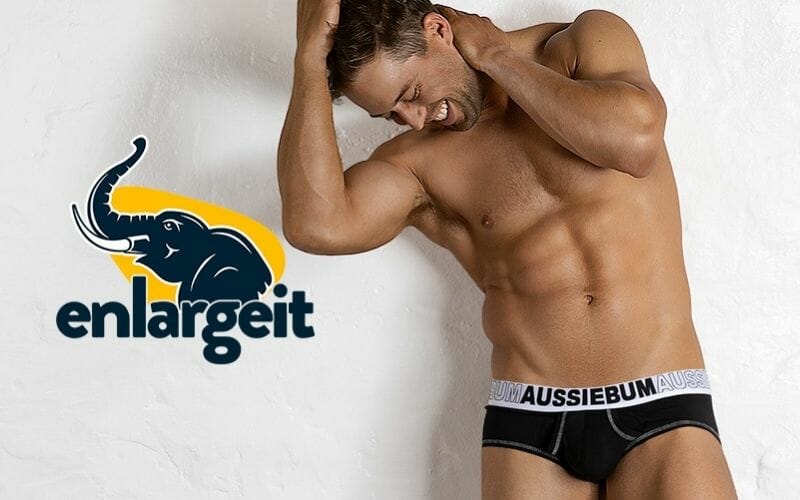 Stok Jock is the latest product from Aussiebum, and like most great products, this amazing product is limited edition, so you need to get it while you still can and don't just get one; get multiple!
Stok Jock has a classic designed shape with a high-rise leg. If you know Aussiebum's famous Fratman waistband, you'd recognize it on this product. The Fratman waistband was paired with a soft elastic and form-fitting fabric, and it is designed to provide support and comfort for the whole day.
This Australian-made product is made of 87% Micro Modal and 13% Elastane. The famous aussieBum Contour Pouch helps keep your goods in good condition throughout the day. The pouch is made of baby-locked seam details that add strength to the fit.
Stock your goods in a safe place all day long and wrap your boys in the softest micro-modal fabric, one that you won't find anywhere else.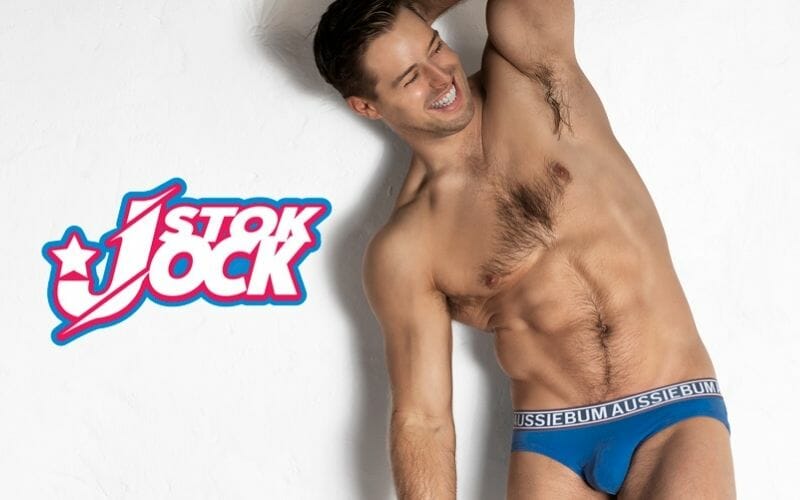 This Australian micro modal product is a must-have for every man who loves designer underwear mixed with comfort. The Slick Range is designed to give you an all-star treatment in comfort, containing yet constraining. It is made of 87% Micro Modal and 13% Elastane, the elastane fabric being the super stretchy waistband that holds everything up.
This product is highly resistant to shrinkage, so no worries about having your underwear shrunken after laundry. It is designed to fit the contours of your body perfectly and promises unbelievable softness due to the advanced micro modal fabric.
This product makes you feel dignified, heightens your senses, and stimulates sensuality while providing the confidence which comes with superior design. As you add this product to your shopping cart, get ready to feel bold, desirable and free, and unique.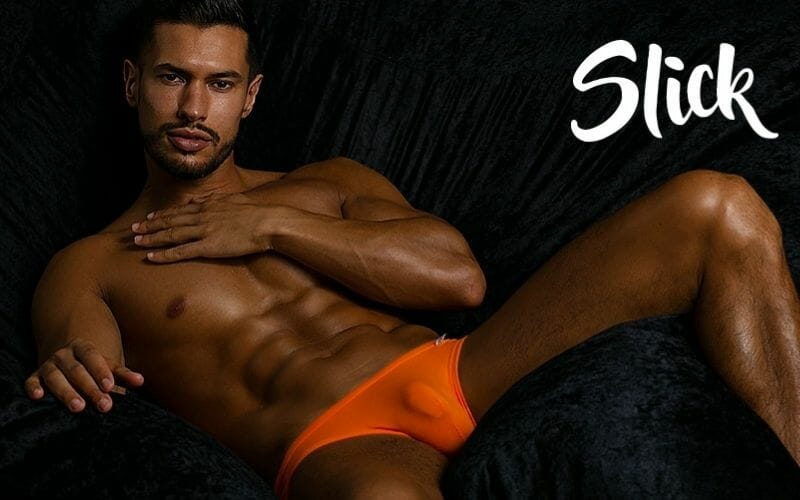 The abundance of the color of this product is the first thing that attracts you to it. It is vibrant and wiggly, just like the name implies, and it screams fun and summertime! Get your groove back during summertime with this fantastic Aussiebum Wiggly underwear.
This Wiggly underwear is helping you bring back your groove with four vibrant color patterns, which are instantly as eye-catching as a lit-up Christmas tree. Which makes sense as those Aussies have Xmas in summer. How weird.
This men's brief is everything summertime is about, swimming in pools, fun at the beach, vibrant beach parties, colorful festivals, and bubbly, boisterous rollercoaster fun.
Created with 87% Micro Modal 13% Elastane and proudly made in Australia, this product is designed to give you comfort all day, no matter how many activities you have lined up. It provides a wearing experience like no other and is super comfortable.
What better way to end a sunny summer day than to be in your bedroom with a hot guy who can't take his eyes off your briefs (and you). It is guaranteed to have your lover ripping them off (thankfully, it's an unlimited edition) and will undoubtedly have you wishing for more.
Wiggly helps you ensure optimal comfort in your day-to-day activities, as well as raising the temperature on your hip shakes and booty quakes once the dance floor begins.
Express the fun side of you during summertime (and every time) with the Wiggly underwear range.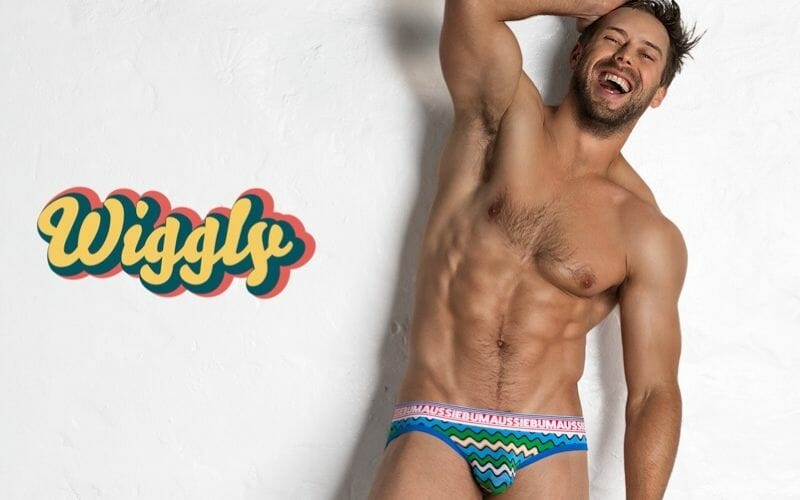 This product is a must-have, an absolute all-rounder, and something to make your life easier. Made of 90% Cotton 10% Elastane, Aussiebum CottonSoft comes in hipsters and briefs, so you can choose whichever fits your style.
With either the Aussiebum CottonSoft hipster or briefs, you get to experience maximum comfort and high quality. This Australian-made product comes in limited edition, so you better place your order as soon as you can. It has a super stretchy, collectible elastic waistband that comes in beautiful hues.
As the name implies, these incredibly soft cotton underwear offer a lush feeling of comfort that holds your boys and fits the contours of your body perfectly.
Make life easier for yourself by getting a pair of ultra-soft CottonSoft underwear ranges now!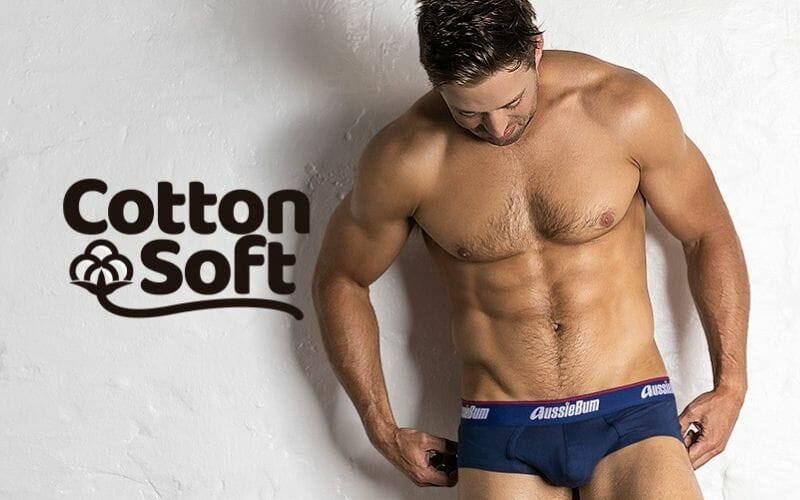 You just have to buy this, no question asked. As the name implies, this Aussiebum underwear range is riotous and used to wreck havoc on men's senses. This Riot underwear is guaranteed to help you outplay the competition, snag your man and have a riotous romping session.
This Australian-made product is designed 90% with an interwoven sports-mesh fabric, polyester that draws moisture away from your body and leaves room for custom ventilation and breathability for your junior. The elastic and bold metallic waistband is made with 10% elastane, and it helps hold everything up and is gracefully contained.
This dreamy product is available in a guaranteed long-lasting jockstrap as well as a brief. While you wear this fantastic Aussiebum underwear, it leaves you feeling desirable, bold, dignified, and sensual.
Get your game on with Riot.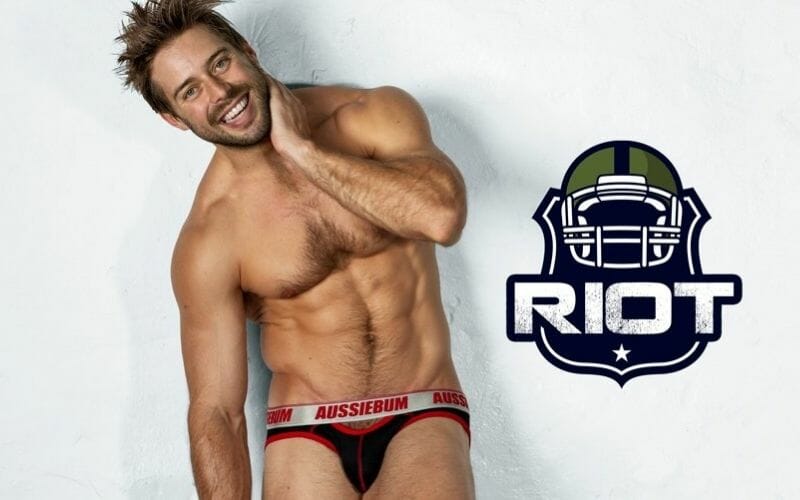 Looking for comfortable yet long-lasting underwear? GridFit by aussieBum is the ultimate option for you. Designed for sports performance, this is your go-to fit while you're getting fit.
This 100% Australian-made underwear promises maximum comfort even when you're working hard, sweating, and toiling. Equipped with a fabric that draws moisture away, it is an enhanced sports shaping product for epic support when you need it most.
GridFit is available in two variants; briefs and the more durable hipster, and has a wide range of your favorite colors. Made with 90% Nylon and 10% Elastane, it is available in limited edition, so you'd like to get it as soon as you can.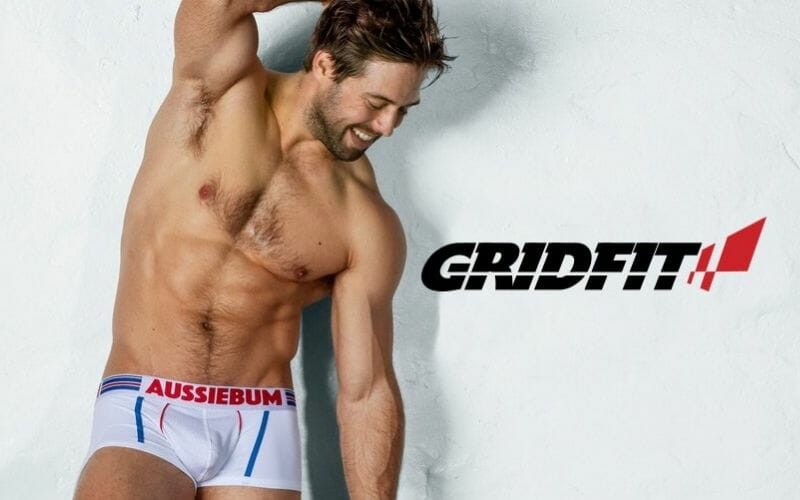 What's better than having good underwear? Having a collection of good underwear!
This limited edition Aussiebum collection, the Billy Flex collection, is the best when it comes to providing a gold star comfort, support, fit and shape in men's underwear.
Made of 90% Cotton and 10% Elastane, the improved cotton blend and famous Aussiebum contour pouch provide maximum comfort for the precious cargo, and the extremely comfortable elastic waistband holds everything up and supports the waist and legs.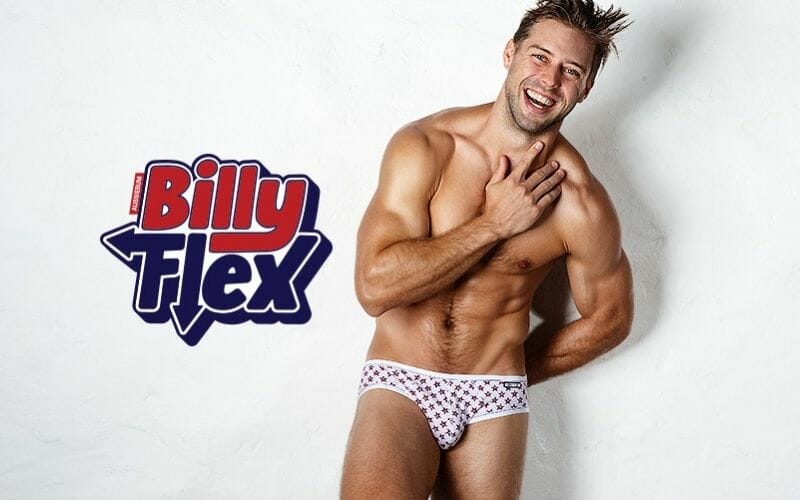 Celebrate YOUR Wonder Years with Aussiebum's vintage-style underwear! Seize the moment and, at the same time, go back to the 70s with an underwear style that accentuates the hips and chest and gives you a more masculine (and very hot) look.
This made in Australia product provides maximum comfort and has been designed using the highest grade manufacturing techniques for strength and durability.
Aussiebum Wonder is made of 65% Polyester and 35% Cotton and is available in a wide range of beautiful color tones. It has a wide stretch polyester and cotton body and a very comfortable stretchy waistband with Aussiebum branding. The famous Aussiebum contour pouch is designed to keep you feeling comfortable and powerful.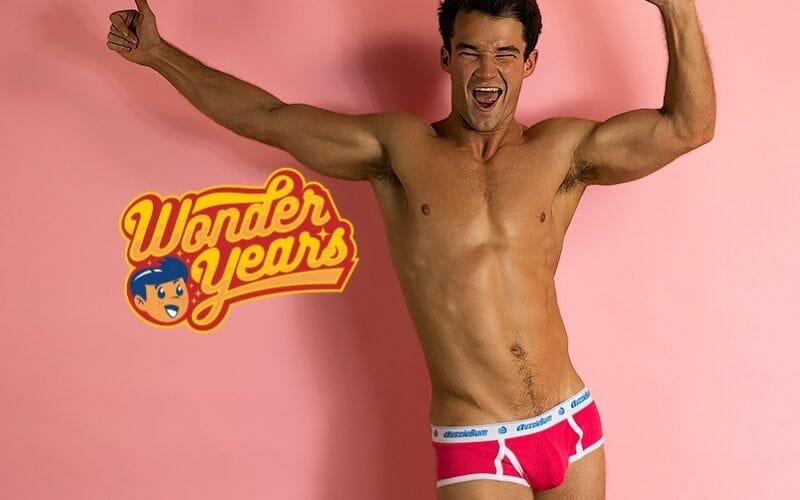 These ample Aussiebum Laneway boxer shorts are the go-to fit for lazy days when all you want to do is read a book, watch TV, or sleep.
Made in Australia of 90% nylon and 10% Lycra, this product creates a comfortable ambiance for you when you're at home. These sleek boxer shorts promise a soft touch and a lush feeling of comfort.
The print gives the wide stripes an eye-catching, eye-pleasing consistency. Aussiebum Laneway Boxer Shorts are available in a wide range of deep, rich tones. Too good not to show off, too comfortable to ever want to take off.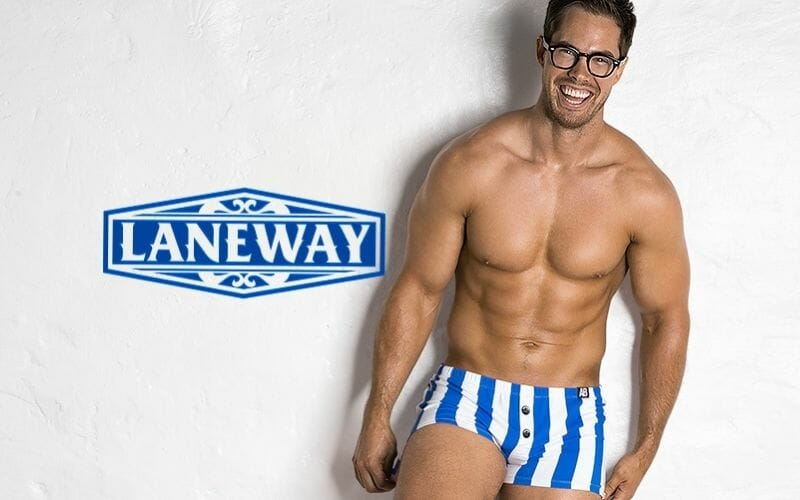 Bendy + stretchy + sexy + sporty + stripey. What else could we possibly put into a hipster (besides you)? AussieBum BodyStretch are sleek and super-comfy underwear: no need to sacrifice any support.
Their popular sporty striped boxers have seamfree sides and cleverly designed ribbing, which keeps everything in place without constricting you.
Oh, and they now feature a new and improved super-soft double knit waistband for additional surety.