When you think of lace, especially lace underwear, your mind probably skip past lace underwear for men automatically goes to female lingerie like Victoria's Secret and La Perla and Savage x Fenty.
Many people, men, and women included, automatically assume that lace is something that should be found only on female underwear. Lace on male underwear is seen as feminine – or at least it used to be. Thankfully, things have changed for the better, and the world has come to appreciate the sexiness of a pair of lace briefs or boxers on the male form.
Brands are no longer afraid to experiment with lace trimmings on male underwear or even constructing their underwear entirely out of lace. Lace briefs, boxers, and things now abound in male underwear stores and on the top men's underwear brands' websites.
A lot of men, no matter their sexual orientation, are gaining an appreciation for the finer things in life, and it now reflects in their sartorial choices. With the emergence of many underwear brands, though, it may be challenging to find one that meets your tastes and standards, and few things are as annoying as a pair of underwear that just doesn't fit right.
They're also more difficult to return than, say, shoes. To avoid underwear regrets, it's good to have a guide that'll suggest the best lace underwear for men to buy that will make you look hot and sexy and feel good. This list is just the thing you need.
Briefs made of lace might have some men hesitating before they agree to wear them, so a leisurely start might be these erotic lace boxers.
These combine the traditionally masculine cut of lace with softer lace fabric. The lace is made from a nylon-spandex blend, and I particularly like the elastic trimmings at the waistband and the leg hems – they help flatter the torso and calves. The elastic in the combination ensures that it molds the curve of your ass, showing it off at its best.
The lace makes the boxers see-through, so that hint of skin showing helps raise the temperature. The floral motif helps add to that balance of softness and heat. Colors range from black to pale pink, so you can pick your poison. I personally prefer the red.
Although MOB is a lesser-known brand than some others on this list, I'm always pleasantly surprised by the thoughtful, imaginative products they have on offer. Take this lace jock Bikini, for example, it's a combination of many different things, and you might feel like it wouldn't work, but in the end, it does.
The bikini is of two colors, the primary color – either blue or black – and a contrasting trim that is either pink or red, respectively. Both the main color and the team are made of lace, and the bikini is a low-waisted, jockstrap style that falls below your waistband for a flattering effect.
Two straps at the back frame support your ass while leaving the main bulk of it wholly exposed. It's available in a wide range of sizes, and considering how soft and comfortable the fabric is, you'll appreciate the variety.
This gay thong throws all caution to the wind. It's an alluring mix of the provocative thong cut and the more delicate nature of lace, and it projects the Joe Snyder brand as one to watch going forward.
Made from less than a few square inches of lace, this thong is the very extreme of sexy, and it'll take some confidence to make it work. Luckily, it doesn't make things difficult with a crotch area that's built to flatter your package and a thin low waistband that provides an unbelievable fit; you'll probably forget that you're wearing it until it's time to take it off.
Nylon and elastane ensure a ventilated, quick-drying effect, and the sizes chart provided means that you don't have to deal with ill-fitting underwear. If your bulge is your best feature, you'd be wise to go with this one.
Do you like to be seductive? Enjoy the foreplay as much as the end game? To have your partner on the bed hard, but you to keep the teasing going before finally handing over the cookie jar? Then this gay fetish lingerie is going to be your new best friend.
The underwear is made of soft lace fabric that makes sure you are comfortable while emboldening your feminine side. The feeling of that soft fabric against your skin gives a confidence boost like none other. You will not have to worry about getting hard or looking hot. And neither will your partner.
To be even more daring, wear them at work under a particular masculine outfit. This secret will really get you going throughout the day.
Looking for a thong that's sure to make your bubble butt – or any other kind of butt you have, we're an equal opportunity recommender – pop? Then look no further than this erotic lace thong. With its barely-there style, it's made to ensure that your butt remains the center of attraction, and it does its job beautifully.
It's made from breathable spandex and lace, so you don't have to sacrifice that skintight fit just because you're wearing lade. It also comes in multiple colors, though you just might have to stop yourself from buying the whole series. As tight as it is, the crotch is entirely comfortable and does a superb job of holding your package.
The back piece provides minimal coverage while letting your ass shine. What else could you ask for?
It's a good thing this lacy mesh brief from Candyman comes in such a wide range of sizes, or it would probably have caused a minor global crisis. Even the manliest of men will not be able to resist buying these lace briefs, even if it's only for the benefit of their partner.
As if the soft, breathable lace isn't attractive enough, it's got a criss-cross, laced-up pattern at the back that shows ample sin while making sure the ass is still supported and relatively covered. The back piece trades the lace for a sheer mesh fabric to take the hotness factor to stratospheric levels.
The contour pouch also provides support and definition, while a pair of straps resting under the ass cheeks provide a slight lift if necessary.
There's something very sensual about the color white, so you can imagine the sheer hotness of a white lace thong. The only thing that could make it any hotter was if Ricky Martin or Tom Brady was wearing only it and doing the sexy tango in front of you.
Seriously, this classic lace thong from Joe Snyder ticks all the boxes. It's comfortable, breathable, and fits well – just be sure to use the style chart. The Joe Snyder logo sits to one side of the bring, breaking up the monotony of the white color, and the elastic waistband is covered to make it even more comfortable.
At the back, the waistband splits into two for added style and support, while the back piece is g-string style, so you get coverage but still more than enough exposure.
Lace or no lace, the male eroticism of this thong is undeniable, you only have to take a look at the crotch, and the fact that it was created especially to flatter your crotch becomes apparent.
The sea am down the middle provides the maximum possible support, and the countering provides an optimum spot for your goods to lie. The lace might be things, but it is far from flimsy, sitting securely on your hips. You'll find that the waistband doesn't roll or twist, so no uncomfortable adjustments have to be made. The back piece doesn't get in any awkward places, and you can wear it comfortably all day.
The polyester and polyamide blend is breathable and quick to dry, making it suitable for wearing to the beach or a pool party.
The word 'stunning' isn't one I use lightly, but this thong truly deserves that title. The whole thing just screams luxury, and I understood why when I found out it was limited-edition.
If it's out of stock by the time you see this, you have my sincerest apologies. The lace is a refreshing change from the usual, if attractive, floral pattern. This time, it's a shimmery geometric pattern made from a light, sheer lace. But don't be filled by the fabric; support is more than adequate, with a naked, almost anatomically correct pouch provided for that exact purpose.
The waistband proudly bears the Andrew Christian underwear logo in two places – the full name written in big, shiny block letters and the monogram in the middle of the back. Of course, with the sheer lace, there's no shortage of skin on display.
The bodysuit is criminally under-rated. Most guys own several pairs of briefs and boxers and even a few jockstraps, but it's hard to find one with a decent bodysuit. If you're one of those guys, it's time for that to change.
A proper bodysuit can completely transform your bedroom experience, taking desire up to new levels and enhancing your erotic experience. However, this see-through lace gay bodysuit should not solely be reserved for bedroom shenanigans. Pair it with shorts or leather leggings for an eye-catching outfit that's sure to attract stares and whistles.
You can wear it to circuit parties, queer festivals, gay resorts, or pride parades. The floral lace fabric offers the ultimate comfort. It's also see-through for that extra hotness factor you surely want. It comes in white and black, and you can even buy both if you don't want to choose. Size is not a problem either, as the range is particularly impressive, going from an S to a 4XL.
Modus Vivendi is a luxury brand, and it's easy to see why. Even the lace, as light as it is, still has a particular strength and quality that you'd be hard-pressed to find anywhere else.
The waistband is one of the selling points of the brand – it's just wide enough, with a smooth, attractive sheen to it, that catches the light and makes it stand out. The Modus Vivendi logo is embossed in the same color for a stylish twist. The pouch is unlined, but the almost entirely cotton fabric means that you're not missing out on anything.
If anything, the absence of a lining means that it's even more erotic, as the hint of skin showing through works wonders on the imagination. The back coverage is almost entirely, but slivers of flesh show through at the sides, so your ass is not completely hidden.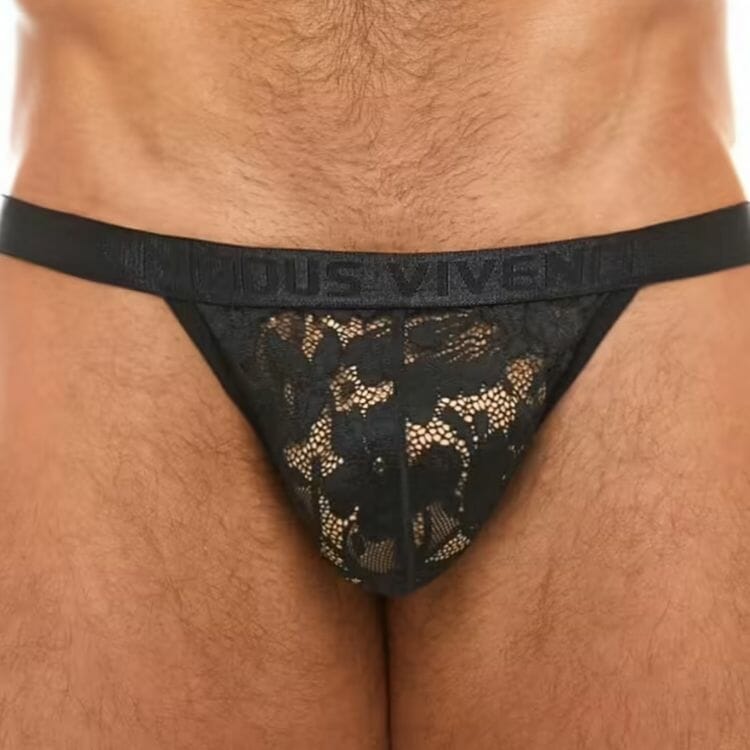 A crop top and boxers set might not be the first thing on any man's wish list, but most guys will appreciate this one once they get their hands on it. The lace is a polyester blend, so despite the substantial coverage, you'll be relaxed and comfortable for as long as you wear it.
Meanwhile, the see-through lace makes it fun and flirty, as do the available colors – pink is a popular favorite. The two pieces can be worn separately, so it's almost like a two-fold one deal. The boxers will come in handy for everyday underwear, while the two pieces will be more suitable for a party.
Alternatively, you can wear it under your outfit for a hot date, especially if your partner is into some light role play.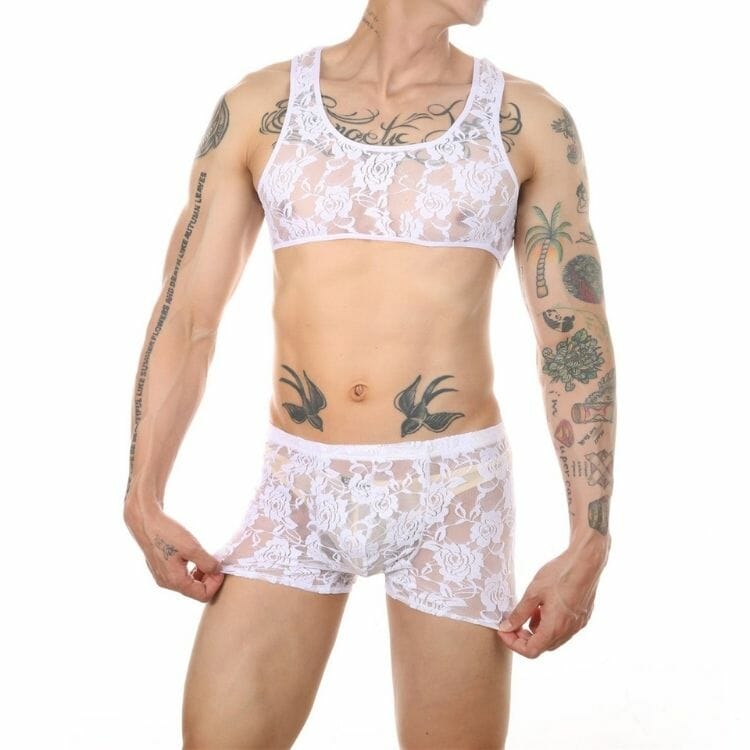 This is a popular style among female underwear, and I, for one, am delighted that male underwear brands have picked it up. The presence of the three laces by the sides adds a ascertain flair to it, by way of flattering and thickening the calf's, as well as specific flair and general slimming effect.
It comes in pastel blue and pink, with each color having different motifs. Both colors are sexy, so just go for broke and get both. The soft, supple lace at the front provides the correct level of coverage and support, but the back is held up by the three strings that extend from the side. They lie against the upper part of the ass, so the main area of the butt is completely exposed.
The lace fabric stretches to outline the package and combined with a slight sheerness, the hotness is guaranteed.
Bodysuits abound, but once in a while, you come across something so unique that a small part of you wants to keep it a secret because the more people know about it, the lower your chances of getting your hands on one. But as an extremely selfless person – thank you, thank you – I'm going to let you in on the secret of this lace Push-up bodysuit from Orion.
The bodysuit is made from a floral lace that combines polyamide and elastane. Although it's made with a superb cut and the fitting is almost perfect, it's the accessory detailing, made from leatherette and metal, that really make it stand out. Straps of leather run from top to bottom, and two lines around the waist from the same material give it an edgy look.
The centerpiece is the leather crotch cover that makes it even sexier, and there's a strip down the front of the top for ease of wearing as well as for aesthetics.
High-quality lace underwear can usually double as lingerie, but this one was made specifically to do that. It's got the leg straps characteristic of lingerie, yet the constructed pouch makes it clear that this underwear is built for some serious lifting.
Simply put, it's the best of both worlds. It comes in black and white, the only colors you really truly need, and once you try it once, you'll probably make it a staple in your closet. After all, what better way to go from a busy day of work to a fun erotic night than with this?
Floral and ivory are a combination that was made to go together – just think of wedding dresses, for example. These floral Lace Tanga Briefs from Modus Vivendi also come in black, but the Ivory ones have a certain classic look that makes them all the more attractive.
As usual, the lace is ninety-five percent cotton with elastane for a better fit, so you can rest assured that it fits as well as it looks. The waistband is just the right fit, with the logo across it in the same tone. Once again, the pouch stands out with an ingenious seam that ensures that the light fabric can still adequately support your package.
There's lace used to construct this underwear is the main selling point. Multicolored flowers lie against a black or white background – depending on the one you choose – and give this underwear a new twist that you'd probably not find elsewhere.
The underwear comes in boxers and brief styles, so combined with the variety of colors, you'll practically be spoiled for choice. Whichever one you go with, you'll be assured of comfort – as the lace is incredibly breathable – and style.
The leg hems and the waist might look tight, but the fitting is just snug enough to stop you from discreetly hiking up your pants every five minutes, so be careful if you plan to go for a looser size.