It's a little difficult to find a premium underwear brand at an affordable price range; take it from someone who's spent a significant part of their life looking. It always seems like the brands that carry the styles and patterns you love are aiming to empty your wallet, while the ones that are more within your reach are just riffs on a tacky, cheap theme.
However, once in a while, you come across a brand that is the perfect combo of affordable, clean, and classy. Papi underwear is one such brand.
Drawing from a Hispanic Heritage and Miami's South Beach Culture, Papi has developed a winning formula for serving up the hottest, sexiest men's underwear that offers fun, flirty, sporty or casual, and sometimes all at once, depending on the look you're going for. "Papi" is a Spanish slang for daddy and a term of endearment – which explains its strong Latino and gay following.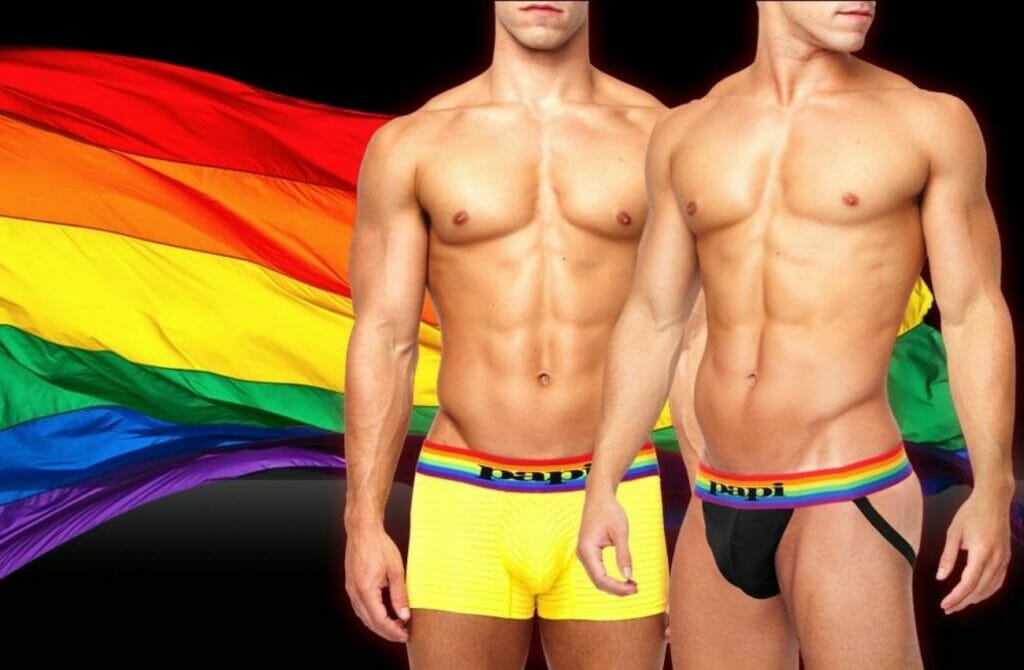 Started by James Sonzero, a Los Angeles television commercial producer, in 1995, Papi is now owned by leading underwear and hosiery conglomerate Isaco International, which, among other endeavors, is a licensee for the brand Perry Ellis. It has also featured in Broadway plays, and famous celebrities have been photographed in Papi T-shirts including Janet Jackson.
Papi also works in cause marketing, specializing in HIV/AIDS awareness (famously conducted a national HIV awareness campaign called "What If You Were HIV Positive?") and advocates for Hispanic-American causes such as education, immigration, and cultural assimilation.
All these should tell you that the brand is not one to sniff at. In fact, much like Addicted, Andrew Christian, and Modus Vivendi underwear, Papi has been mentioned as a more affordable competition to high-end brands like Calvin Klein and Hugo Boss, and for the most part, it lives up to expectations.
Simply put, if you're looking for Versace and Zegna without the wallet to match, then Papi is the best place for you. This list highlights a number of their best offerings for you to choose from.
We might not admit to it in public, but every guy likes to have a bit of spice in their underwear drawer. And by spice, I mean those discreet pieces of erotic underwear that we like to break out for special occasions, such as Friday night club hopping or a sexy date. If you're like most guys, then you should seriously consider adding these cotton stretch thongs to your collection.
Pros: they're a three-pack, which means you're definitely getting a good deal in terms of cost. They're also cotton, which everybody knows is the most comfortable material for underwear, regardless of how many fancy blends there are out there. There are also four different options, with each of them containing a unique mix of different-colored thongs.
Collect all four, and you'll have all the thongs you'll ever need. The low-rise fit, contour pouch, and stretchy waistband make the fit as close to perfection as possible. I can't see a downside to this.
I'm not sure what the Digital in the name stands for. Maybe it's because the art depicted on these boxer briefs is so crisp and clear they were probably digitally printed, or maybe it's because of the modern design and style, suitable for the modern age. Whatever the reason, the pros of this underwear are enough to make up for the slightly ambiguous name.
The first selling point of this Papi underwear is the polyester blend fabric that's moisture-wicking, with a multi-dimensional stretch so that you can expect a dry, comfortable, and figure-flattering fit. The waistband is low-rise but wide and sturdy enough to provide a great hold. The rear is seamless, so there are no ugly outlines under your clothes.
On the other hand, the pouch features seams cleverly inserted for the perfect appearance. And did we mention the art? The colors are so bright and vivid they jump out at you. They depict a stylized Brazilian skyline, paying homage to the brand's Latin roots and making us want to jump on the next plane to Gay Brazil.
Low rise briefs are such a genius idea. They provide a sexy silhouette almost similar to the ones you get with thongs and jockstraps, and yet they provide adequate coverage and never leave you feeling like you're rev relating too much. And when they come in a three-pack? Only the strongest men can resist, and why would you want to, anyway?
Like all signature offerings from Papi, these briefs are made from cotton, so tough can expect comfort all day, every day. A skin-tight fit defines and highlights all your curves and angles, so if you're proud of your figure, don't miss the chance to show it off in these. They come in three varieties, so you can choose between cool, earthy greys and blacks, pastel blues, or hot, fiery reds.
Enjoy an everyday brief with timeless style and lasting comfort.
Textured briefs are usually a pain to pull off. Either the texture is uncomfortable and a pain to wear, or it's barely there, and you've ended up paying such a high amount for a plain pair of briefs. These Textured Sport Euro Briefs from Papi manage to sidestep all the stereotypes.
It's made with ninety-five percent soft-blend cotton, so no itching is to be expected. The four-way stretch construction and contrasting colors are woven into the fabric to provide the textured effect. It's also got a wide waistband with the Papi logo printed across it for a visual delight as well as a great fit.
It comes in two colors, with each of them having a black waistband. The constructed contour pouch is also a cool addition, as it fulfills all your support needs and gives you an extra confidence boost in case you need it.
When you think of underwear, the first things that come to mind are usually the briefs, boxers, things you wear to cover up your ass – or expose it artfully, depending on what you're going for. But, let us now forget that = upper body wear counts as underwear too.
These white tank tops also come in black, if you prefer – they can be worn on their own or under T-shirts or more formal wear. It's made to be worn every day and yet designed to look like you're going somewhere special. It has an innovative design that frees up your arms and allows adequate air circulation to the parts of your torso most likely to sweat.The square neck also reduces your chances of overheating.
It's pure cotton for long-lasting elegance and comfort, while the streamlined tailoring gives you the best look possible. Lastly, the three-pack guarantees that you'll always have one on hand when you need it.
Beyond eye-catching sales and designs, the Papi brand constantly innovates to produce fabric brands that possess ergonomic functionality in addition to great looks. These Microflex Brazilian Trunks are made from a polyester blend fabric that is specially engineered to provide the ultimate comfort and fit. It's a beautiful fabric with a textured print that epitomizes style while providing several added benefits.
It comes in at least six different unique colors and textures, and each of them has the seamed contour pouch and low-rise waistband that makes these briefs worth buying. They also feature the Brazilian-style cut that highlights your muscular thighs and ass, so if you've got a figure that you want to impress the ladies – or gents – with, these will give you a little help in that department, and you won't even have to break the bank to buy them.
I'm not going to lie; this pack of three Brazilian stretch trunks is too good an offer to pass up. Imagine getting three almost pure cotton stretch trunks at a price these go for? It's a steal, I tell you. With a stretchy fit for the perfect look, a contour pouch to improve your silhouette, and a mid-life waistband for comfort, these trunks should be the holy grail of boxers styles underwear.
The Brazilian style implies boxy, squared-off legs flattering your thighs and elongating your lower limbs. It comes in three styles, each containing a mixture of red and black, the sexiest colors known to man.
Each of them also has the PAPI logo printed across the front in its characteristic font. It's also got seamless signs in order to remain invisible under clothes, though nothing says you cannot wear them on top as well.
Where would the world – the world of men, to be precise – be without jockstraps? For years these little fellas have protected our nether regions while flattering our figures and remaining discreetly hidden, no matter the design or fit of the pants we've had on. In more naughty situations, they've also provided easy access to the most important parts of our bodies.
Jockstraps really are an underappreciated resource, and while they might be some terrible ones out there, you've got nothing to worry about with these three-pack cotton ones from Papi underwear. They're pure cotton, for a start, and you could wear them all day with no problems. They also have a modern fit, with a crotch area that's highlights instead of conceals, and a waistband with the brand logo repeatedly printed on it, in the style of all the greats.
Suppose you're a guy who is in touch with his underwear needs, then you'll know that white jockstraps are an underwear essential. You might be tempted just to pick up a few from any old underwear brand, but think of the last time you wore a pair of jockstraps that didn't fit very well. It's really not a good idea, is it? Luckily, Papi underwear comes with a size chart.
They've even got an agent to speak to if you've got any issues, so you can be sure that you'll get the best possible fit; they're not doing too badly in other departments, either. The jockstraps are made of hundred percent pure cotton; they feature an elastic waistband that sits low on the hips and dips towards the center for a sensual silhouette, and they feature a trimmed, fitted pouch that gently cradles your genitals.
As the name implies, you're guaranteed to deal with the comfort and style in these Brazilian trunks. Although it comes in only two colors – blue and plum – this lack of color variation is more than made up for by the other sweet features. It provides full coverage, but that doesn't mean you have to keep your figure hidden.
The unique blend of polyester, cotton, and spandex clings to your skin, molding all your masculine curves. The elastic waistband holds the underwear up snugly, while the crotch features a gusset inseam that provides all the support you need for your package. These classic briefs are soft and breathable, excellent for everyday use.
They are also stylish enough that you won't feel any shame in stripping down to your underwear for whatever reason. Give them a try, and you'll be hurrying back to the store – or site – to stock up on them.
The stretch in these jockstraps is achieved by blending the cotton with five percent elastane. This means that you get a supple, soft fit with the hint of cling that elevates the jockstrap above its contemporaries. It comes in a number of versions, with most of them featuring a combo of black and another color.
All the ones featuring a combo of colors have the logo – which is printed across the waistband – in the other color. Altogether, it's a modern, stylish piece that's suitable for both casual use and special occasions. All you have to do is switch up the color to fit the mood, and you're all set.
The waistband, contour pouch, and back straps provide support, and rear coverage is minimal, so it's a good idea to wear it on a hot date if you expect things to move fast.
The Papi underwear brand is associated with quality and thoughtful design, and these trunks are a fine example of that. Instead of having a simple vertical or horizontal stripes motif, they feature gently sloping stripes composed of dots of different sizes.
These stripes are designed to have a lengthening effect while highlighting particular parts of your body – including your crotch and your ass – which will benefit from a more enhanced appearance. It's also built for comfort, with a lined waistband and seamed crotch that makes sure your support doesn't come at the expense of feeling good.
It features no tag or fly, so it goes undetected under your pants.
I love the square cut of Brazilian trunk legs. Even with the gym, it's so easy to feel insecure about your thighs, and a good beach outing can be spoiled by wondering if they're muscular enough. Any assistance, such as the one provided by tailoring your trunks, is definitely appreciated.
Add that to the soft, stretchy cotton blend fabric these particular ones are made out of, and you can be sure of a fit that'll show off all your curves while still feeling plush and comfy. The low waist accentuates your waistline and your torso, while the crotch does what it needs to for your package.
I cannot recommend these enough.
These jockstraps will likely be a huge hit among members of the queer community and their allies because of the rainbow-colored waistband.
However, it's still got other upsides, including the snug and cozy cotton material that's also resistant to fading, a well as the crutch area that features a cushioned lining, contour build, and a seam for support. Color contrast details also increase its appeal, as do the colors it comes in – Red and yellow.
Elastic back straps support the rear and allow substantial exposure, while the lined waistband promises a discomfort-free experience. Show off your pride and stay sexy in these.