There is a reason people rarely go to Thailand only once. Something about the 'Land of Smiles' gets under your skin. Maybe it's the glorious tropical beaches, maybe the life-giving buzz of Bangkok.
Or it could be the flavourful food bursting with fresh ingredients, the stunning and diverse landscape of forest, mountain and rice paddies, or the warmth and generosity you're met with everywhere you go.
There are a million and one reasons. Suffice to say, if you haven't been to Thailand yet, it's about time you did! Gay, straight, trans, unicorn – Thailand is for everyone….When you do visit, we know you'll want to see as much of this beautiful country as possible, so we thought we'd give you some vital information on transport in Thailand – where to go and what you need to know.
As you'd imagine, the capital city of Bangkok is the transport hub of the country. It's where the main airport is, which sees upwards of 60 million passengers pass through every year, and it's your starting point for most journeys you'll want to make through Thailand. Don't be quick to leave however as there are so many amazing hotels and hostels on offer in Bangkok to first explore…besides, this is also one of the world's gay captials aswell.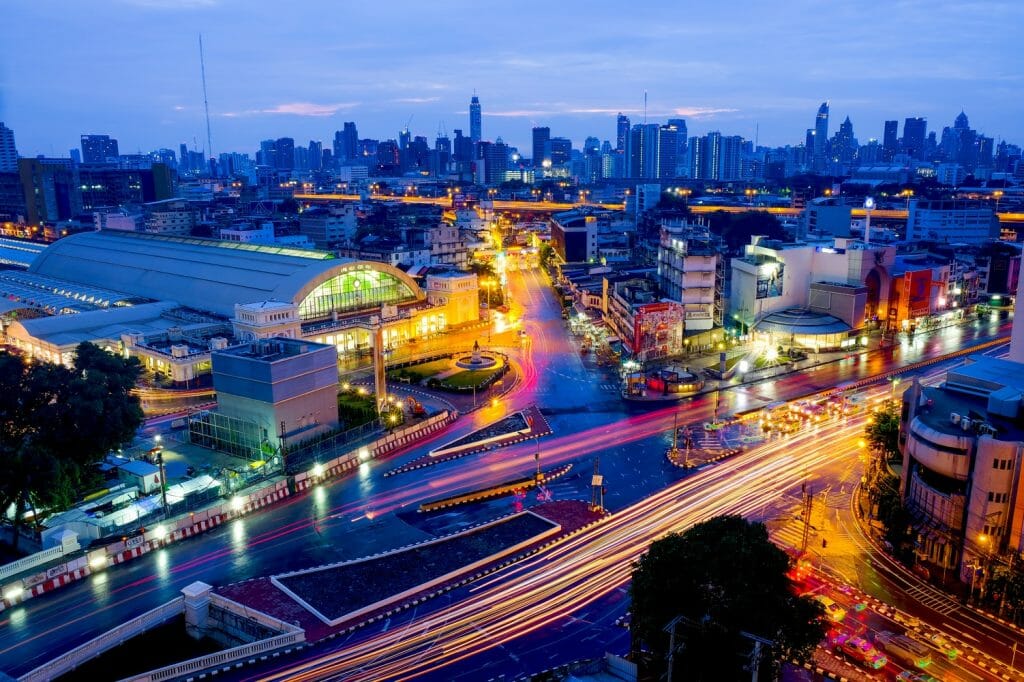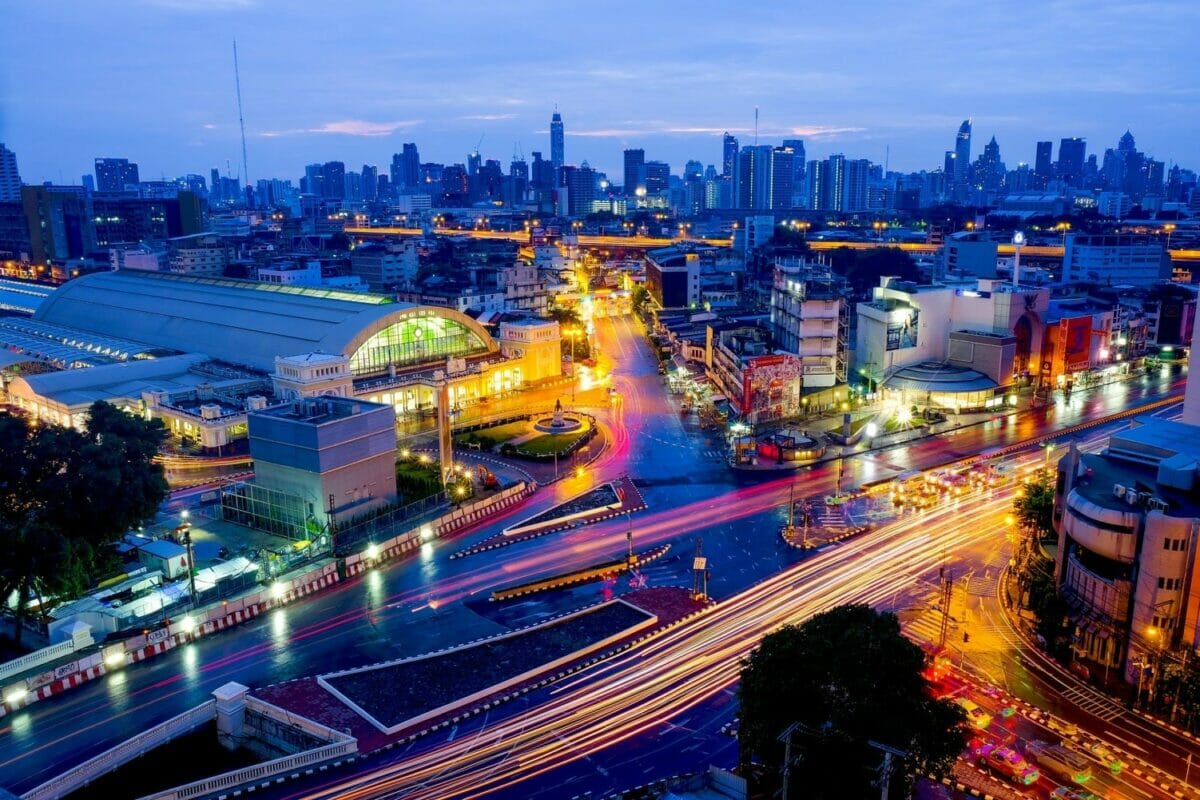 You have myriad transport options for getting around the country, fitting all budgets and preferences. Buses dominate the long-distance transport in Thailand market, with state-run non-air-conditioned options if you're feeling *ahem* 'adventurous' or the privately or state run 'VIP' buses with their air conditioning, faster speeds and more legroom. Be aware that the roads in Thailand aren't the best (an understatement) so you could be in for a jolty ride!
For a slightly speedier trip, there's an over ground train network that takes you most places, although it doesn't cover all of the country. It's more comfortable than the bus, though, and still pretty affordable; one disadvantage is that delays aren't uncommon. Choose from fancy first class (private cabin and air-conditioned), second class or third class. The views can be stunning, although be aware that trains book up quickly over weekends and holidays. The four main train lines all start at Bangkok's Hualamphong Station, linking to Chiang Mai, Ayutthaya and beyond, and the Gulf Coast.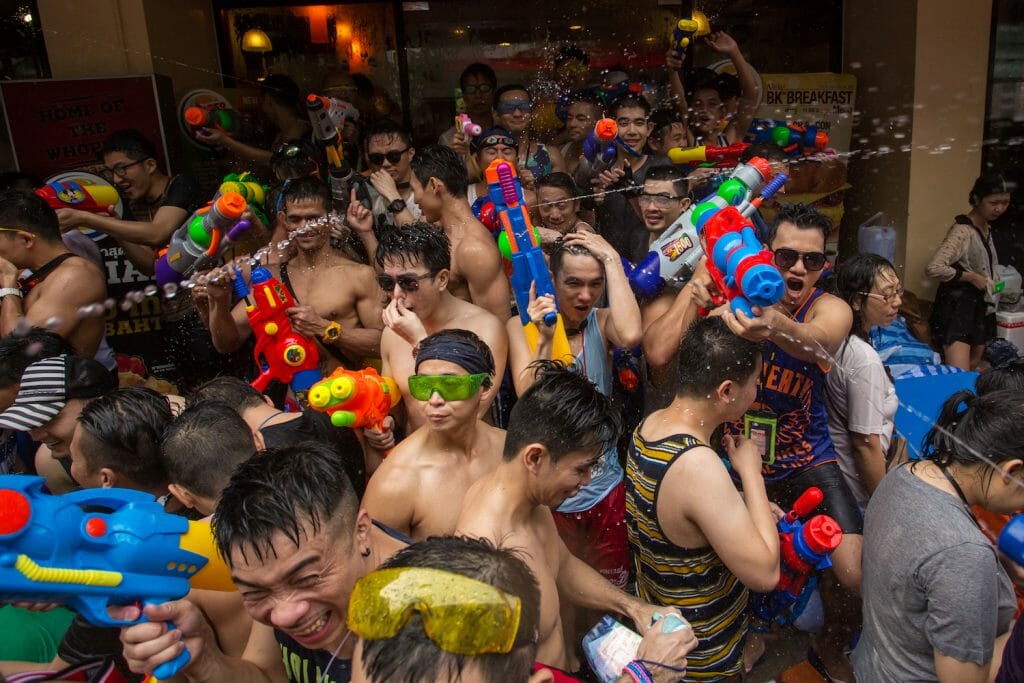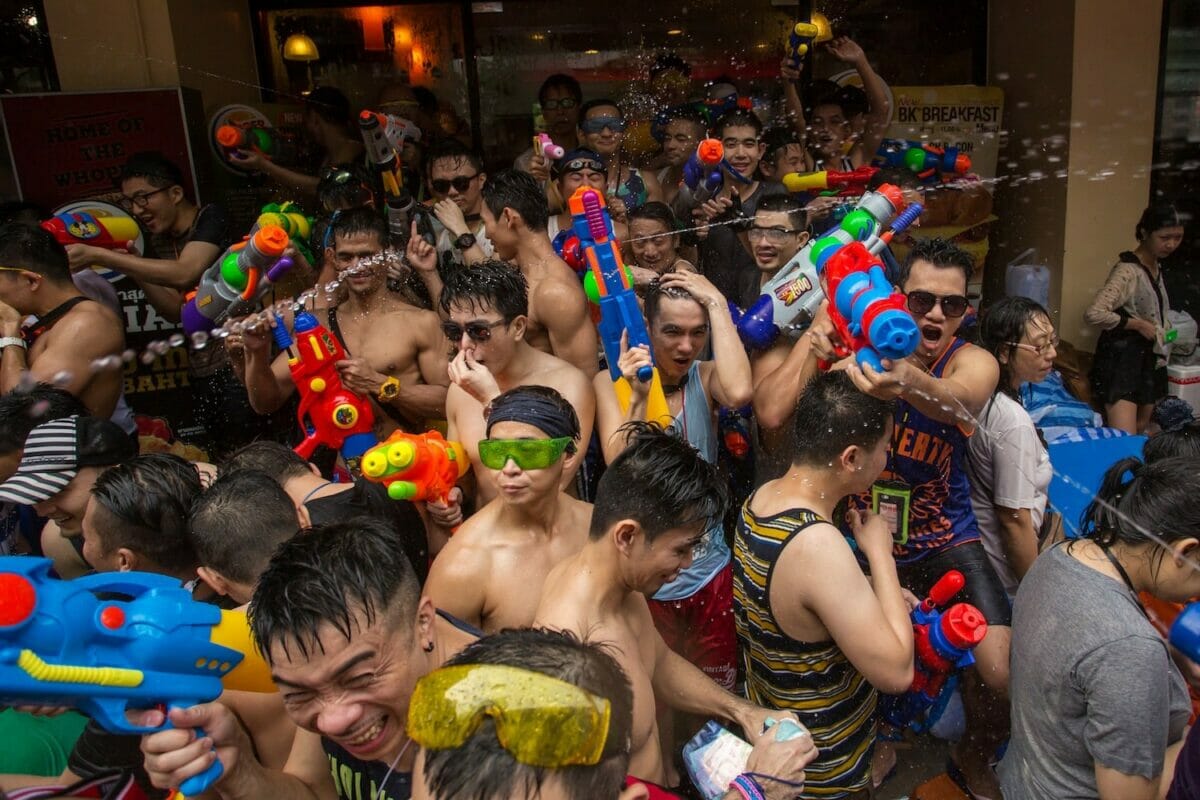 Of course, you'll have heard about the beautiful tropical islands off the coast of Thailand. Naturally, the best way to get to these is by the ferries that head out to these hundreds of islands, which you can catch from plenty of ports on the mainland. We can't pretend these are luxury yachts, but they'll get you there!
With so many options for transport in Thailand, it can get pretty overwhelming trying to plan your trip. This is particularly true if you need to switch means of transport halfway through your trip. Travel information isn't always up-to-date and complicated travel plans are difficult to communicate across a language barrier.
To help you out, we've gathered together some of the best places in Thailand you might want to visit and some suggestions on how to get there from Bangkok.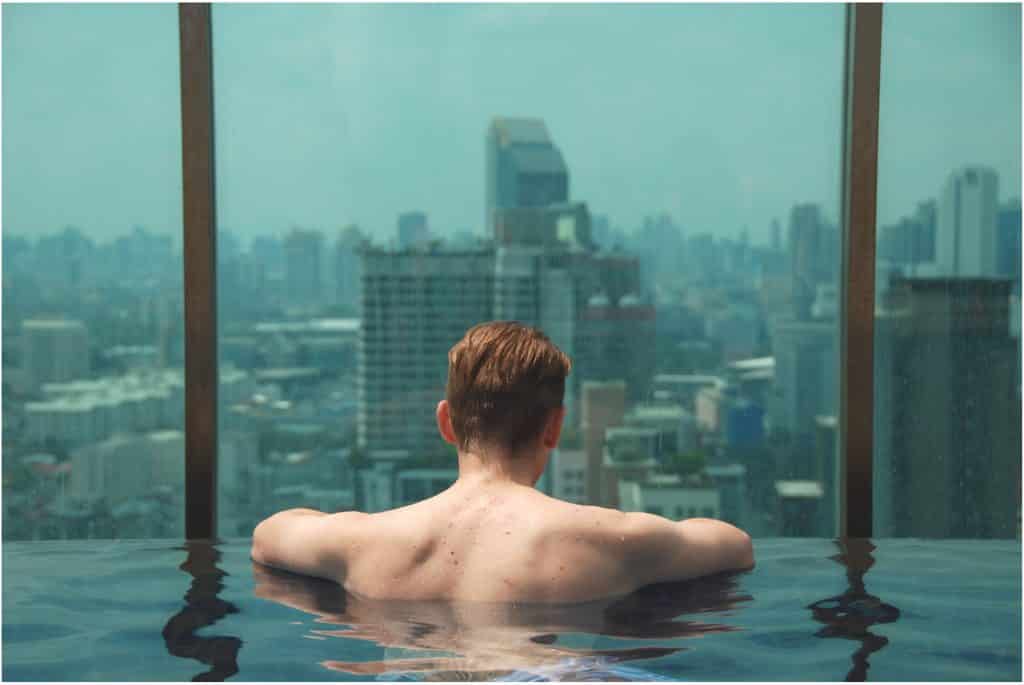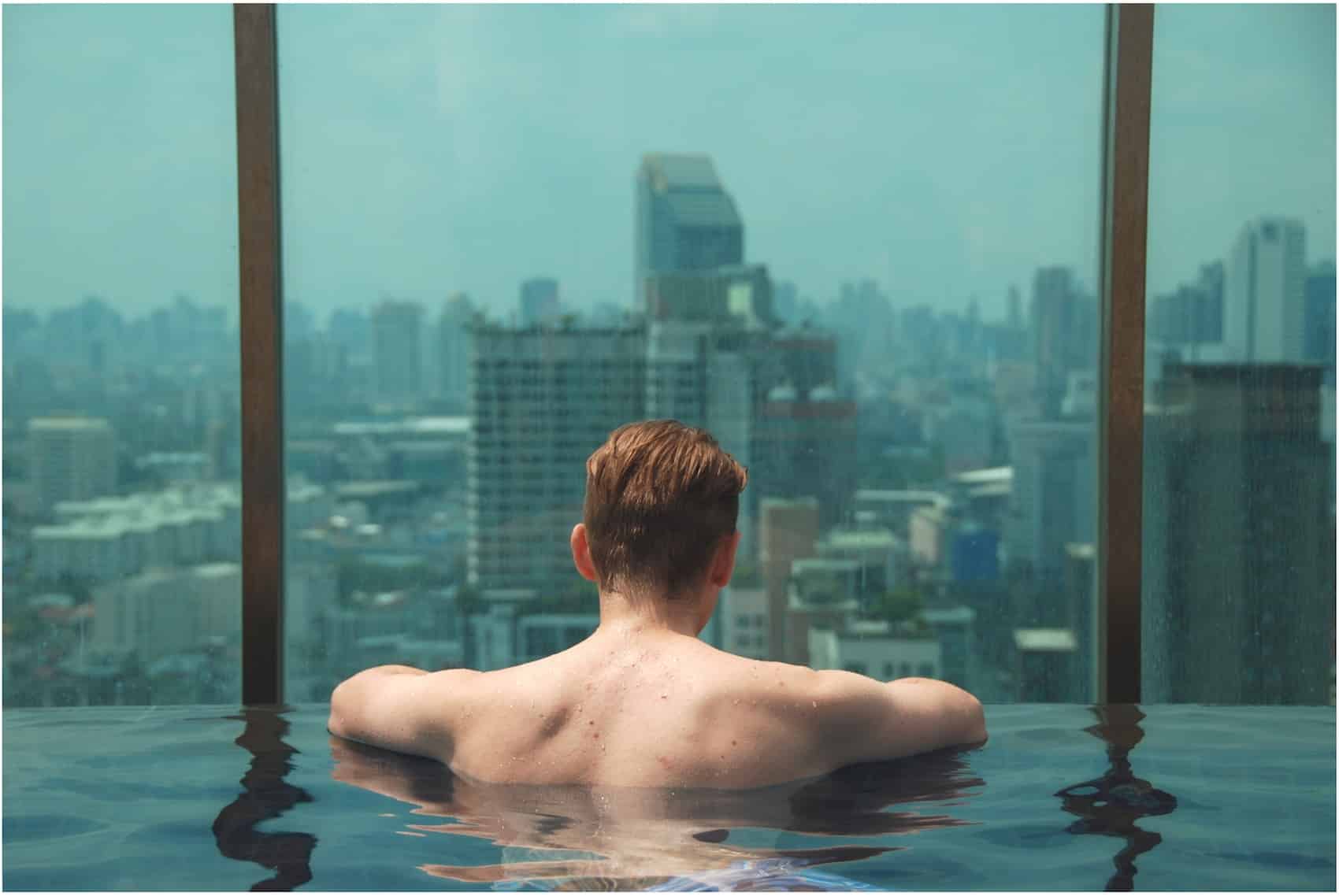 Transport In Thailand: Where To Go And What To Know 🇹🇭
No surprises that gorgeous Koh Samui is first on our list of places to travel to in Thailand! The country's second-largest island is a haven of white-sand beaches, chilled-out spa resorts and food that will make your heart sing.
While it might have the reputation as a backpacker gathering ground, it's actually got an incredibly diverse range of places to go and things to do, so you can head here whether you're on your own, in a couple, with a big group or friends or with family. Days can glide by as you relax on one of the beaches, dipping in the turquoise sea for some snorkelling, then stretching out on your beach towel again. A gay solo travelelrs dream… Chaweng is the busy one where all the buzz is, Mae Nam is expansive and peaceful; there are plenty of other spots to be discovered.
If you can drag yourself away from the water, you'll find fascinating temples, including the temple of the Big Buddha with its 39-foot golden Buddha and Wat Plai Laem with its enormous 18-armed Goddess of Mercy statue. Rent mopeds and explore, get relaxing foot massages, go on safari, visit the Ang Thong National Marine Park – the list goes on.
How do you get there? All route options start with a bus journey before changing to a ferry. You can choose provider and between Standard, Express and VIP buses. All options have a toilet and AC, but comfort levels will vary. It will take you between 12 and 17 hours, depending on the type of bus and how long you have to wait for the ferry. While it might seem like a long trip, it's 110% worth it once you arrive there!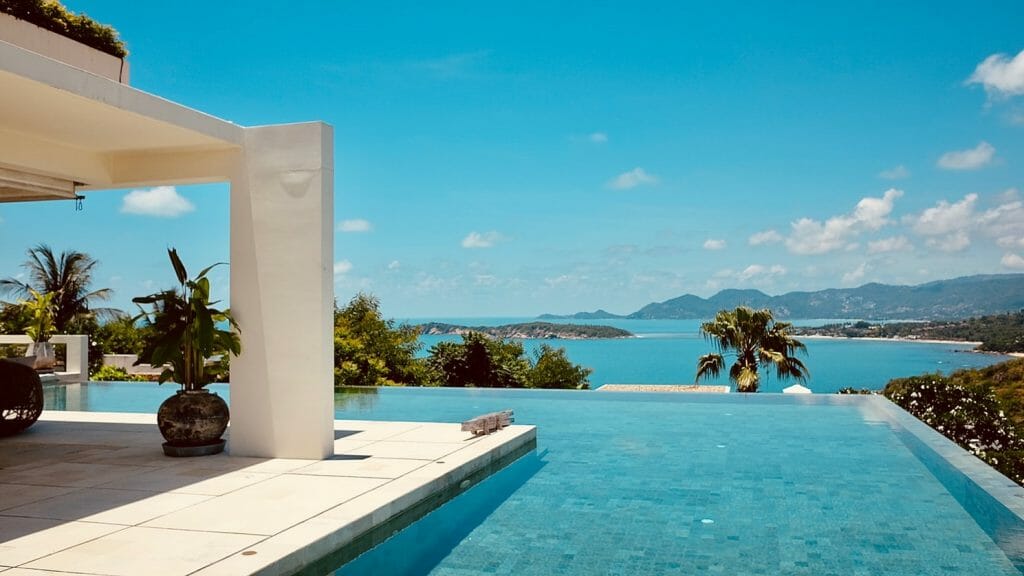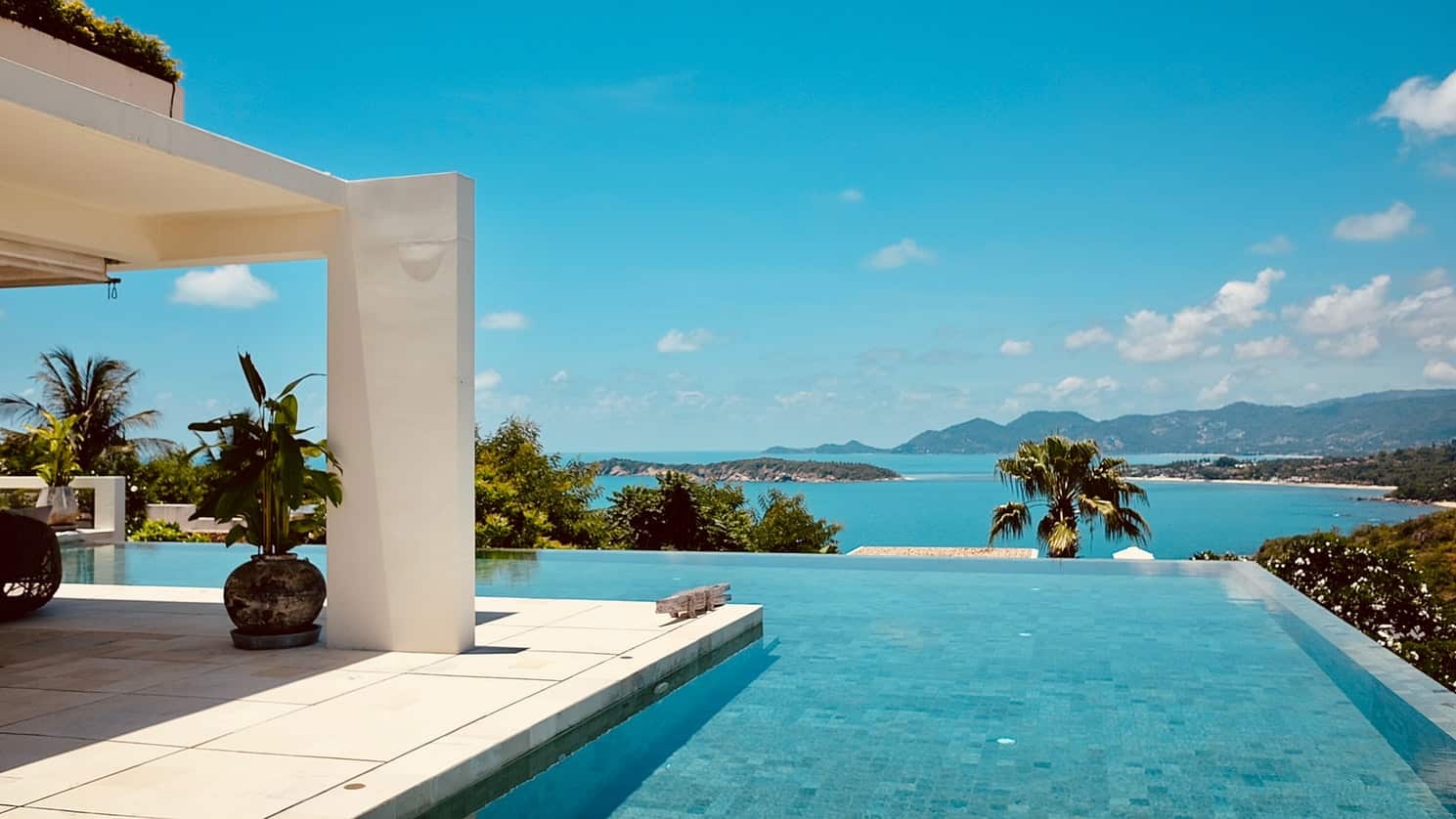 One of the great things about visiting Thailand is how close you are to other amazing places in Southeast Asia, like Siem Reap, gateway to the iconic temples of Angkor Wat. In northwest Cambodia, Siem Reap is more than just a holding place before you get to visit Angkor. It has developed into a cultural city with great shopping and extensive dining options, masses of places to stay and even a (modern!) circus.
And then there's Angkor Wat itself to experience. This is easily three days' worth of wonder; an astonishingly well-preserved temple complex that stands in memorial to the Khmer civilisation and the human race's spirituality. The architecture is symmetrical and harmonious, acting first as a Hindu temple and then being converted to a Buddhist temple. Since its construction in the early 12th century it's been almost continuously in use. Spending time here is utterly enthralling and you won't fail to be moved by what humanity can create.
How do you get there? Getting from Bangkok to Siem Reap is quicker than you might expect, all being well at the border. A 9-hour bus journey is all it takes – just make sure your visa is valid in advance. Book a Tourist Bus or VIP Bus with Travel Mart or choose a Tourist Bus Service with Thai Sriram or Giant Ibis companies. All services have WC and AC on board.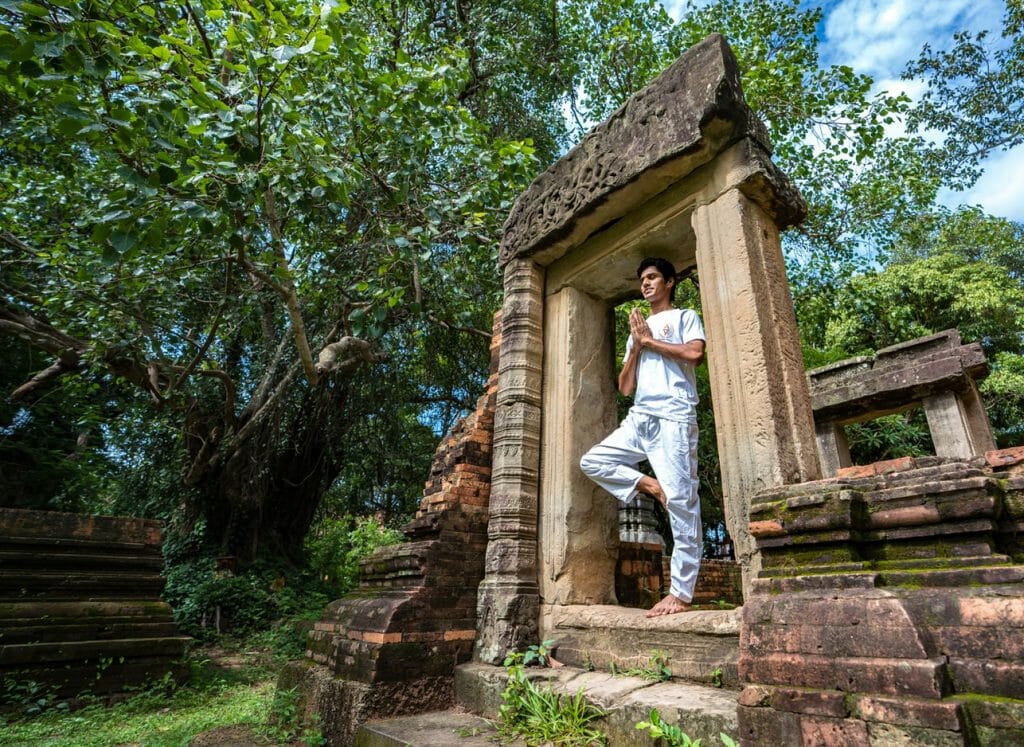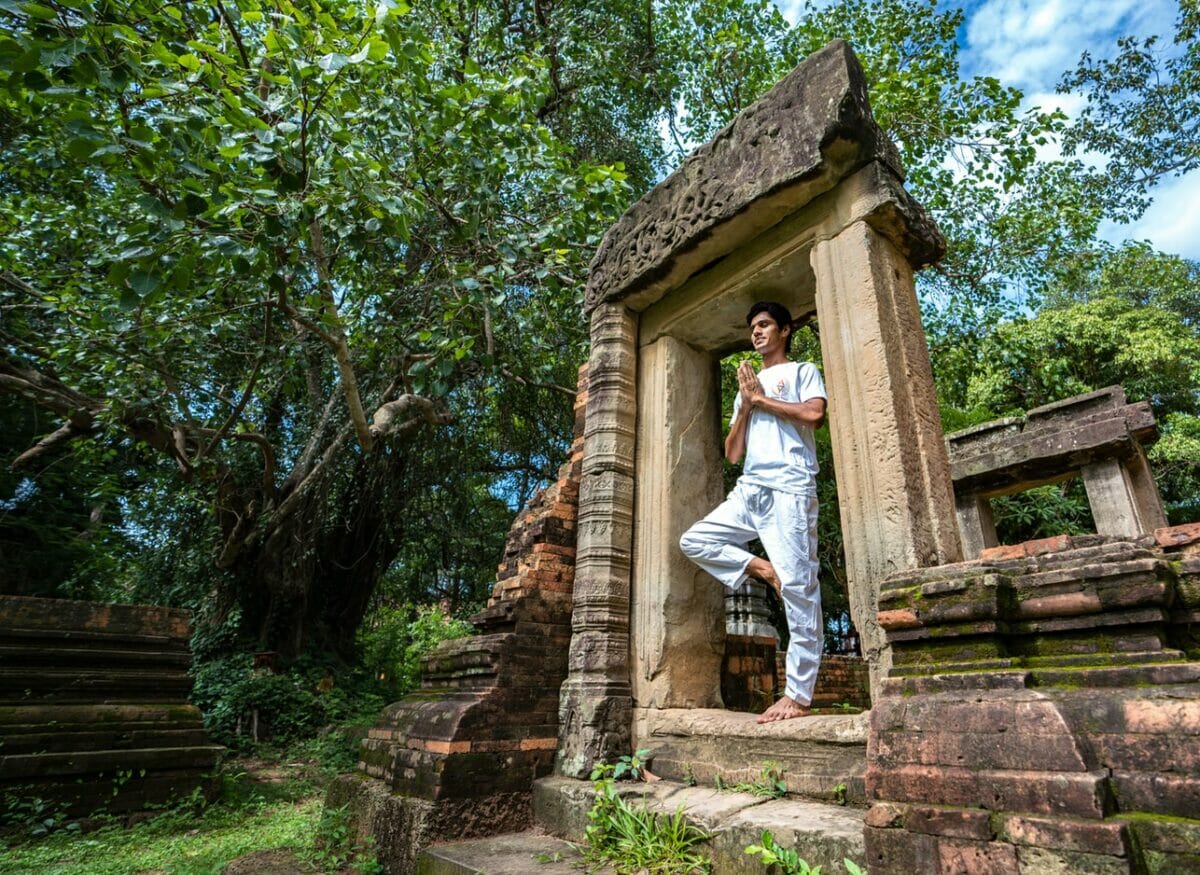 Tiny "Turtle Island" is exactly what you imagine when you think of a tropical Thai island. Lush green foliage on a turtle-shaped rock, turquoise seas and white sand beaches, dotted with wooden huts serving cocktails and some delicious food options. It's a more laid-back option than Koh Samui but still has plenty going on.
The crystal-clear waters are famous for some of the best diving in the country. You can easily slide off the rocks straight into an underwater world of bright coral reefs, sharks and rays – even experienced divers will be awestruck by the quality of the sights. For those of you who aren't into diving, there's more to Koh Tao than scuba joy. Snorkel, do some yoga, cycle around the jungle trails or brave the bucket cocktails at one of the seaside bars.
How do you get there? Two companies – Songserm and Lomprayah – offer routes from Bangkok to Koh Tao. Hop on a bus in Bangkok then catch the ferry over to Koh Tao pier. The fastest option takes just under 9 hours. From here you can continue island-hopping or head back to the mainland.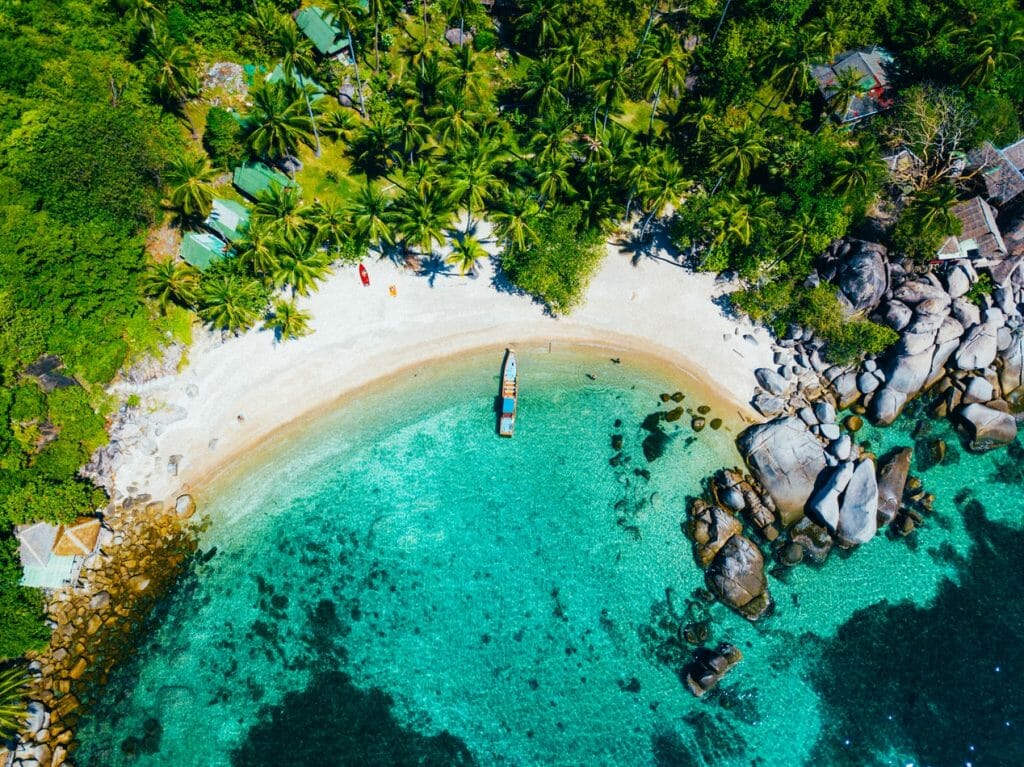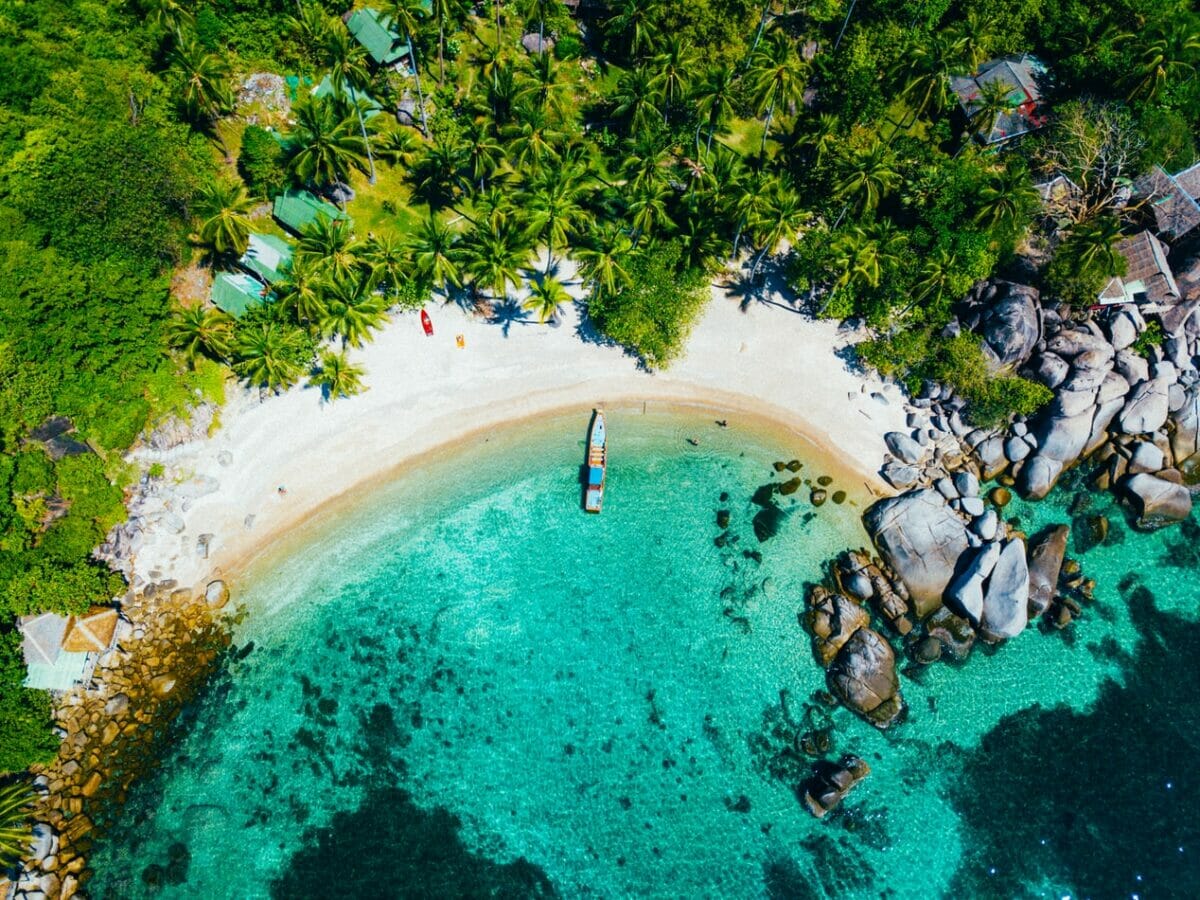 Thailand's biggest island features golden beaches, stunning diving and dramatic rocky landscapes. Over 250,000 people live here, but that doesn't mean it feels crowded. The sea is still crystal-clear, the beaches have plenty of room to stretch out and there's always somewhere to sit and eat. Perfect for relaxing before or after all those Bangkok circuit parties…
One of the things we love about Phuket is how it has a beach for every type of traveller and budget, from places lined with mega-luxe resorts to stretches with bars pouring out onto the sand, to palm-tree-lined backpacker beaches seemingly specifically designed for chilling out. The more active among us can head out onto the water in a kayak to explore the famous island lagoons with their towering karsts, or strap on the oxygen tanks to scuba-dive down to the friendly fish.
If you drag yourself away from the beach bum life, you can enjoy the rich Phuketian culture, shaped by its history as a major stop on trading routes between India and China. Temples, museums in Phuket Town and shrines are among the fascinating places you can visit. The food reflects this history as Chinese and Malay flavours mingle with the southern-Thai dishes to create things like crab-meat curry and noodles.
How do you get there? It might be an island, but there is a bridge linking Phuket with Phang Nga Province on the mainland. This means your journey there is a simple bus journey. Naga Travel's VIP bus will get you there in 12 hours, while an Economy Bus will take about 16 hours from Bangkok: the choice is yours!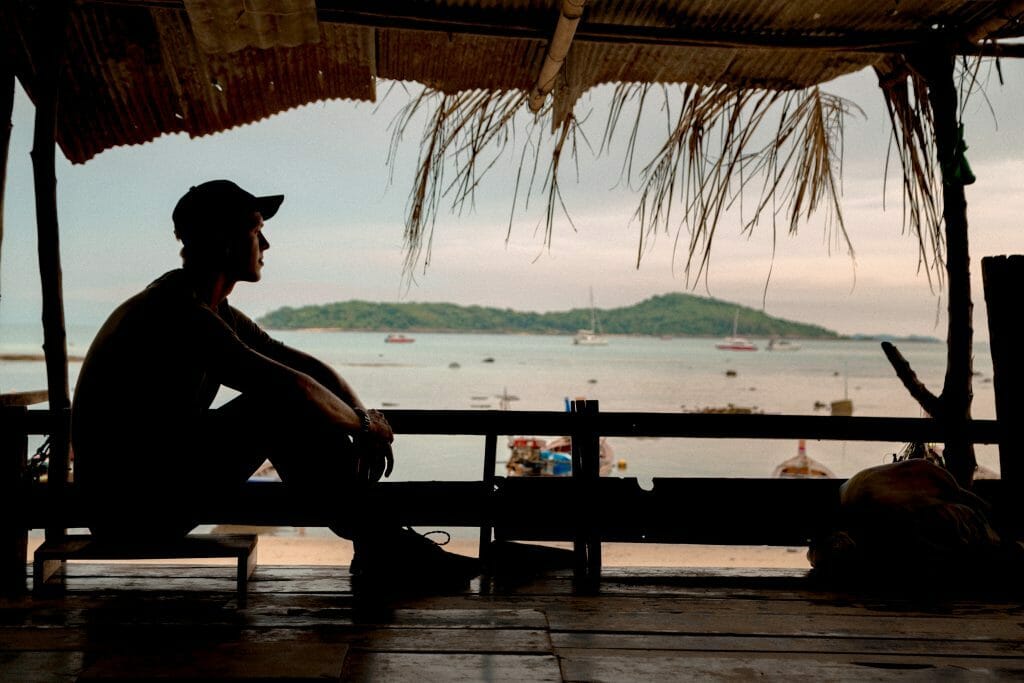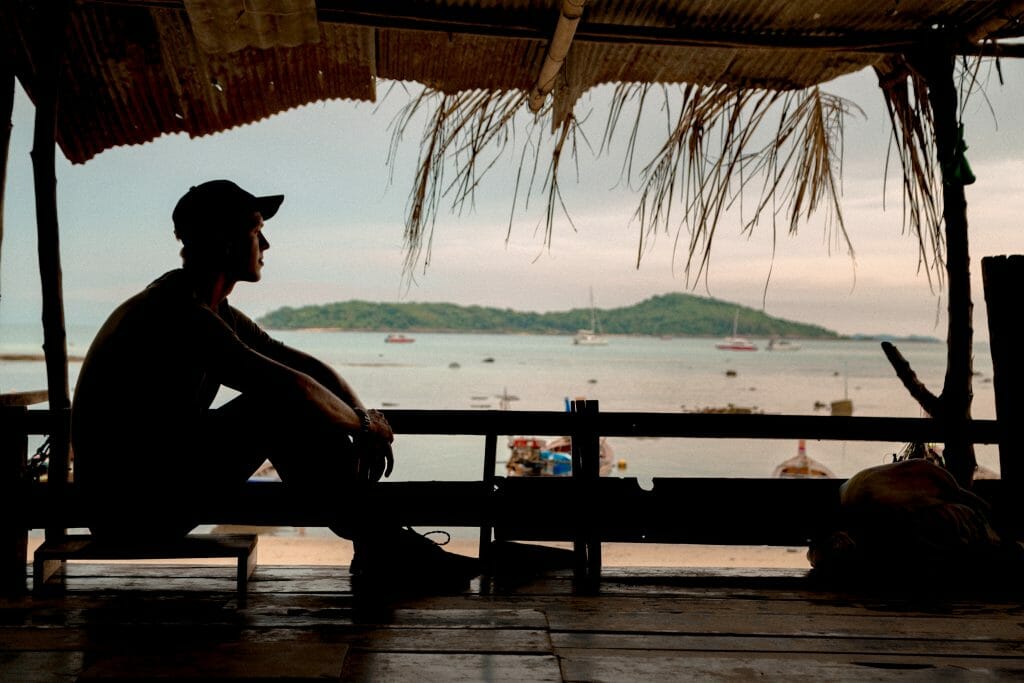 On Thailand's eastern Gulf coast, you'll find the vibrant city of Pattaya has grown from a quiet fishing village in the 1960s to the prime tourist destination that it is today. We can't pretend it's all chilled-out hippie vibes here, but it's definitely a hell of a good time!
The beaches are packed and buzzing with life as sun-worshippers flock there to soak up rays and float on the waves. Family-friendly and affordable resorts are easy to find here; so too are drinking establishments, massage parlours and go-go clubs. As well as the beach, you can spend time in the pumping downtown area. Walking Street is the 500-meter stretch at the end of Beach Road, closed to traffic after 6pm, where you can spend your evenings sampling dishes from the various food vendors and watching street performers by the glow of the neon lights.
How do you get there? Pattaya is one of the most accessible places from Bangkok, so if you don't have a lot of time but you want to have some seaside fun, this is your ideal destination. You've got lots of transport options, from tourist, standard and economy buses that all take between 2 and 4 hours, to Economy Cars that can carry 3 or 4 people. If you're travelling in a bigger group, there are minivan options for up to 9 people. These are more expensive, but if the cost is shared across all 9 passengers, it works out as very reasonable and takes less time – about an hour and a half.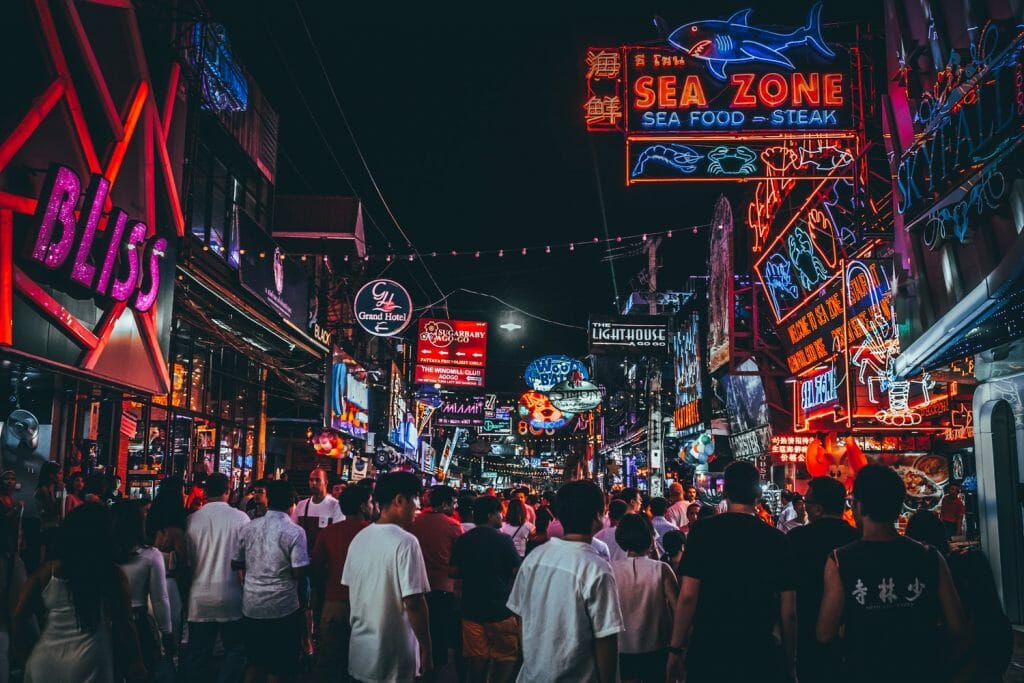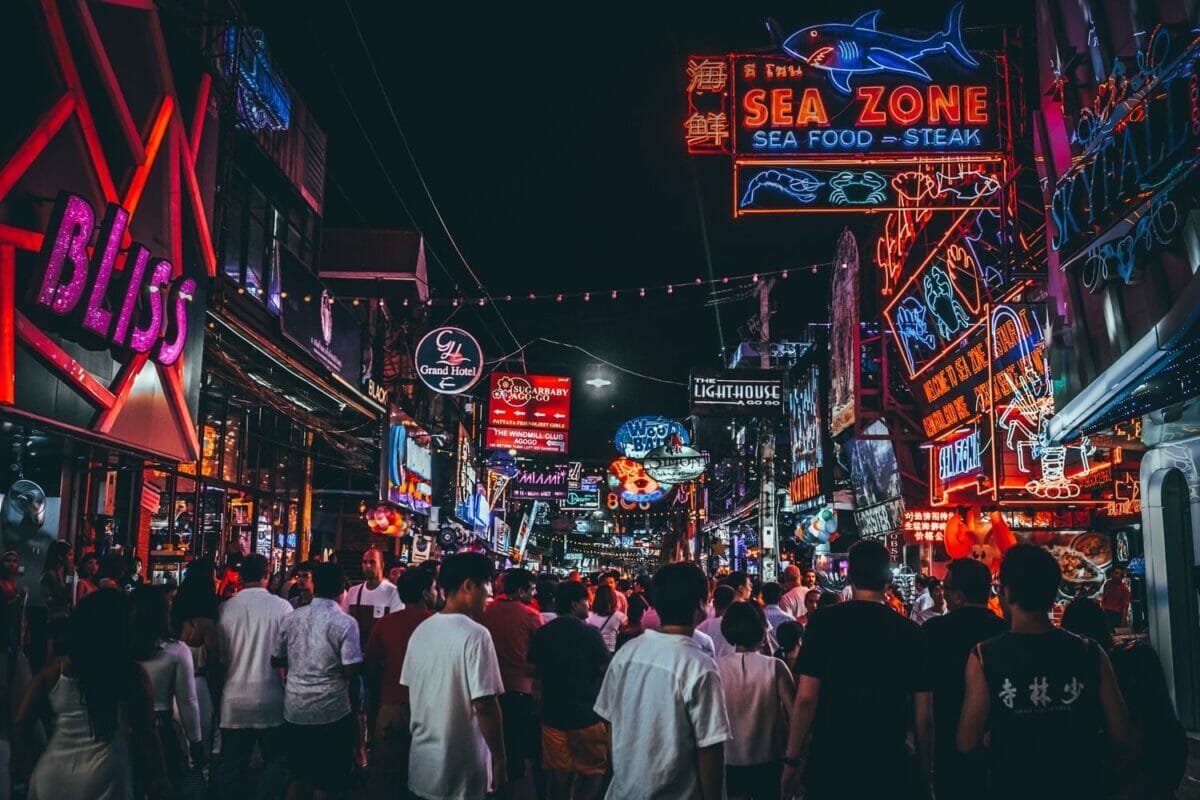 Historic and culturally rich Chiang Mai is one of our favourite destinations in Thailand. Nestled among the mountains in the north of the country, this city has been around since 1296 and has the ancient temples to prove it! It's considerably more laid-back than some of the more hectic beach spots and you'll love the atmosphere in the misty mountains.
While the city has grown modern suburbs, the heart of it still feels like a sleepy countryside town, one where you can wander the streets for hours taking in the sights and sounds of people living their lives or potter around the outdoor bazaars. The old town is surrounded by a moat and has dozens of temples, tended to by orange-clad monks. Wat Phra Singh (the temple of the lion Buddha) is understandably popular but the city's oldest temple, Wat Chiang Man, is also well worth a visit.
The city is surrounded by lush rainforest landscape where you can hike waterfalls, visit timeless countryside villages or go to the ethical elephant nature parks. Taking part in one of the many cooking courses is a great way to get closer to the culture.
How do you get there? There are available routes from Bangkok to Chiang Mai on either buses or trains. Thai Sriram, Lignite Tour and Khao San Tara Tour all offer buses that take between 10 and 12 hours. A second class or sleeper train takes about 13 hours. Alternatively, arrange a private transfer in a 4-or-6-person car or 9-person minivan. The private transfers might be more expensive, but they're more comfortable and faster.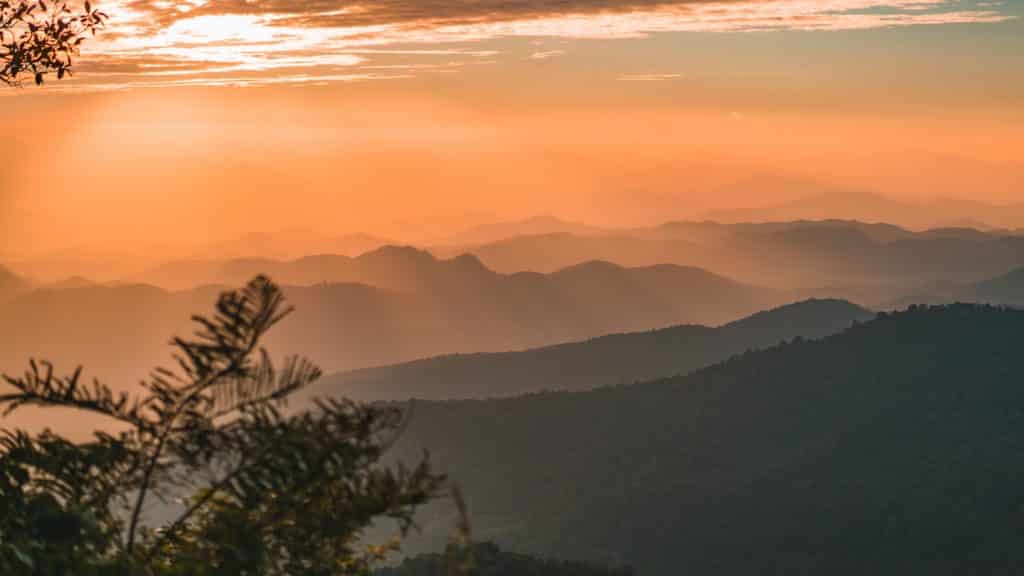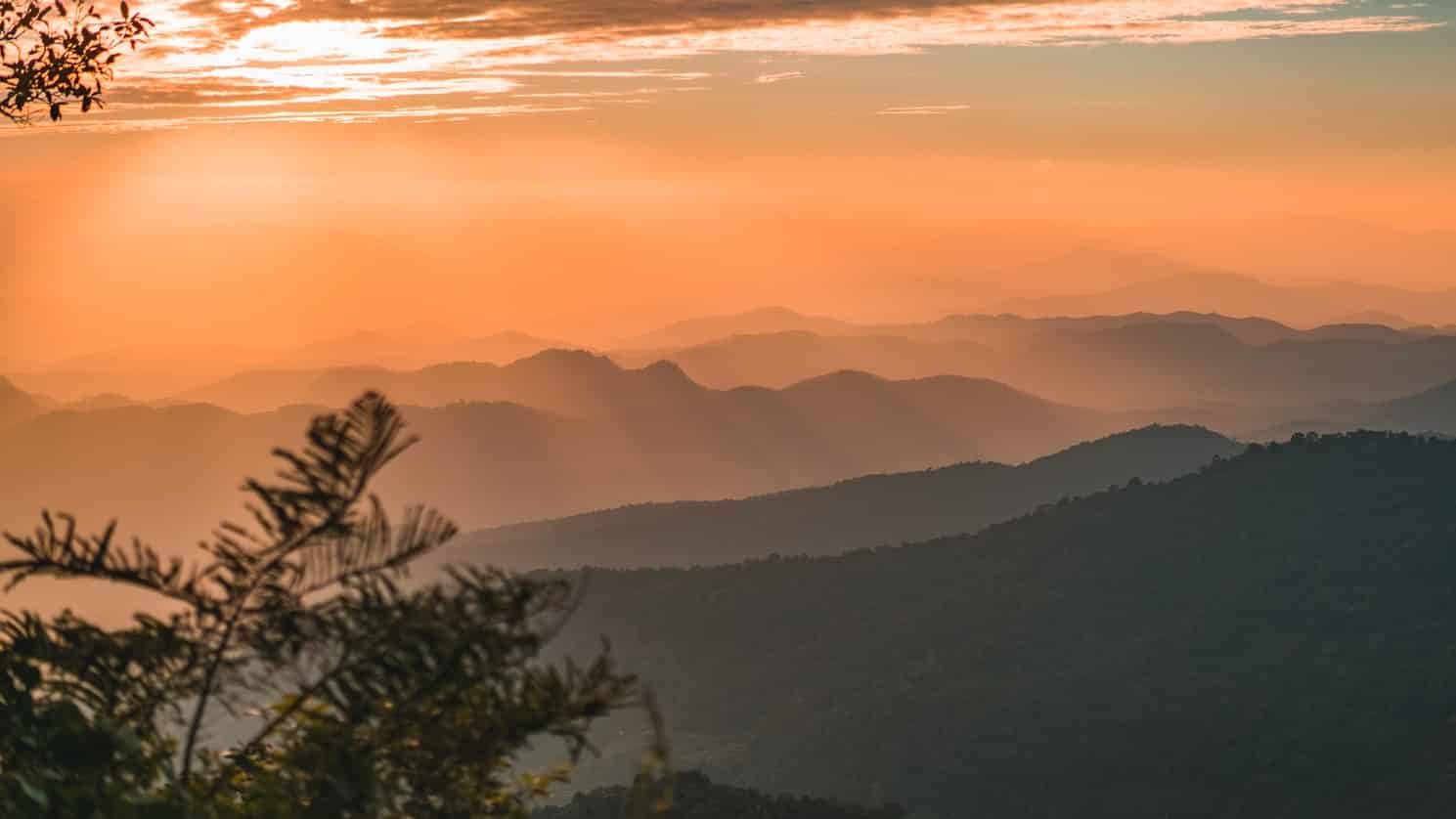 Hua Hin is the perfect destination for travellers who like a bit of city living alongside their beach life. It says a lot in our book that this is a popular spot for Thais to head on holiday – including the Royal Family! Given its long history as a beach resort, Hua Hin has worked hard to keep pace with its visitors' needs, developing into a rather cosmopolitan city with a range of food and recreation options.
The beach is 6 kilometres long, extending from the Hilton Hotel to a Buddhist temple at the other end. Here you can relax on sun loungers, venture into the water for some snorkelling or linger in a beachside café with a cool beverage. There are lots of opportunities for people watching, too! It's also a great place for golfers, with a total of seven courses in the surrounding areas.
Spending time at the night markets is a lot of fun in the evenings. Here you can buy clothes, crafts, fabric, baskets and pottery, or gemstones and jewellery. Practise your haggling skills and then go grab a snack!
How do you get there? There are lots of easy options to get from Bangkok to Hua Hin. Minivans and buses are the cheaper options, while cars, SUVs and luxury minivans are the more expensive private options. Most trips take between 2 and 3 hours.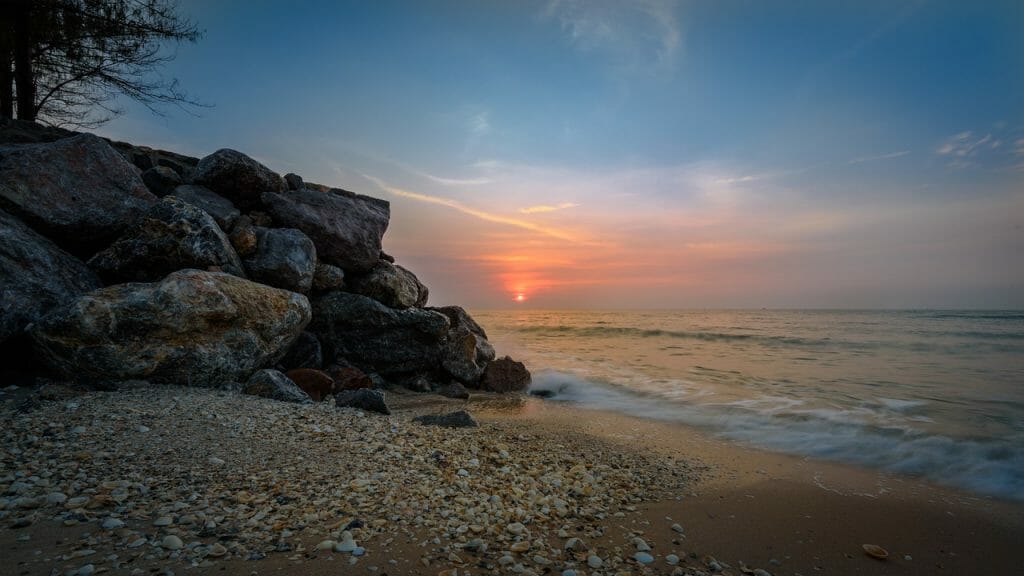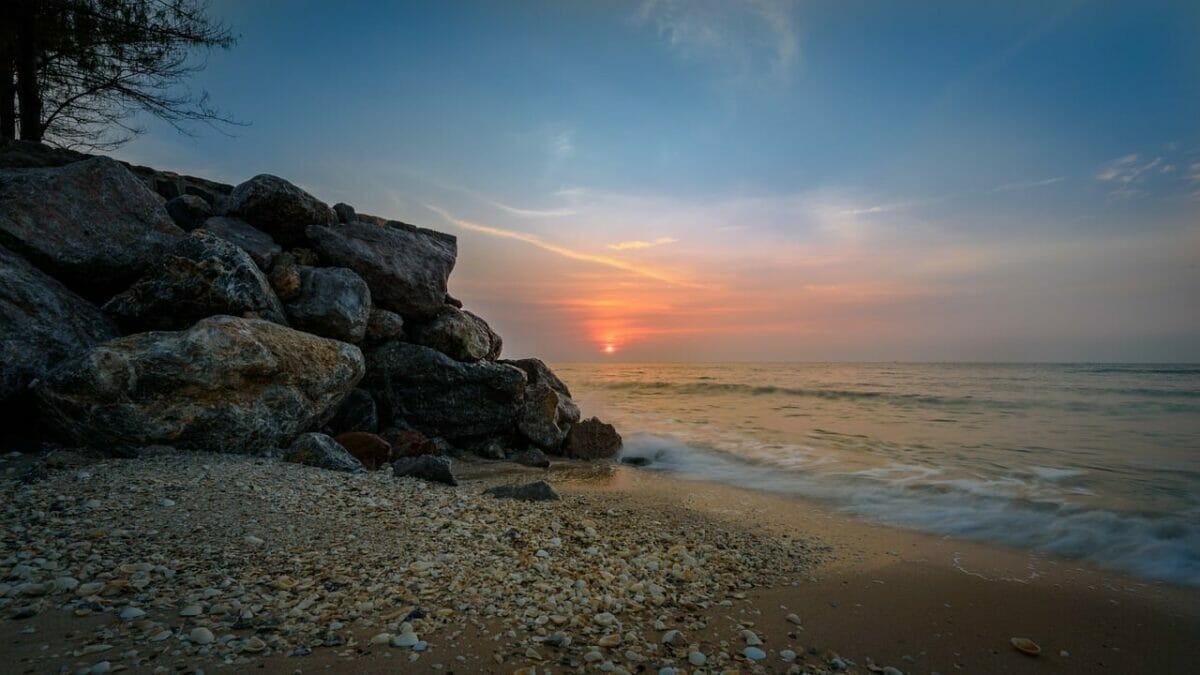 Famous for its full moon parties but offering much more, Koh Phangan in the southeast of Thailand is an adventurer's dream destination. Wooden walkways built along the rocky shoreline weave past brightly coloured huts with deep blue water on the other side. Obviously if you want to enjoy the party side of the island, you know when to head there (full moon!), but it's even more charming when it's not flooded with party-goers.
Your adventures here could come in the form of scuba diving, exploring the diverse underwater world around the island. They could also come in the form of trying all the new foods at the lively night markets, or on a hike through the jungle. Spend time hunting down your favourite beach (there are plenty to choose from!) or unwinding in a spa.
How do you get there? Your quickest transport option is the high-speed bus and ferry, which will get you from Bangkok to Koh Phangan in about 10 hours. For more comfortable buses, choose the VIP bus option on offer from providers like Naga Travel and Krungsiam, but these could take up to 15 hours.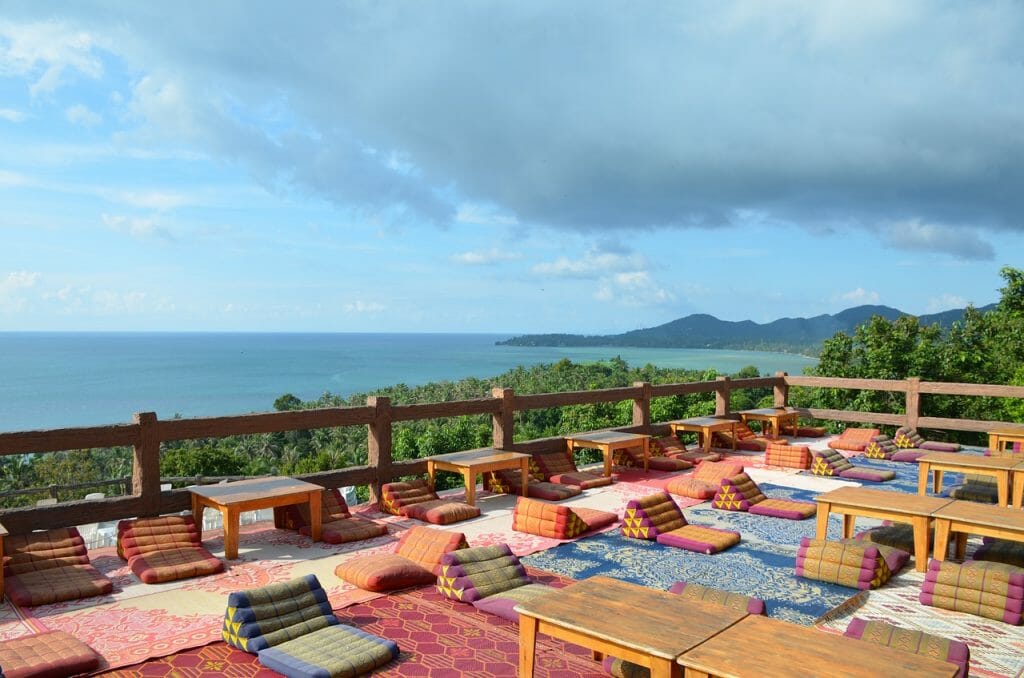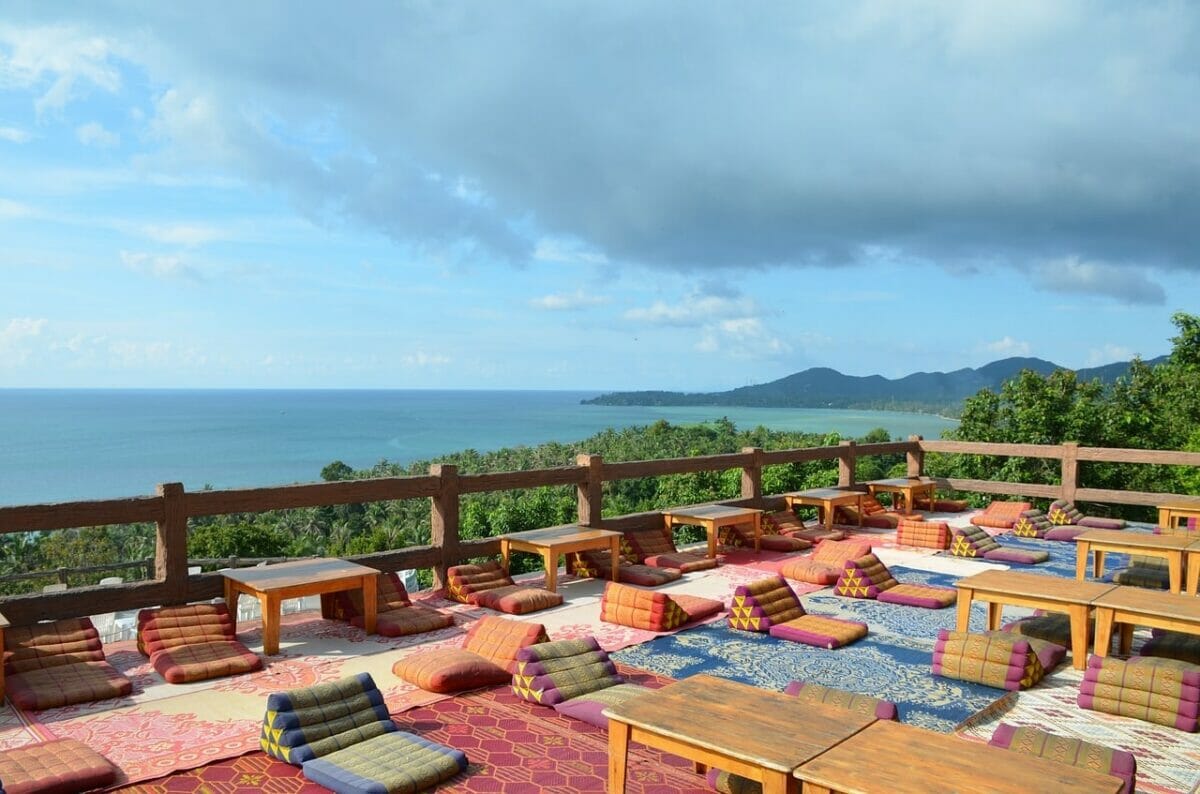 Although you can get from Bangkok to Koh Chang in 'only' 6 hours, there's something deliciously wild and remote-feeling about Elephant Island and its rugged jungle-clad mountains. Over the past 30 years it has become more popular and therefore has developed a lively party scene, which provides a nice balance with its wilderness.
While there are minimal beaches on Koh Chang, particularly on the eastern side, we love heading there for stunning sunrises and gorgeous resorts built on stilts over the water. Bang Bao Bay in the south is bursting with seafood restaurants and scuba diving providers. Mu Ko Chang National Park occupies the centre of the island and offers amazing trekking trails and tiered waterfalls. For partying, head to Hat Th Nam ('Lonely Beach').
How do you get there? Private transfers in cars or minivans (depending on the size of your group) are the most convenient way to get to Koh Chang from Bangkok as you can choose the time and the pick-up and drop-off points. However, they are pricier and the cost doesn't include ferry tickets. There are good options for combined bus and ferry routes that take between 6 and 8 hours.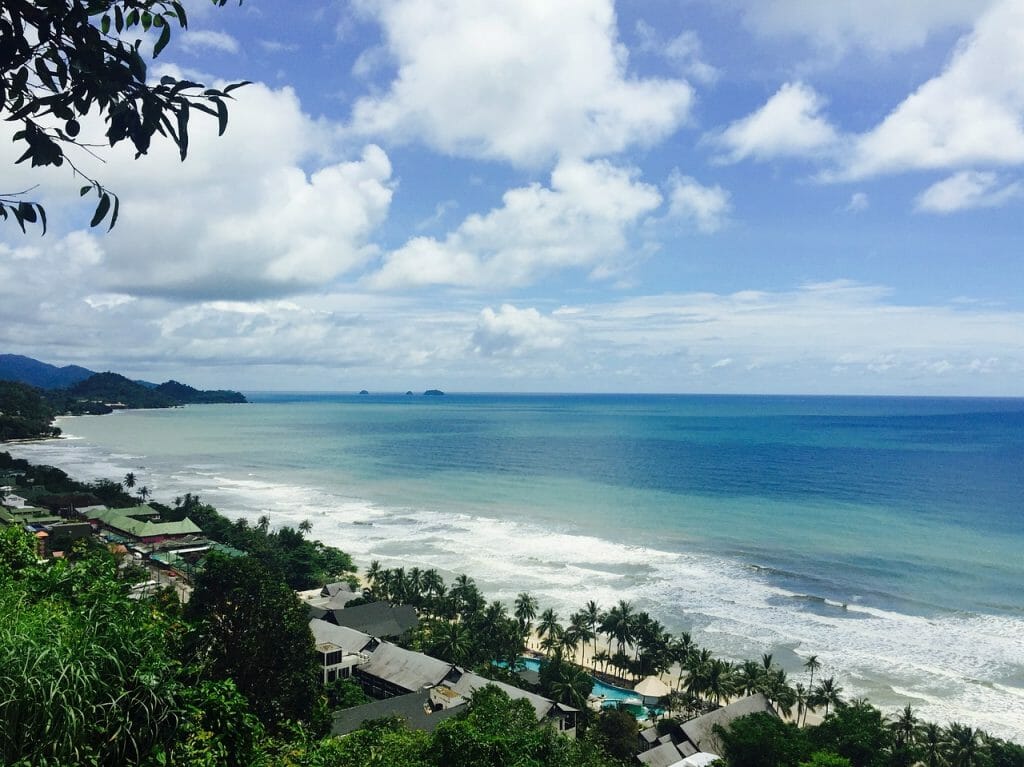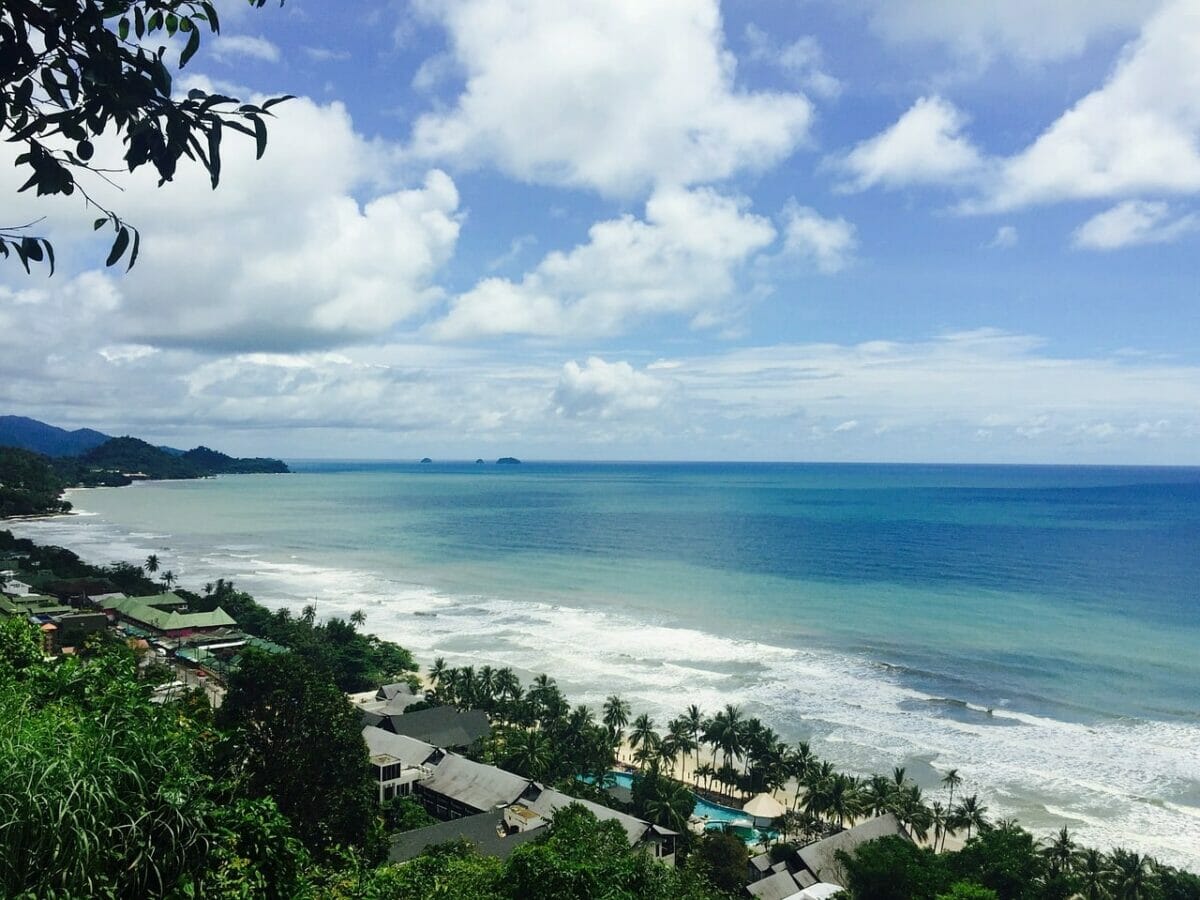 A weekend getaway for Thais based in Bangkok, Koh Samet is one of the eastern seaboard islands offering soft sand between your toes and bright blue waters. Despite its popularity, it is relatively underdeveloped, which is a big part of the charm. The southern coves have one or two resorts and there are no high-rises ruining the views of the jungle and beaches.
It's a great place for those of us who like to splash around in the water but aren't strong swimmers, as the water is calm and shallow. You can snorkel or even dive, enjoying the peace of the southern coast. For more of a party scene, head to the northern beaches where there are regular fire shows and beach BBQs.
How do you get there? Being so close to Bangkok, it's a good place to travel to if you want to experience Thai island life but don't have that much time. The comfortable bus and ferry service will get you there in about 4 hours. For a more luxury option, take the 8-person VIP minivan in 3 hours.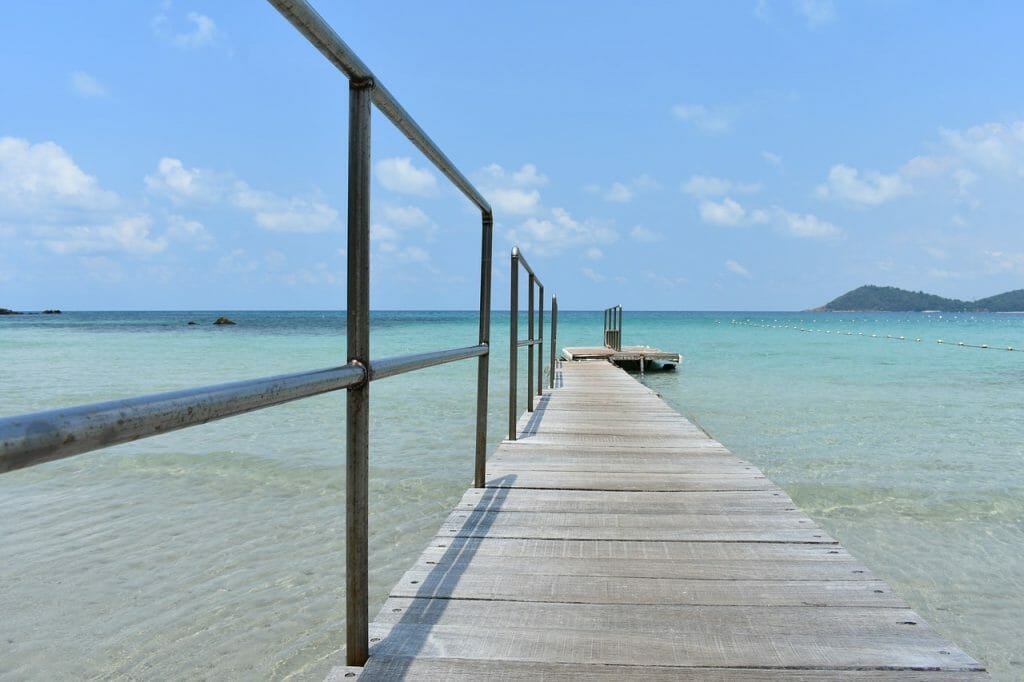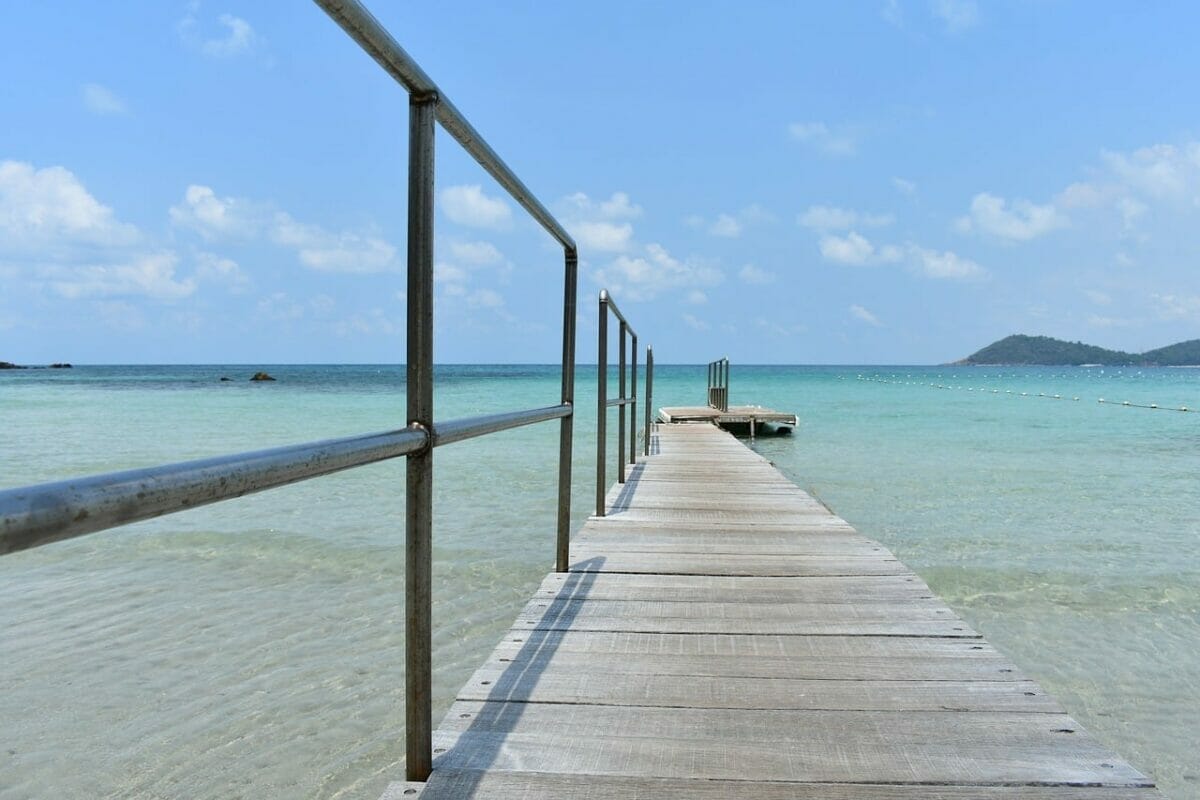 This city in southern Thailand is known as 'City of Good People', and it's certainly friendly, lively and a good place to see what a typical Thai city is like. People here are not constantly catering to tourists, but simply going about their lives, so it feels very relaxed and natural. It's one of the oldest cities in the country with a clear Chinese influence, particularly in Ban Don where you'll find Sino-European architecture and Chinese teashops and temples.
While there aren't many attractions, as such, the food is an attraction in itself. This can be seen clearly at the night markets, with stalls creaking under the weight of seafood and regional fruit on offer. Oysters here are some of the largest in the world, so hunt them out to try with some lime juice. While many see this as just a stopover on the way to the region's islands, we think it's worth hanging out here for a few days.
How do you get there? It's a simple bus or train journey direct from Bangkok to Surat Thani. An Express, VIP or Luxury bus will take about 10 hours; a train might take a little longer (up to 13 hours). Prices vary but it's all totally affordable.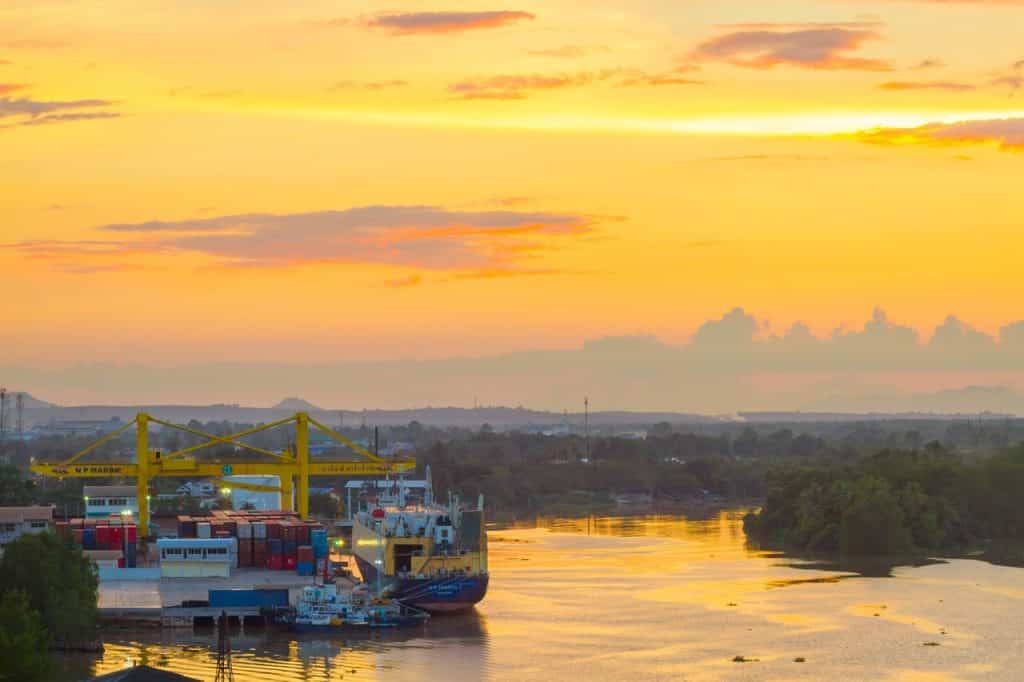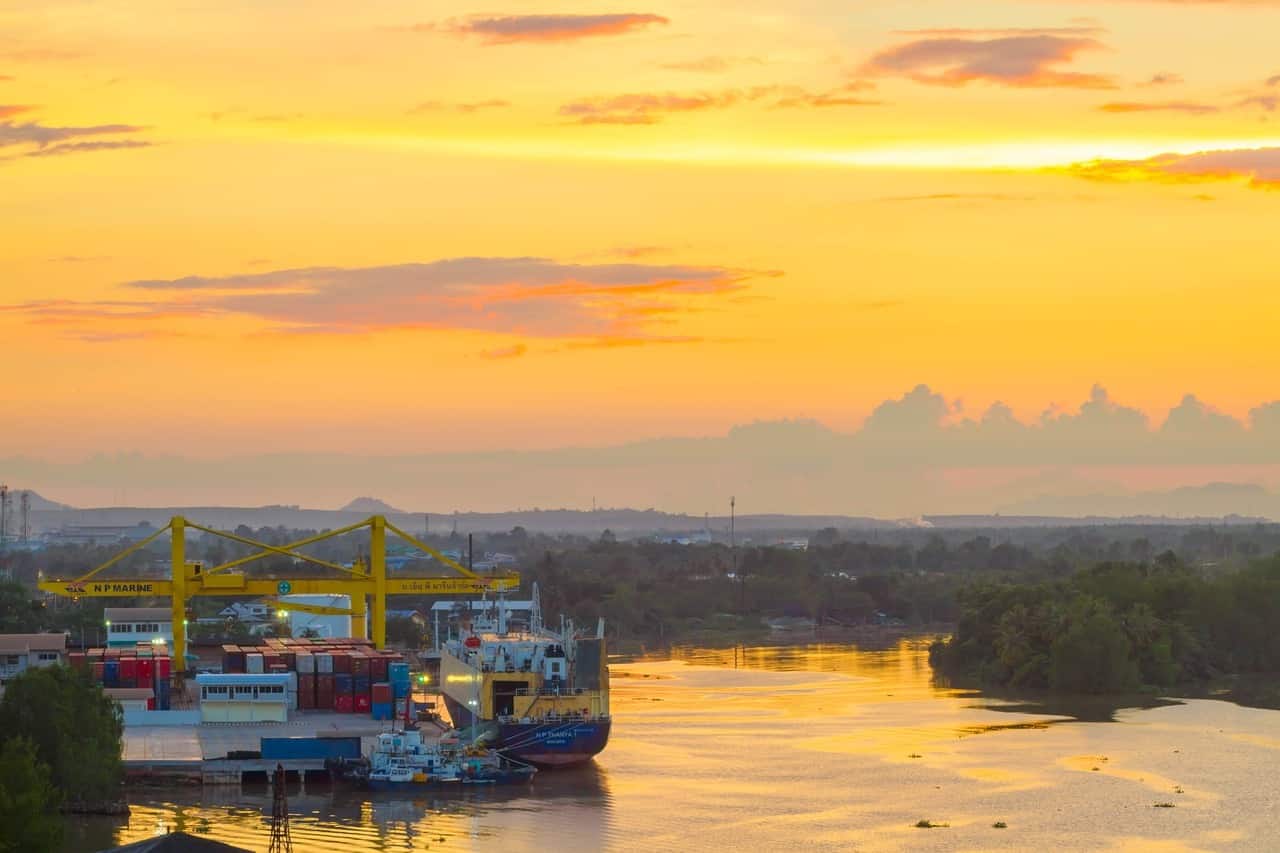 So, while transport in Thailand might seem daunting, it can be relatively easy to arrange. Then you can just enjoy seeing as much of this gorgeous country as possible.