Gay Koh Samet, a small island off the coast of Thailand, is a true tropical paradise. With its crystal-clear waters, soft sandy beaches, and lush greenery, it's no wonder this idyllic destination has become a favorite among gay travelers worldwide.
Located just a few hours' drive from Bangkok, Koh Samet offers a peaceful retreat from the hustle and bustle of city life.
The island is home to several beautiful beaches, each with its unique charm. Whether you're looking for a quiet spot to relax or a more lively beach with plenty of water sports, Koh Samet has something for everyone. The island is also home to various accommodation options, from budget-friendly bungalows to luxurious beachfront resorts.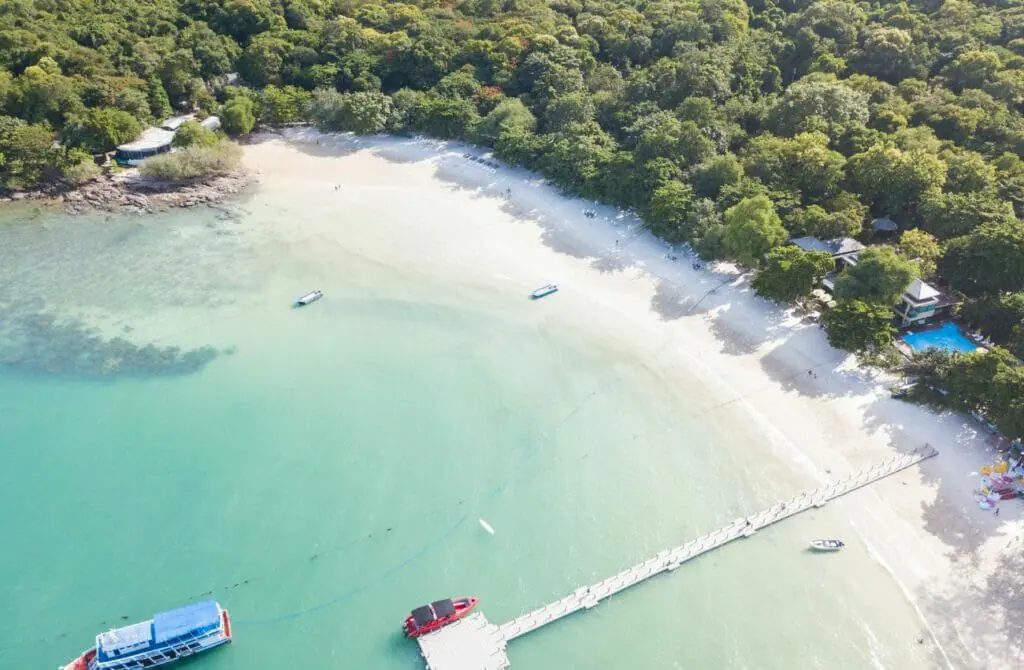 Gay couples shouldn't have any problems in Thailand because it is one of the most accepting nations in Asia in terms of tolerance and acceptance of homosexuality.
But despite it being close to Bangkok, this small but captivating island holds its own. It is welcoming to gays with respectful accommodations and a vibrant gay-friendly nightlife. If you want an island that's intimate and homely but knows how to party when the time comes, you can never go wrong with Koh Samet.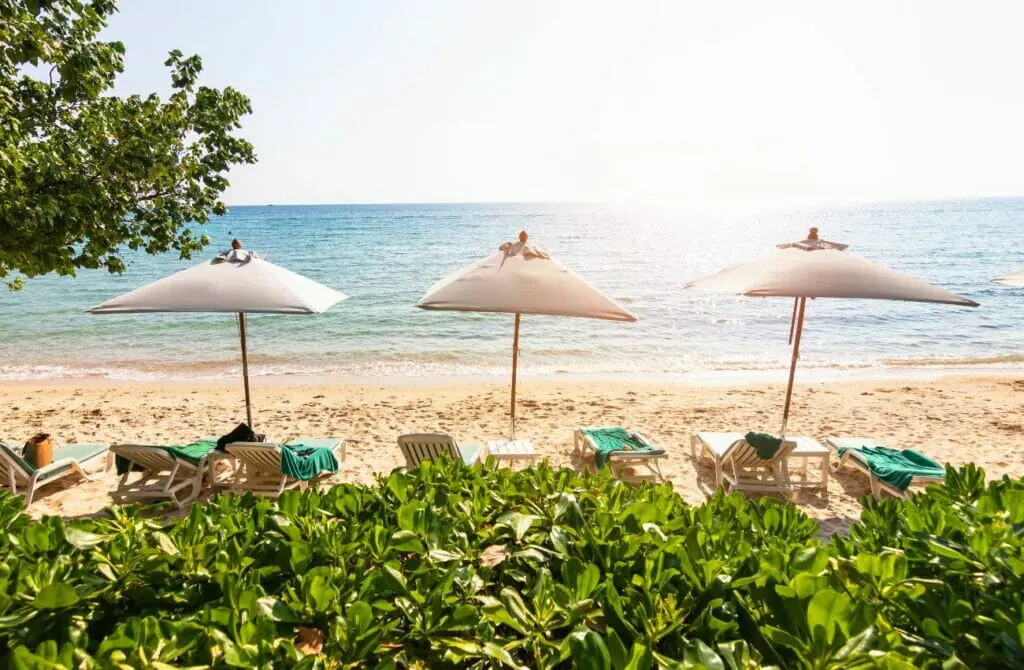 In this article we will cover...
Top Attractions in Gay Koh Samet, Thailand
As a new visitor to Gay Koh Samet, there are plenty of things to see and do, regardless of your sexual orientation. One of the best ways to experience any new city is to visit some of its most iconic landmarks and attractions, including historical monuments, museums, and art galleries.
We also love gazing at architecture up close, exploring parks and gardens, sampling the local cuisine, visiting local markets, and attending cultural events such as festivals, concerts and shows.
Even as the out-and-proud queer we are, we still love to explore the city and its culture in the same way as everyone else. Doing so allows us to learn more about the city and its people and gain a deeper understanding of the local culture. As such, these are our favorite must-see attractions in Koh Samet.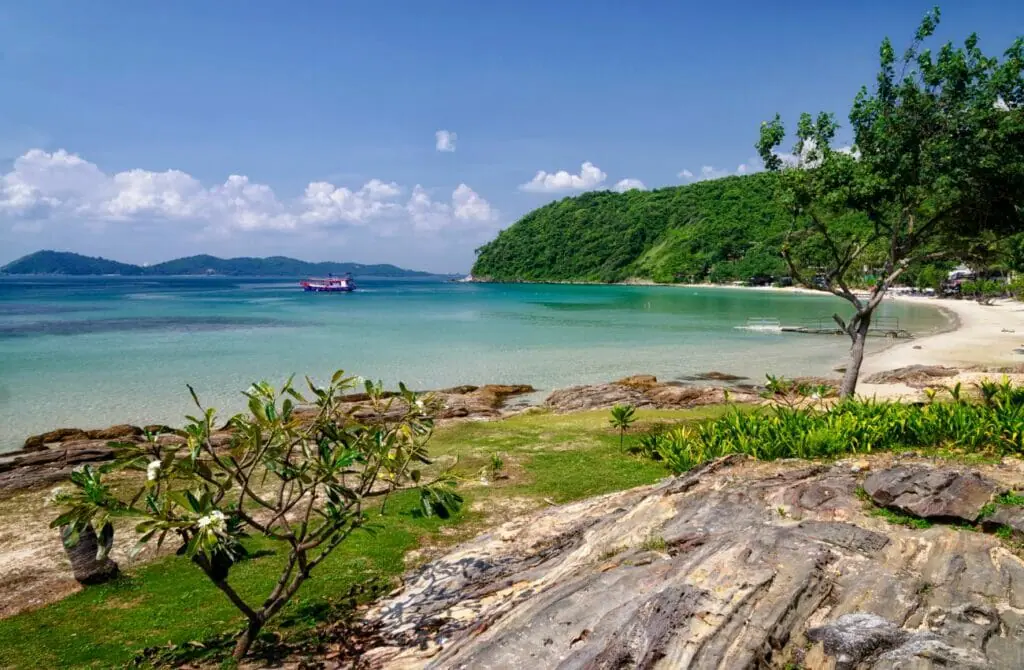 Enjoy the Many Beaches of Koh Samet
Koh Samet Island is renowned for its numerous powdery white sand beaches, which are as stunningly beautiful as those found on Phuket and Kho Pi Pi Island. Many tourists even compare some of these beaches to the world-famous Boracay Beach in the Philippines.
The island's most frequented beach is Diamond Beach, also known as Had Sai Kaew, located in the northern part of the island. The Diamond Beach boasts a beautiful stretch of white sand beach fringed by lush scenery.
Silversand Beach is another popular option, with its nighttime dance performances attracting many visitors. For tourists seeking high-end amenities, the Ao Phrao resorts on the island's west coast are worth checking out.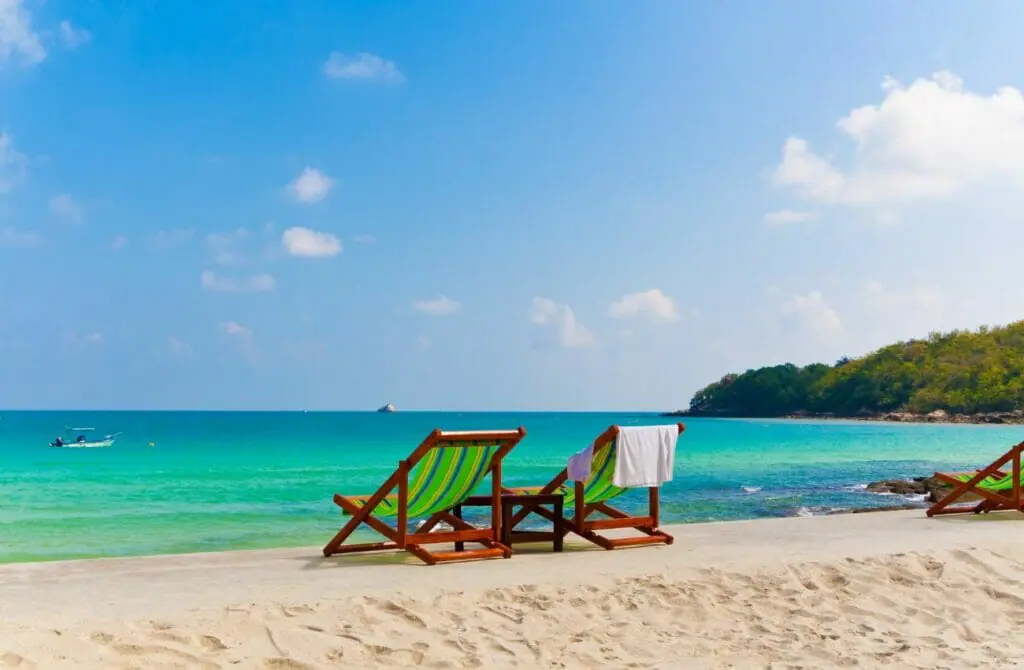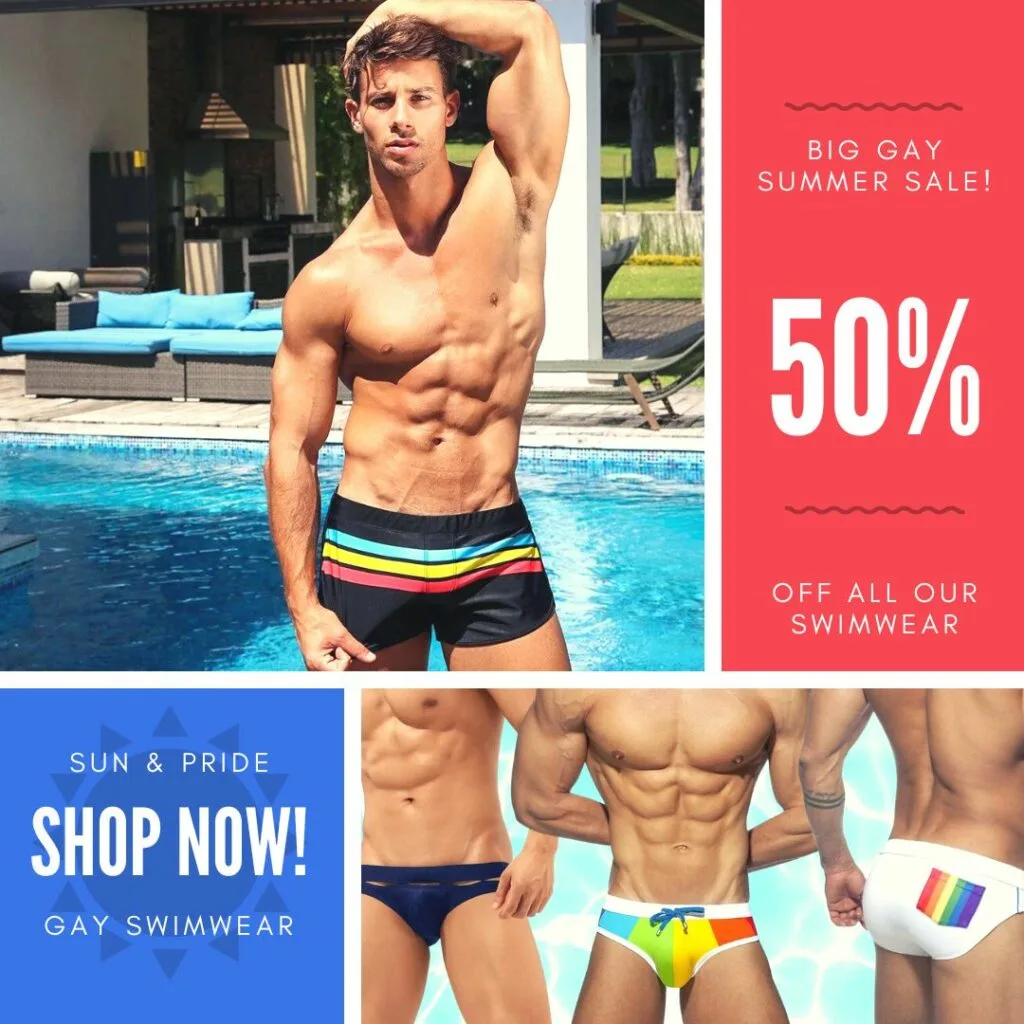 Tour the Island via Motorbike
Koh Samet, Thailand, is a small island known for its beautiful beaches, lush vegetation, and laid-back atmosphere. One of the best ways to explore the island and enjoy its natural beauty is by renting a motorbike.
Motorbike rentals are available all over the island, and rates are generally affordable. Visitors can choose from a range of motorbikes, including scooters and more powerful bikes, depending on their experience and comfort level.
Touring the island by motorbike allows visitors to explore at their own pace and take in all of the island's hidden gems. A single day of motorbiking can take tourists to most of the island's beaches, as well as through evergreen forests and other popular attractions. Along the way, visitors can stop at various restaurants serving authentic and native foods and snacks to fuel their adventure.
Dive and Snorkel to Explore the Rich Marine Life
Koh Samet is not just famous for its beaches and stunning landscapes but also its rich and diverse marine life. The crystal-clear waters surrounding the island are home to a wide variety of marine creatures, including colorful fish, corals, and sea turtles.
One of the best ways to experience this underwater world is scuba diving and snorkeling. Several diving schools and tour operators on the island offer diving and snorkeling trips to various locations around Koh Samet.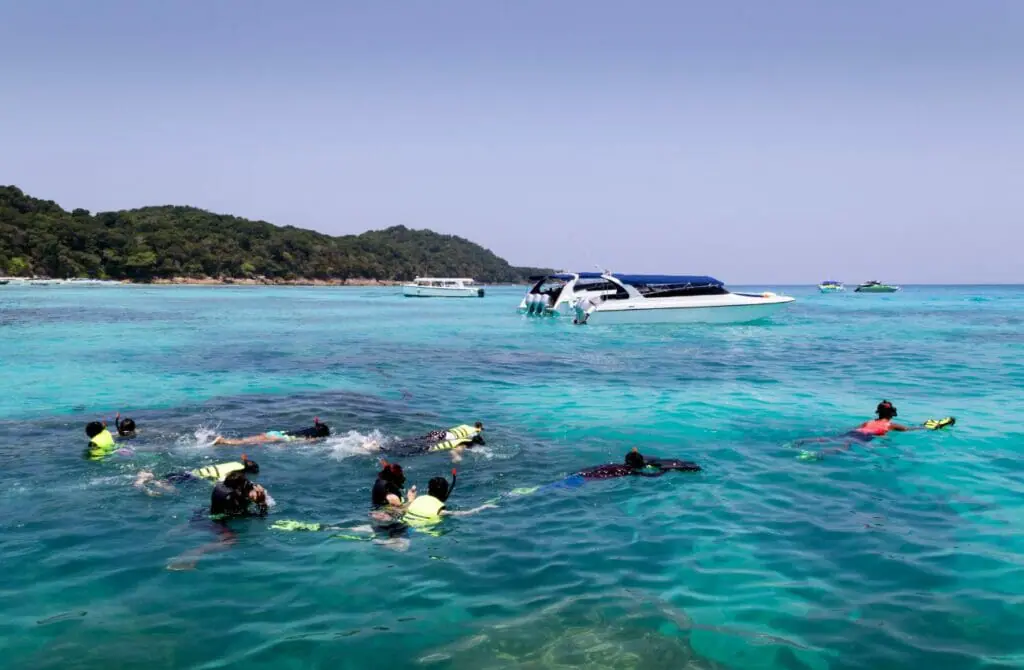 Enjoy the Ploy Talay Nightlife
Koh Samet is not just a daytime destination but has a lively nightlife scene, particularly in the Ploy Talay area. Located on the island's eastern side, Ploy Talay is home to several bars and clubs that offer a fun and exciting night out.
One of the most popular spots in Ploy Talay is the Saikaew Beach Club, which has a large outdoor area with a pool and a bar. The club often hosts live music events and DJs and is a great place to dance the night away under the stars.
Another popular spot in Ploy Talay is the Reggae Bar, which, as the name suggests, has a laid-back and chilled-out atmosphere. The bar is decorated with reggae memorabilia and often plays reggae music, creating a relaxing and enjoyable vibe.
For those who want to experience a more authentic Thai nightlife scene, the Ploy Talay night market is a must-visit. The market is open every evening and offers a wide range of food, drinks, and souvenirs. It is a great place to mingle with the locals and experience the vibrant energy of Koh Samet after dark.
For thrill-seekers and water sports enthusiasts, a Jet Ski experience on Koh Samet is a must-do activity. The island's clear blue waters and beautiful coastline provide the perfect backdrop for an exhilarating ride on a Jet Ski.
Many operators on the island offer Jet Ski rentals and guided tours. Visitors can choose from various packages, ranging from short rides around the island's bays to longer tours of nearby islands and hidden beaches.
Before embarking on a Jet Ski adventure, visitors are provided with a safety briefing and are required to wear a life jacket. It is also important to follow all safety guidelines, including staying within designated areas and avoiding areas where swimmers and other watercraft are present.
A Jet Ski experience is a great way to explore the island's beautiful coastline and experience the thrill of speeding over the waves. Whether you're a seasoned Jet Ski rider or a first-timer, Koh Samet's crystal-clear waters and beautiful scenery make for an unforgettable experience.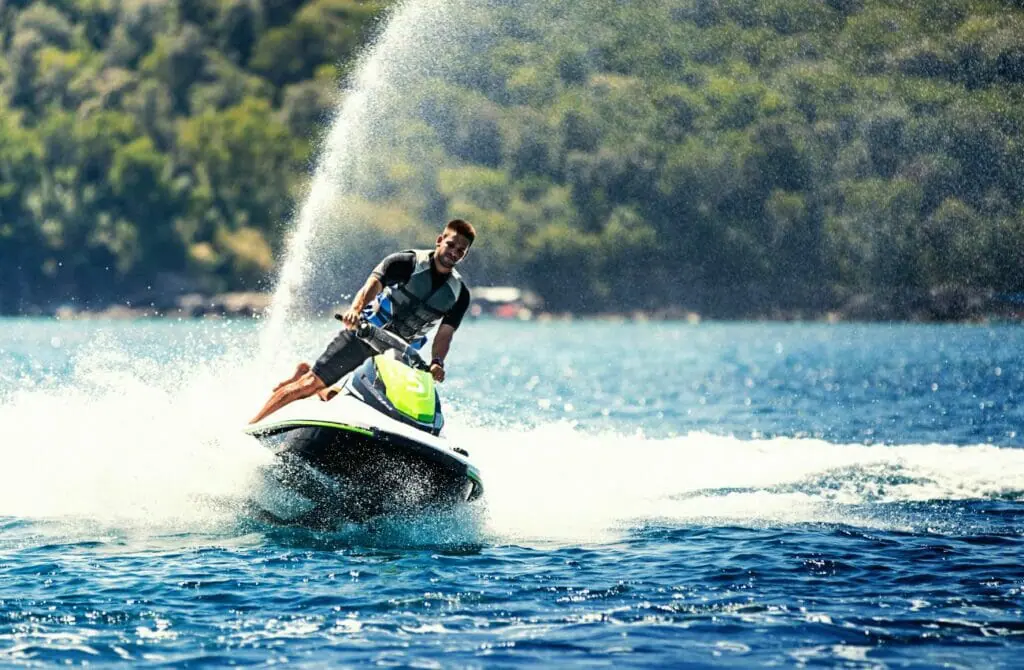 Explore Khao Laem Ya-Mu Ko Samet National Park
Koh Samet is not just a beautiful island with stunning beaches; it is also home to a national park known as Khao Laem Ya-Mu Ko Samet National Park. This park covers an area of 81 square kilometers and includes the island of Koh Samet, as well as several smaller islands.
The national park is home to a diverse range of flora and fauna, including tropical rainforests, mangroves, and coral reefs. Visitors can explore the park by hiking through the jungle trails, snorkeling or scuba diving in the crystal-clear waters, or simply relaxing on one of the secluded beaches.
One of the park's most popular attractions is the viewpoint at Khao Laem Ya, which offers stunning panoramic views of the island and the surrounding sea. Visitors can also visit the park's visitor center to learn more about the park's ecology and conservation efforts.
Parasailing
In addition to jet skiing, parasailing is another thrilling activity offered in Koh Samet, although not all beaches on the island provide this service. One of the most popular options for parasailing is Sai Kaew Beach, where operators provide an orientation on safety and convenience for first-timers. Life jackets are also provided to ensure a safe and enjoyable experience.
While tourists can negotiate with operators for the best price, it's recommended to avoid bargaining and pay the full price. This helps to support the local economy and the people who provide these services.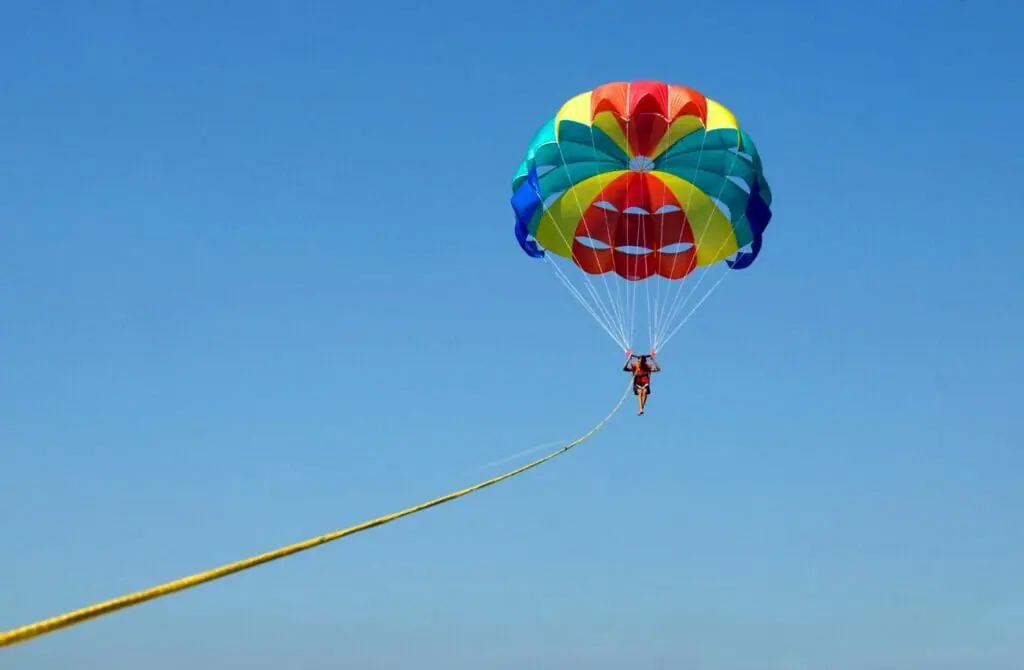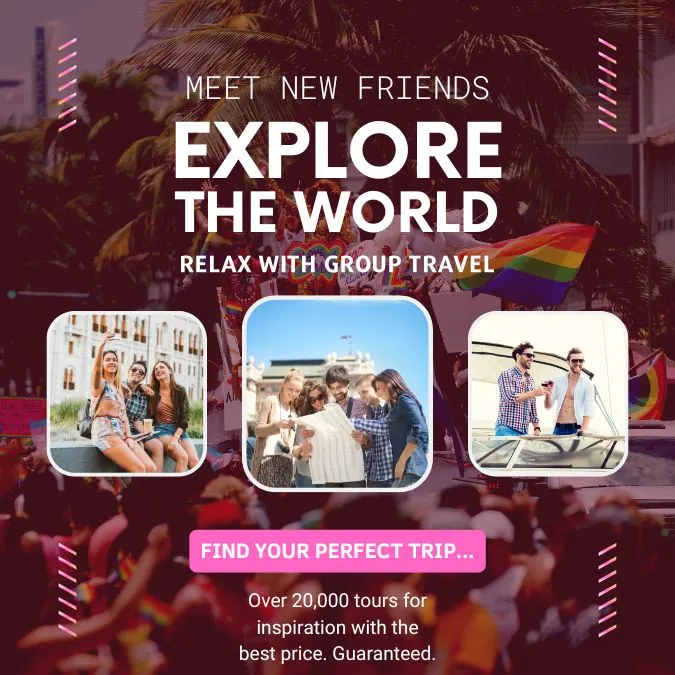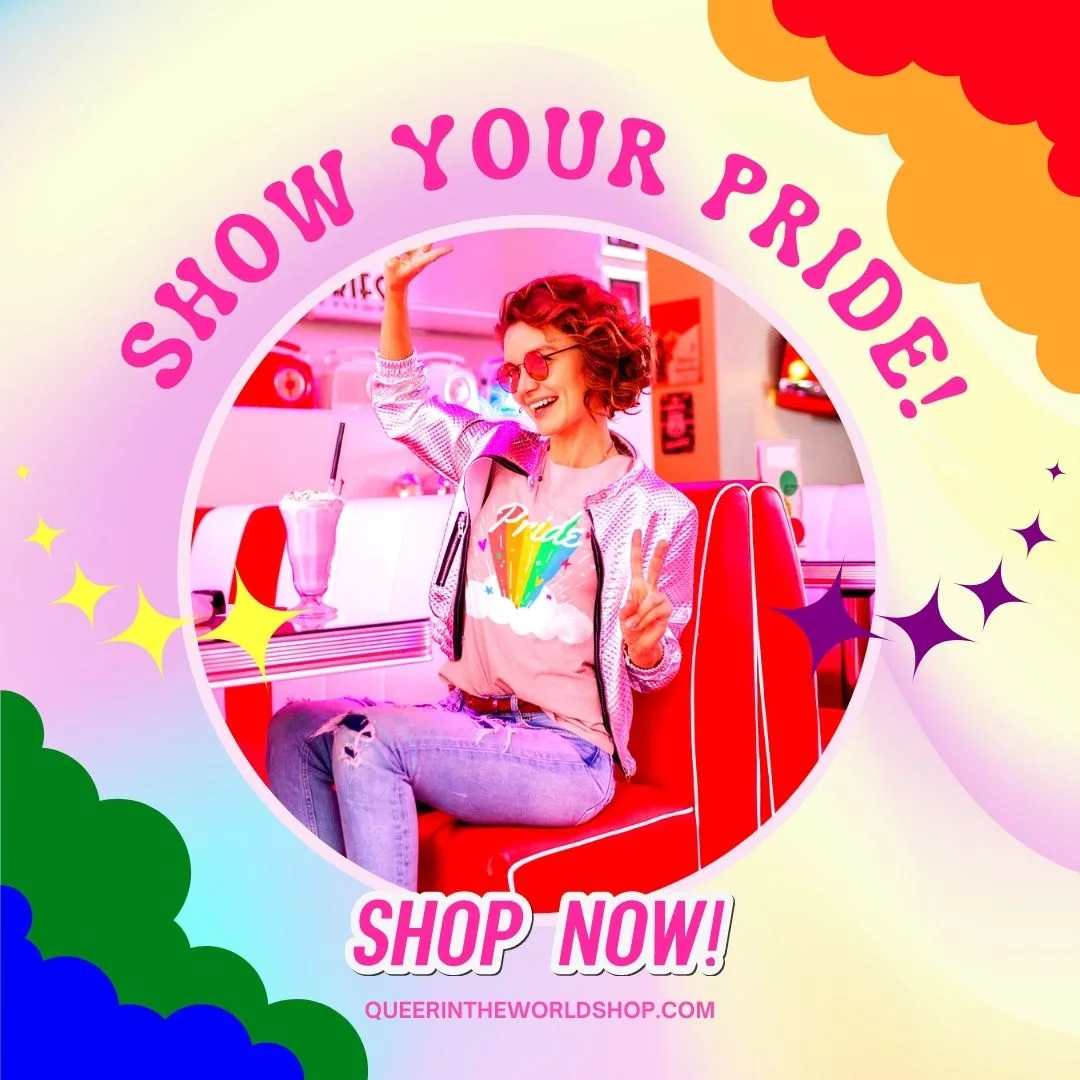 Gay-Friendly and Gay Hotels in Koh Samet, Thailand
Being gay-friendly accommodation means that the establishment is welcoming and inclusive to guests who identify as LGBTQ+. This can include, but is not limited to, having policies and practices that demonstrate a commitment to creating a safe and inclusive environment for LGBTQ+ guests, such as non-discrimination policies and providing support and resources for LGBTQ+ travelers.
Some gay-friendly accommodations may also provide amenities specifically catering to the LGBTQ+ community, such as rainbow flags or literature about local LGBTQ+ events or resources. Furthermore, gay-friendly accommodations may be located in an area known for being LGBTQ+ friendly.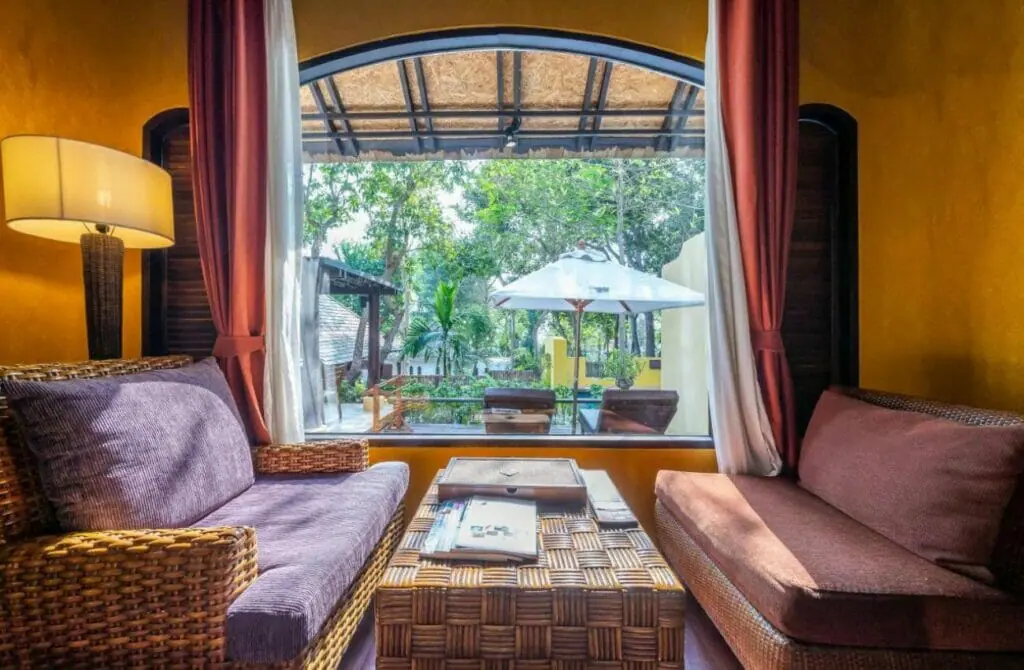 While Koh Samet does not have any specifically gay hotels or resorts, these are the most fabulous and pro-actively gay-friendly hotels in Koh Samet. There are also hundreds more hotel and hostel options in Koh Samet if none of these suit your desired budget, facilities or area – but these are the best hotels according to other gay travelers and us.
Whatever your needs are, Koh Samet has you covered.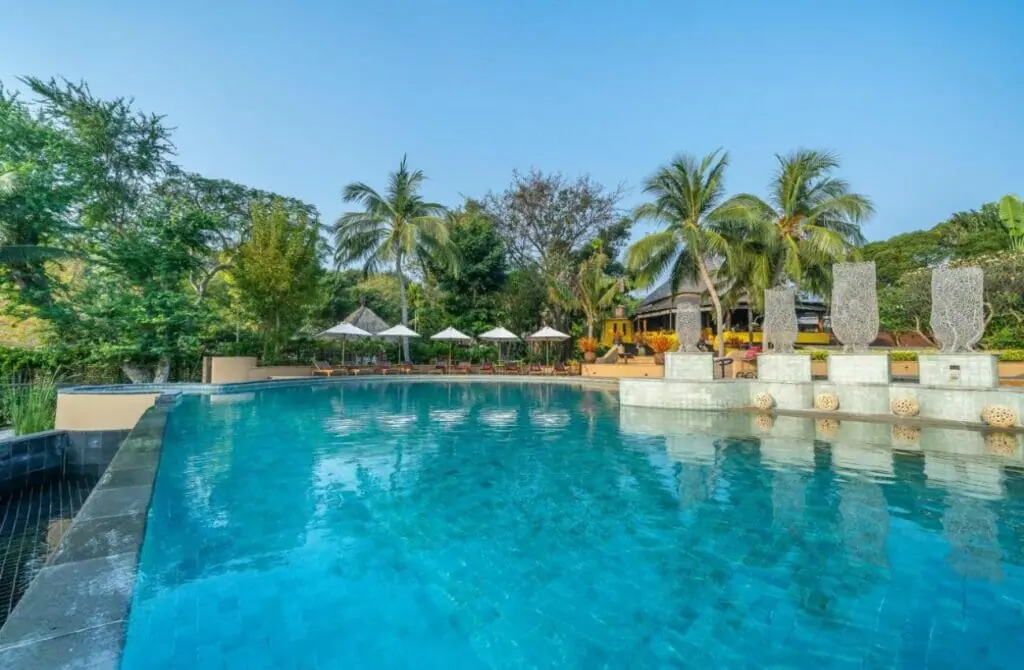 Paradee is a luxurious beachfront resort located on the stunning island of Koh Samet in Thailand. The resort offers plush villas with thatched roofs, all nestled among swaying palm trees and surrounded by the turquoise waters of the Gulf of Thailand.
Each villa features a 4-poster bed, a private terrace with either a garden or beach view, and all the modern amenities you would expect from a 5-star resort. The resort is also known for being gay-friendly.
When it comes to dining options, Paradee doesn't disappoint. The resort features a rustic-chic restaurant serving delicious Thai and international cuisine, as well as two bars – one of which is located next to an outdoor infinity pool. Guests can also take advantage of the resort's spa, which offers a range of treatments designed to relax and rejuvenate the body and mind.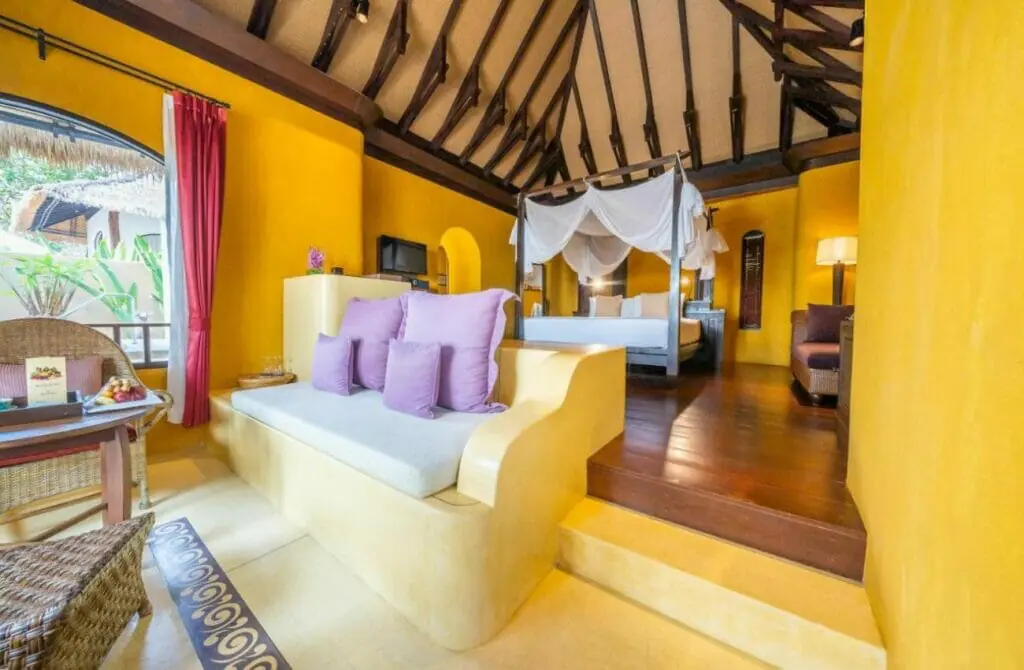 Ao Prao Resort is a perfect destination for those who want to escape from the hustle and bustle of everyday life. The resort is on the picturesque Prao Beach, surrounded by lush tropical gardens and stunning views of the Gulf of Thailand.
The rooms are sleek and modern, with colorful details, and all feature private balconies, and some upgraded rooms also have sitting areas and gulf views. The resort offers plenty of activities, including kayaking, snorkeling, and yoga classes, and there's also an outdoor pool and a spa.
One of the highlights of Ao Prao Resort is the on-site restaurant, which offers a wide range of delicious Thai and international cuisine, and the bar serves up a selection of refreshing cocktails and drinks.
Le Vimarn Cottages & Spa is a great choice for those seeking a relaxing and luxurious getaway in Koh Samet. Using natural materials and local design elements gives the resort a unique and authentic feel, while the plush cottages and villas provide guests with comfort and elegance.
One of the standout features of Le Vimarn Cottages & Spa is its location within Khao Laem Ya–Mu Ko Samet National Park. This provides guests with the opportunity to explore and appreciate the stunning natural surroundings of Koh Samet while also indulging in the resort's many amenities, such as the outdoor pool and beachside restaurant.
Located in Khao Laem Ya-Mu Ko Samet National Park, Samet Ville Resort is a serene hotel offering stunning views of the Gulf of Thailand. The accommodation options vary from low-tech rooms in cottages with fans and thatched roofs to modern bungalows with kitchens and air conditioning.
The hotel boasts two private beaches where guests can relax and soak up the sun, swim in crystal-clear waters, or engage in various water sports.
In addition to its pristine beaches, the hotel features an outdoor pool, surrounded by sun loungers and parasols. There is also a seaside restaurant and a bar where guests can enjoy delicious Thai cuisine, refreshing drinks, and breathtaking ocean views.
The resort's tranquil setting and its proximity to the national park make it an ideal destination for nature lovers and those seeking a peaceful retreat away from the hustle and bustle of the city.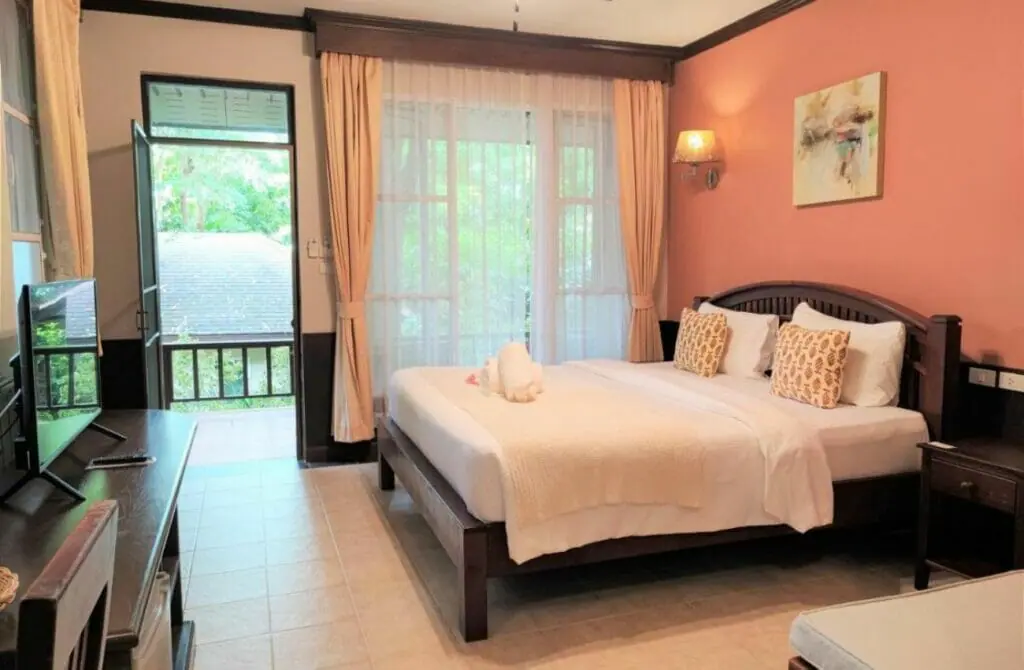 This tranquil island resort with lush gardens can be reached by ferry or speed boat. It is a 9-minute walk from Koh Samet Na Dan Pier and an 8-minute walk from the bustling Sai Kaew Beach.
Upgraded accommodations come with patios and sleeping lofts; some even feature bathrooms with glass enclosures. There is a room service option. There is a restaurant, an outdoor pool with sun loungers, and a poolside bar among the attractions.
Samed Grand View Resort is a premium resort on a white sand beach overlooking the Gulf of Thailand. The resort features sleek and modern rooms with concrete walls, each featuring a private terrace where guests can relax and enjoy the stunning ocean view. Some upgraded rooms also come with outdoor tubs for a luxurious soak with a view.
In addition to the modern rooms, the resort also offers traditional wooden cottages for a more rustic experience. Guests can choose from two restaurants, one of which features open-air seating for an authentic beachfront dining experience. The resort also has a beach bar and a pool table for those who want to enjoy a drink or play games by the ocean.
Gay Nightlife in Koh Samet
Of course, no trip to Koh Samet would be complete without experiencing the island's vibrant nightlife. From beachside bars to lively nightclubs, there's always a party happening somewhere on the island. And for those who prefer a more laid-back evening, plenty of restaurants and cafes serve delicious Thai cuisine and refreshing cocktails. And the bright side is that they are all gay-friendly.
Exploring the gay and gay-friendly nightlife in a new city can be one of the most exciting and rewarding experiences while traveling – and Gay Koh Samet is no exception. Not only will you have the opportunity to meet new people and make friends, but you'll also get a taste of the local culture and learn more about the city's LGBTQ+ community.
Going out and experiencing the queer and queer-friendly nightlife in a new city can also be a great way to break out of your comfort zone and try new things. Whether dancing the night away at a gay club or mingling with locals at a gay-friendly bar, you'll have the chance to make memories and create lasting connections.
So, don't be afraid to step out of your comfort zone and explore the gay and gay-friendly nightlife in Koh Samet. You'll be glad you did!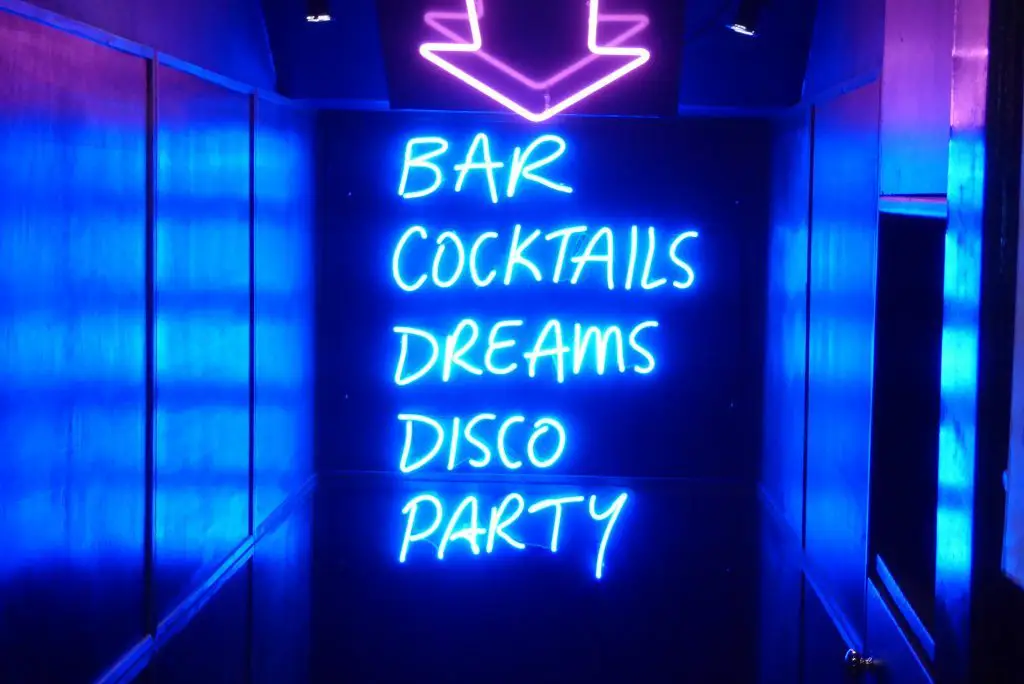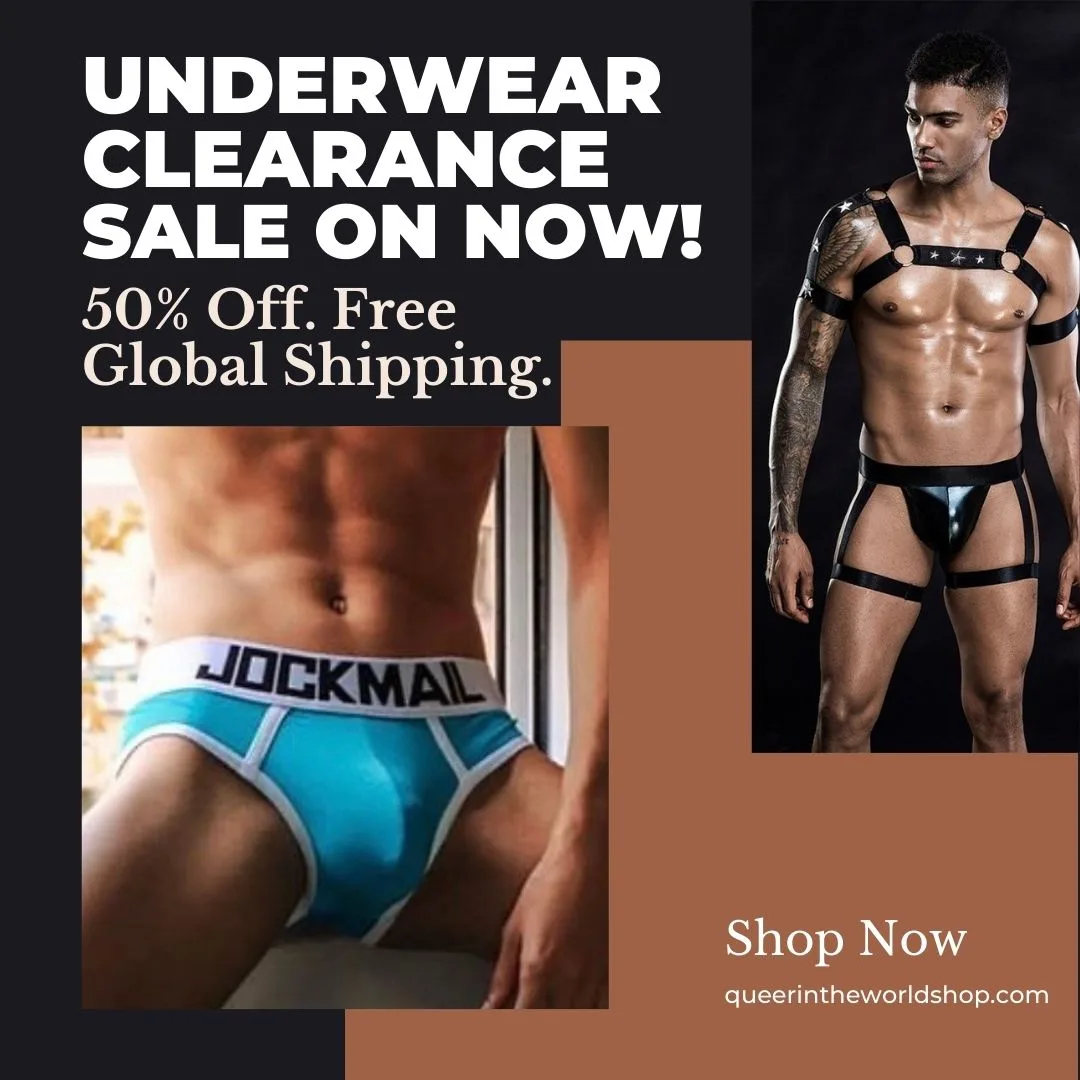 Naga Bar is a must-visit for anyone looking for a wild night out on Koh Samet. This lively cocktail bar is known for throwing some of the most exciting parties on the island. With a colorful and vibrant atmosphere, Naga Bar is the perfect place to let loose and dance the night away.
The bartenders are experts in mixology and craft some of the most delicious cocktails on the island. Make sure to try their signature drinks like the Naga Colada and the Blue Lagoon. During the high season, Naga Bar throws body paint parties, where guests can get painted up and dance the night away in a wild and unforgettable atmosphere.
Naga Bar is not just a party destination – it's also a great place to relax and enjoy a quiet drink during the day. The bar has a comfortable seating area where you can sit back and soak up the tropical vibes.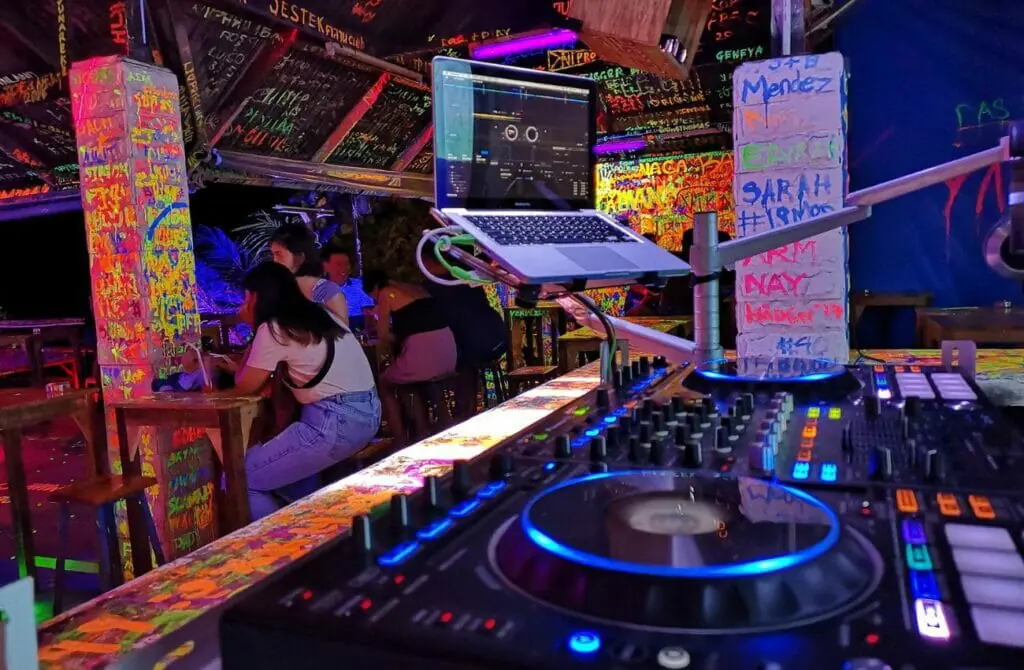 Reggae Pub's neon green-yellow-red color scheme is sure to catch the eye of passersby, drawing them in to experience the lively atmosphere inside. The pub offers indoor and outdoor seating, with music that matches the appropriate beer style, creating the perfect ambiance for a fun night out.
The Island Bar is a popular spot on Koh Samet for those looking to enjoy drinks, dance and music. With a location right on the beach, you can enjoy beautiful ocean views while you sip on cocktails or beers.
The bar has a fun and lively atmosphere, making it a great place to meet new people and socialize with fellow travelers. The Island Bar often hosts events and parties, with DJs playing a mix of music to keep the energy high all night.
In addition to its great drinks and party atmosphere, The Island Bar also offers delicious food options, including Thai and Western cuisine. The staff is friendly and welcoming, ensuring everyone has a great time.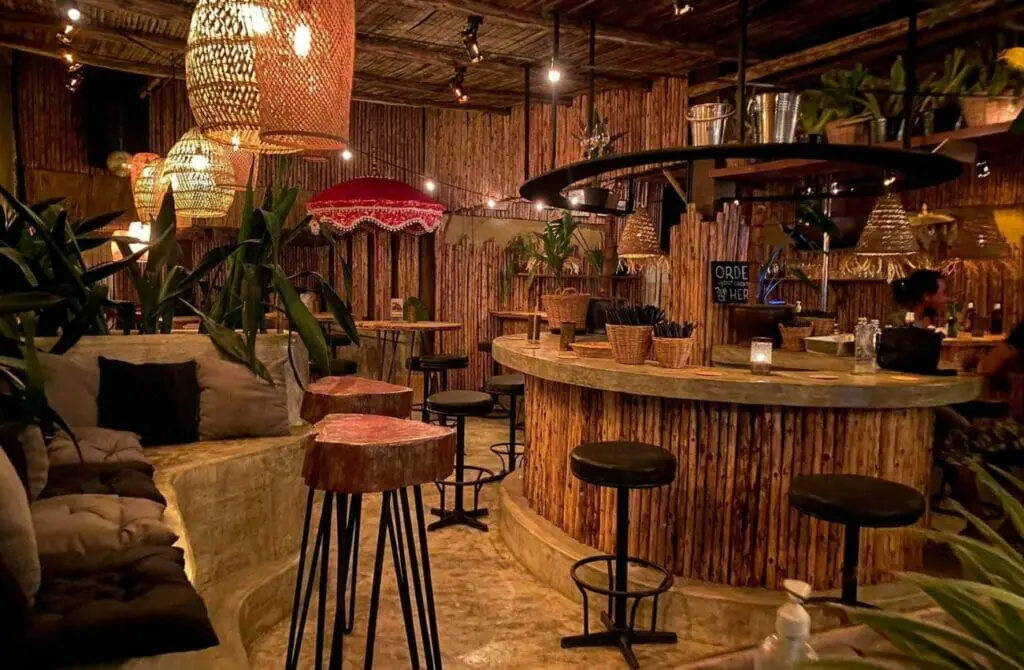 Finale' Bar
(Temporarily or permanently closed. If you know something, please suggest an edit.)
At the Grandview Resort Samet, visitors will find a sophisticated nightlife destination offering a vast selection of local tapas, rich wines, inventive cocktails, and foreign liquors. Located on Sai Kaew Beach, the resort is easily recognizable by the blue neon lights leading to the Finale Bar.
Inside, visitors will find an intimate atmosphere with small tables, mat cushions, aromatic candles, and a tiny stage for live music. With its wide selection of drinks and elegant ambiance, the Grandview Resort Samet is the perfect destination for those seeking a more upscale nightlife experience on the island.
Gecko Bar is a charming spot on Koh Samet Island's main street. This bar is perfect for enjoying some delicious cocktails or a cold beer while enjoying the lively atmosphere. The music here is fantastic, and the bartenders are known for creating some of the best cocktails on the island. The bar has a laid-back vibe and is an excellent place to unwind after a long day of exploring the island.
The bar is decorated with quirky and fun decor, including gecko statues and paintings. The seating is comfortable, and the staff is friendly and attentive. Gecko Bar is a brilliant spot to enjoy a night out.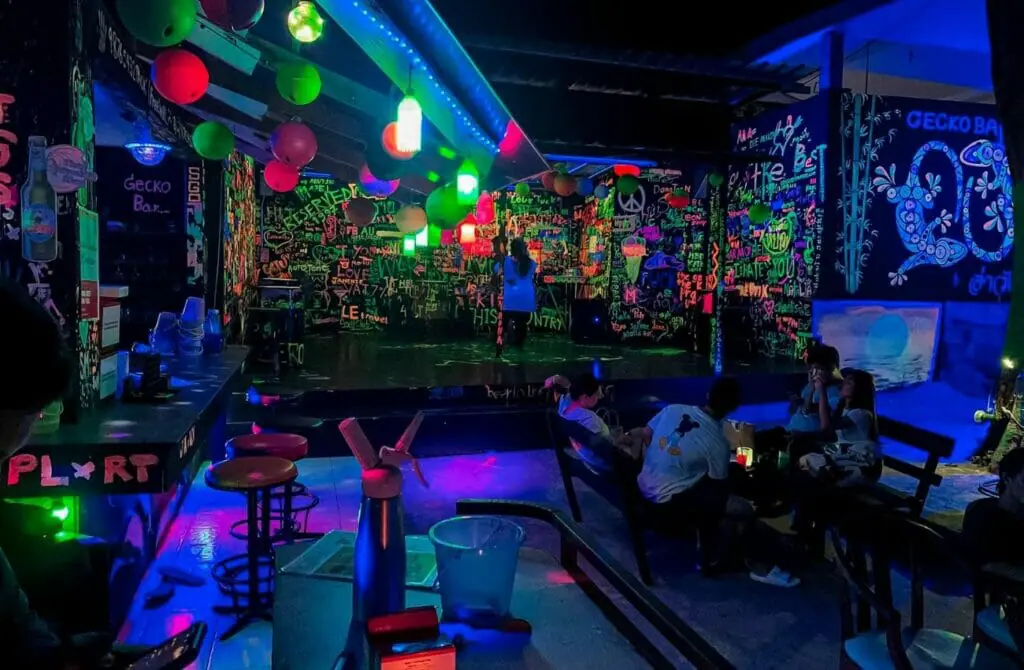 Whether you prefer a light and refreshing pilsner, a hoppy IPA, or a rich and malty stout, there's sure to be something on the menu to tickle your taste buds. Plus, the atmosphere at this bar is laid-back and friendly, with plenty of opportunities to strike up a conversation with your fellow gays. So if you're a beer lover looking for a fun and inclusive place to hang out on the island, this is where to be.
Visitors to the Island Bar in Koh Samet may expect well-furnished premises decorated in a Bali style, as well as an enthusiastic and friendly staff. The cost of drinks starts at THB 80–90 for a beer, which is fairly expensive compared to the rest of the island. Additional features include complimentary Wi-Fi, soothing music, and even discounts for devoted patrons.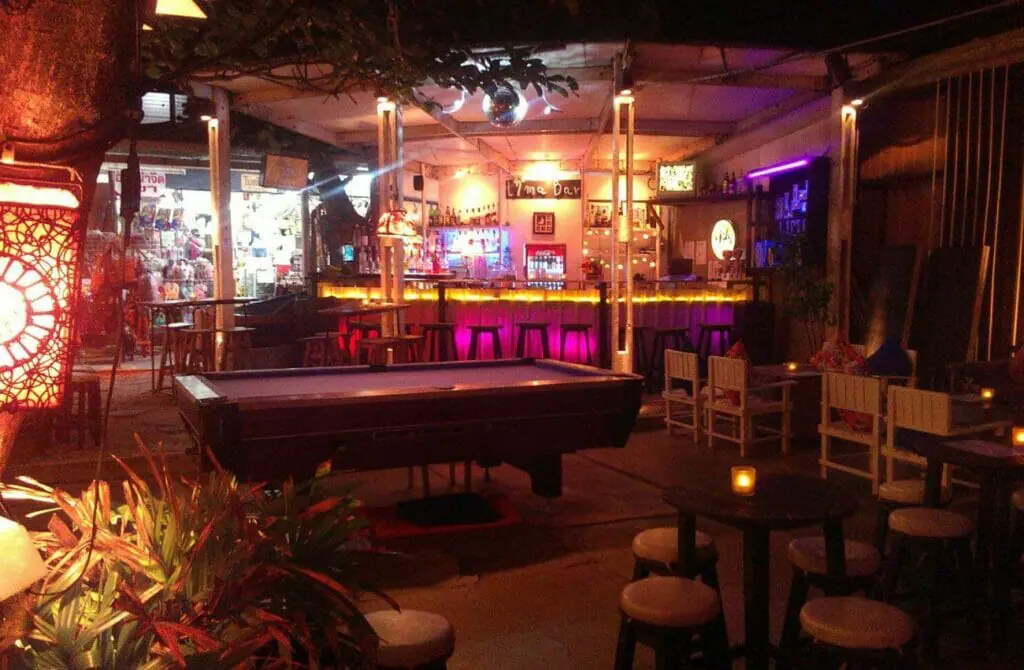 Divarium Cafe Bar and Restaurant
Divarium Cafe Bar and Restaurant is a cozy and friendly gay bar in Koh Samet. The bar offers a wide selection of drinks, including cocktails and local beers, and serves delicious Thai and Western food.
The bar has a laid-back atmosphere and is a great place to relax and socialize with friends or meet new people. And the staff is welcoming, making everyone feel at home. The bar also features occasional live music and special events.
M2M bar club cabaret is a popular gay bar in Koh Samet, Thailand. This lively venue features nightly drag shows, live music, and comedy acts. The atmosphere is friendly, making it a great place to meet new people and make new friends. Besides the entertainment, the M2M bar club cabaret also offers a variety of drinks at reasonable prices.
The bartenders are known for their skill in mixing up delicious cocktails and other refreshing beverages. If you're looking for a fun night out on the island, the M2M bar club cabaret is worth a visit.
The club also features a spacious dance floor, where guests can let loose and show off their moves to upbeat music. The shows are high-energy and entertaining, featuring talented performers and extravagant costumes.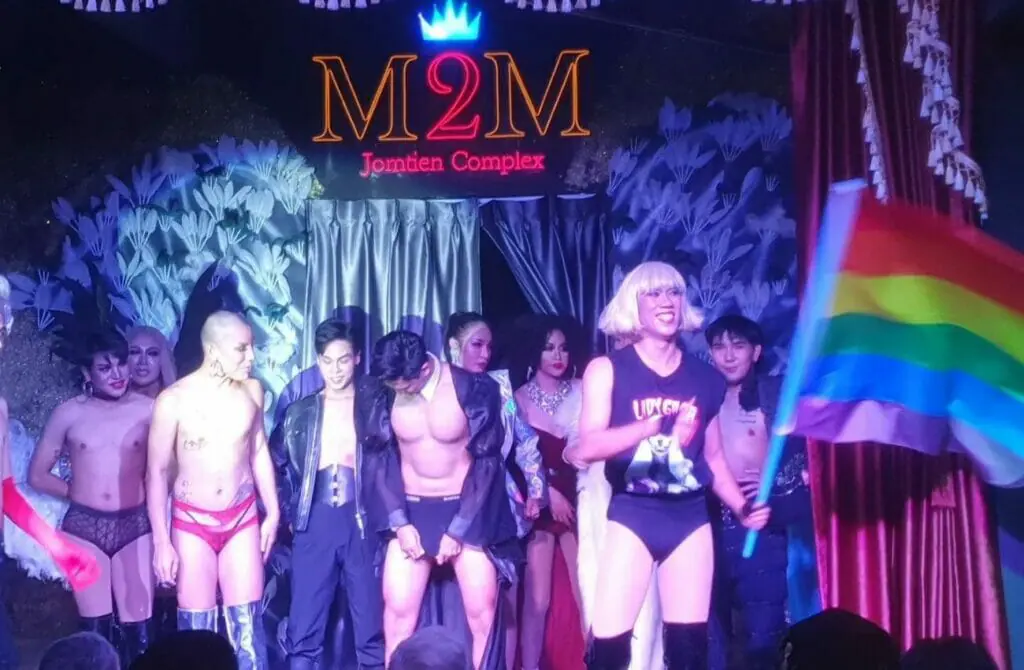 Baywatch Bar is a cozy establishment with a grand persona and excellent value, offering patrons a wide selection of Thai and imported beer, potent spirits, and TVs for their entertainment. Visitors can unwind on the beach while enjoying the soft music playing in the background.
The bar's menu features several popular dishes, including Chef's salad, priced at THB 150, and the glazed pork tenderloin, which costs THB 300. Whether you're in the mood for a light salad or a heartier meal, Baywatch Bar will satisfy your appetite.
The bar's tropical and laid-back atmosphere makes it a great place to hang out with friends and meet new people. The staff is welcoming, making sure everyone has a good time. They also offer delicious food options perfect for a quick snack or a full meal.
One of the best things about Bamboo's Gay Bar Restaurant is its location. It is right by the beach, providing stunning views and a relaxed vibe. The bar's vibrant decor, complete with bamboo accents, adds to the overall ambiance. Whether you're looking to sip on a refreshing cocktail or dance the night away, Bamboo's Gay Bar Restaurant is a must-visit spot in Koh Samet.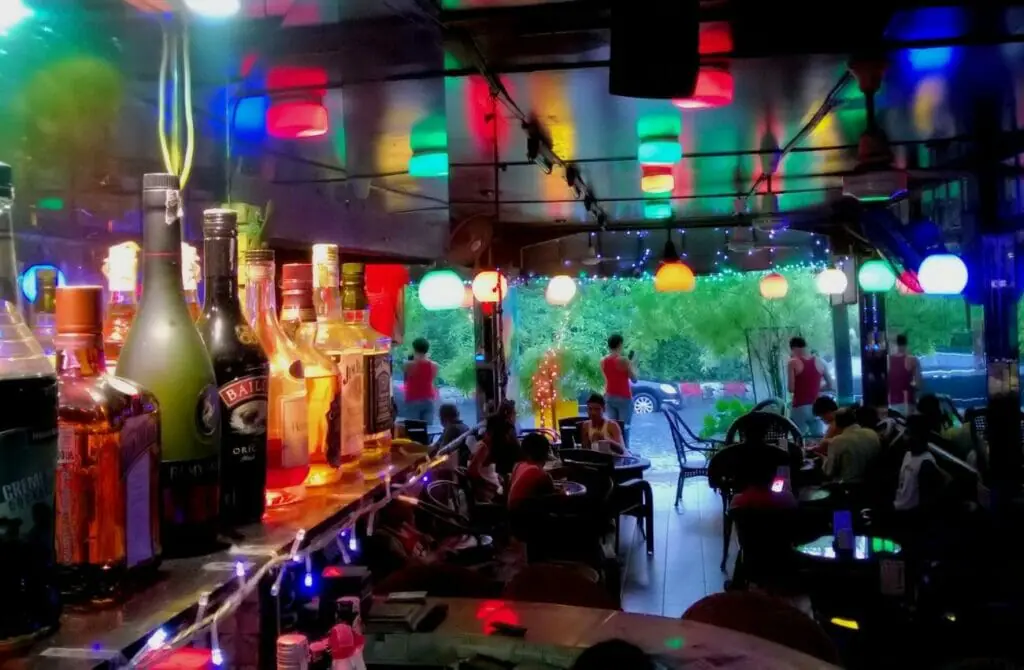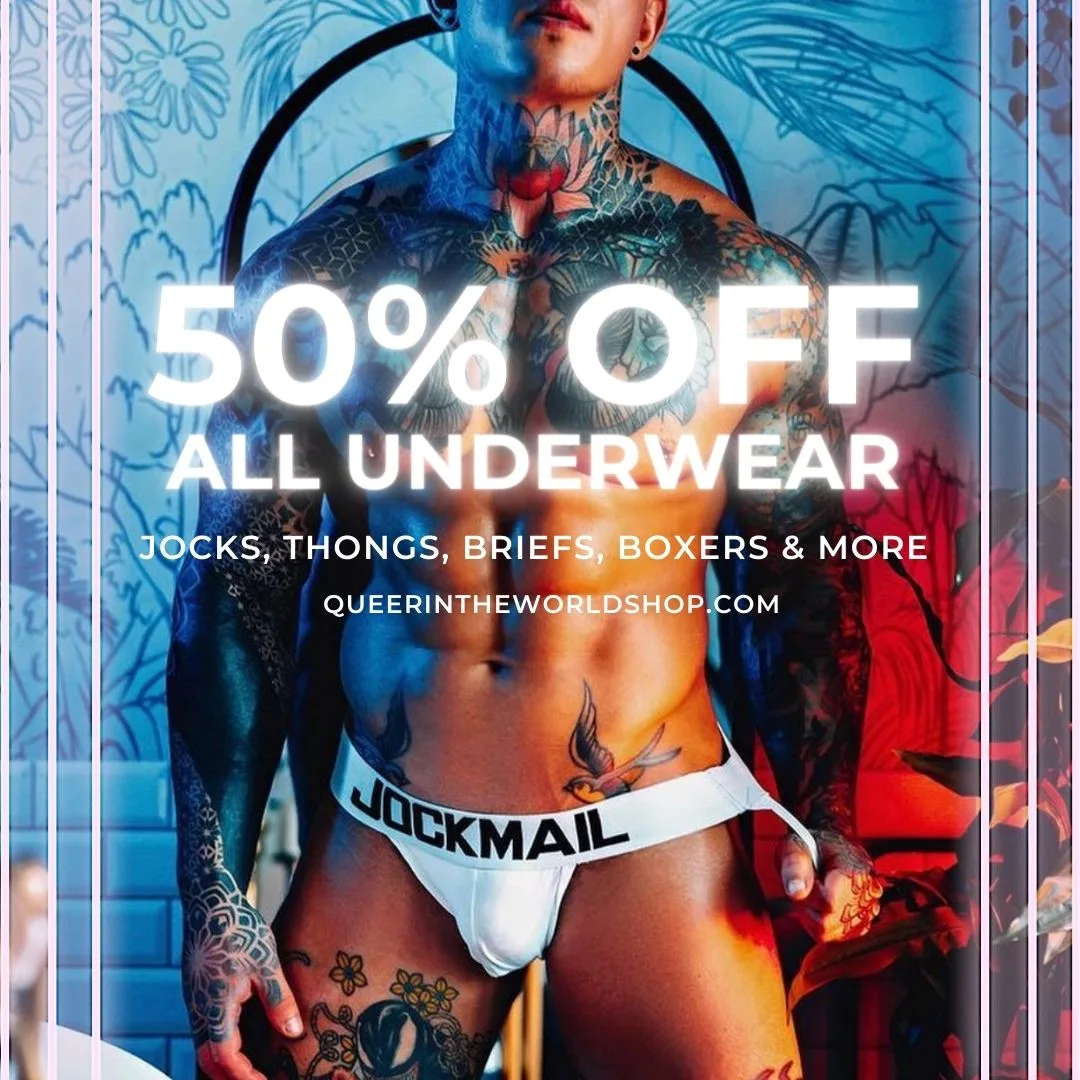 Gay Map Of Koh Samet
Finding it hard to envisage where everything is in Koh Samet? Hopefully, this queer-centric map helps where we have marked all the bars, clubs, parties, hotels, saunas, massages, and more will help you stay in the spot best suited to you!