Boracay is a small island with a massive international reputation housing a big party scene. This is excellent news for those that love a par-tay with their holidays, but is it gay-friendly? You will be glad to know that Boracay is one of the most gay-friendly places in Asia, even if it does have a little gay scene compared to other destinations like it. Here you won't find any gay bars or cruising venues, but you will find friendly locals, countless amazing clubs and bars, and gay-friendly places to be yourself.
Boracay wasn't always a resort island covered in tourist hotels and party zones. Before Spanish contact in the 16th century, she was the homeland of the Tumandok and Ati, who had sustained their small population on rice, goats and fishing.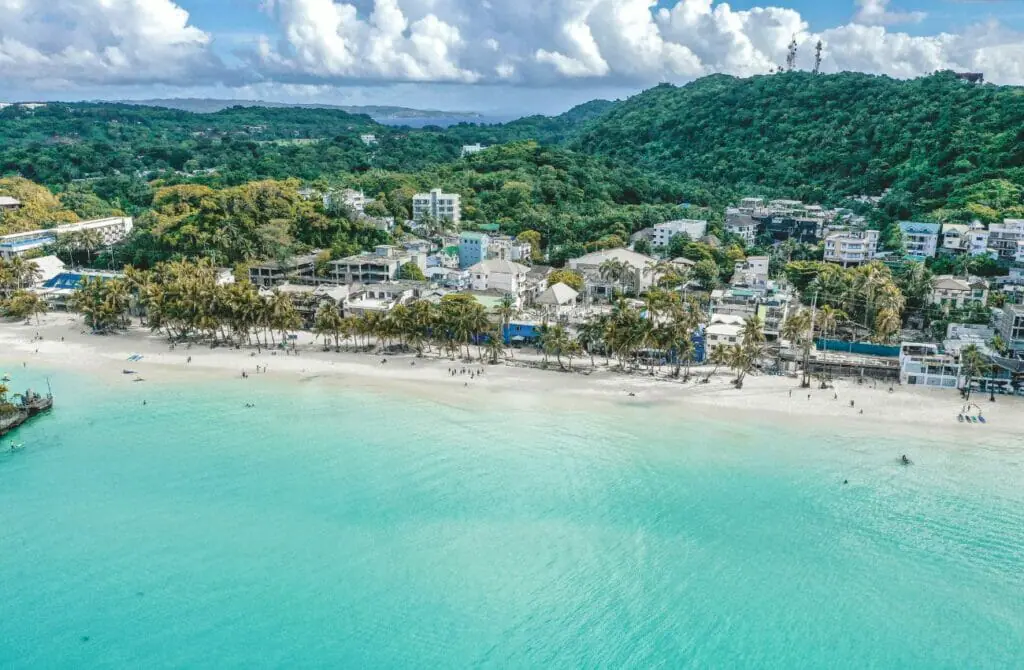 They remained the bulk of the island population until the fishing industry's decline in the mid-20th century when they had to turn to tourism. Today when you visit the island, you will be blown away by its natural wonders, from the white sandy beaches to the jungle that covers most of the island.
However, you will also find it hard to miss the mark of tourism with luxury hotels, countless entertainment attractions, and so much more. So if you're after a tropical getaway close to the beach on all sides, where every night has a thriving nightlife, Boracay is one for your itinerary when visiting the Philippines.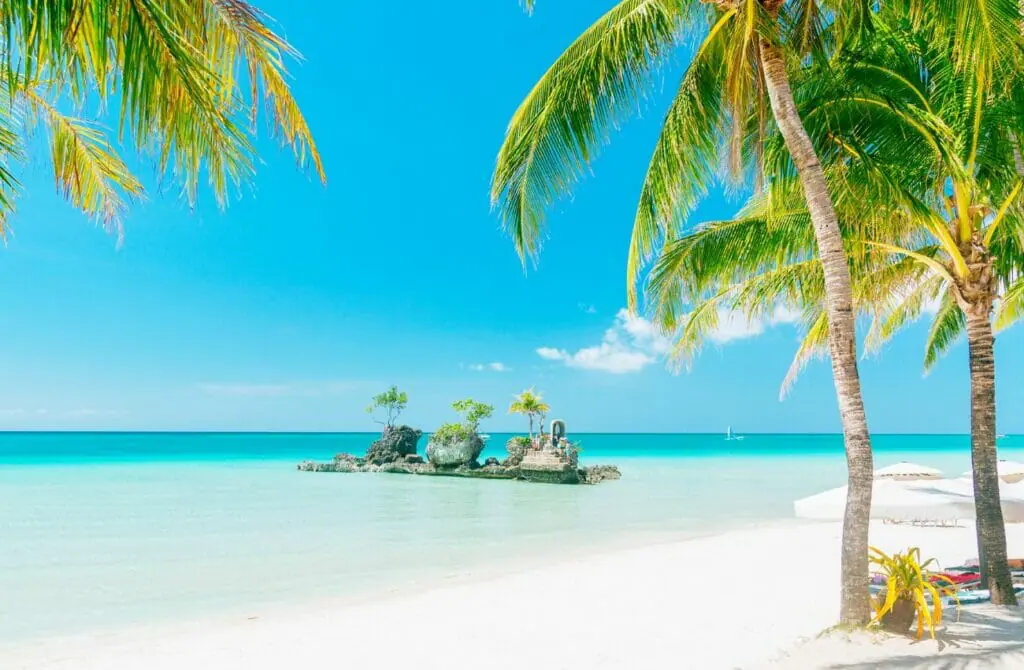 Attractions in Gay Boracay, Philippines
As a new visitor to Gay Boracay, there are plenty of things to see and do, regardless of your sexual orientation. One of the best ways to experience any new city is to visit some of its most iconic landmarks and attractions, including historical monuments, museums, and art galleries.
We also love gazing at architecture up close, exploring parks and gardens, sampling the local cuisine, visiting local markets, and attending cultural events such as festivals, concerts and shows.
Even as the out-and-proud queer we are, we still love to explore the city and its culture in the same way as everyone else. Doing so allows us to learn more about the city and its people and gain a deeper understanding of the local culture. As such, these are our favorite must-see attractions in Boracay.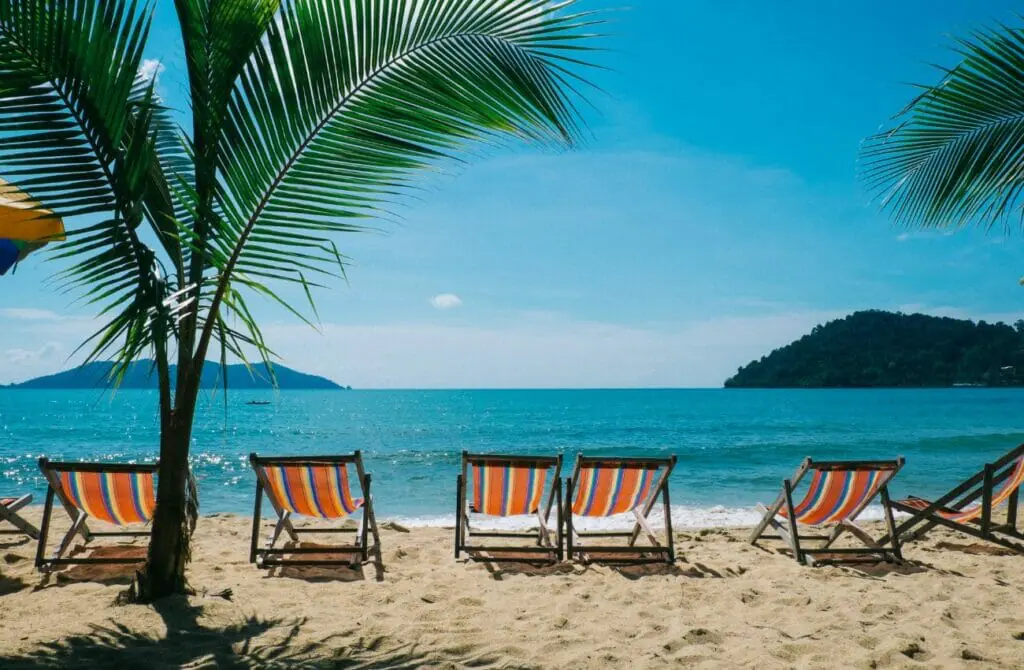 Boracay ATV Tour and Kawa Hot Bath
One of the top ways Boracay gives tourists an extraordinary experience is through their unexpected tours through the wilderness of their beautiful island. What better way than with an ATV Tour followed by a Kawa Hot Bath?
Each person will get their own ATV quad bike to explore the set path led by a guide through iconic inland scenery on rough terrain, which the tour operator carefully oversees. You then get the opportunity to go for a hot bath and swim before you are returned to your hotel.
Boracay Parasailing Experience
Those that come to Boracay can't miss the incredible opportunity to make the most of the fantastic beach scenery with a parasailing experience. First, you will be taught how to parasail even if you have yet to gain experience in such activities.
Next, you will be sat in a secure chair with a sail attached to a jet boat, and once you have been run through the safety, you will get started and will soon be soaring high above the waves with fantastic coast views and further afield. The Boracay Parasailing Experience is an exciting activity that shouldn't be missed.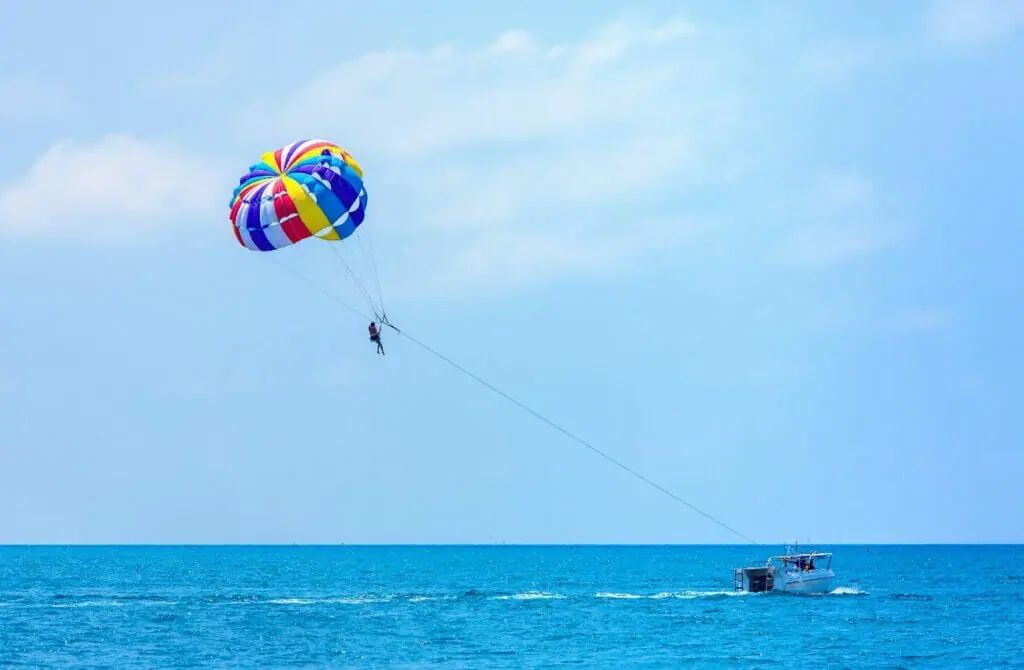 Fairways and Bluewater Resort Golf and Country Club
One of the top ways to feel like you are on holiday is to go for a round of golf, and Boracay provides a picturesque and relaxing golf resort on the northern end of the island with a range of terrain. But, while aiming for a hole-in-one, make you don't get distracted by the incredible views of the ocean and mountains!
Mount Luho
On Boracay, Mount Luho is the tallest mountain with incredible views at its peak, making it a popular challenge for hikers to try and conquer during their stay. Despite its height, it isn't a challenging climb for people of most fitness levels, and there is a lot to see and do along the way, so you don't need to rush to be the first to the top.
You may be surprised to learn it doesn't just have an observation deck but a golf course that runs down one side of it and dense forest all around to give you plenty of shade.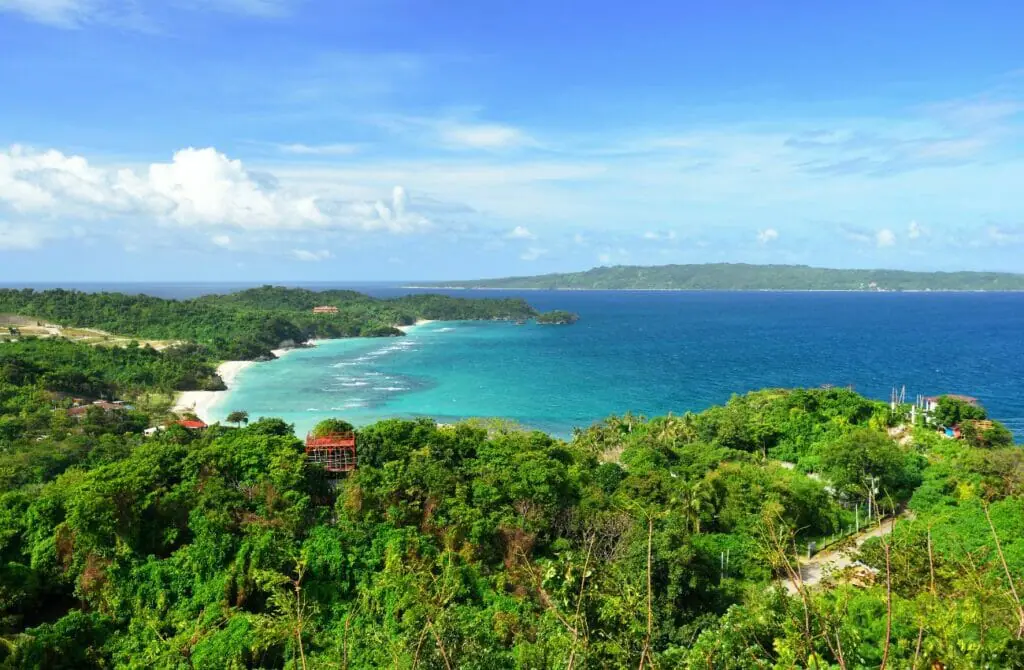 Boracay Bat Cave
If you are a fan of caves and hoping to try your luck at catching s photo of the iconic golden flying fox bat, you could be in luck with a tour of the Cat Cave. You won't find Batman here, but you will get insight into the realm of nocturnal bats with a nice hike along the way.
However, no visitors can go inside the whole cave due to the projection of the wildlife, but every so often, one may fly by, giving you prime viewing!
Boracay's most famous beach is, without a doubt, White Beach because of its pristine white sand, tranquil waters, palm trees and nearby tourist resorts. If you are looking for a barefoot beach walk that stretches millimeters down the coast on flat ground, this beach is an excellent option for such activities.
You can also find businesses operating along its shores providing fun tourist activities, amongst other attendees' usual swimming and sunbathing.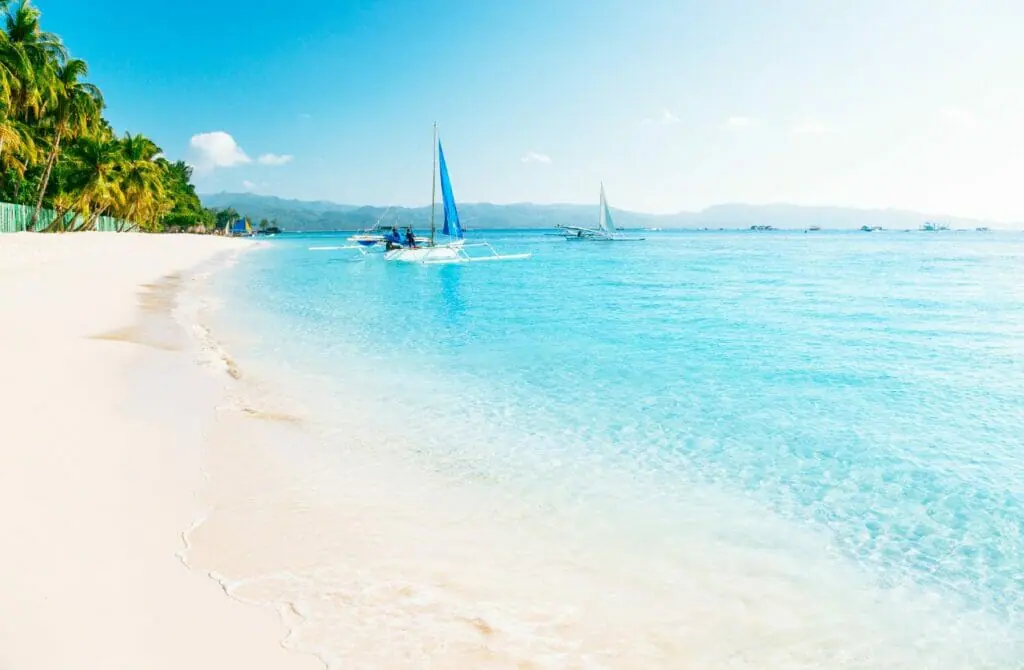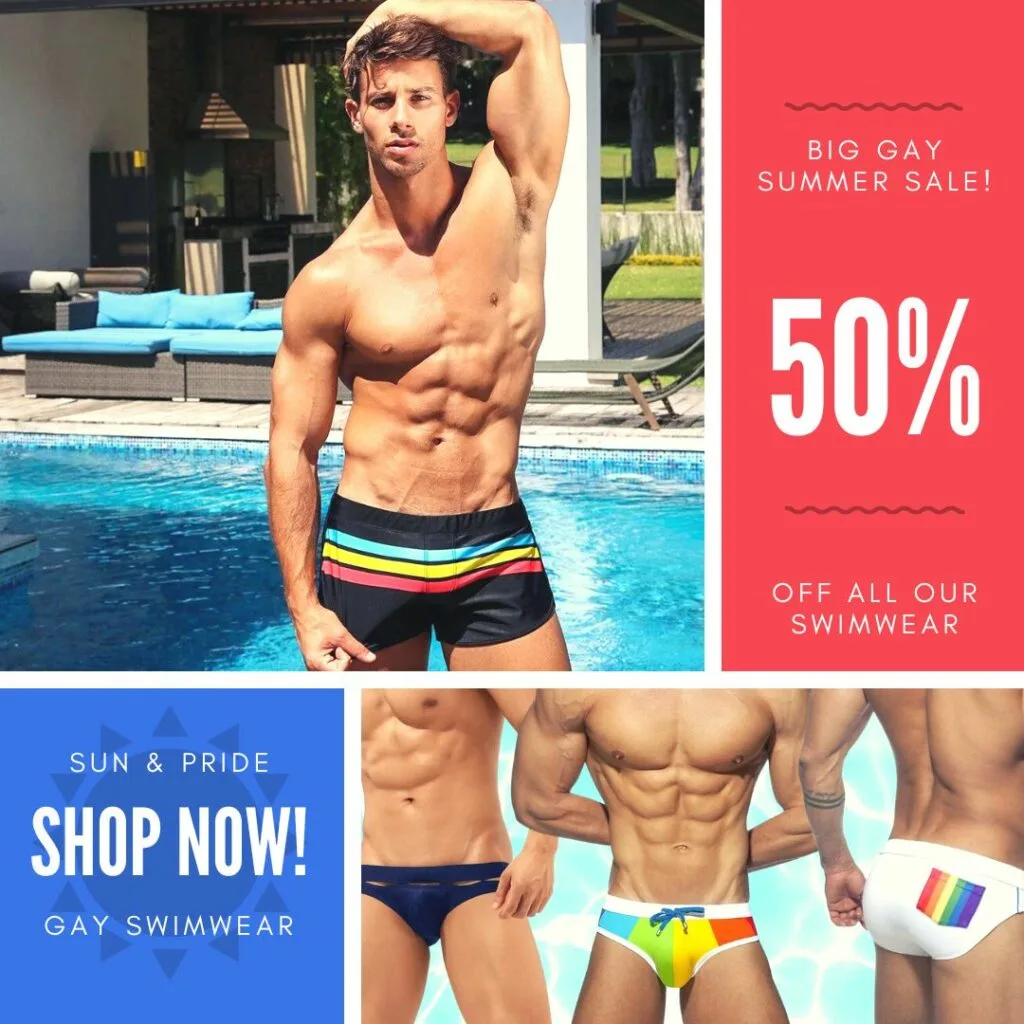 Suppose you want a pristine beach that isn't as densely populated as White Beach, Puka Shell Beach is a smaller yet brilliant option for those that want a break from the crowds.
Of course, you will still find the occasional tour, bringing visitors to snorkeling and the usual beachgoer. Still, it is a good choice for a sunbath without feeling like you are intruding on other people's space.
Crocodile Island
If anyone gets the chance, it is highly recommended they take a cruise across the short stretch of ocean from Boracay to visit Crocodile Island. Despite its name, there isn't a croc in sight. Instead, it earns its name from the distinct shape of a croc's open head. However, this inhibited island has an incredible marine ecosystem, making it popular for snorkeling, diving and swimming.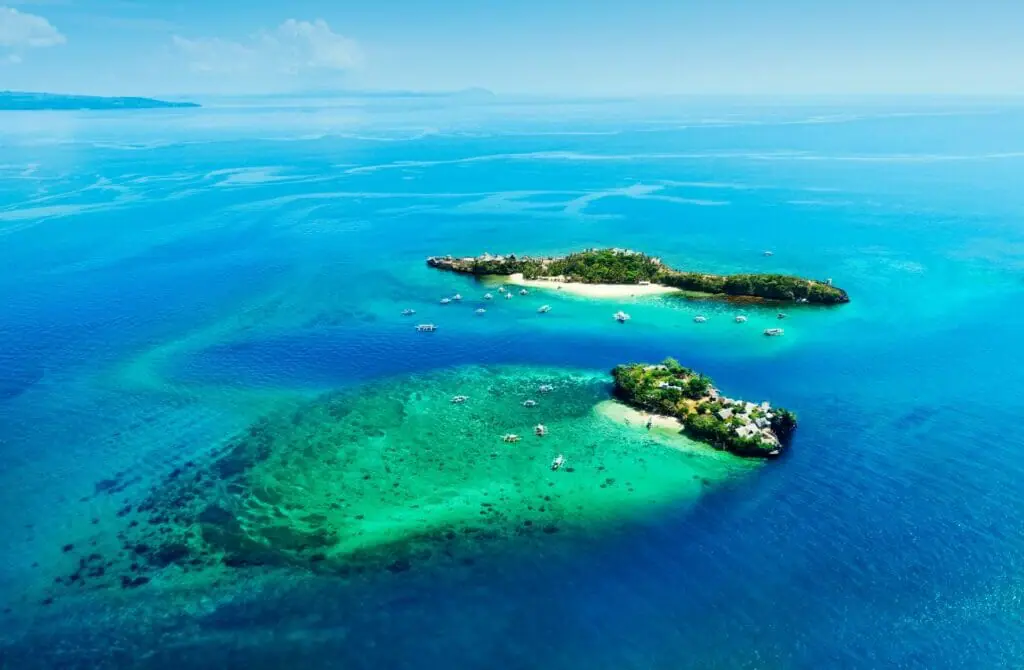 Motag Living Museum
To experience something outside the usual tourist adventures, we recommend the Motag Living Museum, where you can get closer to the island's history before Spanish contact. Learn more about the traditional farming techniques, give weaving a go, and then sit down for some delicious island food as you experience a music and dance show like none other.
Fisheye Divers
Get on those swimming suits and goggles and throw yourself into the rich blue waters for a diving experience off the coast of Boracay like no other! With Fisheye Divers, you can enjoy the beauty of the marine life below the waves and see some gorgeous coral and remarkable fish species.
This fun activity is perfect for people of all skills, with options to attend a diving course on more profound parts of the ocean for those that have always wanted to kick start a splashing hobby.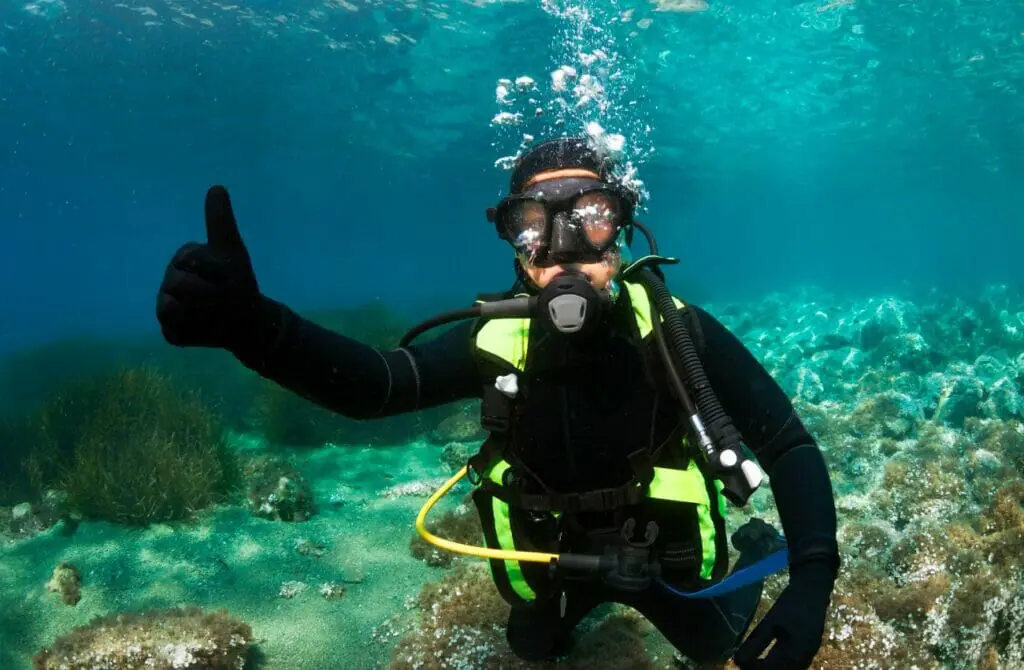 This picturesque view from the top of a cliff looking out over the ocean offers a great place to take in the beauty of the sea and fun activities to push yourself to your limits. At the top of Ariel's Point, you will find a shelter to sit for a picnic. However, people mainly come for the great cliff diving jetty!
Once you reach the bottom, there are plenty of opportunities to go kayaking and snorkeling, but most will clamber their way back up for a second round or swim and make bets on who will be the next of your friends to whimper out of taking the leap of faith.
Crystal Cove Island Resort
Located off the western coast of Boracay is one of several private islands that are great places to find fun adventures and enjoy quiet time away from the bulk of the loud party zones of the mainland. Here you can do much of the same as Boracay, but people are particularly drawn to the island for its mountain biking and caving activities.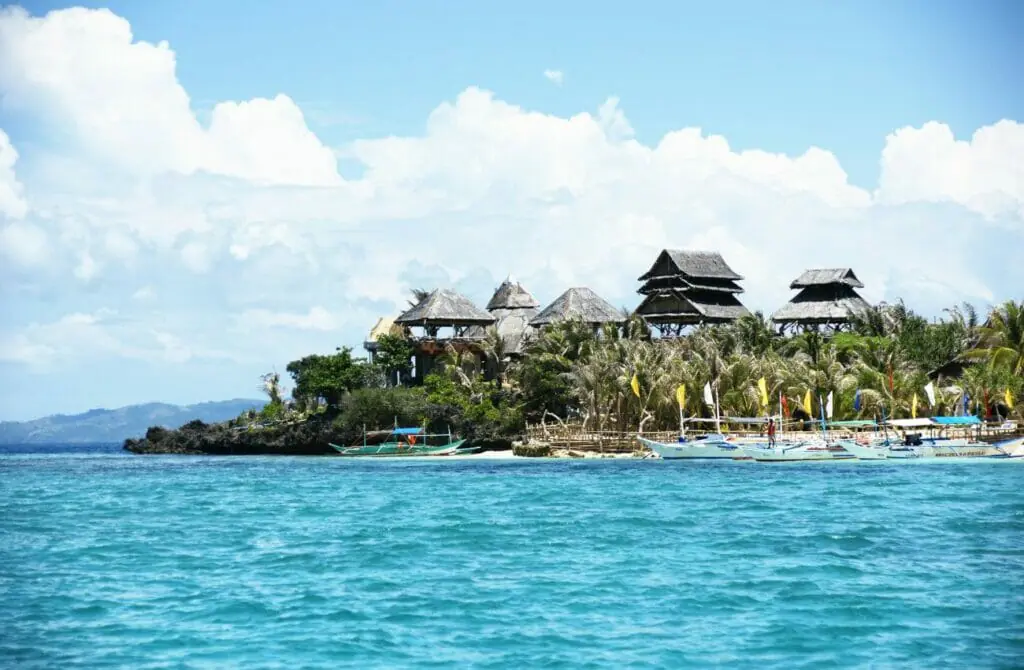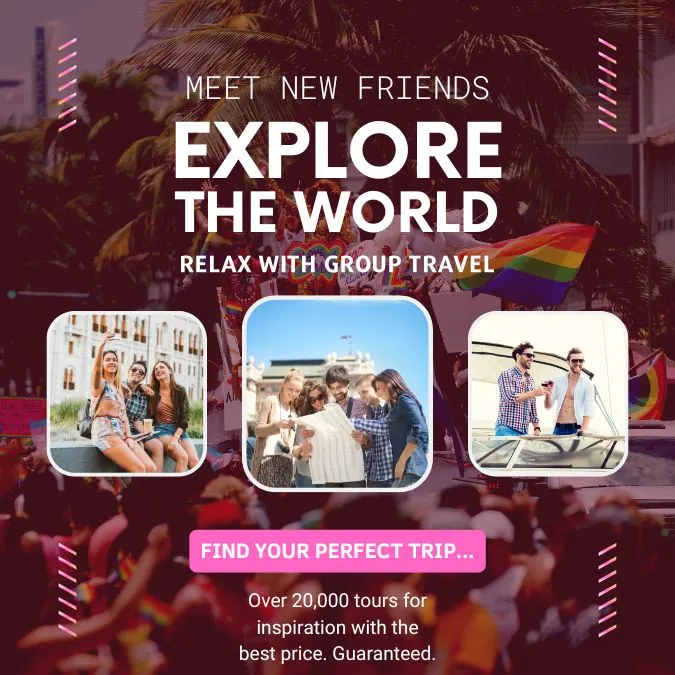 Gay-Friendly & Gay Hotels in Boracay, Philippines
Being gay-friendly accommodation means that the establishment is welcoming and inclusive to guests who identify as LGBTQ+. This can include, but is not limited to, having policies and practices that demonstrate a commitment to creating a safe and inclusive environment for LGBTQ+ guests, such as non-discrimination policies and providing support and resources for LGBTQ+ travelers.
Some gay-friendly accommodations may also provide amenities specifically catering to the LGBTQ+ community, such as rainbow flags or literature about local LGBTQ+ events or resources. Furthermore, gay-friendly accommodations may be located in an area known for being LGBTQ+ friendly.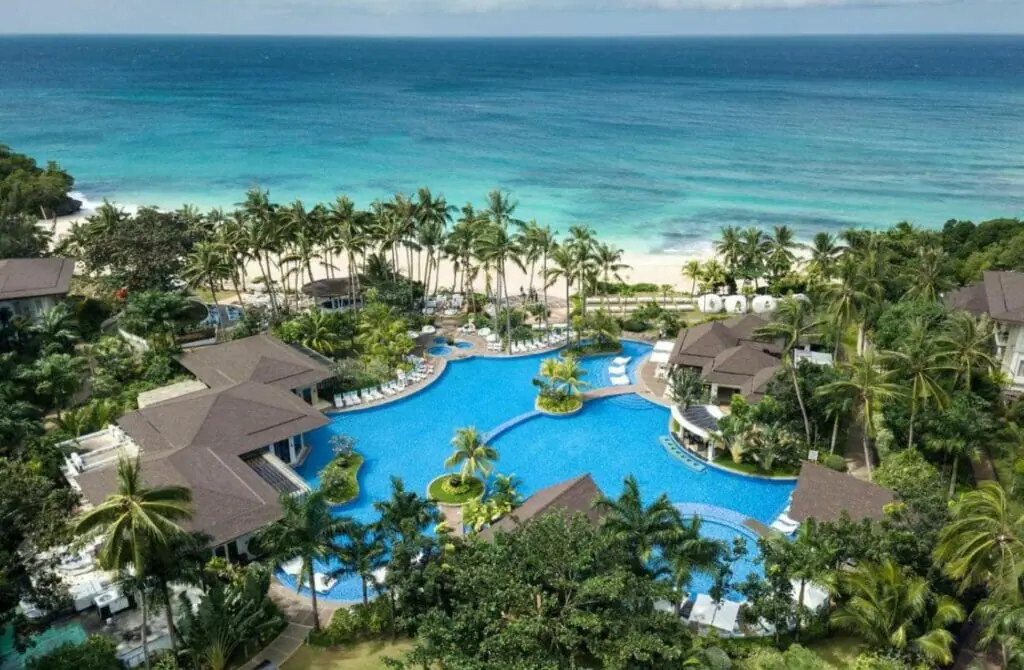 While Boracay does not have any specifically gay hotels or resorts, these are the most fabulous and pro-actively gay-friendly hotels in Boracay. There are also hundreds more hotel and hostel options in Boracay if none of these suit your desired budget, facilities or area – but these are the best hotels according to other gay travelers and us.
Whatever your needs are, Boracay has you covered.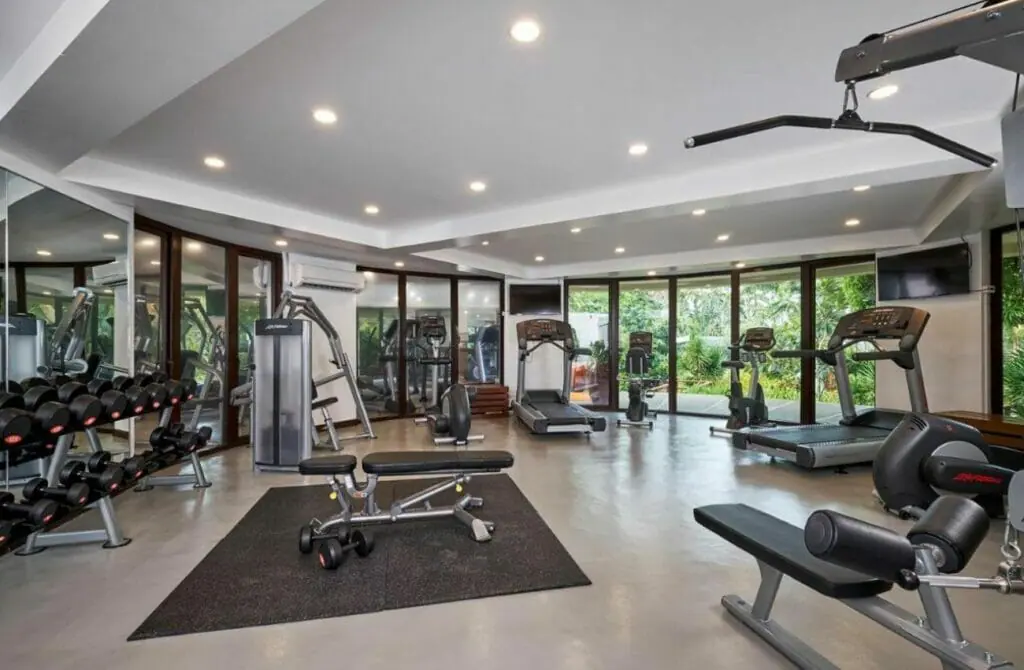 Mövenpick Resort & Spa Boracay ☆☆☆☆☆
Located in northern Boracay is the top gay-friendly five-star Mövenpick Resort & Spa Boracay, which has easy access to the heart of the island's nightlife and some incredible daytime attractions. You won't miss the relaxing spa in its name, and no doubt you will want to spend some time soaking and taking full advantage of their expensive full-service to make you feel like you are on holiday.
They also spoil their guests with other facilities that help them earn high praise. There outside is stunning, with great views of the beach you can enjoy from the terrace and pool, with loungers and umbrellas if you think an afternoon nap is better when it's out in the sun!
Heading inside, you can begin your day with the gym, and then once dressed and cleaned, you can select breakfast from five top-end restaurants. These chiefs and dining spaces aren't there to get you pumped for a busy time on the island, and they are at your call for lunch, dinner and any spontaneous second or third breakfast if you couldn't get enough with the first helping!
Their service extends into your private quarters, where you can enjoy 24-hour service and pillow meals to satisfy your midnight cravings. And as you wait for your meal, you can admire the expansive apartments decorated in a mid-century wooden decor that doesn't feel ages despite its inspiration.
These rooms differ from the last, so you can be sure you will find your home away from home at the height of comfort when you stay in Boracay.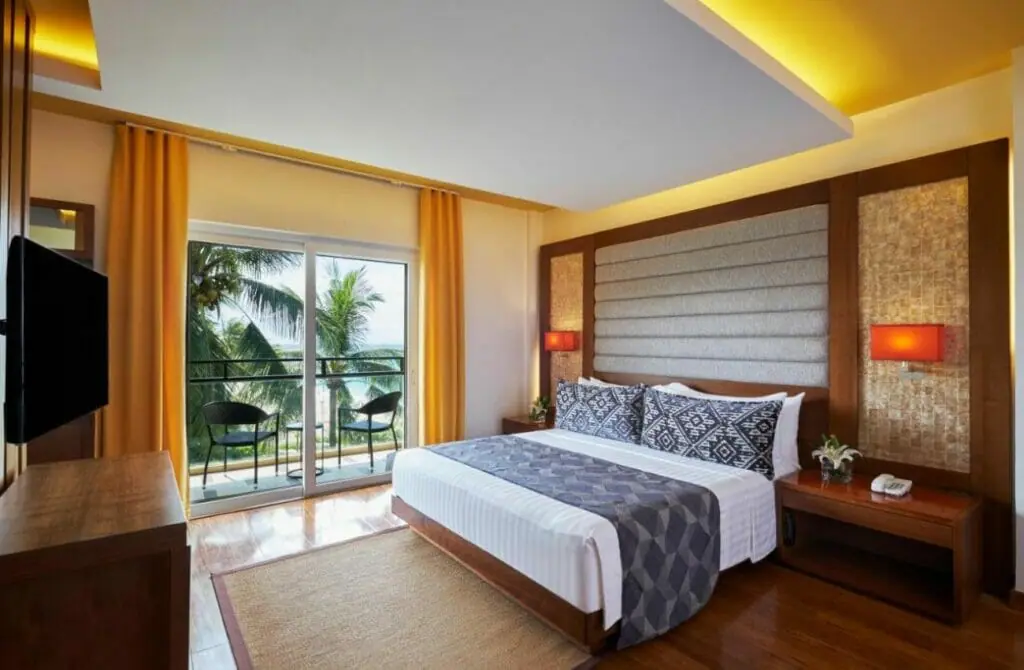 In Northern Boracay, you will find the wondrous four-star Alta Vista De Boracay hotel, notable as much for its modern Asian architecture as its excellent location to the beach and other incredible things for its guests.
You can dine on their terrace or spacious dining room while enjoying fantastic food from various dining options, from breakfast and cafe to a classy restaurant and bar. You can dip in their outside pool or wander to the beach for a more salty experience.
However, once you've dried off and lounged clean in your room, you will be happy to learn all rooms come will great extras, including a private balcony, sprawling areas and mini-fridges. So you know you will be served great things when you stay at Alta Vista De Boracay.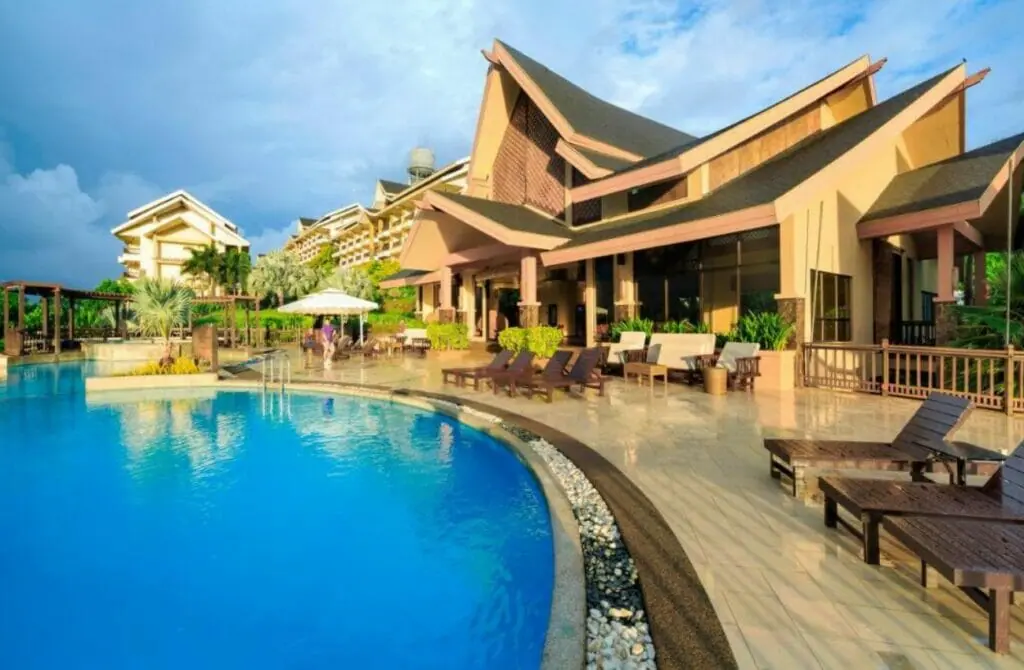 Microtel by Wyndham Boracay ☆☆☆
A top three-star oasis in Boracay is the island's western heart at Microtel. What makes this hotel so great is that this expansive place boasts excellent facilities for a working holiday and the tourist coming strictly for pleasure, with a pool, a spa and meeting rooms.
However, that is not all because while you stay here, food and breakfast will be provided for a fee from their incredible in-house restaurant. You can even call on room service for your room if you don't want to leave your comfortable bed!
However, who could blame you? Because if you don't want to go, these rooms also have a fridge and a TV. Then if that wasn't enough to sell you why this hotel is so great, you are a short walk away from Fairways, Bluewater Golf & Country Club, and Diniwid Beach.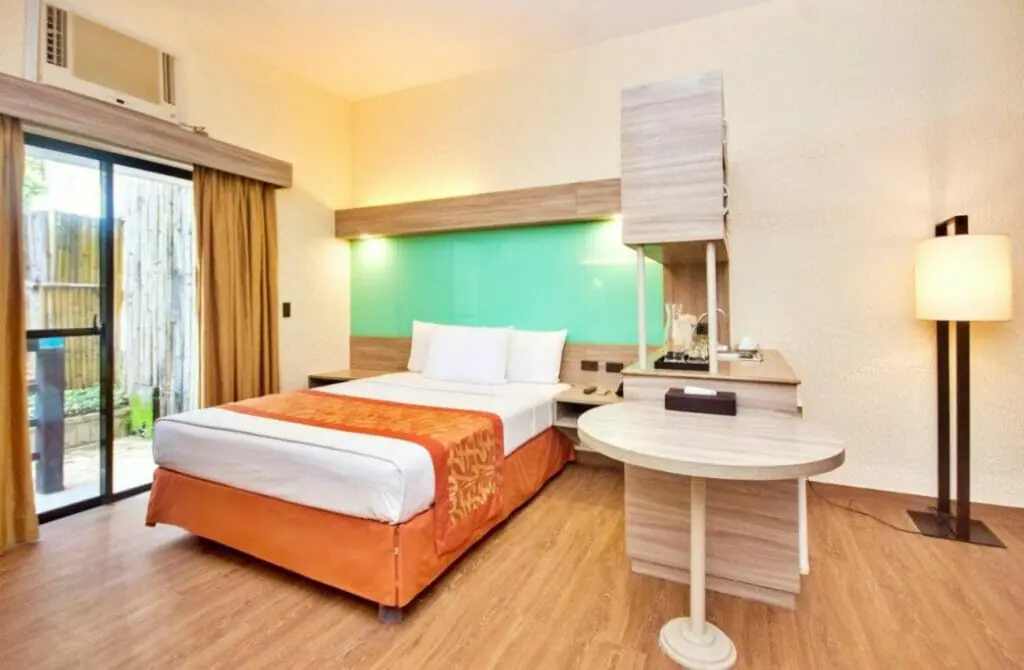 Roger's Place Gay Guesthouse – Caters to Gay Men ☆☆
For a rare gay treat, you can stay at a gay men-only guesthouse in southern Boracay, where you can start your queer holiday the right way by meeting other gay men in a safe and private space.
While you enjoy this little piece of gay hospitality, with breakfast for a fee provided, you can use its great location, with just a ten-minute walk to White Beach and other must-see attractions during your stay. But if a quiet afternoon is on the cards, you can make yourself a meal in the charred kitchen and then head to the terrace to take in the views of the garden.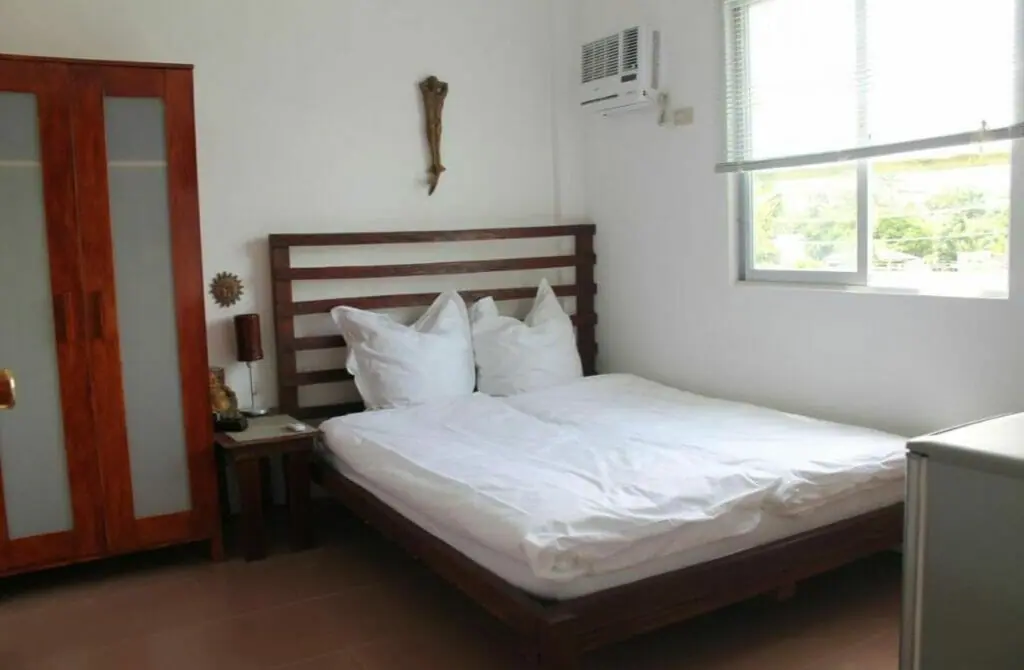 Gay Nightlife In Boracay, Philippines
Boracay is famous for being a party island. Of course, one of its tourist specialties is its extravagant nightlife, even if they don't have a big-standing gay community. However, you can still find a gay-friendly bar or nightclub where ever you end up on your late-night adventures, and this is helped by the efforts of gay clubs and yearly events to bring a little slice of pride to Boracay. So you won't ever be left disappointed.
Exploring the gay and gay-friendly nightlife in a new city can be one of the most exciting and rewarding experiences while traveling – and Gay Boracay is no exception. Not only will you have the opportunity to meet new people and make friends, but you'll also get a taste of the local culture and learn more about the city's LGBTQ+ community.
Going out and experiencing the queer and queer-friendly nightlife in a new city can also be a great way to break out of your comfort zone and try new things. Whether dancing the night away at a gay club or mingling with locals at a gay-friendly bar, you'll have the chance to make memories and create lasting connections.
So, don't be afraid to step out of your comfort zone and explore the gay and gay-friendly nightlife in Boracay. You'll be glad you did!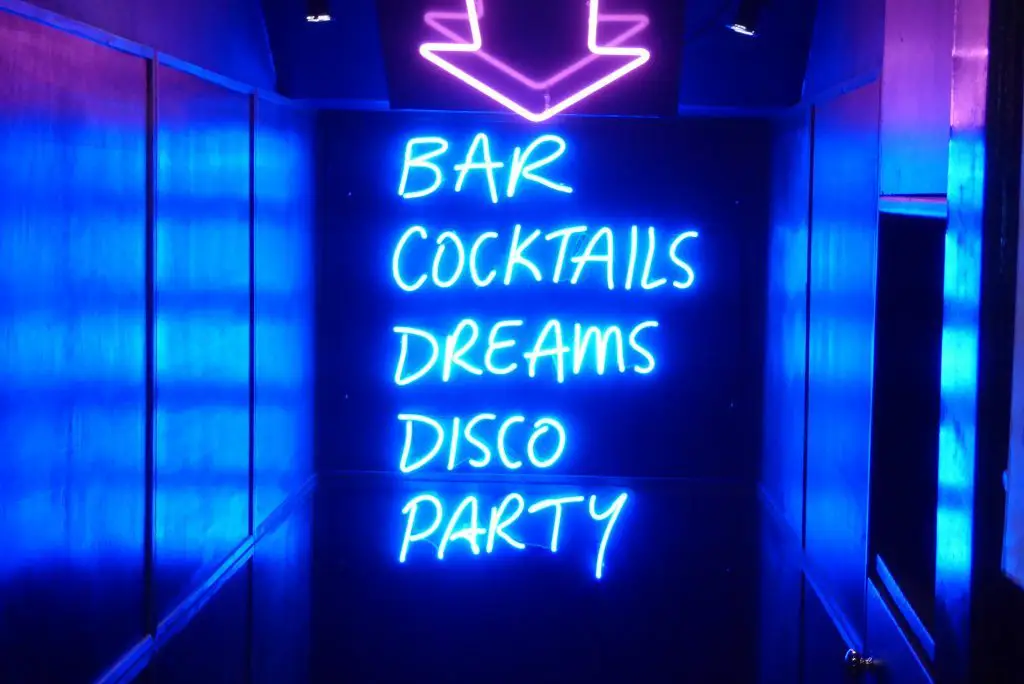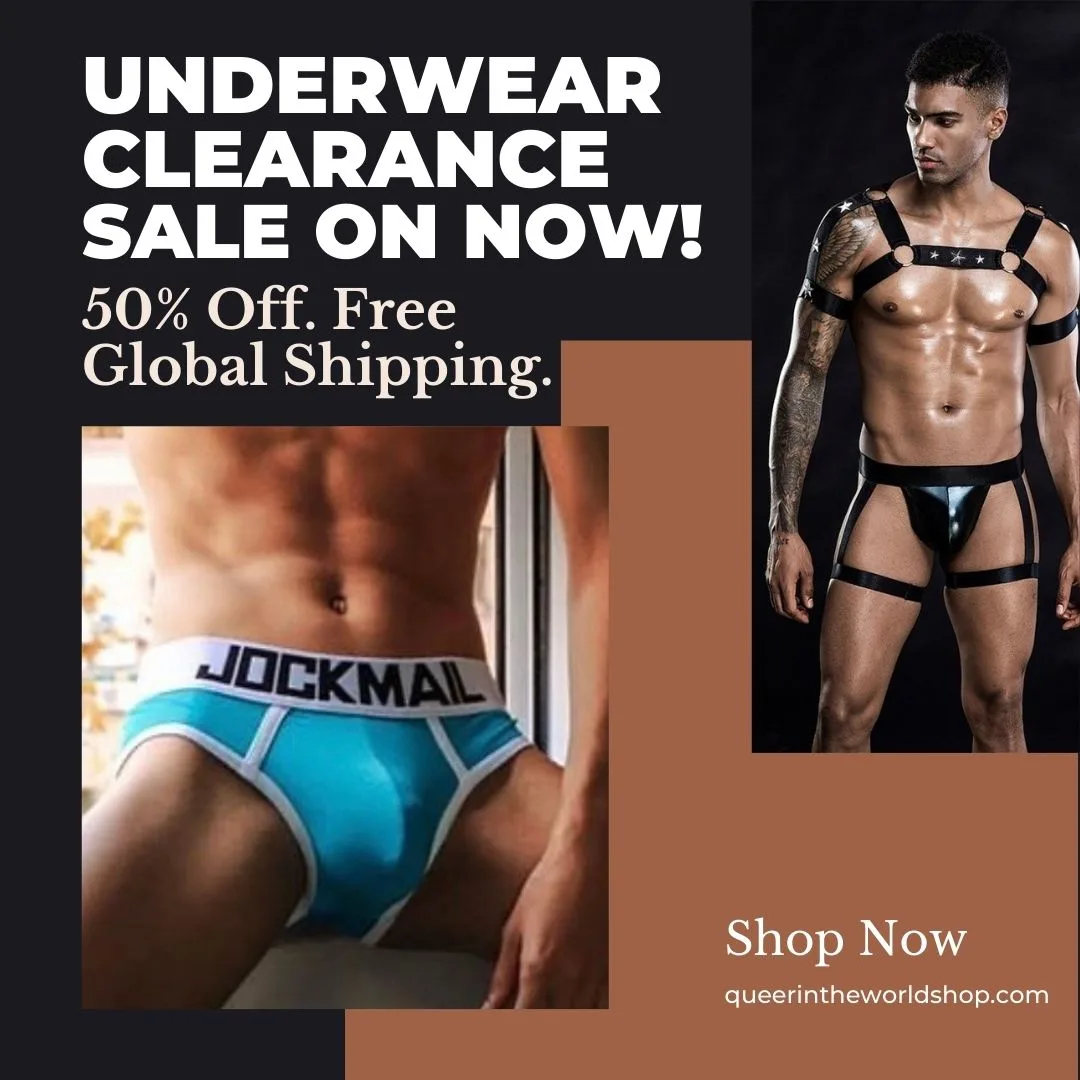 Gay Nightlife in Boracay, Philippines
The only gay establishment in Boracay is the Rainbow Cafe and Lounge, open every day from 8 am to 11 pm so you can get your gay drink fixed regardless of the time. Patrons love their delicious food and beverages, gushing about cocktails, inventive colorful meals, and the excellent service that comes with them.
They also adore the Drag Queen Nights, where guests are treated to some of the most hilarious and glamorous live entertainment in all of Boracay—it helps that it's super gay as well!
The Rainbow Cafe is equally a welcoming setting with its open natural space with plenty of dining options inside and outside on its garden terrace, with rainbow flags fluttering in the breeze. For these very reasons, she is famous with the queer crowd and other visitors.
Gay Clubs in Boracay, Philippines
Boracay is only home to a small local population all year round. However, it shouldn't be surprising that they have a tightly-knit gay club that helps keep with queer community alive.
However, even if the Facebook page hasn't been as active in recent years since the closure of the only bar on the island, it is still worth sending them a message to see what insider gossip is going on offline in the gay community.
Every couple of months each year, Love Wins Boracay hosts a fun-packed queer weekend to grace the island's sandy shores with a little slice of rainbow pride. Here you can meet old friends or make new ones and get down for a wild weekend party you won't ever forget. So if you plan to stay in Boracay, you should flick the organizers a message to see when the next one will occur!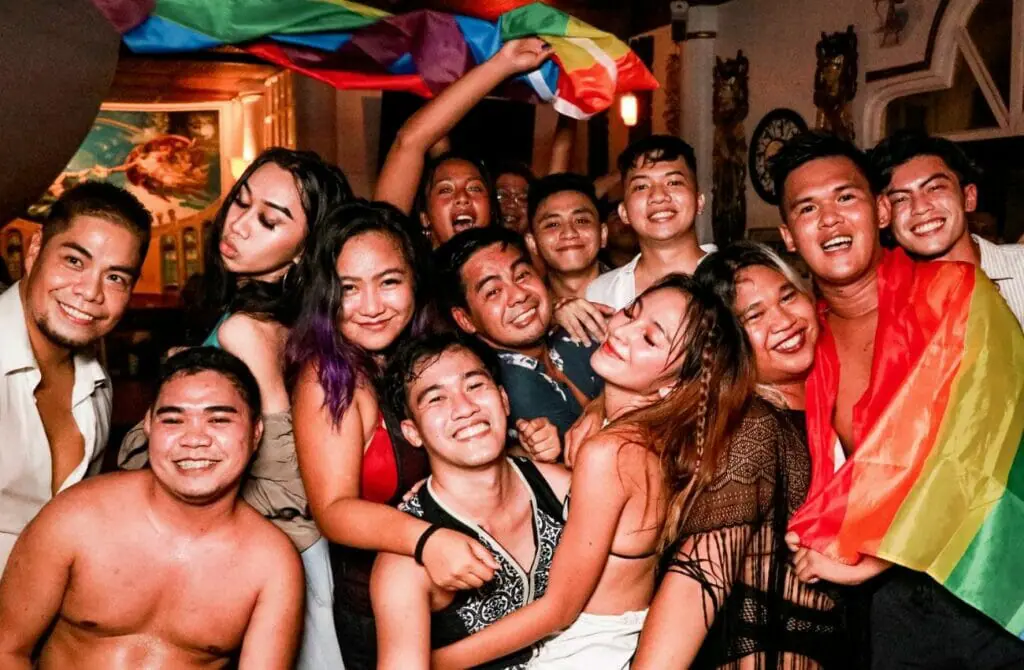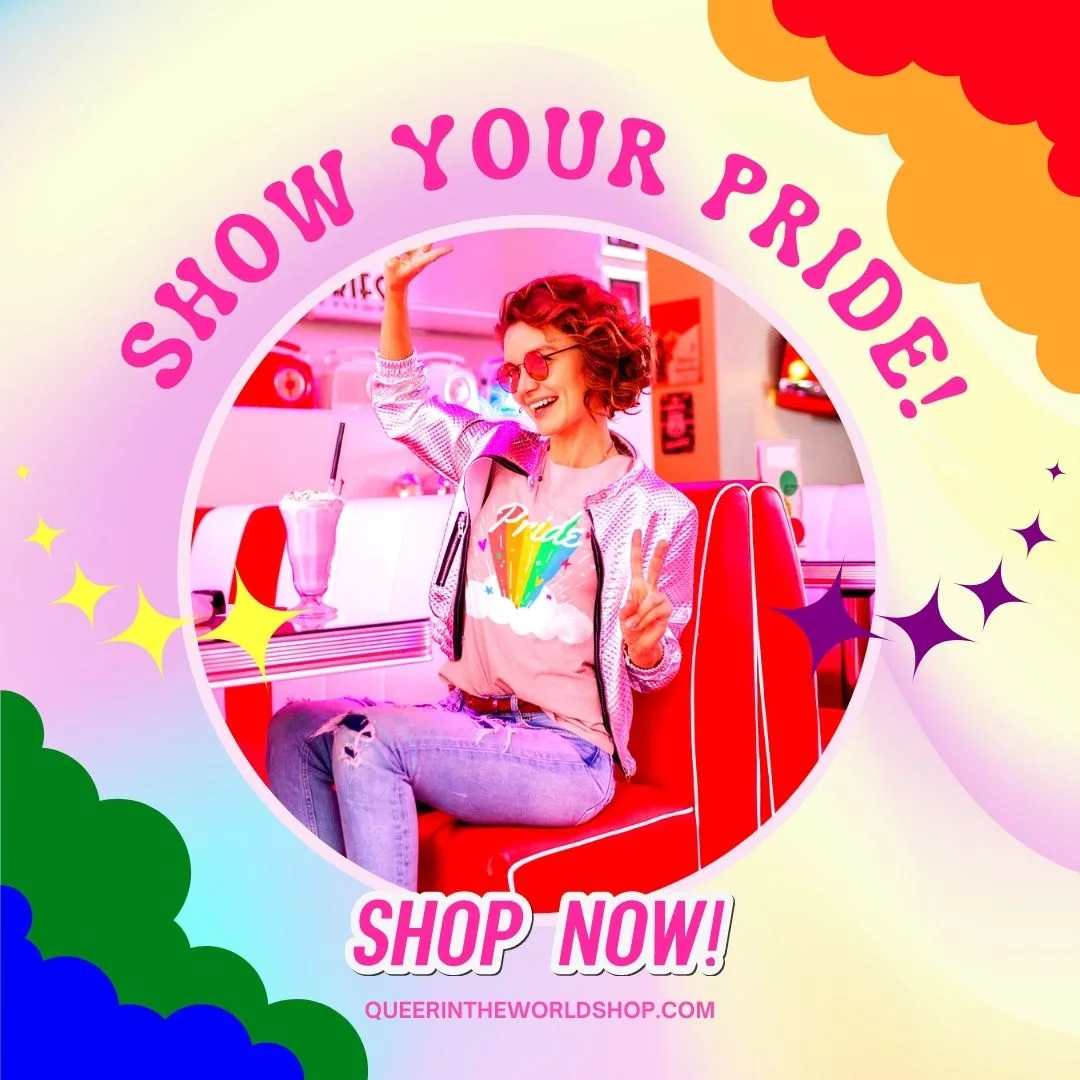 Other Gay-Friendly Nightlife in Boracay, Philippines
This restaurant and nightclub are true to their name — EPIC! With a whole night laid out for you in one venue, you shouldn't need to go anywhere else. You can begin your evening with a divine dining experience with beach views in a chill setting, delicious island flavors, and a flair for traditional Phillipono cuisine.
A stand out of their extensive menu is an appetizer of Popcorn Shrimp & Gambas, followed up with a main of the Seafood Cowder, and finally, Epic Cheese Cake for dessert.
You can compliment these dishes with a fine wine or skip the food together and save your budget for trying out a range of beers or cocktails. However, when you feel it is time, you can take to their nightclub and throw yourself into the dance floor groove, ready to make work off all that incredible food.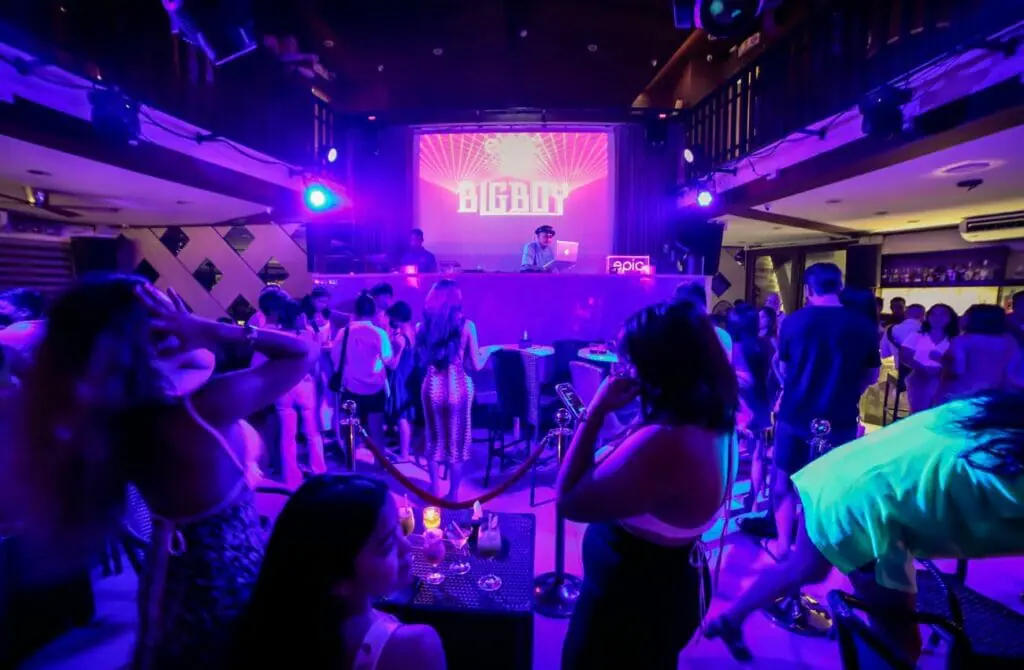 Those after an authentic Moroccan experience can't go wrong with the food choice at Kasbar Boracay. This beachside restaurant is an expert not just in satisfying the pallet of your buds with dishes like hummus and chips or kebabs, but their cocktail drinks and nightlife are all the more reason to pay a visit.
Their venue ensures you can dine with class both inside and out with so much space and a range of spaces it never feels like a crowded event, even during their busy live music nights. A highlight of all this is the Arabic decor, creating a point of difference from other venues, the shisha pipes (which you can smoke), and the sandy beach loungers.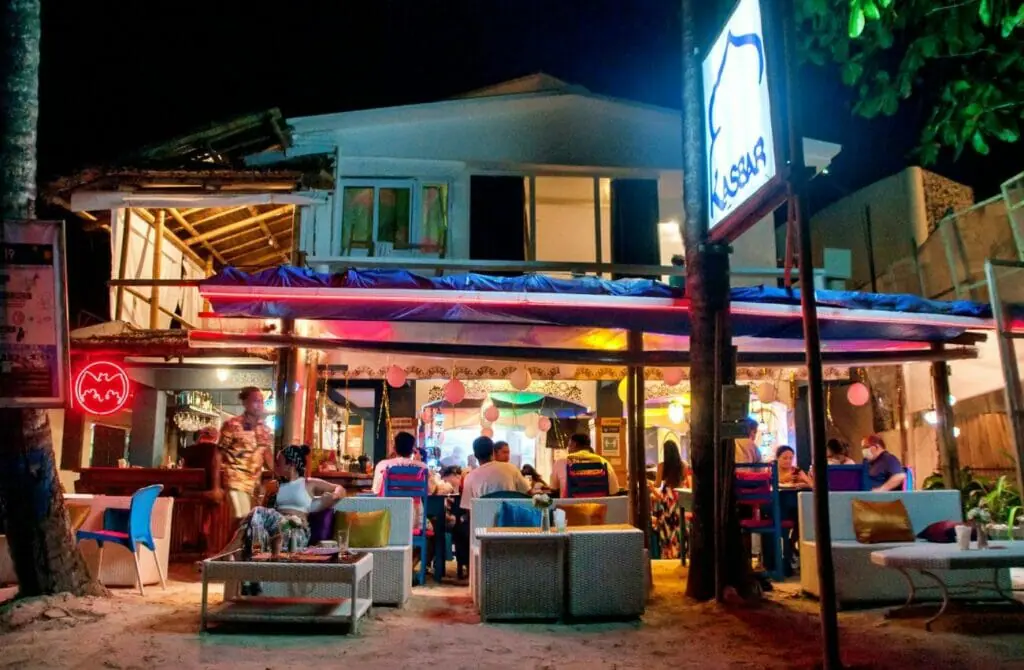 One of the best nightclubs on the island is OM Bar Boracay, a late-night adventure that begins at 11 pm sharp and partying until late. What makes this place exceptional is the expansive dance floor covered in neon lights, with the central stage playing host to amazing singers, DJs and other entertainment every night.
You can expect the music always to be loud, fresh, and a mixture of old classics and modern marvels, and thus the perfect place to let yourself go and get a little crazy. The drinks and dining experience is also top-notch, with staff ready to ensure you never run out of night juice during your fun night out on the town.
When you visit Exit Bar, you won't be in a hurry to leave, only if you dislike a great tropical drinking experience which a freshly aired dining space to match.
However, almost anyone that to EXIT Bar comes away with a smile on their space, gushing just as much about the wooden tiki posts as they do the full range of drinks. When it comes down to it, this is a great beachside bar that doesn't fail to satisfy with a good drink and exceptional live entertainment for their larger evening crowds.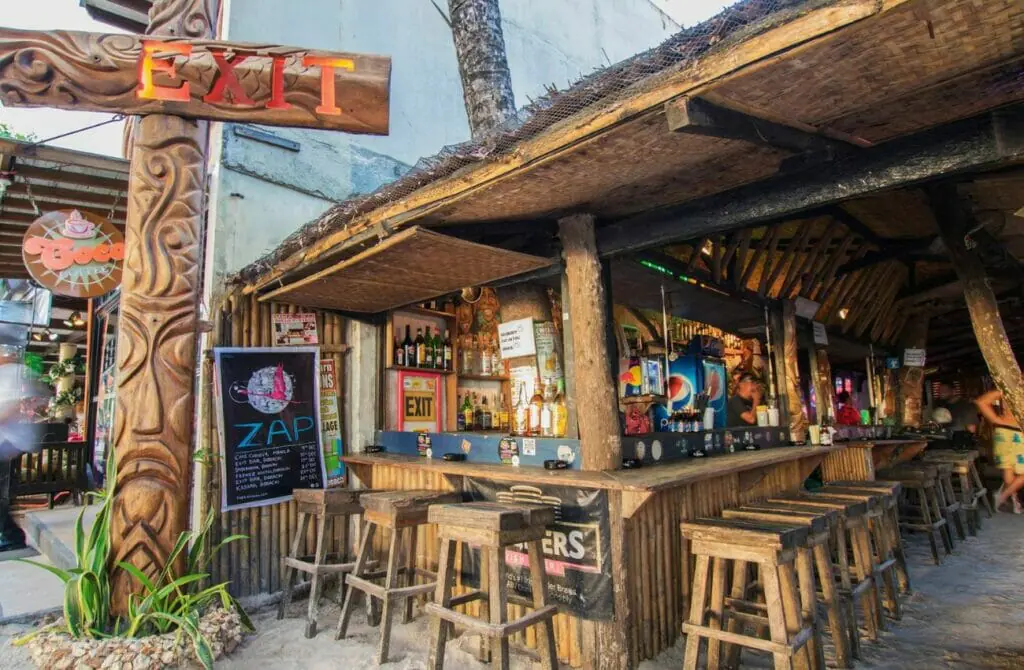 Boracay Station 2
To many, the heart of Boracay nightlife is born here, located along the stretch of the famous White Sand Beach. Here you can find all manner of nighttime adventures, from a walk along the beach to the tranquility of beachside bars and loud dance clubs to party until closing hour.
The highlights of this bulk of top-night attractions include the Summer Palace resort, EXIT Bar, and Prisma Cocktail Bar, all here to take full advantage of the coast and treat you to the classic partying experience Boracay is known for worldwide.
Cruising & Gay Saunas In Boracay, Philippines
You won't find a formally organized gay cruising scene in Boracay. However, even if you can't find a gay exclusive club or a sauna catering to gay cruising needs, you can't still find a plethora of fellow gay tourists who may be interested in a date.
Of course, you can try your luck at the numerous gay events or the queer cafe and lounge, but for the best results, it is always good to have dating apps on hand to ensure you don't leave Boracay fruitless.
When traveling to a new city, it can be exciting to head out for more than just a stiff drink. One aspect of the Gay Boracay scene that many queer men enjoy is visiting gay saunas and cruising clubs.
Sure, the sauna culture in Boracay is not as hedonistic as in Amsterdam, Barcelona or Berlin, but these venues still offer a chance to meet new people, socialize, and engage in sexual activity – without resorting to gay hookup apps.
However, it's important to remember that these venues can vary greatly in terms of atmosphere, clientele, and rules, so it's a good idea to prepare yourself before visiting. If you are apprehensive, we advise studying our guide to visiting a gay bathhouse for the first time, which should help set your mind at ease and always practice safe sex.
Additionally, it's important to be aware of and respect local laws and customs regarding gay venues and sexual activity. With a little bit of planning and an open mind, visiting gay saunas and cruising clubs can be a fun and exciting part of your gay Boracay travel itinerary.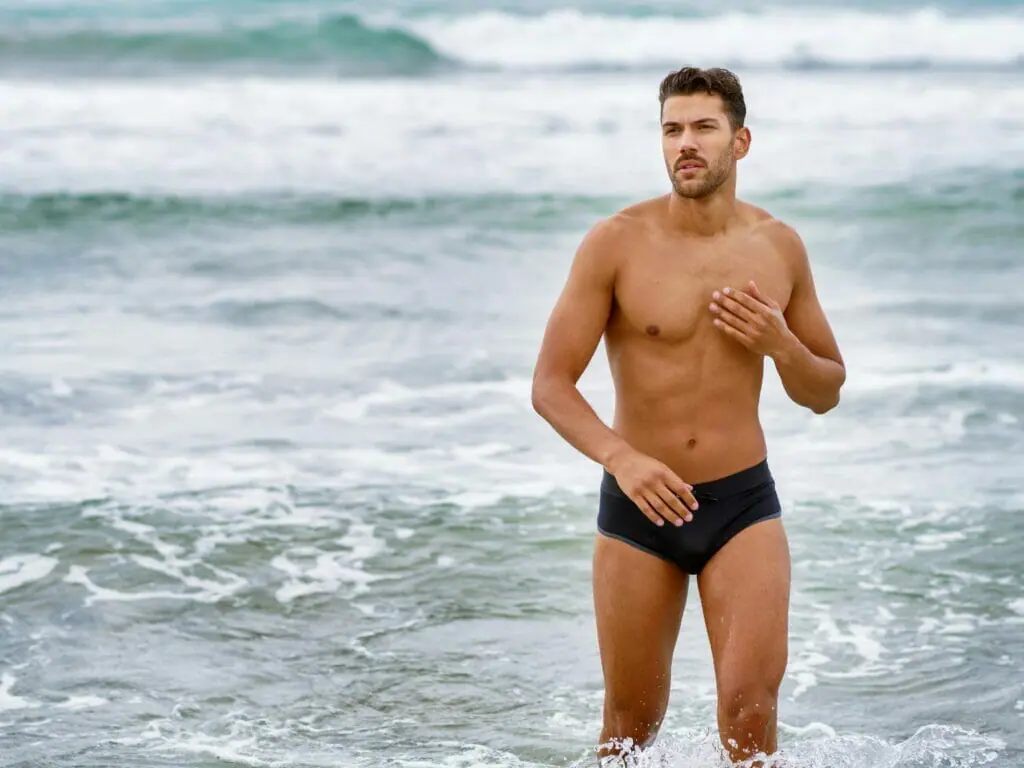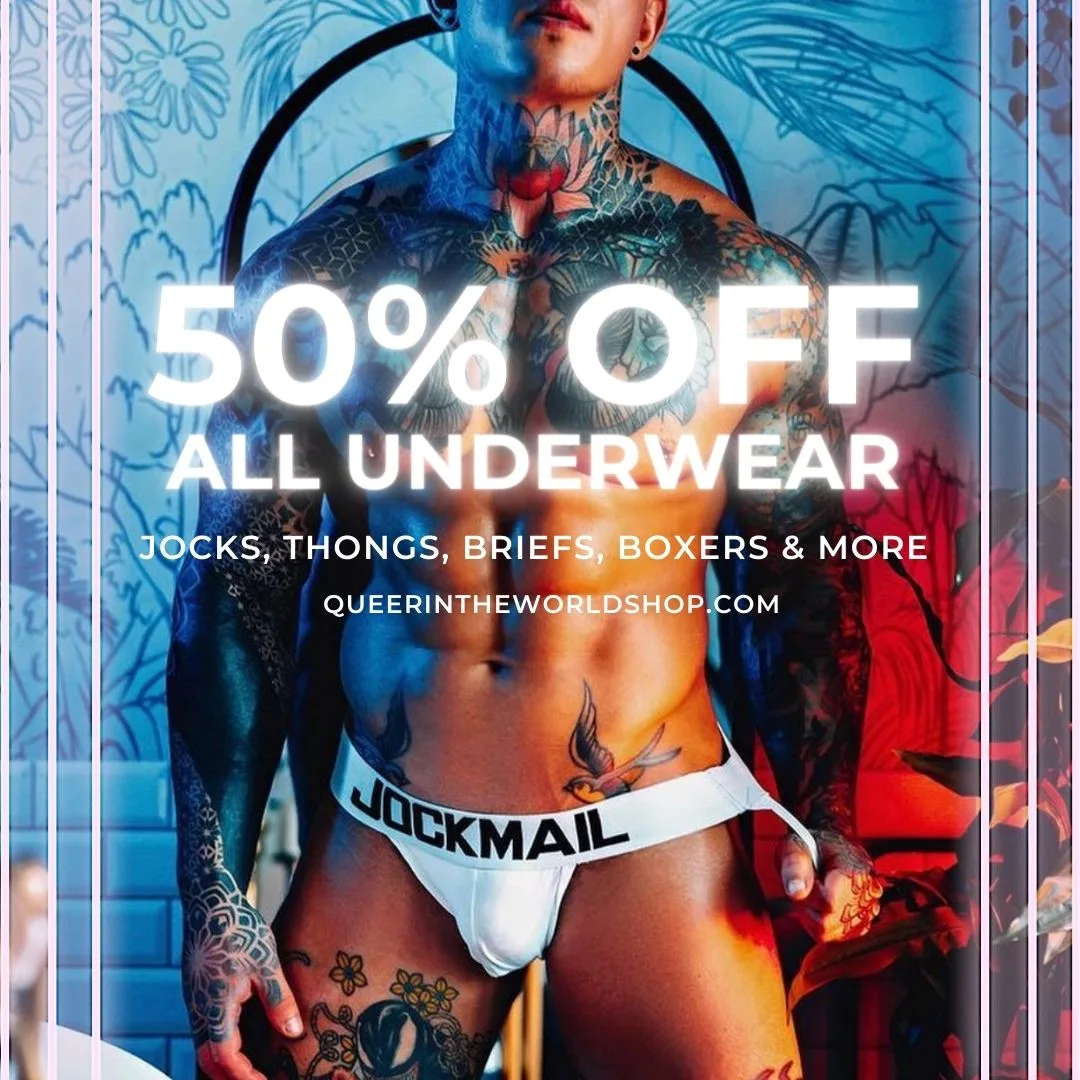 Gay Map Of Boracay
Finding it hard to envisage where everything is in Boracay? Hopefully, this queer-centric map helps where we have marked all the bars, clubs, parties, hotels, saunas, massages, and more will help you stay in the spot best suited to you!