As the mythical story goes, the legendary daughter of the River God, the gorgeous Nymph Korkira, was abducted by the smitten Sea God Poseidon. He brought her to a Greek island, and after falling head over heels in love with her, he named the island "Kerkyra" after her, which comes from the Latin name "Corfu."
Nestled in the heart of the Ionian Sea lies the enchanting island of Corfu. An irresistible fusion of pristine landscapes and rich cultural heritage, featuring a mesmerizing coastline, charming hamlets, and delectable culinary delights.
This island is a haven for couples seeking an unforgettable romantic escape. With an array of options, couples can immerse themselves in the island's myriad of experiences.
Take a stroll along the scenic coastline, indulge in a candlelit feast at one of the renowned eateries, or explore the captivating museums and galleries that dot the landscape. Corfu's alluring charm guarantees something to captivate every heart.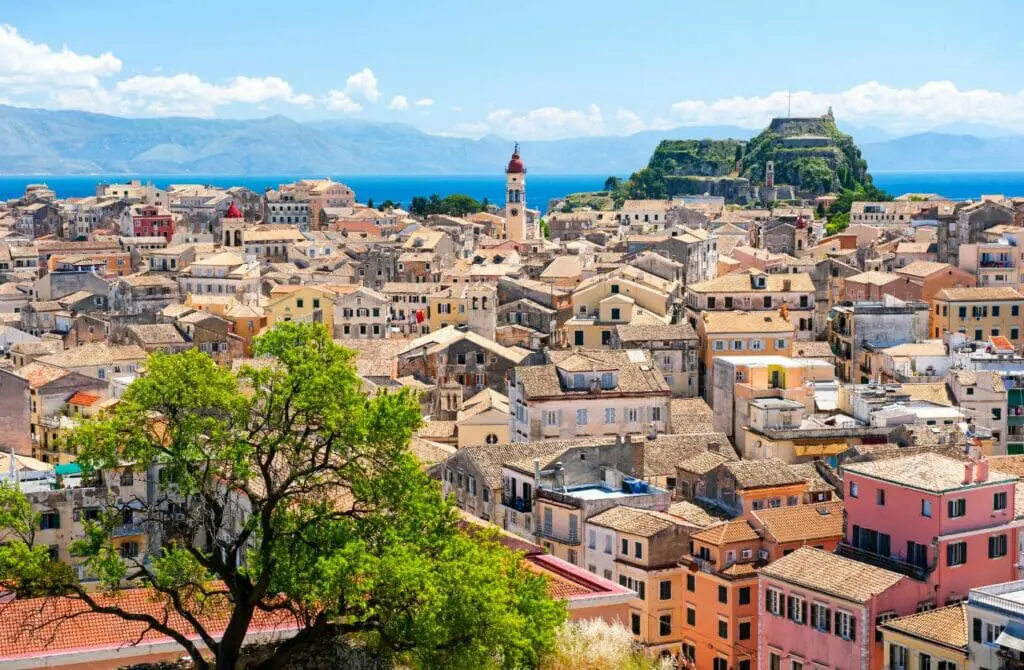 As a haven of acceptance and inclusivity, Corfu's thriving LGBTQ+ community offers couples a warm and inviting atmosphere; replete with vibrant bars, clubs, and cultural events. There is no shortage of entertainment here, making it the perfect destination for those seeking a vivacious and welcoming environment.
In essence, Corfu is an island that epitomizes an exquisite blend of natural beauty, cultural richness, and a warm and accepting environment. Whether you are seeking a romantic escape or an adventurous getaway, Corfu beckons you to fall in love with its many wonders.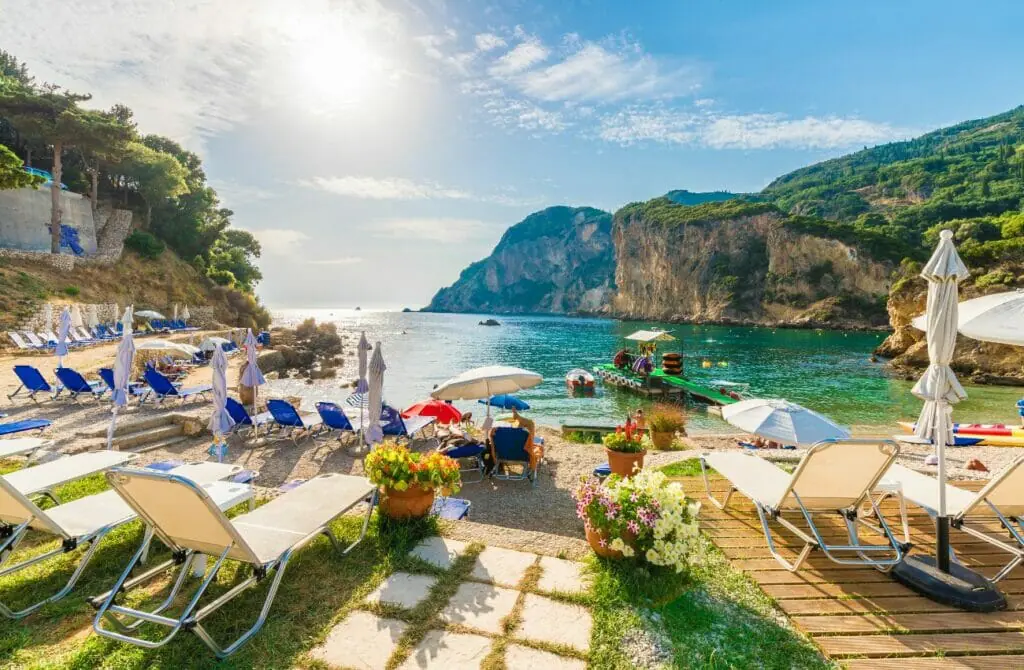 In this article we will cover...
Attractions in Gay Corfu, Greece
As a new visitor to Gay Corfu, there are plenty of things to see and do, regardless of your sexual orientation. One of the best ways to experience any new city is to visit some of its most iconic landmarks and attractions, including historical monuments, museums, and art galleries.
We also love gazing at architecture up close, exploring parks and gardens, sampling the local cuisine, visiting local markets, and attending cultural events such as festivals, concerts and shows.
Even as the out-and-proud queer we are, we still love to explore the city and its culture in the same way as everyone else. Doing so allows us to learn more about the city and its people and gain a deeper understanding of the local culture. As such, these are our favorite must-see attractions in Corfu.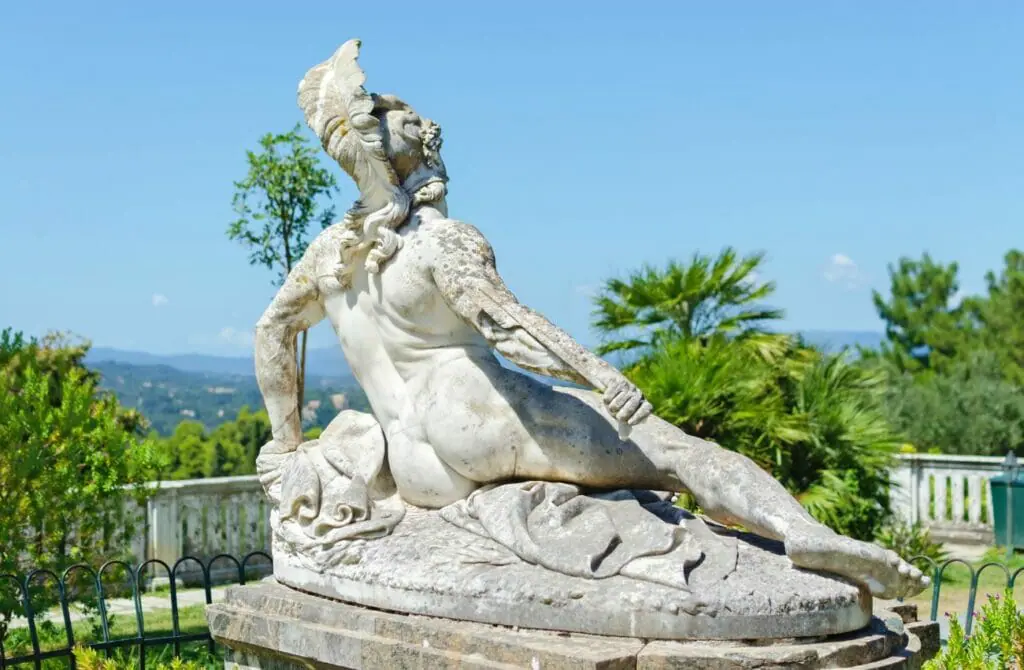 Get lost in the town's labyrinthine streets while finding hidden gems or sample the delicate local cuisine that is a perfect fusion of Venetian, French, and British influences.
Corfu's Old Town is a striking contrast between the ancient and modern. It's a town where you can discover historic fortresses and museums one moment and then enjoy cocktails at a trendy rooftop bar the next.
The lively nightlife, unspoiled beaches, and breathtaking scenery make it a town with everything, which is precisely why the Old Town of Corfu is a UNESCO World Heritage Site. The narrow, paved streets, neoclassical houses, stunning Corfu hotels, historic churches, and numerous museums are only a few attractions worth visiting.
As you stroll through the streets, notice the Venetian influences and be ready to be mesmerized by the gorgeous architecture surrounding you.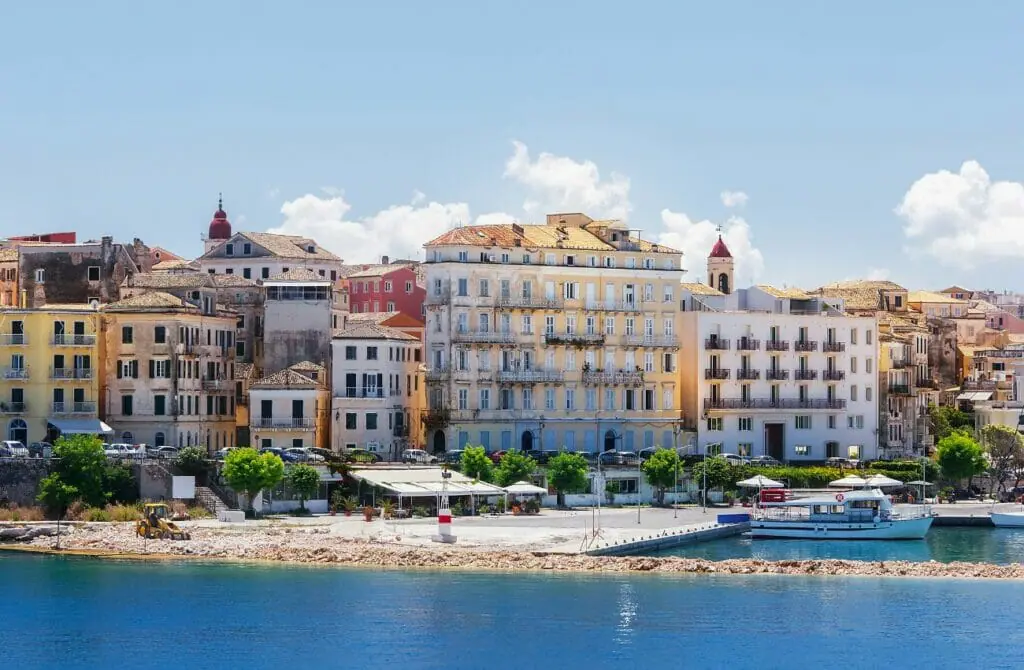 Imagine waking up to the sound of gentle waves lapping against the shore and being surrounded by stunning vistas of emerald-green hills and crystal-clear waters.
Or walking hand-in-hand with your lover watching dolphins play in the waves, and experiencing the sunset like never before. That's the paradise you will find on Mouse Island, a destination that beckons you to slow down and savor the beauty of life.
The island's name, also known as Pontikonisi, originates from the resemblance of the white stone steps leading to the Pontikonisi monastery. Situated just south of the airport, this small island is located on the east coast of Corfu.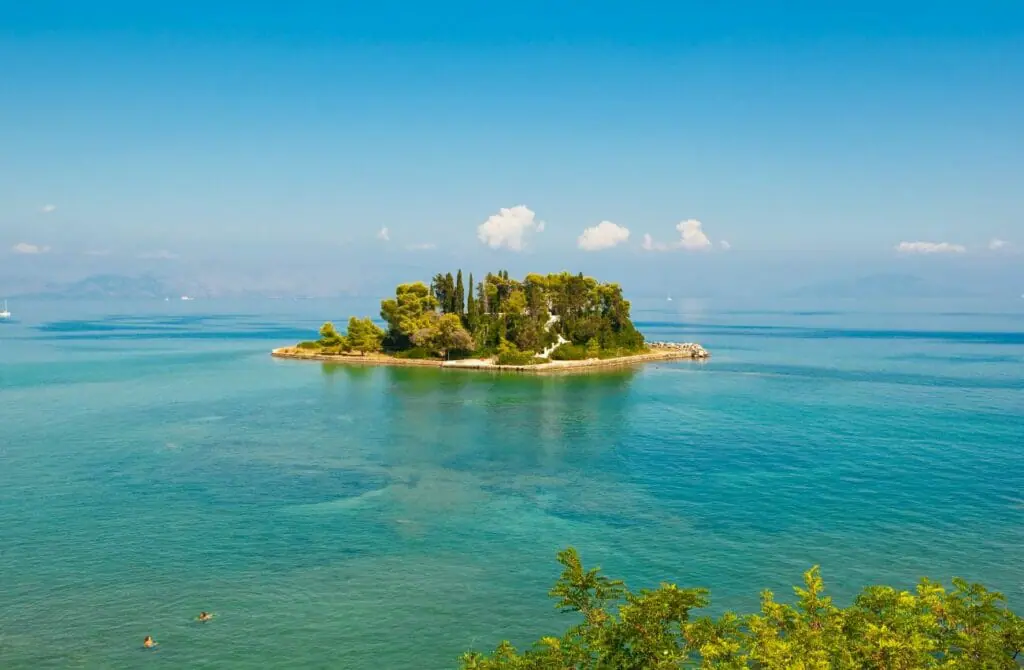 Paleokastritsa Beach is a true gem of Corfu Island, Greece, renowned for its breathtaking magnificence and crystal-clear waters. With its stunning natural landscapes, Paleokastritsa Beach provides the perfect backdrop for a romantic escape for couples.
The turquoise waters offer an idyllic setting for swimming, snorkeling, and exploring the underwater world. The beach is surrounded by lush greenery, cliffs, and caves, adding to its picturesque charm. Its area also boasts several traditional taverns where couples can indulge in local delicacies and enjoy stunning sea views.
Whether you're looking to relax on the beach, explore the natural wonders, or soak up the romantic ambiance, Paleokastritsa Beach is the ideal destination for couples seeking a truly unforgettable experience.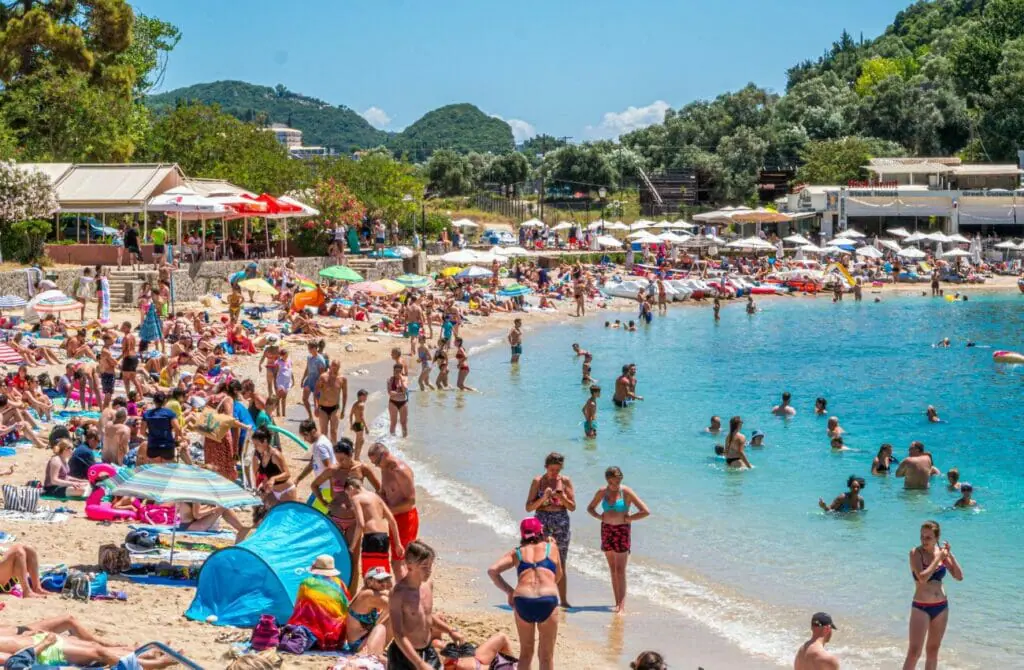 Looking for an unforgettable culinary experience in Corfu? Corfu Central Market is a vibrant hub of activity, pulsating with energy and flavor. Nestled in the heart of an old town, this bustling market offers a sensory explosion of colors, scents, and sounds.
As you wander through the narrow alleyways, you will be greeted by a kaleidoscope of fresh produce, aromatic herbs, and delectable spices, all proudly displayed by local vendors. The market is not just a place to shop; it's a cultural experience where you can witness the authentic Corfiot way of life and immerse yourself in the island's rich heritage.
It is a must-see site for anybody looking for an authentic experience of Corfu's rich cultural history, thanks to its various offers, lively atmosphere, and commitment to supporting local companies.
A true testament to Greece's enduring beauty and cultural significance, the Achilleion Palace is a stunning neoclassical building. Built in 1890 by the Empress Elisabeth of Austria, also known as Sisi, the palace was designed as a retreat for the empress to escape the pressures of the Austrian court and indulge in her love for Greece.
Step into a world of opulence and royalty at the Achilleion Palace, where the grandeur of ancient Greek mythology meets the beauty of contemporary architecture. With stunning gardens and breathtaking sea views, this palace is a must-visit destination for anyone seeking a taste of history and culture.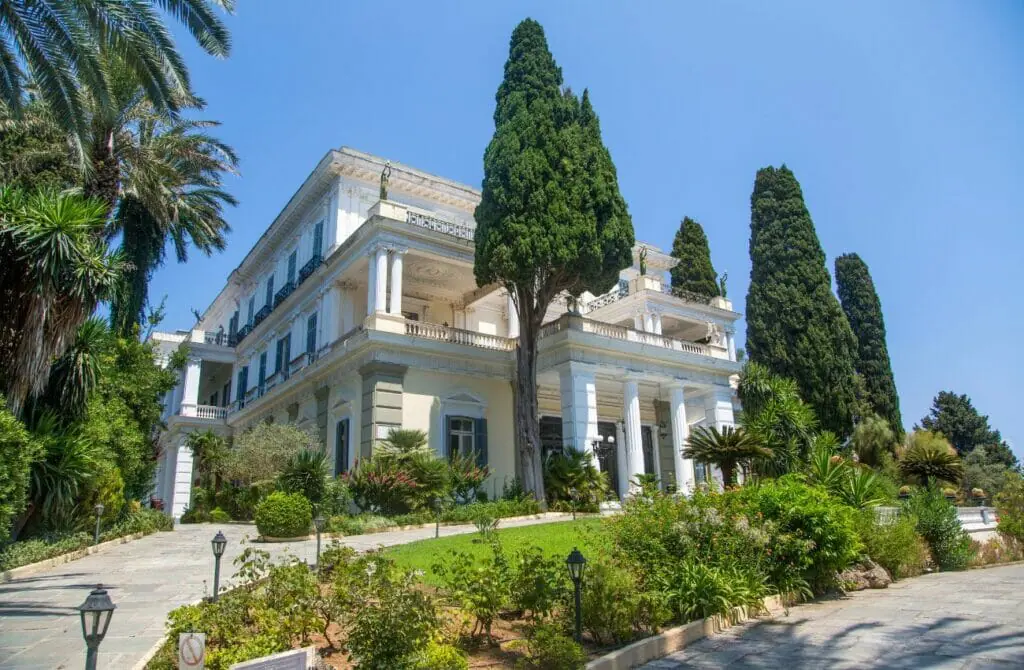 Have you ever dreamed of stepping into a world of pure opulence and luxury, where every detail is meticulously crafted, and every inch exudes elegance and grace? From the moment you lay eyes upon Kaiser's Throne, the sheer majesty and splendor of this awe-inspiring structure sweep you away.
With its towering turrets, glittering fountains, and intricate mosaic work, it's no wonder this incredible palace has become a favorite destination for travelers and adventurers alike.
Kaiser's Throne, situated on the island of Corfu in Greece, is a historical palace constructed during the early 20th century by the Austro-Hungarian Emperor Wilhelm II, who frequently visited the island. The palace, a mixture of neoclassical and Venetian Gothic architectural styles, was designed by Italian architect Rafael Caritto.
Presently, the palace is open to tourists who want to discover its rich history and admire its splendor. Kaiser's Throne is renowned for its impressive gardens, intricate architecture, and stunning vistas, providing a peaceful and serene escape from the daily chaos.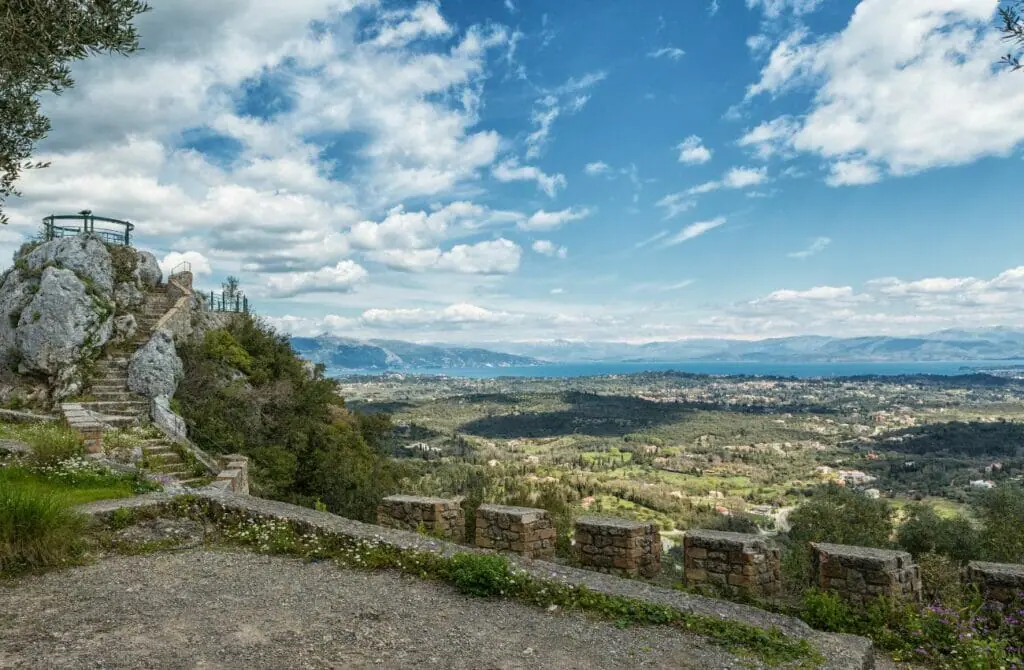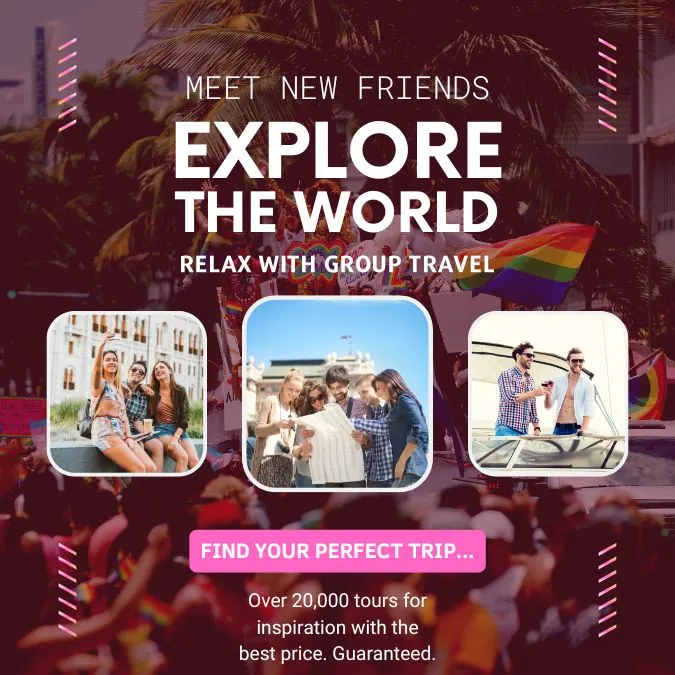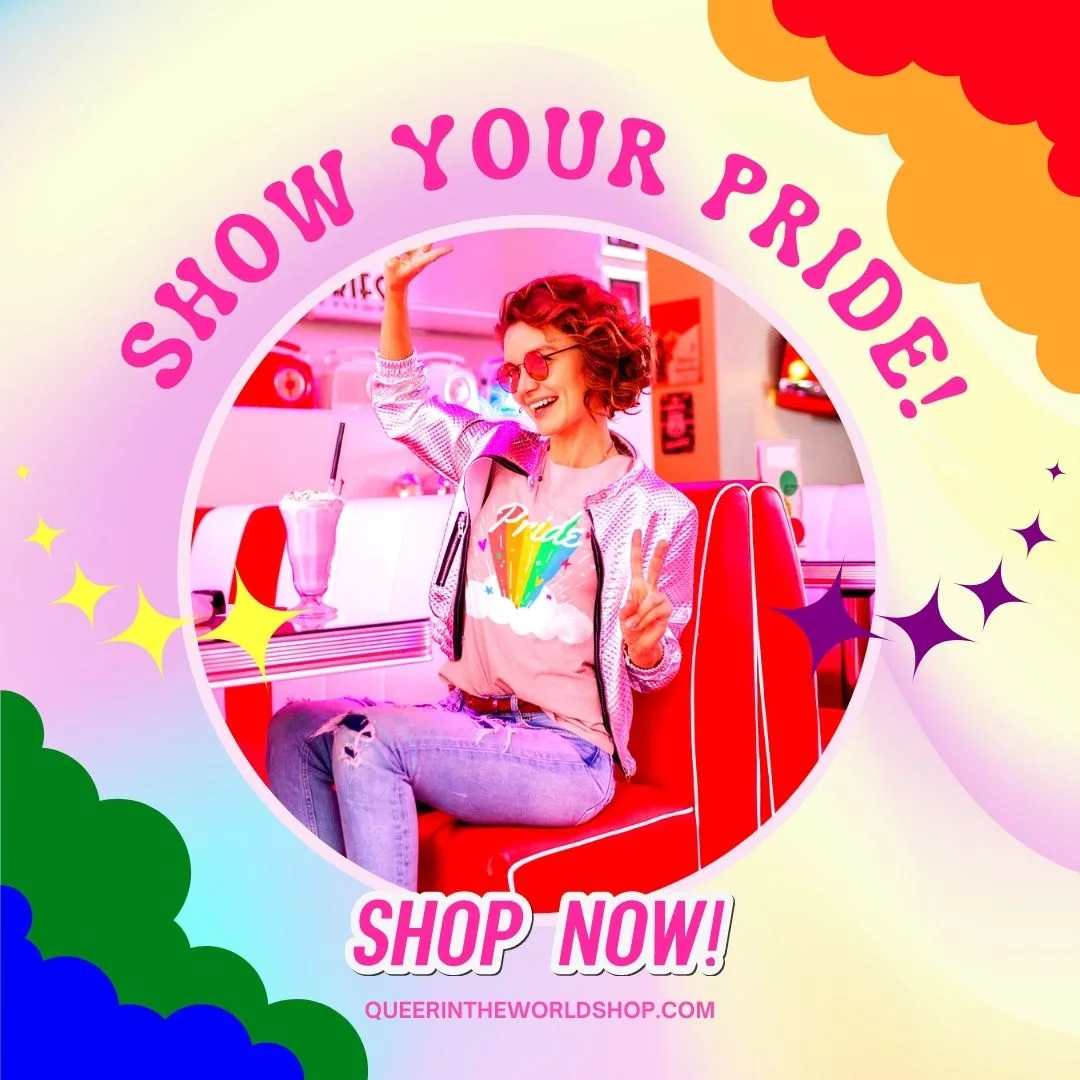 Gay-Friendly and Gay Hotels in Corfu, Greece
Being gay-friendly accommodation means that the establishment is welcoming and inclusive to guests who identify as LGBTQ+. This can include, but is not limited to, having policies and practices that demonstrate a commitment to creating a safe and inclusive environment for LGBTQ+ guests, such as non-discrimination policies and providing support and resources for LGBTQ+ travelers.
Some gay-friendly accommodations may also provide amenities specifically catering to the LGBTQ+ community, such as rainbow flags or literature about local LGBTQ+ events or resources. Furthermore, gay-friendly accommodations may be located in an area known for being LGBTQ+ friendly.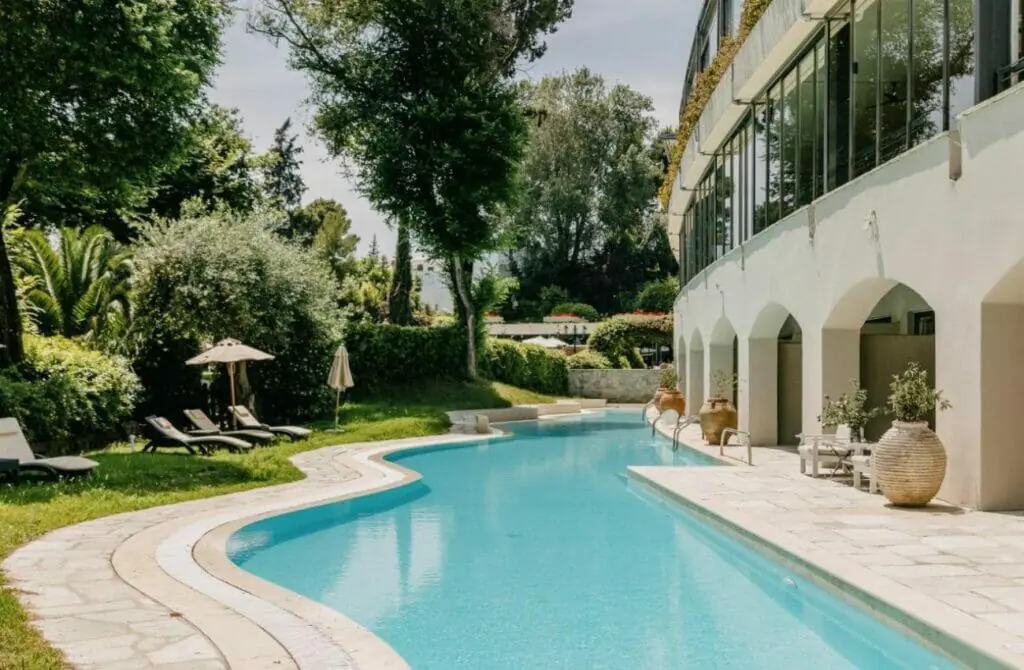 While Corfu does not have any specifically gay hotels or resorts, these are the most fabulous and pro-actively gay-friendly hotels in Corfu. There are also hundreds more hotel and hostel options in Corfu if none of these suit your desired budget, facilities or area – but these are the best hotels according to other gay travelers and us.
Whatever your needs are, Corfu has you covered.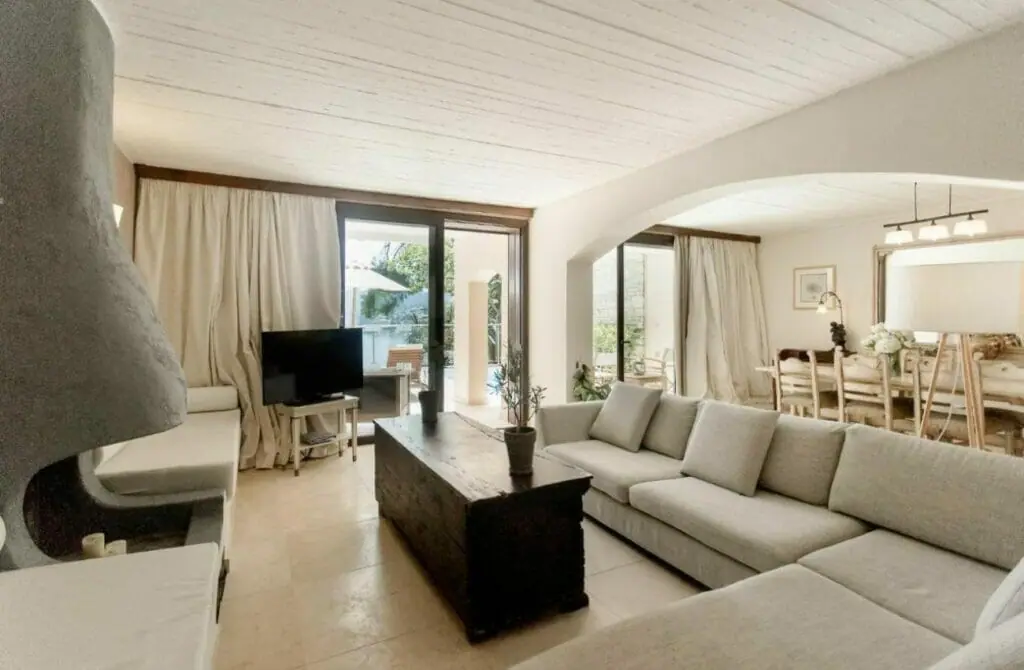 Wake up surrounded by pine trees, cypresses, flowers, and a delightful private beach with emerald waters at the luxury Corfu Holiday Palace. The hotel also offers stunning vistas of the Ionian Sea, the renowned Mouse Island (known as "Pontikonisi" in Greek), and the charming Monastery of the Virgin Mary of Vlacherna.
If you are looking for a place away from the hustle-bustle of the town yet close enough to appreciate all its attractions, this is your stop, as the hotel is located just 4 km away from Corfu Town.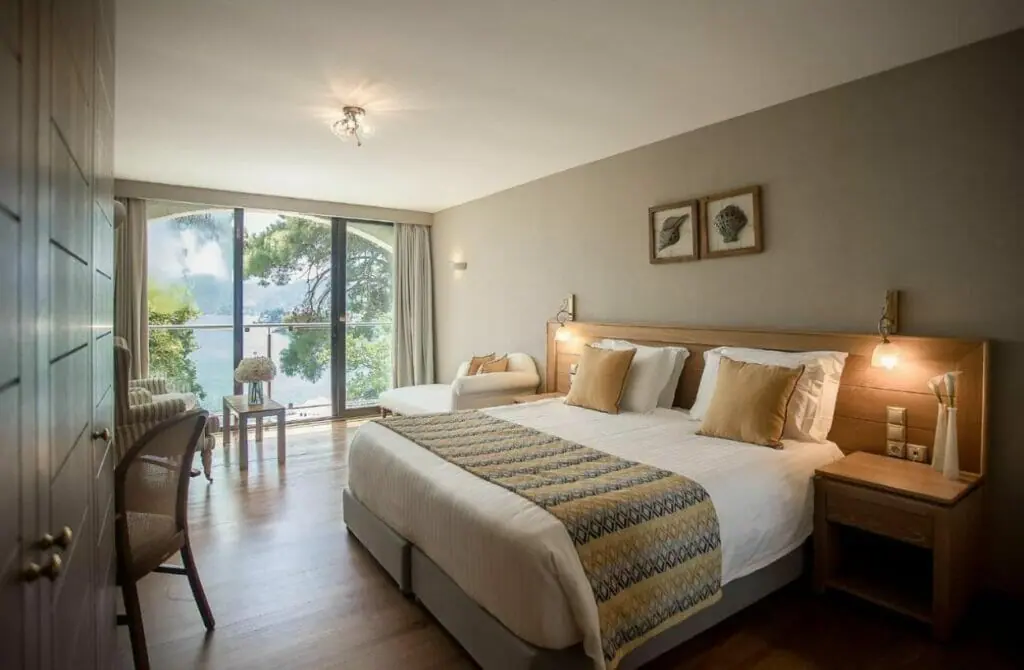 This gay-friendly and adult-only resort offers a romantic ambiance that is unparalleled. The property, which features an ancient Venetian olive grove dating back 500 years, sits on a lush green foothill overlooking a tranquil bay.
Low-rise buildings are scattered throughout the grove, providing stunning views of the still waters from each suite. The resort is perfect for those seeking a glamorous and opulent atmosphere, with fine dining and luxurious decor.
While the resort exudes a sense of aristocratic charm, it also incorporates modern amenities to create a uniquely contemporary experience.
Domes of Corfu, Autograph Collection ☆☆☆☆☆
Domes of Corfu is a luxurious resort that seamlessly blends modern amenities with traditional Greek charm. Nestled on the picturesque Ionian Sea, the resort offers breathtaking views of the turquoise waters and rugged coastline. Guests can indulge in world-class dining experiences at the on-site restaurants, relax by the sparkling infinity pool, or unwind with a spa treatment at the wellness center.
With a range of accommodation options, including private villas with pools, guests can enjoy a personalized and intimate stay. The resort also offers a variety of activities, from water sports to cultural excursions, ensuring that guests have an unforgettable experience.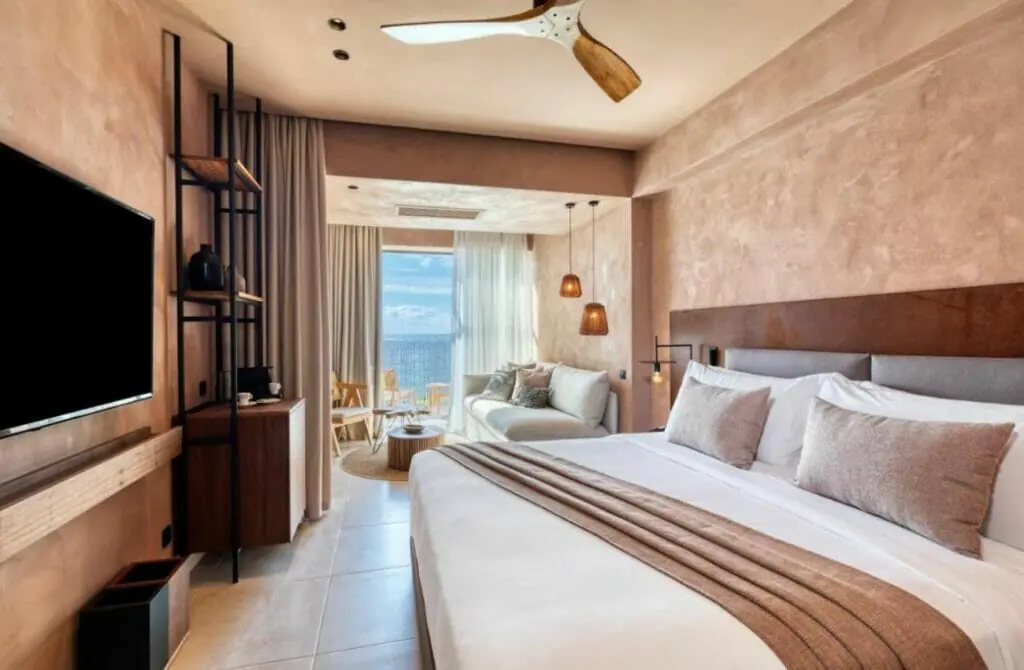 TRYP by Wyndham Corfu Dassia ☆☆☆☆
If you are looking for romantic date ideas within the comfort of your hotel, TRYP has got your back with its effortlessly created romantic vibes. Spice things up with a romantic sauna date with the gloriously stunning beach in the background, or sip fancy cocktails at the rooftop bar while gazing at the stars and stunning skyline of the town.
But that's not all; this gay-friendly hotel boasts a contemporary design with sleek and modern interiors, offering a stylish and comfortable stay.
The next LGBT-friendly hotel on our list stands tall as an emblem of luxury and comfort. This spectacular hotel boasts a unique blend of traditional Greek charm and modern sophistication, with stunning architecture and elegant interiors that leave a lasting impression on its guests.
The Ariti Grand Hotel Corfu has everything you could want from a premium holiday experience, including exceptional service, luxurious amenities, and breathtaking views of the Ionian Sea.
Whether you're looking to relax by the pool, explore the nearby attractions or indulge in world-class dining, the Ariti Grand Hotel Corfu is the perfect place to make your holiday dreams a reality and rekindle the flames.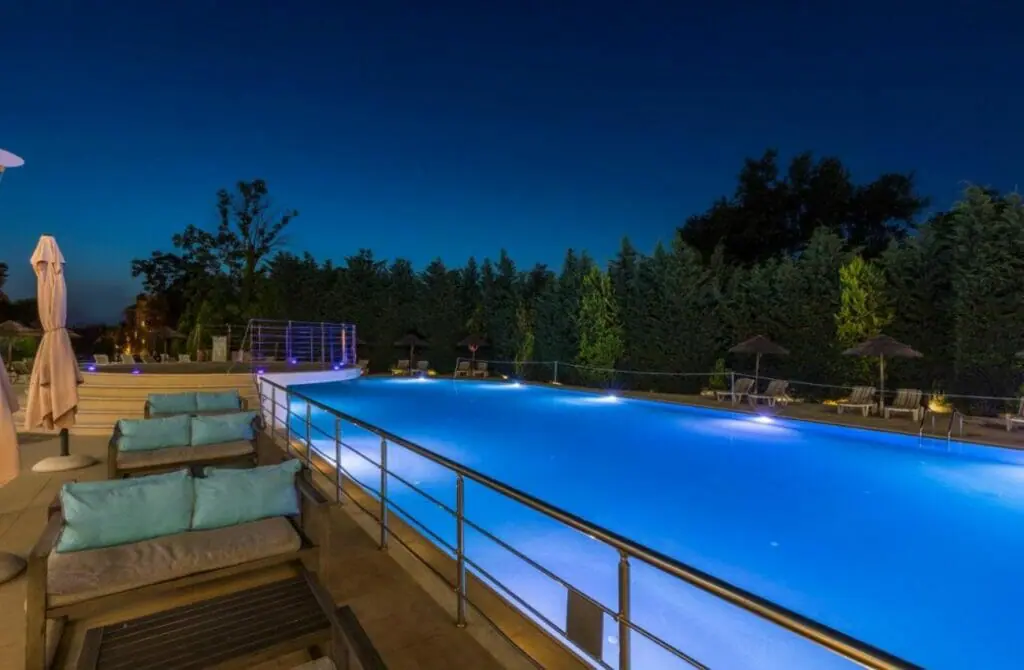 Homely, cozy, pocket-friendly, and welcoming – the Isabella Country House is set in a lush garden surrounded by olive groves and offers a peaceful and romantic retreat for couples. The warm and friendly staff creates a welcoming atmosphere that is inclusive of all guests, including those from the LGBTQ+ community.
Isabella Country House provides a range of comfortable and well-appointed rooms, including suites with private balconies and stunning views of the surrounding landscape. Guests can also enjoy the property's outdoor pool and terrace and the delicious homemade breakfast served every morning.
Or, if you want to get one step ahead and tie the knot with the love of your life, the most picturesque wedding venue in town will be ready to hold the fairytale wedding!
For couples looking for a serene and amorous getaway in Corfu, the Corfu Mare Boutique Hotel offers an intimate and calm ambiance. The hotel boasts charming and stylish interiors that complement its spectacular location with views of the Ionian Sea, making it an idyllic setting for a romantic holiday.
The rooms are elegantly decorated and spacious, with private balconies that provide sea or garden views and modern amenities that guarantee a comfortable stay. Guests can also enjoy the restaurant, which serves local and Mediterranean cuisine, ideal for a romantic dinner for two.
The Corfu Mare Boutique Hotel's combination of luxurious amenities, intimacy, and stunning scenery make it an excellent option for couples seeking an unforgettable and romantic vacation in Corfu.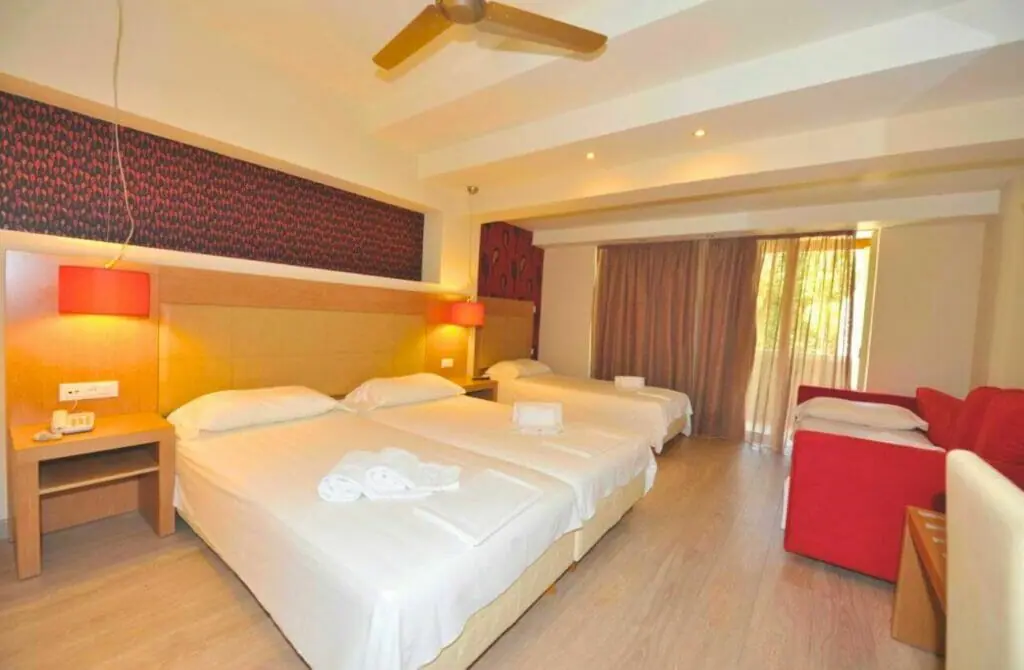 Gay Nightlife in Corfu, Greece
The island's beaches are also well-liked by gay tourists, and Corfu Town, the capital, has several gay-friendly bars and clubs. Gay night hawkers can engage in various midnight activities after enjoying the sunsets and a delicious dinner.
Many homosexual couples and singles, as well as gay nudists, use its beaches. There are dunes beyond the beach, which are extremely private and pleasant to be in when there is wind. There is also some cruising and action there. On a gravel road, you can take a car to the southernmost point.
Generally speaking, Corfu is a warm and inclusive place you must visit.
Exploring the gay and gay-friendly nightlife in a new city can be one of the most exciting and rewarding experiences while traveling – and Gay Corfu is no exception. Not only will you have the opportunity to meet new people and make friends, but you'll also get a taste of the local culture and learn more about the city's LGBTQ+ community.
Going out and experiencing the queer and queer-friendly nightlife in a new city can also be a great way to break out of your comfort zone and try new things. Whether dancing the night away at a gay club or mingling with locals at a gay-friendly bar, you'll have the chance to make memories and create lasting connections.
So, don't be afraid to step out of your comfort zone and explore the gay and gay-friendly nightlife in Corfu. You'll be glad you did!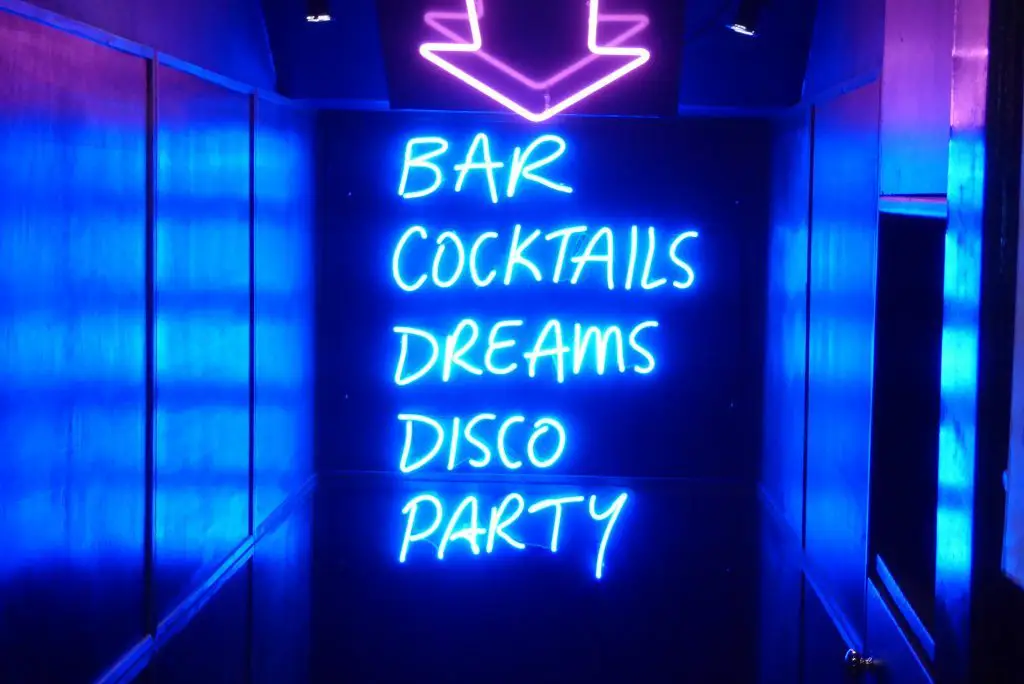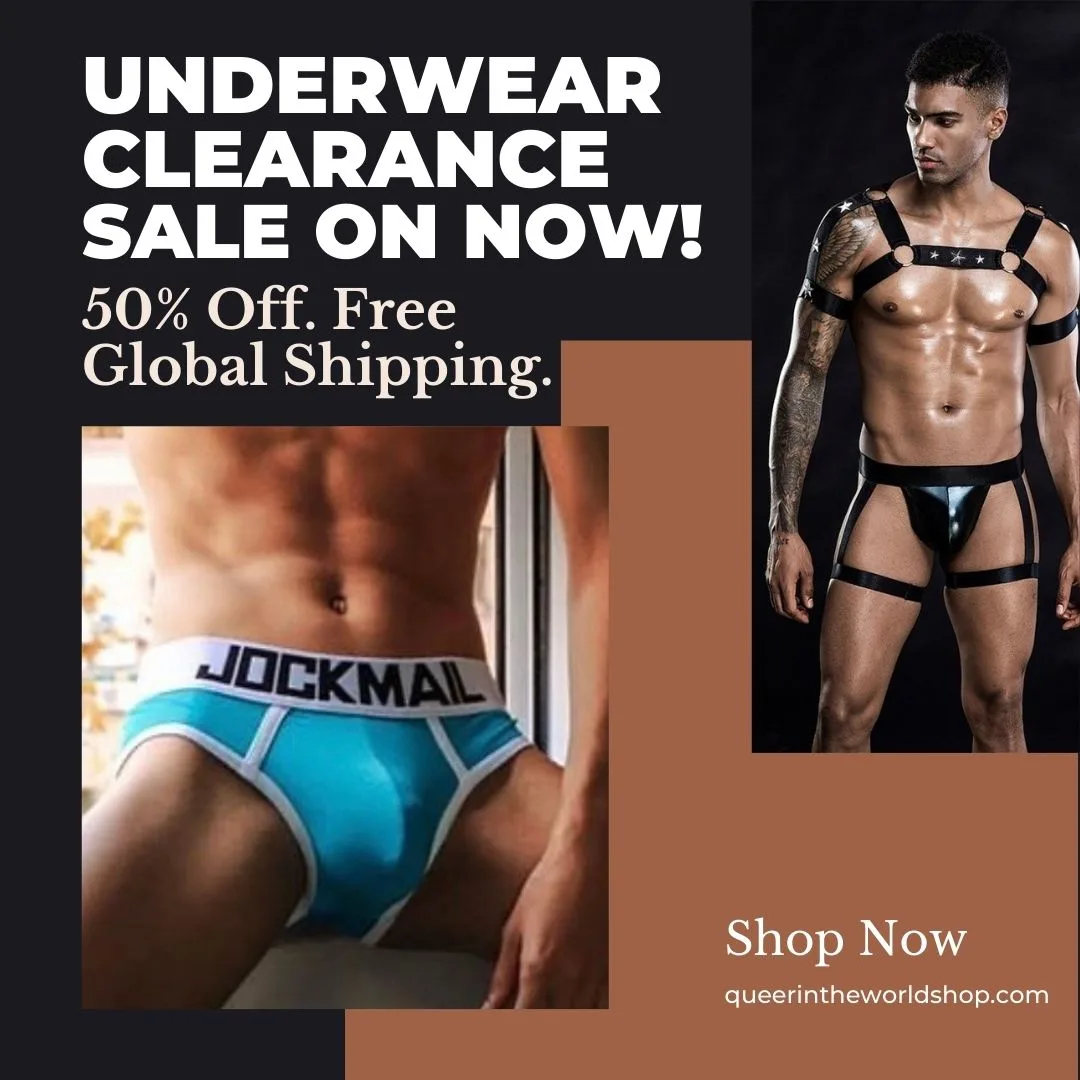 Tartaya is a great bar in Corfu with an exotic concept that serves complicated drinks and cocktails till the early hours, with live entertainment, shows, and a welcoming atmosphere for meeting new people is Tartaya!
They offer a variety of alcoholic and non-alcoholic beverages, which makes them quite appealing from an aesthetic standpoint. A warm and inviting establishment with delicious drinks, a terrific atmosphere, and a peaceful location that is worth finding!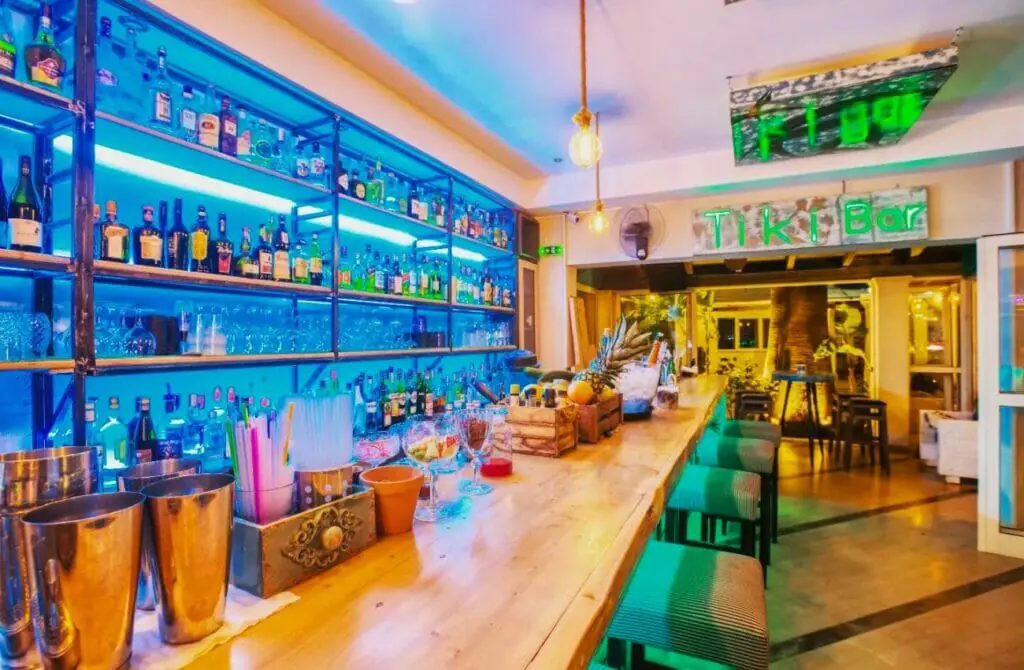 You won't soon forget a nice beer that you can taste. This establishment is renowned for its excellent customer care and helpful personnel, always willing to assist you. Prices are average from the perspective of the guests. You might wish to stay a little longer than you had originally intended because of the pleasant ambiance.
From the moment you arrive, you are made to feel quite welcome here. Facebook users who have been to Maria's well-known pub karaoke give it a rating of 4.7.
At North Corfu, Acharavi's beachfront is where you'll find Fuego, a beach bar, restaurant, and cafe. As guests enjoy the hospitality of Fuego, the sea is so close that you can feel a gentle wind at night.
A live DJ spinning the newest dance-pop hits creates a pleasant environment. Dim lighting also adds to the ambiance. Compared to other bars in Corfu, standards are manufactured with superior quality.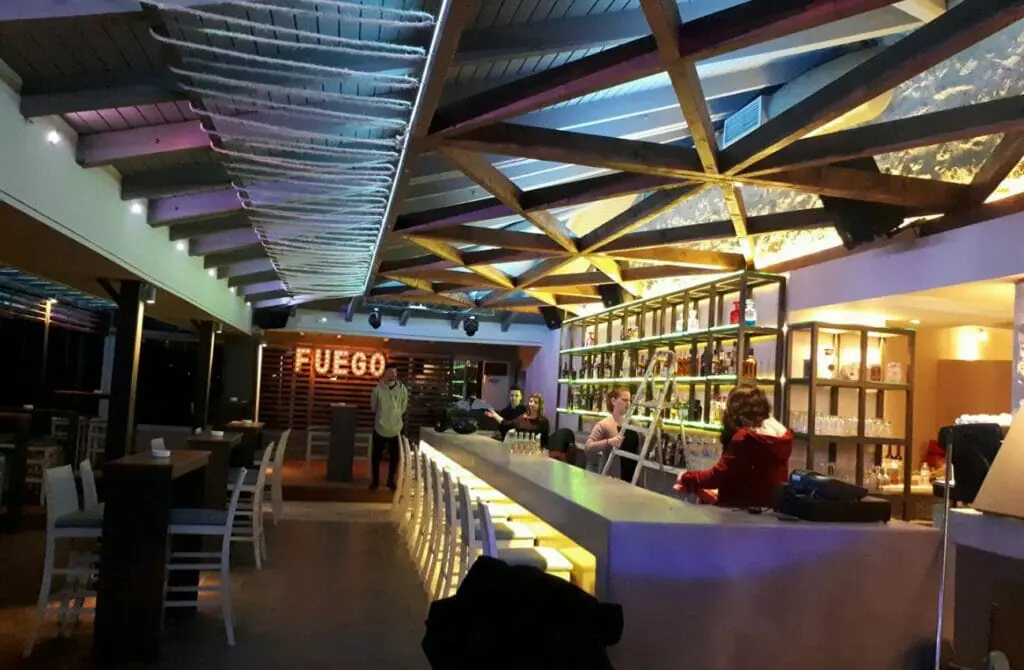 After a long stroll around Corfu Shell Museum, come here to relax. Mediterranean and Greek cuisines are offered at this restaurant. For a break, stop into Barbayianni's Cheers Bar and sample some tasty food. It's time to sample some tasty beer or fine wine.
The placement of this place makes it simple to find. The friendly crew puts in a lot of effort, never loses their enthusiasm, and makes this location great. People reportedly appreciate the environment. Yet, Google users gave this eatery a below-average rating, indicating that they did not think highly of it.
La Grotta is a fantastic location with spectacular views. The renowned La Grotta beach bar, where you can have beverages or food, is just above the beach. The bar offers sun loungers on wooden platforms resting on the rocks under parasols. You have to descend roughly 140 steps to get to the beach.
The bay is illuminated at night, making it the perfect location for a drink beneath the stars. It is undoubtedly one of nature's undiscovered treasures and a must-see if you're nearby.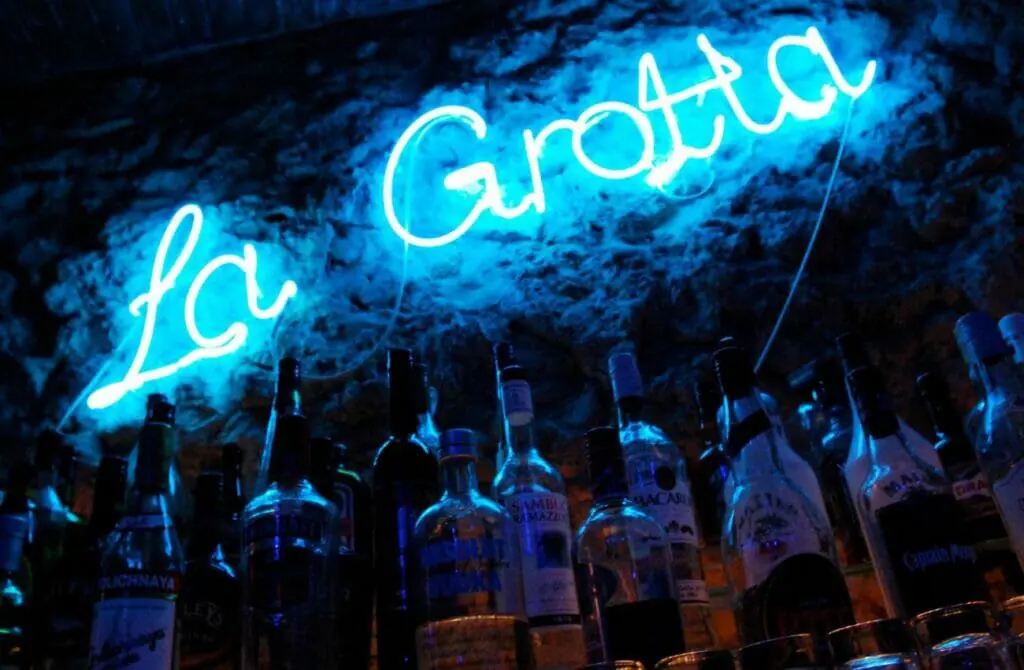 Bristol Café is worth visiting. You may place a perfect-cooked order. It's worth checking out the good draught beer, wine, or gin here. You may enjoy excellent espresso, cappuccino, or tea at this establishment.
Due to its excellent position, Bristol Cafe is simple to spot. The friendly crew makes this establishment great by working hard and remaining upbeat. A strong suit that greatly contributes to the success of this establishment is the excellent service. Here, prices are thought to be appealing. This location has a peaceful ambiance and lovely furnishings. Visitors to this pub gave it a 4.4 rating on Google.
It is a 24-hour cafe bar restaurant equipped to handle even the most demanding customers' needs. One can begin a nourishing day early in the morning with a rich morning, and the culinary world of the sea is given homage here.
Fresh fish and seafood are introduced to raise the standard for raw materials, while the targeted and non-free list proposals are made one at a time. Evenings filled with events are spectacular, while cocktails amaze a range of clean drinks.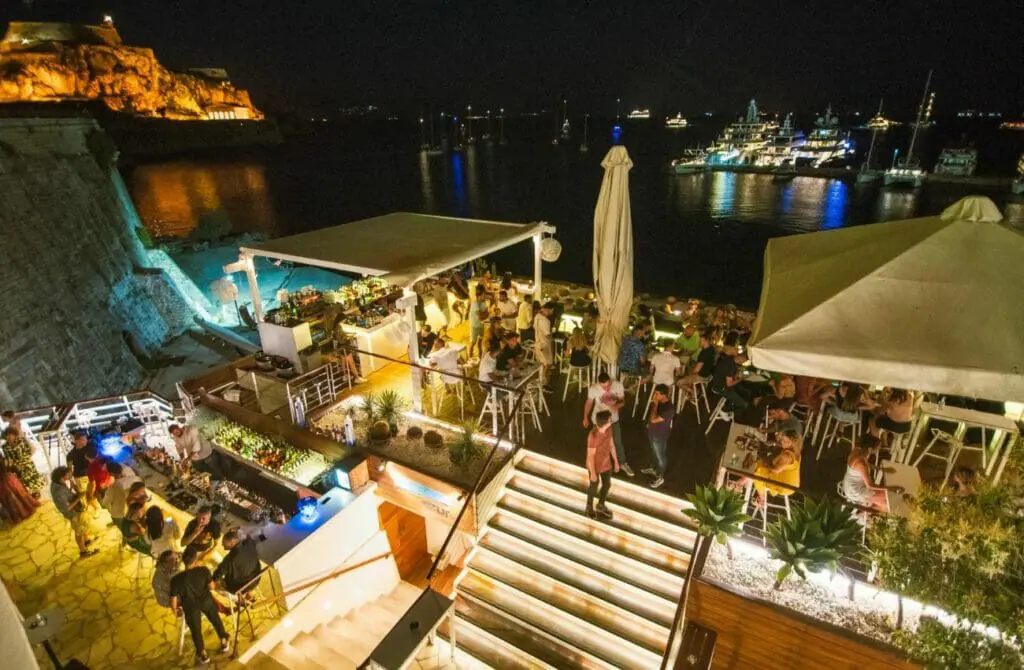 Gay Suana and Gay Cruising in Corfu, Greece
A bathhouse featuring saunas and jacuzzis specifically designed for gay people is available in different regions of Corfu. Don't worry; we've collected a list of the top saunas and cruising locations in Corfu that you might want to check out.
If you wish to relax, you may be able to do so by finding a great Gay Sauna in Corfu at Menkarta by looking at the information below. These sauna facilities are a fantastic approach to help relax muscles and ease any associated pain when they are tense.
When traveling to a new city, it can be exciting to head out for more than just a stiff drink. One aspect of the Gay Corfu scene that many queer men enjoy is visiting gay saunas and cruising clubs.
Sure, the sauna culture in Corfu is not as hedonistic as in Amsterdam, Barcelona or Berlin, but these venues still offer a chance to meet new people, socialize, and engage in sexual activity – without resorting to gay hookup apps.
However, it's important to remember that these venues can vary greatly in terms of atmosphere, clientele, and rules, so it's a good idea to prepare yourself before visiting. If you are apprehensive, we advise studying our guide to visiting a gay bathhouse for the first time, which should help set your mind at ease and always practice safe sex.
Additionally, it's important to be aware of and respect local laws and customs regarding gay venues and sexual activity. With a little bit of planning and an open mind, visiting gay saunas and cruising clubs can be a fun and exciting part of your gay Corfu travel itinerary.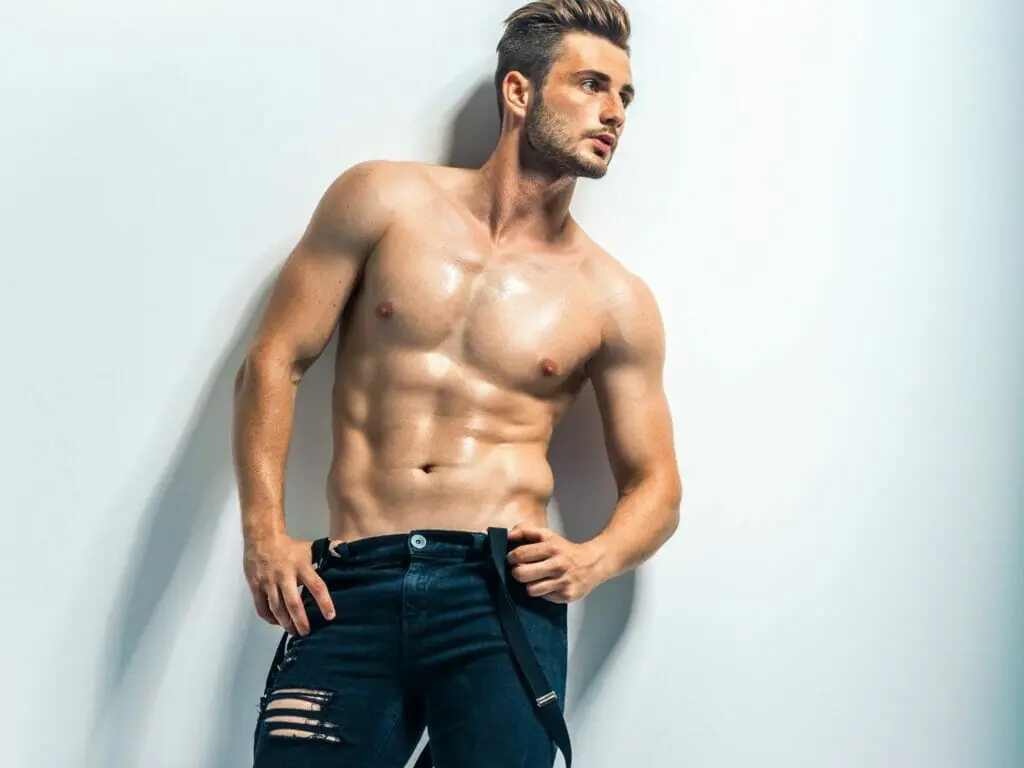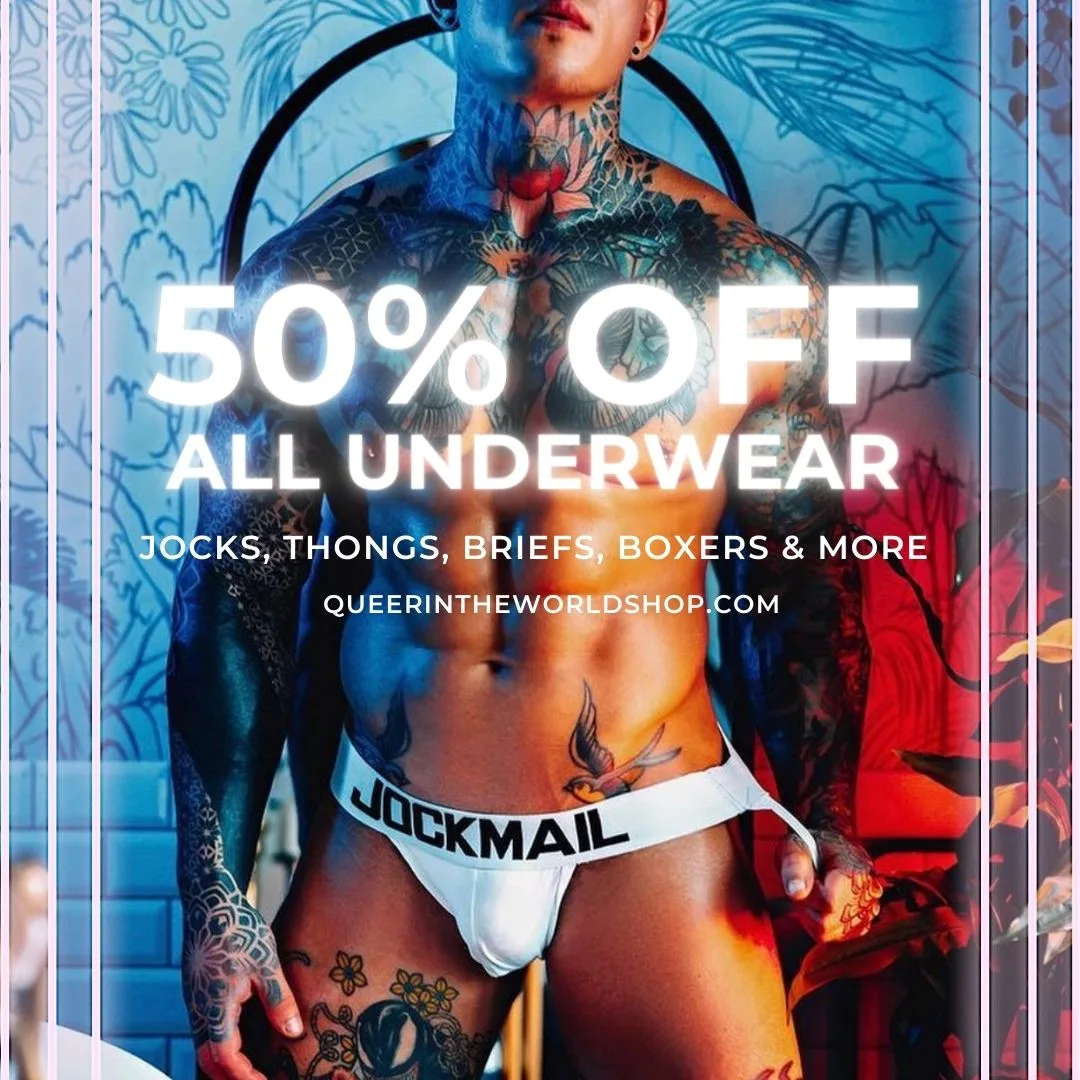 Whenever you visit Ira Baths, something entertaining is going on, so you never know where the evening may lead you! If you have never been there, you should gather some solid details on the place to ensure that it has all you hope for. It is close to Zinonos 4, Athina.
Every land is different, and it's essential to know its customs, so when you visit Corfu, then attempt to discover more about its gay culture if.
Pride Travel and Events
It doesn't get much more exciting than Athens for the LGBTQ community, who are generally seen as comfortable climate travelers, so stop by Pride Travel whenever you want to have the best free time. Every Corfu gay bar is a wonderland of gorgeous men looking for males because of the amazing city views, the increased availability of mind, and the amazing sightings aside.
Because Flex Polykleitou Monastiraki is one of the most reasonably priced locations with a better band of people as a considerable collection, Athens, the town of Corfu, has recently added many fascinating gathering areas like this. Learn about the main events in the major cities before visiting any LGBT location in Corfu because it is safer to know where you're going.