Jerusalem is one of the most religious places on the earth since it is home to some of the world's holy sites for the faiths of Christianity, Islam, and Judaism. Since religion plays such an important role in the city, as one would expect, it is a highly conservative city. While there may seem to be no space for the LGBT community, there is a thriving gay culture if you search through the holes left by Jerusalem's centuries.
Jerusalem is situated in the western area of Asia. It is situated on a plateau in the Judaean Mountains, halfway between the Mediterranean and the Dead Sea. According to common belief, having sexual relations with another person of the same gender might cause earthquakes. Hilarious!
Jerusalem is regarded not just as the Holy City but also as the capital of Israel. As such, it is a political powerhouse that attracts Israelis of all stripes. Although Tel Aviv, an hour's drive to the east, is dubbed Israel's "gay mecca," Jerusalem is home to a thriving cool-kid subculture that defies religious stereotypes.
These glimpses of LGBT life, though, may be tough to find if you aren't searching in the appropriate locations.
Jerusalem is a difficult city to live in; not only is it at the center of every conflict that afflicts the country, from the conflict between Israel and Palestine to the conflict between the state and religion, but it is also at the center of the conflict over LGBT rights and the safety of queer people. It's worth noting that sexual behavior between persons of the same gender became legal in 1988.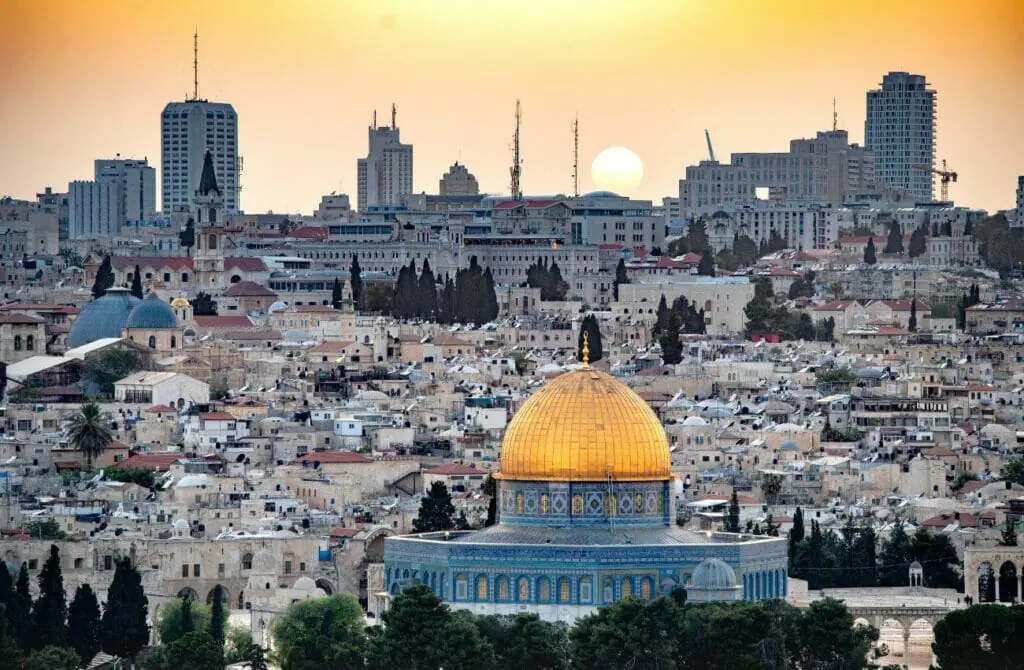 Moreover, it is often assumed that Israel was the first Asian country to provide legal recognition to same-sex marriages. Even though same-sex marriages are not permitted in Israel, Israel recognizes same-sex weddings in other nations.
Since 2002, Jerusalem has hosted an annual celebration of LGBTQ+ rights, despite facing intimidation from various organizations, including ultra-Orthodox Jews. Members of the LGBT community, however, have a far more difficult time finding acceptance in Jerusalem, which is regarded sacred by Jews, Christians, and Muslims alike, than they do in coastal places like Tel Aviv.
Jerusalem is a city of wonders, with a vibrant culture and a rich history. When they interact on the bustling city streets and cobblestone alleys that accompany ancient historical buildings, Jewish and Arab influences collide. Surprisingly, LGBT tourists will have a fantastic time exploring this historic city.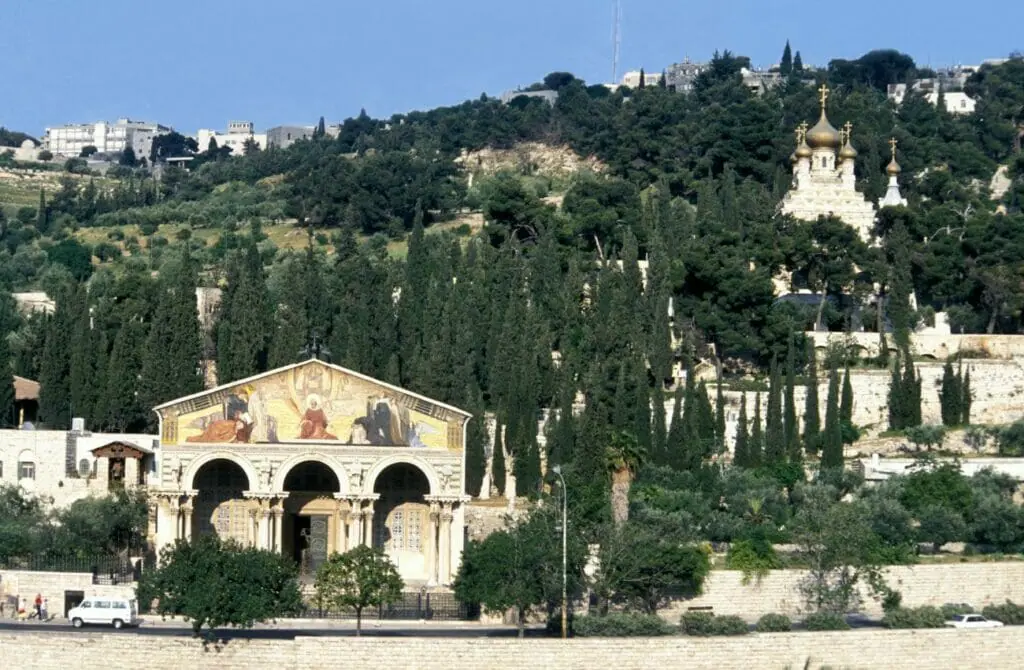 Attractions in Gay Jerusalem, Israel
As a new visitor to Gay Jerusalem, there are plenty of things to see and do, regardless of your sexual orientation. One of the best ways to experience any new city is to visit some of its most iconic landmarks and attractions, including historical monuments, museums, and art galleries.
We also love gazing at architecture up close, exploring parks and gardens, sampling the local cuisine, visiting local markets, and attending cultural events such as festivals, concerts and shows.
Even as the out-and-proud queer we are, we still love to explore the city and its culture in the same way as everyone else. Doing so allows us to learn more about the city and its people and gain a deeper understanding of the local culture. As such, these are our favorite must-see attractions in Jerusalem.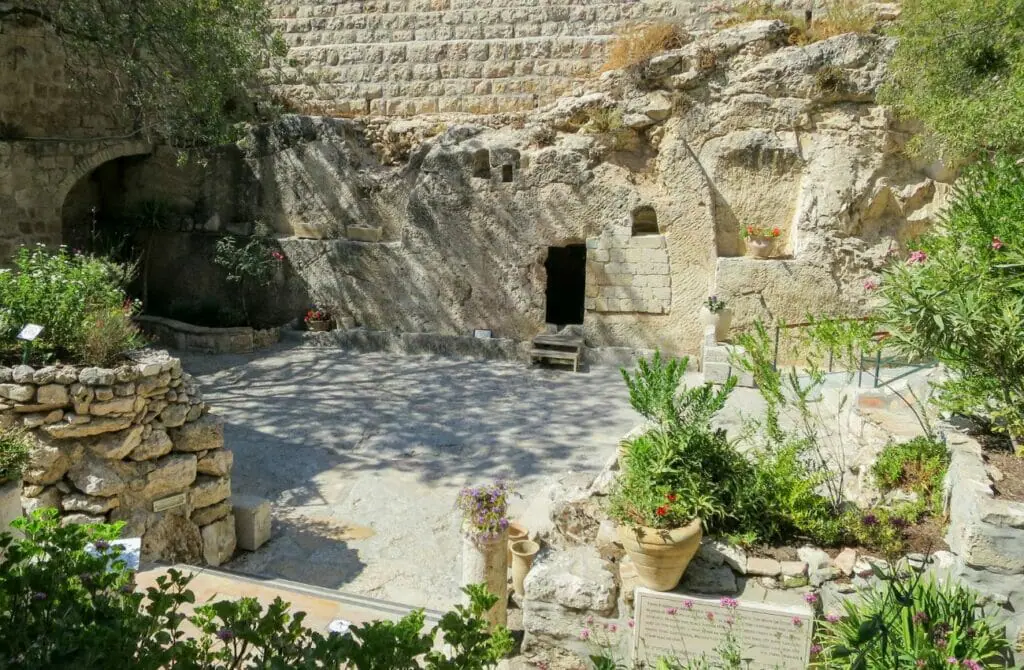 It's incredible to witness Judaism's holiest site, and the atmosphere is tremendous as Orthodox Jews rock back and forth while praying at the Western Wall.
Although barely sustaining one side of the Temple Mount, the location serves as a synagogue. It is known as the Wailing Wall because Jews worldwide have come here to mourn the temple's destruction in 70 CE Visitors to Jerusalem should visit the many worship sites and experience the eerie atmosphere.
This is a must-see attraction. You could even write a prayer and slip it into one of the gaps in the big white granite wall.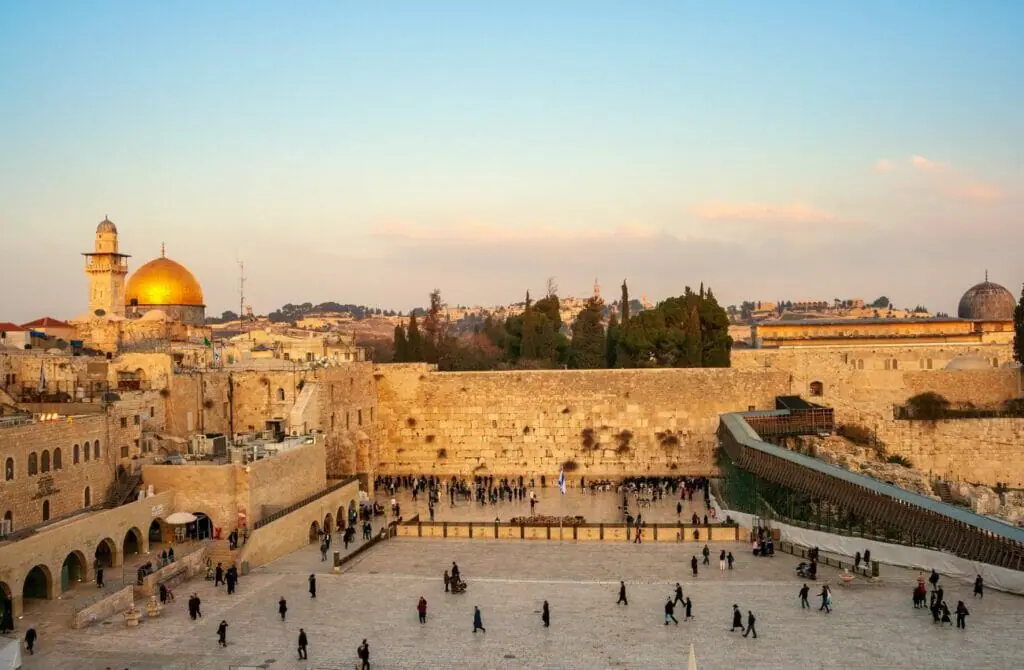 The Church of the Holy Sepulchre houses Christendom's holiest site: the traditional site of Jesus Christ's crucifixion and resurrection. In Jerusalem, you should walk inside to feel the lonely and frightening atmosphere.
The overcrowded church is governed by various Christian religions, who grudgingly split the tasks among themselves. The church was dedicated in 335 AD, although it has been subjected to different phases of destruction, damage, and repair throughout the centuries.
When you eventually reach the church after passing through the medieval stone courtyard, you will have a wonderful experience. The atmosphere is creepy and serene despite the enormous number of people there. The sight of the Edicule shrine, which is said to represent the place of Jesus' empty tomb, will send shivers down your spine.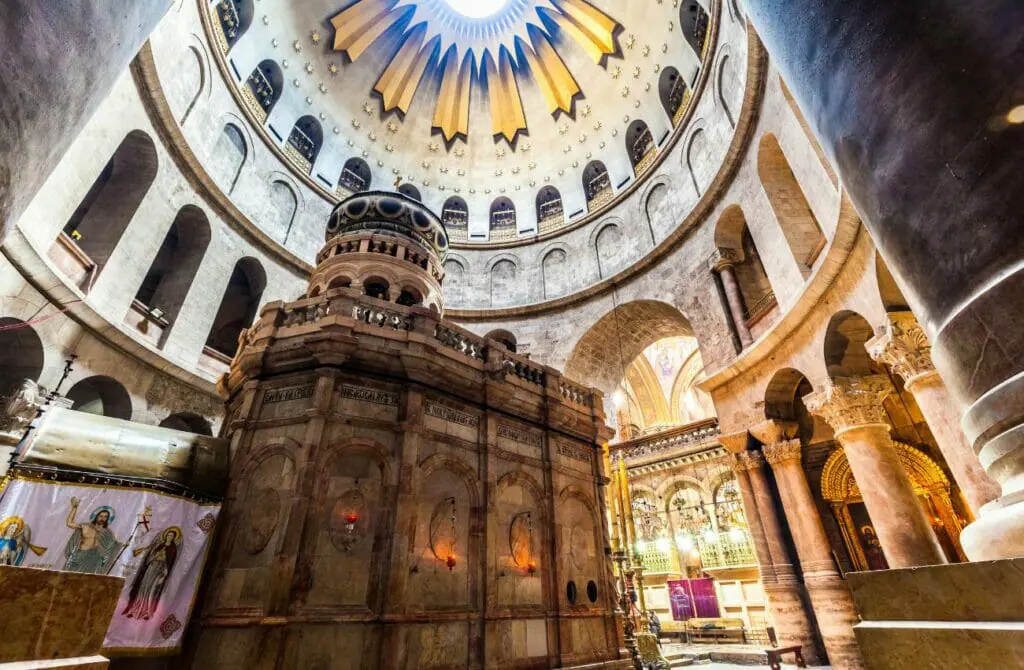 Damascus Gate
The Damascus Gate, located in the city's northwest wall, is one of the most significant entrances to Jerusalem's Old City. It features superb crenulations and is bordered on each side by two towers, making it a breathtaking sight.
The current gate was built in 1537 and has withstood several battles and invasions. Excavation finds indicate that a gate existed in this area as early as 130 CE. It's an incredible experience to walk through it since you're following in the footsteps of many people who came before you.
Strolling along the ramparts provides a magnificent perspective from above. It's incredible to go through it because you're following in the footsteps of so many individuals who came before you.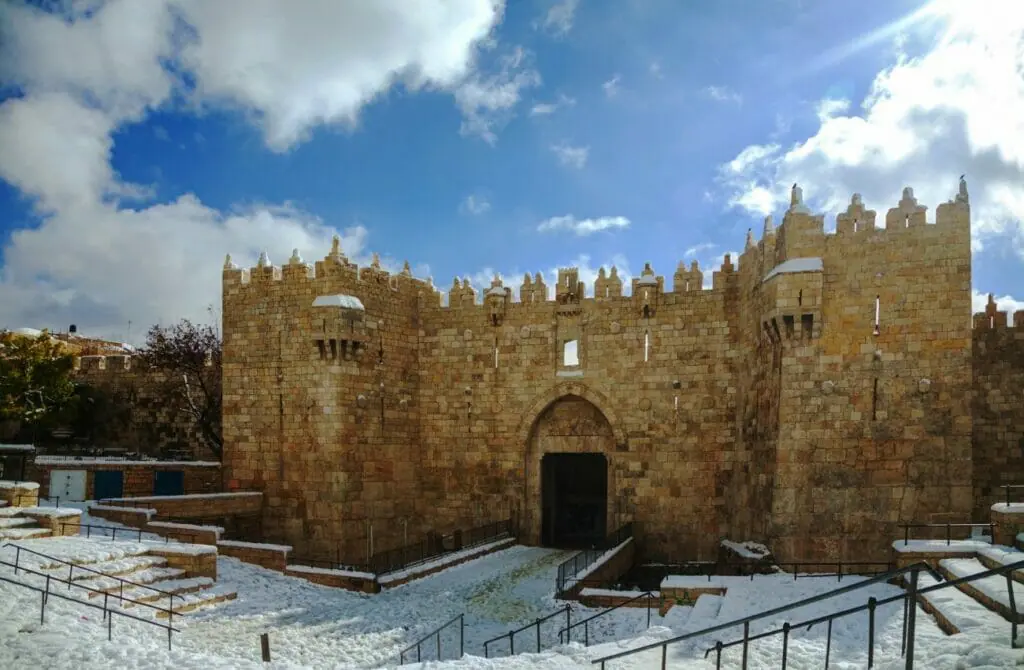 Mahane Yehuda Market
It's a lot of fun to go to this bustling market, which has been present since the Ottomans. The colorful stalls sell delicacies, from fresh fruits and vegetables to baked products and freshly squeezed juice.
The Mahane Yehuda Market is divided into different sections and offers a true peek into life in the Holy City. Butchers occupy some of the market's alleys, while merchants selling apparel and coffee occupy others. The market transforms at night, attracting many tourists owing to the high quality of its restaurants and bars.
The Mount of Olives, situated beyond the walls of the Old City, offers breathtaking views of Jerusalem. The slope of this building provides stunning views of the Temple Mount and the gleaming Dome of the Rock.
It is home to a large Jewish cemetery and various churches, including the beautiful Russian Orthodox Church. It is not only a beautiful spot to visit, but it is also rich in history and religious importance. Mount of Olives Cemetery is the world's oldest cemetery still in use. Therefore if you have the chance, you should go there.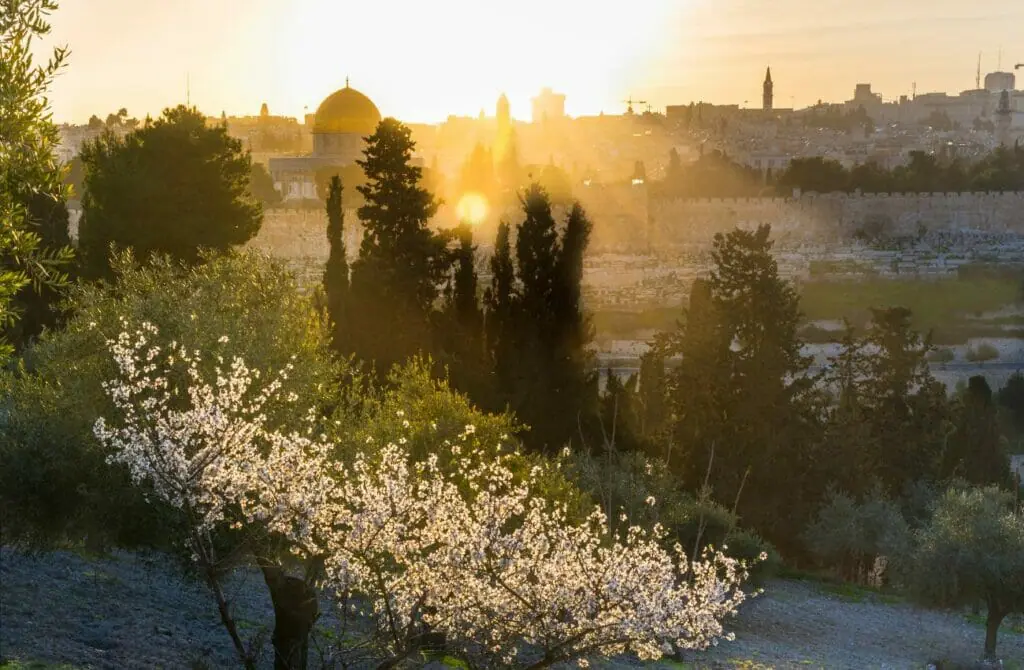 The City of David is one of Jerusalem's most important historical sites. Yet, it is also a controversial attraction owing to its current location in an illegal Israeli colony.
King David founded the first colony in what is now the city of Jerusalem here, right outside the walls of the Old City. You may use one of the ancient stone tunnels to find your way through the rocks and trash. Hezekial's Tunnel, previously an aquifer, is an excellent site for adventure-seeking people. Water periodically reaches your legs as you wade onward in the dark, holding a torch.
The Tower of David, also known as the Jerusalem Citadel by some, is a fascinating tourist location that offers some of the best views of the Old City and is worth visiting. Some of the artifacts unearthed in the dig date back over 2000 years.
The current citadel dates from the Mamluk and Ottoman periods and was built on top of much older defenses. It's been preserved in astonishingly good condition. The Tower of David Museum is located on the premises. It offers visitors an engaging look into Jerusalem's history spanning over 4,000 years through holograms, interactive exhibits, and maps.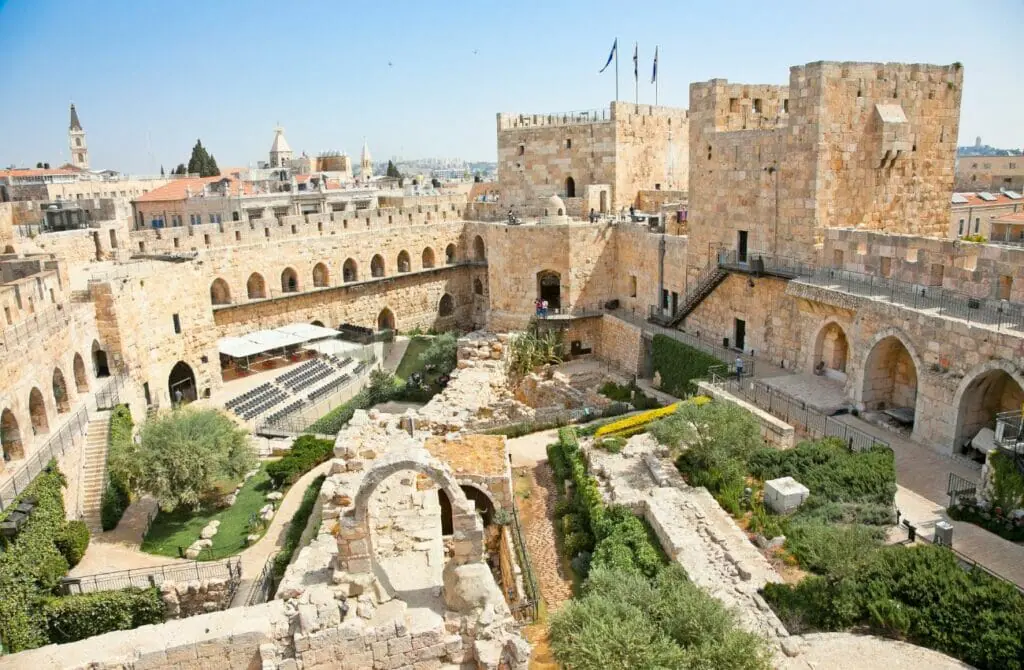 Via Dolorosa
The 'Road of Sorrow' is a historical path that runs through Jerusalem's Old City. It is popularly believed that Jesus went along this route on his way to his crucifixion, thus the street's name. Pilgrims and tourists alike may walk along Christ's footsteps by starting at the Lion's Gate and making their way to the Church of the Holy Sepulchre, which is said to be the spot where Jesus was crucified.
Nine stations along the Via Dolorosa symbolize various phases of his journey; five stations are inside the cathedral itself. Every Friday, there is a procession that passes along the walkway. Participating in it will give you a strong sense that you have traveled through time to a different age.
The magnificent splendor of the Dome of the Rock, which lies atop the Temple Mount and can be seen worldwide, is well recognized. It is considered one of the most identifiable sites in all of Jerusalem.
The temple was built between 688 and 691, and it contains a stone slab that Muslims believe was the platform from which the Prophet Muhammad ascended to heaven. Although only Muslims are admitted inside, the Dome's façade is breathtaking. The walls are adorned with dazzling blue mosaics, and above the tower is a gold-plated dome that looks out over Jerusalem.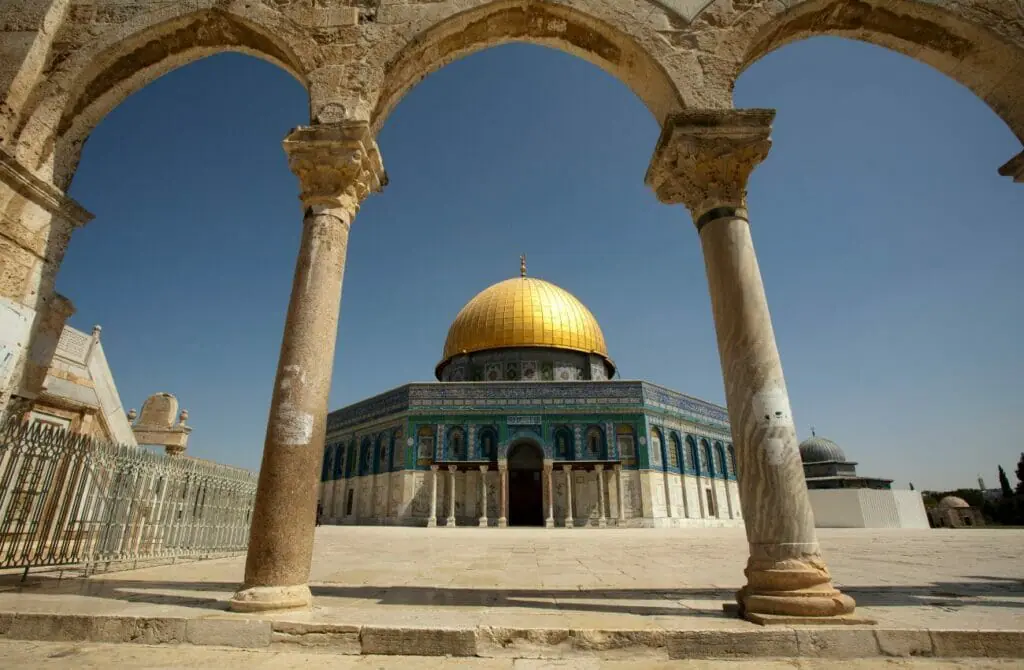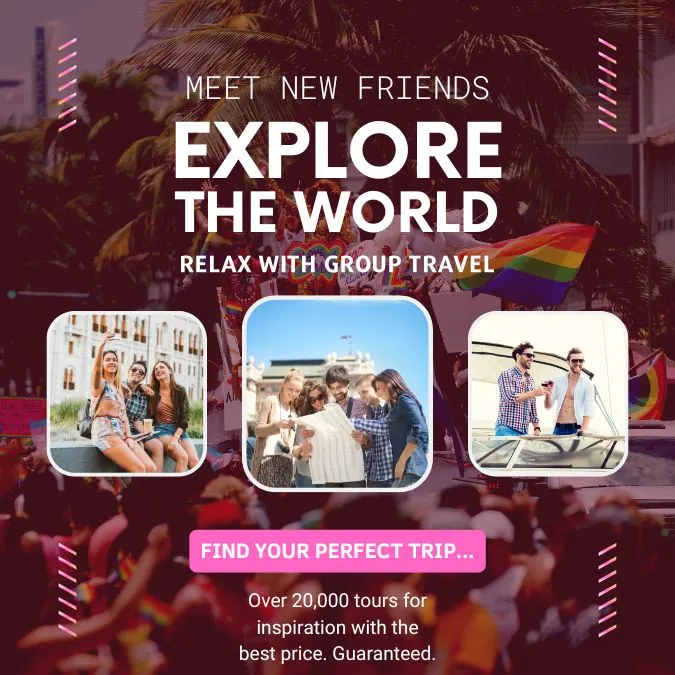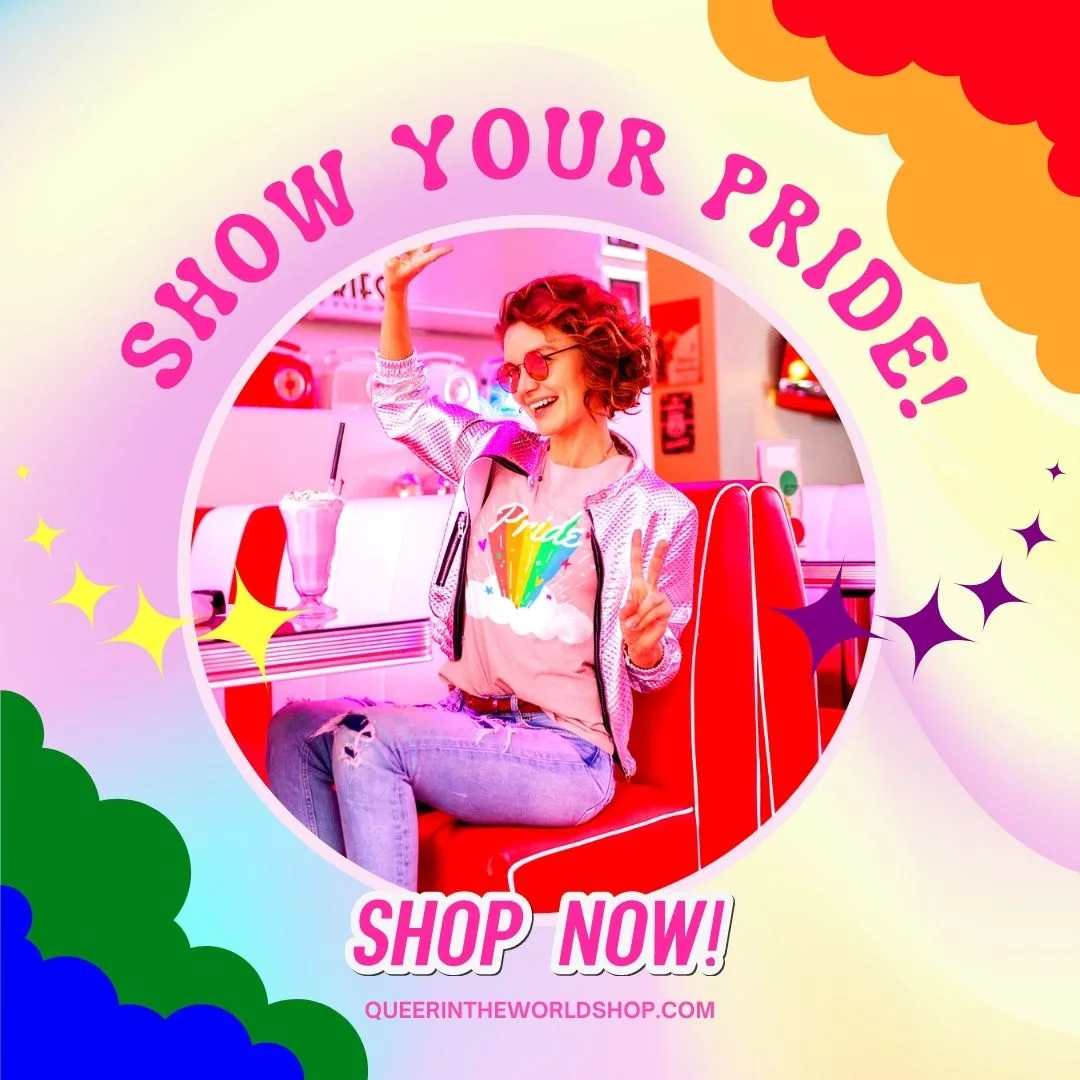 Gay-Friendly and Gay Hotels in Jerusalem, Israel
Being gay-friendly accommodation means that the establishment is welcoming and inclusive to guests who identify as LGBTQ+. This can include, but is not limited to, having policies and practices that demonstrate a commitment to creating a safe and inclusive environment for LGBTQ+ guests, such as non-discrimination policies and providing support and resources for LGBTQ+ travelers.
Some gay-friendly accommodations may also provide amenities specifically catering to the LGBTQ+ community, such as rainbow flags or literature about local LGBTQ+ events or resources. Furthermore, gay-friendly accommodations may be located in an area known for being LGBTQ+ friendly.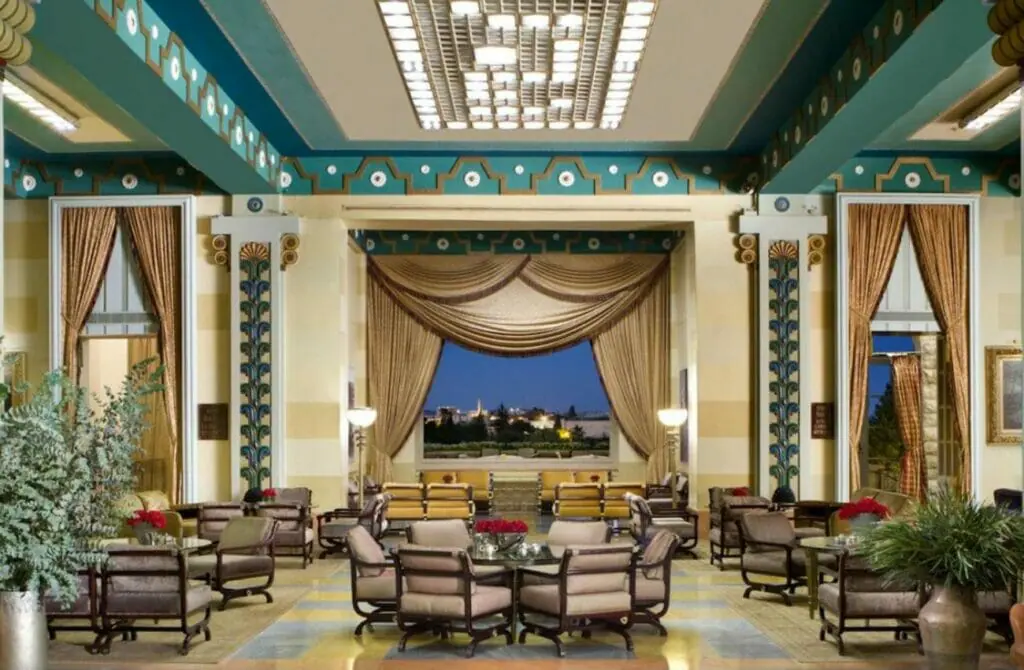 While Jerusalem does not have any specifically gay hotels or resorts, these are the most fabulous and pro-actively gay-friendly hotels in Jerusalem. There are also hundreds more hotel and hostel options in Jerusalem if none of these suit your desired budget, facilities or area – but these are the best hotels according to other gay travelers and us.
Whatever your needs are, Jerusalem has you covered.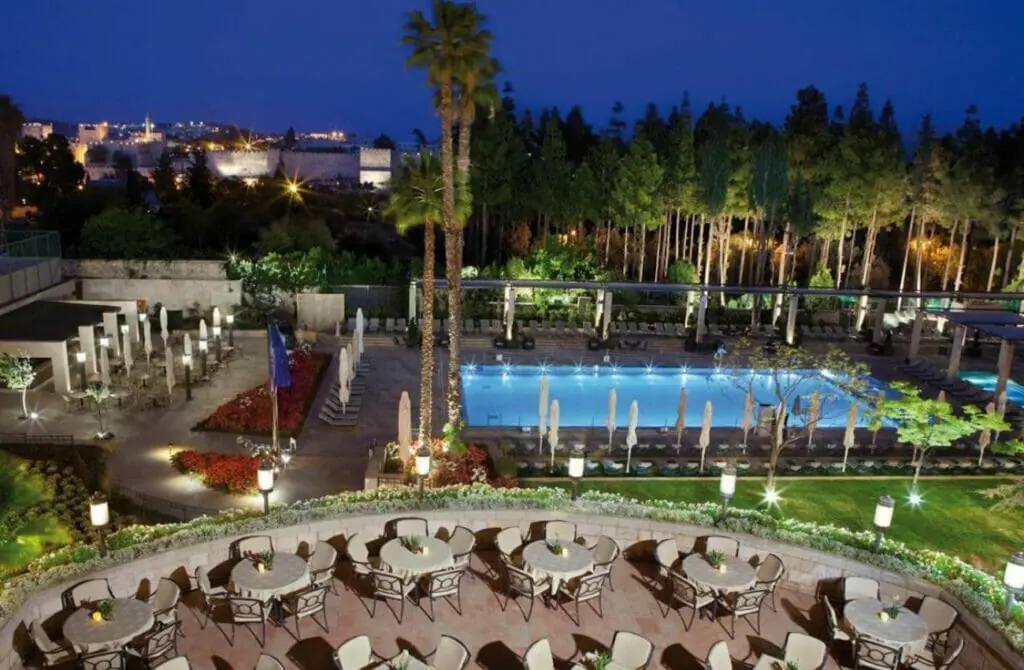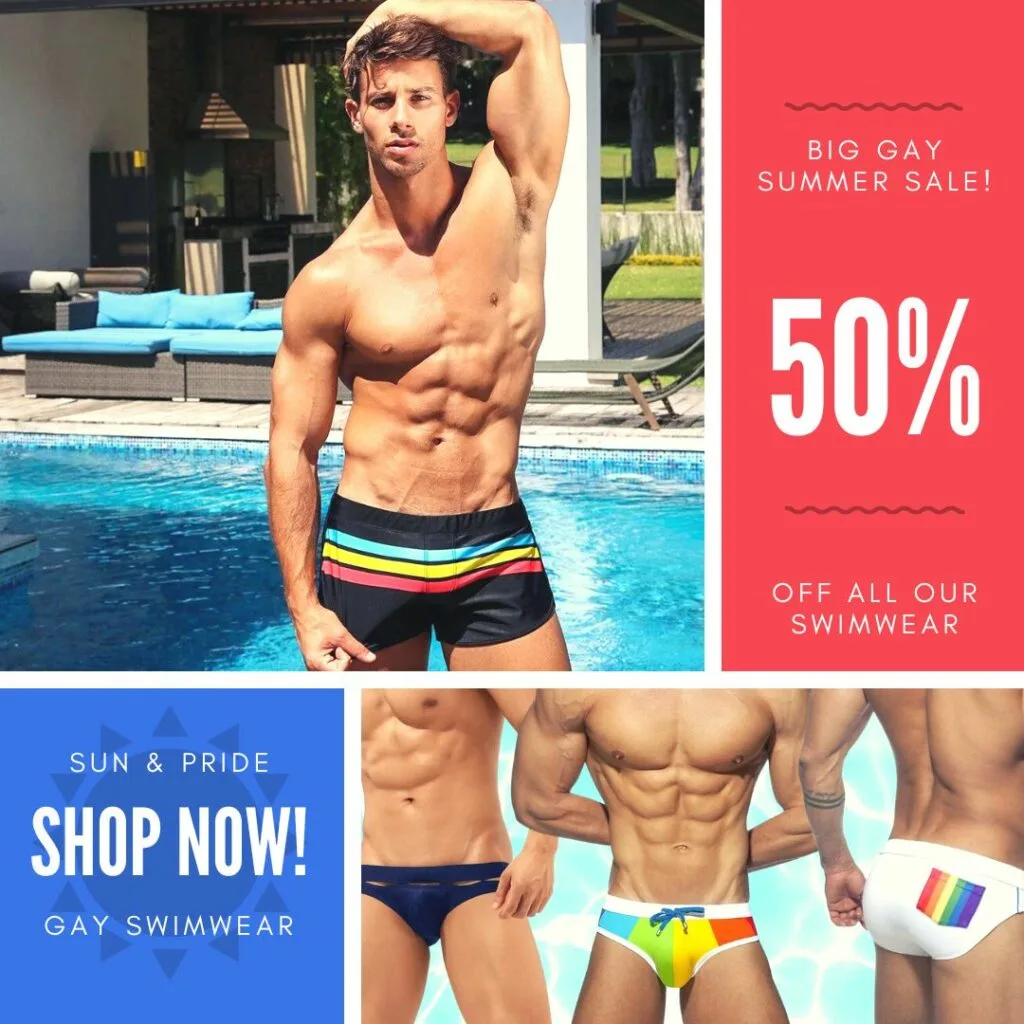 If you want to luxuriate, go no further than the opulent King David Hotel, one of the city's most exclusive resorts. Moreover, it is close to Old City, making it an ideal location for exploring this lovely old-world city. The hotel, founded in 1940, has distinctive elements such as dark wood accessories and furniture and Art Deco embellishments throughout the rooms.
As a result, it's no surprise that King David has hosted stars, presidents, and even monarchs and aristocrats. Some famous names are carved into the floor of the main foyer. The staff is always prompt and professional, and the hotel has a variety of restaurants and a fitness center where guests can exercise and burn off any excess calories they may have accumulated while staying at the hotel.
One of the most exciting things about this hotel is the enticing pool, complete with white umbrellas and daybeds. It's a beautiful and tranquil environment, and it's worth taking a day off to sit here. You may also get drinks and snacks from the fantastic poolside bar.
Begin your day with a delicious breakfast of mezze appetizers. If you are pleased with the hotel's facilities, wait until you see the rooms' amenities and decorations. Each is large and oozes supreme comfort owing to its classic furniture and plush sofas. Moreover, the rooms are furnished with nice beds, ensuring you enjoy a pleasant night's rest here.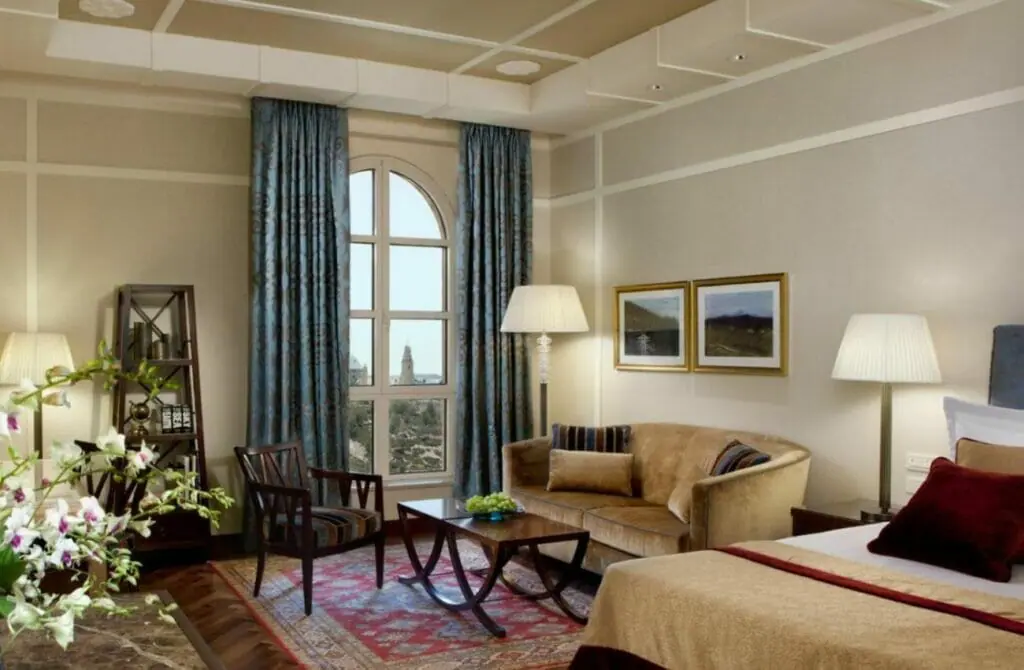 The Mamilla Hotel is the place to stay if you want to experience elegance while being close to local attractions. It is recognized as one of the greatest gay-friendly luxury hotels and can be located on the street with its name, Mamilla Avenue, adjacent to Jerusalem's Old City. Consequently, the city's most important historical and aesthetic attractions are within walking distance.
However, being one of the city's more recent luxury hotels, Jerusalem's sleek and beautiful hotel is rich in history. The entryway, for example, is adorned with limestone from the Judaean Mountains. Just off the hotel's entryway is a lovely sitting room with ultra-chic lighting fixtures and comfy sofas.
You may relax on the lovely outdoor patio or cool down in the tranquil swimming pool in the basement. Because of the presence of rooftop loungers and thick, overflowing greenery, it is regarded as one of the most attractive sites in the whole city.
There are four kosher restaurants, one on the rooftop, and it gives stunning views of the Old City. The Mamilla has lodgings that are completely up-to-date in fashion, with white beds accented by colorful throws and rooms in subdued tones.
The most outstanding feature is, without a doubt, the massive windows that give amazing views. The bedroom and bathroom are divided by a glass wall, which may be the space's most sensuous element. Although in a "cloudy" area, you will love the view of the clear sky afforded by the flats.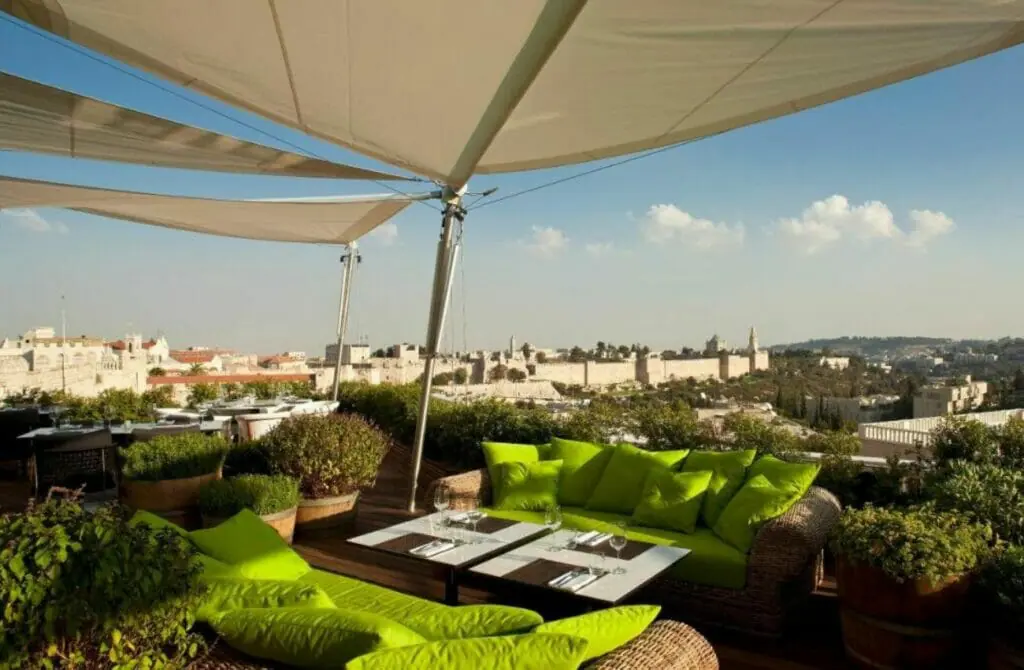 The Cinema Hostel is the most recent addition to Jerusalem's inventory of chic and contemporary gay motels. The quaint and unusual hostel is housed in an old movie theatre built in 1938 and right in Downtown's heart. The foyer of this wonderful hostel is furnished in the style of an old-fashioned cinema theatre.
The interior design incorporates Marilyn Monroe and Audrey Hepburn imagery, metallic highlights, colorful furniture, and other eye-catching aspects. There are also private rooms, female-only or mixed dormitories, and themed mixed dorms, all of which include an ensuite bathroom, either shared or private.
Moreover, in contrast to the sterile environment of other hostel rooms, each one is ornamented with backdrops of current works, giving the sense of being completely dynamic.
The common area, which also serves as a table tennis table and a football table, is the throbbing heart of the youth hostel. It's an excellent way to meet new people on your journey and get to know some interesting folks.
The communal guest kitchen is a lifesaver for quickly preparing meals, saving money, and exhibiting your culinary skills to other travelers. The terrace, with plush seats, bean bags, chairs, and tables, creates a lovely hangout space for guests to relax, watch the sunset, and enjoy the city's beautiful views while drinking. It is the property's centerpiece.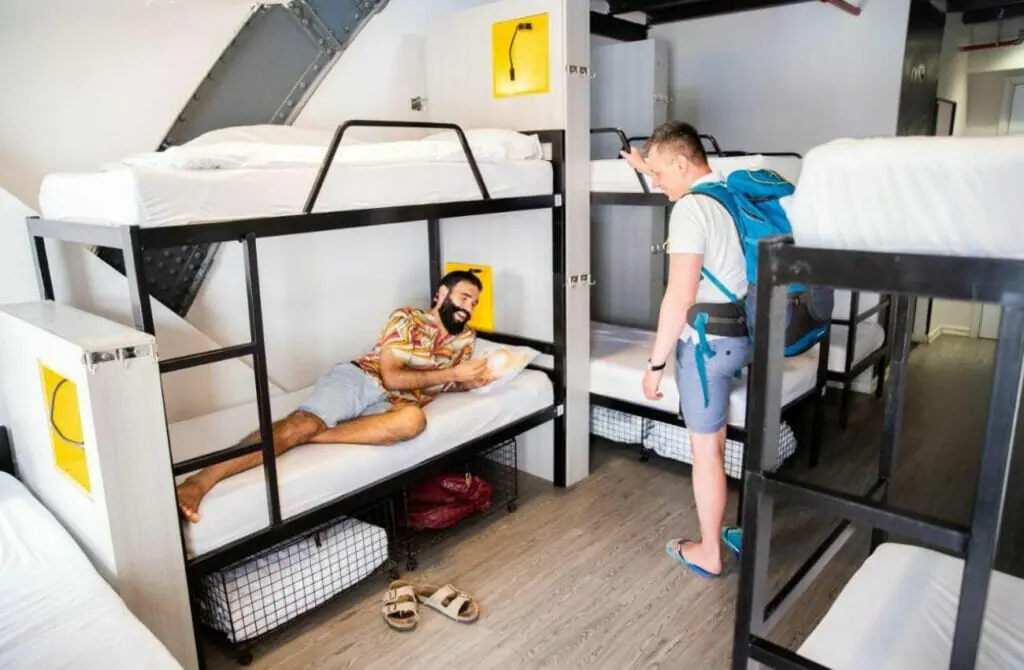 Gay Nightlife in Jerusalem, Israel
Exploring the gay and gay-friendly nightlife in a new city can be one of the most exciting and rewarding experiences while traveling – and Gay Jerusalem is no exception. Not only will you have the opportunity to meet new people and make friends, but you'll also get a taste of the local culture and learn more about the city's LGBTQ+ community.
Going out and experiencing the queer and queer-friendly nightlife in a new city can also be a great way to break out of your comfort zone and try new things. Whether dancing the night away at a gay club or mingling with locals at a gay-friendly bar, you'll have the chance to make memories and create lasting connections.
So, don't be afraid to step out of your comfort zone and explore the gay and gay-friendly nightlife in Jerusalem. You'll be glad you did!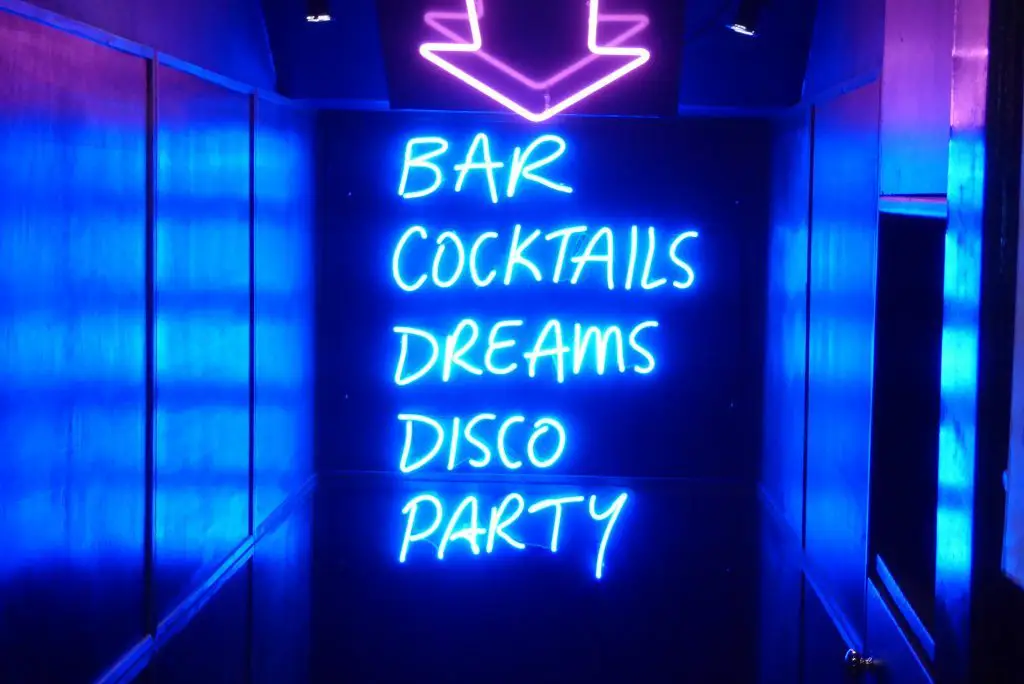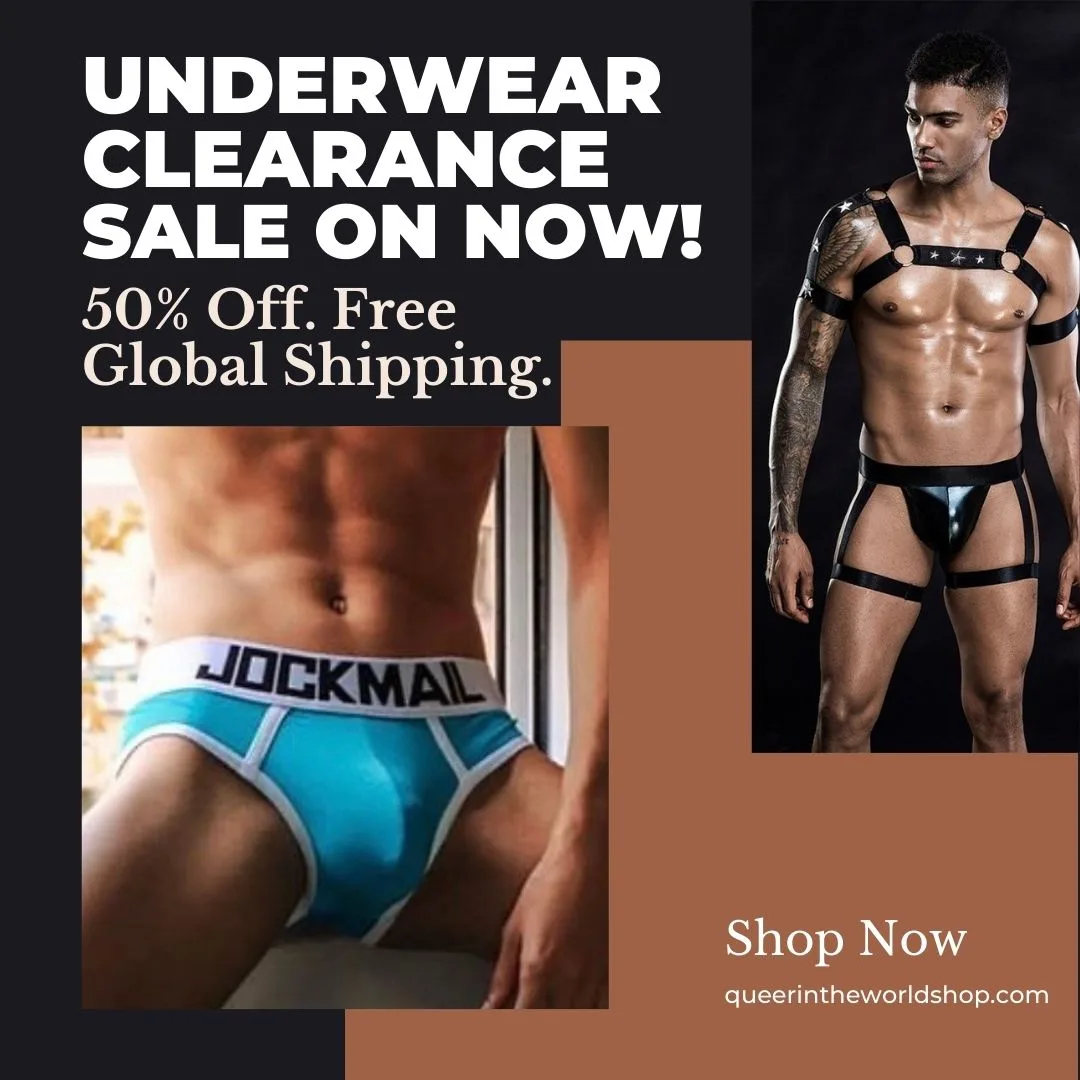 Gay Bars and Clubs in Jerusalem, Israel
The iconic Video Bar is the city's sole "official" gay tavern, and it is famous for the incredible events it hosts night after night. Throwback parties to the 1980s and 1990s, comprising the most disposable songs from those two decades, are the most popular events among partygoers.
You can expect to be summoned on stage by the feisty drag queens, and you shouldn't be afraid to ask the DJs to play your favorite songs since they love to please the crowd.
Gay-Friendly Bars and Clubs in Jerusalem, Israel
This vegetarian and queer-friendly café is well-known for its excellent Israeli food akin to Ambala. Customers at Café Bastet greatly suggest vegetable patties and superb coffee.
Bastet is a great venue for gay folks to call home in Jerusalem since it often hosts events with queer creatives and publishes social media posts about LGBTQ+ issues. Café Bastet is difficult to miss since it has a rainbow flag flying just before its entrance.
Nocturno Live is among the best places to enjoy Jerusalem's lively nightlife. This vibrant coffee shop in the city center hosts exciting and engaging events, such as concerts, stand-up comedy, spoken-word poetry readings, independent cinema screenings, and many other presentations.
There is also a kosher dairy and a bar where clients may enjoy delectable alcoholic and non-alcoholic drinks. Only plant-based and animal-free items are offered on the menu at Nocturno Live. Depending on the weather, customers may sit inside or outside the site.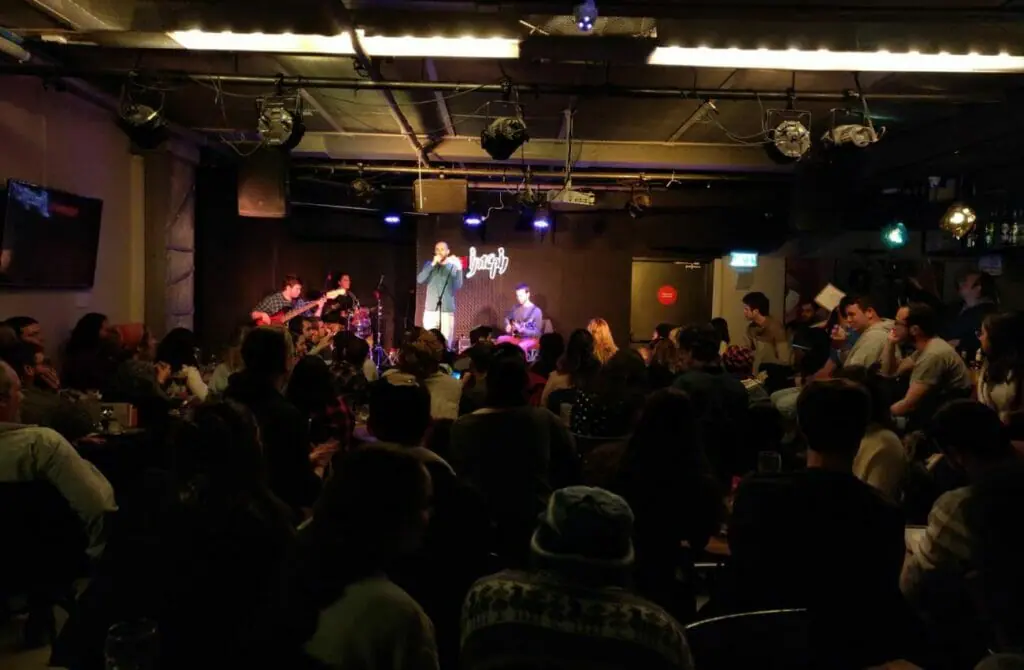 Although this is not a gay bar in the traditional sense, the Lev Smadar Theater's café is widely known for being visited by LGBT men and women. It is widely recognized for attracting clients who identify as LGBTQ+ and creative types and is located in the heart of the German colony.
Check out Lev Smadar's various events and films, especially those with a homosexual theme, to boost your chances of meeting other LGBT individuals at the café. You may often encounter LGBT Israelis and cinema enthusiasts at this charming movie and café in Jerusalem.
The Kadosh Café Patisserie originally opened its doors in 1967. This café, which gives the feeling of being in Paris, is fundamentally French. The restaurant is painted glossy throughout, and patrons are seated outdoors. The mood within the café is further enhanced by the 'chansons' (French melodies) played on the sound system.
Enjoy one of the most popular drinks, espresso poured over ice and flavored with vanilla. The coffee establishment specializing in drinks opens when the sun goes down. It is feasible to visit this spot in the evening and stay until midnight to watch and enjoy the metamorphosis of the café, which matches the alteration of the city.
Make the most of your evening in Jerusalem by drinking beer at the Beer Bazaar, often known as the "heaven for beer lovers." That's a lot of 'beer' in one sentence and pretty much all this place is about. The venue features a large collection of craft beers, with over a hundred distinct varieties available.
You would also be able to try a selection of Israeli beers. This is one of the most well-known Jerusalem drinking establishments in the city's old Yehuda Market.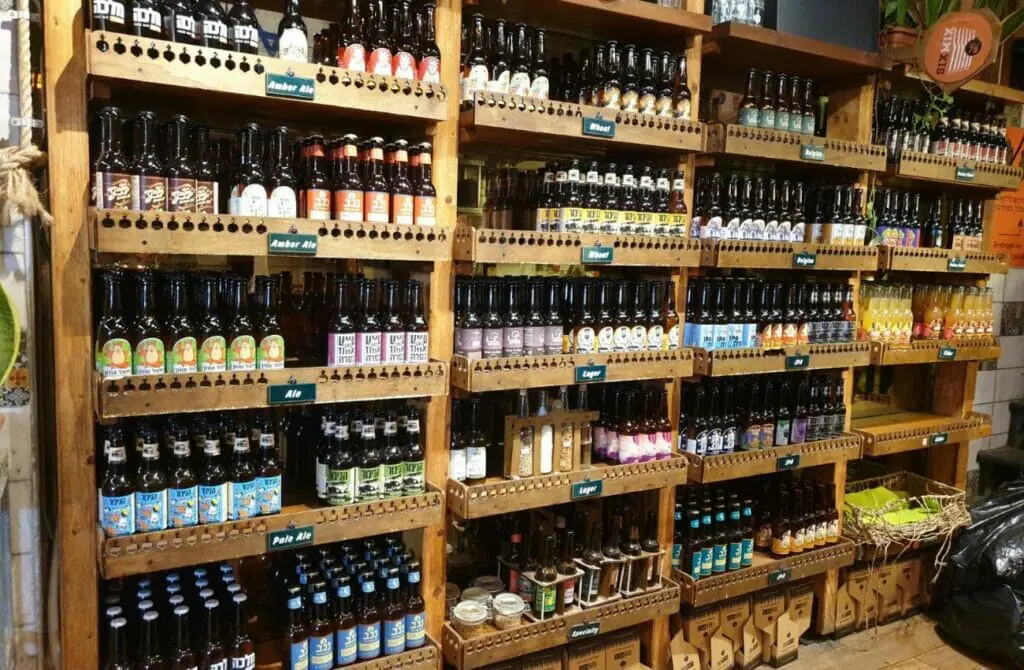 Makeka Venue is a unique Jerusalem nightlife destination offering a genuine experience of the city's nightlife. This is a not-for-profit contemporary art center that also provides exhibition space. This theatre opened its doors in 2014 and has since been a popular meeting place for musicians, filmmakers, new media developers, and other performing arts performers.
Those merely there to observe art get to see it in conventional and modern forms since here is where artists gather to connect and collaborate. In addition, there is a recording studio and a lecture room on the premises. Visitors to Mazkeka may enjoy live bands, DJs, and dance acts.
Casino de Paris is a well-known bar in Jerusalem, housed in a historic structure formerly an officer's club under the British Mandate and frequented by British troops. British forces occupied the property during the time. This site became deserted when the colonists left.
After some time, a group of local business owners joined and refurbished the site. The ambiance here is strongly evocative of bygone eras. It's worth noting that the operator of this club bar is currently a hip-hop performer.
The Casino de Paris offers an indoor-outdoor bar with a wide range of drinks, including Israeli boutique beers and classic 1920s cocktails. In addition, the bar provides delectable food and snacks such as tapas and pizza.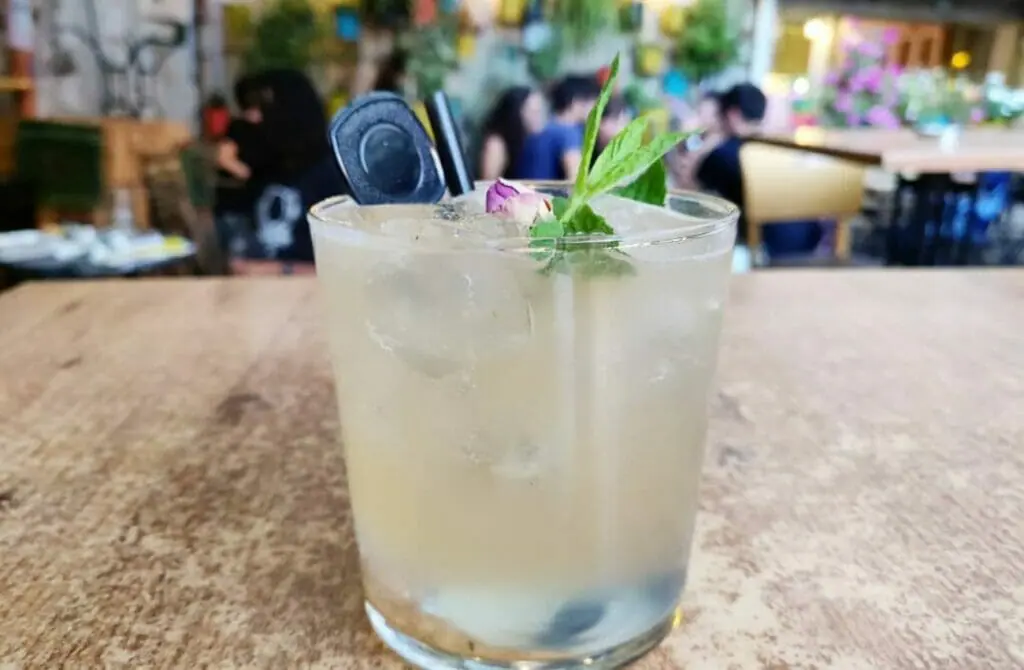 This is one of the best places to go if you want to see Jerusalem's nightlife while enjoying a fantastic musical experience. If it sounds tempting, continue reading. You may listen to almost every kind of music here, from jazz to rock to folk. Our location includes a fully equipped bar with various delectable drinks and beverages for customers.
You may enjoy the magic of the night from either the seating area or the separate standing space. Yellow Submarine also features a performance platform where budding musicians, comedians, and other entertainers may showcase their talents.
It's not uncommon to read about cafés like this in towns like San Francisco, Portland, and Tel Aviv, but they're not in Jerusalem. Yet, Imbala, which is run as a cooperative, conducts various activist events daily and is best known for its openness to all types of people and organizations.
Imbala often partners with Uriel Levy, the chief rabbi of Jerusalem's LGBT yeshiva, Queer Beit Midrash, to give queer-friendly Shabbat services accessible to everyone. Their LGBT summer events have been running for many years, and they often throw parties jam-packed with fascinating and pleasant activities for homosexual people in Jerusalem.
Imabala is a must-visit since it is only open on Saturdays, provides delicious vegan food in generous portions, is reasonably priced, and has a tiny library.
The Haschena Wine Bar is a well-known venue for nighttime scenes in the prominent Mahane Yehuda Market. The bar is the place to go if you want to have meaningful conversations with your significant other or close friends while drinking.
The bar offers seating both inside and outside the structure. Hashchena, which means "neighborhood" in Hebrew, emanates the welcoming ambiance of a typical Israeli neighborhood. If you want to spend the evening in a venue that provides various high-quality libations, such as cocktails, local beers, and wines, Hashchena Wine Bar is the place to go.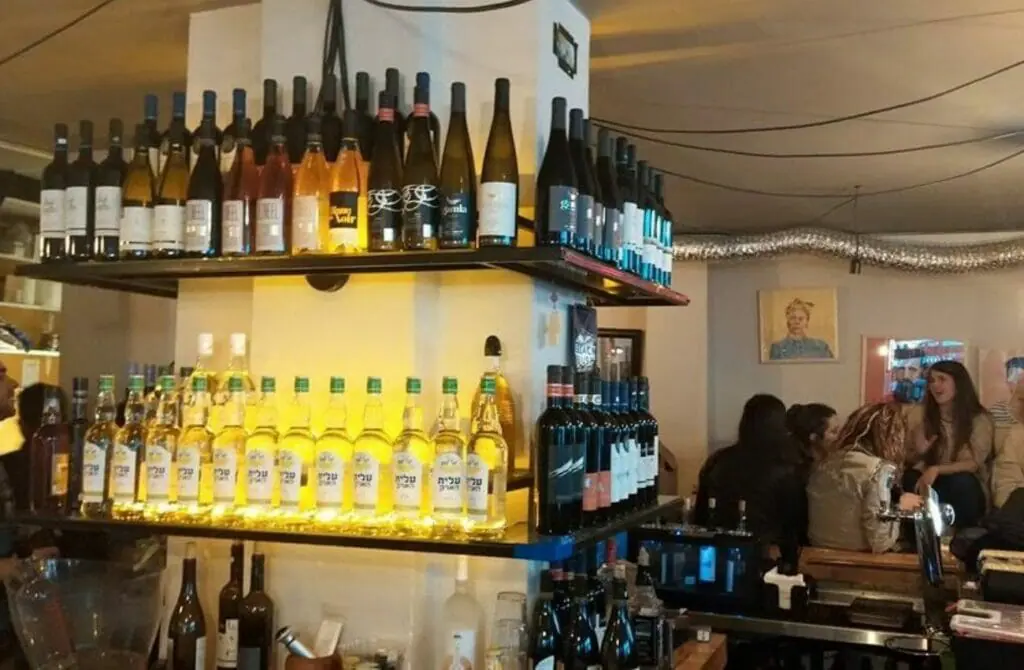 Gay-Friendly Cocktail Bars and Clubs in Jerusalem, Israel
With its antique furniture, low lighting, and live swing music, Jerusalem's Gatsby Cocktail Club, which pays homage to old American speakeasies, transports you to the roaring twenties. The bartenders, regarded as the establishment's "heart and soul," have gained a superb reputation for both the unique beverages they concoct and the conventional drinks they serve.
The fact that your drinks will be served in light bulbs rather than glasses is the beginning of the imaginative ways the bar will amaze you. The list of alcoholic drinks on the menu is organized according to the seven deadly sins and includes a wide range of small plates and finger appetizers.
Since it is in the heart of Jerusalem, it is easy to ignore the entry, which is covered by a basic but archaic greenish-black door.
Hataklit is a popular location for many music lovers, writers, and journalists, with a full bar, on-tap beer, and vinyl record sleeves decorating the bar walls. It is located off Jaffa Street, near the Russian Compound. Because of the many artists visiting the outdoor seating arrangement, it is an excellent place to converse with locals.
This Jerusalem bar was created by three Jerusalem citizens involved in the local music scene. It hosts live concerts by local independent artists regularly and DJ evenings. It is the epicenter of boisterous and chaotic nightlife due to the airing of English football matches and a happy hour offer of one free beer with the purchase of another on tap from 4:30 PM to 9:00 PM every weekday.
The easygoing yet sophisticated Wine Bar is situated in the Rehavia neighborhood in the center of Jerusalem. They specialize in delicious wines and tapas. Local chef Assaf Granit created this bar after being inspired by his favorite wine bar in Italy. He is also the man behind the well-known Jerusalem eatery Machneyuda.
This pub is ideal for a relaxing evening with friends or a romantic date. The Wine Bar provides a delightful culinary menu that includes cheeses, charcuterie platters, sandwiches, and a range of wines, beers, and drinks. This bar is, without a doubt, the best place to sit back, relax, and enjoy a glass of red wine.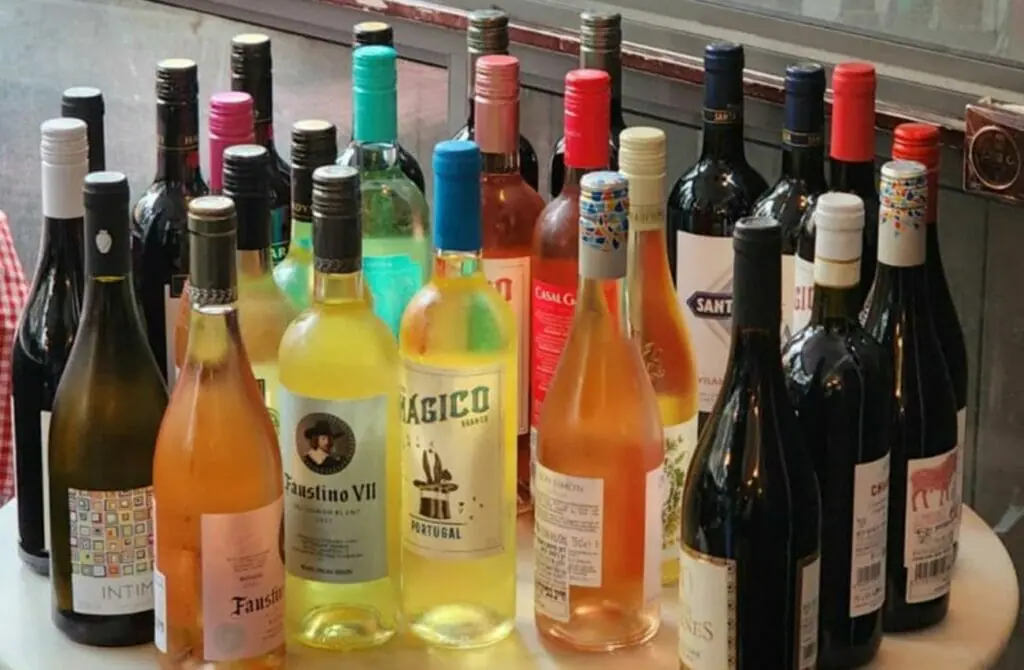 Yudale is a fashionable tapas bar in Mahane Yehuda Market with an extensive beverage menu. The Mahane Yehuda Market provides a peaceful atmosphere in the evening. The menu is constantly being revised, and former dishes have included grilled calamari, truffled polenta, and beef carpaccio.
Yudale is noted for its well-known cocktail menu and is a wonderful place to experience local Araks, an alcoholic beverage made from distilled anise. You should be prepared to wait in line since it is one of the city's most popular bars, albeit the line normally moves quickly.
Yudale is closed to consumers during the Jewish Shabbat, which begins Friday evening and ends Saturday evening after sunset.
Hamiffal is unlike any other drinking establishment in Jerusalem since it blends a co-working space, an artists' studio, and a bar into a single space. The facility that houses Hamiffal, which goes back to the nineteenth century but has since been abandoned, is best described as an art bar.
This appealing public space functions as an art gallery, a café, a vegetarian kitchen, and an event space simultaneously. This versatile public area has plenty of seats throughout the day and evening. While quenching your thirst with various alcoholic drinks, ales, and wines, you have a broad range of vegan cuisine.
Hamiffal is great for a relaxing night out combined with a cultural experience and meeting members of Jerusalem's creative community.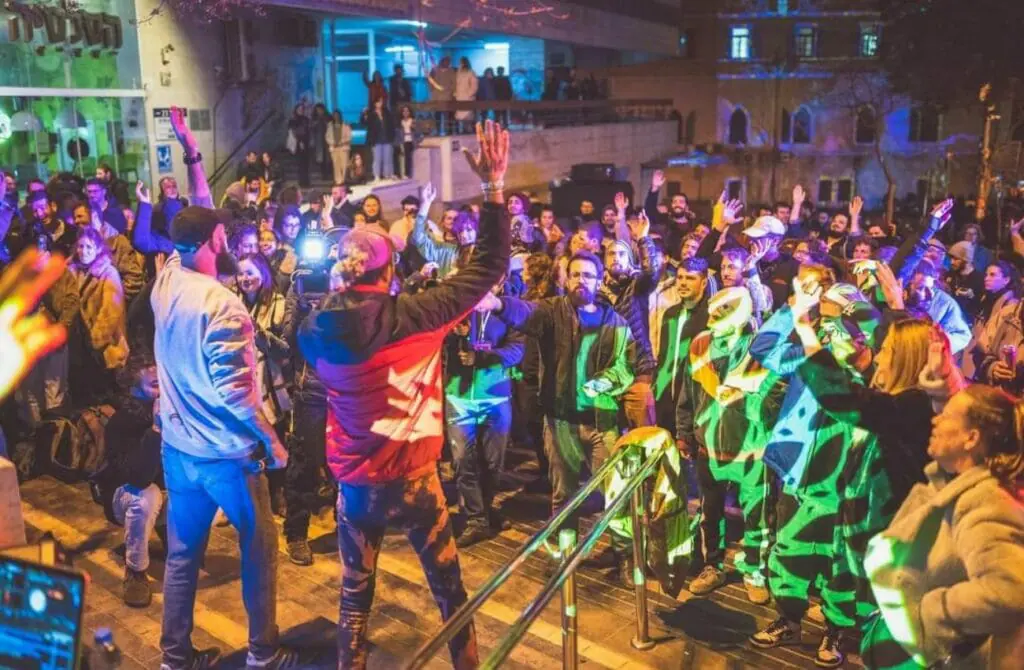 When the sun has set and many merchants have closed for the day, a new crowd begins to assemble around one particular booth amid the Mahane Yehuda Market. We are delighted to welcome you to Hatch, a relaxed kosher pub specializing in specialty beers and homemade sausages.
Hatch was founded in 2017 by American businessman Ephraim Greenblatt, making it a relative newcomer that has quickly established itself as a fan favorite in the neighborhood. On any day of the week, diners can be seen eating corned beef sandwiches, buffalo wings, and sausage platters at this eatery, which is always absolutely crowded.
Together with these exquisite treats, you'll discover one-of-a-kind artisan beers on a rotating basis. A distinctive rotating cocktail menu is available for those who prefer not to drink ale. Since it must adhere to kosher requirements, this institution does not function on the Jewish Sabbath.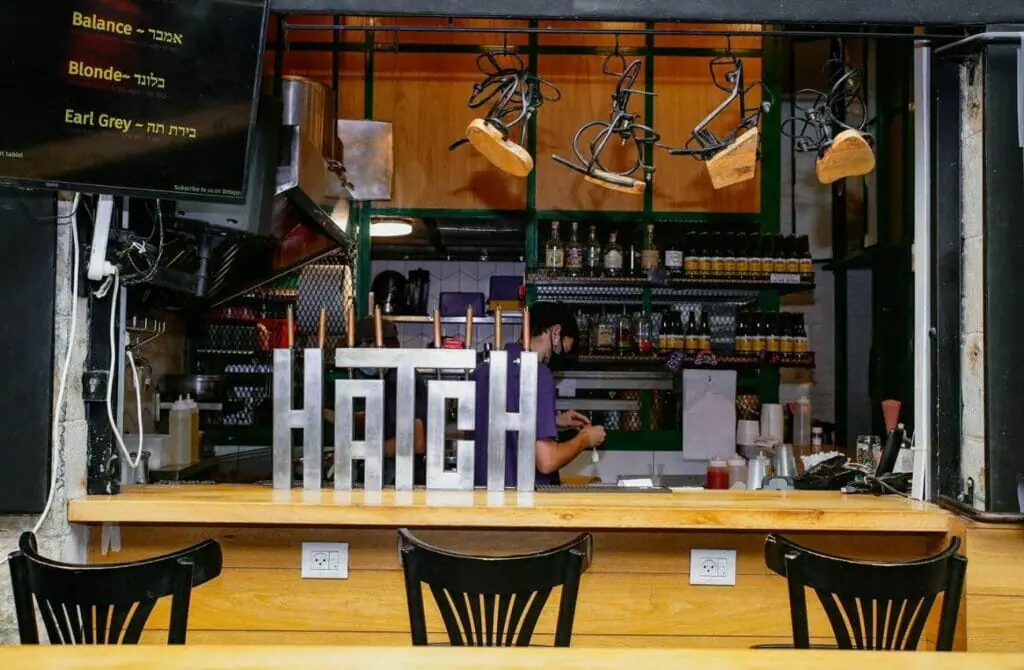 Gay-Friendly Rooftop Bars and Clubs in Jerusalem, Israel
Notre Dame Rooftop Cheese and Wine Restaurant, Jerusalem
After a day of touring and walking in old Jerusalem, exhausted travelers may relax at the Notre Dame Rooftop Cheese and Wine Café. This Jerusalem eatery greets visitors with well-earned wine and elaborately embellished cheese platters. The view, on the other hand, will take your breath away. From your vantage point, you can see the Old City and its famed sights in every direction.
Mamilla Hotel Rooftop Lounge and Restaurant, Jerusalem
The magnificent Mamilla Hotel's rooftop restaurant and bar are set high above the wealthy Mamilla pedestrian strip, close to Jerusalem's Old City. Guests may enjoy gourmet pleasures while learning about the history of the area.
While you're sipping signature drinks like the Red Diamond Fizz, a cocktail made with sparkling Cava wine, almond syrup, lemon, gin, and egg white, and nosh on roasted bone marrow and grilled foie gras with wild zaatar and white wine chimichurri, don't forget to gaze out the window at Jerusalem's illuminated ancient city walls set against the nighttime sky.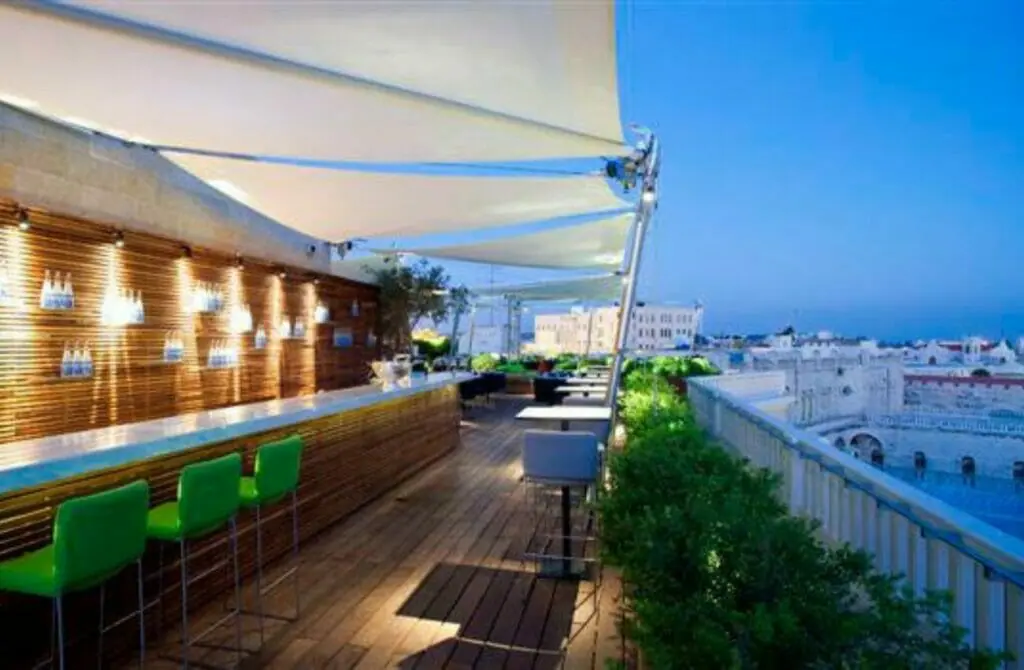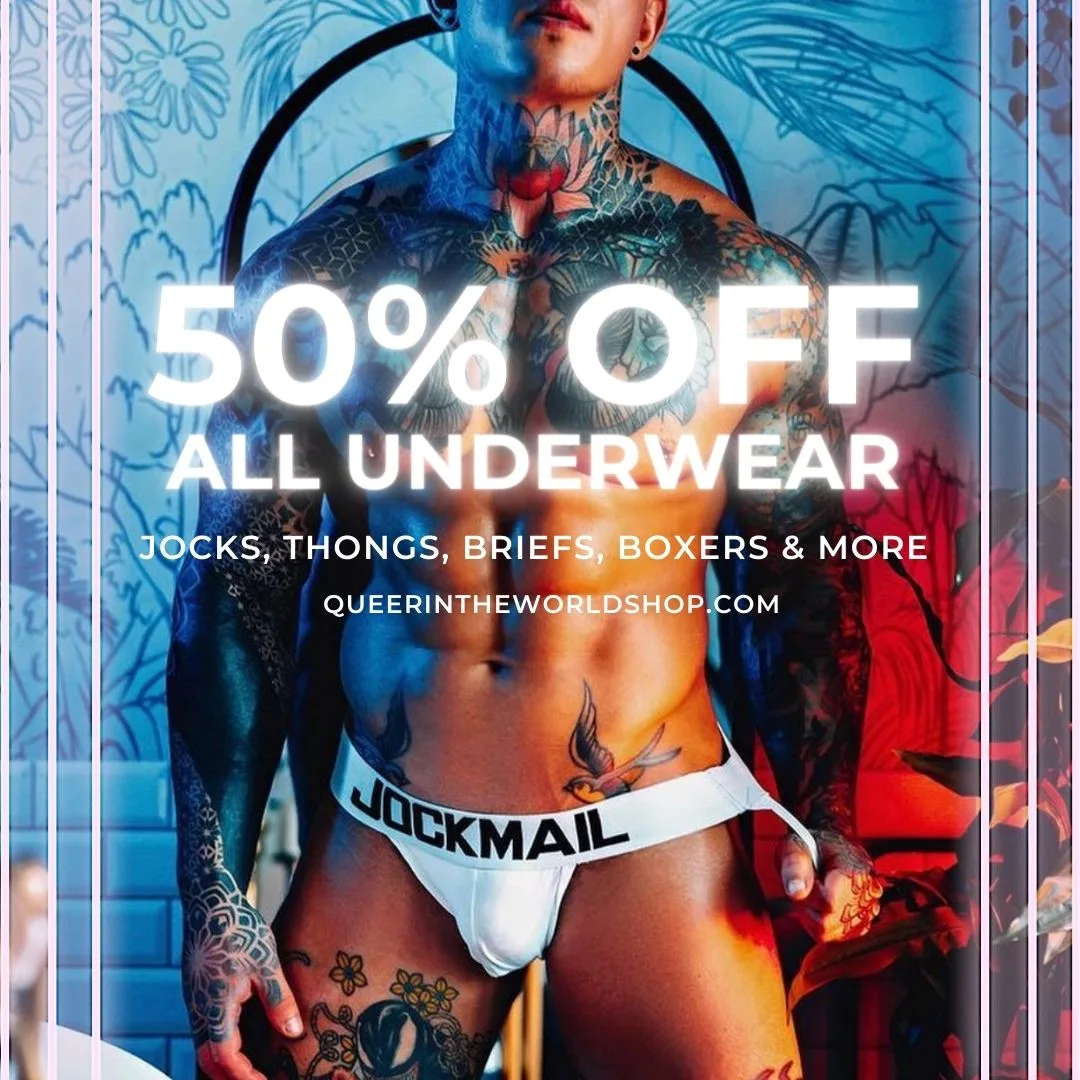 Gay Map Of Jerusalem
Finding it hard to envisage where everything is in Jerusalem? Hopefully, this queer-centric map helps where we have marked all the bars, clubs, parties, hotels, saunas, massages, and more will help you stay in the spot best suited to you!