Cambodia is a country that generally accepts Gay persons and groups. And in Siem Reap, a little town in northwest Cambodia that attracts over one million tourists yearly, gay tourists and locals are collaborating to establish a safe environment for themselves.
During the past several years, the downtown center and neighboring city sections have experienced an increase in gay-friendly clubs, restaurants, and hotels.
Siem Reap province is located in the northwest region of Cambodia. The city is thriving and is Cambodia's most popular tourist destination since the majestic Angkorian temples are just on its doorstep. The city's name, which references the Khmer Empire's triumph against the Thai monarchy's army in the 17th century, literally means "Siamese defeated."
Before 2000, Siem Reap was a tiny town in Cambodia with few services, minimal paved roads, and few nightlife choices. The tourist industry catered mostly to hardy visitors willing to brave the tortuous and rough path heading from the Thai border on the back of a local pick-up truck.
There were a few fancy hotels and a few more cheap guesthouses. While tuk-tuks and taxis were unavailable for Angkor temple excursions, the dependable motodup was the means of transportation of choice.
The proximity of the Angkorian ruins aided Siem Reap's spectacular climb to popularity in less than a half-decade. Big luxury hotels have sprung up everywhere, as have low-cost ones. Real estate values have risen to European levels, and the tourism industry has expanded to become a vast and very successful industry. The Siem Reap of 2000 is almost unrecognizable in contrast to the Siem Reap of today.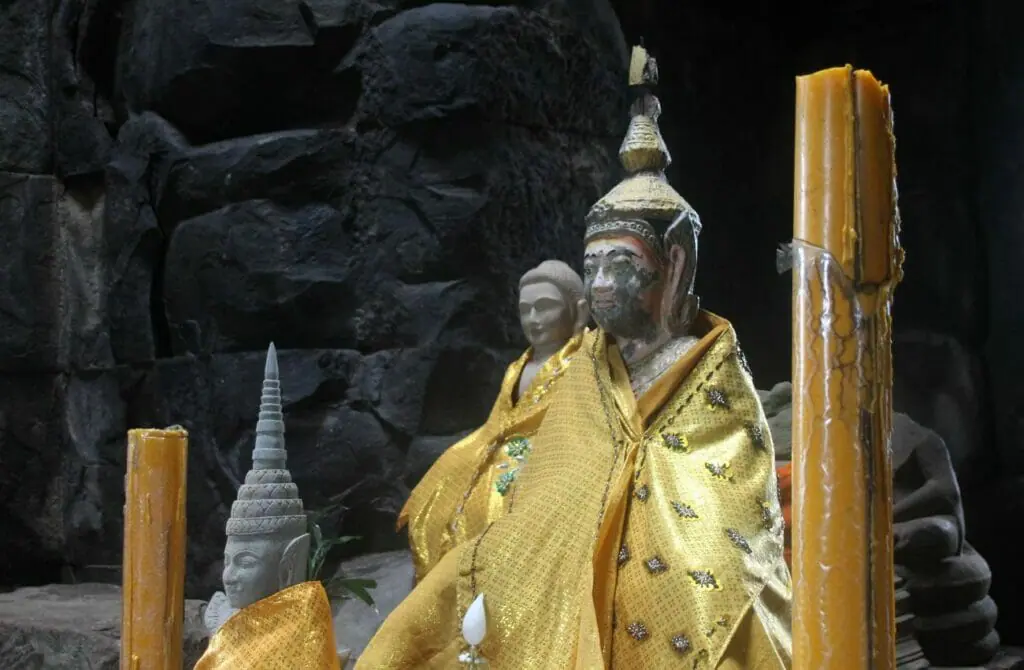 Even if the city has lost some of its previous ramshackle charms, improvements in recent years have brought livelihoods, if not large sums of money, to a sizable portion of the city's population. This has come at the expense of the town's poor residents within and beyond city limits. These people are forced to pay inflated prices in central marketplaces and depend on low-paying subsistence farming and fishing.
Regarding homosexuality, the Cambodian community is generally accepting and accommodating. Sexual relations between persons of the same gender are legal in Cambodia. Cambodia lacks legislation that protects LGBT people from discrimination and prohibits hate crimes based on a person's sexual orientation or gender identity.
Although LGBTQ people do not have any legal rights and gay marriage is not yet legal, there does not seem to be widespread hatred toward homosexuality in society. While it is difficult for gay Cambodians to come out publicly in many parts of the country, including Siem Reap, locals are unlikely to have issues with LGBT visitors. Public displays of affection are frowned upon in Cambodian society, regardless of the gender of the persons engaged.
Notably, LGBT tourists to Siem Reap may participate in many exciting activities throughout their stay. This city is attractive and has a lot of animals, both of which make you feel refreshed and invigorated, so you should consider visiting there.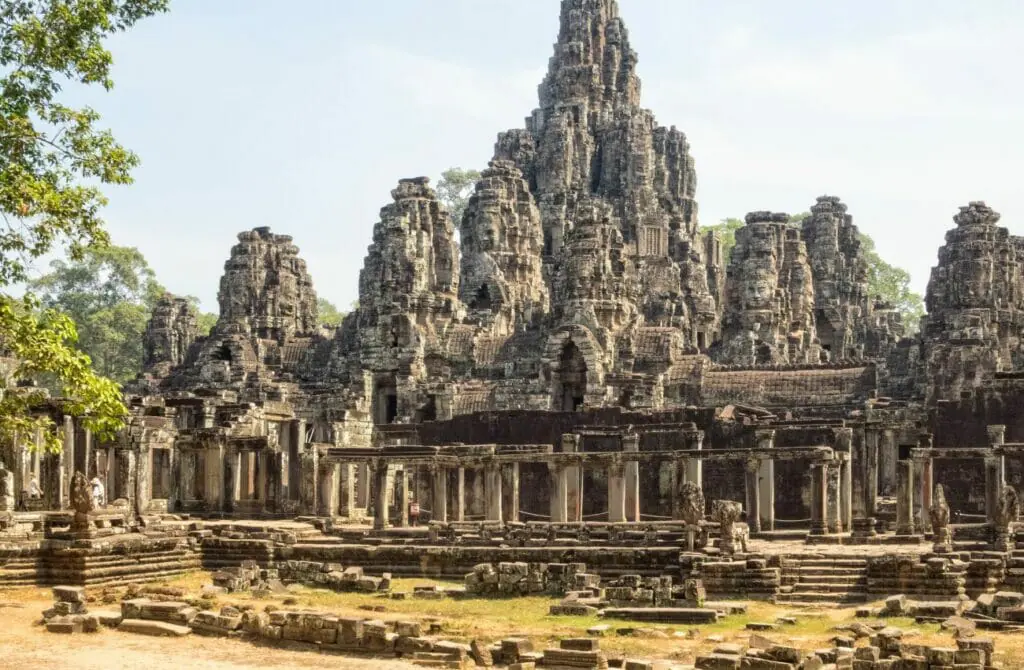 Attractions in Gay Siem Reap, Cambodia
As a new visitor to Gay Siem Reap, there are plenty of things to see and do, regardless of your sexual orientation. One of the best ways to experience any new city is to visit some of its most iconic landmarks and attractions, including visiting historical monuments, museums, and art galleries.
We also love gazing at architecture up close, exploring parks and gardens, sampling the local cuisine, visiting local markets, and attending cultural events such as festivals, concerts and shows.
Even as the out-and-proud queer we are, we still love to just explore the city and its culture in the same way as everyone else. Doing so allows us the opportunity to learn more about the city and its people and gain a deeper understanding of the local culture. As such, these are our favorite must-see attractions in Siem Reap.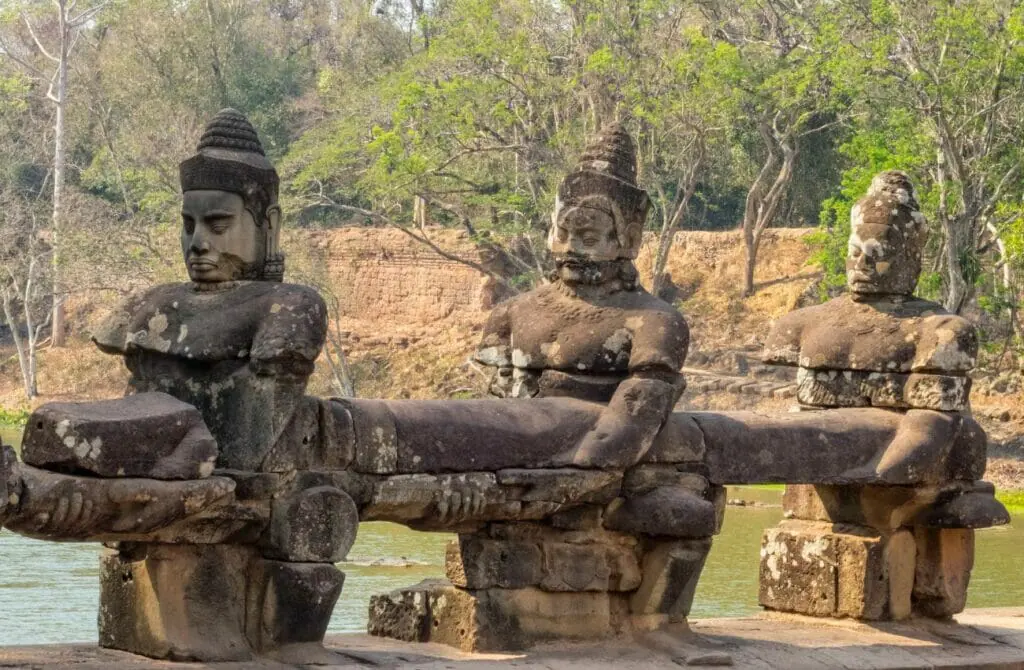 Les Chantiers Ecoles
This school teaches disadvantaged local children traditional Khmer arts such as stone carving, wood lacquer, and silk painting. It is part of a bigger movement to revive the traditional crafts lost during the Khmer Rouge's reign of terror in Cambodia.
In addition to a charming store called Artisans d'Angkor, where you can buy magnificent souvenirs like sculptures and gorgeous local silks for all your friends and family back home, you can also take a tour of the workshops to learn about the rebirth of Cambodia's traditional handicrafts.
Angkor Wat (Angkor Archaeological Park)
The vicinity of Angkor Wat, situated inside the Angkor Archaeological Park, may be directly credited for Siem Reap's lively and ever-growing tourism industry. Angkor Wat is generally recognized as one of the world's most stunning tourist sites.
The massive ancient metropolis that sprawls over Angkor Archaeological Park, which tourists more widely know as Angkor Wat, was erected by rulers between the 9th and 15th centuries. The city has hundreds of temples, and it is so large that even after many trips, you'll feel like you've merely touched the surface.
While only the temples of this once-majestic metropolis have survived, it was once the largest city in the world during the Middle Ages. The main temple complex on the site grounds is Angkor Wat. It is famous for its stunning bas-relief sculptures depicting old Hindu epics.
Take particular note of the bas-relief representing the Churning of the Ocean Milk, which may be seen in the east gallery. After visiting Angkor Wat, go to the Angkor Thom complex, which covers a colossal 10 square kilometers and is home to one of the most beautiful temples in the whole complex.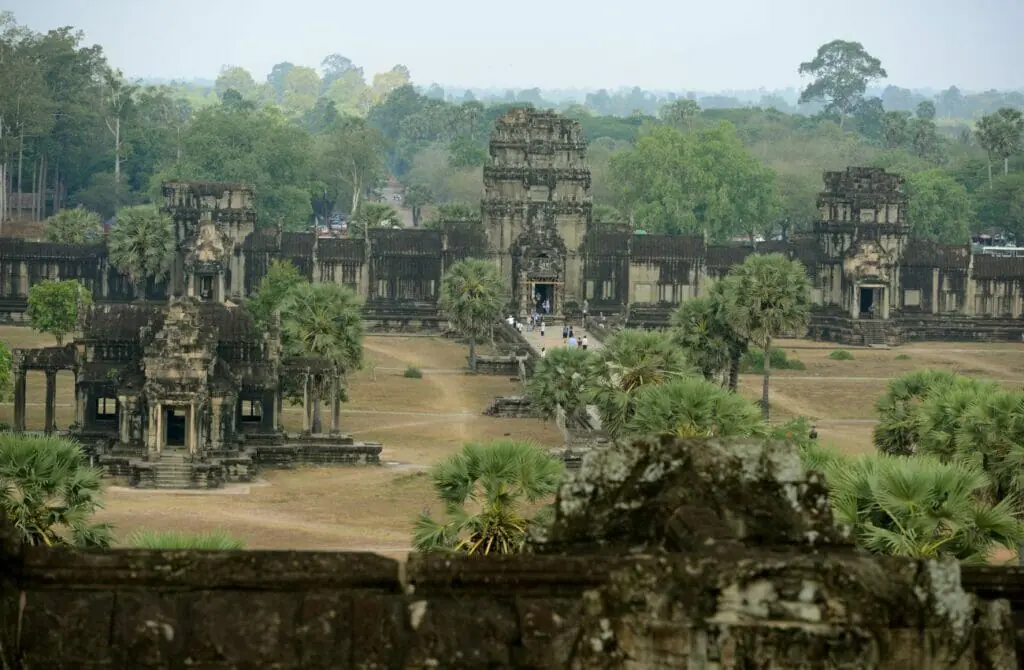 This modern museum is a wonderful accompaniment to a visit to Angkor Wat since it superbly explains and deconstructs the Angkorian period's history. The museum has audio-visual displays, good information boards, a collection of Khmer treasures from the temples on the site, and items from other Cambodian archaeological sites.
Paying a visit to this site is one of the best methods to understand the many eras that formed the Angkorian period and the succession of kings who competed to outbid each other on their temple-building initiatives.
The entry gallery contains 1,000 images of the Buddha from various eras, Gallery A explains how the Khmer Empire was founded, and Gallery C tells the story of the four greatest Angkorian kings, including Jayavarman II, Yasovarman I, Suryavarman II, and Jayavarman VII, are all must-sees when visiting the museum.
A few settlements around Siem Reap show life beside the Tonle Sap, Southeast Asia's largest lake. These towns are not distant from Siem Reap. Touring the villages is normally done by boat, either as part of an organized excursion in Siem Reap or by independently booking one with boat operators after arriving at the lakeside.
Kompong Khleang, home to a community-managed boat trip company and private people who operate their boats, is one of the most intriguing spots on the Tonle Sap. Kompong Khleang, a large and sprawling town on the shores of a lake, is home to various architectural styles, including communities with houses elevated on stilts (to protect them from flooding during the monsoon season) and others with houses perched atop buoyant platforms floating on the water.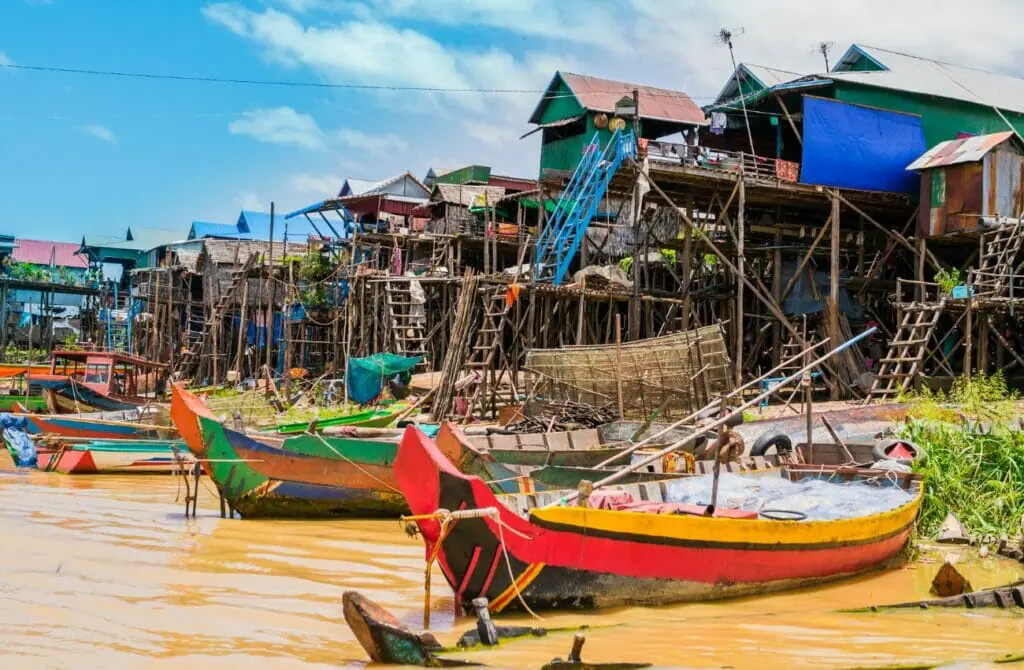 Cambodia's famed Phare Ponleu Selpak Circus is a fantastic show that blends acrobatics, music, dance, circus humor, and various other types of performance art. Moreover, it is held to benefit a philanthropic organization. This contemporary circus has a story woven throughout the show that mixes drama and comedy into a single performance. The approach is reminiscent of Canada's well-known Cirque du Soleil.
The Flight of the Gibbon zipline tour lasts two hours and is situated inside the Angkor Park area. It features eight ziplines that go above the forest canopy. Visitors seeking an adrenaline rush will enjoy the 50-meter abseil, four hanging sky bridges, and one of 21 platform stops along the journey.
There are also other opportunities to learn more about the jungle's environment and its flora and creatures, such as wild orchids, edible plants, medicinal plants, and even a tarantula habitat. Since a few gibbons have just been released back into the wild in this location, you may encounter gibbons when exploring the adjacent woodland.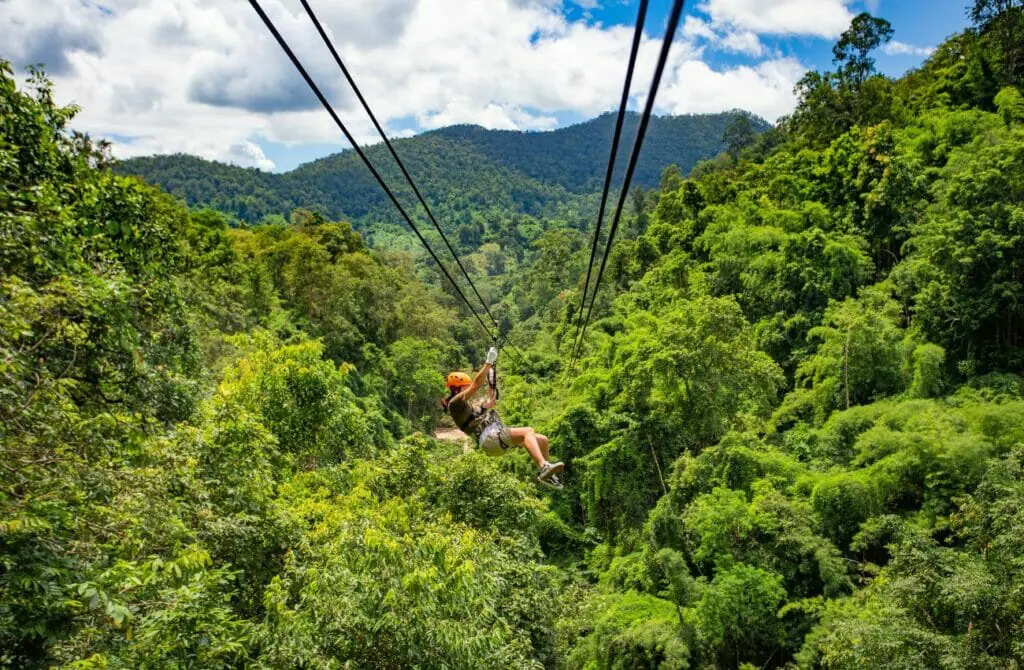 Banteay Srey Butterfly Centre
This is Southeast Asia's largest butterfly habitat, and it is home to hundreds of local butterfly species. These butterflies can fly across a vast enclosed tropical garden with lush greenery and various tropical flowers. A visit to this place provides an exciting natural diversion from all of the temple-hopping.
Visitors may observe the whole life cycle of a butterfly, starting with the pupae stage, in addition to soaking in the magnificent kaleidoscope of colors shown by the numerous types of butterflies that inhabit the garden. If you're tired of temples, combine a trip to the Cambodia Landmine Museum and the Butterfly Center into a single morning or afternoon tour. The Butterfly Center is quite near the museum.
Siem Reap's Markets
While Siem Reap has numerous expensive stores, tourists should not ignore the city's many traditional markets. The Old Market, also known as Psar Chaa, is situated in the heart of Siem Reap and has merchants selling anything from cheap items and fresh food to wood and stone crafts. Even if much of the needlework offered here isn't high quality, browsing around is still fun.
The Angkor Night Market is another must-see attraction. It is usually active from late afternoon till midnight. This shop offers a wide range of locally handmade things, from silk scarves manufactured in the neighborhood to silver jewelry. Remember that haggling is the most common technique of acquiring things at markets, so put on your finest negotiating hat before shopping.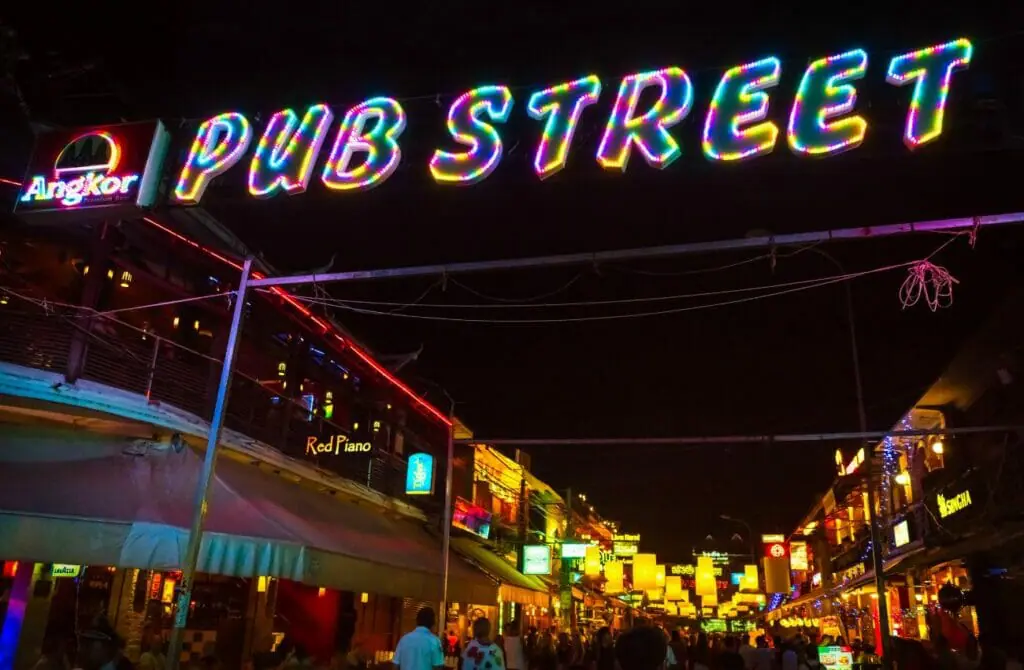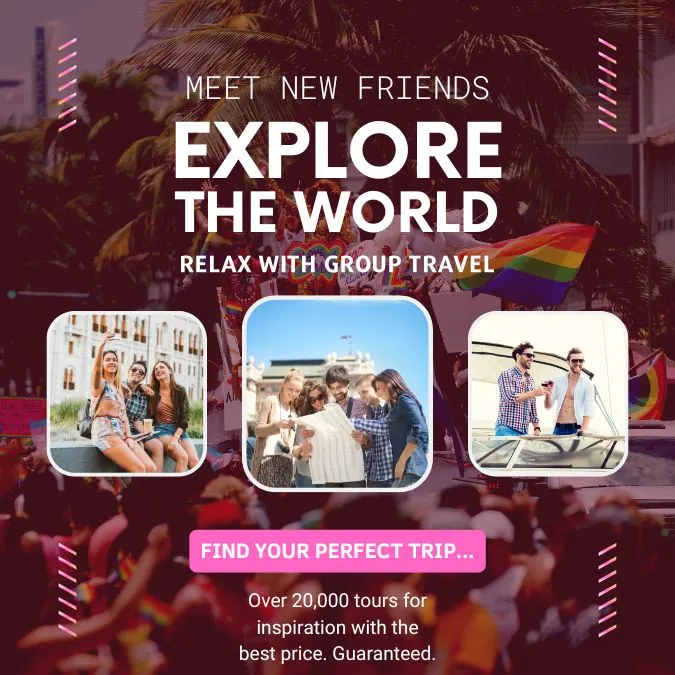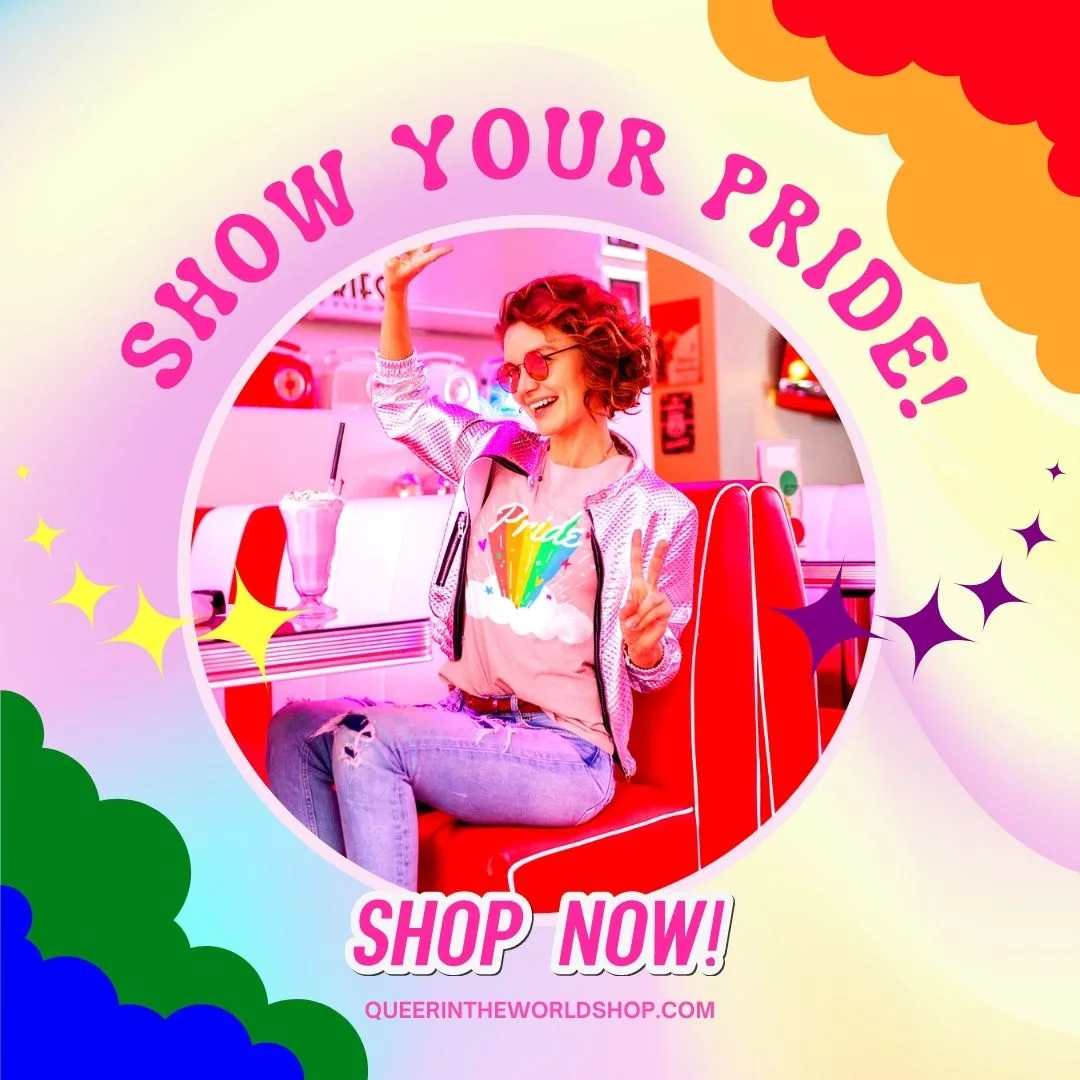 Gay-Friendly And Gay Hotels in Siem Reap, Cambodia
You will have no problem locating a broad choice of gay-friendly hotels in the city since it is generally known as one of Cambodia's most active gay-friendly towns. The following are some of the city's top recommended LGBT-friendly hotels that cater to gay guests.
Being gay-friendly accommodation means that the establishment is welcoming and inclusive to guests who identify as LGBTQ+. This can include but is not limited to, having policies and practices in place that demonstrate a commitment to creating a safe and inclusive environment for LGBTQ+ guests, such as non-discrimination policies, and providing support and resources for LGBTQ+ travelers.
Some gay-friendly accommodations may also provide amenities specifically catering to the LGBTQ+ community, such as rainbow flags or literature about local LGBTQ+ events or resources. Furthermore, gay-friendly accommodations may be located in an area that is known for being LGBTQ+ friendly.
While Siem Reap does not have any specifically gay hotels or resorts, these are the most fabulous and pro-actively gay-friendly hotels in Siem Reap. Needless to say, there are also hundreds more hotel and hostel options in Siem Reap if none of these suit your desired budget, facilities or area – but these are the best hotels according to other gay travelers and us.
Whatever your needs are, Siem Reap has you covered.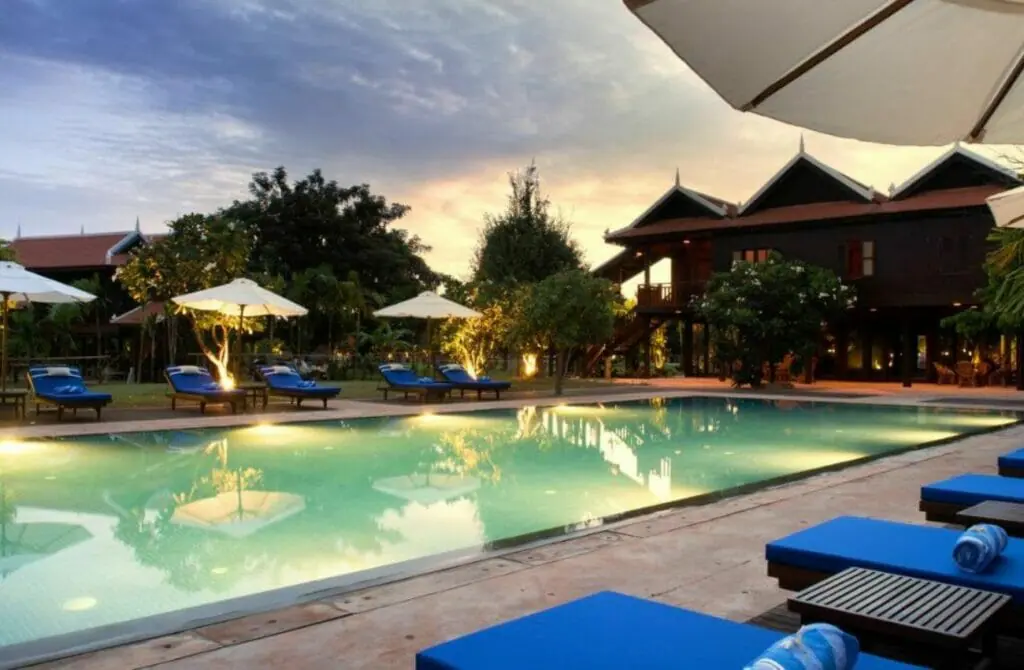 The Mane Hariharalaya is a popular choice for a five-star hotel in Siem Reap. Your stay at the hotel will be memorable since it is outfitted with various required amenities and luxuries. The hotel provides free parking on the premises, so you don't have to worry about the safety of your vehicle.
This will soon become one of your favorite features of the restaurant. During your stay at the hotel, you will be met by a team of staff members who are both kind and professional and readily available to solve any issues.
Visitors to this hotel may choose from various outdoor activities to keep them engaged throughout the day. During your stay, you will have access to a fitness center, allowing you to maintain your regular training routine and progress toward your fitness goals.
The fitness center contains a wide range of the most sophisticated training equipment accessible. Guests may also enjoy a lovely day at the magnificent outdoor swimming pool, where they can recline in the water or watch other people swim in their scant bikinis.
The rooms were designed with meticulous attention to detail to offer you the best degree of comfort throughout your stay at the hotel. Following a long day of sightseeing in the city, you may look forward to a relaxing night in one of the rooms due to the spacious and comfy bed. The hotel also has room service, a front desk that is operated 24 hours a day, and foreign exchange services. Each unit has a terrace with a breathtaking view of the surrounding lake.
Every morning, visitors can eat breakfast, which may be served continentally, as a buffet, or à la carte. Mane Hariharalaya has a restaurant that provides a range of cuisines, including Chinese, Cambodian, and American fare. Vegan, dairy-free, and gluten-free options may also be offered upon request. As a result, you can expect your sense of taste to be caressed throughout your stay at our hotel.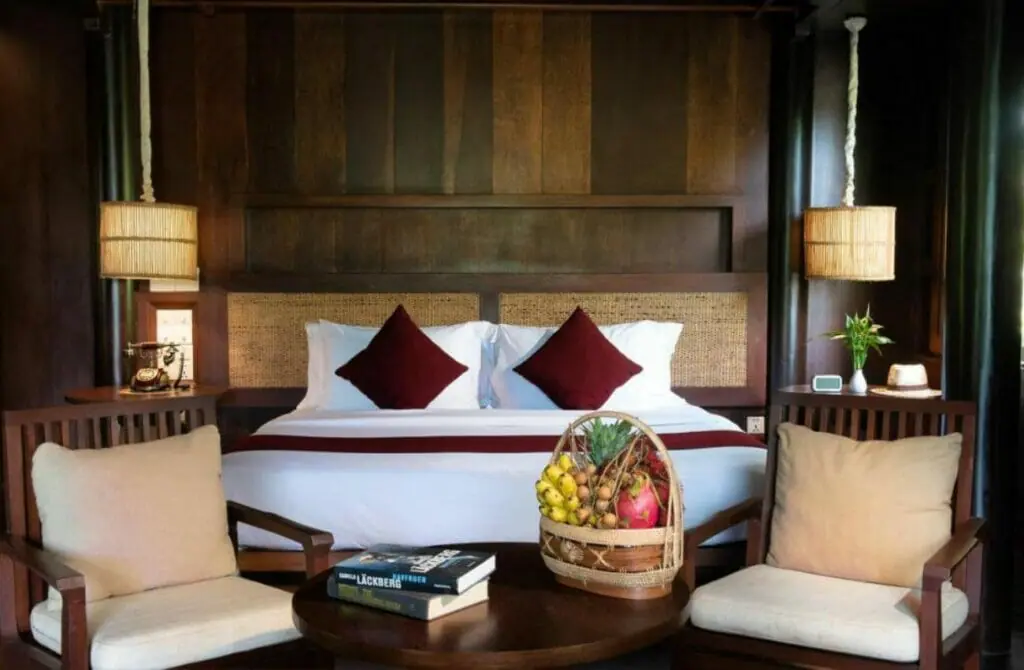 Travelers that identify as LGBT and are seeking a place to stay in Siem Reap can consider staying at Sala Lodges. Hidden from the hustle and bustle of Siem Reap, the hotel provides authentic traditional Khmer-style wooden bungalows constructed on stilts. It has a saltwater swimming pool and a bar near the pool with a countryside view. The visitors may choose to swim in the pool or relax and enjoy the wonderful views of the natural environment.
The oldest section of the house originates from the late 1950s, and each room has its own distinct story to tell. The apartments include precisely repaired furniture and pieces of art made by local artists. Each room also has a balcony, allowing guests to step out of their lodgings, relax on the balcony, and take in the natural beauty of the natural surroundings. Guests are also invited to utilize complimentary bicycles to explore the area.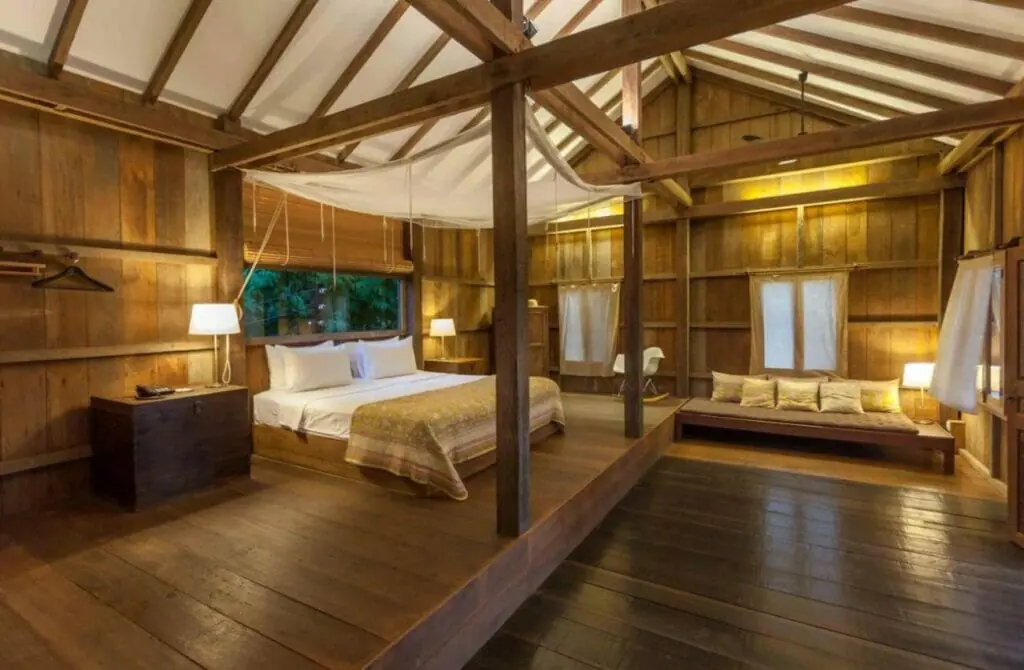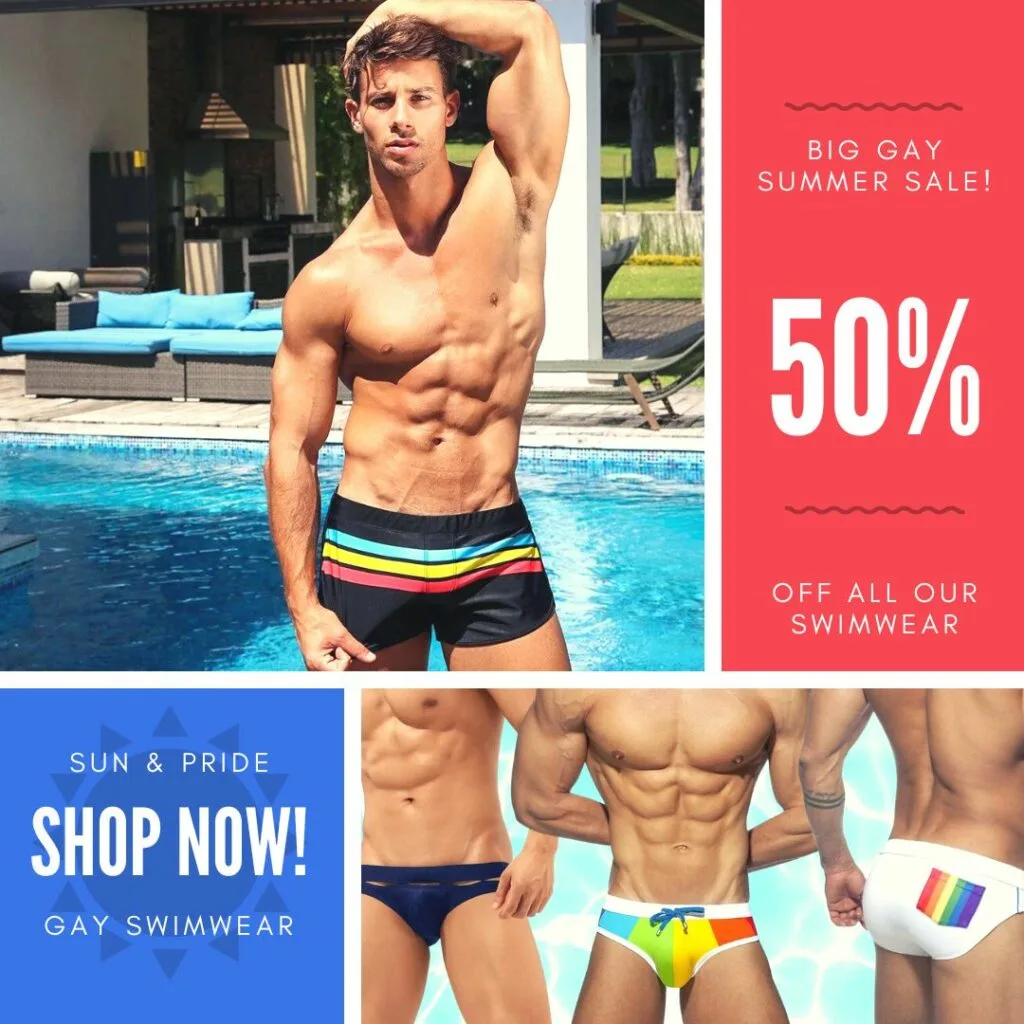 The Siem Reap Pub Hostel is a wonderful choice for those searching for cheap accommodation in Siem Reap. The youth hostel is on a quiet side street only a few minutes from Pub Street's pulsating nightlife, the Old Market, tuk-tuk bars, and the night market. The hostel conducts numerous events and creates a comfortable atmosphere for travelers to ensure that they enjoy their stay in the city.
In addition, hostel guests have access to a light bar that sells affordable beers, wines, and cocktails.
The Khmer chef produces authentic Cambodian and Western dishes in the hostel's kitchen. The pool table in the pub is often busy, and patrons like that they may play their music via the sound system.
The bar opens onto the huge pool, which features a volleyball net and is positioned to take advantage of the late afternoon light. The team is always delighted to meet you and will welcome you with a kind smile. They are well-known for going above and beyond to make your stay memorable and pleasant.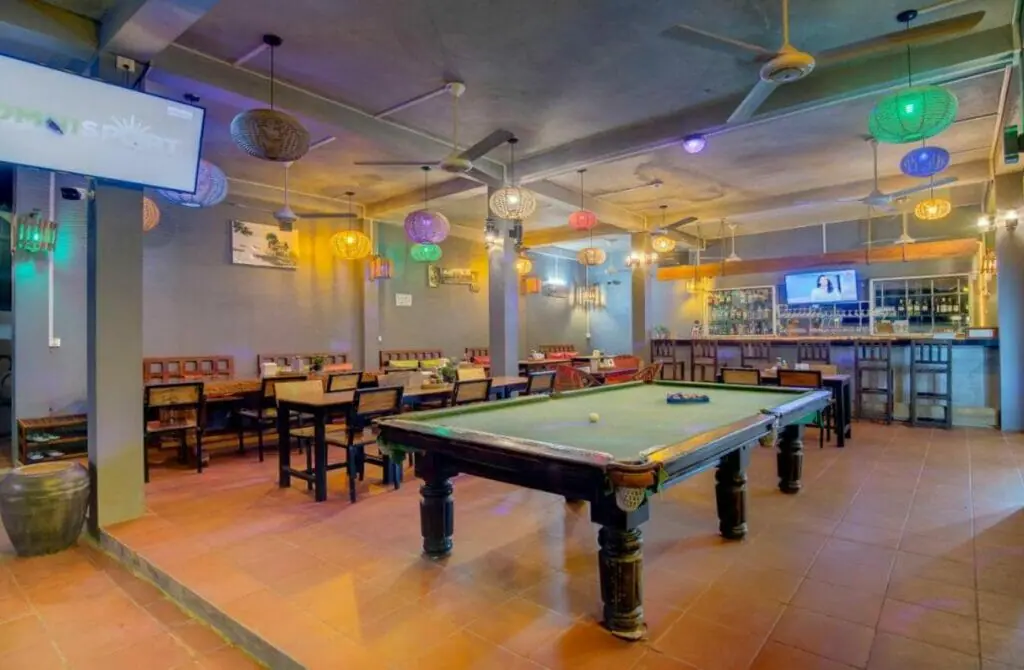 Gay Nightlife in Siem Reap, Cambodia
Cambodia is one of the best places in the world to spend a night on the town since it has cheap drinks, a dynamic scene packed with youthful travelers, and stunning, warm nights. Although Siem Reap is a small city, it has a thriving nightlife scene that attracts visitors worldwide. Pub Street is undoubtedly the most vibrant nightlife area in Siem Reap. The following are some of the best pubs in the region for a night of drinking and dancing.
Exploring the gay and gay-friendly nightlife in a new city can be one of the most exciting and rewarding experiences while traveling – and Gay Siem Reap is no exception. Not only will you have the opportunity to meet new people and make friends, but you'll also get a taste of the local culture and learn more about the city's LGBTQ+ community.
Going out and experiencing the queer and queer-friendly nightlife in a new city can also be a great way to break out of your comfort zone and try new things. Whether it's dancing the night away at a gay club or mingling with locals at a gay-friendly bar, you'll have the chance to make memories and create lasting connections.
So, don't be afraid to step out of your comfort zone and explore the gay and gay-friendly nightlife in Siem Reap. You'll be glad you did!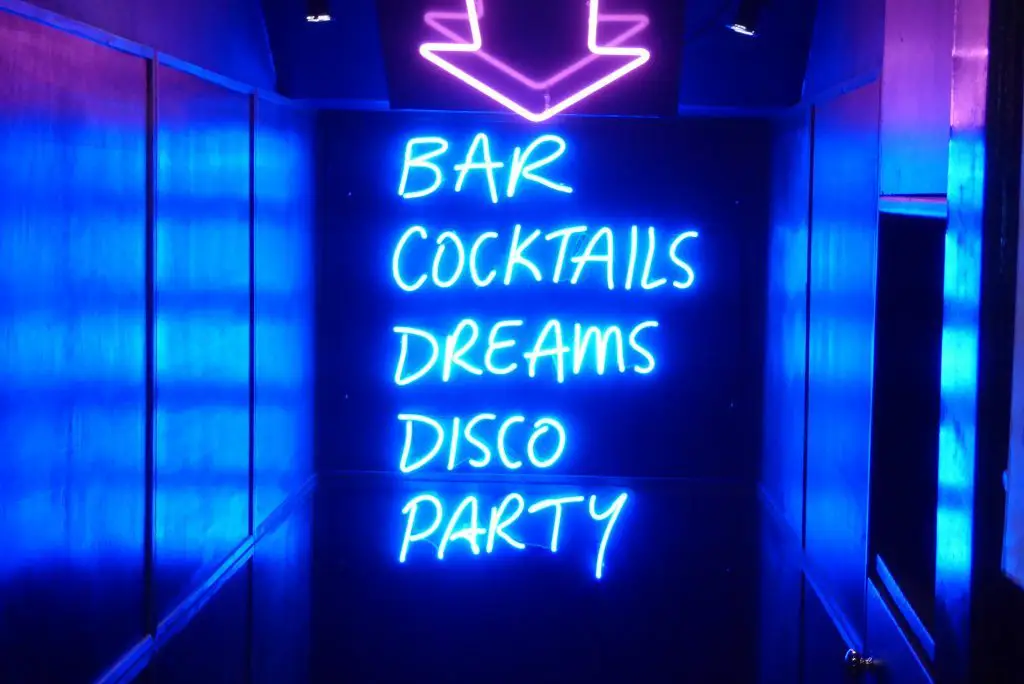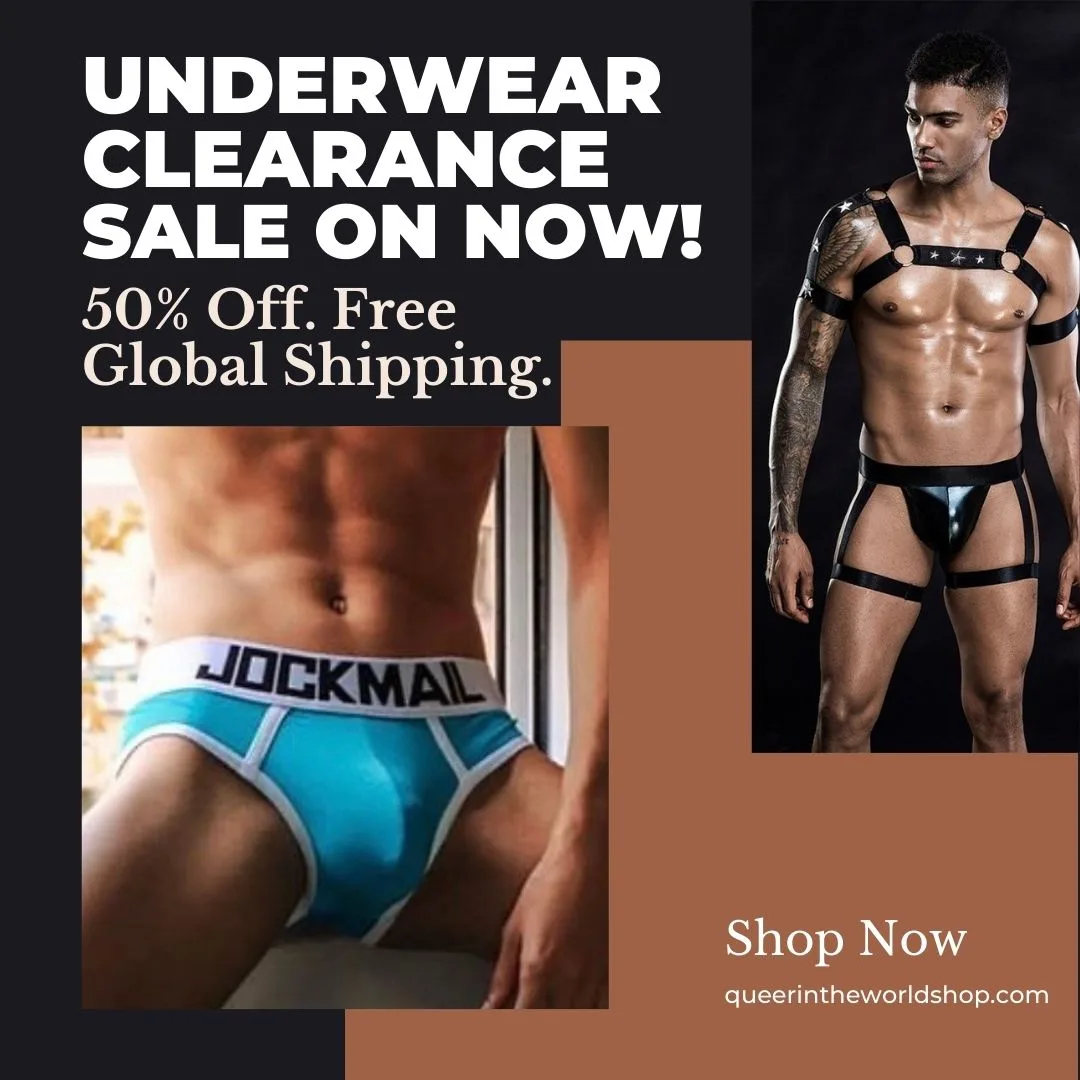 Gay Bars and Clubs in Siem Reap
Due to its prominent position and role as the premier gay bar in the Pub Street sector, it is unavoidable that Barcode will be the most visited LGBT hangout in Siem Reap. The drag shows at Barcode begin around 9:30 p.m. and go until approximately 11:30 p.m., making this the best time to attend the venue.
After the shows, the space is cleaned and turned into a dance venue. Every evening till roughly 2:00 a.m., Barcode is open. It may be situated on New Street A, near the extension of Pub Street.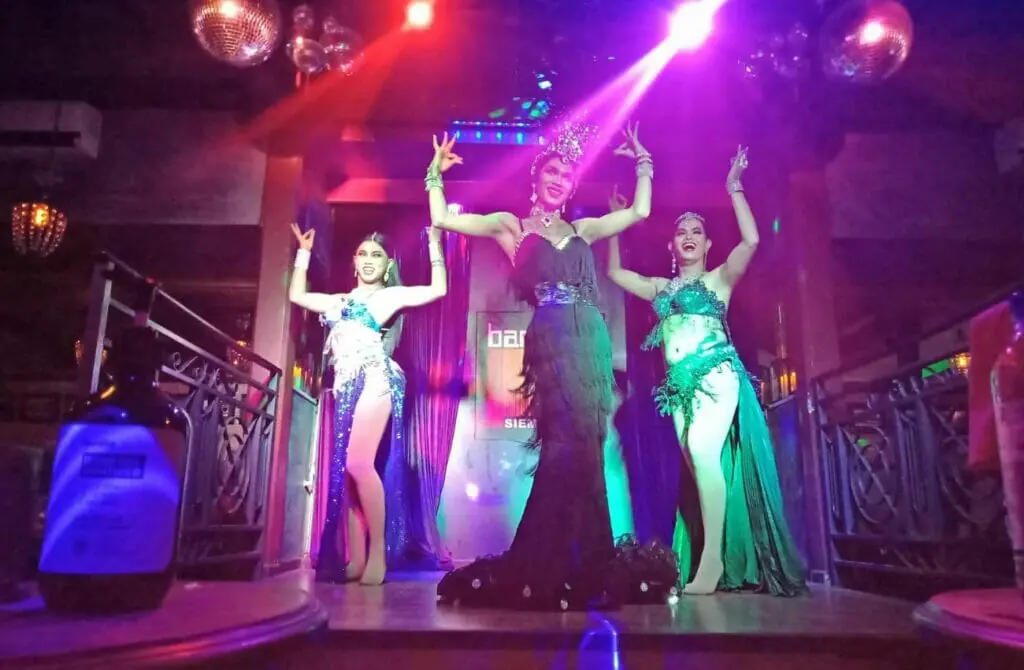 The Miss Wong Cocktail Bar is one of Siem Reap's best nightlife and drinking spots. The restaurant was designed to give you a tranquil experience and is conveniently positioned outside Siem Reap's famous Pub Street. The cocktails on the menu are varied, and the addition of an Asian twist on each one distinguishes this restaurant as one that customers must experience at least once.
The décor of the Shanghainese bar, which features comfy leather couches, black lacquer screens, and colorful paper lanterns, will surely make you want to feast your eyes on them. Miss Wong is open every night from the evening till approximately 1 a.m.
Gay-Friendly Bars and Clubs in Siem Reap
The Laundry Bar, located to the city's east, is another famous late-night destination in Siem Reap. The bulk of this establishment's customers is fewer than ever before. Due to the tranquil environment, this is a good place to hang out and converse with others.
The main attraction for tourists is the outstanding collection of over 250,000 music recordings that they have here. If you feel like playing pool, this institution features two pool tables.
Picasso Bar in Siem Reap is a nice place to meet up with friends and converse with foreigners. It is roughly a two-minute walk from Pub Street. A dozen barstools are positioned in a circle around the barrel-vaulted bar parts of this little business.
The happy hour special runs from 5 to 9 p.m. and provides a buy one, get one free deal, including beers, cocktails, martinis, and sangrias. Picasso Bars' three trademark drinks are Thong Slap, Chocolate Cakes (Vodka blended with sugar and a lime slice), and B53 (Kahlua, Bailey's, and absinthe).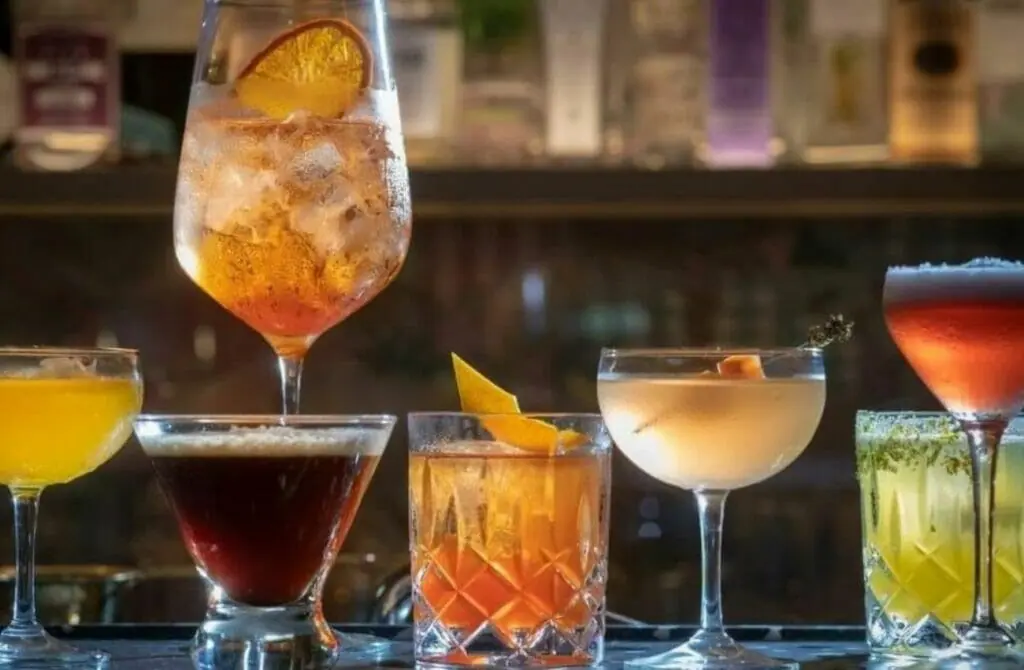 Gay-friendly Cocktail Bars and Clubs in Siem Reap
On Pub Street, Asana Bar serves Khmer-style cocktails and drinks. They feature a wooden bar and serve beverages and cocktails till late at night. It is the only remaining traditional Khmer residence in Siem Reap's downtown region. It offers a lounge area with hammocks, daybeds, and beanbags where visitors can relax and enjoy the wonderful garden and great evening weather.
Every month, the first Friday is set aside for the monthly BBQ night festivities. Asana Bar also hosts classes on how to create traditional Cambodian cocktails in the Khmer style, which you may attend to learn how to make these drinks on your own.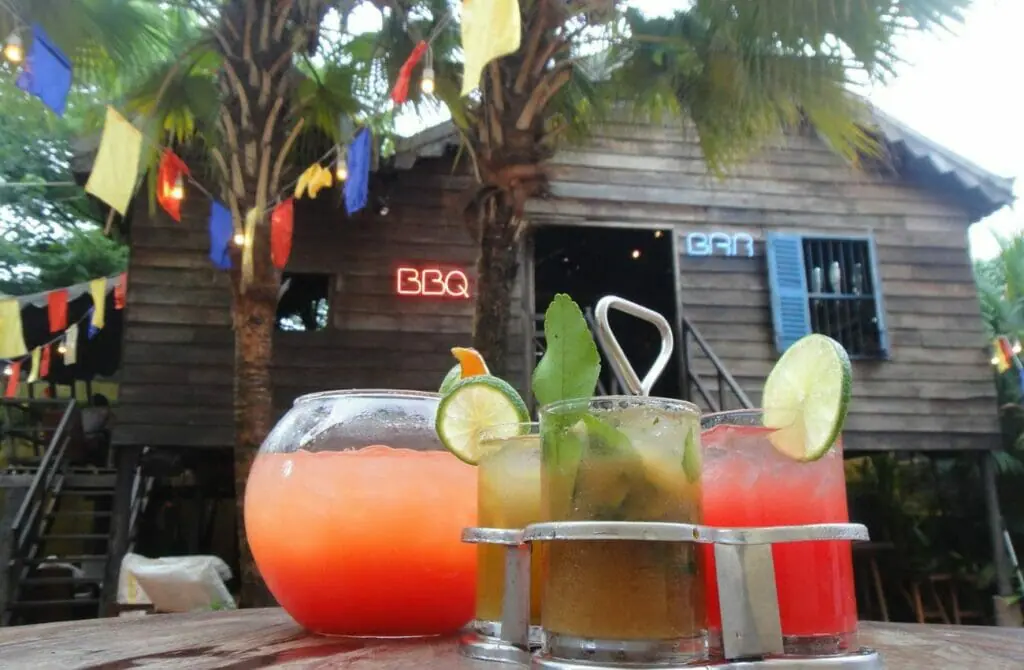 The Elephant Bar, situated within the Raffles Grand Hotel d'Angkor, is one of the most well-known nightlife destinations in Siem Reap. This bar was founded in 1960 and has a historic colonial building, wood adorning, leather seating, and uniquely African elephant decorations in every corner and cranny.
These bars provide a range of alcoholic drinks, including single malt whiskeys, bourbons, cognacs, martini cocktails, beers, and champagnes. If you like mixed cocktails, you should try out the Airavata. It's a wonderful mixture of rum, Malibu, banana cream, lime juice, sugar syrup, and coconut juice served in an elephant-shaped glass.
Gay-friendly Rooftop Bars and Clubs in Siem Reap
The top level of this magnificently built two-story tower, one of Siem Reap's most well-known structures, will give you an outstanding view of the old market area below. This institution, which is popular with both volunteers working for charitable groups and visitors, offers a wide variety of drinks and food.
It will also give you the impression that you are riding the subway, but with an unusual twist. In this place, friendly and well-dressed bartenders are on hand to help you concoct libations specifically tailored to your preferences.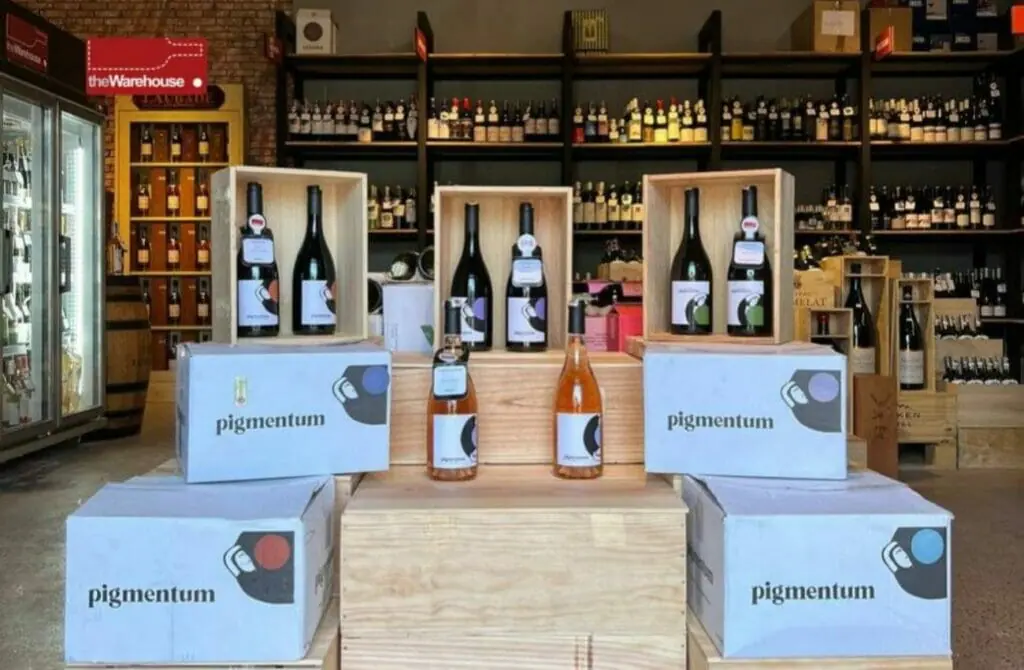 Soria Moria Boutique Hotel Rooftop Bar
You must enter the hotel before taking the elevator to the fourth floor to access this sky bar. If you want to relax after a day of seeing temples, there are a few seats spread around a tiny swimming pool, and there is a lovely view of the setting sun from this spot.
Yet, every Wednesday, the $1 happy hour discount distinguishes this sky club from the others. Tapas, beers, and cocktails are all offered a la carte for one dollar and are all delicious.
The Gardens by the Bay in Singapore inspired the design of the new attraction, which debuted on January 1, 2018. Reaching the top of the twisting stairway to the roof will reward you with a breathtaking and bright panorama.
If you're here for dinner and drinks, the leather seats and tables are the area's focal points; nevertheless, most bar stool seating is around the bar's perimeter. This sky club provides draft beers for one dollar and beverages for two dollars, but since there is no view of the sunset, customers should come after dark to get the full lighting effect.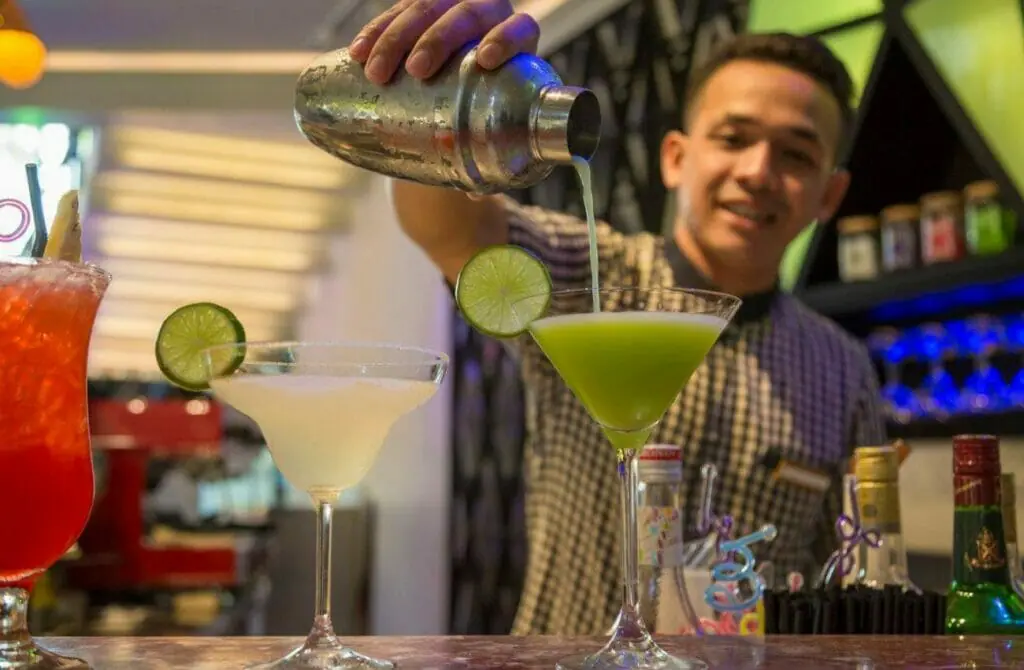 If you're searching for a night out on the town, go to X-Bar for the hippest experience in Siem Reap. Its rooftop bar is unique because it has a little ramp or half pipe for skateboarders. Expats and tourists account for a significant component of this establishment's customers.
Usually, music in the backdrop comprises hip-hop, rap, and rock. The drinks available are basic fare—cocktails, sprites, wines, draft beer, etc. X-Bar also has a drum set and a pool table for your enjoyment. As a result, whether you're in the mood for a game or want to create some excitement at the party, you're free to do either.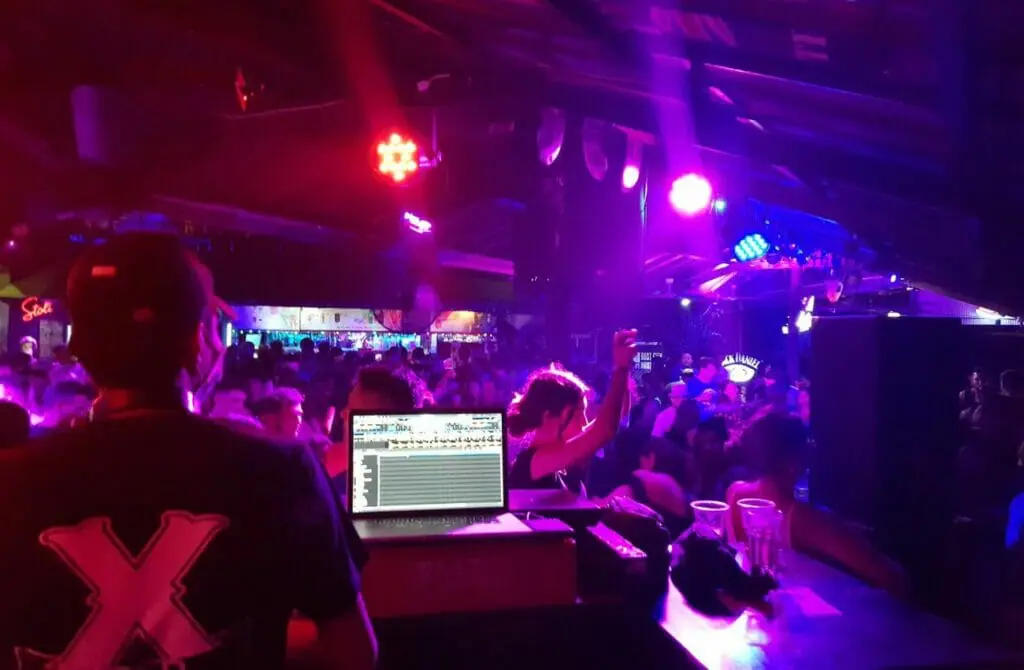 The Temple Bar boasts a large sky lounge with a view of the vibrant lights of Pub Street. Buildings obscure the sunset view from here, but the happy hour draft beer and beverages are just fifty cents apiece, which more than compensates. Apsara traditional dance performances are held nightly at 19:30 and 21:30 and are suggested for budget-conscious travelers interested in experiencing Cambodian culture.
This hostel's sky bar competes with others for the title of Siem Reap's greatest party hostel, and is open 24 hours a day, seven days a week. Whether you travel as a flashpacker or a backpacker, the result is the same: a vibrant party environment excellent for meeting new people. This rooftop bar is ideal for a younger crowd since it has live DJs, two bars, the assurance that the music will be cranked up loud, and daily themed events.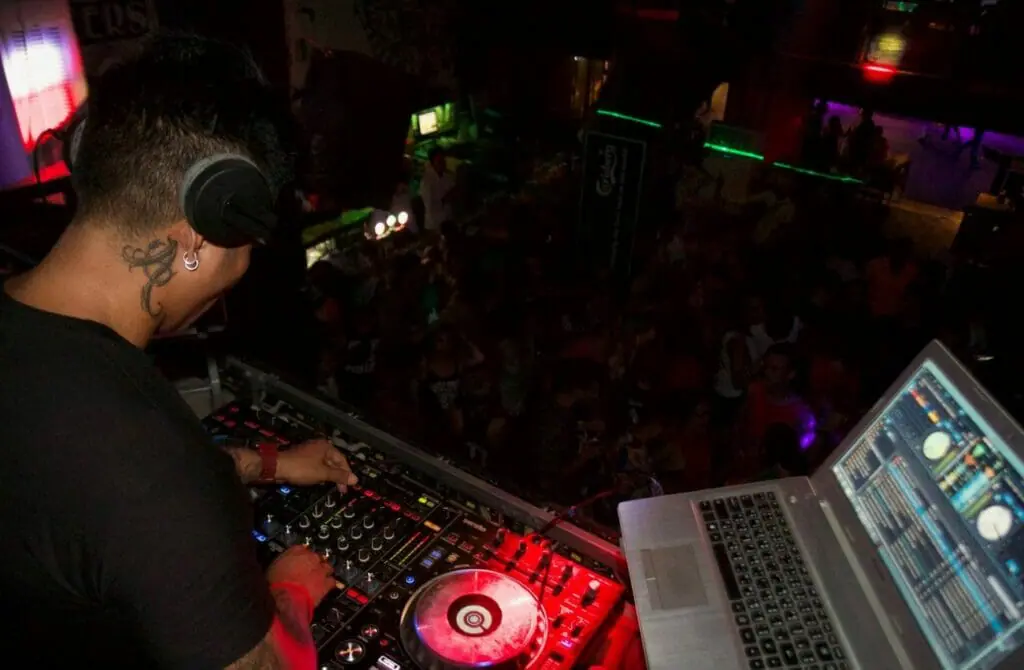 Gay Cruising and Sauna in Siem Reap, Cambodia
When traveling to a new city, it can be exciting to head out for more than just a stiff drink. One aspect of the Gay Siem Reap scene that many queer men enjoy is visiting gay saunas and cruising clubs.
Sure, the sauna culture in Siem Reap is not as hedonistic as in Amsterdam, Barcelona or Berlin, but these venues still offer a chance to meet new people, socialize, and engage in sexual activity – without resorting to gay hookup apps.
However, it's important to keep in mind that these venues can vary greatly in terms of atmosphere, clientele, and rules, so it's a good idea to prepare yourself before visiting. If you are apprehensive, we advise studying our guide to visiting a gay bathhouse for the first time, which should help set your mind at ease and always practice safe sex.
Additionally, it's important to be aware of and respect local laws and customs regarding gay venues and sexual activity. With a little bit of planning and an open mind, visiting gay saunas and cruising clubs can be a fun and exciting part of your gay Siem Reap travel itinerary.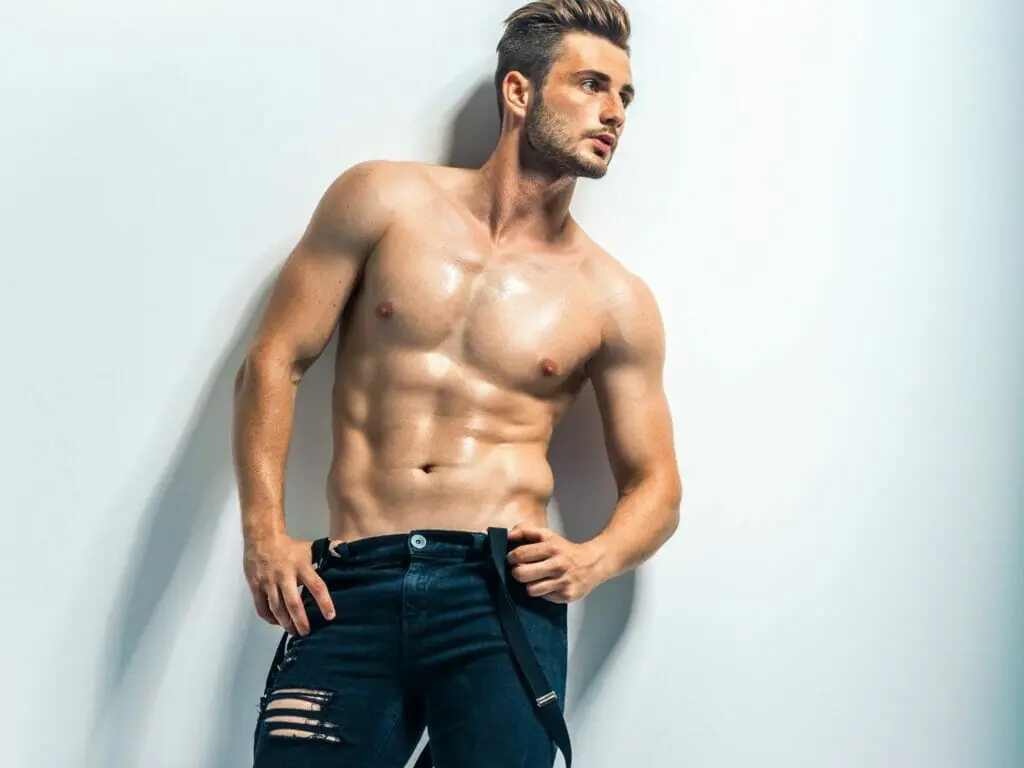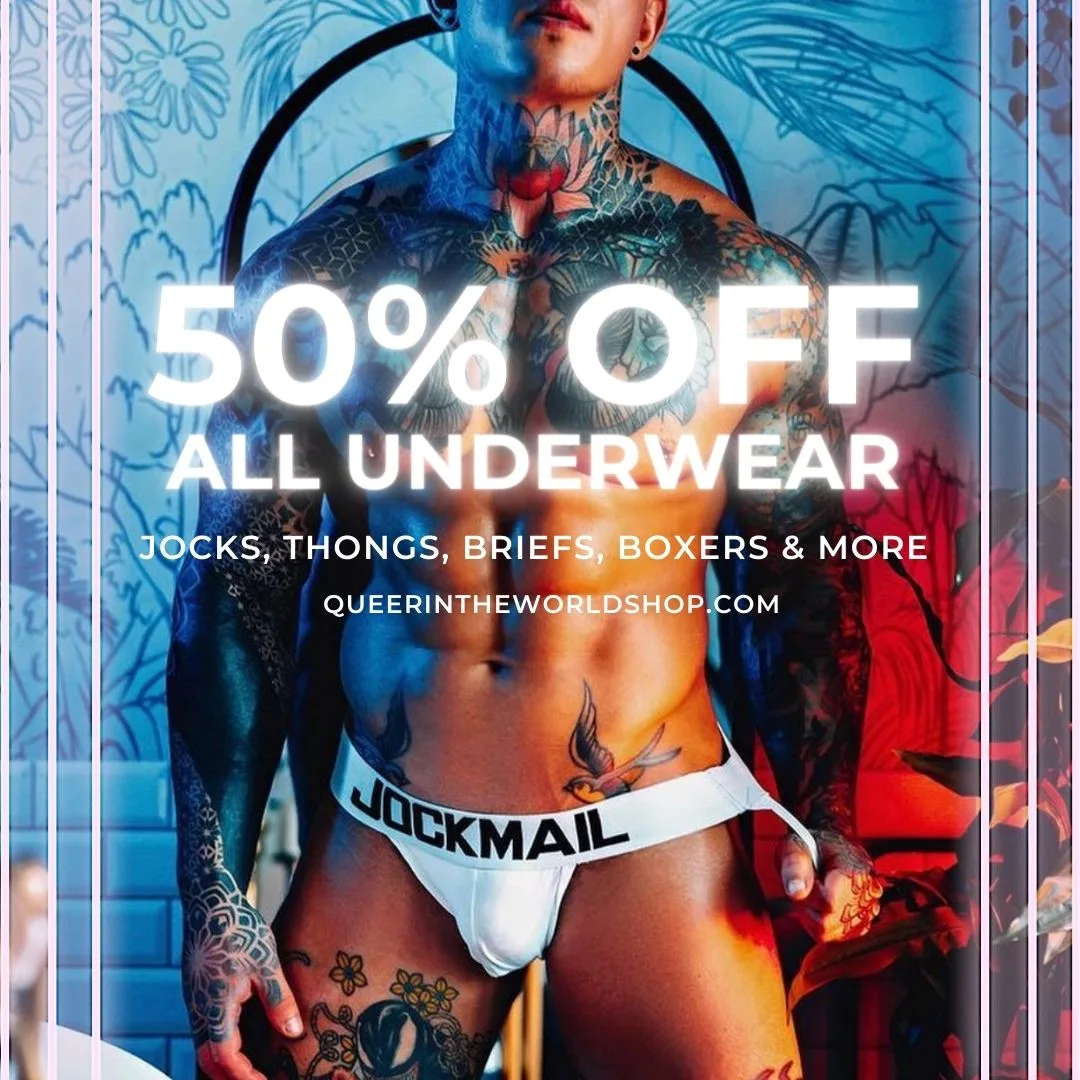 The hotel just unveiled GB Guys Only, a gay sauna for men exclusively, which is free of charge to hotel guests. Each contemporary guest room has free Wi-Fi, cable television, and private balconies. The rooms provide views of either the garden or the swimming pool. There is a restaurant and a bar on the grounds.
The only spa in town that meets worldwide hygiene and facility standards is nestled away in a quiet area so that inhabitants may visit without calling attention to themselves. Private cabins, lockers, showers, saunas, steam baths, dry labyrinths, and a massive Jacuzzi, and dry labyrinths are just a few of the facilities for gay guys to interact and have fun at this location.
Sokkhak, a gay-friendly spa that provides a calm haven, is situated on Pub Street; the title "Sokkhak" derives from the Sanskrit language and means "tranquility." This is not a place to meet other males; rather, it is a place to hang out, relax, and get pampered with various treatments.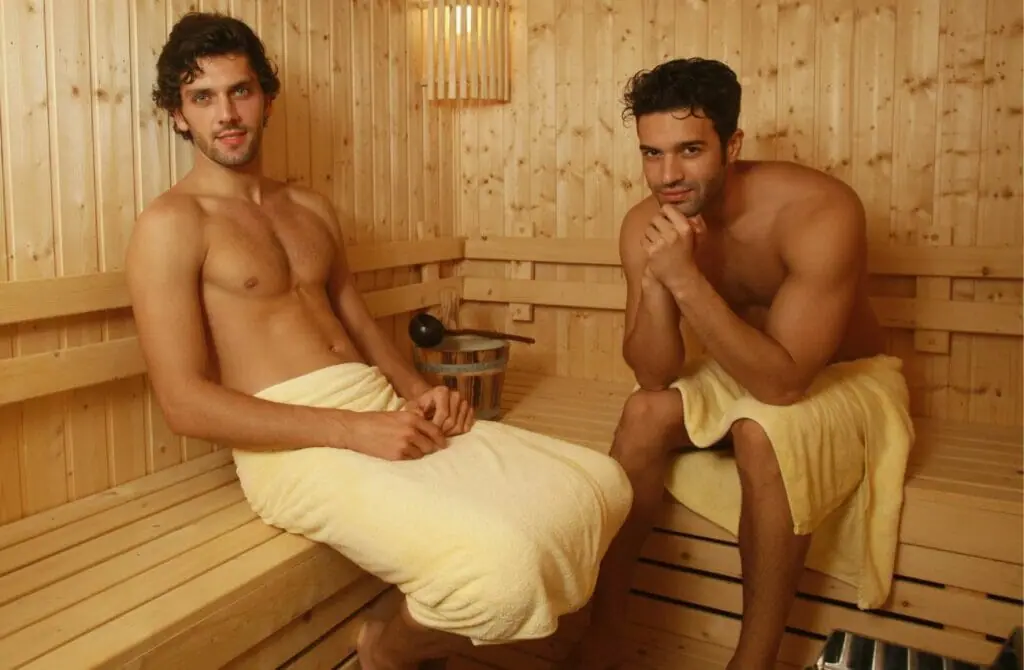 Gay Map Of Siem Reap
Finding it hard to envisage where everything is in Siem Reap? Hopefully, this queer-centric map helps where we have marked all the bars, clubs, parties, hotels, saunas, massages, and more will help you stay in the spot best suited to you!