It's a brand new year, and that means it's time to start planning your travel for the months ahead. There are so many exciting events happening in the gay communities around the world, making it difficult to decide where to go. We just want to see and do it all!
No matter what you are interested in, whether it's a total party atmosphere or an event exploring LGBTQ art and culture, there's are so many exciting options to choose from this year. Here are the most fabulous and exciting gay events to plan your 2022 gaycation around!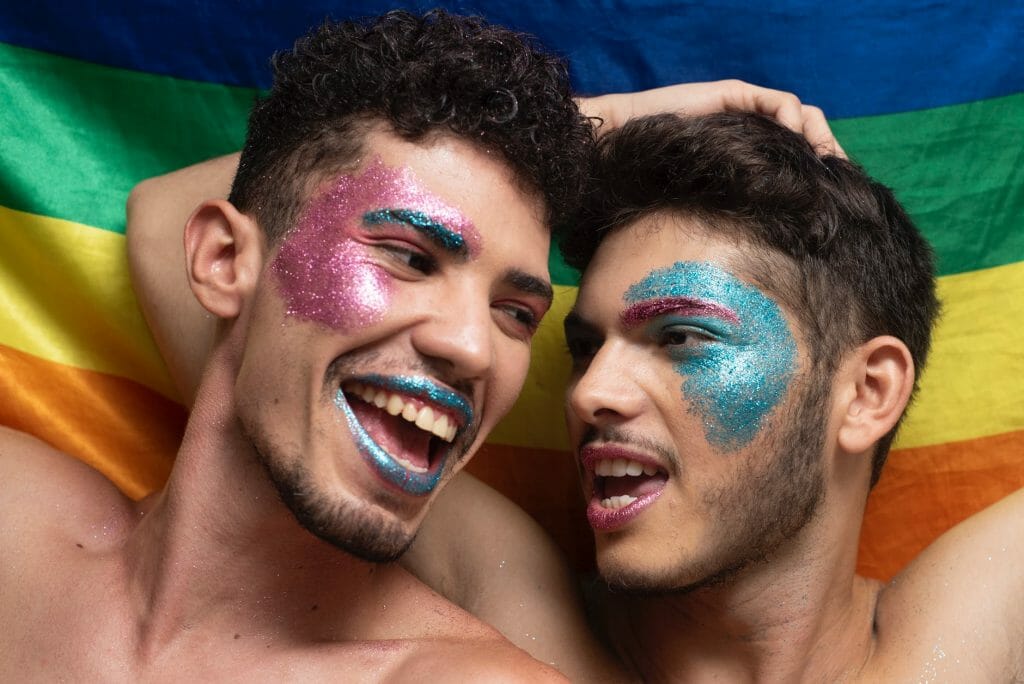 January – Hustlaball Las Vegas
Held in Las Vegas, Hustlaball kicks off the year with a giant gay erotic dance party. It's been held for over 16 years and draws a fantastic crowd from all over the world. Kinkiness, bondage, and other types of fetish play are totally encouraged – this is the perfect place to embrace your wild side.
The event takes place over the course of a weekend, opening with a Sexy Underwear Party on Friday night, which is the perfect place to show off and enjoy some eye candy. The main Hustlaball is on Saturday night, and is sure to be an event to remember. The last day is the Men Only VIP night, which has a more exclusive atmosphere.
January – Beef Dip Puerto Vallarta
Beef Dip Bear Week is the perfect way to escape the winter weather in your hometown and party in the beautiful Mexican paradise of Puerto Vallarta. Beef Dip is obviously targeted at 'bears', so if that's your crowd, this is the perfect event for you to let loose and have fun on the beach.
There are tons of events planned throughout the week for you to socialize and enjoy great food and drinks. There are gorgeous sunset dinners at the Mantamar Beach Club, themed dance parties at CCSlaughters nightclub, and of course, plenty of fun pool parties.
If you're more of the outdoorsy type, you can also go ziplining, take an ATV tour, and more.
January/February – Arena Festival Playa Del Carmen
This is another festival held in beautiful Mexico, this time in Playa Del Carmen. It's a huge LGBT dance and music festival, so it's a great opportunity to see some of your favorite artists live in one of the most beautiful places in the world. There are circuit parties every night after the shows so you can mix and mingle with other attendees.
You can also get some incredible hotel discounts if you're attending the festival – it's the perfect way to enjoy such a beautiful resort town.
February – Leather and Fetish Pride Belgium
For those who enjoy the darker side of the leather and fetish scene, Leather and Fetish Pride Belgium is a key event to put on your calendar. The entire event is immersive, with a fascinating concept. You're taken to an abandoned laboratory, where a fictional corporation undertook a search for the world's best alpha male, but they ended up creating a virus that turns every man into a sexual predator.
The event is a search to find out if the virus still exists, and you'll get into plenty of dirty debauchery along the way. The event is held in Antwerp, where there are plenty of wonderful boutique hotels to stay in when you aren't at the festival. During the daytime, you'll want to explore Darklands, where you can shop for fetish goods, meet other festival attendees, and check out demonstrations. At night, you'll have several parties to choose from. The Fusion party is the opening night party, which promises to draw a huge crowd.
The Rage party is the main event, which draws thousands of people each year and features a lineup of top DJs. There's a Rubber Only party as well for rubber enthusiasts, and then the Xtreme vs. Alphas party closes out the event.
February/March – Cape Town Gay Pride
Unlike many other cities, Cape Town, South Africa holds its gay pride event early in the spring. Cape Town has been holding their gay pride celebration for 15 years, and in addition to being a vibrant party, it's also very effective for raising awareness about LGBTQ issues in South Africa.
The two biggest events to check out are the main parade as well as the pool party, which is a great opportunity to meet other travelers and enjoy South Africa's notoriously great weather. The pool party is held at the Glen Hotel, which is one of the best gay hotels in the city. It has a very luxurious atmosphere perfect for a romantic getaway. There are a variety of other fun events held around the city over the course of nine days that you should be sure to check out. The parade happens to coincide with Mardi Gras, which makes the festival even more exciting.
There's plenty of amazing local food to check out, and if you are outdoorsy, Cape Town is a lauded destination for hiking and sailing.
February/March – Sydney Mardi Gras
Sydney's Gay and Lesbian Mardi Gras is another incredible celebration that is worth a spot on your travel calendar. Sydney's beautiful beaches and sophisticated culture already make it an excellent gay travel destination, and this festival is the icing on the cake. There's so much to do during this festival that it'd be impossible to list every event. The three main events are the fair, the parade, and the party.
The fair is a fun daytime event where you can enjoy live music, local food and shopping, and network with other fabulous travelers. The parade combines traditional Mardi Gras floats with impeccable LGBTQ style. The party is the culmination of the event with more live music, themed rooms, and thousands of people to celebrate with.
In addition to the main events, there are also a range of smaller parties, LGBT panels and art displays, and family events.
March – Barcelona Spring Break Fetish Edition
Barcelona is an incredibly fun destination for a gaycation all year round, but things really kick into high gear during this kinky event. For one weekend, there are parties around the clock where you can really tap into the things you love about the fetish scene. Some of the fetishes you'll find here include rubber, leather, skinhead, sportswear, uniform, and more.
There's also the election of Mr. Fetish Spain, which you won't want to miss, as well as puppy parties. In addition to the parties, there are also luxurious dinners, exhibitions, workshops, and more. When you're not exploring the festival, be sure to have fun in the sun on Barcelona's gay beaches.
April – GCircuit Songkran
This huge event is held in Bangkok, one of the world's biggest gay scenes, and is sure to be a thrill ride. This year is Songkran Wet Edition, with two fun pool parties – the Boy and the Bear. There are also three night parties, and you can purchase VIP or standard packages depending on your preference.
Each event has a lineup of top DJs and is held at one of the top hotels or venues in Bangkok.
April/May – Sleazy Madrid
Sleazy Madrid has been one of the most popular gay events in Europe for almost two decades. They actually hold three events each year, with the first one being in the spring, the second one around Pride, and the third one in the winter. This festival combines fetish play with a great lineup of electronic music.
While there are several different parties that take place during this event, the four main ones are the SleazyMorbo, Into the Tank, Odarko, and SleazyDuro, each of which feature top DJs. Many local businesses also put on their own deals and events during this festival to take advantage of the huge crowd that it draws. To be in the center of the action, stay in Chueca, the city's 'gayborhood'.
August – Xlsior Mykonos
You probably already have Mykonos on your list of dream travel destinations, and this event is the perfect excuse to go. It's held in one of the most beautiful venues in the world, with top DJs and musical artists performing at the parties. The programming for this year has yet to be announced, but previous years' lineups have been so lit they've attracted over 30,000 people.
When you're not dancing the night away, you can lounge in the sun on one of Mykonos' many gay-friendly and nude beaches…or relax in the amazing gay hotel in Mykonos!
Dates TBD – Rio Gay Pride
Rio de Janiero is one of the biggest party cities in the world, so it's no surprise that their Gay Pride celebration is one of the best. The party happens on the Copacabana Beach, with DJs and drag queens performing throughout the event.
The giant parade runs along the length of the beach while you dance in the sand under the sun, and sound wired trucks play music the whole time to keep the dance party going. The entire city parties in the streets, and throughout the event you will experience the truly warm and welcoming atmosphere of Rio and Gay Brazil!