Known for being one of the world's best summer holiday destinations, Gay Mallorca Island in Spain is also an extremely popular option for queer tourists thanks to its year-round rainbow vibes.
A major highlight is clearly exploring incredible nudist beaches during the day however there are also countless attractions not seen anywhere else, from rugged coasteering coastline to pearl factories, and a vivacious gay nightlife that feels uniquely Mallorcian in style.
You won't need to spend long in this beloved star in the Mediterranean, to discover that it is more than just a popular package holiday destination as well. With a rich history, Palma is steeped in the influence of various cultures, including the Romans, Arabs, Jews, and Christians, making it a modern and cosmopolitan metropolis with a Mediterranean flair.
In fact outside of Magaluf and Playa de Palma, you'll encounter a charming and radiant Mallorca filled with stunning beaches, mesmerizing ocean vistas, secluded mountain ranges, pearly blue waters, great palms, gothic cathedrals, roman ruins and charming hillside villages.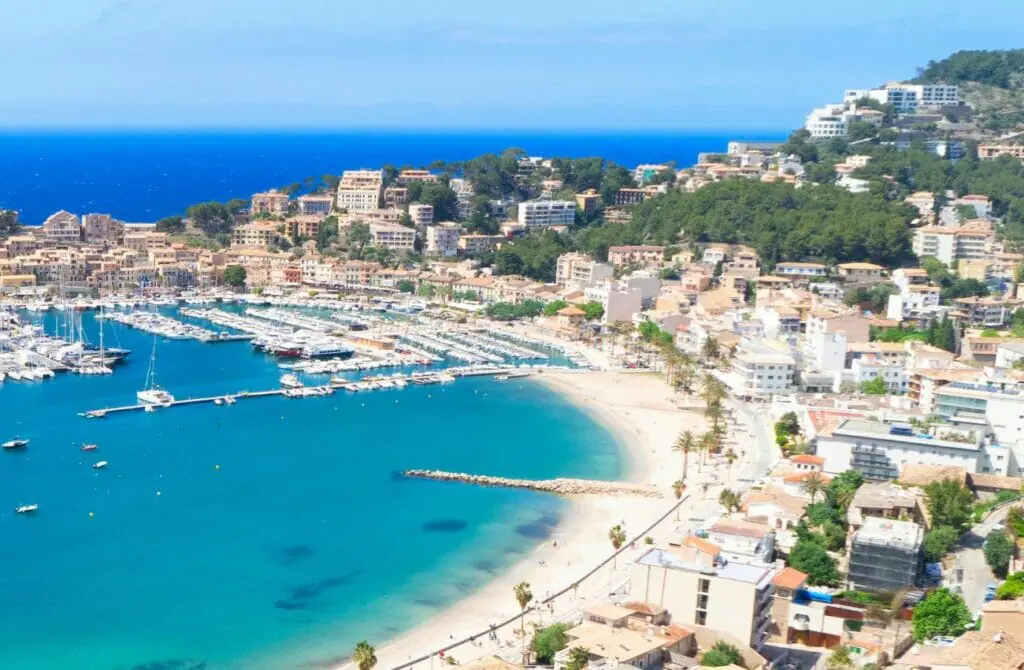 The island might seem small at first, but when you realize that the city of Mallorca alone has 400,000 residents (and the island in general over 1,000,000), you'll understand why there is so much to see here. In fact, Mallorca Island is around 2.3 x larger than London and has 262 beaches with a total length of 50 kilometers. It is by far the biggest of the four Balearic Islands, though (slightly) more relaxed than the famed party island Ibiza…
Being in such a massive space with a thriving queer community, it is no surprise that Mallorca hosts some of the craziest gay parties, festivals, and spaces for the gay community to take full advantage of. One of the most popular events is Gay Pride Mallorca, which takes place in June over the summer and features a colorful parade and festivities throughout the city. Then there is also the famed Ella International Lesbian Festival Mallorca which has been running for over a decade now from Mallorca
So, whether you prefer a quiet gay cocktail bar, a pumping nightclub, cruising on the beaches or a relaxing dip in a gay sauna, you can rest easy knowing that all these great things and more can be discovered at Gay Mallorca in Spain.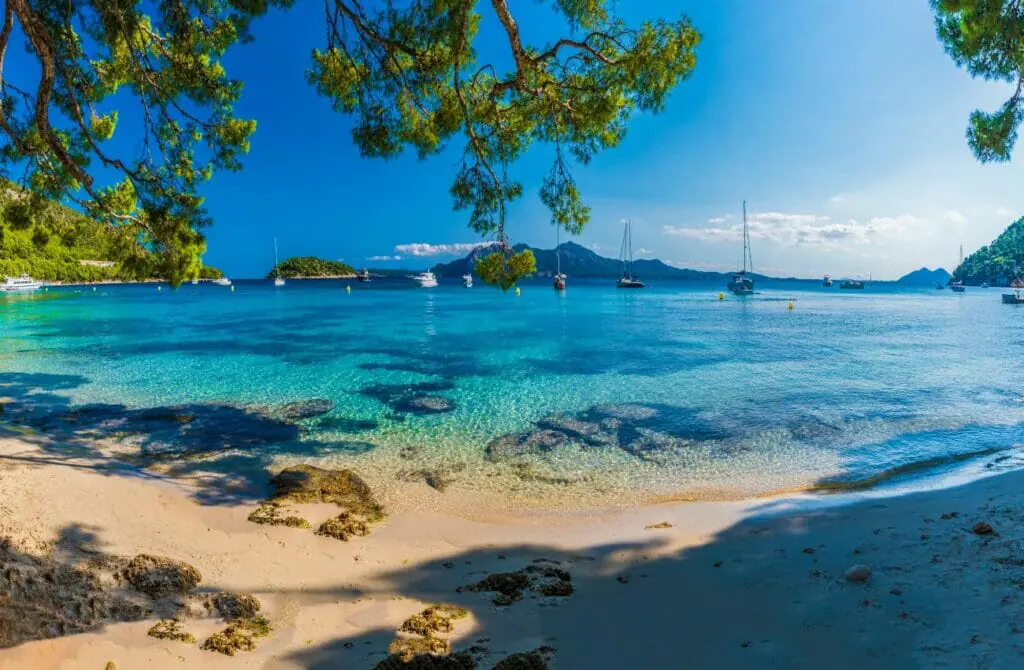 Attractions in Gay Mallorca
Within this sun-kissed summer dream of an island is a host of attractions to make your time in Mallorca as magically queer as possible. From hot air balloon rides that pitch you high above to get views of the unique landscape to a tasting of traditional Spanish food, you won't be disappointed by what is on offer for tourists of all types!
As a new visitor to Gay Mallorca, there are plenty of things to see and do, regardless of your sexual orientation. One of the best ways to experience any new city is to visit some of its most iconic landmarks and attractions, including visiting historical monuments, museums, and art galleries. We also love gazing at architecture up close, exploring parks and gardens, sampling the local cuisine, visiting local markets, and attending cultural events such as festivals, concerts and shows.
Even as the out-and-proud queer we are, we still love to just explore the city and its culture in the same way as everyone else. Doing so allows us the opportunity to learn more about the city and its people and gain a deeper understanding of the local culture. As such, these are our favorite must-see attractions in Mallorca.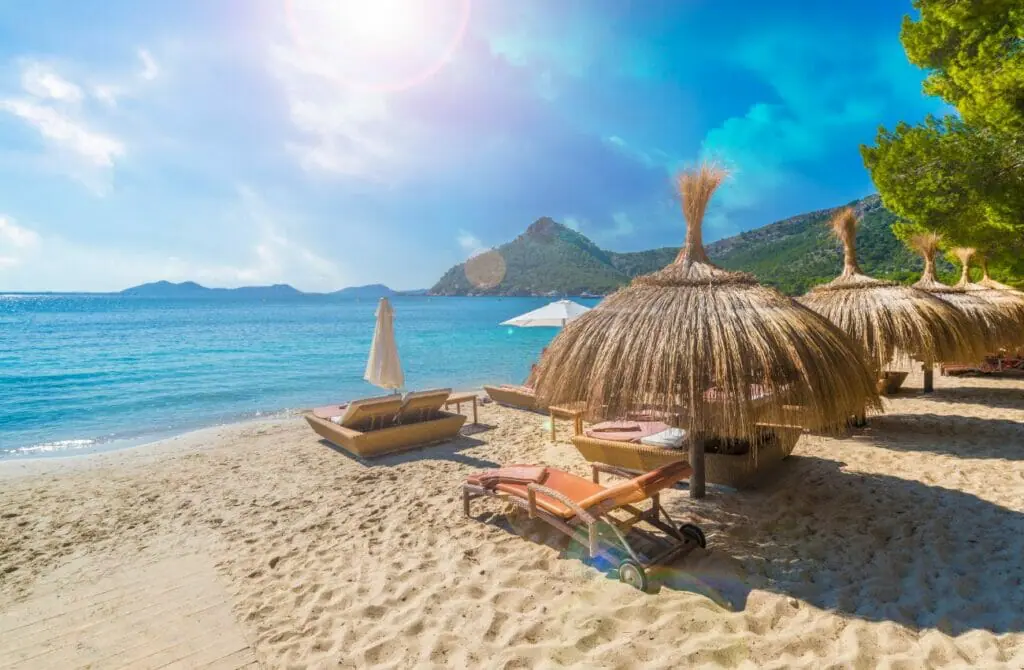 Mallorca Catamaran Small Group Trip with Tapas
In a similar vein to those that love food, this small group tour is a fantastic way to taste the culturally rich tapas of Spanish cuisine. Relax on a dingy as you are treated to the relaxing bob of the waves, incredible coastal views and blue waters, and fed a range of tapas.
This tour is excellent for small groups or a couple that might want a quiet romantic getaway from the hustle and bustle of the Mallorca city experience.
Spanish Cooking Experience in Mallorca
If you've become bedazzled by Spanish food during your time in Spain, you might naturally be inclined to try your hand at Spanish cooking. These cooking classes are a great way to do that whilst learning more about the culture and cuisine from a local. You might also learn some local secrets and tips outside of the kitchen!
Mallorca in One Day Sightseeing Tour with Boat and Train Rides
If you can't get enough of the natural beauty of Mallorca at one location, taking a tour that allows you to take a boat and train ride could be the best way to do that. Starting in Mallorca, you will take a day trip to travel both by boat and train to explore the coast and heartland of the island.
One of the most incredible things about this is the vintage wooden train that takes you to Son Reus. So if you are a train fanatic, this is a must!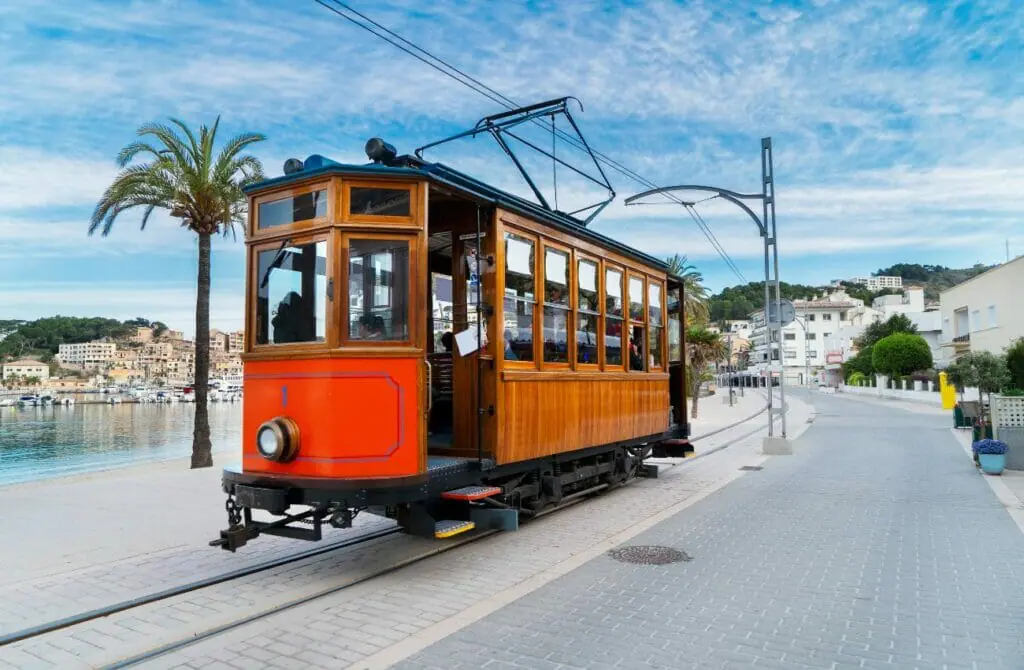 Mallorca Caves of Drach & Majorica Pearl Factory Private Tour
A tour into a cave doesn't get much better than this, with a private boat trip into the heart of Caves of Drach, where you will experience incredible views of the Majorica Pearl Factory. See stunning rock formations as you paddle closely under them through an underground cave river and take fantastic photos of what will be a tale to tell for all.
If you have never tried coasteering, this could be the perfect opportunity to try something different from anything you've done before. So, step into a provided wetsuit and be prepared to get wet, as an experienced guide will take you through a natural obstacle course of coastal sites and formations.
From caves and rocky shorelines to open patches of ocean, you will learn how to traverse these rough terrains safely for all ages and activity levels.
Palma de Mallorca Old Town and Cathedral Private Walking Tour
The moment you arrive in Mallorca, you will be exposed to the rich history of this region, and if you want to experience the heart of this, consider visiting Palma de Mallorca Old Town. Here you can pave the journey to sites or hire a private walking tour that will give you in-depth knowledge of the history behind Mallorca's oldest buildings.
Learn how the island grew from its ancient beginnings to the Roman conquest and later Arab control as the rich layers of history intermix into what we see in today's modern society.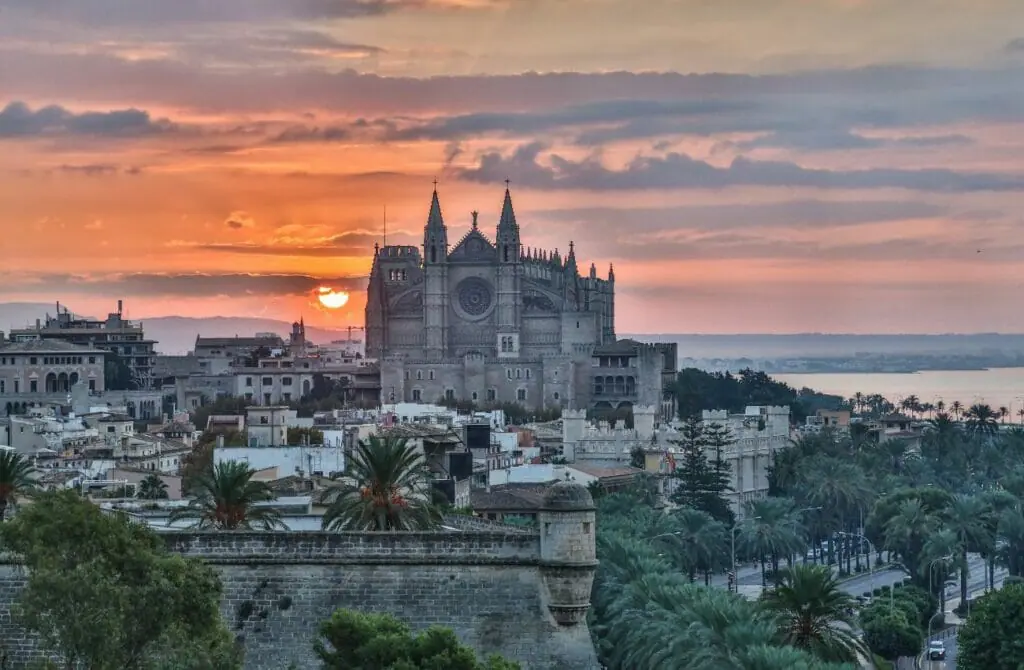 A unique chance to see this island from above shouldn't be missed! Be catered to breakfast and incredible views as you leave all the hard work to your experienced pilot. If you're lucky, you'll be able to see the nearby islands of Cabrera and Menorca on a clear day. So, start one of your days the right way with this fantastic experience.
Arab Bath Experience in Hammam Al Ándalus Palma
If you want to take a literal soak in the rich cultural traditions of this region, a dip in an Arab bath is the perfect way to feel like you're stepping back into lands of history. Bathe in the warm waters of paradise as you let all your worries melt away and emerge a refreshed individual ready to tackle the following incredible attractions in Mallorca.
Take a private tour of Palma de Mallorca and take the rich artistic history of the capital Palma. Learn about the lives and tribulations of the great artists and architects that built some of the most impressive structures that still line the city's skyline, from cathedrals to the cobbled streets; you will be surprised at what Palma has to offer. You will be interested in what you find.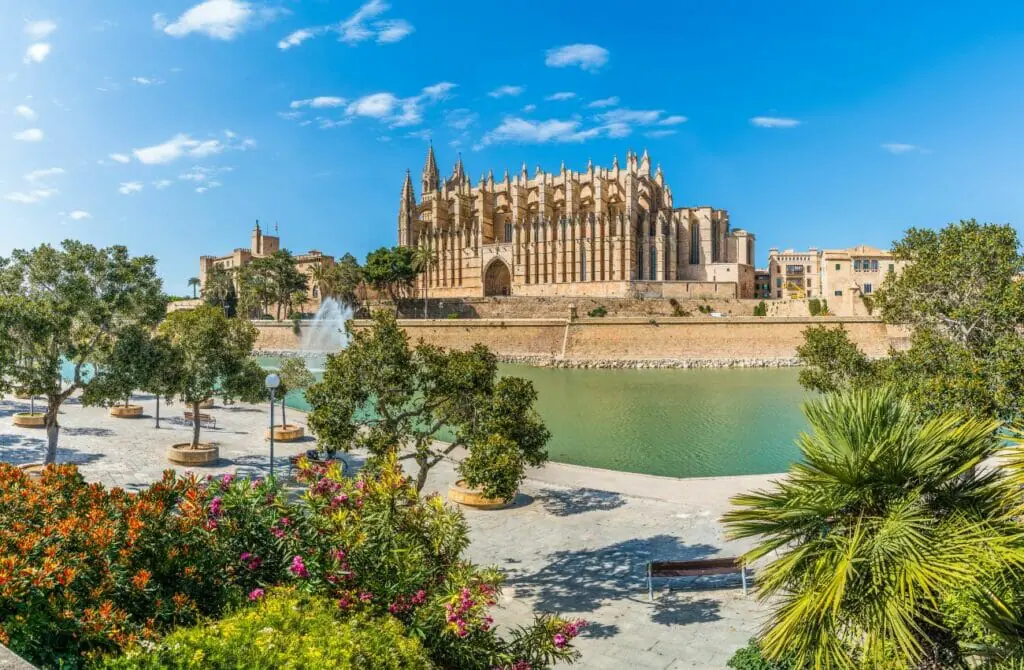 With all these walking and experiencing the outside artistic expression of Mallorca, you should also take a moment to visit the many museums in the area.
One of these great options is the Rafa Nadal Museum, which celebrates the recent history of one of Mallorca's greatest sports players. Rafa Nadal is a tennis player hailed as a local hero in his hometown of Manacor.
Palma's Gomila district
For those looking desperately for the gay district of Mallorca, you can start by heading straight to Palma's Gomila district, the unofficial gay center of Mallorca. Here you will find a high concentration of gay venues, from hotels to bars, as with it, a welcoming community to get you settled into making friends on your first stay on the island.
Mallorca to Valldemossa and Soller on Private Shore Excursion
Take a quaint six-hour tour into the port of Palma de Mallorca and experience a sea view of the island and the rich heart of its inland sites. From the world-famous Serra de Tramuntana Mountain range, its high peaks, incredible blue lake, and rustic backdrop of rural Spanish farms and villas.
You won't be disappointed by this informative, and it not only allows you to explore history and sites but also the delicious pallet of Spanish food.
A place with a one-of-a-kind vibe where the owners are big supporters of the queer community is more than happy to tell you about the very erotic waffles and toppings in a very entertaining way. The waffles themselves are actually super delicious and there's a great variety of sauces and extra sweets. A must-visit in Gay Mallorca… if just for a laugh!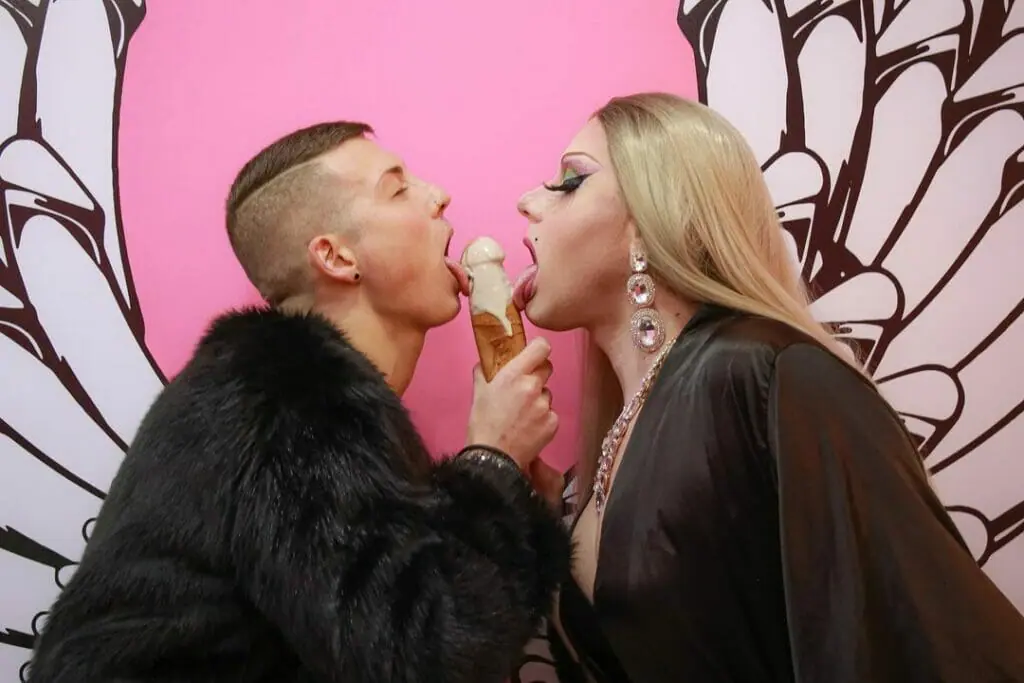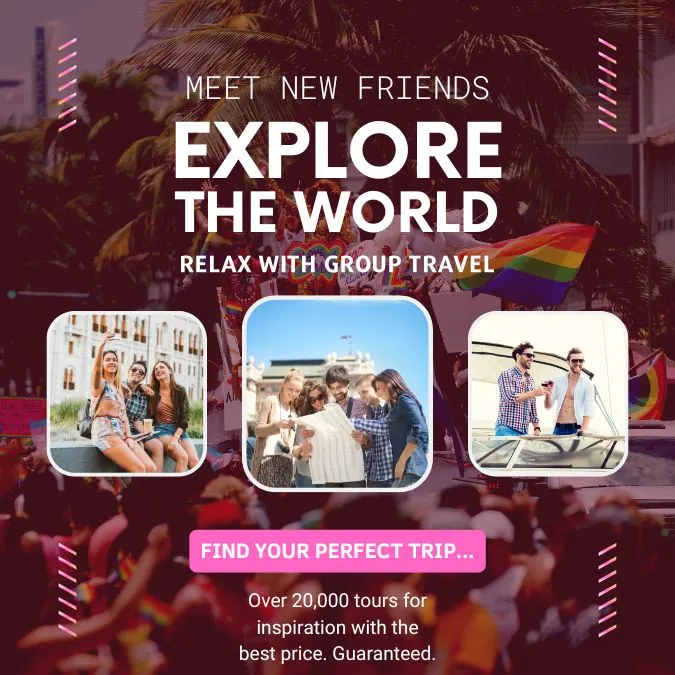 Gay-Friendly & Gay Hotels in Mallorca
With so much to do in Mallorca, you must be well-rested for the fun-packed days and lively late nights if you plan to hit every gay venue in town. So, you will need the perfect platform to recharge your batteries and a place to be your unapologetic gay self.
Thankfully, this is not particularly hard as Mallorca is exceptionally queer-friendly with an endless list of great hotels you will be spoiled for choice over,
Being gay-friendly accommodation means that the establishment is welcoming and inclusive to guests who identify as LGBTQ+. This can include but is not limited to, having policies and practices in place that demonstrate a commitment to creating a safe and inclusive environment for LGBTQ+ guests, such as non-discrimination policies, and providing support and resources for LGBTQ+ travelers.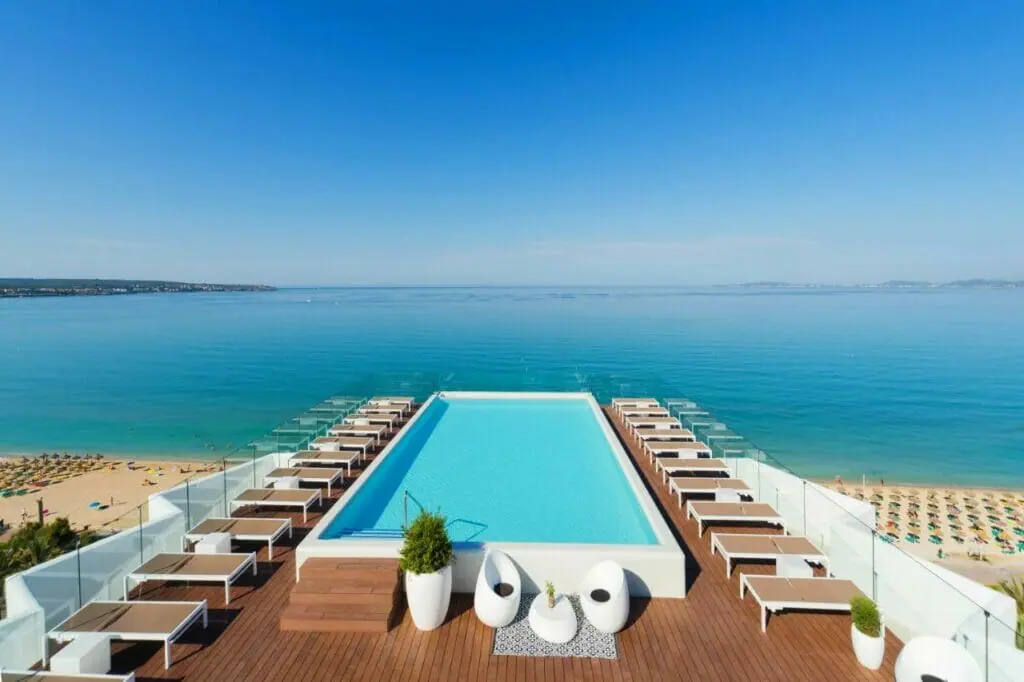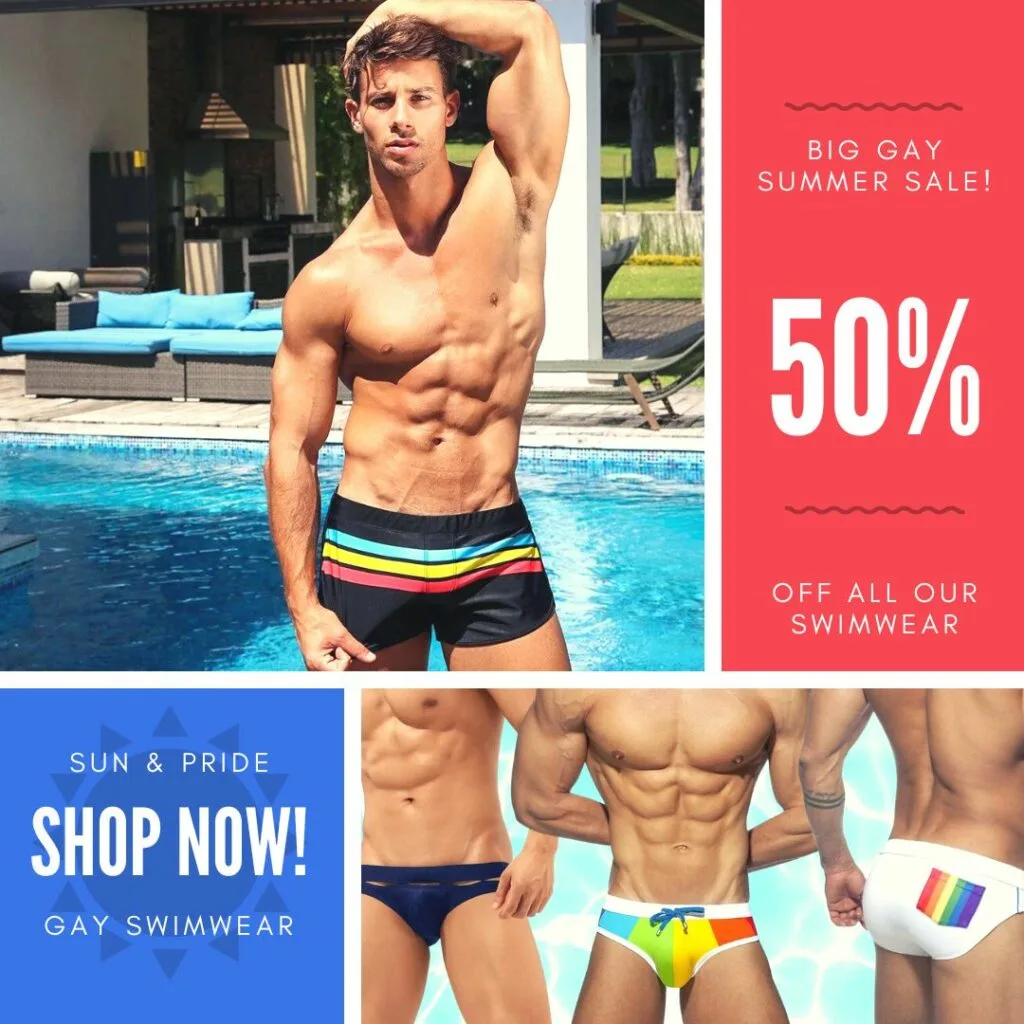 Some gay-friendly accommodations may also provide amenities specifically catering to the LGBTQ+ community, such as rainbow flags or literature about local LGBTQ+ events or resources. Furthermore, gay-friendly accommodations may be located in an area that is known for being LGBTQ+ friendly.
While Mallorca does not have any specifically gay hotels or resorts like the Gay Axel Hotels of nearby Barcelona or Madrid, these are the most fabulous and pro-actively gay-friendly hotels in Mallorca. Needless to say, there are also hundred's more hotel and hostel options in Mallorca if none of these suit your desired budget, facilities or area – but these are the best hotels according to other gay travelers and us.
Needless to say, there are also hundred's more hotel and hostel options in Mallorca if none of these suit your desired budget, facilities or area – but these are the best hotels according to other gay travelers and us. Whatever your needs are, Mallorca has you covered.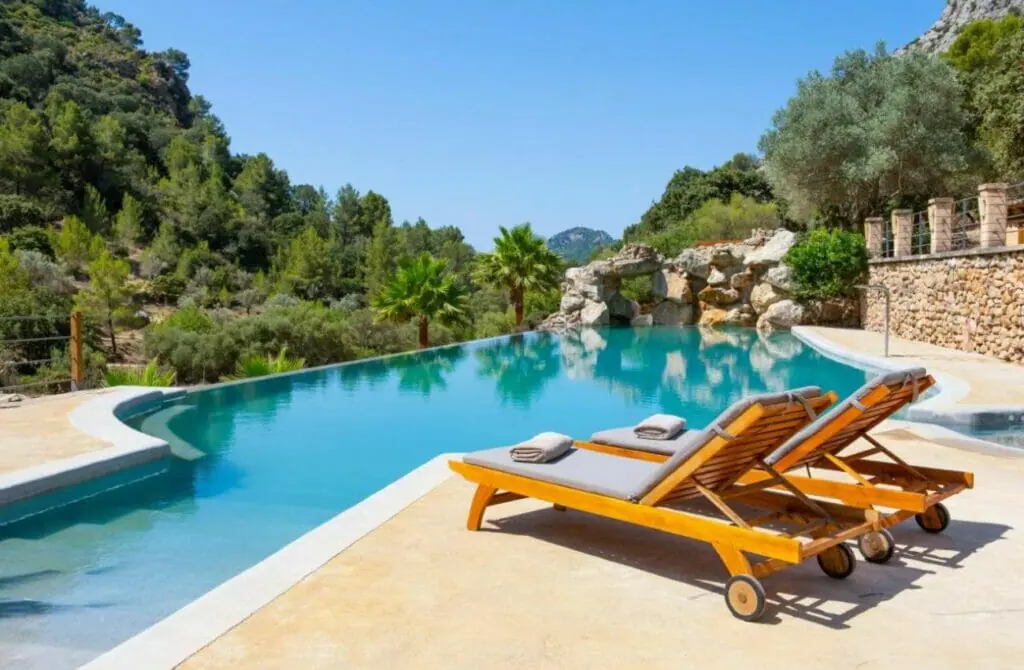 LJs Ratxo Eco-Luxury Retreat ☆☆☆☆☆
Located in an incredible mountainous oasis, this five-star hotel has it all. If you want a secluded place to relax, enjoy the fresh air away from loud city life and make the most of being out on holiday, this is the perfect hotel to do just that.
LJs offers what it says in its name, luxury, starting with a wide selection of communal amenities from outside and inside the pool, sauna, full-service spa, private picnicking areas, steam room, wine tasting, and two restaurants and a bar.
You can spend your whole holiday at this place if you wish, but with parking available, you don't have to go far if you need to get out to see all the wonders of Mallorca. Located just an hour's drive from Palma, you can be at the doorsteps of the iconic gay venues in no time flat, but you might need to consider a sober driver if you intend to make the most of the incredible Spanish drinks!
Heading into your room, you will be pleased to know that your bed is exceptionally comfy king-sized, with a great view of the surrounding wilderness, giving this hotel its edge over others. In addition, each room is carefully designed and caters to all types of needs, so all you need to do is ask, and they will provide 24-hour service on demand.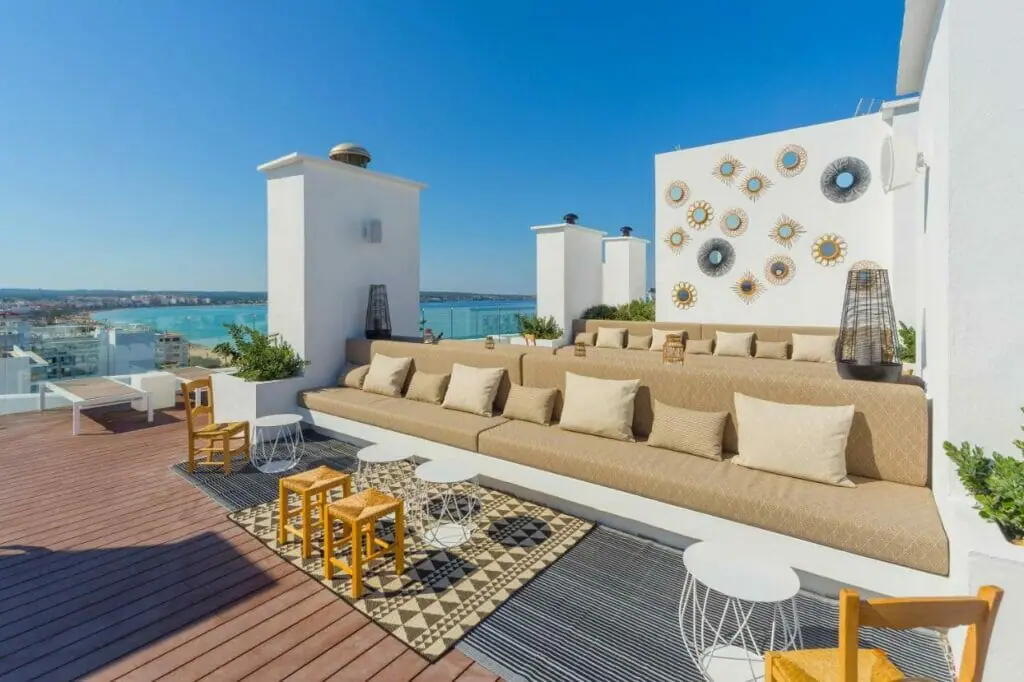 HM Gran Fiesta is a stylish and welcoming hotel in Mallorca, perfect for gay travelers. With its prime location in the heart of the city, guests can easily access the best dining, shopping, and nightlife options that the island has to offer. The hotel itself offers a range of luxurious amenities, including a beautiful outdoor pool, a fitness center, and several on-site dining options.
The rooms are spacious and well-appointed, with a contemporary design that feels both relaxing and elegant. The hotel staff is friendly and accommodating, making every guest feel at home. All in all, HM Gran Fiesta offers the perfect combination of comfort, style, and convenience for gay travelers looking for an unforgettable vacation experience in Mallorca.
Kimpton Aysla Mallorca, an IHG Hotel ☆☆☆☆☆
The Kimpton Aysla Mallorca is an exceptional five-star hotel just thirty minutes from Palma, so with the car, you'll be deep into the gay nightlife in no time. However, even before you leave your hotel, you'll be offered a range of services that might make it tempting to spend the evening inside this complex because what they offer goes beyond just a cozy bed.
Have a go at their golf course or tennis court with friends, then clean off in one of four terrace pools during summer. However, if it is a bit cold, then a message and spa or dining in at one of the many restaurants might be the best. Either way, you will feel like royalty as you have all these things on offer and more; with a high-class dining and service experience, you need help finding elsewhere.
When you turn in for the night, you will be treated to premium bedding at the height of comfort, with optional add-ons to make your experience enjoyable. But, of course, you can't go wrong at this gay-friendly venue with 24-hour service, 50-inch flat-screen televisions, space for desk work, and more.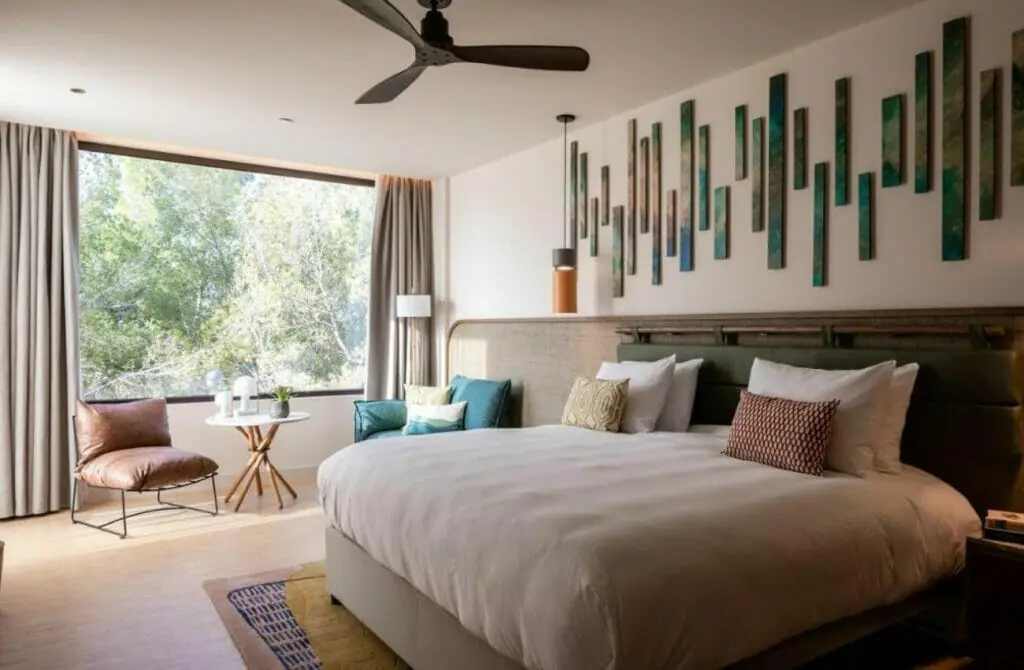 Located just 25 minutes from Palma, this classic Spanish villa in the heart of rural Inca is a unique place to stay when holidaying in Mallorca. Experience a snapshot of what it might have been like to live as a noble in Ancient Roman Spain as you enjoy the outside pool set on the backdrop of incredible landscapes and shoreside palm trees. Take a wine tester at the hotel's bar, or relax in their local spa and sauna, making the most of your time away in paradise.
Rooms are fully set up to cater to a high-class service with provided breakfast, air conditioning, a fluffy, cozy bed, desk, chairs, ensuite, and enough space to relax in your private suit when you need to take a break from all that's on offer.
Located in an iconic part of Mallorca, Port d'Alcúdia, this premium four-star experience ranks as some of the best places to stay while holidaying in Mallorca. To begin with, the resort is adults only, so it might suit those gay travelers looking for a place to stay where you don't have to worry about the communal pool packed with children.
So even if Hotel Astoria Playa is on the other side of the island, away from the central gay nightlife in Palma, if you have a car, it's only a couple of hour's drive away; just be prepared for the road trip!
Another star quality is the rooms as much as the venue's many amenities. You have a warm king-sized bed with all the basics that a hotel room requires, and as a nice bonus, your spa pool. So, you can entice friends back to your place with a warm spa date on the house.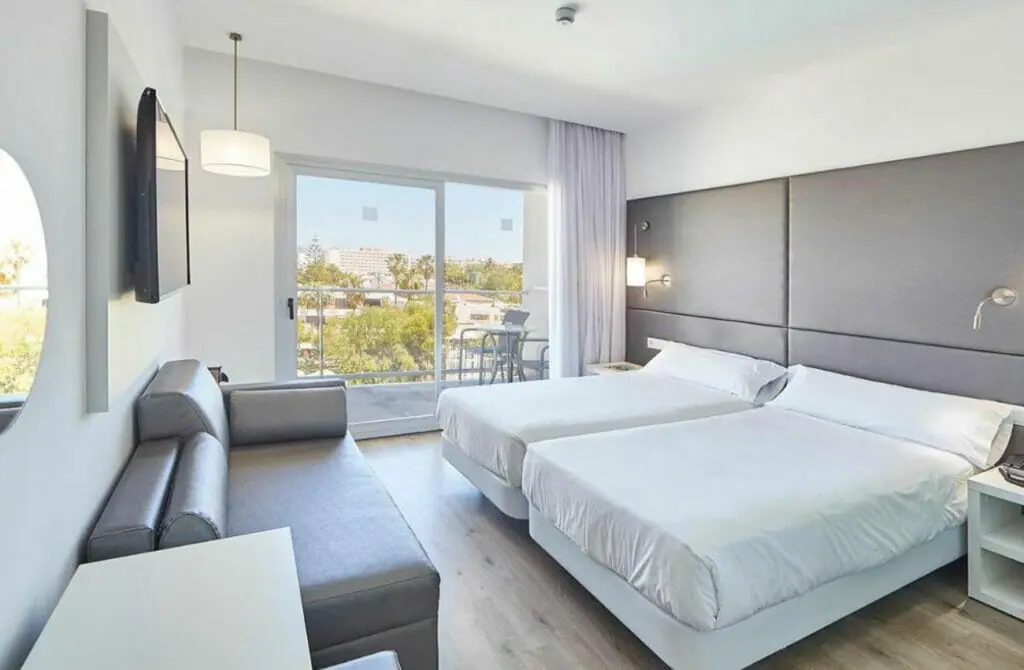 Located just a 30-minute drive to Palma, this three-star coastal resort is a summer haven for travelers looking to make the most out of all Mallorca offers. The venue comes with an outdoor swimming pool, with beaches just a short walk away if you are seeking the pooling waters of the Mediterranean Sea against your sandy toes.
Other communal basics include a spa, a gym and a bar if you prefer to stay in but spend time outside your room. And about your private quarters? Your apartment has a kitchenette, balcony, king-sized bed, fridge, tv, microwave, and bathroom. Vistasol will set you up for a night inside and out with these basic needs and a packed event calendar, so something is always going on!
Escape to Rainbow Home Mallorca, a luxurious holiday rental villa with a capacity of 14 guests. Located just 10 minutes by car from the center of Palma, it offers 12 spacious rooms with private bathrooms. Surrounded by delicious Mediterranean restaurants, Rainbow Home is the perfect place to experience the beauty of Palma de Mallorca. With stunning views of the Serra de Tramuntana, this 880 m2 villa is equipped with all the amenities and comfort you need for an unforgettable stay. Indulge in the select and unique atmosphere of Rainbow Home and leave your daily worries behind.
Hostel Soller – Alberg Juvenil ☆☆☆
For those on a budget and looking for hostel rooms, we highly recommend visiting the charming Soller valley and staying at Hostel Soller. This modernist building, located just a 3-minute walk from the main square and train station, has been transformed into a magical place that respects its original architecture while providing comfortable and high-quality accommodations at an affordable price.
Whether you're a hiker, a Tramuntana explorer, or simply a lover of Soller, this hostel is the perfect choice for young athletes, groups, and travelers with an open mind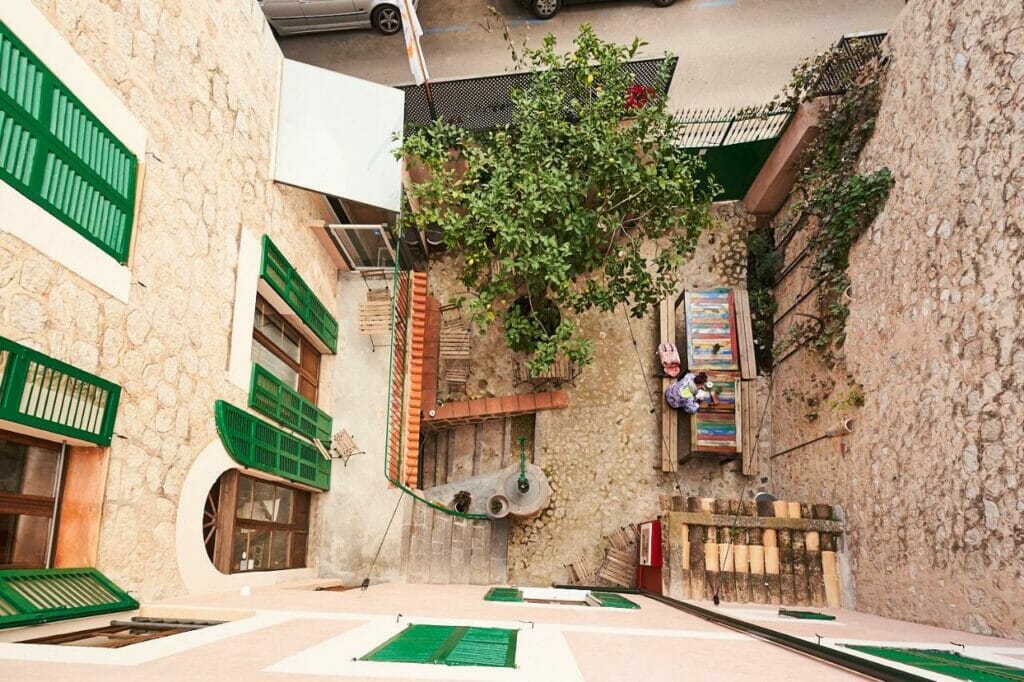 Gay Nightlife in Mallorca
To start your night out in Mallorca, the gay capital of Palma itself in the district of Gomila. Here you can experience the many gay bars, gay friend venues, gay clubs, and so much more that show why Mallorca is a must-visit for any queer person looking to expand their gay experience of the world.
Even if you are staying on one side of the island, if you plan your trip, you can still enjoy a night out in Palma with a rental car and sober driver (even if you might need to drive a few hours there and back again…)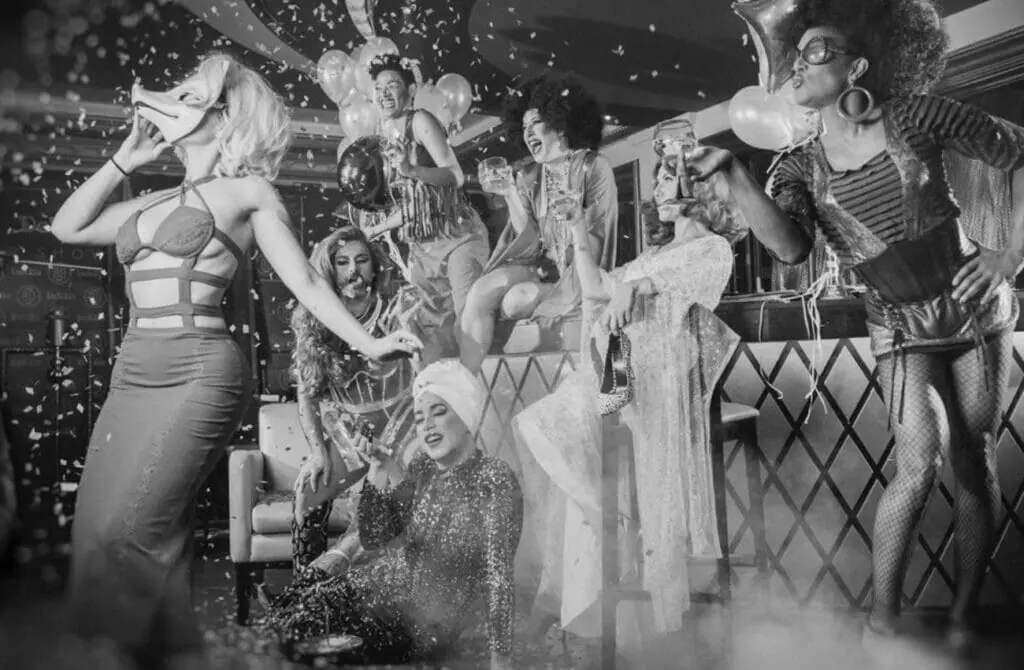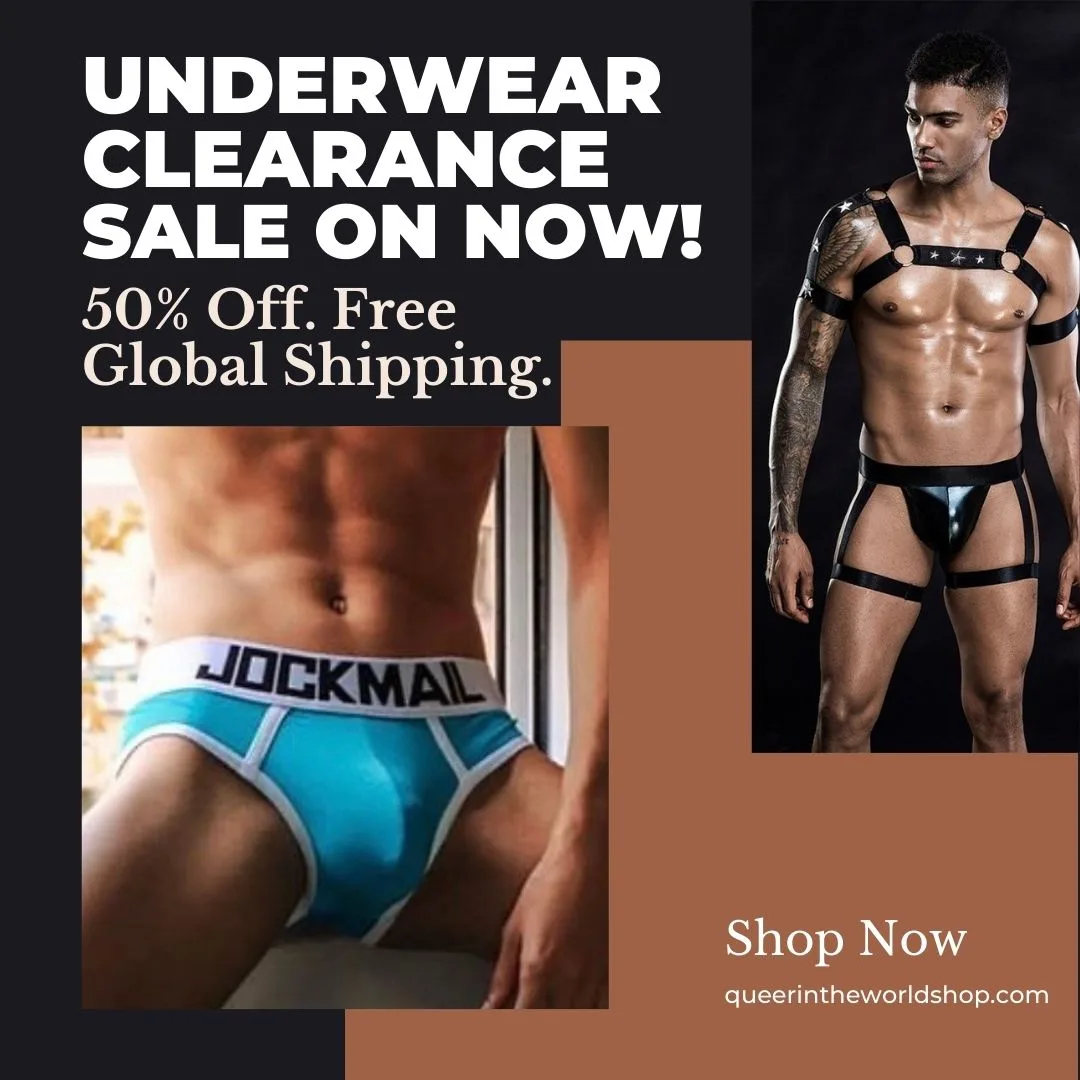 Gay Bars In Mallorca
Bar Flexas is a quaint corner gay bar and cafe located in the heart of Palma. It is a drag extravaganza of entertainment, a top drink destination, and all the basics you could expect from a full-night bar.
If drinking is not your thing, they have a great menu of options from nibbles to full-out fancy meals, so you could come here for an evening meal and then transition into admiring the bar nightlife. With screens hosting sports events or adding to the ambiance with music videos, you will never be without a dull moment.
One of the most iconic gay bars in the heart of Palma, you can experience an unforgettable night with this kooky bar. They host drag queens and regular parties and are a favorite venue for those looking to taste gay Spanish nightlife.
The colorful and vibrant atmosphere, with cocktails aplenty, keeps us all well-saturated. The interior is decorated with iconic gay symbols from shirtless men, neon lights, and the occasional blow-up toy that stray too far from the nearest pool.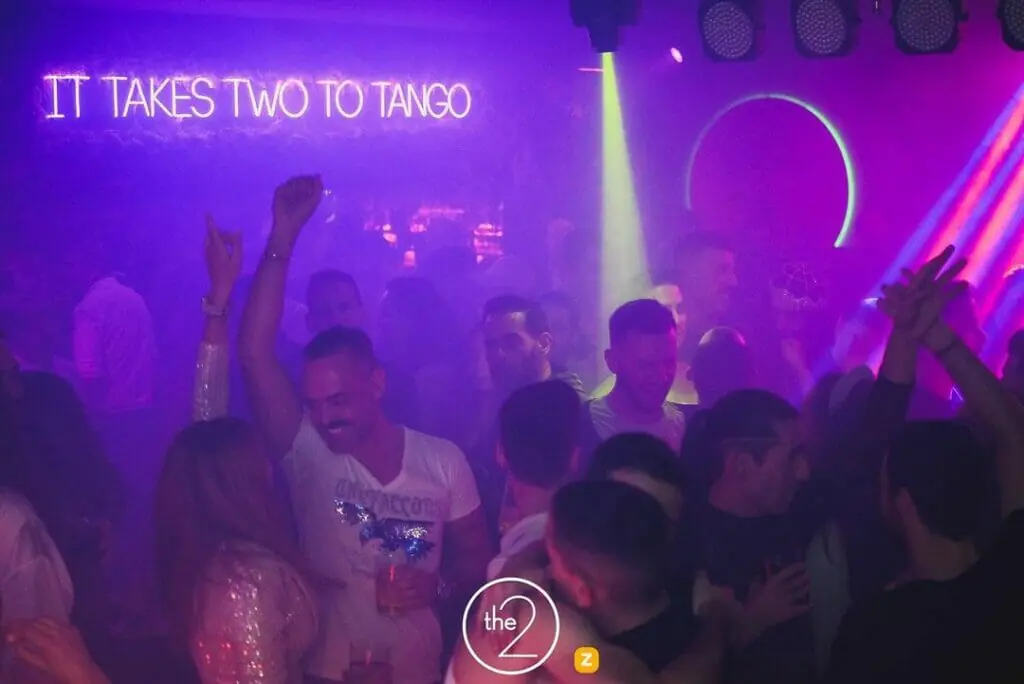 This is a must-visit gay bar in the middle of Palma and is the perfect place to find a quiet way to spend an evening. Their corner terrace is a great way to enjoy an excellent local wine whilst dipping your tastebuds into the many tapas on offer straight from their kitchen, so this is a cozy corner bar you can't miss.
This gay karaoke bar is located in the center of Palma, where you can sing your heart out in an exceptionally queer space. Popular amongst the crowd, you can have your go at the recent releases or old classics in an open mic stage, or you can sit back into the many comfy bar seating options and enjoy a drink as you watch others slowly lose their voice instead.
It's not just the open karaoke that makes Follow me Gay Bar different from the rest, but their regular DJs and live music.
Here, we have a premium gay bar found in the Palma with friendly bar staff who are known for their great drinks as much as their relaxing atmosphere. You should add this place to your night out if you intend to hit as many gay venues as possible whilst visiting Mallorca.
Its intimate, simple set-up makes it stand out from the crowd, with a love of playing classical music from the 70s, 80s and 90s, making it the perfect place to drink and dance.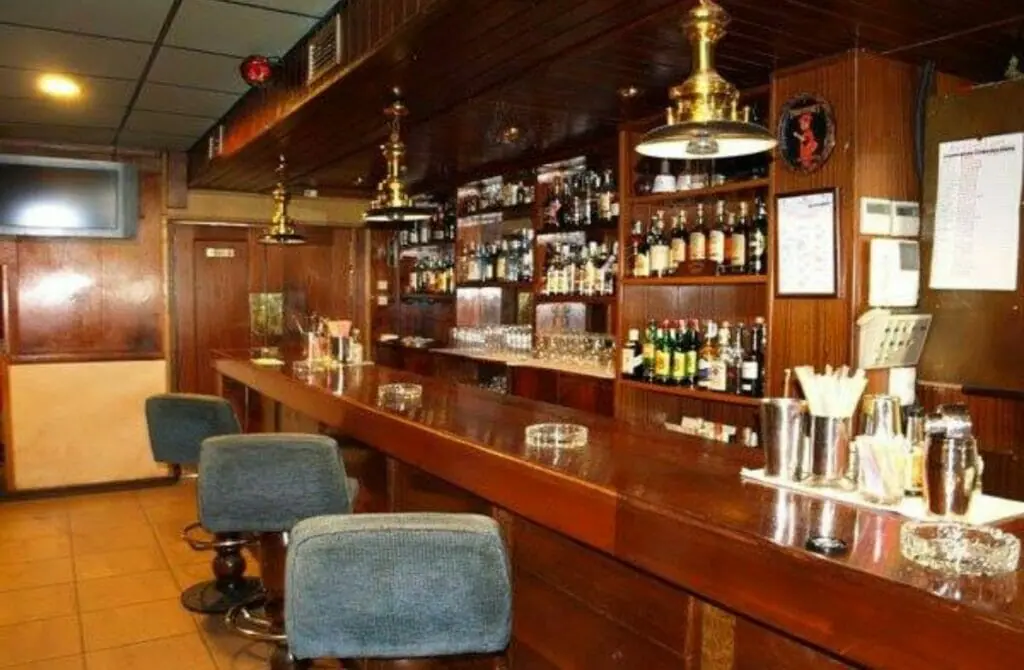 Gay Parties & Gay Clubs In Mallorca
Join these camp queens every Saturday night for a uniquely Spanish experience, featuring a rotating lineup of artists and themed events, including erotic bingos and sexy, sexy prizes. Come and make your Saturdays unforgettable!
Ben Amics – Asociación LGTBI+ de les Illes Balears
Ben Amics is the local LGBTQ+ organization with headquarters in Palma. They have a very active community, a great online resource to help support local or visit queers, and regularly host events to keep their community tight and well-connected.
Ella International Lesbian Festival Mallorca
Every year, Mallorca hosts the Ella International Lesbian Festival in April, with events ongoing throughout the year in celebration of gay and lesbian love. ELLA, a social enterprise, is dedicated to promoting visibility, empowerment, and solidarity for queer women and non-binary individuals globally. Despite facing discrimination and inequality in many parts of the world, the festival aims to create a welcoming, inclusive, and safe environment for all attendees.
The festival welcomes individuals of all ages, whether locals, solo travelers, couples, or families. Join in on the fun and be a part of a community that inspires and supports LGBTQ+ rights.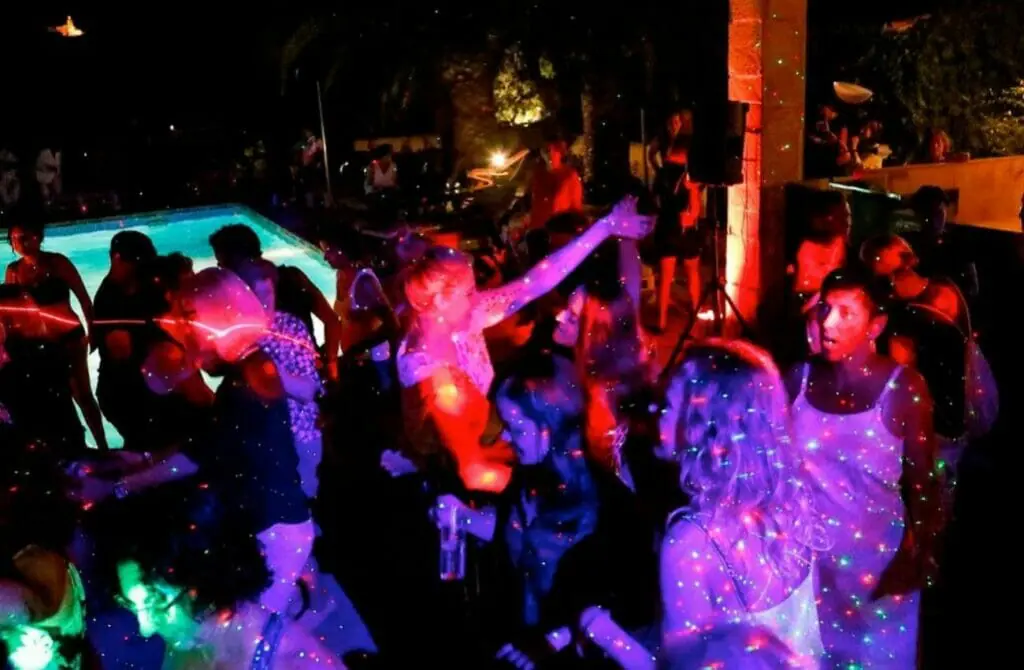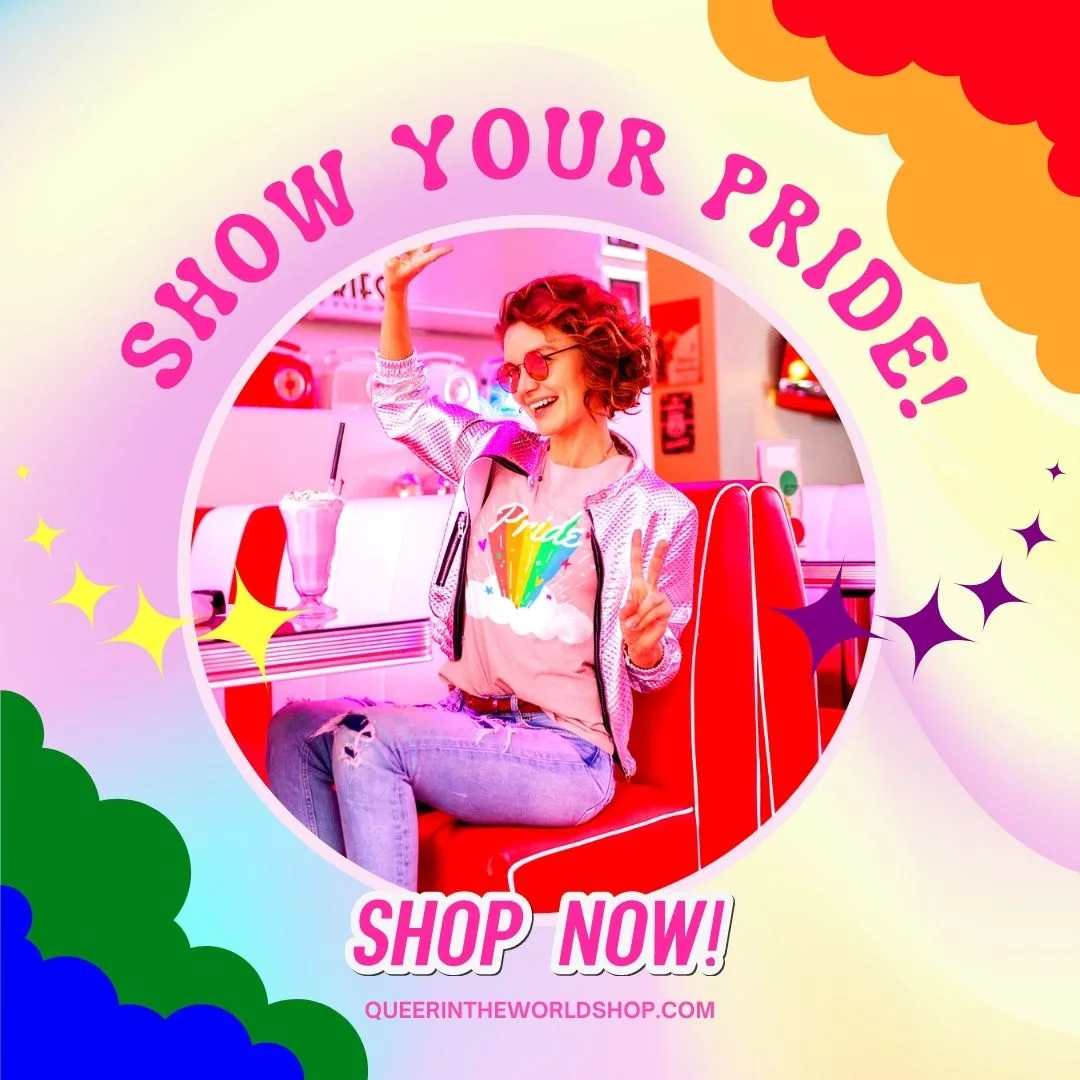 Other Gay-Popular Nightlife Spots In Mallorca
Sala Luna is a famous disco club in the heart of Palma and is one of the prime picks for many looking for a place to let loose and dance the night away. With a large dancehall, plenty of drinks, and weekly dance-themed events, you can be assured that each visit will be a different experience.
Stereo Mallorca is a must-visit as it is the most famous nightclub in Mallorca. You can rest assured that this place will always be pumping with music, people and an endless supply of drinks and nibbles to keep you well-fuelled for a great night of fun.
This place stands out because of its modern neon look, with an outside terrace seating area for those who want to take a break from the party indoors. However, with a range of entertainment from DJs to VIP packages, you don't need to worry about drinking being the only thing on their menu.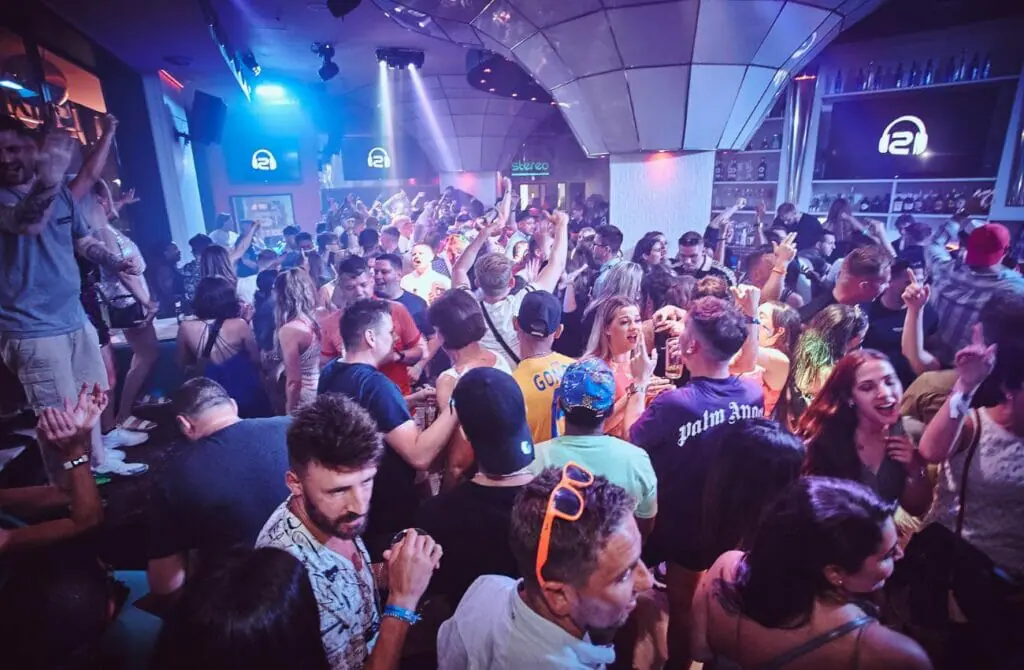 Cruising & Gay Saunas in Mallorca
When traveling to a new city, it can be exciting to head out for more than just a stiff drink. One aspect of the Gay Mallorca scene that many queer men enjoy is visiting gay saunas and cruising clubs.
Sure, the sauna culture in Mallorca is not as hedonistic as in Amsterdam, Barcelona or Berlin, but these venues still offer a chance to meet new people, socialize, and engage in sexual activity – without resorting to gay hook-up apps. However, it's important to keep in mind that these venues can vary greatly in terms of atmosphere, clientele, and rules, so it's a good idea to prepare yourself before visiting. If you are apprehensive, we advise studying our guide to visiting a gay bathhouse for the first time, which should help set your mind at ease, and always practice safe sex.
Additionally, it's important to be aware of and respect local laws and customs regarding gay venues and sexual activity. With a little bit of planning and an open mind, visiting gay saunas and cruising clubs can be a fun and exciting part of your gay Mallorca travel itinerary.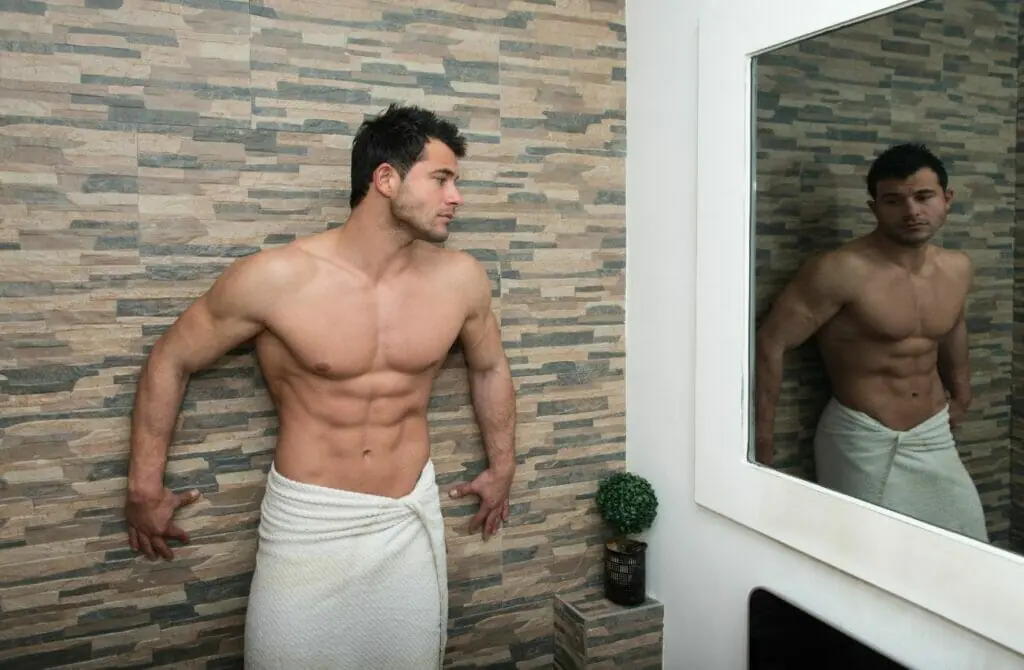 Gay Cruising Bars In Mallorca
For those of the more edgy, wild kind, the Fucktory Palma might be the best decision you make all night as you seek somewhere a little less restricted. Dive into the dimly lit venue of a gay favorite in the heart of Palma. Here you might encounter more than just great music and delicious drinks, but perhaps a handsome man or two… some may even be naked.
This unapologetic cruising gay bar has everything you could ever need, from shirtless bartenders, and profane 'fucky' graffiti on the wall or person; let's say you will encounter many unexpected sights and experiences when you visit.
Dark is a popular gay cruising bar located in the center of Palma, and you will be hard-pressed to find someone there that isn't wearing leather. So whether you are looking for a place to hang out with other gays, enjoy a drink as you admire the barely clad patrons, or seek something naughtier, Dark will provide all the goods.
However, be assured that this is open to all genders, so don't be shocked if you see a woman amongst all the men (some are not even in drag, so best not to ask).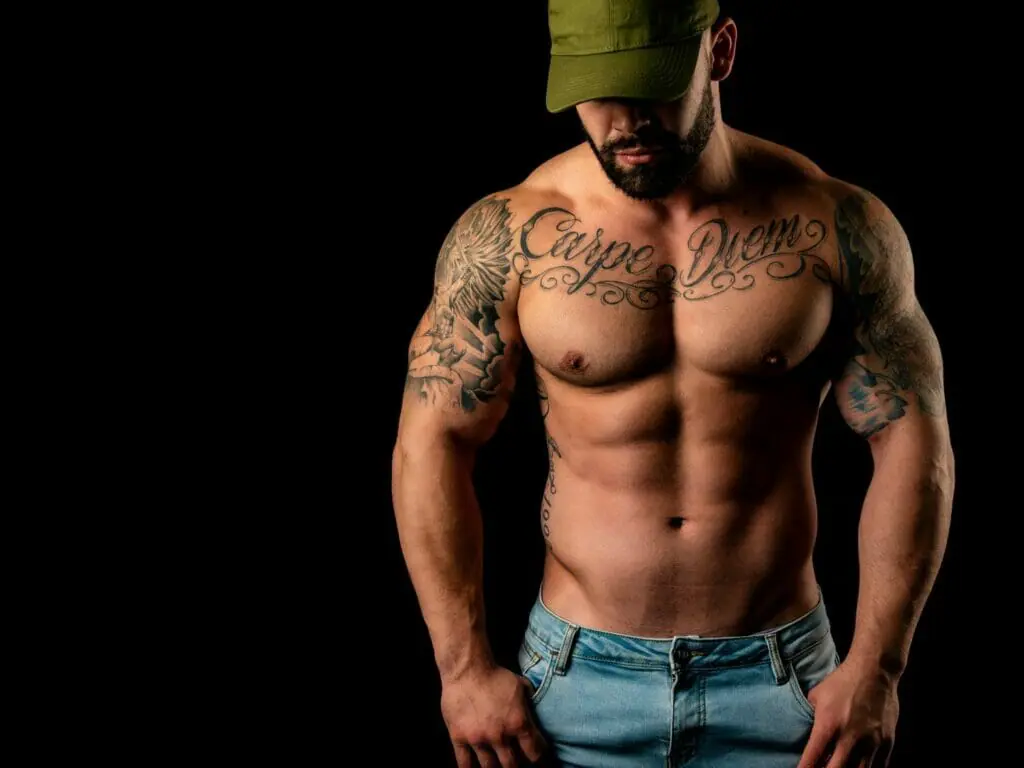 Gay Saunas In Mallorca
If you are looking for THE gay sauna in Mallorca, then Sauna Spartacus has all your warm steaming needs covered. With over thirty years of business, they have all the different bells and whistles you might like, from hot tubs and massages to movie rooms and private cabins.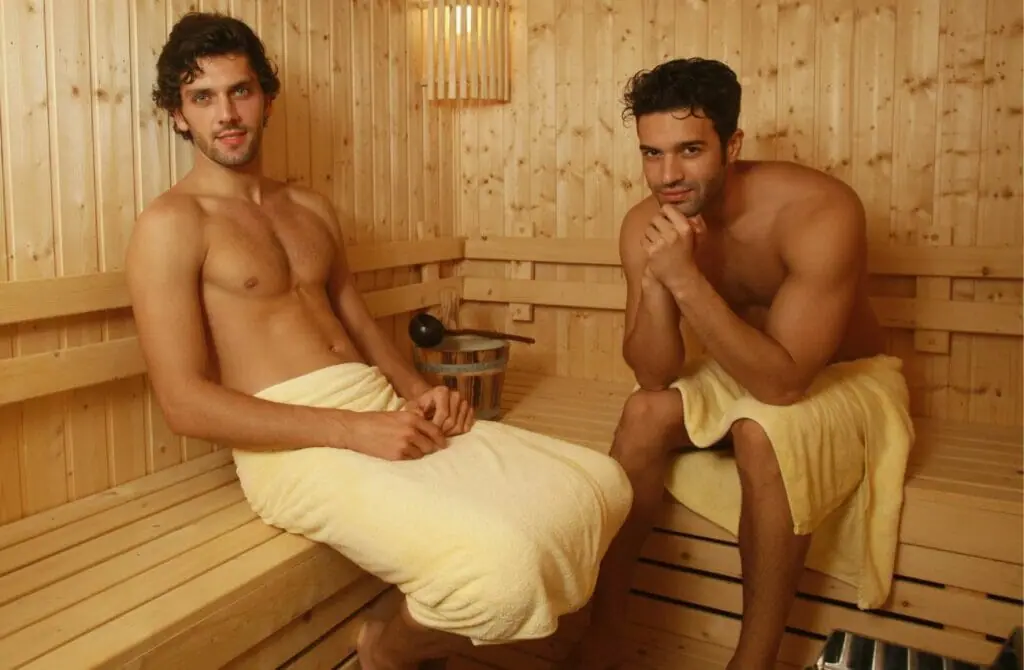 Gay Sex Shops In Mallorca
A sex shop in the heart of Palma; you can get all your gay toys from here. Whether you be after leather, chains, or the basics of lube and vibrators, X Sex&Store has all their customers covered. And there will be no judgment or questions asked.
The Hole's Store is a premium gay establishment to find all your sex toy needs and much more! They host regular gay events as well as a wide range of products that goes beyond the usual butt plugs or cock rings.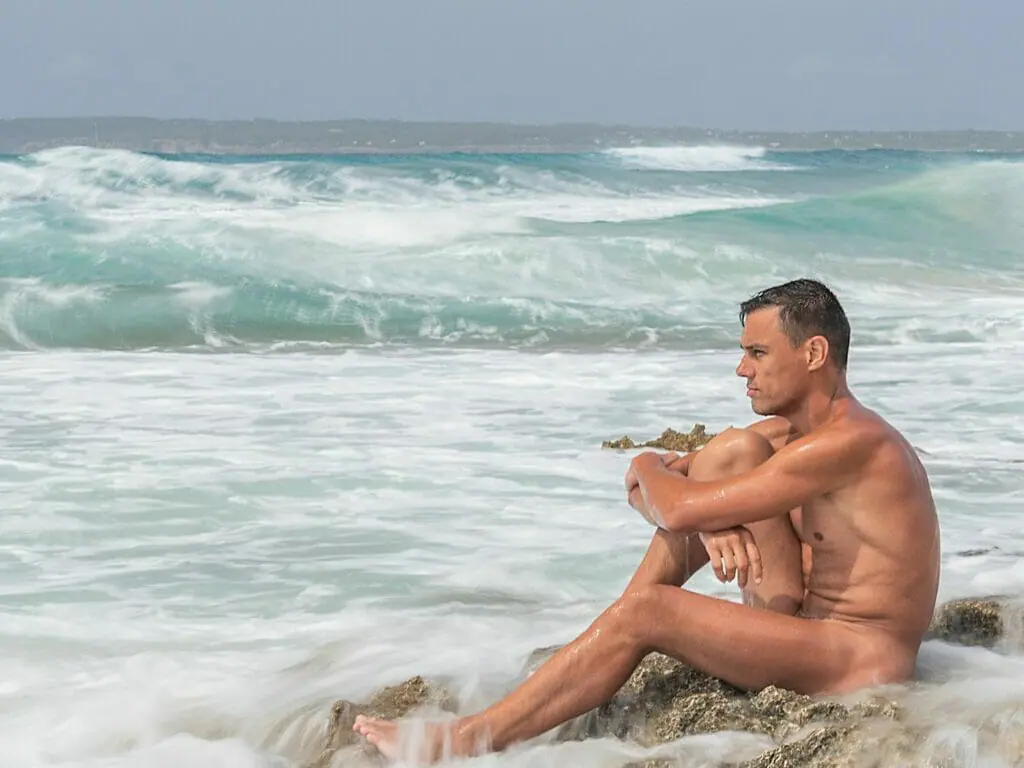 Gay Cruising in Mallorca
Gay cruising, like any sexual activity in public spaces, may be considered illegal in some circumstances in Spain. Public sexual activity is typically prohibited by law and can result in fines or other legal consequences. It is important to be mindful of local laws and customs, and to engage in activities that are safe, legal, and respectful of others. It is always best to be informed about the laws and regulations in the area you are visiting to ensure that you are acting within the bounds of the law.
In saying this however, as far as we know the law is pretty permissive in Spain in general, and here in Mallorca in particular, no one has ever seemed to be worried by the local fuzz.
Playa del Mago
Playa del Mago is a famous beach in Mallorca located just a twenty-minute drive from Palma along the southern coastline. It is lively day and night but is a famous nudist beach and gay cruising zone.
Alcudia Beach
A popular spot for cruising tourists and local guys. South of the marina, walk along the path/hang about, or walk down the beach itself. The cruisiest spot is about half way down from the marina, near beach bar number 4.
Peguera (La Romana)
This pebble beach can be accessed by a path through a pine tree forest. There is a grotto partially submerged in the sea nearby, which is known to locals as a nudist area, and has added convenience of being able to wash off in the sea. The main activity at the beach is walking, including a significant presence of nude individuals, primarily men. From our personal experience in Gay Mallorca cruising, the peak times at this location are between 11am and 2pm, and then again from 5pm to 6pm. It is common to see a mix of local individuals, as well as some tourists, during these hours. A local informed me that this location is also frequently visited throughout the rest of the year.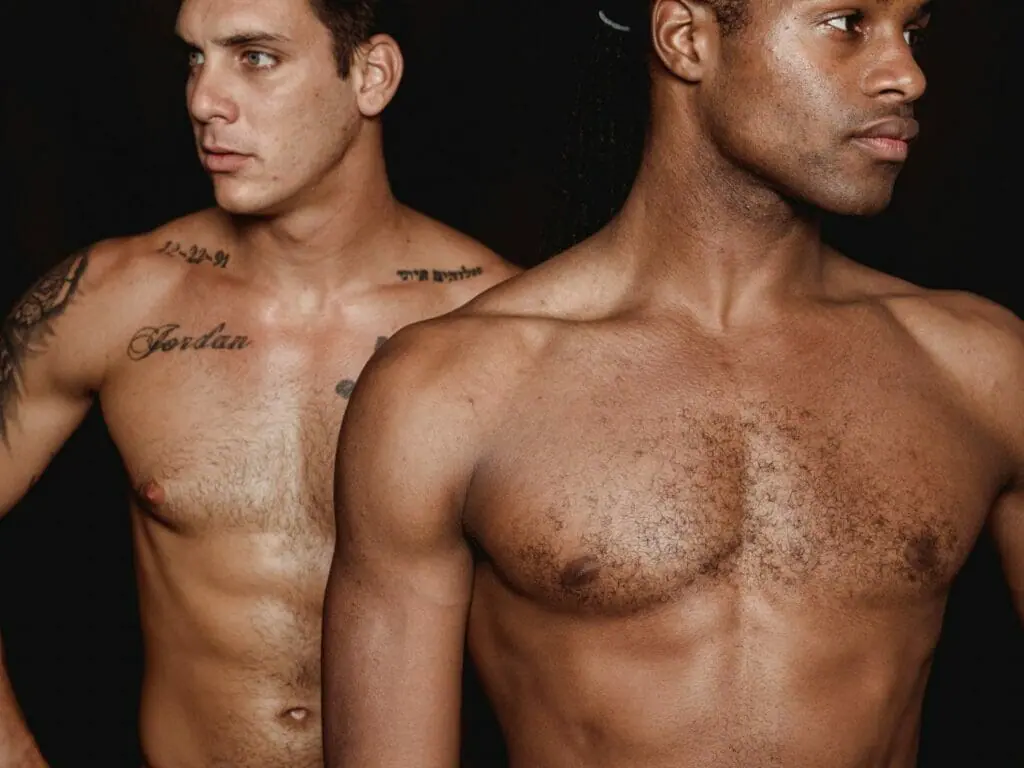 Gay Map Of Mallorca
Finding it hard to envisage where everything is in Mallorca? Hopefully, this queer-centric map helps where we have marked all the bars, clubs, parties, hotels, saunas, massages and more will help you stay in the spot best suited to you!