Discover the vibrant spirit of diversity and inclusiveness in Gay Montevideo, Uruguay's lively capital city and a cultural melting pot that proudly embraces its LGBTQ+ community with open arms.
While Rio de Janeiro and São Paulo in Brazil and Buenos Aires in Argentina might frequently overshadow Montevideo on the international gay party scene, Uruguay is actually an extremely gay-friendly country compared to the rest of Latin America (and the rest of the world).
In fact, Uruguay continues to be a model for social inclusion and is the most gay-friendly country in the region. Historically LGBT rights have been protected and upheld in Uruguay with homosexuality being legalized in 1934 and the country has never veered from its progressive stance on sexuality. Anti-discrimination laws have been in place since 2003, adoption guidelines have been in place since 2009, and gay marriage becoming legal in early 2013.
Montevideo itself, home to nearly half of Uruguay's population, is home to a substantial gay and lesbian population and offers all of the services one would expect from a city that is hospitable to the LGBT community.
It is not uncommon to see gay couples walking hand in hand in public places, or anywhere else for that matter, and there is a robust international flavor, thanks to the numerous foreign cultural centers and Montevideo's standing as administrative headquarters for Mercosur, South America's leading trading bloc.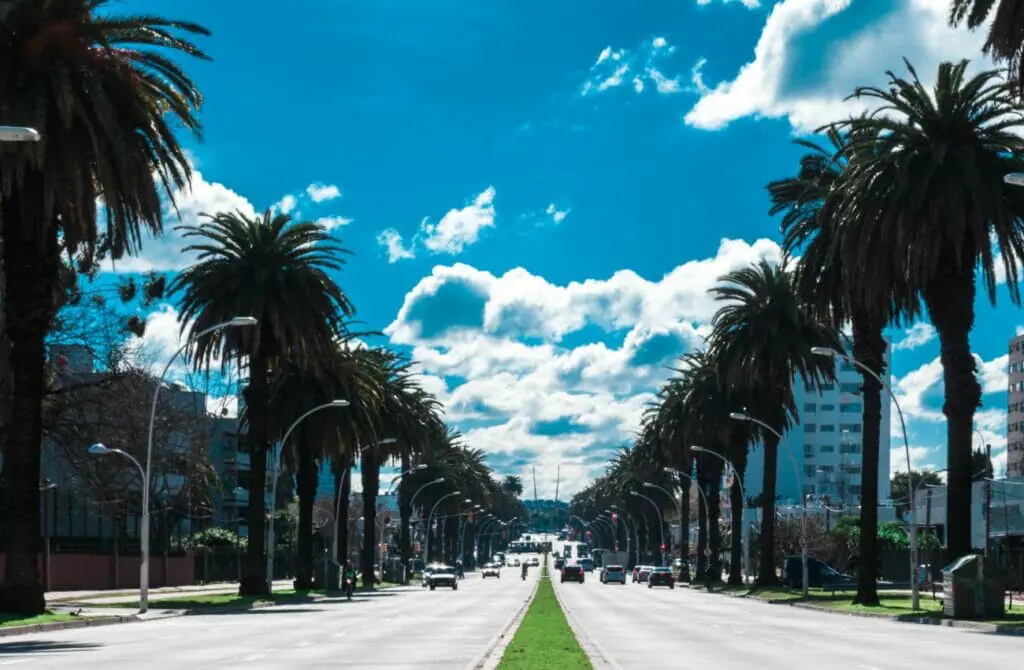 If you identify as LGBT, there are plenty of things to do in Gay Montevideo. In addition to its bustling gay nightlife culture, glorious art deco and neoclassical architecture and thriving arts scene, the city is also home to one of the few LGBT monuments worldwide – the Plaza de la Diversidad Sexual (Plaza of Sexual Diversity) A typical day in Montevideo would begin with a morning spent touring museums, lunch in the Old Town, and then an afternoon spent resting on the beach or riding a bike along the Rambla.
Take a stroll through the historic Ciudad Vieja (Old City) and admire the colonial architecture, visit the stunning Palacio Legislativo (Legislative Palace), or indulge in some of the city's famous beef dishes at a traditional parrillada. With a warm and friendly local population, excellent public transportation, and a thriving LGBTQ+ community, Montevideo is a welcoming and safe destination for travelers of all backgrounds.
Whether you're looking for a relaxing beach holiday, a cultural adventure, or an exciting night out, Montevideo is the perfect place to tick off your bucket list.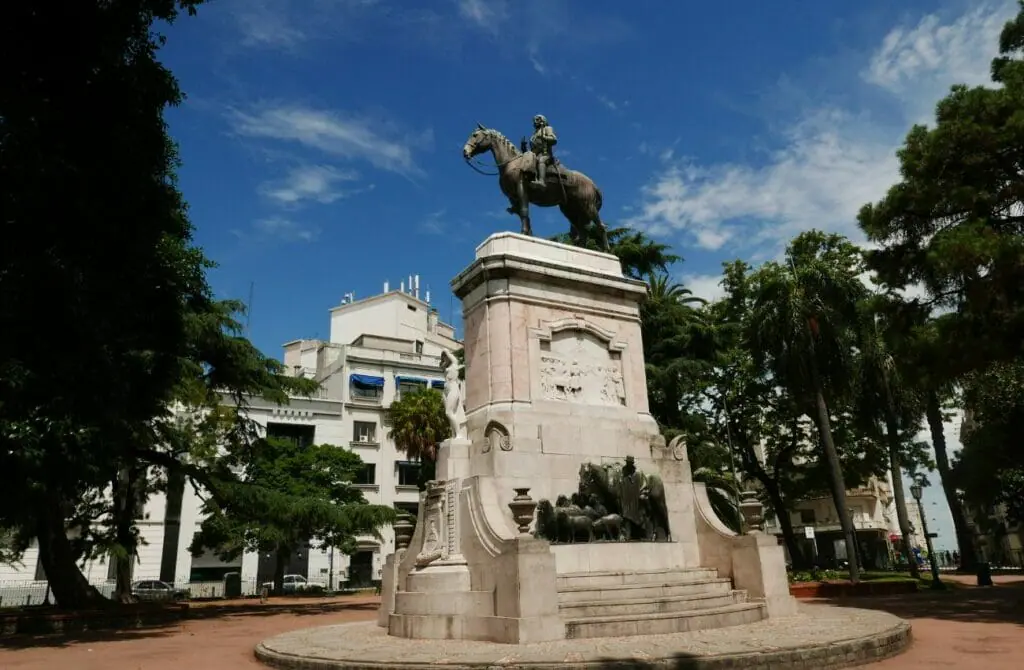 In this article we will cover...
Attractions In Montevideo
Despite its small size, Montevideo is charming because it is rich in history, natural beauty, and cultural relevance.
As a new visitor to Gay Montevideo, there are plenty of things to see and do, regardless of your sexual orientation. One of the best ways to experience any new city is to visit some of its most iconic landmarks and attractions, including visiting historical monuments, museums, and art galleries. We also love gazing at architecture up close, exploring parks and gardens, sampling the local cuisine, visiting local markets, and attending cultural events such as festivals, concerts and shows.
Even as the out-and-proud queer we are, we still love to just explore the city and its culture in the same way as everyone else. Doing so allows us the opportunity to learn more about the city and its people and gain a deeper understanding of the local culture. As such, these are our favorite must-see attractions in Montevideo.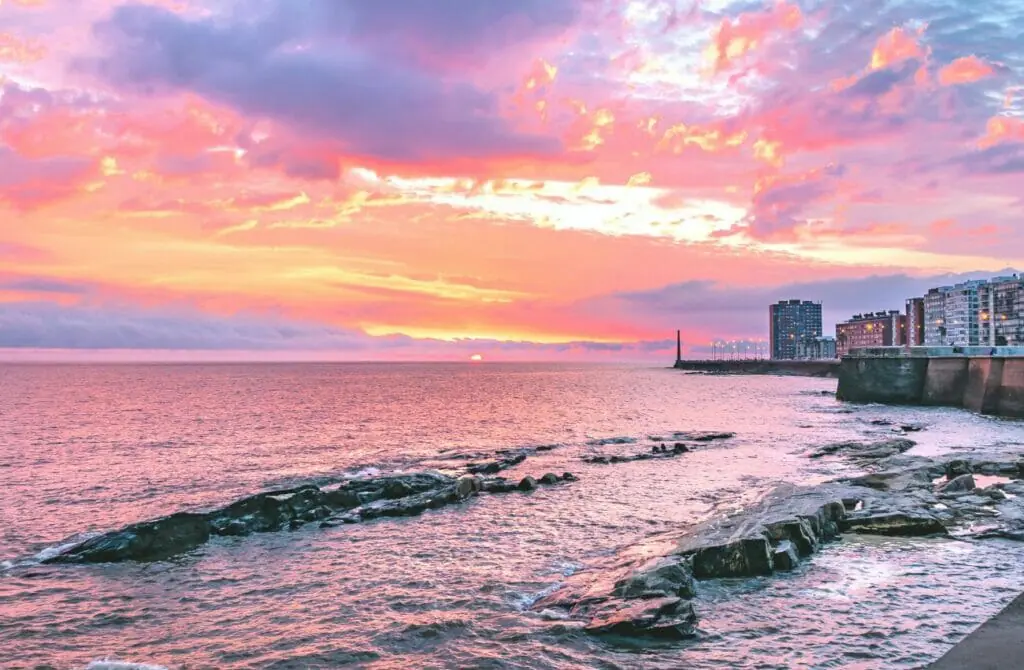 Montevideo Pride is an annual celebration of diversity and inclusiveness held in Uruguay's capital city every September. This colorful event attracts thousands of participants from all over the world, and is a true showcase of Montevideo's commitment to equality and acceptance. During Montevideo Pride, the city comes alive with vibrant parades, live music performances, and lively parties that take place in public squares and streets throughout the city.
The event also includes a range of educational and cultural activities, including panel discussions, film screenings, and exhibitions, making it a truly inclusive celebration for all ages and backgrounds. Whether you're a member of the LGBTQ+ community or simply an ally, Montevideo Pride is a must-attend event that offers a unique opportunity to experience the city's vibrant spirit and celebrate the diversity of its people.
The Salvo Palace was created in the 1920s with no specific purpose in mind; however, one of the original plans for the building was to develop it into a hotel. This never happened; instead, the Salvo brothers converted the structure into a business and residential complex where they worked and lived. At the time of its completion, the palace was the tallest structure in Latin America.
The Salvo Palace, which is across the street from Plaza Independencia, is still all privately owned, except for one floor where the Tango Museum is located.
Tango originated in Argentina and Uruguay simultaneously, although Uruguay made a particularly major addition to it. The tango known as La Cumparsita, which was written in 1917 and is regarded by many to be the most renowned tango ever created, was written in this building, which was located on the grounds of Salvo Palace at the time.
The palace has a little tango museum, which is a terrific place to visit if you want to learn about the history and culture of the tango and occasionally watch short live performances.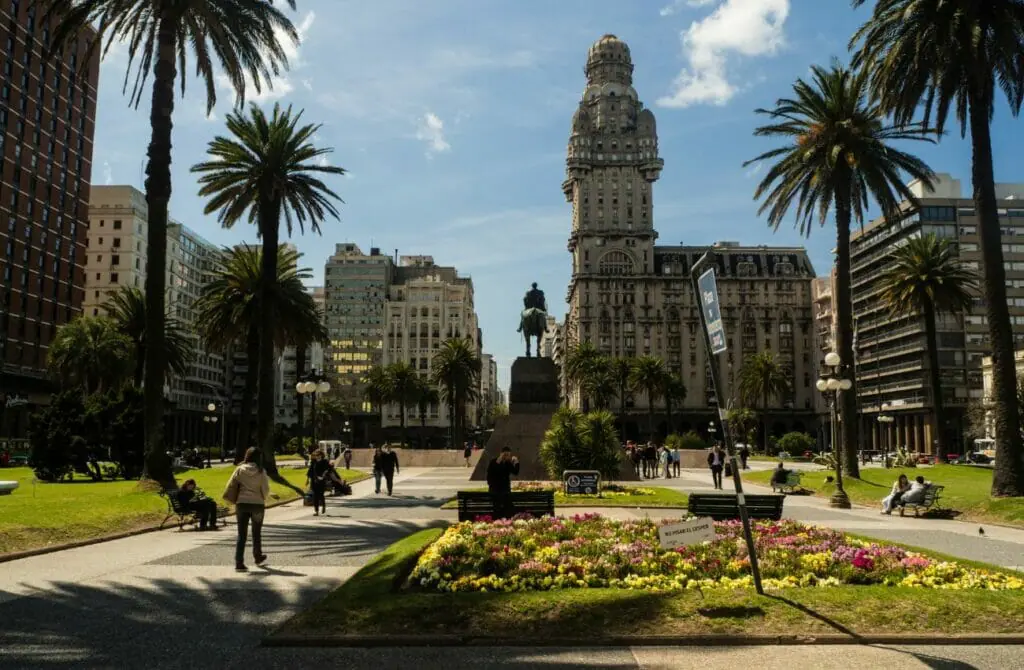 The Plaza de la Diversidad Sexual
The Plaza de la Diversidad Sexual in Montevideo is a must-visit destination for any LGBTQ+ traveler. This colorful public square is a symbol of the city's commitment to equality and acceptance, and serves as a gathering place for the local LGBTQ+ community. Surrounded by lively bars, restaurants, and cafes, the Plaza is a hub of activity day and night, and is the perfect place to people-watch, catch up with friends, or simply relax and soak up the vibrant atmosphere.
Whether you're looking for a place to dance the night away or just to spend a leisurely afternoon in the sun, the Plaza de la Diversidad Sexual is a must-see so head over and embrace the diversity and inclusiveness that make this city such a unique and special place!
Pocitos Beach
Pocitos is a Montevideo tourist area famed for its beach. It is one of Montevideo's most popular locations and a summer getaway in Uruguay.
The ocean is on one side of Pocitos Beach, while the Rambla, a huge avenue with the world's longest continuous boardwalk, is on the other. Biking, running, or sipping a mate (a traditional herbal drink served in a hollow calabash gourd) with friends are popular sports that may be enjoyed all year. Visitors can take advantage of the broad stretches of the beach during the warmer months.
Playa Pocitos hosts water-related events all year long, and high-end restaurants, shops, hotels, and short-term apartments with stunning water views surround it.
Pocitos is home to several historic buildings, such as the Church of Saint John the Baptist, which was built in the 19th century, and the Plaza Tomás Gomensoro, which has a pergola that provides shade and a lot of places to sit and rest on hot days.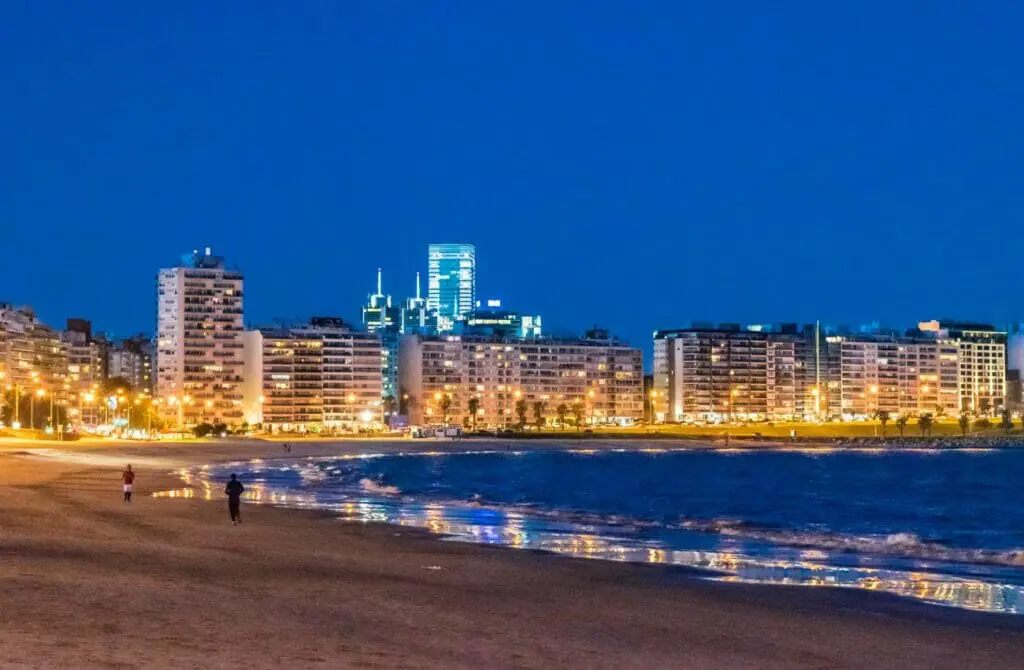 The Rambla is the name of the coastal promenade that stretches along the southern perimeter of the capital city. Almost everyone enjoys the Rambla. People-watching and watching the sun rise and set behind the palm trees are both enjoyable hobbies here. It has a lot of life, and many inhabitants consider it to be the ideal place to visit on a beautiful day.
The Rambla de Montevideo (Rambla de Montevideo) is a 13.5-mile-long avenue that stretches along the city's waterfront. Children may be seen flying kites while their parents rest in the shade and sip mate while enjoying the riverfront parks here.
These parks are popular with joggers, walkers, and skaters. It is the public gathering place where people go to bask in the sun or stroll, and on the warmer days of summer and fall, it is the place to pack a bikini or board shorts and spend the day on the beach.
Because of its length, the Rambla is separated into zones corresponding to different city regions. Rambla Sur, which runs from one end of the old town to the other, is one of the most well-known of these zones. Nothing like a sunrise jog along the Uruguay shore to start your day with the sun. If you want to start your day with the sun, head to the area near Playa Pocitos.
Prado Park
Prado Park, located in the same-named town, is surrounded by streets lined with trees and imposing homes from the early 1900s. The Prado is Montevideo's largest urban park, comprising 106 hectares and giving plenty of space for outdoor activities such as picnics, strolls in the warm weather, and shady resting spots. The Miguelete Creek runs through its territory.
The lush grounds of the Botanical Gardens are also within the park's boundaries, offering two kilometers of running and walking trails; a magnificent rose garden populated with flowers imported from France; and numerous photo opportunities under the garden arches, inside the greenhouses, and alongside the creek.
The Blanes Museum is in Prado Park. This gives people more chances to enjoy the park's well-kept gardens and beautiful walking paths.
Because each of these tourist attractions and activities is free, you are invited to spend as much time as you like exploring them, and you are also free to come and leave as you choose throughout the day.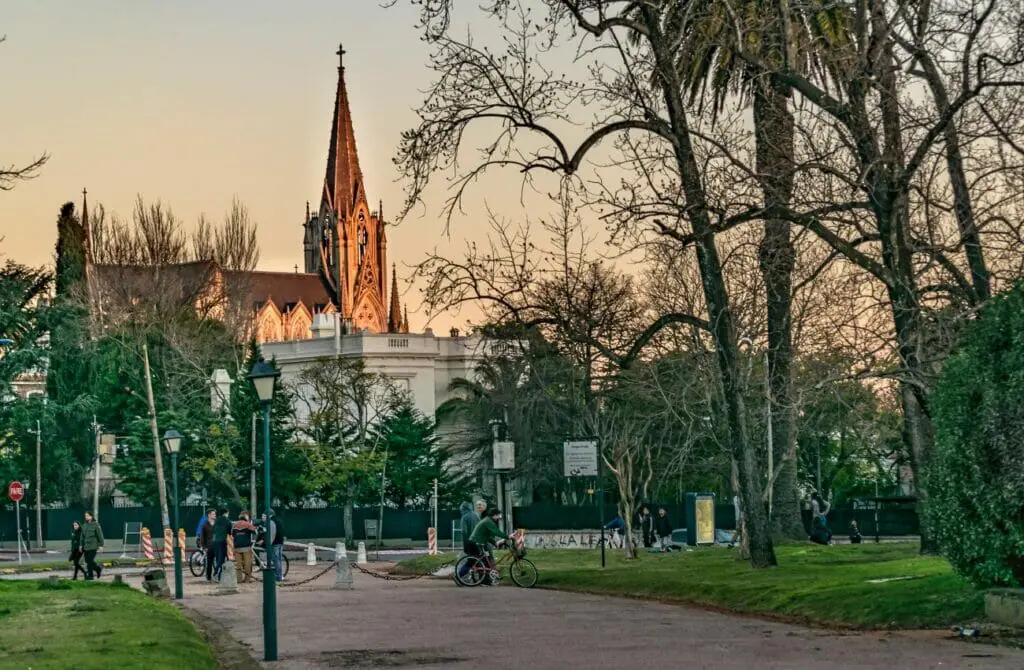 Montevideo Agricultural Market (Mercado Agrícola De Montevideo)
The Montevideo Agricultural Market, also known as the Mercado Agricola de Montevideo, is one of Uruguay's biggest marketplaces and has been operating for almost a century. It is housed in a magnificent old structure.
The structure had fallen into disrepair, but it was recently renovated to house many food booths and restaurants, although the original architecture and attractive features were preserved.
Visitors visiting Montevideo don't take long to discover that Uruguay is a hidden gem of a gastronomic destination, and the agricultural market is the ideal place for foodies to enjoy a broad assortment of Uruguayan specialties and regional goods.
This is the place to go for the greatest Uruguayan wines, olive oils, cured meats, produce, traditional bakeries, steakhouses, and a craft brewery. A visit to the market for lunch or a snack while sightseeing in the city is strongly advised. Aside from the fantastic meals, this is a great place to buy souvenirs, toys, and one-of-a-kind handicrafts.
The Teatro Sols, Uruguay's most famous theater, was built in 1856 and is a superb example of neoclassical architecture. It was designed by an Italian architect and built with European marble and oak.
Internationally renowned artists such as dancer Isadora Duncan and actress Sarah Bernhardt have graced the stage of Montevideo's Teatro Solis, which has evolved into the city's cultural core for the performing arts over several decades.
The Teatro Solis is now the official home of the State Theater Company and the Montevideo Philharmonic Orchestra. Guests of the venue can attend concerts, operas, and other kinds of classical music, as well as plays performed by local and foreign artists.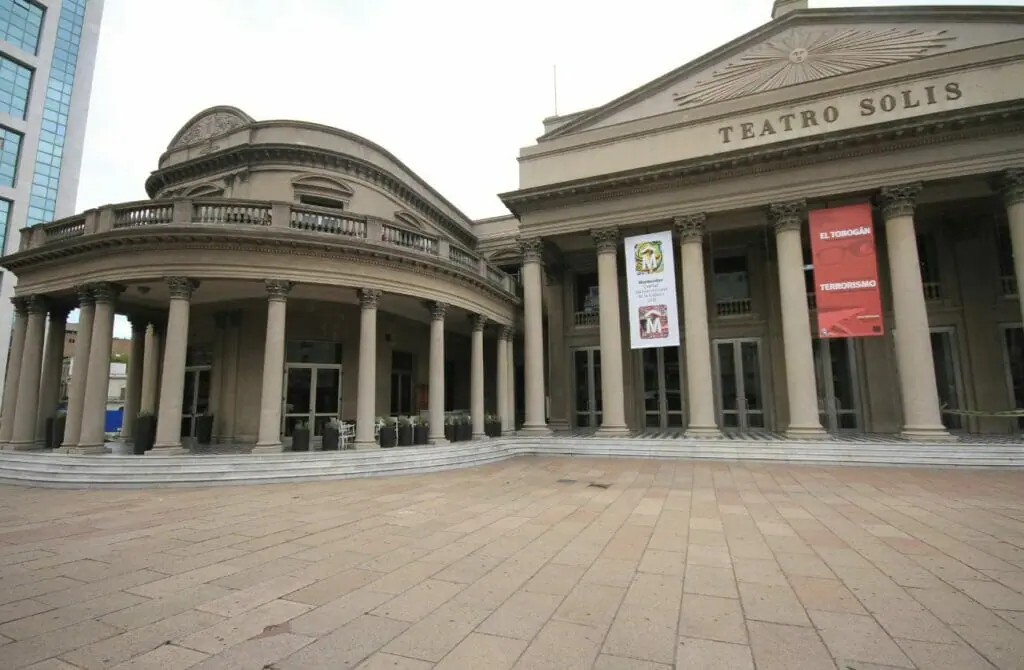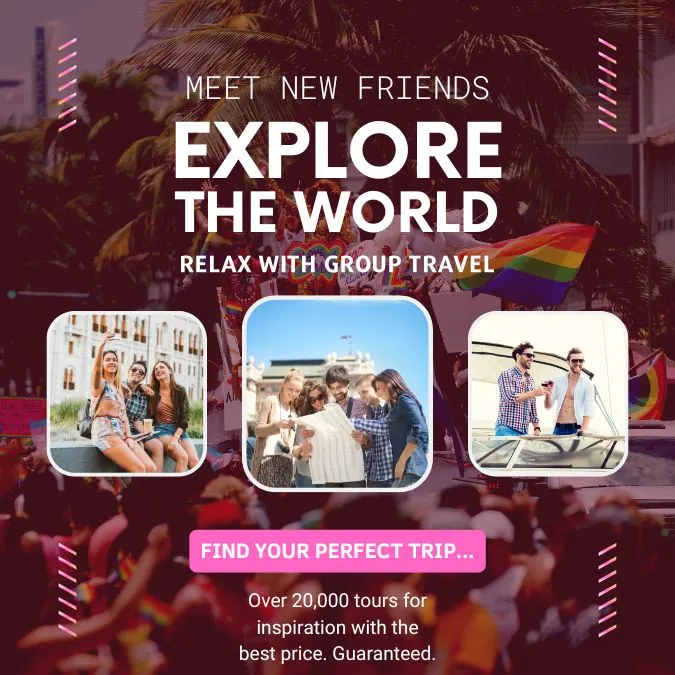 Gay-Friendly And Gay Hotels In Montevideo
Montevideo, Uruguay's capital and largest city, is surprisingly easy to navigate. The six neighborhoods of importance to LGBT travelers in this city on the Rio de la Plata coast are Ciudad Vieja, Centro, Palermo, Punta Carretas, Parque Rodo, and Playa Pocitos. La Rambla is a 14-mile-long shoreline that connects all of these places.
Montevideo is a welcoming city for LGBT people. It is not difficult to find beautiful hotels that welcome LGBTQ persons. For us, being gay-friendly accommodation means that the establishment is welcoming and inclusive to guests who identify as LGBTQ+. This can include, but is not limited to, having policies and practices in place that demonstrate a commitment to creating a safe and inclusive environment for LGBTQ+ guests, such as non-discrimination policies, and providing support and resources for LGBTQ+ travelers.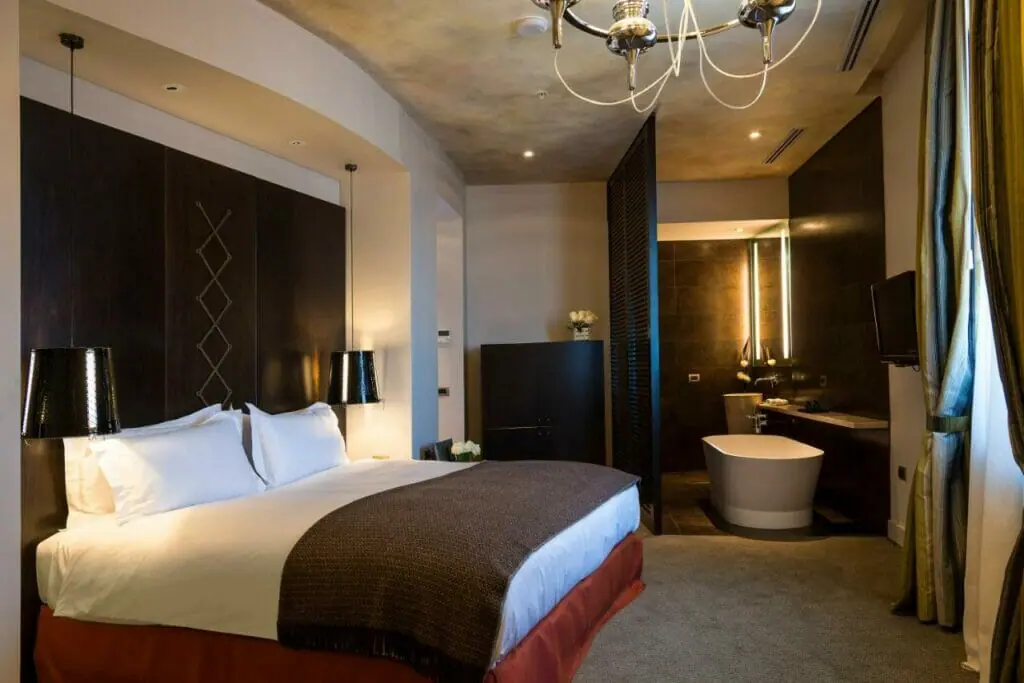 Some gay-friendly accommodations may also provide amenities specifically catering to the LGBTQ+ community, such as rainbow flags or literature about local LGBTQ+ events or resources. Furthermore, gay-friendly accommodations may be located in an area that is known for being LGBTQ+ friendly.
While Montevideo does not have any specifically gay hotels or resorts, these are the most fabulous and pro-actively gay-friendly hotels in Montevideo. Needless to say, there are also hundred's more hotel and hostel options in Montevideo if none of these suit your desired budget, facilities or area – but these are the best hotels according to other gay travelers and us.
Needless to say, there are also hundred's more hotel and hostel options in Montevideo if none of these suit your desired budget, facilities or area – but these are the best hotels according to other gay travelers and us. Whatever your needs are, Montevideo has you covered.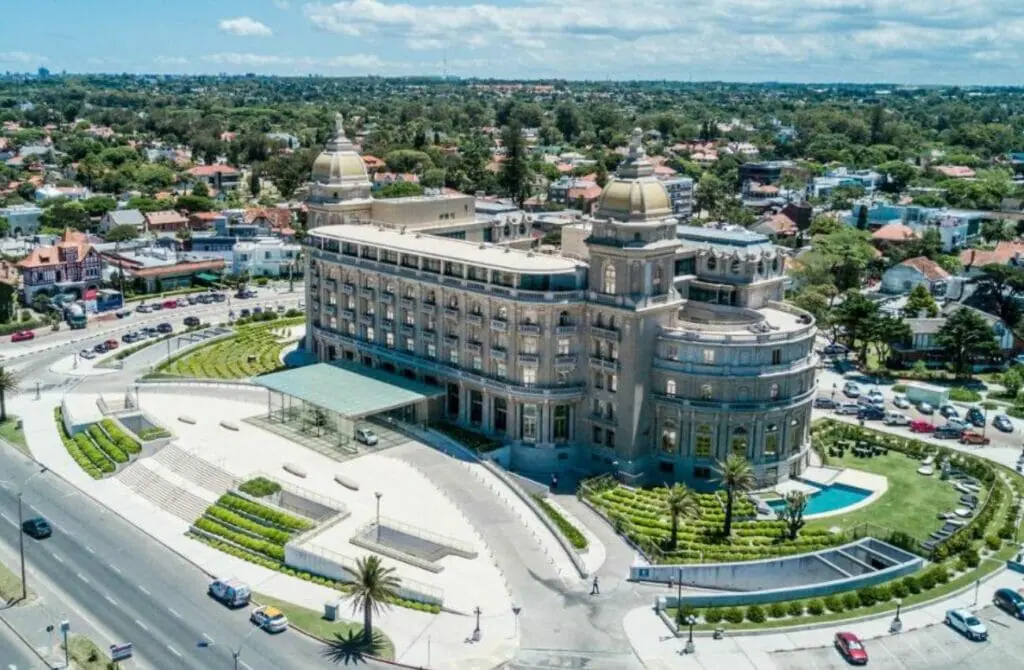 The Sofitel Carrasco in Montevideo, Uruguay, is lavish and hospitable to gay guests. You will undoubtedly feel like a king or queen after checking into this five-star institution just a few minute drive from the city's center.
The hotel has everything gay travelers need to unwind, including a wonderful spa and a swimming pool surrounded by lush vegetation. This establishment's proximity to the airport is a bonus.
There is a large assortment of both ordinary rooms and suites. If you choose one of the deluxe rooms or a suite, the hotel will even provide you with a beautiful view of the sea. Silk drapes and marble floors give the sensation of being on the Italian Riviera in this ultra-modern yet tasteful living area that exudes sophisticated luxury.
The spa offers a hammam, sauna, and massage treatments, making it an excellent setting for a peaceful and revitalizing experience. The Sofitel Carrasco is not a gay-only hotel by any means but it is gay-friendly. The staff is amazing, and they are also very gay-friendly.
The 1921 Restaurant, located within the hotel, is housed in a large grand room with a stunning glass chandelier. Dinner is served in the hotel's restaurant, which delivers excellent cuisine. This is the place to go for a romantic and extravagant night, and the cuisine is French in style.
The a la carte menu, which was influenced by French cuisine, added to the opulent atmosphere. The wine list was equally amazing, with options from all over the world, including South America, Europe, and beyond.
You can live the high life at the restaurant and bar here, but when you're not doing that, you can work out in the vast gym. Because it includes various machines and free weights for them, this is a great area to observe some of the sexy guys who come in throughout the day to work on their pecs and biceps.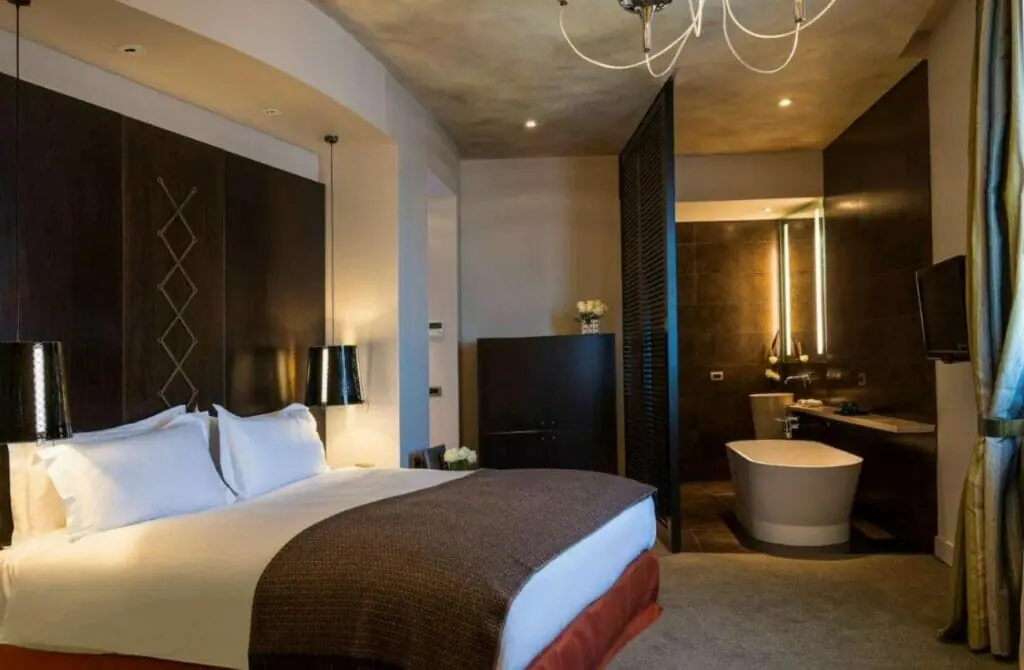 My Suites Boutique Hotel ☆☆☆☆☆
My Suites Boutique Hotel is a sophisticated and exceptionally gay-friendly boutique hotel located just down the road from the seaside Ramblas. The hotel heavily emphasizes wine, and each floor is named after a different local bodega (winery).
Most evenings, visitors are treated to wine samples accompanied by a sommelier presentation. There are several LGBT staff members working at the reception, and they welcome LGBTQ visitors.
The flats are rather spacious, with stylish and simple decor and a kitchenette in each unit. A beautiful tiny rooftop plunge pool is ideal for only two individuals to enjoy while looking out over the city. The pool is positioned on the building's rooftop. You can also utilize the sauna, which is located up there and has room for just the two of you!
A breakfast buffet of baked products, yogurt, bread, cakes, fruits, eggs, and jam is served every morning. After a full day of sightseeing in the city, the restaurant offers access to a calm garden area, which is a lovely place to unwind and relax.
In addition to the beach at De Los Pocitas, you are within walking distance of many other wonderful restaurants. Despite being in a more residential location, the main sights in the Old Town may be reached in a reasonably short period by taxi.
The Circus Hostel in Montevideo is a fun and comfortable place to stay, with shared and private rooms, a lounge, a rooftop, and free wireless internet access. The crew here is eager to help you locate the most pleasant things to do in Montevideo.
One block away is the beach, two blocks away is Plaza Matriz, and five blocks away is Plaza Independence. The hostel is within a four-minute walk from the Solis Theaters. It's a great place to visit whether you're looking for architectural landmarks, historical attractions, or museums.
Each of the hostel's rooms includes a seating area. WiFi, an air conditioner, a heating system, a private bathroom, towels, bed and bath linens, and an electronic lock with keyless entry are provided.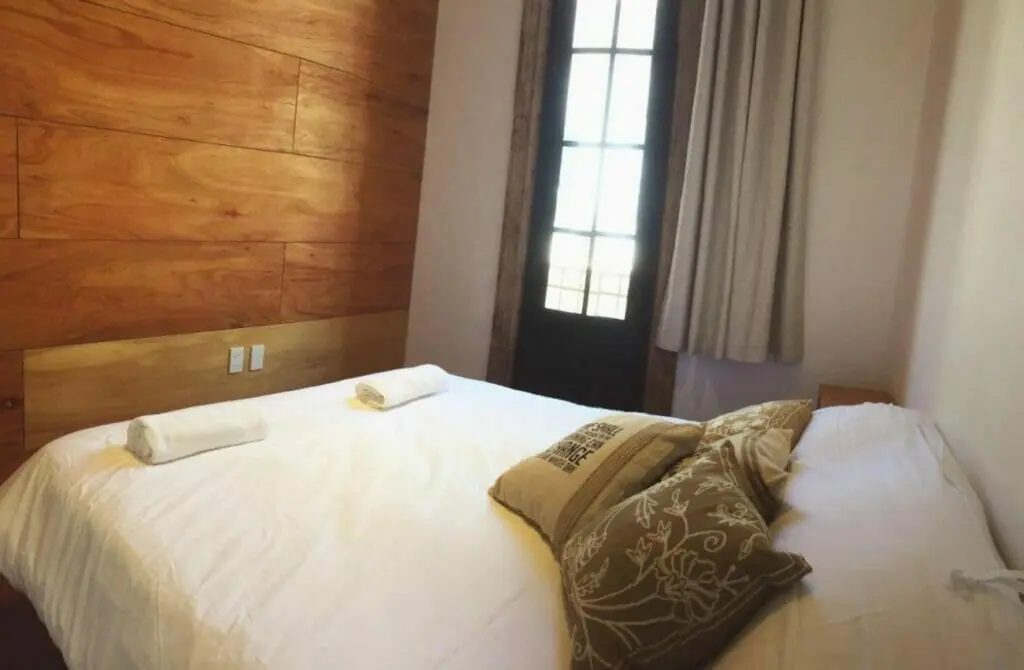 The Holiday Inn Montevideo is a convenient option for anyone looking for a gay-friendly hotel in the center of the Old Town at a reasonable price. It only takes a few minutes to walk to Plaza Independencia and the pedestrian-friendly Sarand Street.
This Holiday Inn is so hospitable to Uruguay's homosexual population that they are not only members of the country's gay chamber of commerce but have also sponsored several of the organization's conferences.
This is not a luxury hotel, but it is ideal as a more economical option: it is located in the heart of the city, immediately next to Plaza Independencia, and within walking distance of Chains pub. Travelers who do not want to pay a fortune but want to stay somewhere nicer than a hostel will find the Holiday Inn to be an excellent compromise between the two extremes.
The hotel's top floor has a large indoor swimming pool and a standard fitness facility where guests can enjoy some exercise. The rooms are quite spacious and furnished in subtle tones, creating a peaceful ambiance for guests. If you book a junior suite, the room will have a private Jacuzzi –– talk about a romantic touch!
The El Quijote's lobby lounge, bar, and restaurant serve a lovely and basic continental breakfast daily. This is also a beautiful modest location to stop for a drink or two before heading out to the pubs later in the evening.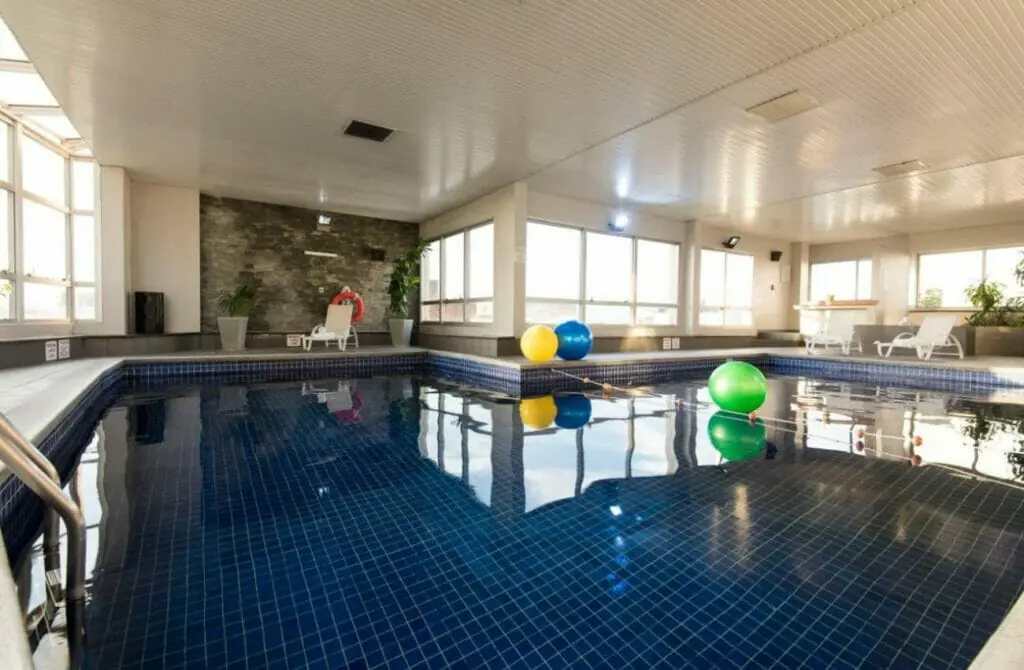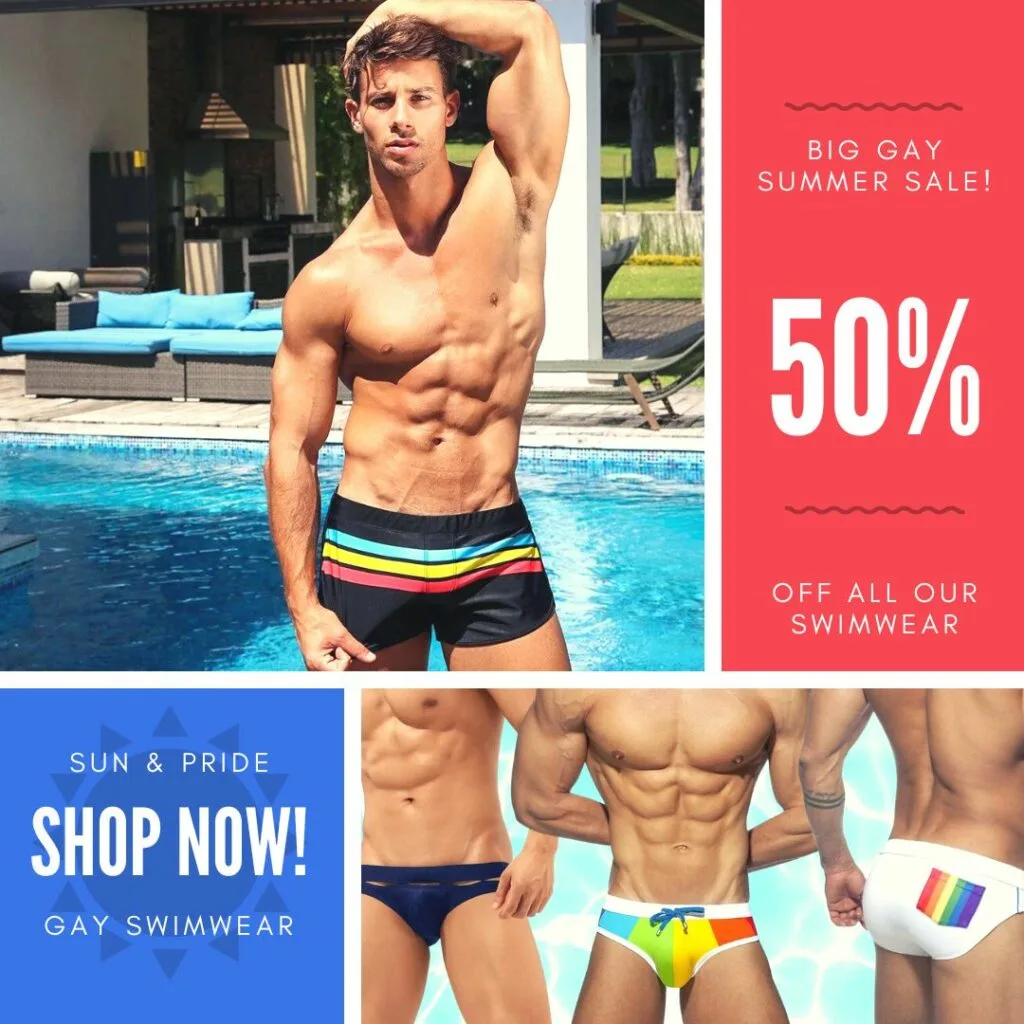 Gay Nightlife In Montevideo
Montevideo is the most popular LGBT destination in Uruguay, having the country's largest gay population and the most active gay nightlife scene. You can unwind in one of several busy bars located around the region. The nightly festivities here begin late, as one would expect from Latin America but are worth waiting up for.
Going out and experiencing the queer and queer-friendly nightlife in a new city can be a great way to break out of your comfort zone and try new things. Whether it's dancing the night away at a gay club or mingling with locals at a gay-friendly bar, you'll have the chance to make memories and create lasting connections.
So, don't be afraid to step out of your comfort zone and explore the gay and gay-friendly nightlife in Montevideo. You'll be glad you did!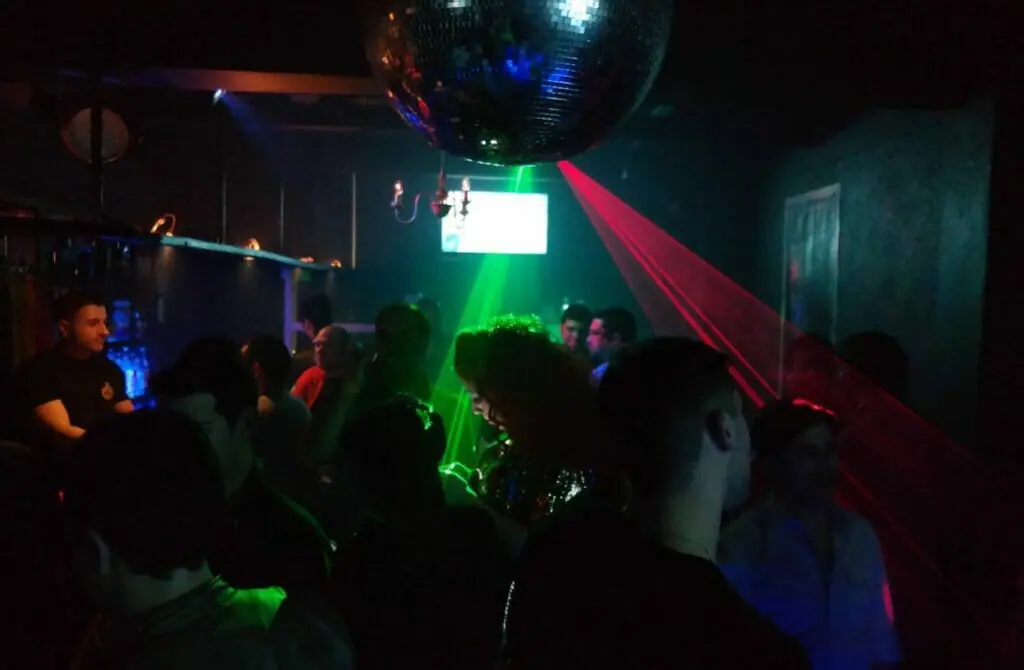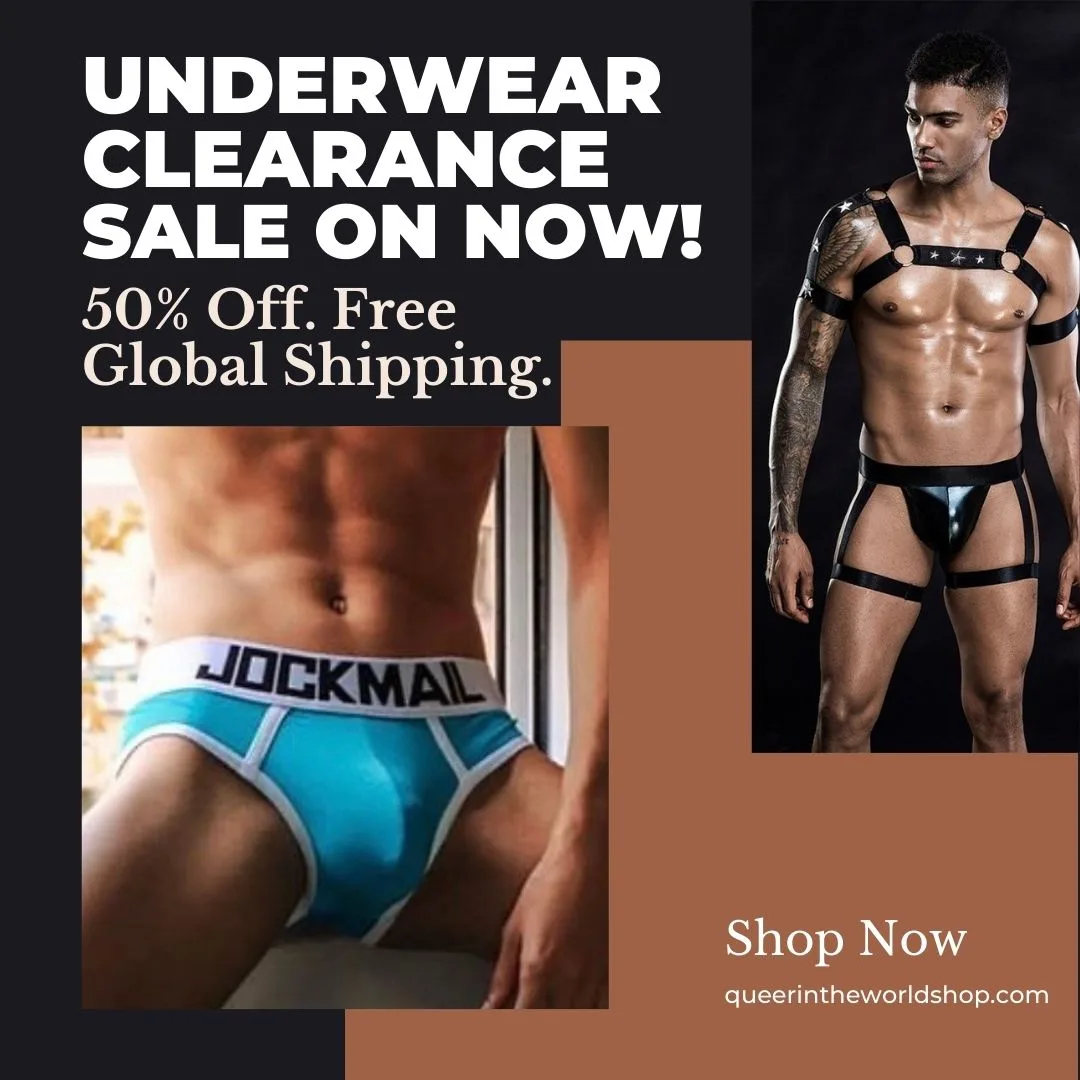 The weekend is the perfect time to visit Montevideo's most popular gay club, Chains Pub, as the venue presents a variety of drag shows. Chains is a restaurant in the heart of Montevideo, just a few streets from Plaza Independencia.
Friday and Saturday nights are the greatest times to go because there are drag shows, and it feels like a buzzing party environment overall. Soriano 827 sells chains and is only open on the nights from Thursday through Sunday.
Bar Rodo is a busy and gay-friendly bar in Montevideo that is great for getting your night started with a few drinks early on. The Il Tempo party scene congregates at Rodo, which is mostly a gay-friendly pub.
This gathering includes people of various ages and orientations, both gay and straight. It's a good thing the doors open at six o'clock in the evening, so you don't have to stay up until midnight to have a nice time here.
It is best to come here on weekends before heading to Il Tempo, which is just down the street, or on Wednesday evenings when they have a 2-for-1 Happy Hour on "Fernet with cola" from 6–9 pm. The doors of Bar Rodo, located at Boulevard Espaa 2246 (Juan Paullier), are open until 2 am every night (4 am on weekends).
Il Tempo is the preferred hangout for Montevideo's LGBT community. It is well-known for being the number one weekend destination for homosexual guys to socialize, get their groove on, and watch the most entertaining drag shows.
Come here after 1 am; if you're going to dance here, come at that hour. Even if the drag queens perform in Spanish, you will laugh your head off at their antics. Just be careful because they enjoy picking on new people who appear unfamiliar.
Il Tempo is open from midnight until roughly 8 am on Thursday through Sunday evenings. It is located at Gonzalo Ramirez Salterain 2121, close to Parque Rodo.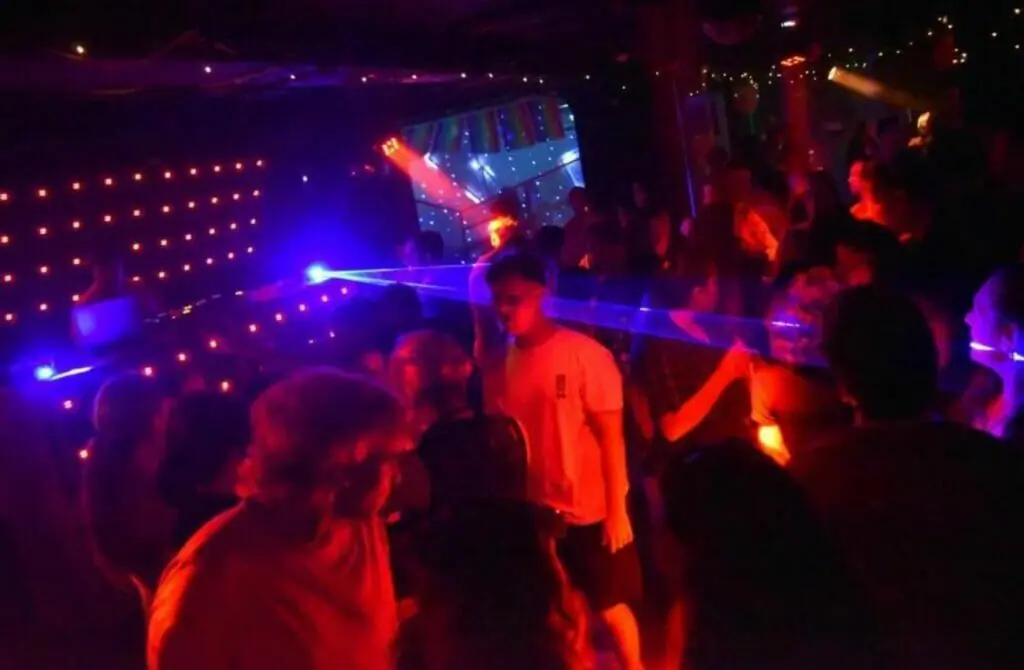 Cool Coffee Spots In Montevideo
As the name suggests, this coffee shop is home to some of the most innovative brewing techniques available in the United States. This suggests that the baristas here are knowledgeable in brewing and will be able to give you more than just a cup of coffee of exceptional quality.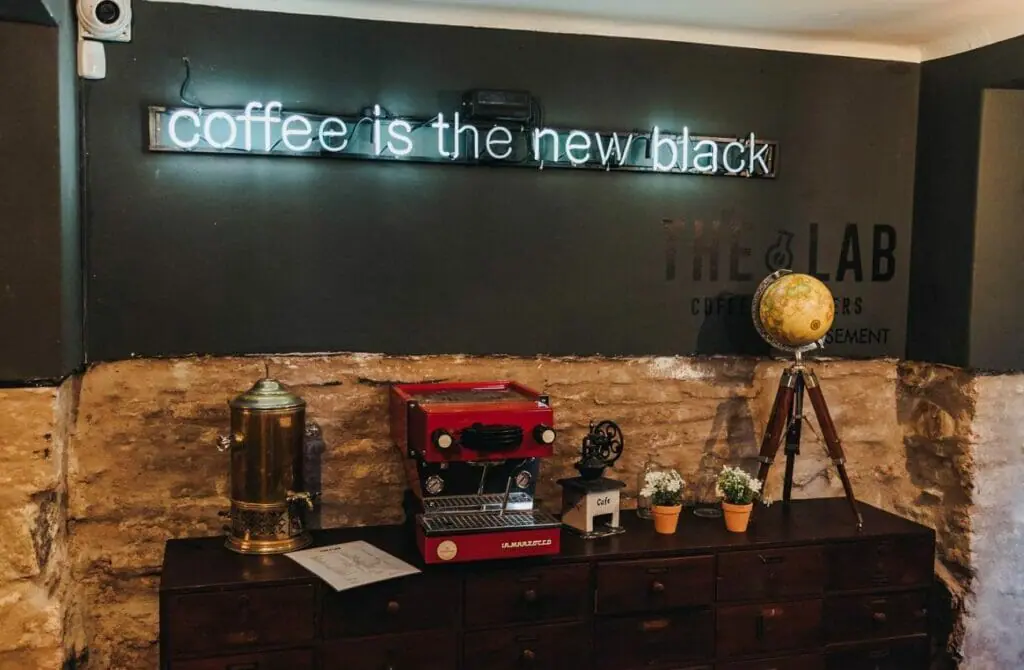 Escaramurza Libros y Cafe is one of Montevideo's most recommended coffee shops if you're seeking a selection of various brewing techniques. At the café, which also serves as a bookstore and a restaurant, a Faema E61 will be used to brew the perfect cup of coffee for you. It would be ideal for an afternoon with a nice alfajor and a good book.
Any cafe with a long and interesting history will appeal to keen travelers who want to immerse themselves in the area's culture fully. In addition, Cafe Brasilero delivers some of the most delightful and expertly made coffee in Montevideo.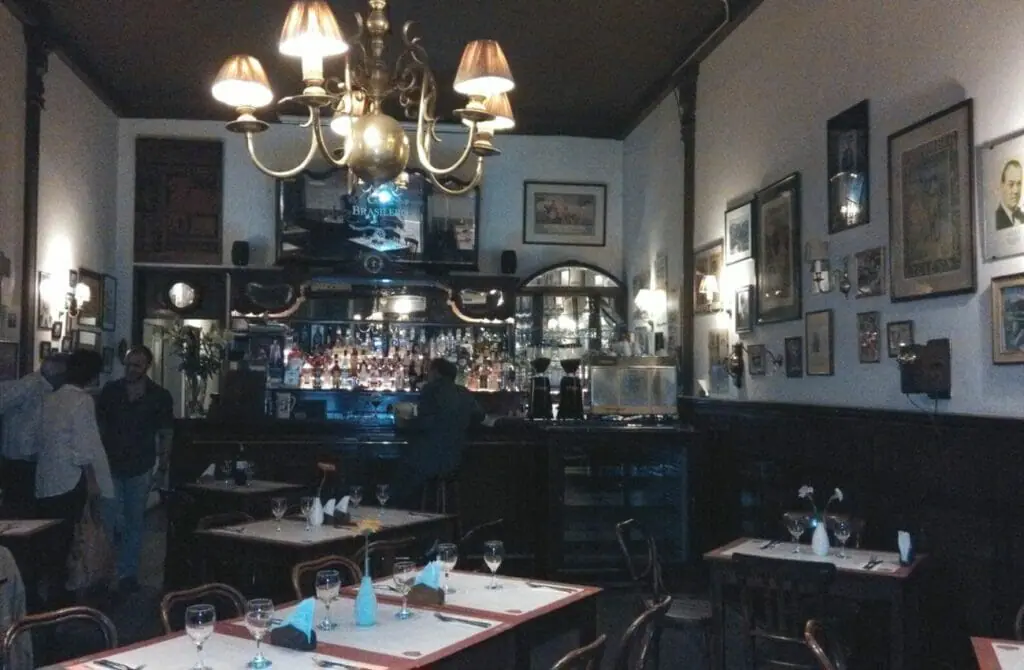 Spending an afternoon at Philomène Café is like seeing old acquaintances who have lived in Montevideo for hundreds of years. This business has the feel of a house rather than a cafe. When visiting Montevideo, you should not miss out on experiencing the sentiments produced by the city's atmosphere because they are unique.
It is one of Montevideo's oldest coffee shops and employs some of the city's most accomplished baristas. It is not merely one of Montevideo's oldest coffee shops.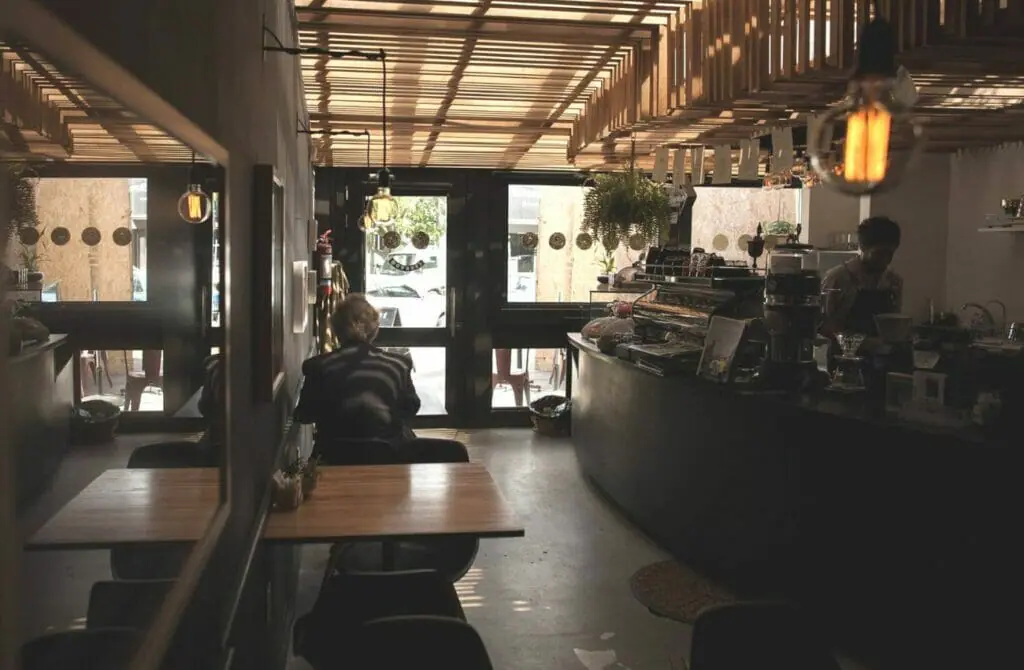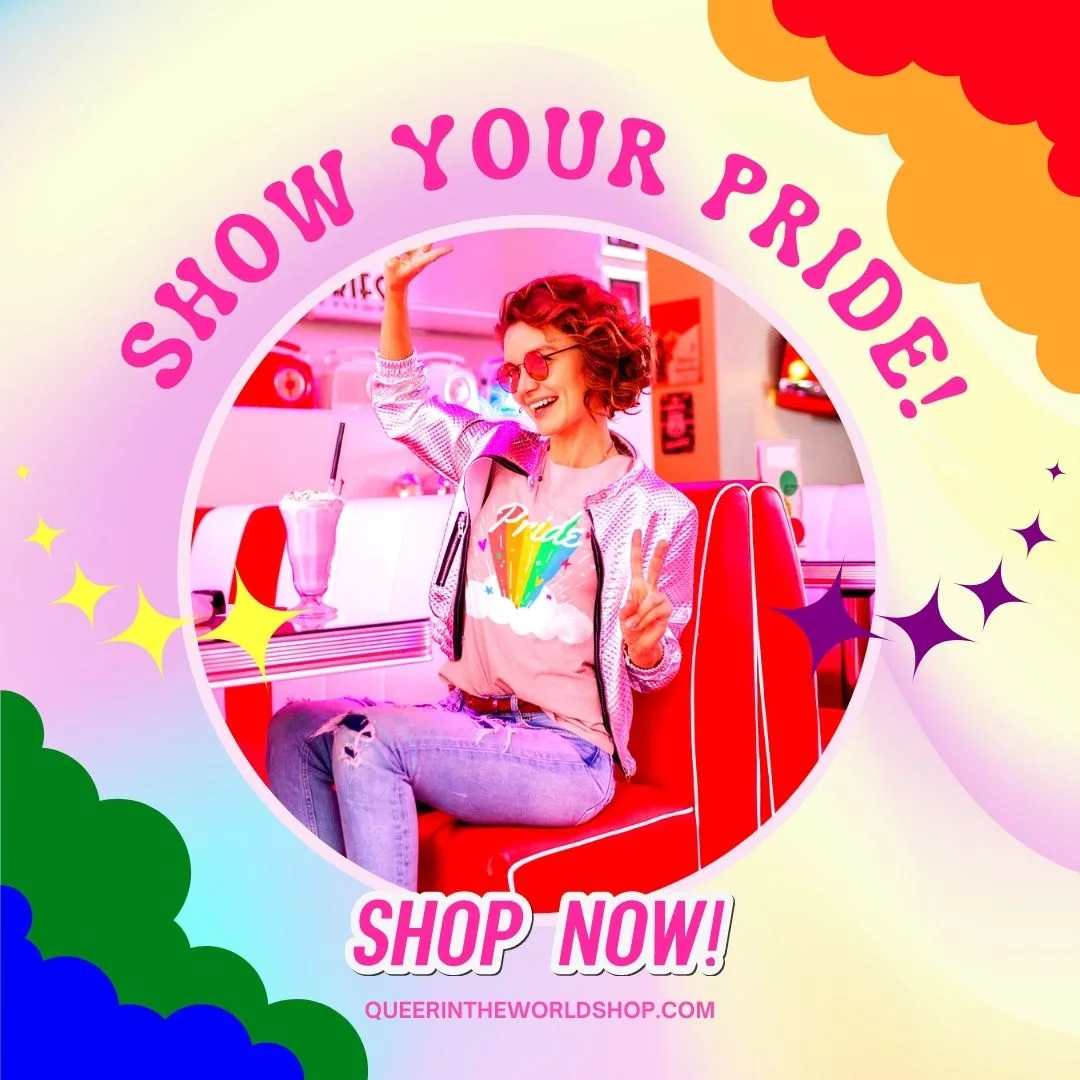 Cruising & Gay Saunas In Montevideo
When traveling to a new city, it can be exciting to head out for more than just a stiff drink. One aspect of the Gay Montevideo scene that many queer men enjoy is visiting gay saunas and cruising clubs.
Sure, the sauna culture in Montevideo is not as hedonistic as in Amsterdam, Barcelona or Berlin, but these venues still offer a chance to meet new people, socialize, and engage in sexual activity – without resorting to gay hook-up apps. However, it's important to keep in mind that these venues can vary greatly in terms of atmosphere, clientele, and rules, so it's a good idea to prepare yourself before visiting. If you are apprehensive, we advise studying our guide to visiting a gay bathhouse for the first time, which should help set your mind at ease, and always practicing safe sex.
Additionally, it's important to be aware of and respect local laws and customs regarding gay venues and sexual activity. With a little bit of planning and an open mind, visiting gay saunas and cruising clubs can be a fun and exciting part of your gay Montevideo travel itinerary.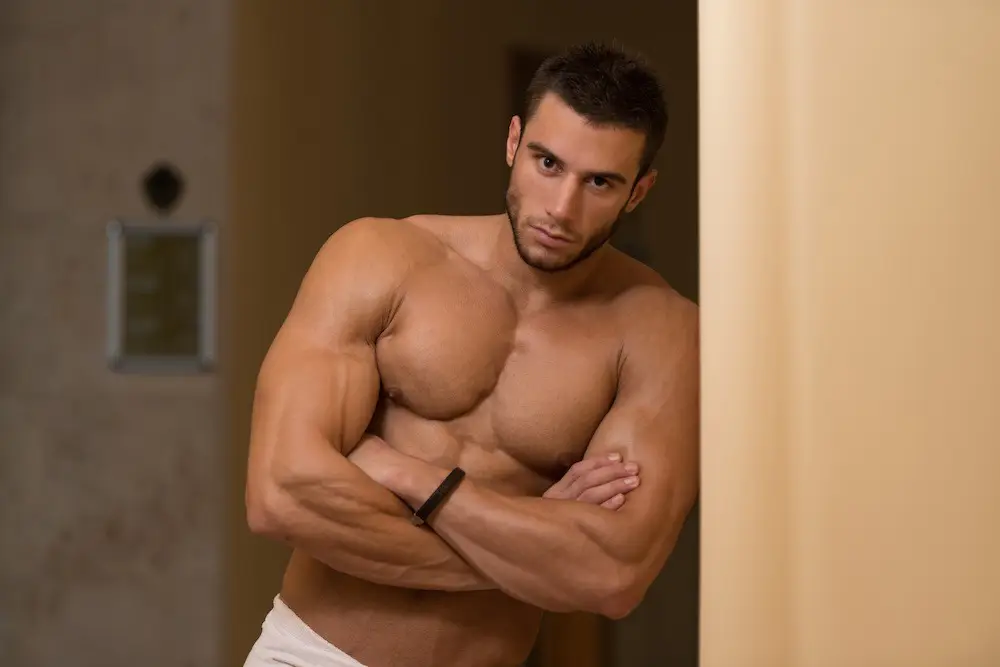 The LGBT community's preferred and largest sauna in Montevideo. The address is Calle Tacuarembó 1531, located in the Cordón district. It is open every day of the week from 3pm to 11 pm, with extended hours on Fridays and Saturdays until 1 am. Weekend afternoons, particularly Saturday and Sunday, are ideal for visiting.
Sauna Horus is not as large as Toronto, but it is more popular due to its central location on Julio Herrera and Obes 1240. This address is just a few blocks from Plaza Independencia. It is open daily from 3 pm to midnight, although on weekends, it is open until 8 am the next morning. As a result, it attracts a younger crowd of people who want to party late at night.
Cine Private
This "cinema" is truly accessible to both gay and straight people. It has two screening rooms, one for those who do not wish to have sexual interactions with men and another for those who do. In addition, the basement contains a large space with poor lighting.
Chains Pub is right across the street from Cine Private, which is located at Convention 1294. Except for Sundays, it is open from 11 am to 3 am the following day. It is frequented by Chains patrons who are out partying late into the night because it is open on weekends till five a.m.
Parque De Los Aliados
Located in the Parque Batlle area on the city's eastern outskirts, in the province of Barcelona. As a result of the large number of trees planted in this area, it is known as the "lungs" of Montevideo. These trees also provide nice shade! Although the park is open 24 hours a day, cruising occurs in the bushes in the evening when it is dark.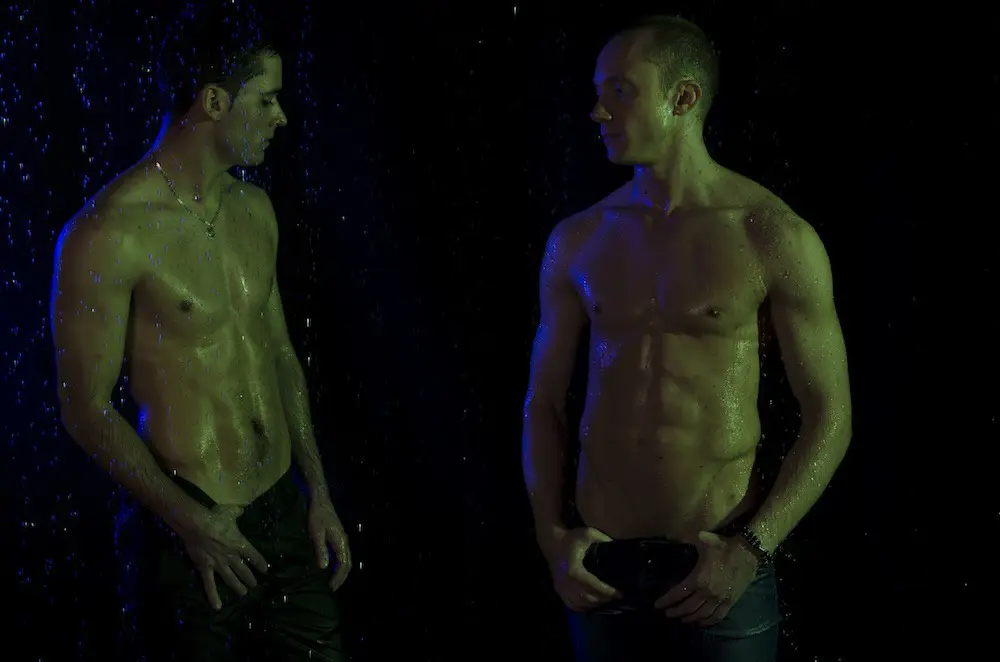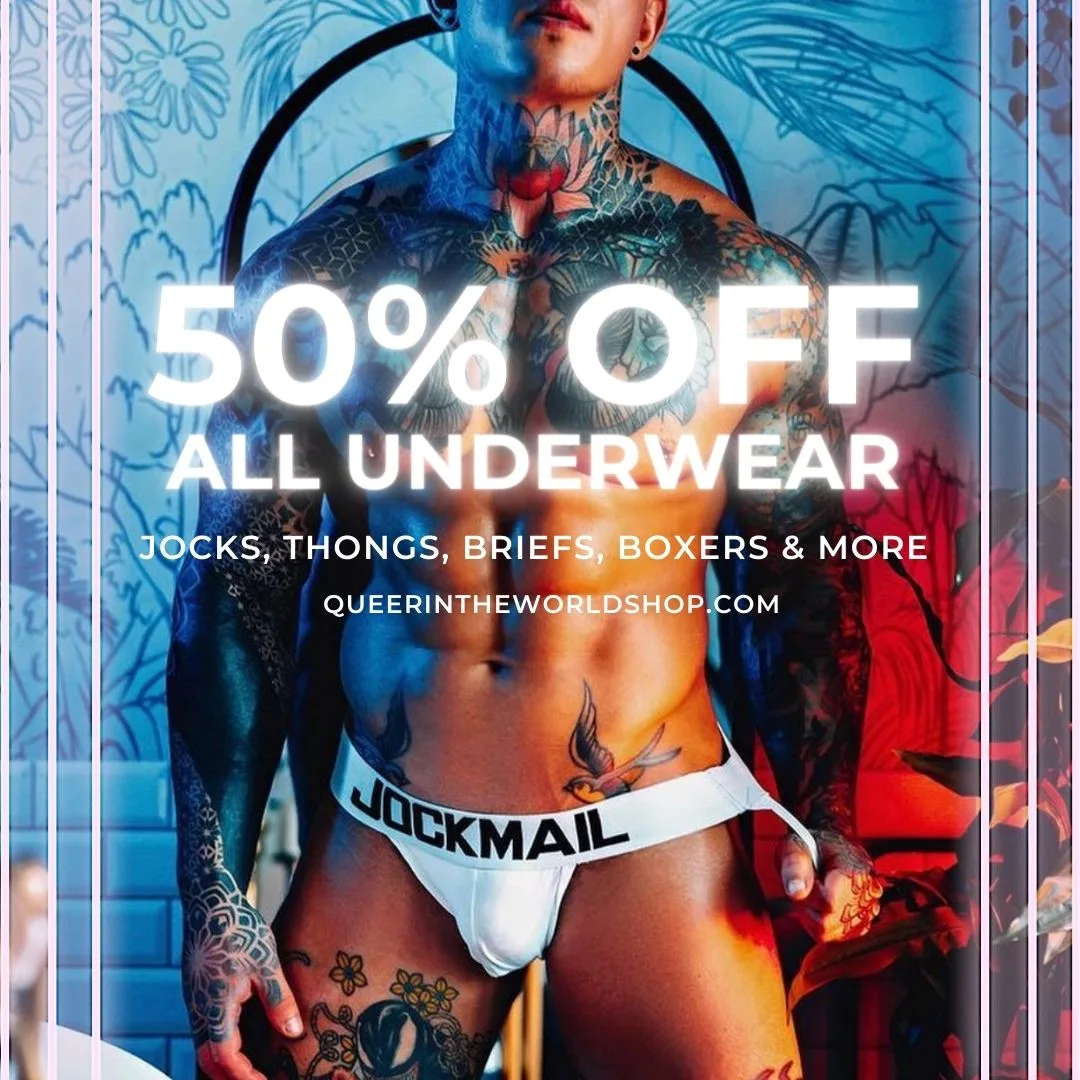 Gay Map Of Montevideo
Finding it hard to envisage where everything is in Montevideo? Hopefully, this queer-centric map helps where we have marked all the bars, clubs, parties, hotels, saunas, massages and more will help you stay in the spot best suited to you!