Menorca is a low-key island in Spain's Balearic Islands, compared to its rowdy neighbors. The result of this nature is a quiet gay nightlife with no queer-specific venues. However, you will find that despite what is lacking, it makes up for it with its general gay-friendly attitude wherever you anchor down. So even if she isn't as big an attraction of the other Balearic Islands like Mallorca with its loud gay scene, you can still have a great time here no matter the occasion.
Located in the warm sea-blue Mediterranean, The Balearic Islands have a long history despite their size, notably being first home to the Talayotic peoples around 2,600 years ago, until they were settled by the Romans, followed by the numerous Germanic tribes, and then the Spaniards.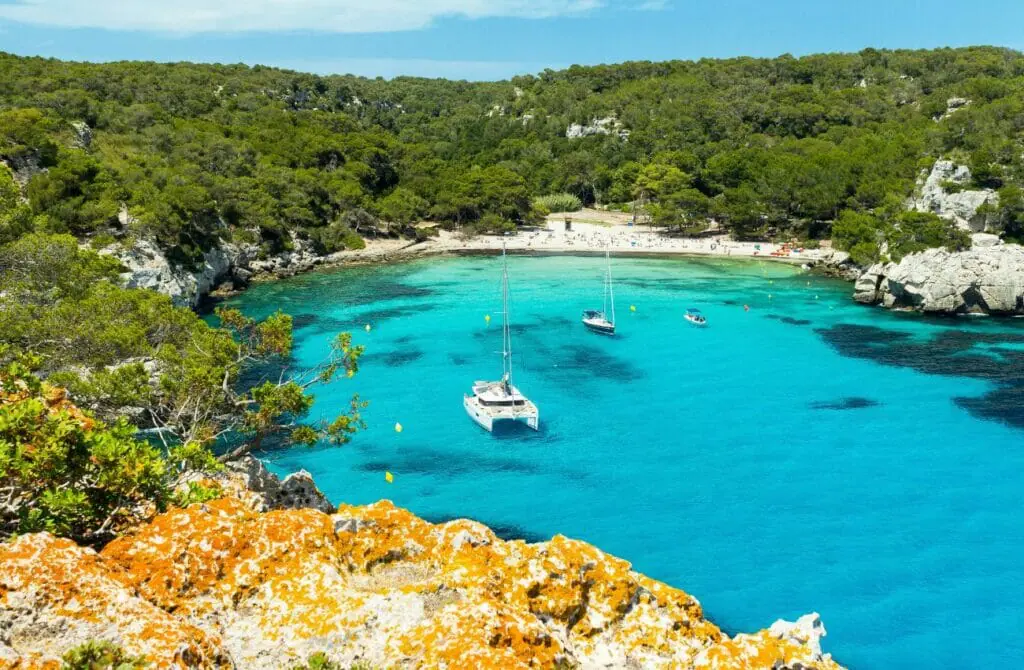 The islands are still part of Spain today, so that you can expect an extension of the Spanish mainland culture with a unique twist. Tourists come to Menorca to experience their friendly hospitality, stunning coastlines and laid-back feel, which is perfect for any getaway beach holiday.
Outside their over two-hundred kilometers of coastline, the island's biggest export is their local brand Xorigue, a gin loved by drink lovers worldwide.
So, the locals are a little gin-crazy! You can try this drink for yourself as you pair this with their national dishes like the hot-pot lobster, Kaldereta, or a hearty dip of Manoniase (invented in the 18th century in Mahón, Menorca). These delicious culinary experiences are just the tip of the cultural iceberg for you to discover, with much more to be dug up!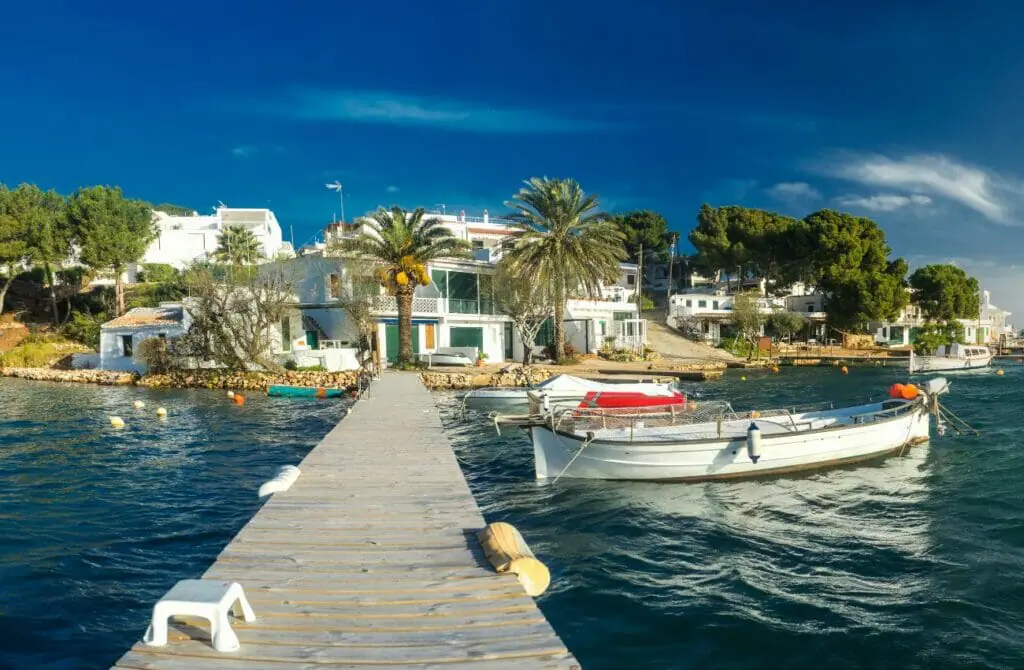 Attractions in Gay Menorca, Spain
As a new visitor to Gay Menorca, there are plenty of things to see and do, regardless of your sexual orientation. One of the best ways to experience any new city is to visit some of its most iconic landmarks and attractions, including historical monuments, museums, and art galleries.
We also love gazing at architecture up close, exploring parks and gardens, sampling the local cuisine, visiting local markets, and attending cultural events such as festivals, concerts and shows.
Even as the out-and-proud queer we are, we still love to explore the city and its culture in the same way as everyone else. Doing so allows us to learn more about the city and its people and gain a deeper understanding of the local culture. As such, these are our favorite must-see attractions in Menorca.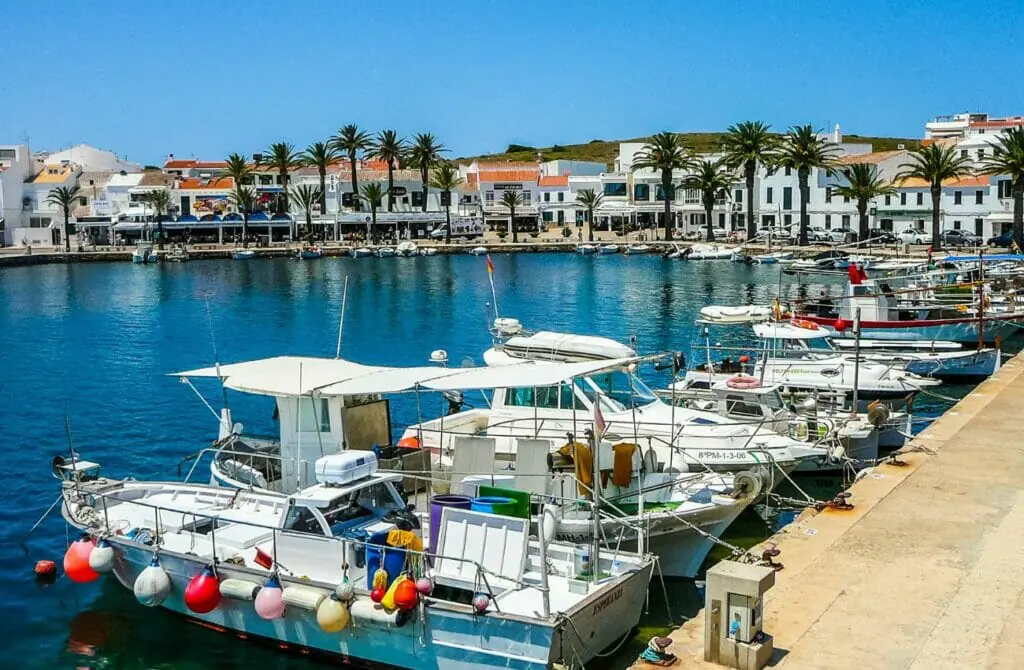 Pont d'en Gil
A natural landmark popular with tourists and photographers is the Point d'en Gil, a coastal sea arch that is a unique formation viewed from the cliffside and seaside at low tide. You will always find someone setting up for the perfect shot during the day, with the busiest time for sunset chasers wanting an untampered sea view with picturesque scenes to match.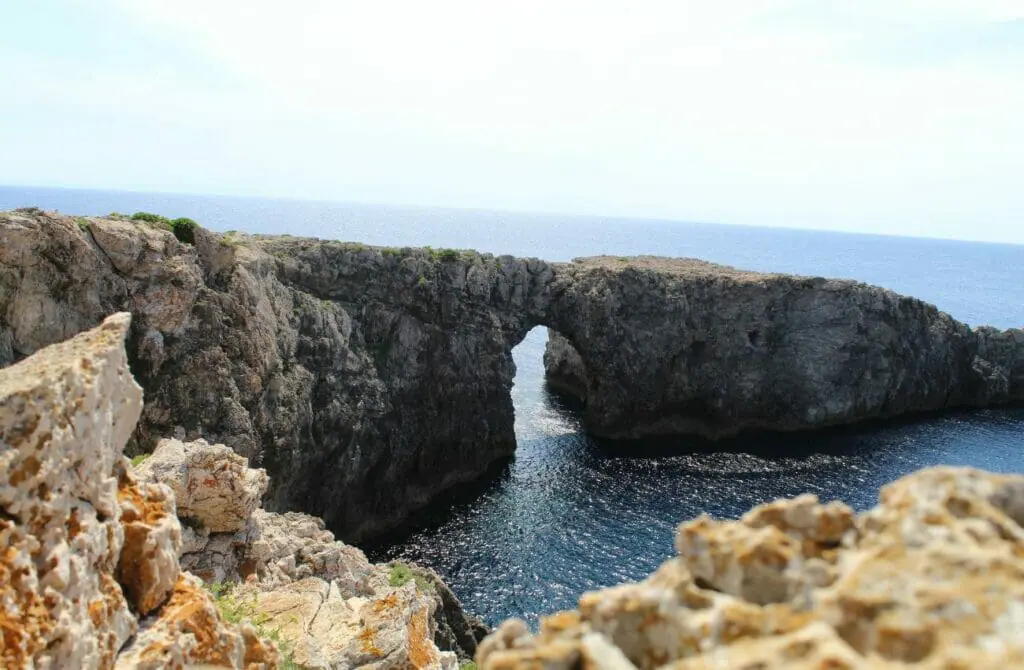 Menorca South Coast Half-Day Cruise
Menorca is an adventurer's dream playground, constantly unveiling something unexpected. One of the best ways to have more of these experiences is to take the Menorca South Coast Half-Day Cruise. In this incredible experience, you will see a range of coastal settings, from sprawling sandy shores to cliff faces offering you an eye-opening lesson in the field of environments packed into this tiny island.
Macarelleta
One of the best quaint coves is Macerelleta, with its clear blue waters and quiet beaches, making it a great retreat from busier tourist attractions. You can take a picnic or a book and get lost in the peaceful tranquillity of the sort crash of waves, the warm sands and the massaging heat of the sun during Summer.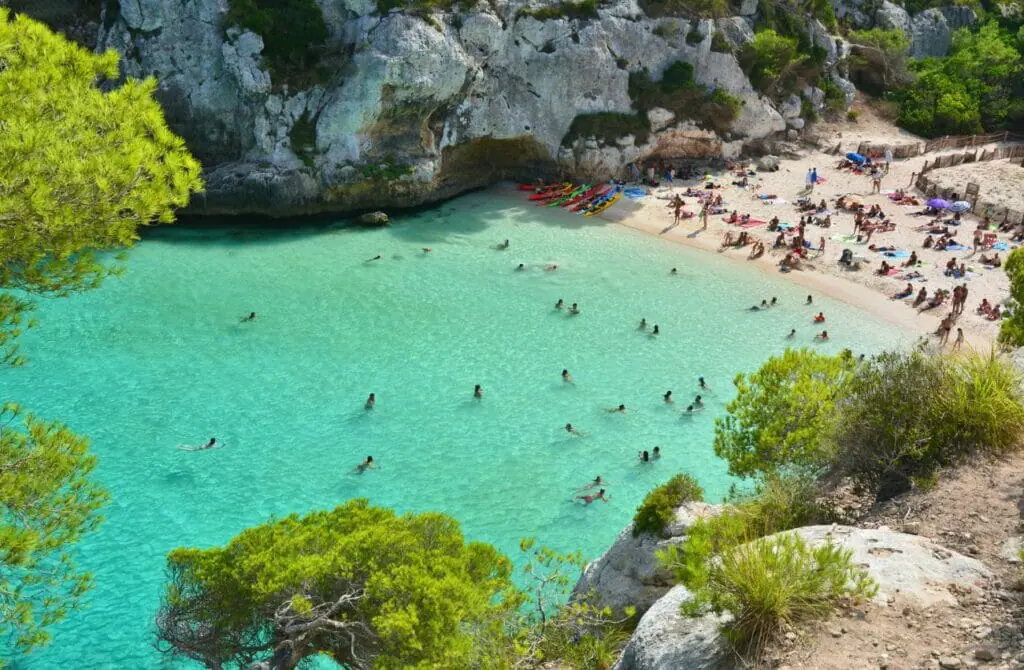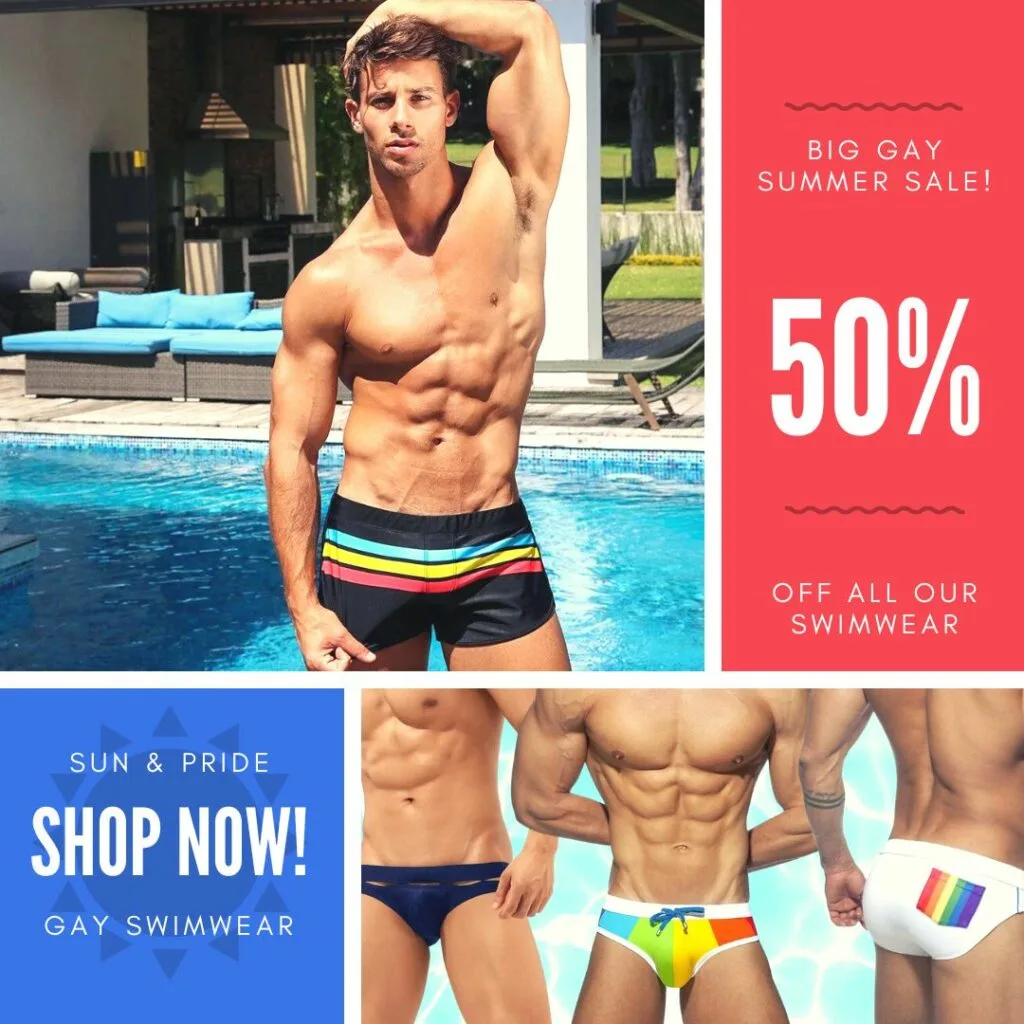 Menorca Horseback Ride for Beginners and Families
Those wanting a more hands-on tour can explore parts of Menorca on the Horseback Ride. This is an excellent option for all riding levels, partners, and families, so it is a great experience to try something new while taking in the wild island's wonders.
You will travel the quieter inland roads of Camí de Cavalls, heading for Cala Mitjana Cove, taking in incredible views and the lesser-seen parts outside the tourist hotspots.
Mola Fortress
You can experience the rich history of Menorca at Mola Fortress, an impressive 19th-century fort built by Queen Elizabeth II of Spain and, at the time, the biggest fortress in the region. Today, it is mainly empty at Mahon Horbour's mouth, with great views from the headland and its towering walls.
However, if you want to experience it first-hand and learn about its history, you can take a tour with a great guide about the site's significance and lasting legacy.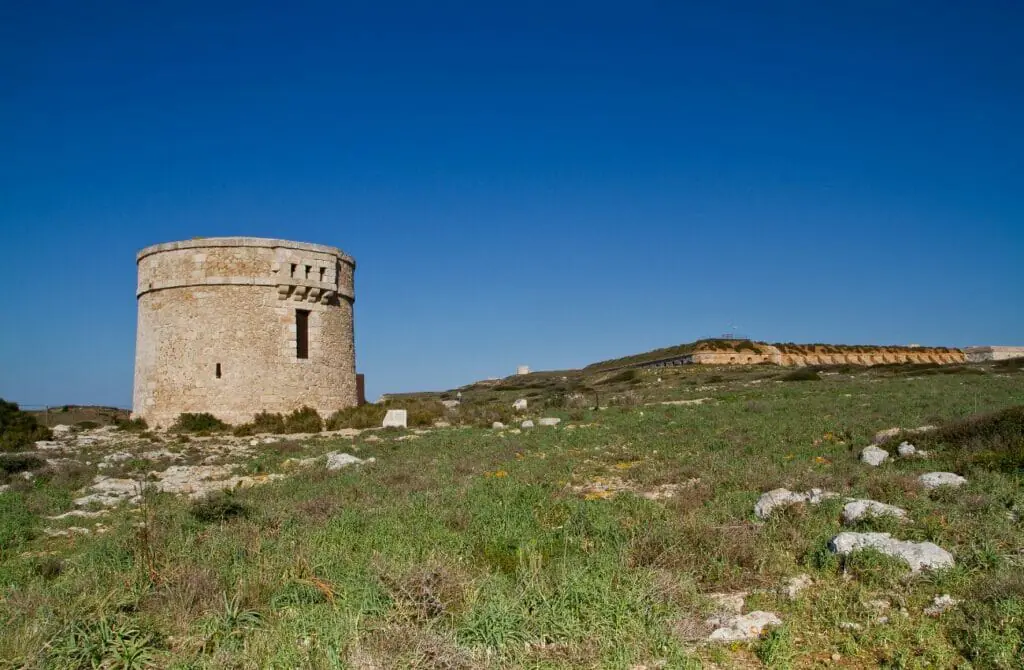 Cala Algaiarens
One of the most visited beaches in Menorca is Cala Algaiarens, a long sandy white beach popular with swimmers and sunbathers from all around. Scenic coastlines surround it and are more laid-back than other beaches closer to towns.
Faro de Favàritx
Faro de Favàritx is one of several picturesque lighthouses you could encounter along the Menorca coastline. This one still shines today and is now operated by an automatic system, but when it was built in 1916, it became home to a dedicated linkage of lighthouse keepers.
This beautiful swirling tower creates excellent photos of the headland, with an easy flat walk that takes you right up to its doorstep. It is one of seven lighthouses, so you could make it a goal to visit all of them!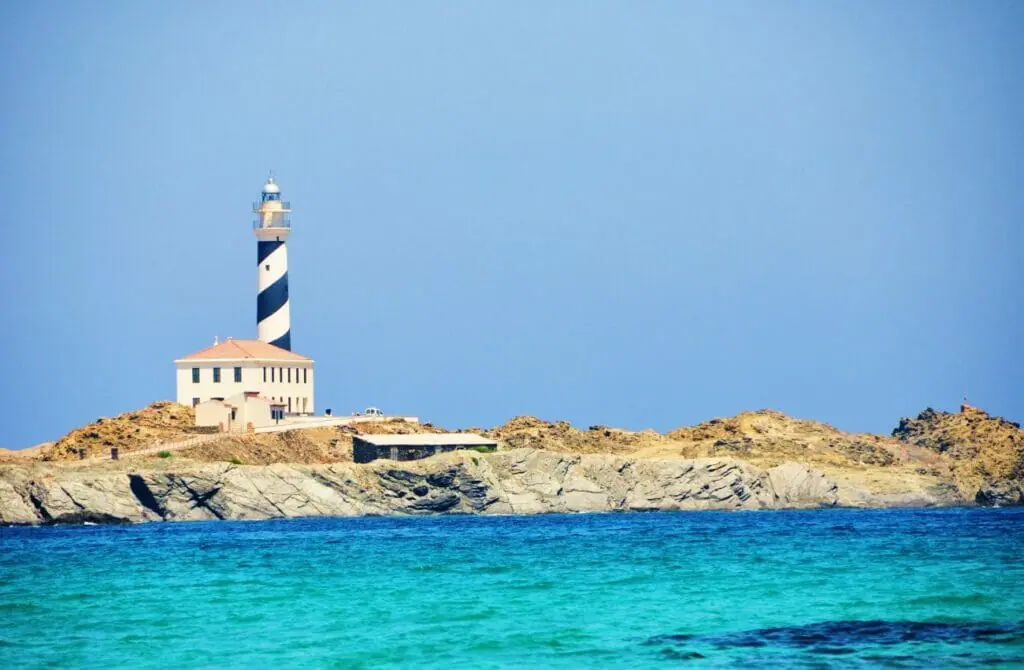 Líthica (Pedreres de s'Hostal)
You can find an unlikely tourist attraction at the site of this former quarry for its artificial deep-cut walls created by over 200 years of quarrying.
Only ceasing operation in the 1980s due to government nature concerns, you can today experience the raw cut rocks and the range of layers or explore the ancient quarrying sites, which give you a physical lesson in the evolution of quarrying methods of the region.
Torre d'en Galmés
One of the exceptional archaeological sites related to the original inhabitants of Menocra is their largest settlement site which was occupied until Roman occupation. Although in ruins, there is still a lot to see. From the scale of the site to the shape and arrangement of structures, it shows just how significant the population was!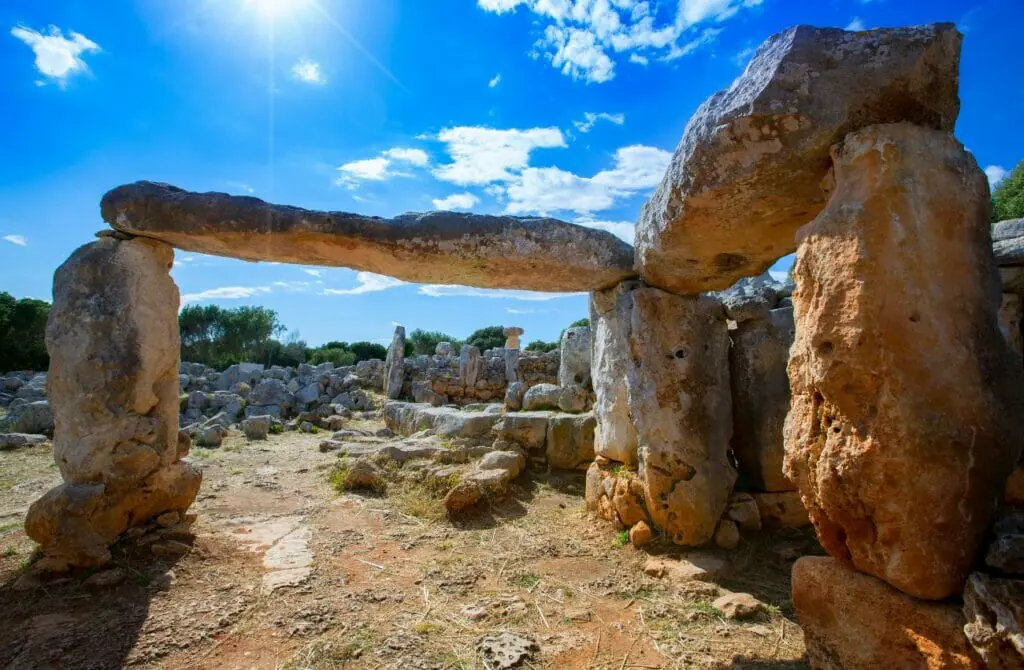 Museo de Menorca
The national museum of Menorca is worth adding to your travel list because it allows you to see artifacts and galleries telling the history of their little island from the perspective of the local curators. It is a small venue compared to some museums, but they offer a range of artifacts, from old paintings and pots to old photos and native fauna.
In addition, they have an even richer online collection, so you can see the full range of the artifacts that recall the two-thousand-year history of their island. You can even get involved in their education programs or one-off classes.
Naveta Des Tudons
Yet another incredible Pre-Roman site on Menorcra is the best preserved funerary naveta in the region, dating to roughly 1200 – 800 BC. This expansive site will give you a great idea of the burial practices of the original island inhabitants and a brilliant historical insight into the rich history of the islands.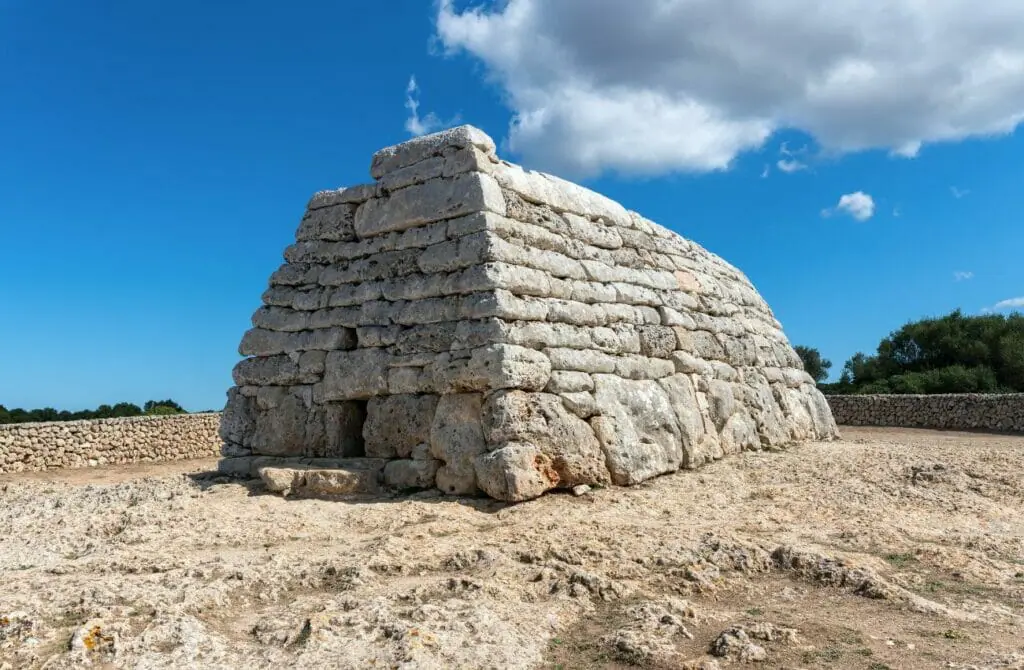 Puerto Antiguo de Ciutadella de Menorca
The old port of Ciutadella in Menorca is a picturesque part of Menorca that is certainly not worth missing out on! You can enjoy tranquil waters standing on the old port promenade, shaded by ancient buildings that once commanded the most lively port in Menorca, now today serving as a visual history lesson and a place for modern restaurants and shops to serve curious visitors.
You will walk through cobbled streets, passing various buildings from churches and a well to a mismatch of modern houses intertwined with older structures.
Far de Punta Nati
This rather unusual-looking lighthouse found on the northern shore of Menorca is made of stone, despite being built in 1913. So you get this lighthouse tower with a square lower extension, making it stand out from others in the region. In addition, many adore the Mars-like barren landscape surrounding it, making it popular for photos.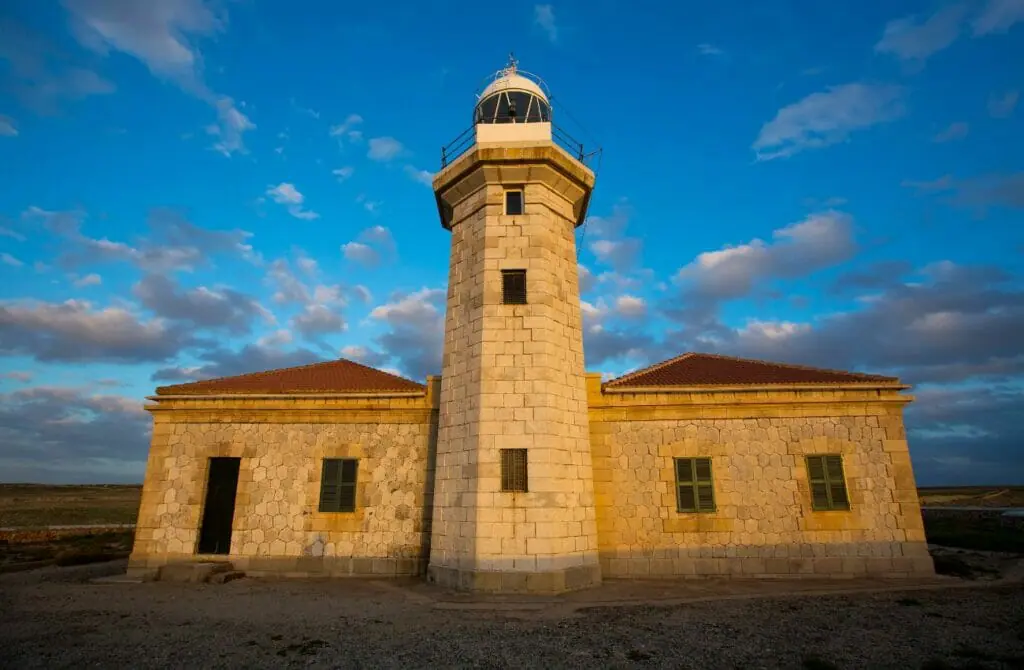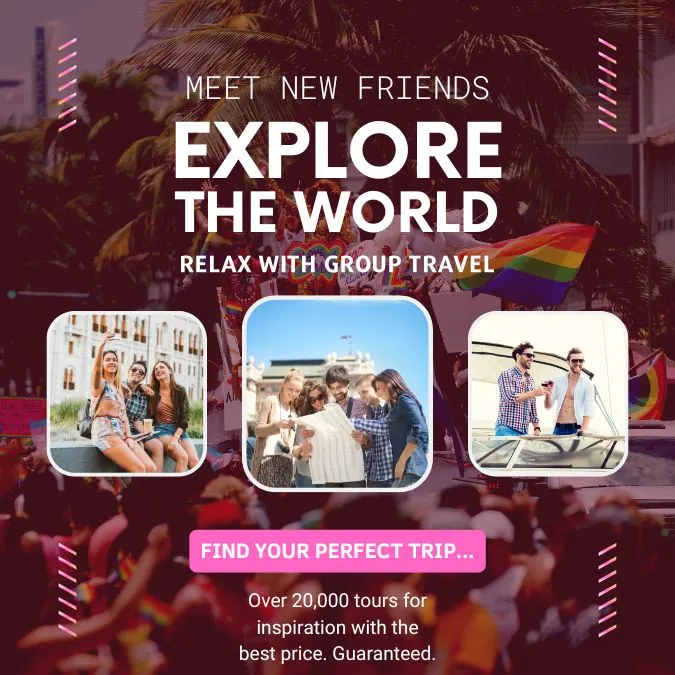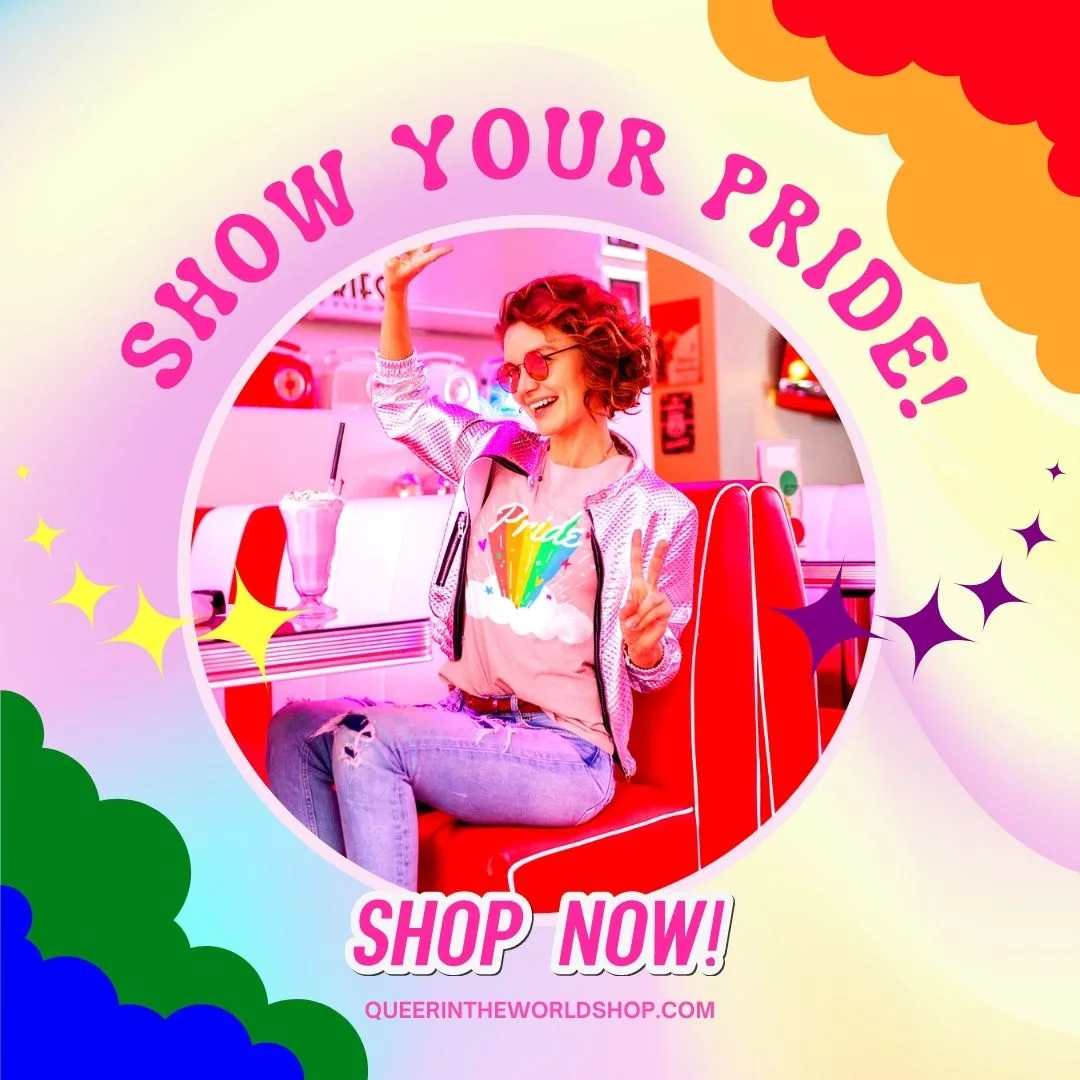 Gay-Friendly & Gay Hotels in Menorca, Spain
Being gay-friendly accommodation means that the establishment is welcoming and inclusive to guests who identify as LGBTQ+. This can include, but is not limited to, having policies and practices that demonstrate a commitment to creating a safe and inclusive environment for LGBTQ+ guests, such as non-discrimination policies and providing support and resources for LGBTQ+ travelers.
Some gay-friendly accommodations may also provide amenities specifically catering to the LGBTQ+ community, such as rainbow flags or literature about local LGBTQ+ events or resources. Furthermore, gay-friendly accommodations may be located in an area known for being LGBTQ+ friendly.
While Menorca does not have any specifically gay hotels or resorts, these are the most fabulous and pro-actively gay-friendly hotels in Menorca. There are also hundreds more hotel and hostel options in Menorca if none of these suit your desired budget, facilities or area – but these are the best hotels according to other gay travelers and us.
Whatever your needs are, Menorca has you covered.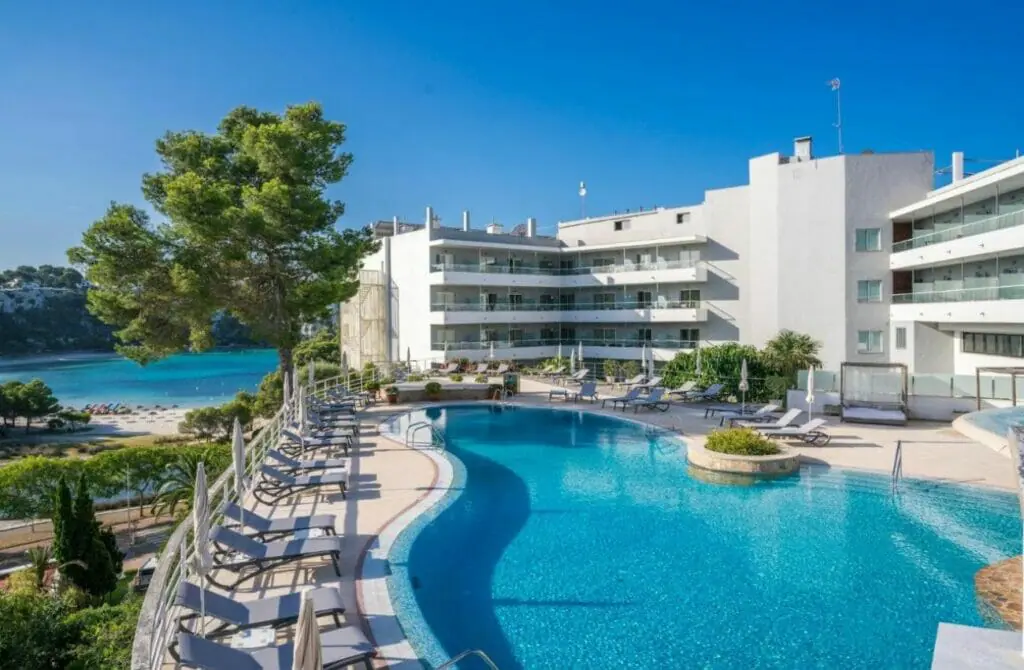 ARTIEM Audax – Adults Only ☆☆☆☆☆
Located exceptionally close to Cala Galdana is the four-and-a-half-star Artiem Audax, an adults-only hotel. Guests love this top choice because it is quieter than other family-friendly hotels, so you don't need to concern yourself with children and will be around more refined patronage, allowing you more space to let loose and have fun.
Also, their patio with an outdoor swimming pool and lounging facilities has picturesque views and makes you feel like you are making the most of your time away. This is brought to the next level with their full-service spa and restaurants to provide the necessary fuel to enjoy Menocra without working!
However, if you are on a working holiday, you can rest easy knowing they have kept you in mind, with plenty of places to work both around the hotel and in your private quarters. And in your own space, you get complimentary breakfast, a balcony, and so much space with many extras it almost feels like a little apartment for yourself!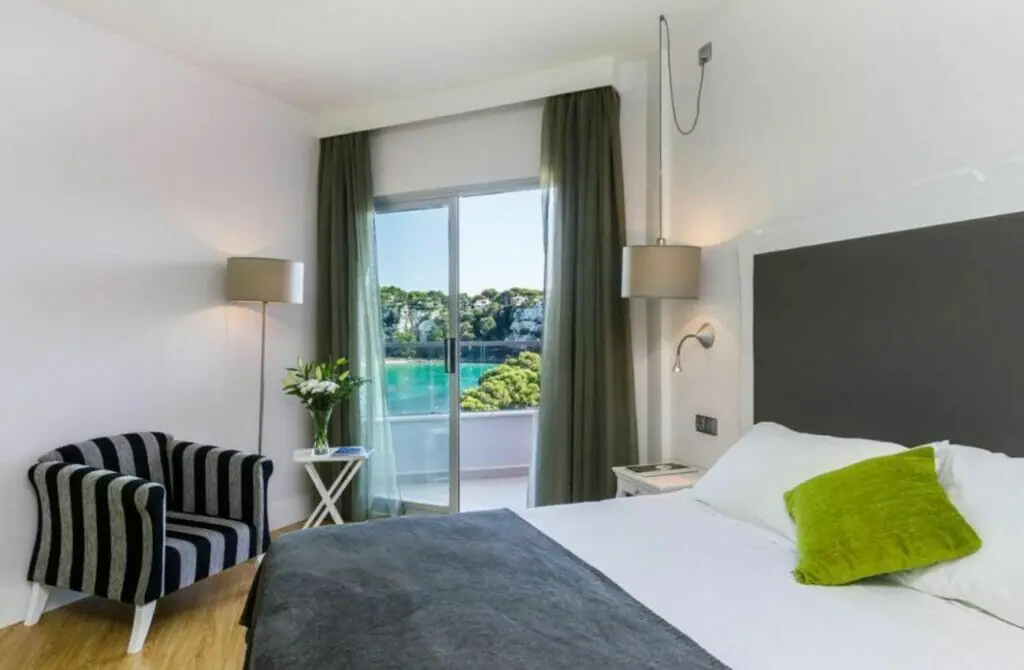 Finding yourself in the top four-star accommodation in Menorca, you will soon become acquainted with ARTIEM Capri, a central town hotel in the birthplace of Mayo, Mahón. You can access a significant slice of Menorca that only contains most of the nightlife and major tourist attractions, but the coast is just a short walk away.
However, the hotel is super modern, with amazing views at its upper levels for the rooms at the top. However, the highlight of the shared services is the rooftop terrace with a pool and shaded hot tub with glass overshading. You can not only take full advantage of the scenery and plunge into the cooling waters during the height of island life in Summer.
The little extras of the spa, gym and restaurant services also satisfy, making your stay a breeze. Then, your private accommodation is just as rewarding, with comfortable beds, accessible working spaces, and a TV for entertainment.
ARTIEM Carlos – Adults Only ☆☆☆☆
The four-star twin of the previous hotel is the equally brilliant ARTIEM Carlos, an adults-only alternative to the former, the same standard class. You can encounter this favorite hotel along the Es Castell coast and just a short stride away from the beach or drive to Mahón town.
However, what makes it different from other choices is the outside beach patio stretching right up against the banks of Cala Corb, so you can get the best of both worlds by swimming in a range of waters! Guests are also treated to spa services, a gym, a restaurant and a bar, so their needs are sorted before they even leave the hotel to start their day!
However, the private quarters do a great job keeping guests well-rested and relaxed, providing them with the usual hotel comforts and cozy bedding to make sleeping a breeze.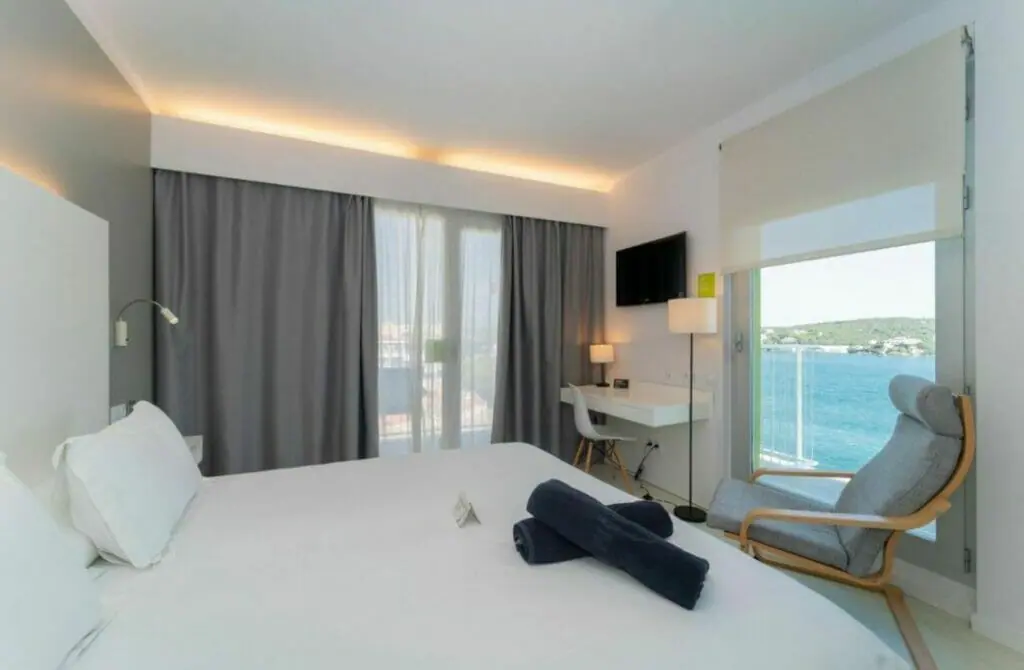 Located in Cala en Bosc, you can find the three-star Lago Resort Menorca, offering a variety of villas and bungalows vastly different from the usual hotel experience. You have your mini-house just a short stretch away from the resort's outdoor pool and lounging area, with the ability to easily access a variety of attractions outside the resort as well.
Depending on the room you pick, you may get a fully equipped villa allowing you to prepare food, store meals, host small gatherings and live out your life like a local while on holiday in Menorca. A highlight of this is the coastline's views, particularly the perspective of a beachside early evening stroll up to the nearby lighthouse.
Hostal Sa Paissa – Adults Only ☆☆☆
Found in the small village of Cala en Porter, Hostal Sa Paisa is a beachside adults-only retreat for those on a travel budget who want quality without unnecessary extras. Sometimes all you want is a remote place to stay, with a great pool, restaurant and simple hotel room to be the highlights of your stay.
Leaving you with more time to explore all Cala en Porter has to offer, with a notable place to try Menorca's national gin treasure, with a gin house not far from the hotel.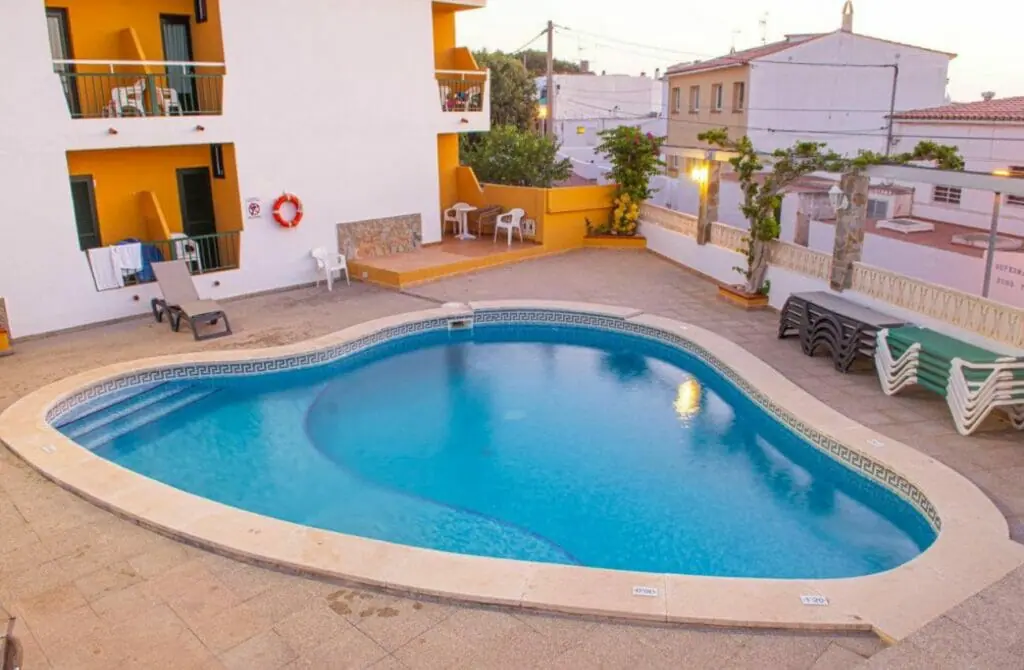 Gay Map Of Menorca
Finding it hard to envisage where everything is in Menorca? Hopefully, this queer-centric map helps where we have marked all the bars, clubs, parties, hotels, saunas, massages, and more will help you stay in the spot best suited to you!
Gay Nightlife In Menorca, Spain
There are no gay clubs or bars on the island, so if you come to Menorca, you can expect the extent of your gay experience to go from the fun you make yourself. This could be by connecting with the gay community or during the annual Mahon Pride Festival on Mencora when the island is most queer.
However, it would be best if you feared about the assets it does not have as you will be glad to know they have many exceptional gay-friendly venues that will make you forget that there isn't a gay flag in sight.
Exploring the gay and gay-friendly nightlife in a new city can be one of the most exciting and rewarding experiences while traveling – and Gay Menorca is no exception. Not only will you have the opportunity to meet new people and make friends, but you'll also get a taste of the local culture and learn more about the city's LGBTQ+ community.
Going out and experiencing the queer and queer-friendly nightlife in a new city can also be a great way to break out of your comfort zone and try new things. Whether dancing the night away at a gay club or mingling with locals at a gay-friendly bar, you'll have the chance to make memories and create lasting connections.
So, don't be afraid to step out of your comfort zone and explore the gay and gay-friendly nightlife in Menorca. You'll be glad you did!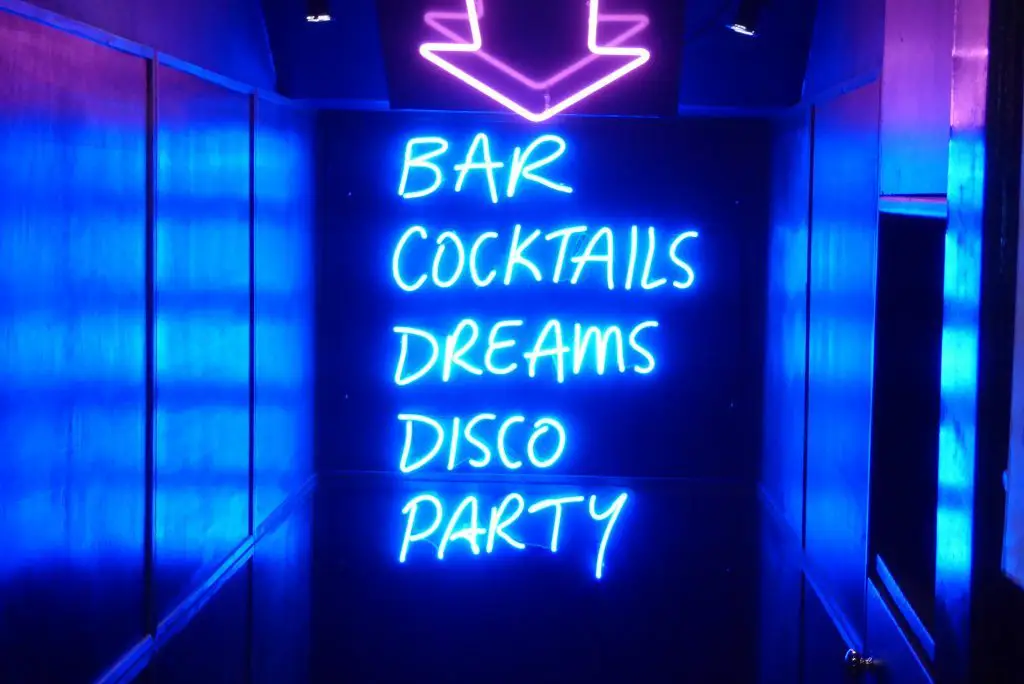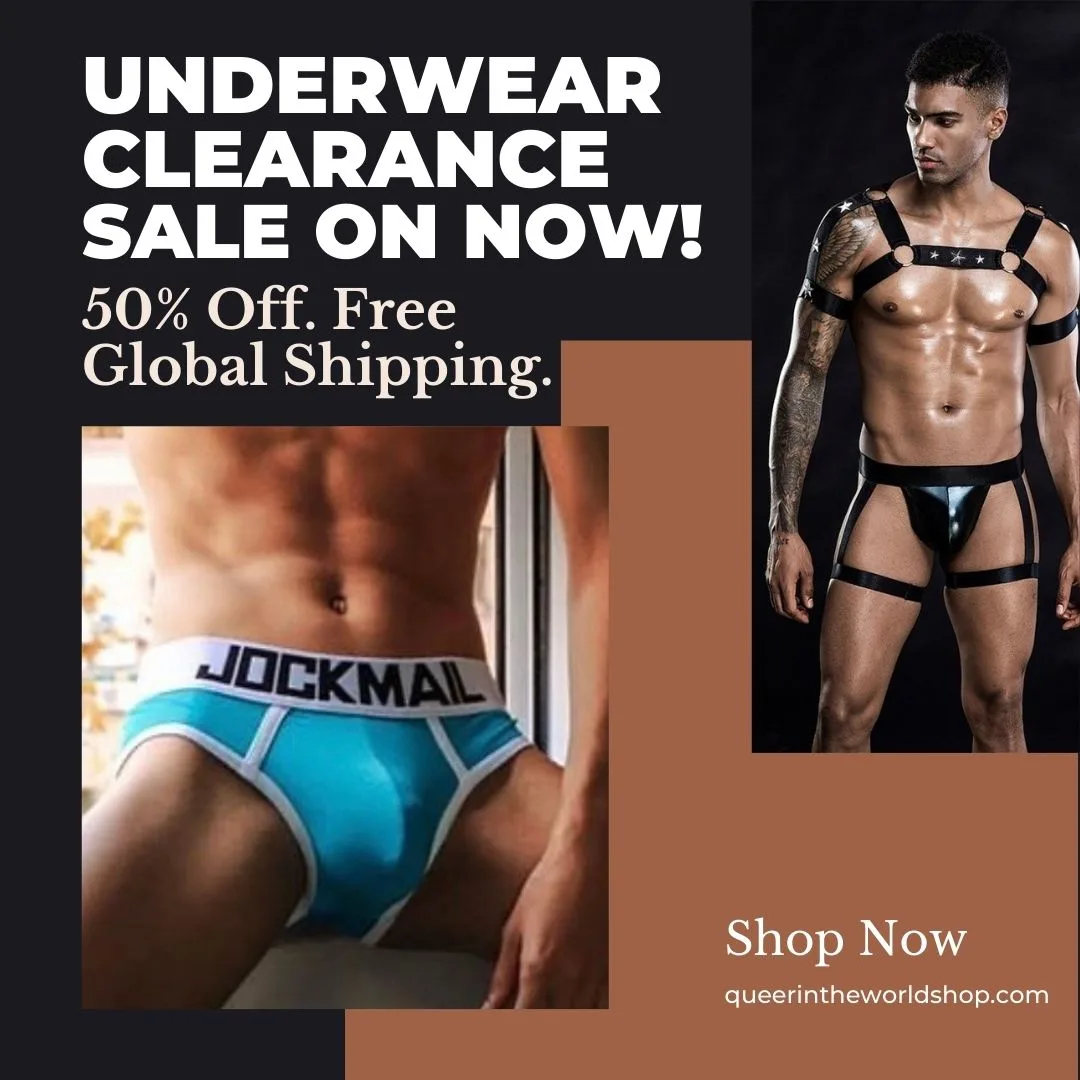 Gay Parties & Gay Clubs In Menorca, Spain
Mencora may not have any gay venues, but they are exceptionally gay-friendly and home to a small-yet dedicated queer community that makes Eveyrone feel accepted and loved. Diverxia Menorca is a gay club that provides a social network for fellow gay people to connect with Menorca. Part of this is seen in their yearly efforts to organize the Manhon Pride Festival.
Mahon Pride Festival Menorca
Every year Mahon Pride Festival is held in Menorca in June, and with it, they promise a host of unique gay events to celebrate the queer experience. So whether you be after the classic pride march, a party that goes all night long, or quiet moments to make life-long friendships, these can be found at Mahon Pride.
Gay-Friendly Nightlife in Menorca, Spain
For a cozy drinking experience regardless of the time of day or late into the night, Bar Club Deportivo specializes in creating a space that provides excellent drinks, including coffee and alcohol, and hearty meals like burgers. So you can get full while working on a writing project, doing some work on a holiday, or want some quiet time with a friend.
Menorca may not be home to gay bars, but she is undoubtedly gay-friendly with great nightclubs like Kopas Club. Here you can experience the classic Menroca party life with tropical decor, top dancing tunes, great drinking options, and a spacious venue that never feels cramped. Diners particularly gush about the service and the experience of drinking one of their many cocktails on their outside terrace.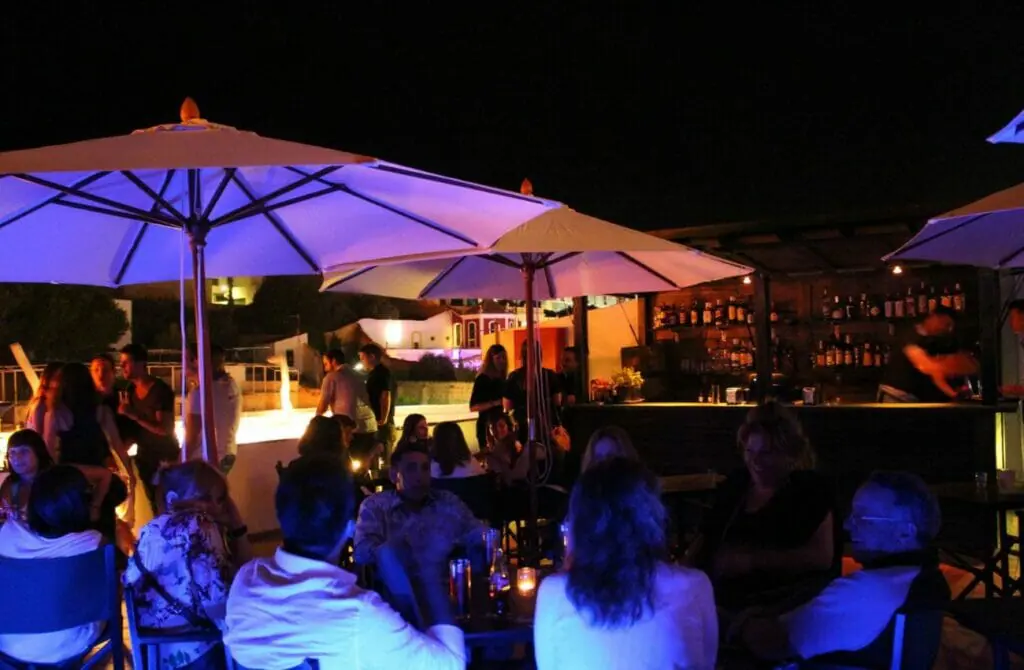 Portada
(Temporarily or permanently closed. If you know something, please suggest an edit.)
Even if it's a little hard to get to, the prospect of a bar inside a cafe with incredible views attracts many. For a luxurious 'drinking and music only' experience that offers a range of ways to enjoy both, Portada is the place to be.
You could enjoy a cozy drink on their outside terrace on a romantic date with a significant other, or you could take this to the extra notch with a VIP package where patrons dress to impress as much as the servers. Through it all, you will be treated to live music and exceptional views regardless of the day or night, with most coming to see the sunset.
Sa Falua Cocktail Bar in Mahón
In the capital of Menorca, you will find the exceptionally modern and cozy cocktail bar Sa Falua. You can dine inside or out, but with each option, the dining will feel similar as both options provide unique rustic settings with plenty of seating.
Another thing is the variety and quality of drinks will have you covered for wanting to try a range of cocktails if you are still exploring what you like, and this outing with a friend option will not leave you disappointed.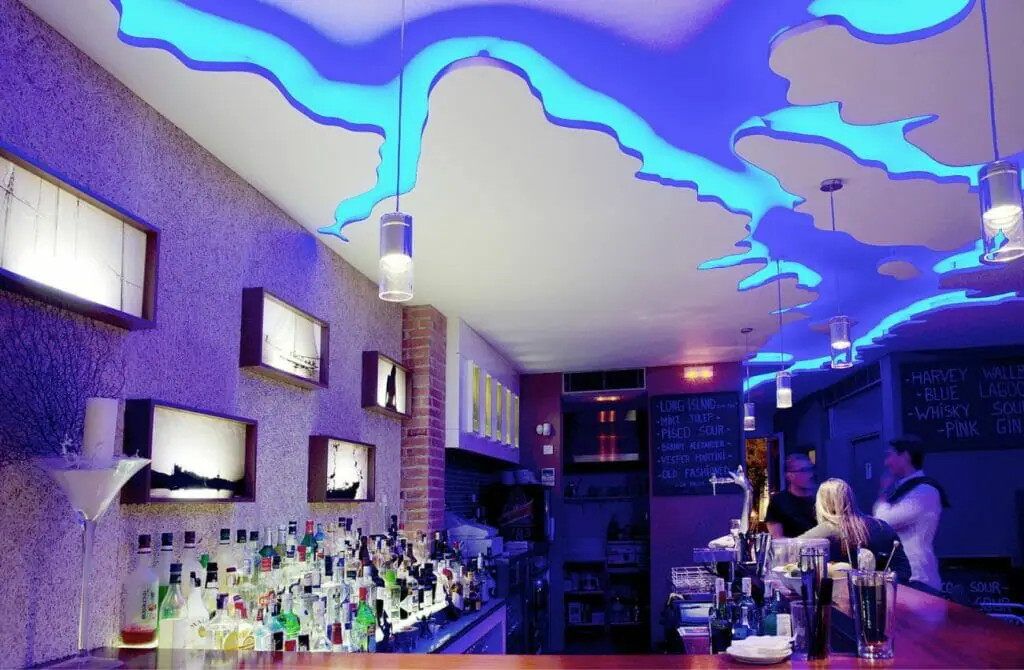 Bar del Faro
(Temporarily or permanently closed. If you know something, please suggest an edit.)
If you can't get enough of all the lighthouses around Menroca, you can dine under one of their towering beauty at Bar del Faro day and night. Famous not just as a lunchtime stop-by, many return to catch the sunset and take in her unique laidback atmosphere.
There is something romantic and isolating about lighthouses, but with fellow patrons and staff, you won't feel alone, and you most certainly can see why couples may pick this as a top-date destination! So if you are after an outside drinking venue different from anything you've seen before, you should get a drink, sit on their terrace, and let the natural surroundings speak for themselves.
Say hello to Menroca's local scaly friend Iguanaport, a top nightclub famously known for a lizard as its mascot. You will be treated to a nightclub experience inside a rustic location with rough stone walls mixed with cozy dining between hanging house plants and a modern dancefloor outback. So you can experience the best of a night out all in one venue with a natural twist amongst good drinks and tunes.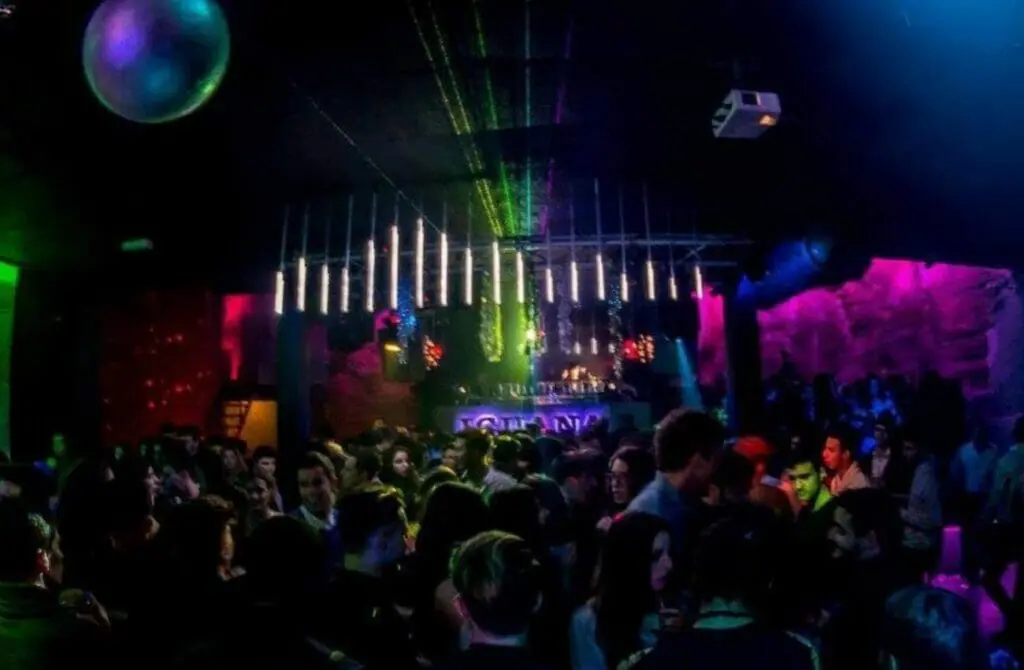 Another exceptional dining experience that takes full advantage of the natural beauty of Menroca's coastline is Moonlight Cocktail Bar. Here you will be treated to a fantastic dining experience with delicious drinks and the bar along the Cala Blanca.
You can dine inside and admire the English and French influences of the decor or take a seat on their terrace, bearing witness to the sunset and dancing nightlights across the water.
Known by locals as one of the best bars on the island, Tom's Bar is where you can expect excellent service with delicious drinks. This traditional pub is known for its imported drinks and Guinness, easy-going live music, laidback staff, and busy nights during important sports events.
They even have outdoor sitting areas, so if the inside gets full, you can find plenty of space to move about on the streetside tables and share a smoke or yarn with locals.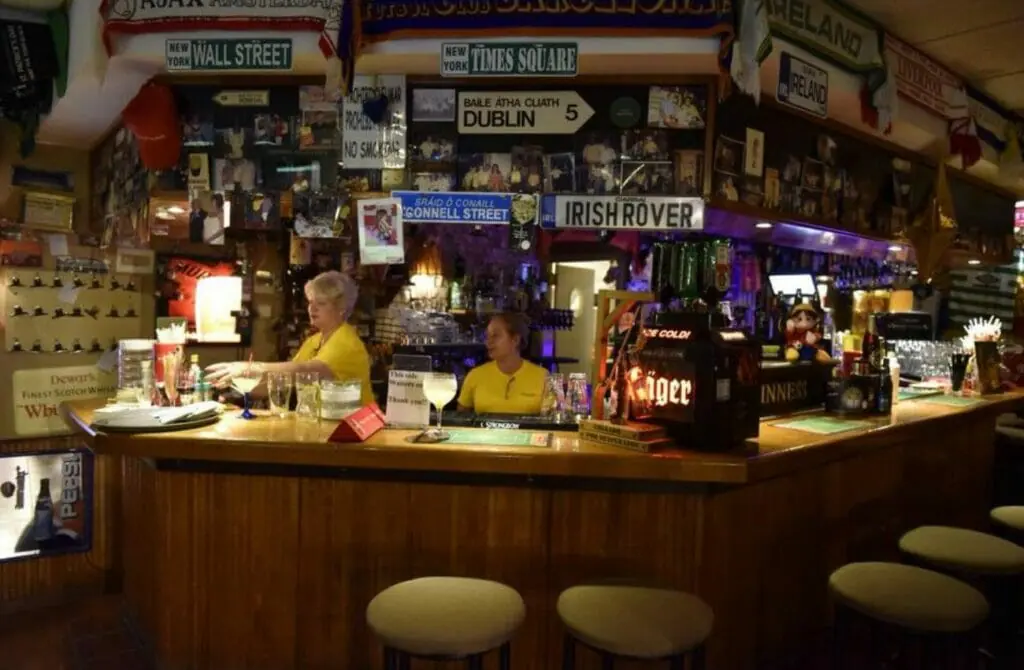 Cruising & Gay Saunas In Menorca, Spain
Menorca may not be a place for gay cruising or gay spas. However, you will still have access to the usual dating apps that make finding a date just that little bit easier with situations like this arise. You can meet up anywhere and date around without fear in public, but if you want to do more than get a drink and chat, you will find it better to head to a hotel for privacy, as no venues cater to frisky fun.
When traveling to a new city, it can be exciting to head out for more than just a stiff drink. One aspect of the Gay Menorca scene that many queer men enjoy is visiting gay saunas and cruising clubs.
Sure, the sauna culture in Menorca is not as hedonistic as in Amsterdam, Barcelona or Berlin, but these venues still offer a chance to meet new people, socialize, and engage in sexual activity – without resorting to gay hookup apps.
However, it's important to remember that these venues can vary greatly in terms of atmosphere, clientele, and rules, so it's a good idea to prepare yourself before visiting. If you are apprehensive, we advise studying our guide to visiting a gay bathhouse for the first time, which should help set your mind at ease and always practice safe sex.
Additionally, it's important to be aware of and respect local laws and customs regarding gay venues and sexual activity. With a little bit of planning and an open mind, visiting gay saunas and cruising clubs can be a fun and exciting part of your gay Menorca travel itinerary.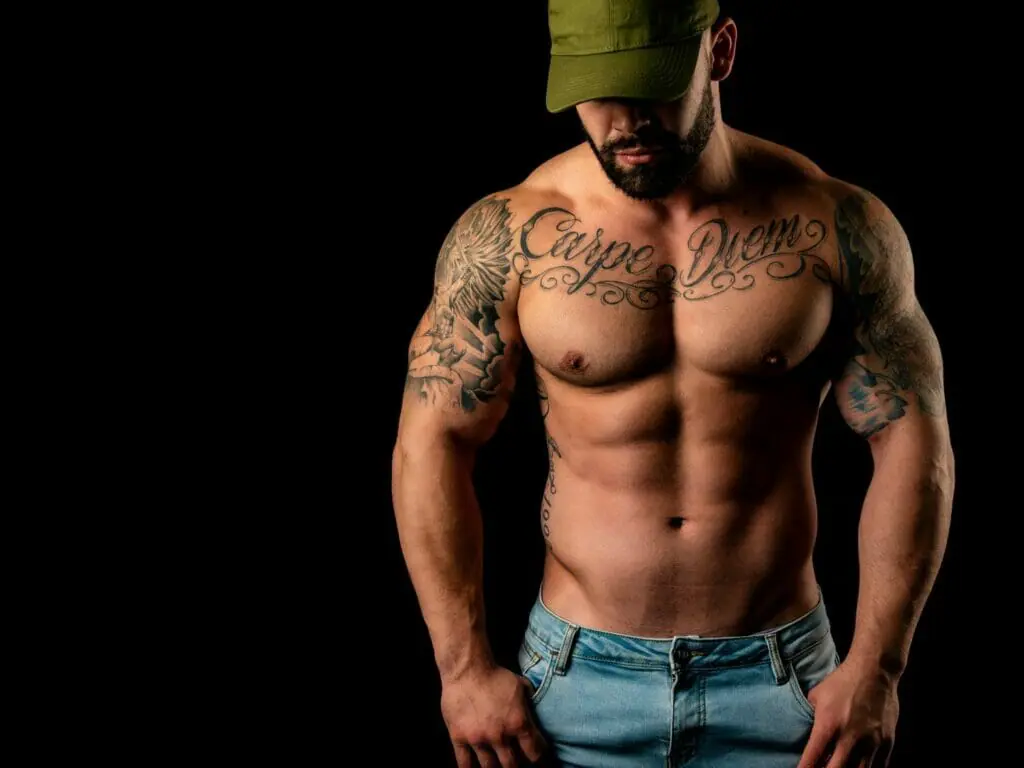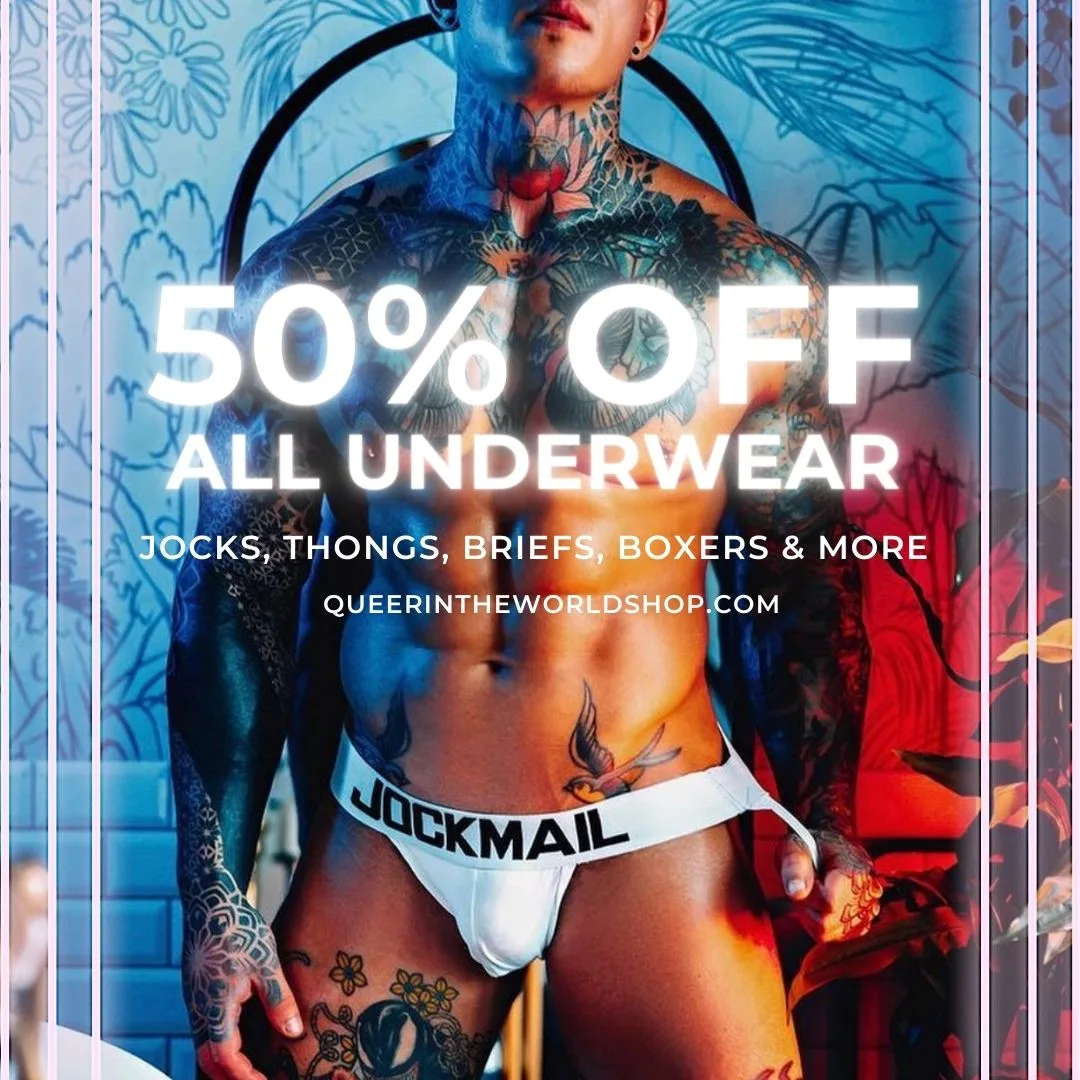 Gay Map Of Menorca
Finding it hard to envisage where everything is in Menorca? Hopefully, this queer-centric map helps where we have marked all the bars, clubs, parties, hotels, saunas, massages, and more will help you stay in the spot best suited to you!