Moving to LGBT Portland is one of the most popular relocation options for people thinking of moving to Oregon.
Whether you're considering relocating to the city for the local outdoor activity, world-class cuisine, friendly and progressive attitudes, or a dream job, there's much to consider before packing your belongings.
A city that celebrated individuality, creativity, and non-conforming lifestyles while embracing love, respect, and joy, we are always blown away by this community's commitment to diversity – including that of its LGBT population. Adding to LGBT Portland's appeal is an almost unfair abundance of natural beauty, a burgeoning food-cart scene, hyperlocal and peculiar zones to explore, and plenty of eccentric oddballs letting their freak flags fly at full mast.
And did we mention a tight-knit queer community?
Yes, just like in San Antonio, Phoenix, Orlando, and other fabulously gay US cities, there is also an active LGBT scene here (if you know where to look), and this is something a gay realtor in Portland can help you navigate as you find your new perfect home here.
When it comes to the local gay scene, well where do we even start. Not only are there more gay clubs, bars, and bathhouses here than you could possibly visit in one trip – but there are rainbow flags proudly flown across the city to let you know you are welcome absolutely everywhere you go.
Because the entire city is a sanctuary for self-expression, there is no one true gayborhood here and members of the LGBT+ community can be found dispersed throughout Portland. Queer spirit is still strong here, as testament by the broad lineup of annual LGBT events including Portland Pride which sees the entire downtown city shut down in a spectacle, unlike anything we have ever seen.
That is not to say that moving to a new city does not present distinctive challenges. Luckily, we've got your back.
Think of this article as a queer Portland relocation guide that will help you understand what you're getting yourself into when moving to this beautiful city. If you need a more night-life and travel-focused guide detailing all the LGBT clubs, parties, and more, check out our Gay Portland Guide!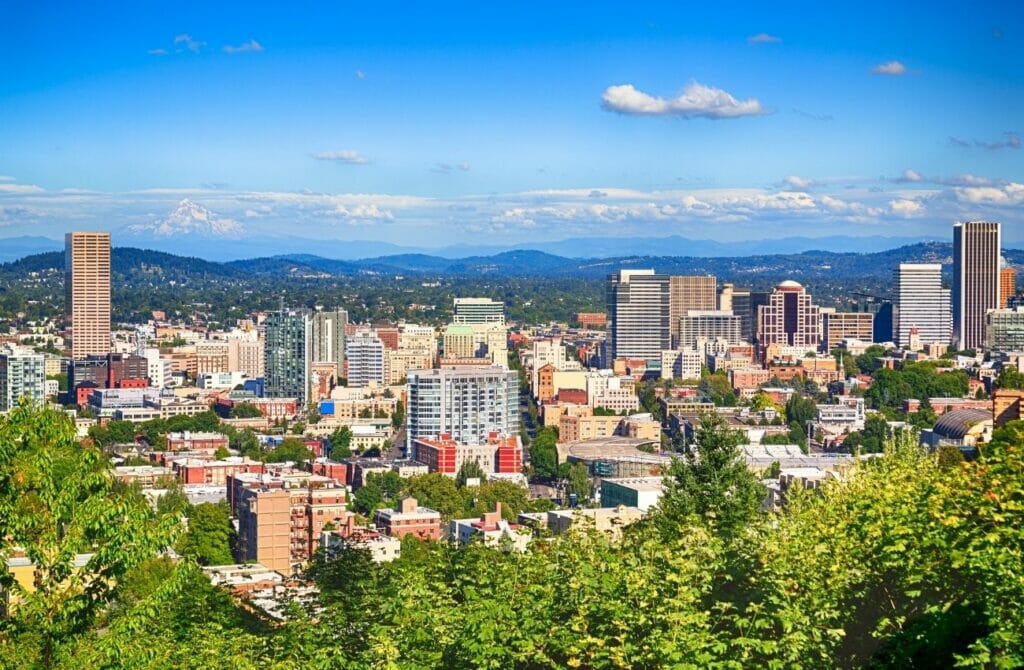 Highlights Of Moving To LGBTQ Portland
Regardless of your reason for relocating, you have to take the time to understand the city's unique aspects. Here are a few facts about Portland that will help you learn what it's like to live in the city.
Jobs In The City
The city's location makes it suitable for a variety of industries. The tech industry is as important to Portland's economy as the remainder of the West Coast. Portland's metro area is home to over 1,200 technological enterprises. As a result, some have dubbed Portland the Silicon Forest. From internet startups to huge IT enterprises, the city offers it all.
Intel, the world's largest manufacturer of computer components, employs over 15,000 people in Portland, making it the area's top technological employer. The clothing industry is also a significant contributor to the city's economy. Footwear and app/arel companies like Sportswear, Adidas, Nike, Columbia, LaCrosse Footwear, Dr. Martens, Keen, and others have their HQs in the city.
Unique Neighborhoods
Regardless of the kind of home you want to move into, the city's neighborhoods offer a wide range of housing options. While affordability varies by location, home prices in the city are roughly $319,300, while monthly rent is around $1,024, making it one of the cheapest locations to live in the state.
The Climate
The good news about Portland's weather is that it is normally moderate all year, with annual average temps of 71 degrees Fahrenheit. However, if you like clear, bright skies, you should know that the city only gets 144 days of sunshine each year.
The "Portland Mist," which is distinctive to the city, is characterized by gray overcast and continuous precipitation. However, while visitors may think the region is excessively rainy, Portland only receives 42.7 inches of rainfall per year, which is somewhat more than the U.S average. Nonetheless, the mist is why the city's rain has a bad reputation. If you can get through the dreary skies for the majority of the year, you'll be pleased to enjoy sunny summers that aren't too hot!
It's Biketown
Cycling is a common mode of transportation in the city. There's no reason to worry if you don't have fixed gear yet. Don't be concerned! Many residents and tourists use Nike's bike share program, which offers conventional and electric bikes.
The city holds the U.S record for the most residents using bikes to commute, with 5.3 percent of residents biking to work every day. Tweed Ride, Worst Day of the Year Ride, and the city's edition of the World Naked Bike Ride are some of its yearly cycling events. Even when there isn't an event, you can travel a great distance thanks to 315 miles of trails and bikeways.
Does Portland Embrace The LGBTQ Community?
Gay dance clubs, community groups, sports leagues, and numerous LGBTQ+-owned enterprises are part of the city's queer community. Portland was the country's first major city to elect an openly gay mayor in 2008.
Local LGBT institutions include the drag club Darcelle XV and the Portland Gay Men's Chorus. The Q Center is a local nonprofit. Provides support for LGBT individuals, including youth, while the City of Portland hosts the yearly Portland Queer Film Festival. Former Mayor Sam Adams was one of the first openly gay mayors in the United States.
The city has a long and storied history of advocating for gay rights. Portland Gay Liberation Front (PGLF) was founded in 1970, shortly after the Stonewall riots. Oregon became the country's fourth state to overturn sodomy legislation two years later, and Stump City's City Council adopted legislation prohibiting discrimination on employment based on sexual orientation in 1974.
Portland is one of the country's gay cities. The metro area has the second-highest number of LGBT adults in the U.S. Slightly more than 5% of the city's population identifies as LGBT. These statistics are mirrored in the annual Portland Pride Festival held at Waterfront Park each year in June.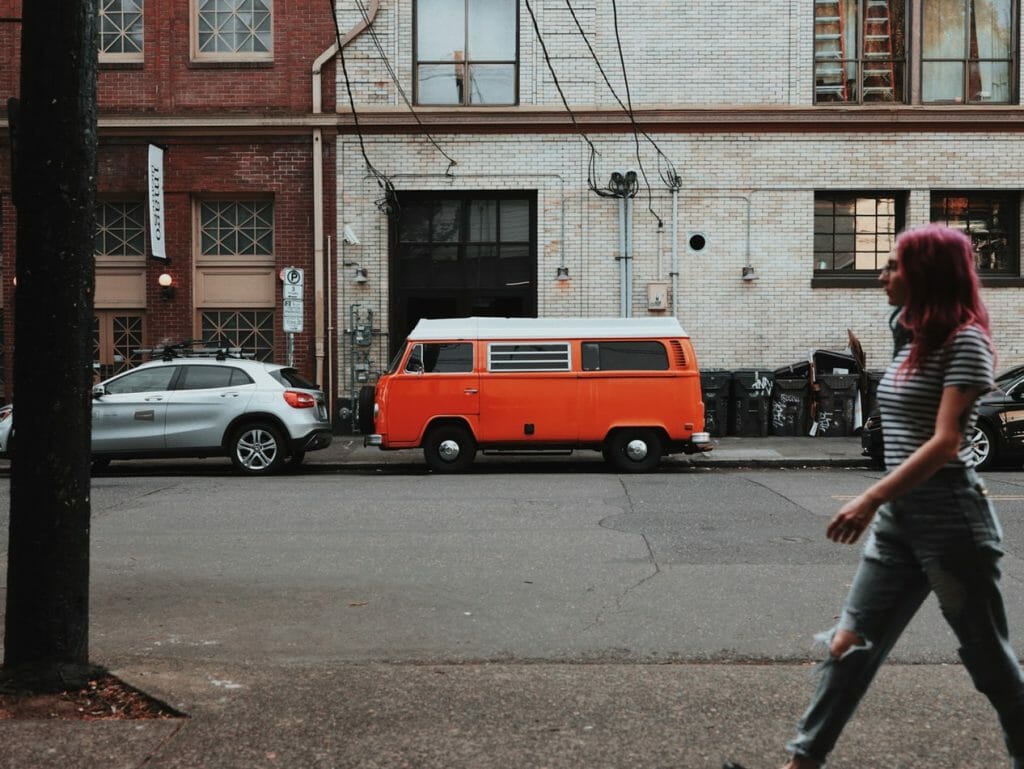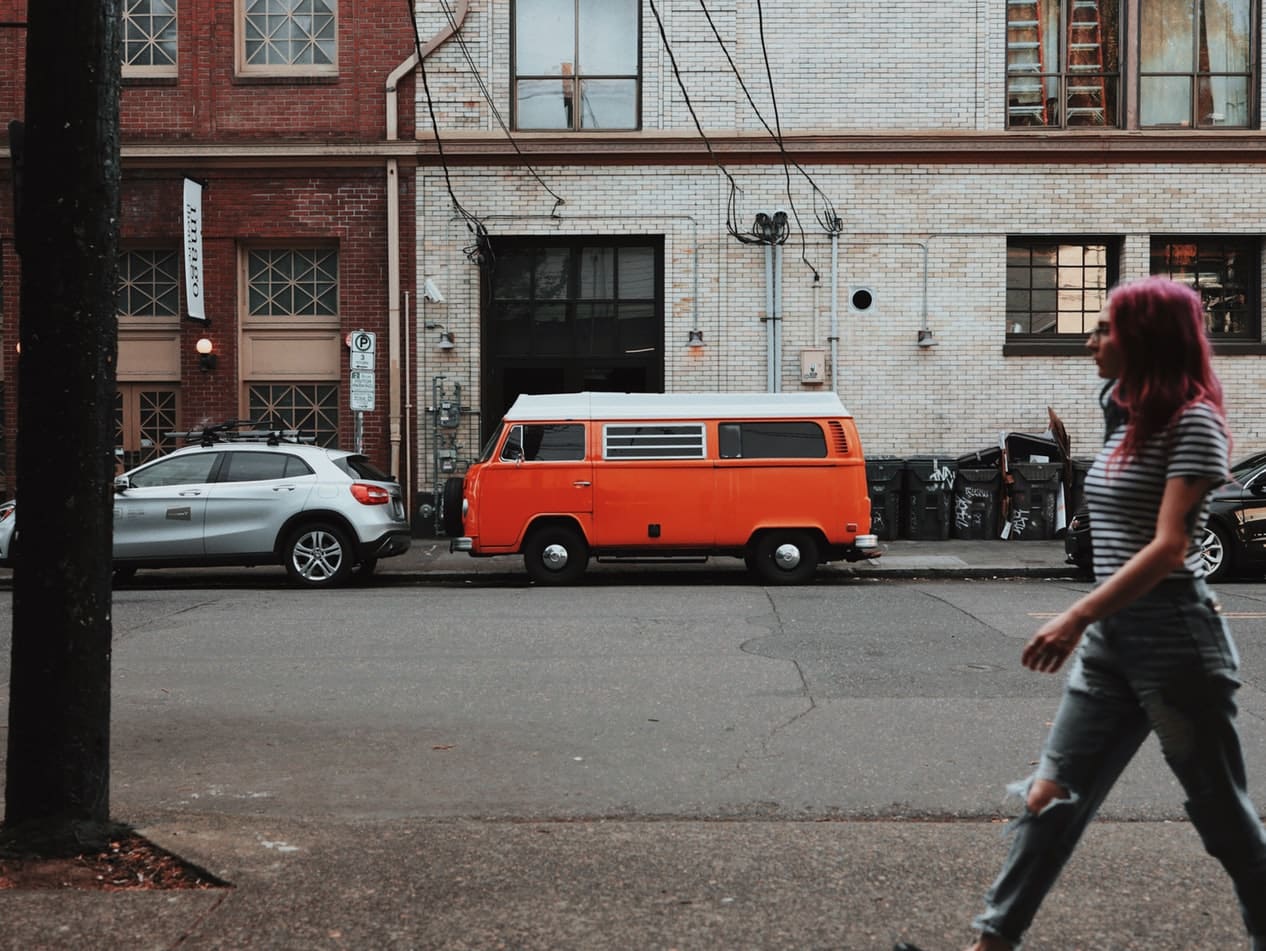 Is Portland An Expensive City To Move To?
The cost of living in Portland is 29% higher than the country's average. However, this might vary substantially depending on the amount you spend on items like transportation and housing.
Housing: The rental rate for an apartment in the city is $1,490. Home prices in the city have risen roughly 53 percent in the last decade, from a median price of $262,000 in 2011 – $501,220 in 2021.
Utilities: The typical monthly utility cost in Portland is roughly $187 for electricity, gas, heat, and waste management services.
Groceries: City residents spend approximately $372 per month on groceries, which is greater than the country's average of $341.
The Best Gay Neighborhoods In Portland
Not all LGBT individuals want to live in the frenzy of Downtown Portland and its central business district, so thankfully, there are lots of alternate areas to live for those who are seeking a calmer-yet-still-LGBT-friendly environment.
When relocating to LGBTQ Portland, keep in mind that some neighborhoods are closer to all of the exciting queer events and happenings than others. Knowing them in advance will ensure that you arrive at your new home in the most suited gay-friendly area of town.
Start with these top gay and LGBT-friendly Portland communities to find your fabulously perfect new home, each with its own individual personality, welcoming community, and amenities you'll adore. Allow ample time to become acquainted with Portland's diverse personalities, and keep in mind that this city has plenty to offer everyone – LGBTQ or not!
Now let's take a look at where the handful of marvelous gay areas in Portland are and talk about the Portland gayborhood where you might feel most at home! Or speak to a local LGBT real estate agent for a more detailed understanding of the best options today.
Pearl District
The Pearl District is one of the city's most fashionable and affluent areas. The neighborhood is bounded by Downtown, Northwest Portland, and the Willamette River.
It was formerly used as an industrial and railyard sector. The region is still littered with relics from the past. Clusters of red-brick residences are divided by railroad tracks and cobblestone streets. Several of these older structures have been converted into condos, office spaces, lofts, restaurants, and retail spaces.
This, however, doesn't mean that the neighborhood is old-fashioned. The Pearl skyline is dominated by sleek highrises filled with luxurious flats. The Pearl neighborhood has some of the city's best shopping, including bespoke, national, and international stores.
The cuisine here is another reason why people enjoy this district. Craft beer enthusiasts wishing to get their feet wet in the "Beervana" craft brewing culture will find an excellent starting point. The neighborhood has numerous eateries, such as Nola Doughnuts, Republica, and Andina.
Downtown Portland
This district has recently undergone total revitalization and has become the city's LGBTQ enclave. Downtown is a lively and dynamic neighborhood filled with indie stores selling local items, unique restaurants, and quirky food trucks.
The district is home to the Tom McCall Waterfront Parky and the Portland Saturday Market. The Keller Auditorium and The Portland Art Museum are located in the vicinity.
Downtown is the city's pulse. Tall towers huddle together, giving the area a decidedly urban atmosphere. This concrete jungle is home to a thriving world of culture and business.
Downtown is ideal for work and play. It is also home to the city's most important business districts. The neighborhood is also a fantastic residential area. Many residents live in either new or older apartment complexes. It's in the heart of the city, so you can travel around easily. It's also easy to move around the neighborhood by bike or foot.
If you wish to get away from the urban jungle, there are plenty of opportunities to connect with nature. With a plethora of attractions and parks, Washington Park lies on the neighborhood's western border. The average home value for a home in this neighborhood is $409,950 or $420 per sq. ft.
Southeast Portland
Southeast Portland is close to Portland Downtown but maintains a distinct identity. Division Street in the neighborhood is a breeding ground for all of the city's new restaurants.
SE Portland's Belmont and Hawthorne neighborhoods are densely packed with multi-family buildings and single-family residences. Bakeries, boutiques, coffee shops, booksellers, restaurants, and bars run on both sides of Hawthorne Boulevard. Homes here were constructed from the mid-1920s – to the 1950s. Prices range widely, and you can get a modest bungalow that needs updating at $500,000 or $900,000 for a spacious renovated Craftsman-style home.
These districts are directly connected to downtown through the Hawthorne Bridge, the most popular among pedestrians and bikers.
Southeast Portland has undergone enormous transformations in recent times of fast population influx. While the neighborhood was formerly residential and quiet, it now teems with vibrant street activity and is brimming with indie stores, restaurants, and bars.
Northeast Portland And The Mississippi District
Northeast Portland neighborhood is home to a diverse, dynamic, and multiethnic community. North Williams Avenue and Mississippi Avenue define the Mississippi District. These two neighborhoods are home to many galleries, restaurants, boutiques, and pubs, while districts like Irvington are home to old, majestic residences.
Mississippi is currently a popular place to live for Portland's young people. The neighborhood is popular among young professionals due to the availability of newer residential buildings that come at reasonable and affordable prices. However, there are also many historic properties in the adjacent residential districts. It's an excellent area for cycling and walking because it's serene.
Public transportation also provides easy access to different districts and the town center. Dining and shopping are equally noteworthy experiences in this area. There are stylish bars, eccentric coffeehouses, and comfortable gastropubs to choose from. You can go shopping at either fashionable boutiques or vintage stores.
Annual LGBT Events In Portland
After moving to a new city, you will likely want to create new connections, meet new people, and network. Thankfully, LGBT Portland plays hosts to a variety of annual events for lesbians, transgender persons, gays, and anyone else who wants to have a good time.
While there are many queer events in the city, the ones listed here are the largest and greatest and are all worth marking in your calendar as you won't want to miss them.
KinkFest (April) – The west coast's premiere sexually diverse BDSM and kink conference, offering educational workshops, infamous play parties, leather, fetish vendors, and community meeting space. Get out your favorite harness, fetish underwear, or pup play gear…and if you don't have a favorite, well, this event is the perfect place to find one…
Portland Pride ( June) – The Portland Pride Waterfront Festival and Parade is one of the largest Pride celebrations on the West Coast, and one of the largest donation-based Pride festivals in the country held annually since the mid-1970s. Each year, tens of thousands of LGBTQ+ and allied people come together, to celebrate, be visible, and to demonstrate the strength of the PDX community. 150+ local, regional, and national organizations, agencies, and businesses fill Waterfront Park, while amazing LGBTQ+ talent provides captivating entertainment throughout the weekend. A highlight of the Portland queer calendar with plenty of huge parties, events, talks and more planned around this fabulous week – so get out there with your rainbow pride clothing and show Portland some LOVE!
Portland Queer Comedy Festival (July)
The first multi-day, multi-venue queer-performer-focused comedy festival in the United States. Portland Queer Comedy Festival aims to bring the best and brightest talent in international LGBTQ stand-up comedy to a beautiful, diverse and inclusive Portland, Oregon; while giving back to the local community that supports them. This inclusive festival involves comics from all walks of the LGBTTIQQ2SA alphabet, and yes, they have included our funniest allies too.
Portland Queer Film Festival (September)
This LGBT festival showcases feature, documentary, and short films from all over the world that are made by, about, or of interest to the Queer community. Film is a dynamic medium with the power to educate, inspire, intrigue, and bring people together and, rightfully so, Portland Queer Film Festival is proud of its provocative and entertaining queer cinema programming. Whether you are looking for the best lesbian movies or a gay coming-of-age film, chances are you'll find it here.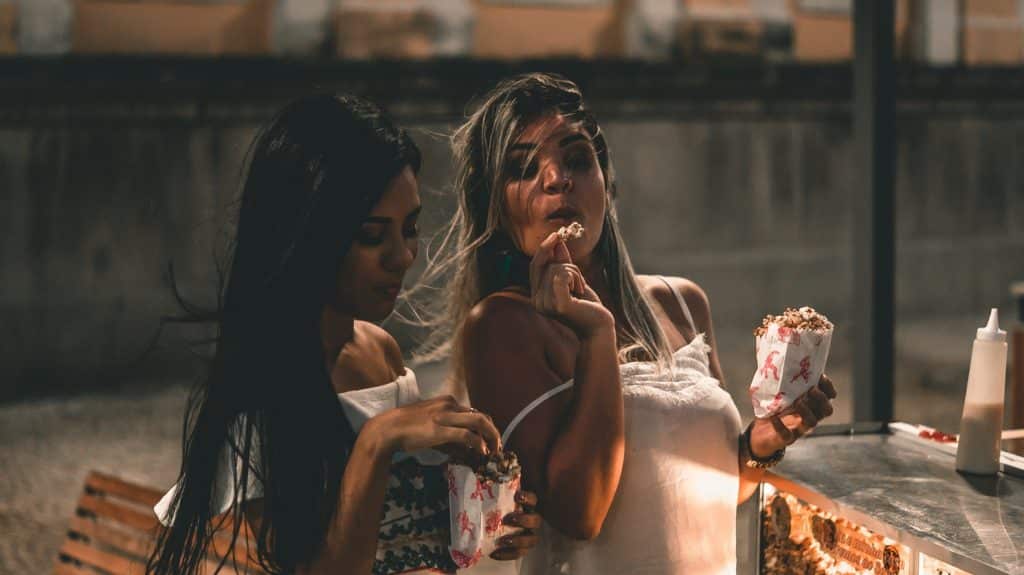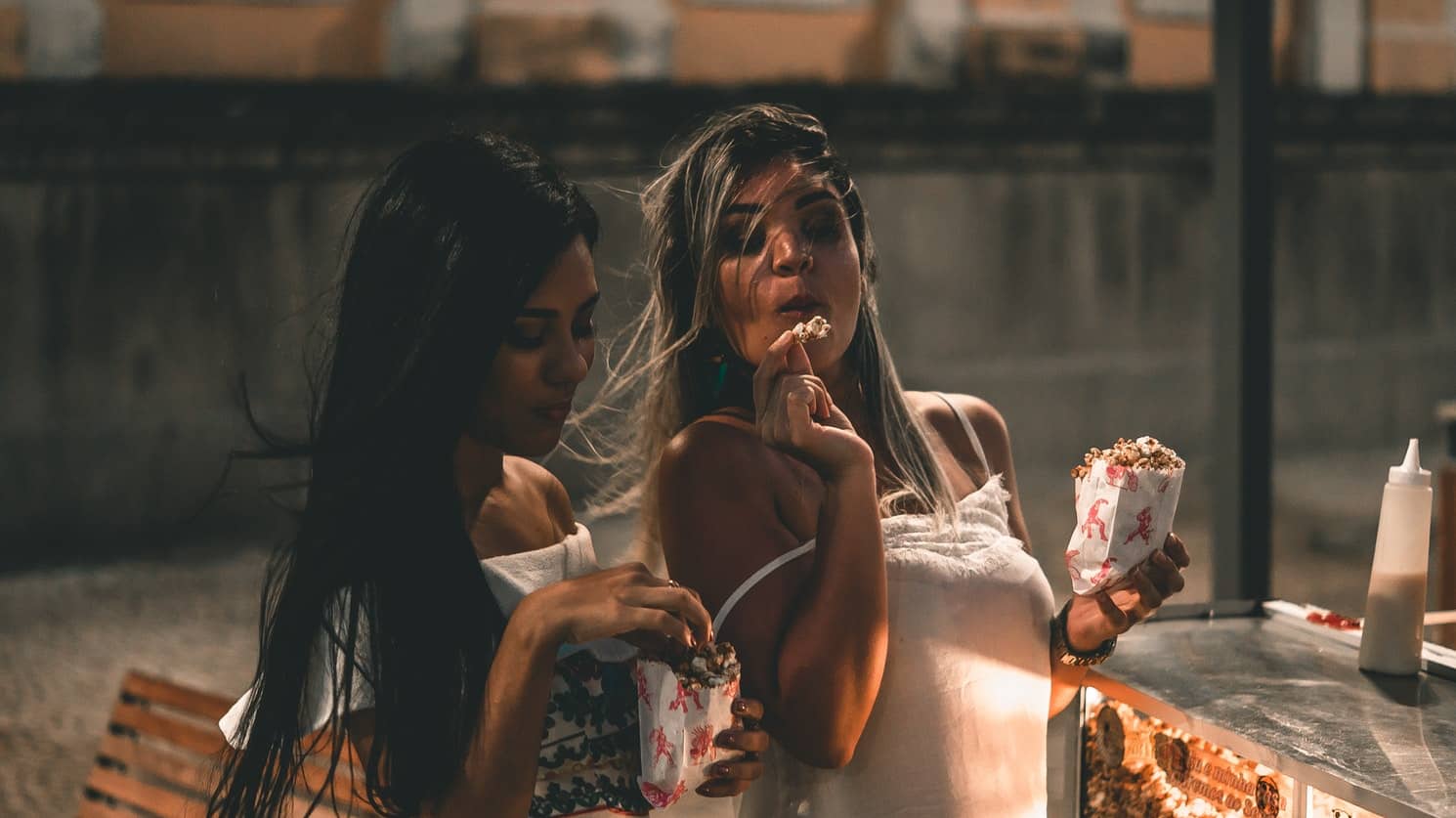 Come celebrate with Beards and Bears with one giant weekend of events, and entertainment and showcase all of what Portland has to offer. Hikes, restaurant meals, city tours, nightclub parties, and more. Beards, bears, cubs, otters, chubs, chasers, and friends from around the globe flock here for one wild weekend….
HUMP! Film Festival (November)
Bringing audiences a new kind of porn since 2005. The festival features short dirty movies—each less than five minutes—all created by people who aren't porn stars but want to be one for a weekend. The filmmakers and stars show us what they think is hot and sexy, creative and kinky, their ultimate turn-ons, and their craziest fantasies. This carefully curated program is a cornucopia of body types, shapes, ages, colors, sexualities, genders, kinks, and fetishes—all united by a shared spirit of sex-positivity.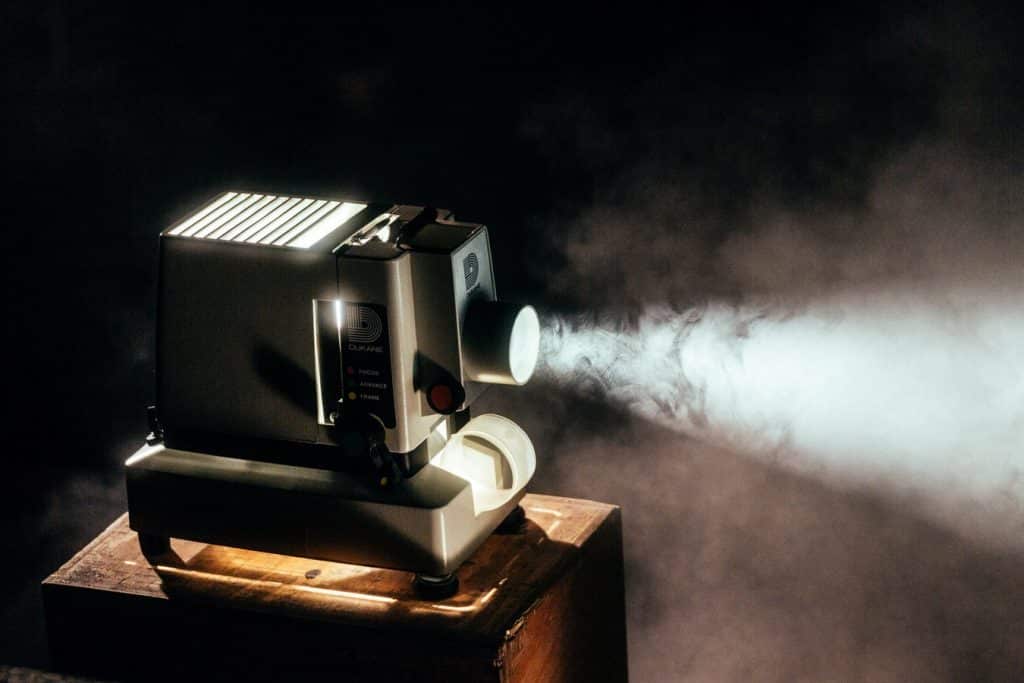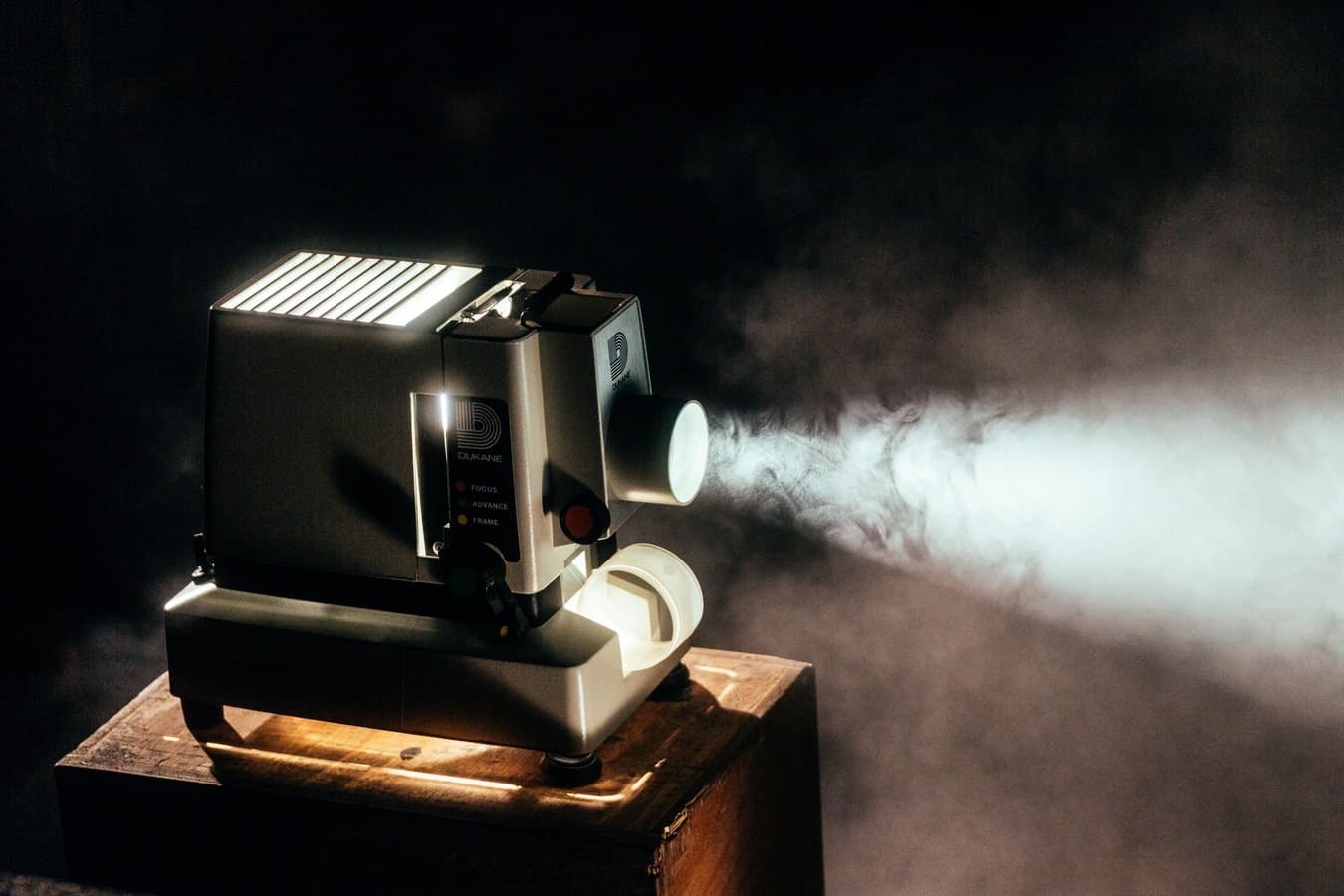 LGBTQ+ Community Organizations In Portland
To progress the LGBTQ agenda, the queer community commonly has to rely on donor organizations or non-profits.
Wherever you live, it's critical that you support such groups in any way you can use so that they can reach out and aid others in the community. You might even need their assistance right or at some point in the future – and no matter what, every queer person has benefited from their tireless work to achieve the progress and rights we have today. Here are some outstanding community LGBT organizations in Portland.
These are wonderful places to start if you're looking for LGBTQ groups to join, seek support from, meet new people with or volunteer for a cause you care about.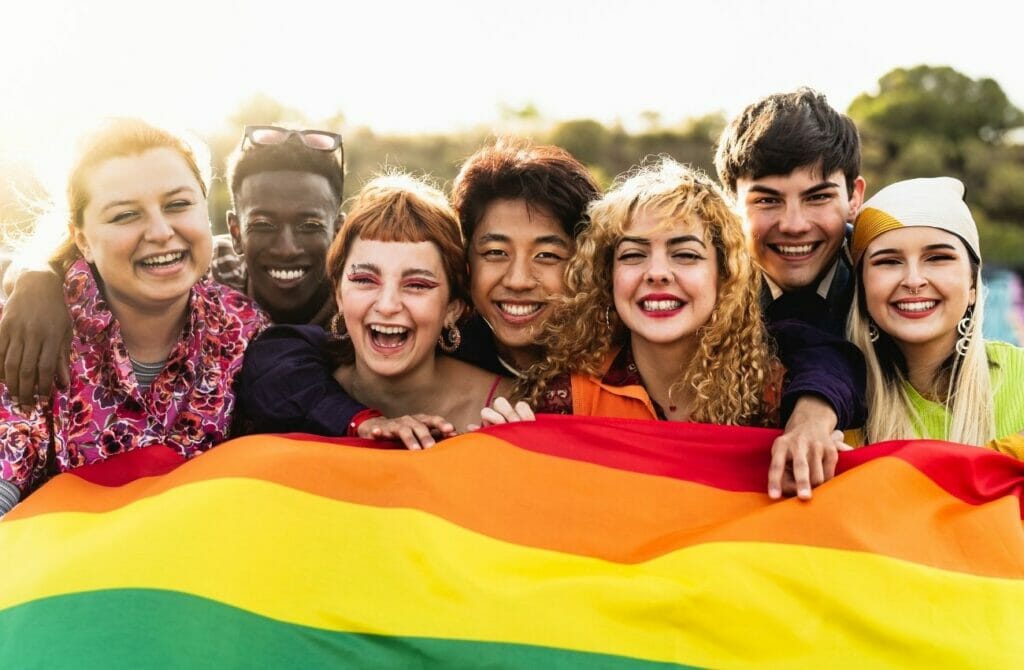 Portland Frontrunners are a walking and running group for the LGBTQIA+ community and their friends. The group's objective is to promote better health and give opportunities for positive social contact through walking, running, and club activities in a supportive LGBTQIA community in the city. Their main activities include the Bridge to Bridge Fun Run & Walk and the Portland Pride Run & Walk.
Bradley Angle is the region's earliest domestic violence shelter. It is also the city's sole institution that provides help to LGBTQ+ domestic abuse survivors. The organization works with individuals of all gender identities who are polyamorous and kink-friendly.
Outside In is an LGBT social service group that assists homeless adolescents and other marginalized groups, including transgender, intersex, non-binary, and gender-nonconforming individuals. The group's Federally Qualified Clinic serves adolescents ages 13- 14, adults, and seniors.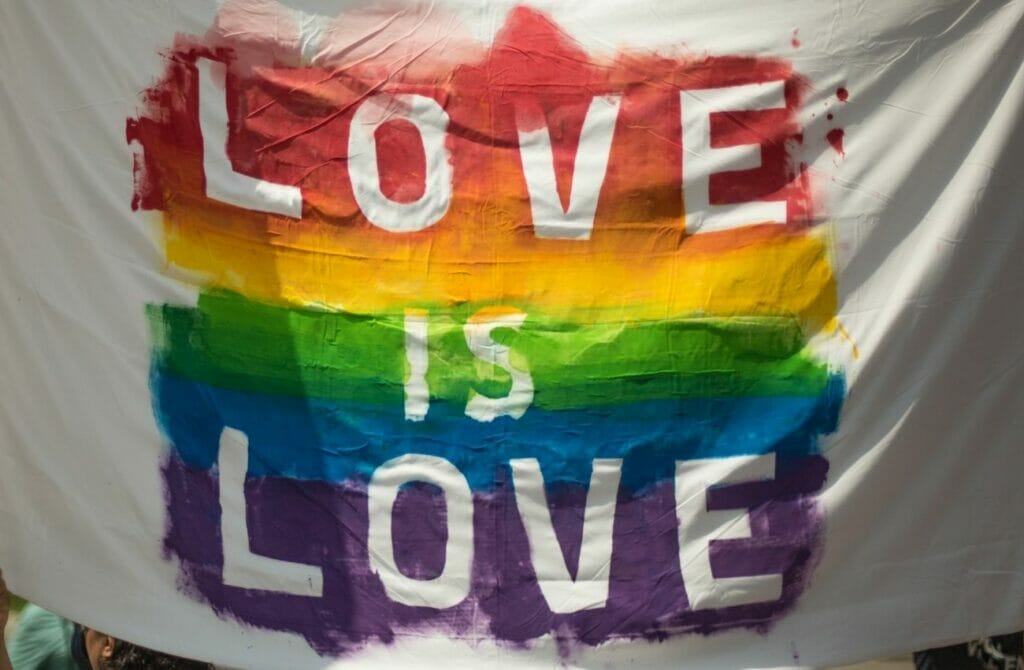 LGBT-Owned Businesses In Portland
After moving to LGBT Portland, it's only natural to want to support queer businesses. One strategy for establishing a safer and more inclusive society is to create a secure environment where people may rest, buy, dine, and connect without fear, and this is exactly what LGBT companies should strive for.
To safeguard the queer community's survival and success, it is critical to support these initiatives wherever you are. With that in mind, here are a few LGBTQ-friendly businesses worth visiting in Portland.
A quirky show bar featuring strong cocktails and friendly service, though one of the biggest drag cards has to be the stunning Drag Queen musical performances. Darcelle XV & Company has been entertaining audiences in all walks of life for over 50 years with Las Vegas-style cabaret revues of Glitz, Glamour, and Comedy. Stop by when you are in Portland, and you will be glad that you did! Showtimes are Wednesday and Thursday at 8 pm and Friday and Saturday at both 8 pm and 10:30 pm. There are also Male Strippers on Friday and Saturday nights at midnight when Darcelle XV gets a little more nightclub-ish.
Portland's biggest drag event takes place monthly at various venues around the city. The team at Club Kai Kai believes in nothing more than the expression of living life in the moment. This isn't a planned out sequence of events; this is not a drag show. This is a get yourself wet, dance-heavy party, with impromptu drag performances. You may even hear a song and perform your own drag number. Club Kai Kai (at its most basic) is an experimentation with nightlife, performance, and your gender preference.
Malka Diamonds is a diamond boutique store in Portland's Pearl District. The store takes pride in offering outstanding service and artisan jewelry. Their goal is for you to walk away from your experience with them feeling like a diamond and jewelry expert. Their GIA Certified Gemologists will respond to all your inquiries and help you to find the perfect ring.
UnderU4men
A contemporary boutique specializing in designer gay underwear, swimwear, gym apparel, and more – all using natural fabric. With hundreds of amazing brands curated from around the world, you are sure to find a new favorite here. They have their flagship store here in Portland and a second outpost in Seattle.
An institution of the Portland queer scene for over 35, providing a fun and safe place for loyal regulars and curious newcomers alike. Enjoy some quality time with live entertainment, tasty drinks, and a friendly vibe. Having gone through many levels of transition over the last few decades, Scandals currently exist in the original "PinkTriangle" section of downtown Portland on SW Stark St. & SW 12th St. Scandals is Portland's Gay "Cheers – comfortable, relaxing, yet filled with energy. Whether in regards to annual block parties, Tuesday karaoke nights, or weekly performances by local bands, Scandals will always attempt to wet your palette for new and exciting performances, DJs, and just plain fun!f
Fried Egg I'm In Love serves the best breakfast sandwiches in the city. Each sandwich from the establishment has a clever name, a fresh, delicious egg, and is lovingly made. Fried Egg I'm In Love serves the city's tastiest gluten-free breakfast sandwiches. They have a popular vegan breakfast burrito, and everyone enjoys their house vegan sausage, which is prepared with polenta, veggies, and gluten-free oats. You can also get mimosas, coffees, and bloody Marys here.
The Gold+Grit Barber Company is owned by Alaina (She/Her) and Nate (He/Him). It is an inclusive barbershop located in Northwest Portland. Gold+Grit is a two-chair LGBTQIA+ operated shop that is proud to serve the diverse patrons of the city.
Queer Commons @ Hollywood Theatre
A monthly film festival that was created with the goal of bringing a little more queer content to the big screen. Old and new, serious and cheesy, the films in this series will have two things in common; queer content, and nobody dies. Well, the main character doesn't…
We all know by now the deal with Eagle Bars around the world, and this location is no different, catering to the bears and leather enthusiasts of Portland. Every Sunday afternoon from 4 pm-7 pm, there is a free BBQ featuring delicious hot bacon cheeseburgers with all the fixings and sexy events most nights, including shirtless nights and brief encounters. Old school, gritty yet very friendly with lots of eye candy and great music. Inexpensive drinks and fast service are also a bonus.
Final Thoughts On Moving To LGBTQ Portland
There's a reason why new transplants find Portland so appealing. It is a beautiful city with amazing people, and you can bike wherever you want. The city is known for its livability, cuisine, friendliness, and acceptance of the LGBT community. Wherever you choose to live in Portland, you can be sure that you will find a welcoming community!
Keep in mind that life is what you make it, and wherever you choose to begin your new life in gay Portland, we hope you find the openness and security you deserve. The surest way to discover LGBT Portland is always going to be living in a gay-friendly neighborhood by frequenting local LGBT businesses and events and joining queer community groups and sports teams.
We promise that if you follow these steps, your transition to LGBT Portland will be easier, and you'll rapidly meet like-minded people to build your new chosen family here. And if you are still not sure, we also recommend reading our Gay Portland guide with more specifics on the queer attractions, events, and LGBT fun on offer…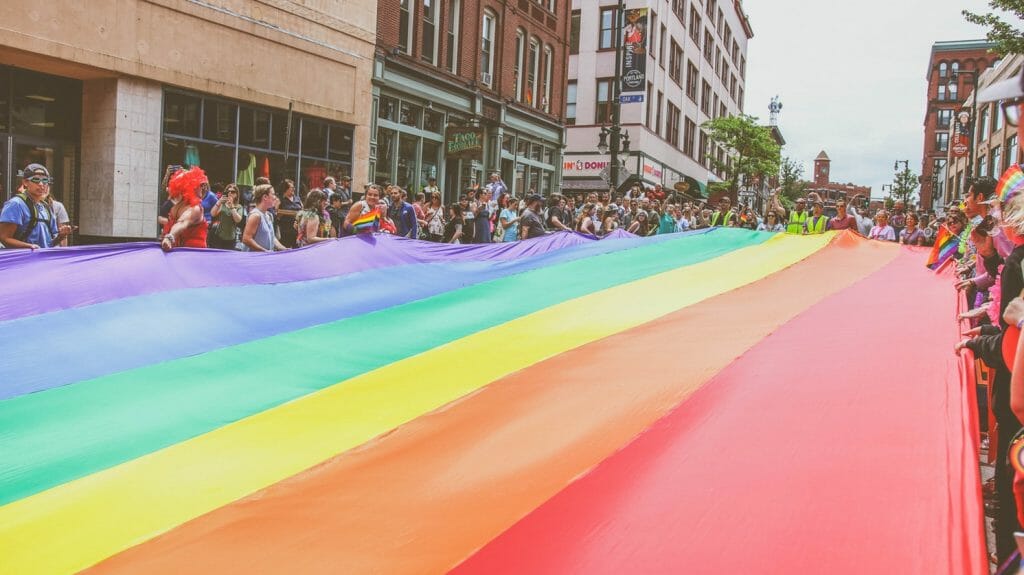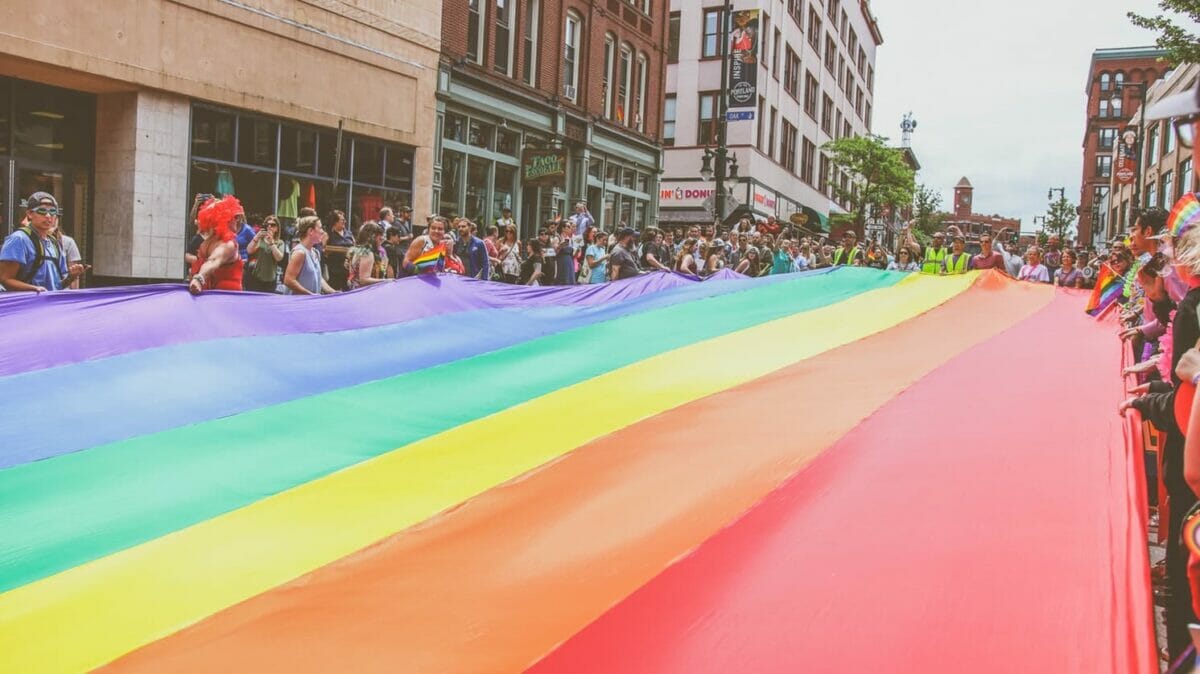 Finding Gay Realtors In Portland Oregon
When looking for the ideal realtor, why would you consider someone's sexuality? This may seem strange at first, but there are several reasons why contacting a gay realtor in Portland is a great way to find your dream house.
After all, when it relates to one of life's most important transactions, it's not unreasonable to expect fair, equal, and honest representation from someone who understands the queer community's particular needs and wishes. Furthermore, unfortunately, many people (up to a third of Americans) continue to believe that our community does not deserve protection and dignity in housing, adoption, employment, and other areas of life.
So it's no surprise that LGBT people who use mainstream realtors often describe feelings of discomfort, unnecessary trouble, unenthusiastic representation, or even antagonism or outright contempt. Everyone deserves a pleasant, stress-free home buying or selling experience while being adequately represented, and this is why we feel you should hire a gay realtor to assist you in finding your future home.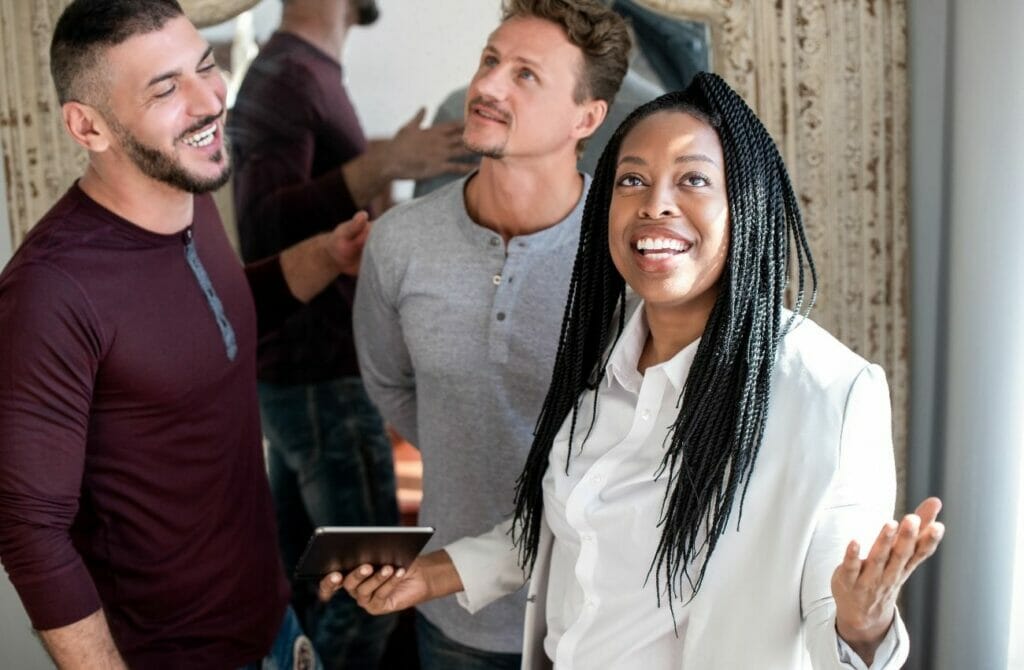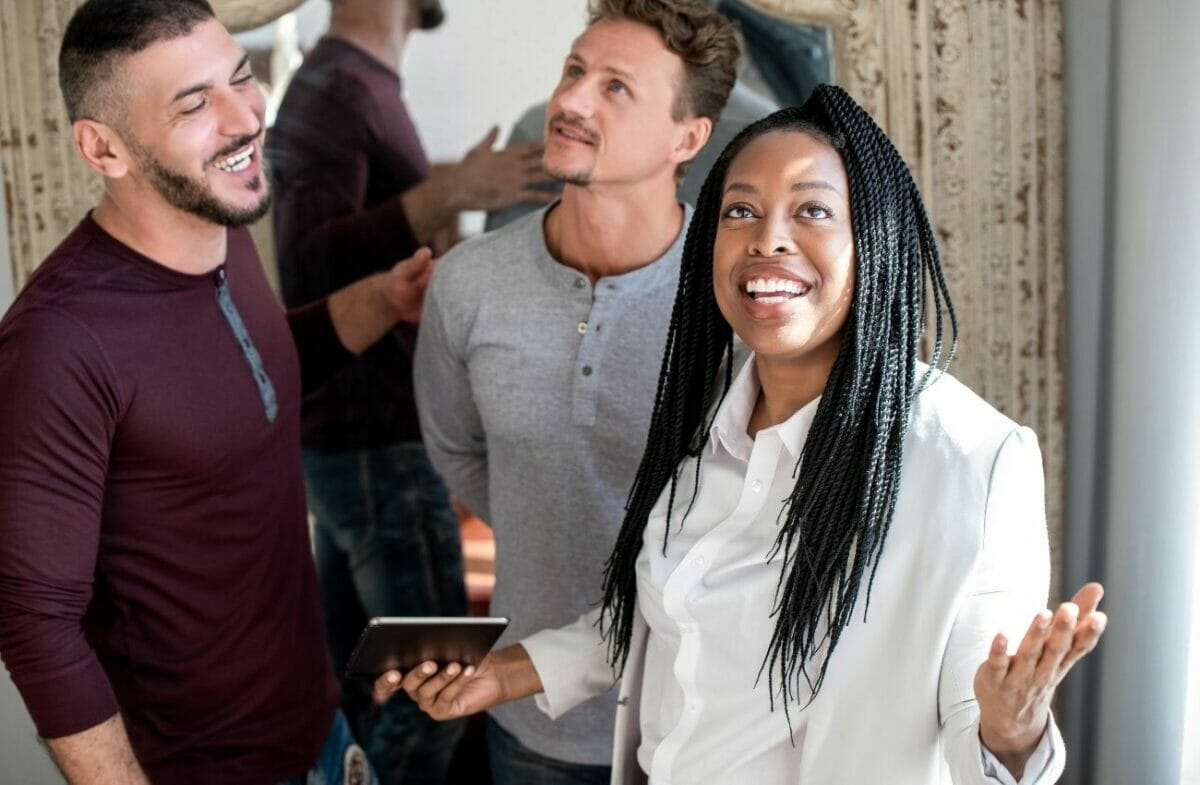 LGBTQ realtors are more likely to be familiar with the diverse communities in their area and know which ones may be best suited to you when looking for a home. That's not to say a heterosexual realtor isn't capable, but they've probably never had to address many of the issues LGBT people face. Rather than just being concerned with how bustling, fashionable, or up-and-coming a neighborhood is (or what it may appear like), gay realtors conduct extensive research into the neighborhoods in which they sell homes to ensure that clients are safe.
It used to be difficult to locate professional LGBT-friendly real estate agents in Portland, and it was virtually impossible to find one if you were relocating here from out of state and didn't have access to a local referral. You no longer have to search for a realtor without knowing whether or not they are accepting of others because you can use a list of gay, lesbian, and gay-friendly agents in Portland to do all of your homework for you.
Simply go to the page, and you'll be presented with a free list of gay, lesbian, and gay-friendly agents who can help you with your relocation as well as other useful information like LGBT+friendly schools, shopping, storage firms, tradesmen, and more. Read the biographies of LGBT real estate agents, then choose the one who is right for you. It's critical that you find someone who will be by your side and support you and your family during one of life's most exciting occasions.
Even better, there is no hidden motive, cost, or obligation whatsoever!