Are you thinking of relocating or moving to LGBT San Antonio? Whether you're looking for new work opportunities or want to enjoy the abundant sunshine, San Antonio is full of a unique culture that makes it an ideal city to work and live in.
A modern, spirited and diverse city with the community at its core, LGBT San Antonio makes an offbeat queer home for those who love to explore. With a surprisingly boisterous gay scene, historical attractions, avant-garde dining, and a fabulous mix of cultures and people – San Antonio is so much more than meets the eye
And did we mention a tight-knit queer community?
Yes, just like in Phoenix, Orlando, New York City, and other fabulously gay US cities, there is also an active LGBT scene here (if you know where to look), and this is something a gay realtor in San Antonio can help you navigate as you find your new perfect home here.
Similar to Austin, San Antonio is a progressive, liberal haven in otherwise deep-red Texas, which has developed a very active and visible LGBT community. Here cowboys, gays, hipsters, artists, and musicians all live, work, and play in harmony – creating the multicultural ambiance that makes San Antonio just so irresistible. That is not to say that moving to a new city doesn't;t present distinctive challenges. Luckily, we've got your back.
Think of this article as a queer San Antonio relocation guide that will help you understand what you're getting yourself into when moving to this beautiful city. If you need a more night-life and travel-focused guide detailing all the LGBT clubs, parties, and more, check out our Gay San Antonio Guide!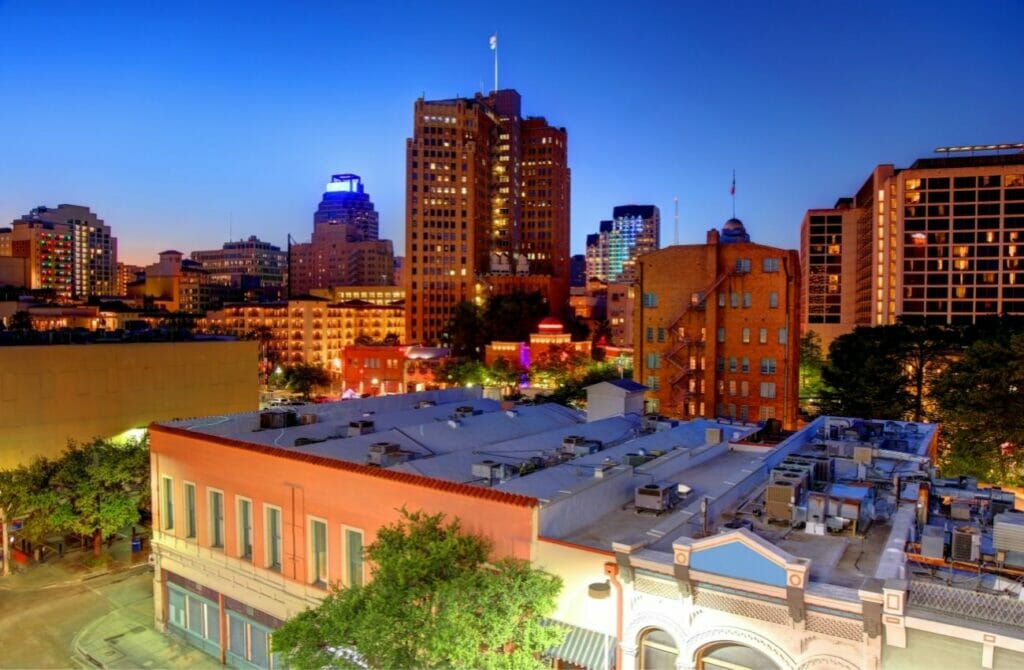 Highlights Of Moving To LGBTQ San Antonio
Here are four things you should know about San Antonio.
Growing Job Market
San Antonio's business climate is improving, and the economic boom is one of the reasons why the city is undergoing rapid expansion and transformation. San Antonio is growing into a significant hub for enterprises and profitable businesses, with manufacturing, bioscience, renewable energy, healthcare, tourism, and hospitality, leading the way. Furthermore, with unemployment rates lower than the U.S average, you won't hunt for long if you're looking for employment in San Antonio.
San Antonio Is Well-Protected
San Antonio, nicknamed Military City USA, hosts some of the country's most significant concentrations of military posts. Numerous families in the city are affiliated with the military, thanks to a community made of patriotic military members and retired troops. Residents can visit Lackland Air Force Base, U.S Army Base Fort Sam Houston, Camp Bulls, and Randolph Air Force Base, which make up Joint Base San Antonio, the most extensive and most diversified base in the U.S Department of Defense.
Remember The Almo
San Antonio can be the ideal place for history geeks. The city, known for its historical relevance, was founded by a Spanish expedition constructing the famed Mission San Antonio de Valero. This Spanish Mission evolved into the Alamo, among the few Roman Catholic missions standing today.
Most renowned for The Battle of the Alamo in 1836, this mission played a critical part in the conflict between the Republic of Texas and Mexico. Even though the Alamo gets attention from tourists and residents alike, San Antonio boasts a plethora of other historical landmarks and sights that you should explore.
The Weather Is Fantastic
Experiencing a subtropical climate, residents can expect mild winters alongside hot and humid summers. The hottest month is July, with an average high temperature of 94 degrees Fahrenheit, while the coldest month during the year is January, with an average low temperature of 41 degrees Fahrenheit. April, October, and November are the mildest and most pleasant months in the city.
With an average of 220 sunny days throughout the year, San Antonio only receives around 33 inches of rain annually, below the national average of 38 inches. If you are moving to San Antonio from a colder climate, feel free to leave your snow shovel and snow boots behind since the city receives an average of 0 inches of snow per year. Furthermore, because SA is located right outside the Tornado Alley, people don't have to fret about tornadoes like in other adjacent towns.
Does San Antonio Embrace The LGBTQ Community?
The city of San Antonio is a progressive and LGBTQ-friendly city. Pride celebrations here go on for a week and are fun for the entire family. San Antonio has a scholarship program for LGBT youth, awarding school grants. The city is generally tolerant of LGBT youth and adults in the area.
San Antonio is also home to many restaurants, clubs, and bars for the LGBTQ+ crowd to come together, mingle, and have fun. San Antonio provides health insurance to the domestic partners of city workers. The city also prohibits discrimination based on gender identity and sexual orientation in public and private employment, accommodations, and housing.
On the Human Rights Campaign's Municipal Equality Index Scorecard, 2020, the City of San Antonio received 100 points. The MEI is a national assessment of 506 cities' lesbian, gay, bisexual, transgender, and queer policies, laws, and services. In 2020, San Antonio was one of 94 cities to receive the highest possible score. San Antonio boasts a thriving LGBT community with numerous gay-owned and gay-friendly businesses.
The primary gay commercial neighborhood is "The Strip," although regions like Southwest San Antonio Arts District have a rainbow feel. The city has notable festivals and events year-round. The major events are AlamoFest, Pride San Antonio, and the River Walk.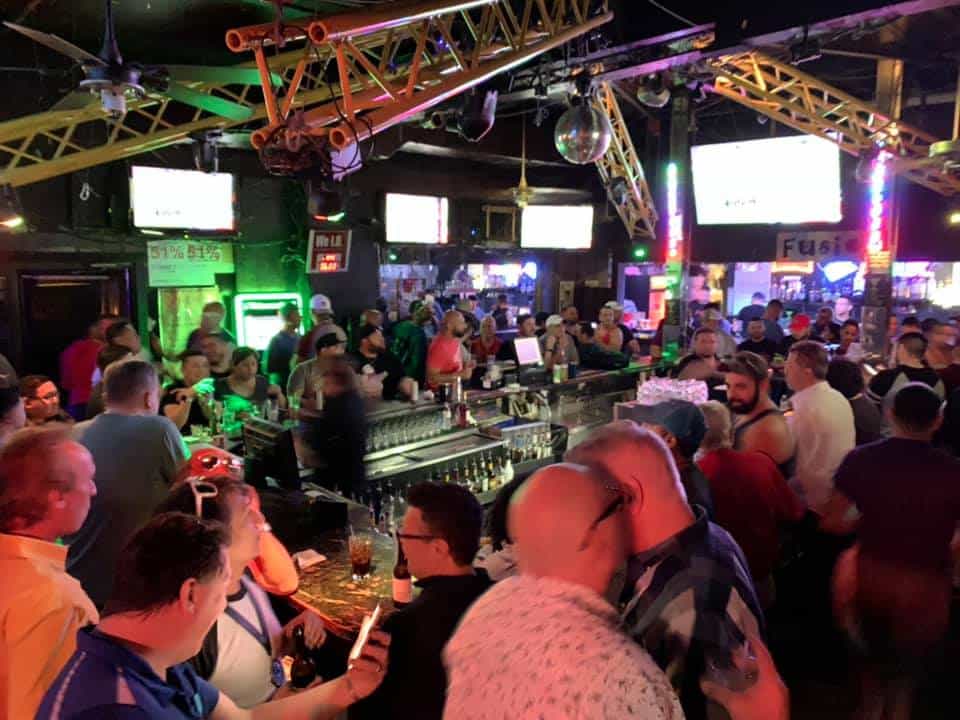 Is San Antonio An Expensive City To Move To?
The cost of living in San Antonio is 12% lower than the country's average. The median price for a home is $121,100 and the average rent per month is $880.
Housing and utilities: San Antonio's housing costs are 24.1 percent lower than the country's average and 15.6 percent lower than the state average. The average rent for a studio apartment in the city is $767, compared to $866 in Texas and $948 nationally. A three-bedroom apartment in the city costs an average of $1,413.
Transportation: Transportation costs in San Antonio are roughly in line with the country's average. Although the city's average transportation costs are only 0.7 percent lower than the county's average, they are 4 percent lower than the state average. These costs take into account things like petrol prices and transportation charges.
Food and groceries: Groceries in the city are 16% lower than the country's average.
The Best Gay Neighborhoods In San Antonio
Not all LGBT individuals want to live in the frenzy of Downtown / River Walk neighbourhood of San Antonio and it's central business district, so thankfully, there are lots of alternate areas to live for those who are seeking a calmer-yet-still-LGBT-friendly environment.
When relocating to LGBTQ San Antonio, keep in mind that some neighborhoods are closer to all of the exciting queer events and happenings than others. Knowing them in advance will ensure that you arrive at your new home in the most suited gay-friendly area of town.
Start with these top gay and LGBT-friendly San Antonio communities to find your fabulously perfect new home, each with its own individual personality, welcoming community, and amenities you'll adore. Allow ample time to become acquainted with San Antonio's diverse personalities, and keep in mind that this city has plenty to offer everyone – LGBTQ or not!
Now let's take a look at where the handful of marvelous gay areas in San Antonio are and talk about the San Antonio gayborhood where you might feel most at home! Or speak to a local LGBT real estate agent for a more detailed understanding of the best options today.
Downtown San Antonio
Suppose you're seeking a neighborhood that is the city's melting pot; go no farther than Downtown. It's unlikely to find a dull moment here, nor will you need to drive a car, thanks to an array of museums, music venues, theaters, bars, eateries, clubs, and public transit alternatives. Downtown life is most appealing to students, young professionals, and families that want to be in the center of the excitement.
There are many luxury condos and apartments in this region, like many other typical downtown locations. However, you'll find a smattering of Victorian and historic homes here, reasonably unusual. The average property value in the neighborhood is $469,397, making it one of the most costly areas to buy property in the city, with an average home value of $798,120. Rent Downtown is also pricier, with RENTCafé putting the median rent at $1,423 per month, which is more than a 25% increase above the city average.
Southtown
San Antonio's Arts District, called Southtown, is situated right south of Downtown and has a thriving art culture. It's similar to Brooklyn, complete with a vibrant and creative neighborhood, independent shops and cafés, public murals, and exciting things to do. This area is surprisingly popular with artists, young workers, students, and singles.
Southtown has a wide range of housing options, from historic bungalows to old Victorian mansions to more contemporary condos. Southtown comprises five smaller communities: King William, Collins Garden, Lavaca, Lone Star, and Roosevelt Park. Typical home values vary depending on the location and range from as low as $131,085 in areas like Collins Garden to as high as $466,698 in places historic King William.
Home values have risen at varying rates, with Lavaca's average home value rising by 6.6 percent over the last two years and Collins Garden's rising by 23 percent. Lower housing values are undoubtedly making that particular portion of Southtown more desirable. Smaller apartment buildings, condos, and homes are available for rent in the area. Rent varies depending on the Southtown area, just like housing values.
Alamo Heights
Alamo Heights, located six miles north of Downtown, is an affluent area with decent-sized yards, excellent schools, and a vibrant community atmosphere that attracts many families. Residents enjoy green, tree-lined streets, a diversity of house styles, and a relaxed yet elegant suburban atmosphere. The fact that it's also quite walkable, has a hip feel, and is strategically located less than 15 minutes from both San Antonio International Airport, and Downtown further adds to the allure.
Homes here range from small cottages to gigantic mansions and are either restored, rebuilt, or newly built. While Alamo Heights is home to some of the city's wealthiest citizens, property prices are reasonably priced.
The average property is worth $663,670. The median rent in Alamo Heights is $1,292 per month. If you enjoy museums, some of the best in the city is right at your doorstep if you live here. Locals can easily access natural history, art, and science displays at The Witte Museum, with more than 5,000 years of culture and art through the San Antonio Museum of Art collections. Public schools in the area are also excellent.
Boerne
Boerne is a community neighborhood that maintains a trendy yet still charming take on a typical American small town. This area is so adored that many people face the 30-minute, traffic-clogged drive to San Antonio. Great schools, multiple parks, access to Hill Country hiking trails, and a slew of family-friendly events in the area make Boerne a favorite choice for families.
The majority of the homes in this area are massive, attractive, and sit on vast lots with lush green lawn prices ranging from roughly $280,000- $10 million, with the average house value being $448,770. Monthly rent on average in the area costs about $1,213.
If you think moving to the suburbs will be boring, think again. Boerne is a small neighborhood with a big heart and a massive event calendar. Some of the most popular events include Movies in the Park and Outdoor Family Fair.
Annual LGBT Events In San Antonio
After moving to a new city, you will likely want to create new connections, meet new people, and network. Thankfully, LGBT San Antonio plays hosts to a variety of annual events for lesbians, transgender persons, gays, and anyone else who wants to have a good time.
While there are many queer events in the city, the ones listed here are the largest and greatest and are all worth marking in your calendar as you won't want to miss them.
A queer film festival committed to bringing awareness of the LGBTQ community to the greater San Antonio region. To achieve this goal, the festival showcases cinematic pieces of art that are illustrative of the community by being created by and/or featuring the LGBTQ community — held annually in October.
Formed to instill pride, celebrate unity, embrace diversity, and recognize the contributions of the LGBT community in San Antonio. The main event organized every year is their "Pride Bigger Than Texas" Pride Parade and Festival in June, but they also produce several events throughout the year to celebrate pride. The most fabulous way to experience LGBT San Antonio, but even if you cannot attend, check their Facebook page for other smaller events.
LGBTQ+ Community Organizations In San Antonio
To progress the LGBTQ agenda, the queer community commonly has to rely on donor organizations or non-profits.
Wherever you live, it's critical that you support such groups in any way you can use so that they can reach out and aid others in the community. You might even need their assistance right or at some point in the future – and no matter what, every queer person has benefited from their tireless work to achieve the progress and rights we have today. Here are some outstanding community LGBT organizations in San Antonio.
These are wonderful places to start if you're looking for LGBTQ groups to join, seek support from, meet new people with or volunteer for a cause you care about.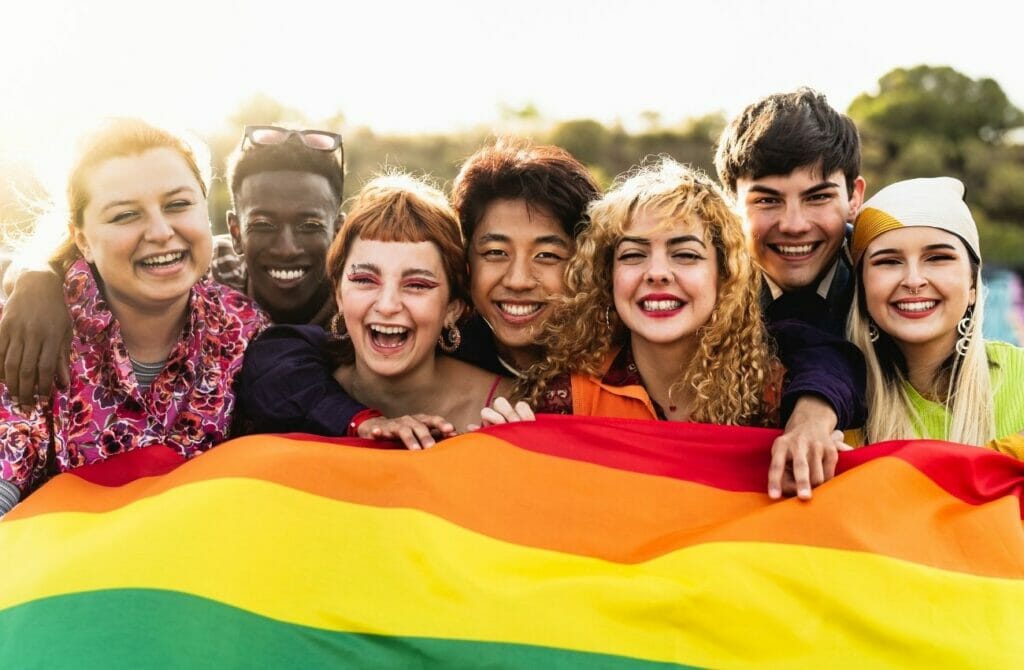 The Pride Center San Antonio was founded to promote the Bexar County LGBTQ and ally population. Our goal is to build a clearinghouse for the city's LGBTQ+ community that will operate in collaboration, instead of competition, with current services and programs in our neighborhood.
Out In SA is the gay publication for the entire city of San Antonio. They cover the news, personalities, politics, and significant trends in San Antonio's LGBTQ+ communities and supporters in areas ranging from fashion to cuisine to landscaping.
Fiesta Youth is San Antonio's Leading LGBTQ+ Youth non-Profit Organization. The organization offers support to LGBTQIA+ youth, young adults, friends, and allies. Our mission is to enable children to create a world in which ALL individuals are affirmed, accepted, and loved just as they are. The organization creates safe spaces for events, programming, and training to support the youth and help the community grow together.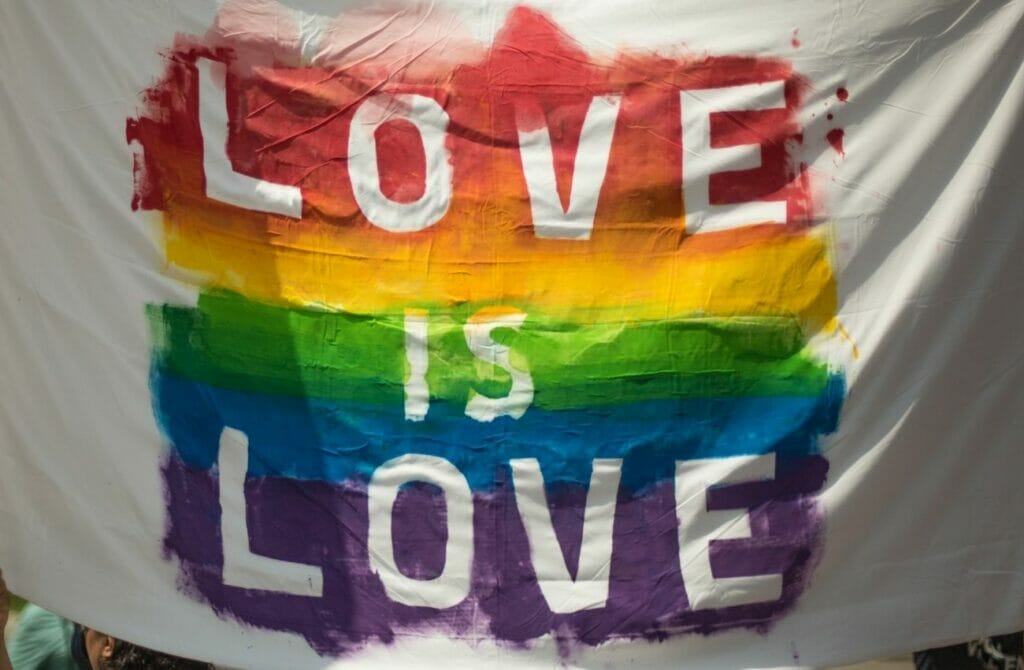 LGBT Owned Businesses In San Antonio
After moving to LGBT San Antonio, it's only natural to want to support queer businesses. One strategy for establishing a safer and more inclusive society is to create a secure environment where people may rest, buy, dine, and connect without fear, and this is exactly what LGBT companies should strive for.
To safeguard the queer community's survival and success, it is critical to support these initiatives wherever you are. With that in mind, here are a few LGBTQ-friendly businesses worth visiting in San Antonio.
Cierra Montemayor and Jessica Marie Riveria, a couple, own Cafecito, a charcuterie delivery service in downtown SA. Their goal is to offer charcuterie platters to consumers celebrating special occasions, little successes, or treat-yourself-days. You can also create your own customized charcuterie box or select a variety of chef-curated alternatives.
Significantly That deals in fun goods and services. With every colorful product, Very That carries, queer femme entrepreneur Christina Martinez captures the essence of SA, from the Chingona Como Mi Madre t-shirt to avocado AirPod cases and pan mugs.
Chad Palmatier and Anthony Sobotik, who founded Lick Honest Ice Creams, envisioned the Pearl mainstay- with two other outlets at Hemisfair and The Rim. Lick Honest Ice Creams utilizes locally produced ingredients.
An LGBT clothing brand with an independent store focused on selling underwear for men and women along with custom shirts, mugs, and accessories. If you love erotic men's underwear or gay apparel this is the place to go…
A legendary LGBT dance club offering 25,000 square feet of fabulous fun inside a historic building in downtown San Antonio. Cover 3 levels plus an immense patio with multiple DJs pumping sickening beats covering all genres, including house, dance, EDM, top-40, Latin, hip-hop, and more. Add to this the heart-pounding sound systems, immersive light shows, fantastic drink specials, and 10+ bar stations – and you can see why Bonham Exchange is famous throughout Gay Texas. Open to everyone, regardless of sex, race, ethnicity, age, or sexual preference who just want to dance and have a good time in a safe environment.
Your one-stop-shop for gay and lesbian products covering everything from personal lubricants to popular gay underwear brands. Zebra Z is the largest online gay and lesbian department store and based in San Antonio; they have a retail showroom for you to visit.
A late-night retro restaurant Luther's Café is an institution of the local gay community in San Antonio. Spreading acceptance, awareness, love, unity, and respect to one another unconditionally for years now – it is fair to say they are the voice of difference and definition of pride. They are located at the heart of "The Strip" gaybourhood, head here for comfort food, cocktails, and extra-ordinary entertainment, including drag performances and Jazz nights. Similar to Hamburger Mary's, if you are more familiar with their concept.
A mainstay of the Gay San Antonio scene since 1994, the Pegasus is a fabulous spot to have a drink or two, enjoy great music, and partake in some late-night karaoke. Welcoming to absolutely everyone over the age of 21 – 365 days of the year! Friendly staff, fabulous drag, and trashy in the best kind of way. Never a cover, relaxed, and always a good time in Downtown San Antonio.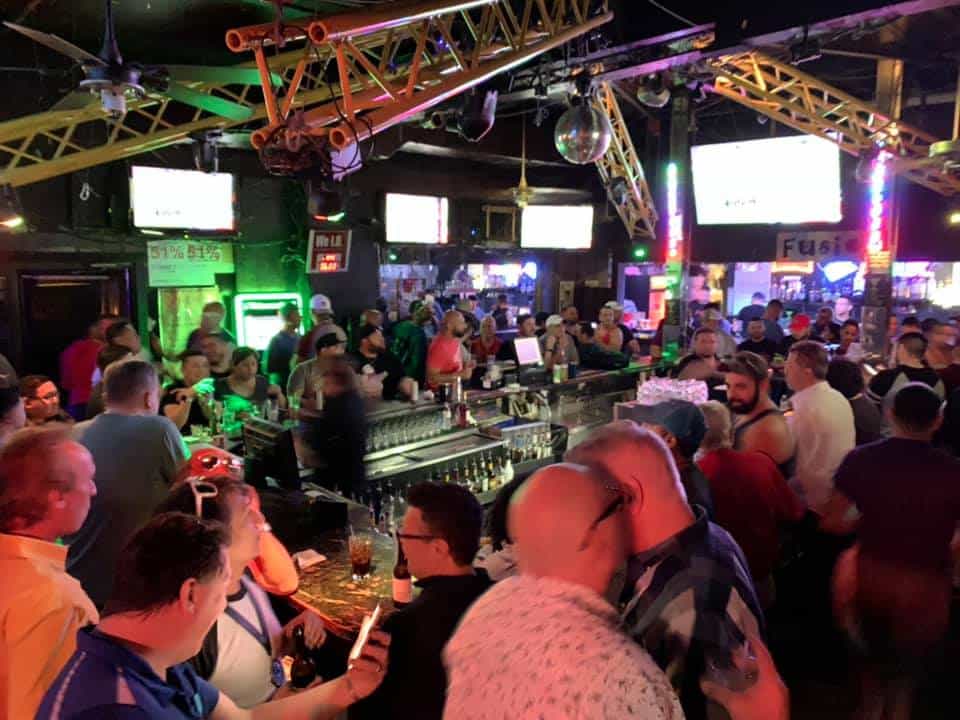 Final Thoughts On Moving To LGBTQ San Antonio
San Antonio is a fantastic city to li inve, and it is well worth the move. It is no wonder that the city is the most visited location in Texas, given its numerous recognized and renowned attractions. With its low cost of living and moderate environment, San Antonio is home to a variety of fantastic places and neighborhoods that will cater to people of all lifestyles.
Keep in mind that life is what you make it, and wherever you choose to begin your new life in gay San Antonio, we hope you find the openness and security you deserve. The surest way to discover LGBT San Antonio is always going to be living in a gay-friendly neighborhood by frequenting local LGBT businesses and events and joining queer community groups and sports teams.
We promise that if you follow these steps, your transition to LGBT San Antonio will be easier, and you'll rapidly meet like-minded people to build your new chosen family here. And if you are still not sure, we also recommend reading our Gay San Antonio guide with more specifics on the queer attractions, events, and LGBT fun on offer…
Finding Gay Realtors In San Antonio Texas
When looking for the ideal realtor, why would you consider someone's sexuality? This may seem strange at first, but there are several reasons why contacting a gay realtor in San Antonio is a great way to find your dream house.
After all, when it relates to one of life's most important transactions, it's not unreasonable to expect fair, equal, and honest representation from someone who understands the queer community's particular needs and wishes. Furthermore, unfortunately, many people (up to a third of Americans) continue to believe that our community does not deserve protection and dignity in housing, adoption, employment, and other areas of life.
So it's no surprise that LGBT people who use mainstream realtors often describe feelings of discomfort, unnecessary trouble, unenthusiastic representation, or even antagonism or outright contempt. Everyone deserves a pleasant, stress-free home buying or selling experience while being adequately represented, and this is why we feel you should hire a gay realtor to assist you in finding your future home.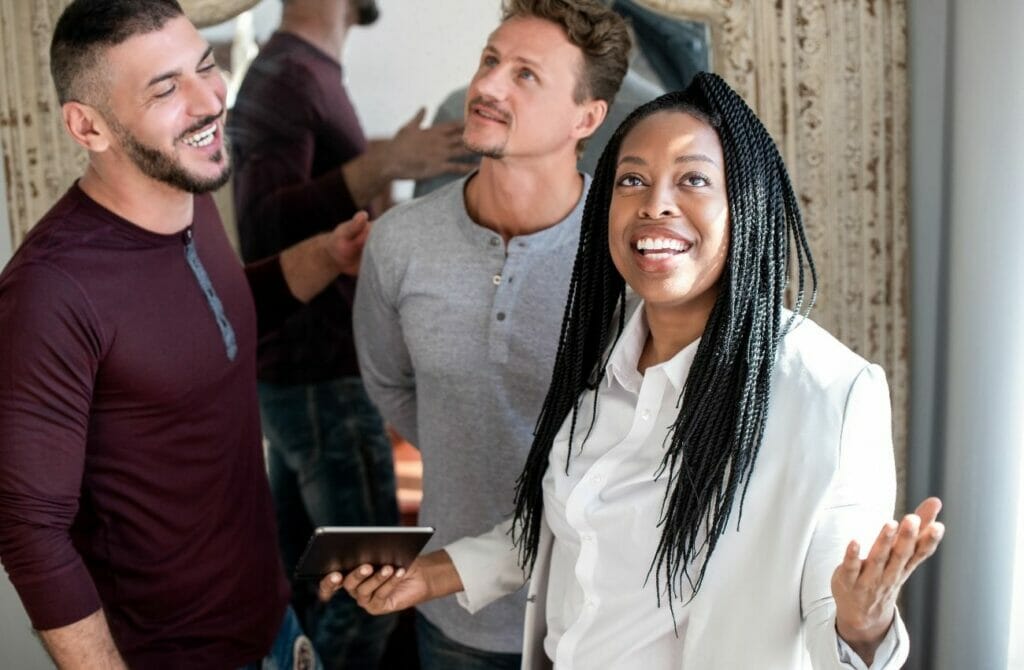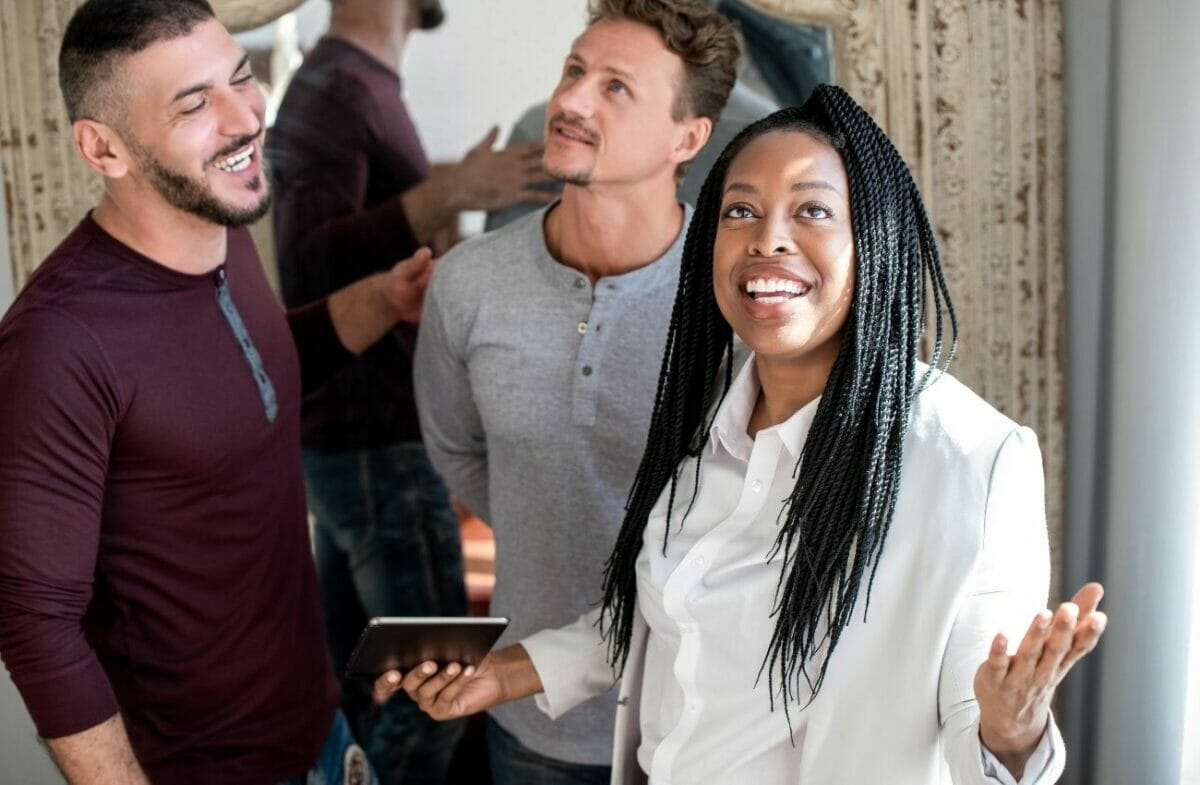 LGBTQ realtors are more likely to be familiar with the diverse communities in their area and know which ones may be best suited to you when looking for a home. That's not to say a heterosexual realtor isn't capable, but they've probably never had to address many of the issues LGBT people face. Rather than just being concerned with how bustling, fashionable, or up-and-coming a neighborhood is (or what it may appear like), gay realtors conduct extensive research into the neighborhoods in which they sell homes to ensure that clients are safe.
It used to be difficult to locate professional LGBT-friendly real estate agents in San Antonio, and it was virtually impossible to find one if you were relocating here from out of state and didn't have access to a local referral. You no longer have to search for a realtor without knowing whether or not they are accepting of others because you can use a list of gay, lesbian, and gay-friendly agents in San Antonio to do all of your homework for you.
Simply go to the page, and you'll be presented with a free list of gay, lesbian, and gay-friendly agents who can help you with your relocation as well as other useful information like LGBT+friendly schools, shopping, storage firms, tradesmen, and more. Read the biographies of LGBT real estate agents, then choose the one who is right for you. It's critical that you find someone who will be by your side and support you and your family during one of life's most exciting occasions.
Even better, there is no hidden motive, cost, or obligation whatsoever!