Hey there, honey! If you're looking for a unique and exciting LGBTQ+ travel destination, look no further than Gay Dresden. This stunning city in eastern Germany is filled with rich history, captivating culture, and a thriving gay scene that will have you spilling the tea with all your friends back home.
When it comes to gay life in Dresden, you'll find a warm and welcoming community that loves to party and celebrate. The main gay areas can be found around Neustadt, with plenty of bars and clubs that cater to the LGBTQ+ crowd.
Dresden has a rich and complex LGBTQ+ history that spans back decades, if not centuries. While it may not be as well known as some other LGBTQ+ hotspots in Europe, Dresden has been an important center of LGBTQ+ life and activism for many years.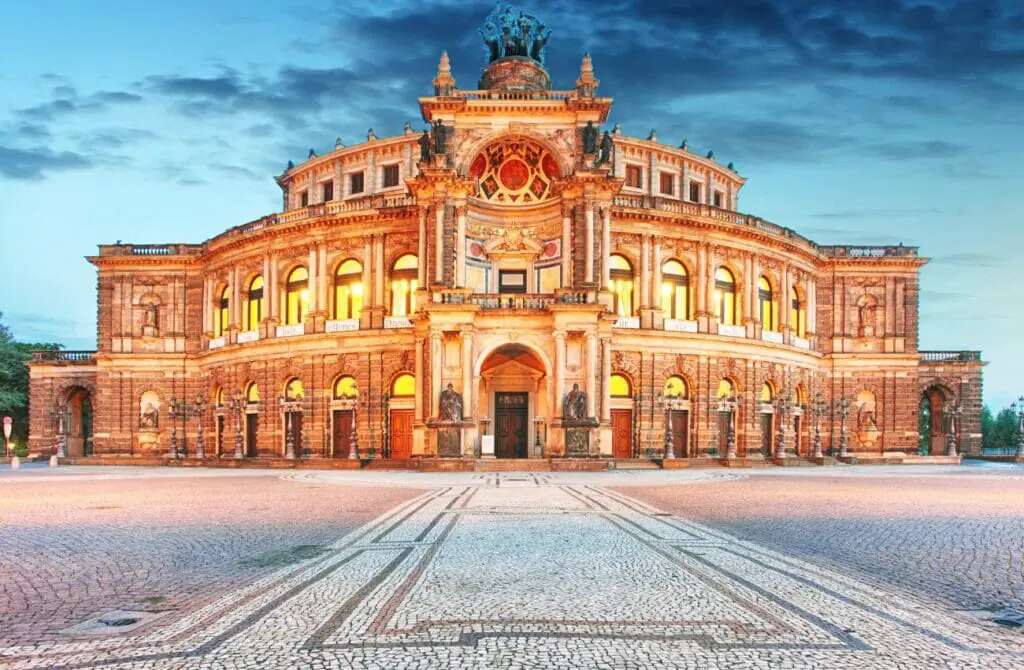 One important moment in the city's LGBTQ+ history was the founding of the RosaLinde Association in 1990, just months after the fall of the Berlin Wall. This organization became a key player in the LGBTQ+ movement in Dresden, advocating for the rights and visibility of the LGBTQ+ community in the city.
But the history of LGBTQ+ life in Dresden goes back much further than that. In the early 1900s, there were several bars and clubs in the city that were popular among gay men, and some of these venues continued to operate even during the Nazi regime.
Unfortunately, like many other cities in Germany, the LGBTQ+ community in Dresden suffered greatly under Nazi rule. Gay men were arrested, imprisoned, and in some cases, even killed by the Nazi regime. But even in the face of such persecution, there were still brave individuals who fought back against this oppression, such as Magnus Hirschfeld, a pioneering sexologist and LGBTQ+ rights advocate who was born in Dresden.
Today, the LGBTQ+ community in Dresden continues to thrive and make progress, even in the face of ongoing discrimination and challenges. The annual Christopher Street Day parade is a major event in the city, and there are many LGBTQ+ organizations and groups working to improve the lives of queer people in Dresden and beyond.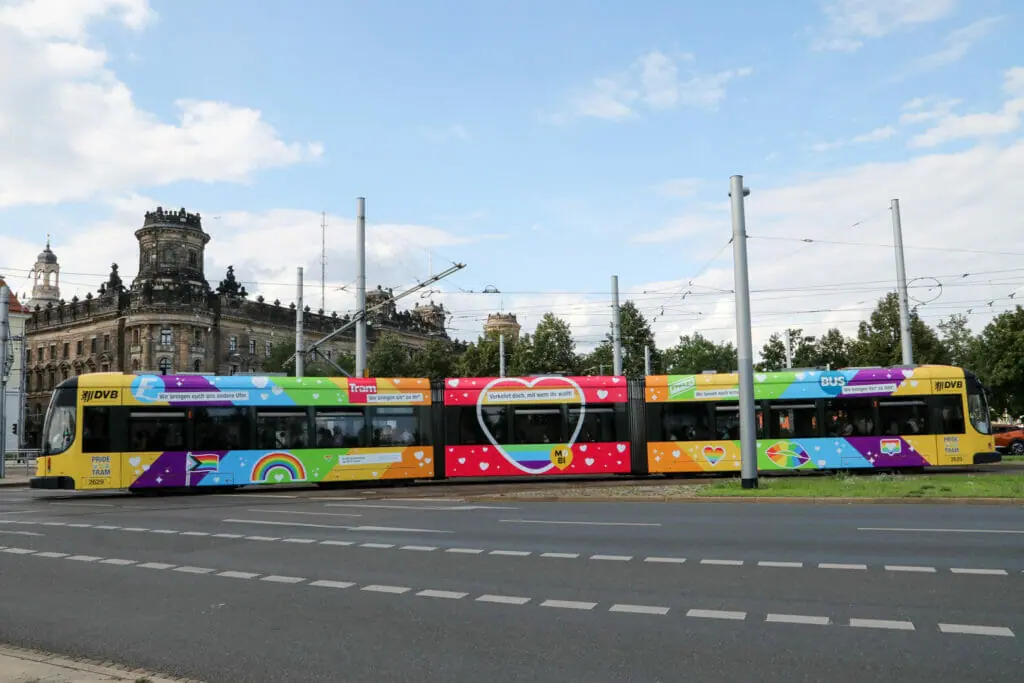 But Dresden isn't just about queer life – there are plenty of other unique attractions to explore here. Check out the famous Frauenkirche, a stunning church that was destroyed during World War II and painstakingly rebuilt over the course of several decades. And don't miss the Zwinger Palace, an ornate and beautiful palace that is a true architectural wonder.
So come on over to Dresden, get to see how welcoming and inclusive the locals are, and discover how the atmosphere of diversity and acceptance makes it a great place to visit or live for anyone, regardless of sexual orientation or identity. You won't be disappointed!
Dresden is also known for its music and opera scene, with the Semperoper, one of the most prestigious opera houses in Europe, being in the city.
In recent years, Dresden has become increasingly welcoming and inclusive toward the LGBTQ community. The city has a thriving LGBTQ scene and hosts several events throughout the year, including the annual Christopher Street Day parade, which celebrates LGBTQ pride.
Dresden has a long history of support for gay rights, and there are several organizations and resources available to support the LGBTQ community in the city. The city's diversity and acceptance make it a great place to visit or live for anyone, regardless of sexual orientation or identity.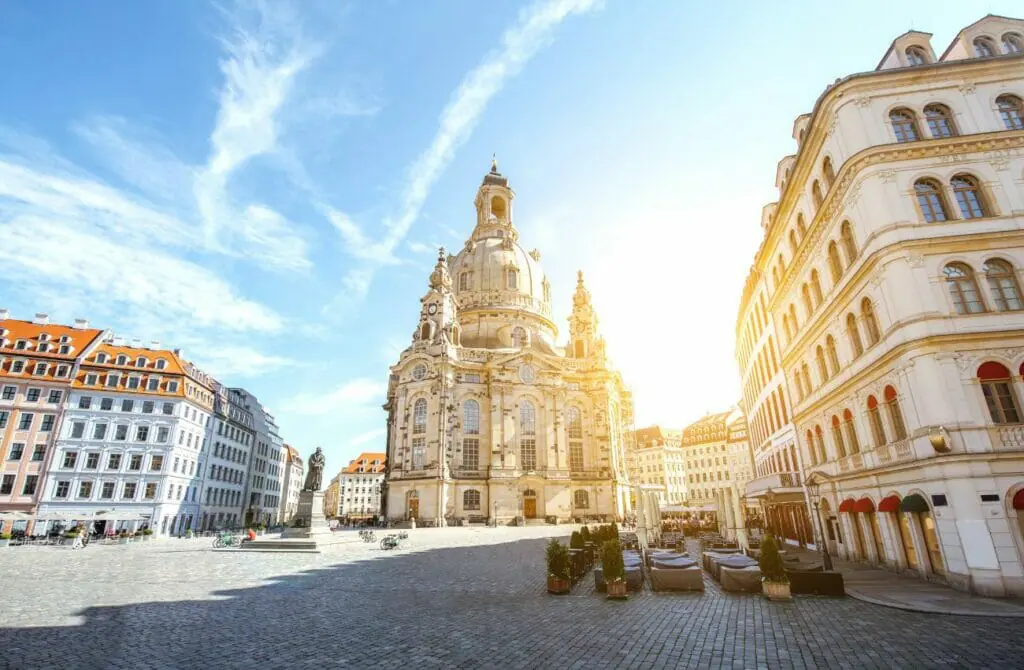 Top Attractions in Dresden
Welcome to Gay Dresden! This charming German city has so much to offer, from its iconic landmarks to its unique cultural experiences. As you explore this city, make sure to visit some of its most notable attractions, such as the breathtaking Frauenkirche and the historic Zwinger Palace. If you're a lover of the arts, the Gemäldegalerie Alte Meister museum houses an impressive collection of European paintings from the 15th to the 18th centuries.
Of course, no trip to Dresden is complete without indulging in some of the local cuisine. Sample traditional German dishes like sausages and sauerkraut at the Altmarkt-Galerie, or try some of the city's delectable sweets like Eierschecke or Dresdner Christstollen at one of the many cafes and bakeries.
But what really sets Dresden apart from other cities is its unique atmosphere. The city's Elbe riverfront provides a picturesque backdrop for a leisurely stroll, and the popular Alaunpark offers a lively atmosphere with its food trucks and bustling beer gardens. And for those interested in LGBTQ+ history, the Christopher Street Day parade in August celebrates Dresden's vibrant queer community and its rich history of activism.
So, honey, don't miss out on all that Gay Dresden has to offer! Spill the tea with some of the best local foods and sights, and immerse yourself in the city's unique culture.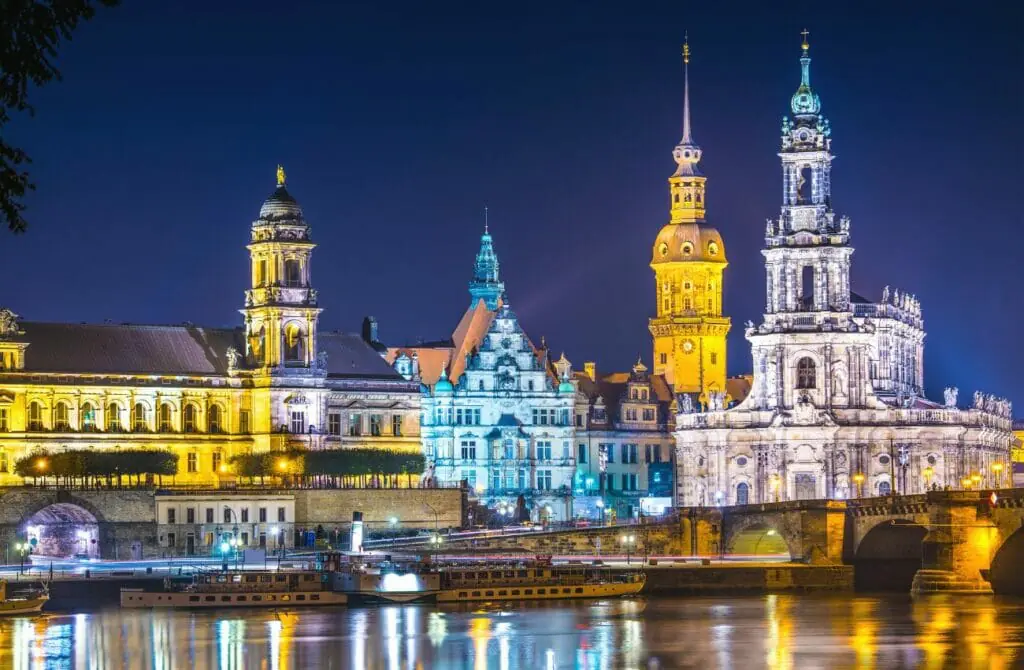 The Frauenkirche, also known as the Church of Our Lady, was designed by German architect George Bähr and is considered a masterpiece of Baroque architecture. The church's dome, which stands at 91 meters, is striking and offers a panoramic view of the city. The church's interior is also impressive, with its intricate decoration, frescoes and sculptures, it is a perfect example of the Baroque style.
The Frauenkirche has a tragic history, it was destroyed during the bombing of Dresden in World War II, and lay in ruins for decades. However, in the 1990s, a reconstruction project began to rebuild the church, and it was officially re-opened in 2005.
The reconstruction project is considered a true engineering and architectural feat, and the Frauenkirche is now a symbol of Dresden's resilience and determination.
The Frauenkirche is open to the public and visitors can take a tour of the church's interior and admire the impressive architecture and artworks. It is a popular venue for concerts and other cultural events, and the church also offers regular services. The church's dome is also accessible to the public, and it offers a panoramic view of the city.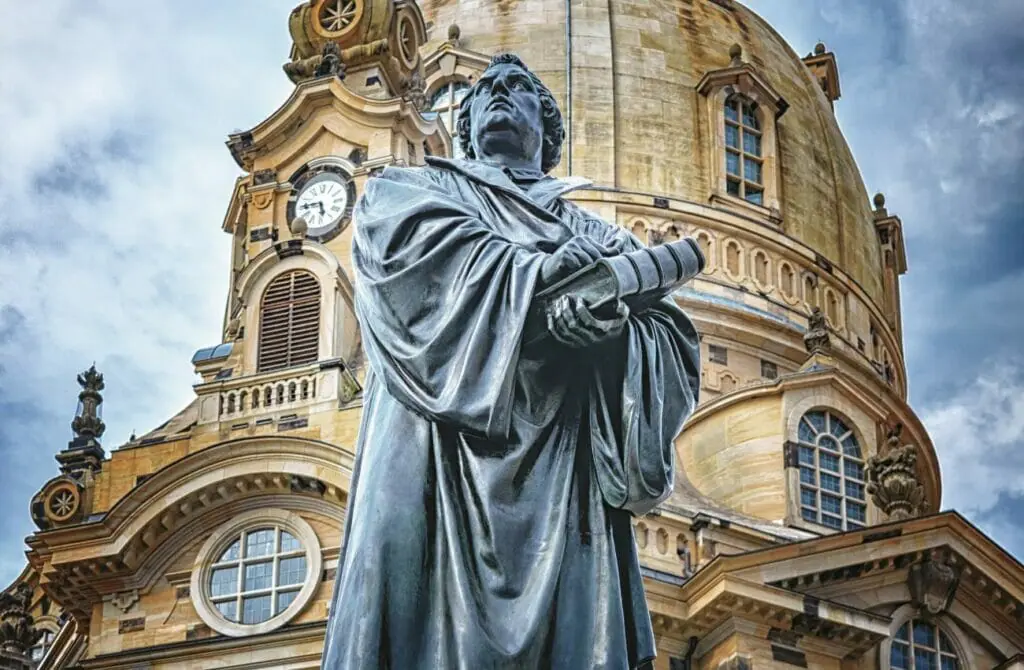 The Dresden Kulturpalast is a cultural and concert venue in Dresden, Germany. It was completed in 1985, and it is one of the most important cultural institutions in the region. The Dresden Kulturpalast is a popular tourist attraction in Dresden, Germany.
It offers a variety of cultural and entertainment options, including performances by renowned orchestras, operas, ballets, and theater productions. It also offers guided tours and classes for children, which allows visitors to experience the arts in an interactive and engaging way.
Dresden Royal Palace and Museums
The palace, which was built in the 18th century, is home to several museums and galleries, which offer visitors a glimpse into the history and culture of the region. The palace was originally built as a residence for the Electors of Saxony, and it served as the royal palace until the end of the monarchy in 1918.
The palace was severely damaged during World War II but was rebuilt in the 1990s, and it now serves as a cultural center for the city.
The palace is home to several museums and galleries, including the Royal Palace Museum, the Green Vault, and the Numismatic Cabinet.
The Royal Palace Museum offers visitors an in-depth look into the history of the palace and the Electors of Saxony, while the Green Vault is a treasure chamber that holds an impressive collection of jewelry, goldsmiths' works, and other precious items. The Numismatic Cabinet is home to an extensive collection of coins, medals and other artifacts.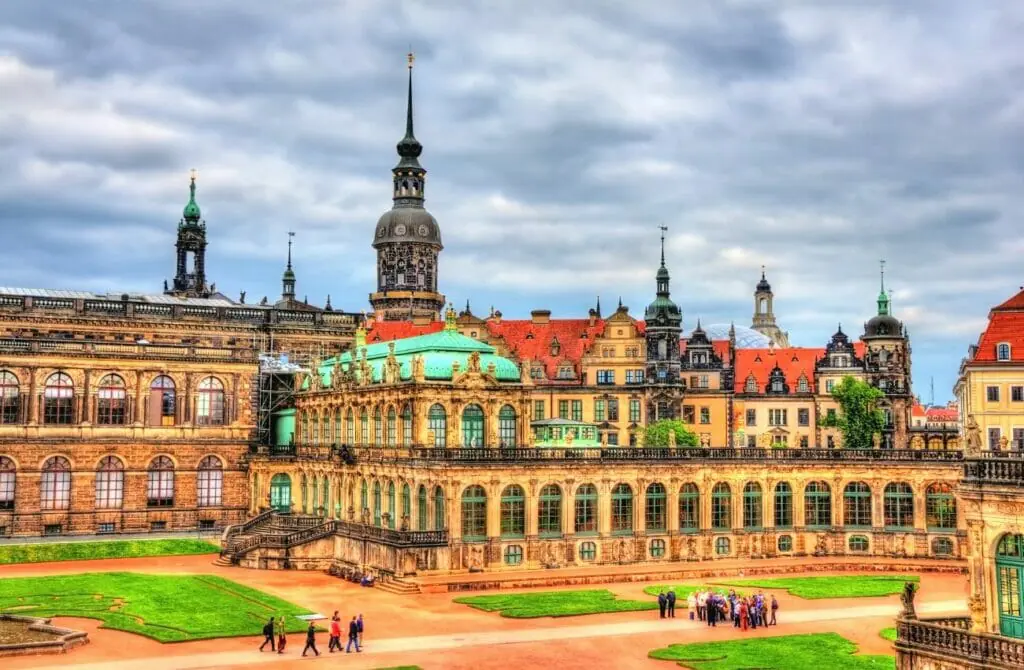 Zwinger and Old Masters Picture Gallery
the Zwinger and Old Masters Picture Gallery are important cultural institutions that reflect the rich history and artistic heritage of Dresden and Germany.
The Zwinger is a testament to the grandeur and opulence of the Baroque era, while the Old Masters Picture Gallery is a treasure trove of some of the most beautiful and significant works of art in the world. Together, they offer visitors a unique and unparalleled glimpse into the past and provide an important contribution to the cultural heritage of mankind.
Semper Opera House
The Semper Opera House was built in the style of the Italian Renaissance, with ornate decoration, grand staircases, and a majestic auditorium. The building was also designed with perfect acoustics in mind, with the architects paying careful attention to the positioning of the stage and seating to ensure that every seat had an optimal view and sound experience.
Throughout its history, the Semper Opera House has been a vibrant center of artistic and cultural activity in Dresden. It has hosted countless productions of operas, ballets, and other performances, featuring some of the most renowned performers and conductors of the time.
Today, the Semper Opera House continues to be a major destination for music and opera lovers from around the world. It is home to the Saxon State Opera, one of the oldest and most respected opera companies in Germany, and it hosts performances and events throughout the year.
The building also serves as an important cultural venue, hosting conferences, exhibitions, and other cultural events.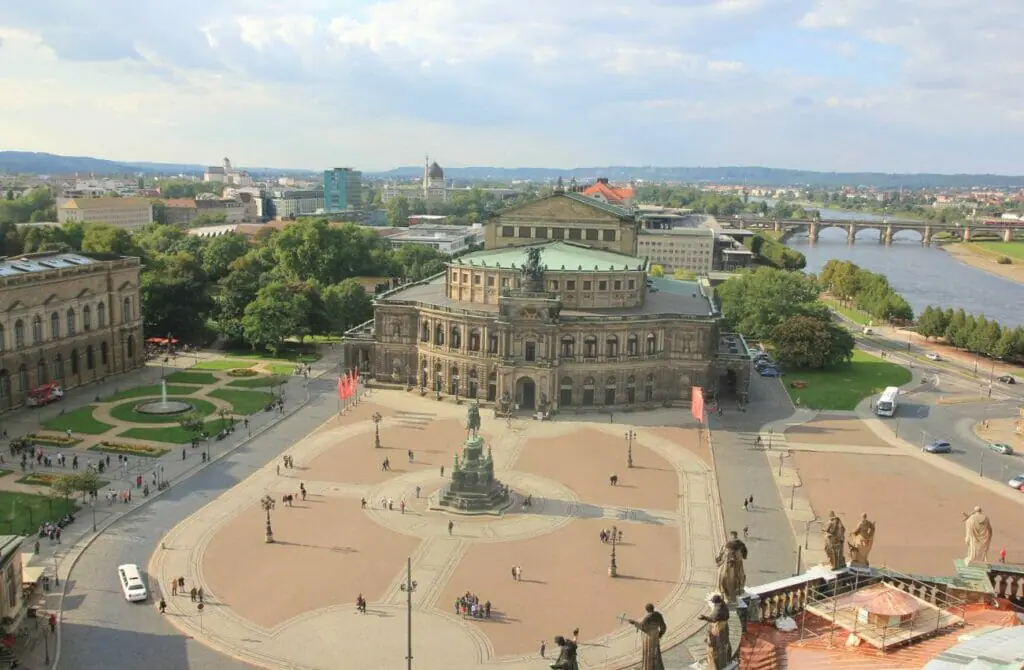 The Great Garden and Zoo
The Great Garden and Zoo are not only popular tourist attractions but also important cultural and educational institutions. The zoo's mission is not only to entertain visitors but also to educate them about the importance of conservation and animal welfare. The zoo also works to promote the protection of endangered species and participates in breeding programs for animals at risk of extinction.
Additionally, the Great Garden provides a beautiful setting for events and activities such as concerts, festivals, and picnics. Many locals and visitors use the garden as a place to relax and enjoy the outdoors. The Great Garden and Zoo are a vital part of Dresden's cultural heritage, and it is a must-see destination for anyone visiting the city.
Albertinum
The Albertinum is a museum in Dresden, Germany which is built in 1884-87 and it is named after King Albert of Saxony. It houses the Royal Painting Collection of the State Art Collections, which includes medieval art contemporary art, sculptures, and decorative arts. There is a library and a department for preserving and restoring things.
It plays an important role in preserving and researching the art of the past and present. The Albertinum also hosts temporary exhibitions throughout the year. These exhibitions often focus on specific themes or artists and provide an opportunity for visitors to see a wider range of artwork and learn more about the art and artists on display.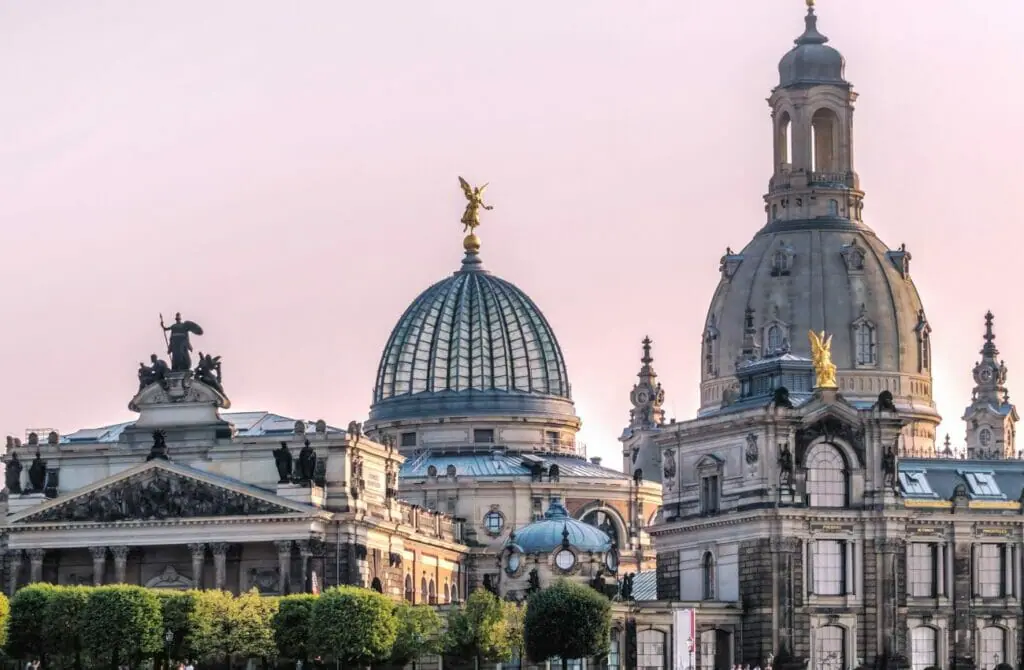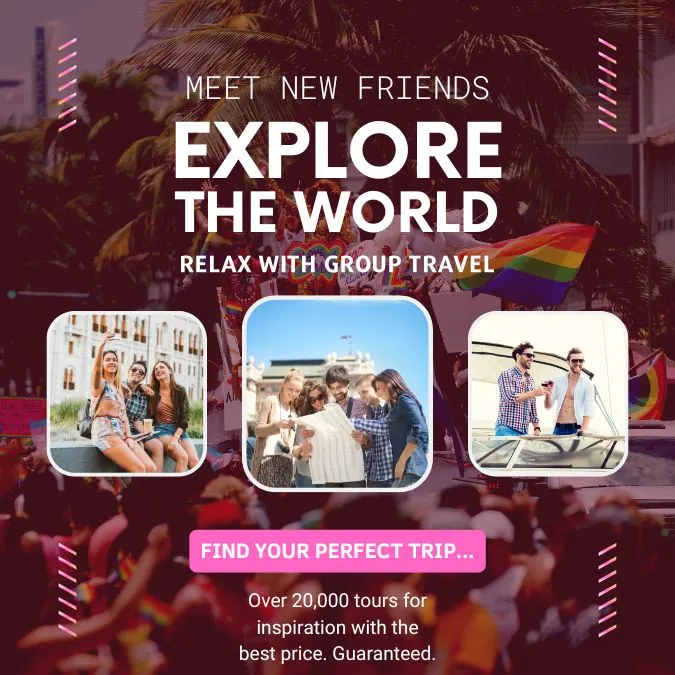 Dresden Pride / CSD Dresden e.V. / Christopher Street Day
Dresden Pride is one of the most exciting and vibrant LGBTQ+ events in Germany and is an absolute must-attend event for any queer traveler. This annual celebration is held in the heart of Dresden every June and is a chance for the city's LGBTQ+ community to come together and celebrate their identities, their love, and their accomplishments. With a range of events, including parades, parties, concerts, and cultural performances, there's something for everyone at Dresden Pride.
Started in 1996, Dresden Pride has grown into a large-scale event that attracts thousands of people every year from all over the world. It's a chance to connect with the global queer community and show support for the LGBTQ+ rights movement. By attending Dresden Pride, you not only get to enjoy an incredible celebration of queer culture, but you also contribute to the continued fight for equality and acceptance for LGBTQ+ people everywhere.
So, grab your favorite jockstrap and gay crop top and get ready to experience the joy, love, and celebration of Dresden Pride!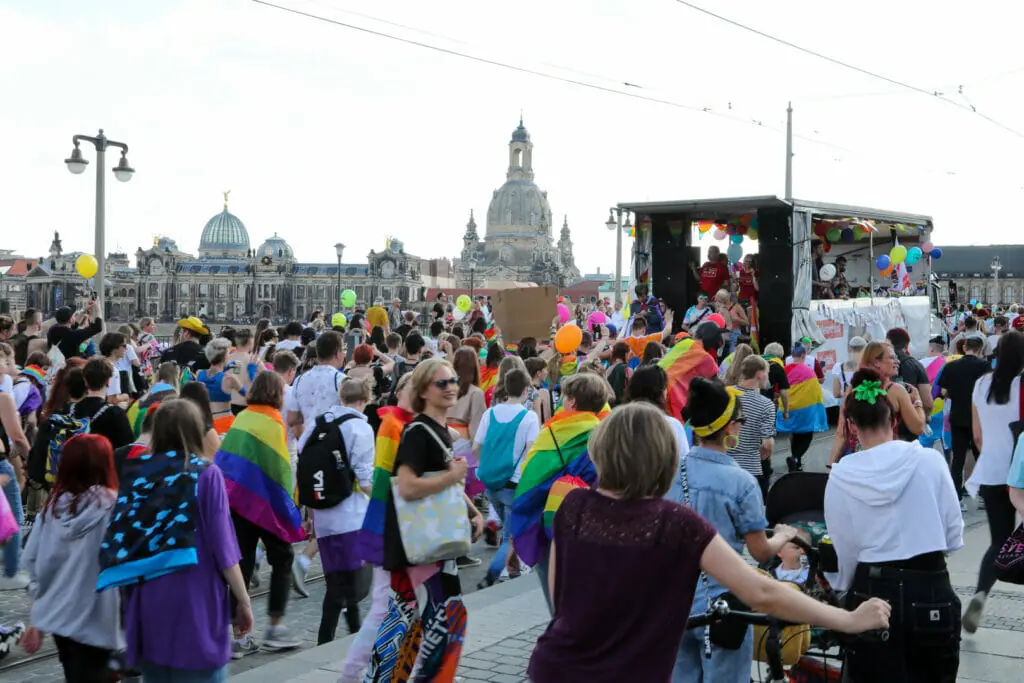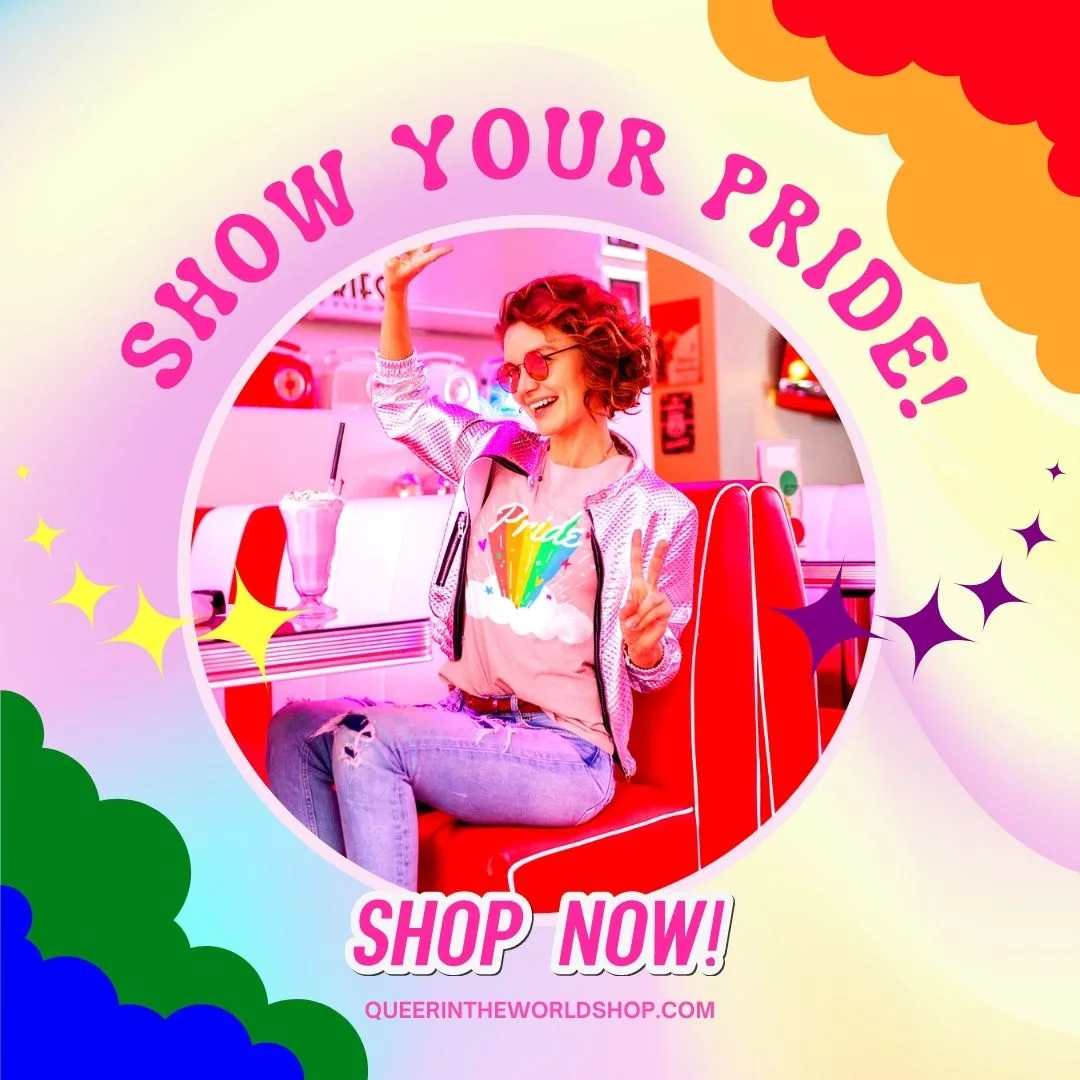 Gay and Gay-Friendly Hotels in Dresden
Darlings, let me give you the skinny-low-down about gay-friendly accommodation in Dresden! Now, I know we all love a good hotel that is welcoming to the LGBTQ+ community. It's not just about having non-discrimination policies in place, but having a vibe that screams inclusivity! Think of welcoming staff, vibrant decor, and resources to support the community – this is what makes a hotel truly fabulous.
While Dresden may not have a designated queer resort or hotel, there are still plenty of gay-friendly options for you to choose from. Don't wait to book, though, as these glamorous options fill up quickly! From elegant hotels with rainbow flags flying high to trendy hostels that exude a welcoming atmosphere, Dresden has something for everyone.
So, honey, whether you're looking for a hotel that is steps away from the city's top LGBTQ+ hotspots or a cozy boutique hotel in a quieter area, Dresden has got you covered. Book your stay now before these fabulous accommodations fill up!
Needless to say, there are also hundreds more hotel and hostel options in Dresden if none of these suit your desired budget, facilities or area – but these are the best hotels according to other gay travelers and us. Whatever your needs are, Dresden has you covered.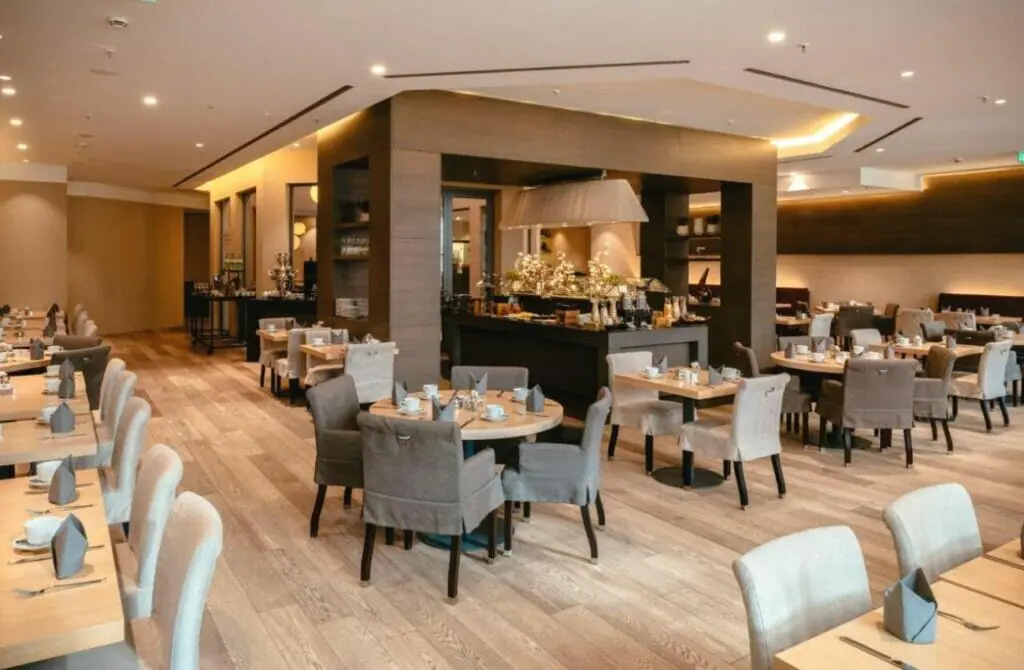 This premium hotel is located in the center of Dresden, next to the famed Frauenkirche church. The Townhouse Dresden offers exceptionally spacious, well-appointed rooms and suites within walking distance of the Zwinger Palace, Semper Opera House, and Congress Center.
To create a distinct atmosphere, 19th-century elegance is combined with modern comfort and cutting-edge technology. Each room has a flat-screen cable TV as well as a private bathroom with bathrobes and slippers.
Breakfast with regional products, bread, rolls, and cakes from the hotel's in-house bakery is available for an additional cost. Breakfast is provided on the first floor, with views of Neumarkt square.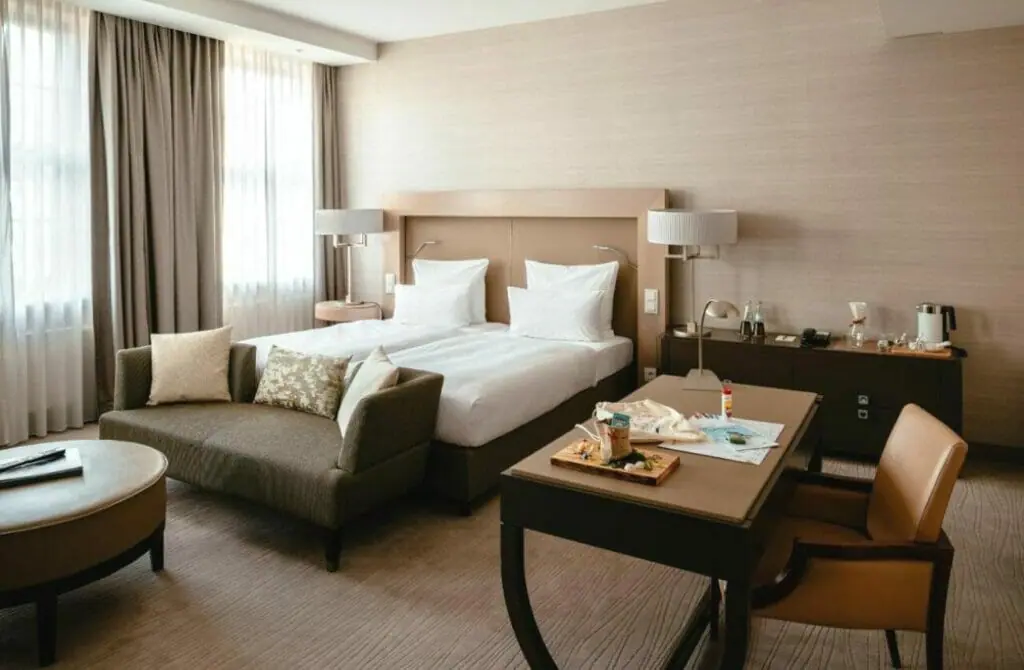 Relais & Châteaux Bülow Palais ☆☆☆☆☆
This 5-star superior hotel features exquisite accommodations with a complimentary 400-square-meter day spa and the Carousel Novelle restaurant. It is located in Dresden's Baroque area, about a 15-minute walk from the Old Town.
The exquisite rooms in the Bülow Palais are furnished with warm colors, beautiful fabrics, and stylish materials, combining Baroque and modern appeal. Fresh fruit, daily newspapers, and a flat-screen TV are included in all rooms.
The modern spa area contains a gym with modern equipment and three saunas with views of the Baroque district's rooftops. There are beauty treatments and massages available here. The relaxing area is styled after a Caribbean island.
This magnificent hotel is a 19th-century Tudor-style mansion along the upper bank of the River Elbe between Dresden's Old Town and the Weißer Hirsch area. It is nestled on 15 hectares of parkland and is surrounded by old trees.
Hotel Schloss Eckberg provides exclusively equipped castle rooms with high-end furnishings and antiquities. Some rooms are located in the park, just 200 meters from the main building, at the Cavalier's House.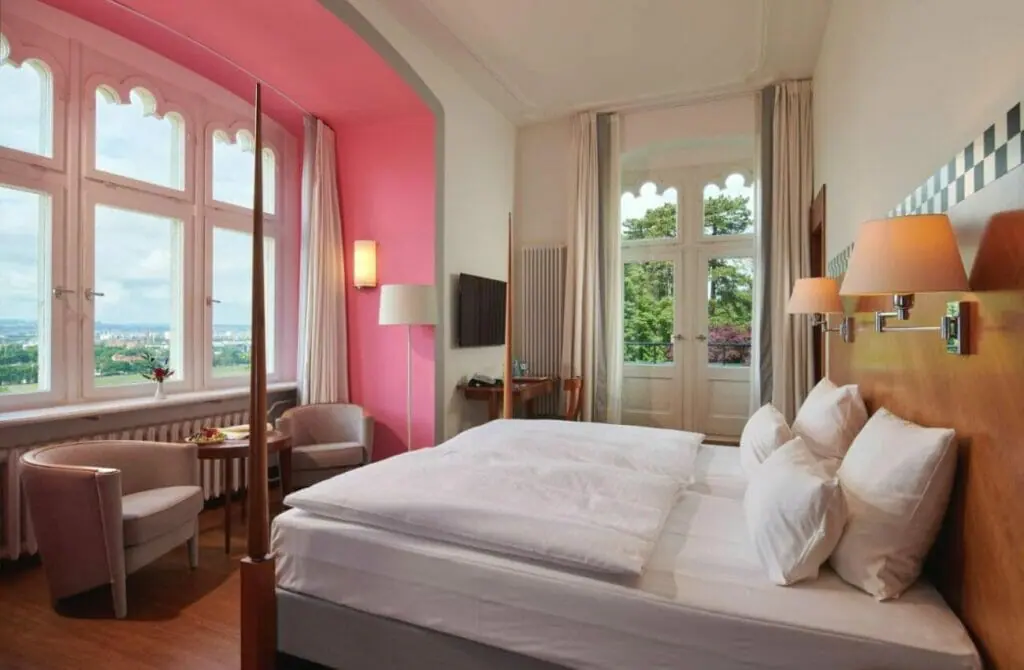 Schloss Hotel Dresden Pillnitz ☆☆☆☆
This privately operated hotel is located inside the grounds of the 18th century Schloß Pillnitz palace and boasts a magnificent setting by the Elbe, surrounded by attractive vineyards and fruit orchards.
The charming and spacious rooms of the 4-star Schloss Hotel Dresden Pillnitz await you. After a restful night's sleep, awaken to a superb breakfast buffet. From April through October, you may savor draught beer and delicious meals in the beer garden.
The conservatory café serves delicious Saxon meals. Half-board includes breakfast and a regional 3-course supper in the orchid café. When the weather gets cold, dine on wonderful Mediterranean food in a warm restaurant with an open fireplace.
Romantik Hotel Bülow Residenz ☆☆☆☆
This 4-star hotel is housed in an 18th-century structure beside the Elbe River, directly across from Dresden's famous Old Town neighborhood. The Romantik Hotel Bülow Residenz charges a fee for admission to the nearby Bülow Palais spa and fitness center.
The Romantik Hotel Bülow Residenz Dresden is one of Saxony's oldest manors. The apartments and suites in the Baroque style are lavishly adorned in scarlet and gold. Standard amenities include a flat-screen satellite TV and a seating area.
Every morning, a buffet breakfast is served in the beautiful restaurant, which features a chandelier, precious antiques, big panoramic windows, and a thick red carpet. In the summer, breakfast can also be served in the covered courtyard.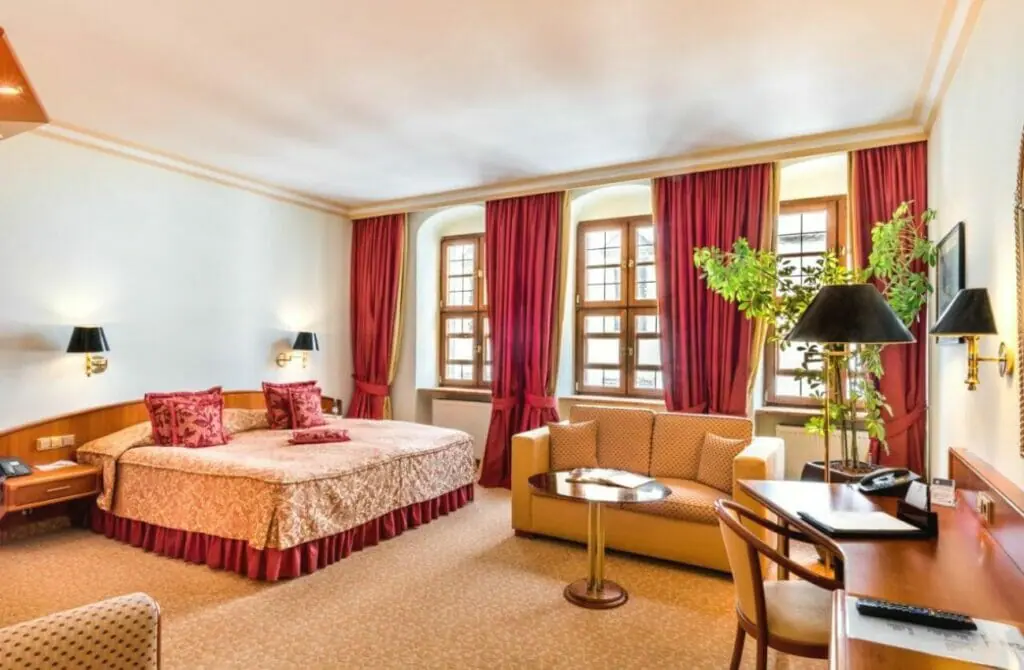 This fashionable boutique hotel is between the Kraftwerk Mitte cultural district and Dresden's world-renowned Baroque sights. The rooms of Hotel Indigo Dresden – Wettiner Platz are completely unique. Each air-conditioned room comes with a flat-screen TV, a desk, and a private bathroom with a shower.
The Hostel Mondpalast Dresden offers a broad variety of rooms, which have all been designed in compliance with the many signs of the zodiac. There are single to ten-bed rooms available. Some of the smaller private rooms have their own showers/toilet. The beds have already been made. The nicest part is that the hostel has its own bar! All there is to do after the nightcap is go into bed upstairs.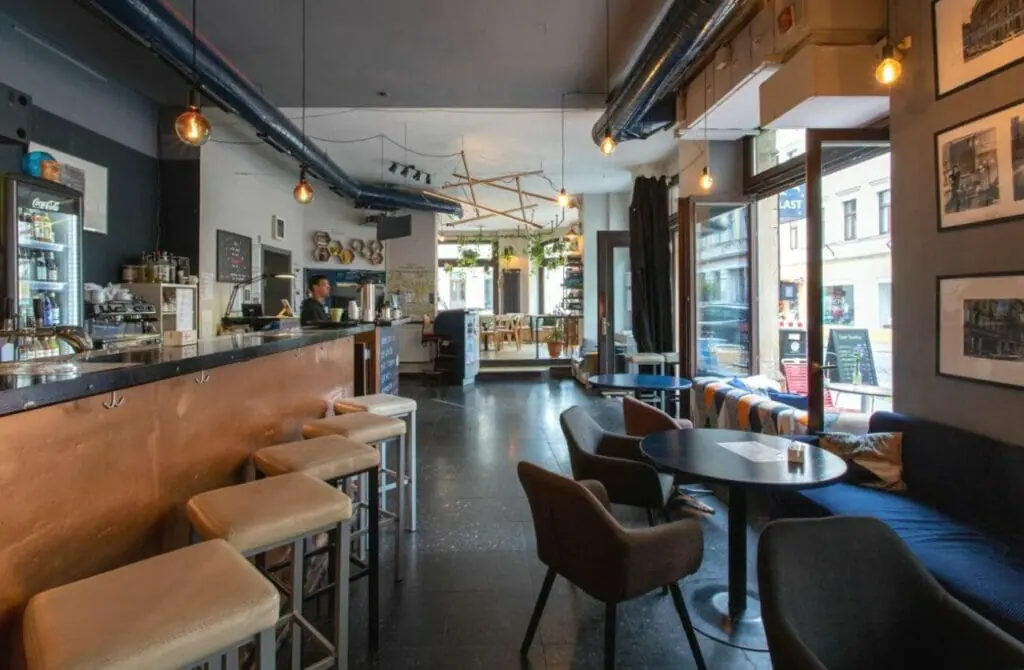 Gay Nightlife in Dresden
Let us preach to you babe: Gay Dresden knows how to party! With a thriving LGBTQ+ scene and an array of gay-friendly bars and clubs, this city is a must-visit for anyone who loves to let their hair down and have a good time.
The gay nightlife in Dresden is centered around the Neustadt district, which is known for its trendy bars, colorful street art, and alternative vibe. Here, you'll find everything from cozy pubs to lively clubs, all of which are welcoming to the LGBTQ+ community.
Things tend to pick up around 10 pm, with many bars and clubs staying open until the early hours of the morning. So, if you're ready to paint the town pink (or any color of the rainbow, really), be sure to check out the gay nightlife in Dresden. And remember, the party doesn't stop until the sun comes up!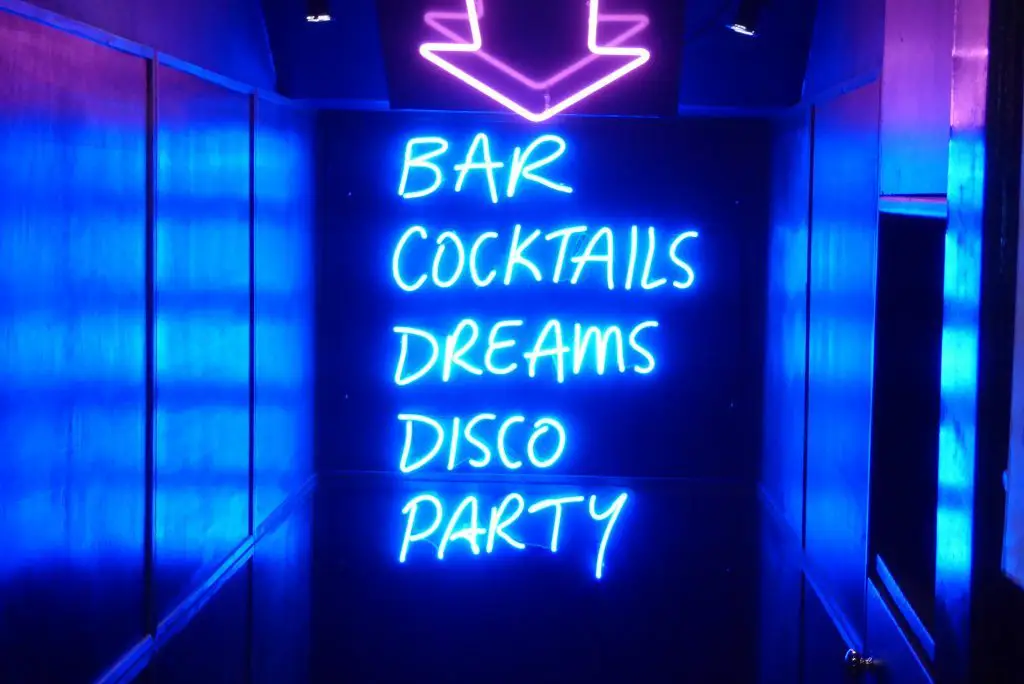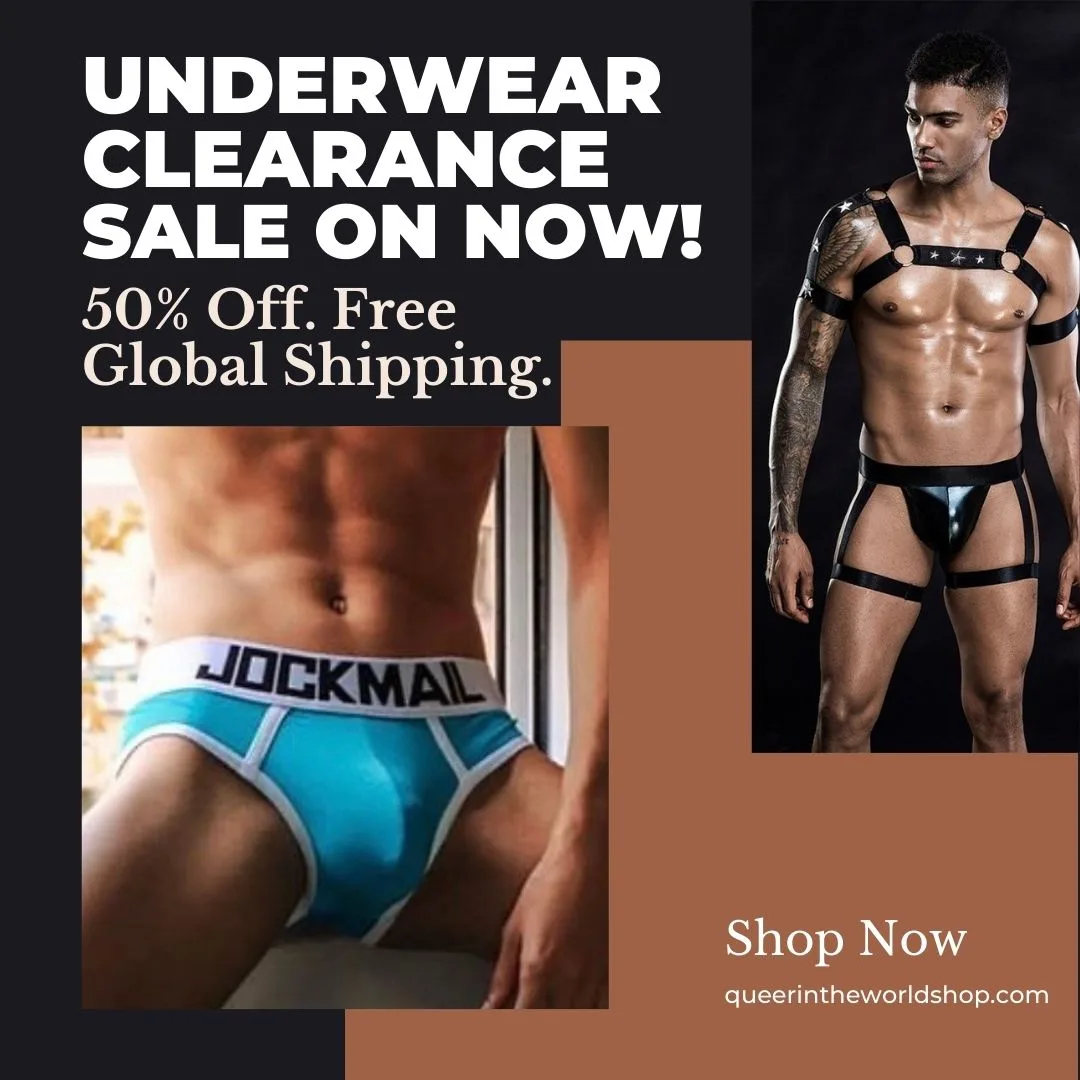 Gay Bars and Clubs In Dresden
Bar Saxxim is a relatively new addition to Dresden's LGBTQ+ scene, having opened its doors in October 2018. It is located in the trendy district of Dresdner Neustadt, which is known as the Bermuda Triangle due to its vibrant nightlife and bustling day-to-day business.
Bar Saxxim provides a welcoming atmosphere for the gay community, offering a range of drinks including beer, wine, champagne, coffee specialties, and delicious cocktails. The music selection is eclectic, featuring everything from hits, rock, pop, and music from the 20s to the 2000s, along with current chart-toppers in the evenings.
The bar prides itself on being a welcoming space for everyone, regardless of their sexual, political, religious, or ideological beliefs, gender or age. The only requirement is that all patrons show respect and decency towards each other, creating a friendly and inclusive environment.
This charming gay café-bar in the trendy Neustadt district is a great place to relax with friends or meet new people. With its cozy and inviting atmosphere, it's a perfect spot for a coffee or a cocktail. The menu features a great selection of snacks and drinks, including some of the best cocktails in the city.
The finest thing to do in Dresden for something truly exceptional is to attend a drag show with an exciting and energetic atmosphere. And for this, Boys gay bar is the perfect place to go.
On weekdays, it's relaxed and cozy, so you get to know everyone inside, and on weekends, it rapidly fills up with a vibrant audience that comes for the karaoke performances and great queens who know how to make everyone feel welcome. Very welcoming and popular for trans people.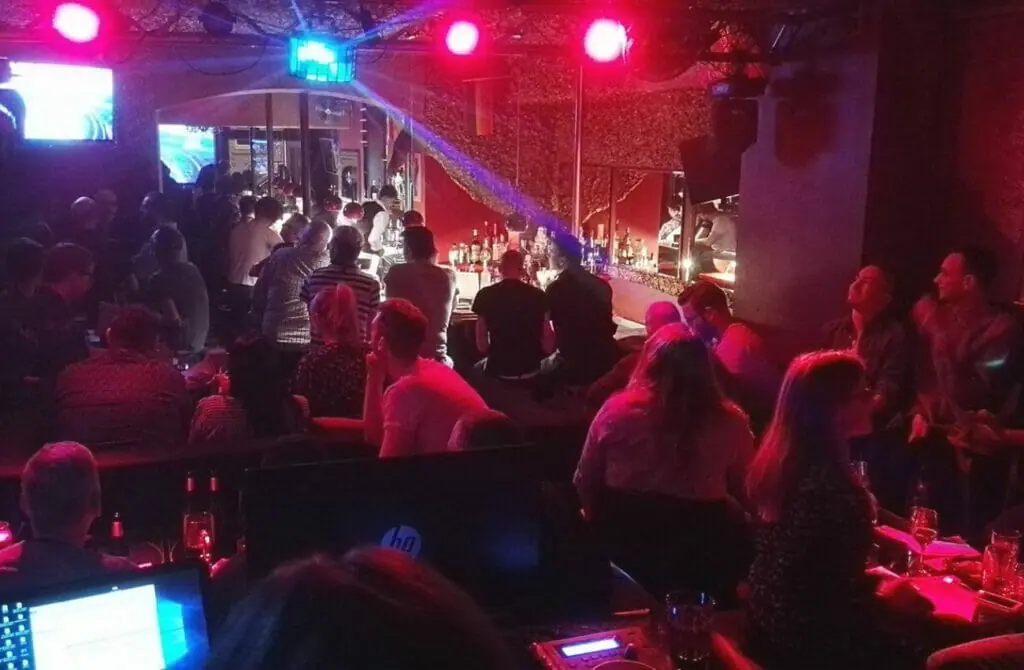 A little gay club in Dresden that provides excellent service, entertaining music, reasonably priced beverages, and gorgeous men. Katy's garage is suited for a fantastic party night. Created in December 2001 in the former tire workshop, 'Geneuß', this spot lives up to its namesake. So you can find used car doors, exhaust pipes and spare parts on the wall. There is a full lounge built from former bus seats. Another decorative highlight is a red Mini Cooper parked on the roof.
BUNKER is a renowned club in Dresden, particularly popular among gay men and visitors to the city on weekends and before public holidays. With three different floors, the club provides a perfect setting for meeting new people, making connections, and possibly even finding a date.
At the heart of BUNKER is the bar room, which is where guests can make their first contacts and start to explore the different rooms. The decor and equipment in the club are exceptional, featuring camouflage-style and military clothing, uniforms, and special equipment for play. The experience is truly unique, and one that is hard to come by in any other club.
BUNKER is known all over Europe for its cozy and original setting, which is why it is highly regarded by many. The club is a place for easy-going people and welcomes everyone who wants to have a good time. Don't be shy, just ring the bell at the entrance and step into this exceptional world of BUNKER.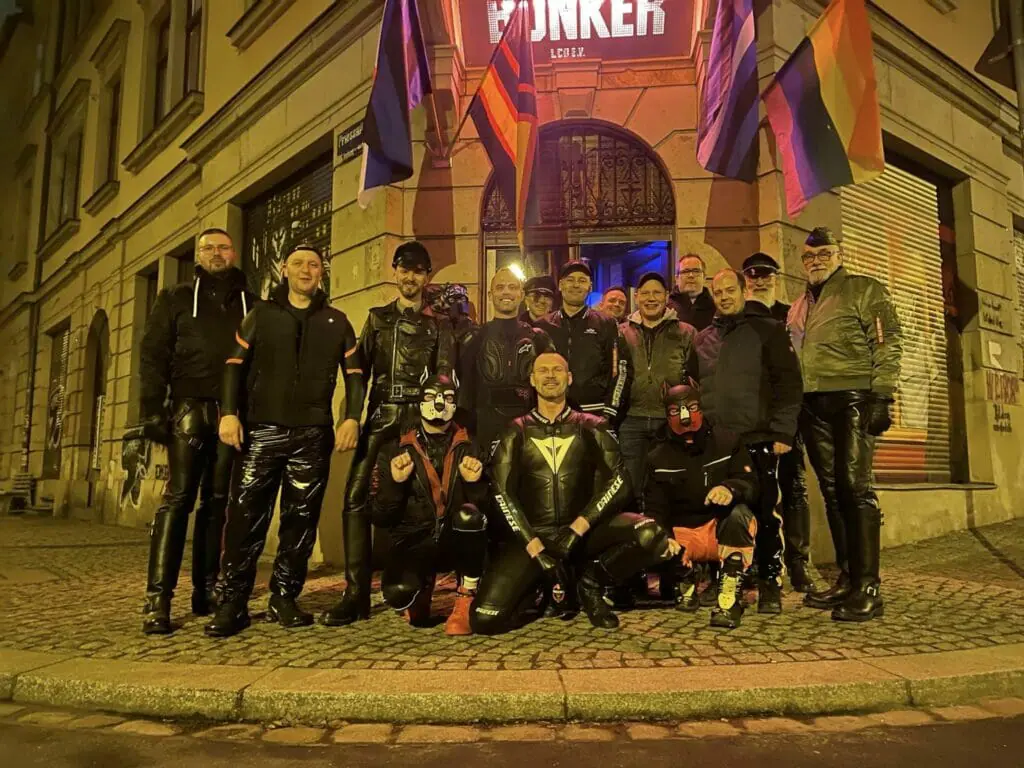 Gay-Friendly Bars and Clubs In Dresden
On the weekends, it is an amazing place to enjoy good drinks at an affordable price. The music will leave you dancing the night away with exciting DJs. Excellent ambiance, fantastic music, fantastic beverages, and entertaining patrons.
A chill venue for late-night meals and wonderful beverages with no attitude or prejudice toward the LGBTQ. Gisela is one of Dresden's top hotspots; you might visit once or three times a week in full leather, dress up, dress down. Gay-themed parties are hosted here regularly, so be sure to check their website for details.
A lovely, vintage-style mixed-crowd cocktail bar with live music, DJs, and a welcoming atmosphere. The entire place has a cozy friendliness to it, complete with comfortable couches and sofas, giving the space a special touch.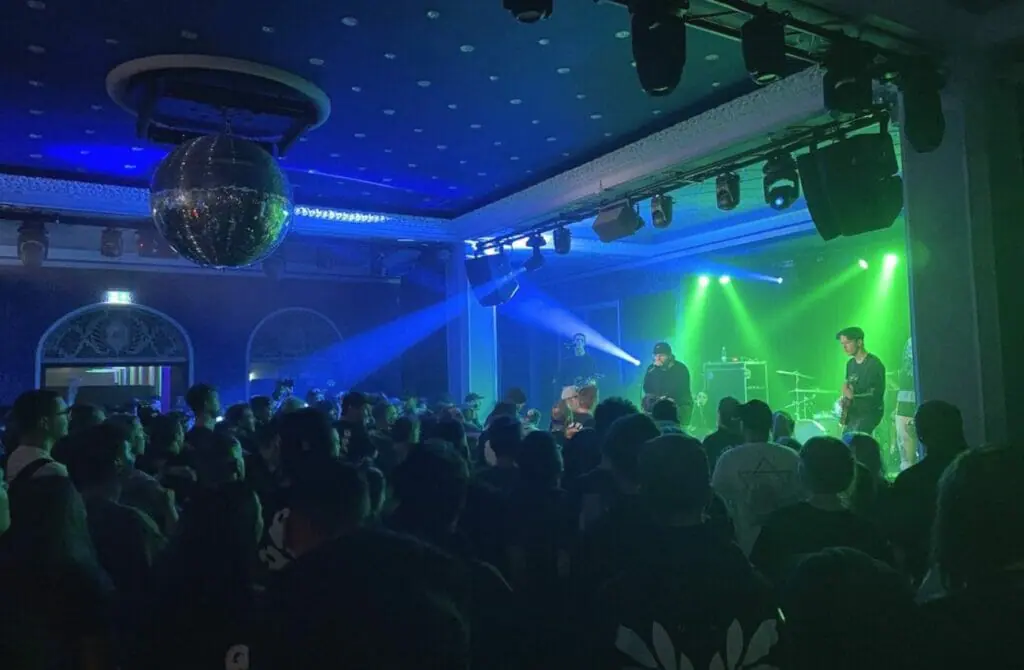 One of the city's few traditional gay-friendly pubs is set in Hotel Innside by Meliá in the old town of Dresden. Because of its loyal customers, locals of all ages frequent this vibrant bar. A diverse mix of music is played, making it the ideal place to unwind on a quiet afternoon or kick off your night.
Felix Bar & Lounge
This chic rooftop bar is located on the top floor of the Hotel Gewandhaus Dresden and boasts stunning views of the city. With its stylish décor and cozy atmosphere, Felix is the perfect spot for a romantic date or a night out with friends. The bar features an extensive wine and cocktail menu, and the bartenders are known for their creative concoctions. Don't miss the chance to try their signature drink, the "Felix Royal" – a refreshing blend of prosecco and elderflower liqueur.
Balcony Of Restaurant de Saxe
Located on the terrace floor of the Steigenberger Hotel de Saxe, Spagos is one of the most popular rooftop bars in Dresden. With its trendy decor and panoramic views of the city, this is the perfect spot to enjoy a drink and take in the breathtaking scenery. The bar offers an impressive selection of cocktails, wine, and beer, as well as a small but delicious menu of bar bites. Spagos can get quite busy in the evenings, so it's best to make a reservation in advance to secure your spot.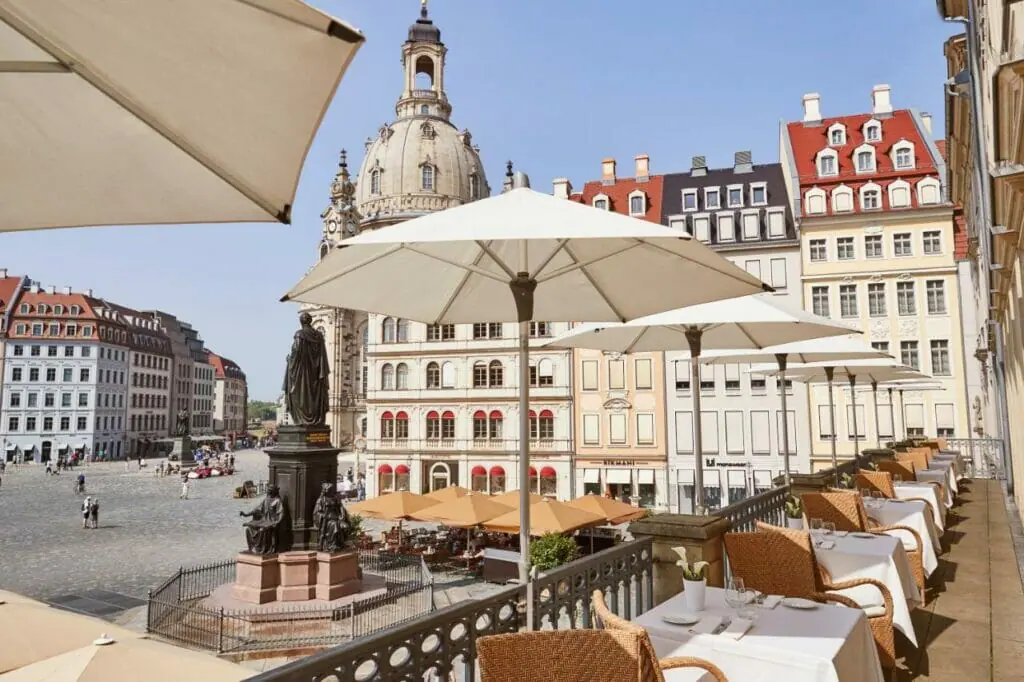 This cozy jazz club is the perfect spot for those looking for a more relaxed evening. With its intimate setting and great selection of live music, it's a popular destination for locals and tourists alike. Whether you're a jazz fan or just looking for a laid-back night out, Blue Note Dresden is definitely worth checking out. Just don't expect anything quite as fabulous as Gay New Orleans.
Located in the Neustadt district, Club Paula is a popular spot for dancing and live music. The club's unique atmosphere and eclectic mix of music make it a favorite among gays and straights alike. With its cozy and intimate setting, it's the perfect place to meet new people and have a great time on the dance floor.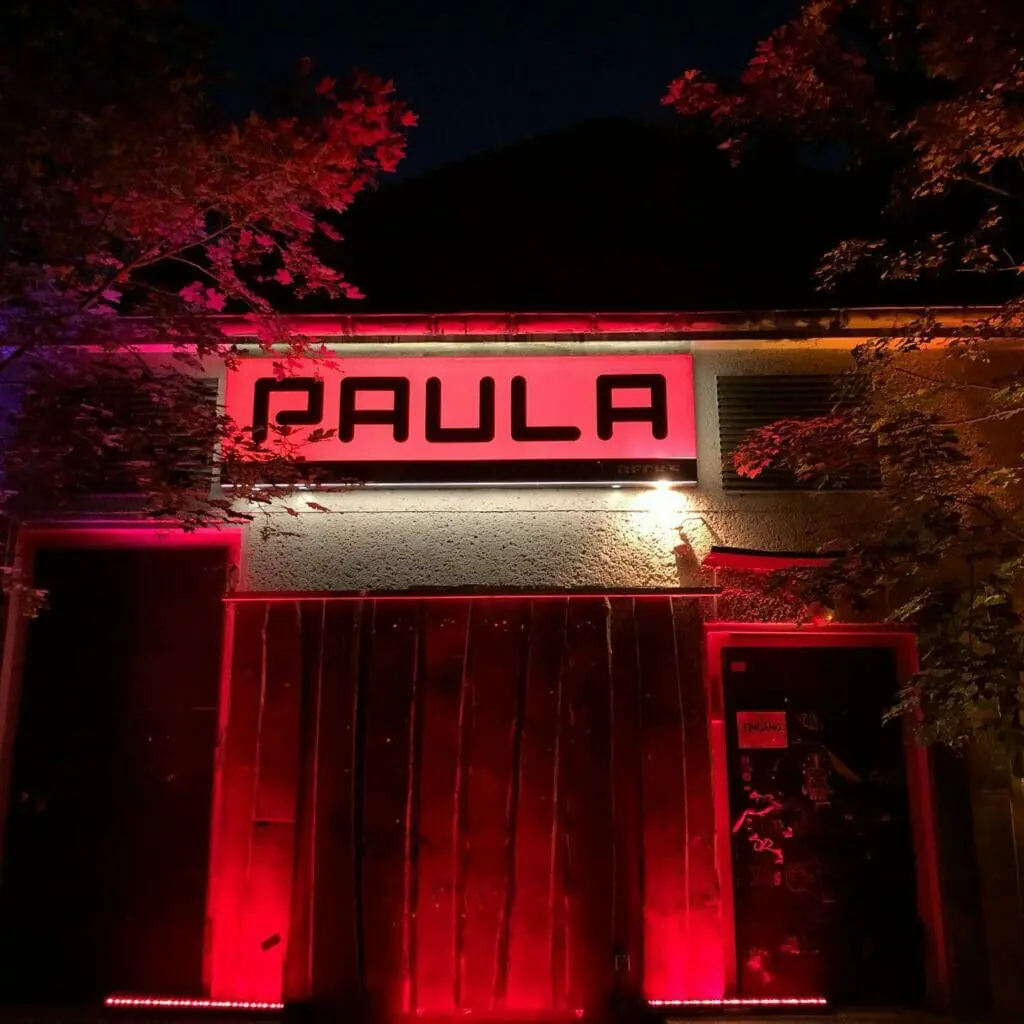 Cruising and Gay Saunas in Dresden
When traveling to a new city, it can be exciting to head out for more than just a stiff drink. One aspect of gay travel that many queer men enjoy is visiting gay saunas and cruising clubs and while Dresden is not as hedonistic as Amsterdam, Londo or Berlin, thankfully there are a few venues that offer a chance to meet new people, socialize, and engage in sexual activity.
Without resorting to gay hook-up apps or public cruising that is…
However, it's important to keep in mind that these sex-on-site venues around the world can vary greatly in terms of atmosphere, clientele, and rules, so it's a good idea to prepare yourself before visiting. If you are apprehensive, we advise studying our guide to visiting a gay bathhouse for the first time, which should help set your mind at ease, and always practice safe sex.
Additionally, it's important to be aware of and respect local laws and customs regarding gay venues and sexual activity. With a little bit of planning and an open mind, visiting the cruise clubs and sauna can be a fun and exciting part of your gay Dresden travel itinerary.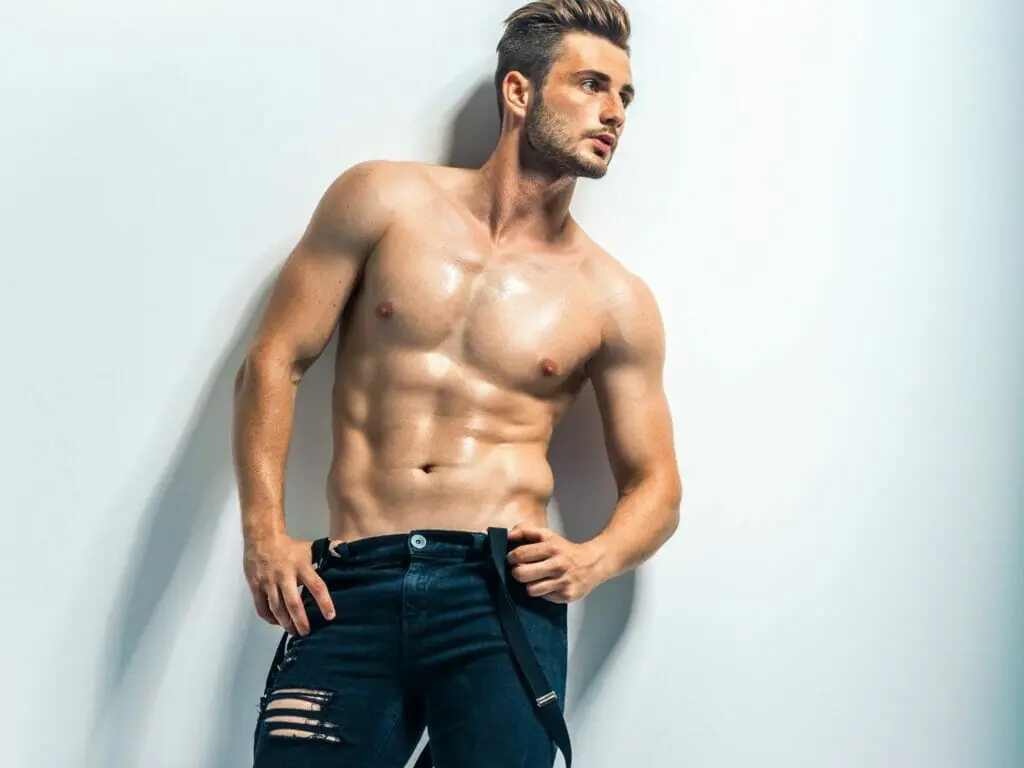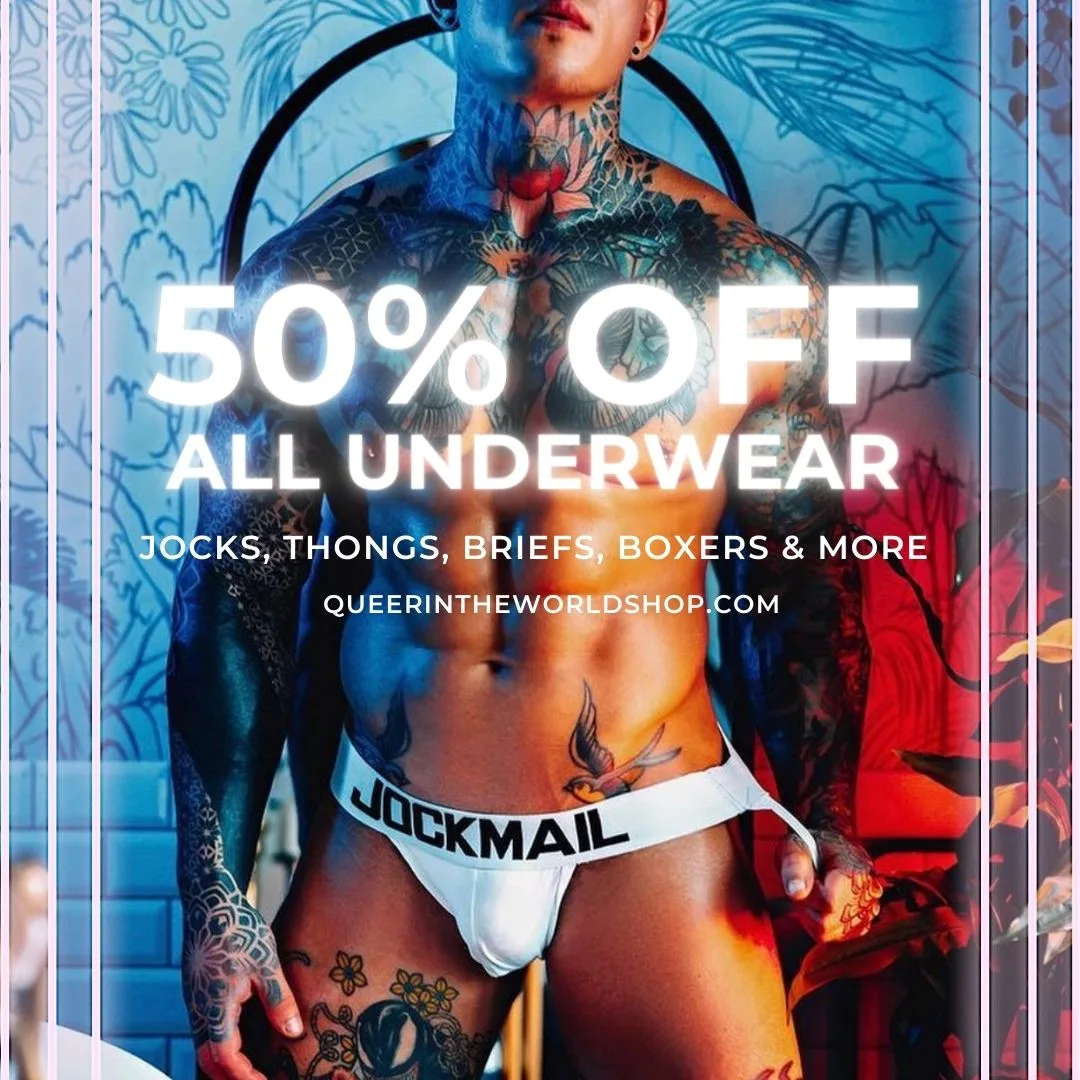 At whatever time of the year, Paradise gay sauna in Dresden has everything your heart could want if you enjoy solitude, tranquillity, and relaxation. Visit the expansive sun deck that is waiting for you in a paradisiacal setting.
A Finnish sauna's hourly changing fragrances and sauna infusions entice you to sweat at 90°C. In this location, there is a large labyrinth steam room‌. It leaves us at a loss for words and we are certain it will have the same effect on you but isn't that what paradise is supposed to do?
The best gay cruising in Dresden can be found in this busy location. A lively mixture of young and old, with a busy atmosphere. It can still be crowded after 11 p.m. on the weekends during peak hours. Every night of the week, there are different activities, ranging from kinky to naked and undies/briefs; all you have to do is make the best decision and move forward. Never a dull moment around here!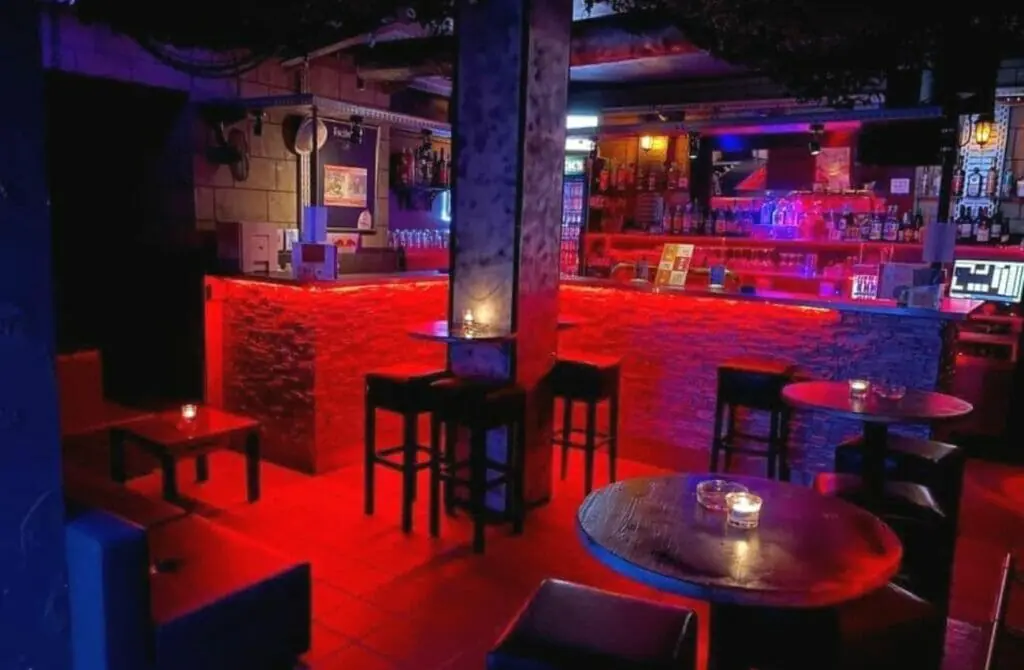 Gay Map Of Dresden
Finding it hard to envisage where everything is in Dresden? Hopefully, this queer-centric map helps where we have marked all the bars, clubs, parties, hotels, saunas, massages and more will help you stay in the spot best suited to you!