Located along the banks of the Waikato River, Gay Hamilton isn't necessarily known for hosting a large LGBT community. Yet, those that reside here are exceptionally open and passionate about their tight-knit rainbow alliance.
Despite their efforts and despite few queer exclusive venues, Hamilton has managed to forge a growing queer acceptance movement through regular meet-ups and other events. Thus you would be hard-pressed to meet someone or visit a venue that was not queer-friendly.
While the gay scene here may not be as flamboyant as in some other cities, it's definitely alive and kicking, with plenty of friendly locals who are keen to show you a good time. They might not have gay bars, but they have a gay sauna, Guyz Bathhouse (the only one outside of Auckland in this area) which draws men from across the Waikato region – and even from regional rival Tauranga!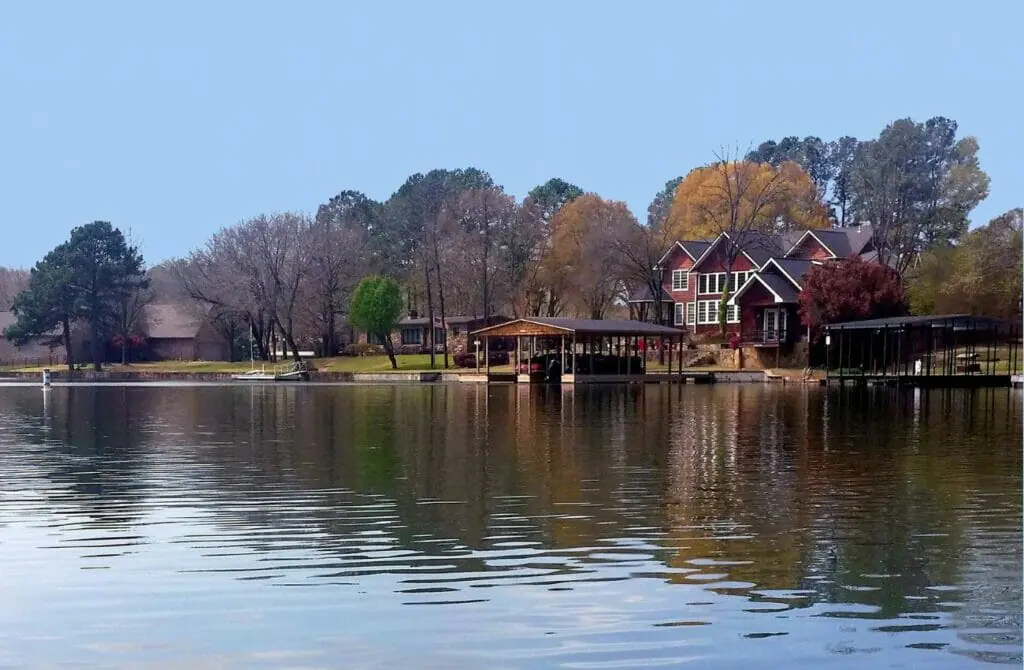 Hamilton is not just a city that exists for the nightlife experience; they have a rich history that goes way back to when Maori discovered New Zealand around 1250 AD. This remained the site for many villages and pa until European contact and settlement between 1800 – 1850 when the land was passed to crown ownership, and the city of Hamilton quickly built up.
Today it is a bustling city of 150,000 people, growing by 40,000 when students return to Waikato University. So you can expect a bustling cityscape of all types of people, the older permanent residents and the younger student crowd.
A must-see highlight is the Hamilton Gardens, which features a collection of themed gardens from different countries and historical periods. For those seeking adventure, the nearby Waitomo Caves offer a thrilling underground experience with glowing worms and subterranean rivers. Foodies can explore the local farmers' market or take a tour of the award-winning Zealong Tea Estate, where they can taste some of the world's best oolong tea. Hamilton is also a great base to explore the wider Waikato region, which includes the Hobbiton Movie Set, Raglan's famous surf beach, and the quirky yet fun Hamilton Zoo. For a bit of gay history, head to the Waikato Museum, which has an exhibit dedicated to New Zealand's first openly gay MP, Chris Carter.
All in all, Hamilton may not be the flashiest or most well-known gay destination, but it's definitely a honey pot of unique experiences and surprises.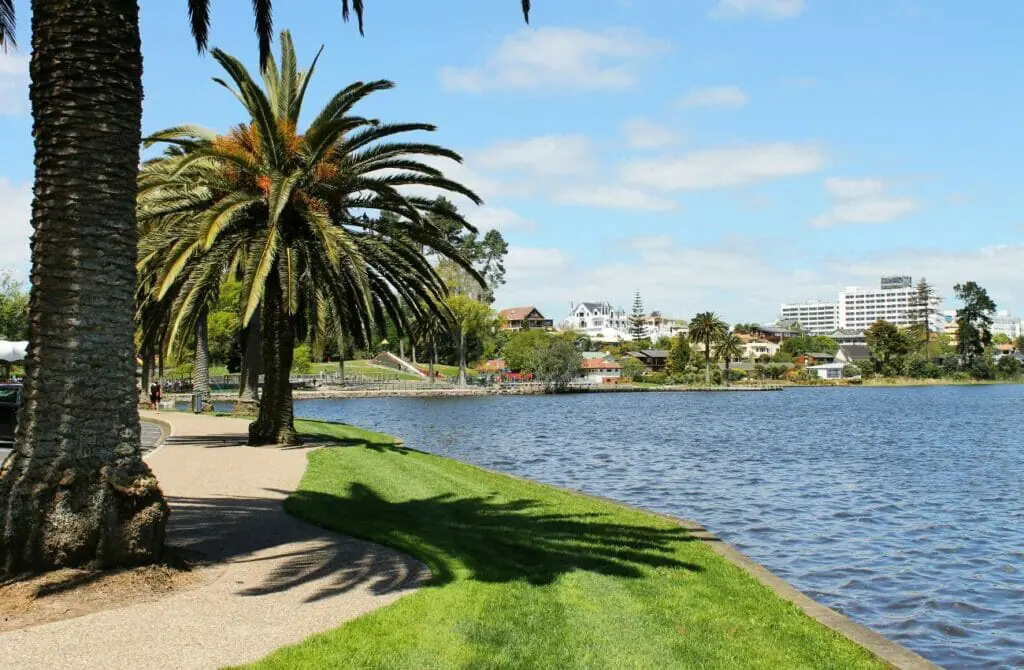 Attractions in Gay Hamilton
Hey there gorgeous, let me give you the tea on what to see and do in Gay Hamilton. This city is full of unique attractions that are perfect for all types of visitors, including us fabulous queers, and of course, no visit to Gay Hamilton would be complete without experiencing the local queer scene.
When it comes to food, Hamilton is a haven for foodies. You simply must try the local delicacies, such as the famous meat pie at the legendary Patrick's Pies or a savory burger at the Hood Street Grill. For those with a sweet tooth, the handmade chocolates at Bohemein Fresh Chocolates are a must-try. And if you're feeling thirsty, be sure to visit the award-winning Zealong Tea Estate for a cup of oolong tea.
Whether you're exploring the parks and gardens, checking out the local markets, or attending cultural events like the Hamilton Gardens Arts Festival, there's always something to see and do in this charming city. So come on over and experience the magic of Gay Hamilton for yourself!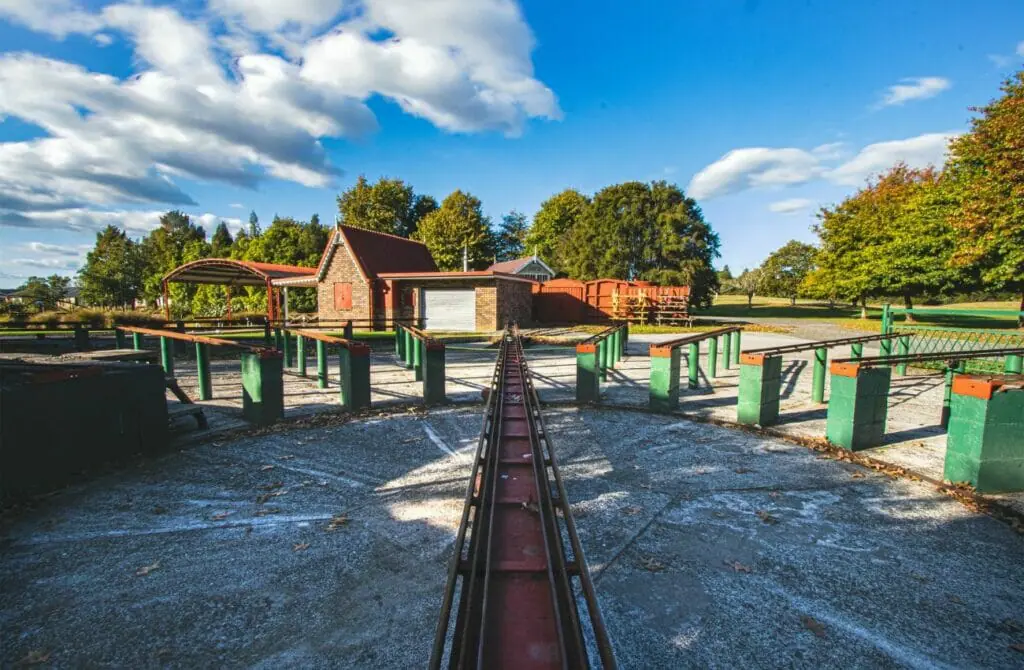 The Best of Hamilton Walking Tour
One of the most remarkable ways to experience the feel of a city is by foot when you can travel at your own pace and not be bothered by the crazy nature of faster forms of transport. Thus, taking a talking tour of Hamilton is a great way to begin stretching your feelers into the city to get a feel for how things run before you throw yourself entirely into the other experiences.
With a professional guide, you'll be taken to the many parts of the city, learning from the ground about the region's history, seeing incredible sights and buildings, and understanding how the city came to be how it stands today.
Hamilton Gardens Highlights Tour
Located along the Waikato River is an iconic Roman-style garden and villa stretching across 133 acres with over 21 themed gardens. Take a unique tour of Hamilton Gardens, as even a few locals have never experienced before, as you get insight into how Victorians used to collect plants from all around the world.
The results of these efforts have led to a rich experience of over 21 different biomes in the warm climate of northern New Zealand. Learn about how garden practices changed from European to the modern day and how they also varied across countries from Ancient China through to Ancient Greece.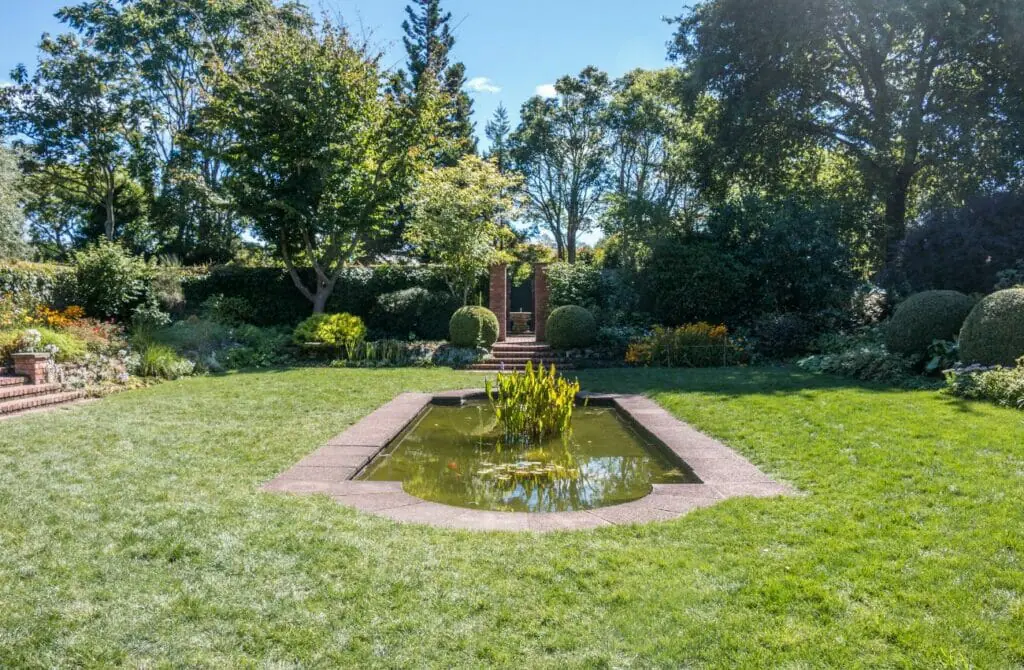 Taking the Romantic Tour of Hamilton could be a great way to bring out your heart-melting side if you are looking for the perfect date. Travel around Hamilton, visiting iconic sights and unraveling many tales of historical love and the often untold stories of a city's past.
This includes a tour of the Hamilton Gardens, visits to Maori pa, and a walk along the Waikato river. It is recommended to take this tour around St Valentine's Day, but be quick as this gets popular.
If you are after a fun-filled time, then Hamilton Zoo is a great way to spend some days with a visit to their zoological garden to see some fantastic animals. They have a range of exotic animals from your typical chimp, monkey, giraffe, tiger and rhino.
Still, they also have a few unexpected displays of the red panda, fishing cat and the sacred kingfisher. Whatever creature you hope to see, check out their website and then head down to the zoo at only $12 per ticket (which is a great deal compared to other zoos).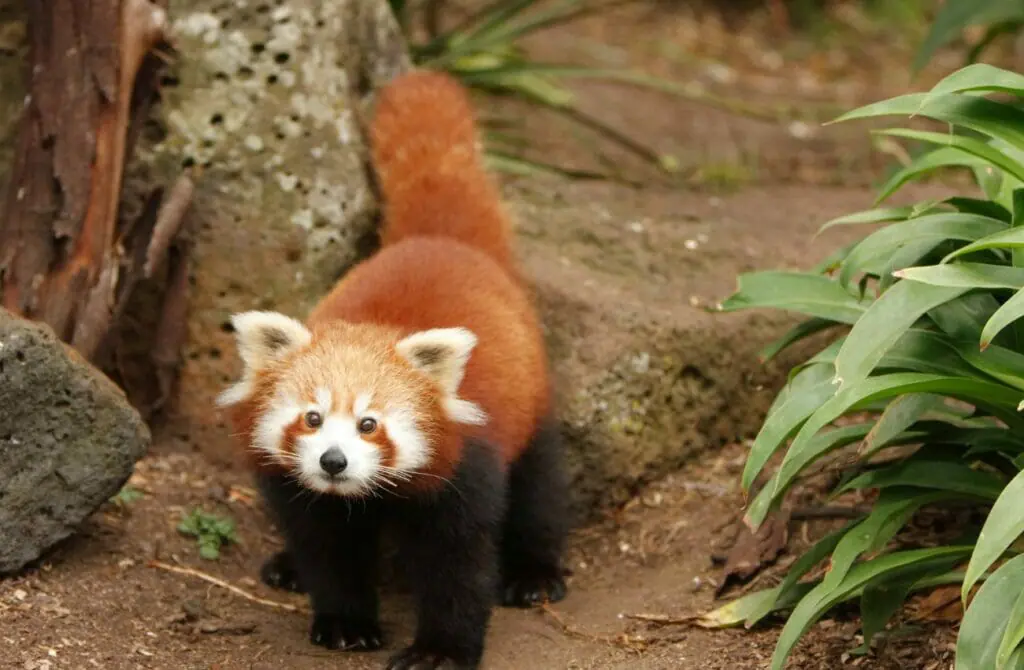 Waikato Museum Te Whare Taonga o Waikato
After glimpsing Hamilton's physical history from the streets and various tours, you should check out their local museum. They regularly rotate their exhibitions to show off different parts of their impressive and expansive collections, whether related to natural history or local history.
All are on show. Look at artifacts related to the earliest Maori inhabitants or the more recent European settlers, and imagine what it must have been like in the early days before planes and cars. History might be stories to some, but when you see the physical objects of the past, you are reminded it was once as real as you or I standing here.
The Temple was the first temple built in the Southern Hemisphere in 1919 for the Church of Jesus Christ of Latter-day Saints. This grand building is impressive, built on top of a grassy knoll with a high-reaching white spire; it would be hard to miss the sight of it when you are passing by the area.
Even if you are not religious, you should see this marvel for yourself, walk the grounds and even take a peep inside (during their opening hours).
Hamilton Lake Domain
With all the fabulous gardens around Hamilton to explore, it would be a crime not to check out the Hamilton Lake Domain. Located around Hamilton Lake in the center of the city, you can experience a relaxing promenade of wide-open green spaces along flat walking tracks and bike tracks that will allow you to get lost in the rich green scape.
The domain is open for all, with playground equipment for children and nearby picnic tables to have lunch. Moreover, if making your own is too much, a cafe resides inside to rest all ailments.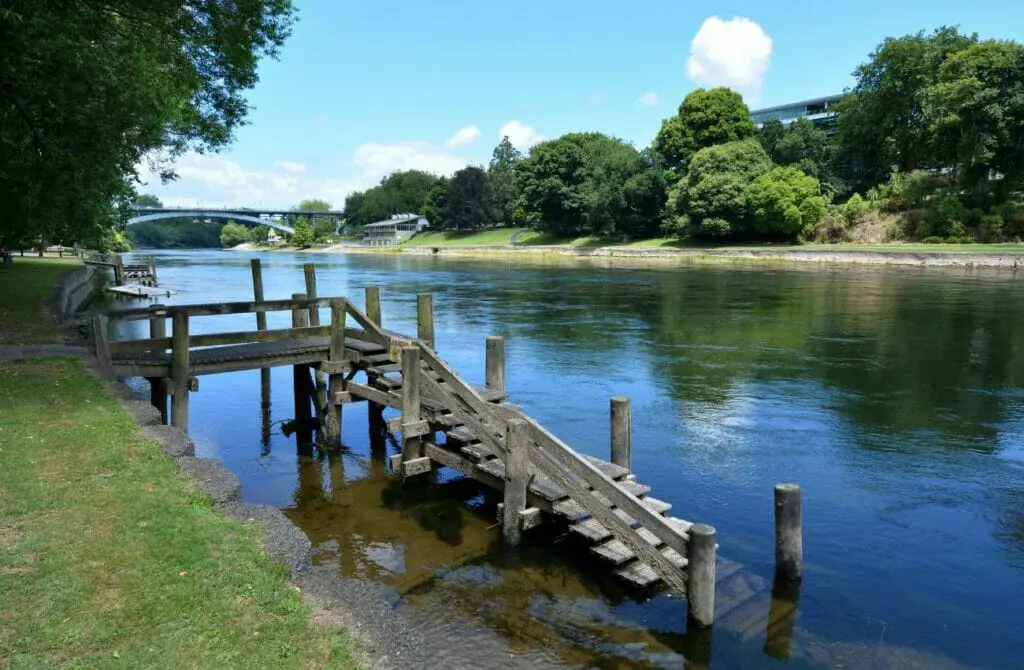 Classics Car Museum
One of Hamilton's most unconventional and famous tourist attractions is the Classics Car Museum. Here you can learn about and experience the history of cars with displays of authentic vehicles and associated artifacts from old oil cans to early advertisement signs. They collect not just cars or oil memorabilia but other old forms of transport, from motorbikes and scooters.
Just outside Hamilton is New Zealand's only tea estate open to visitors looking to try some great tea options. This Waikato Icon is one you can't miss even if you don't drink a lot of tea because most teamakers will argue that all can like tea; they just need to find the right flavor.
So look out on rows of tea plants and breathe in the fresh aromatic air, shop for tea in their store, go on a tea tour, book a special tea-drinking event, or just enjoy the atmosphere of their cafe in the heart of the tea fields.
Taitua Arboretum
One of many walking tracks in the Waikato, Taitua Arboretum is a popular bush walk outside Hamilton city.
This easy walk takes you through bushlands, high tree forests, and farmlands, along water features from picturesque lakes to gently gushing streams, and many places to picnic. If you want to make the rounds of walking tracks in the area, this is one you can't miss out on.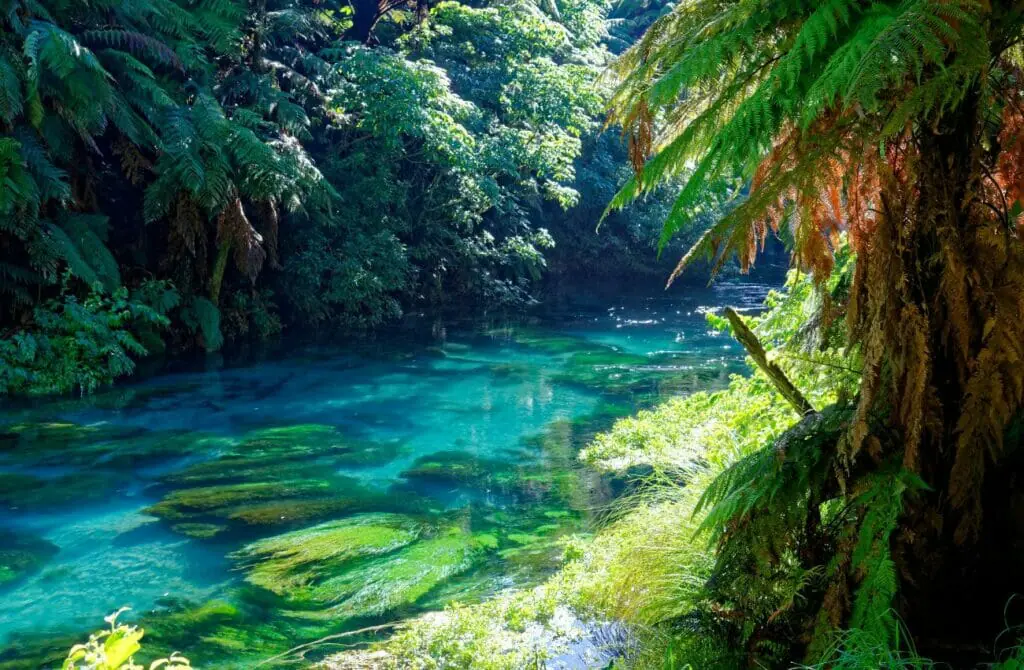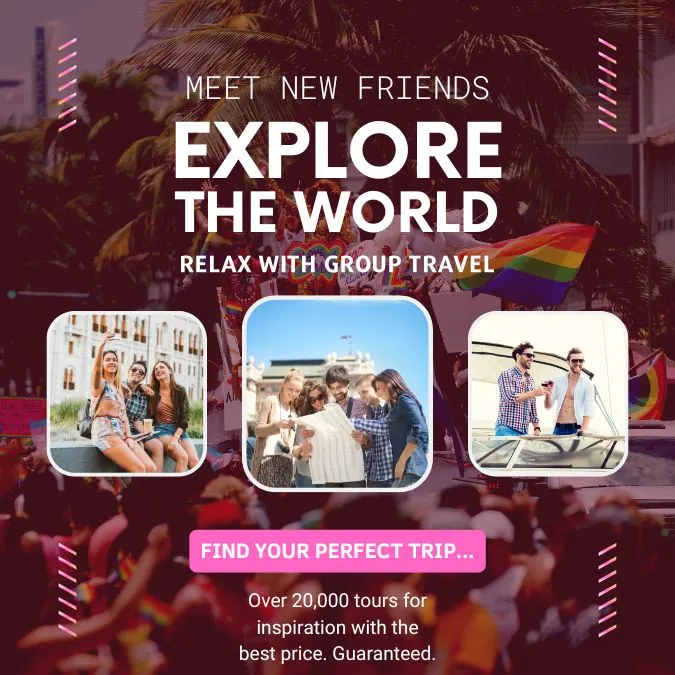 Gay-Friendly & Gay Hotels in Hamilton
Darling, let me spill the tea on what it means to be a gay-friendly accommodation. Simply put, it means that the establishment is welcoming and inclusive to all our fabulous LGBTQ+ guests. From non-discrimination policies to providing resources for queer travelers, these establishments go above and beyond to create a safe and accepting environment for all our rainbow comrades.
And let's not forget the extra bit of honey some of these places sprinkle on top! Some gay-friendly accommodations even go as far as providing amenities specifically for the LGBTQ+ community. Think rainbow flags and literature about local queer events and resources. Talk about going the extra mile, honey!
Now, while Hamilton may not have a designated gay hotel or resort, fear not! Our city is chock-full of fabulous hotels that are just as welcoming and inclusive to our LGBTQ+ guests. From top-notch facilities to ideal locations, we've rounded up the most popular gay-friendly hotels in Hamilton, according to our fellow fabulous travelers. And if none of these suit your desired budget or location, don't worry. Hamilton has hundreds of hotels and hostels to fit all your needs.
Trust us qween, Hamilton has got you covered!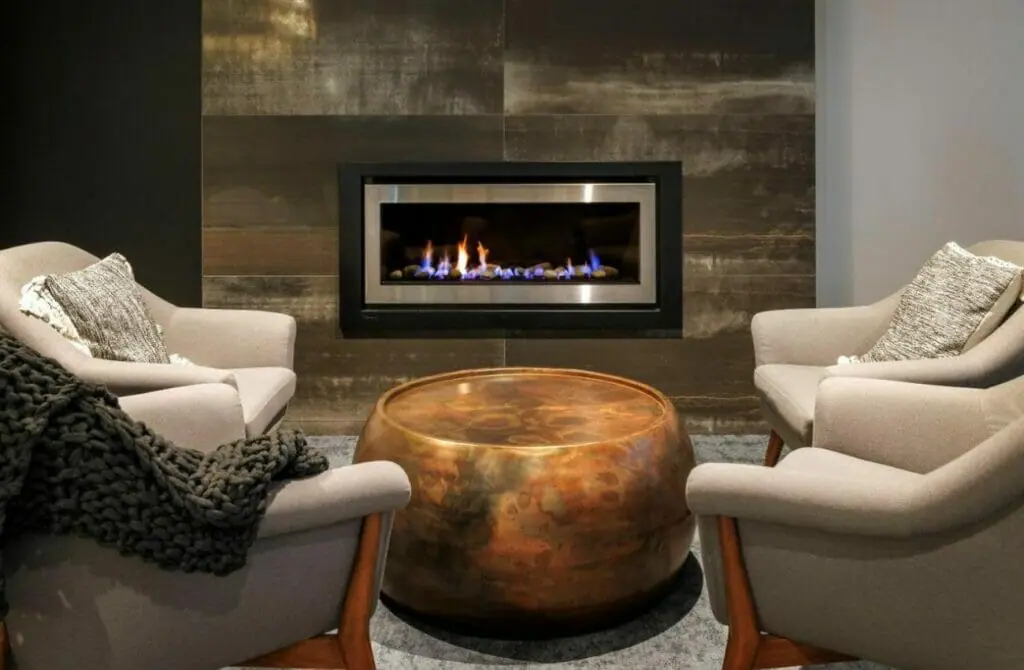 Hidden Lake Hotel and Apartments ☆☆☆☆☆
The Hidden Lake Hotel is a gem in the heart of Cambridge, which is a short walk to Waikato River and drives to Hamilton city. Surrounded by fantastic scenery and parks, you'll be treated indoors and outdoors as you can explore the garden of Te Koutu Lake. So what is on offer at Hidden Lake?
All guests get breakfast made from their on-site restaurant for a small fee, with the option of having lunch and dinner sorted, too, during the bulk of the day. They also provide free parking, golf, spa services, a hot tub, and an outdoor sitting area with a terrace and picnic areas.
Your rooms will be just as delightful as the shared facilities, with free wifi, a tv, room service, premium bedding, laptop surfaces, air conditioning, ensuites, business services, and a basic fridge and kettle for basic food preparation.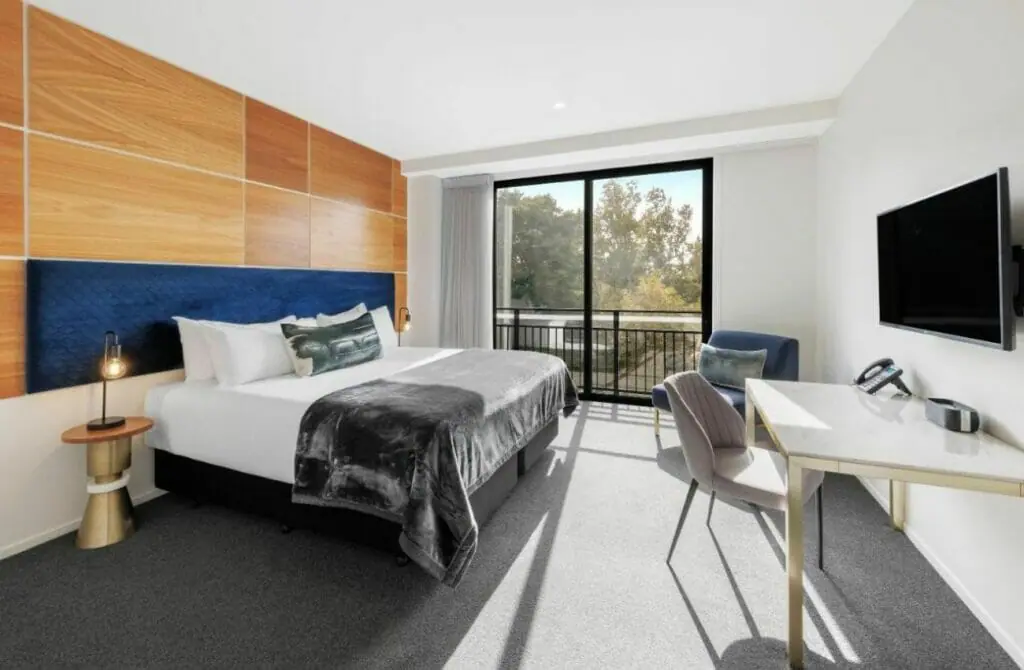 Located in the heart of Hamilton city along the Waikato River, Novotel Tainui offers the greatest hotel experience in the city perimeter. The rooms are modern, bright and designed for practicality, with laptop spaces, TVs, the best in modern bedding, an ensuite, great views, and a basic equipped kitchen with plenty of storage.
The shared services are where Novotel gets its high-class status as a premium choice for the traveler to Hamilton, with a choice of many fun-filled activities that make leaving the hotel a hard task indeed. Firstly the hotel has a restaurant and bar open all day and part way into the night, providing not just in-face orders but room service.
In addition, the venue has a fitness center and places to relax outside under the terrace or walk the garden. You can deny that all these benefits make staying at a high-end hotel way more enjoyable than a cheap one!
Quest, located in central Hamilton city, is an amazing choice for accommodation as it is close to all the basic city nightlife attractions, with the bus or street just a short walk away. But those want to wish to drive everywhere don't need to fear, as Quest has on-site parking for all guests for an extra fee.
Although you have to pay for wifi and breakfast, the hotel has a fitness center, and its central location helps you save on transport costs!
The rooms are where you'll spend most of your time at Quest, but you don't need to be concerned as they provide affluent space and great services to ensure your stay is as stress-free as possible.
You get a fully stocked kitchen with all the basic appliances and food-prep spaces, the beds are divine, the views stunning, and the ensuites brilliantly warm for a hot bath or shower. The highlight of this place is the location and the full kitchen.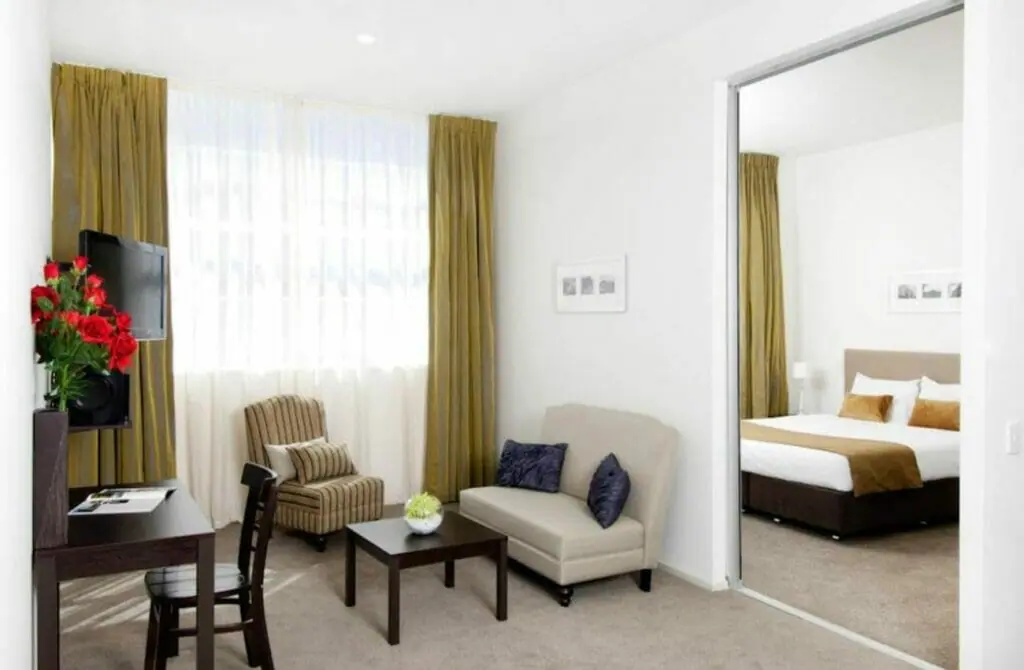 This three-star experience in the heart of Hamilton is an excellent option for those who want simple but with a hint of class. The venue provides conference space and rooms for conference attendees and being so close to the stadium, it is a popular place for rugby fanatics.
However, for those here to just make the most of the central city location, the hotel also hosts a bar and restaurant, dining hall, meeting rooms, free parking, and free wifi.
If these elements weren't enough to sell you on the idea, the rooms provide quality services to keep you well-rested. Not just providing the essential furnishings of bed, ensuite, kitchen, and desk, but addon comforts including airconditioning, complimentary toiletries, and a tv.
This is a prime location for seeing Hamilton from the ground and catching a game at Hamilton Stadium. Who knows, maybe the All Blacks will be playing!
The Ibis Hamilton is a stellar three-and-a-half-star package located in the middle of Hamilton, close to the Waikato River, Sky City and other popular attractions. Not only is it eco-friendly, but they also have an on-site I-BISTRO restaurant offering a great selection of dishes for fine dining or providing refreshments in the dining area.
They also have exquisite rooms with all the basics with added extras, including a tv, desk, ensuite, and basic kitchen with fridge and kettle. So for a steal of a price, you can't go wrong!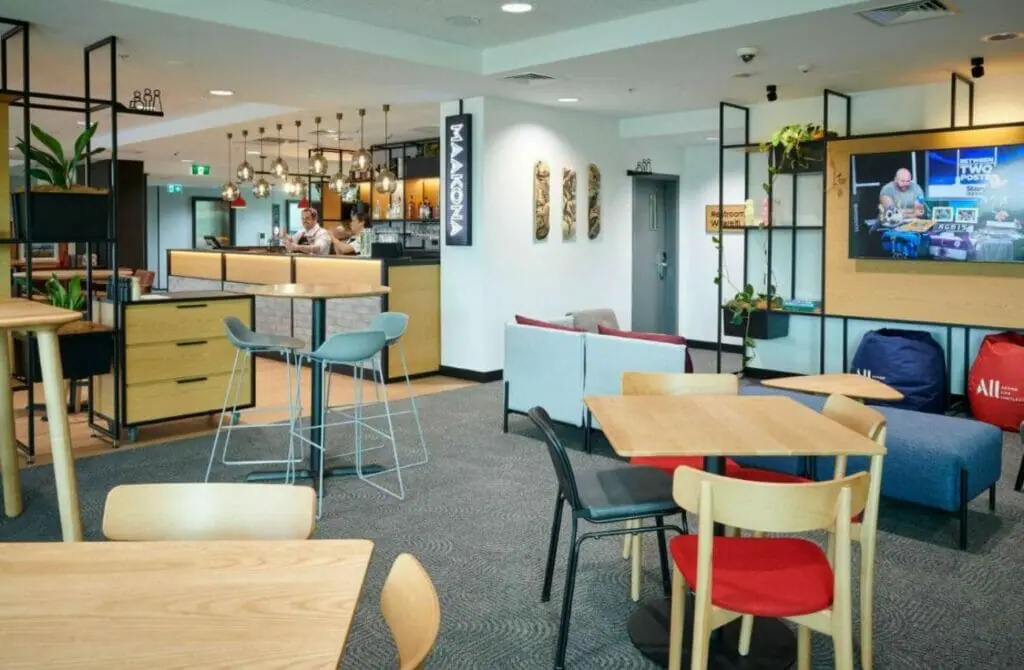 Gay Nightlife In Hamilton
You can start your gay night in Hamilton in many ways, but if you are adamant about making it as gay as possible, you'll need to make sure your phone is charged, and you have some matches set up on the various dating apps.
Unfortunately, Hamilton doesn't have any gay bars at the time of writing (they keep closing down sadly!) or big showy displays of the rainbow at any of their nightlife venues, but many of the greatest venues you will be happy to know are still exceptionally gay-friendly.
So take a friend or date and experience what can still be a queer-filled night.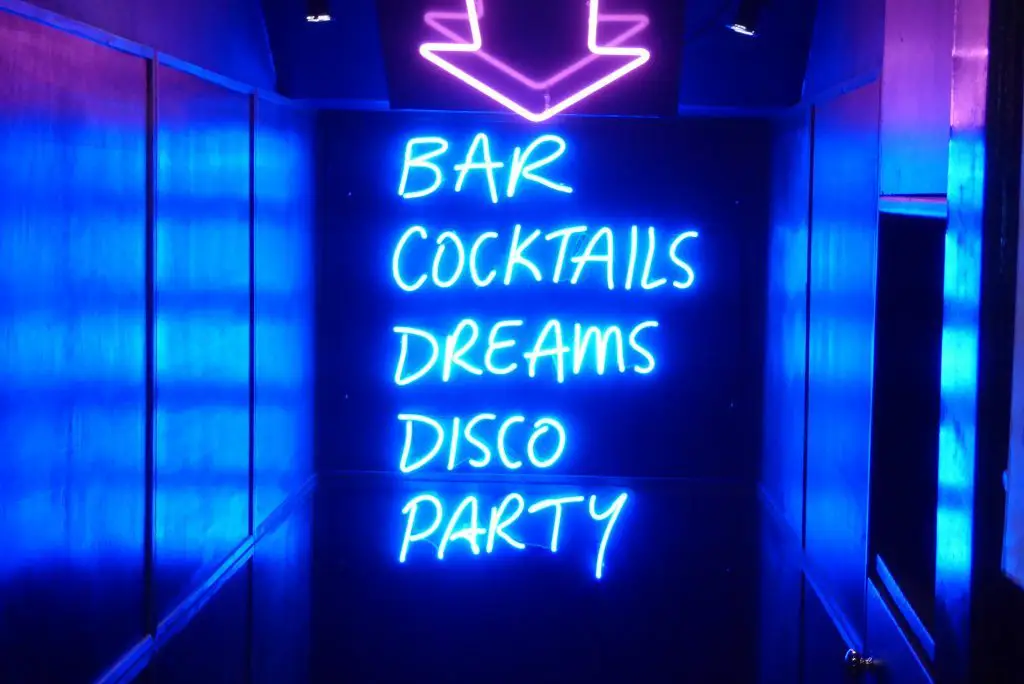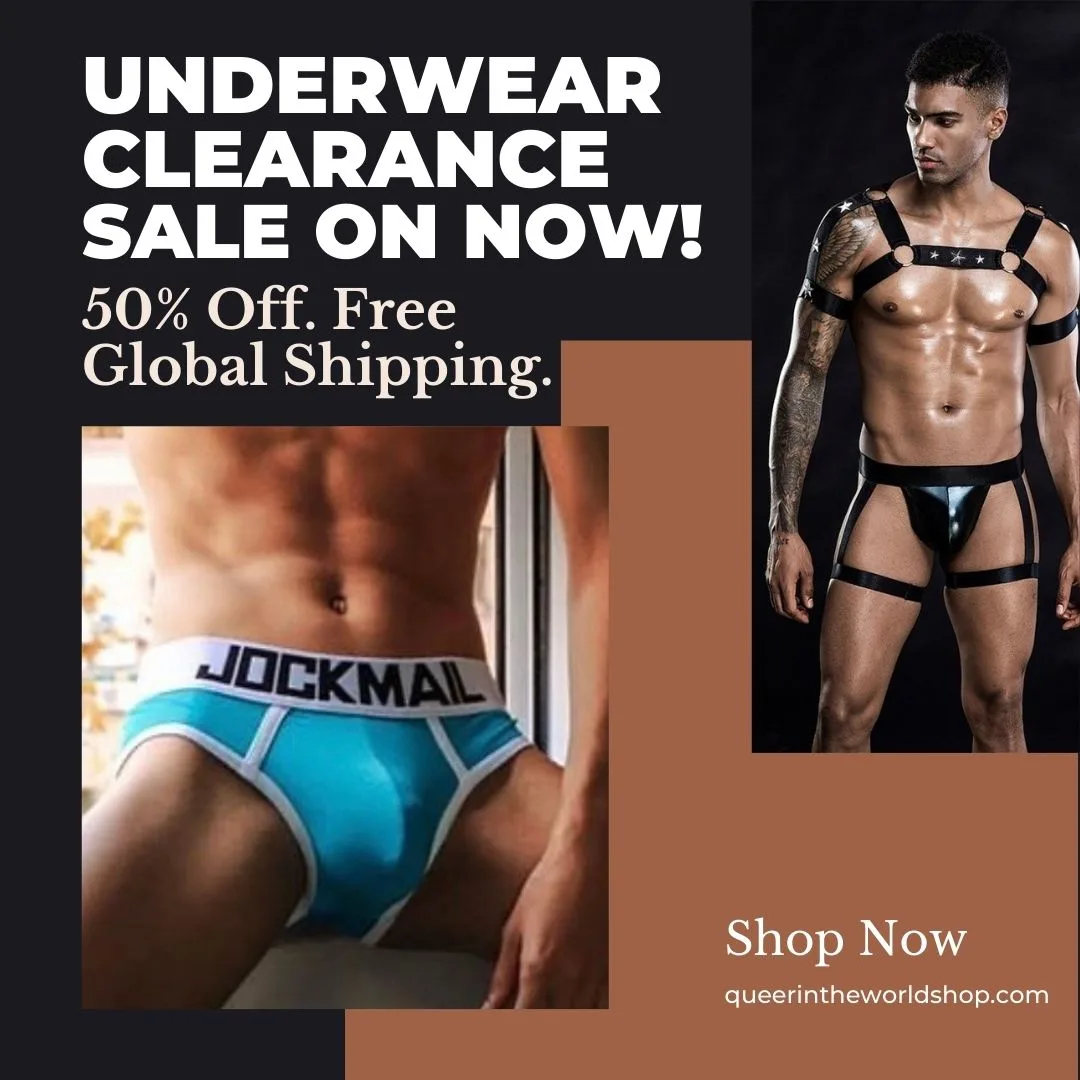 Gay Parties & Gay Clubs In Hamilton
Since 2005 the Rainbow Hub has been there supporting the Rainbow community of Waikato with informative tools to educate and support those inside and outside their targeted demographic. Best of all, they are non-profit and genuinely want to see a change in the improved lives of queer people.
The official Lesbian club of Waikato is large, active and growing as they organize many social meet-ups. From walking events to light coffee or dinner, you can expect a wide range of occasions and experiences open to lesbians from all walks of life.
Calling all LGBTQ+ travelers! If you're looking for an epic Pride event in New Zealand, look no further than Hamilton Pride. Held annually in the heart of the Waikato region, Hamilton Pride is a celebration of love, diversity, and acceptance that draws in thousands of people each year. This week-long event typically takes place in March and includes a range of activities, from community picnics and film screenings to drag shows and dance parties. The highlight of Hamilton Pride is undoubtedly the colorful parade, which winds its way through the city center and showcases the best of queer culture.
But Hamilton Pride is more than just a fun party. It's a vital opportunity to support the global LGBTQ+ community and connect with other like-minded individuals. The event started in 2015 as a grassroots movement and has since grown to become one of the most important Pride events in New Zealand. By attending Hamilton Pride, you're showing your support for LGBTQ+ rights and helping to create a world that is more accepting and loving for everyone. So pack your rainbow flag and get ready to dance, march, and connect with other queers from all around the world. Hamilton Pride is an event not to be missed!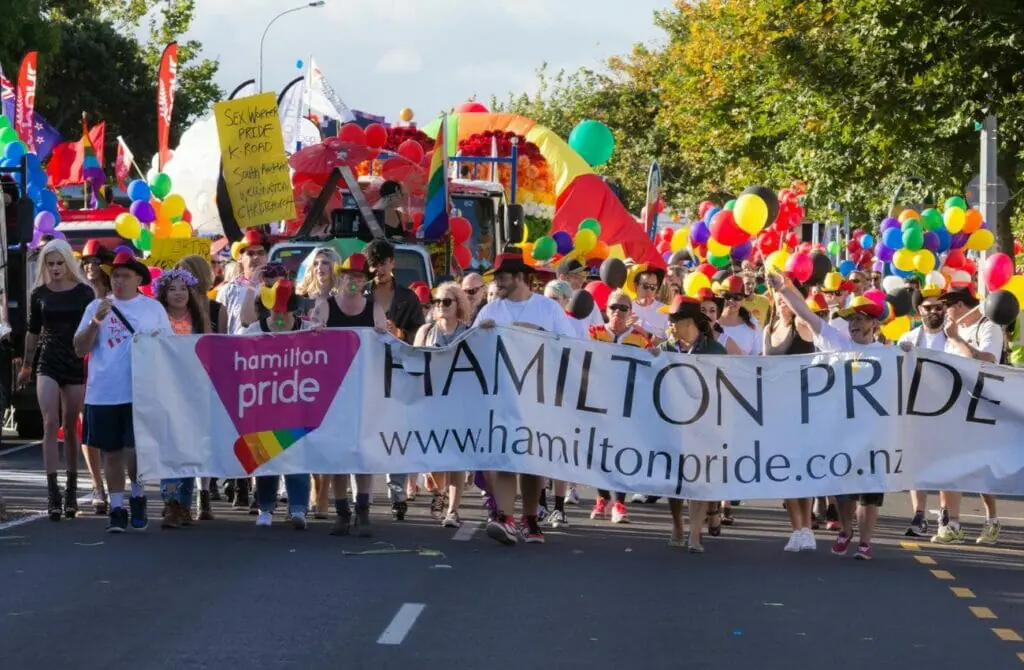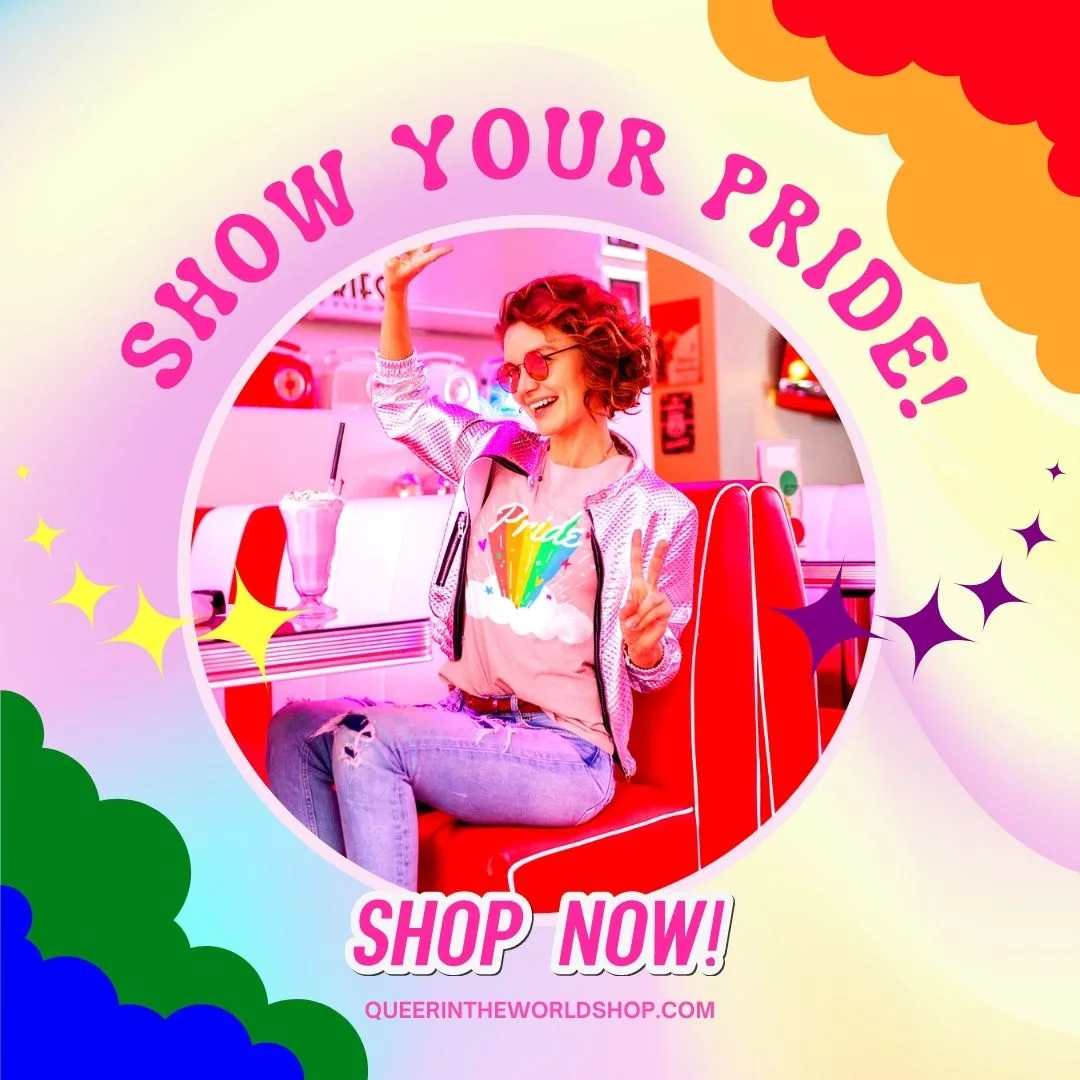 Other Gay-Popular Nightlife Spots In Hamilton
If you're after a top destination for the best-crafted beers, cocktails and wines, then you are in good hands with the Wonder Horse. This craft bar is located in the heart of Hamilton, not far from the other top city nightlife destinations.
Enjoy a relaxing drink as you sit amongst walls of raw brick, wooden beams, cozy seating and an easy talking level of background music or conversation. You can begin your night here with the first round of drinks and a snack or come here as the final destination to wind down before you head back to your hotel for a nap.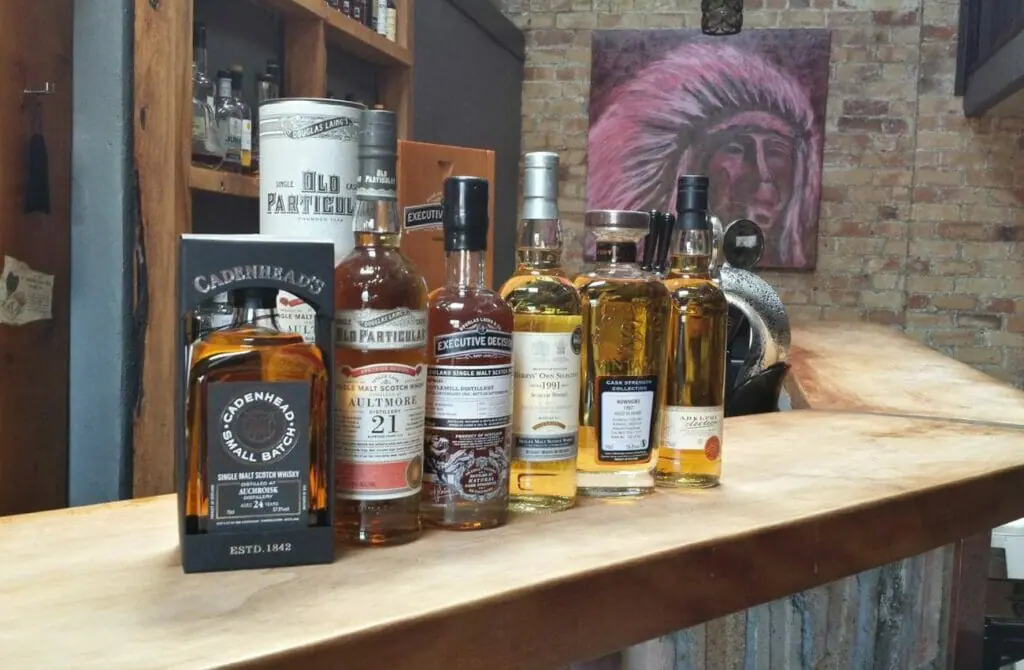 This gay-friendly dance nightclub is located in the town center, close to the museum and Waikato River. 'Shaking the foundations of 5 Hood Street since 2011' is the most popular and lively dance club in town, and for a good reason.
Every night is a party and promises to be different than the last, with themed dance nights, live music and rotating DJs. They want the space of dance halls in the city to remain free, so it is free entry and optional to purchase a drink.
Code is a bar and nightclub located in the town center on Hood Street, not far from the other famous dance clubs in the area. Being gay-friendly, this is a popular place for the queer community to congregate and enjoy an early evening drink or to merge on the dance floor much later to take full advantage of the live music.
They like to chop and change their night events from DJs to karaoke, ensuring all get their moment to shine under the spotlight!
Nivara Lounge is an incredible live music venue in an underground retro lounge with only the best off-the-beaten-track sounds, live music and other entertainment shows, and the promise of great crafted beers and wine.
This laid-back venue is exceptionally gay-friendly and open to all that feel they were born a couple of decades too late. As part of their live entertainment, you might be lucky to catch a burlesque show or a solo performance from a local rising music star from the Waikato.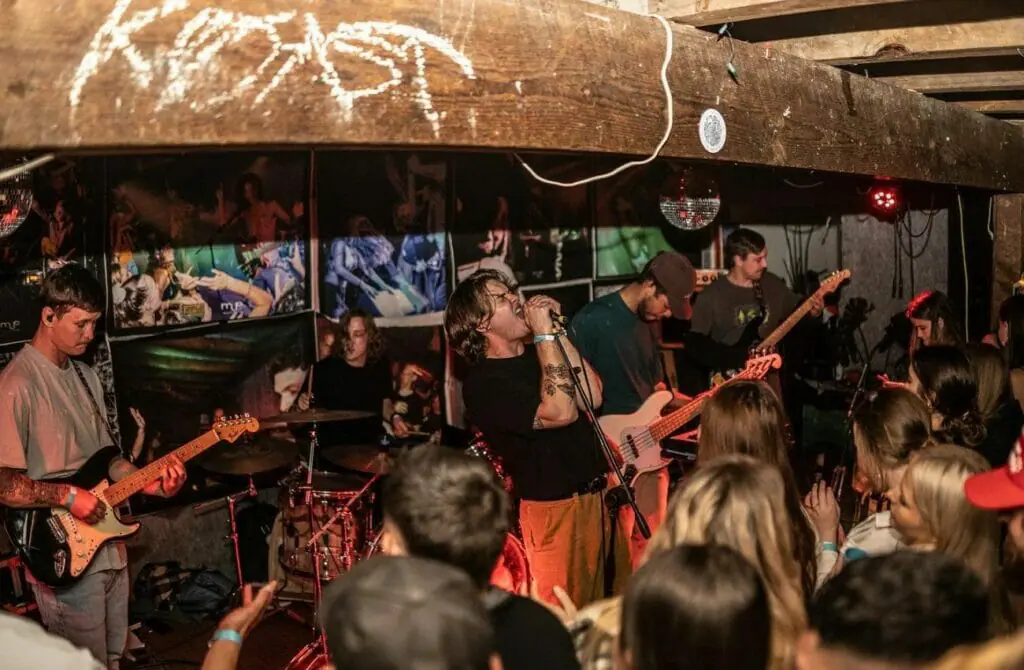 Self-described as the home of live music in Dunedin, Diggers Bar is all about music and entertaining their guests as much as giving great drinks and a welcoming atmosphere. What makes this bar so unique is the heritage building it runs inside and out of, with a facade decorated by pickaxes to celebrate the New Zealand gold rush of the 1860s.
The bar is decked out to the theme of miners and old-time mining traditions to make it an experience unique in itself before you even step up to the bar.
A must-see nightlife destination in town is the Irish-themed Biddy Mulligans pub, where you can experience a little taste of luck at the end of the rainbow. So drink to the holy saint of Saint Patrick in thanks for making one of the best days of the year dedicated to the ritual of drinking too much that you go to sleep and make the most of excellent ales from Ireland.
The Last Place is a famous little craft beer bar in Hamilton that makes and sells its award-winning crafted drinks; not only is the venue great for a slow sip of good drink and relaxation, but the food they offer further complements the experience. So if you're after a quiet place to enjoy a drink and chat, this is the best place to visit at night.
A gaming lounge and sports bar located in the middle of Hamilton, for all those passionate about sports or want to catch a live rugby game with kiwis for free, this is the place to go! You never know if the chance conversation struck up during an All Blacks game turns into the start of a love story.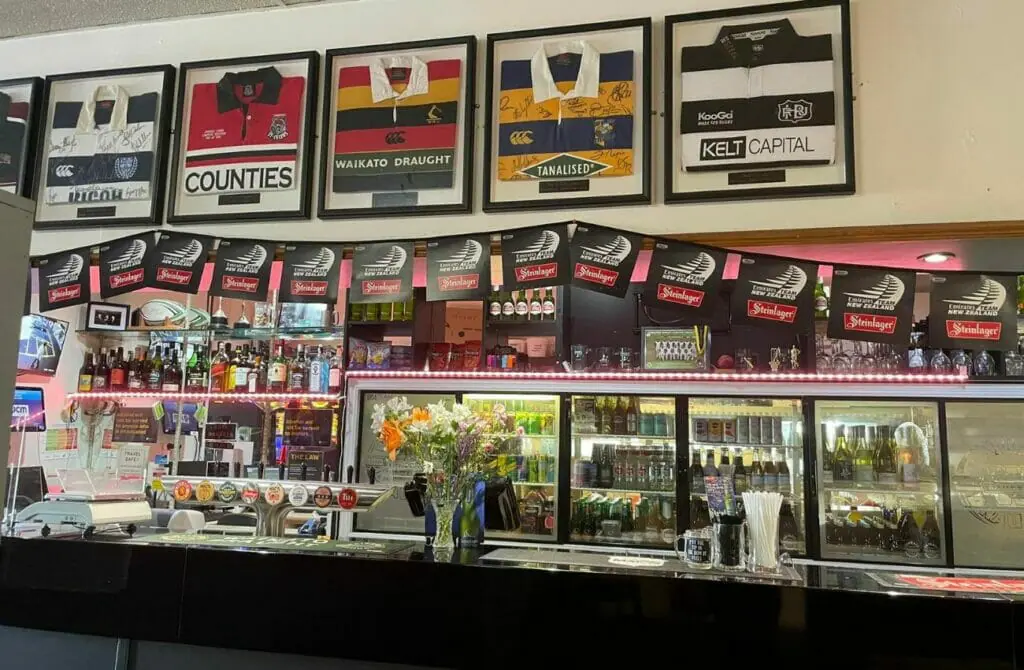 Cruising & Gay Saunas In Hamilton
Hamilton is not well known for having many official gay venues or gay bars. However, they host Guyz, the only gay Sauna in the whole of Waikato. So even if you feel starved for options, there are a few gay venues and many more gay-friendly ones to compensate for this hunger.
Not only that, the gay scene is alive, so be sure to get right on to Grindr, SHE and Tinder if you want to experience the whole cruising experience of Hamilton.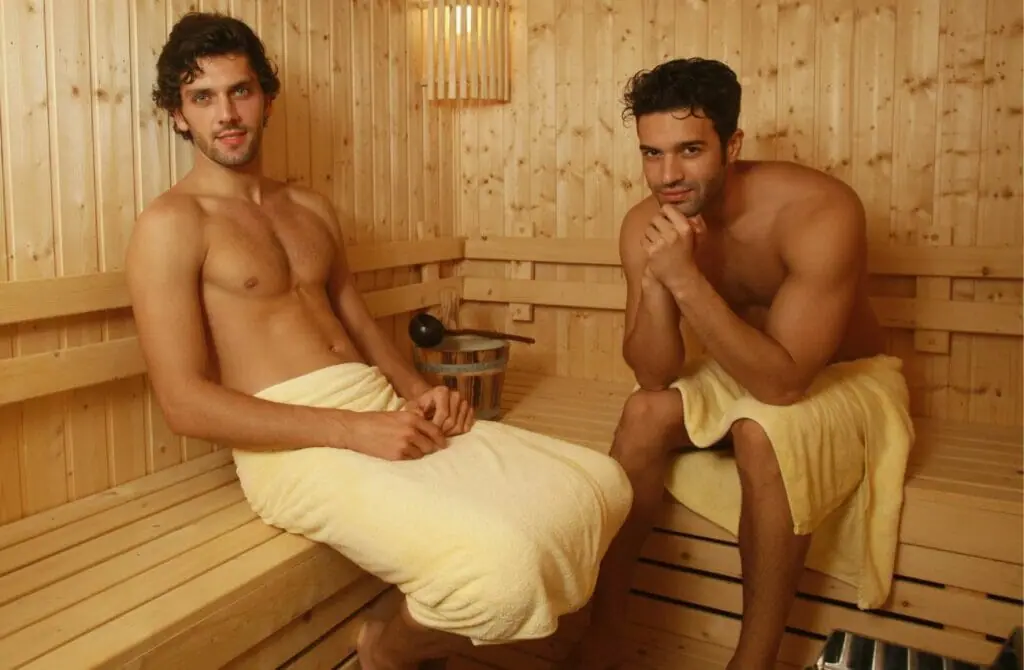 Gay Saunas In Hamilton
Guyz is one of the few exclusive gay bathhouses for men catering to all needs. So whether you are after a sit in a steam room, a relaxation in the spa, a splash in the sauna, or a chance to chat with loads of other men, you don't need to look any further!
What makes this extra special is they have other fun add-ons that make getting wet not your only priority, from a great sex shop to the numerous gloryholes or darkroom. So you won't be surprised why men keep coming back.
Edgecumbe Park
Located on the outskirts of Hamilton, it is one of several parks popular at night for the unspoken tradition of gay cruising. Favored by many for the privacy of the public toilets, or the many natural bushes around, you can easily get a quick moment of fun without putting too much effort into finding it.
There are no gay-exclusive sex stores in Hamilton, but Peaches and Cream Megastore is a good place for all to find the perfect toy for their needs. Located in the heart of Hamilton city, you will not have to travel far to find the right purchase to make your night spicer whether you want lube, gay sex toys, a butt plug or … well anything else you can think of.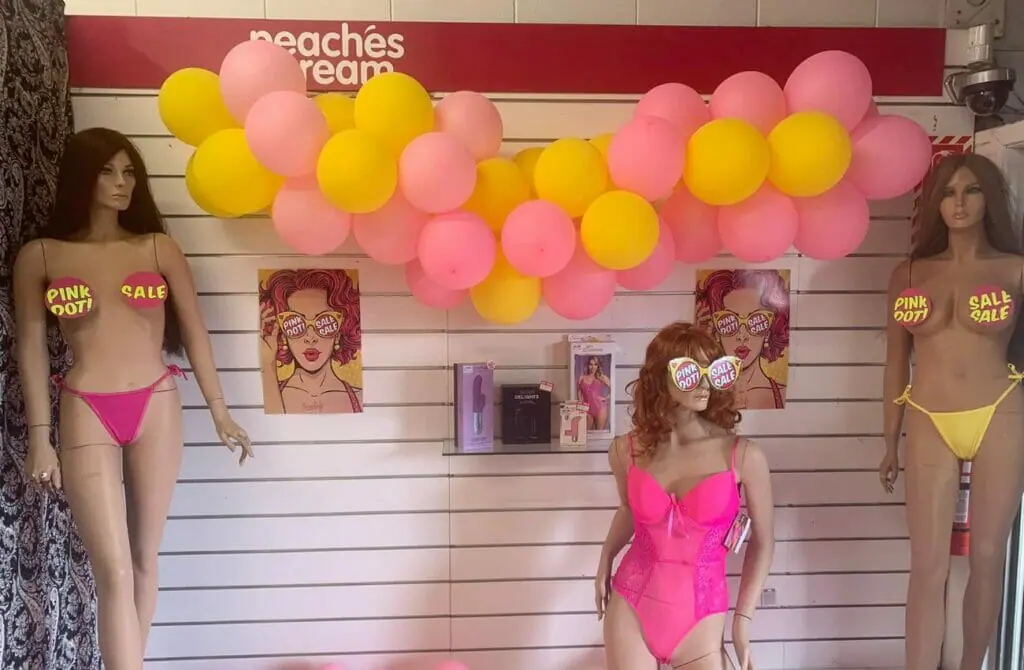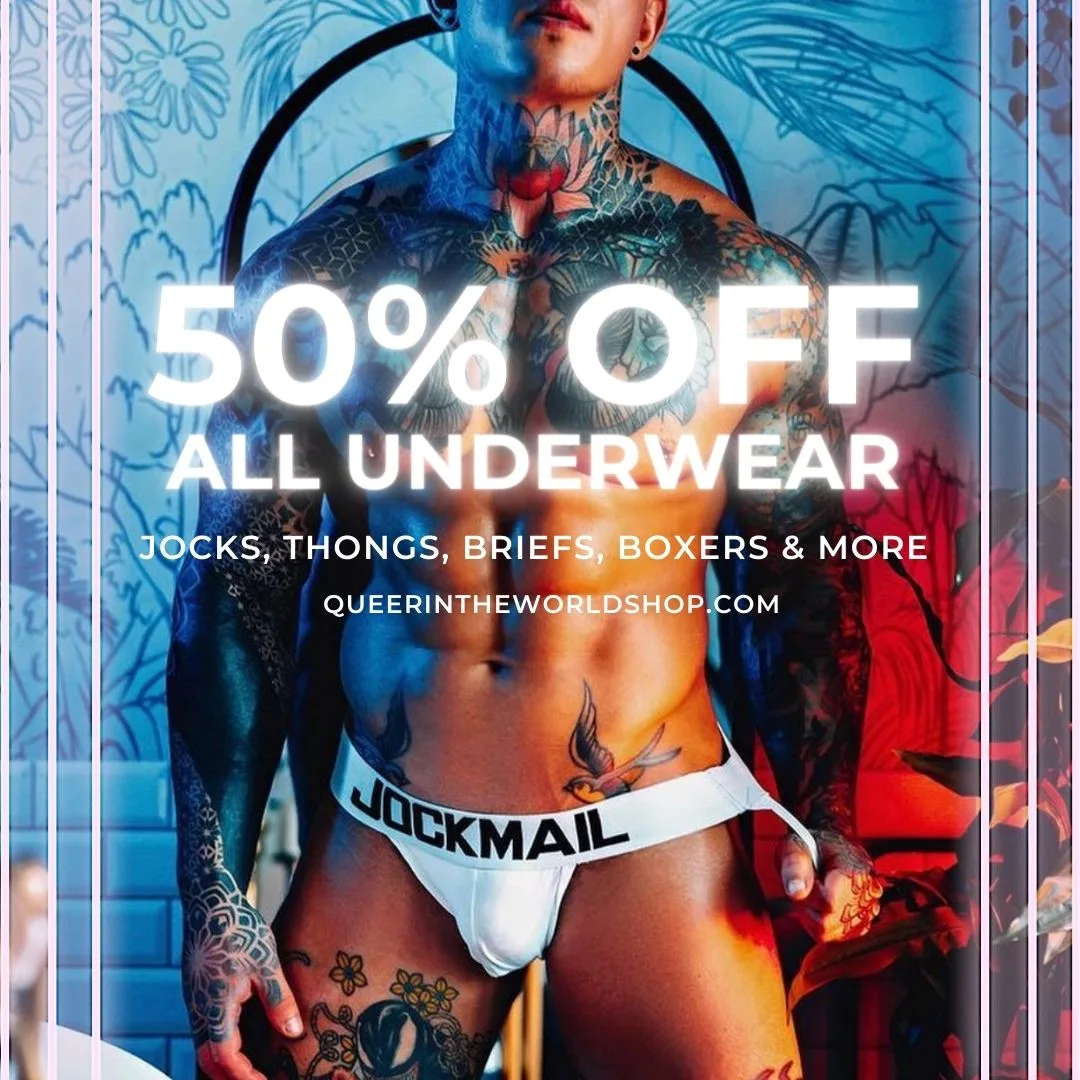 Gay Map Of Hamilton
Finding it hard to envisage where everything is in Hamilton? Hopefully, this queer-centric map helps where we have marked all the bars, clubs, parties, hotels, saunas, massages and more will help you stay in the spot best suited to you!