Though we usually don't realize it, what we put on our heads – just like with any kind of fashion – says a lot about who we are. And there is just something inherently chic about beanies, and even more so when they are gay beanies.
Beanies have been around since the early 20th century when they became popular among working-class laborers. Beanies (in case you happen to be curious the name comes from the fact that during the time the word "bean" was used as a slang term for the head) became a common style staple on universities in the mid-1900s before going out of vogue for a while only to re-emerge in the 90s as a fashion mainstay.
At this point it's clear that the gay beanie is here to stay, and why not? This type of fall and winter fashion fixture perfectly intersects and commingles with gay fashion too, and has become a staple of LGBT-inspired style along with gay crop tops, gay sunglasses and gay jockstraps. Long gone are the days when they were the sole cultural property of stoners and hipsters. To be sure, gay beanies are much more versatile than they get credit for.
One reason we say versatile is because a beanie can be worn in many different ways. The "standard" method is to pull it down over the ears and just above the eyebrows, for the most warmth and protection from the weather. This look will work fine for most. Then there is the Steve Zissou method, so named after the oceanographer featured in the film The Life Aquatic with Steve Zissou. This beanie-wearing method rolls the "brim" of the beanie back and wears it behind the ears, covering only the crown of the head.
This method works best for the smaller fisherman's beanie and is a good choice if you want a more rustic look – say you somehow find yourself stuck out at sea on a boat filled with cute sailors (Lord have mercy!).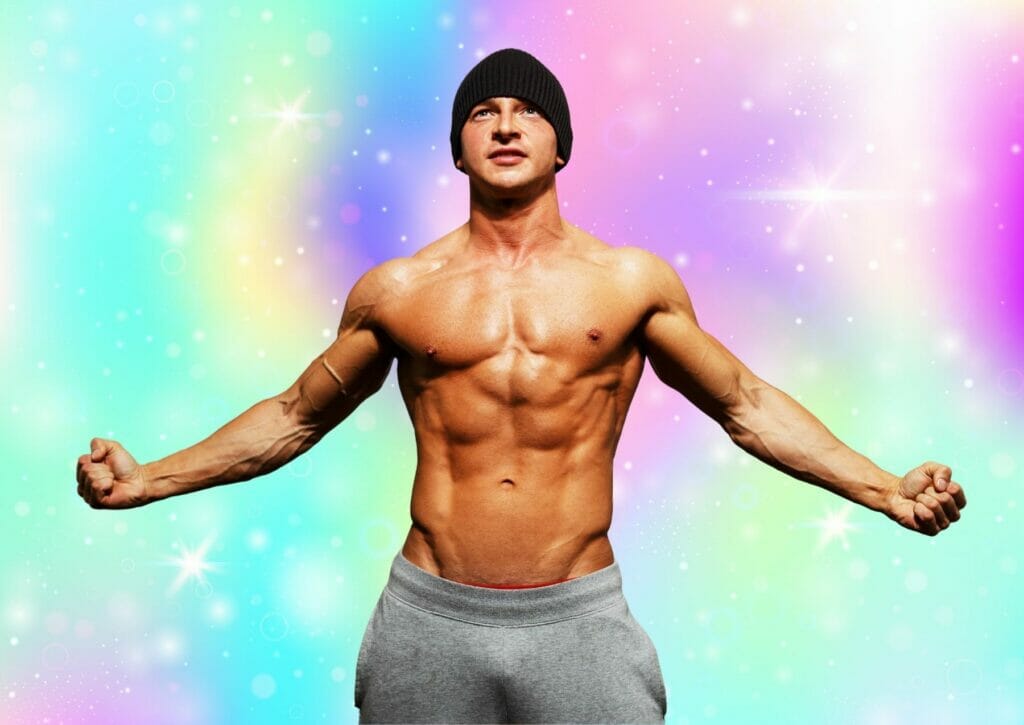 There are also the high-top, Robinhood, and David Beckham methods, and so on and so on, but we think you get the point and so we won't belabor it here. But depending on what type of apparel you choose to pair with it and how you use it to complete an outfit, the beanie can be quite the style chameleon. Pair it with overalls and it becomes a sort of blue-collar utilitarian headpiece. Wear a beanie with a hoodie and jeans and it becomes part of a streetwear ensemble.
Say you have on a leather or denim jacket over a turtleneck sweater, with slacks, all black. What you have is a beatnik outfit. Add a black beanie and it becomes a beatnik beanie. What's great is that just about any and all of these fashion families can be fused and interwoven with gay style (isn't it funny how stereotyped LGBT people are, and how most don't realize how diverse the community actually is?).
Also, when we speak of the beanie's multi-faceted and alterable nature we must mention that there are many types of beanies, and they are as different as the different types of baseball caps or other gay hats. These differences allow for something to suit all face shapes and all style sensibilities.
There are the classic beanies – the traditional variety that you probably envision when you hear the word beanie. These have the turned-back cuff. There are the smaller so-called "fisherman's beanies" which cover only the head and stay off the ears. The bobble hat is the one with the pom-pom on top (did you know that these originated with Scottish highland troopers, who used the poms as clan identifiers?). Think of children frolicking in a winter wonderland, or of people on ski slopes who have no business there, and you will probably imagine them wearing these.
Then there are hipster beanies, the baggy high-top beanies, cuffless slouch beanies, and the list goes on. If you are a style aficionado then you will know that all of these are perfectly relatable with LGBT fashion, as you will see later in this article.
Our point is that if you find yourself intrigued, and the fact that you are reading this suggests that you are, then you can set aside whatever negative notions you may have been given about this misunderstood (thanks largely to folks like Tom Brady and David Beckham) headgear. It has become quite a trendy item these days, and as is usually the case, we can thank celebrities for handing down this fashion boon to us. Taylor Swift, Rihanna, Johnny Depp, Selena Gomez, Justin Bieber and of course Kylie Jenner are just a few of the notable names that have recently been seen rocking this hip headgear. Believe us when we say that you too can pull off the beanie. The trick is to find the one that is right for you.
Here you will find all the best gay pride beanies on offer. And remember: it is all about being true to yourself. Looking good starts on the inside. Feel the pride and confidence that comes with loving who you are, and when you do that is sure to shine through. It's infectious too, and that is what will really attract people to you. And more importantly it will attract the right kind of people: people like you, who want to learn to embody the spirit of pride, who want to continue their journey of self-discovery and understand how much they can learn about themselves through fashion.
It may seem like a far-fetched idea, but it is absolutely true.
We are certain you will find something amongst this list of the best gay beanies that is just right for you, and when you do find it, we want you to wear it with the same pride and passion that we have in bringing it to you. So let's get started.
There is no more stylish way to show your pride than with this rainbow-colored beanie. And not to worry: you don't have to be David Beckham to pull off this trendy headwear, as it has become a fixture of cold weather fashion.
Some may consider the beanie juvenile, as it is popular among the gens Y and Z crowd, but the reality is that this type of gay hat is gaining ground among other demographics as well and can look cool on anyone. After all, it's not all about what you wear, but how you wear it. So wear it with pride.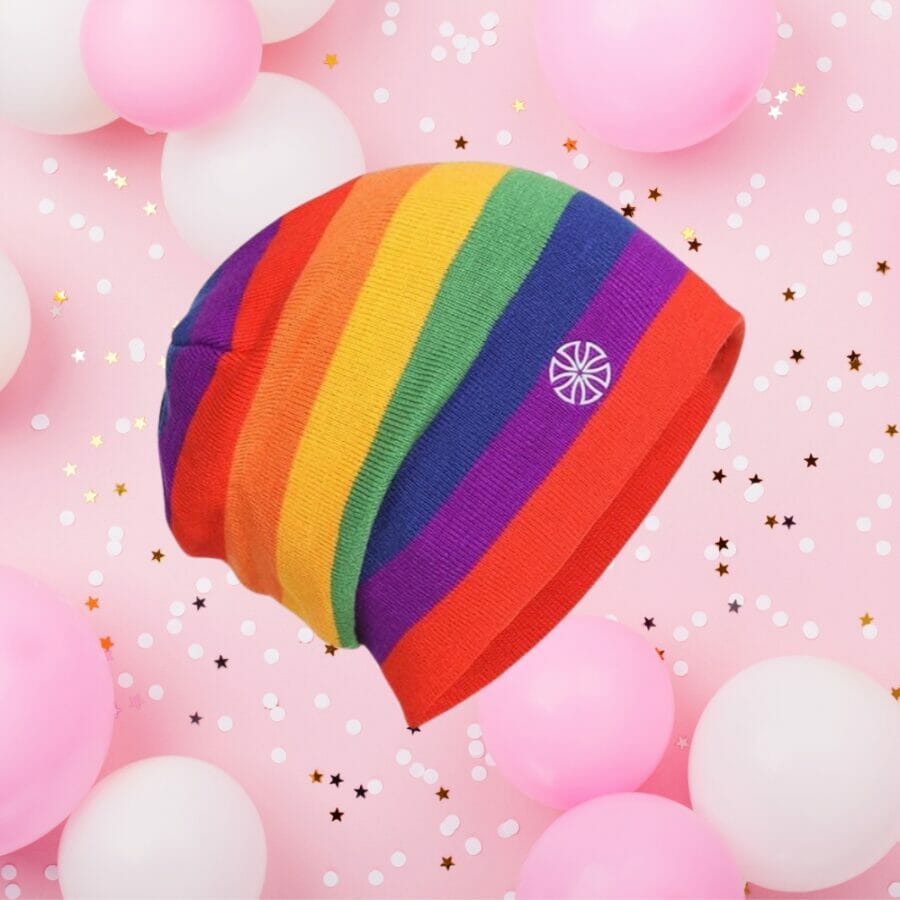 This gay beanie features some subtle but powerful messaging. It displays the term "homosexual tendencies," which was a term used by psychiatrists up through the latter 20th century – a time when homosexuality was considered to be a mental illness. The term has come to be synonymous with discrimination and prejudice against LGBT people.
But with this beanie you can take words that were meant to be a weapon and turn them into an emblem of pride and defiance, as people who are discriminated against so often do. Knowing the origins of the term "homosexual tendencies," pride will take on a whole new meaning for you when you wear this beanie.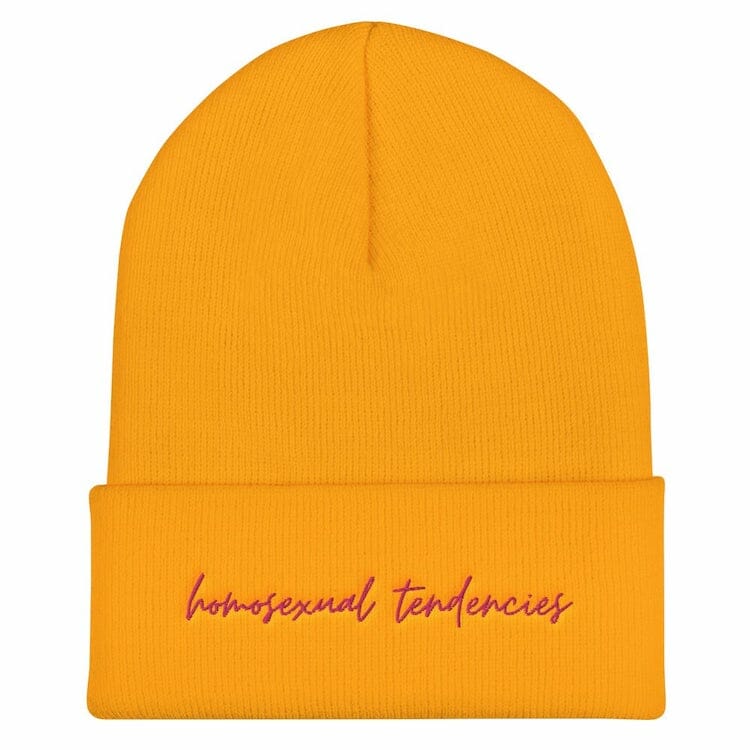 You are absolutely going to adore the gay pride pom beanie. It is a great way to display pride in your day-to-day life. It features a cute pom on top as well as embroidered lettering which reads "LGBT" in rainbow lettering, making it the perfect gay pride headgear. And equally importantly, it will keep your head nice and warm when the cold weather sets in, so you get to be both comfortable and stylish when you wear this.
The turned-back cuff is a nice touch that will make this beanie an appealing piece of headwear on most face shapes. This is the essential hat to wear to a wintertime pride parade. It would also be a nice thing to get for that LGBT friend of yours, especially if it happens to be an LGBT friend who needs a warm hat.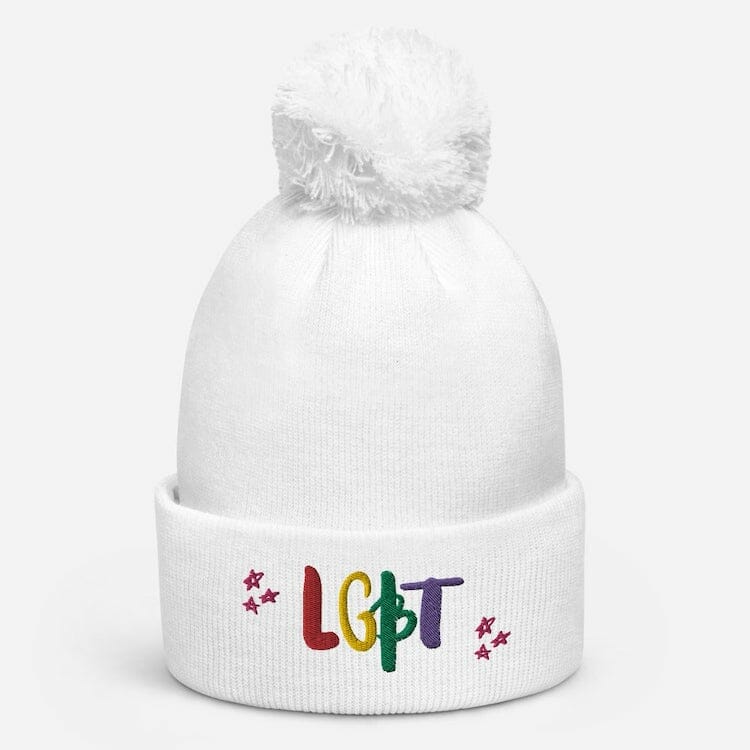 This is one of the best gay beanies there are, and is exactly what you are looking for if you want to show your support for the rights of trans folx. You will appreciate the straightforward nature of the message, and you'll love that it keeps you warm and toasty in the cold winter wind and rain while declaring your convictions to the world.
If you are of the opinion that all who fall under the LGBTQ+ banner need to stick together in the fight for equality and equal rights for all, then this will be a wardrobe essential for you.
Get yours today, and while you are at it get one for a friend and strike a double blow in the fight for equality.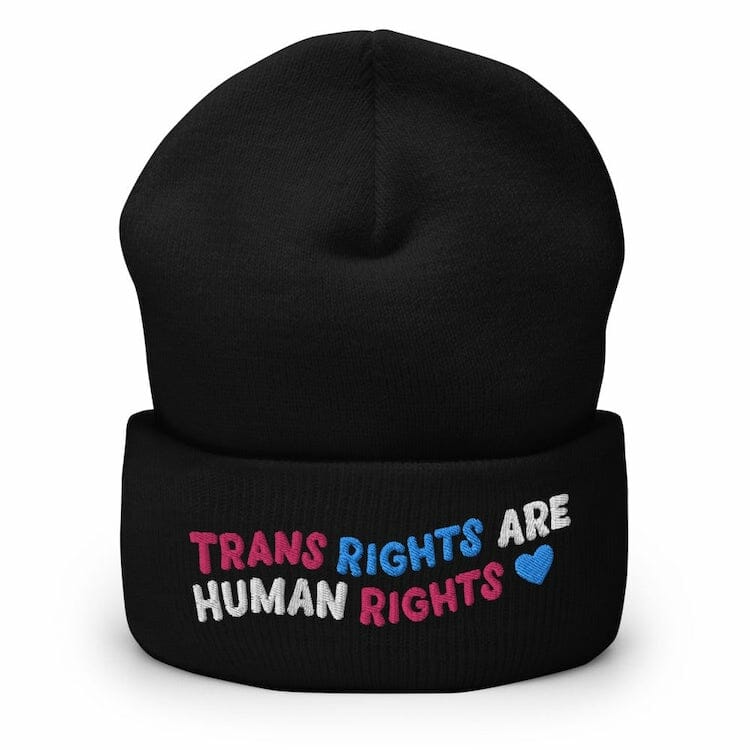 Here we have the quintessential gay pride beanie. No, seriously – it says gay pride right on the cuff. The kissing lips are a nice added touch. As if to say, "if you don't like it then, kiss off." If this is the kind of no-nonsense attitude you try to embody in your day-to-day life then this beanie is the perfect fit for you.
In fact it is practically a must-have if you plan to attend any pride parades during the fall or winter season when the weather turns cooler. You will feel warm while also feeling pride. And you'll adore the way it looks on you with the cute pom-pom on top. Get one for your SO and double the cuteness.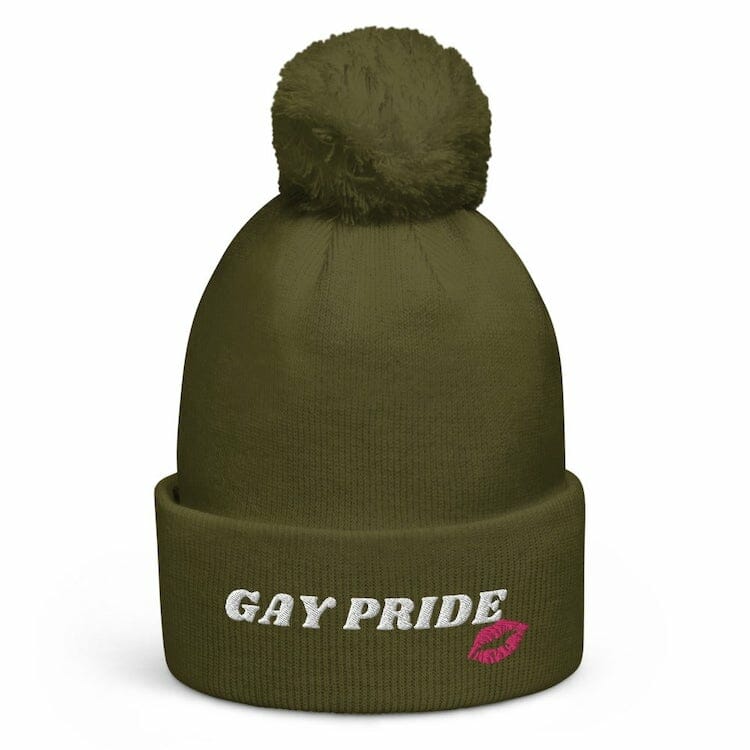 With this, we have a beautiful message on a beautiful beanie. As with all our gay beanies, it is available in an array of wonderful colors, and you are going to love them no matter which you choose.
"Love is love" is an inspiring idea that will stop even the most diehard "traditionalist" in their tracks and make them reconsider their stance on issues concerning gay rights and the right of all people to be treated equally. It is definitely food for thought for those who bother to think.
Change minds and win hearts when you wear this. We would say that's not bad for a simple piece of headgear.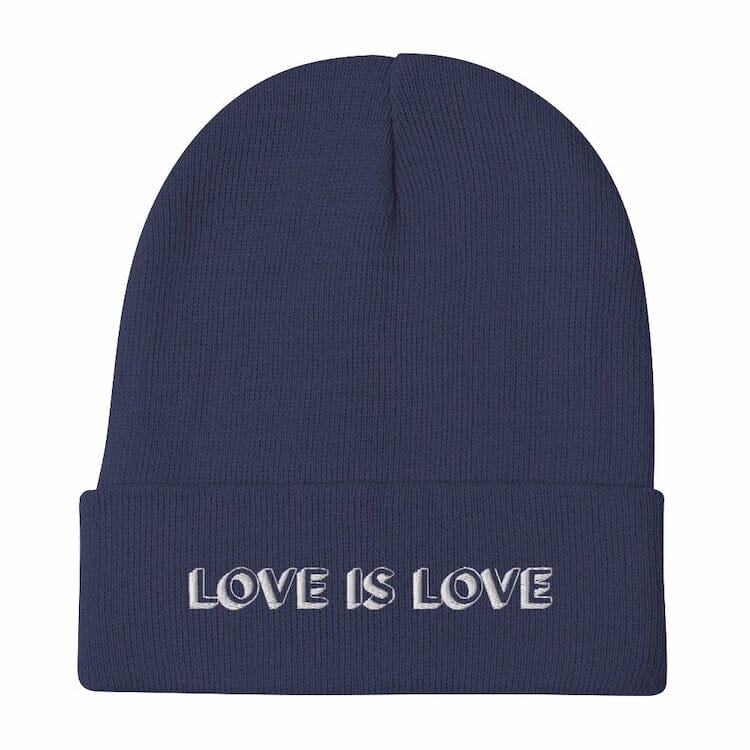 You are not only gay, but gay AF. And when you love that about yourself, then why not put it on display for the whole world to see, shout it from the rooftops. This gay AF beanie allows you to do just that, and all without saying a word.
Just let the beanie do the talking for you. It will even keep your head warm and dry while it's at it, not to mention make you stylish and sexy. This has to be the hardest-working beanie in all existence! But seriously, you will love the headpiece and the way it makes you feel when you've got it on – like a take no bs, LGBT badass.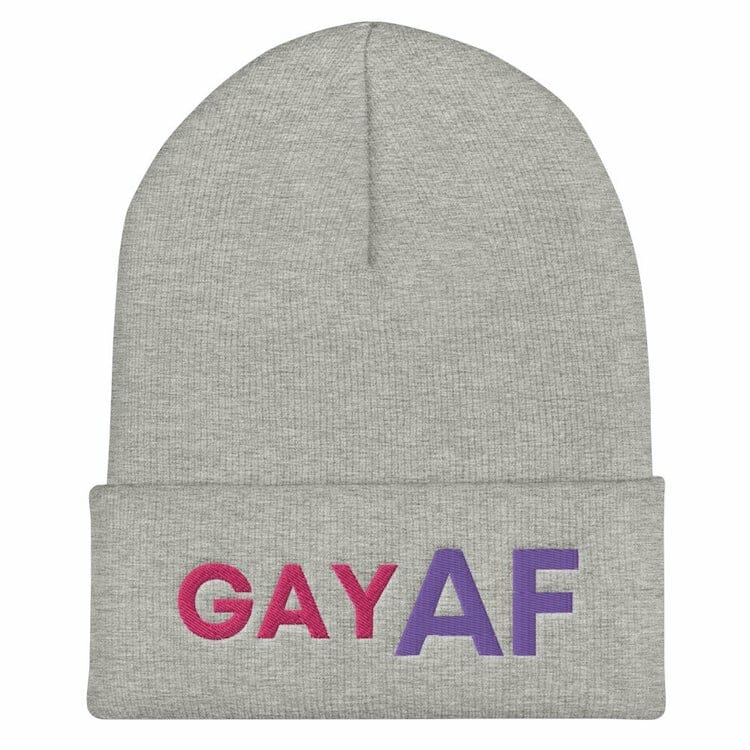 You love who you are, and by that, we mean every facet of who you are. So why not put that pride on display with this adorable bobble hat beanie.
There is no better way to support the LGBTQ community in its entirety than with small acts like wearing gay pride apparel such as this LGBTQ beanie. It goes a long way toward increasing visibility for LGBTQ people who have often been marginalized by society in the past. But of course, you know this already and don't need us to preach to you.
At any rate, you can wear your pride, keep warm, and look fabulous all at the same time with this bobble beanie. Make it yours.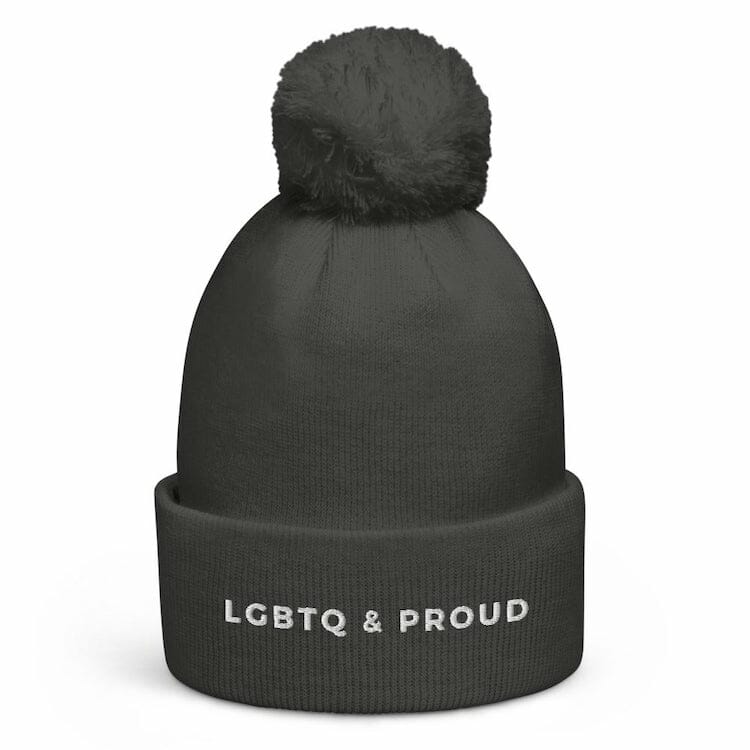 No truer words have ever been spoken (or in this case embroidered upon knitted fabric) than these. The statement here wastes no words, to be sure. And that is precisely what you are going to love about this hot beanie. Not only is it excellent cold-weather headwear, but it is also excellent super-sexy swaggerific gay pride cold-weather headwear and pairs perfectly with a gay sweatshirt.
Confidence is what makes you alluring to others; it's what gives you your magnetic attraction. This beanie will give you an added boost of that confidence – an extra dash of pride – whether you need it or not. You'll feel like a rockstar when you have put this on and wear it out in public. And who doesn't want to feel like a rockstar?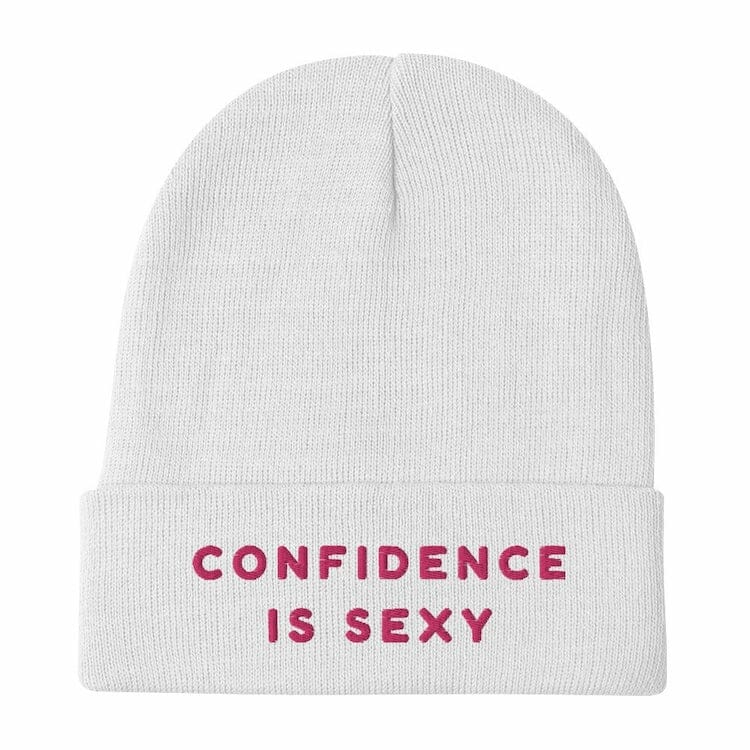 Are you an adventurous soul who likes to explore new things in and out of the bedroom? (But then again, who says it has to be the bedroom?). If you have an affinity for the bawdy, the suggestive, the licentious, the racy, the ribald, the risqué, the naughty, the off-color, the debauched, and the downright delinquent…well then, my friend, you have come to the right place for your fashion fix.
This beanie is just for you lovers of kink out there, you makers of mischief, you aficionados of filth, you connoisseurs of corruption, you sommeliers of smut. The beanie comes in a variety of vibrant colors – and by vibrant we mean neon. You are sure to be seen when you wear it, so if you're kinky and proud of it – and why not? – then this is going to be your new favorite headgear.
And if this gay beanie speaks to you, then just imagine what these gay dildos or gay sex toys are going to say…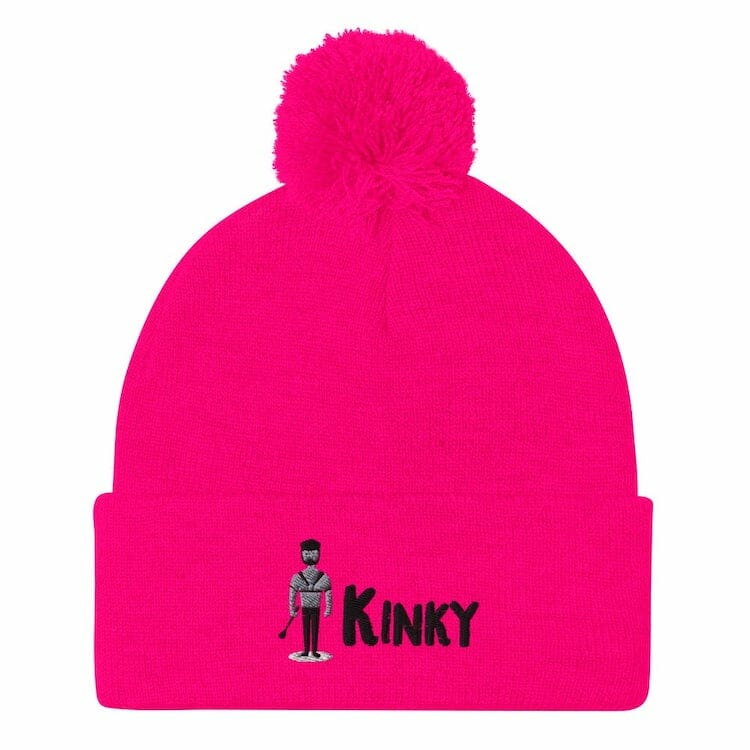 Do you consider yourself to be what some might call white trash, but with an LGBT twist? Wear it like a gay badge of honor and with pride, and they will never be able to put you down. It's okay if you live in a trailer cluttered to bursting with Cody Alan merchandise. Do you have a "Cowboy's Butts Drive Me Nuts" decal plastered on the back of your beat-up pickup truck? Hey, there ain't a damn thing wrong with that.
By all means, we encourage you to be head over heels in love with yourself, and with who you are as a person, no matter what anyone else thinks. So get yourself one of these gay trash beanies and own your trashy side like a boss. Like a cussing, fighting, tractor-racing, beer-drinking, country music listening, boss.