Unlike other cities in Western Europe, Sarajevo isn't very gay-friendly. The truth is that as a gay tourist, you're not very likely to experience the same level of acceptance as you will in cities such as Guadalajara, Amsterdam, or Berlin. We advise that you try to be a little more discrete and not expect a hyped-up or very open gay scene.
Even so, this doesn't mean that Sarajevo is a city you should keep on the back burner. This destination offers delicious Bosnian traditional food, experiences that include dipping your toes into multi-cultures, and exploration of ancient Ottoman towns.
Sarajevo is a historic city, and you will not get bored here. The city has a good mix of Muslims, Orthodox Christians, and Catholics, with religion playing a big role here.
While the city is still conservative, it is safe to visit, and if you're discrete, no one will bother you. If you've heard of bad experiences in this city, in most cases, it's likely that people weren't discrete.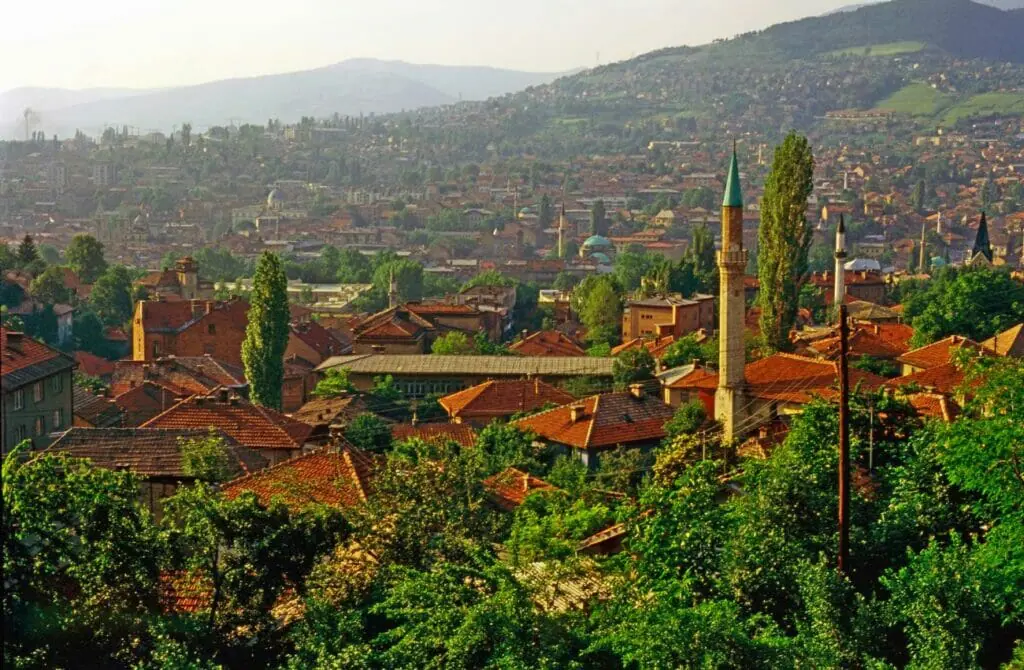 Bosnia itself has a very significant gay community, but the issue is that most of them aren't very open about it for obvious reasons. Even so, there's an active gay nightlife in Sarajevo with gay and gay-friendly clubs.
You can also connect with other gays on social media, but make sure you remain reserved until you're safely in a gay or gay-friendly location. Whether you choose to stay in a hotel or a hostel, it's probably best if you don't ask the receptionist for tips on meeting gay people or gay hangouts in Sarajevo. If you have a partner with you, relax on the PDA.
You might even be better off booking an entire apartment on Airbnb since smaller hotels may start to raise eyebrows at room sharing. Even so, there's so much to see and do, so take a look at this gay Sarajevo guide.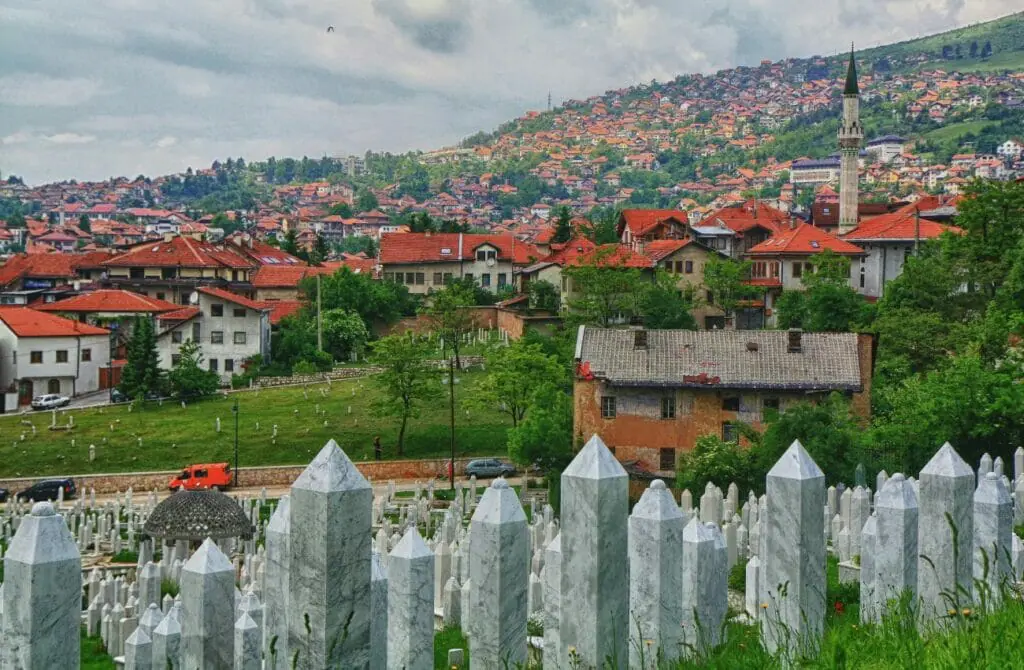 Attractions in Gay Sarajevo, Bosnia and Herzegovina
Honey, welcome to Gay Sarajevo! Now, let's spill the tea – this city may not be the most welcoming to our rainbow community, but don't let that dim your sparkle! There are still plenty of fabulous things to see and do here, no matter who you love.
As passionate travelers and members of the LGBTQ+ community, we believe that queer travel is not only about having fun and exploring new places but also about promoting cultural understanding and spreading pride.
Through travel, we can learn about different cultures, histories, and perspectives and share our own experiences and identities with others. We can also support LGBTQ+ businesses and organizations and work together to create a safer and more accepting world for all members of our rainbow family.
Unfortunately, homophobia and discrimination still exist in many parts of the world, and it is important to be mindful of the laws, customs, and attitudes of the places we visit. But by being visible and proud and by supporting local LGBTQ+ communities and allies, we can help to change hearts and minds and make a positive impact wherever we go.
So let's keep exploring, learning, and sharing, and let's continue to work towards a future where all travelers can feel safe and celebrated, no matter where they are in the world.
Check out the iconic landmarks and attractions, darling. Visit those historical monuments, museums, and art galleries like the true cultural connoisseur you are. And, of course, let's not forget about the architecture, parks, and gardens.
Trust us, the local cuisine will leave you gagging, and the markets are to die for. And, girl, let's not even start on the cultural events like festivals, concerts, and shows – they are simply sickening!
Now, while we are out and proud queens, we gotta keep it on the down-low when we hit the streets, sis. Sadly, this city may not be as welcoming to us as we'd like. But no worries, we'll just have to slay discreetly, okay? Let's show these locals how to live our best lives, honey!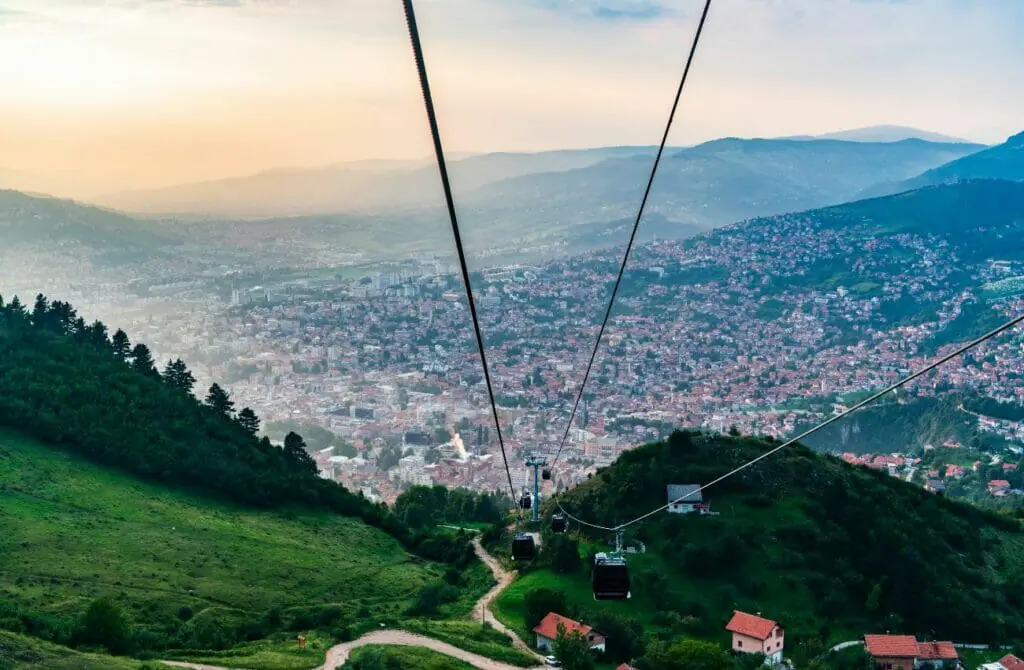 Top Highlights in Sarajevo
Baščaršija, (Sarajevo's Old Town)
Baščaršija is Sarajevo's Old Town. The location features mazes of cobbled streets lined with a variety of shops that sell souvenirs, metals, pottery, and jewelry. You will be amazed to see the shop fronts extending into the streets. The area also has plenty of copper stalls with traditional coffee sets on display.
Here, you can get a taste of traditional coffee as you admire (or buy) traditional handicrafts, indulge in Bosnian ice cream, take in the historical architecture, or have a taste of Sarajevo's Cevapi dish. A visit to Baščaršija is definitely one of the best things to do in Sarajevo! Here's a tip, though, if you love sweet coffee, be prepared for the Bosnian way of sweetening coffee.
Your coffee foam will have a sugar cube added then the coffee is poured over. Local coffee connoisseurs recommend putting the soaked sugar cube into your mouth and then drinking your coffee through it for an extra taste of sugar!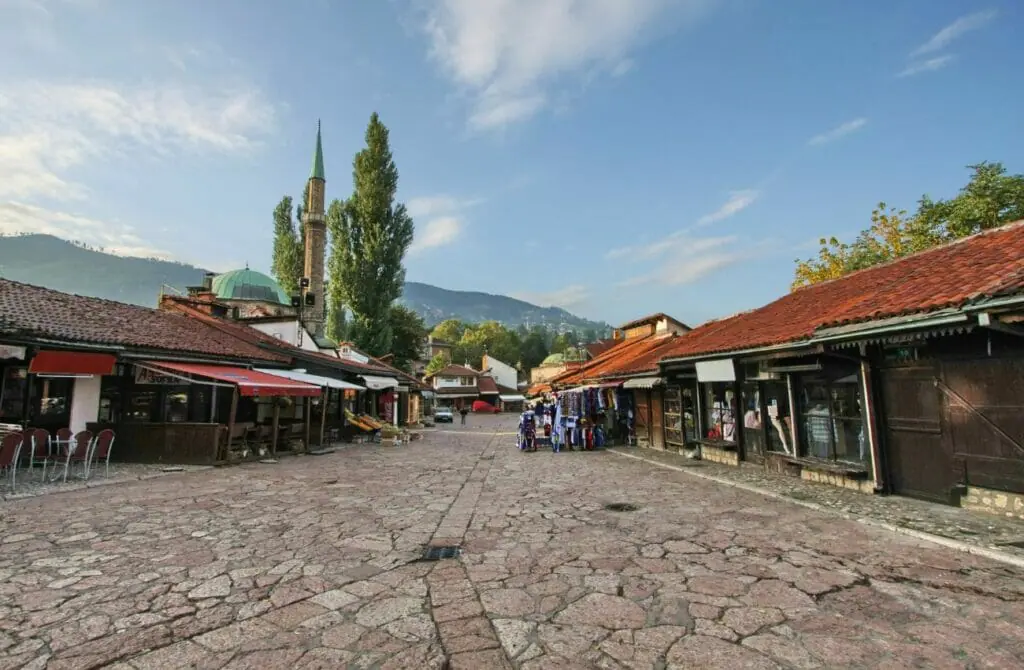 Sebjil Fountain is one of the city's landmarks and is a must-see Sarajevo attraction. According to locals, if you commit to taking a drink from the legendary fountain twice, chances are that you will come back to visit Sarajevo.
How about that! Just a warning, though, the fountain is very well-loved by the local pigeon population and is also referred to as Pigeon Square, so be ready to be around lots of birds. The fountain itself is quite beautiful as it's an Ottoman-style fountain.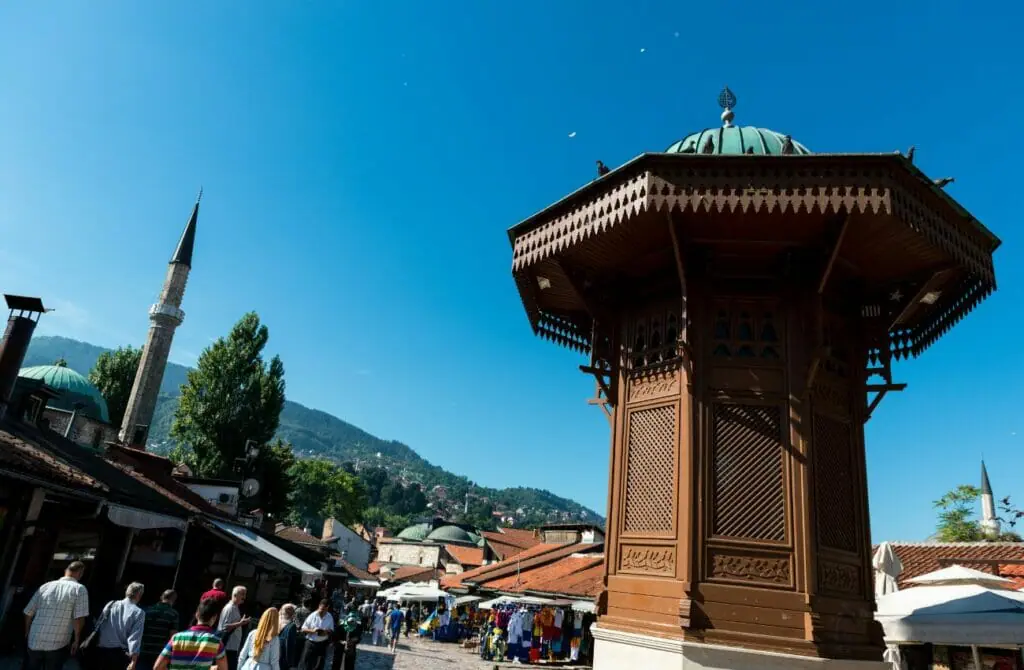 Sacred Heart Church
Sacred Church Heart is the largest Catholic Cathedral in Bosnia-Herzegovina. Featuring rose windows and square twin towers, the cathedral stands tall over the Stari Grad in Sarajevo. The building was designed by Josip Vancas, who also designed more than 200 buildings in the city.
Sacred Heart Church is an excellent accompaniment to some of the neighboring colorful historic buildings. Inside, some of its decorations include frescoes, wood carvings, statues of saints, arches, and the most elegant ceiling you will ever see.
There's no way you can come to Sarajevo and not experience some of the city's tragic past. Vjecna Vatra, also known as the Eternal Flame, is a memorial to World War II's civilian and military victims. The flame never burns out and is an excellent reminder that those who are gone will never be forgotten.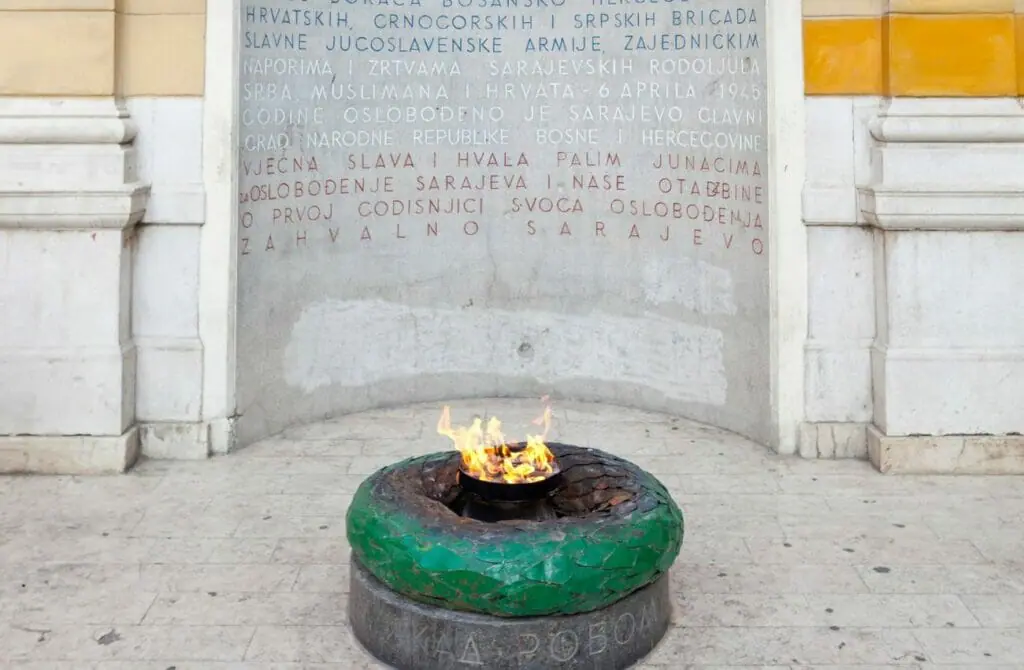 Cevapi
While Cevapi isn't exactly a location for you to visit, it cannot miss a place as one of Sarajevo's top attractions. Cevapi is Bosnia's national dish that consists of minced beef that is grilled and then carefully shaped into an elongated meatball. It looks like tiny sausages and is served on flatbread with sauce or onion.
The traditional dish was a staple during the Ottoman occupation of Bosnia and was the perfect meal for outlaws and rebels as it was easy to make and cheap. Most restaurants and cities serve cevapi, and you will also find it served in stalls on the street.
Sarajevo City Hall
Also known as Vijecnica, the Sarajevo City Hall was designed by Karel Parik, a Czech architect, in 1891. However, the architect received too much backlash from city officials that he backed out of the project. The building was later torn apart in the war and was later rebuilt. It has exhibitions that display some representations of the Hague Criminal Court.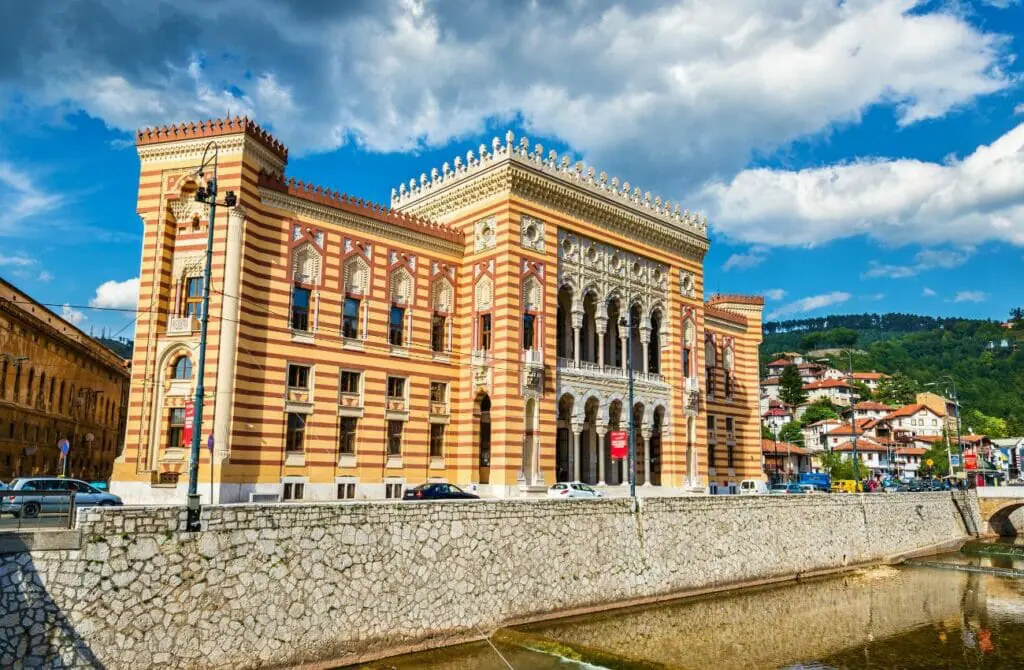 Gallery 11/07/95
Get in touch with the city's history by walking through Gallery 11/07/95, an exhibition that forms a tribute to a tragedy where thousands of Muslims lost their lives in the most horrifying atrocity since World War II.
Just a warning, though- while the museum offers a unique learning experience, it is also heartbreaking to see some of the videos and images that document what went on in the past. Even so, you will truly experience what life in the city was like in its past.
The Emperor's Mosque was built in dedication to Mehmed the Conqueror after he conquered Constantinople. It is the city's premier mosque, built after Bosnia's conquest by the Ottomans. Emperor's Mosque is a beautiful piece of Architecture and is set against stunning views thanks to its river location.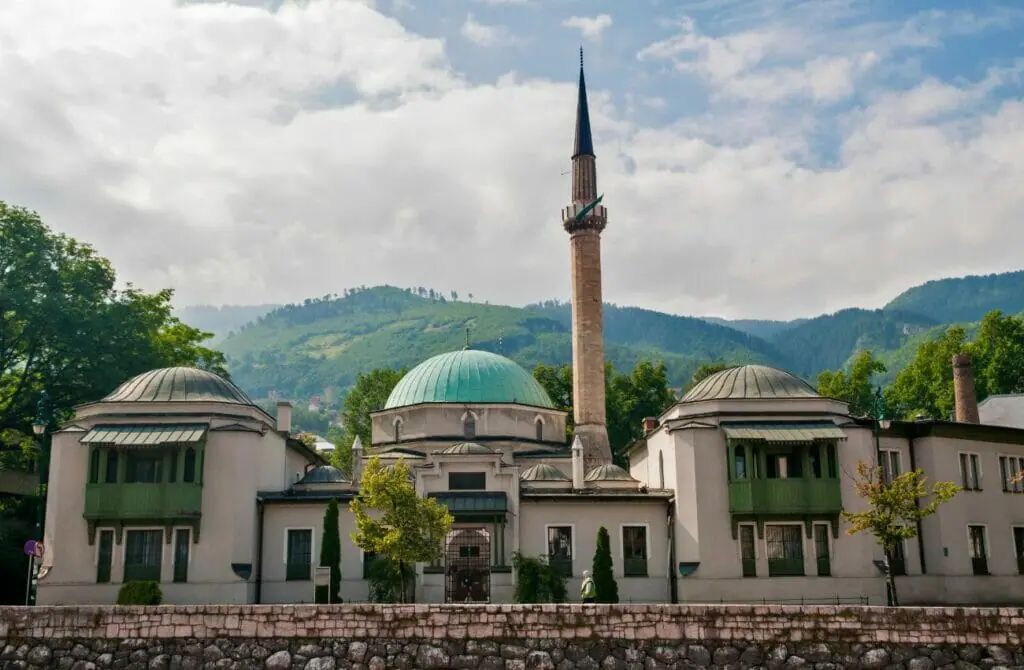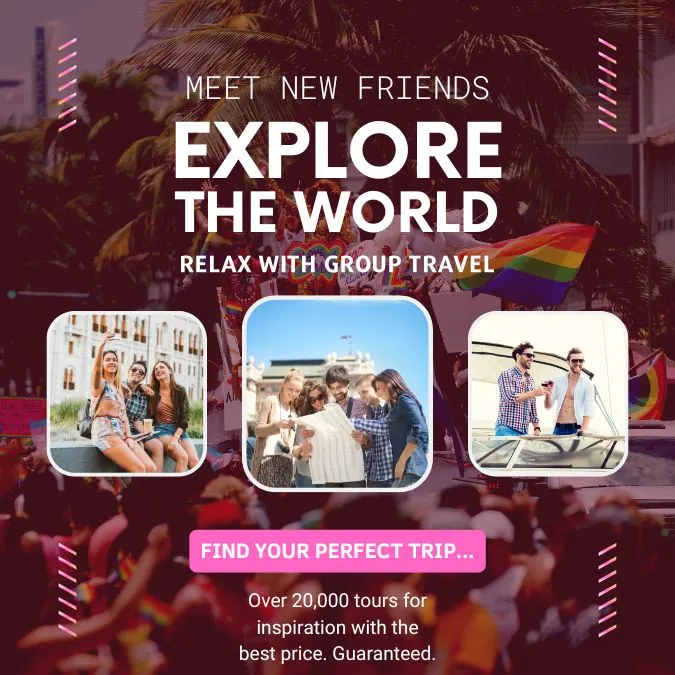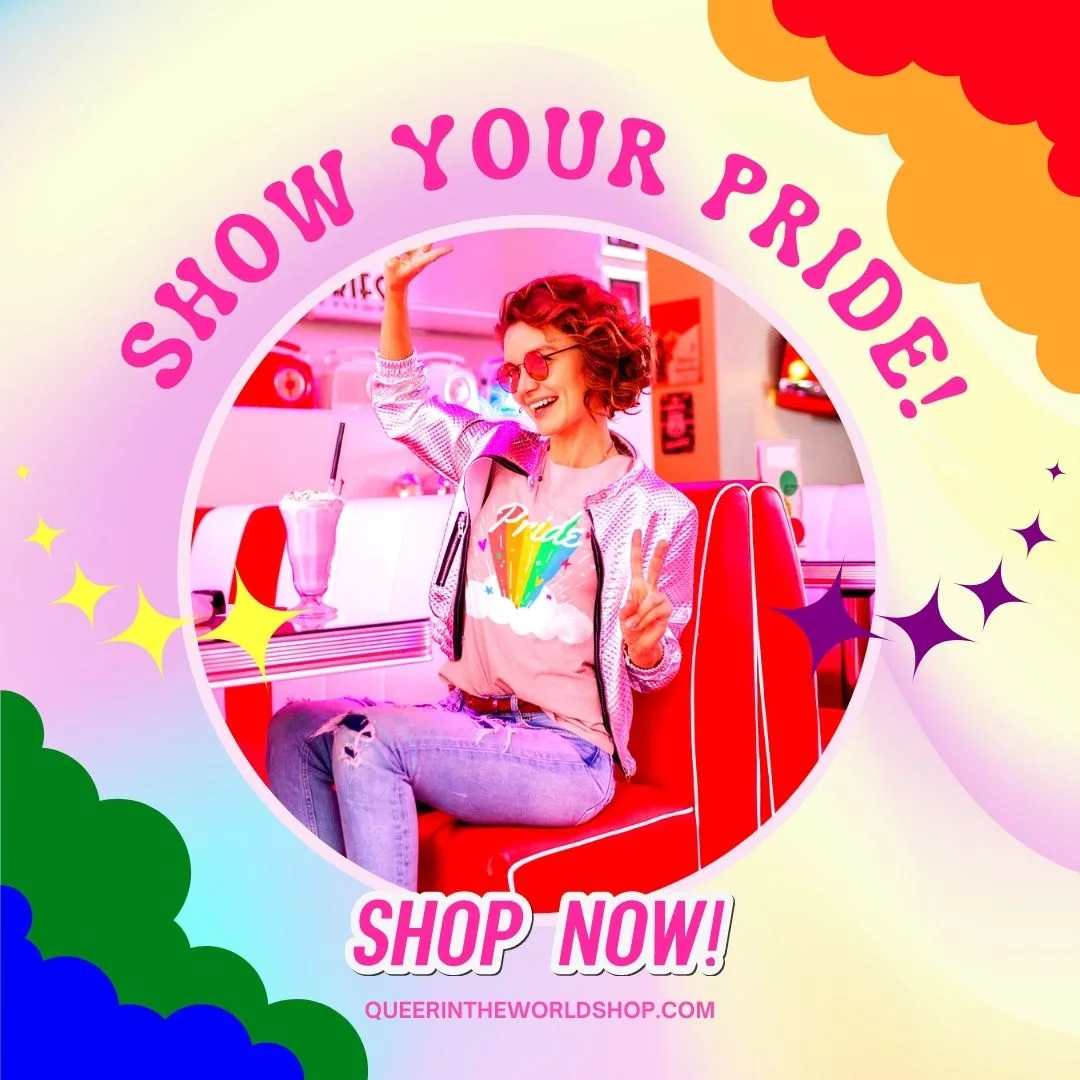 Gay-Friendly and Gay Hotels in Sarajevo
Don't wait another minute to book your stay at one of the most fabulously queer-friendly hotels in Sarajevo! While many establishments in town might not welcome our rainbow family, these hotels have all pledged to embrace our queer spirit with open arms.
From non-discrimination policies to LGBTQ+ resources and amenities, these hotels go above and beyond to create a safe and inclusive environment for all guests who identify as LGBTQ+. And if you're looking for a place to stay in an area known for being LGBTQ+ friendly, these hotels have got you covered too.
In addition to the locally-owned gay-friendly accommodations in Sarajevo, international hotel chains can also be great options for LGBTQ+ travelers. Many of these chains have implemented policies and training programs to ensure that their hotels are welcoming and safe for LGBTQ+ guests. They may also have LGBTQ+ affinity groups within the company, which can help to promote a culture of inclusivity and support for queer travelers.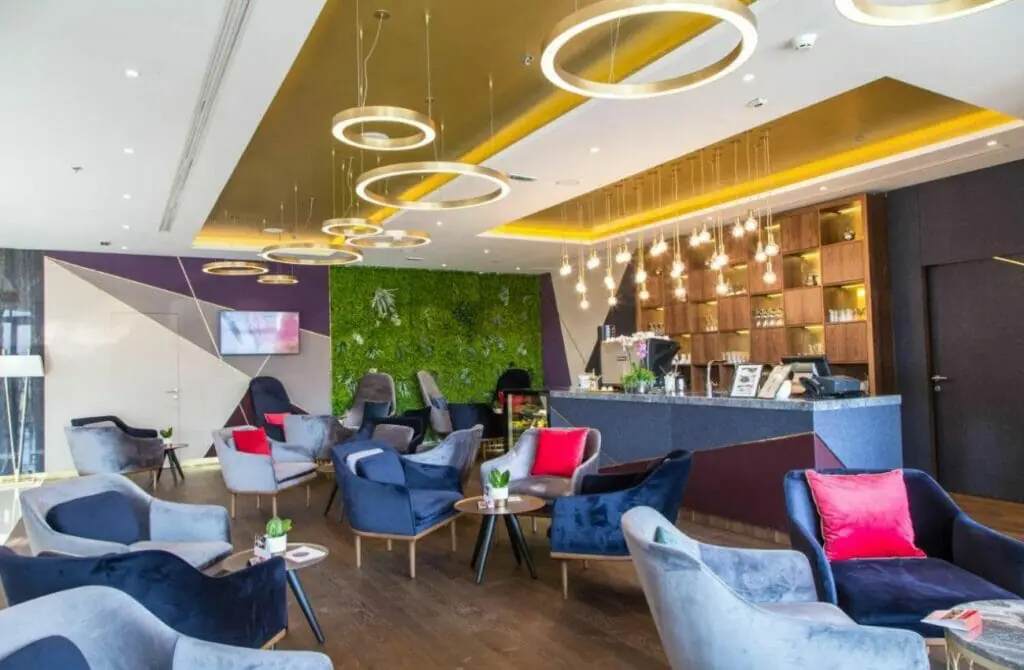 Moreover, international hotel chains are often known for their high-quality amenities and services, which can provide a more luxurious and comfortable stay for LGBTQ+ travelers. With a global presence, these chains can also provide a sense of familiarity and consistency for queer travelers who may be navigating unfamiliar destinations.
Whether you choose a locally-owned gay-friendly accommodation or an international hotel chain, it's important to do your research and choose a place that will make you feel welcome and comfortable during your stay in Sarajevo.
So why wait? Book now to experience the comfort, luxury, and acceptance that these gay-friendly hotels in Sarajevo have to offer. With options to fit every budget and preference, you're sure to find the perfect home away from home.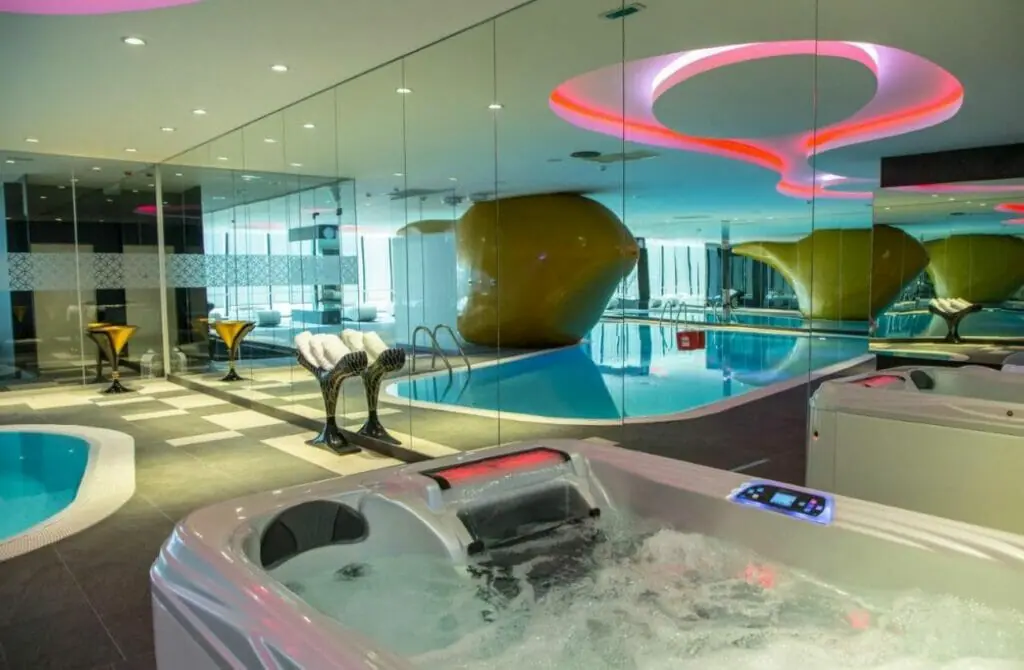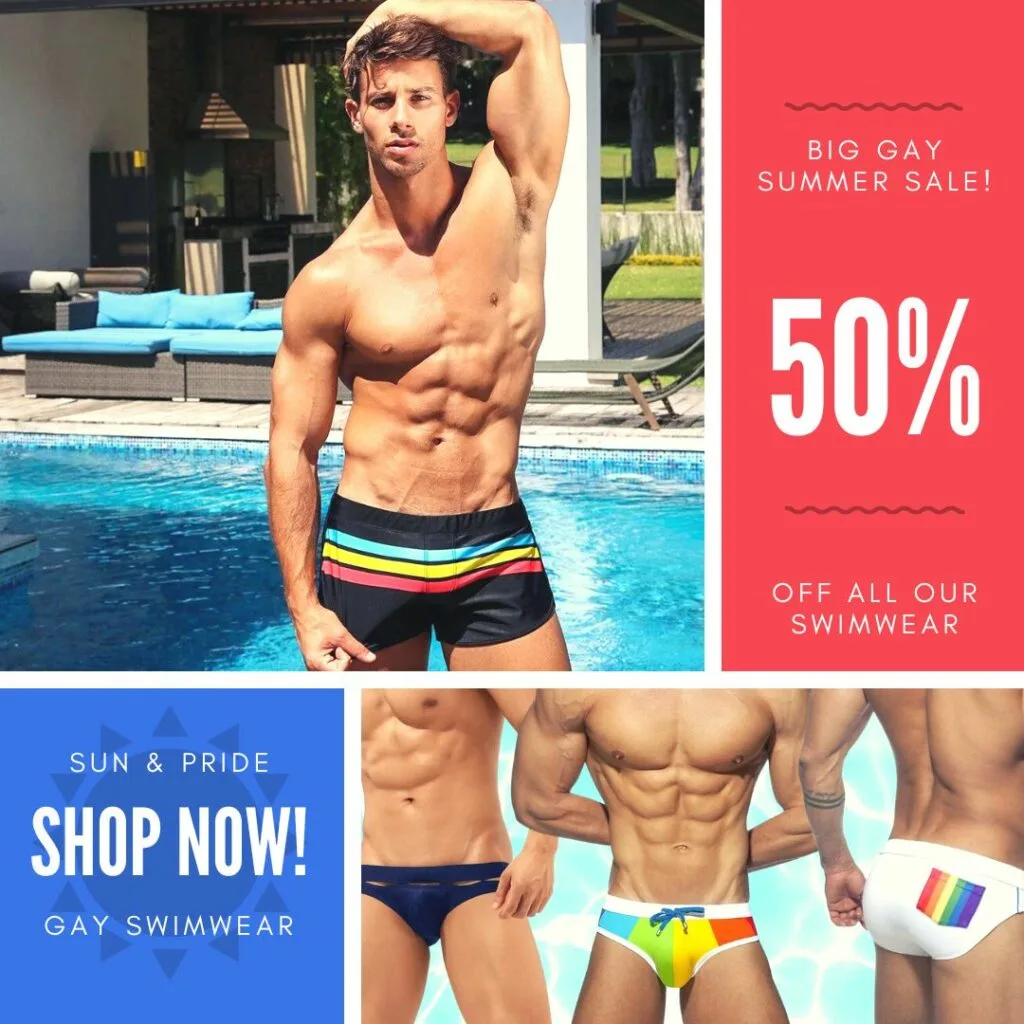 Swissotel Sarajevo is located around 2 km from Bascarsija Street and almost 1.7km from Latin Bridge. The luxury five-star hotel features contemporary rooms and hotel restaurants serving traditional Bosnian cuisine. The hotel offers free WiFi. All the suites and rooms have flat-screen TVs with tea and coffee-making facilities and offer beautiful city views through large windows.
The bathrooms all have private walk-in showers. You're welcome to enjoy your breakfast or all-day dining at Café Swiss, with plenty of choices for snacks or lunch. The hotel is also home to The Fusion Restaurant, offering a mix of traditional and Middle Eastern cuisine. Swiss Lounge, another restaurant in the hotel, offers sweet treats and coffee.
Unfortunately, the hotel doesn't offer alcoholic beverages. The Golden Rain Spa, located in the hotel, offers a variety of spa and beauty treatments as well as an indoor swimming pool. If you plan on catching up on business, the hotel has you well covered with business facilities and a conference room. Swissotel is close to Shopping Mall City Center, and some of the nearest attractions include Sebilj Fountain.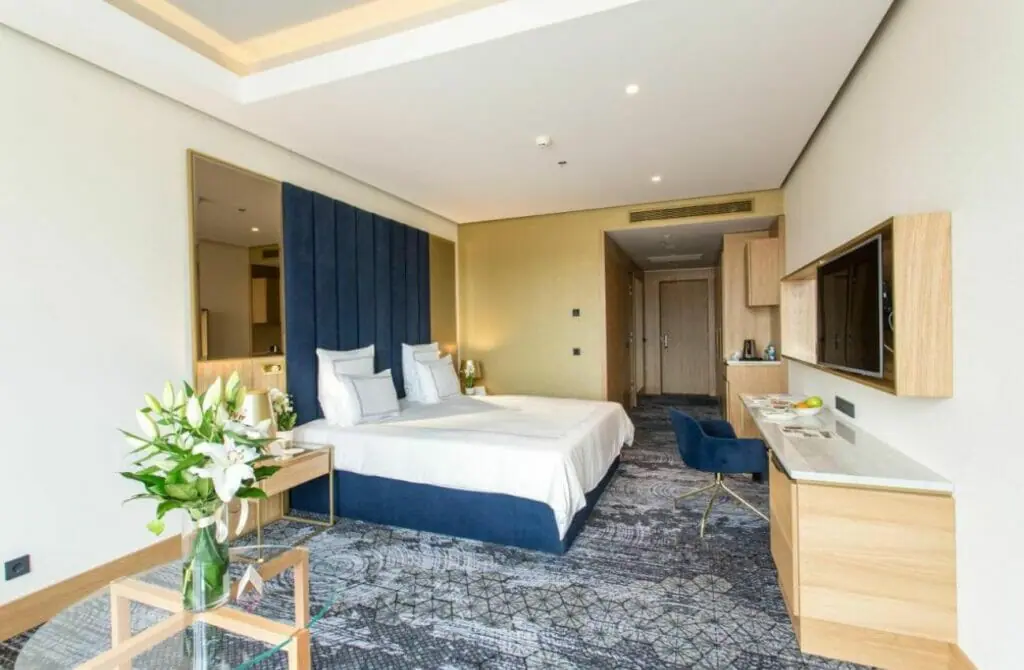 Hotel Hills Sarajevo, also known as Hotel Hills Sarajevo Congress and Thermal Spa Resort, is a luxury hotel that features both outdoor and indoor swimming pools. The hotel is located close to Sarajevo Airport and has a good mix of bars, restaurants, and an adrenaline park for people of all ages.
The hotel also offers free access to WiFi. The rooms at Hotel Hills Sarajevo are well-furnished, modern, and spacious. Each of the rooms offers access to a private balcony and amenities such as a mini bar, air conditioning, and a flat-screen TV. Rooms have either a shower or a bath, and each one comes with a hairdryer, free toiletries, and a bidet.
You're welcome to choose between any of the restaurants in the hotel for dining options that include traditional specialties and international cuisine. The hotel has a swimming pool with its own restaurant and another located at adrenaline park.
The thermal park also features a spa center with massage rooms, saunas, hot tubs, and a fitness center. Here, you will be able to enjoy a range of water sports, billiards, and table tennis.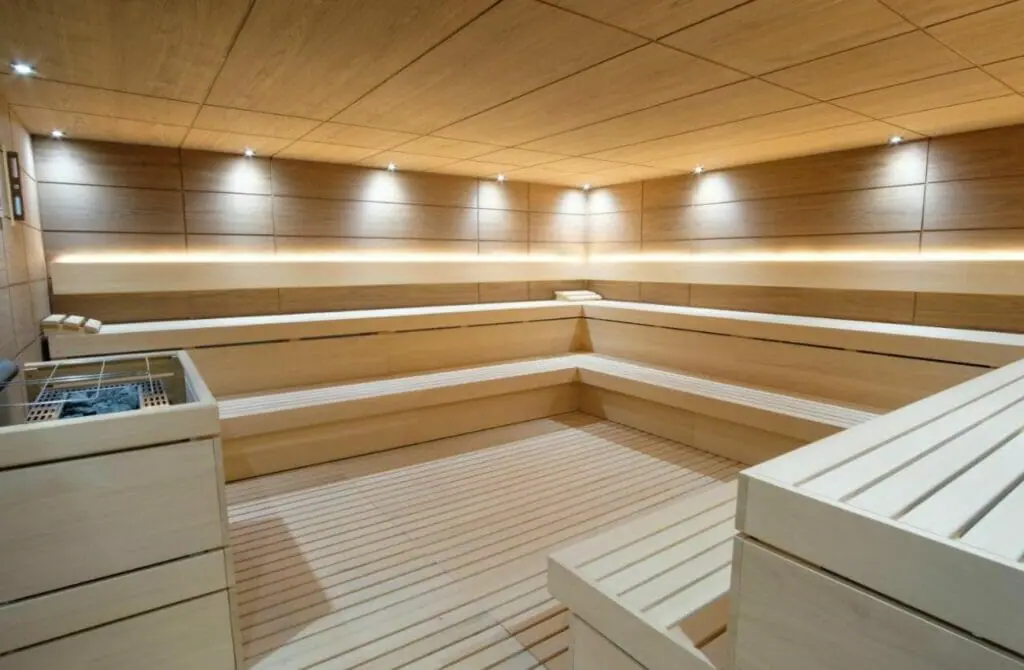 Hotel Bistrik City Center ☆☆☆☆
Hotel Bistrik City Center is located in the city center and features a restaurant and well-furnished rooms. The property offers free WiFi access, air-conditioned rooms, a mini bar in each of the rooms and a flat-screen TV. Rooms in the hotel also have private bathrooms fitted with hairdryers, a shower, and a bath. Guests also have access to the snack bar and can enjoy a quiet moment in the hotel's lounge.
Infinity Hostel is a boutique hostel at the center of the city. It features a modern design with a welcoming interior. All the rooms in this hostel have access to a kitchen, dining area, kettle, wardrobe, hairdryer, and fridge. You also have access to free WiFi. The bathrooms here are shared, but you will get linens and towels for free.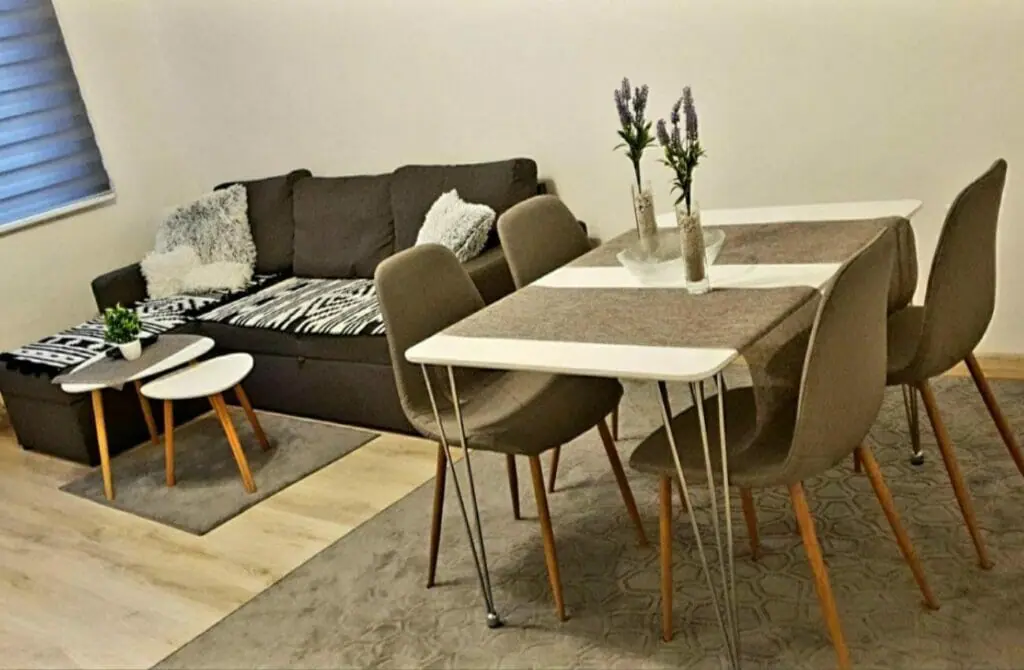 Gay Nightlife in Sarajevo
Exploring the queer nightlife scene in a new city can be one of the most exhilarating experiences while traveling, and Gay Sarajevo is certainly no exception. Not only do you have the chance to meet new people and make friends, but you'll also immerse yourself in the local culture and learn more about the LGBTQ+ community.
Whether you prefer to connect with other queer folks in person at a gay bar or club or through a hookup app, Gay Sarajevo has plenty of options for you to explore. However, it's important to keep in mind that many of the public spaces in the city are not queer-friendly, and it's best to avoid displaying overt signs of queerness in certain areas due to the risk of discrimination or even violence.
So, go ahead and venture out to experience the vibrant and diverse queer nightlife in Gay Sarajevo, but always prioritize your safety and well-being. Take precautions when meeting new people, and be mindful of your surroundings. With a little bit of caution and a whole lot of fun, you're sure to have an unforgettable time in this amazing city.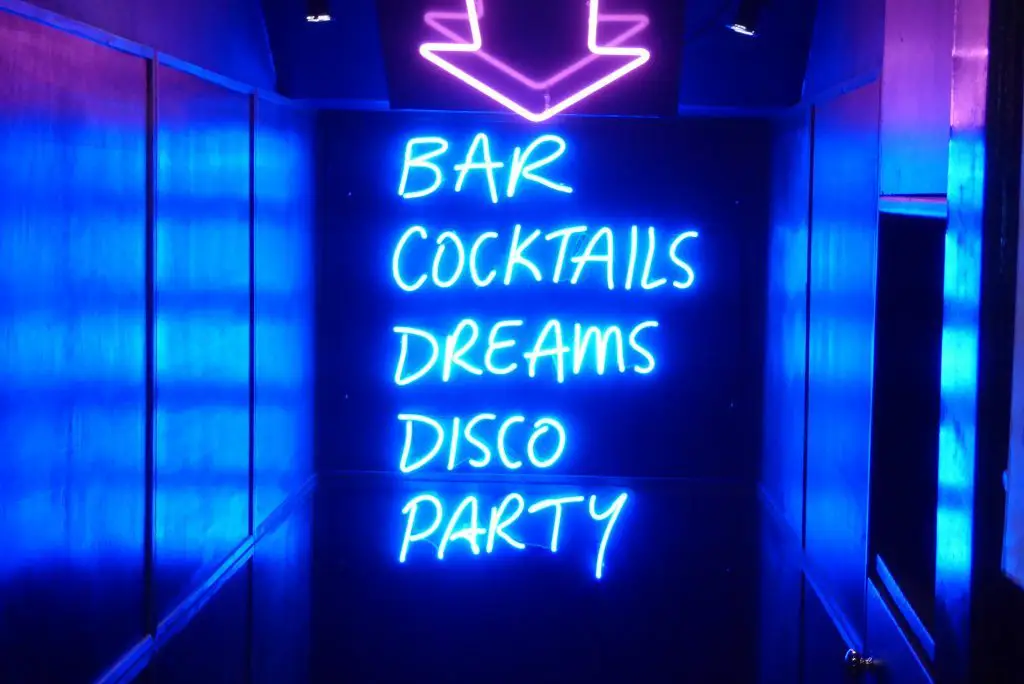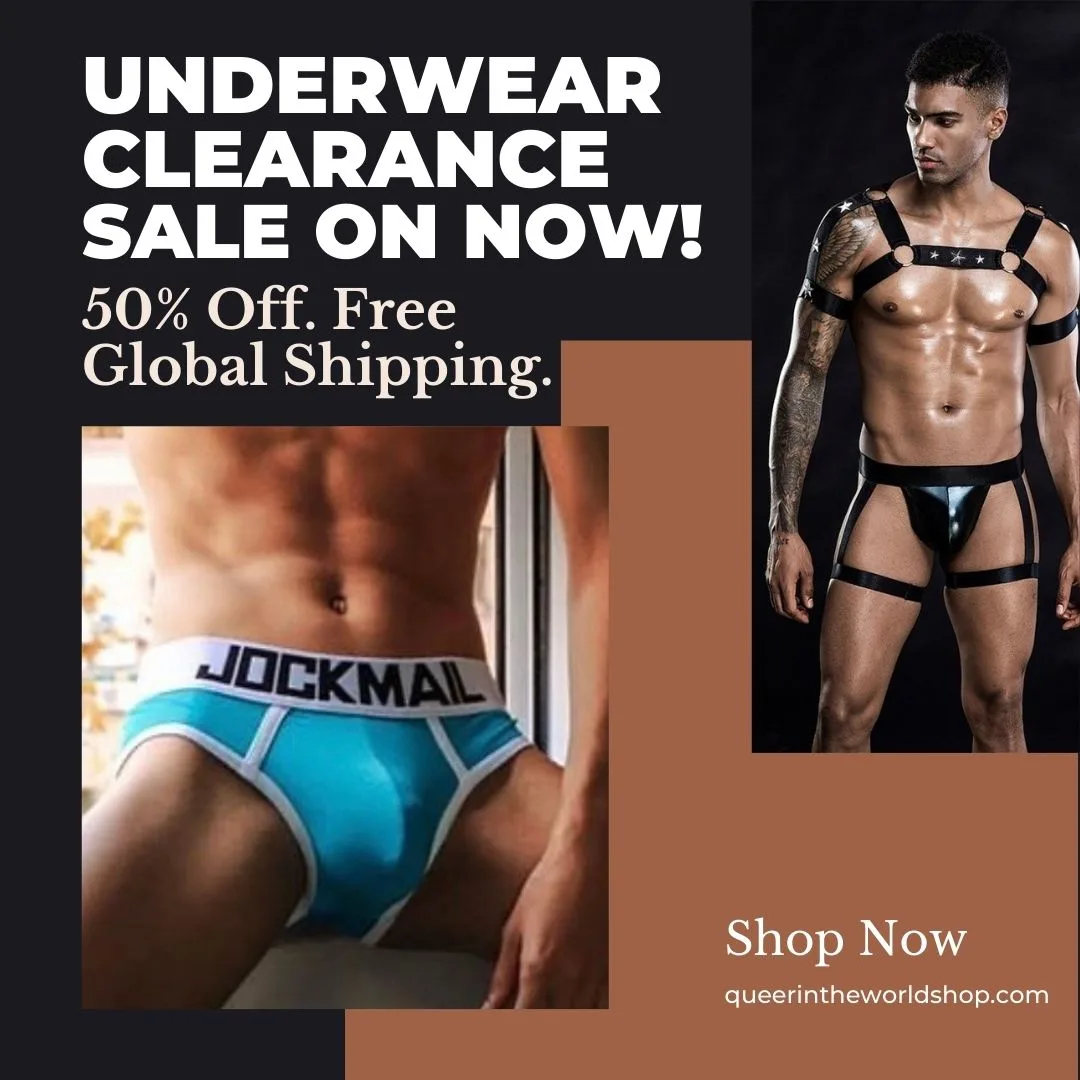 Gay Bars And Clubs In Sarajevo
The Loft is a very popular LGBT nightclub in the city and is also well-known throughout Bosnia and Herzegovina. It is located in the city center on the 6th floor of a building and comes with magnificent views of Sarajevo. Loft Club has much to offer in terms of parties every Friday and Saturday night.
The DJs here are well-known for their excellent mix of disco, pop music, and dance hits. The atmosphere is quite right for a night of partying and excitement in the city. If you're worried about safety, you will be happy to know that there are security personnel and surveillance cameras all around the location. The club features cabaret shows, access to free WiFi, a café, a bar, dancing, and live music.
The Bar is home to a mixed crowd, with most of the people frequenting the joint identifying as gay and lesbian. The club also hosts a diverse crowd of different ages with a mix of music ranging from Disco to Deep House.
If you're hungry, you can head to the bar and order from the fairly priced menu. There's no entry charge here; the opening hours are from 11 pm to 2 am.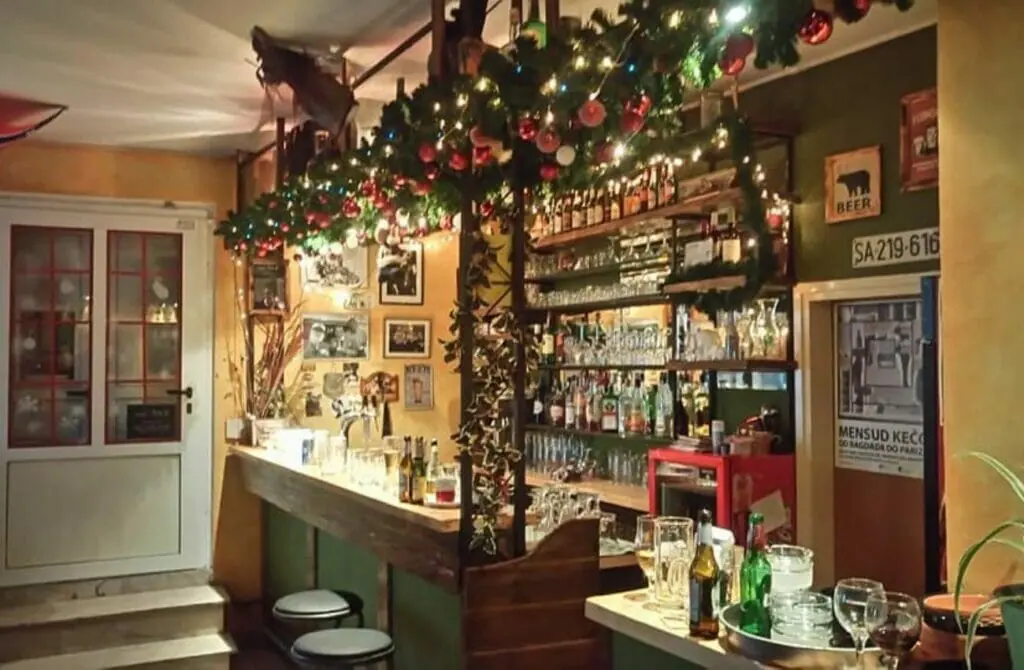 If one of your top things to do in Sarajevo includes meeting gay men, Premium Music Club is the place to be. The club is lesbian-friendly, although you will mostly find a diverse age range of gay men here. Not only is the club gay-friendly, but the vibes here are pretty chill and laid back.
They play a good mix of Classical and local music. Music Club is open all day and has a small capacity of 300 people. Visiting this location means you have access to an outdoor garden, which is quite popular during the summer.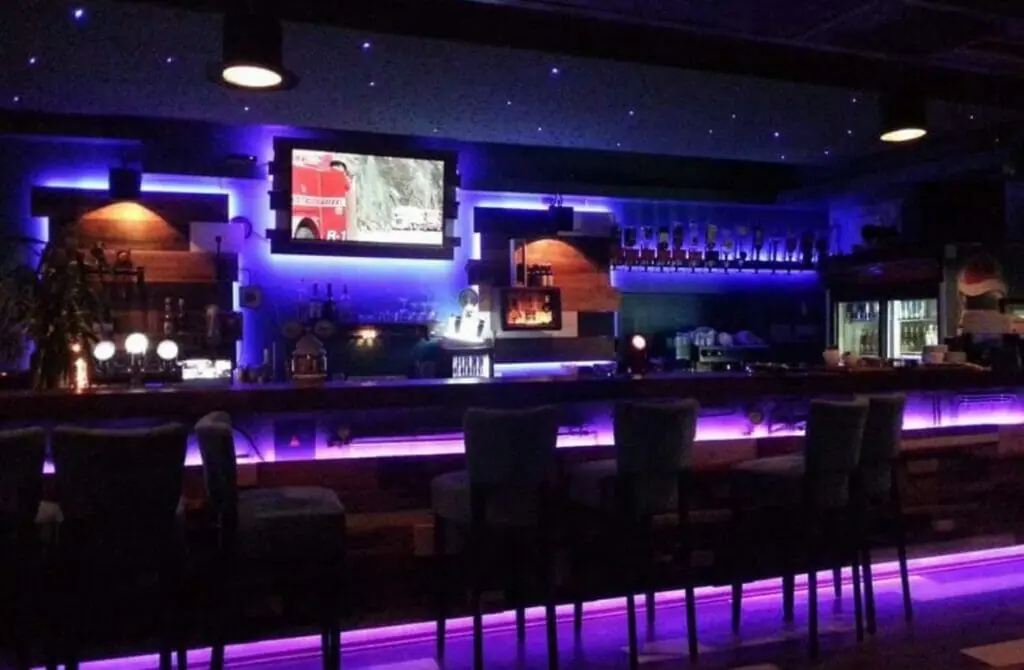 Other Gay Popular Bars and Clubs In Sarajevo
While Klub Podroom isn't an entirely gay club, it is gay-friendly. The club is located in central Sarajevo and offers a great mix of eclectic music with offerings of Hip Hop, Funk, soul, and exceptional mixes by local DJs. The crowd here is mostly made up of heterosexuals, gays and lesbians, with great prices on drinks. Drinks are affordable, and the club is open from 10 pm to 2 am.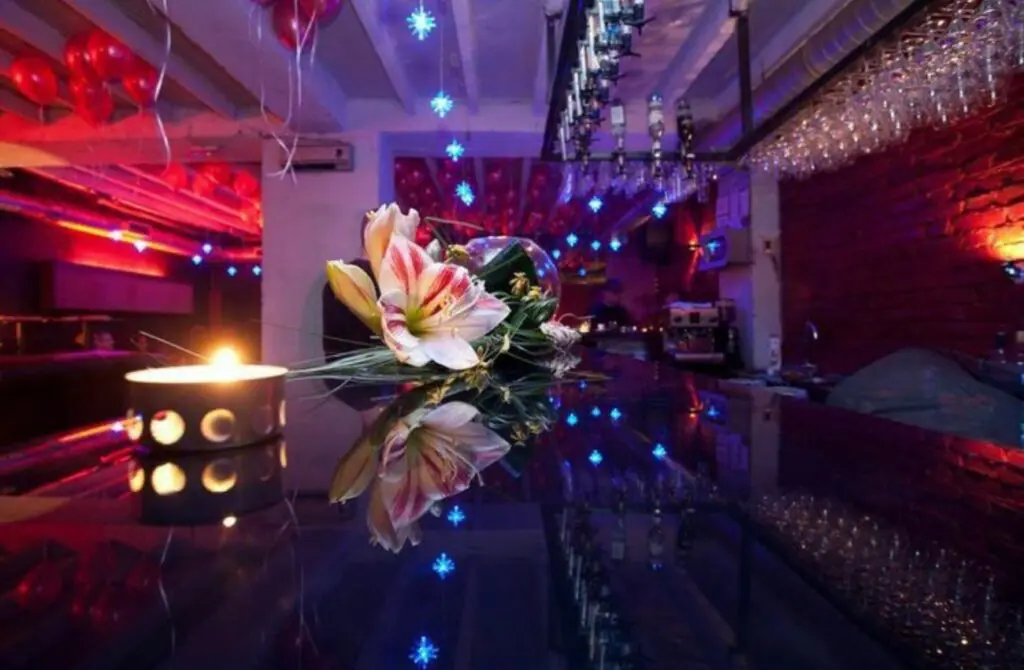 Gay Saunas & Cruising Clubs in Sarajevo
As expected with any conservative city, you might not come across any gay cruising areas or witness open gay dating in Sarajevo. However, dating apps like Grindr exist, but be prepared to see only photos of Torsos on the app.
A lot of the gay people here are quite apprehensive about showing their faces on dating apps, so if you're comfortable chatting up photos of landscapes or inanimate objects, we would say go for it. Otherwise, you might be better off meeting gay people in the clubs we've mentioned. Some other gay dating apps in Sarajevo you can try include Only Lads, where you can meet gay and bisexual men or BuzzArab.
When it comes to exploring Gay Sarajevo, there's more to life than just cocktails and beers. One aspect of the gay scene that many of us queens love are checking out the local gay saunas and cruising clubs.
Granted, Sarajevo isn't quite as wild as Amsterdam, Barcelona, or Berlin, but these steamy venues still offer the perfect opportunity to meet new people, socialize, and engage in some hot and heavy action without swiping left or right. However, remember that these venues can differ in terms of vibe, patrons, and rules, so it's a good idea to be informed before you dive in.
Gay saunas, sex clubs, and cruising have long been popular ways for queer men to meet and engage in sexual activity, particularly in countries where same-sex activity is not widely accepted or where it may even be illegal. In these places, gay saunas and cruising clubs provide a safe and discreet environment for queer men to explore their sexuality and connect with like-minded individuals.
Despite the rise of gay dating apps, many queer men still prefer the anonymity and physical connection that can be found in these spaces – so somewhat counter-intuitively, you might have a hotter experience here than you would at home.
We recommend checking out our guide to cruising for first-timers before you get started, which should give you the lowdown, and always practice safe sex. Keep in mind that local laws and customs regarding gay venues and sexual activity should be respected at all times.
With a bit of forethought and an open mind, visiting gay saunas and cruising clubs can be a thrilling and steamy part of your gay Sarajevo adventure.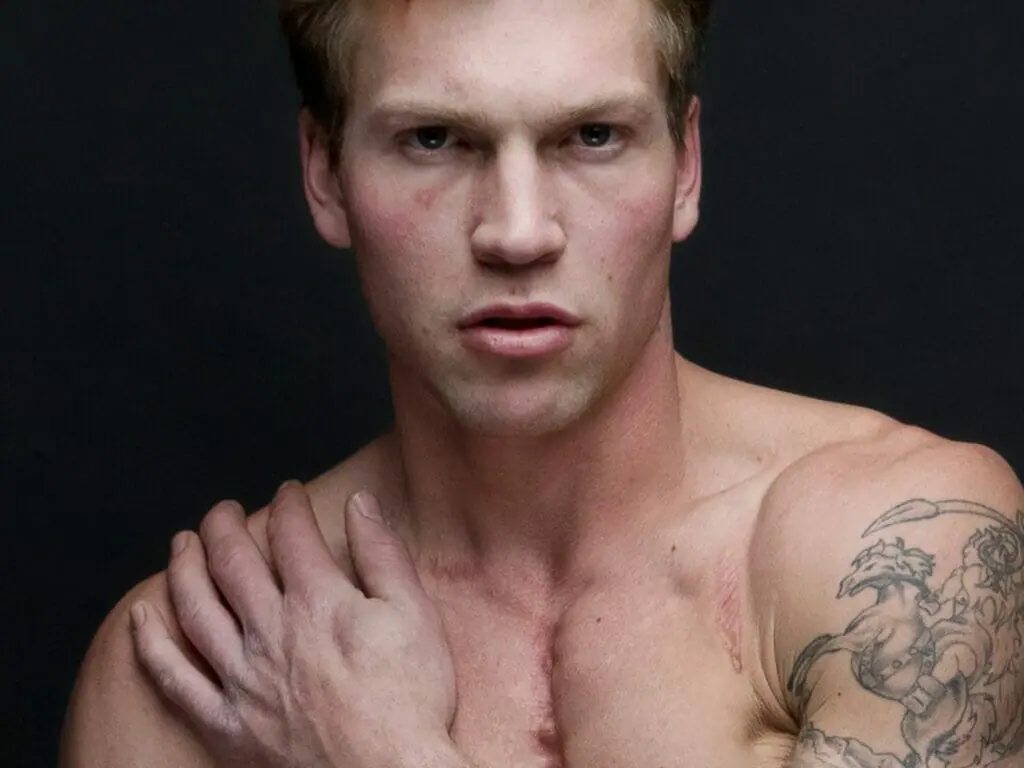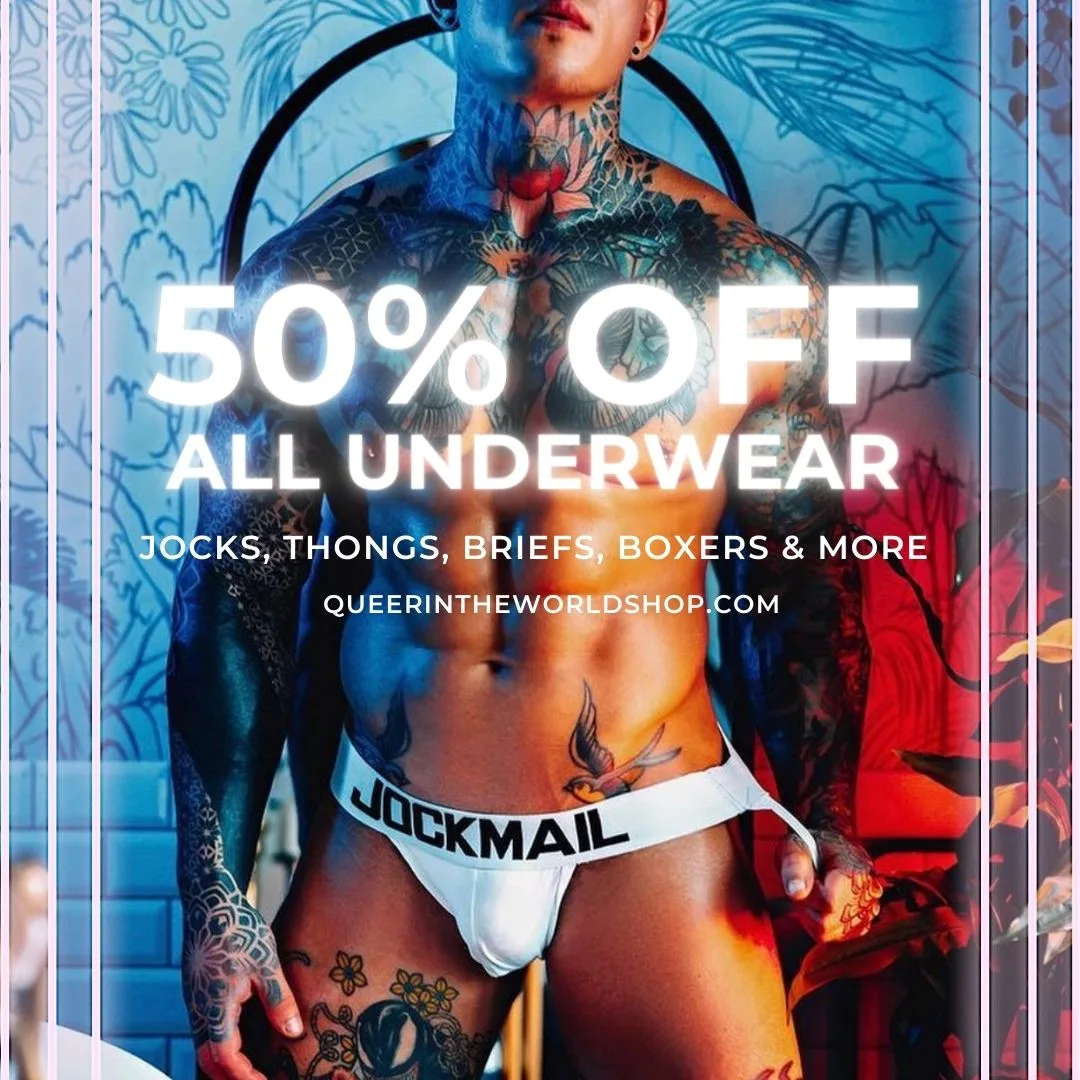 Gay Map Of Sarajevo
Finding it hard to envisage where everything is in Sarajevo? Hopefully, this queer-centric map helps where we have marked all the bars, clubs, parties, hotels, saunas, massages and more will help you stay in the spot best suited to you!