The Canary Islands are a popular tourist destination located off the coast of Spain, and its allure is not an exception to gay tourists either. The largest city on these islands is Las Palmas on Gran Canaria, with a great selection of gay bars and other attractions; the same is said for the second largest city Santa Cruz de Tenerife.
However, when it comes to the smaller island Fuerteventura, even if it doesn't have as many gay attractions, despite the odds, she has become a popular destination for LGBTQ+ travelers thanks to its stunning beaches, welcoming attitude, and small but vibrant gay scene.
All over these islands, you can find little hidden gems and fellow pulsing hearts of the queer community alive and well; you need to know how to find them! You also have this guide here to help you get started.
While the gay scene is limited, Fuerteventura is promoted as a hot gay tourist destination in the Canary Islands. However, before you throw yourself into the beauty of the natural environment, you will learn that the first inhabitants of these islands were the native Guanches from North Africa who arrived several thousand years ago.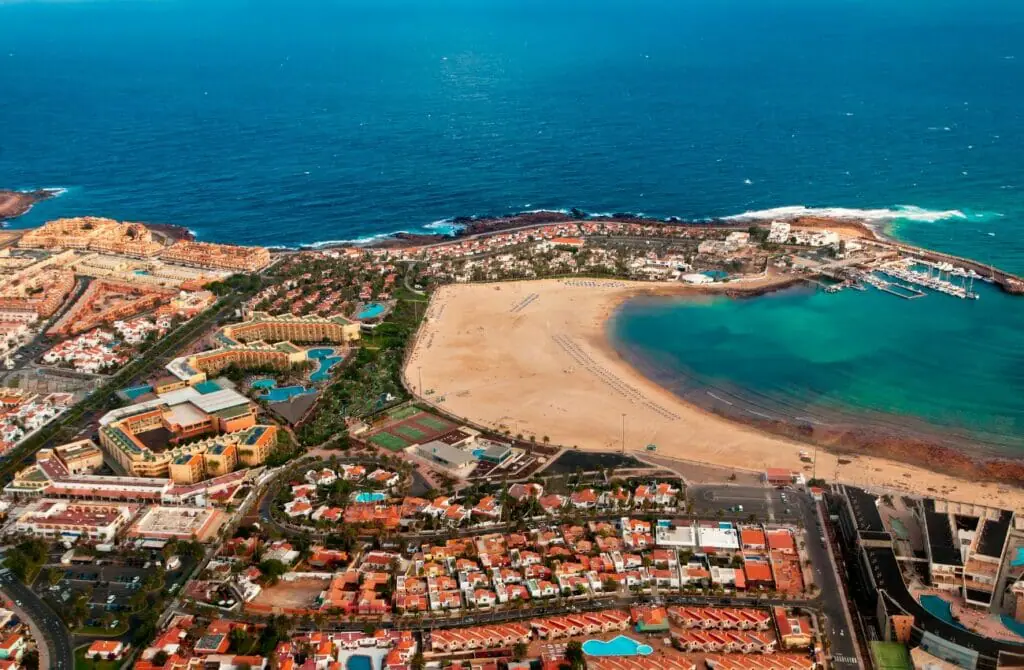 They are well-known for their cave paintings and various other cultural remains. However, their society was conquered by the Spanish in the 14th century. By the mid-20th century, the islands had become a booming hotel business and quickly developed as a tourist destination thriving today.
Getting there is easy directly from Spain and other parts of Europe via plane or a scenic ferry, and when you arrive, you will be met by a destination like no other in this part of the world. Moreover, with its breathtaking landscapes, stunning beaches, and laid-back atmosphere, Fuerteventura is a must-visit destination for gay travelers seeking a unique and welcoming experience.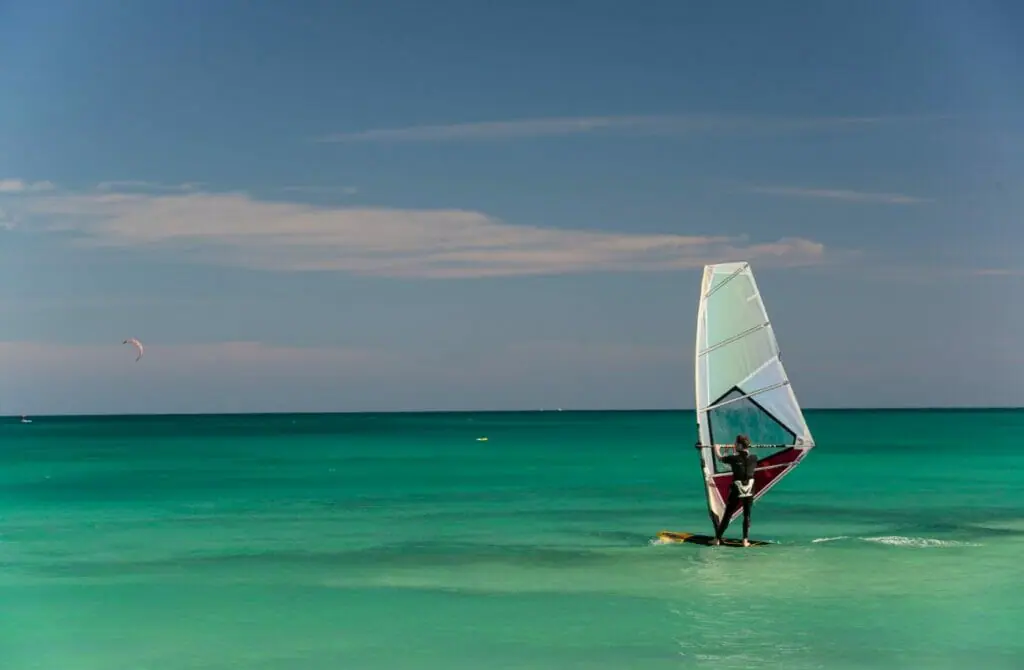 Attractions in Gay Gay Fuerteventura, Canary Islands
The Canary Islands might not have any formal gay attractions to draw the attention of the queer community, but it is still a popular place that many people from the LGBTQ+ community take time to see each year.
This is because, despite the lack of some facilities, they still have many great attractions on each island, from beautiful beauties and unique wildlife to the nightlife destinations, which all make a holiday on the island one few forget.
As a new visitor to Gay Fuerteventura, there are plenty of things to see and do, regardless of your sexual orientation. One of the best ways to experience any new city is to visit some of its most iconic landmarks and attractions, including historical monuments, museums, and art galleries.
We also love gazing at architecture up close, exploring parks and gardens, sampling the local cuisine, visiting local markets, and attending cultural events such as festivals, concerts and shows.
Even as the out-and-proud queer we are, we still love to explore the city and its culture in the same way as everyone else. Doing so allows us to learn more about the city and its people and gain a deeper understanding of the local culture. As such, these are our favorite must-see attractions in Fuerteventura.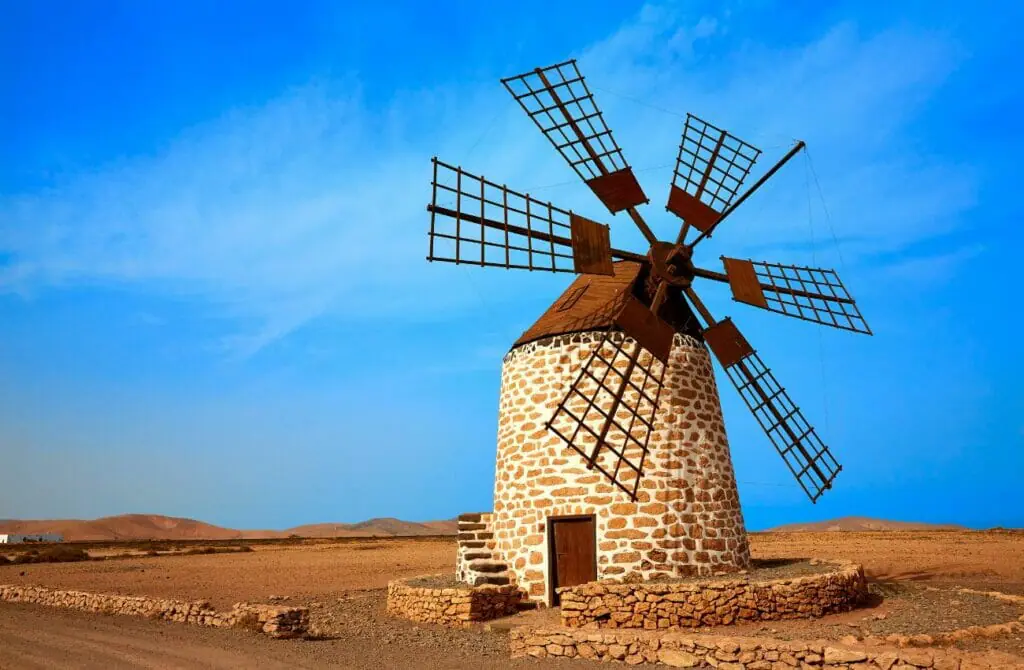 One of the best ways to see the Canary Islands is to see them all by boat, and you can take around-trip ferry from Fuerteventura on the island of Corralejo. Along the way, you will stop by each island and key tourist hot spots, from beaches, hiking trails, fishing villages, vast dunes, and island badlands. You can hit all the significant islands as you tick them off on your tour itinerary.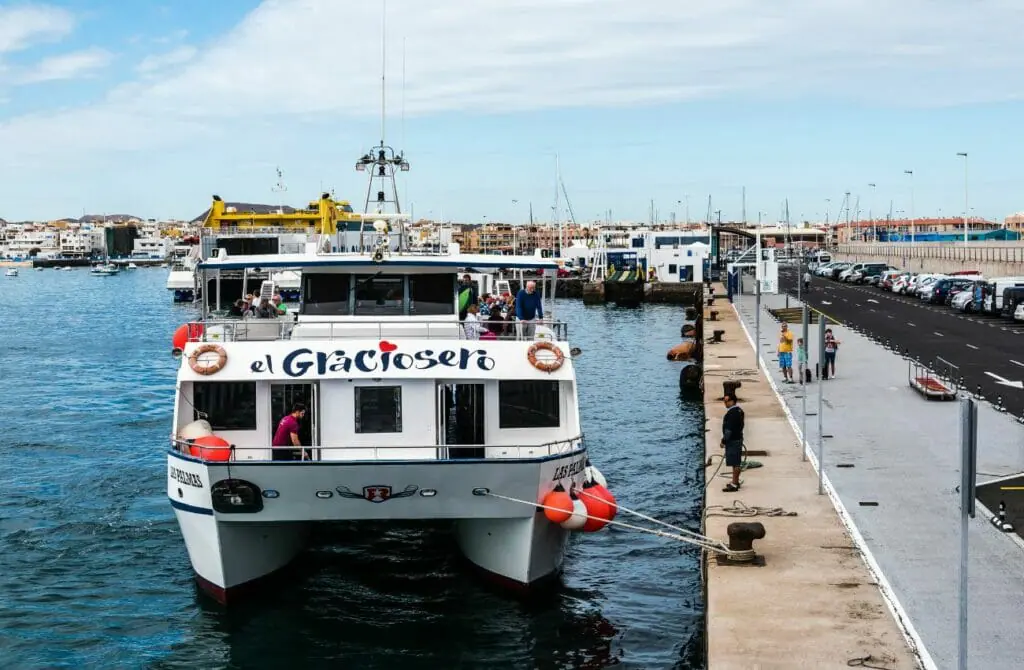 Visit Lobos Island with Snorkel Activity
Lobos Island is an island just north of Fuerteventura that is primarily uninhabited, so it is a top destination for experiencing the natural side of the Canary Islands. Located less than an hour by ferry, you can take in the volcanic mountains, pristine beaches, and easy walking tracks.
You can even take a splash and go for a snorkel! Then if you find yourself exhausted before the ferry comes back to collect you, the fishing village and bird-watching opportunities will give you that relaxation time.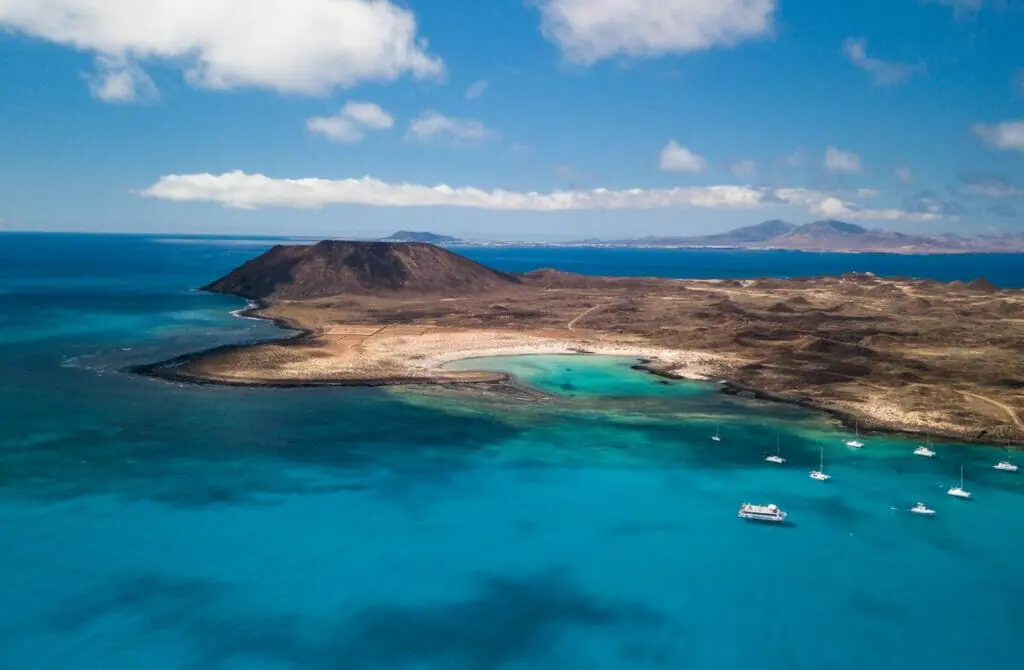 Tindaya
Located near the peak of the impressive Tindaya Mountain, you can find this small mountain village of Tindaya in the heart of Fuerteventura. Standing over 400 meters tall, this place doesn't just have incredible views of the landscape but a link back to the indigenous Guanche people who regard this place sacred.
Visitors can hike up the summit of the mountain and take in this splendor, and if they so wish, stop by the village and get a glimpse into the traditional Canarian life outside the busy tourist towns.
Costa Calma
Costa Calma is a picturesque coastal town on the southern coast of Fuerteventura that is worth adding to your must-see list. Firstly, the name translates directly to 'calm coast', living up to this reputation with sandy beaches and plenty of places to sunbathe and relax. Plus, they are famous for water sports, swimming, hiking, and cycling around the nearby hills.
Then as the day ends, her nightlife comes alive with various restaurants, bars and shops to keep her cozy visitors busy.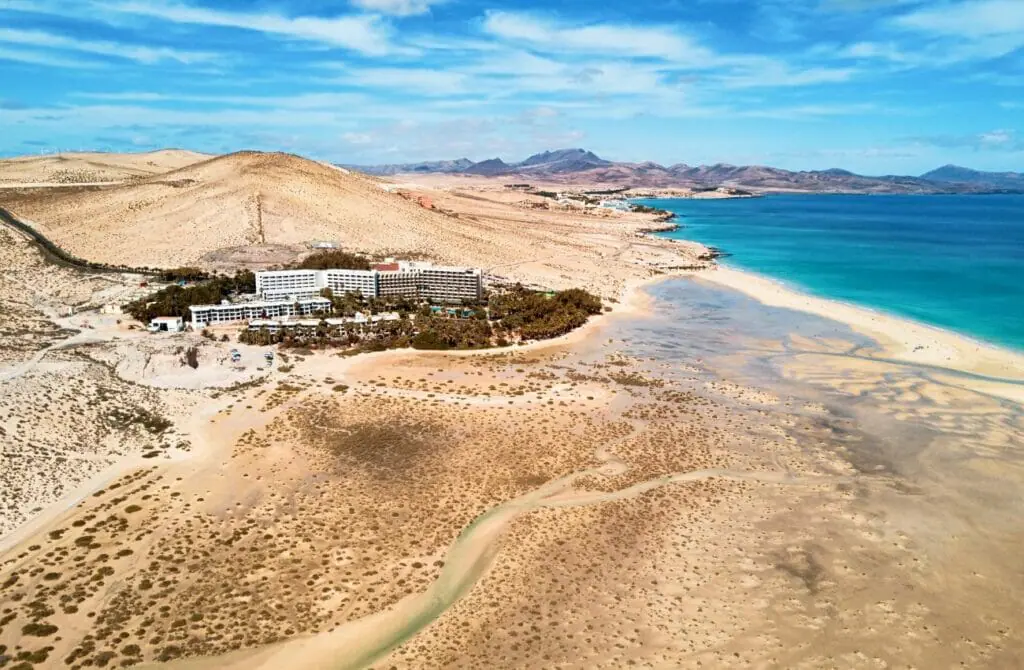 Salinas del Carmen
Outside of tourism, a prominent local industry in the Canary Islands is the village of Salinas del Carden, with its famous salt pans. Being in operation since the 18th century, they continue to produce sea salt for people worldwide today.
You can visit the site and see how they used to extract salt from the sea, how it is done today, and the numerous products the business produces. So whether you are interested in food history, this is a great way to see both and enjoy fresh seafood dishes salted with local sea salt.
Betancuria
In the heart of Fuerteventura is the charming town founded in the 15th century and was the island's original capital before it shifted to Puerto del Rosario. Now she serves as a historical site teaching visitors about the original Spanish inhabitants through the Cararian architecture and cultural heritage.
You can walk narrow streets and alleys, discovering that this old relic is not all in ruin with a lively Santa Maria church, convent, and museums. Surrounding the town are excellent natural sights to go on hikes and see great mountain views.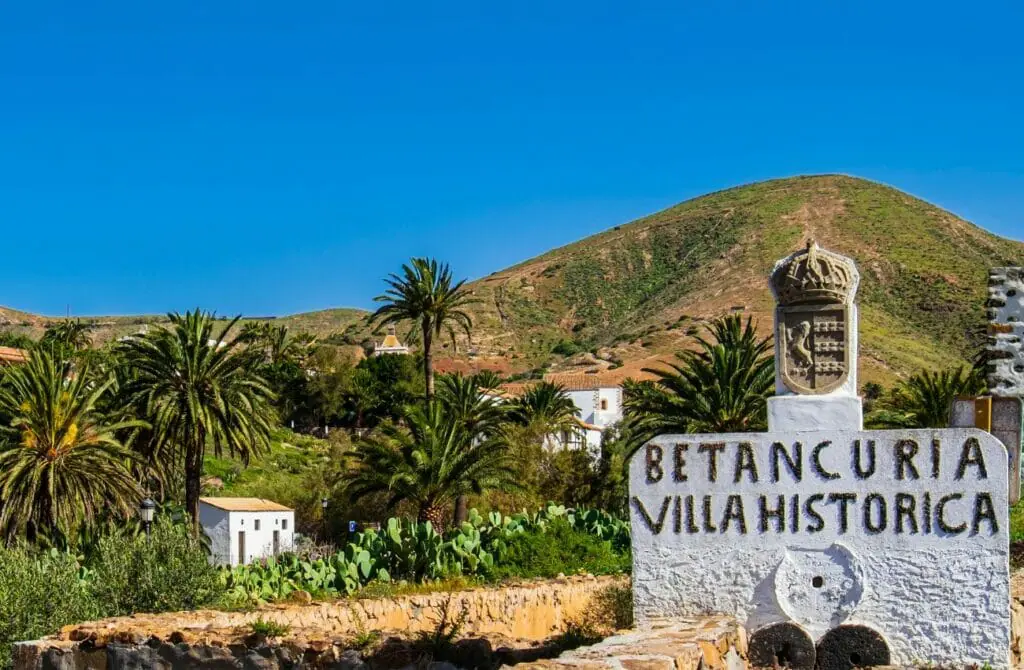 La Concha Beach, in El Cotillo
El Cotillo is a little fishing village on the northwest coast of Fuerteventura, playing host to La Concha Bech. This slice of marine paradise has crystal-clear turquoise waters, fine white sands, and the perfect place to have a day at the beach and catch some waves in the surf.
Plus, the dunes and cliffs provide an excellent backdrop for photos! Being close to the town is a bonus as you can visit their restaurants and bars come evening or get food to take away and picnic at the beach.
One of the draws to the Canary Islands isn't just the stunning beaches and coast side parties in the tourist towns. The government's active programs preserve the little untouched pieces of nature to bring nature back to life, so Corralejo Natural Park showcases these efforts.
This protected area is located northeast of Fuerteventura. It is over ten kilometers of varied landscape. Its most famous draw is the seemingly endless dunes that allow one to experience a desert without going to Africa or the Middle East.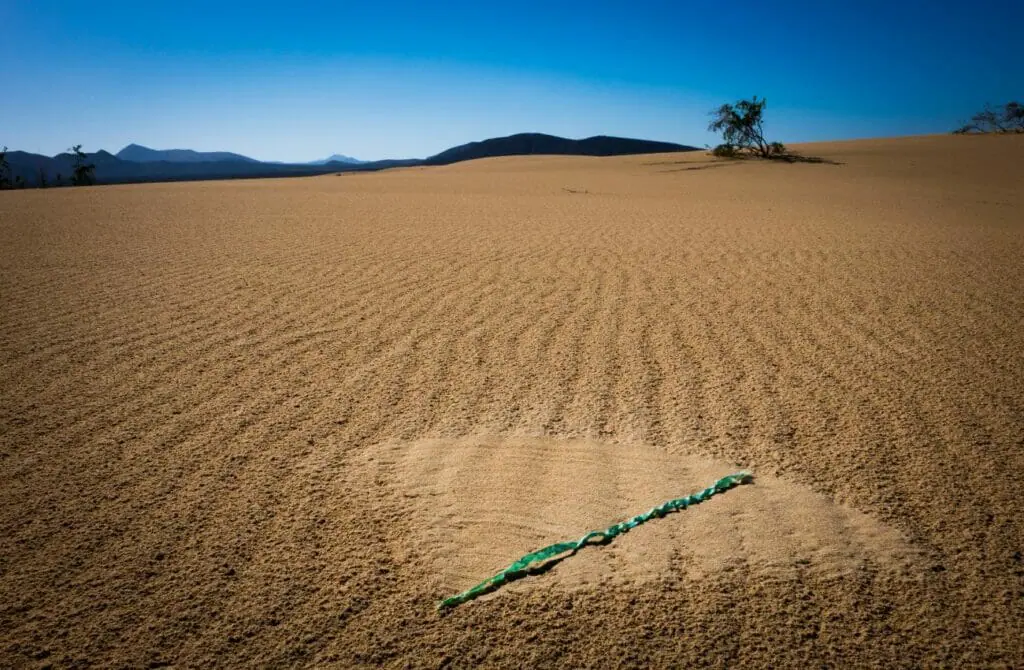 Nearby Sights Outside of Fuerteventura in The Canary Islands
Taking a few days outside of Feurtenevtura to check out the other Canary Islands is recommended if you can. After a splash of water outside the salty waves of the Atlantic, Siam Park is an attractive option as it has become regarded as the best water park in the world, according to Trip Advisor.
Here on Tenerife island, you can find this top tourist destination to experience a tropical paradise, from rows of palms and pools to waterslides and a range of themed parts of the expansive park. However, it isn't just for children and families, as adults and singles alike come specifically to the Canary Islands to see what this park is all about.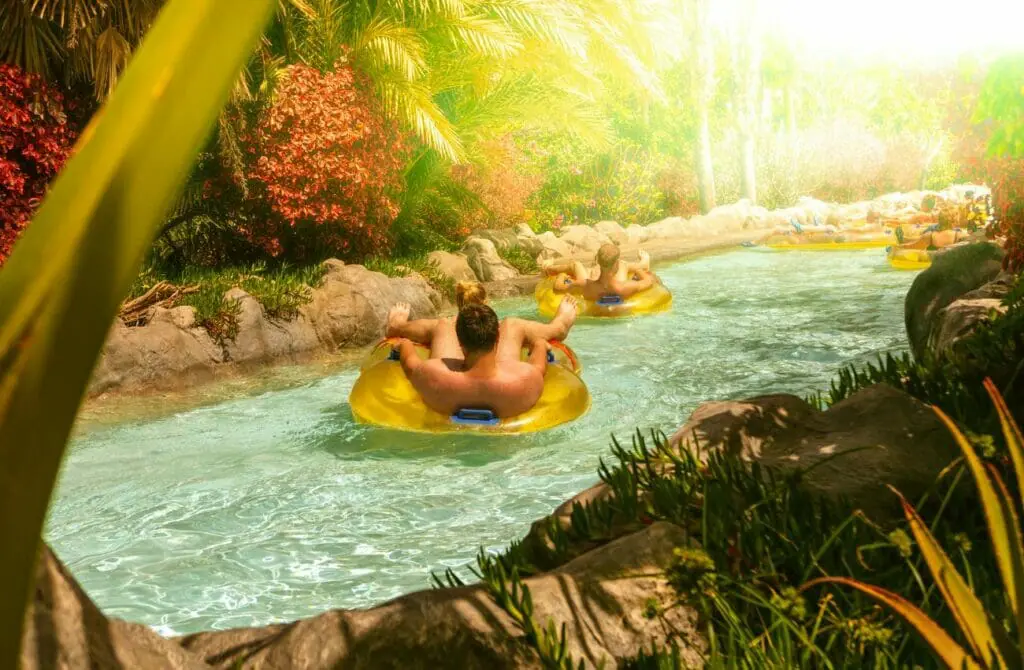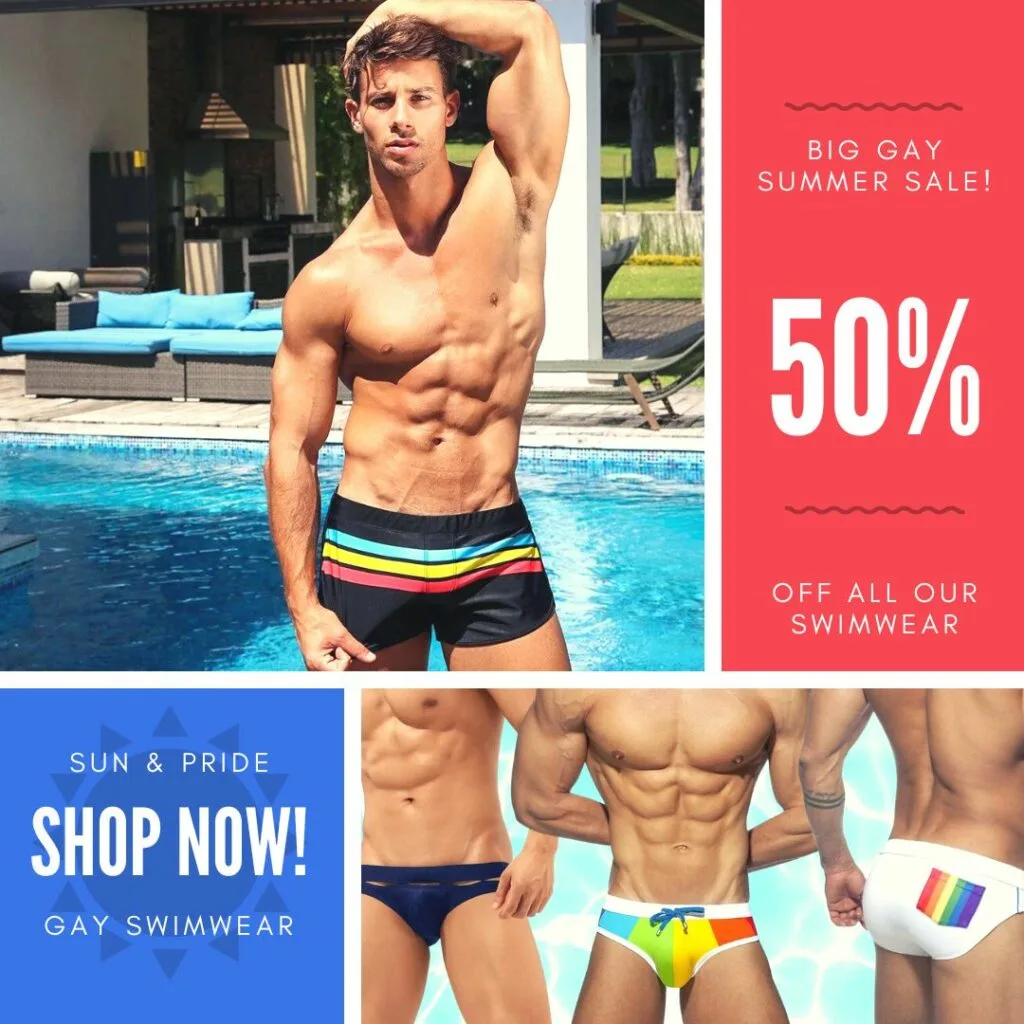 Santa Cruz de Tenerife
When you stop by Costa Adeje island, you must stop by their capital, an expansive city with a population of 200,000 people (and only the second biggest in the Canary Islands). Here you can find great hotels and tourist attractions, with the highlight being the ruins of the old 17th-century city and castles. Plus, here, the gay life is pumping!
It would be best if you visited the capital of the Canary Islands on the Island of Gran Canaria, with a population of 400,000 people. Here you can get a slice of gay nightlife in their lively queer scene and see other attractions that await you.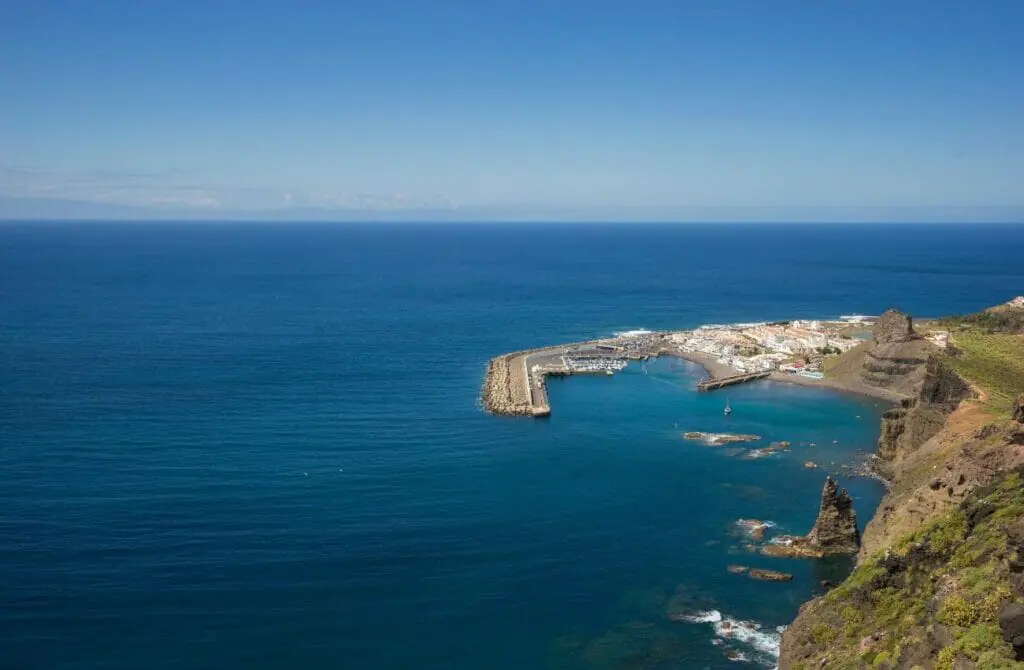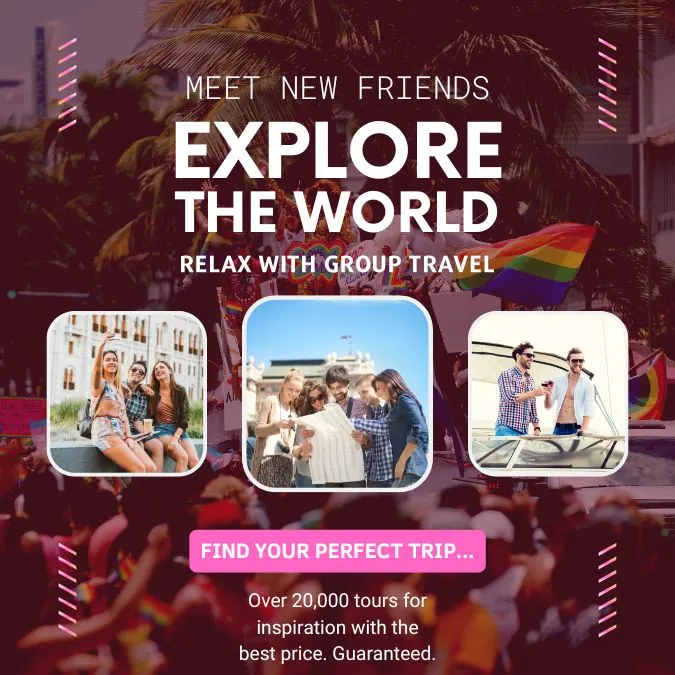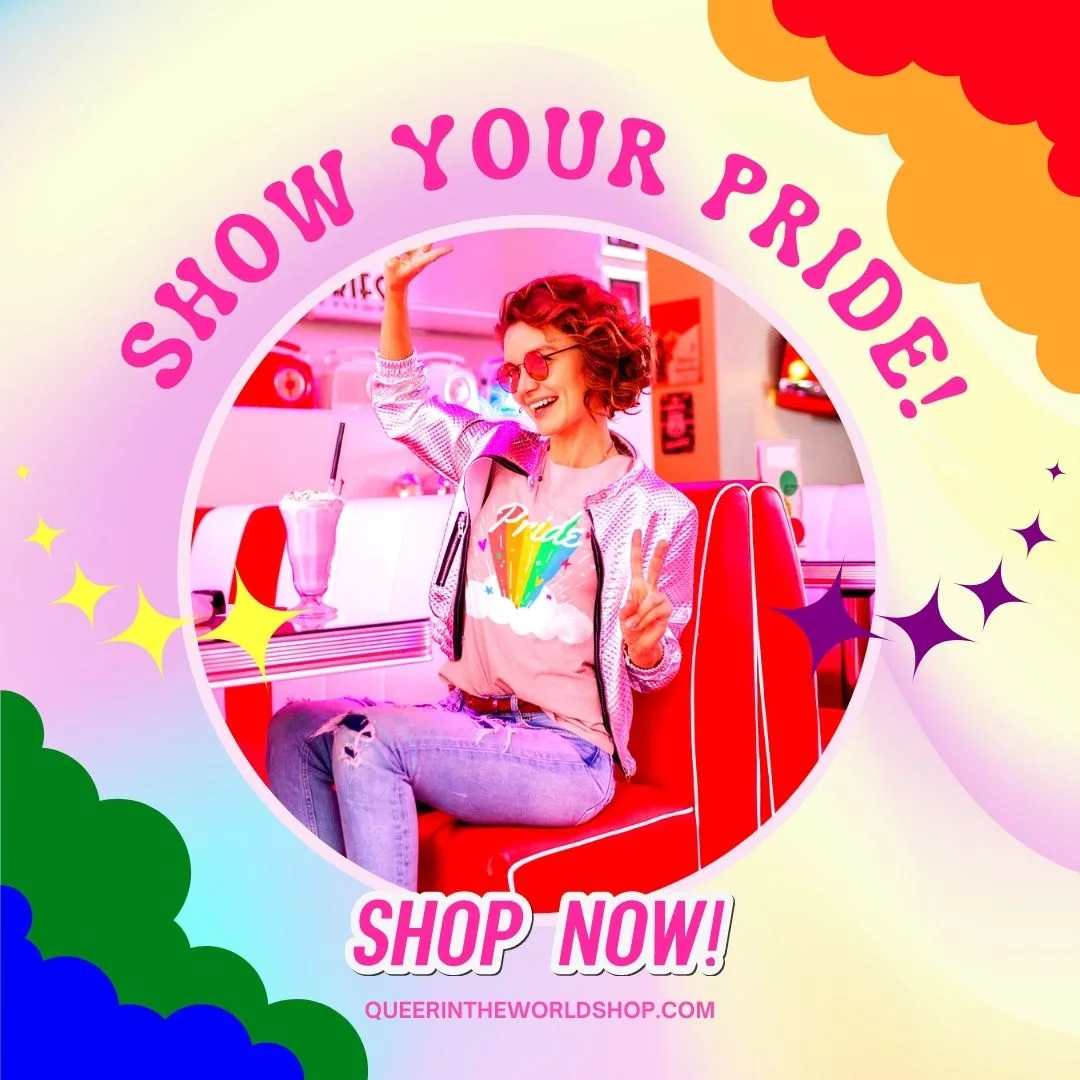 Gay-Friendly & Gay Hotels in Fuerteventura, Canary Islands
Being gay-friendly accommodation means that the establishment is welcoming and inclusive to guests who identify as LGBTQ+. This can include, but is not limited to, having policies and practices that demonstrate a commitment to creating a safe and inclusive environment for LGBTQ+ guests, such as non-discrimination policies and providing support and resources for LGBTQ+ travelers.
Some gay-friendly accommodations may also provide amenities specifically catering to the LGBTQ+ community, such as rainbow flags or literature about local LGBTQ+ events or resources. Furthermore, gay-friendly accommodations may be located in an area known for being LGBTQ+ friendly.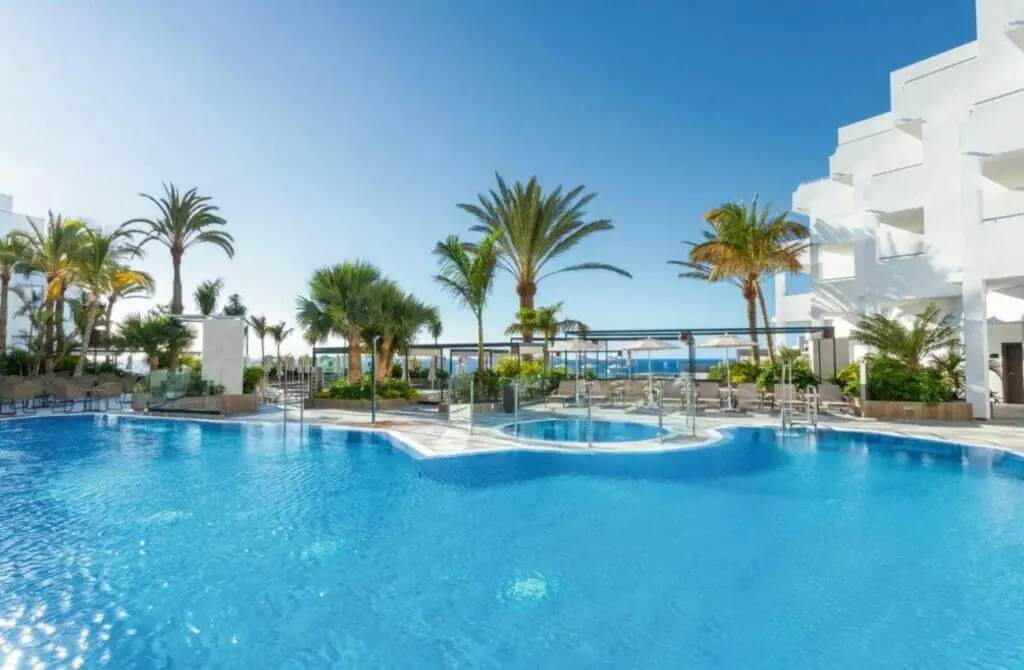 While Fuerteventura does not have any specifically gay hotels or resorts, these are the most fabulous and pro-actively gay-friendly hotels in Fuerteventura. There are also hundreds more hotel and hostel options in Fuerteventura if none of these suit your desired budget, facilities or area – but these are the best hotels according to other gay travelers and us.
Whatever your needs are, Fuerteventura has you covered.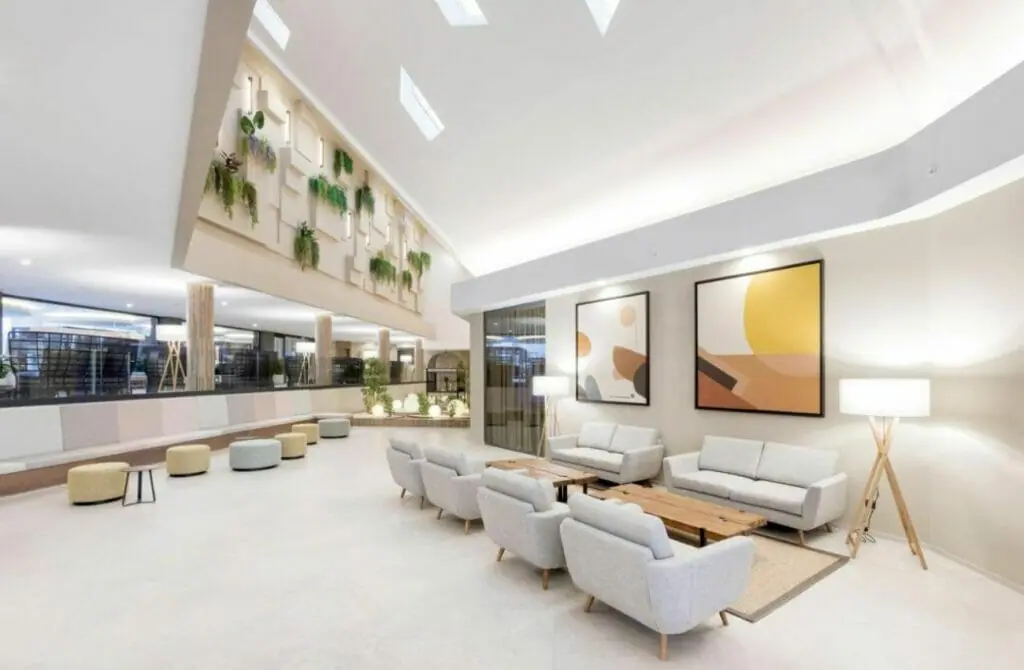 You can find five-star luxury in Fuerteventura at Hotel Riu Palace Jadia, with front-door access to Matorral Beach, a flat expansive sandy beach with a pristine blue ocean.
Imagine walking along the beach before breakfast, with easy access to your lodgings. But if you like to get fit without getting covered in sand, they have a fitness center and outdoor pool, with sandless loungers looking out towards the coast.
The hotel cares about the well-being of its guests, so they provide a means of keeping fit and evening entertainment with live shows and concerts held regularly. Furthermore, their on-site restaurants offer food at all hours, with complimentary breakfast! Plus, when hitting the pool, they have an easy-to-access bar; if lounging, they also have one!
When you stay here, you can expect a range of incredible services, and when you turn in for the night, you will remain at the height of comfort in one of 201 guest rooms with balconies, satellite TV, Wi-Fi and a minibar. This is undoubtedly one all queer tourists should put at the top of their list!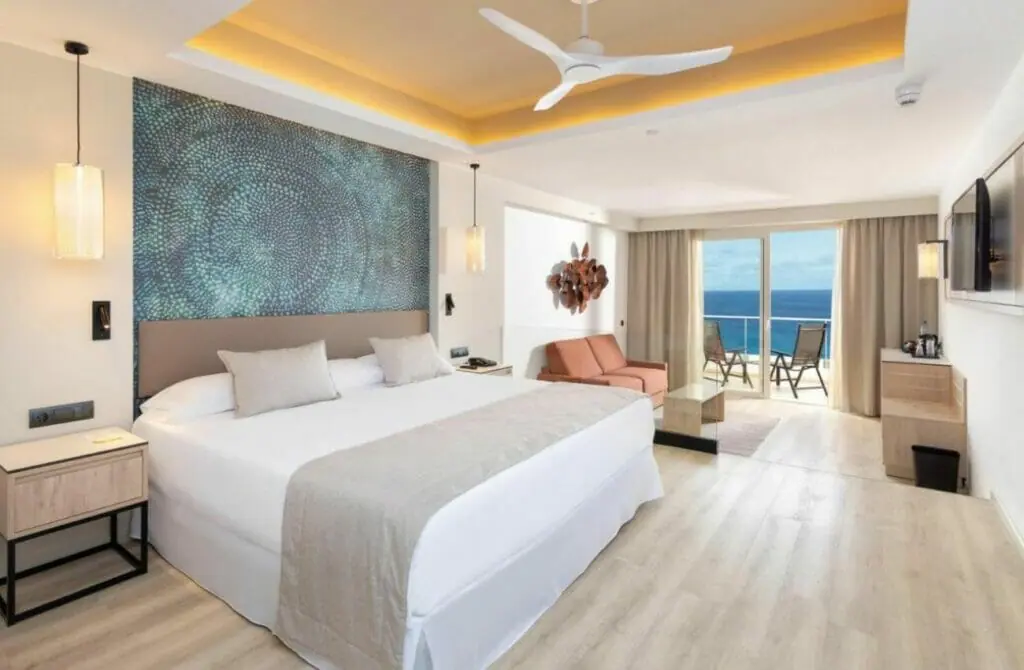 H10 Ocean Dunas – Adults Only ☆☆☆☆
Regardless of who you are, if you want an adult-exclusive hotel, the H10 Ocean Dunas is a popular four-star choice for accommodation in the northern part of Fuerteventura.
Surrounded by gorgeous beaches and a stunning natural landscape close to Corralejo city, you have close access to notable attractions, including the Corralejo Dunes Natural Park. Not only that, when you stay here, you can contribute to the preservation of the environment as this is all eco-friendly, plus they have several services making your stay cozy.
Whether you love their poolside bar and pool or their terrace and various on-site dining options, you'll be spoilt for your choice during your visit. Moreover, every room has balconies, air conditioning during the tropical summer months, Wi-Fi, and all the basics you need. So cozy up into the dunes of Corralejo and make the most of being in the Canary Islands.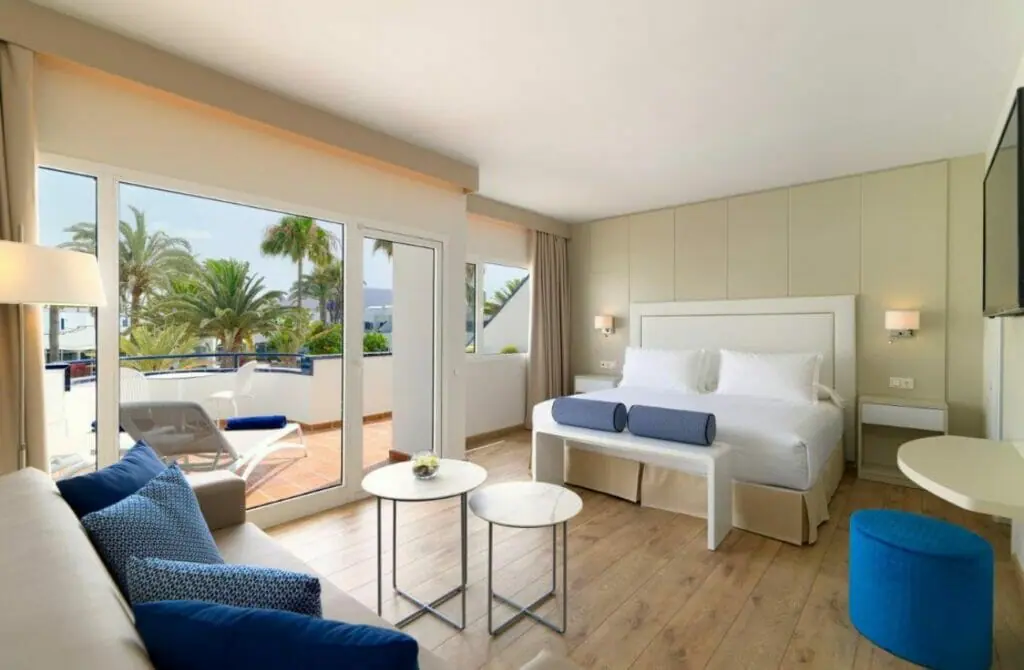 Alua Suites Fuerteventura ☆☆☆☆
Another gem in Corralejo that sits at four stars is the Alua Suites, popular for families and singles alike that tasks full advantage of the location and nearby Las Agujas Beach. Guests love that when they stay here, they are close to outdoor activities, from hiking and biking to kayaking, scuba and snorkeling. Even the local Acua Water Park can fill your afternoons for hours.
But returning to your accommodation, you will find eight massive outdoor pools, sided by a poolside bar and relaxation area. The full-service spa and on-site restaurants catering to all your needs are even more incredible.
But what about your rooms? Of the 383 to choose from, you will get a great selection, with highlights of your private space, including the balconies, the minifridge and coffee facilities, and the TV.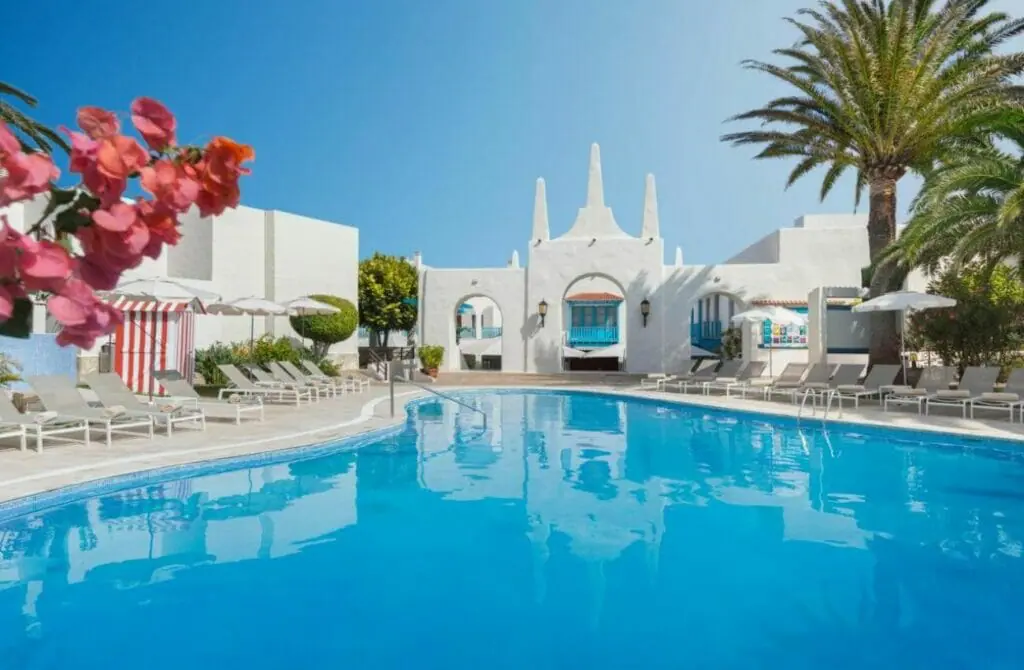 Hotel Riu Oliva Beach Resort ☆☆☆
A top three-star accommodation pick on Fuerteventura is the gay-friendly Hotel Riu Oliva Beach Resort, located along the beach at Correlago. Choose from one of 814 rooms with great amenities, from air conditioning, safes, TVs, minifridges, and ensuite bathrooms.
Dine at one of four on-site restaurants serving local cuisines with al fresco dining, and stop by their poolside bars and nightclub. Moreover, if the weather isn't pleasant, you can swim in two outdoor pools to keep fit, along with a game of beach volleyball or aerobics classes at the gym.
Of course, with all these services, you might only need to go somewhere else, but if you decide to venture, you can wander in Corralejo town and check out their lively nightlife. During the day, one of the best places to see was the old town showcasing some of the oldest remaining structures in the Canary Islands, with colonial landmarks from when the Spanish took over.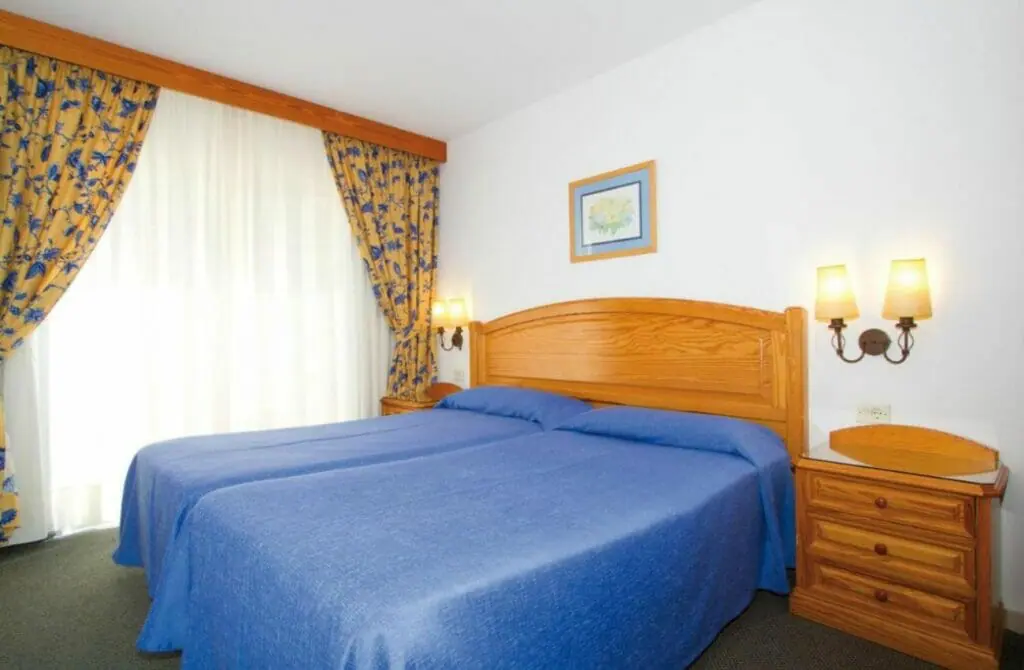 Gay Nightlife In Fuerteventura, Canary Islands
Gay travelers will be glad to learn that Fuerteventura Island is exceptionally gay-friendly despite losing its only gay bar in recent years. You don't need to travel to other islands like Tenerife and Gran Canaria to experience the great nightlife.
However, if you want to visit a gay bar in the Canary Islands, you must travel to one of these forbore mentioned islands. Even if Fuerteventura lacks in some areas, she still hosts annual pride festivals and is home to their local pride group so that you won't be left entirely out of the queer community.
Exploring the gay and gay-friendly nightlife in a new city can be one of the most exciting and rewarding experiences while traveling – and Gay Fuerteventura is no exception. Not only will you have the opportunity to meet new people and make friends, but you'll also get a taste of the local culture and learn more about the city's LGBTQ+ community.
Going out and experiencing the queer and queer-friendly nightlife in a new city can also be a great way to break out of your comfort zone and try new things. Whether dancing the night away at a gay club or mingling with locals at a gay-friendly bar, you'll have the chance to make memories and create lasting connections.
So, don't be afraid to step out of your comfort zone and explore the gay and gay-friendly nightlife in Fuerteventura. You'll be glad you did!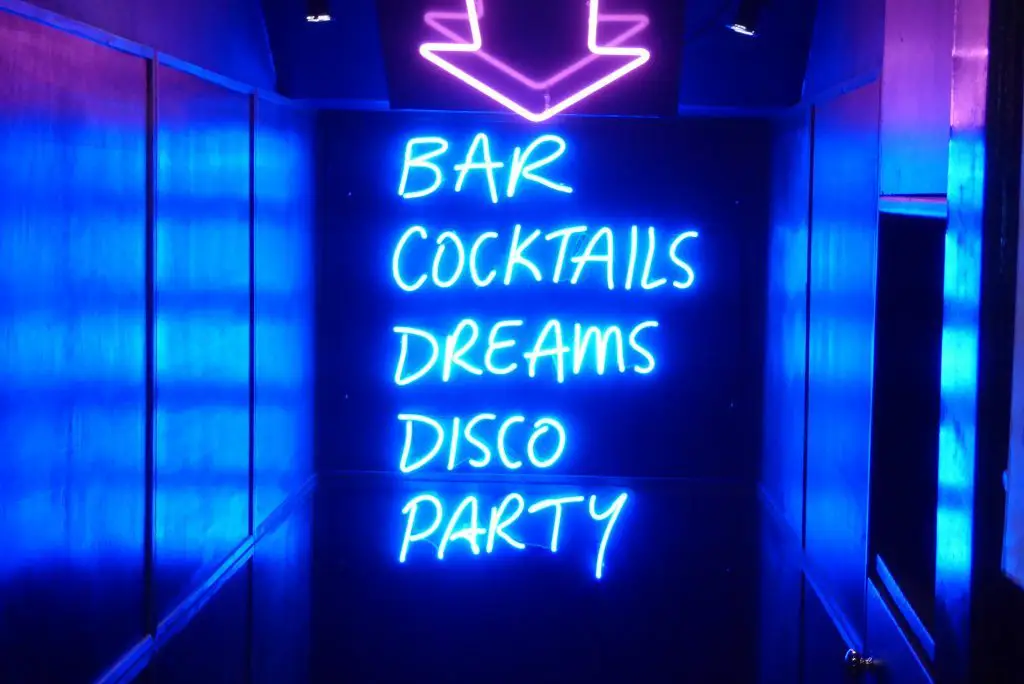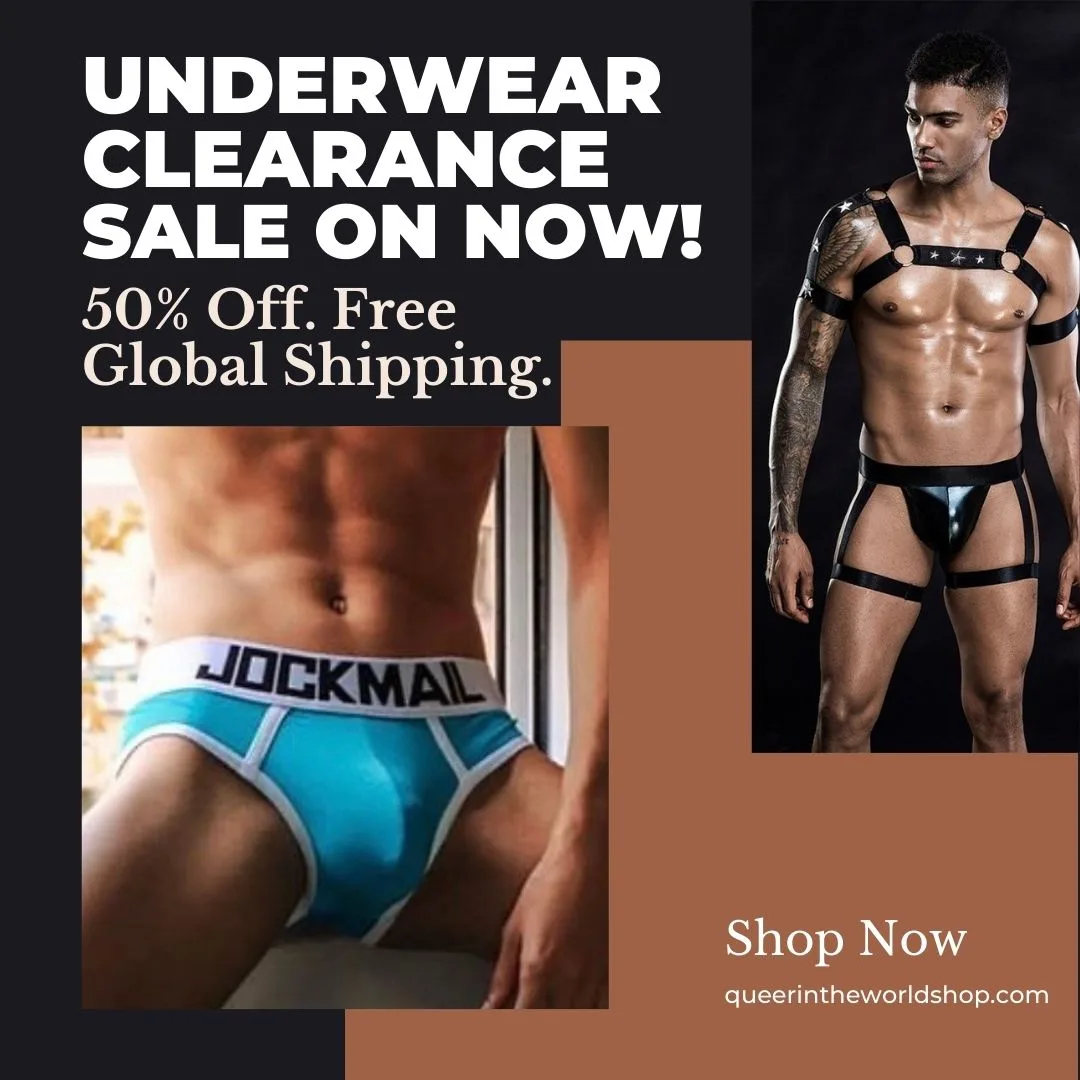 Gay Parties & Gay Clubs In Fuerteventura, Canary Islands
The Fuerteventura Gay Pride Festival
The island becomes alive during June as Fuerteventura hosts the annual Gay Pride festival, during which you can expect parades, parties, live music, and visitors from all over Europe. This is the loudest time of the year for the local gay community.
For every other part of the year, Fuerteventura keeps its gay community close to the Jandía Pride group. They regularly get together for a social escapade at a local gay-friendly bar or another establishment and provide a great online resource for people to learn about queer life on the island. In addition, they are the key people responsible for organizing and advertising the yearly pride event.
Other Gay-Friendly Nightlife Attractions in Fuerteventura, Canary Islands
A 'small venue with a big reputation', Rock Island Bar is a rustic pub with live music every night. People keep coming back because of its mixture of quirky and class, as the owners are just as friendly as their staff and regular crowd, and the music is at a great level, so you can still chat without losing your voice.
So if you are looking for a quiet nightlife spot, Rock Island might not be the most silent, but its peace-and-love decor and clientele will help any relax on holiday.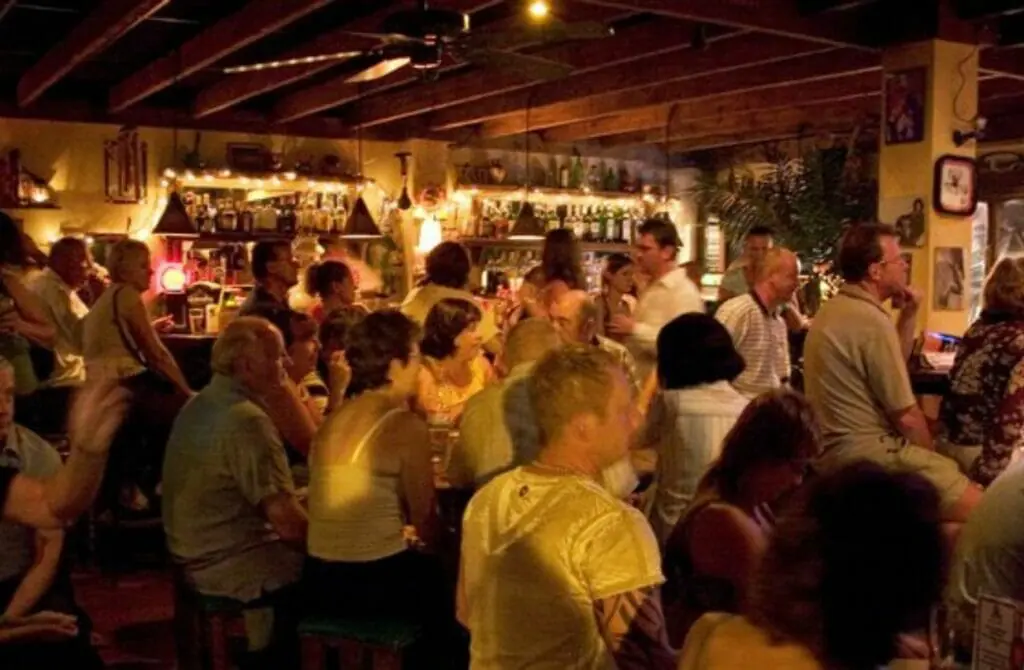 One of the best piano bars on the island is Piero's Cafe, serving patrons since 1999. Pitching itself as a split establishment with one half being a music cafe and the other a music restaurant, you can get two experiences in one.
Come during the day and enjoy the quiet relaxation of an afternoon cup of tea, and then stop by come sundown and compare how it transforms for a nocturnal audience with a new pair of shoes. Seating, food and drinks are aplenty and are always alive, with patrons chattering away and leaning into their drinks as they enjoy the music.
But if you want extra entertainment, they also have a karaoke stage from 11 pm each night and a live sports area.
You can't visit the Canary Islands without stopping by the beach, and one way you can see a different side of their sandy coasts is by visiting the Hoplaco Beach Cafe Bar. Located on the edge of Corralejo Viejo, this venue is exceptionally close to a low-key sandy beach that you can enjoy from the outside seating of the bar and cafe.
This could be where you start a fun-packed evening, beginning with a romantic walk along the beach before you have a light drink and meal at Hoplaco Beach Cafe Bar, watching the sunset.
Yet another great bar is the Crazy Goat, but when you get past the fact their logo is a goat riding a scooter, you will find no goats at this venue. Instead, however, you will find an excellent drinking place, with live music and entertainment and a splash of green in their garden sitting area.
Patrons love not just their basic drinking arrangements but the added extras from hosting bingo and sports events, making it a fun experience drawing regulars back.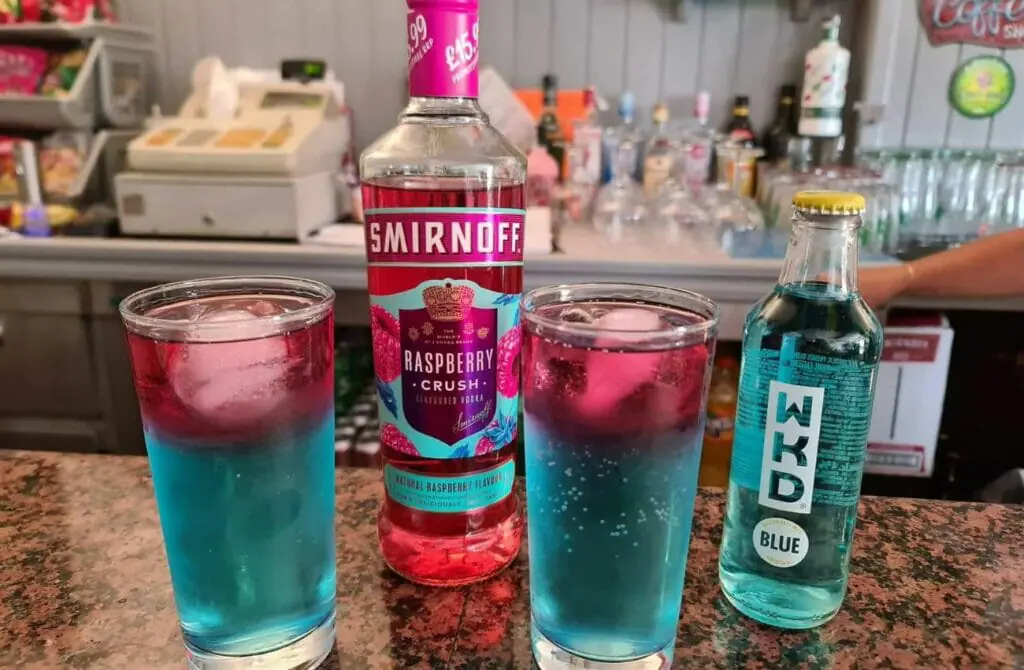 Murphys Irish Bar
(Temporarily or permanently closed. If you know something, please suggest an edit.)
Murphy's Irish Bar is the first of many great gay-friendly bars in Fuerteventura, standing out from others with its decor inspired by classic Irish memorabilia. From green bar mats and wall panels to Irish-themed car number plates and signed sports clothes, you will feel at home at any night stage.
You can enjoy a hardy drink in a classic pub reminiscent of Ireland, listening to a soundtrack of live music on off-game nights. But if you want to get to the heart of this place, come during a game night, whether you like rugby or soccer, when eyes turn to the big screens, and patrons cover every visible chair.
Cruising & Gay Saunas In Fuerteventura, Canary Islands
Fuerteventura doesn't have a loud gay cruising scene, and the lack of gay bars and other establishments means that most cruising is kept alive by the local queer groups and dating apps. So if you are looking for a naughty night out on the town, although you can find it here, it might be easier to visit Tenerife and Gran Canaria, where gay bars and other venues can be found.
However, don't just disregard Fuerteventura because, as you can see, it plays host to a dedicated gay community you won't find elsewhere.
When traveling to a new city, it can be exciting to head out for more than just a stiff drink. One aspect of the Gay Fuerteventura scene that many queer men enjoy is visiting gay saunas and cruising clubs.
Sure, the sauna culture in Fuerteventura is not as hedonistic as in Amsterdam, Barcelona or Berlin, but these venues still offer a chance to meet new people, socialize, and engage in sexual activity – without resorting to gay hookup apps.
However, it's important to remember that these venues can vary greatly in terms of atmosphere, clientele, and rules, so it's a good idea to prepare yourself before visiting. If you are apprehensive, we advise studying our guide to visiting a gay bathhouse for the first time, which should help set your mind at ease and always practice safe sex.
Additionally, it's important to be aware of and respect local laws and customs regarding gay venues and sexual activity. With a little bit of planning and an open mind, visiting gay saunas and cruising clubs can be a fun and exciting part of your gay Fuerteventura travel itinerary.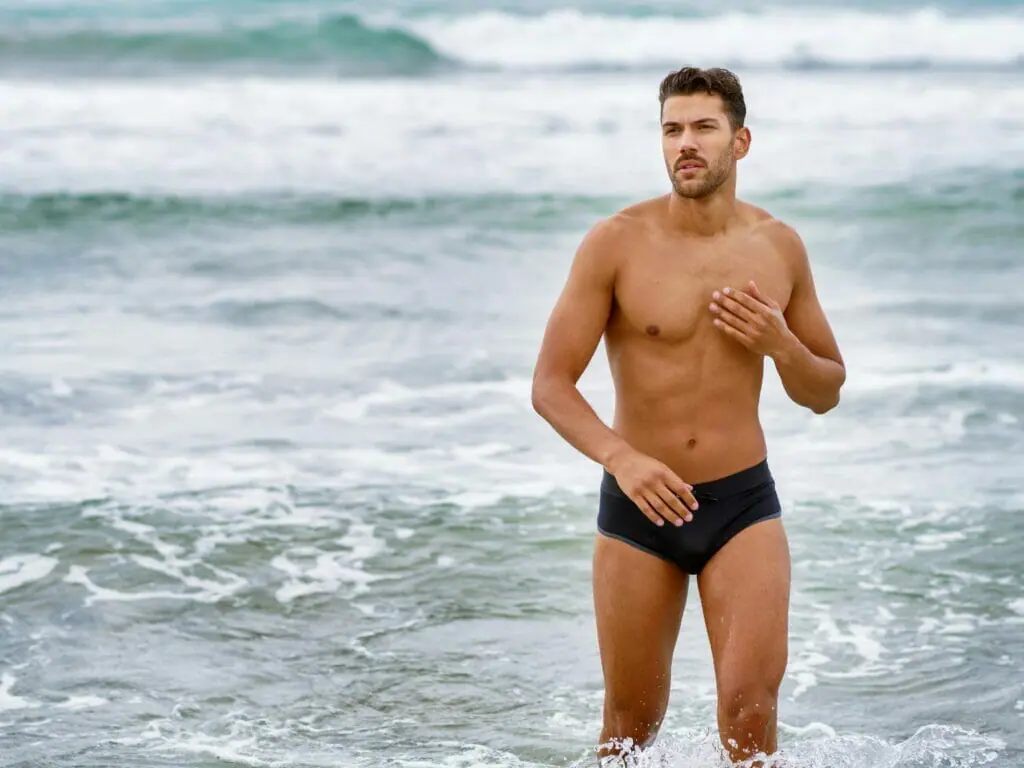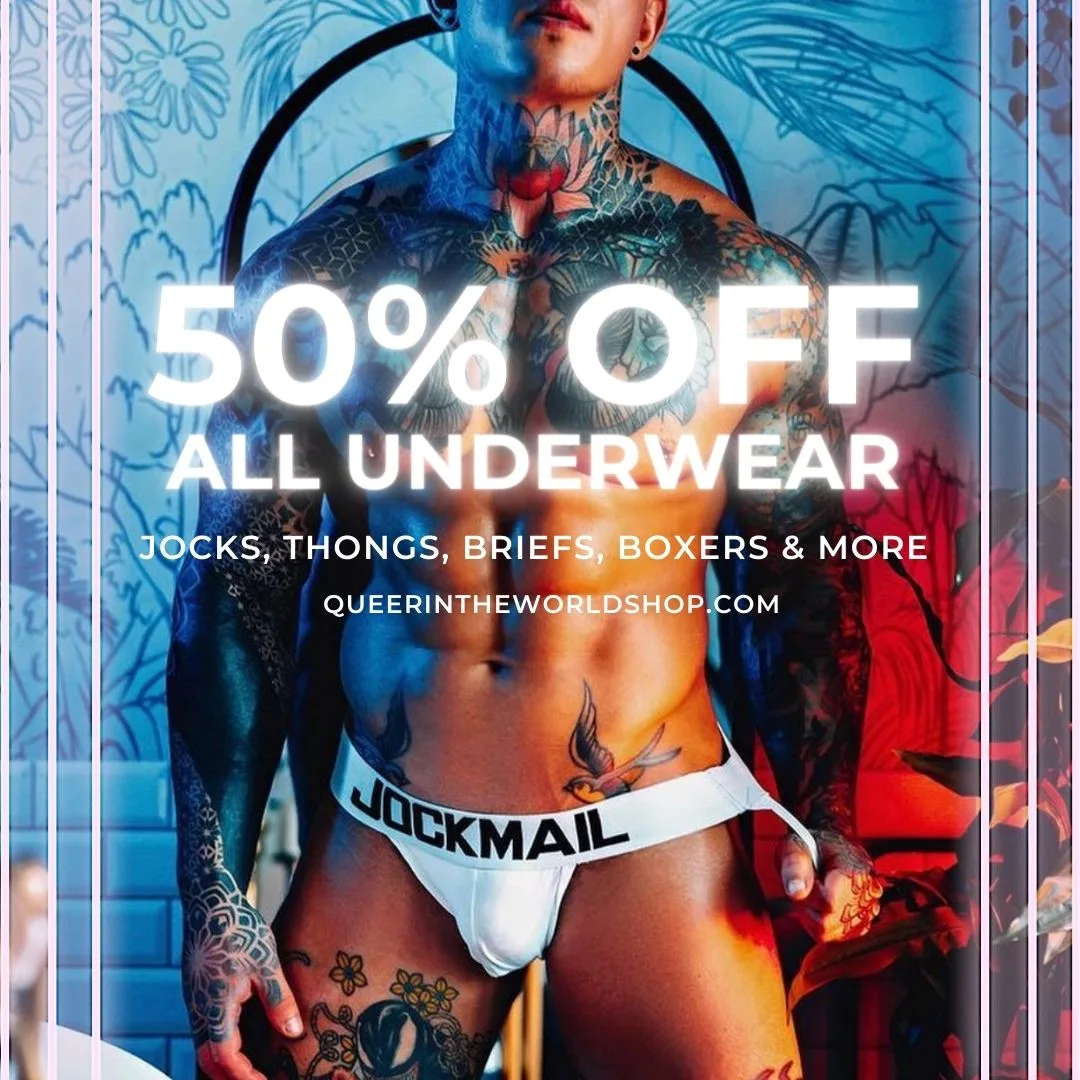 Sex Shops In Fuerteventura, Canary Islands
There are several sex shops in Fuerteventura, but this particular one is top-rated because they offer a great range of fun toys to play with. Regardless of what you need, you will indeed find it here. Moreover, even if you aren't sure what you want, they have a great collection to inspire you for a fun time.
Saunas In Fuerteventura, Canary Islands
If you can't miss an opportunity to experience a full-service spa, even if it isn't gay-only, then Hesperides Thalasso Spa is a top choice for visitors to Fuerteventura. Visitors love the vast range of facilities, from saunas, and various hot pool types, including an ice pool and the standard swimming pool experience.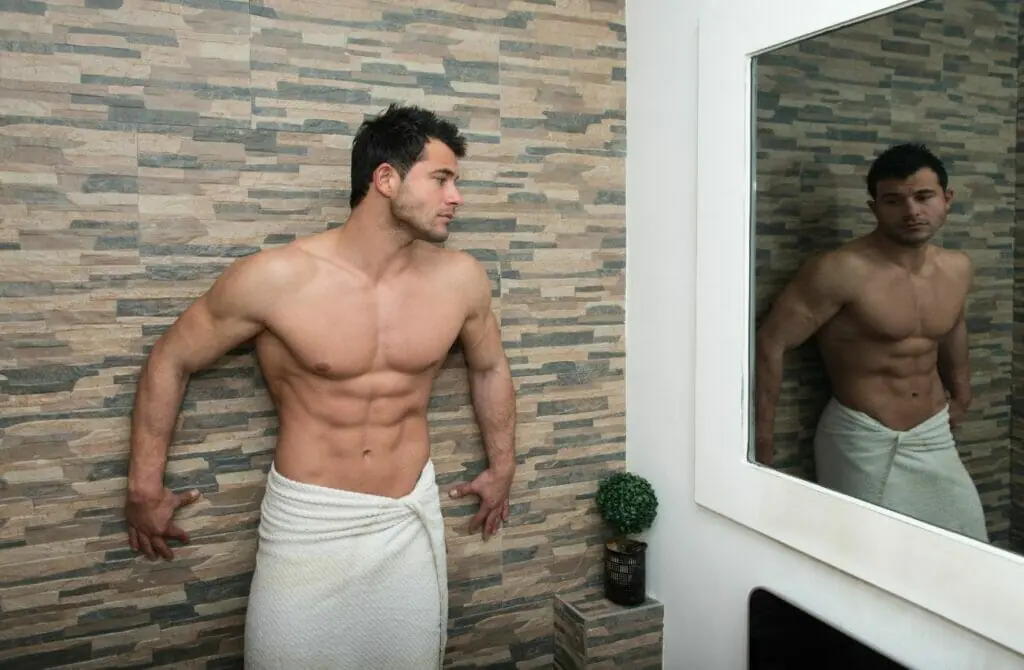 Gay Map Of Fuerteventura
Finding it hard to envisage where everything is in Fuerteventura? Hopefully, this queer-centric map helps where we have marked all the bars, clubs, parties, hotels, saunas, massages, and more will help you stay in the spot best suited to you!