While Lanzarote in the Canary Islands might not have a big gay scene compared to the world-famous Gran Canaria Island, it still offers a relaxing and enjoyable holiday for the queer community. Locals are friendly, the beach shopping is excellent, surfing and hiking are famous escapes, and there are even a few gay nightlife venues despite its quiet scene. So those looking for an off-the-beaten-track experience for a gay visit, Lanzarote is a good option.
Today Lanzarote may be a flourishing tourist industry. Still, just six hundred years ago, it was home to the Guanches people, who inhabited the Canary Islands for a thousand years before the Spanish conquered them in the 15th century. Spanish influences replaced the original culture in the earliest example of modern colonization.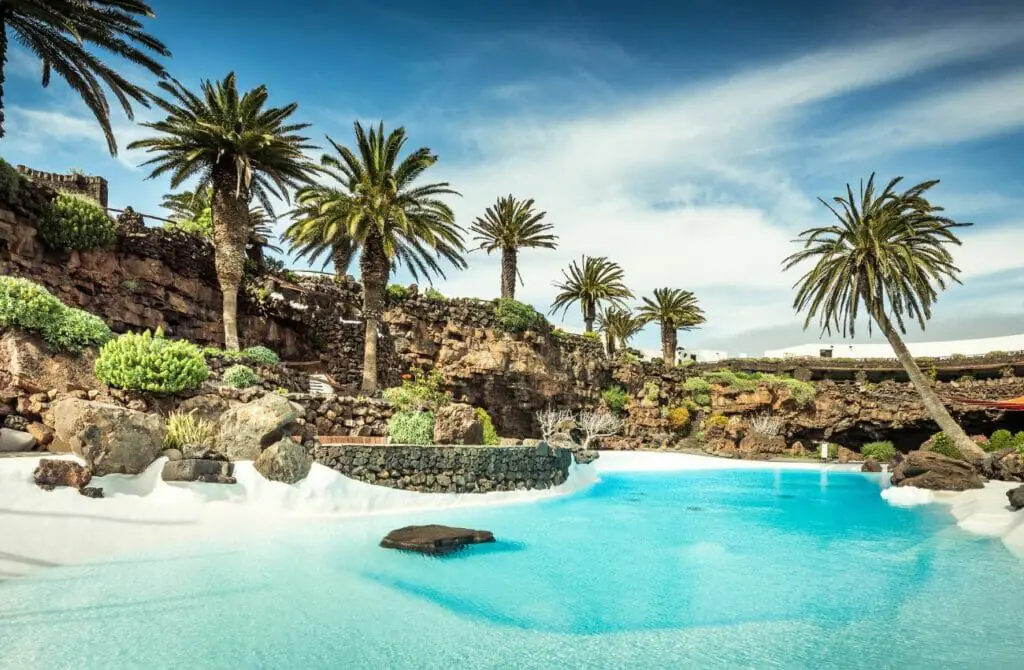 However, despite this turbulent history, today, you can experience a natural paradise with volcanoes, sandy beaches, and expansive national parks. The imprint of history can also be experienced in major cities like the capital Reef dating back to the 15th century. You will find Lanzarote is a Spanish province, even if she is closer to Africa than her cultural homeland.
However, her food blends many different cultural influences, including African, American and other European delights. The result of this is a unique blend of foods that makes the dishes in the Canary a unique experience you won't find elsewhere.
So, Lanzarote is a top gay tourist destination with a lot to offer visitors, a rich history, superb natural assets, unique culinary delights, and much more to discover.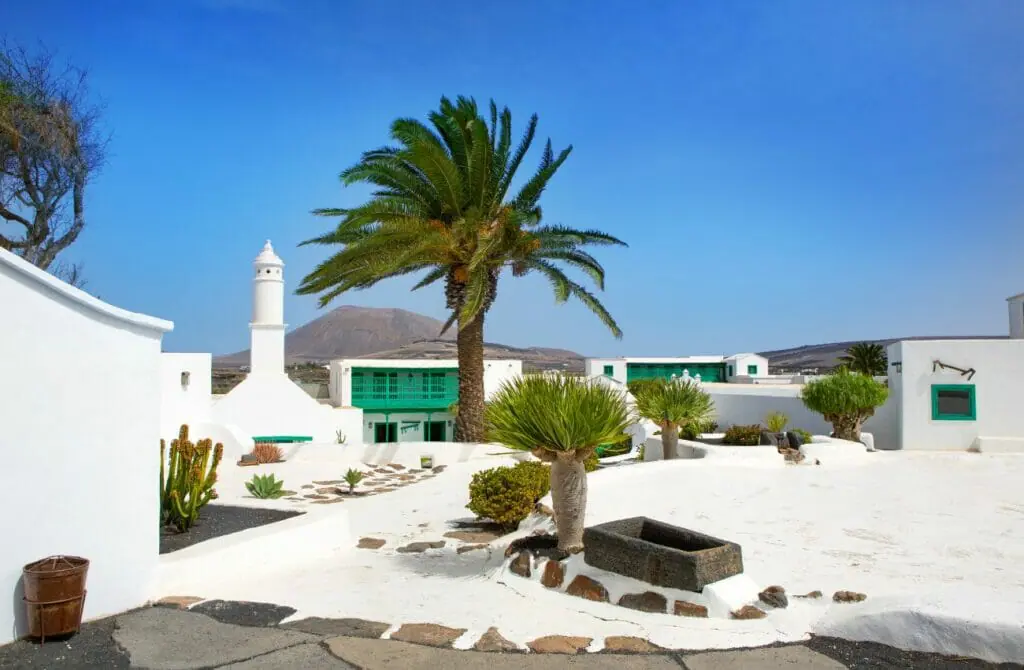 Attractions in Gay Lanzarote, Canary Islands
As a new visitor to Gay Lanzarote, there are plenty of things to see and do, regardless of your sexual orientation. One of the best ways to experience any new city is to visit some of its most iconic landmarks and attractions, including historical monuments, museums, and art galleries.
We also love gazing at architecture up close, exploring parks and gardens, sampling the local cuisine, visiting local markets, and attending cultural events such as festivals, concerts and shows.
Even as the out-and-proud queer we are, we still love to explore the city and its culture in the same way as everyone else. Doing so allows us to learn more about the city and its people and gain a deeper understanding of the local culture. As such, these are our favorite must-see attractions in Lanzarote.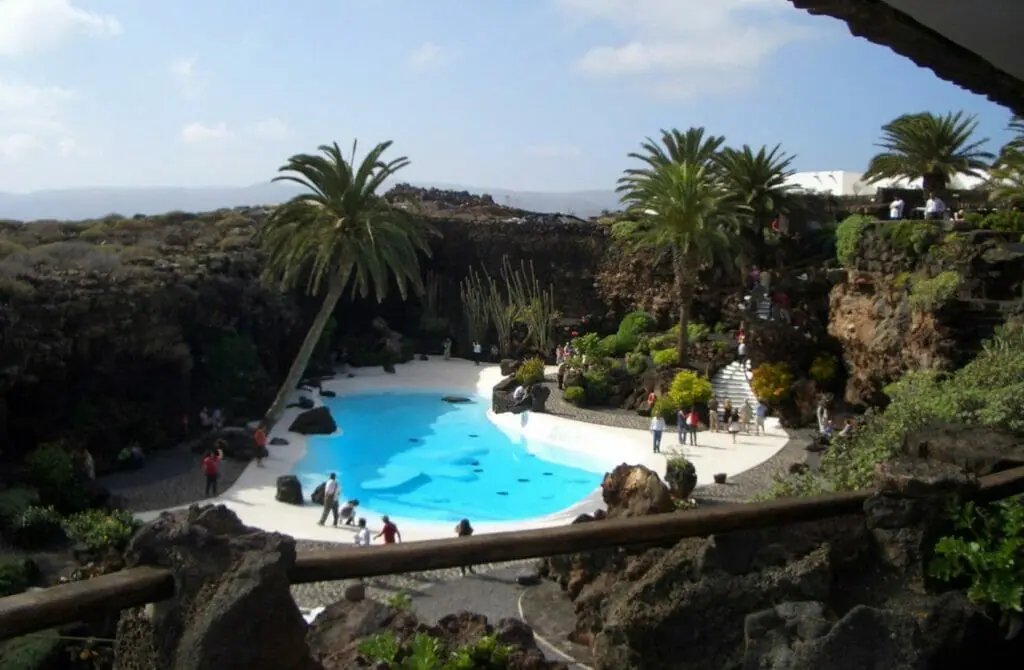 Lanzarote Submarine Safari Trip
You can get an incredible experience in Lanzarote with a submarine safari trip, allowing you to expire the underwater world of the Atlantic Ocean without getting wet. You will be taken 30 meters below the surface in a giant submarine, and along the way, you will see various marine species, from eels and barracudas to rays and sea breams.
If you are lucky, you may see a shipwreck, as you provided a live commentary on the local marine life. This is a great way to make the most of being on an island getaway.
Papagayo Beaches Catamaran Cruise with Lunch
Papagayo Beaches Catamaran Cruise is a brilliant way to spend a half-day on a cruise to the beaches of Costa de Papagayo. Here you will be treated to luxury on their catamaran, providing great coastline views, space to relax, and the equipment to soak up the sun when you stop to explore at each resting point.
You can swim and snorkel in the sea, relax in the white sands, paddle in a kayak, and so much more! And if that wasn't great, you will also be treated to a delicious paella lunch with drinks from an open bar. This experience is one you can't miss.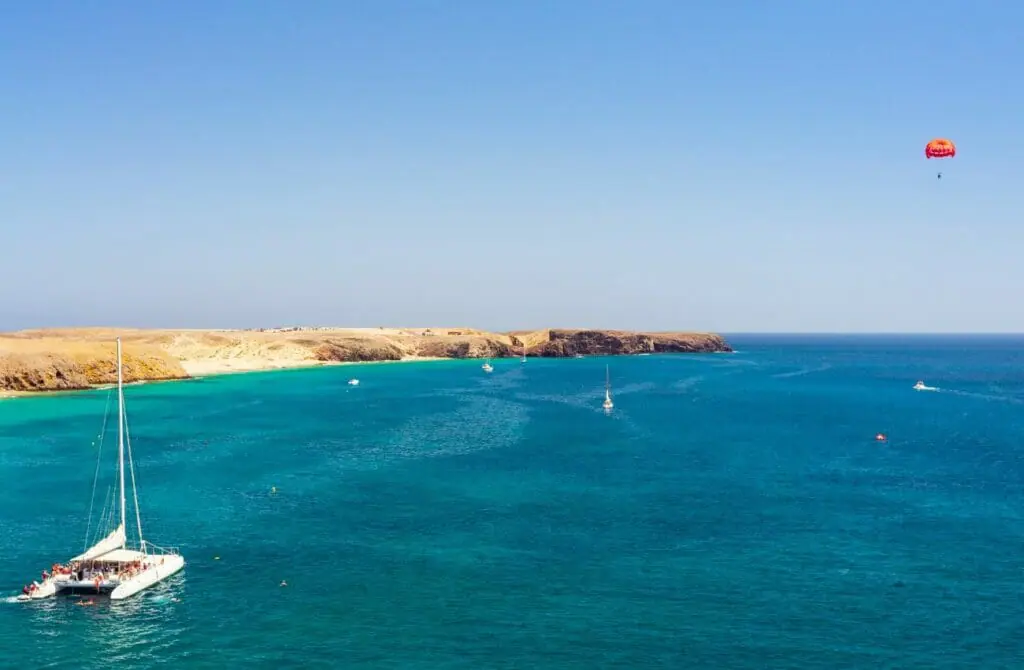 Lagomar Museum
Outside of watery adventures and desolate landscapes, Lanzarote has many incredible museums, including the Lagomar Museum. Also known as The Omar Sharif House Museum, this house was once owned by the famous Egyptian actor Omar Sharif, who lost it in a game of bridge.
The house was a creation by the local architect César Manrique and was built into a quarry, with a labyrinth of corridors, rooms and observation decks for visitors to explore.
The views are incredible, and the gardens are just as iconic, with plenty of sitting areas. You can find this home's 'museum' story by how it tells of Omar Sharif's connection to Lanzarote, as well as being a celebration of the most iconic architect to ever come out of this island.
Timanfaya National Park is a world-renowned natural attraction on Lanzarote known for the 18th-century eruption that blanketed the whole region for several days. This red and rough volcanic landscape creates a scene out of science fiction where life continues to bloom in the light of destruction.
You can begin your park tour by heading to the visitor's center to get information about the park's key attractions and hire audio-visual equipment if you want a self-guided tour. You can even experience this on camelback!
However, regardless of how you decide to explore the park, you will experience a landscape that is hard to beat when looking at the smoky remains of recent volcanic eruptions. This is a must when you visit Lanzarote as this is perhaps her most famous natural asset and point of difference from the other Canary Islands. So take your time and enjoy it.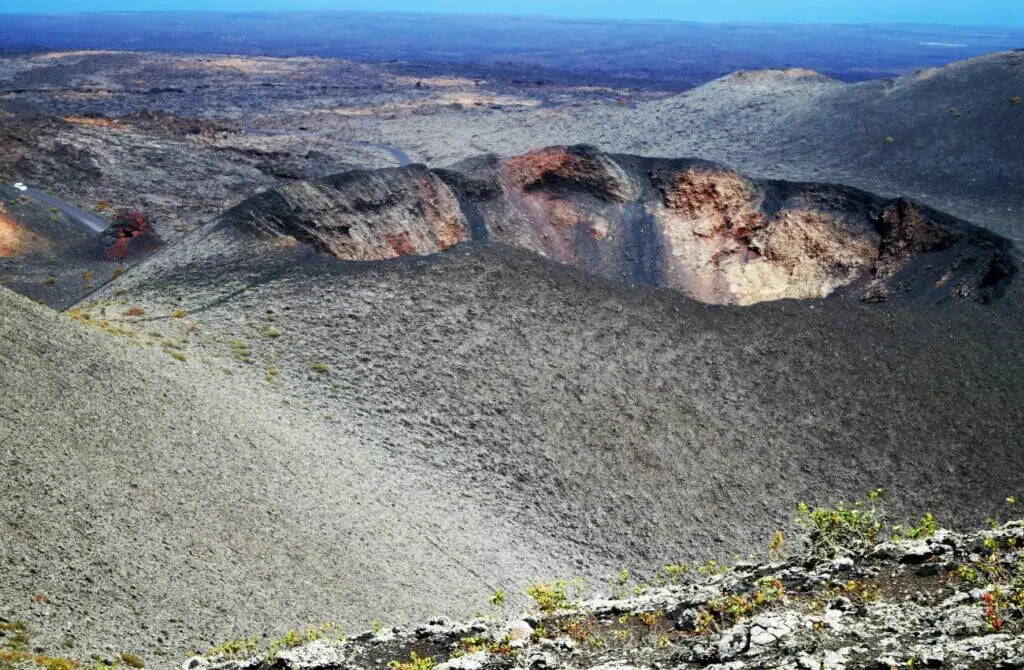 Rancho Texas Lanzarote Park is a zoo featuring many animal exhibits, including sea lions, birds of prey, oceanic dolphins, and white tigers. The park offers plenty of space for animals to lounge about, and there is so much to explore and see for visitors.
Moreover, with their American Taxas-themed decor, you can expect to see the occasional cowboy hat and a lasso show for those seeking entertainment in a unique place.
Caldera de Los Cuervos
Caldera de los Cuervos is in the heart of Timanfaya National Park and is the volcanic crater of the explosive volcanoes that created this beautiful landscape. You won't be able to get up close alone, so organize a guided tour if you want to get up close and personal.
Enjoy the scenic volcano with the rough yet mesmerizing landscape as you take a loop path in and around it. This is one of several volcanoes in the national park you can experience during a tour.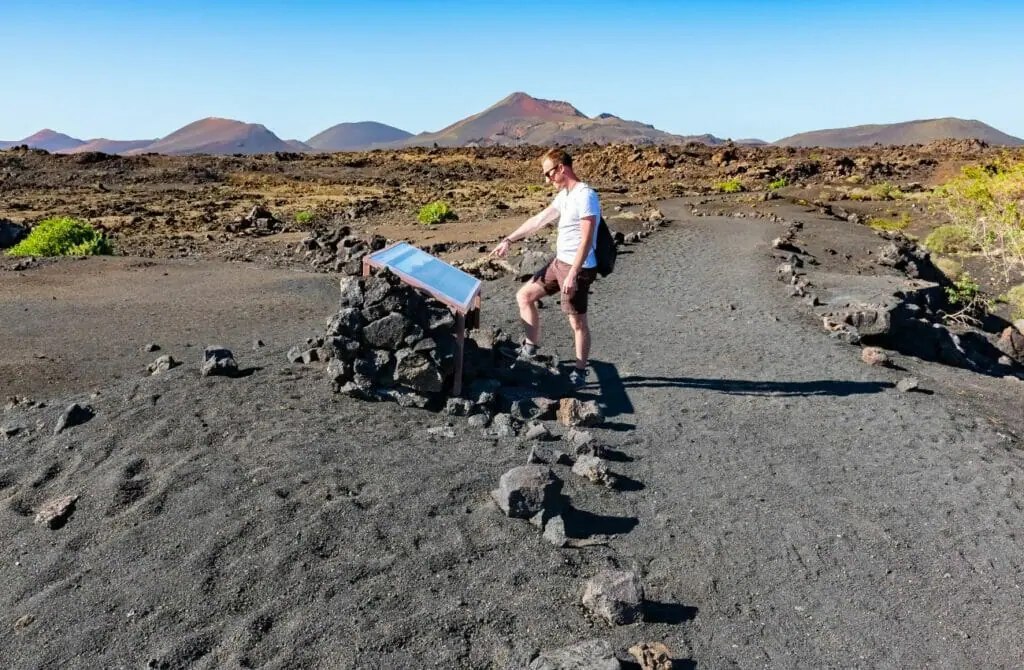 The César Manrique Foundation is a stunning attraction that showcases the life and work of the artist and architect César Manrique. You can explore his former home, filled with art and exhibitions dedicated to teaching others about his life. He was the most famous artistic figure to come out of Lanzarote, so this is one attraction visitors shouldn't pass by!
Playa de Papagayo
Playa de Papagayo is a brilliant beach in Lanzarote located just a 10-minute drive down a dirt road not far from Yaiza. It should be noted that it costs three euros per car to enter, but this is worth it as the horseshoe-shaped cove with powdery sand and crystal water is the best of what Lanzarote has to offer.
Firstly you have enough space to throw down a towel and chill, as it never gets too crowded. Moreover, it's perfect for swimming and other ocean activities. Furthermore, there's a top restaurant not far from the beach, popular with beachgoers.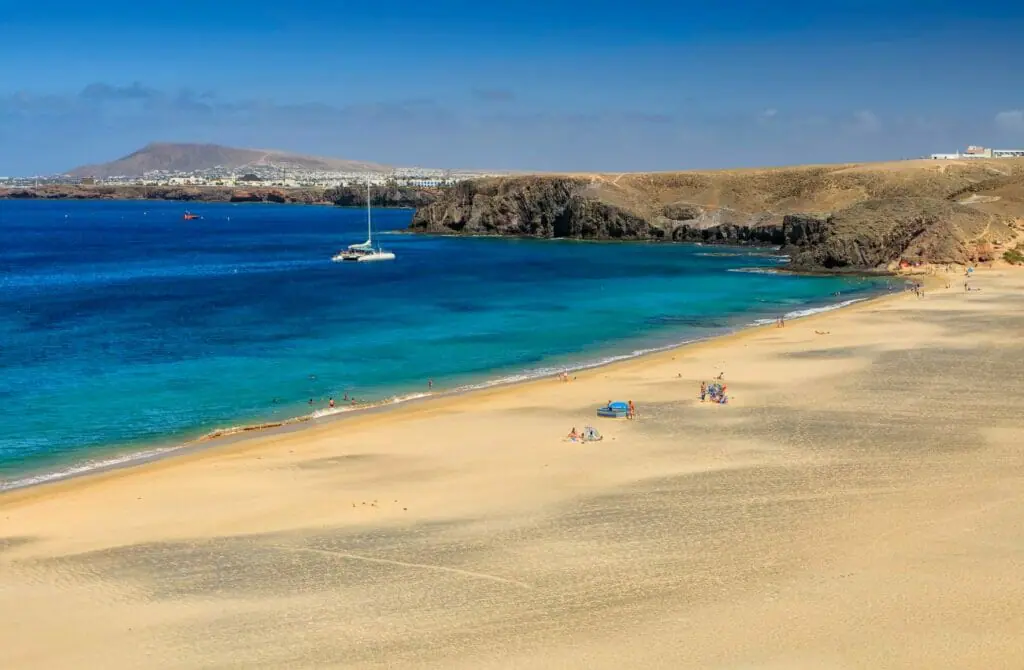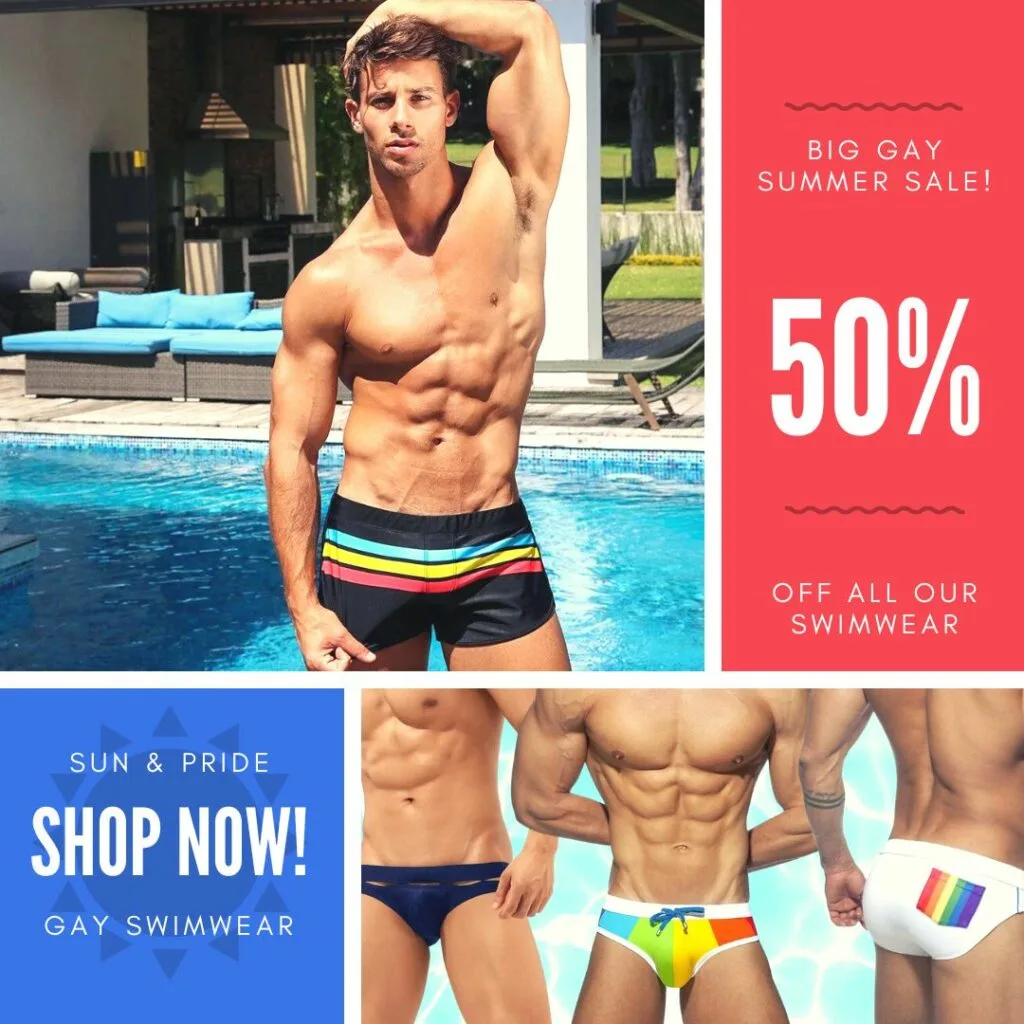 Jameos del Agua in Punta Mujeres is a unique arts center with various activities and entertainment fused with a volcanic water cave, architecture and plant life. You will be treated to pools, grassy grounds, and a cave that takes you through many incredible facilities, including an underground concert hall, a restaurant and a salt lake. This is one of the most popular tourist attractions for an excellent reason.
Lanzarote isn't just a desolate volcanic landscape but also home to many species of cacti and lichen. You can experience a host of cacti at The Cactus Garden in Guatiza, a brilliant place to explore pathways between a well-tended garden, take incredible spiky photos and enjoy a coffee in a unique location.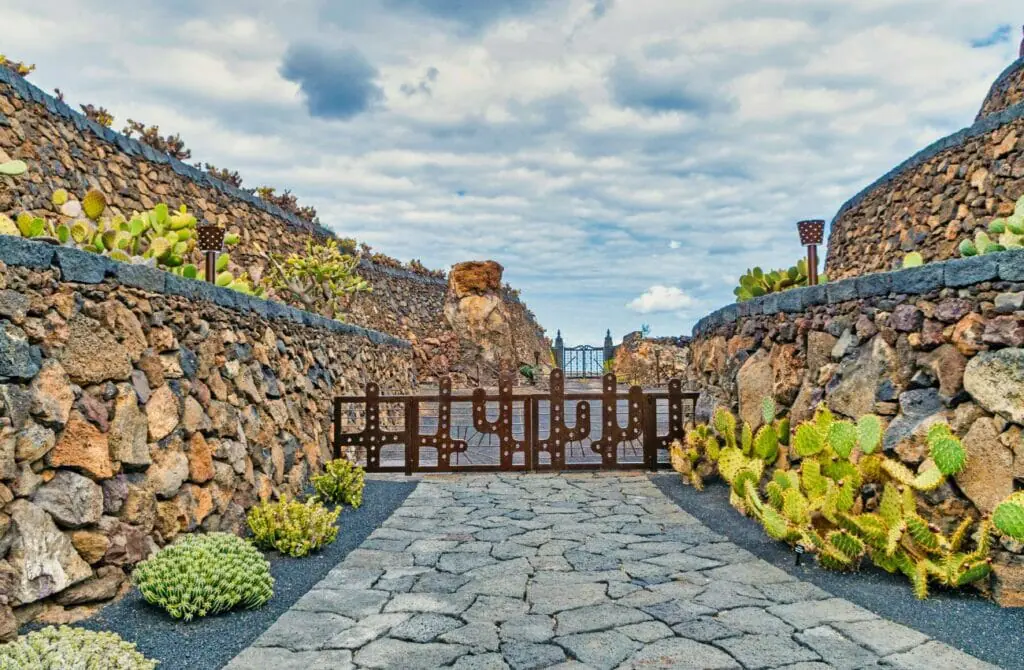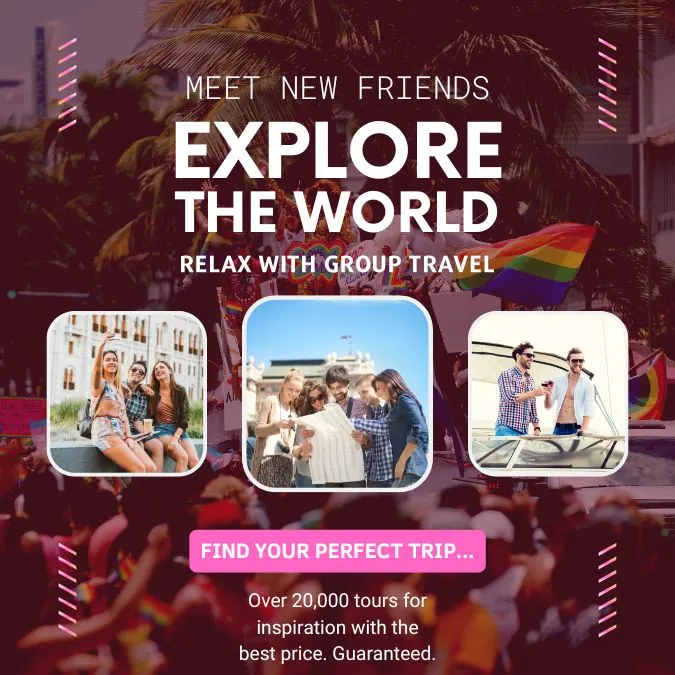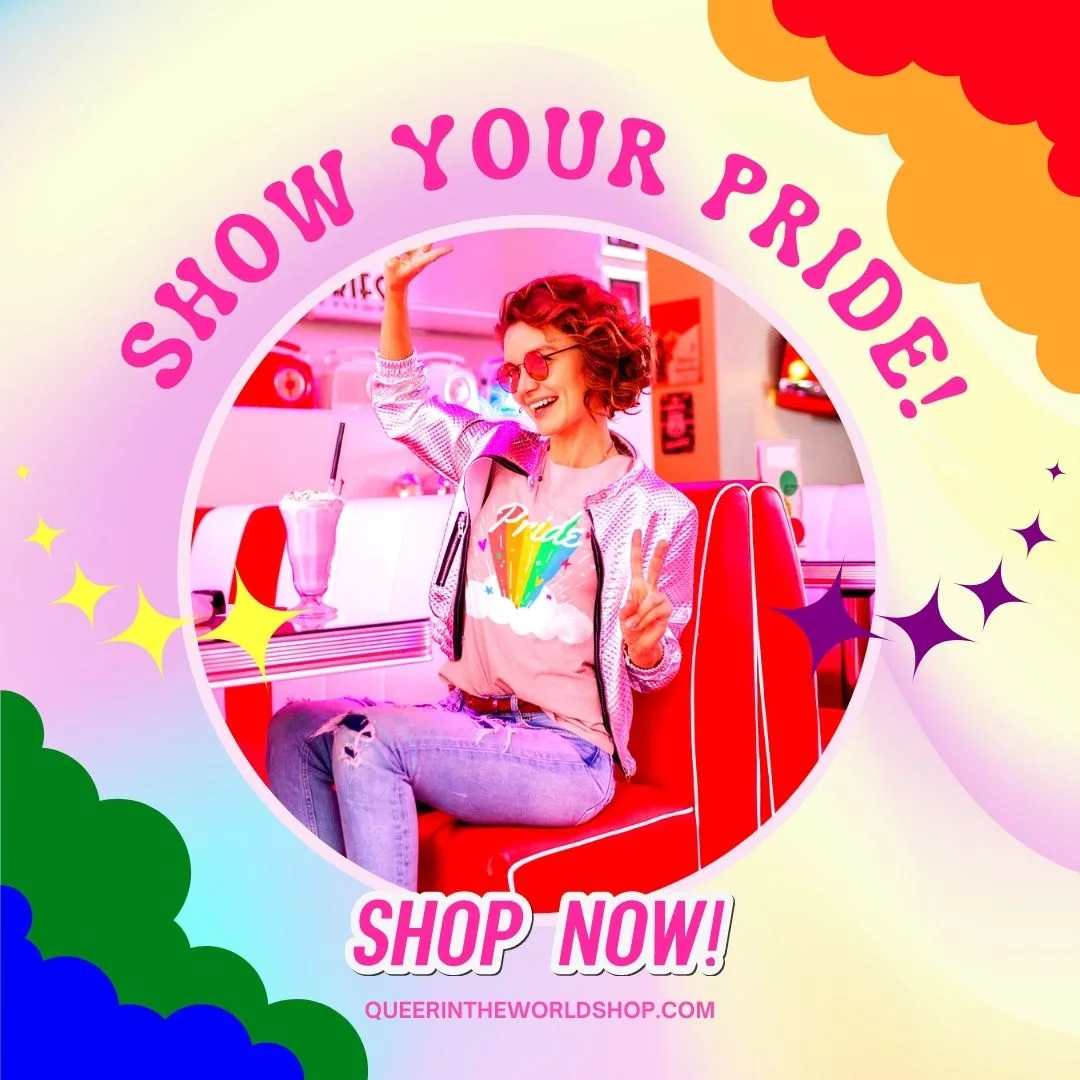 Gay-Friendly & Gay Hotels in Lanzarote, Canary Islands
Being gay-friendly accommodation means that the establishment is welcoming and inclusive to guests who identify as LGBTQ+. This can include, but is not limited to, having policies and practices that demonstrate a commitment to creating a safe and inclusive environment for LGBTQ+ guests, such as non-discrimination policies and providing support and resources for LGBTQ+ travelers.
Some gay-friendly accommodations may also provide amenities specifically catering to the LGBTQ+ community, such as rainbow flags or literature about local LGBTQ+ events or resources. Furthermore, gay-friendly accommodations may be located in an area known for being LGBTQ+ friendly.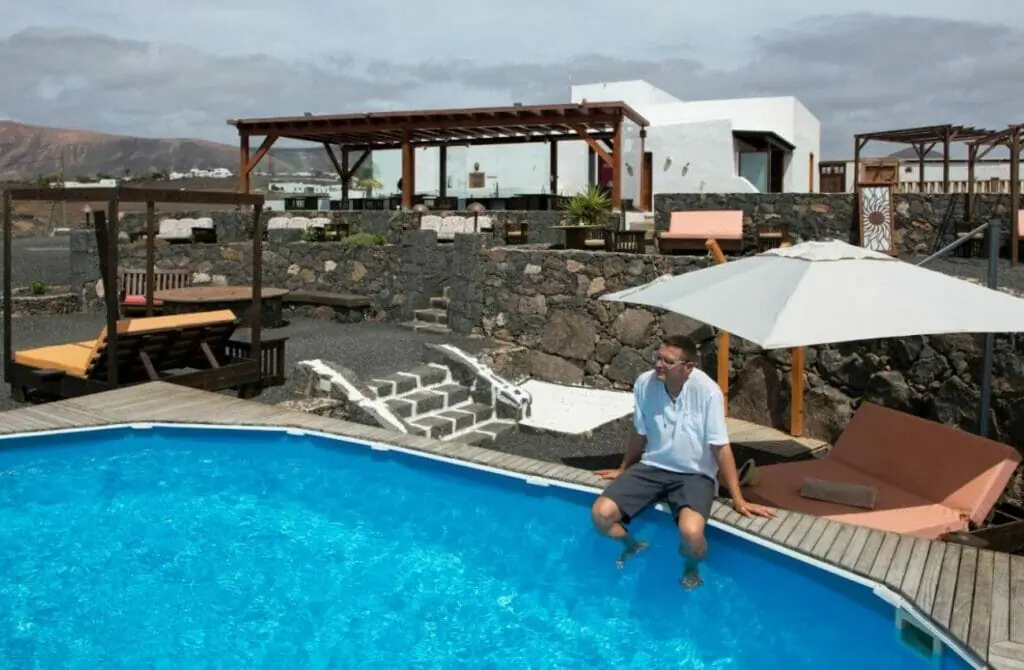 While Lanzarote does not have any specifically gay hotels or resorts, these are the most fabulous and pro-actively gay-friendly hotels in Lanzarote. There are also hundreds more hotel and hostel options in Lanzarote if none of these suit your desired budget, facilities or area – but these are the best hotels according to other gay travelers and us.
Whatever your needs are, Lanzarote has you covered.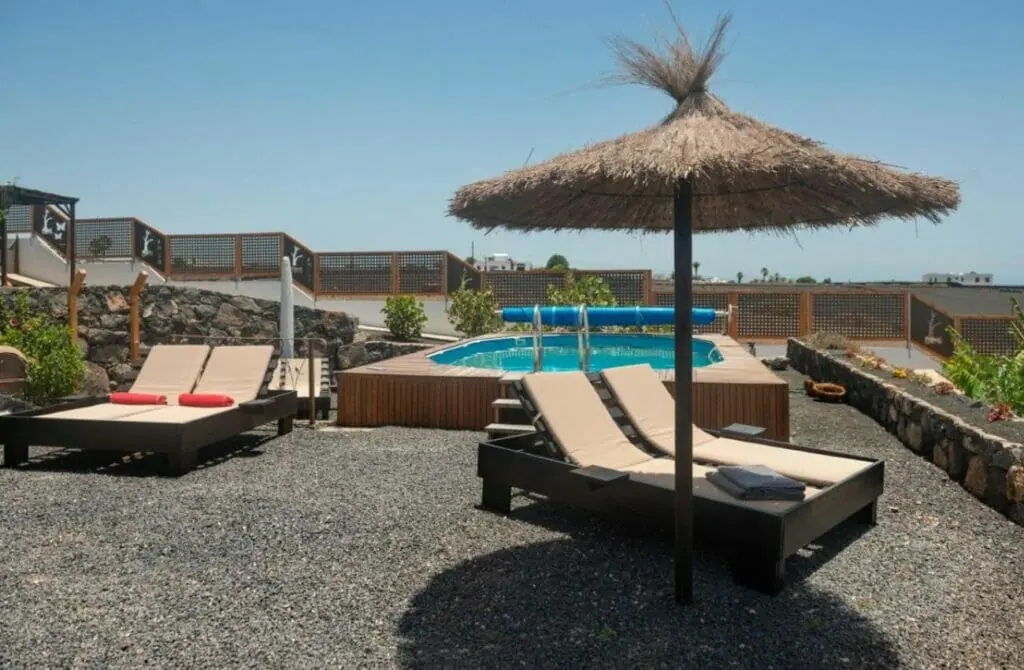 Finca Isolina Hotel Boutique ☆☆☆☆☆
You will find great extravagance at the five-star rated Finca Isolina Hotel Boutique in the charming town of Tias and conveniently close to the National Volcanic Park with great mountain views and a short drive to the beach. You will live the life of royalty here with various amenities from the swimming pool, free parking, complimentary breakfast and Wi-Fi.
Plus, your private room will have comforts, including stuck minibars and espresso makers. However, the highlight of this place is the pleasure of access to the local fitness center, Puerto del Carmen Beach, Timanfaya Sub, Playa Chica, and Lanzarote Golf Resort. Plus, food is a non-issue with a range of great restaurants at your disposal to get a great taste of that unique Canary Island cuisine.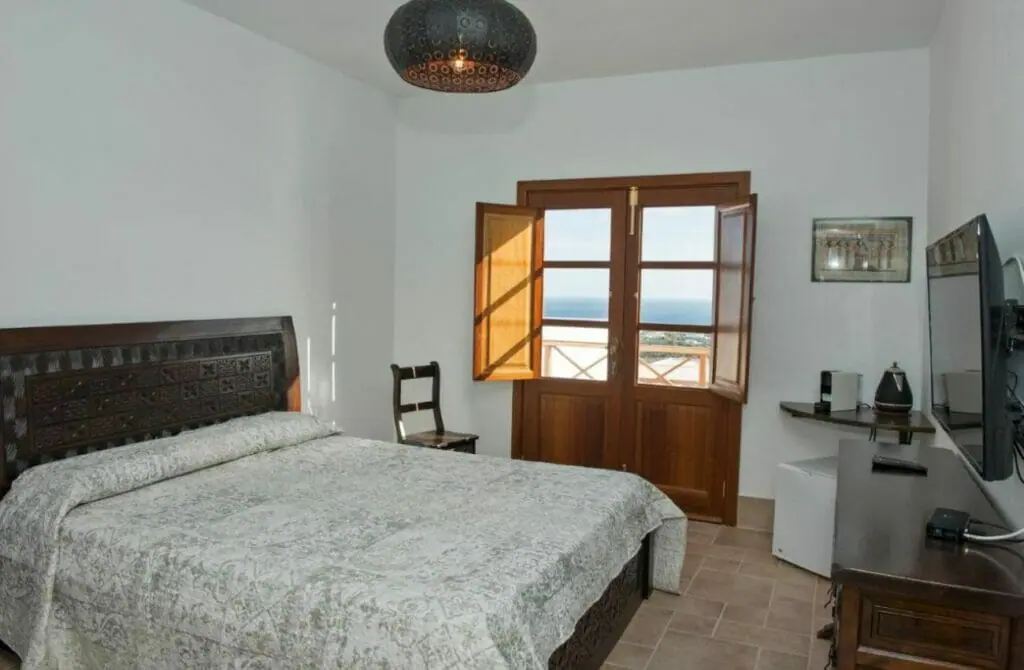 Barcelo Lanzarote Active Resort ☆☆☆☆
A stunning four-star hotel on Lanzarote that is super gay-friendly is the Barcelo Lanzarote, located near Las Cucharas Beach. Here you can pick from 659 spacious rooms, each with the heights of comfort and highlighted by their free Wi-Fi, TV, electric kettles and private balcony.
However, this hotel stands out because of its five on-site restaurants, three poolside bars, fitness center, and massage services. In addition, you have entertainment within a short walk from your room and great ocean views to match, so why want for much more?
However, this still needs to sell to you. In that case, we also highlight this is an excellent stay for queer families, with many family-friendly attractions like Aquapark Costa Teguise just around the corner.
Barceló Teguise Beach – Adults only ☆☆☆☆
Another cruisy four-star stay at Lanzarote is the eco-friendly hotel Barceló Teguise Beach, which is strictly for adults only. So if you want to avoid the popular family hotels, this is the perfect place! You will have incredible access to several beaches and popular activities like trekking, guided tours, and Aquapark Costa Teguise.
Then inside her walls, you will discover their three fantastic restaurants that feature a range of cuisine, a poolside bar, and a terrace. And if you didn't catch it, they have not just one, but two outdoor pools, a fitness center and a full-service spa so that you will be truly pampered at this place.
The turning into your room of 305 others, you will find they are fully equipped with free Wi-Fi, TVs, and various other basics to make your stay an authentic getaway experience. For paradise, right by the sea, you can't get much better than this.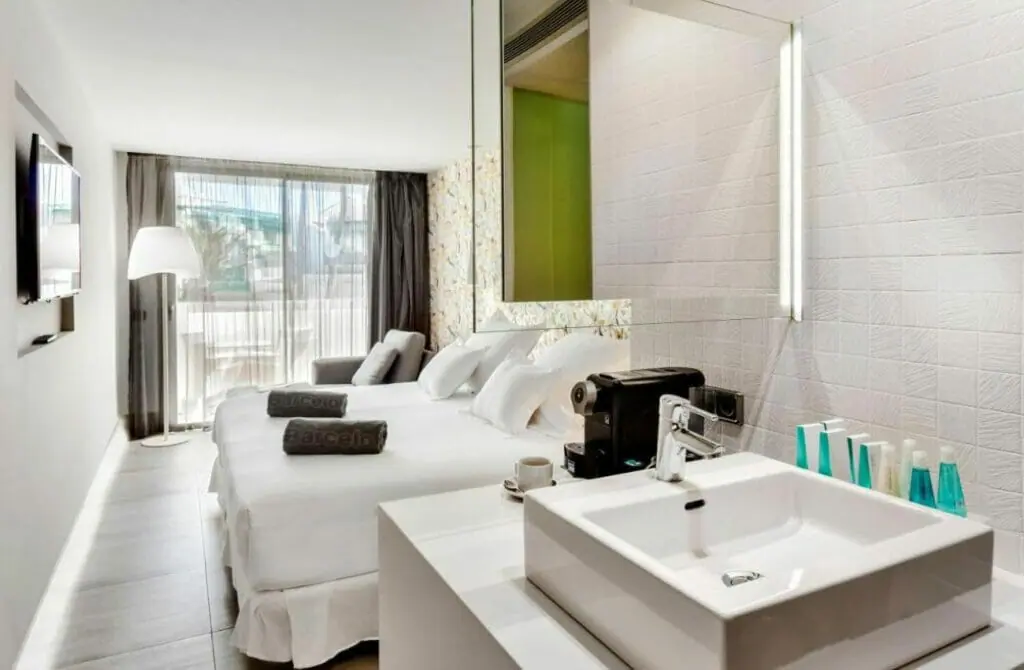 Plus Fariones Apartamentos ☆☆☆
Situated in a prime location for tourists to explore Puerto del Carmen, The Plus Fariones Apartamentos is a brilliant three-star hotel. Here you will awaken to a complimentary buffet breakfast, with options to enjoy snacks or meals at their restaurant and lounge bar through the rest of the day.
However, they also have an outdoor pool and lounging area to fulfill those that require light entertainment outside their rooms. On the other hand, the apartments are fully equipped with a kitchenette, free water, Wi-Fi, a lounging area, an ensuite and sleeping quarters.
So when you stay here, you know you will be kitted out with everything you could ever need to host, relax, make a meal and sleep. This is why many people wear by these apartments.
Apartamentos HG Lomo Blanco ☆☆☆
The Apartamentos HG Lomo Blanco is another top three-star hotel in Puerto del Carmen. Here you can enjoy your little apartment, each with a private spa tub, furnished balcony, and a kitchenette with a microwave, stove top, coffee/tea maker, and cookware. It's all you could ever ask for on a perfect holiday. However, they also have several shared facilities, which take it to the next level of quality.
Starting with fact, she has three outdoor pools, a gym, and several dining options with their restaurant and bar. So not only is comfort sorted, but your choice of what to eat, including complimentary breakfast, is covered in all the forms.
Thus, you get a great experience inside and out as you can throw yourself into the whole experience of Lanzarote, knowing all you need to worry about is deciding what key attractions to see first!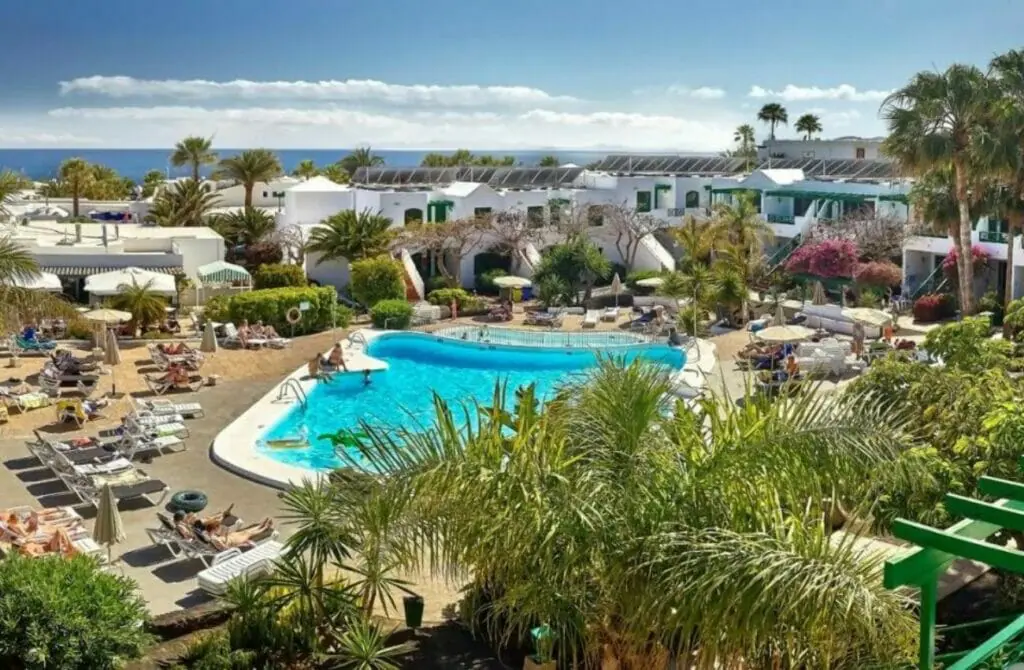 Gay Nightlife In Lanzarote, Canary Islands
Lanzarote might not have the most vibrant gay nightlife in the Canary Islands; however, you can still find some tremendous beachside bars and nightclubs with drag shows, all of which are super gay-friendly. So you won't be completely sober for a gay night experience.
Moreover, they even have a gay cruising bar to feed that naughtier side of the queer community. So get stuck in and have a grand time as you tour the iconic nightlife of Lanzarote.
Exploring the gay and gay-friendly nightlife in a new city can be one of the most exciting and rewarding experiences while traveling – and Gay Lanzarote is no exception. Not only will you have the opportunity to meet new people and make friends, but you'll also get a taste of the local culture and learn more about the city's LGBTQ+ community.
Going out and experiencing the queer and queer-friendly nightlife in a new city can also be a great way to break out of your comfort zone and try new things. Whether dancing the night away at a gay club or mingling with locals at a gay-friendly bar, you'll have the chance to make memories and create lasting connections.
So, don't be afraid to step out of your comfort zone and explore the gay and gay-friendly nightlife in Lanzarote. You'll be glad you did!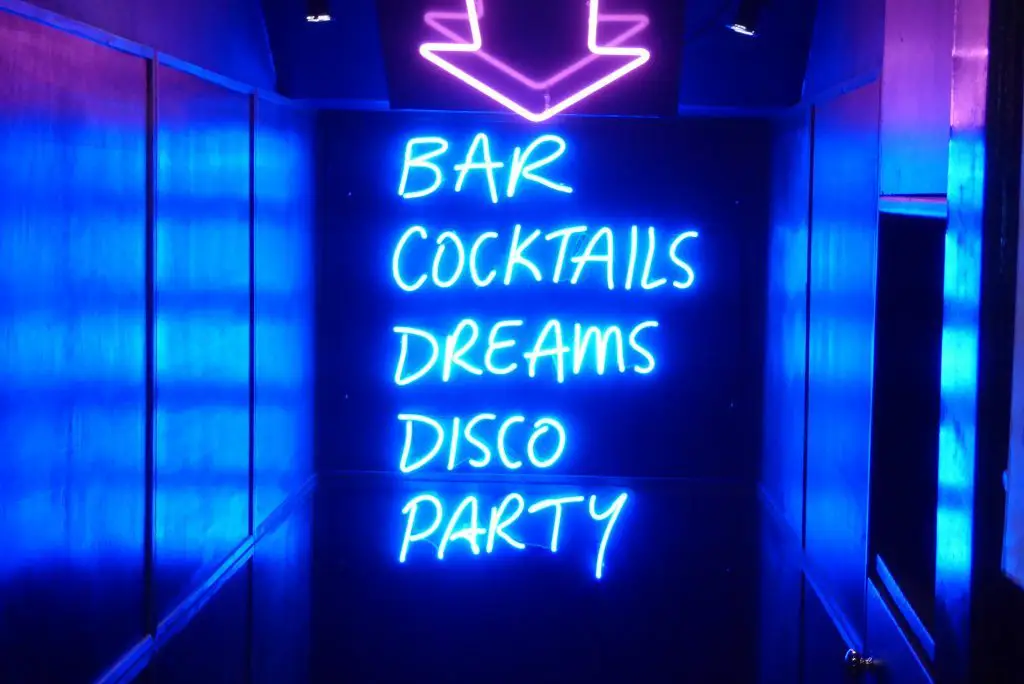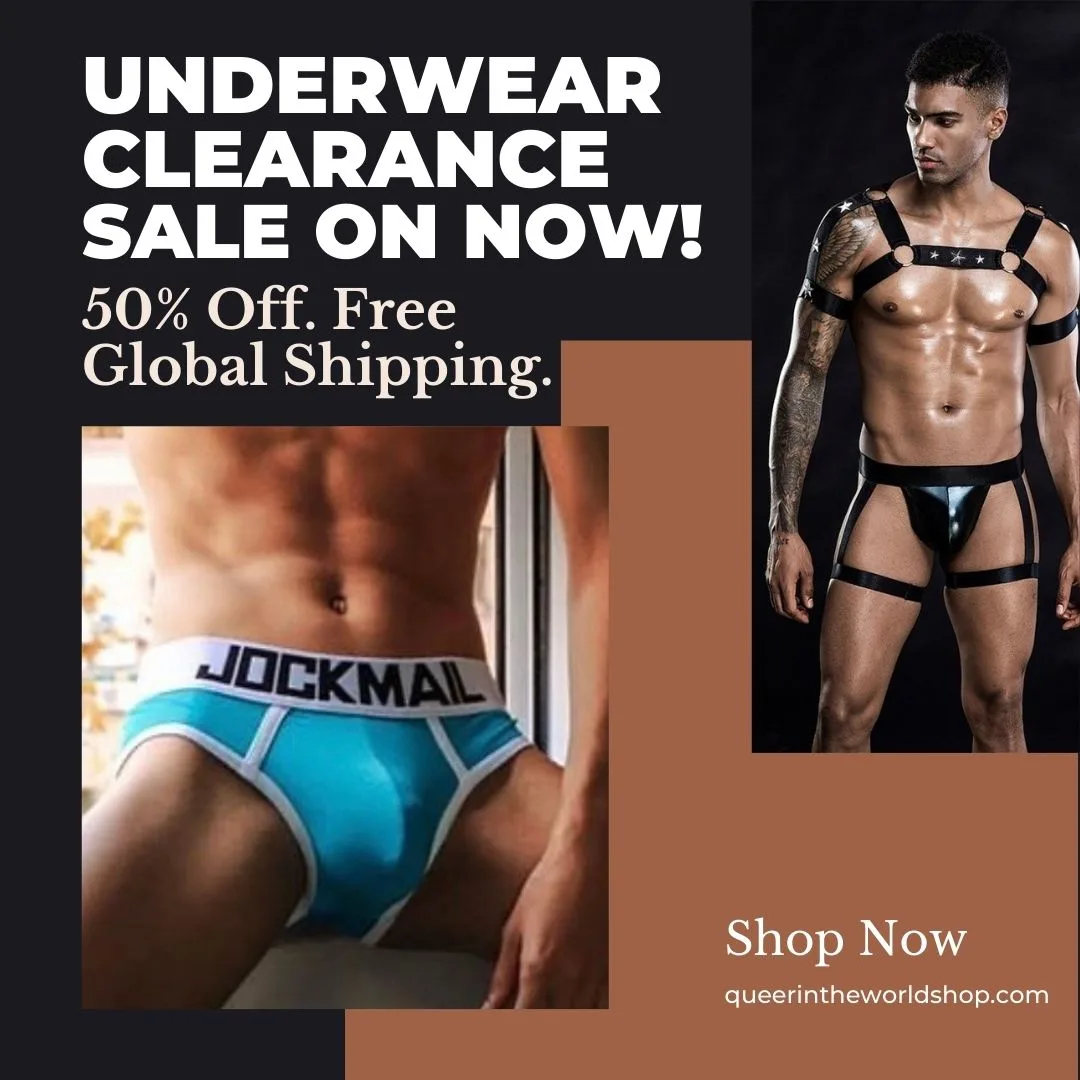 Gay-Friendly Nightlife Attractions Lanzarote, Canary Islands
One of Lanzarote's most iconic gay-friendly bars is Betty Boop's Karaoke Bar, famous for its excellent hospitality to the queer community. Those that visit this little quirky musical venue might expect to see a drag show amongst their regular karaoke shows.
Also, the bar and its selection of drinks are just as stellar, and with the friendly and relaxed atmosphere, people visit this bar several times during their stay on the island.
Enjoyce Doe Maar International Bar Lanzarote
Enjoyce has a friendly bar with tropical decor and umbrella-topped cocktails. It is an absolute delight to visitors as it is tucked away in a square with a lot of outdoor seating, lighting and heating to keep the ambiance perfect even at night.
People gush about their owner Joyce as she will make you feel like you are having a drink in her home, always smiling and willing to make your stay as comfortable as possible. Moreover, the music is always great, and you can stop by on Thursday nights to see their live performances. It's laid back, the drinks plentiful, and the service top-notched, so it's a little gem for the perfect night out.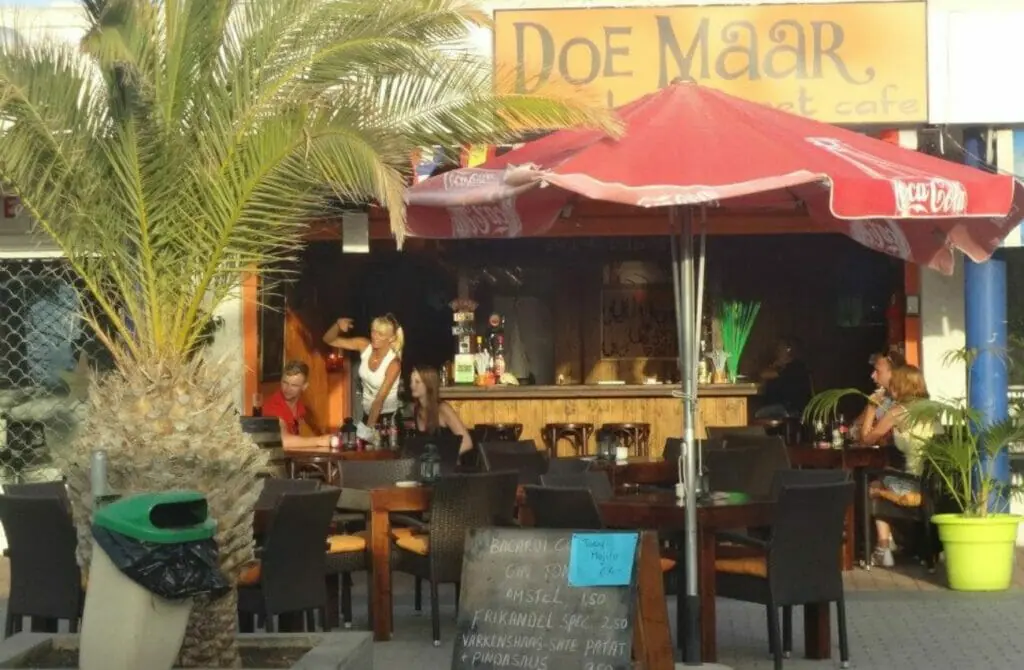 Jameos del Agua
(Temporarily or permanently closed. If you know something, please suggest an edit.)
As discussed early in this guide, Jameos del Agua isn't just a popular daytime destination; come night, the caves come alive with partying and dining. This cave system transforms into a unique clubbing disco experience you will never match anywhere else.
You can appreciate the natural acoustics as you dance underground, with a ready supply of drinks and fresh tunes. So this is one nightlife experience you can't miss!
There is only one place to be on St. Patricks Day, nor to get an authentic Irish drinking experience, and that is the Dubliner on Lanzarote. Here you will be treated to an Irish-themed pub that prides itself on bringing Ireland to the Canary Islands.
You will find famous Irish drinks, significant seating areas, excellent service at the stocked bar, and a stage for live music played most weekend evenings. The decor celebrates Ireland, making you feel like you have stepped across the pond and landed in a traditional Irish Pub, and the music also helps! So if you're looking for a different pub, this is a top choice.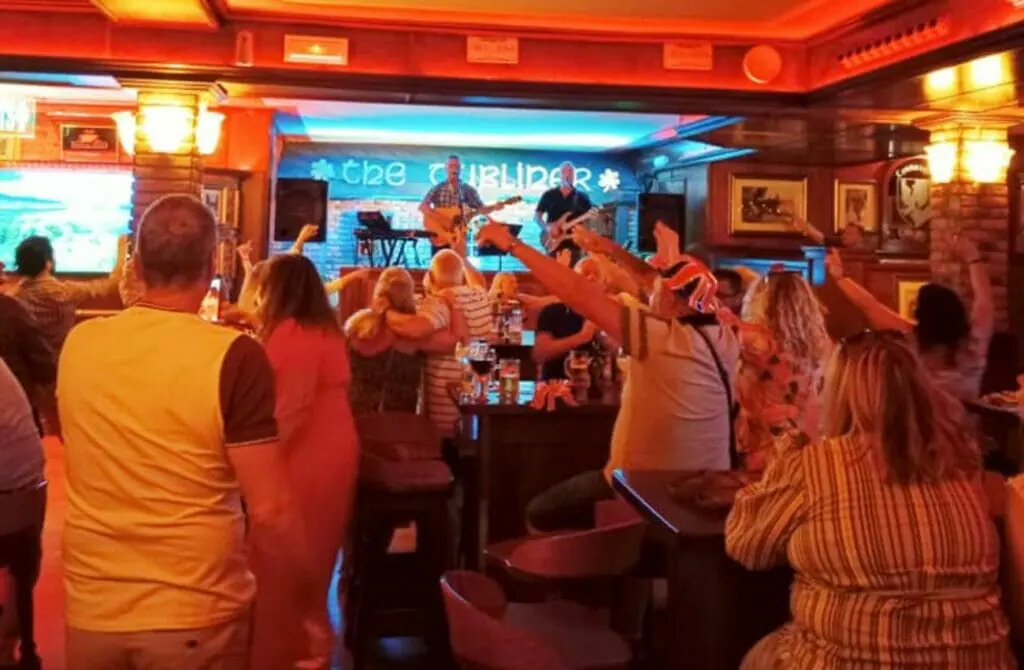 Despite its name, The Tiny Bar provides monumental service and unlimited drinks. Many swear by this place as the perfect place to socialize and get incredible views from the sea as you dine. It's a popular venue for locals and tourists, highlighted by its fantastic cocktails, the best Guinness on the island, and a good choice of live music and singalongs.
Puerto Del Carmen
Being the most prominent resort area on Lanzarote, if you want to get amongst the tourist nightlife on the island, you can't go wrong than spending a night here. You will be treated to a range of nightlife venues, all while being close to the beach with fantastic vantage points to watch the sun rise or set.
Begin your evening with an endless selection of great food options that range from Indian cuisine and Mediterranean classics to European favorites and delicious Canary Island dishes. These are highlighted by Bombay Grill, Fufu, La Carmencita del Puerto, and My Kitchen Julius.
You can then explore the pub and drinking scene of Puerto Del Carmen with such classics as The Auld Triangle and Spoons Lanzarote. However, if you want more musical picks, you can't go wrong with the Music Hall Tavern – MHT.
And finally, you have a great range to pick from for the clubbing scene, including Varadero Harbour, Club Oceano, and Club Lanzarote. As you can see, your night will be filled to the brim during your stay, as there is so much to see and do!
Many of those wanting a lively clubbing experience on the island while also embracing the Canary Islands' tropical climate, many swear by Waikiki Bar to tick those boxes. Here you can enjoy a thriving music scene, a pumping hall, and a fully-stocked bar and drinking area.
Sometimes the patronage can be low throughout the week, but this place will feel like a big European city during the weekend and tourist season. Nevertheless, you can be sure this is a great place to meet locals and have an exceptional party experience on Lanzarote.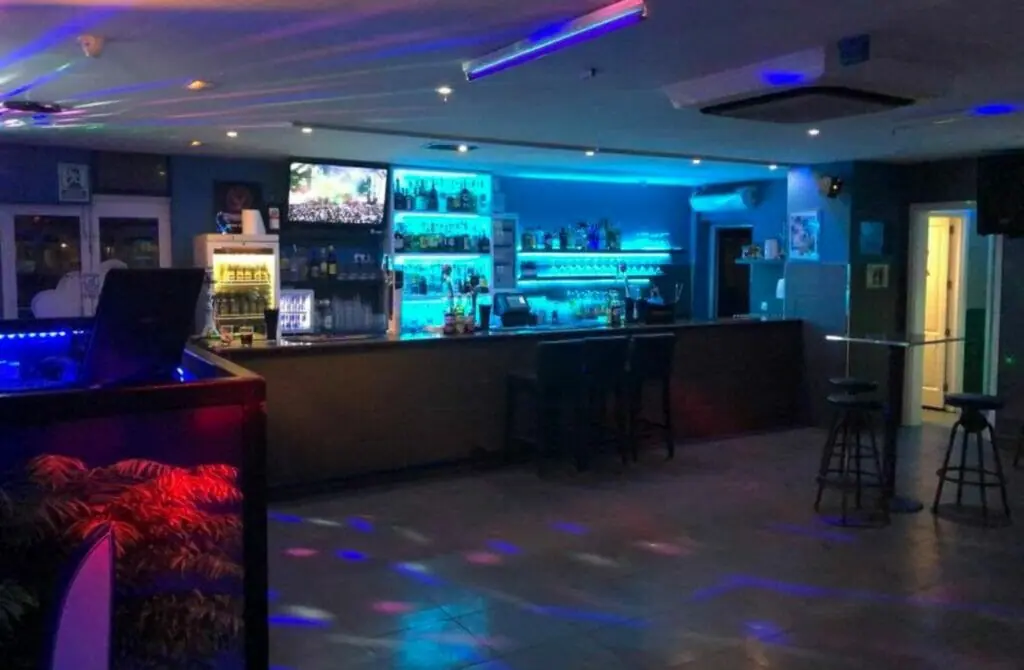 Cruising & Gay Saunas In Lanzarote, Canary Islands
The gay cruising scene on Lanzarote isn't as lively as the larger islands. However, gay visitors will be glad to know that all hope isn't lost as there is one man-only gay bar in the heart of Centro commercial Atlántico suited for your cruising needs! However, for everyone else, you must take the usual gay dating sites or apps to find a potentially fun encounter.
When traveling to a new city, it can be exciting to head out for more than just a stiff drink. One aspect of the Gay Lanzarote scene that many queer men enjoy is visiting gay saunas and cruising clubs.
Sure, the sauna culture in Lanzarote is not as hedonistic as in Amsterdam, Barcelona or Berlin, but these venues still offer a chance to meet new people, socialize, and engage in sexual activity – without resorting to gay hookup apps.
However, it's important to remember that these venues can vary greatly in terms of atmosphere, clientele, and rules, so it's a good idea to prepare yourself before visiting. If you are apprehensive, we advise studying our guide to visiting a gay bathhouse for the first time, which should help set your mind at ease and always practice safe sex.
Additionally, it's important to be aware of and respect local laws and customs regarding gay venues and sexual activity. With a little bit of planning and an open mind, visiting gay saunas and cruising clubs can be a fun and exciting part of your gay Lanzarote travel itinerary.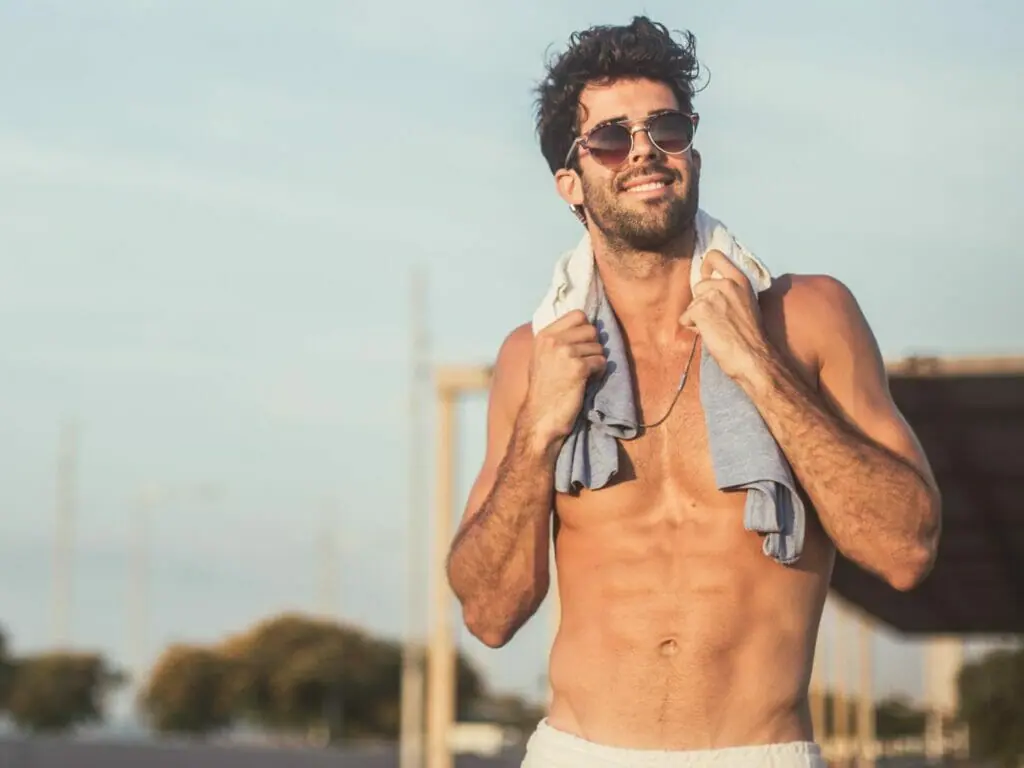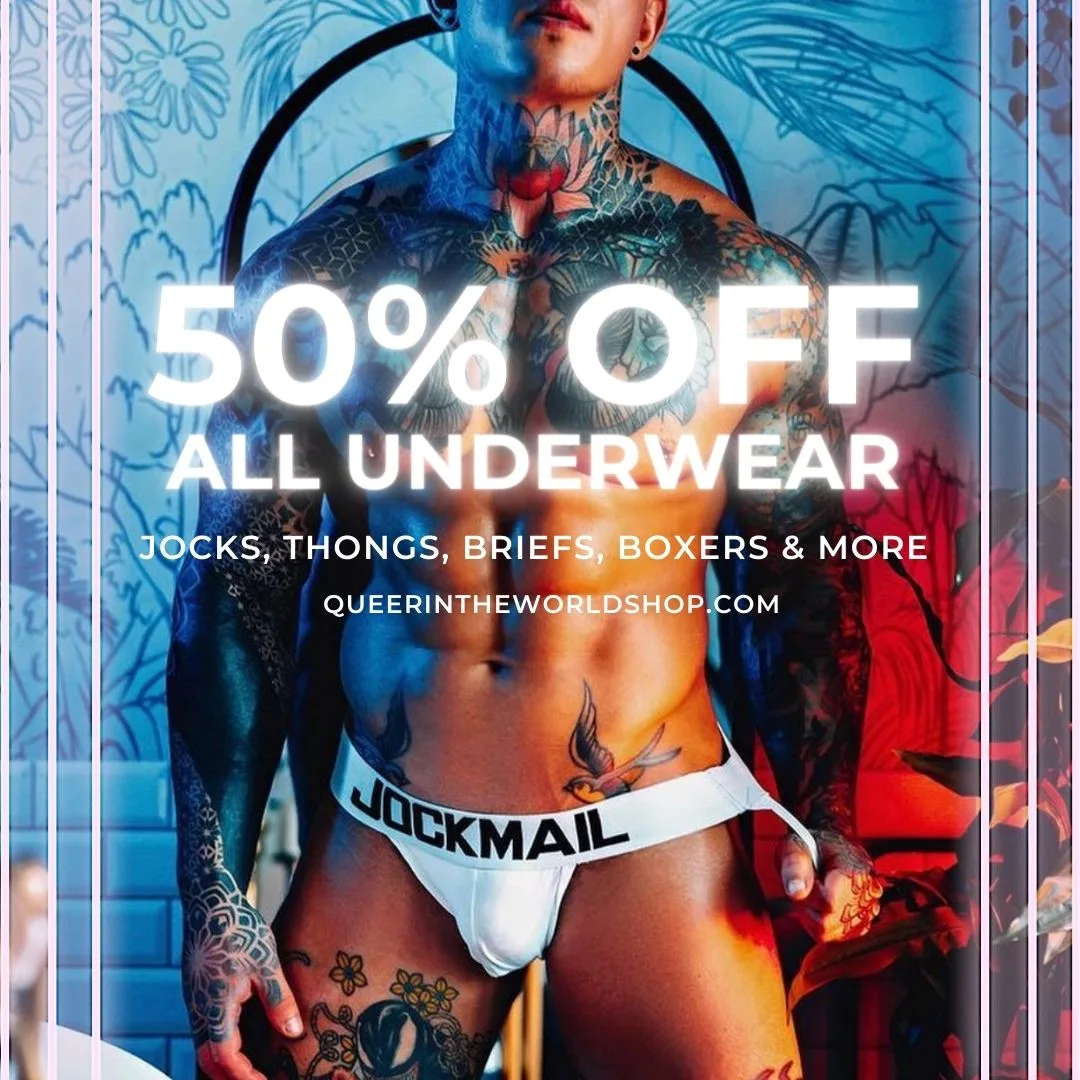 Gay Cruising Bars In Lanzarote, Canary Islands
XXL Lanzarote Men's Bar is the only gay bar in Lanzarote and is exclusively open to men only, with patronage aimed at gay cruisers.
Here you can find potential partners for an incredible night out or sit at the bar, people watch and enjoy a great drink. Included at the bar is a dark, sexy atmosphere with two levels and back rooms where dark rooms exist for those that want to do more than talk and drink.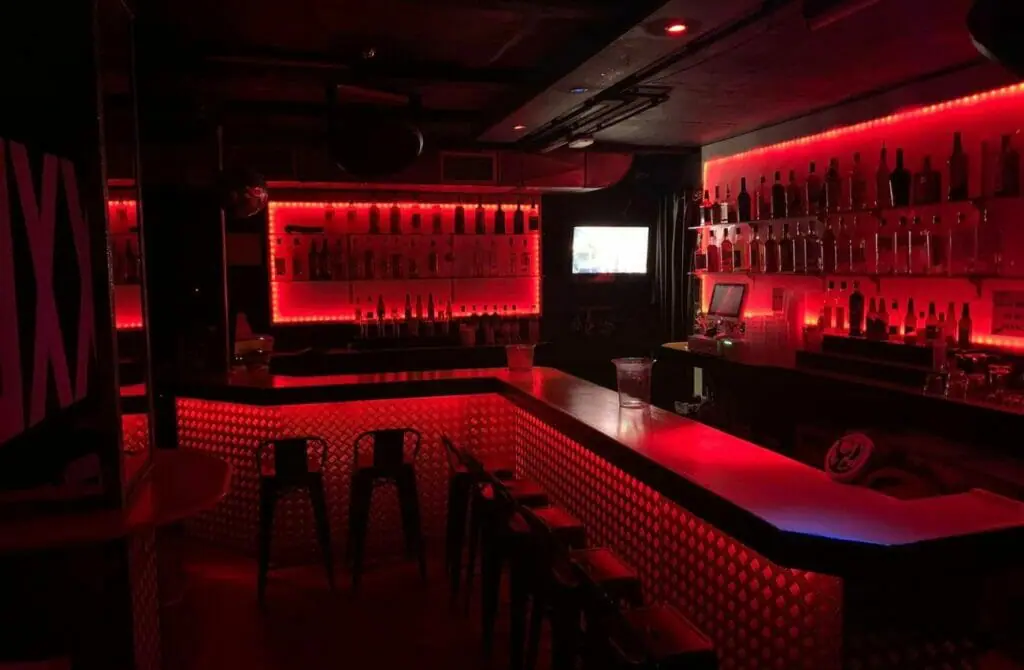 Gay Map Of Lanzarote
Finding it hard to envisage where everything is in Lanzarote? Hopefully, this queer-centric map helps where we have marked all the bars, clubs, parties, hotels, saunas, massages, and more will help you stay in the spot best suited to you!